World's First Cacao Fruit Kit Kat Reduces Waste and Replaces Sugar with Cacao Pulp
Nestlé has unveiled a new chocolate recipe that replaces added sugar with cacao pulp. Japan, famous for its exciting range of Kit Kat flavours, adopted the new recipe to create the first cacao fruit chocolate Kit Kat. The Kit Kat was released for sale at the Kit Kat Chocolatory and online on November 29, 2019.
The Kit Kat Chocolatory sells premium-quality Kit Kats made and from a careful selection of ingredients and by a special production method. The process is overlooked by Yasumasa Takagi, the chocolatier who owns LE PATISSIER TAKAGI.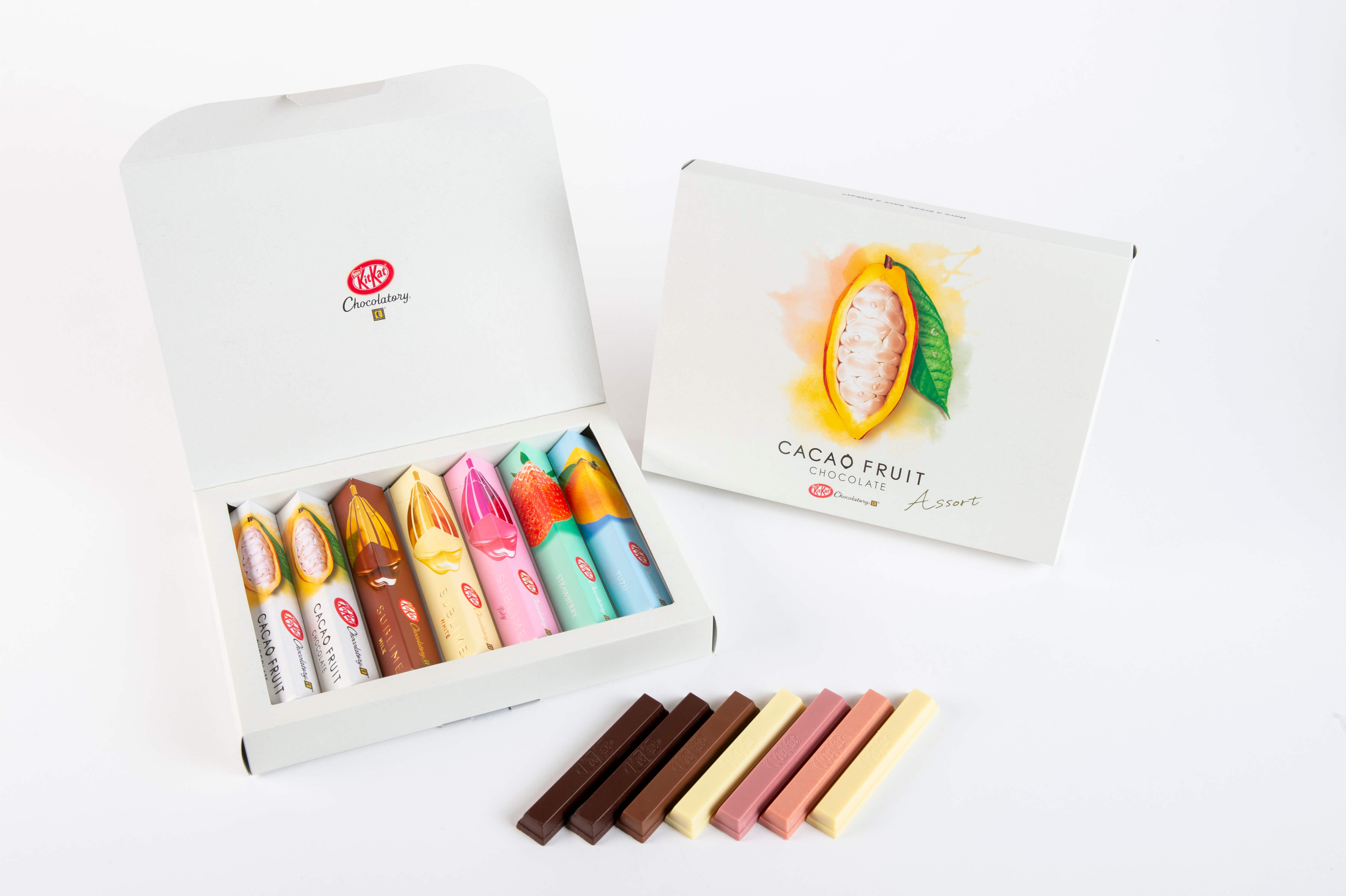 Whether your're looking for a unique Japanese souvenir for your friends and family, something small yet luxurious for your work colleagues or even just a petite treat for yourself, the Kit Kat Chocolatory's popular range caters for every souvenir situation.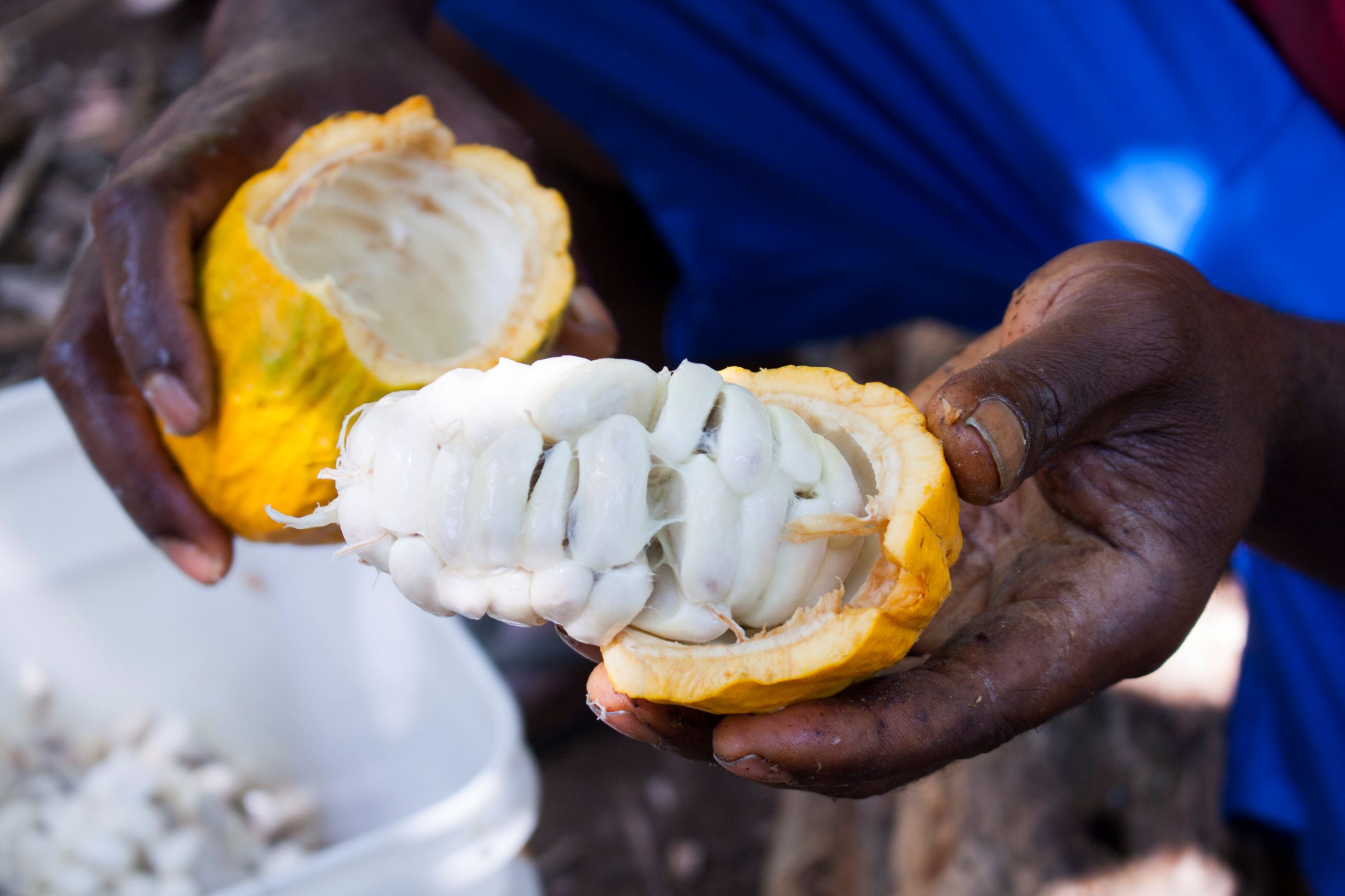 The new Cacao Fruit Chocolate Kit Kat uses Nestlé's new cacao pulp recipe. Cacao pulp is the white substance surrounding the cacao beans inside the fruit. It is dried and pulverised into a fine powder to be used as a replacement for sugar. By infusing cacao pulp into the chocolate, the chocolate flavour can be tasted more fully, making for a new and exciting flavour experience.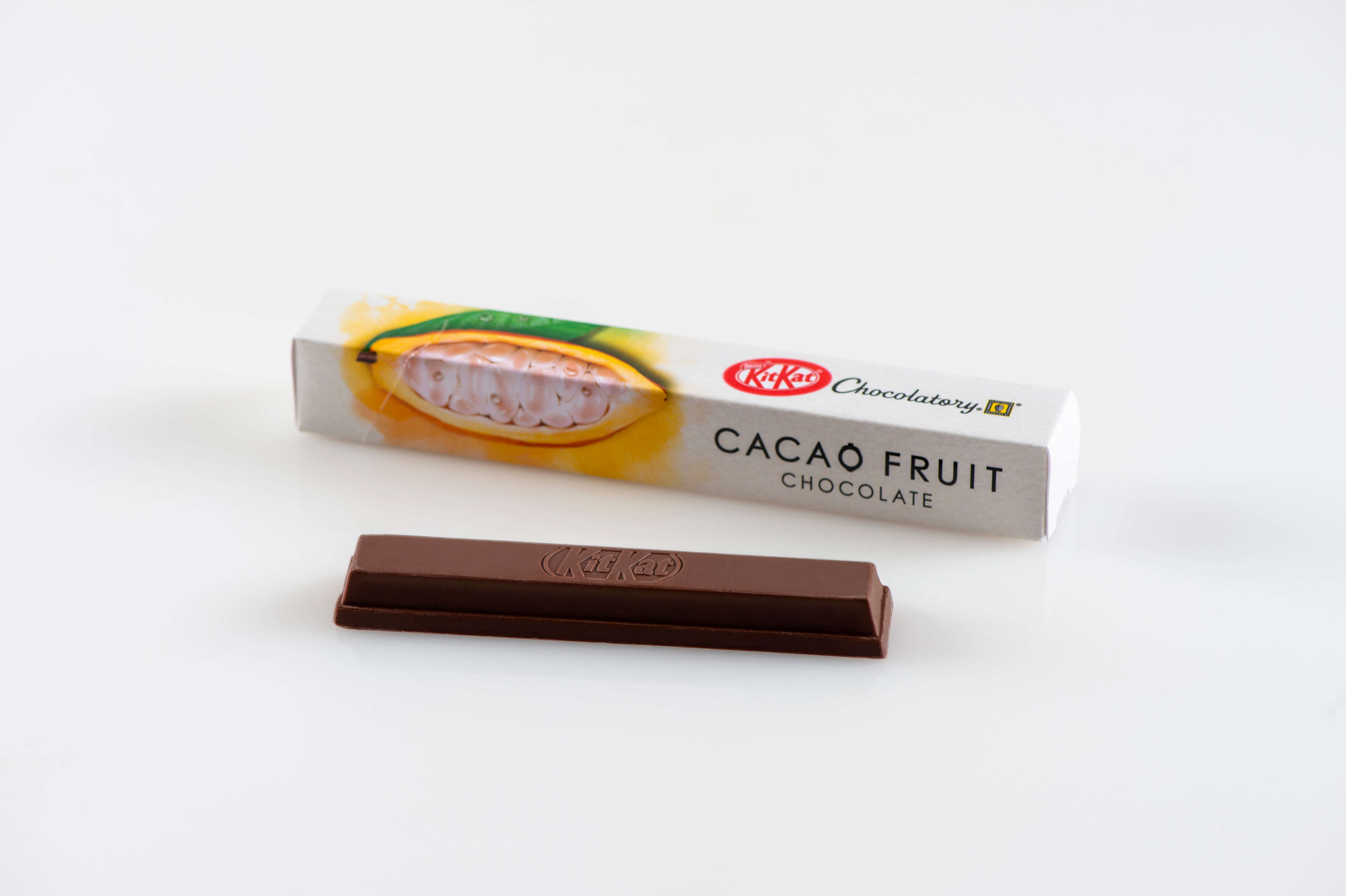 Many people are unaware of the unique sweet and tangy flavour of the cacao fruit's soft and fleshy insides. Part of the cacao pulp is normally used as a sugar to ferment cacao beans in a normal chocolate-making process. However, it is still not widely sold as a flavour.
Brazil and many other cacao-producing Latin American countries use cacao pulp to make drinks and smoothies that are easy to produce. It is also seen as an ingredient in ice creams. Some businesses have jumped on the appeal of cacao as a rarely used ingredient to make and export cacao juice. Other than this, usage of cacao pulp has remained low for a long time.
Under Takagi's guidance, a new Kit Kat has arrived at the chocolatory which spreads not only the appeal of cacao as a natural sugar and flavouring, but also encourages sustainable living through reduced food waste.
Come try a Kit Kat made with cacao pulp for yourself.
Information
Kit Kat Chocolatory Cacao Fruit Chocolate
Contains: 1 Bar
Price: ¥400
Sold At:
7 KitKat Chocolatory shops (3 in Tokyo, 2 in Osaka, 1 in Kawasaki and 1 in Hiroshima)

Online including the Kit Kat Chocolatory Online Shop and Nestlé Online Shop

Kit Kat Gift Shops (Located in Rinku Premium Outlets)
Kit Kat Chocolatory Cacao Fruit Chocolate Assortment
(Sold online including the Kit Kat Chocolatory Online Shop and Nestlé Online Shop)
Assortment of 5
Price: ¥1,900 (Before Tax)
Assortment of 7
Price: ¥2,500 (Before Tax)
Kit Kat Chocolatory Online Shop: https://nestle.jp/brand/kit/chocolatory/
RECOMMENDED ENTRIES
The Luxurious KitKat Chocolatory is Revamping Its Chocolate Line-Up

Nestlé has announced that it is revamping its 16 products* at the KitKat Chocolatory which will be released on October 11, 2019.

*One of these products will be released in late November

The KitKat Chocolatory is a direct-to-consumer chain, serving premium, handcrafted KitKats made with top quality ingredients and production methods under full direction by Takagi Yasumasa―the owner and chef of LE PATISSIER TAKAGI. Its luxurious line is endless, with products ranging from the elusive ruby chocolate, whose cocoa beans give the finish product its pink colour, to volcanic chocolate made from rare cocoa beans sourced from volcanic islands, and beyond.

The Chocolatory takes regular KitKats and the brand to a whole new level while still having that sense of familiarity, making their products great gifts and personal treats.

The new line-up of 16 products is considered by four categories: 1) the chocolate type, 2) where the cocoa beans are produced, 3) the production process from bean to bar, and 4) the combination between chocolate and other ingredients. Each and every bar has been given equal attention to create chocolates with different flavours, enabling consumers to discover not only which tickle their taste buds, but the story behind each unique bar.

There is a rapidly growing interest amongst consumers who want to know where their food comes from and how it's made. When it comes to specialist chocolate products, a lot of information isn't widely known. That's the reason behind KitKat Chocolatory's revamp, as well as to create chocolate that nobody has experience before.

Let's take a look at four of the new KitKats you can get your fingers on.

Enjoy the Chocolate Varieties

KitKat Chocolatory Sublime Bitter – ¥300 Each (Before Tax)

A hallmark product since KitKat Chocolatory opened, the Sublime Bitter is couverture chocolate made with 66% cocoa. The bar is a blend of three different cocoa beans from Ghana, Madagascar, and the Dominican Republic. This addictive delight reserves the original bitterness of the cocoa while having a fruity tinge to it.

Enjoy the Difference Between Cocoa Production Areas

KitKat Chocolatory Sublime Volcanic Malakula Island – ¥400 Each (Before Tax)

This mysterious 'volcanic chocolate' is made from extremely rare cocoa beans sourced from the volcanic Malakula Island which was voted one of the happiest places on earth. It has a distinct bitterness and very fragrant scent reminiscent of the ground.

Enjoy the Chocolate Making Process

KitKat Chocolatory Sublime Raw – ¥300 Each (Before Tax)

The cocoa beans of this "raw" chocolate are cooked at a lower temperature than usual to draw out a more natural flavour of the original bean, like it's been plucked right out of a cocoa bean farm and placed into your hands.

Enjoy the Combination Of Ingredients

KitKat Chocolatory Moleson – ¥500 Each (Before Tax)

Finally, here is the world's first ingredient-topped KitKat. It uses the smooth, melt-in-the-mouth KitKat Chocolatory Sublime Milk bar as the base, and is topped with sweet and sour dried cranberries and fragrant crushed almonds, creating a flavourful and textural ensemble.

Discover a whole new world of KitKat and chocolate when the new products drop at KitKat Chocolatory on October 11.

The Perfect Souvenir: Kyoto's Famous OTABE Confections in Velvety Matcha Chocolate

If you're in Kyoto looking for a delicious elegant souvenir for your people back home then BijuuCo.,ltd. is your port of call. Their irresistible desserts vary from their well known sweet bean paste-filled Yatsuhashi to their Kyo-Baum. They will be releasing the mouthwatering Matcha Chocolate OTABE from November 20, 2019.

The rich aroma of the matcha chocolate will be the first thing to entice you. The matcha Yatsuhashi is made from specially selected water and Koshihikari rice, which is famed as Japan's best rice. The soft and chewy texture of the Yatsuhashi dough gently embraces a velvety, melt-in-the-mouth matcha chocolate ganache filling. These OTABE confections are bursting with the flavours of Kyoto and are only available to purchase for a limited period.

OTABE combined with Kyoto's famous matcha chocolate is matcha match made in heaven. If you're ever in Kyoto, you must try it.

Information

Matcha Chocolate OTABE

Selling: November 20, 2019 to the start of May, 2020

Price: Box of 10 (2 packs of 5): ¥660 Before Tax

Eat within 11 days of production.

Purchasable from souvenir shops in Kyoto and Kyoto Station. 

Official Website: http://www.otabe.kyoto.jp/

Take a Look at Daimaru Tokyo's Delicious Seasonal Sweets Line-Up

With the weather getting colder and colder, don't you just want to snuggle up indoors under a nice warm blanket and eat tasty sweets and snacks? well, if you're in Tokyo this autumn, head to Hoppe Town on the first floor of Daimaru Tokyo where they're selling a bunch of different seasonal sweets from November 20 to 26. We're going to showcase a select few.

Cookie Doumei Assorted Box

Contains 10 (5 Types, 2 Each) – ¥1,900 @ Cookie Doumei (Floor 1F)

Enjoy a box of assorted cookies made by a UK-based cookie brand with a recipe like that mother uses. These simple baked cookies are made with wheat flour from Japan, fruits, spices, and chocolate.

Premium Chocolate (Dark/Matcha)

Contains 5 – ¥1,080 Each @ Dari K (Floor B1F) *Available until December 3, 2019

These crunchy and buttery biscuit sandwiches come in two flavours: a dark chocolate and salt, and a matcha made with freshly powdered matcha from Kyoto. These biscuits only appear a few times in Tokyo throughout the year at events, so don't miss out on this rare opportunity.

Chocolate Canelé

¥345 Each @ Le Soeur (Floor 1F)

Bearing a crunchy exterior and chewy inside, these rich chocolatey canelé are topped with almond for added texture. Change it up and put them in the fridge to set for a crispier texture.

Caramel & Raspberry

Contains 5 – ¥675 @ Caramel Verger (Floor B1F) *Available until December 3, 2019

These crunchy chocolate cookies are filled with a mix of dried fruits, caramel and cornflakes. The sourness of the berries coupled with the smoothness of the caramel is to die for!

Premium Natural Sweets

Contains 10 – ¥1,500 @ Lady Bear (Floor B1F)

These raw chocolates from Lady Bear get their natural sweetness from a delicious agave syrup. Delicious, tempting, irresistible.

Baked Mallow Crystal Cherry

Contains 4 – ¥1,382 @ Baked Mallow (Floor 1F) *Available until November 30, 2019

Graham crackers covered in couverture chocolate with high cocoa content and stuffed with fluffy marshmallow and a whole juicy Amarena cherry. What's not to like? These are available in a very limited number, don't miss out!

Which of these six tasty treats are most tempting to you?

Information

Seasonal Sweets

Running: November 20, 2019 – November 26, 2019

Location: Hoppe Town, Daimaru Tokyo Floor 1F  (1-9-1 Marunouchi, Chiyoda Ward, Tokyo)

Daimaru Tokyo Official Website: https://www.daimaru.co.jp/tokyo/
RELATED ENTRIES
Aromatic Kamakura Raw Chocolate Brand to Open New Branch in Nagoya

MAISON CACAO, the company behind the aromatic raw chocolate brand of the same name, will open a store on floor B1F of JR Nagoya Takashimaya on March 3, 2021. It will be the brand's first permanent shop in Japan's Tokai region.

The company held a special Valentine's event from late January to Valentine's Day where MAISON CACAO made the second most sales. They also enjoyed other sold out products, and showcased some exclusive indulgences like the gold leaf-adorned "Aroma Raw Chocolate ARMOUR" and "Aroma Raw Chocolate STRAWBERRY" as well as the all-new "Cacao Butterland."

The Nagoya Line-Up

Aroma Raw Chocolate AMOUR | ¥6,000 (Before Tax)

Exclusive to this new Nagoya branch of MAISON CACAO, these "AMOUR" chocolates are all handmade using techniques that have been passed down through the company. The dark chocolates are wrapped in luxurious gold leaf and have a fruity, sweet, and bitter combination. One box contains a generous serving of 16.

Cacao Butterland | ¥2,000 (Before Tax)

MAISON CACAO uses cacao beans from Columbia to bake its menu. These gooey treats are made with cacao butter and chocolate caramel with a double layering of dark and white chocolate. A rich and filling serving of six comes in a box.

 

Aroma Raw Chocolate STRAWBERRY | ¥2,200 (Before Tax)

Also a Nagoya-exclusive, these strawberry variants are made with intensely sweet JApanese amaou strawberries white combine with the fragrance cacao butter and white chocolate for a refreshing taste. You get 16 in a single box.

But Wait, There's More…

Raw Chocolate Butter Cake | ¥3,500

A cake made with velvety chocolate butter cream packed with roasted nuts, raisins, and caramel chips.

Rich Raw Chocolate Tart STRAWBERRY | ¥2,000

Yet another exclusive to Nagoya, these crunchy tarts are lathered in amaou strawberry chocolate and filled with runny and fruity amaou strawberry cream. A box comes with three included.

Other Popular Goodies Available While Supplies Last

Aroma Raw Chocolate MAISON (Grape) | ¥2,400 (Before Tax)

Babka | ¥2100

Raw Gateau Chocolate | ¥2500 (Before Tax) 

Information

MAISON CACAO

Grand Opening: March 3, 2021

Location: JR Nagoya Takashimaya Floor B1F

Address: 1-1-4 Meieki, Nakamura-ku, Nagoya-shi, Aichi

Opening Hours: 10:00-20:00

MAISON CACAO Official Website: https://maisoncacao.com/

Art and Chocolate Melt Together in Chocola Meets Crowdfunder

A new chocolate brand by the name of Chocola Meets has been cooked up in Japan that prioritises bean to bar chocolate made from fairtrade cocoa beans. The brand's USP however lies in its collaboration with artists who pen work for the chocolate's packaging.

16 art pieces created by 4 artists for the craft chocolate packaging

Chocola Meets will begin selling its tasty chocolate collection from mid-March, but for those who can't wait, the brand launched a crowdfunding campaign on February 15 via CAMPFIRE which offers pre-sales.

 

Chocola Meets prides itself on its collaborative business model which provides support to participating artists by giving them a cut of sales. This includes the money made for the crowfunder as well as the proceeds made from chocolate sales.

Sasabe (Chocola Meets, Operations Officer) | Comment

"The concept for Chocola Meets is, 'Meet My Like: Experience What it Feels Like to Find Your Likes.' This is something we value and is the reason why Chocola Meets exists. The reason behind our collaborative business model of Art x Craft Chocolate, something which hasn't been done before, is to continuously offer that very concept – one which holds irreplaceable value. And in order to do that, we needed something that allows the artists to continue living comfortably. So we're giving proceeds from the chocolate to the artists which gives them an incentive to create."

The CAMPFIRE crowdfunder offers pre-sales of the chocolates at a discounted price. There are other benefits too, like framed art by the artists, coupons, and more.

Chocola Meets successfully met their Crowdfunding goal, having raised ¥430,700 of the pledged ¥300,000 (as of February 16, 2021).

Fruit and Sake Infused Chocolates by Lotte to Release in Japan

Japanese confectionery company Lotte is releasing two new chocolates on March 23 that are infused with sweet and tangy fruits and sake: the "Torotto Strawberry Liqueur Chocolate" and "Torotto Citrus Liqueur Chocolate."

The Line-Up

Torotto Strawberry Liqueur Chocolate | ¥200 (Before Tax)

This melt-in-the-mouth milk chocolate delight is laced with a sweet strawberry liqueur filling that's sure to please the taste buds of all who love combination of chocolate and alcohol.

Torotto Citrus Liqueur Chocolate | ¥200 (Before Tax)

This one is also wrapped in velvety milk chocolate but its filling is replaced with a citrus fruit liqueur, lending a fresh, flavourful finish.

These chocolates are the perfect combination of sweet and sour fruits and Japanese sake for the coming spring season.

Harajuku Whips Up Oita Prefecture's Jazz Youkan Sweet Adzuki Bean Block

The Jazz Youkan is a cute confection made from sweet adzuki red bean paste and made to look like a little piano. It's made in Japan's Oita Prefecture, but Tokyo residents can now enjoy this sweet treat at HARAJU Cross JAPAN MASTERY COLLECTION_est which is located on Floor B1F of WITH HARAJUKU, a shopping complex in front of Harajuku Station. It is being sold until February 14 in three flavours: Chocolat, Matcha Chocolat, and Classic.

The Jazz Youkan

The Jazz Youkan is a confectionery made by Jazz to Youkan Yufuin CREEKS, a shop in Yufu, Oita. It's part of their concert series of sweets and pairs well with a cup of coffee or glass of wine.

Line-Up (Prices Include Tax)

Chocolat | ¥2,646

The seasonal winter Chocolat is made with sweet white bean paste, couverture chocolate, dried cherries, fig, and raisins. All the chocolates in this series are individually handmade by the shop's chocolatiers, and this time, the classic Chocolat variant has been made even more delicious. It's smooth, moist, and rich without being too sweet. Best enjoyed with coffee or wine.

Matcha Chocolat | ¥2,646

If you love matcha then this is the treat for you. It's different from the normal Chocolat version of this sweet as it's made without dried fruits. Instead, it contains large-grained adzuki beans for an irresistible texture.

Classic | ¥2,160

The Classic version is made with brown sugar from Okinawa and adzuki beans and contains dried figs soaked in wine. Another perfect pairing with coffee or wine, and the piano face shows the work of true Japanese artistry.

©冬季限定 ジャズ羊羹 chocolat

Information

Jazz Youkan
Order Window: January 16, 2021 – February 14, 2021
Orders: TEL: 03- 6384-5815 / E-mail: shop_est@japanmasterycollection.jp
Sales Window: February 7, 2021 – February 14, 2021
Where: HARAJU Cross JAPAN MASTERY COLLECTION_est
Address: 1-14-30 Jingumae, Shibuya, Tokyo
Opening Hours: 12:00-18:00
Jazz to Youkan Yufuin CREEKS Official Website: http://www.jazz-youkan.com/

Pokémon, My Melody, Moomin and More Valentine's Day Chocolates Arrive at Daimaru Tokyo

The Hoppe Town area of Daimaru Tokyo is currently celebrating Valentine's Day up to February 14 with the release of a selection of gift chocolates by six brands in collaboration with popular characters.

Pokémon Chocolate Set (Large Box) | ¥1,404 (Tax Included)

My Melody x Goncharoff Chocolates (Contains 21) | ¥2,160 (Tax Included)

Moomin x Merry Chocolate's Hattifatteners Chocolates (Contains 11) | ¥1,188 (Tax Included)

Dick Bruna by Morozoff: Picture Book Chocolates (Contains 15) – ¥864 (Tax Included) / Miffy Pouch Chocolates (Contains 8) – ¥1,320 (Tax Included)

Chatrois Kitten Tiny Plain Chocolates | ¥783 (Tax Included)

Katanukiya Angel Panda | ¥684 (Tax Included)

Which of these cute and tasty-looking treats has caught your eye the most?

©Nintendo・Creatures・GAME FREAK・TV Tokyo・ShoPro・JR Kikaku ©Pokémon
©1976,2021 SANRIO CO,LTD.APPROVAL NO.L613374
©Moomin Characters™

Information

Daimaru Tokyo Valentine's Sweets
Running: January 27, 2021 – February 14, 2021

Location: Hoppe Town on Floor 1F of Daimaru Tokyo
Official Website: https://www.daimaru.co.jp/

Tokyo's Fancy New Pink Afternoon Tea at THE GRAND GINZA is Topped With Chocolate and Strawberries

THE GRAND GINZA in Tokyo is getting ready for Valentine's Day and White Day with the revealing of its new afternoon tea menu which will be served from February 1 to March 31.

The "Pink Afternoon Tea" is a combination of succulent strawberries and fruity ruby chocolate, which is the fourth type of chocolate alongside milk, dark, and white. It includes a ruby hot chocolate for staying warm during these cold winter months, strawberry macarons, strawberries to dip in ruby chocolate, strawberry quiche curry, and other unique items for a mix of sweet and savoury. There's also a strawberry mille-fuille made with a recipe by Ginza's famous French restaurant Maxim's de Paris.

There are also 18 drinks to choose from including 13 types of teas from TWG. It's a must-visit for Valentine's Day.

Sankt Gallen Brewery to Release 800 Limited-Edition Chocolate Beer Bottle Sets

Sankt Gallen Brewery has announced the release of a new drinking set which includes its chocolate-flavoured beer "Imperial Chocolate Stout" and a special glass for drinking it out of. The brewery, which is located in Atsugi, Kanagawa, will launch it as a limited-edition release on February 1, 2021 with just 800 sets available.

Imperial Chocolate Stout ¥600 | Le Lectier Chocolate Stout 2021 Edition Flavour ¥500 | Orange Chocolate Stout ¥500 | Sweet Vanilla Stout Valentine Label ¥460 (All Prices Pre-Tax)

Chocolate Glass

Chocolate Glass Set

The Imperial Chocolate Stout isn't made with cacao or the chocolate used in sweets. It's in fact made with "chocolate malt," a raw beer ingredient roasted at a high temperature which draws out its chocolaty flavour. Although the beer uses almost 30% more of this raw ingredient than regular beer, only about half the amount is brewed from a single distilling compared to regular beer, which gives the beverage a distinct jet black colouring. The bubbles on top make it almost like a chocolate shake.

Other drinks in this series include the Le Lectier Chocolate Stout which arrives this year in a limited-edition 2021 flavour. It's made with the Le Lectier, a rare type of pear that is difficult to grow. The Orange Chocolate Stout is made with thinly sliced bitter orange peel, the kind that's used in marmalade, of which half is boiled to intensify its citrusy notes. It's inspired by the classic French confection that coats orange peel in chocolate. Finally, the Sweet Vanilla Stout comes in a Valentine's Day label for 2021. This beer, which is richly black like an espresso, is laced with vanilla, bringing with it a sweet fragrance and vanilla chocolate aftertaste.

These chocolate beers themselves go perfectly with some actual chocolate, and so Sankt Gallen Brewery teamed up with the Japanese patissier Tadashi Yanagi to create a glass made of chocolate to drink the beer from.

Which of these beverages has your mouth watering the most?

The Perfect Valentine's Day Treats in Japan Can Be Found at Tokyo's Hotel Metropolitan Edmont

Hotel Metropolitan Edmont, a hotel situated in Chiyoda, Tokyo, will celebrate Valentine's Day with an angelic line-up of sweet treats that will be sold from February 1 to 14.

The Chocolates

Truffle au Chocolat – Box of 4: ¥1,200 (Before Tax) / Box of 6: ¥1,800 (Before Tax) / Box of 10: ¥3,000 (Before Tax)​

Indulge in a luscious assortment of four chocolates: the citrus-filled 'Grand Marnier,' the slightly bitter 'Rum,' the full-bodied and tangy 'Raspberry,' and the Uji-matcha packed 'Matcha.'

Orangette (Contains 15) | ¥2,000 (Before Tax)

If you love chocolate combined with fruit, then the Orangette will be your poison, filled with fresh and bitter orange peel and coated in chocolate. It has a distinct refreshing fragrance to it which expands across the taste buds with every bite.

Raisin Chocolat | ¥1,200 (Before Tax)

Love rich, full-bodied flavour? These raisins are soaked in French Sauternes wine and covered in dark chocolate. Their fruity flavour makes them a perfect accompaniment to a glass of whisky or bourbon.

The Cakes & Pastries

Eme | ¥600​

A perfect pick for Valentine's Day: a heart-shaped mousse containing rich, velvety chocolate that's jam-packed with fresh raspberry jelly.

Brioche Chocolat | ¥260

Enjoy taking a bite out of this brioche made from butter and egg that's laced with custard cream and chocolate.

Loving Valentine's Day Chocolates Tempt at The Peninsula Boutique & Café in Tokyo

Peninsula Merchandising Limited is set to capture hearts this Valentine's Day with the announcement of a desiring new collection of chocolates which will be served at two branches of The Peninsula Boutique & Café in Shin-Marunouchi Building and Isetan Shinjuku from February 1.

Sweetheart | ¥3,400 (Before Tax)

Macarons (6 Included) | ¥2,860 (Before Tax)

Truffle Truffle | ¥1,500 (Before Tax)

Strawberry Bear Ruby Chocolate Bar | ¥1,750 (Before Tax)

Eponge | ¥560 (Before Tax)

Croquembouche | ¥720 (Before Tax)

Rose Rouge | ¥1,500 (Before Tax)

Love Lock Key Ring | ¥5,000 (Before Tax)

The romantic line-up features an assortment of lovingly-crafted confections, from ruby chocolate to colourful macarons, a rose-topped chocolate, and more—all available for the season of love. The boutique cafes will also sell a special heart-shaped key ring for lovers to express to their special someone that they complete them.

Disney's Mickey and Minnie Mouse Feature on Lotte's Choco Pie Chocolate Treats

Japanese confectionery company Lotte is joining white gloves with Mickey and Minnie Mouse to collaborate on their popular chocolatey Choco Pie treats. The tie-up will roll out in Japan from January 26.

Lotte Choco Pie Heartful W Strawberry

Lotte Choco Pie Heartful W Chocolate

Try and find the Mickey head on the packaging

Get your hands on one of 10 packaging designs

Line up these two to make it look like Mickey and Minnie kissing

 

Handmade Choco Pie Art

This marks Choco Pie's first collaboration with Disney's characters with Mickey and Minnie appearing in ten different designs. Each design has a hidden Mickey head to find (like in Kingdom Hearts III). Lotte is has also showcased some unique designs you can make for Valentine's Day with the Choco Pies, so get creative!

ⓒDisney

Information

Lotte Choco Pie Mickey & Minnie Design
Release Date: January 26, 2021
Official Website: https://www.lotte.co.jp/

Hello Kitty Valentine's Day Chocolates by Bicerin Are Sure to Surprise Your Lover

Café Al Bicerin released a special collection of chocolates in Japan for Valentine's Day on Wednesday (January 20) in collaboration with Hello Kitty.

Café Al Bicerin is a cafe in Torio, Italy, that first opened back in 1763. It has a long history and is a place that was enjoyed by the likes of Friedrich Nietzsche and Ernest Hemingway.

Bicerin × Hello Kitty Love Assortment | ¥2,160 (Tax Included)

Bicerin × Hello Kitty Love Assortment | ¥2,160 (Tax Included)

Valentine's Baci di Dama (Includes 5) | ¥1,350 (Tax Included)

© 2021 SANRIO CO., LTD. APPROVAL NO. L617585

Information

Bicerin x Hello Kitty Valentine's Collection
Released: January 20, 2021
Available: Bicerin Japan (Ginza SIX, Takashimaya Shinjuku, Midland Square, Hankyu Umeda, Roppongi Hills, Tokyo Midtown Hibiya)
Official Online Store: https://shop.bicerin.co.jp/
Official Website: http://www.bicerin.co.jp/

Luxury Japanese Gateau Chocolate Infused With Sake Made From Famous Yamada Nishiki Rice

Japanese sweets and dessert brand KAKERI opened pre-orders for its new luxury chocolate "Nihonshu Gateau Chocolat" on Monday (January 18) which is made in collaboration with Inami Shuzo, a distillery based in Miki, Hyogo, a city known for a type of rice called Yamada Nishiki. Pre-order opened exclusively on Makuake.

Daigin Koshu – Bronze Award winner in the Sake category at IWC2020

Inami Shuzo

The chocolate is infused with Daigin Koshu, a sake made by Inami Shuzo which won a Bronze award at the International Wine Challenge for Japanese Sake in 2020. The chocolate is also best paired with a cup of strong sake too. Online orders are shipped in freezer refrigeration and can be eaten frozen too, giving it an ice cake-like texture. If left to defrost in the fridge, the taste and fragrance of the infused sake increases, so sake-lovers can pick how they best want to enjoy their gateau treat.

What makes this chocolate so special is that it enjoys the combination of ingredients and a workforce all from the city of Miki where the distiller is located. The sake is made with a rice called Yamada Nishiki which is grown in Miki and is famous for being used to make sake. The consumption amount of this rice has decreased as a result of the pandemic and so the chocolate was developed to help spread word of the rice and ensure it doesn't go to waste.