World's First Cacao Fruit Kit Kat Reduces Waste and Replaces Sugar with Cacao Pulp
Nestlé has unveiled a new chocolate recipe that replaces added sugar with cacao pulp. Japan, famous for its exciting range of Kit Kat flavours, adopted the new recipe to create the first cacao fruit chocolate Kit Kat. The Kit Kat was released for sale at the Kit Kat Chocolatory and online on November 29, 2019.
The Kit Kat Chocolatory sells premium-quality Kit Kats made and from a careful selection of ingredients and by a special production method. The process is overlooked by Yasumasa Takagi, the chocolatier who owns LE PATISSIER TAKAGI.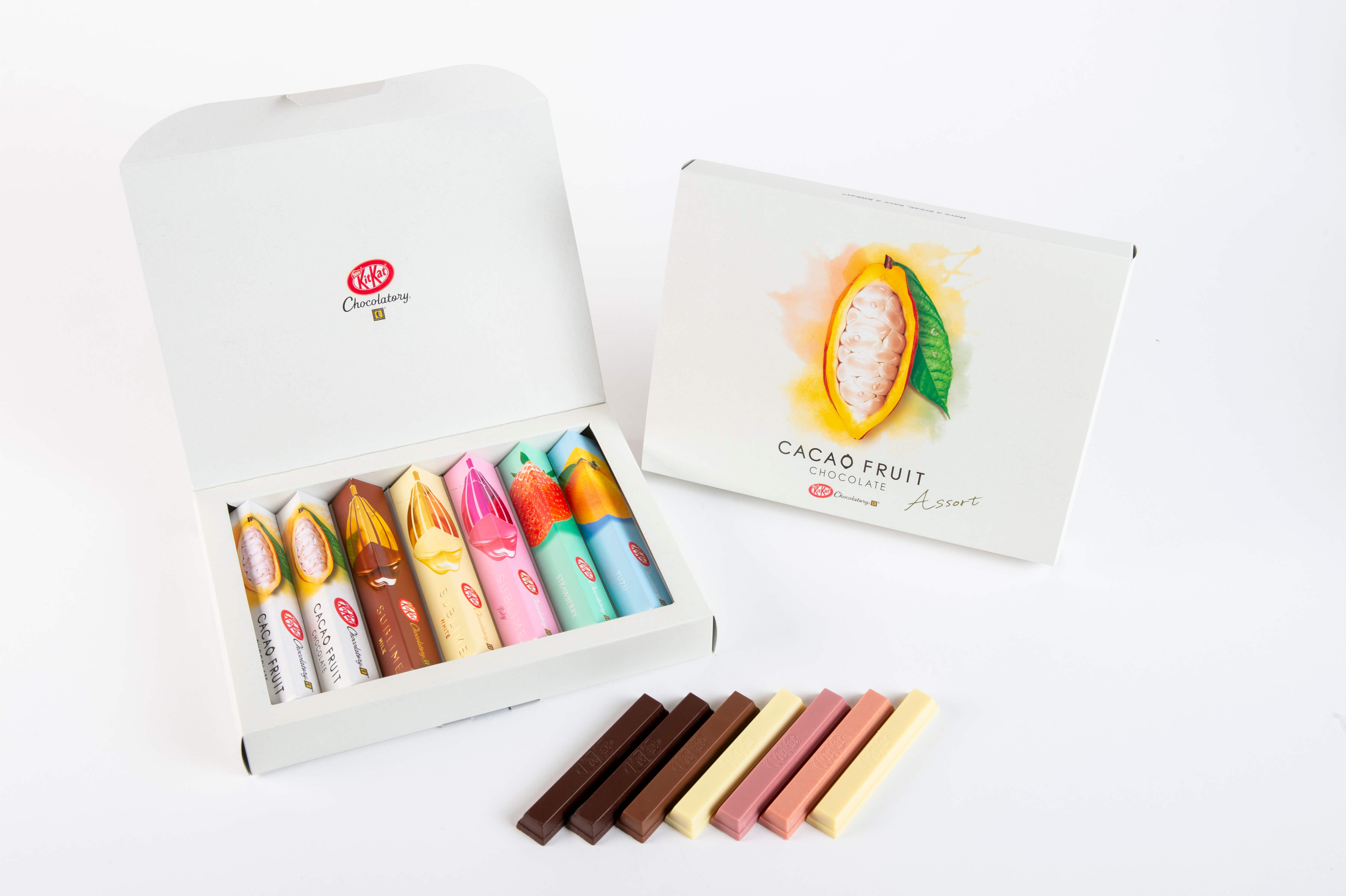 Whether your're looking for a unique Japanese souvenir for your friends and family, something small yet luxurious for your work colleagues or even just a petite treat for yourself, the Kit Kat Chocolatory's popular range caters for every souvenir situation.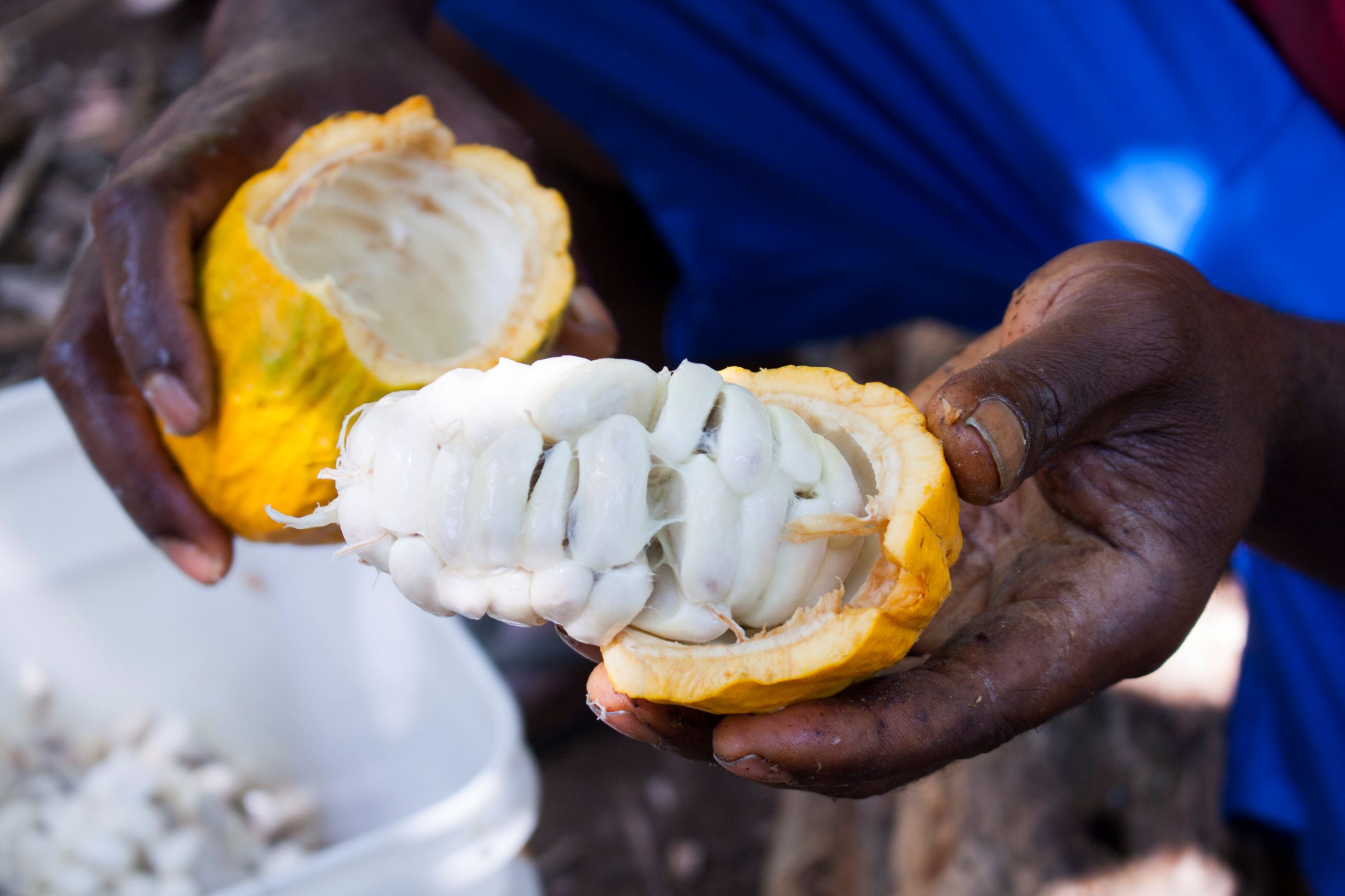 The new Cacao Fruit Chocolate Kit Kat uses Nestlé's new cacao pulp recipe. Cacao pulp is the white substance surrounding the cacao beans inside the fruit. It is dried and pulverised into a fine powder to be used as a replacement for sugar. By infusing cacao pulp into the chocolate, the chocolate flavour can be tasted more fully, making for a new and exciting flavour experience.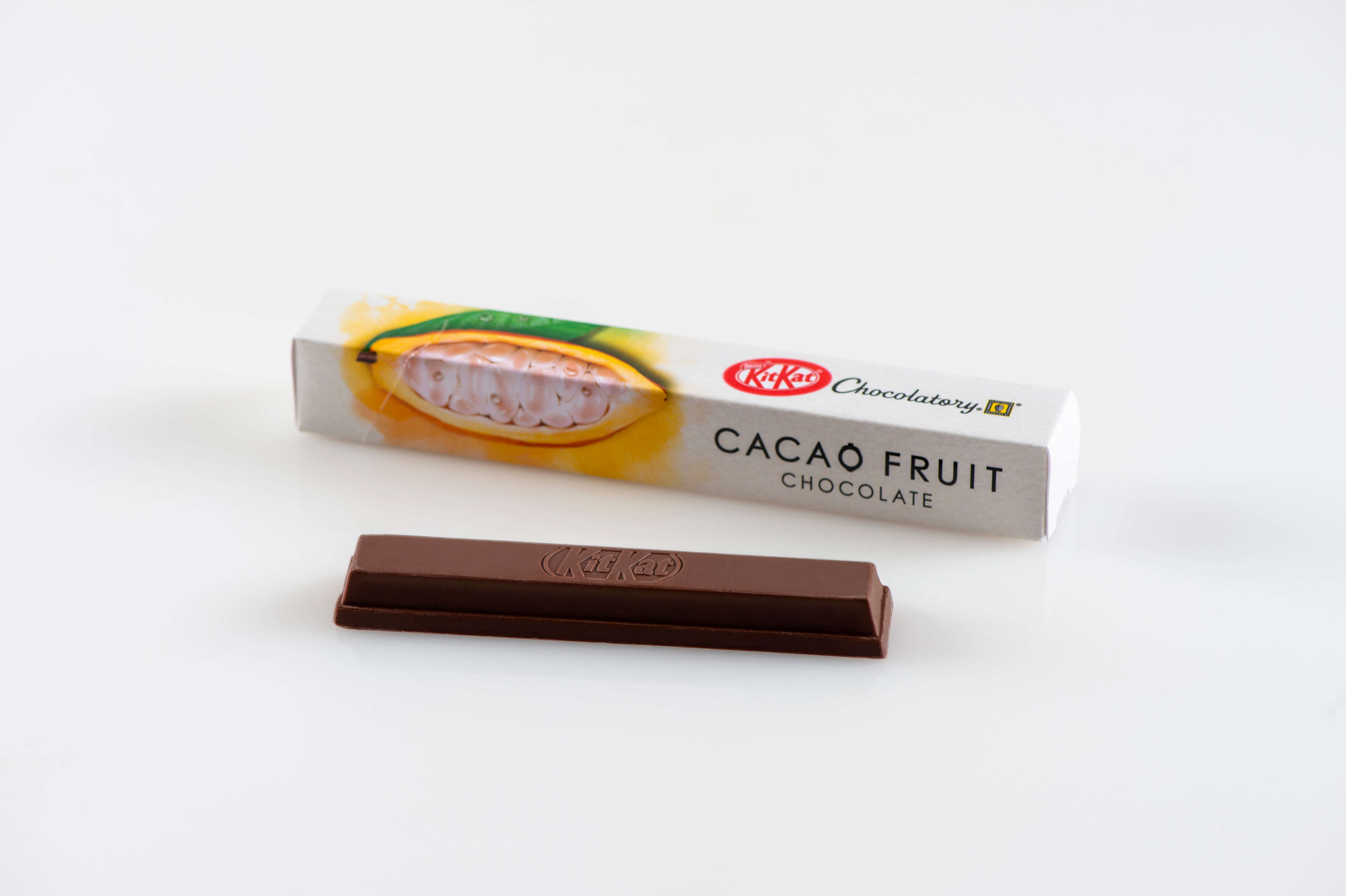 Many people are unaware of the unique sweet and tangy flavour of the cacao fruit's soft and fleshy insides. Part of the cacao pulp is normally used as sugar to ferment cacao beans in a normal chocolate-making process. However, approximately 70 percent of the pulp is instantly disposed of.
Brazil and many other cacao-producing Latin American countries use cacao pulp to make drinks and smoothies that are easy to produce. It is also seen as an ingredient in ice creams. Some businesses have jumped on the appeal of cacao as a rarely used ingredient to make and export cacao juice. Other than this, usage of cacao pulp has remained low for a long time.
Under Takagi's guidance, a new Kit Kat has arrived at the chocolatory which spreads not only the appeal of cacao as a natural sugar and flavouring, but also encourages sustainable living through reduced food waste.
Come try a Kit Kat made with cacao pulp for yourself.
Information
Kit Kat Chocolatory Cacao Fruit Chocolate
Contains: 1 Bar
Price: ¥400
Sold At:
7 KitKat Chocolatory shops (3 in Tokyo, 2 in Osaka, 1 in Kawasaki and 1 in Hiroshima)

Online including the Kit Kat Chocolatory Online Shop and Nestlé Online Shop

Kit Kat Gift Shops (Located in Rinku Premium Outlets)
Kit Kat Chocolatory Cacao Fruit Chocolate Assortment
(Sold online including the Kit Kat Chocolatory Online Shop and Nestlé Online Shop)
Assortment of 5
Price: ¥1,900 (Before Tax)
Assortment of 7
Price: ¥2,500 (Before Tax)
Kit Kat Chocolatory Online Shop: https://nestle.jp/brand/kit/chocolatory/
RECOMMENDED ENTRIES
The Luxurious KitKat Chocolatory is Revamping Its Chocolate Line-Up

Nestlé has announced that it is revamping its 16 products* at the KitKat Chocolatory which will be released on October 11, 2019.

*One of these products will be released in late November

The KitKat Chocolatory is a direct-to-consumer chain, serving premium, handcrafted KitKats made with top quality ingredients and production methods under full direction by Takagi Yasumasa―the owner and chef of LE PATISSIER TAKAGI. Its luxurious line is endless, with products ranging from the elusive ruby chocolate, whose cocoa beans give the finish product its pink colour, to volcanic chocolate made from rare cocoa beans sourced from volcanic islands, and beyond.

The Chocolatory takes regular KitKats and the brand to a whole new level while still having that sense of familiarity, making their products great gifts and personal treats.

The new line-up of 16 products is considered by four categories: 1) the chocolate type, 2) where the cocoa beans are produced, 3) the production process from bean to bar, and 4) the combination between chocolate and other ingredients. Each and every bar has been given equal attention to create chocolates with different flavours, enabling consumers to discover not only which tickle their taste buds, but the story behind each unique bar.

There is a rapidly growing interest amongst consumers who want to know where their food comes from and how it's made. When it comes to specialist chocolate products, a lot of information isn't widely known. That's the reason behind KitKat Chocolatory's revamp, as well as to create chocolate that nobody has experience before.

Let's take a look at four of the new KitKats you can get your fingers on.

Enjoy the Chocolate Varieties

KitKat Chocolatory Sublime Bitter – ¥300 Each (Before Tax)

A hallmark product since KitKat Chocolatory opened, the Sublime Bitter is couverture chocolate made with 66% cocoa. The bar is a blend of three different cocoa beans from Ghana, Madagascar, and the Dominican Republic. This addictive delight reserves the original bitterness of the cocoa while having a fruity tinge to it.

Enjoy the Difference Between Cocoa Production Areas

KitKat Chocolatory Sublime Volcanic Malakula Island – ¥400 Each (Before Tax)

This mysterious 'volcanic chocolate' is made from extremely rare cocoa beans sourced from the volcanic Malakula Island which was voted one of the happiest places on earth. It has a distinct bitterness and very fragrant scent reminiscent of the ground.

Enjoy the Chocolate Making Process

KitKat Chocolatory Sublime Raw – ¥300 Each (Before Tax)

The cocoa beans of this "raw" chocolate are cooked at a lower temperature than usual to draw out a more natural flavour of the original bean, like it's been plucked right out of a cocoa bean farm and placed into your hands.

Enjoy the Combination Of Ingredients

KitKat Chocolatory Moleson – ¥500 Each (Before Tax)

Finally, here is the world's first ingredient-topped KitKat. It uses the smooth, melt-in-the-mouth KitKat Chocolatory Sublime Milk bar as the base, and is topped with sweet and sour dried cranberries and fragrant crushed almonds, creating a flavourful and textural ensemble.

Discover a whole new world of KitKat and chocolate when the new products drop at KitKat Chocolatory on October 11.

The Perfect Souvenir: Kyoto's Famous OTABE Confections in Velvety Matcha Chocolate

If you're in Kyoto looking for a delicious elegant souvenir for your people back home then BijuuCo.,ltd. is your port of call. Their irresistible desserts vary from their well known sweet bean paste-filled Yatsuhashi to their Kyo-Baum. They will be releasing the mouthwatering Matcha Chocolate OTABE from November 20, 2019.

The rich aroma of the matcha chocolate will be the first thing to entice you. The matcha Yatsuhashi is made from specially selected water and Koshihikari rice, which is famed as Japan's best rice. The soft and chewy texture of the Yatsuhashi dough gently embraces a velvety, melt-in-the-mouth matcha chocolate ganache filling. These OTABE confections are bursting with the flavours of Kyoto and are only available to purchase for a limited period.

OTABE combined with Kyoto's famous matcha chocolate is matcha match made in heaven. If you're ever in Kyoto, you must try it.

Information

Matcha Chocolate OTABE

Selling: November 20, 2019 to the start of May, 2020

Price: Box of 10 (2 packs of 5): ¥660 Before Tax

Eat within 11 days of production.

Purchasable from souvenir shops in Kyoto and Kyoto Station. 

Official Website: http://www.otabe.kyoto.jp/

Take a Look at Daimaru Tokyo's Delicious Seasonal Sweets Line-Up

With the weather getting colder and colder, don't you just want to snuggle up indoors under a nice warm blanket and eat tasty sweets and snacks? well, if you're in Tokyo this autumn, head to Hoppe Town on the first floor of Daimaru Tokyo where they're selling a bunch of different seasonal sweets from November 20 to 26. We're going to showcase a select few.

Cookie Doumei Assorted Box

Contains 10 (5 Types, 2 Each) – ¥1,900 @ Cookie Doumei (Floor 1F)

Enjoy a box of assorted cookies made by a UK-based cookie brand with a recipe like that mother uses. These simple baked cookies are made with wheat flour from Japan, fruits, spices, and chocolate.

Premium Chocolate (Dark/Matcha)

Contains 5 – ¥1,080 Each @ Dari K (Floor B1F) *Available until December 3, 2019

These crunchy and buttery biscuit sandwiches come in two flavours: a dark chocolate and salt, and a matcha made with freshly powdered matcha from Kyoto. These biscuits only appear a few times in Tokyo throughout the year at events, so don't miss out on this rare opportunity.

Chocolate Canelé

¥345 Each @ Le Soeur (Floor 1F)

Bearing a crunchy exterior and chewy inside, these rich chocolatey canelé are topped with almond for added texture. Change it up and put them in the fridge to set for a crispier texture.

Caramel & Raspberry

Contains 5 – ¥675 @ Caramel Verger (Floor B1F) *Available until December 3, 2019

These crunchy chocolate cookies are filled with a mix of dried fruits, caramel and cornflakes. The sourness of the berries coupled with the smoothness of the caramel is to die for!

Premium Natural Sweets

Contains 10 – ¥1,500 @ Lady Bear (Floor B1F)

These raw chocolates from Lady Bear get their natural sweetness from a delicious agave syrup. Delicious, tempting, irresistible.

Baked Mallow Crystal Cherry

Contains 4 – ¥1,382 @ Baked Mallow (Floor 1F) *Available until November 30, 2019

Graham crackers covered in couverture chocolate with high cocoa content and stuffed with fluffy marshmallow and a whole juicy Amarena cherry. What's not to like? These are available in a very limited number, don't miss out!

Which of these six tasty treats are most tempting to you?

Information

Seasonal Sweets

Running: November 20, 2019 – November 26, 2019

Location: Hoppe Town, Daimaru Tokyo Floor 1F  (1-9-1 Marunouchi, Chiyoda Ward, Tokyo)

Daimaru Tokyo Official Website: https://www.daimaru.co.jp/tokyo/
RELATED ENTRIES
Top 10 Most Popular Souvenirs to Pick Up at Tokyo Station's HANAGATAYA Store | 2019 Edition

HANAGATAYA is a souvenir variety shop that opened in Tokyo Station's central passage back in July. After over 5 months of sales, the store has revealed its Top 10 most popular products based on sales.

The line-up features a selection of HANAGATAYA exclusives, as well as products from elsewhere which have received pre-sales at HANAGATAYA. You will be spoilt for choice with this selection, all of which are perfect for ringing in the New Year when travelling back home. Let's take a look.

1st Place

Banana Custard Cream – Tokyo 2020 Olympic Emblem Design (Tokyo 2020 Official Licensed Product) – Contains 8 – ¥1,134 (Tax Included)

Officially licensed by the Tokyo 2020 Olympics, these chewy cakes are made from domestic Japanese rice, and are filled with deliciously creamy banana custard.

2nd Place

Tokyo Banana Butter Madeleine (Tokyo Banana World) – Contains 4 – ¥560 Tax Included)

Exclusive to HANAGATAYA come these all-new butter madeleine's created by famous confectionery company Tokyo Banana. These baked treats feature a buttery fragrance and taste, and are made with a banana confiture and finished with fresh lemon.

*Exclusive to HANAGATAYA GRANSTA Tokyo Central Street

3rd Place

Toro One Press Chocolate Chick (Tokyo Hiyoko) – Contains 3 – ¥648 (Tax Included)

This year marks 107 since the company Hiyoko was established. The "Toro One Press Chocolate Chick" is a new confection from them: an adorable skyward-looking chick made up of three chocolate layersーeach with their own distinct flavour. At the heart of the chick is a moist chocolate paste.

*Exclusive to Tokyo Station

4th Place

Cheese Wich – Contains 5 – ¥594 (Tax Included)

These light and refreshing cheese cookies, called Cheese Wiches, are filled with a chocolate-coated melted cheese sauce. Three layers means an enjoyable amalgamation of flavours and textures.

*Exclusive to Tokyo Station

5th Place

Chocolate Chestnut Eggs (Ginza Tamaya) – Contains 4 – ¥800 (Tax Included)

"Goma Tamago" is a popular bite-sized egg-shaped confection. This chestnut flavour was created for HANAGATAYA, a mix of dark chocolate and vanilla flavoured chestnut paste.

*Exclusive to Tokyo Station

6th Place

Strawberry Cookie Sandwich (Berry UP!) – Contains 8 – ¥1,296 (Tax Included)

Berry UP! is a cute confectionery brand which creates baked strawberry sweets. Keeping with that theme, they have created a crunchy quintuple-layered cookie sandwich filled with sweet and sour strawberry chocolate.

7th Place

Shinjuku Curry Ebi (Shinjuku Nakamuraya) – Contains 6 – ¥600 (Tax Included)

If you're looking for something more savoury, then this one's for you: Shinjuku Nakamuraya's light, fluffy and melt-in-the-mouth ebi, coated in curry spices. One nibble is enough to get you instantly hooked.

8th Place

Strawberry Polvorón (Berry UP!) – Contains 6 – ¥1,296 (Tax Included)

Another entry from Berry UP!, these polvorón shortbreads are made from lots of fresh strawberries mixed with condensed milk and mascarpone, creating a subtle sweetness that's enough to have your mouth watering.

9th Place

BLUE MELTIN SAND (Tokyo Campanella) – Contains 8 – ¥1,200 (Tax Included)

What if herbal tea and cookies became its own snack? That's what Tokyo Campanella asked too, and so make it a reality. Their BLUE MELTIN SANDs are cat's tongue cookies stuffed with a herbal tea sauce that has a natural blue colour.

10th Place

Premium Cacao Full Sablé (Mary Chocolate) – Contains 18 – ¥1,350 (Tax Included)

Finally, we have a premium edition of chocolate company Mary Chocolate's Cacao Full Sablés. This one's for the adults, a sophisticated combination of bittersweet chocolate and berries.

*Exclusive to HANAGATAYA GRANSTA Tokyo Central Street

Did you enjoy this list? Which one takes your fancy the most? Whether as a souvenir for the folks back home, or as a treat to yourself to celebrate 2020, if you're in Tokyo this year then be sure to give HANAGATAYA a visit.

McDonald's Japan to Release Pink Triangular Strawberry and Chocolate Pie

McDonald's Japan is releasing a new strawberry flavour of its popular triangular chocolate pie dessert on December 4, 2019: the Sankaku Choco Pie Amaou.

The chocolate pies have a crunchy exterior made up of layers and layers of delicious pastry. They're filled with warm, melted chocolate to complete the tempting treat.

The new flavour is made with strawberry powder made from Japanese amaou strawberries which are known for their distinct flavour and subtle sweetness and sourness. McDonald's Japan released an ordinary strawberry flavour last year, but this one promises to be even richer in flavour.

The choco pies will be released in a special pink strawberry packaging for a limited time.

McDonald's is also still selling the Sankaku Choco Pie Black which we covered last month. It contains almonds and sweet melted chocolate cream. These are also available for a limited time onlyーuntil late Decemberーso don't miss out on these McDonald's-exclusive treats!

Information

Sankaku Choco Pie Amaou

Running: December 4, 2019 – Early January 2020 (subject to change)

Price: ¥150 (Tax Included)

Available: At most McDonald's branches around Japan

McDonald's Japan Official Website: http://www.mcdonalds.co.jp/

Enjoy the Flavours of Sendai with the Zunda Shake Kit Kat

Sendai is famous for zunda mochi: a traditional dessert that fuses boiled mochi (rice cakes) and zunda (sweet edamame bean paste). The zunda mochi shop Zunda Saryo is collaborating with Nestlé to create a Kit Kat Mini with the regional flavour "Zunda Saryo Shake", which will be released on December 1 at a number of shops including souvenir shops around Sendai Station and Sendai Airport, and selected KASHO SANZEN shops*

*(Omachi  Hirose-dōri, Koji Matsushima and Monzen Matsushima) 

Zunda Saryo spreads the delicious flavour of zunda across Japan through their variety of zunda-flavoured desserts and drinks. The Zunda Shake is an original drink made by fusing carefully selected milk with vanilla and then blending it with zunda to create an original sweet shake to represent Sendai. Kit Kat's crispy wafers add texture to the layers of smooth chocolate, producing a divine flavour. Japan is home to more than 40 different Kit Kat flavours which are popular within Japan and overseas. 20 of those are from Japan's regional flavour series, which is a collaboration with a regional specialty. 

Foreigners and even Japanese visitors from other parts of the country will have never seen this new flavour before. The new Kit Kat Mini Zunda Shake flavour is sure to be the best way to experience the flavours of the region. 

The cream filling is kneaded with edamame powder and sandwiched between crispy wafers. The Kit Kat is coated in Zunda shake-flavoured chocolate, creating the perfect Kit Kat flavour.  

Whether you're looking for a small snack or a souvenir, the Zunda Shake Kit Kat is perfect for you.

Information

Kit Kat Mini Zunda Shake Flavour

Contains: 9

Price: ¥800 (Before Tax)

Purchase from: Souvenir shops around Sendai Station and Sendai Airport, KASHO SANZEN (Omachi  Hirose-dōri, Koji Matsushima and Monzen Matsushima) 

Release Date: December 1, 2019

Valentine's Day 2020: Japanese Chocolates, Golden Desserts & More at GINZA SIX

Winter may be cold, but that's no excuse to stay indoors all day when there's so many seasonal events and festivals to be enjoyedーespecially in Japan. With Christmas and New Year's just on the horizon, it'll soon be time to begin preparations for Valentine's Day.

GINZA SIX is the biggest shopping centre in Ginza, a district itself which prides itself as the high end part of Tokyo. Seeing as Ginza is home to many internationally-known chocolatiers, you can bet that GINZA SIX is sure to deliver when it comes to high-quality Valentine's chocolates and sweets. And you'd be right in thinking that, because the shopping complex is ready to showcase some of the delectable delights set to pose in all of their delicious glory during the season of love. Whether it's a treat to some premium chocolate to your special someone, or a bit of self-indulgence, GINZA SIX has you covered this coming Valentine's Day.

But that's not all, because a string of pop-up shops are going to open too. Let's take a peek into what's to come.

Premium sweets made with the "4th type of chocolate"

We all know dark, milk, and white chocolate, but many people are still unaware of ruby chocolate. Made from ruby cocoa beans, the chocolate was officially unveiled in 2017, and is marketed as the "4th category" of chocolate. It will come as no surprise then that GINZA SIX will be making use of this still rare chocolate, as well as "blonde" chocolateーyet another unfamiliar type.

Valrhona Blonde Chocolate Plate With Jasmine Scent – ¥1,200 @ THE GRAND GINZA

Blonde chocolate's characteristic quality lies in its combination of caramel and biscuit. The chocolate artisans over at Valrhona, a Japanese chocolate company savoured by some of the world's top patissiers, have forged a blonde chocolate dome dessert injected with a raspberry puree and sweet vanilla mousse. The dessert is sat on a bed of crunchy crumble and surrounded with a pool of jasmine-scented blonde chocolate cream. This one's for the adults to enjoy.

Ruby Saku Langue de Chat (12 Pack) – ¥1,200 @ ISHIYA GINZA

For a limited time only, ISHIYA GINZA's langue de chat, also known as cat tongue biscuits, arrive in a ruby chocolate flavour. They took their delicious cat tongues and sandwiched smooth and sour ruby chocolate between them.

Japanese-style chocolates

These next chocolates are made with the Japanese spirit and palate in mind.

Tsujiri Collection (8 Pack) – ¥2,360 @ Tsujiri

The tea experts at Tsujiri have paired chocolate with matcha and houjicha, two types of tea that go perfect with chocolate. Bringing out the flavour of tea in their products is Tsujiri's speciality. Houjicha comes as the newest flavour to this product alongside koicha, yuzu, sesame praline, Japanese pepper, sakura strawberry, and brown sugar.

Kurosu Vinegar Raw Chocolate – ¥1,500 @ Shoubunsu Vinegar Brewery

Kurosu vinegar is smooth and doesn't have a strong flavour or smell. It goes well with these chocolates from the Shoubunsu Vinegar Brewery, including their slightly bitter milk chocolate and white chocolate with soy milk. Each bite offers a sweet, refreshing flavour.

Textural chocolates

If you're here for the texture, then you've come to the right place. From a dessert that combines light pound cake with rich mousse to a melt-in-the-mouth chocolate terrine, GINZA SIX has no shortage of sweets with tempting textures.

Rouge – ¥2,315 @ Patisserie Pavlov

This dessert is made with pound cake and rich mousse and is lavish with ganache. It's covered with a strawberry chocolate coating and finished with an artisanal chocolate decoration.

Chocolate Terrine – ¥6,000 @ FRANCK MULLER GENEVE

Luxurious is the word to describe this chocolate terrine, a heavenly mix of Swiss dark chocolate and tasty cultured butter, resulting in a complex flavour profile of richness and melt-in-the-mouth sweetness.

Dine-in Valentine's menu

Another way to enjoy your time at GINZA SIX for Valentine's 2020 is to sit down at one of the cafes or restaurants to enjoy one of their exclusive Valentine's Day menu items, such as an afternoon tea. It's a great way to spend your time with your loved one or as a get-together for all the singles out there!

La Saint-Valentin Afternoon Tea Sets – ¥4,200 (Serves 1) @ THE GRAND GINZA

"Noir & Blanc" (Black/White) is the theme of these afternoon tea sets, which come in two different colours and are towered with strawberry-packed sweets and savoury snacks. Will you go for the stylish noir, or the sophisticated blanc?

Coppa Valentine – ¥1,819 @ Café Cova Milano

Served in a wine glass, this strawberry dessert is a layered combination of sweet and sour strawberry sorbet, chocolate ice cream, and strawberry sauce. It's topped with heart-shaped chocolate and a rose bell.

Limited-time pop-up shops

CAFÉ COVA (GINZA SIX Floor B2F) 

CAFÉ COVA has lots of incredible surprises for the Valentine's season next year, including a chocolate box wrapped in beautiful packaging, as well as the above-pictured heart and rose panettone (which, by the way, they'll only be selling a select few of!)

Paul Smith POP UP SHOP (GINZA SIX Floor 4F) / Open November 27, 2019 – January 14, 2020

IDEAS FROM LONDON is a pop-up shop by Paul Smith that's set to bring ideas from the UK to Japan. See their new fashion collection, special collaborative items, and more.

This is just a select look at what's to come when the season of love hits GINZA SIX. Make sure you don't miss out.

Information

GINZA SIX

Address: 6-10-1 Ginza, Chuo Ward, Tokyo

Opening Hours: Shops/Cafes (B2F-5F) 10:30-20:30 / Restaurants (6F, 13F) 11:00-23:00

*Business hours differ from shop to shop.

No Fixed Holidays (But shops and restaurants will be closed on January 1, 2020)

Access: Directly connected to Ginza Station via the Tokyo Metro Ginza Line, Marunouchi Line and Hibiya Line.

TEL: 03-6891-3390
Website: http://ginza6.tokyo/

Le Chocolat Alain Ducasse Serves Up Irresistible Afternoon Tea Set

Le Chocolat Alain Ducasse is a chocolate shop owned by French Monégasque chef Alain Ducasse. The chocolate shop will be enhancing its luxurious afternoon tea set called Le Goûter.

The afternoon tea set tempts you with its 10 delicious creations including choux pastries, macarons, melty pistachio moelleux, sweet sablé biscuits, and brioche bread. The drinks selection includes their standard afternoon tea, coffee, and flavoured teas.

If you're a chocoholic, this afternoon tea set should definitely be on your bucket list.

Information

LE GOUTER 

¥4,500 Per Person (Before Tax)

* A two-person serving is shown in the photo.

Reservations:

Tokyo Kobo

TEL 03 3516 3511

https://restaurant.ikyu.com/112311/

Roppongi

TEL 03 5775 1185

https://restaurant.ikyu.com/112314/

* The menu may vary from day to day.

* Reservations over the phone must be made before 8pm two days before your desired day.

No Chocoholic Can Resist Lindt's New Nutty Caramel Chocolate Drinks

Since being founded in 1845, Lindt has carried its reputation as a Swiss brand of chocolate throughout the centuries, capturing the hearts of chocoholics in over 120 countries across the world. Lindt will be releasing a brand new chocolate drink on December 1, 2019 across Japan. The chocolate drink will be available in hot and cold and is made using an irresistible Gianduia chocolate hazelnut spread.

Both the hot and cold versions of the drink contain Lindt's signature melt-in-the-mouth milk chocolate which is mixed with luxurious hazelnut praline paste. The praline paste is made from roasted hazelnuts fused into delicious caramel. Once the aroma of both roasted hazelnuts and caramel entices you to take a sip, the rich flavour will spread through your mouth and you won't be able to stop.

The drinks are topped with a fluffy chocolate and whipped cream combination and chocolate flakes which add a wonderful texture. The finishing touches on the drink consist of a drizzle of hazelnut praline sauce and a sprinkle of chopped hazelnuts. The wavy water pattern that can be seen decorating the iced chocolate drink can be mixed into the drink and enjoyed. If you're looking for a quick chocolatey refresh, the iced chocolate drink is perfect for you. For those of you who succumb to the winter chills, the hot chocolate drink will warm you up right away.

Once the fragrance of these drinks reaches your nose, no chocoholic will be able to resist.

Information

Lindt Iced Chocolate Drink Gianduia 

Lindt Hot Chocolate Drink Gianduia 

Price: ¥699 (After Tax)

Release: December 1, 2019 (to sell throughout the year)

Purchasable from all Lindt Chocolate Cafés in Japan.

Lindt Japan Official Website: https://www.lindt.jp/

Masaki Aiba & Jun Matsumoto Take Over Shibuya Station Billboards in New Promo Ads

Meiji plastered up some new billboard advertisements for their Meiji Oishii Gyunyu milk and Meiji Milk Chocolate products at Shibuya Station on Monday.

Actors and singers Masaki Aiba and Jun Matsumoto were chosen to be part of the ad promos for the products respectively.

The advertisements will also feature back-to-back in the Saturday November 9 issue of Japanese newspaper Yomiuri Shimbun where they have both written columns about what they like about their chosen products.

The pictures in this photoshoot were also released as downloadable wallpapers on Tuesday. Links below!

Lindt's 6 New Chocolate Cafe Mochas Will Warm You Up This Fall

Premium chocolate brand Lindt is releasing six new mocha beverages on November 1 at Lindt Chocolat Cafe branches across Japan (excluding Lumine Tachikawa). The line-up includes white, milk and dark varieties of their new "Lindt Iced Chocolate Drink Mocha" and "Lindt Hot Chocolate Drink Mocha."

From these two new drinks customers will pick between their favourite kind of chocolate―white, milk or dark―after which their coffee chocolate beverage will be prepared with love and care with a fresh shot of aromatic espresso. The coffee beans used for these mocha delights were carefully chosen by the cafe chain to ensure they enjoy a harmonious combination with the espresso, resulting in a velvety sweetness from the chocolate and rich, full-bodied fragrance from the coffee.

Choose between hot or iced depending on how you feel that day. The iced mochas have a refreshing aftertaste while the hot mocha leaves smooth lingering sweetness in your mouth while also relaxing and warming you up.

Each drink is topped with a light and fluffy mousse and is drizzled in a rich mocha sauce before chocolate nibs and crunchy hazelnuts are thrown on top for texture. Whichever you order, it will be like a dessert in a cup: filling and satisfying. If you're near a Lindt Chocolat Cafe while in Japan from November 1, be sure to pop in.

Information

Lindt Iced/Hot Chocolate Drink Mocha (White/Milk/Dark)

Price: ¥699 (Tax Included)

Running: November 1, 2019 – all year round

Available: At Lumine Chocolat Cafe branches in Japan (excluding Lumine Tachikawa)

Lindt Japan Official Website: https://www.lindt.jp/

Top 6 Desserts Made With Luxurious Pink Ruby Chocolate

Ruby chocolate is a variety of chocolate that was introduced in 2017 as the 4th main type of chocolate alongside milk, white and dark. It didn't hit Japan until October 2018, but since then, the luxury pink delight has been getting much love with the release of many new products. The ruby colour of the cocoa beans is completely natural.

I attended a product conference held by Barry Callebaut, the Belgian-Swiss chocolate company which introduced ruby chocolate to the world. I got to try out various confections made using this chocolate.

When talking about ruby chocolate, you're inclined to highlight its striking pink colour. But the looks are just part of the story. Compared to dark, white and milk chocolate, ruby chocolate is said to have the strongest cacao fruit flavour. Though it's chocolate, it has a sour, fruity kind of taste.

Until last year, I was more about the eye-catching pink colour of the chocolate, so I ended up overlooking that ruby chocolate is often paired with berry-type fruits when it comes to confections. I get it nowーso it has a sour taste? Well then, this year I really want to go all out and appreciate the unique flavour of this ruby chocolate.

Today, I'm going to showcase six new products made with Callebaut® Ruby Chocolate. I've tried them all, so I can properly break down the flavours and how delicious they are for you!

Ruby Chocolate Otabe – ¥660 (Before Tax)

This Japanese confection is a combination of ruby chocolate and "Otabe," which is a confection known as "yatsuhashi," a popular souvenir sweet from Kyoto. Much time is put into making the ganache to ensure the fruitiness of the ruby chocolate remains intact. The ganache is wrapped in chewy yatsuhashi which is made with domestic koshihikari, which is a type of rice, and carefully selected water. There's no way this could be anything short of delicious!

At the taste-testing session, I got to see the ruby chocolate Otabe being made right in front of me. It was done by a kimono-clad Nara who normally makes confections in the factory.

The rich and sour ganache combined with the chewy yatsuhashi is a match made in heaven! The pink colour really is cute after all, isn't it? By wrapping the fruity chocolate in mochi, it creates even deeper flavours in your mouth.

This product will be sold at Kyoto Station and various tourist sites around Kyoto, so if you ever visit the city, make sure you're on the lookout.

Ruby Chocolate Otabe

Running: October 11, 2019 – Early May 2020

Available: At Kyoto Station and tourist spots around Kyoto

Official Website: http://www.otabe.kyoto.jp/

 

 

Ruby Mille-feuille – ¥600 (Before Tax)

From Juchheim comes these ruby chocolate-coated mille-feuille fingers, laced with butter from Hokkaido and strawberry and raspberry mixed cream layered into a crunchy sandwich.

The puff pastry is of course tasty, and the sour flavour of the ruby chocolate mixed with the sourness of the berry cream packs a seriously fruity punch. It's an overall crunchy and rich dessert, but it also has a refreshing taste to it, so one person is sure to be tempted by more than one.

Ruby Mille-feuille

Released: October 1, 2019 (Online orders from October 8, 2019 )

Available: At all 272 branches of Juchheim in Japan / Juchheim Premium Online Shop

Online Shop: https://e-shop.juchheim.co.jp/

Pretzel Cookie – ¥480 Each (Before Tax)

Food company Rosenheim have taken their crunchy butter pretzel cookies and coated them in various chocolate flavours, including ruby, sweet, milk, and white.

The ruby pretzels have that distinct vivid pink colour and of course taste fruity. There's six in a pack, so you can share them with friends.

Pretzel Cookie

Released: September 20, 2019

Available: At mass retailers across Japan

Christmas Wreath Ruby Framboise – ¥5,000 (Before Tax)

Callebaut's new ruby chocolate iced cake will be released from Maison Givrée. It's topped with a ruby chocolate and raspberry ice cream and is adorned with cool and refreshing lychee sorbet.

The best way to eat this cake is when the ice cream has melted a little bit. You can enjoy the sweet fragrance of the ruby chocolate and the marriage between its sour flavour and the raspberry. Try savouring the melted sorbet and ruby chocolate ice cream by leaving it in your mouth.

Christmas Wreath Ruby Framboise

Running: October 11, 2019 – December 13, 2019

Delivery Window: December 20, 2019 – December 25, 2019 (subject to change)

Stock: 50

Available: At Maison Givrée and its online store

Official Website: https://givreetokyo.shop-pro.jp/

Ruby Chocolate Corn Puffs – One Box ¥1,450 (Tax Included)

You can pick up a box of these ruby chocolate corn puffs at Pierre Gagnaire Pains et Gateaux on the 2nd floor of InterContinental ANA Hotel Tokyo. They have a shiny pink pearl-like appearance. The crunchy corn puffs are thick-cut which goes well with that fruity ruby chocolate taste.

Ruby Chocolate Pear Tart – ¥650 (Tax Included)

These cocoa-laced and ruby chocolate powdered baked tarts are also sold at Pierre Gagnaire Pains et Gateaux. They're topped with almond cream and a pear compote. They're also topped with a ganache made from ruby chocolate and a redcurrant puree. Their design is made so that it looks like a flower, crowned with extra redcurrants.

Ruby Chocolate Corn Puffs

Running: All year round

Ruby Chocolate Pear Tart

Running: October 1, 2019 – January 14, 2020

Available: Pierre Gagnaire Pains et Gateaux (InterContinental ANA Hotel Tokyo – Floor 2F)

Hotel Official Website: https://anaintercontinental-tokyo.jp/en/

I'm all about ruby chocolate's deep flavour now. If you've yet to try it then you've got to get your hands on some, to enjoy both its striking pink appearance and that sour cacao fruit flavour.

Writer: Sayuri Mizuno (MOSHI MOSHI NIPPON)

Translator: Joshua Kitosi-Isanga

The Luxurious KitKat Chocolatory is Revamping Its Chocolate Line-Up

Nestlé has announced that it is revamping its 16 products* at the KitKat Chocolatory which will be released on October 11, 2019.

*One of these products will be released in late November

The KitKat Chocolatory is a direct-to-consumer chain, serving premium, handcrafted KitKats made with top quality ingredients and production methods under full direction by Takagi Yasumasa―the owner and chef of LE PATISSIER TAKAGI. Its luxurious line is endless, with products ranging from the elusive ruby chocolate, whose cocoa beans give the finish product its pink colour, to volcanic chocolate made from rare cocoa beans sourced from volcanic islands, and beyond.

The Chocolatory takes regular KitKats and the brand to a whole new level while still having that sense of familiarity, making their products great gifts and personal treats.

The new line-up of 16 products is considered by four categories: 1) the chocolate type, 2) where the cocoa beans are produced, 3) the production process from bean to bar, and 4) the combination between chocolate and other ingredients. Each and every bar has been given equal attention to create chocolates with different flavours, enabling consumers to discover not only which tickle their taste buds, but the story behind each unique bar.

There is a rapidly growing interest amongst consumers who want to know where their food comes from and how it's made. When it comes to specialist chocolate products, a lot of information isn't widely known. That's the reason behind KitKat Chocolatory's revamp, as well as to create chocolate that nobody has experience before.

Let's take a look at four of the new KitKats you can get your fingers on.

Enjoy the Chocolate Varieties

KitKat Chocolatory Sublime Bitter – ¥300 Each (Before Tax)

A hallmark product since KitKat Chocolatory opened, the Sublime Bitter is couverture chocolate made with 66% cocoa. The bar is a blend of three different cocoa beans from Ghana, Madagascar, and the Dominican Republic. This addictive delight reserves the original bitterness of the cocoa while having a fruity tinge to it.

Enjoy the Difference Between Cocoa Production Areas

KitKat Chocolatory Sublime Volcanic Malakula Island – ¥400 Each (Before Tax)

This mysterious 'volcanic chocolate' is made from extremely rare cocoa beans sourced from the volcanic Malakula Island which was voted one of the happiest places on earth. It has a distinct bitterness and very fragrant scent reminiscent of the ground.

Enjoy the Chocolate Making Process

KitKat Chocolatory Sublime Raw – ¥300 Each (Before Tax)

The cocoa beans of this "raw" chocolate are cooked at a lower temperature than usual to draw out a more natural flavour of the original bean, like it's been plucked right out of a cocoa bean farm and placed into your hands.

Enjoy the Combination Of Ingredients

KitKat Chocolatory Moleson – ¥500 Each (Before Tax)

Finally, here is the world's first ingredient-topped KitKat. It uses the smooth, melt-in-the-mouth KitKat Chocolatory Sublime Milk bar as the base, and is topped with sweet and sour dried cranberries and fragrant crushed almonds, creating a flavourful and textural ensemble.

Discover a whole new world of KitKat and chocolate when the new products drop at KitKat Chocolatory on October 11.

Two Snoopy Chocolate Shops to Open in Kyoto on October 9

Two chocolate shops themed on American cartoonist Charles M. Schulz's Peanuts character Snoopy are set to open simultaneously in Arashiyama and Kiyomizu-zaka in Kyoto on October 9, 2019.

Tablet Chocolat – From ¥1,200

Named SNOOPY Chocolat, the shops have many delicious treats lined up for fans of Snoopy, including these tablet-shaped chocolates. There are 8 in total, each telling a story of love, friendship and family that serve to give you courage.

Tablet Chocolat Japan – From ¥500

These cute heart-shaped tablet chocolates are made with Japanese ingredients like wasabi, yuzu, shiso, sesame, matcha, adzuki, shichimi, houjicha and more.

BonBon Chocolat – From ¥800

Made with rich, fragrant cocoa and Japanese flavours like yuzu, wasabi, roasted soy flour, matcha, houjicha and Japanese sake, these luxurious chocolates are like little pieces of art featuring Snoopy in his many different looks.

Both shops will feature an interior design reminiscent of Japanese-style houses. The Kiyomizu-zaka branch will have a luxury white chocolate colour tone while the Arashiyama branch will have a brown-coloured milk chocolate tone.

Tablet Chocolat (Arashiyama Exclusive)

Tablet Chocolat (Kiyomizu-zaka Exclusive)

Both shops will also have their own individual exclusive items too like the ones above, all original to SNOOPY Chocolat.

There will of course be plenty of original merchandise to get your paws on too, like plush toys, takeout cups, mugs, tote bags, freezer bags, and more, all perfect for use at home or as gifts to a friend.

Information

SNOOPY Chocolat (Kiyomizu-zaka Branch)

Address: 2-252 Kiyomizu, Higashiyama Ward, Kyoto, Kyoto Prefecture

Business Hours: 9:30-18:30 (Open from 10:00 on October 9 only)

No Fixed Holidays

Access: 20-minutes on foot from Kiyomizu-Gojō Station via Keihan Electric Railway

SNOOPY Chocolat (Arashiyama Branch)

Address: 22 Sagatenryūji Susukinobabachō, Ukyo Ward, Kyoto, Kyoto Prefecture

Business Hours: 10:00-18:00

No Fixed Holidays

Access: 5-minutes on foot from Arashiyama Station via Keihan Electric Railway / 15-minutes on foot from Saga-Arashiyama Station via JR Line / 20-minutes on foot from Arashiyama Station via Hankyu

SNOOPY Chocolat Official Website:  http://www.snoopy-chocolat.jp

TOKYO CACAO: 20,000 Bars Of Tokyo-Made Chocolate to be Released

Hiratsuka Confectionery Co., Ltd. began the Tokyo Cacao Project in 2003, where it began planting cacao beans on the island of Hahajima, the second largest of the Ogasawara Islands in Tokyo. The project's aim was to produce chocolate made in Tokyo.

That chocolate is finally ready for consumption, as the first-ever batch of chocolate using the beans will be released on November 1. The chocolate is called "TOKYO CACAO," and a limited stock of just 20,000 will be sold.

These plentiful domestic cacao beans are described as having a gentle flavour. The harvested raw cacao beans are fermented and then dried, creating a rich aroma and mild taste. A bite of this chocolate promises the deep, original taste of the cacao beans.

The chocolate design takes on an Edo Kiriko glass style so it can be a chocolate that symbolises Tokyo. Its carefully-crafted shapely design elevates the delicate flavour of the cacao beans and the chocolate's smooth texture. Hiratsuka Confectionery's facility has its own "TOKYO CACAO LAB" so that the chocolate is made "from bean to bar" within Tokyo. This is where the fermentation and drying process takes place and subsequent bar production. It has taken over 10 years to create this authentic Tokyo-made chocolate.

To ensure this chocolate can be treasured and enjoyed, it is carefully packaged and sleeved in a tin like a jewel. This exclusive, limited-edition chocolate from Tokyo is sure to be a welcomed gift to someone special.

Hiratsuka Confectionery is planning to release some TOKYO CACAO at select stores ahead of the November release. If you're in Tokyo this November, make sure you get your hands on some of this very special chocolate.

Information

TOKYO CACAO

Contains: 2 Chocolates (70% Cocoa)

Price: ¥3,000 (Before Tax)

Stock: 20,000

Release Date: November 1, 2019 (*Orders now being taken on the online store)

Available At: The TOKYO CACAO website and a planned list of select stores which is yet to be announced (as of September 19, 2019)

Official Website: http://www.tokyo-cacao.com/