Top 10 Most Popular Souvenirs to Pick Up at Tokyo Station's HANAGATAYA Store | 2019 Edition
HANAGATAYA is a souvenir variety shop that opened in Tokyo Station's central passage back in July. After over 5 months of sales, the store has revealed its Top 10 most popular products based on sales.
The line-up features a selection of HANAGATAYA exclusives, as well as products from elsewhere which have received pre-sales at HANAGATAYA. You will be spoilt for choice with this selection, all of which are perfect for ringing in the New Year when travelling back home. Let's take a look.
1st Place
Banana Custard Cream – Tokyo 2020 Olympic Emblem Design (Tokyo 2020 Official Licensed Product) – Contains 8 – ¥1,134 (Tax Included)
Officially licensed by the Tokyo 2020 Olympics, these chewy cakes are made from domestic Japanese rice, and are filled with deliciously creamy banana custard.
2nd Place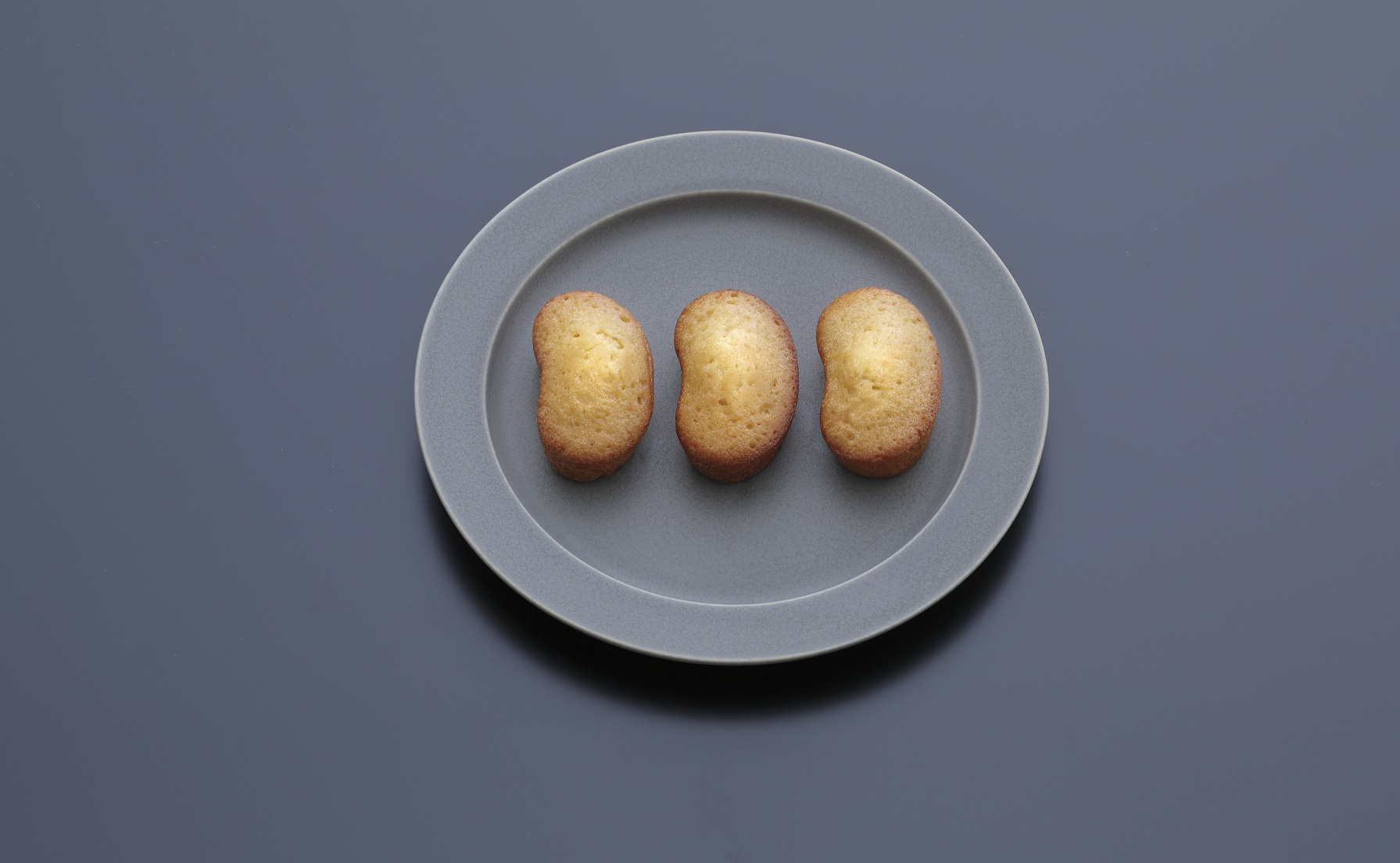 Tokyo Banana Butter Madeleine (Tokyo Banana World) – Contains 4 – ¥560 Tax Included)
Exclusive to HANAGATAYA come these all-new butter madeleine's created by famous confectionery company Tokyo Banana. These baked treats feature a buttery fragrance and taste, and are made with a banana confiture and finished with fresh lemon.
*Exclusive to HANAGATAYA GRANSTA Tokyo Central Street
3rd Place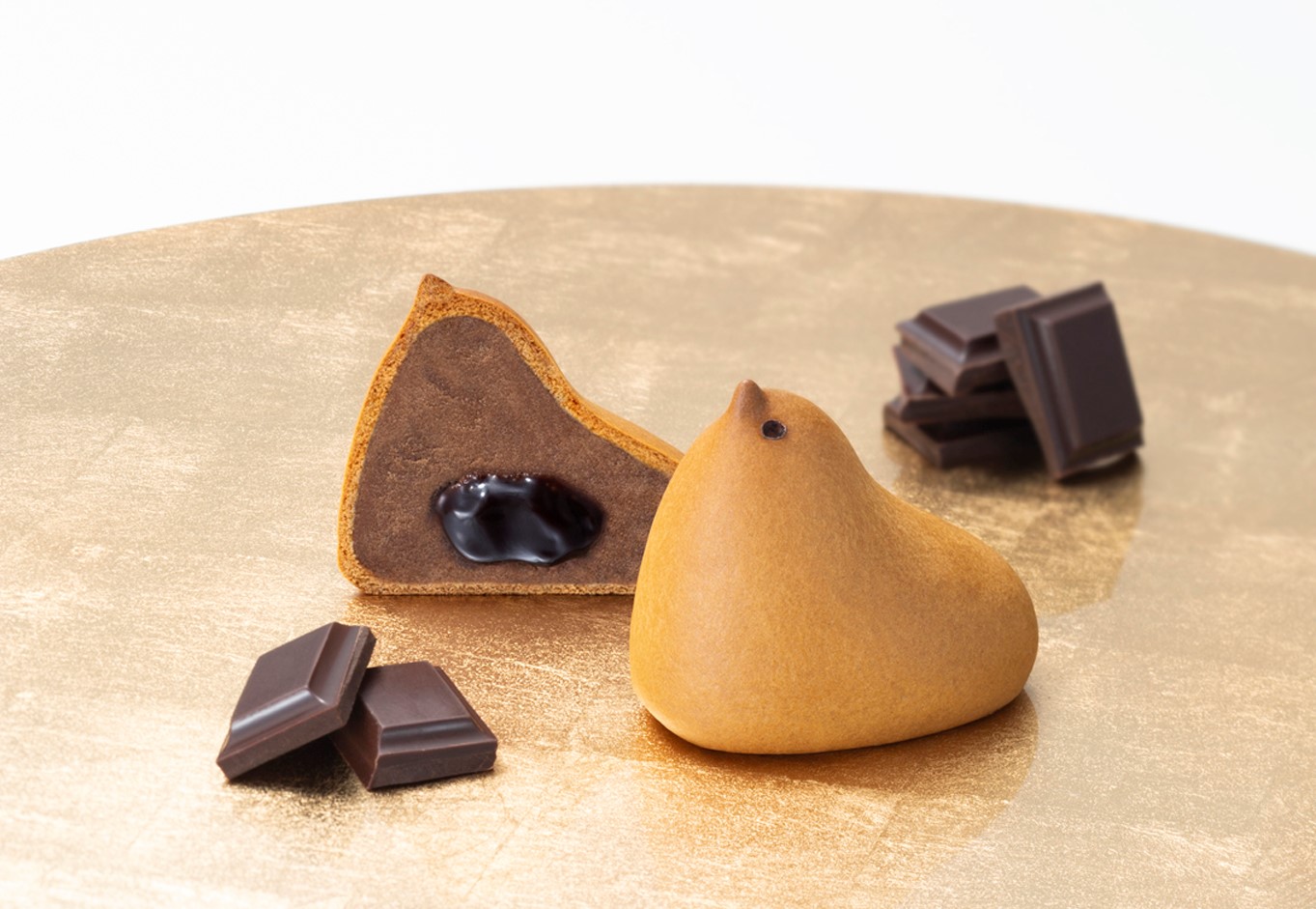 Toro One Press Chocolate Chick (Tokyo Hiyoko) – Contains 3 – ¥648 (Tax Included)
This year marks 107 since the company Hiyoko was established. The "Toro One Press Chocolate Chick" is a new confection from them: an adorable skyward-looking chick made up of three chocolate layersーeach with their own distinct flavour. At the heart of the chick is a moist chocolate paste.
*Exclusive to Tokyo Station
4th Place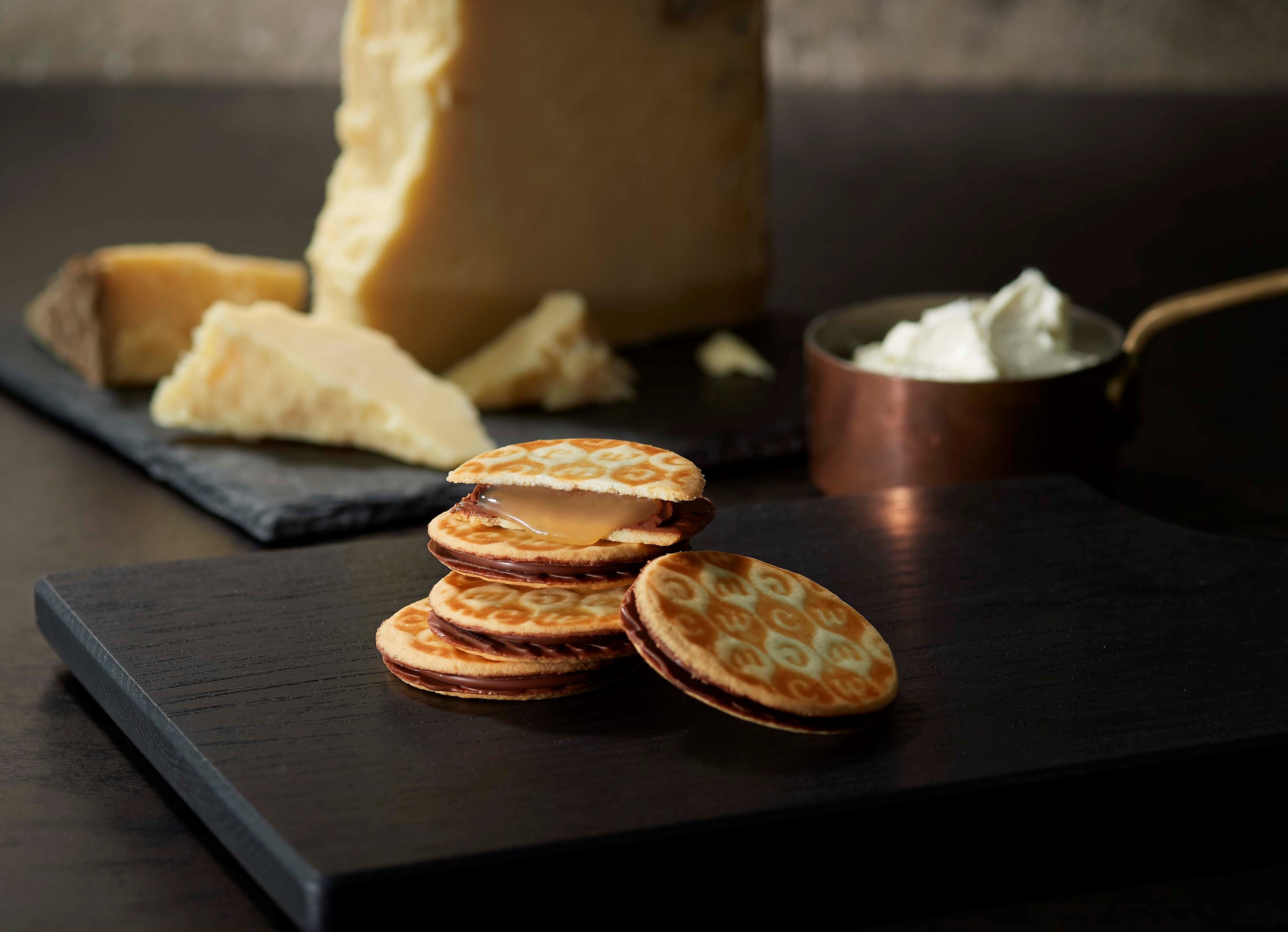 Cheese Wich – Contains 5 – ¥594 (Tax Included)
These light and refreshing cheese cookies, called Cheese Wiches, are filled with a chocolate-coated melted cheese sauce. Three layers means an enjoyable amalgamation of flavours and textures.
*Exclusive to Tokyo Station
5th Place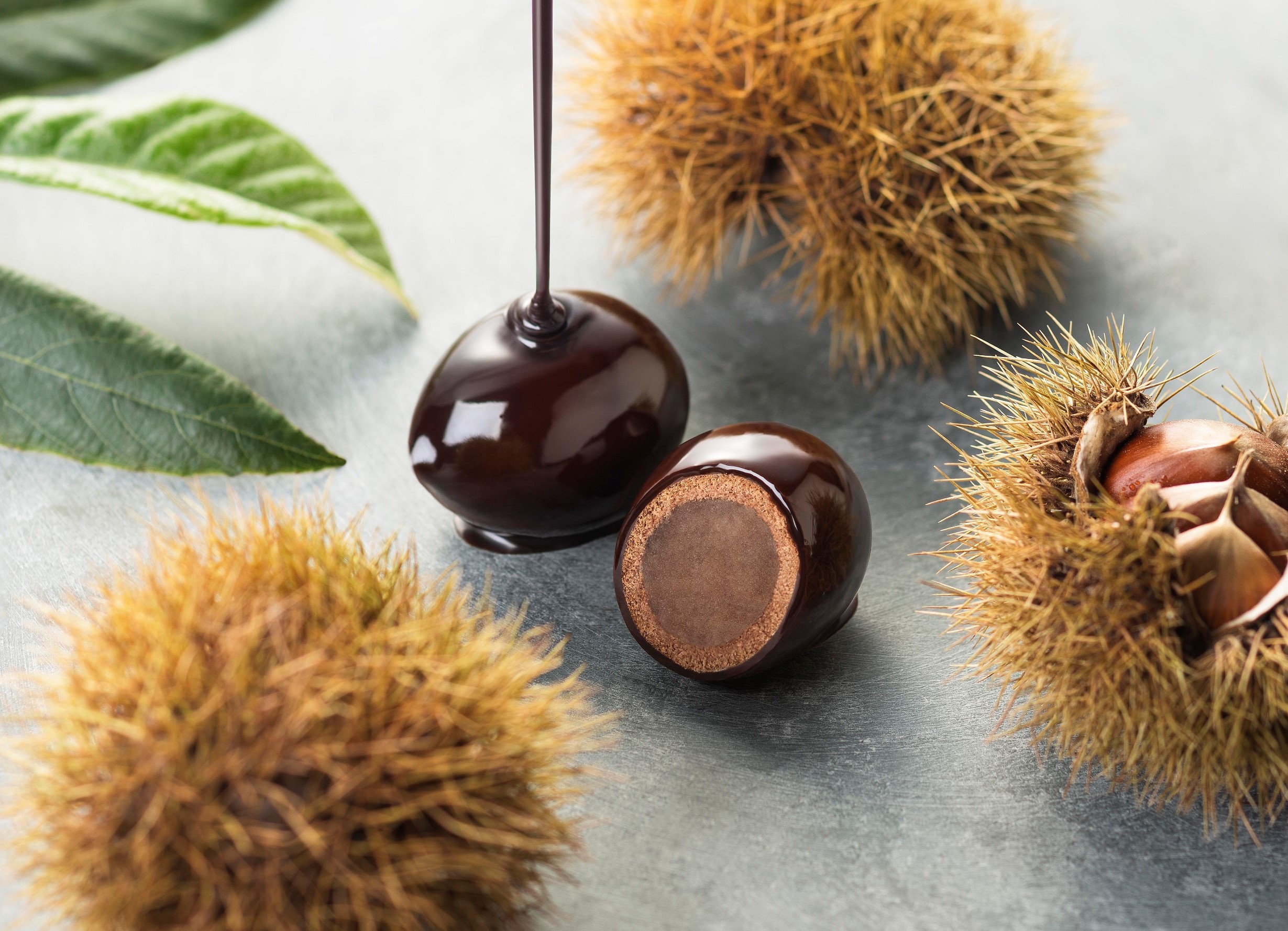 Chocolate Chestnut Eggs (Ginza Tamaya) – Contains 4 – ¥800 (Tax Included)
"Goma Tamago" is a popular bite-sized egg-shaped confection. This chestnut flavour was created for HANAGATAYA, a mix of dark chocolate and vanilla flavoured chestnut paste.
*Exclusive to Tokyo Station
6th Place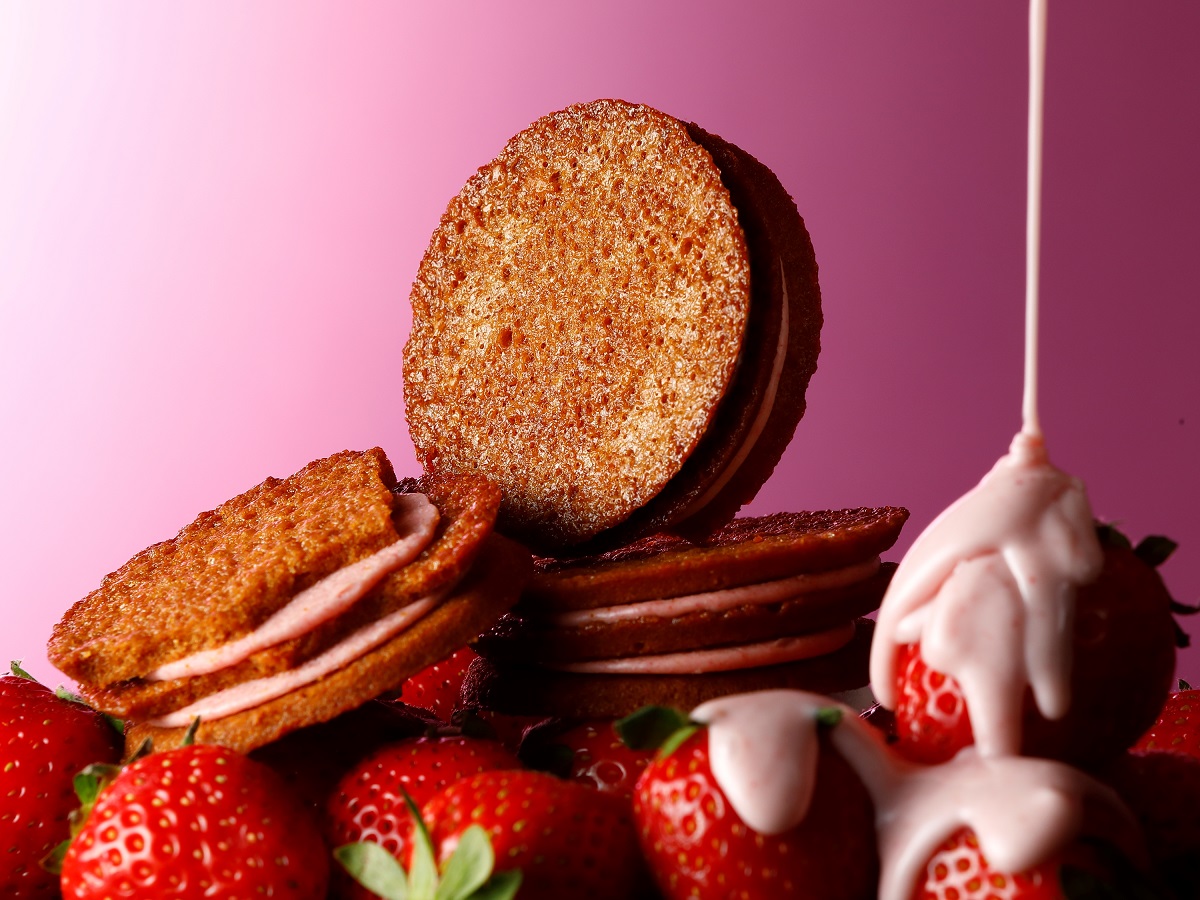 Strawberry Cookie Sandwich (Berry UP!) – Contains 8 – ¥1,296 (Tax Included)
Berry UP! is a cute confectionery brand which creates baked strawberry sweets. Keeping with that theme, they have created a crunchy quintuple-layered cookie sandwich filled with sweet and sour strawberry chocolate.
7th Place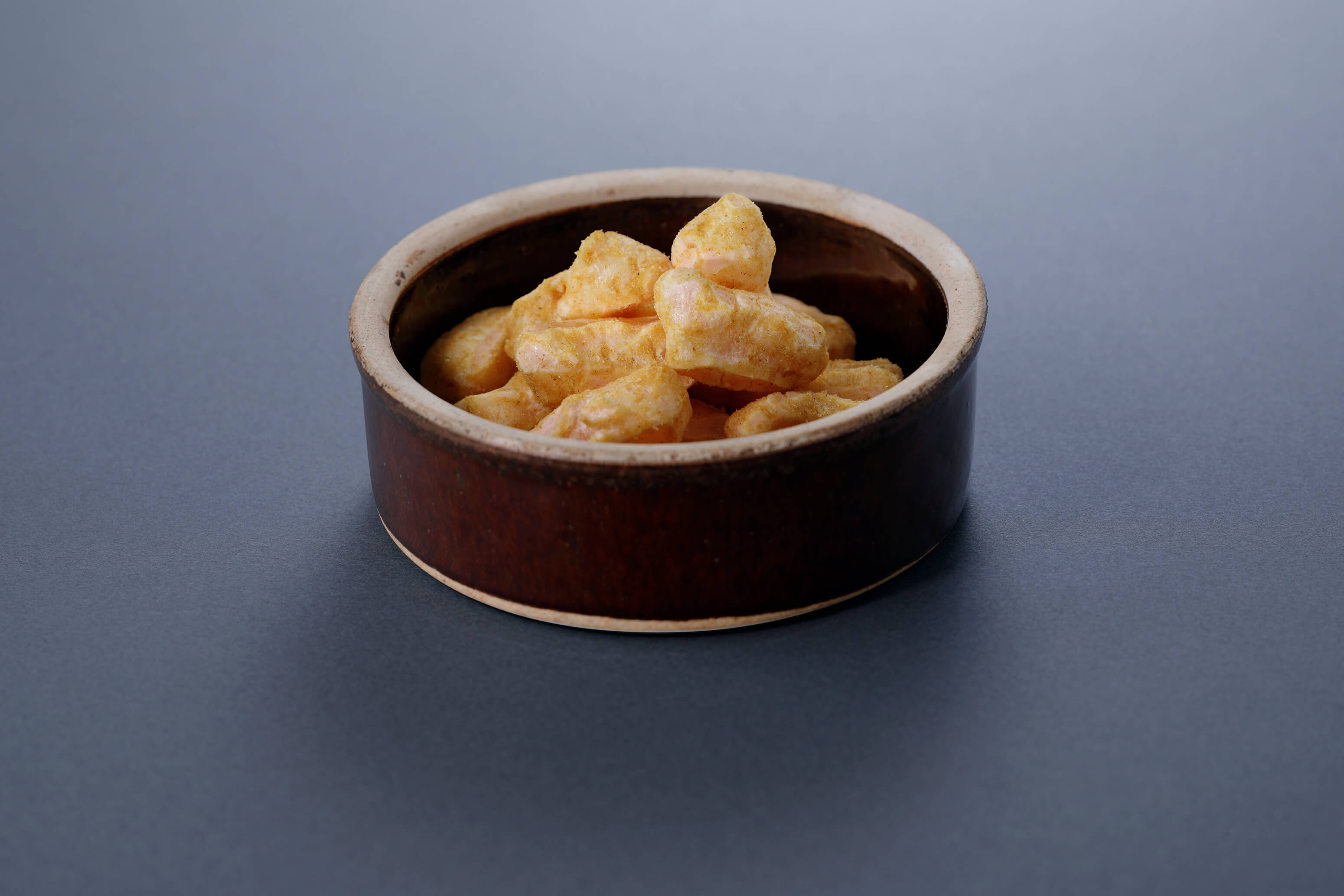 Shinjuku Curry Ebi (Shinjuku Nakamuraya) – Contains 6 – ¥600 (Tax Included)
If you're looking for something more savoury, then this one's for you: Shinjuku Nakamuraya's light, fluffy and melt-in-the-mouth ebi, coated in curry spices. One nibble is enough to get you instantly hooked.
8th Place
Strawberry Polvorón (Berry UP!) – Contains 6 – ¥1,296 (Tax Included)
Another entry from Berry UP!, these polvorón shortbreads are made from lots of fresh strawberries mixed with condensed milk and mascarpone, creating a subtle sweetness that's enough to have your mouth watering.
9th Place
BLUE MELTIN SAND (Tokyo Campanella) – Contains 8 – ¥1,200 (Tax Included)
What if herbal tea and cookies became its own snack? That's what Tokyo Campanella asked too, and so make it a reality. Their BLUE MELTIN SANDs are cat's tongue cookies stuffed with a herbal tea sauce that has a natural blue colour.
10th Place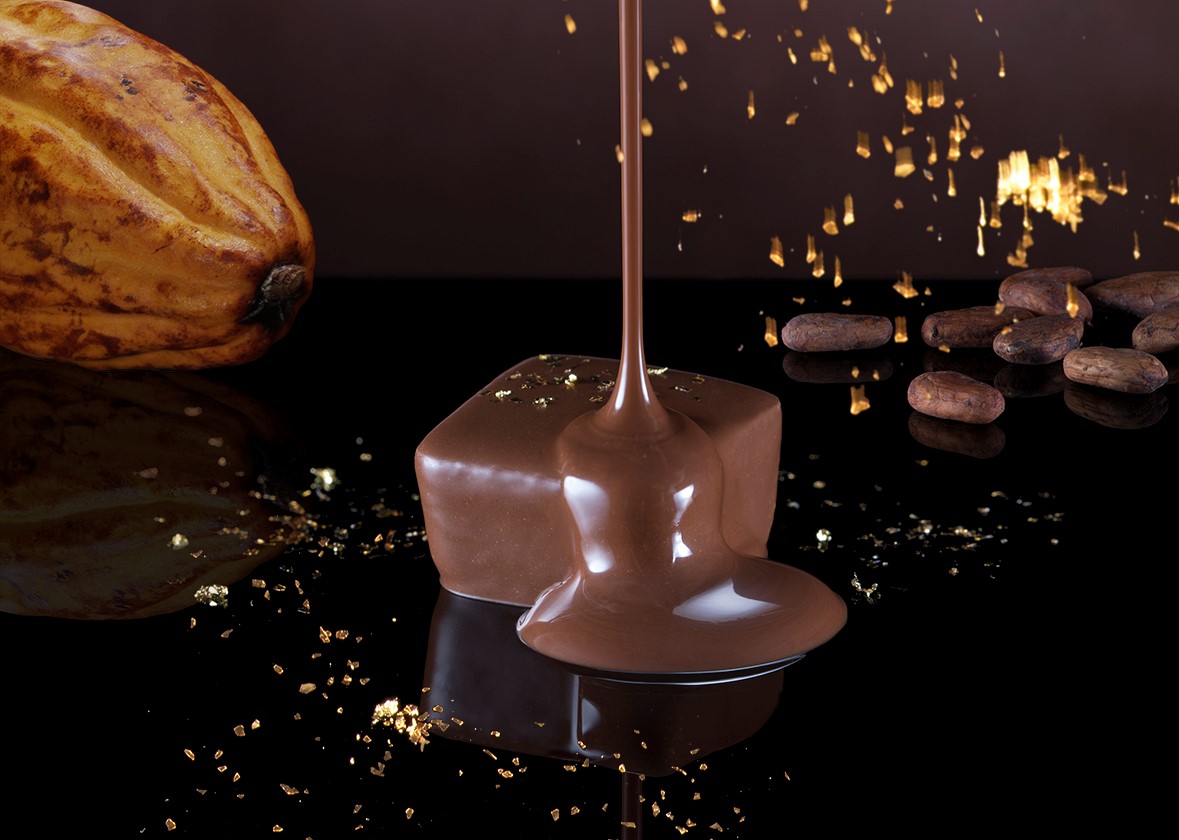 Premium Cacao Full Sablé (Mary Chocolate) – Contains 18 – ¥1,350 (Tax Included)
Finally, we have a premium edition of chocolate company Mary Chocolate's Cacao Full Sablés. This one's for the adults, a sophisticated combination of bittersweet chocolate and berries.
*Exclusive to HANAGATAYA GRANSTA Tokyo Central Street
Did you enjoy this list? Which one takes your fancy the most? Whether as a souvenir for the folks back home, or as a treat to yourself to celebrate 2020, if you're in Tokyo this year then be sure to give HANAGATAYA a visit.
RECOMMENDED ENTRIES
Tokyo Station's Top 10 Edible Winter Souvenirs as Chosen by Station Staff

There is just a month and a half left of 2019, with Christmas, the winter holidays and New Year celebrations right around the corner.

Tokyo Station City has compiled a list of must-grab food-related souvenirs and gifts at Tokyo Station. If you've ever visited Tokyo Station, you'll know that you can be spoilt for choice from the amount of goodies you can get your hands on. The list is based on the votes of 305 station staff members working at Tokyo Station who have voted on their Top 10 most recommend souvenirs to pick up this winter.

The staff members went around the shopping area and taste-tested different edible souvenirs across an 8-day period. Their early thoughts as they went down the list were how delicious or unique things were, but they soon began to take it more seriously to consider things like price, how easy an item was to carry and transport, and what certain people might like in particular.

If you're travelling to or from Tokyo Station during the holiday season, be sure to bookmark this list so you know what to buy for on the flight back home!

1st Place

Rakumadoka @ Terra Saison (GRANSTA) – 5 Set ¥1,080 (Tax Included) / 8 Set ¥1,728 (Tax Included)

This cheesecake is like a cream cheese-stuffed souffle-like sandwich. Branded with the words "Gin no Suzu" (a place in Tokyo Station) and "Tokyo," this seasonal product is exclusive to Tokyo Station. In December last year, they sold over 1,500 in a day.

2nd Place


Mount Baum Kuchen @ Nenrinya (Meihinkan) – ¥1,080 (Tax Included)

With its French bread texture, this delightful treat has a fragrant scent, is moist, and is simply delicious. It has a rich buttery taste and is baked slowly to perfection.

3rd Place

Shinjuku Curry Arare Ebi @ HANAGATAYA (GRANSTA) – 6 Set ¥600 (Tax Included)

This rich curry snack is made by Shinjuku Nakamuraya, and has a light melt-in-the-mouth texture with spicy curry seasoning and shrimp flavour. The shrimp flavour comes from a mix of shrimp powder and shrimp oil. The mix of curry powder and spices gives it a really authentic curry taste.

4th Place

Tokyo Vegetable Rice Crackers @ nomono (GRANSTA Marunouchi) – 12 Set ¥950 (Tax Included) / 18 Set ¥1,598 (Tax Included)

An assortment of rice crackers with three different flavours: great burdock, onion, and pumpkin. They have a set of 18 too which is perfect for handing out to lots of people.

5th Place

Maple Pie Sandwich @ The Maple Mania (GRANSTA) – 8 Set ¥1,944 (Tax Included)

Coated in caramel, this crunchy pie is made with a cream laced with maple sugar. Exclusive to Tokyo Station, the packaging design for this dessert is made with souvenirs in mind as it's made so it's easy to carry and take around with you.

6th Place

Kuzumochi @ Funabashiya Koyomi (ecute Tokyo) – 24 Cut (Serves 1-1.5) ¥790 (tax Included) / 36 Cut (Serves 2-3) ¥895 (Tax Included) / 48 Cut (Serves 4-5) ¥1,200 (Tax Included)

Funabashiya's kuzumochi is made with wheat starch that is fermented over a 450 day period before being cooked. It claims to be "the only fermented Japanese wagashi confection." Since it is fermented over such a long period of time, it takes on a unique flavour and elasticity.

7th Place

Cheddar Cheese Pie Sandwich @ Tokyo Milk Cheese Factory (ecute Keiyo Street) – 6 Pack ¥1,620 (Tax Included)

A crunchy pie filled with an addictive cheddar cheese cream. Exclusive to ecute Keiyo Street.

8th Place (Joint)

Premium Cacao Full Shortbread @ HANAGATAYA (GRANSTA) 8 Set ¥648 (Tax Included) / 18 Set ¥1,350 (Tax Included) / 27 Set ¥2,052 (Tax Included)

This is a premium edition of the store's Cacao Full Shortbread, made using the methods used to make the chocolate brand Merry Chocolate. The crunchy texture and full-bodied flavour of the cacao has been left as it is, while a few things have been added to make it a little more luxurious: French sour cream butter, strawberries, and raspberries.

8th Place (Joint)

Yaoki Senbei @ Mankaso (Meihinkan) – 16 Set ¥1,080 (Tax Included)

These plump senbei rice crackers are made with 100% domestic rice and come in six different delicious flavours: agodashi soy sauce, salted, shrimp, seaweed, plum and coarse sugar, and chirimen pepper.

10th Place

Tartlette Neuf @ le billet (ecute Tokyo) – 6 Pack ¥1,728 (Tax Included) / 9 Pack ¥2,592 (Tax Included)

la billet make their own tarts, and this assortment comes in a variety of flavours. Exclusive to Tokyo Station. A great option as a gift for meeting a business in Japan.

Which of these looks most tempting to you? Let us know on Twitter or Facebook!

Disney Store: Find the Perfect New Year's Souvenirs From Japan

Walt Disney Japan is celebrating the New Year by rolling out a new batch of celebratory character merchandise at Disney Stores across Japan as well as the online website on December 3.

From the quintessential Japanese daruma to pine decorations and more, take home some of Japan with you for friends and family in the form of classic Japanese New Year items made into Disney souvenirs.

Plush Toys: Mickey/Minnie Mouse ¥2,000 Each, Winnie the Pooh ¥2,800, Piglet/Roo ¥1,500, Eeyore ¥1,600, Chip/Dale ¥1,200 Each Mascots: All ¥1,000 Each Memo Pad: ¥650 Pine Decoration: ¥1,500

The line-up includes a selection of daruma-dressed Disney character plush toys, plush toys of Winnie the Pooh, Piglet, Eeyore and Roo in rat costumes for the 2020 Year of the Rat, and more. Perfect as gifts, souvenirs, and for decorating your room and desk.

Celebrate the New Year with your favourite Disney characters.

©Disney ©Disney. Based on the "Winnie the Pooh" works by A.A. Milne and E.H. Shepard. ©Disney/Pixar 

Information

Product Page: https://store.disney.co.jp/c/c5680/ 

*Select branches not stocking these products (*and not available at outlets)

*Available while supplies last

*Product designs, price, release date, branches, and so on are subject to change 

Japanese Souvenir Diary: Tokyo Strawberry Whipped Langue-de-chat

You're going on holiday to another country, but there's someone special back at home that can't go with you. What's the best way to make them feel like they haven't been left out completely? Souvenirs, of course! Picking out the perfect souvenir for the right person or people, whether friends or family, is a lot of fun as you consider what each person might like and appreciate.

We've condensed that thrill of souvenir searching into an article series. We will showcase products that the MOSHI MOSHI NIPPON editorial team have actually tried and recommend as souvenirs.

Tokyo Ichigo Whipped Langue-de-chat (Includes 6) – ¥650 (Tax Included)

Today, we will take a look at Tokyo Strawberry Whipped Langue-de-chat. This whipped chocolate cat tongue biscuit is nothing short of delicious. It's a fact.

And the cute packaging makes it even better, both the box and individual packs when you open it up.

And since they are individually packaged, you can share them amongst multiple people.

Whipped chocolate is sandwiched between the cat tongue biscuits.

Time to try one.

The biscuit itself has a buttery, exquisite flavour. Though they're stuffed with whipped chocolate, the chocolate itself is light on the belly. You get those sweet and sour notes from the strawberry too.

The combination of the lightly baked and delicate biscuits with the soft texture and subtle taste of the whipped chocolate is to die for. Your taste buds are tantalised by a flurry of strawberry.

I showed the 6 pack of biscuits, but they also sell a 12 pack (¥1,080) and 18 pack (¥1,620) too, so cater it to how many you need to share out (or enjoy to yourself!) They have a best before date of 30 days too, so don't have to worry if there's still some time left before you return home.

If you love strawberries, you won't be able to rest the Tokyo Strawberry Whipped Langue-de-chat. Be sure to check them out if you're looking for a Japanese souvenir from Tokyo.

Writer: Sayuri Mizuno (MOSHI MOSHI NIPPON Editorial Team)

Translator: Joshua Kitosi-Isanga

Information

Tokyo Strawberry Whipped Langue-de-chat

Available: At major stations in the Kanto region of Japan, department stores in Japan, and elsewhere

Best Before: 30 Days

Official Website: http://www.oraikan.jp/ih.html
RELATED ENTRIES
Creepy-Cute Halloween Sweets Available for a Limited Time at Hyatt Centric Kanazawa

Halloween is on the way, and the Hyatt Centric Kanazawa hotel is prepping some spooky sweets to celebrate! From October 1 until October 31, a Monster Halloween Cake Set will be available at the hotel's restaurant FIVE – Grill and Lounge. Guests can also enjoy a Halloween lunch and dinner menu featuring a chic menu filled with black, red, and purple dishes. Visitors who come in costume will gain access to some special offers as well!

Halloween Lunch / Dinner Course

Poached Eggs with Black Chaudfroid Sauce

Grilled Beef Tenderloin with Beet Variation

 

The courses were inspired by an adult Halloween party and will be available for four days only. Each dish contains colors perfect for the season, like haunting black and bloody red punctuated with a purple-tinted memory of moonlight. While the dishes may look strange, they are made with the finest ingredients. 

Monster Halloween Cake Set

Witch's Mont Blanc Pudding

Mummy Macaron

Denture Parfait

Jack-o'-Lantern Cream Puff

Frankenstein Brownie

Gyuhi Ghost

Spider Web Mousse

GO FOR KOGEI 2022 Collaboration 5×5 Cake Set

A special cake set featuring everything from Frankenstein to spider webs will get you in the Halloween mood. The lineup includes Witch's Mont Blanc Pudding topped with purple sweet potato cream, and the adorable Jack-o'-Lantern cream puff filled with–you guessed it–pumpkin cream. Come enjoy some other playful treats like the Mummy Macaron filled with apricot and the Denture Parfait with berries and marshmallows. On weekdays from October 3 until October 21, the cakes will be served on a special Kutani ware in collaboration with GO FOR KOGEI 2022. This 5×5 set will be limited to five servings per day. Kutani ware is a style of traditional Japanese porcelain found in Ishikawa Prefecture.

Halloween Cocktail


This year's Halloween cocktail is the rock-themed Back in Black. With a tequila base, you're sure to have some extra fun after downing this classy beverage. 

Come enjoy some spooky and cute Halloween sweets while you can!

Information

Monster Halloween 

Hyatt Centric Kanazawa
FIVE – Grill & Lounge
Address: Hyatt Centric Kanazawa 3F (1-5-2 Hirooka, Kanazawa, Ishikawa)
Official Site: http://fivegrillandlounge.jp

Lunch / Dinner Menu

Available: October 28 – October 31, 2022
Hours:
Lunch: 11:30-14:30 (Last Order at 14:00)
Dinner: 17:30-21:00 (Last Order at 20:30)
Details/Reservations: https://bit.ly/FIVEHalloween 

Monster Halloween Cake Set
Available: October 1 – October 31, 2022
*On weekdays from October 3 to October 21, the 5×5 cake set, made in collaboration with GO FOR KOGEI 2022, will only be offered in a limited number of 5 per day. (Advance reservations required.)
Hours: 12:00-17:00 (Last Order at 16:30)
Details/Reservations: https://bit.ly/FIVEHalloween 

Halloween Cocktail
Available: October 24 – October 31, 2022
Hours: 17:00-24:00 (Last Order at 23:30)

*Menu subject to change depending on availability.

Tokyo Station Hotel to Offer Accommodation Plan in Conjunction with the 150th Anniversary of Railway in Japan Exhibition

Starting on October 8, Tokyo Station Gallery will begin the 150th Anniversary of Railway in Japan Exhibition. To celebrate the opening of the event, Tokyo Station Hotel will begin offering a special lodging plan which includes a special ticket for entry starting September 15. 

2022 marks the 15th anniversary of Japan's first railroad. The exhibition will look back at the history of railroads from their inception in 1872 to the present day, and will also feature modern and contemporary Japanese art.

 

Over 150 works will be on display, from oil paintings to photographs. The exhibition will also include Kawanabe Kyosai's Jigoku Gokuraku Meguri-zu and Utagawa Hiroshige's masterwork Steam Train Running Along the Shore at Yokohama. The train headmark was designed by Katsuhiko Hibino in 2021.

 

The accommodation plan will include a special tour held on the morning of check-out day before the gallery opens to the public. Visitors can enjoy the exhibition in depth while listening to explanations by the curators who planned the exhibition. After the tour, visitors can enjoy the exhibition again. The special ticket features Utagawa Hiroshige's painting Steam Train Running Along the Shore at Yokohama and is perfect as a souvenir.

Enjoy a rare moment surrounded by the historic architecture of Tokyo Station's Marunouchi Station Building and immerse yourself in the history of the railroad.

Chiikawa Store to Open for Limited Time on Tokyo Character Street

From August 19 until September 1, a special Chiikawa shop will open on Tokyo Character Street, located inside Tokyo Station!

Chiikawa is a popular character first revealed by Japanese illustrator Nagano on Twitter. The artist's creations have become massively popular, with Nagano's follower count on social media reaching over 1.2 million fans. From collaboration cafes and exhibitions to a recent anime series, the sky's the limit for these adorable characters!

Commemorative Stamp

Purchase Bonus: Holographic Card (6 varieties, random) *Not for Sale

Bonus for Guests Spending ¥3,300 (Including Tax): Heart Fan *Not for Sale

Bonus for Guests Spending ¥8,800 (Including Tax): Bath Towel (2 varieties) *Not for Sale
*Available while supplies last.

Exclusive Merchandise

At this limited-time Magical Chikawa shop, fans can find exclusive products featuring new illustrations, as well as special purchase bonuses and commemorative stamps for guests!

©nagano / chiikawa committee

Hololive VTubers Announce Hololive Summer Event and Comiket Appearance

The Hololive Summer event, first held in the summer of 2019, will return this year! 


A ton of new content and special panels will be shown at the 2022 event, so check the official Hololive Production Twitter account often for more information!

Hololive will also have a booth at this year's Comiket on August 13 and 14! A number of exclusive commemorative Hololive Summer 2022 goods will be on sale.

The back cover of the Comiket 100 catalog, on sale July 16, shows the official Hololive Summer 2022 key visual. Be sure to keep an eye out for more details!

Information

Comiket (Comic Market) 100

Booth Name: Hololive Production

Booth Location: Company Booths, South Hall 2, #511

Running: August 13 – 14

Hours: 10:30-16:00

Address: Tokyo Big Sight (3-11-1 Ariake, Koto-ku, Tokyo)

Tickets: https://www.comiket.co.jp/

Official Site: https://www.hololive.tv/

Toy Story Aliens Cafe to Open in Tokyo, Osaka, and Nagoya

The Toy Story Aliens Cafe will be opening for a limited time in Tokyo starting July 23, in Osaka on July 27, and in Nagoya on August 4. Fans of the film series will remember the adorable Alien characters, originally shown as prizes in a crane game. This pop-up cafe will feature themed dishes and merchandise, and Pixar fans should be sure to attend!

Menu

Food

Space Curry

Green Pasta

Alien Burger A (Teriyaki Soy Meat) / Burger B (Tomato Soy Meat) / Burger C (Chicken & Potato)

Moon Landing?! Potato & Bread

Kids Plate

Fruit Bread

Drinks

Alien Smoothie

Space Soda

Melon Milk

Space Crane Game Cider / Grape Juice

Hot Tea / Hot Milk

Goods

The food menu includes a tasty black curry, a green pasta featuring broccoli, edamame, spinach, and snap peas, and three types of alien burgers featuring either teriyaki soy meat, tomato soy meat, or chicken and potato. Even the drinks stick to the Alien theme, and the menu includes an Alien Smoothie with a tasty banana yogurt flavor. 

Guests will also be able to purchase event-exclusive merchandise from keychains and stickers to tote bags and letter sets. 

©Disney/Pixar

Information

Toy Story Aliens Cafe at OH MY CAFE

Venues/Dates: 

Tokyo: OH MY CAFE TOKYO

Running: July 23 – September 25, 2022

Tokyu Plaza Omotesando Harajuku Mall 3F (4-30-3 Jingumae, Shibuya-ku, Tokyo)


Osaka: OH MY CAFE OSAKA

Running: July 27 – October 3, 2022

1-6-1 Shinsaibashisuji, Chuo-ku, Osaka (2F)

Nagoya: kawara CAFE&KITCHEN

Nagoya PARCO

Running: August 4 – October 10, 2022

Nagoya PARCO South Building 5F (3-29-1 Sakae, Naka-ku, Nagoya)

Details: https://planet.ohmycafe.jp/

Online Store

July 23, 12:00~

Sanrio Characters Autumn Sweets Buffet to be Held at Hilton Nagoya

From August 18 until November 3, visitors to the Hilton in Nagoya will be able to enjoy a special autumn buffet featuring the popular Sanrio characters Kuromi, Cinnamoroll, and Hello Kitty. 

These three characters are some of Sanrio's most loved. Kuromi is the self-proclaimed rival of My Melody, while the fluffy Cinnamoroll won first place in this year's Sanrio Character Awards. Hello Kitty has been beloved by audiences worldwide for decades, and her iconic ribbon really shines in this buffet collaboration. Themed around an autumn harvest festival in a dark forest, the event includes 27 varieties of sweets and seven savory items. From sweet potatoes and pumpkins to chestnuts and apples, guests will be able to taste the fall season!

Kuromi's Dark Forest Cake

Autumn Cinnamoroll Cake

Hello Kitty's Ribbon Cake

Crazy Mushrooms / Praline and Gianduja Truffles / Tonka Bean & Chocolate Caneles

 

Kuromi's Dark Forest Cake is a traditional German black forest cake featuring decorations inspired by the character's black hood and a pink skull. The Autumn Cinnamoroll Cake is made with rice flour and is inspired by the adorable puppy's fluffy appearance. Hello Kitty's Ribbon Cake is topped with apple compote simmered with strawberries and red wine. 

At the popular Live Station, guests can also enjoy an artistic performance by the chef himself. Visitors can also find and harvest their own Crazy Mushrooms and Truffles. 

Kuromi's Autumn Soup

Pumpkin Mont Blanc

Hello Kitty's Apple

Pastry Chef Mamoru Watanabe's specialty autumn sweets and Sanrio Characters-inspired goodies will invite you into a cute and dark forest world. Kuromi's Autumn Soup is made with Japanese chestnuts and chicken consomme poured over panna cotta made with purple sweet potatoes. The Pumpkin Mont Blanc includes four layers of milk chocolate cream, chocolate crumble, pistachio cream, and pumpkin Mont Blanc cream.

Praline Paris-Brest

Hojicha Basque Cheesecake

Green Tea Tiramisu

Come enjoy the taste of autumn with your favorite Sanrio characters!

© '22 SANRIO CO., LTD. APPR. NO. L632215

Kuroko's Basketball 10th Anniversary Event Coming to Tokyo and Osaka This Summer

A special event is coming to Tokyo and Osaka this summer to celebrate the 10th anniversary of the Kuroko's Basketball anime series. Fans will want to visit Tokyo in July and Osaka in September.





Kuroko's Basketball is a manga series by Tadatoshi Fujimaki which was serialized in Weekly Shonen Jump until 2014 and tells the story of a high school basketball team trying to make it to the national tournament. The anime adaptation began airing in April 2012.

Kuroko's Basketball ~A Miracle One Day in the City~

Kuroko's Basketball ~ Kyoto Exhibition

Gallery Corner

Voice Guide

Admission Bonus – Invitation Card (9 varieties)

Exclusive Goods – F6 Character Board

Goods

Acrylic Stand (9 varieties)

Mini Acrylic Charms 1 (Random)

Mini Acrylic Charms 2 (Random)

Pin (9 varieties, random)

 

Purchase Bonus – Shopping Bag

 

The event will feature exhibits highlighting the history of the series and will feature a special voiceover. Exclusive merchandise will be on sale and guests will be welcomed by Kuroko and his friends at the entrance, all wearing special costumes drawn for the event.

Are you a Kuroko's Basketball fan?

© 藤巻忠俊/集英社・黒子のバスケ製作委員会
© 「黒子のバスケ」アニメ10周年プロジェクト

Information

Kuroko's Basketball 10th-Anniversary PARTY!

Tokyo Venue
Venue: Ikebukuro Sunshine City World Import Mart Bldg. 4F, Exhibition Hall A
Running: July 16 – July 31, 2022
Hours: Weekends and Holidays, 10:00-20:00
Weekdays: 12:00-20:00
*Closing at 17:00 on July 31.
*Last entry until 30 minutes prior to closing.

Osaka Venue
Venue: Hirakata Park Event Hall I
Running: September 16 – November 6, 2022
Event Details: https://kurobas-ap.com/


Tickets

On Sale: July 16, 0:00 – July 31, 16:00
Where to Buy: Loppi at Lawson / Ministop locations
Online Reservations: https://l-tike.com/event/kurobas_ap/

The Toshio Suzuki and Studio Ghibli Exhibition Opens in Tokyo

The Toshio Suzuki and Studio Ghibli Exhibition finally opened on July 1, 2022 at Warehouse Terrada in Shinagawa, Tokyo. 

 

First held at Kanda Myojin in 2019, the reception for the exhibition was incredible, and after popping up in Nagasaki and Kyoto, the newest Tokyo exhibition will be the first held in three years. It features significantly more exhibits and content, so Ghibli fans won't want to miss it. 

Toshio Suzuki, a producer at Studio Ghibli, has worked with both Hayao Miyazaki and Isao Takahata on a number of beloved masterpieces. The exhibition will feature a large bookshelf housing 8,800 of Suzuki's publications. Many of these were published before Suzuki joined Studio Ghibli, and guests are invited to see how the producer was inspired to join the legendary studio.

This exhibition was realized after Suzuki himself proposed the idea of exhibiting his books for the first time following the 2019 event. The giant bookshelf containing 8,800 tomes was based on a brick-and-mortar store that once served as Suzuki's 'hideout.'

The Massive Abura-ya Annex

Chihiro's Bathhouse – Chilled Footbath

No-Face AR

As a limited event, the Tokyo exhibition will also feature the Abura-ya Annex, a huge space that recreates the world of Spirited Away. Visitors can transform themselves into No-Face using AR or enjoy the Chilled Footbath after getting their fortunes told at the Yubaba and Zeniba Luck and Love Fortune Telling Corner. 

8,800 of Toshio Suzuki's Favorite Books

Valuable Documents, Behind-the-Scenes Details, etc. 

No-Face perches atop one of the many bookshelves at the exhibition, lost in a tome of his own. All 8,800 books were read by Suzuki, and all of them influenced the creator's decision to join Studio Ghibli. The wallpaper was designed by William Morris, a favorite of the producer since his youth. Some of the books can be picked up and enjoyed, so be sure to flip through some of these inspiring pages!

Rare materials and copy that led to many of the studio's blockbuster hits are all on display, and visitors can trace the secret story behind the establishment of Studio Ghibli and how the company created everything from Nausicaa of the Valley of the Wind to their latest release Earwig and the Witch. Suzuki is known for his incredible scripts, such as the many lines he wrote for the title character in The Tale of Princess Kaguya.

On June 30, an opening ceremony was held with Suzuki in attendance. "I've stored away so many items that have been important to me in my life, and while it can be somewhat embarrassing to have them on display, I'm glad that so many can appreciate them," he said. "My dream was to collect all the books I've read over the past 70 years and display them in one room. I was so happy when I realized that we could fit all 8,800 books in one space. I hope as many people as possible come to enjoy the exhibition." 

Information

Toshio Suzuki and Studio Ghibli Exhibition

Running: July 1 – September 7, 2022

Location: Warehouse Terrada B&C Hall/E Hall

Fruit-Filled Afternoon Tea Inspired by Japanese Folktale Momotaro Announced

Kawagoe Prince Hotel, located in an Edo-period castle town in northwest Tokyo, will begin offering a special afternoon tea set starting July 1, 2022. Inspired by the Japanese folktale Momotaro, the summer fruit-filled tower of treats will be available until August 31, 2022.

Top Plate

Middle Plate

Bottom Plate

Savory

 

The top plate of the three-tiered set features tasty peach and cheese mousse, peach meringue, macadamia nut chocolate, and Kibi Dango put together to resemble the hero of the story, Momotaro. On the middle tier, visitors will find sweets inspired by the many animals found in the story, from the monkey and dog to the pheasants. Guests can enjoy many summer fruits including mango and kiwi. 

Those who come to the store in a yukata (summer kimono) and follow the official Kawagoe Prince Hotel Instagram will receive a special fruit platter.

Come enjoy the world of Momotaro as you wander around this historical Japanese town!

Kirby Cafe Tokyo and Fukuoka Reveal Peach-Inspired Summer Menu

Kirby Cafe TOKYO and Kirby Cafe HAKATA will begin selling special summer-themed food and drink items on July 7. The Kirby Cafe Summer 2022 event will introduce seven peach-themed goodies to the menu through September 11. 

Menu

Transform! Carby Cake ~WELCOME TO THE NEW WORLD!~

Kirby's Peach♡Peach Parfait

Summer Souvenir Parfait Glass

Awoofy's Footsteps in the Desert Pizza

Waddle Dee's Friendly Rice Croquettes

King Dedede's Full Tummy! Massive Beast King Plate

Rolling ♪ Peach Soda

(Includes Summer Souvenir Parfait Glass)

Rolling ♪ Summer-Colored Pineapple Soda

Summer Souvenir Acrylic Muddler (3 varieties)

Visitors to the two cafe locations can enjoy peach-flavored treats like Kirby's Peach Parfait and an adorable cake based on the pink puffball's Carby form seen in the new game Kirby and the Forgotten Land. Those wanting something more savory can enjoy Waddle Dee's Friendly Rice Croquettes and the absolutely huge King Dedede's Full Tummy! Massive Beast King Plate. 


Come enjoy the warmer months with Kirby and friends!

Story

Summer is returning to the Kirby Cafe. Thinking of the warmer months, Chef Kawasaki has created a special menu! As a Waddle Dee, filled with great excitement, wandered through the forest…it saw tons of lush, ripe peaches. 

"Huh? That pink, round peach reminds me of something…" 

Then came Kirby, who was looking forward to the summer menu more than anyone else. 

"Ah, that's right! The peach looks just like Kirby!"

Happy to have solved the riddle, Kirby smiled brightly at Waddle Dee. Gazing at this glorious summer scene with tons of juicy peaches ready to be eaten, he couldn't help but imagine tons of tasty treats! Peach parfait, sparkling soda, blue jelly sparkling like the ocean…not wanting to forget these ideas, Kirby and Waddle Dee gathered the peaches and began cooking.

Please come and enjoy this summer with Kirby and his friends under the dazzling sunshine!

©Nintendo / HAL Laboratory, Inc.

Information

Kirby Cafe Summer 2022

Available: July 7 – September 11, 2022

Locations: Kirby Cafe TOKYO, Kirby Cafe HAKATA

Official Site: https://kirbycafe.jp

Popular LINE Sticker Character Opanchuusagi Inspires Cafes in Tokyo and Osaka

The popular character Opanchuusagi, created by illustrator Kawaisoni, has inspired two collaboration cafes! Fans of the adorable rabbit will be able to grab themed dishes and goods in both Tokyo and Osaka from July 7 until August 21. Does the character look familiar? You've probably seen her on social media or on LINE!

Opanchuusagi does her best for everyone but tends to fail in hilarious ways. The melancholy character has been getting increasingly popular lately, leaving comments like "poor thing," or "so cute!"


Cafe Visitor Bonus / Menu Order Bonus

Menu

Opanchu Curry

Opanchu Omurice

Opanchu Burger

Opanchu Shaved Ice

Opanchu Pancake

Opanchu Parfait

Opanchu Missing-Underpants Soda

Opanchu Pink Soda

Opanchu Strawberry Milk

Opanchu Latte

Goods

The Opanchuusagi Cafe will offer a lineup of cute menu items perfect for posting on social media, from the curry and burger to the shaved ice and latte. The cafe will also sell original merchandise, so don't miss your chance to snag some!

 

Why not come relax at this unique cafe on a hot summer day? 

©KAWAISOUNI!

Information

Opanchuusagi Cafe

Venues/Dates: 

Ikebukuro, Tokyo

BOX cafe&space Matsumoto Kiyoshi Ikebukuro Part 2
July 7 – August 21, 2022

Matsumoto Kiyoshi Ikebukuro Part 2, 4F (1-22-8 Higashiikebukuro, Toshima-ku, Tokyo)

Umeda, Osaka
BOX cafe&space Umeda LOFT

July 7 – August 21, 2022

Umeda LOFT, 1F (16-7 Chayamachi, Kita-ku, Osaka)

Official Twitter: https://twitter.com/opanchu_cafe
Reservations / Official Site: https://opanchuusagi-cafe.jp/


Tokyo City View at Roppongi Hills Welcoming Guests for Rainy Season Fun

During late spring and early summer, Japan enters the rainy season. From mid-June until early July, Tokyo City View, the indoor observatory at Roppongi Hills, will be giving people a way to enjoy this dreary time. From photo spots to afternoon tea and cute menu items at the on-site restaurant and cafe, this is one of the best places to spend time in Tokyo. 

Photo Spot Transforms Rainy Weather into Sunny Weather

Starting June 13, three photo spots featuring colorful umbrellas will appear around Tokyo City View. Even if it's pouring rain outside, it's always sunny under these pop-art umbrellas! Take some shots 250 meters above the streets of the city and post them on social media!

Normally, Tokyo City View ticket holders can enter the Sky Deck rooftop deck for an additional ¥500. For a limited time, a special set ticket including Sky Deck will be available at the on-site ticket counter! On rare sunny days during the rainy season, guests can enjoy the open-air Sky Deck, a perfect place to refresh and unwind.

Running: June 13 – July 4, 2022

Admission: ¥2,000 (General Admission, Weekdays) 

Details: https://tcv.roppongihills.com/jp/news/2022/06/5723/

*Certain areas of the indoor observatory will be closed during this period. 

Spend a Rainy Day at THE SUN & THE MOON Cafe & Restaurant

NY Cheesecake with Caramel Sauce: ¥1,280 (Tax Included)

Banana Split: ¥1,150 (Tax Included)

THE SUN & THE MOON Cafe and Restaurant is attached to Tokyo City View. At the cafe section, guests will be able to order some cute new items from the dessert menu to sweep away the rainy day blues. 

The restaurant section offers a spectacular city view and is filled with greenery, intending to make guests feel like they're in a forest in the sky. On a rainy day, you may feel like you're in the rainforest! Come enjoy a cup of tea and gaze out at the city.

The Roppongi Hills Observation Deck regularly hosts the Roppongi Astronomy Club. On July 7, the Tanabata Special Viewing Event will invite guests to enjoy a sparkling night view of Tokyo and the stars above. On July 15, a special Moonrise Viewing will be held, where visitors can watch the moon rise from the direction of Tokyo Skytree.

How would you like to spend a rainy day in this spectacular Tokyo landmark?