Top 10 Most Popular Souvenirs to Pick Up at Tokyo Station's HANAGATAYA Store | 2019 Edition
HANAGATAYA is a souvenir variety shop that opened in Tokyo Station's central passage back in July. After over 5 months of sales, the store has revealed its Top 10 most popular products based on sales.
The line-up features a selection of HANAGATAYA exclusives, as well as products from elsewhere which have received pre-sales at HANAGATAYA. You will be spoilt for choice with this selection, all of which are perfect for ringing in the New Year when travelling back home. Let's take a look.
1st Place
Banana Custard Cream – Tokyo 2020 Olympic Emblem Design (Tokyo 2020 Official Licensed Product) – Contains 8 – ¥1,134 (Tax Included)
Officially licensed by the Tokyo 2020 Olympics, these chewy cakes are made from domestic Japanese rice, and are filled with deliciously creamy banana custard.
2nd Place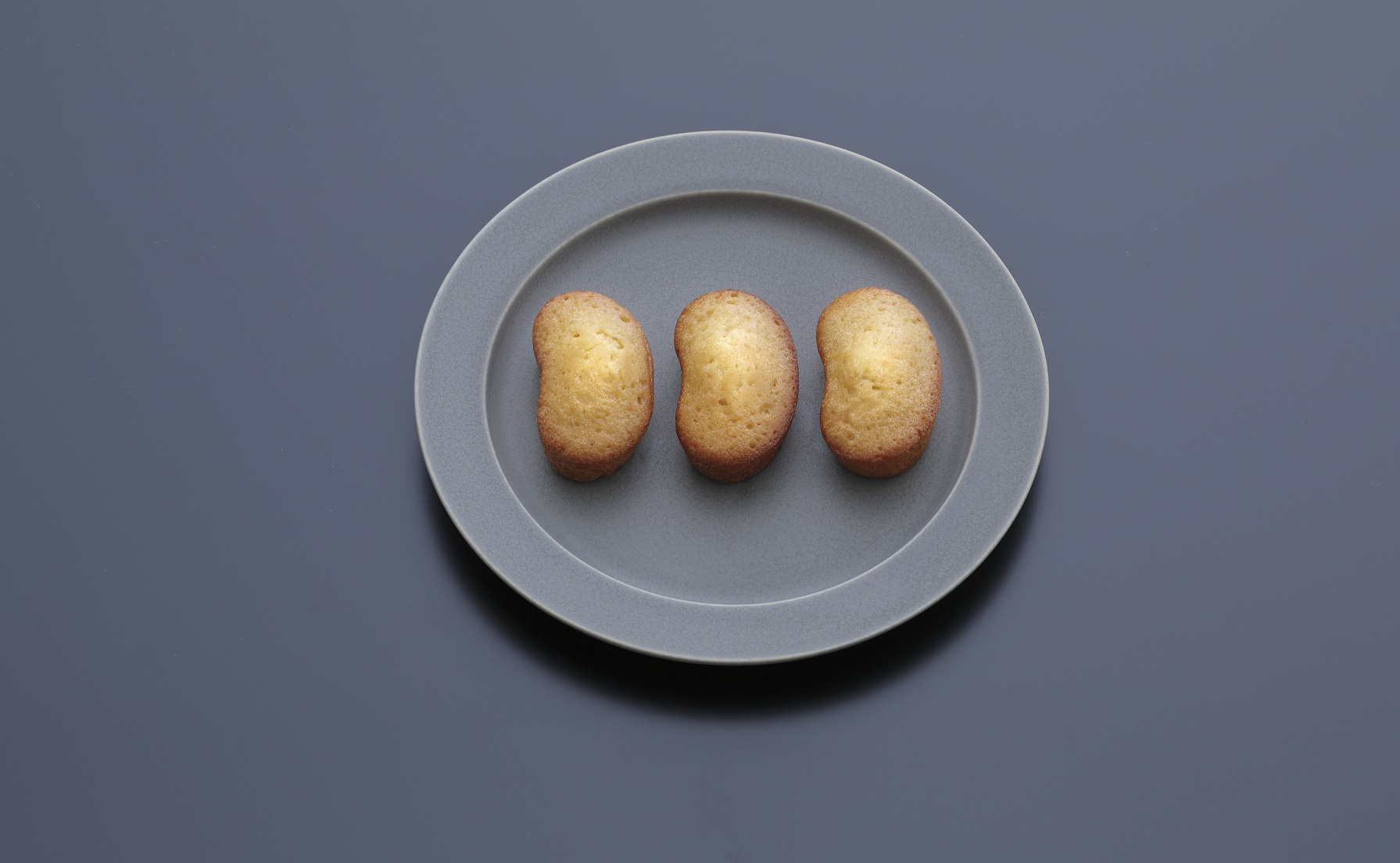 Tokyo Banana Butter Madeleine (Tokyo Banana World) – Contains 4 – ¥560 Tax Included)
Exclusive to HANAGATAYA come these all-new butter madeleine's created by famous confectionery company Tokyo Banana. These baked treats feature a buttery fragrance and taste, and are made with a banana confiture and finished with fresh lemon.
*Exclusive to HANAGATAYA GRANSTA Tokyo Central Street
3rd Place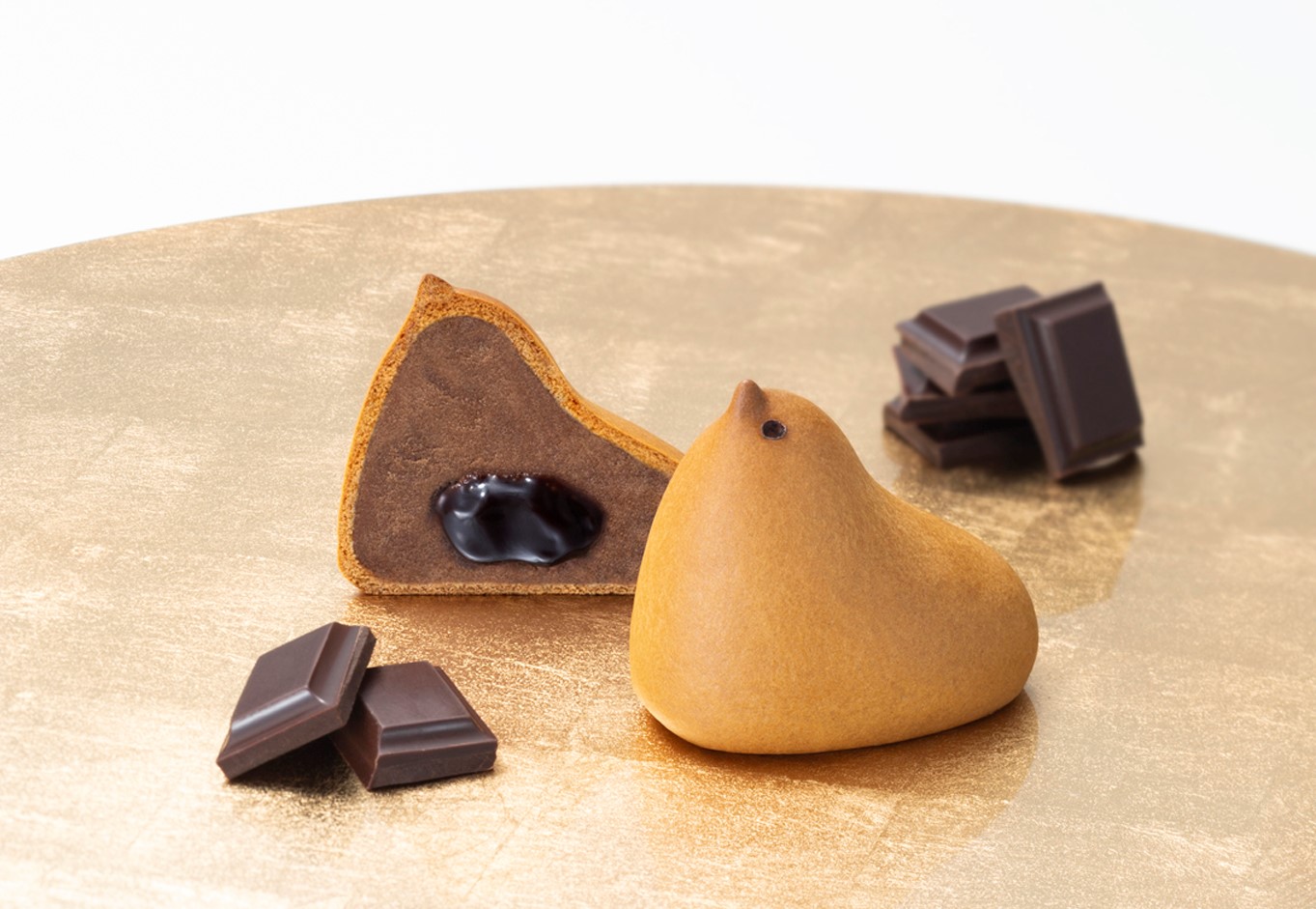 Toro One Press Chocolate Chick (Tokyo Hiyoko) – Contains 3 – ¥648 (Tax Included)
This year marks 107 since the company Hiyoko was established. The "Toro One Press Chocolate Chick" is a new confection from them: an adorable skyward-looking chick made up of three chocolate layersーeach with their own distinct flavour. At the heart of the chick is a moist chocolate paste.
*Exclusive to Tokyo Station
4th Place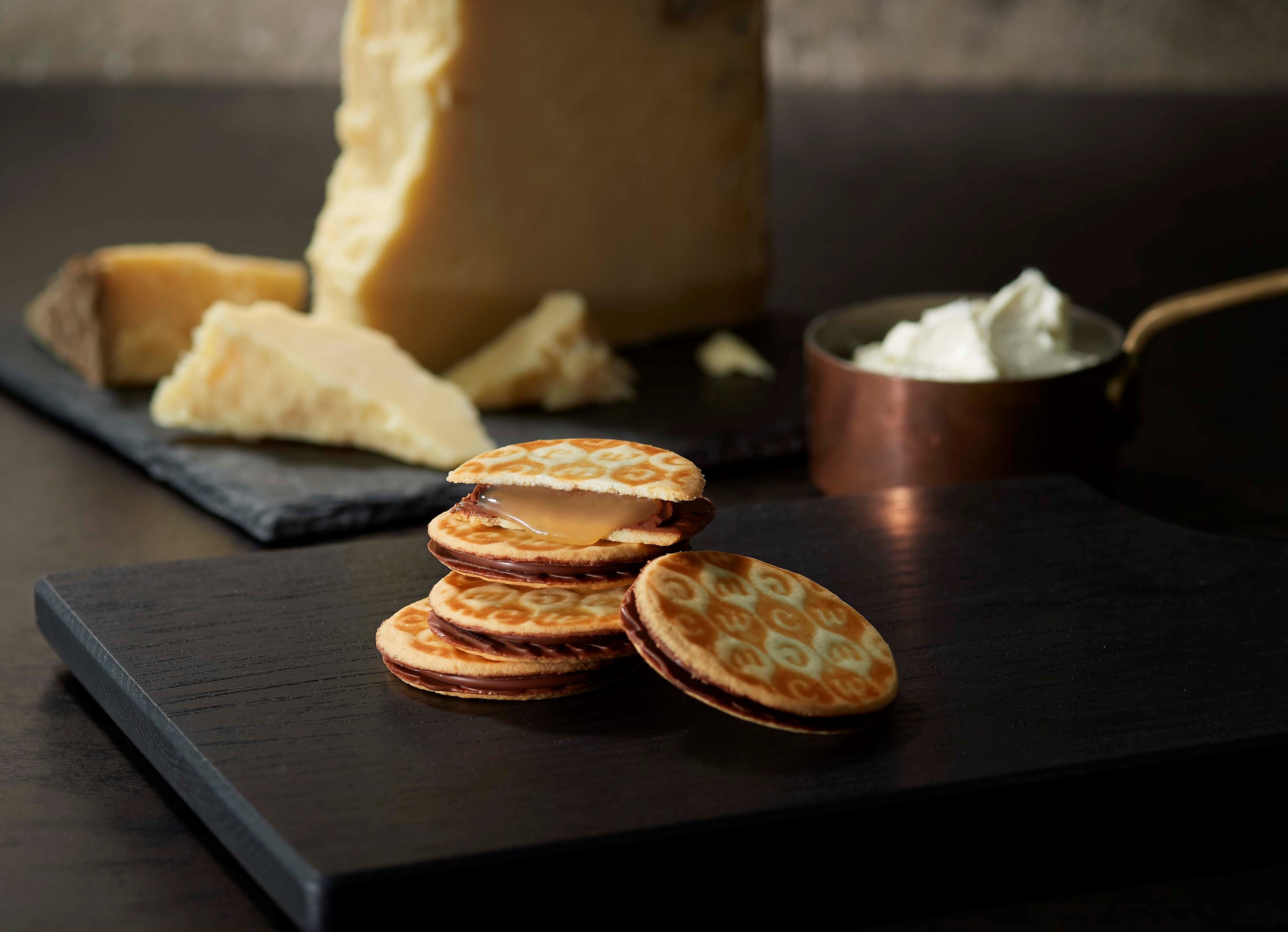 Cheese Wich – Contains 5 – ¥594 (Tax Included)
These light and refreshing cheese cookies, called Cheese Wiches, are filled with a chocolate-coated melted cheese sauce. Three layers means an enjoyable amalgamation of flavours and textures.
*Exclusive to Tokyo Station
5th Place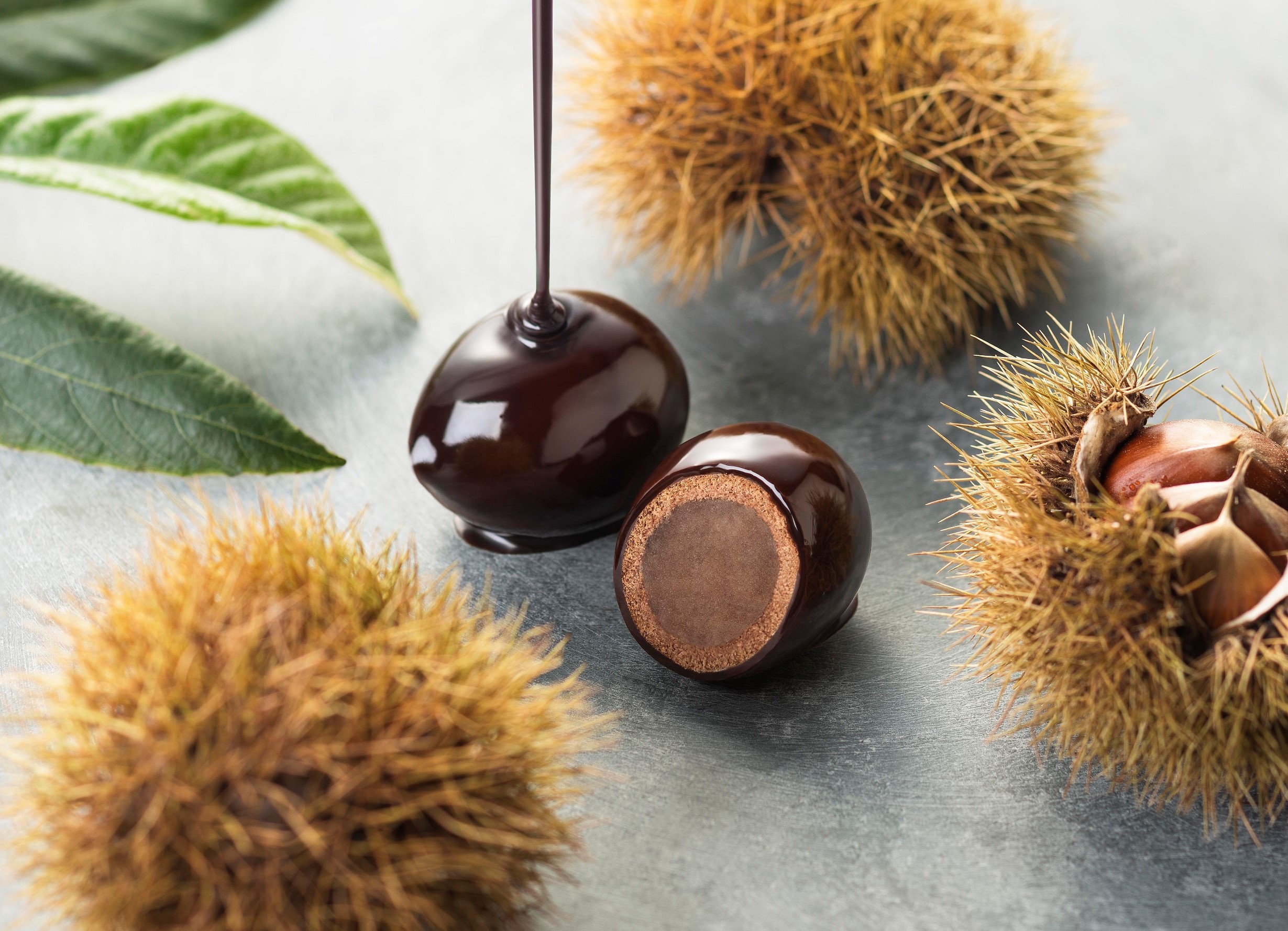 Chocolate Chestnut Eggs (Ginza Tamaya) – Contains 4 – ¥800 (Tax Included)
"Goma Tamago" is a popular bite-sized egg-shaped confection. This chestnut flavour was created for HANAGATAYA, a mix of dark chocolate and vanilla flavoured chestnut paste.
*Exclusive to Tokyo Station
6th Place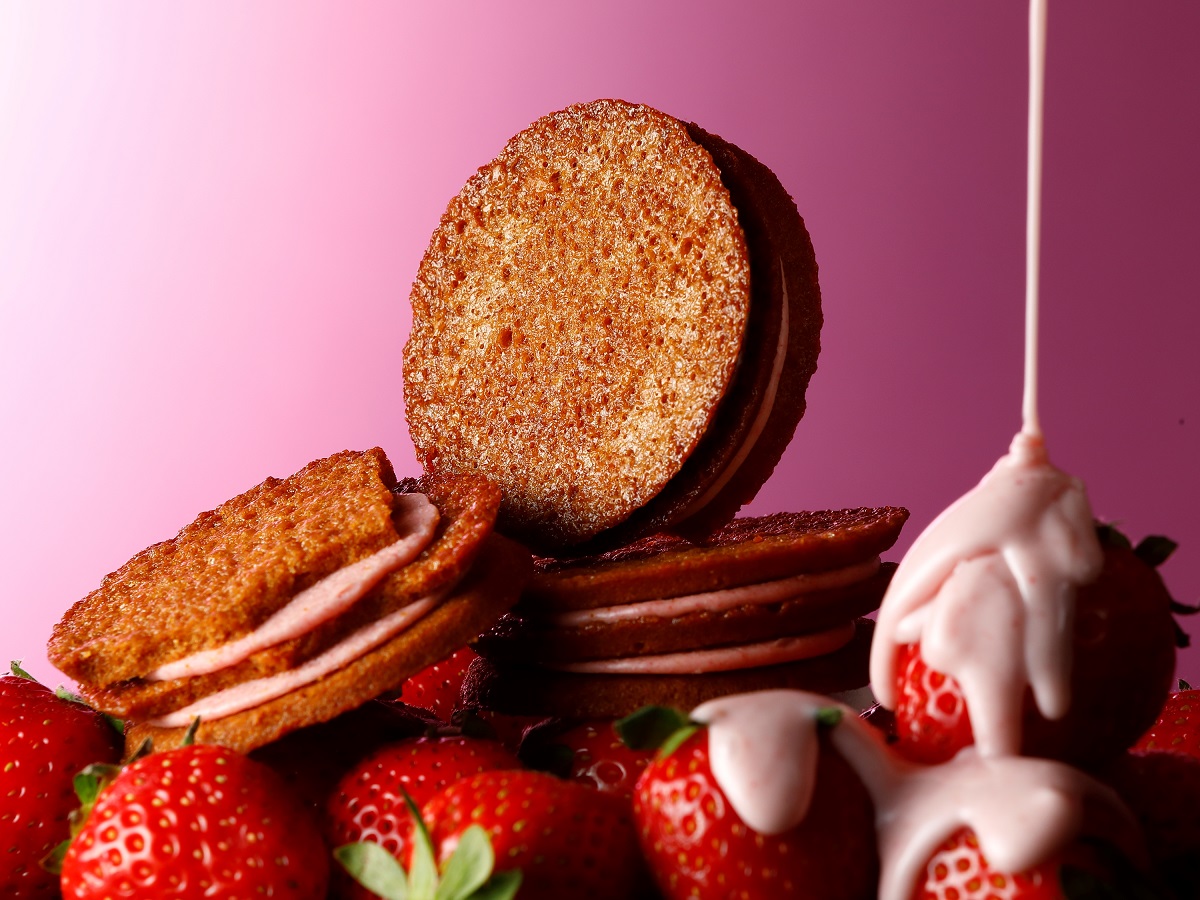 Strawberry Cookie Sandwich (Berry UP!) – Contains 8 – ¥1,296 (Tax Included)
Berry UP! is a cute confectionery brand which creates baked strawberry sweets. Keeping with that theme, they have created a crunchy quintuple-layered cookie sandwich filled with sweet and sour strawberry chocolate.
7th Place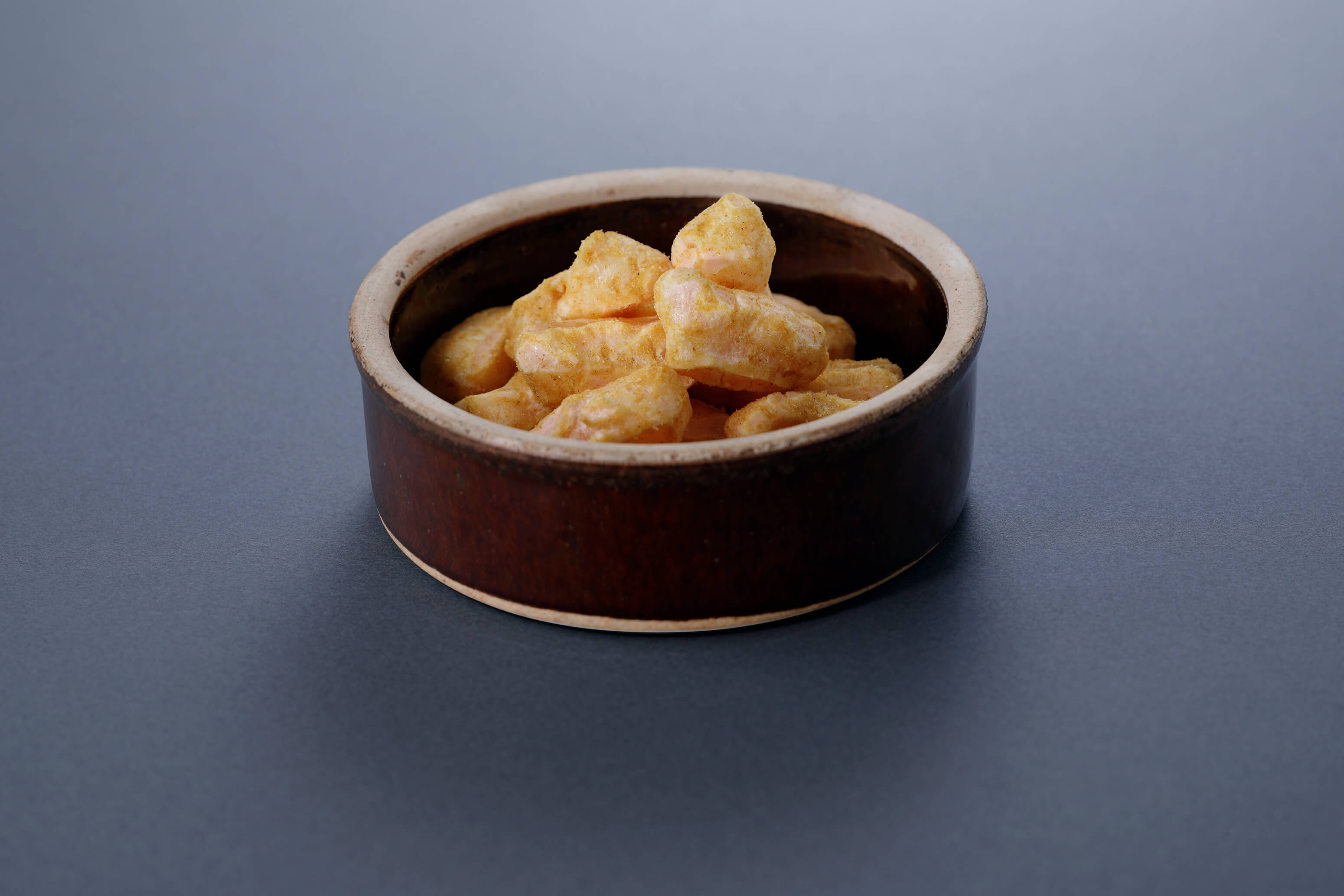 Shinjuku Curry Ebi (Shinjuku Nakamuraya) – Contains 6 – ¥600 (Tax Included)
If you're looking for something more savoury, then this one's for you: Shinjuku Nakamuraya's light, fluffy and melt-in-the-mouth ebi, coated in curry spices. One nibble is enough to get you instantly hooked.
8th Place
Strawberry Polvorón (Berry UP!) – Contains 6 – ¥1,296 (Tax Included)
Another entry from Berry UP!, these polvorón shortbreads are made from lots of fresh strawberries mixed with condensed milk and mascarpone, creating a subtle sweetness that's enough to have your mouth watering.
9th Place
BLUE MELTIN SAND (Tokyo Campanella) – Contains 8 – ¥1,200 (Tax Included)
What if herbal tea and cookies became its own snack? That's what Tokyo Campanella asked too, and so make it a reality. Their BLUE MELTIN SANDs are cat's tongue cookies stuffed with a herbal tea sauce that has a natural blue colour.
10th Place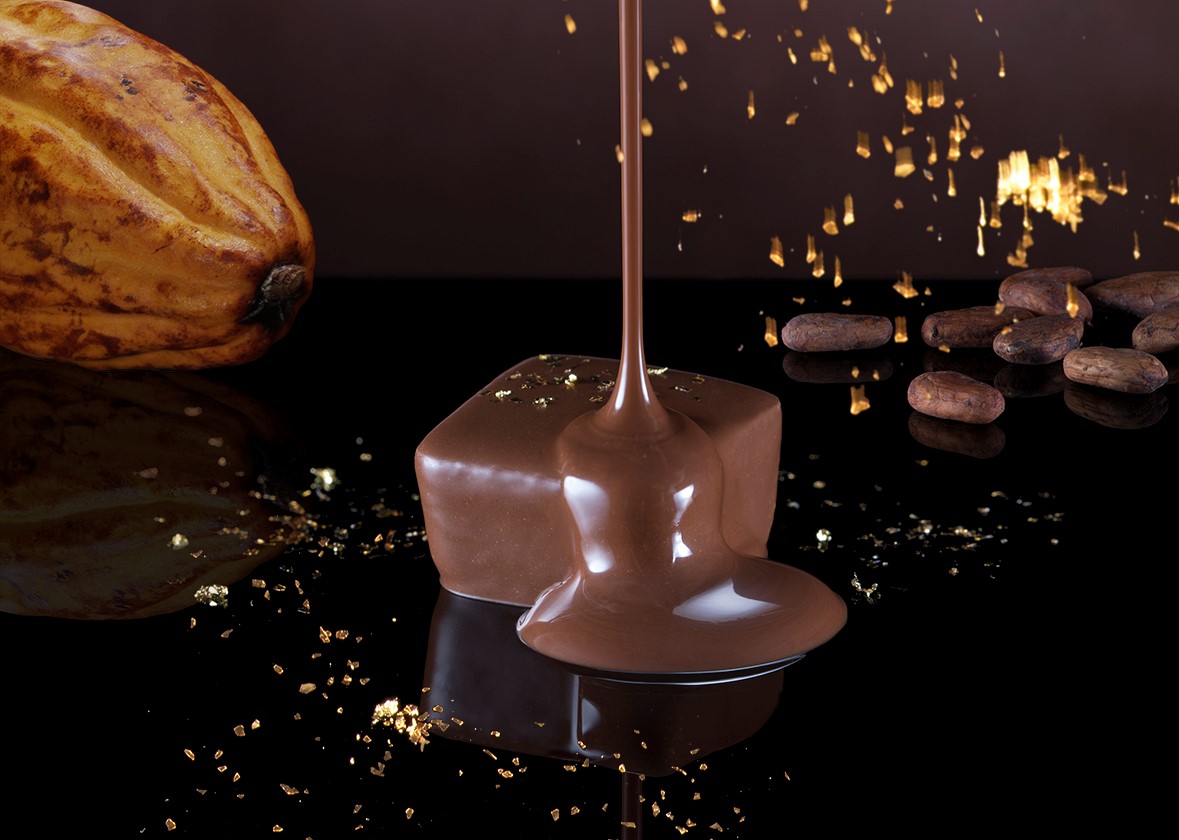 Premium Cacao Full Sablé (Mary Chocolate) – Contains 18 – ¥1,350 (Tax Included)
Finally, we have a premium edition of chocolate company Mary Chocolate's Cacao Full Sablés. This one's for the adults, a sophisticated combination of bittersweet chocolate and berries.
*Exclusive to HANAGATAYA GRANSTA Tokyo Central Street
Did you enjoy this list? Which one takes your fancy the most? Whether as a souvenir for the folks back home, or as a treat to yourself to celebrate 2020, if you're in Tokyo this year then be sure to give HANAGATAYA a visit.
RECOMMENDED ENTRIES
Tokyo Station's Top 10 Edible Winter Souvenirs as Chosen by Station Staff

There is just a month and a half left of 2019, with Christmas, the winter holidays and New Year celebrations right around the corner.

Tokyo Station City has compiled a list of must-grab food-related souvenirs and gifts at Tokyo Station. If you've ever visited Tokyo Station, you'll know that you can be spoilt for choice from the amount of goodies you can get your hands on. The list is based on the votes of 305 station staff members working at Tokyo Station who have voted on their Top 10 most recommend souvenirs to pick up this winter.

The staff members went around the shopping area and taste-tested different edible souvenirs across an 8-day period. Their early thoughts as they went down the list were how delicious or unique things were, but they soon began to take it more seriously to consider things like price, how easy an item was to carry and transport, and what certain people might like in particular.

If you're travelling to or from Tokyo Station during the holiday season, be sure to bookmark this list so you know what to buy for on the flight back home!

1st Place

Rakumadoka @ Terra Saison (GRANSTA) – 5 Set ¥1,080 (Tax Included) / 8 Set ¥1,728 (Tax Included)

This cheesecake is like a cream cheese-stuffed souffle-like sandwich. Branded with the words "Gin no Suzu" (a place in Tokyo Station) and "Tokyo," this seasonal product is exclusive to Tokyo Station. In December last year, they sold over 1,500 in a day.

2nd Place


Mount Baum Kuchen @ Nenrinya (Meihinkan) – ¥1,080 (Tax Included)

With its French bread texture, this delightful treat has a fragrant scent, is moist, and is simply delicious. It has a rich buttery taste and is baked slowly to perfection.

3rd Place

Shinjuku Curry Arare Ebi @ HANAGATAYA (GRANSTA) – 6 Set ¥600 (Tax Included)

This rich curry snack is made by Shinjuku Nakamuraya, and has a light melt-in-the-mouth texture with spicy curry seasoning and shrimp flavour. The shrimp flavour comes from a mix of shrimp powder and shrimp oil. The mix of curry powder and spices gives it a really authentic curry taste.

4th Place

Tokyo Vegetable Rice Crackers @ nomono (GRANSTA Marunouchi) – 12 Set ¥950 (Tax Included) / 18 Set ¥1,598 (Tax Included)

An assortment of rice crackers with three different flavours: great burdock, onion, and pumpkin. They have a set of 18 too which is perfect for handing out to lots of people.

5th Place

Maple Pie Sandwich @ The Maple Mania (GRANSTA) – 8 Set ¥1,944 (Tax Included)

Coated in caramel, this crunchy pie is made with a cream laced with maple sugar. Exclusive to Tokyo Station, the packaging design for this dessert is made with souvenirs in mind as it's made so it's easy to carry and take around with you.

6th Place

Kuzumochi @ Funabashiya Koyomi (ecute Tokyo) – 24 Cut (Serves 1-1.5) ¥790 (tax Included) / 36 Cut (Serves 2-3) ¥895 (Tax Included) / 48 Cut (Serves 4-5) ¥1,200 (Tax Included)

Funabashiya's kuzumochi is made with wheat starch that is fermented over a 450 day period before being cooked. It claims to be "the only fermented Japanese wagashi confection." Since it is fermented over such a long period of time, it takes on a unique flavour and elasticity.

7th Place

Cheddar Cheese Pie Sandwich @ Tokyo Milk Cheese Factory (ecute Keiyo Street) – 6 Pack ¥1,620 (Tax Included)

A crunchy pie filled with an addictive cheddar cheese cream. Exclusive to ecute Keiyo Street.

8th Place (Joint)

Premium Cacao Full Shortbread @ HANAGATAYA (GRANSTA) 8 Set ¥648 (Tax Included) / 18 Set ¥1,350 (Tax Included) / 27 Set ¥2,052 (Tax Included)

This is a premium edition of the store's Cacao Full Shortbread, made using the methods used to make the chocolate brand Merry Chocolate. The crunchy texture and full-bodied flavour of the cacao has been left as it is, while a few things have been added to make it a little more luxurious: French sour cream butter, strawberries, and raspberries.

8th Place (Joint)

Yaoki Senbei @ Mankaso (Meihinkan) – 16 Set ¥1,080 (Tax Included)

These plump senbei rice crackers are made with 100% domestic rice and come in six different delicious flavours: agodashi soy sauce, salted, shrimp, seaweed, plum and coarse sugar, and chirimen pepper.

10th Place

Tartlette Neuf @ le billet (ecute Tokyo) – 6 Pack ¥1,728 (Tax Included) / 9 Pack ¥2,592 (Tax Included)

la billet make their own tarts, and this assortment comes in a variety of flavours. Exclusive to Tokyo Station. A great option as a gift for meeting a business in Japan.

Which of these looks most tempting to you? Let us know on Twitter or Facebook!

Disney Store: Find the Perfect New Year's Souvenirs From Japan

Walt Disney Japan is celebrating the New Year by rolling out a new batch of celebratory character merchandise at Disney Stores across Japan as well as the online website on December 3.

From the quintessential Japanese daruma to pine decorations and more, take home some of Japan with you for friends and family in the form of classic Japanese New Year items made into Disney souvenirs.

Plush Toys: Mickey/Minnie Mouse ¥2,000 Each, Winnie the Pooh ¥2,800, Piglet/Roo ¥1,500, Eeyore ¥1,600, Chip/Dale ¥1,200 Each Mascots: All ¥1,000 Each Memo Pad: ¥650 Pine Decoration: ¥1,500

The line-up includes a selection of daruma-dressed Disney character plush toys, plush toys of Winnie the Pooh, Piglet, Eeyore and Roo in rat costumes for the 2020 Year of the Rat, and more. Perfect as gifts, souvenirs, and for decorating your room and desk.

Celebrate the New Year with your favourite Disney characters.

©Disney ©Disney. Based on the "Winnie the Pooh" works by A.A. Milne and E.H. Shepard. ©Disney/Pixar 

Information

Product Page: https://store.disney.co.jp/c/c5680/ 

*Select branches not stocking these products (*and not available at outlets)

*Available while supplies last

*Product designs, price, release date, branches, and so on are subject to change 

Japanese Souvenir Diary: Tokyo Strawberry Whipped Langue-de-chat

You're going on holiday to another country, but there's someone special back at home that can't go with you. What's the best way to make them feel like they haven't been left out completely? Souvenirs, of course! Picking out the perfect souvenir for the right person or people, whether friends or family, is a lot of fun as you consider what each person might like and appreciate.

We've condensed that thrill of souvenir searching into an article series. We will showcase products that the MOSHI MOSHI NIPPON editorial team have actually tried and recommend as souvenirs.

Tokyo Ichigo Whipped Langue-de-chat (Includes 6) – ¥650 (Tax Included)

Today, we will take a look at Tokyo Strawberry Whipped Langue-de-chat. This whipped chocolate cat tongue biscuit is nothing short of delicious. It's a fact.

And the cute packaging makes it even better, both the box and individual packs when you open it up.

And since they are individually packaged, you can share them amongst multiple people.

Whipped chocolate is sandwiched between the cat tongue biscuits.

Time to try one.

The biscuit itself has a buttery, exquisite flavour. Though they're stuffed with whipped chocolate, the chocolate itself is light on the belly. You get those sweet and sour notes from the strawberry too.

The combination of the lightly baked and delicate biscuits with the soft texture and subtle taste of the whipped chocolate is to die for. Your taste buds are tantalised by a flurry of strawberry.

I showed the 6 pack of biscuits, but they also sell a 12 pack (¥1,080) and 18 pack (¥1,620) too, so cater it to how many you need to share out (or enjoy to yourself!) They have a best before date of 30 days too, so don't have to worry if there's still some time left before you return home.

If you love strawberries, you won't be able to rest the Tokyo Strawberry Whipped Langue-de-chat. Be sure to check them out if you're looking for a Japanese souvenir from Tokyo.

Writer: Sayuri Mizuno (MOSHI MOSHI NIPPON Editorial Team)

Translator: Joshua Kitosi-Isanga

Information

Tokyo Strawberry Whipped Langue-de-chat

Available: At major stations in the Kanto region of Japan, department stores in Japan, and elsewhere

Best Before: 30 Days

Official Website: http://www.oraikan.jp/ih.html
RELATED ENTRIES
Chewy, Cheesy and Cute Moomin Obanyaki Desserts Now Being Sold at FamilyMart in Japan

Japanese convenience store chain FamilyMart released cream cheese-filled obanyaki branded with Moomin characters on August 4 in celebration of "Moomin's Day" which falls on August 9.

Moomin Mochitto Cheese | ¥138 (Tax Included)

The Moomins are the main characters of Tove Jansson's series of books and comic strips. August 9 is the birthday of the author, and so this date has become known as "Moomin's Day" amongst fans of the series.

Obanyaki are a type of imagawayaki which are like waffles and are filled with various ingredients, the most popular being red bean paste which can often be found at festivals in Japan. These chewy Moomin obanyaku however are filled with cream cheese and are stamped with the familiar faces of Moominvalley including the titular characters, Snufkin, Little My, and the Hattifatteners.

What better way to celebrate Moomin's Day than with a delicious treat? If you're in Japan this summer, head to your closest FamilyMart.

©Moomin Characters™

Information

Moomin Mochitto Cheese

Release Date: August 4, 2020

Available: Approx. 16,600 FamilyMart branches in Japan

FamilyMart Official Website: https://www.family.co.jp/

Minions Confections Sneak Their Way Into Lawson Convenience Stores in Japan

Bandai Candy's character-inspired Japanese confectionery series Tabemas released a new batch of Minion-themed Japanese wagashi confections at Lawson convenience stores in Japan (excluding Lawson Store 100 branches) on August 4, 2020.

'Tabemas' is an abbreviation of the Japanese words taberareru masukotto, meaning 'mascots that you can eat.' It is a Japanese confectionery series that combines well-known characters and Japanese sweets made from ingredients like red bean paste, sugar and rice flour.

Tabemas Minions | ¥264 (Before Tax)

The line-up includes familiar faces from the Despicable Me and Minions films, namely the childish Bob, Stuart—who loves a prank—and Kevin who has a leader presence about him. The confections feature all the little details for each character, from the goggles and hair to the colouring.

Each character has its own delicious bean paste flavouring too: Bob is banana flavoured (his favourote), Stuart is strawberry, and Kevin is chocolate. Which do you want to try the most?

© Universal City Studios LLC. All Rights Reserved.

Information

Tabemas Minion
Release Date: August 4, 2020

Available: At the chilled desserts section of Lawson convenience stores in Japan

*Not available at Lawson Store 100

*Available while supplies last

*Stock date may differ from branch to branch

*Select stores not participating

TV Anime The Rolling Girls Exhibition to Take Place in Tokyo This September

The Rolling Girls is an anime series produced by Wit Studio that aired in 2015. In celebration of the 5th anniversary of the girly, road movie-like series, the anime will be released in a special Blu-ray box in Japan on December 16, 2020.

The 5-year milestone will also be celebrated with an exhibition at Space Caiman in Tokyo from September 18 to 21. There will be illustrations and messages posted up from the anime's production staff, including the director Kotomi Deai, screenwriter Yasuyuki Muto, character designer tanu, and character setter Katsuhiko Kitada, and as well as the Mob themselves—the four main characters.

The event will be one no fan will want to miss out on as staff and fans come together to express their love for the series.

A special display will also be set up which will showcase drafts and production materials from when the anime was being produced.

This includes character illustrations, image boards, character settings, original works, background art, and more. Fans can also get their hands on some exclusive 5th anniversary merchandise too.

©2015 The Rolling Girls Production Committee製作委員会

Information

The Rolling Girls 5th Anniversary Book
Release Date: September 18, 2020
Price: ¥2,500 (Tax Included)
Size: B5
Pages: 40 (Full Colour)

The Rolling Girls Exhibition
Running: September 18, 2020 – September 21, 2020
Time: 12:00
Location: space caiman, 4-5-15 Nihonbashihongokucho, Chuo-ku, Tokyo
Entry Price: ¥800 (Tax Included)
*Information on tickets TBA

Official Website: rollinggirls.com

Tokyo's New Starbucks Branch in Ginza is a Cafe Dream Come True For Workers and Business People

Starbucks Coffee Japan opened a new branch at CIRCLES Ginza on July 30, 2020 that will serve as a dream location for business people.

The dream coffee shop, split into two floors, offers a unique environment and service created in collaboration with Think Lab. Rather than your regular, more public Starbucks, this branch also lets customers reserve booths and meeting spaces. This includes the SMART LOUNGE™ aimed at business users, as well as solo working spaces by Think Lab.

Starbucks Coffee CIRCLES Ginza caters to both solo workers and co-workers, giving them a space to think and concentrate alone, or come together in groups to exchange ideas. Booths offer a place to host online meetings, the SMART LOUNGE lets groups arrange chairs and tables however they like, and the Think Lab—which you pay an extra fee to use—is the perfect spot for some quiet contemplation.

1st Floor: Quick TOGO experience

The first floor is for people who aren't looking to stay at the cafe long. They are looking for a quicker experience where they can order their Starbucks drink and food and head on out. The cafe offers cashless payments, which is notable as Japan is still very much a cash-based country, as well as the Starbucks mobile order and pay service where you pick what you want on your phone and then go and pick it up.

2nd Floor: A place where you can focus

Reserve a booth for video calls and more


There are four individual half-booths which can be reserved, each of which have a screen for video calls and online meetings. These can be used for 40 minutes and can be booked in advance. The booking system was co-developed by Starbucks and Vacan.

Tables for in-person group meetings

The window tables offer a place for meetings, discussions, and business negotiations for 2-12 people. It's a relaxing area where workers and clients can chat freely.

解放される"ひとり"のためのパーソナル空間

For those who want to work along, Starbucks has created a spacious area with individual booths where you don't have to meet eyes or be bothered by other people.

If you're working in Tokyo, and need a business-oriented location where you can enjoy a coffee, then look no further than Starbucks Coffee CIRCLES Ginza.

Information

Starbucks Coffee CIRCLES Ginza

Grand Opening: July 30, 2020

Address: CIRCLES Ginza, 3-7-6 Ginza, Chuo-ku, Tokyo
Opening Hours: 7:00-22:30
TEL: 03-6228-6715

Starbucks Japan Official Website: https://www.starbucks.co.jp/

Shibuya's New Hotel sequence MIYASHITA PARK Connects the People to the City

sequence MIYASHITA PARK is a new mixed-use hotel set to open inside MIYASHITA PARK on August 1, 2020.

sequence's concept is to connect the people with the city. It offers a space for everyone whether they want a quiet time alone, whether they are sightseeing, having a work-do, celebrating a party or festival, and more. This is centred around the hotel's three notions: "SMART," "OPEN," and "CULTURE."

The hotel is inspired by the local concept of "PARK MIND" which offers guests a place to relax after a long, busy day, like in a park. It has collaborated with Tokyo-based designers and creators to bring this to life in room designs. Furniture and fittings are simple while still being of high quality.

The fourth floor entrance connects seamlessly to Miyashita Park and is home to a lobby lounge as well as the new VALLEY PARK STAND cafe and bar. Up on the fifth floor is the breakfast dining restaurant Dōngxī Restaurant & Sakaba. Up on the 18th floor, guests can enjoy a panoramic view of Shibuya, as well as dine at the entertainment restaurant SOAK whose design and concept mixes together history and the future, the West and the East. There is also art from artists coordinated by The Chain Museum.

IKEA Logo Clothing Collection EFTERTRÄDA Pre-Sales Begin at IKEA Harajuku

IKEA Japan is launching IKEA's first apparel and merchandise brand to feature the company's logo. Named "EFTERTRÄDA," pre-sales for the collection will take place at IKEA Harajuku on July 31. General sales will then begin at IKEA stores across Japan and on IKEA Japan's official website on August 7.


The EFTERTRÄDA collection is made in Japan and takes inspiration from Tokyo culture. A special lookbook was created featuring young people who live in Tokyo wearing the collection. They were asked to focus on how they present themselves in their own homes. Each photo is a look into their private lives.


IKEA T-shirt

IKEA Hoodie

The lookbook of these five Tokyoites was shot in partnership with IKEA Harajuku to commemorate the store's opening. This includes Japan's most popular virtual model Imma.

IKEA Bag

IKEA Umbrella (White)

The EFTERTRÄDA simple yet stylish collection includes ten pieces of apparel and goods branded with IKEA's official logo, such as the T-shirt, hoodie, towel, umbrella, water bottle, and more.

The collection is one to add to your wardrobe, so when visiting Tokyo, be sure to head on into IKEA to get your hands on it.

Information

EFTERTRÄDA
Pre-Sales: July 31, 2020 (IKEA Harajuku)
General Release Date: August 7, 2020

Official Website: http://www.ikea.jp/eftertrada

RIVERSIDE CLUB: Food, Art & Music Culture Come Together in Nakameguro's New All-Day Lounge

RIVERSIDE CLUB officially opened on the first floor of "THE WORKS" along Meguro River in Tokyo on July 17, 2020. An all-day lounge which can be enjoyed from breakfast to dinner, its concept is a fusion of food, art, and music cultures which it calls "GOOD CULTURE SALON."

RIVERSIDE CLUB boasts an incredible menu forged by chefs at the forefront of Tokyo's food culture. Meals can be enjoyed while gazing at the various artwork on display, and customers can look forward to seeing collaborations with numerous apparel brands. It's a unique space designed by adults for adults, the likes of which has never been seen before.

Comfort food is at the heart of RIVERSIDE CLUB's menu design which they have cooked up using their own unique vision.


For breakfast, customers can enjoy a healthy smoothie made from a blend of kale, pineapple, kiwi and avocado. If they're looking for something more classic, they can order the avocado toast served with bacon and eggs, or cold-pressed juice by SUNSHINE JUICE which hails as Japan's first shop specialising in cold-pressed juice. The thought behind the morning menu is making sure to get both a tasty and nutritional meal down customers even if they're in a rush.

If customers are looking for something a bit more hearty in the morning then they can check out the all-day menu where they'll find the lounge's fat and juicy 100% beef "RIVERSIDE BURGER." There's also the "Lemon Rice" provided by LEMON RICE TOKYO, a popular Shibuya-based restaurant owned by Yuhi Komiyama, the vocalist of Hoff Dylan and known as the gourmet chef of the music industry. Everything on the menu is made with Tokyo's food culture in mind, and if you're looking for something very Tokyo-esque, then there's the "Hamburger Naporitan," a bed of spaghetti topped with a hamburger.

Popular foods from NAKAMURA GENERAL STORE will also be served, such as scones, carrot cake, apple crumble, lemon pie, and more. NAKAMURA GENERAL STORE is a popular Hawaiian bakery which was originally in charge of pastries served at Diamond Head Market & Grill, which is famous for its Hawaiian lunches and scones, but subsequently opened its own store in Kyoto and became so popular that it often sells out its stock by evening time. Coffee made using specially selected coffee beans provided by Minami-Aoyama-based coffee rosters will also be served and goes perfectly with NAKAMURA GENERAL STORE's food. Customers will be able to order their own coffees or buy their own bag of beans to take home.

RIVERSIDE CLUB has collaborated with numerous artists for graphics on show there. Their logo was created by "& Supply," a Tokyo-based creative studio. Various artwork will be displayed, including a photograph of Lady Gaga taken by Nobuyoshi Araki for a bondage-themed photoshoot in Vogue Hommes Japan. Pieces by LEEGET, who creates graphics and illustrations, will also be displayed. RIVERSIDE CLUB will continue to serve its "GOOD CULTURE SALON" theme by promoting more artwork in the future.

RIVERSIDE CLUB also allows pets, so customers can enjoy a quiet time with their furry comrades. Pets will get their own pet-friendly menu, toys, and more in the future.

Information

RIVERSIDE CLUB
Address: 3-18-3 Aobadai, Meguro-ku, Tokyo

Official Website: http://theworks.tokyo

Make Your Own Original KitKat at Tokyo's KitKat Chocolatory Miyashita Park Shibuya

Nestlé Japan is opening a new branch of KitKat Chocolatory inside Shibuya's new shopping mall Miyashita Park on August 4, 2020.


KitKat Chocolatory is a direct-to-consumer chain, serving premium, handcrafted KitKats made with top quality ingredients and production methods under full direction by Takagi Yasumasa―the owner and chef of LE PATISSIER TAKAGI. Its product line-up features a range perfect as gifts to friends, family and co-workers, or as a treat to yourself.

Japan is home to eight KitKat Chocolatory branches. The new Miyashita Park Shibuya branch will open as the fourth in Tokyo, as well as the first where you can create your own KitKat products.

My KITKAT: ¥2,000 (Before Tax)

"My KITKAT" comes as the world's first KitKat service where consumers can create their own original chocolate bars.

KitKat Waffle: ¥1,000 (Before Tax)

KitKat Chocolatory Sublime Soft Cream: ¥630 (Before Tax)

KitKat Chocolatory Miyashita Park Shibuya will also sell a variety of unique and exclusive KitKat desserts, like luxurious soft serve ice cream topped with couverture chocolate. It will also offer a cafe menu created by Nespresso, where customers can pair Chocolatory desserts with seasonal coffee menus, and more.

Shibuya-esque wall art will decorate the interior of the shop, making for plenty of photo opportunities.

Information

KitKat Chocolatory Miyashita Park Shibuya

Grand Opening: August 4, 2020

Address: Miyashita Park South 2F, 6-20-10 Jingumae, Shibuya, Tokyo

Opening Hours: 11:00-21:00 (Last Orders 20:00)

TEL: 03-6427-6811

Official Website: https://nestle.jp/brand/kit/chocolatory/

Laforet Harajuku's Midsummer Takeaway Desserts Include Cinnamoroll Goodies

Eight shops inside Laforet Harajuku are participating in the shopping mall's midsummer takeout dessert event which is taking place from August 1 to 31. This includes the new milk dessert shop "MILK MILK MILK" which opened as the first branch in Japan on July 17 this year. Desserts and merchandise of Sanrio's popular character Cinnamoroll, who won this year's 2020 Sanrio Character Ranking, will also be sold.

café de paris | Floor B1F


Many Many Fruits Sandwich: Mango ¥626 / Green Grape ¥561 (Tax Included) *Takeout only

Fresh fruit is packed onto these adorable looking sweet sandwiches.

CAFE CREPE | Floor 1F


Honey Summer Orange: ¥730 (Tax Included) *Takeout only

Another cute summer dessert finished with swirls of fresh cream, fresh orange, and a round dollop of ginger ice cream.

MILK MILK MILK! | Floor 2F


Milk Bottle Smoothie: ¥880 (Tax Included) *Takeout and have-in

Served in a cute milk bottle, what better way to cool down than with a cool strawberry smoothie?

Cinnamoroll Milk Pudding: ¥1,078 (Tax Included) *Takeout and have-in


Cinnamoroll Sky Beaker Parfait: ¥1,048 (Tax Included) *Have-in only

There are two tasty Cinnamoroll desserts to choose from, including the milk pudding made with Hokkaido milk and a parfait with a gradient or jelly and chocolate mint ice cream, topped with mint, and served in a beaker.

© 2001,2020 SANRIO.,CO.LTD. APPROVAL NO.S610695

Information

Laforet Harajuku Summer Takeout Menu
Running: August 1, 2020 – August 31, 2020
Official Website: https://www.laforet.ne.jp/

4 Must-Try Colourful & Kawaii Cream Sodas in Kyoto

The rainy season in Japan, known as Tsuyu, is finally coming to a close, which means the real summer is right around the corner. And what better way to stay cool in Japan during the summertime than with a glass of coo, refreshing cream soda?

We've compiled a list of 4 must-try cream sodas in Kyoto recommended by Tiara on Instagram, who posts photos on her Instagram of drinks and desserts she tries around the Kanto region of Japan, and who has kindly provided us with photos on this occasion too.

and C Kyoto | Kita-ku

Yellow Cream Soda / White Cream Soda / Red Cream Soda / Blue Cream Soda

and C Kyoto is a stylish bar, cafe, and second hand clothes store located right by Hirano Shrine. They serve four different colours of their cream soda which look super cute when lined up in a row.

and C Kyoto
Address: 30 Hirano Kamihatchōyanagichō, Kita-ku, Kyoto
Opening Hours: 12:00-23:00
Closed: Tuesdays
Instagram: https://www.instagram.com/andc102/

BABBI GELATERIA KYOTO | Gion Shijo

Mango Passion / Classic Blue / Amaou Strawberry

BABBI GELATERIA KYOTO is located along the Kamo River and is famous for its gelato. They also sell some super refreshing cream sodas topped with their tasty gelato.

BABBI GELATERIA KYOTO
Address: 134 Saitocho, Shimogyo Ward, Kyoto
Opening Hours: 13:00-20:00 (Temporary hours due to COVID-19)
TEL: 075-585-5200
Official Website: http://www.babbi.co.jp/showcase/gelateria-kyoto/

Kissa Zou | Imadegawa

Pudding a la Mode / Lemon Squash & Elephant Cookie

This cute cream soda comes with an elephant-shaped cookie. The custard pudding has a rich eggy flavour.

Kissa Zou
Address: 440-3 Santeichō, Kamigyō-ku, Kyoto
Opening Hours: 10:00-18:00 (Last Orders 17:00)
No Fixed Holidays
Instagram: https://www.instagram.com/kissa_zou/

Bread, Espresso & Arashiyama Garden | Arashiyama

Cherry Blossom Cream Soda

This old cafe is renovated from an old family estate which was built at the end of the Edo Period and is designated as a cultural property of Kyoto. This beautiful cafe coincides with the gardens and has gorgeous thatched roofing.

Bread, Espresso & Arashiyama Garden
Address: 45-15 Sagatenryuji Susukinobabacho, Ukyo Ward, Kyoto
Opening Hours: 10:00-18:00 (Last Orders 17:00)
TEL 075-432-7940
Official Website: https://bread-espresso.jp

Tiara has lots of other delicious dessert recommendations over on her Instagram, so be sure to follow her if you're travelling in the Kansai region and are in need of a sweet treat.

Original Text & Photo: @happy_pinkrose_tiara

Translation: Joshua Kitosi-Isanga

*The information about the items on this list are correct at the time of publishing. For the latest information, please visit each cafe's official websites and social media pages.

The Quintessential Quintuplets Get a Full Makeover This Summer For Season Two

Everybody's favourite sister quintuplet is set to roll up to an all-new, revamped exhibition this summer. The Quintessential Quintuplets Exhibition MAKEOVER will take place at Tokyo's Sunshine City World Import Mart Bulding in Ikebukuro from August 15 to 30 and subsequently Osaka's Nanko ATC Museum from November 26 to December 6.


The exhibition is taking place to promote the upcoming season season of The Quintessential Quintuplets and will feature a whole new merchandise line-up, new displays, and more. Series creator Negi Haruba has also illustrated a new visual for the exhibition.

The Quintessential Quintuplets is a manga series written and illustrated by Negi Haruba. The story follows high school student Futaro Uesugi who becomes a private tutor for the sisters of the wealthy Nakano family, all of whom have no interest in study or grades. It's up to Futaro to change their minds.

A second season of the anime series is set to air in January 2021. A mobile game is also in the works. The game is a romance comedy puzzle game whereby the player deepens their bonds with the five sisters. Players take the role of the series protagonist Futaro through an original story with new voice acting recorded for the game.

©Negi Haruba・Kodansha

Information

The Quintessential Quintuplets Exhibition MAKEOVER
Tokyo
Location: Ikebukuro Sunshine City World Import Mart Bldg. Floor 4F – Hall A
Running: August 15, 2020 – August 30, 2020
Time: 10:00-20:00 (Until 17:00 on August 30)

Slots: 10:00/11:00/12:00/13:00/14:00/15:00/16:00/17:00/18:00/19:00

*You must book a ticket for one of the specified slots at the link below by 16:00 the previous day

Buy Ticket: https://l-tike.com/event/5hanayome-makeover/ (L-Code: 36055)

Osaka
Running: November 26, 2020 – December 6, 2020

Location: Osaka Nanko ATC Museum

*Ticket details TBA

The Quintessential Quintuplets Exhibition MAKEOVER Official Website: http://www.gotobun-exhibition.com/

Pikachu Ice Lollies and Frappe to Arrive at Tokyo's Pokémon Cafe This Summer

The Pokémon Cafe in Ikebukuro, Tokyo is introducing some refreshing Pikachu sweet treats  to its menu this summer, beginning on August 1.

Pikachu Pineapple Ice Bar | ¥650 (Before Tax)

First up on the is the tropical pineapple flavoured ice bar which comes with four different variations of Pikachu's adorable face. There's also two different packaging designs which come in blue or pink.

Pikachu Tail Chocolate Banana Frappe | ¥700 (Before Tax)


Drink Sleeve | ¥550 (Before Tax)

For drinks, the Pokémon Cafe is serving up a chocolate banana frappe topped with Pikachu's tail made from chocolate. The drink comes with a free sleeve of Pikachu's chubby face.

© 2020 Pokémon.©1995-2020 Nintendo/Creatures Inc./GAME FREAK inc.

Information

Pikachu Sweets by Pokémon Cafe
Address: Sunshine City Alpa 2F, 3-1-2 Higashi-Ikebukuro, Toshima-ku, Tokyo
Opening Hours: 10:00-20:00

Official Website: https://www.pokemoncenter-online.com/cafe/pikachu_sweets/

Cautions
*Opening hours subject to change. Please check the official website before travelling.
*Duration of these limited-time menu items subject to change without notice.
*Available while supplies last.
*Photos are for illustrative purposes only. Actual products may differ in colour and design.