Relaxing Café by Day, Neon-Lit Bar by Night: Enjoy a Drink at Jinbōchō CAMPUS in Tokyo
Hello everyone, this is MOSHI MOSHI friend Banako.
Today I'll be introducing you to an interesting place in Jinbōchō, Tokyo that is a café by day and a café & bar at night.
From 9:00 to 17:00 it's known as COFFEE CAMPUS  and from 18:15 to 22:00 it runs as CAMPUS TOY cafe&bar. It first opened its doors approximately 48 years ago, solely operating as a café. Its current owner is an avid American toy and pop culture-lover who started running the café & bar seven years ago.
To get here, it's just a five-minute walk from exit A2 of Jinbōchō Station. The café is located in a quiet place just one turn off Odori Street.
Check out the menu:
The toast here is really good, so I ordered the Egg on Toast. (¥500)
To my surprise, an exceptionally large and thick slice of toast arrived at my table. The egg was evenly cooked and spread on top. I curiously sunk my knife into the toast to reveal the inside.
The egg dripped beautifully like melted cheese. It tasted wonderful with the freshly toasted slice of bread and was very filling. I was in a good mood after my very first bite.
Once the clock strikes 18:15, the café completely transforms into CAMPUS TOY cafe&bar which has a completely different atmosphere. 
One step into the newly-transformed café & bar and…
The calm undertones of the café were replaced with a cute pop-themed atmosphere illuminated by colourful neon lights. Rather than preparing a drinks menu, owner matz takes orders directly from customers, creating drinks catered to each individual customer based on what flavours and colours they like.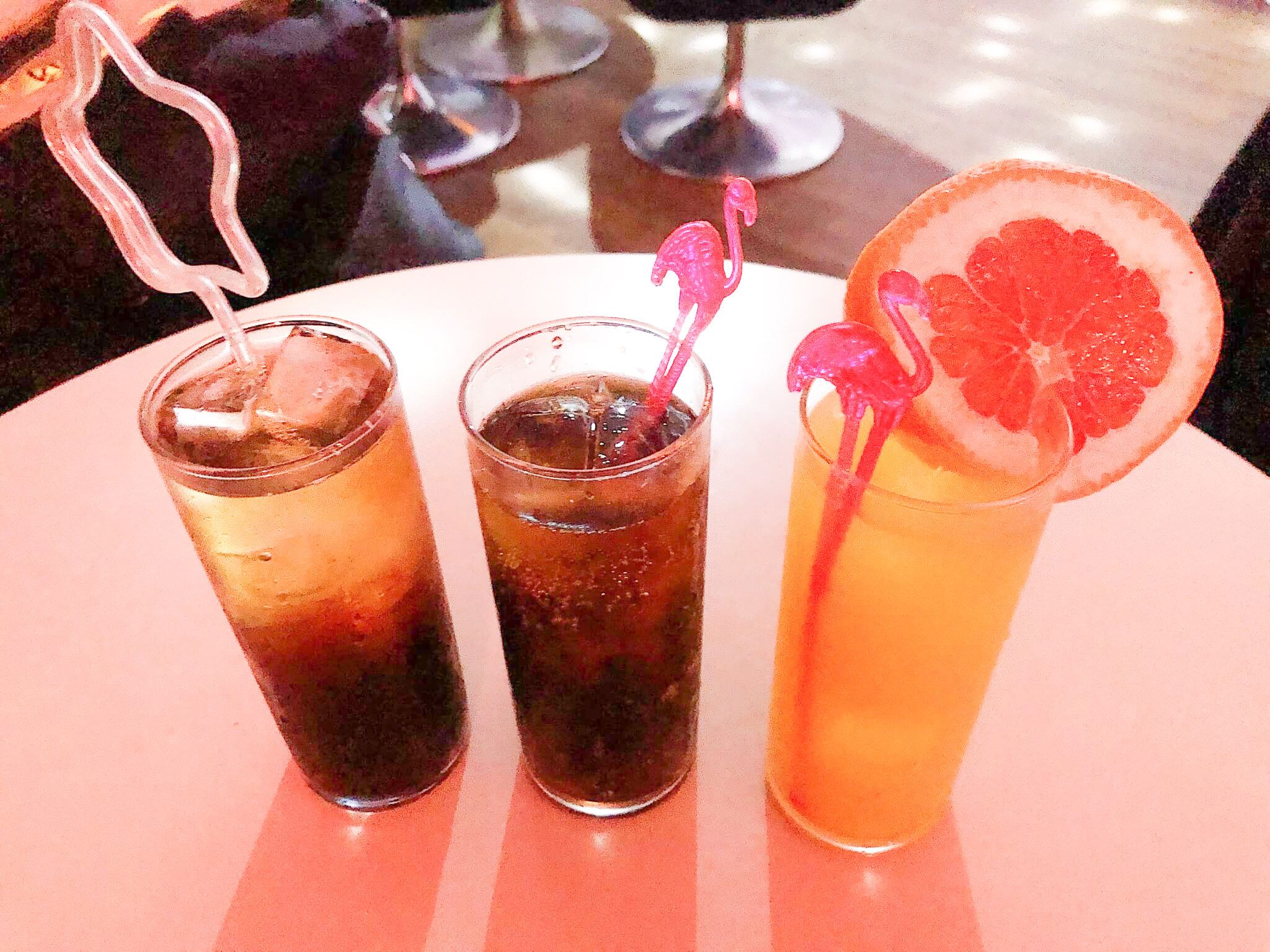 Waiting to see what kind of drink is going to be brought to you is very exciting. Ordering drinks with friends and taking photos of the outcome is the best way to enjoy your time here.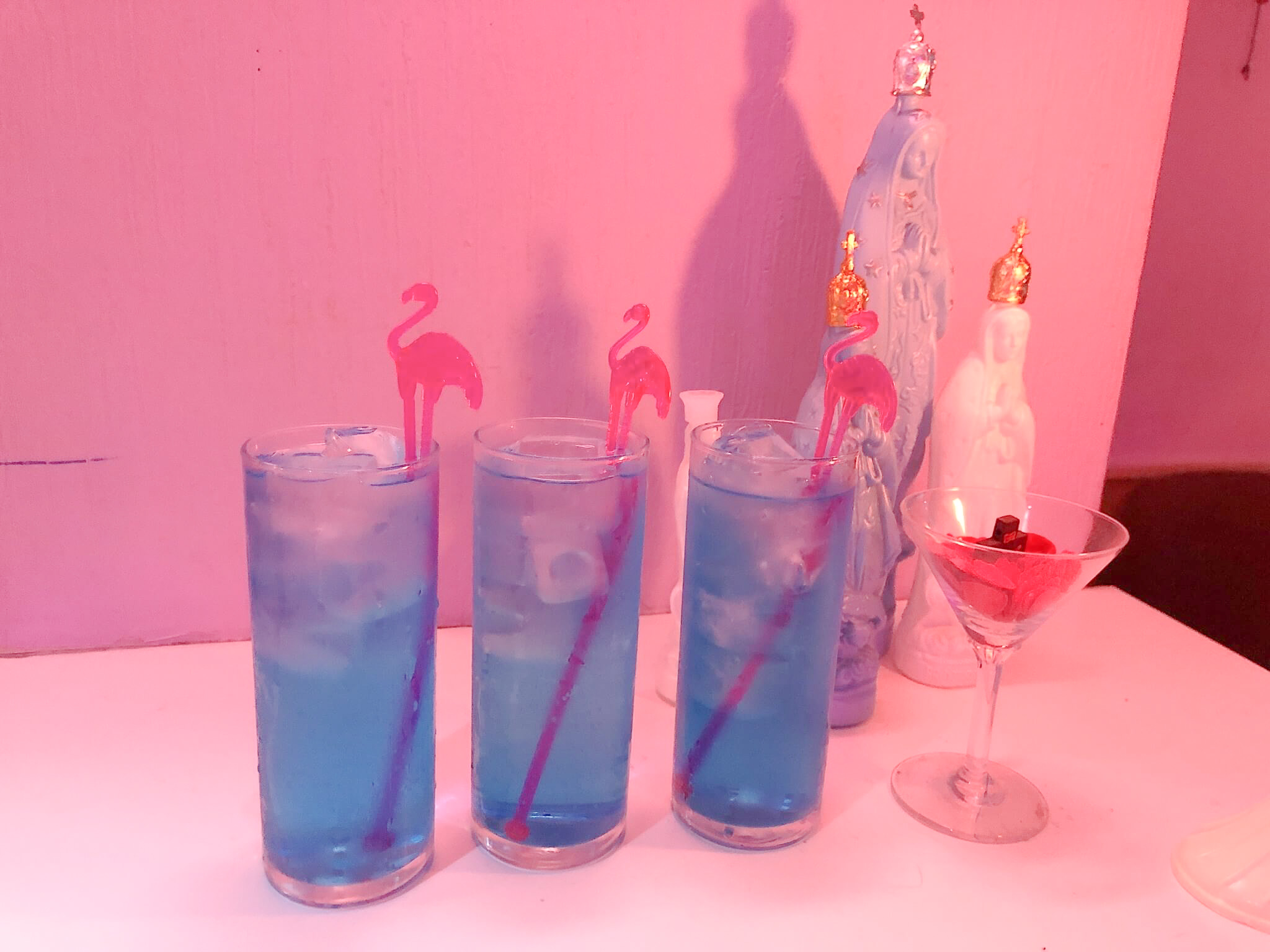 There are also lots of good spots to take photos for your Instagram so don't hold back! From time to time, there is a small market here where the owner sells small fantasy-themed items.
 Make sure to check out CAMPUSTOY cafe&bar on Instagram for their latest updates and information on opening hours. Whether you want to enjoy a pop-themed American atmosphere or are simply looking for a relaxing spot to chat, this café is for you. Matz the owner is very friendly and is full of interesting stories that you just got to hear.
Information
COFFEE CAMPUS /CAMPUS TOY cafe&bar
Address: Jinbōchō Mansion Floor 1, 2-10, Jinbōchō, Kanda Ward, Chiyoda, Tokyo
Opening Hours
COFFEE CAMPUS: 9:00 ー 17:00
CAMPUSTOY cafe&bar: 18:15 ー 22:00
* Please be careful to not mix up the opening hours of the café and café and bar.
Closed: Saturdays, Sundays and National Holidays
Access: Approx. 5-minute walk from Jimbocho Subway Station exit A2
CAMPUS TOY cafe&bar Instagram:https://instagram.com/campustoy_matz?igshid=2nblcij8r4b7
RECOMMENDED ENTRIES
Tokyo Café Series: "Futsu ni Fruits"—A fruit sandwich stand in Daikanyama, Nakameguro

Today, we'd like to introduce to you "Futsu ni Fruits," a shop produced by a certain popular café in Omotesando that sells fruit sandwiches.

"Futsu ni Fruits" is produced by Omotesando's popular café & bakery, "Bread, Espresso &," and is the first place in Nakameguro area to specialize in fruit sandwiches. The shop's name implies that we should enjoy eating fruits not just on special occasions – but on regular days too.

You can find it located near Yarigasaki Crossing and can be easily accessed from either Daikanyama and Nakameguro.

The shop is small and compact, part of its charm being that it's a stand. The shop's design is styled around a Showa fashion shop, maintaining a retro vibe while also having a pop feel to it. There are also benches installed so you can enjoy sitting down and eating whatever you order.

The shop counter is lined with different varieties of fruit sandwiches. They embrace seasonal fruits, so you can enjoy going as many times as you like. They offer standard and scrumptious fruit sandwiches as well as delicious original ones, such as one filled with fresh cream and topped with red bean paste!

Futsu ni Fruits (¥350 – tax incl.)

You will find the "Futsu ni Fruits" sandwich listed on the shop's billboard menu. It's filled with banana, pink grapefruit, orange and kiwi and stuffed with a light serving of fresh cream, giving it a refreshing taste.

Aki no Yonaga ni (¥400 – tax incl.)

This is the limited edition seasonal sandwich for this season. It has a rich, luxurious taste thanks to the Japanese persimmon and sweet bean paste. The bread used for the fruit sandwiches is delivered every morning. The fruits and bread taste perfect together, and their soft and fluffy texture make this a winning sandwich!

Fruit Milk (¥400 each – tax incl.)

What goes hand-in-hand when eating bread? Milk, of course! These cute bottles of milk are prepared on-site every morning. The milk comes in various flavours, including fruit mix and banana milk. They also serve coffee milk (¥350 – tax incl.) using Ogawa Coffee beans.

"Futsu ni Fruits" even sells little accessories such as badges and stickers. The cool pop-style logo is the same as the shop's logo.

This colourful fruit sandwich shop might be small, but it's definitely one photogenic café stand. Why not treat yourself to a sweet fruit sandwich during your shopping trip or city stroll?

■Information

Address: 1-1-71 Nakameguro, Meguro, Tokyo

Open: 10:00-18:00

No fixed holidays.

TEL: 03-6451-0178

This Week's Breakfast: French Toast at Bread, Espresso & in Omotesando

One thing I do at least once a week without fail is treat myself out to some delicious food or dessert. It's very important time well spent in order to live a happy life.

Today, I went out for breakfast. I got up a little earlier than usual and headed to my favourite cafe, Bread, Espresso & which is located in Omotesando.

It's really easy to get to: it's just a 5-minute walk from the A2 exit of Omotesando Station. Mornings are quiet in Omotesando, you don't see many people walking around, so it feels like a completely different place compared to its busy streets during the day.

When you enter the cafe, the smell of freshly-baked bread is the first thing to hit your senses. I sat down on one of the comfy sofa-seats and ordered myself the French toast breakfast set.

There's plenty of space between tables, so it's an environment that's easy to kick back and relax in.

Inside and outside the cafe are cute signs with that day's recommended menu items written on them. Next time I visit I think I'll try one of the lunchtime desserts. That's what I daydreamed about while waiting for my French toast to arrive.

French Toast Set w/Drink – ¥800

The French toast has a subtly sweet scent. It's made with one of the cafe's popular foods: the butter-loaded bread known as "Muu."

The toast's crusts were nice and crunchy while the middle part was fluffy. The soft bread just melts in your mouth when taking a bite, and your taste buds are treated to the sweet flavour of the egg.

The toast is delicious as it is, and you can totally leave it at that and enjoy your morning breakfast. But if you want to take it to the next level then you can drizzle the accompanying honey over the toast, giving the sweetness an even richer flavour.

I'm usually not good with the characteristic sweet taste that honey has, or the bitterness layered into the overall flavour, but this honey was on the milder side so I really enjoyed it.

After my food, I enjoyed the cappuccino the barista beautifully made for me which comes as part of the set.

My 1-hour morning was spent even more relaxed than usual here. It's much different from lunchtime which is a much busier and hurried time, so I could sink in my chair and really enjoy my drink too.

Waking up early and enjoying a relaxing breakfast. That's all I did, but it helped ease my busy mind and soul. I'm a simple person, and I think I'll be able to face my week and work hard at it after this.

Today's Presents

Futsu Furu Fig Sandwich – ¥420

Futsu Uni Fruits – ¥400

I wanted to share the happiness between friends and family on this fine day where I got to eat a delicious breakfast. These sandwiches are packed full of fruits―seasonal fruits which are best enjoyed right now. If you're wondering what other sandwiches they sell then be sure to visit.

Writer: Sayuri Mizuno (MOSHI MOSHI NIPPON)

Translator: Joshua Kitosi-Isanga

Information

Bread, Espresso &

Address: 3-4-9 Jingumae, Shibuya, Tokyo

Business Hours: 8:00-20:00

No Fixed Holidays

Popular Tokyo Café Bakery BREAD, ESPRESSO & to Open in Fukuoka

Bakery café BREAD, ESPRESSO & has made quite a reputation in Omotesando, Tokyo for its stylish interior and delicious coffee and bread. The bakery café is now opening a new branch in Fukuoka called BREAD, ESPRESSO & HAKATA & on September 25th, 2019.

To commemorate 10 years in business, BREAD, ESPRESSO & will be opening their first ever branch in Hakata, Kyushu. The café bakery will be nestled between Hakata Station and CANAL CITY HAKATA. Whether you are a busy commuter looking for a heartwarming cup of coffee or a traveling tourist, the location is ideal for anyone looking for a quick rest stop. 

The new café bakery is approximately 165 m² in size, making it the largest branch. The shop is decorated with a pure white base theme and has the perfect comfortable environment to enjoy a coffee. 

Mu: ¥330 (after tax)

French Toast: ¥750 (after tax)

BREAD, ESPRESSO &'s popular Mu and French Toast will be on the menu along with Hakata-limited goods. If you are searching for some delicious bread in Hakata, please make your way to BREAD, ESPRESSO &.

Information

BREAD, ESPRESSO & HAKATA & (パンとエスプレッソと博多と)

Address: 101, 2-8-12, Hakata Ekimae, Hakata Ward, Fukuoka 

Opening Hours: 8:00 ー 20:00

No regular holidays. 

TEL:092-292-1190

Website: http://www.bread-espresso.jp/
RELATED ENTRIES
Enjoy Miffy and a Glass of Wine at Dick Bruna TABLE Opening in Kobe This July

Dick Bruna TABLE is a new wine bar set to open in Kobe, Japan on July 17, 2020 where customers can enjoy various wines from around the world. The bar is themed around the popular children's author and graphic designer Dick Bruna (1927-2017) who is known for his popular character Miffy.

The first bar of its kind to be centred on Bruna, table bookings for both the bar and cafe spaces opened on July 1. Customers who book before July 16 will receive two free original Dick Bruna TABLE coasters.

Dick Bruna TABLE is split into 4 floors. The first floor is the takeout counter, the second the merchandise shop and a cafe which is designed to be like a Dick Bruna studio, the third is the wine bar which is made to look like an old cafe in Utrecht, the city where Dick Bruna lived, and the fourth is the event space where exhibitions and parties will take place. There's also a special VIP room on the top floor.which include a takeout counter, merchandise shop, cafe, wine bar, and event space.

Takeout Counter & Entrance

Entrance

The staircase that leads from the first floor takeout counter to the second floor is like a gallery with various Dick Bruna artworks scattered around. There are plenty of chances snap some photos.

Cafe & Shop


The cafe and shop are like a studio dedicated to Dick Bruna's many works. They have a warm welcoming atmosphere to them thanks to the old wooden beams and white walls and lights. The merchandise area and cafe areas blend seamlessly into one.

The wine bar, inspired by old cafes in Dick Bruna's beloved home of Utrecht, serves authentic wine. The brick tiles are reminiscent of the streets of Utrecht and, together with the old wood, give it an inviting vibe. The bar also houses many paperbacks bound and designed by Dick Bruna.

Event Space & VIP Room


The event space is painted a simple white. It can be used for art exhibitions, workshops, parties, and more.

Head to Dick Bruna TABLE to enjoy both the cute world of Dick Bruna's characters as well as a delicious glass of wine.か

IIIustrations Dick Bruna © copyright Mercis bv,1953-2020 www.miffy.com © Dick Bruna 

Information

Dick Bruna TABLE
Address: 3-1-1 Sannomiyacho, Chuo-ku, Kobe
Opening Hours:
[Weekdays] 11:00-15:00 (Last Orders 14:00) / 17:00-23:00 (Last Orders 22:00)
[Saturdays] 11:00-23:00 (Last Orders 22:00)
[Sundays/Public Holidays] 11:00-21:00 (Last Orders 20:00)

Official Website: https://dickbrunatable.com/

Sanrio Characters Come Together at Tokyo's New POWDER ART CAFE HARAJUKU

The new limited-time character cafe POWDER ART CAFE HARAJUKU is set to open in Harajuku, Tokyo from July 15, 2020 to mid-January 2021.

From July 15 to mid-October, the cafe will be centred on the Top 10 characters of this year's Sanrio Character Ranking, an annual event where fans around the world can vote for their favourite Sanrio characters. The cafe will subsequently celebrate the 45th anniversaries of both My Melody and Little Twin Stars until mid-January next year.

At POWDER ART CAFE HARAJUKU, where the customers can draw their own designs on their orders, like latte art, Sanrio fans can look forward to a super cute menu line-up inspired by the adorable character roster.

My Melody Sweet & Sour Strawberry Shaved Ice


Tuxedo Sam Seafood Coquille Plate

If you're visiting Harajuku any time up to January next year, be sure to stop by POWDER ART CAFE HARAJUKU to make your own kawaii Sanrio character dishes.

Information

POWDER ART CAFE HARAJUKU

Address: IMON Bldg. B1F, 6-3-9 Jingumae, Shibuya, Tokyo

TEL: 03-6450-6037

Opening Hours: 11:00-21:00 (Last Orders 20:00)

Official Website: https://k-tanuma.com/company#04

Tanabata and Milky Way Inspired Food and Drink Arrives at PLANETARIA TOKYO

KONICA MINOLTA PLANETARIA TOKYO, a twin-dome planetarium in Tokyo's Yurakucho district, introduced a new menu at its Cafe Planetaria on July 1, 2020.

A cafe where you can taste the stars

Cafe Planetaria's concept is that customers happened upon it during a trip through the galaxy. It is the only cafe in space—one where you can delight in cocktails that shine bright like a nebula, or tuck into finger food that's like fragments of planets.

The new menu hopes to serve customers a day they won't forget after they have gaze upon the starry night sky.

How best to enjoy Cafe Planetaria

Cafe Planetaria's menu can be enjoyed at DOME 1 inside the planetarium so you can enjoy cocktails and food while watching the starlit show. It's open to those who aren't using the planetarium too, so if you're looking for a quick stop-off on your time through the galaxy and don't have time for stargazing you can enjoy the galactic delights too.

Nebula Soft Serve Ice Cream: ¥550 (Tax Included)

This purple soft serve ice cream is inspired by nebula imagery.

Moon Parfait: ¥770 (Tax Included)

A colourful parfait topped with the moon and sweet-tasting planets.

Mercury (Cocktail): ¥880 (Tax Included)

Part of the planetary cocktail series.

Observe "Tokyo's Milky Way"

PLANETARIA TOKYO has brought back its planetarium work Tokyo no Amanogawa o Wasurenai (Never Forget Tokyo's Milky Way). The show makes use of works left behind by Japanese novelist Kenji Miyazawa, poets Chūya Nakahara and Yumeji Takehisa, and others, to bring viewers back to a time when you used to be able to see the Milky Way in the city of Tokyo. When the city lights switch off for the night, the former Milky Way will shine its radiant brilliance. Viewers will be able to see the same sight that so many artists and writers saw when creating works about Tokyo's starry sky.

Make a wish upon a falling star

A popular service at PLANETARIA TOKYO that is also free is getting to see falling stars in real time with a system set up by Meteor Broadcaster. They are shown across a giant 12m long screen. On the Gregorian calendar, Tanabata is celebrated on July 7, but on the old Japanese lunisolar calendar it will fall on August 25 this year. If you're in Tokyo around that time, why not visit the planetarium and make a wish?

Online shop to enjoy the Milky Way at home

Gallery Planetaria is a concept shop in PLANETARIA TOKYO whose concept is based around being a secret shop hidden away somewhere in the galaxy. Their online shop is selling plenty of fun items that you can only get on this side of the galaxy. The service is available in Japan only, but check out their website to see what they've got in stock.

Gallery Planetaria Online Shop
https://planetaria.theshop.jp/

Starry Sky Guide: Summer – At Home Version (Narrated by Yoshimasa Hosoya)

PLANETARIA TOKYO has posted an at-home version of their summertime starry sky guide which was shown at the venue. It's narrated by Japanese voice actor and narrator Yoshimasa Hosoya and features a 360° VR experience. Check it out here.

Information

KONICA MINOLTA PLANETARIA TOKYO
Address: Yurakucho Marion 9F, 2-5-1 Yurakucho, Chiyoda Ward, Tokyo
Opening Hours: 10:30-22:00 (Reception closes 21:00)

*No Fixed Holidays

*Open until 22:30 (reception closes 21:30) on weekends and public holidays

Official Website: https://planetarium.konicaminolta.jp/planetariatokyo/

Hamtaro Cafe 2020 to Open in Tokyo, Saitama, and Osaka

LEGS COMPANY has announced that it will open three cafes based on the popular Japanese character Hamtaro in Tokyo and Saitama on July 30 and Osaka on July 31.

Hamtaro is a manga and storybook series created and illustrated by Ritsuko Kawai. The series began serialisation in 1997 and an anime adaptation first broadcast back in 2000. More than 20 years later, Hamtaro continues to enjoy much popularity in Japan.

Hamtaro Cafe 2020 will be themed around sunflowers and the sea, and will serve up a fun experience perfect for the hot summer. The Ham-Hams have come out of their Clubhouse to pay a visit to the seaside and enjoy the sun. There will be sunflower and ocean themed food, drinks, and desserts for everyone to munch on.

Yakisoba On Beach Hut Sunflower Bread: ¥1,499

A plate of yakisoba and egg arranged to look like a sunflower, with Hamtaro sat right in the middle.

Cone Cappy Hide and Seek Ice Cream Parfait: ¥1,399

Cappy is wearing a cone on his head and is hiding amongst the ice cream, chocolate banana, and fresh mint.

Ham Ham Glass Drinks: Drink Only – ¥789 Each / With Glass – ¥1,789 Each

There are two drinks to choose from: the orange flavoured Hamtaro and the yogurt flavoured Bijou.

Vinyl Pouch: ¥1,300


Mascot Keyring Hamtaro: ¥1,550

The cafe will also sell a range of exclusive merchandise too, which is scheduled to be available for online purchase as well in Japan.

Ham-Ham Fans (14 Designs)


Original Coasters (15 Designs)

Those who dine at the cafe will receive a free Ham-Ham fan, and if you order a drink you'll get a coaster too.

©Ritsuko Kawai / Shogakukan

Information

Hamtaro Cafe 2020

Booking Price: ¥500 (4 people max per booking) *Comes with free gift

Tokyo: TOKYO BOX cafe&space / July 30, 2020 – September 6, 2020

(Address: Tokyo Solamachi Floor 1F East Yard 8, Tokyo Skytree Town, 1-1-2 Oshiage, Sumida-ku, Tokyo)

Saitama: BOX cafe&space / July 30, 2020 – September 27, 2020
(Address: AEON Laketown kaze Lake Town Gate 1F, 4-2-2 Koshigaya, Saitama)

Osaka: Shinsaibashi contact / July 31, 2020 – August 16, 2020

(Address: 1-6-24 Kitahorie, Nishi-ku, Osaka-shi, Osaka Prefecture)

Official Website: https://hamutarocafe.sho.jp/

Hello Kitty Cafe to Open in Narita Airport's Anime Deck This July

KADOKAWA is set to open a Hello Kitty themed cafe on the Narita Anime Deck—which is located on the Main Building second floor of Narita International Airport Terminal 2—for a limited time from July 3, 2020 to October 2, 2020.

The Narita Anime Deck

The Narita Anime Deck opened inside Narita International Airport Terminal 2 in November 2019. It's an entertainment facility where travellers from around the world can experience and enjoy Japanese anime culture in various forms such as with character merchandise, food, events, and a variety of photo spots.

Hello Kitty Cafe

The facility has collaborated with numerous anime series to open up limited-time cafes since it opened. This time around it is joining paws with Hello Kitty, a face known to all across the globe. As well as themed food, drinks and merchandise, customers can take a Hello Kitty quiz, learn the history behind Hello Kitty, and more.

An Original Food Menu


Hello Kitty's Lovely♡ Pink Curry: ¥1,500


Hello Kitty's Gurakoro Burger: ¥1,500


Hello Kitty's Strawberry Pancake: ¥1,400


Hello Kitty's Strawberry Parfait: ¥1,200

An Original Drinks Menu

The incredible drinks menu is diverse, including lattes where you can get 46 different latte art designs of Hello Kitty from 1974-2019. It could be fun to pick your birth year, or a year where you have fond memories.

Hello Kitty's Colourful Tapioca Drinks (Matcha Milk/Strawberry Milk/Milk Tea): ¥720 Each

 
Hello Kitty's Marshmallow Coffee: ¥800


Hello Kitty's Latte (46 Designs): ¥720 Each

Novelties

For every item you order from the collaboration menu, you can also receive one of 46 possible original coasters once again featuring a different design of Hello Kitty between the years 1974-2019.

1st Line-Up: July 3, 2020 – August 2, 2020


2nd Line-Up: August 3, 2020 – September 2, 2020


3rd Line-Up: September 3, 2020 – October 2, 2020

If you're travelling through Narita Airport anytime this year up to October, then be sure to head on up to the Narita Anime Deck to dine at the Hello Kitty Cafe.

© 1976, 2020 SANRIO CO., LTD. APPROVAL NO. L611439

Mobile Game BanG Dream! Girls Band Party Gets Themed Cafe in Tokyo, Osaka, & Nagoya

LEGS COMPANY is opening three cafes in Tokyo (Ikebukuro), Osaka (Umeda), and Aichi (Nagoya) based on the popular mobile game Game BanG Dream! Girls Band Party for a limited time from July 31, 2020.

Game BanG Dream! Girls Band Party is a rhythm and adventure mobile game that was released in Japan in 2017. It is part of Bushiroad's "BanG Dream!" music media franchise which is centred on all-female bands.

Since summer 2017, LEGS COMPANY has opened themed cafes based around the game every year. 2017 saw the cafes focus on the vocalists of the bands in the game. In 2018, it was the keyboardists and DJs, and last year the drummers. Each theme brought with it illustrations and decorations created specifically for the cafes, as well as a food menu inspired by the characters, original merchandise, and more.

This year marks the 4th run of the annual summer cafe which will hit Tokyo, Nagoya, and Osaka. The theme this time around focuses on the seven main bands from the game. Seven characters from the bands, including one from a new band, will welcome fans in the form of kawaii-packed dishes, drinks, and desserts.

Yamabuki Bakery's Mini Croissant Plate (Poppin'party): ¥1,590 (Before Tax)


Kitazawa Butcher's Stamina Croquette Curry (Hello, happy world!): ¥1,490 (Before Tax)

All of the main dishes on the menu are colourful and vivid, plated with hearty portions of delicious and nutritional goodies.

Strawberry Rock Parfait (Afterglow): ¥1,290 (Before Tax)


Colourful Doughnut Sandwich (Pastel*Palettes): ¥1,290 (Before Tax)

This gourmet dessert is topped with fruit, so gorgeous it seems a waste to eat.

Grape: ¥890


Ramune: ¥890

There are colourful drinks too with each colour representing a different band. Support your favourite band by getting a glass!

Pin Set 2020 ver. (7 Designs): ¥3,100


Canvas Art (7 Designs): ¥3,500 Each


Birthday Pins (4 Designs): ¥650 Each

Fans can get their hands on plenty of exclusive merchandise too, and there's even birthday items and food available too.

Online Birthday Cake (4 Designs): ¥3,850 Each (+¥950 shipping fee)


Cushions (22 Designs): ¥3,800 Each

You can even order your own special birthday cake in Japan from the cafe, and they're not short on exclusive merchandise.

©BanGDream! Project ©Craft Egg Inc. ©bushiroad All Rights Reserved.

Information

Game BanG Dream! Girls Band Party Cafe 2020
Tokyo

IKEBUKURO BOX cafe&space / July 31, 2020 – September 6, 2020
Address: Matsumoto Kiyoshi Ikebukuro Part 2 (Floor 4F), 1-22-8 Higashi-Ikebukuro, Toshima-ku, Tokyo

Osaka

UMEDA BOX cafe&space / July 31, 2020 – September 6, 2020
Address: Umeda LOFT (Floor 1F), 16-7 Chayamachi, Kita-ku, Osaka, Osaka Prefecture

Aichi

NAGOYA BOX cafe&space / July 31, 2020 – August 30, 2020
Address: LACHIC (Floor B1F), 3-6-1 Sakae, Naka-ku, Nagoya, Aichi Prefecture

Booking Price: ¥650 (Before Tax) *Max 4 people per booking, comes with gift

Game BanG Dream! Girls Band Party Cafe 2020 Official Website: https://bang-dream-cafe.jp/

New Kaguya-sama: Love Is War Themed Menu Arrives in Akihabara

Royal Host, a family restaurant in Akihabara, is collaborating with the popular TV anime series Kaguya-sama: Love Is War to serve two different menu line-ups. The first is currently running right now until July 5, which we covered recently. This time we'll be taking a look at the upcoming second menu which will be served from July 6.

Kaguya-sama: Love Is War is a romantic comedy manga series written and illustrated by Aka Akasaka. A 12-episode anime adaptation premiered in January. The series's collaboration with Royal Host last year was such a success that the restaurant chain decided to bring it back again.

2nd Collaboration Menu


Five items make up this second Kaguya-sama: Love Is War x Royal Host menu.

~I Wanna Feed Miyuki Shirogane~ Kaguya Shinomiya's Handmade Pasta: ¥1,800 (Before Tax)

A tomato cream pasta topped with salted salmon roe and seafood, and served with a side of salad and garlic bread.

~Save the Student Council~ Student Council Member's Bonding Curry: ¥1,800 (Before Tax)

Butter rice topped with curry, spinach, melted cheese, boiled egg, and spicy onion rings. Served with a side of salad and mango dessert.

~Kaguya Shinomiya is Happy~ Kawaii Strawberry Parfait: ¥800 (Before Tax)

Bright-red sweet and sour strawberry sorbet topped with fresh strawberries.

~I Wanna Befriend Kei Shirigane~ Blue Lychee: ¥500 (Before Tax)

Lychee-flavoured soda topped with whipped cream.

~I Wanna Make Ai Hayasaka Feel Better~ Lonely Person's Cheesecake: ¥580 (Before Tax)

A slice of cheesecake drizzled in blueberry sauce.

When you order from this second collaboration menu you will receive a free and exclusive coaster.

Mug: ¥1,580 (Before Tax)


Before Tax: ¥3,500

There's also a selection of exclusive merchandise for fans to get their hands on too, like a mug, cushion, or acrylic stand.

©Aka Akasaka / Shueisha・Kaguya-sama: Love Is War Production Committee

Information

Royal Host Akihabara
Address: 4-5-4 Sotokanda, Chiyoda Ward, Tokyo

1st Collaboration Menu : June 13, 2020 – July 5, 2020

2nd Collaboration Menu: July 6, 2020 – July 30, 2020

Time: 11:00-22:00 (Last Orders 22:00)

Official Website: http://www.royal-holdings.co.jp/

Cute and Dreamy Tanabata Inspired Confections Arrive at Q-pot CAFE. in Omotesando

Q-pot CAFE. is celebrating Japan's Tanabata festival with a limited-time menu which was introduced on June 27.

Romantic Star Plate w/Drink: ¥2,060 (Tax Included)

This starry delight is plated with a fromage blanc filled with ganache cream and peach jelly. There's star-shaped meringue macarons filled with cream, creamy blueberry and blackcurrant panna cotta, star-shaped chocolate to represent the Tanabata deities Orihime and Hikoboshi, and a luxurious Q-pot CAFE. macaron.

さらに、レモンの皮を練り込み、サクッと焼き上げた星型クッキーには短冊のようにグラサージュショコラで願い事を込めて・・・クッキーを残さず口にすれば、願いもきっと叶うはず!


Romantic Peach & Elderflower Soda: ¥750 (Tax Included)

Refresh yourself with a summery glass of this peach and elderflower soda which is filled with blue, purple, and pink transparent jelly which twinkle like a kaleidoscope.

Bottled Drinks (Takeout Only): ¥1,296 Each (Tax Included) *Limited quantity available / *¥100 off if you take your own bottle

Enjoy a takeout bottle of "Aurora Lychee Tea Soda" with its romantic pink, purple, and blue gradation. This herb tea changes colour like magic, and contains marrow cheese plant, lychee puree, and Blue Curacao. The twinkling pearl powder makes it glow like an aurora.

There is also bottled Strawberry Tea Soda, Ginger Ice Milk Tea, and Honey Lemon Vinegar Soda.

If you're in Tokyo this summer, head to Q-pot CAFE. to enjoy a round of pastel-coloured Tanabata confections and drinks.

Information

Q-pot CAFE. Omotesando
Address: 3-4-8 Jingumae, Shibuya, Tokyo
Running: June 27, 2020 – July 20, 2020
*From July 21, 2020 to September 4, 2020 the cafe will be reservation-only in line with an event, and the regular menu will not be available.
*For the time-being, reservations can be made by telephone call only. Web reservations are currently not available.

Official Website: http://www.q-pot.jp

A Cafe With a View: Okinawa's New Seaside Cafe 'Hoshino Resorts Banta Cafe' Opens This July

Hoshino Resorts's new cafe Hoshino Resorts Banta Cafe will open in the village of Yomitan in Okinawa on July 1, 2020, offering a spectacular view.

The cafe is split into four distinct areas which overlook the the beach from atop a cliff. Customers are invited to take in the breathtaking scenery with a delicious dessert made from ingredients like mangoes, pineapple, and sugar—or a tasty meal.

An incredible beach cafe overlooking the sea

Banta Cafe runs along the western coast of Yomitan, a village in central Okinawa which is about an hour's drive from Naha Airport. The cafe gets its name from iyumibanta which in Okinawan dialect refers to the cliffs you climb to spot the shadows of fish in the water, and is also the name they give to enormous rocks. The cafe is located atop one of these iyumibanta, or cliffs, making Banta Cafe a fitting name. From the cliff, customers can enjoy a panoramic view of the horizon which stretches across infinity. According to Hoshino Resorts, Banta Cafe sits as the largest beach cafe in Japan, spanning 1600㎡.

4 Unique Areas to Pick From

Having four distinct areas to choose from means you can select where you want to go depending on your mood on the day. Let's take a look at each of them.

Rooftop Deck: A panoramic view welcomes you

Beyond the entrance is the Rooftop Deck which offers an unbroken view of the horizon. With the comfortable shadow cast by the eaves of the roof, and the sound of the rolling waves and wind, it feels like you're sitting on the deck of a boat.

Beach Terrace: Kick back and enjoy the sea breeze

The Beach Terrace is located along a footpath that leads from the top of the cliff down to the beach. This spacious area sits nice and close to the sea. The Okinawan Ryukyu-tatami flooring has cushions for you to sit on as well as cabanas, so you can sit and chat with people while enjoying the view of the ocean, offering the real Okinawan experience.

Rocky Terrace: Lose yourself in the green wild of nature

The Rocky Terrace is enveloped in plants and vegetation that has grown naturally—it's like a hideaway created by nature. The area has a wooden deck and rocking chairs for people to kick back and relax in, and there are tables with towering rocks that offer shade too.

Goro Goro Lounge: Lay down on a sofa and look out to the sea

The final area is the Goro Goro Lounge where an entire wall is made up of open windows. Here, you can relax and lay down nice and comfy on the sofas. There are long tables by the sofas too, perfect for pulling out a map or guidebook and planning the rest of your trip.

A true Okinawan cafe experience


Bubbly Jelly Soda

The cafe's "Bully Jelly Soda" is inspired from a traditional bubbly Okinawan tea called bukubuku cha. It's flavoured with lemongrass and mint and contains different jellies like mango and hibiscus.

Chulato

This gelato ice cream gets its name from the Okinawan word for delicious which is chura. Choose from a variety of classic Okinawan flavours like pineapple and guava and top your ice cream with purple yam and bitter melon chips, chinsuko, and more.

Food Menu


The food lineup is to die for, with tasty bites like pizza toast topped with bitter melon, pork and egg rice ball which is a soul food of Okinawa, hot dogs filled with juicy sausages, shrimp fritters served with mango sauce, fried chicken, and plenty of other finger food.

Witness the magnificent sunset during business hours


Banta Cafe is home to a gorgeous beach with coral. The sea is cobalt blue as far as the eyes can see, there are strangely shaped rocks worn by the waves, and in the evenings is an incredible view of the sunset which can be enjoyed with a cocktail in hand.

Hoshino Resorts Olu Grill


Banta Cafe will also have its own separate grilled food restaurant called Olu Grill. Olu is another Okinawan word which means "blue," in this case referring to the blue ocean. From fried steak served with an original sauce made from Okinawan awamori liquor and kurozu black vinegar to seafood and juicy burgers, there's plenty to fill you up.

Information

Hoshino Resorts Banta Cafe / Olu Grill
Grand Opening: July 1, 2020
Address: 560 Gima, Yomitan, Nakagami District, Okinawa Prefecture
Access: 60-minutes by car from Naha Airport / 90-minutes by limousine bus from Naha Airport

Hoshino Resorts Banta Cafe
Opening Hours: 10:00 until sunset
TEL: 098-921-6810
Official Website: https://banta-cafe.com/
*Breakfast service available from mid-July 2020. Serving hours will be 7:00-9:30

Hoshino ResortsOlu Grill
Opening Hours: [Dinner] 17:00-21:00 (Last Orders 20:30)
TEL: 098-921-6811
Official Website: https://banta-cafe.com/olu-grill/
*Reservations required. Lunch service available from mid-July 2020. Serving hours will be 11:00-15:00.

See KAWAII MONSTER CAFE HARAJUKU's New MONSTER X Girls

KAWAII MONSTER CAFE HARAJUKU has announced MONSTER X, a new roster of characters who are like sisters to the cafe's MONSTER GIRLS and are personifications of popular areas in the cafe: Mushroom Disco, Bar Experiment, and the Mel-Tea Room.

The theme and decor of KAWAII MONSTER CAFE HARAJUKU imagines customers inside the belly of a monster. But this is no ordinary digestion, as customers are pulled into a crazy and vivid world of colours. The cafe is split into various areas where you'll find the new MONSTER X girls: the colourful mushroom forest Mushroom Disco welcomes MUSH, the bewitching jellyfish Bar Experiment says hello to JELLY, and the candy-filled Mel-Tea Room beckons MELTY. Let's take a look at who these MONSTER X girls are.

MUSH

MUSH's theme is "Cheer." Her dress and hairstyle is fitted with lots of round mushrooms. She's here to cheer everybody up with the power of her vivid, Harajuku-esque colours.

Area: Mushroom Disco

Mushroom Disco is a giant forest of colourful, poisonous mushrooms and plants from outer space.

JELLY

JELLY's theme is "Deep." Her dress and hairstyle personifies the bar which take son the image of a luminous deep sea jellyfish. Her glittery cool beauty will captivate all who see her.

Area: Bar Experiment

An enormously bright, glistening jellyfish has wrapped itself around this bar which also couples as a laboratory where people can experiment with different drinks.

MELTY

MELTY's theme is "Sugary." Her name speaks for her droopy dress and hairstyle which looks like it's melting. She will heal all with her sweet and overwhelming aura.


Area: Mel-Tea Room

Follow the ants along the sugar trail and you'll find the tea party room adorned with ice cream, chocolate, and macarons.

Fashion x Entertainment x Virus Precautions

KAWAII MONSTER CAFE HARAJUKU will continue to entertain customers while taking all the necessary COVID-19 precautions. The staff will coordinate masks to their outfits fitting of the KAWAII MONSTER CAFE while still paying respect to the spirit of Harajuku's fashion style which encourages people to enjoy fashion however they like. When you look back at the history of Harajuku's street fashion, decorative masks and gas masks have always been around, so it will be business as usual at the KAWAII MONSTER CAFE.

Jokin Dance (Bacteria Elimination Dance)

Before your meal at the KAWAII MONSTER CAFE, the MONSTER GIRLS will pay a visit to your table and invite you to join in doing the Jokin Dance (Bacteria Elimination Dance). KAWAII MONSTER CAFE HARAJUKU is an entertainment restaurant, and so it can make even taking precautions against something like COVID-19 a fun time.

PEANUTS Cafe to Open Nagoya Branch in Autumn 2020

Sony Creative Products has announced that it is set to open the first Nagoya branch of the PEANUTS Cafe inside Hisaya-odori Park this autumn.

What is the PEANUTS Cafe?

PEANUTS Cafe first opened in Nakameguro in 2015. This was followed by Cafe Blanket which opened inside Roppongi's limited-time Snoopy Museum in 2016, both of which closed in September 2018. Then came the PEANUTS DINER which opened in the Minato Mirai area of Yokohama in 2017, and 2018 saw the grand opening of the 18-room PEANUTS HOTEL in Kobe in 2018. Last year, the Snoopy Museum was moved to Minami-Machida in Tokyo where another PEANUTS Cafe opened. The new PEANUTS Cafe Nagoya will be the first to open in the Tokai region of Japan.

The PEANUTS Cafe is an American west coast-style cafe based on the Peanuts comics by Charles M. Schulz. Customers can enjoy food, drinks, and desserts inspired by familiar faces from the comics like Snoopy and Woodstock. The cafe even has its own merchandise corner with exclusive items. The new Nagoya branch too will have merchandise available only in Nagoya.

Join Snoopy and his friends when PEANUTS Cafe Nagoya opens this autumn.

©2020 Peanuts Worldwide LLC

Information

PEANUTS Cafe Nagoya
Grand Opening: Autumn 2020

Address: Hisaya-odori Park, Naka Ward, Nagoya, Aichi Prefecture

Official Website: http://www.peanutscafe.jp/

Yuri!!! on ICE x Sanrio Characters Come Together at a Themed Cafe in Tokyo

LEGS COMPANY has revealed that it is opening a Yuri!!! on ICE and Sanrio fusion themed cafe called "Yuri on Ice x Sanrio Characters Cafe 2020" in Shibuya, Tokyo for a limited time from August 6, 2020.

Yuri!!! on ICE is a sports anime series centred on figure skating. It was produced by MAPPA and directed and written by Sayo Yamamoto together with Mitsurō Kubo. The series received rave reviews from anime watchers and the figure skating community.

LEGS COMPANY brought this collaborative cafe to Tokyo and Osaka once before back in September and October of 2017. The collaboration is set to return this summer, with this year's theme centred on an ice cream stand. The menu is made up of themed dishes, drinks, and desserts. Let's take a look at just some of the items on offer.

A Select Look at the Menu

Food


Utopia Akatsuki Simmered Cutlet Plate: ¥1,599

A Yuri!!! on ICE classic, this katsudon dish is served in a separated style.

Borscht Plate: ¥1,599

Borscht is a Russian dish that appears in the show, and in this plate it's served as a main. Enjoy together with the sour cream.

Paella Plate: ¥1,599

A Spanish dish that appears at the end of the show, served with fish, sauce, and a side of gazpacho cold soup.

Desserts


Pancake & Ice Cream Plate: ¥1,399

Enjoy a mix of sweet and sour flavours with a fruit and whipped cream-topped pancake and ice cream. You get to pick your favourite character for your ice cream.

Tiramisu & Ice Cream Plate: ¥1,399

You can choose your favourite character with the bittersweet tiramisu too.

Drinks


Soda Float: ¥989 (Bottom Left: Strawberry / Middle: Melon / Right: Blue / Top Left: Cola / Top Right: Coffee)

Stickers (14 Designs): ¥400


Mini Towels (3 Designs): ¥850 Each

Fans can get their hands on exclusive merchandise too which is also available online in Japan.

Fans (4 Designs) *For those who book a table in advance only


Coasters (7 Designs) *For those who order a drink only

The cafe will also offer free merchandise too, including fans for those who book a table in advance, coasters for those who order a drink, and more.

©はせつ町民会/ユーリ!!! on ICE 製作委員会
©1976,1989,1992,1993,1996,1998,2020 SANRIO CO.,LTD. APPROVAL NO.610406

Information

Yuri on Ice x Sanrio Characters Cafe 2020
Running: August 6, 2020 – September 22, 2020
Location: SHIBUYA BOX cafe&space (Shibuya LOFT 2F, 21-1 Udagawacho, Shibuya, Tokyo)

Reservations: Now Open
Reservation Price: ¥650 (*4 seats per reservation)

Yuri on Ice x Sanrio Characters Cafe 2020 Official Website:
https://yuri-sanrio-characters-cafe.jp/