Top Matcha Desserts in Kyoto Perfect for Your Next Instagram Post
 When you think of Kyoto, matcha immediately comes to mind. Today with the help of the Kansai region's expert dessert Instagrammer Tiara, we'll be introducing you to the top matcha dessert shops of the Kansai region. 
Kawatomo, Fushimi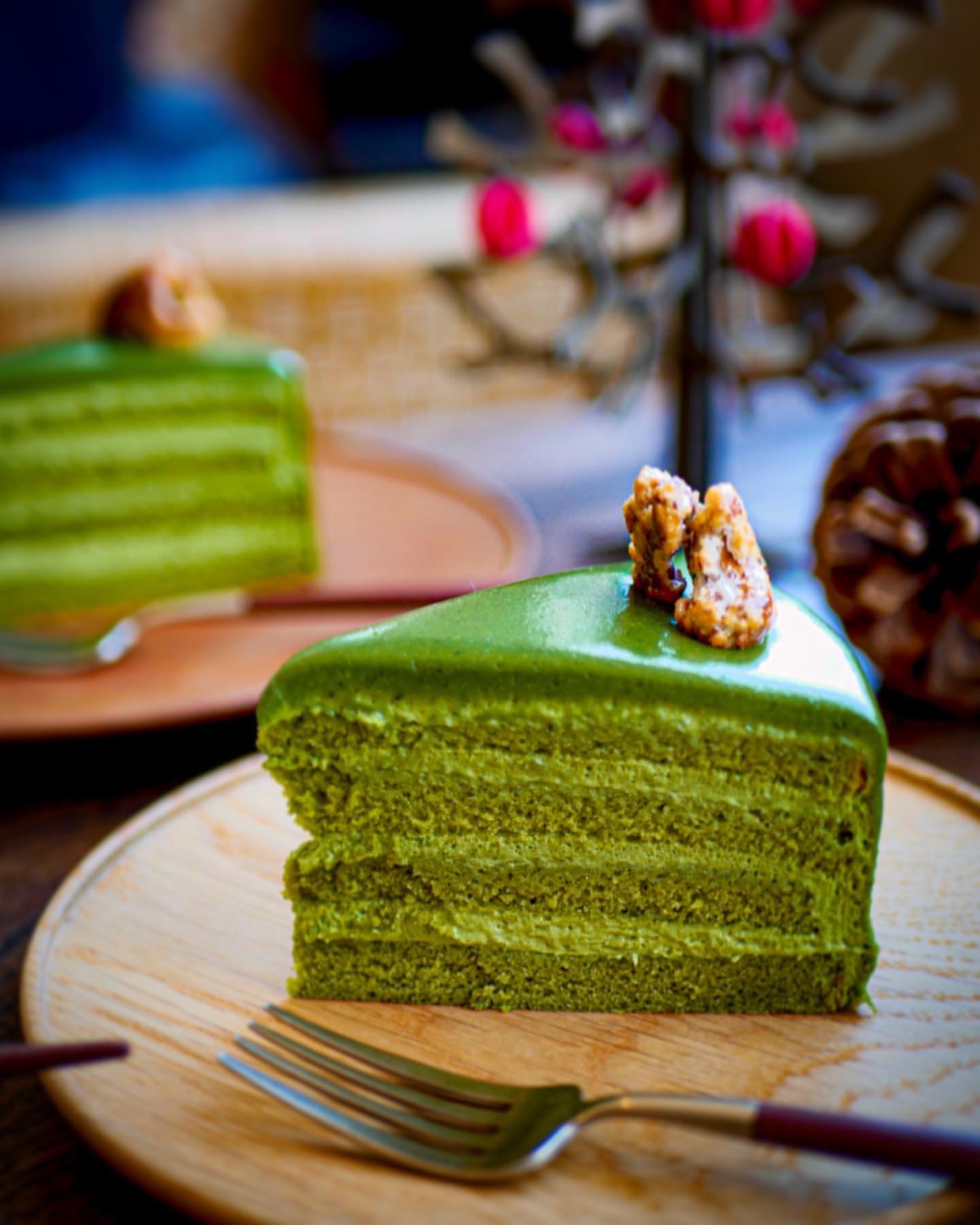 Matcha Ganache Cake
This matcha ganache cake looks just as good as it tastes. The beautiful smooth matcha coating is delicious and rich. The cake is best enjoyed with a cup of coffee and is the perfect sophisticated treat. 
▼Kawatomo
Address: 792 Nishishujakuchō, Fushimi Ward, Kyoto,
Opening Hours: 11:30-18:00
Closed: Mondays, Tuesdays and Wednesdays
Official Instagram: https://www.instagram.com/chika_ara/
Chasho Shimizu Ippoen Kyoto
A delicious spun sugar decoration rests on top of the melt-in-the-mouth matcha tiramisu parfait. The mascarpone and matcha ice cream is made completely from Hokkaido milk. The balance of flavours and moderate sweetness makes this parfait irresistible. 
▼Chasho Shimizu Ippoen 
Address: 665 Honkawaracho, Higashiyama Ward, Kyoto
Entry:11:00-16:00
Closed: Mondays*
*Open on National Holiday Mondays but closed the following day. Closed during the New Year Period.
Official Website: https://ippoen.co.jp
MATCHA REPUBLIC, Shimogyō Ward
Rock Salt Cheese Bubble Matcha Latte/ Bubble Matcha Latte
This unique drink belongs on Instagram. A cute ink bottle is filled with a mildly sweet matcha drink accented with a hint of salt. You've never tried anything quite like this before.
▼MATCHA REPUBLIC
Address: Floor 1, 721-1 Higashishiokojicho, Shimogyo Ward, Kyoto
Opening Hours: 9:00-21:00
Official Website: https://www.matcha-republic.com
JTRRD cafe KYOTO, Nakagyō 
Uji Matcha Smoothie (Kyoto-Limited)
Pink, red, orange, yellow, purple, green – this Uji matcha smoothie is a rainbow of colours. There are four different designs and you can choose from three varieties of fruit to decorate the inside of your cup. Each smoothie is made of fruit and vegetables, making this a healthy way to indulge in matcha. It is so beautiful you won't want to drink it.
If you're looking for a shop to satisfy your matcha cravings, you can't go wrong with Tiara's recommendations.
Tiara's Instagram never fails to keep us updated on the most delicious and beautiful desserts in the Kansai region so check it out.  
Article Contents and Photos by @happy_pinkrose_tiara
RECOMMENDED ENTRIES
Starbucks Reserve® Roastery Tokyo Collaborates With Traditional Kyoto Dollmakers

Starbucks Reserve® Roastery Tokyo released six new products on December 5 in collaboration with Shimada Koen Ningyo Kobo, a long-standing traditional maker of Japanese gosho-ningyo dolls.

Golden Cup, Shimada Koen Ningyo Kobo – ¥50,000 (Before Tax)

The relationship between Starbucks and Shimada Koen Ningyo Kobo began when Starbucks opened its branch at Kyoto Ninenzaka Yasaka Chaya in Kyoto, which is known for having tatami flooring, as the dollmaker's studio is located near it. There is a waving cat wearing a green apron at that Starbucks which was designed by the 5th generation of Shimada Koen.

Waving Cat, Shimada Koen Ningyo Kobo – ¥30,000 (Before Tax)

Shimada Koen specialises in making gosho-ningyo, dolls with distinct features such as stout forms, pure white skin, tiny legs and hands, a big face, and an overall cute appearance reminiscent of a child. In the Edo Period they were developed as gifts associated with the Court.

Bell Rat, Shimada Koen Ningyo Kobo – ¥3,500 (Before Tax)

The line-up of six dolls feature Starbucks Reserve® Roastery Tokyo motifs and are made with considered thought in mind, including the bonds between people and enjoying happiness throughout the yearーdesires upheld by Starbucks.

Information

Starbucks Reserve® Roastery Tokyo x Shimada Koen Ningyo Kobo Collaboration
Running: From December 5, 2019 until stock runs out

Sold At: Starbucks Reserve® Roastery Tokyo

Starbucks Reserve® Roastery Tokyo

Address: 2-19-2 Aobadai, Meguro, Tokyo

Business Hours: 7:00-23:00

No Fixed Holidays.

Access: 14-minutes on foot from Naka-Meguro Station / 14-minutes on foot from the East Exit of Ikejiri-Ōhashi Station

Official Website: https://www.starbucks.co.jp/roastery/

Top 4 Places to Visit in Kyoto This Winter: Snow, Gourmet Food, Hot Springs & More

Kyoto is known as the ancient capital of Japan. It is said to be the place where quintessential Japanese culture started, and has charmed the world over with its incredibly rich 1,200-year history. Today, we take a look at some of the best places to visit in Kyoto this winter as covered by the November 2019 issue of Japanese magazine Mou Hitotsu no Kyoto ("The Other Kyoto").

From gourmet food to sightseeing spots, the arts and moreーif you're in Kyoto this year, you have plenty of reasons to leave your hotel room or house.

Yuki Tourou: See the snowy thatched-roof huts

Miyama Kayabuki no Sato is located in Miyamachokita, Nantan. It is home to 39 houses with thatched roofs and is a popular sightseeing spot due to its gorgeous natural scenery throughout the entire year. It was listed in Japan's Groups of Traditional Buildings in 1993.

In the New Year, snow falls on the huts, which looks beautiful when they light up the "Yuki Tourou"ーor snow lanternsーin late January every year. There are stalls that serve hot food in this little town, and they also host an event where you can make your own snow lantern.

Running: January 25, 2020 – February 1, 2020

Official Website: http://www.yukitouro.jp/

Amanohashidate: One of Japan's "Three Scenic Views"

Amanohashidate is a sandbank located in Miyazu Bay that separates the north and south inlet of the Asoumi Sea. It formed as a result of pebbles being carried by the ocean current for thousands of years. Its name comes from the way it looks like a bridge spanning across the sky. It is known as one of Japan's "Three Scenic Views"

Amanohashidate is a sight to behold at any point throughout the year, but if you can travel there in the winter, you're in for a surprise, as the entire sandbank is littered with pure white snow. On very cold days in the morning the snow even covers the tops of the pine trees, but when the sun rises and the temperature warms up the snow on the frost-tipped trees melts. This has led to it being called an "illusionary sight" due to its rarity. Make a point of getting up super early so you don't miss it!

Address: Tango-Amanohashidate-Ōeyama Quasi-National Park, Miyazu, Kyoto

Official Website: https://www.amanohashidate.jp/lang/en/

Fukuchiyama Castle: The magnificent castle of snow

Fukuchiyama Castle sits atop a tall hill in the city of Fukuchiyama. The castle was established as the new Tanba province by Akechi Mitsuhide in 1579 following the province's capture in 1576. The castle was demolished once during the Meiji Period but was restored again in 1986. It is now the only castle that remains today built by Mitsuhide.

The castle architecture has a lot of personality, and during the winter months takes on a gorgeous white as a result of the snow. Gazing across the castle land from the watchtower is an absolute must when visiting. Also, if you're visiting next year, the new Fukuchiyama Mitsuhide Museum is set to open on January 11, so be sure to check that out too.

Address: 5 Chome Naiki, Fukuchiyama, Kyoto

Opening Hours: 9:00-17:00 (Last Entries 16:30)

Closed: December 28-31, 2019 / January 4-6, 2020

Entry Price: General ¥330 / Elementary & Junior High School Students ¥110
Official Website: https://dokkoise.com/en/temple_shrine/index.html

Monjusou Shourotei: Feast on crab fondue while gazing at Amanohashidate

Monjusou Shourotei is a ryokanーa Japanese-style innーlocated along Amanohashidate, one of Japan's Three Scenic Views which we mentioned earlier on this list. All guests staying at the inn are given a window view of Amanohashidate from their rooms.

The inn offers an original salted snow crab fondue. Snow crab is particularly enjoyed for its degree of freshness. It's served with vegetables and the boiled crab itself, making for a delicious combination of flavours.

The hot springs at Amanohashidate are famous and praised as "the baths of the gods." They are also said to leave your skin looking beautiful after a dip. The inn also offers open-air baths lined with stones from Shikoku and wild grass from the mountains, offering a truly indulging experience.

Address: Amanohashidate Monjudomisaki, Miyazu, Kyoto

Official Website: https://shourotei.com/

These are just some of the incredible places you can enjoy in wintertime Kyoto. You can find more information on Kyoto Side or from one of our many articles on Kyoto.

The Perfect Souvenir: Kyoto's Famous OTABE Confections in Velvety Matcha Chocolate

If you're in Kyoto looking for a delicious elegant souvenir for your people back home then BijuuCo.,ltd. is your port of call. Their irresistible desserts vary from their well known sweet bean paste-filled Yatsuhashi to their Kyo-Baum. They will be releasing the mouthwatering Matcha Chocolate OTABE from November 20, 2019.

The rich aroma of the matcha chocolate will be the first thing to entice you. The matcha Yatsuhashi is made from specially selected water and Koshihikari rice, which is famed as Japan's best rice. The soft and chewy texture of the Yatsuhashi dough gently embraces a velvety, melt-in-the-mouth matcha chocolate ganache filling. These OTABE confections are bursting with the flavours of Kyoto and are only available to purchase for a limited period.

OTABE combined with Kyoto's famous matcha chocolate is matcha match made in heaven. If you're ever in Kyoto, you must try it.

Information

Matcha Chocolate OTABE

Selling: November 20, 2019 to the start of May, 2020

Price: Box of 10 (2 packs of 5): ¥660 Before Tax

Eat within 11 days of production.

Purchasable from souvenir shops in Kyoto and Kyoto Station. 

Official Website: http://www.otabe.kyoto.jp/
RELATED ENTRIES
Kyoto's Shinto Shrine Iwashimizu Hachimangu Announces Light-Up Event

Iwashimizu Hachimangu, a Shinto Shrine in Yawata, Kyoto, has announced that a 5-day light-up event will take place from February 10 to 14 at the site's main shrine which is listed as a national treasure of Japan.

Following government guidelines in response to COVID-19, the event will feature LED illuminations, glowing exhibits from craftsmen, lights made by locals from materials such as bamboo, and more, all in the hopes of creating a bit of evening-time sightseeing in the area. The event will also be streamed live online for those unable to attend where viewers can also enjoy watching ceremonial dance by shrine maidens.

Information

Iwashimizu Hachimangu Inori no Tomoshibi ~Wa no Kokoro~

Event Name in Japanese: 国宝・石清水八幡宮 祈りのともしび~和の心~
Running: February 10, 2021 – February 14, 2021
Light-Up Times: 17:00-20:00
Location: Iwashimizu Hachimangu (30 Takabo, Yawata, Kyoto)
Note: Face masks and COVID-19 Contact Confirming Applications required
Event Page: https://ochanokyoto.jp/event/detail.php?eid=569
Official Website: https://newnormaltourism.jp/

Nana's Green Tea x Häagen-Dazs Release Chocolate Matcha Glass Dessert

Nana's Green Tea is serving up a brand-new dessert in collaboration with Häagen-Dazs for Valentine's Day at 77 branches in Japan. The dessert was released on January 6 and will be available up to February 14.

Matcha Chocolate Glass with Häagen-Dazs | ¥880 (Before Tax)

The dessert is a tempting sight to behold – not only is it delicious but visually appealing to the eye too, and layered with various textures so that every bite is a surprise.

The dessert is made with Häagen-Dazs' "Sweet Chocolate" ice cream coupled with Nana's Green Tea's own original matcha ice cream, soft and crunchy meringue sticks, crumbled cookies, white chocolate whipped cream, and matcha chiffon cake. Sat at the bottom waiting to be discovered is a sweet strawberry sauce for a tangy kick.

Information

Nana's Green Tea – Matcha Chocolate Glass With Häagen-Dazs
Serving: January 6, 2021 – February 14, 2021
Price: ¥880 (Before Tax)
Available: 77 Nana's Green Tea branches in Japan (Excluding DiverCity Tokyo Plaza, Tokyo Dome, and Iias Okinawa Toyosaki)
Official Website: http://www.nanasgreentea.com/

Matcha and Strawberry Parfaits Whipped Up at Saryo FUKUCHA in Kyoto

Saryo FUKUCHA in Kyoto is now serving up a very special selection of succulent strawberry and matcha parfaits until May 30, 2021. These exquisite delights will see only 10 made of each per day.

Saryo FUKUCHA is a cafe that was opened by FUKUJUEN in Kyoto Station in April 2019. This year, they have brought back their extremely popular strawberry and matcha parfaits : the Konome, Konoha, and Konoka. They have also introduced a new addition to the line-up: the Strawberry & Matcha Milk Parfait. Also on the menu is a strawberry matcha latte.

Matcha & Strawberry Parfaits


Konome | ¥1,350


Konoha | ¥1,450


Konoka | ¥1,550


Strawberry Matcha Milk Parfait | ¥800


Strawberry Matcha Latte | ¥650

Discover the taste of Japanese tea in a new way with Saryo FUKUCHA's matcha and strawberry parfaits and latte.

Information

Saryo FUKUCHA
Address: 901 Higashi Shiokojicho, Karasumadori Shiokoji Sagaru,, Shimogyo-Ku Kyoto Station Bldg. 2F, Kyoto 600-8216 Kyoto Prefecture
Opening Hours: 8:30-21:00 (Last Orders 20:30)
*The cafe is currently running on reduced opening hours as of December 25, 2020 due to COVID-19. Hours are now 08:30-19:00 (Last Orders 18:30) on weekdays and 08:30-20:00 (Last Orders 19:30) on weekends. Times are subject to change.
TEL: 075-744-0552

Official Website: https://fukucha-fukujuen.com/

hotel androoms Announces Opening of New Kyoto Shijo Branch in March

Solare Hotels and Resorts has announced that a new branch of hotels androoms will open in Kyoto Shijo on March 6, 2021. In the run up to its grand opening, the company has opened a website where guests can book hotels with Solare Hotels and Resorts at the cheapest possible price. The website will begin rolling out more information about each hotel on the site through the year.

Access

hotel androoms Kyoto Shijo is located a convenient 5-minute walk from Kyoto Station's Karasuma Line section and 7 minutes from the Central Exit in the JR section, placing it within close distance to many of Kyoto's sightseeing spots.

The hotel offers seven different room types from standard to double to premium twin. One room can house a maximum of three people, accommodating groups and families. It also promises to be packed with a variety of exclusive services you won't find at other hotels.

Specialty coffee by Unir Kyoto

hotel androoms Kyoto Shijo will welcome the opening of a new branch of Unir inside the hotel which serves coffee made from specially-selected coffee beans. The coffee is hand-roasted on site with baristas pouring their love and skill into every cup.

Breakfast delivered right to your room

The morning time is your time and should be used as you please without you having to rush around, so says the hotel, and so it offers a breakfast delivery service which must be booked in advance.

Relax and unwind in the modern-style baths

Those looking for a little relaxation can look forward to pushing all their stresses aside in a modern bathing area which is inspired by a cave. It's open from 3pm-2am and again from 6am-10am.

If you're planning a trip to Kyoto and want a hotel with easy access to all the hot spots then be sure to consider hotel androoms Kyoto Shijo.

Demon Slayer: Kimetsu no Yaiba Anime Event Slashes Into Kyoto Until March

An event centred on the TV anime series Demon Slayer: Kimetsu no Yaiba is now taking place in Kyoto at Toei Kyoto Studio Park, Kyoto Railway Museum, and Shijō-Ōmiya Station and Arashiyama Station on the The Keifuku Randen Tram Line until March 14, 2021. Fans of the series can participate in a 'keyword rally' where they'll be walking around Kyoto trying to locate specific words to win prizes, enjoy unique Demon Slayer exhibits at each of the venues, gets their hands on original merch, tuck into themed food, and more.

Pins (17 Designs) | ¥440 Each (*Design chosen is random)


Long Chocolate Baumkuchen | ¥1,080

Merch includes pins of the anime series's main characters, a special baumkuchen cake based on the Infinity Train from the Demon Slayer: Kimetsu no Yaiba the Movie: Mugen Train film, and more. Online orders are also available in Japan at Chugaionline.

Fans still hyped over Demon Slayer: Kimetsu no Yaiba the Movie: Mugen Train, which broke records in Japan to become the highest-grossing film of all time in the country, can expect to stock up even more of their favourites for their collection at the event.

©吾峠呼世晴/集英社・アニプレックス・ufotable

Information

Demon Slayer: Kimetsu no Yaiba Exhibition

Event Name in Japanese: 鬼滅の刃 京ノ御仕事 弐
Running: December 26, 2020 – March 14, 2021
Locations: Toei Kyoto Studio Park / Kyoto Railway Museum / Randen (Shijō-Ōmiya Station and Arashiyama Station)
Event Page: https://www.toei-eigamura.com/kimetsu/
*Event opening hours subject to sudden change or cancellation depending on COVID-19.

Online Orders
Running: Until January 31, 2021 at 23:59

Shipping: March 2021 (Japan only)

Chugaionline: https://www.chugai-contents.jp/blog/event/eigamura_kimetsu/

Brown Sugar Syrup Matcha Latte Arrives at Tully's Coffee in Japan On Christmas Eve

Tully's Coffee Japan is adding a new seasonal drink to its menu on December 26: the "Brown Sugar Syrup & Soy Flour Matcha Latte."

Brown Sugar Syrup & Soy Flour Matcha Latte (Hot/Iced) | Tall ¥520 (Before Tax)

Matcha beverages at Tully's Coffee are all made with Uji matcha from Kyoto. The powder is prepared in-house at Tully's Coffee, ensuring that the original taste and fragrance of the matcha is fresh. Their new seasonal beverage takes their classic Uji Matcha Latte and sweetens it with brown sugar syrup and Hokkaido soy flour.

Brown Sugar Syrup & Soy Flour Matcha Suwakuru® (Frozen) | Tall ¥540, with tapioca +¥100 (Before Tax)

Adding tapioca pearls creates a perfect combination with the syrup and soy flour, creating a taste and texture that's like the traditional Japanese confection warabimochi.

Uji Matcha Kouign-amann | ¥290 (Before Tax)

Tully's Coffee is also baking up some seasonal treats, like a Japanese-style Kouign-amann and red bean paste-filled doughnuts.

Milk Red Bean Paste Doughnuts | ¥300 (Before Tax)

The doughnuts are also made with milk from Hokkaido.

2021 Year of the Ox Mug | ¥1,500 (Before Tax)

And to celebrate the upcoming Year of the Ox, the coffee chain is also rolling out a cute ox-themed mug.

Information

Brown Sugar Syrup & Soy Flour Matcha Latte
Release Date: December 26, 2020
Official Website: https://www.tullys.co.jp

ROKU: Kyoto's New Soba Ramen Shop Produced by Michelin-Star Chef

Kamo Dashi Chuka Soba ROKU is a new ramen restaurant set to open at GOOD NATURE STATION, a shopping facility in Kyoto, on December 12, 2020.

The restaurant is produced by Yuki Iwasaki, a chef at VELROSIER which acquired its first Michelin Star in Michelin Guide 2021 Kyoto, Osaka & Okayama. It will serve ramen in a variety of duck-flavoured dashi broths made with duck from Kyoto and France.

Duck Sei Tanmen | ¥1,000


Duck Shiro Tanmen | ¥1,000

ROKU will initially offer three types of ramen dishes which includes the two pictured above as well as a special served each season. The Duck Sei Tanmen uses a broth made from a blend of duck meats and has a distinctly refreshing yet rich taste. The Duck Shiro Tanmen uses the same broth but adds chicken to the base together with mayu burnt garlic oil. The restaurant also makes its own thick noodles to enjoy with the soup. No tare sauce is used, allowing for customers to enjoy the umami flavour of the dashi and the various ingredients added.

The ramen bowls used are original wares created by TOKINOHA, a Japanese crockery brand specialising in traditional Kiyomizu ware which are perfect for enjoying your ramen.

Information

Kamo Dashi Chuka Soba ROKU (Japanese Name: 鴨出汁中華そば ROKU)
Grand Opening: December 12, 2020
Address: GOOD NATURE STATION Floor 2F, 318-6 Inaricho, Shimogyo-ku, Kyoto
Opening Hours: 11:30-20:00
No Fixed Holidays
Official Website: https://goodnaturestation.com

FAUCHON HOTEL KYOTO Announces Opening Of Le Spa Fauchon in March 2021

FAUCHON HOTEL KYOTO is set to open its second branch in March 2021 which will be home to the Fauchon brand's world-first spa Le Spa Fauchon.

Le Spa Fauchon's spa experience incorporates its concept of "FAUCHON Meets Kyoto. Feel Paris" which is offered in a variety of ways. The spa of course serves a wide range of body, facial and scrub treatments with voluptuous fragrances and rich textures, while the floors of the spa rooms are dyed a stylish Fauchon pink. It's a coming-together of splendorous Paris and quaint Kyoto.

An unforgettable spa experience by Japan and Paris's beauty specialties

Le Spa Fauchon is managed by Cred International at FAUCHON HOTEL KYOTO, an industry-leading company that operates luxury hotels both inside and outside Japan.

The spa's products and menu were developed in a joint effort between premium cosmetic brand KOS PARIS, which manages numerous 5-star hotel spas and offers high-quality products in Paris, and which is coming to Japan for the very first time, and Cred International. The spa is also offering an original and exclusive range of oils in collaboration with top Paris therapist Yuki Inotsume, who has offered her knowledge of Japanese skin care and Japanese peoples' preferences, and KOS PARIS's high-grade oils.

FAUCHON HOTEL KYOTO also offers all guests a selection of amenities in their rooms with the "FAUCHON Meets Kyoto. Feel Paris." concept for guests to enjoy the ultimate spa experience.

If you're staying in Kyoto, why not treat yourself to a spa trip at Le Spa Fauchon?

Kyoto's New Cafe YOJIYA CAFE Ocha no Crepe Serves Tasty Takeout Matcha Crepes

YOJIYA CAFE opened up a new cafe called YOJIYA CAFE Ocha no Crepe in Kyoto on November 30, 2020, serving a selection of crepes made with Uji matcha and specially-selected ingredients.


YOJIYA is a Kyoto-based company that first opened 116 years ago specialising in aburatorigami blotting paper. Today, the company has expanded its range of cosmetic and beauty items, and it even operates two cafes in Kyoto. On Monday (November 30), it opened YOJIYA CAFE Ocha no Crepe in Nijo Fuyacho, Kyoto, an all-new cafe serving takeout crepes.

Ocha no Crepe Matcha | ¥750 (Tax Included)


The cafe's signature matcha crepe is filled with cream, rice flour dumplings, and matcha from Uji. The crepe pastry itself is made from an original blend of two types of wheat flour. The cream is a delicious blend of three types of cream plus matcha cream. It's also filled with crunchy pie which is cooked fresh every morning. The crepe is finished with an illustration of a matcha teacup and whisk made from matcha.

The high quality matcha crepes are made the perfect size and with the perfect combinations so they can be enjoyed even after a meal.

Be sure to pay a visit to YOJIYA CAFE Ocha no Crepe when visiting Kyoto.

Information

YOJIYA CAFE Ocha no Crepe
Grand Opening: November 30, 2020
Address: Nijo dori & Fuyacho-dori, Hoteiyachō, Nakagyo Ward, Kyoto
Opening Hours: 11:00-18:00
No Fixed Holidays
TEL: 075-255-9292

YOJIYA CAFE Official Website: http://www.yojiyacafe.com

Enjoy the Beautiful Taste of Kyoto at Isetan Shinjuku in Tokyo

Isetan Shinjuku has announced a special event dedicated to promoting the beautiful taste of Tokyo. Set to begin on December 2, the event will see both traditional and newer restaurants from Kyoto come together to serve up Kyoto-style cuisine to the people of Tokyo from oldies like sushi to dango to more modern dishes like okonomiyaki and katsu sandwiches. Visitors will also be able to watch real chefs from Kyoto at work.

Hi-Lite Shokudo's "Hi-Lite Katsu Sandwich" | ¥850

Since first opening in 1960, Hi-Lite Shokudo has continued to treasure the taste of home cooking and has continued to evolve that taste over the years to cater to each generation. Its famous katsu sandwich is made with a secret sauce that has kept it unbeaten against other popular eateries in Kyoto, and they've upped the taste for this event.

Kotoka's "Mitarashi-dango" | ¥864 (6 Sticks) 

These dango are made fresh in front of customers and are doused in a rich secret sauce. Their chewy texture is irresistible.

Izuu's Mackerel and Tilefish Assortment | ¥4,455 (3 of each per person)

Izuu is an iconic sushi restaurant in Kyoto that was first established in 1781. This assortment is made with chub mackerel from coastal waters, esumai rice from Shiga Prefecture, and kombu from Hokkaido.。

Yumeya's Fuwafuwa Okonomiyaki | ¥801 (1 portion)

Many people living outside of Kyoto search for the okonomiyaki flavour served by Yumeya. It's made fresh, fluffy, and is topped with lots of ingredients.

Daitokuji Saiki-ya's "Dashimaki Tamago" | ¥648 (1 portion)

Daitokuji Saiki-ya is a specialty store in Kyoto catered food in business for 1933 years. It serves Kyoto-style dashimaki tamago as well as lots of other delicious food that captures the taste of Kyoto.

Sailor Moon Opens Its Third Petit Store at KIDDYLAND Kyoto Shijo Kawaramachi

To celebrate the upcoming release of the two-part Sailor Moon Eternal movie, a third branch of Sailor Moon store -petit- is set to open at KIDDYLAND Kyoto Shijo Kawaramachi on December 5, 2020.


Sailor Moon fans can look forward to getting their hands on a magical menagerie of original merchandise originally only available at the Sailor Moon store in Harajuku as well as a super soft, exclusive store-original Climax Moon Compact cushion.

Other items include candy charms, acrylic Christmas 2020 stands, pins, and more. Customers who spend over ¥3,000 (tax included) will also receive a free folder. These are available on a first-come, first-served basis and feature a cute design drawn by one of the store owners.

Information

Sailor Moon store -petit-
Grand Opening: December 5, 2020

Location: KIDDYLAND Kyoto Shijo Kawaramachi

Address: 344 Takoyakushi Sagaru Shioyacho, Kawaramachidori, Nakagyo-ku, Kyoto-shi, Kyoto

Opening Hours: 11:00-21:00 (Subject to change without notice)
Official Website: http://sailormoon-official.com/store/

Sailor Moon Eternal
Animated film releasing in two parts in 2021.
Part One: January 8, 2021
Part Two: February 11, 2021
Official Website: https://sailormoon-movie.jp/ 

Starbucks Japan Reveals Matcha x Matcha White Chocolate Frappuccino®

Starbucks Coffee Japan has revealed that its second instalment of its limited-edition holiday season 2020 beverages will be the "Matcha x Matcha White Chocolate" and "Matcha x Matcha White Chocolate Frappuccino®" which customers can order from November 24. A new batch of festive Starbucks merch will also hit Japanese branches on November 30.

A harmonious fusion of matcha and sweet white chocolate

Matcha x Matcha White Chocolate Frappuccino® Tall ¥590 (Tall-size only)

Matcha x Matcha White Chocolate: Short ¥450 / Tall ¥490 / Grande ¥530 / Venti® ¥570 (Hot option only)

Matcha is one of Starbucks Japan's signature flavours and just to happens to have been in the spotlight in last year's holiday season drinks. This year sees marbling mixture of of rich matcha sauce and sweet white chocolate syrup with the Frappuccino®, finished with a squirt of whipped cream, brownie bits, and snowy powdered sugar. The hot version comes as a marriage of matcha and white mocha mixed together with steamed milk to warm the cockles of hearts during the cold months.

New holiday season merchandise

The theme of the second batch of merchandise is "Brilliant Season" which capture the bright and sparkly vibe of winter like with the snowflake-covered stainless steel bottle, a glass mug with beads in it that move around when shaken, a snow globe, and more. The perfect line-up for capturing the holiday season mood during your coffee break.

Starbucks Japan is currently serving the Berry x Berry No-Bake Cheesecake Frappuccino® and Berry x Berry White Mocha holiday season drinks for the holiday season until November 24 when they will be replaced by the Matcha x Matcha White Chocolate and Matcha x Matcha White Chocolate Frappuccino®. It is also serving the Starbucks® Christmas Blend, Gingerbread Latte, and Macadamia Toffee Latte until Christmas Day.

Information

Matcha x Matcha White Chocolate and Matcha

Matcha White Chocolate Frappuccino®

Running: November 1, 2020 – December 25, 2020

Available: Starbucks in Japan
Starbucks Japan Official Website: https://www.starbucks.co.jp/