Sai Sai Jaran Jaran #8: SILENT SIREN's Ainyan Becomes a Wine Connoisseur at Fukagawa Winery Tokyo in Monzennakacho
Sai Sai Jaran Jaran is a featured series here on MOSHI MOSHI NIPPON from the members of the all-female band SILEN SIREN (aka Sai Sai) who visit various hot spots in Japan and experience different things, the Sai Sai way.
Band bassist Ainyan enjoys a beer or cocktail, but she wants to step into the world of wine, so we will join her on her journey today as she goes to learn all about wine from the very basics.
It's a clear sky today. Great weather for going for a drink during the day, am I right?
We visited Fukagawa Winery Tokyo in Monzennakacho, an area located in Shitamachi, Tokyo. We were looking forward to going there because it offers the full wine experience, allowing visitors to see wine brewing up close to learn all about it.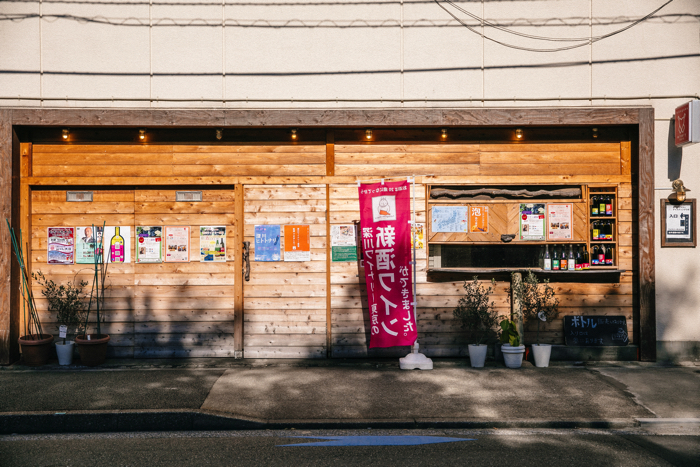 This experience is offered twice a day on weekends and national holidays at 14:00 and 16:00.
Fukagawa Winery Tokyo opened in Tokyo in 2016 as a winery where the ordinary person could go and see wine being made to fully understand its process. It has expanded its circulation in recent years and is now able to take in grapes from across Japan, including Tokyo, to craft many different wines.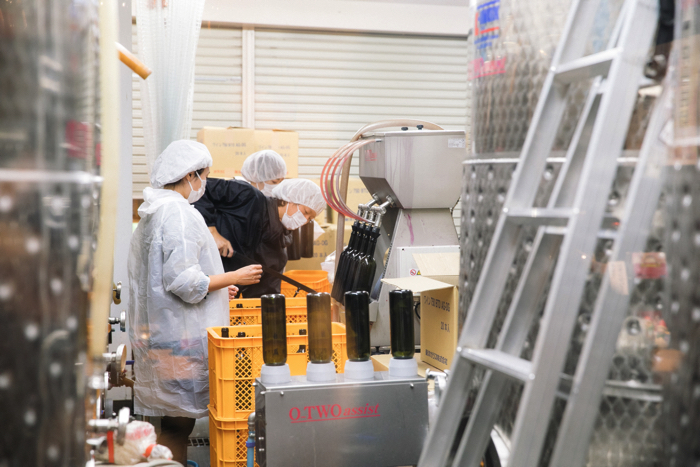 On the day we visited we saw the staff bottling up the wine. On average, the winery ships out around 30,000 bottles a year.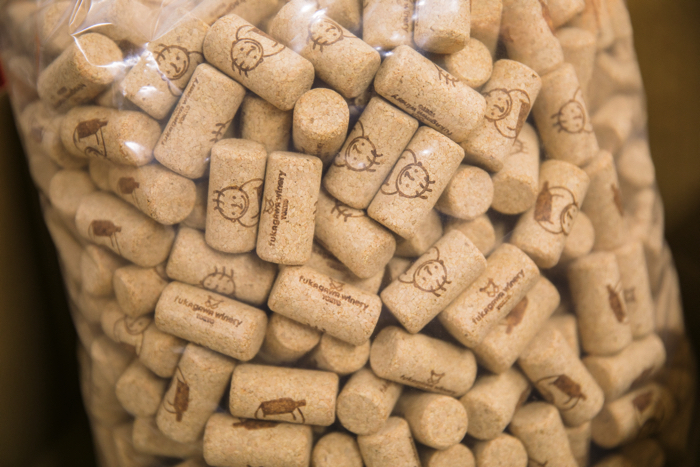 The corks have illustrations of "Wine Man" on them, a character created by Fukagawa Winery Tokyo. Ainyan was fairly fond of him!
Time to see how the winery works!
When you step inside, the scent of grapes is the first thing to hit your senses.
The one in charge of Fukagawa Winery Tokyo is Kousuke Ueno, who was kind of enough to show us around. He taught us the process of wine making, as well as what types of grapes and tools they use.
"This machine separates the grapes and stalks using the propellers. This method has been used for 150 years," explained Ueno.
There are periods when visitors can observe this machine being used to separate the grapes. It takes place between mid-August to November, so follow Fukagawa Winery Tokyo's social media for announcements and details.
"Wow! It smells so good!" said Ainyan. We got to see a bucket where Cabernet Sauvignon was being made. They put in whole grapes with the skin on and add natural yeast for the fermentation process. The sweet smell of the grapes fills the air and makes you want to have a glass.
Now for what Ainyan has been waiting for: taste-testing time! She learned everything about the wine making process, so it was time to taste and compare some different wines.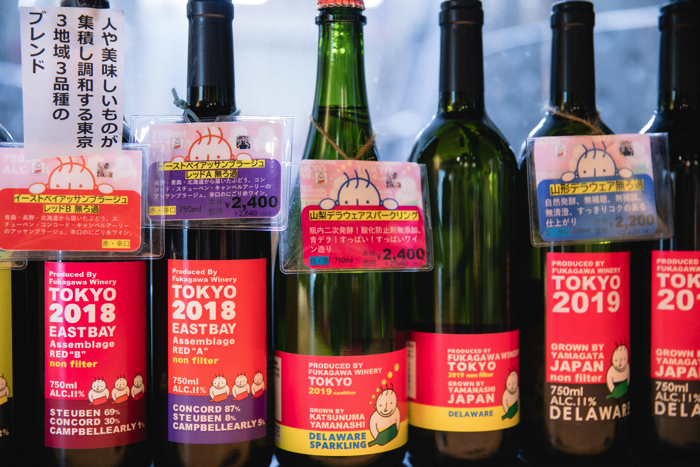 The winery allows taste-testing until 17:00. You can try 3 types for ¥700. And of course, if there's one you tried that you really liked, you can buy it there and then. So sip, scrutinise, and select!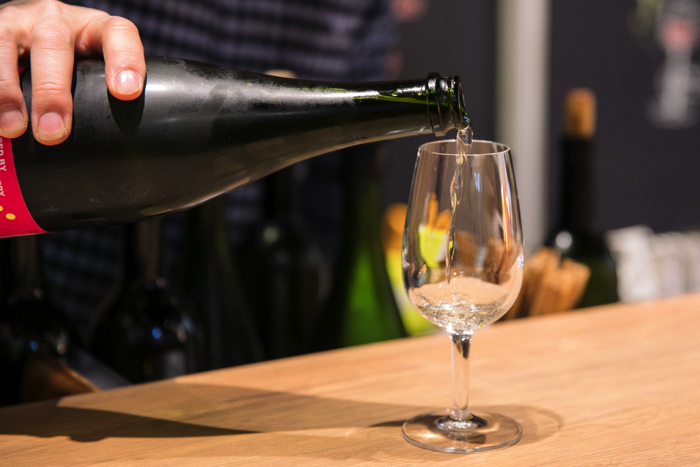 "Please try this one first. It is wine, but it's like a lemon sour," explained Ueno, recommending that Ainyan first try the Yamanashi  Delaware Sparkling.
Soak up all the notes of the drink by having a good smell first before taking a small sip. "Smells really good. This sourness really is like a lemon sour! I wonder why?" said Ainyan.
This wine uses premature grapes which gives the wine a sour taste. The sourness of this wine can play the part of lemons, so it's best paired with fried foods or meals with chicken in them.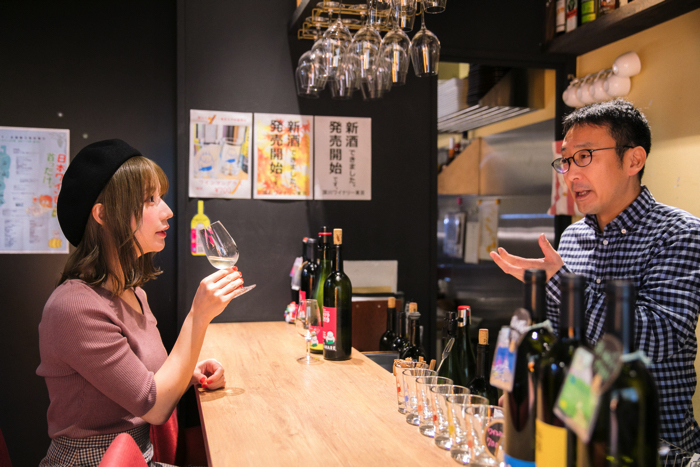 The second drink was the Yamagata Delaware Muroka. It's an unfiltered wine made from completely ripened Yamagata Delaware grapes.
Unfiltered means that the filtration process to take out visible solids and such is not used. This gives it a slightly cloudy appearance and an exquisite taste that's somewhere between wine and juice.
Left: Unfiltered Yamagata Delaware / Right: Filtered Yamagata Delaware
For the third glass, Ainyan ordered the filtered Yamagata Delaware to test the difference between it and the unfiltered version.
"The filtered one has a good balance of flavours and is refreshing. The unfiltered one has a smooth juiciness to it. They're both delicious, but I like the unfiltered one more!" said Ainyan.
Her fourth glass was an unfiltered red wine: the East Bay Assemblage Red B.
The grapes used are a combination from Hokkaido, Nagano, and Aomori. It really is an assemblage!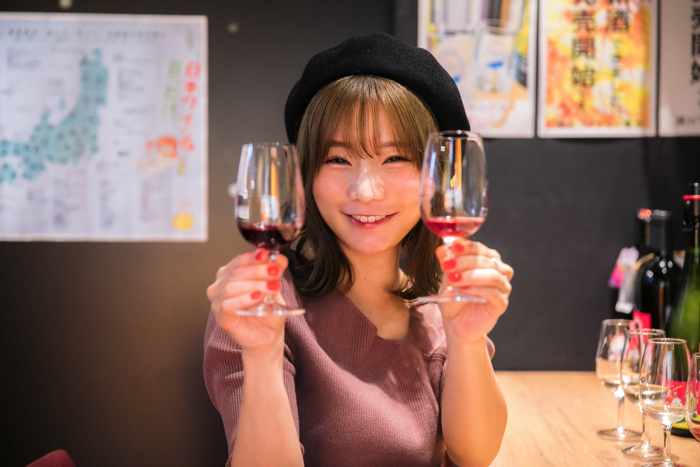 "The red wine has such a different taste and colour depending on the type too! This dark red wine is close to what I usually drink!" said Ainyan with a happy smile.
At the end of the session, Ainyan had tried 10 wines and bought two bottles! She was delighted with her experience, saying: "I was surprised how different each and every one of the wines I tried at Fukagawa Winery Tokyo were. I think I'm getting hooked on the appeal of unfiltered, natural wines."
With Christmas and New Year around the corner, now is the season to indulge in wine. If you're in Tokyo this December, pay a visit to Fukagawa Winery Tokyo for a full wine experience.
Writer:Yuki Yokoo
Photographer:Kayo Sekiguchi
SILENT SIREN
SILENT SIREN is a four-member all-female band consisting of vocalist & guitarist Sumire "Suu" Yoshida, drummer Hinako "Hinanchu" Umemura, bassist Aina "Ainyan" Yamauchi, keyboardist Yukako "Yukarun" Kurosaka.
The band made their major debut in November 2012 with their single Sweet Pop! The band is known to fans by their nickname "Sai Sai." They are especially popular with middle school girls in Harajuku and have over 540,000 follows on their official LINE account.
In 2015, they performed their first solo concert at Nippon Budokan, making them the fastest Japanese all-female band in history to perform there after their major debut. In 2016, they performed a headline show at Yokohama Arena, and embarked on a world tour consisting of 6 shows in 5 countries.
At the end of 2016, they changed label to Universal Music and revamped their band logo and how they write their band name. In 2017, they wrapped up their 5th anniversary tour with their first two-day concert series at Nippon Budokan.
In 2018, they embarked on their biggest Japan tour to date "Tenkaippin presents SILENT SIREN LIVE TOUR 2018 ~"Girls will be Bears" TOUR~ consisting of 33 shows. They also performed at big music festivals and at countless events, as well as performed their annual New Year's solo concert at Yokohama Cultural Gymnasium.
In 2019, they began celebrations of 7 years since their debut and 10 years as a band. They released their final album of the Heisei era and 6th album in total 31313 on March 13 ,2019 and promoted it on their tour SILEN SIREN LIVE TOUR 2019 "31313" ~Sai Sai 10th Anniversary~ supported by Tenkaippin. They also performed at numerous summer festivals and events.
On December 30, 2019, they will performed their annual New Year's concert "SILENT SIREN Nenmatsu Special Live 2019 HERO" at Yokohama Cultural Gymnasium.
In 2020, they will celebrate 10 years since forming the band with a show at Yamanakako Communication Plaza Kirara on September 20, 2020.
SILENT SIREN Official Website: https://silent-siren.com/
Information
Fukagawa Winery Tokyo
TEL: 03-5809-8058
Address: Takahata Bldg. 1F, 1-4-10 Furuishiba, Koto Ward, Tokyo
Opening Hours: Weekdays 15:00-22:00 / Weekends & Public Holidays 12:00-22:00
Closed: Tuesdays
Winery Observations: Weekends & Public Holidays at 14:00 and 16:00 for 20 minutes each. Must book in advance.
Official Website: https://www.fukagawine.tokyo/
RECOMMENDED ENTRIES
Sai Sai Jaran Jaran #7: SILENT SIREN's Yukarun Has Her First Afternoon Tea at Ginza's 'THE GRAND LOUNGE'

Sai Sai Jaran Jaran is a featured series here on MOSHI MOSHI NIPPON from the members of the all-female band SILEN SIREN (aka Sai Sai) who visit various hot spots in Japan and experience different things, the Sai Sai way.

Band keyboardist Yukarun has always wanted to try having afternoon tea. To make her dream come true, she took a visit to THE GRAND LOUNGE in Ginza.

THE GRAND LOUNGE is a multipurpose lounge for adults located on the 13th floor of THE GRAND GINZA in GINZA SIX.

Normally in restaurants afternoon tea is often reserved just for the afternoon but at THE GRAND LOUNGE you can enjoy it any time.

*The afternoon tea set shown above is for 2 people.

The afternoon tea set here costs ¥4,200 (before tax and service charge). It comes with 7 hors d'oeuvres, 7 sweets, strawberry mille-feuille, and a teapot with free black tea refills. Strawberries are the running theme until June, so the desserts and hors d'oeuvres are made using plenty of Japanese "tochiotome" strawberries. It's a big tea set so can be enjoyed by couples or big eaters.

Yukarun is very pleased with the afternoon tea set so much so that she must take a photo beforehand! There are so many strawberries sweets. "I feel happy just looking at this assortment♡" she says.

The drinks in the set are made by San Francisco-based high tea brand Mighty Leaf. There are 11 types to choose from―9 hot and 2 iced―all of which Mighty Leaf have ensured are organic with only the best herbs chosen.

You choose your favourite by smelling the fragrant aromas of each bottle. The one most popular with Yukarun was the "White Orchard." White tea and green tea are used as the base in this drink which are blended with melon and peach fragrance. The fact you get free refills makes it a favourable service.

Time to tuck in!

The tasty line-up will have you wondering where to even begin eating from.

It's not just the sweets that are piled with strawberries but the light appetisers too. These appetisers include foie gras, salmon and more―all extravagant delectables.

"Delicious!" says a satisfied Yukarun as she takes her first bite from the bottom row appetisers.

The variety of sweets is diverse, from jelly to tarts, mousse and beyond. "The sweets come in cute mini sizes! And they're all super delicious!" comments Yukarun.

"The tea I chose is really tasty too! I don't think I've ever had tea this good before!"

Then it was time for the crowning jewel of the afternoon tea set: the strawberry mille-feuille. It is a recreation of the legendary mille-feuille sold at Maxim's de Paris, a much-loved French restaurant in Ginza that closed in 2015. This sandwich-like dessert takes crunchy pie and stuffs fat strawberries and custard cream between them. It's a popular dessert ordered by itself too. The version of it that comes with the afternoon tea is half-sized.

"So good! This is true happiness♡" says Yukarun who is clearly enjoying herself. The mille-feuille can also be ordered for takeout.

How was your first ever afternoon tea experience, Yukarun?

"It felt elegant and sophisticated being in a place like this. There are lots of bite-sized appetisers and sweets so it's fun to try them one by one. It's fun thinking about where to eat from too, and I was really glad you get to choose your own tea. I definitely want to come here again in my own time! I want to dress up and come with my girlfriends."

The items that come with the afternoon teas at THE GRAND LOUNGE change with each season, and right now it's all about strawberries. Head to THE GRAND LOUNGE yourself and treat yourself and others to a luxurious afternoon tea―at any time of the day.

Model: Yukako Kurosaka(SILENT SIREN)

Photographer: Haruka Yamamoto

Writer: Sayoko Ishii

Translator: Joshua Kitosi-Isanga

■PROFILE

SILENT SIREN is a four-member all-female band consisting of vocalist & guitarist Sumire "Suu" Yoshida, drummer Hinako "Hinanchu" Umemura, bassist Aina "Ainyan" Yamauchi, keyboardist Yukako "Yukarun" Kurosaka. The band were founded in 2010 by Umemura and Yoshida who are former models. In 2015, they performed their first solo concert at Nippon Budokan, making them the fastest Japanese all-female band in history to perform there after their major debut. Their new album 31313 is now on sale. The band are currently on their "31313" tour in support of the album. An additional date was added to the tour which will take place on June 10 at Zepp DiverCity in Tokyo.

Check their official website for the latest details: http://silent-siren.com/

Information

THE GRAND LOUNGE (THE GRAND GINZA)

Address: GINZA SIX Floor 13F, 6-10-1 Ginza, Chuo Ward, Tokyo

Business Hours: 11:00-23:00 (Last Orders 22:00)

No Fixed Holidays (Except when GINZA SIX is closed)

TEL: 03-6280-6129 (Lounge/Restaurant)
Website: https://www.grandginza.com/lounge/

Sai Sai Jaran Jaran #6: SILENT SIREN's Hinanchu has her fill of Indonesian food in Tokyo

Sai Sai Jaran Jaran is a featured series here on MOSHI MOSHI NIPPON from the members of the all-female band SILEN SIREN (aka Sai Sai) who visit various hot spots in Japan and experience different things, the Sai Sai way.

For the long-awaited 6th entry we take a trip with band leader Hinanchu. She lived in Indonesia for 10 years from the age of 5 to 15. She fancied a bite of nostalgia so she hit up an Indonesian restaurant in Tokyo. Indonesian cuisine isn't a familiar taste to the people of Japan, but it seems like there are a lot of delicious options.

Hinanchu visits "cabe" in Meguro for a bite of nostalgic Indonesian food

The first place we visit is "cabe" in Meguro. The Indonesian Embassy is close by this restaurant. Over half the customers that dine there are from Indonesia. The restaurant is considerate of Islamic law and so provides authentic Indonesian cuisine that uses absolutely no pork or pig-derived ingredients. The head chef is a Javanese woman who has expert skills in creating major Indonesia dishes as well as food seldom handled in Japan.

Hinanchu begins by ordering one Sate Ayam (¥220) and Fried Tempeh (¥500). Sate is famous dish from Indonesia of skewered meat. When made with chicken it's called "sate ayam." Tempeh is made from soy and used in place of meat for various dishes, making it popular with vegetarians and those on a macrobiotic diet.

"Tempeh is a food that was always at street food stands. I used to eat it a lot as a snack when I was small! It's a nostalgic flavour! It's sort of like natto, but it doesn't have a smell. It's easy to eat."

The Soto Ayam (¥730) is a chicken soup made with vermicelli. It's like Japanese miso soup and can be found in all regions of Indonesia. It has a turmeric colour and looks like curry soup but it's chicken flavoured. It's said that Sapporo soup curry took a hint from this dish.

Mie Bakso (¥800) is an Indonesia meatball soup with noodles. cabe handmakes all of its meatballs so one of its characteristics is how large the meatballs are.

"This is what I've been wanting to eat forever! I'm moved that I'm able to eat proper Indonesian food for the first time after coming back to Japan! The other [band] members love Indonesian food too so I want to come again with everyone."

The restaurant is spacious and comfortable. They also sell Indonesian ingredients and goods there too. You can try a lot of different flavours on the menu so we recommend visiting here if you've never tried Indonesian cuisine before.

Merah Putih Cafe in Shin-Ōkubo

Hinanchu's next stop is Merah Putih Cafe in Shin-Ōkubo. It's located inside a multi-purpose building that's filled with a multicultural exotic mood that will have you wondering whether you're still in Japan.

The restaurant serves food from Padang, the capital of Indonesia's West Sumatra province. This region is famous for its food which is distinct for its spices.

The first dish Hinanchu picks is an assortment of Padang style food "Nasi Padang" (¥1,280). The assortment changes each day. On this day it came with fried omelette, fried chicken with coconut, salad and rice.

"The chicken is spicy. It was delicious. I lived in Jakarta so it was refreshing trying Padang style food!"

This restaurant has a lot of regulars including tourists from Indonesia, Malaysia, Singapore and other East Asian countries. The people of Indonesia love rice so the restaurant serves it with spicy food, fried food and other types that go well with it. We recommend this place if you're looking for an authentic taste.

Having visited two Indonesian restaurants in Tokyo, Hinanchu made the following comment: "Since coming back to Japan I've been wanting to eat Indonesian food, but there's a lot of restaurants here that serve Southeast Asian cuisine. I'm happy I was able to enjoy authentic meals today. I was sucked into the nostalgia, it was like being back over there."

Hinanchu also spoke Indonesian with the staff who were also from Indonesia and took a photo!

Indonesian cuisine isn't a familiar taste to the people of Japan, but there are many delicious things to choose from. If you're in Japan why not try it for yourself?

Information

cabe

Address: Tanaka Bldg. 2F, 3-5-4 Kamiosaki, Shinagawa Ward, Tokyo

Business Hours: 11:30-14:30 / 17:30-22:00

Closed: Sundays & National Holidays

TEL:03-6432-5748

Facebook Page: https://www.facebook.com/IndonesianRestaurantCabeMeguro

Merah Putih Cafe

Address: Shin-Ōkubo Initial House 304, 2-10-9 Hyakunincho, Shinjuku Tokyo

Business Hours: 11:00-23:00 (until 5:00am the next day on weekends and holidays)

Closed: Mondays

TEL: 03-6279-2399

Website: https://caffemerahputih.wixsite.com/merahputihcafe

■PROFILE

SILENT SIREN is a four-member all-female band consisting of vocalist & guitarist Sumire "Suu" Yoshida, drummer Hinako "Hinanchu" Umemura, bassist Aina "Ainyan" Yamauchi, keyboardist Yukako "Yukarun" Kurosaka. The band were founded in 2010 by Umemura and Yoshida who are former models. In 2015, they performed their first solo concert at Nippon Budokan, making them the fastest Japanese all-female band in history to perform there after their major debut. They will release their final album of the Heisei era and 6th album in total 31313 on March 13 ,2019 and promote it on their tour SILEN S IREN LIVE TOUR 2019 "31313" ~Sai Sai 10th Anniversary~ supported by Tenkaippin. Check the official website for the latest details: http://silent-siren.com/

Sai Sai Jaran Jaran #5: SILENT SIREN's Suu Makes Her Own Candles at 'Candle Studio' in Daikanyama

Sai Sai Jaran Jaran is a featured series here on MOSHI MOSHI NIPPON from the members of the all-female band SILEN SIREN (aka Sai Sai) who visit various hot spots in Japan and experience different things, the Sai Sai way.

Today we follow the band's vocalist – Suu! Suu is a huge candle lover and says that she has a lot of candles in her home. She's always wanted to try candle-making, so she's taken this opportunity to challenge herself to the task!

Suu visited Candle Studio in Daikanyama and participated in a one-time candle-making lesson. You get to make one complete candle to take home.

Candle Studio is an all-out candle-making school, offering everything from one-off lessons for beginners to a JCA-recognised candle craft course, candle artist course and instructor course. The location is visited by newcomers and pros alike.

The one-time lesson Suu took cost ¥4,000. With that, you get to pick from a botanical candle and aroma wax sachet. You can either make 2 of the same type or 1 each. You get to pick different coloured and fragranced dried flowers to make your own personal candle. Suu was given special permission to make 2 of each.

After putting on her apron it was time to get creating. "I'm nervous whether I'll do it well or not but I'll try my best!" said Suu.

First up, the botanical candles. You start by picking the candle's base colour. Suu went for blue and orange candles.

After putting the candles in the silicone mould, you pick the flowers you want and fit them into the gap around the candle. They have a whole range of decorations prepared including dried flowers, preserved flowers, paper berries and so on. Choosing what to go in there is all part of the fun!

Use pin sets while cutting the flowers of your choice with scissors and place them in. Arrange them around the outside of the flower with the sides you want to show. If you use thin flowers they will look transparent when you light the candle, so keep this in mind when choosing your flowers. The secret to success however is to not think about it too much and just go all in.

Once you've placed all the flowers you want, pick a scent of your choice from the samples provided. Suu went with cranberry and rose.

Melt the wax to 65℃-70℃ and add one spoon of your chosen fragrance.

Heat the scented wax once more and pour into the silicon mould.

After releasing the air from the center of the candle, arrange any flowers that have floated to the top and set aside to harden.

Next on the list is to make the sachets. Like before, pick out a base colour from the colour samples provided. Suu chose a white base this time.

Transparent wax is mixed in with the white colourant. To make the colour a little creamier mix in just a tiny bit of vanilla colourant before adding the fragrance. Suu picked plumeria and mango.

Next is to position the dried flowers. With the sachets, you will add dried flowers on top after pouring the wax into the mould. So think about how you want them arranged first by positioning them in the mould first.

Once you know what you want, add the wax into the mould.

Once the wax has cooled slightly and skin has formed on the surface, arrange your dried flowers. Suu styled hers like a bouquet.

She then added dried flowers and fruits to the other one. Now all that's left is to wait!

While Suu was making the sachet, the first candle she started on had hardened. She removes it by pushing it up out of the silicone mould.

After curling the wick into a beautiful shape it's complete!

The sachet was ready now too so Suu removed it from the mould.

Suu adds an eyelet and chooses a ribbon of her choice to complete the sachet.

Her botanical candles and aroma wax sachets are complete!

"It was a little hard as it was my first time, but I was able to fully concentrate. It was so much fun! The time that went by making them was very therapeutic. You can make all sorts of other candles too, so I want to come back ASAP!" explained Suu as she booked her next class right there and then. The class was a big success and Suu left super satisfied.

Candle Studio Daikanyama are now holding classes to make snow dome and Ornament sachets for the Christmas season. It costs ¥5,000 to make one snow dome candle and three sachets with Christmas designs. They cater to all beginners too, so if you're interested you can feel at ease if you visit. Try it yourself.

Information

Candle Studio Daikanyama

Address: Daikanyama Sanbankan 3F, 1-30-3 Kamimeguro, Meguro Ward, Tokyo

Tel: 03-6873-7850

Opening Hours: 10:00~ / 13:00~ / 16:00~ / 19:00~ (Each Session = 2 Hours)

Website: https://candle-studio.jp/index.htm

■PROFILE

SILENT SIREN is a four-member all-female band consisting of vocalist & guitarist Sumire "Suu" Yoshida, drummer Hinako "Hinanchu" Umemura, bassist Aina "Ainyan" Yamauchi, keyboardist Yukako "Yukarun" Kurosaka. The band were founded in 2010 by Umemura and Yoshida who are former models. In 2015, they performed their first solo concert at Nippon Budokan, making them the fastest Japanese all-female band in history to perform there after their major debut. Their latest single 19. summer note which was released on July 11, 2018 is enjoying big sales. For the latest information, head on over to their official website: http://silent-siren.com/

Writer: Sayoko Ishii

Photographer: Kayo Sekiguchi
RELATED ENTRIES
Tokyo Cherry Blossoms 2020: Hotel Gajoen Tokyo Reveals Cherry Blossom Food Menu

Hotel Gajoen Tokyoーwhich is both a museum and hotelーhas announced its plans to serve up cherry blossom themed food at its numerous restaurants this spring beginning in March.

Hotel Gajoen Tokyo is situated along Meguro River, which is one of the most famous cherry blossom spots in Tokyo during springtime and Hanami season. To chime in this year's sakura season, the hotel's restaurants are preparing a selection of gourmet cherry blossom food and desserts.

Sakura Dining – From ¥7,000 (Before Tax/Service Charge) @ RISTORANTE "CANOVIANO" / Serving: March 20, 2020 – April 5, 2020


Dine in style at RISTORANTE "CANOVIANO" where they're serving up their 'Sakura Dining' course. Based on the idea of a cherry blossom bento meal, the heapfuls of veggies conjure up the image of the budding flowers of springtime.

Sakura Lunch – ¥5,000 (Before Tax/Service Charge) @ RISTORANTE "CANOVIANO" / Serving: March 16, 2020 – April 10, 2020


An assortment of hors d'oeuvres such as the "Cherry Blossom Carpaccio," "Sakura Ebi Pasta," and other spring-inspired delights.

Sakura Afternoon Tea – ¥4,000 (Before Tax/Service Charge) @ New American Grill "KANADE TERRACE" / Serving: March 14, 2020 – April 12, 2020


Treat yourself to a luxurious afternoon tea with cherry blossom bon bon chocolates, panna cotta, and moreーand wash it all down with a cup of floral cherry blossom tea. Available this spring only.

SAKURA LADY – ¥1,200/ Shizuku Sakura drops – ¥1,000

KANADE TERRACE also has two cherry blossom cocktails: the "SAKURA LADY" (¥1,200) and "Sakura Drops" (¥1,000). These drinks are inspired by blooming cherry blossoms and dancing cherry blossom petals. The "SAKURA LADY" is a gin-based White Lady cocktail.

Sakura – ¥600 (Tax Included) @ PATISSERIE Lien 1928 / Serving: From March 1, 2020

This luxurious dessert is surrounded by white chocolate and is made up of strawberry biscuit topped with strawberry jam and cherry blossom cream, creating a tempting and extravagant fragrance of strawberries and cherry blossom flowers. It also contains a bit of jelly with Japanese sake in it which adds a full-bodied flavour to the overall dessert.

Experience Japanese spring in luxury this year at Hotel Gajoen Tokyo.

Hanami in Japan 2020: Bite-Size Sushi Hanami Bento Lunch Box Releasing in Ginza

SHARI and SHARI THE TOKYO SUSHI BAR in Ginza, as well as CRAFT in Ariake, are releasing the perfect accompaniment to your hanami flower-viewing experience in Japan this spring: the "Hanami Roll Sushi Bento" lunch box, which consists of 36 bite-size sushi pieces made up of 12 different kinds of sushi. It will be available February 18 to April 30.

Hanami Roll Sushi Bento (36 Pieces/Serves 3-4): ¥4,500 (Tax Included)

As soon as your take the lid off this colourful assortment of rolled sushi, you'll find yourself reaching for your camera to snap a photo for Instagram. Each piece is 3cm in diameter and so is deliciously bite-sized. The line-up includes four new kinds of sushi rolls conceived for this release which use seasonal spring ingredients, like sakuradai cherry blossom sea bream, sakura ebi, rape blossoms, fuki giant butterbur, green beans, and moreーas well as eight other types of sushi that are popular classics at each of the three restaurants.

Shrimp Roll

From the four new rolls, we have the sakura ebi shrimp roll, which is served with a gorgeous cherry blossom colour. It's made with shibazuke pickles and vinegared rice, which gives it its colour, and contains, rape blossoms, okra, Chinese yam, and egg. The rape blossoms add a springtime bitterness to the sweetness of the sakura ebi, creating a wonderful combination of flavours.

Beef Butterbur Miso Roll

Then there's the sakuradai roll is wrapped with vinegared tobiko flying fish roe, okra, and cucumber, which is topped with sashimi-style sakuradai cherry blossom seam bream and salty cherry blossom leaves. The spring vegetable and tempura roll has shrimp and green bean tempura mixed with yuzu kosho paste; and finally, the beef butterbur miso roll, which contains beef rib seasoned in a sukiyaki style, finished with sesame seeds, and seasoned with butterbur miso.

The eight popular classics include the wagyu roll sushi seasoned with luxurious truffle oil, Italian roll, duck roll, salmon roll, spider roll (soft shell crab), and more. All of these varied picks go great with wine or champagne.

Hanami Roll Sushi Bento (9 Pieces): ¥1,200 (Tax Included)

The "Hanami Roll Sushi Bento" comes in various sizes. As well as the 36 pieces of 12 sushi types, there's also 18 pieces of 9 types (serves 1-2), and the 9 pieces of 9 types (serves 1).

Reservations are available until 15:00 the previous day. Order yours for your Hanami cherry blossom flower-viewing this year in Japan.

Information

Hanami Roll Sushi Bento

Available:

SHARI (TEL: 050-5357-5354) (Address: Mitsui Garden Hotel Ginza Gochome Floor 2F, 5-13-15 Ginza, Chuo Ward, Tokyo)

SHARI THE TOKYO SUSHI BAR (TEL: 050-5212-7574) (Address: ALBORE GINZA Floor 8F, 2-4-18 Ginza, Chuo Ward, Tokyo)

CRAFT (TEL: 050-5357-5353) (Address: CRAFT Floor 2F, 3-7-2 Ariake, Koto Ward, Kyoto)

Prices:

36 Pieces/12 Types (Serves 3-4 People): ¥4,500

18 Pieces/9 Types (Serves 1-2 People): ¥2,400

9 Pieces/9 Types (Serves 1 Person): ¥1,200

Reservations

Reservations can be made via telephone or in-store until 15:00 the previous day.

*Reservation Window: Telephone 10:00-20:00 / In-Store 12:00-22:30

*Depending on the ingredient stock, reservations may be made on the same day

*The Hanami Roll Sushi Bento is for takeaway only and cannot be eaten in the restaurant

Yellow Coloured Minnie Mouse Cafes to Open in Tokyo, Osaka, Nagoya & Fukuoka

A new line of Minnie Mouse cafes are set to open in Tokyo and Osaka from February 28, 2020 and Nagoya and Fukuoka from February 29, 2020 for a limited time. Named "OH MY! MINNIE MOUSE," the cafes are an official collaboration between Disney and the Japanese cafe chain OH MY CAFÉ.

The cafe takes on the theme of Minnie Mouse being a living, breathing icon of today with a positive lifestyle. This is represented through the yellow colouring of the cafe, which features her iconic polka dots as well as ribbon taking on a yellow colour. Tuck into a cute menu line-up and get your hands on some cafe-exclusive Minnie Mouse merchandise.

Original Menu

Cheerful Burger – ¥1,990

This healthy burger is packed full of vegetables with a black bun made in the image of Minnie's silhouette. Feel as energised as Minnie with one bite of this tasty burger.

Beef Hash Ribbon Rice – ¥1,390

Inspired by Minnie Mouse's iconic ribbon, this hearty dish is a beef stroganoff plated with rice and veg. The ribbon is so cute it almost seems a waste to eat!

Fruit Sandwich – Single ¥990/ With Plate ¥2,790

An absolute must-order if you're wanting a dessert. This sandwich is piled with fresh fruits creamy yoghurt, sprinkled with poppy seeds, and doused in lemon juice.

Fizzy Lemon Squash – Single ¥690 / With Coaster ¥1,390

Charge yourself up with this fizzy lemonade and its refreshing aftertaste.

Relaxing Chamomile Tea – Single ¥490 / With Mug ¥2,090

Kick back and relax after your meal with a cup of chamomile tea♡

Original Merchandise

Heart Badge (8 Designs/Chosen Randomly) – ¥500

Folder – ¥350

Lunch Mat (6 Designs/Chosen Randomly) – ¥650 (*Table reservation required)

Those who book a table in advance will be given one of six possible lunch mats chosen randomly.

If you're in Japan for the spring, then why not stop by the OH MY! MINNIE MOUSE cafe for a Disney treat?

©Disney

Information

OH MY!MINNIE MOUSE

Locations/Dates

Tokyo: OH MY CAFE TOKYO (Tokyu Plaza Omotesando Harajuku Floor 3F, 4-30-3 Jingumae, Shibuya, Tokyo)

Running: February 28, 2020 – April 12, 2020

Osaka: kawara CAFE&DINER Shinsaibashi (Shinsaibashi OPA Floor 9F, 1-4-3 Nishi-Shinsaibashi, Chuo Ward, Osaka, Osaka Prefecture)

Running: February 28, 2020 – April 19, 2020

Nagoya: kawara CAFE&KITCHEN Nagoya PARCO (Nagoya PARCO South Building Floor 5F, 3-29-1 Sakae, Naka Ward, Nagoya, Aichi Prefecture)

Running: February 29, 2020 – April 26, 2020

Fukuoka: Kawara CAFE & KITCHEN KITTE Hakata (KITTE Hakata Floor 9F, 9-1 Hakataekichuogai, Hakata Ward, Fukuoka)

Running: February 29, 2020 – March 28, 2020

"OH MY! MINNIE MOUSE" OH MY CAFE Booking Website: https://mm.ohmycafe.jp/

J-Pop Group Perfume to Open Fashion Pop-Up Shop 'Perfume Closet' at Laforet Harajuku

Worldwide famous Japanese pop group Perfume are taking their fashion project "Perfume Closet" to Laforet Harajuku where it will run in a pop-up shop from February 20-26 this year.

Perfume Closet is a fashion project helmed by Perfume which aims to connect with fans through Perfume's music by making outfits. This is the fourth time Perfume Closet has opened, and will feature a line-up entitled "Perfume Closet 2020SS" which is part of what Perfume are calling "Phase 2," which started in January this year and centres on clothing. It follows on from "Phase 1" which featured a line-up of miscellaneous items.

SATIN COMBI TRENCH COAT – ¥49,500 (Tax Included) / FLOWER PLEATS DRESS – ¥44,000 (Tax Included)

SHEER COMBI KNIT ¥17,600 (Tax Included) / 2 WAY PLEATS SKIRT ¥35,200 (Tax Included)

RELAX WEAR (LADIES) – ¥16,500 (Tax Included) / PLEATS SLEEVE TEE (WHITE) – ¥9,900 (Tax Included) / SHEER COMBI RELAX PANTS – ¥22,000 (Tax Included)

The pop-up shop will stock a plethora of items made by the Perfume members, who worked on the designs, chose the materials, and crafted the silhouettes. It includes everything from coats to one pieces, blouses, bottoms, as well as unisex items men can wear too like pants, shirts, and more.

Fans of Perfume and fans of Japanese fashion aren't going to want to miss out on the new Perfume Closet, open for one week only starting next Thursday!

Information

Perfume Closet

Running: February 20, 2020 – February 26, 2020

Location: Laforet Harajuku (Floor 2F CONTAINER)

Laforet Harajuku Official Website: https://www.laforet.ne.jp/

Taro Okamoto's Prints Exhibition to Run at Taro Okamoto Memorial Museum in Tokyo

The Taro Okamoto Memorial Museum has announced a new exhibition entitled "Taro Okamoto's Prints" which will run at the Tokyo-based museum from February 26 to June 28 this year.

Taro Okamoto employed many channels to try and bring art into the lives of the people. His range of expression was diverse, made up of countless genres, including the Tower of the Sun.

One form of media that Taro poured his talents and energy into was prints, ranging from lithography to etching, silkscreen, woodblock, and so on.

For Taro, art was synonymous with life and living, which he expressed over his lifetime, and which will be shown in the first ever print exhibition of his work.

Information

Taro Okamoto's Prints

Running: February 26, 2020 – June 28, 2020

Opening Hours: 10:00-18:00

LOcation: Taro Okamoto Memorial Museum (6-1-19 Minamiaoyama, Minato City, Tokyo)

Access: 8-minutes on foot from Omotesando Station (via the Ginza Line, Chiyoda Line, or Hanzomon Line)

Price: General ¥650 / Elementary School Children ¥300

Official Website: http://www.taro-okamoto.or.jp/en/

Exhibition Page: http://www.taro-okamoto.or.jp/en/exhibition/next.html

Starbucks Reserve®︎ Roastery Tokyo to Release Cherry Blossom Spring Drinks and Merchandise

Starbucks Reserve®︎ Roastery Tokyo boasts the most incredible location, sitting by the side of Nakameguro, one of Tokyo's most famous spots for seeing the cherry blossoms in spring.

This year, the coffee roastery's "Sakura Season" is set to begin on February 15, when its cherry blossom-inspired merchandise collection is released, along with a line-up of pink beverages and food.

The official Starbucks sakura merchandise ranges from tumblers and mugs to a key ring, handkerchief, and more, for a total of 10 items.

Strawberry Chia Oolong – ¥900

Poppun Sakura Jasmine Tea – ¥950

Floating Blossom – ¥900

Six beautiful beverages from last year's Sakura Season at Starbucks are also making a return from the Teavana™️ brand, made with delicate and soft cherries, hibiscus, and tea leaves as refreshing as green grass.

Clockwise From Left: Gianchetti & Sakura – ¥880 / Mini Panettone Sakura – ¥680 / Cornetti Sakura – ¥380 / Maritozzo Sakura – ¥540

Italian bakery Princi®︎ is also heading to Japan for the first time to serve up Italian food culture to people at Starbucks Reserve®︎ Roastery Tokyo. Enjoy the floral taste of cherry blossoms done in a Princi®︎ way.

Heading to Tokyo for Hanami and the cherry blossoms? Then make a stop at Starbucks Reserve®︎ Roastery Tokyo for this year's Sakura Season.

Information

Starbucks Reserve®︎ Roastery Tokyo Sakura Season

Release Date: February 15, 2020

Location: Starbucks Reserve®︎ Roastery Tokyo

*The Princi®︎ products will also be served at the Starbucks Reserve®︎ Store at Ginza Maronie-dori

Official Website: https://www.starbucks.co.jp/press_release/pr2020-3360.php

IKEA Harajuku to Open in April 2020 as IKEA Japan's First Central Tokyo Branch

IKEA Japan has announced the opening of its first central Tokyo branch. Located inside WITH HARAJUKU, and just a 1-minute walk from Harajuku Station, the store will officially open its doors on April 25, 2020.

Harajuku is the hub of Japanese youth fashion culture, and is known the world over as one of the main tourist spots for those travelling to Tokyo. IKEA is taking its Swedish roots and planting them in the ground of central Tokyo with its spacious new storeーwhich will also have its own cafe.

If you're travelling to Tokyo, make sure to pay IKEA Harajuku a visit during your inevitable Harajuku shopping spree.

Information

IKEA Harajuku

Address: WITH HARAJUKU, 1-14-30 Jingumae, Shibuya, Tokyo

Grand Opening: April 25, 2020

Access: 1-minute on foot from Harajuku Station via JR Line / 1-minute on foot from Meiji-Jingumae Station via Tokyo Metro

IKEA Japan Official Website: https://www.ikea.com/jp/en/

5 Must-Eat Cherry Blossom Foods & Desserts at Hotels in Tokyo

We're keeping the cherry blossom theme running here on MOSHI MOSHI NIPPON as we approach spring. Today, we're showcasing something for those planning a trip to Tokyo for the cherry blossom and Hanami season: 5 must-try cherry blossom foods and desserts served at hotels across Tokyo.

Sakura Strawberry Afternoon Tea at InterContinental Tokyo Strings


Sakura Strawberry Afternoon Tea – ¥4,800

The fraisier is a strawberry cake said to represent the coming of spring in France. At Rhythmos, a cafe and bar at InterContinental Tokyo Strings, it's served in a glass so you can see all the delicious insides, from the round-sliced strawberries to the beautiful green pistachio mousseline cream. The pure white crémet d'Anjou has a fluffy texture and is mixed with refreshing and sour strawberry and raspberry sauce which elevates the flavour of the fromage blanc.

Other treats to pick from include the cherry blossom ganache tart which has a faint cherry blossom fragrance, cherry blossom and strawberry cream-stuffed macarons, strawberry daifuku, and more―all with spring flavours and colours.

The savoury line-up too offers some elegant and unique items. There's the sandwich wraps which include cherry blossom leaf-topped grilled chicken with a lining of shredded dried plum, strawberry ceviche with grilled scallops, and much more.

▶︎Sakura Strawberry Afternoon Tea

Running: March 1, 2020 to April 30, 2020

Location: Rhythmos Café and Bar (InterContinental Tokyo Strings)

Time: 14:00-18:00 (Last Orders 16:30)

Price: ¥4,800 per person

Official Website: https://intercontinental-strings.jp/?updatelang=yes

InterContinental Tokyo Strings

Address: 2-16-1 Konan, Minato Ward, Tokyo

Official Website: https://intercontinental-strings.jp/?updatelang=yes

For more details, check out our previous article here: Cherry Blossom Themed Menu to be Served at InterContinental Tokyo Strings in Spring 2020

Cherry Blossom Afternoon Tea at Hotel Chinzaso Tokyo


Cherry Blossom Afternoon Tea

On the top plate is a collection of four pink and white desserts. This includes some tempting macarons which are filled with a cherry blossom ganache. The macarons themselves are vanilla flavoured, packed with cherry blossom cream, and have prints of delicate cherry blossom flowers on them.

On the lower tier are crunchy pie sandwiches filled with a cream cheese that is laced with cherry blossom leaves, while the bottom tier is an assortment that includes refreshing shrimp, grapefruit and asparagus sandwiches, and more.

▼Cherry Blossom Afternoon Tea

Running: February 17, 2020 – April 12, 2020
Time: 12:00-18:00
*On weekdays between January 6, 2020 to February 28, 2020, the afternoon tea will be served from 14:30-18:00 due to the holding of the sweets buffet
Location: Le Jardin at Hotel Chinzaso Tokyo
Prices: Cherry Blossom Afternoon Tea ¥4,000 / With Welcome Drink ¥4,500

Hotel Chinzaso Tokyo

Address: 2-10-8 Sekiguchi, Bunkyo Ward, Tokyo

Official Website (English): https://www.hotel-chinzanso-tokyo.com/

For more details, check out our previous article here: Cherry Blossom Afternoon Tea in Japan: Hotel Chinzaso Tokyo's Beautiful Floral Menu

Sakura Picnic Basket at Grand Hyatt Tokyo's Steak House "The Oak Door"


Sakura Picnic Basket – ¥5,500

The Oak Door is noted for its use of high quality ingredients prepared in a dynamic way. This spring, they have the perfect pick to give you that feeling that the Japanese Hanami season is here with a cherry blossom picnic basket. This stylish selection has the lot: food, dessert, glasses, and cutlery. The burgers bear pink buns which are stuffed with prime beef patties, pastrami beef, and veg. They also have skewered vegetables too like radishes. Seeking that springtime sensation? Then order your very own Sakura Picnic Basket!

▼Sakura Picnic Basket at Grand Hyatt Tokyo's Steak House "The Oak Door"

Running: March 1, 2020 – Mid April 2020
Time: 9:00〜22:00

Price: ¥5,500

Location: The Oak Door (Grand Hyatt Tokyo Floor 6F)

Grand Hyatt Tokyo

Address: 6-10-3 Roppongi, Minato, Tokyo

Official Website (English): https://www.hyatt.com/en-US/hotel/japan/grand-hyatt-tokyo/tyogh/offers

Gorgeous Springtime Cherry Blossom Set at Keio Plaza Hotel

At eight of Keio Plaza Hotel's restaurantsーwhose menus span traditional Japanese dishes, French food, Chinese cuisineーthey are cooking up their own unique cherry blossom servings.


"Kadode" Lunch & Dinner – ¥15,500 @ Soujuan

A traditional kaiseki-style Japanese course consisting of a bounty of luxury ingredients like Japanese Black wagyu beef, caviar, and more.


"contente" French Lunch – ¥9,000 @ Duo Fourchettes

You need only look at the dishes served at Duo Fourchettes to understand the level of quality and beauty that goes into their dishes. This French lunch line-up is packed with plenty of seasonal spring ingredients, and there's even a succulent strawberry-packed dessert to indulge in.

▼Gorgeous Springtime Cherry Blossom Set at Keio Plaza Hotel

Running: March 1, 2020 – April 30, 2020
Prices:
"Kadode" Lunch & Dinner – ¥15,500 @ Soujuan
"contente" French Lunch – ¥9,000 @ Duo Fourchettes

Keio Plaza Hotel
Address: 2-2-1 Nishi-Shinjuku, Shinjuku, Tokyo

Official Website (English): https://www.keioplaza.com/

Spring Sakura Sweets & Pastries at Grand Nikko Tokyo Daiba

At the "Bakery & Pastry Shop," which is managed directly by the hotel, they have a beautiful choice of desserts perfect for Hanami flower-viewing.


Sakura Opera – ¥610

This three-layered cake is made up of matcha joconde biscuit, adzuki and cherry blossom butter cream, and strawberry jelly. It's also topped with white chocolate by French premium chocolate company Valrhona.


Spring Milk Cream – ¥320

The pastry of these eclairs are made with plenty of milk and are filled with a homemade cherry blossom milk cream. The cherry blossom petals on top are pickled in salt to give a slight salty bite, contrasting deliciously with the sweetness of the cream.

▼Spring Sakura Sweets & Pastries at Grand Nikko Tokyo Daiba

Running: March 1, 2020 – April 30, 2020
Time: 10:00-20:00
Location: Bakery & Pastry Shop at Grand Nikko Tokyo Daiba
Prices:
Sakura Opera – ¥610
Spring Milk Cream – ¥320

Grand Nikko Tokyo Daiba
Address: 2-6-1 Daiba, Minato Ward, Tokyo
Official Website (English): https://www.tokyo.grandnikko.com/eng/

Which of these picks has your mouth watering the most? If you're travelling to Tokyo for the springtime cherry blossoms, why not book at one of these hotels and start your trip with a delicious sakura treat?

Take a Plunge at Natural Hot Spring Heiwajima Near Haneda Airport

When it comes to recommending things to do when travelling to Japan, one of the biggest attractions for tourists is the country's "onsen," or hot springs. If you're landing into Haneda Airport, or happen to be around that area when exploring Tokyo, then we can't recommend Natural Hot Spring Heiwajima enough.

Located inside BIG FUN Heiwajima, this hot spring facility commemorated its 30th anniversary last year, and underwent a revamp before reopening on March 28, 2019. There actually aren't that many large-scale hot spring spots in Tokyo, so to have one so close to Haneda Airport makes it the perfect location for your sightseeing and must-visit agenda.

Direct shuttle bus from Haneda Airport and equipped with suitcase lockers

A shuttle bus runs directly from Haneda Airport to Natural Hot Spring Heiwajima which takes just 15-minutes and can be boarded in the early morning and late at night. Additionally, the hot spring facility is also equipped with suitcase lockers if you have heavy luggage with you. It also has a lounge you can relax in, and the entire building has free Wi-Fi. Hotel check-ins are generally from 15:00. If you arrive early in the morning, you can take a dip and relax in a nice warm onsen to unwind before heading to your hotel.

Bus Details: https://www.heiwajima-onsen.jp/en/bus/

You can enter the hot springs with a tattoo seal

When going to an onsen in Japan, many places forbid entering if you have a tattoo, no matter how small. Some places let you cover them up before entering, and Natural Hot Spring Heiwajima is one of those places. You can purchase a tattoo seal for ¥200 (10cm x 15cm) to cover your tattoo, and then you're free to enter and enjoy your toasty bathe.

One of Tokyo's best natural hot springs

Heiwajima Hot Springs is one of the largest hot spring facilities in Tokyo, with 150 tons of hot spring water bubbling up from 2000 meters underground every day. The water leaves your skin smooth and moisturised.

Experience the spacious Viewing Spa (6:00 am – 2:30 am the following day)

The Viewing Spa is open late until 2:30am everyday, where guests can plunge themselves into the thermal water bath or sit in the hot stone bath. We recommend the stone bath for those who aren't good with super hot saunas as it's set at a comfortable temperature. There is also a highly-carbonated bath which helps open small blood vessels and promotes good blood flow which helps boost metabolism. Carbonated water is also said to beauty the skin and restore moisture.

Enjoy a variety of baths at the Shining Spa (9:30 am – 6:00 am the following day)

The Shining Spa is home to a variety of different baths including a hydro-jet Jacuzzi-style, reclining-style, and more. The one I personally enjoyed the most was the Micro Bubble Togoal Bath which wraps your body in delicate bubbles and smooth-like hot water. You feel really refreshed afterwards.

Get comfy in one of the relaxation areas

Natural Hot Spring Heiwajima offers plenty of relaxation spaces after your bath, including a restaurant, a lounge with a TV and reclining chairs, and more. They even give you a towel blanket in the lounge, so I ended up dozing off. There's a female-only lounge space too.

This is just a small look at the many services offered at Natural Hot Spring Heiwajima. Visit their website for more information, and be sure to pay it a visit when travelling via Haneda Airport to relax after your long flight.

Information

Natural Hot Spring Heiwajima

Address: BIG FUN Heiwajima (Floor 2F), 1-1-1- Heiwajima, Ota Ward, Tokyo

Open: 24 hours a day all year

Bathing Hours:

Hot Springs @ 9:30 am – 6:00 am the following day

Viewing Spa @ 6:00 am – 2:30 am the following day

Hot Stone Bath @ 10:00-23:00

Full Relaxation Price Plan

Adults: Weekdays ¥2,000 / Weekends & Holidays ¥2,300

Children: Everyday ¥1,000 (From 3 years old to elementary school-age) 

Infants: Everyday ¥300 (Under 3 years old)

*Covers 7 hours allotted time and includes spa wear and towel

Additional Fees

Midnight Fee: ¥1,500 (Adults/Children) from 2:00 am – 5:00 am

Hot Stone Spa Fee: ¥500 (Adults) *Includes towel, spa wear, and hot drink

Full Price List: https://www.heiwajima-onsen.jp/en/price/

Access – By ¥100 Shuttle Bus

①Take the bus for Heiwajima Natural Hot Springs departing from the #6 bus stop at the East Exit of JR Omori Station. (about a 10-minute ride)

②Take the bus for Heiwajima Natural Hot Springs departing from Keikyu Heiwajima Station. (about a 3-minute ride)

Additional Methods: https://www.heiwajima-onsen.jp/en/access/

Official Website: https://www.heiwajima-onsen.jp/en/

Tokyo's GINZA SIX Reveals Colourful Spring Dessert Line-Up

GINZA SIXーthe largest shopping complex in Ginzaーhas unveiled some of the incredible desserts arriving for this spring only.

Ginza is famous for its host of restaurants which serve up gorgeously gourmet food throughout the four seasons, and so you can expect GINZA SIX's line-up to be something special. Let's take a look.

Strawberry Sweet Afternoon Tea – ¥4,200 (Before Tax) @ THE GRAND GINZA

"Shun'un" pecial Make Maruto Parfait – ¥2,300 (Before Tax) @ Nakamura Tokichi Honten Ginza

Strawberry Mix Candy – ¥593 (Before Tax) @ Candy Art Museum by PAPABUBBLE

The line-up of delectable treats at GINZA SIX won't just satisfy your sweet tooth, but your eyes too due to their delightful appearanceーlike the strawberry and roses littered afternoon tea, or the strawberry candy which is made using only the best available strawberries. The shops and restaurants at GINZA SIX have ensured to prepare sweets that will bring spring to mind Japanese springtime and the pink cherry blossoms.

Matcha Ganache – ¥1,800 (Before Tax) @ Tsujiri

Matcha & Tamba Azuki Bean Cake – ¥2,600 (Before Tax) @ Marlowe

Kurozu Vinegar Raw Chocolate – ¥1,500 (Before Tax) @ Shoubunsu Vinegar Brewery

Other tantalising treats include more Japanese-tasting selections, like cookies injected with a rich matcha ganache, raw chocolate doused with kurozu vinegar, gluten-free pound cake made with freshly-made Uji matcha, and more.

Of course, since this is a spring line-up, there are flowery fusions to find too, like candy topped with edible flowers and rose flavoured frozen fruit bars.

Rose & Raspberry – ¥520 (Before Tax) @ PALETAS

Spring Edible Flower Lollipops – ¥555 (Before Tax) @ Candy Art Museum by PAPABUBBLE

Aya Farm Saku Mango Selection – ¥3,800 (Before Tax) @ Aya Farm

If you're in Tokyo for spring, the cherry blossoms and hanami, then be sure to stop by GINZA SIX to indulge yourself this season.

Information

GINZA SIX

Address: 6-10-1 Ginza, Chuo Ward, Tokyo

Opening Hours: Shops/Cafes (B2F-5F) 10:30-20:30 / Restaurants (6F, 13F) 11:00-23:00

*Business hours differ from shop to shop.

No Fixed Holidays (But shops and restaurants will be closed on January 1, 2020)

Access: Directly connected to Ginza Station via the Tokyo Metro Ginza Line, Marunouchi Line and Hibiya Line.

TEL: 03-6891-3390

Official Website: http://ginza6.tokyo/

Witness Tokyo's Breathtaking Milky Way Through The Eyes of History's Famous Artists and Authors

Have you ever wanted to see the Milky Way from Tokyo? The KONICA MINOLTA PLANETARIA TOKYO located in YURAKUCHO MULLION launched a new planetarium experience called TOKYO MILKY WAY (東京の天の川を忘れない) on January 31, 2020. The program explores beautiful and nostalgic views of the Milky Way weaved with the famous works of three poets and artists who lived from the Meiji era to the Taishō era. 

Kenji Miyazawa, Chūya Nakahara and Yumeji Takehisa contributed greatly to Japan's rich cultural history. During their time, they were able to witness the overwhelming beauty of the Milky Way with just the naked eye. To express the Milky Way's captivating beauty and mysterious charm, they spent their days writing novels and poems and painting. Their works are still highly admired to this day. The planetarium art experience aims to trigger nostalgia for the beautiful starry sky that has been covered up by light pollution for more than half a century. When the lights in the street are turned off, the dome glows with the beauty of the milky way. 


Famous writer, entertainer and comedian Naoki Matayoshi, who won Japan's prestigious literary award the Akutagawa Prize, is in charge of the narration for the program. Furthermore, Ringo Sheena's song Marunouchi Sadistic (EXPO Ver.) is being used as the background music. The program has also been translated into multiple different languages. To find out more, please visit the planetarium's website. 

This program offers the wonderful opportunity to experience the feelings of history's greatest literary masters and creative artists when they looked up to the Milky Way more than half a century ago. 

Japan's First Muslim Eyelash Extension Salon 'Crazy Beauty' Opens in Shibuya

Japanese eyelash extension salon Crazy Beauty has announced its efforts to strengthen its services to cater towards its increasing number of Muslim customers. The salon released a new list of policies in English including using no pork-derived ingredients in its glue, a comment about the alcohol level of its glue, and more.

"Muslim Welcome" is the name of this new initiative launched by Crazy Beauty with support from the Made in Japan Halal Support Committee.

Prayer Space

Crazy Beauty provides prayer mats and has a space for its Muslim clients to pray.

Consideration For Muslim Customers

Since Muslims are not able to use products with alcohol in them, Crazy Beauty provides Halal-certified Clean Shu! Shu! Neo, which has alkali ions in it that kills bacteria, and it also cleans and smells since. Crazy Beauty also uses MOMA Water, officially recognised by JAKIM in Malaysia. Customers can also enjoy Halal-certified tea after their session.

Muslim Welcome Eyelash Policies

・Our salon uses medical grade glue that does not contain pork-derived ingredients.

・The medical-grade glue used in our salon contains a small amount of alcohol.

・A spare space can be used for prayer purposes.

・Prayer mats are available upon request.

Source: https://crazybeauty.jp/en

If you're a Muslim and looking to experience Japan's beauty scene, then be sure to check out Crazy Beauty to see everything they have to offer.

Information

Crazy Beauty

Address: 906 Dogenzaka Square, 5-18 Maruyamacho, Shibuya, Tokyo

Reception Times: Last Phone Booking 21:00 (Until 19:00 on Sundays and Public Holidays)

No Fixed Holidays (Open during festival seasons)

TEL: 03-6416-1726

Official Website: https://crazybeauty.jp/en