Matcha Desserts in Sapporo You Just Have To Try
We've previously covered the best spots to try delicious matcha desserts in Kyoto. Now, with the help of expert dessert Instagrammer Kei, we are going to introduce you to some of the most delicious spots to try matcha desserts in Sapporo, Hokkaido.
If you want to discover more delicious cafés, desserts and drinks in Hokkaido, make sure to check out Kei's Instagram (@607keih).
KotoniSand, Nishi Ward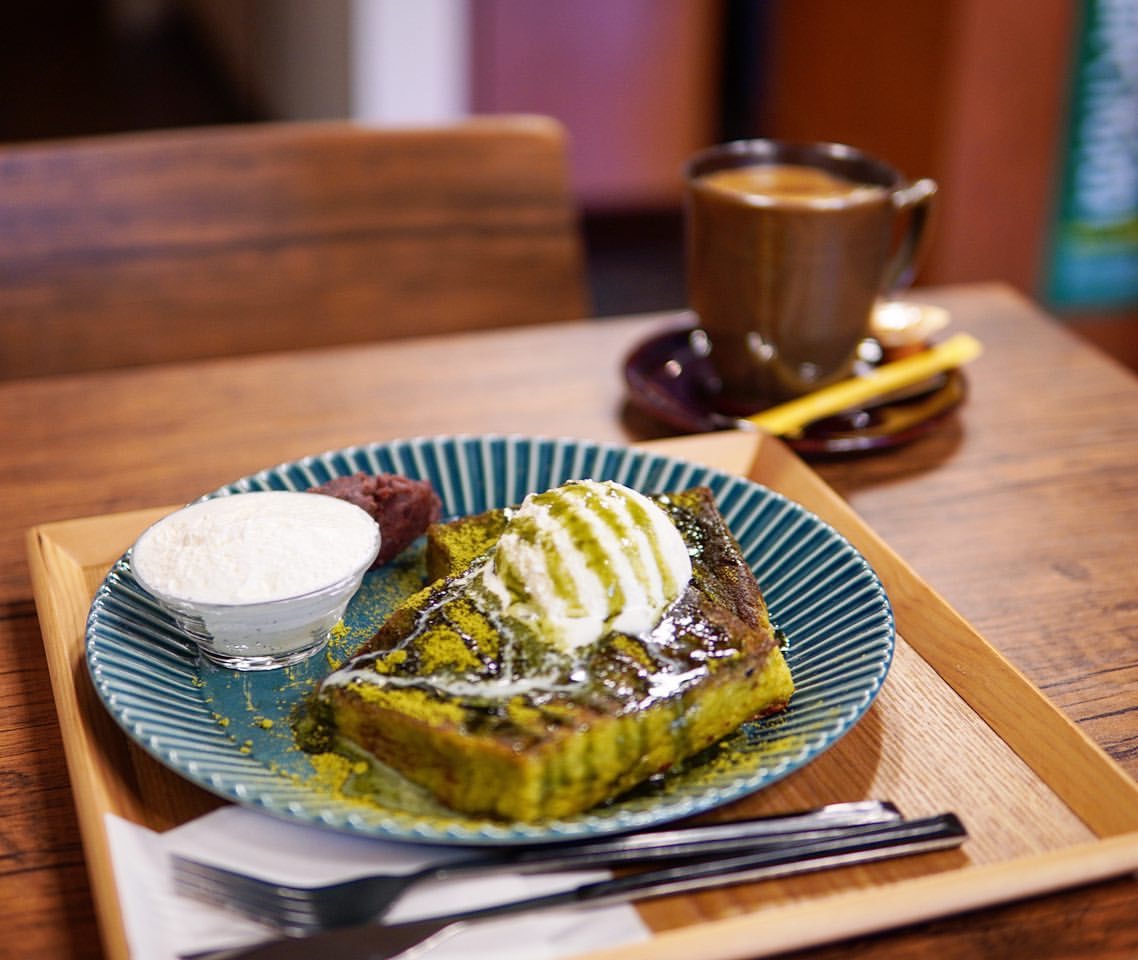 Macchan French Toast: ¥1200
 From dinners to desserts, this café serves up lots of meals based on their delicious thick-sliced bread. Bread flavours include plain, matcha and even coffee. You can order to go or enjoy the eat-in-limited menu. This fluffy french toast is soaked in matcha liqueur and is full of flavour even before trying it with the toppings. Take a bite of it with the red bean paste for a flavour adventure. A limited number of these are sold per day so if you want to try it, make sure to get there early. 
▼KotoniSand
Address: 1-1-1 Yamanote 5 Jō, Nishi-ku, Sapporo, Hokkaido
Opening Hours: 11:00-18:00
Closed: Tuesdays
Official Website: https://kotonisand.business.site
Ame no hi to yuki no hi, Minami Ward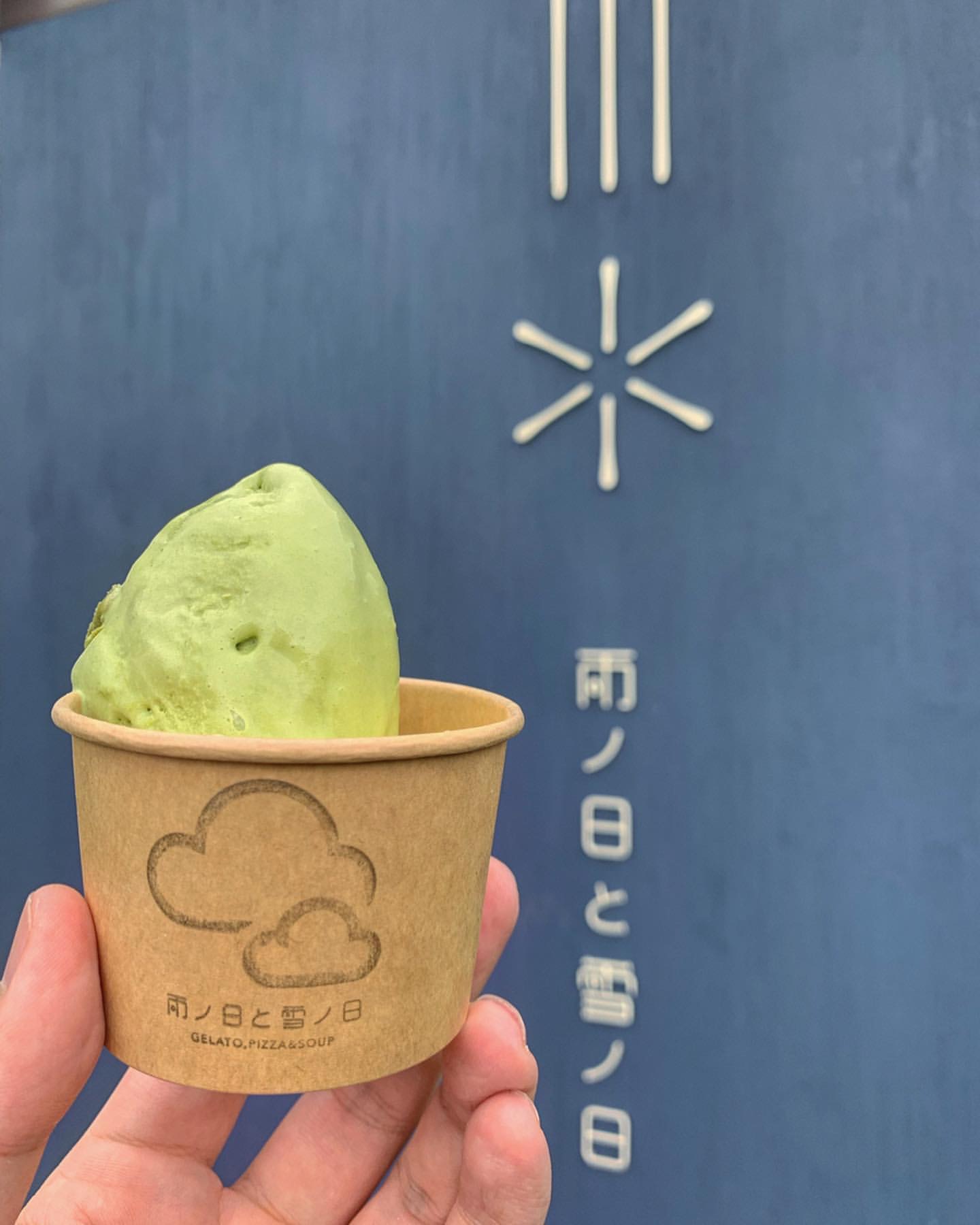 Gelato Futatsu: ¥450
Located before Jozankei's onsen hotspot is a café called Ame no hi yuki no hi. It serves delicious pizzas and a variety of gelato flavours depending on the season. Their matcha ice cream is delicious. They even allow you to order two or three flavours at once so you can enjoy a mix and match of combinations.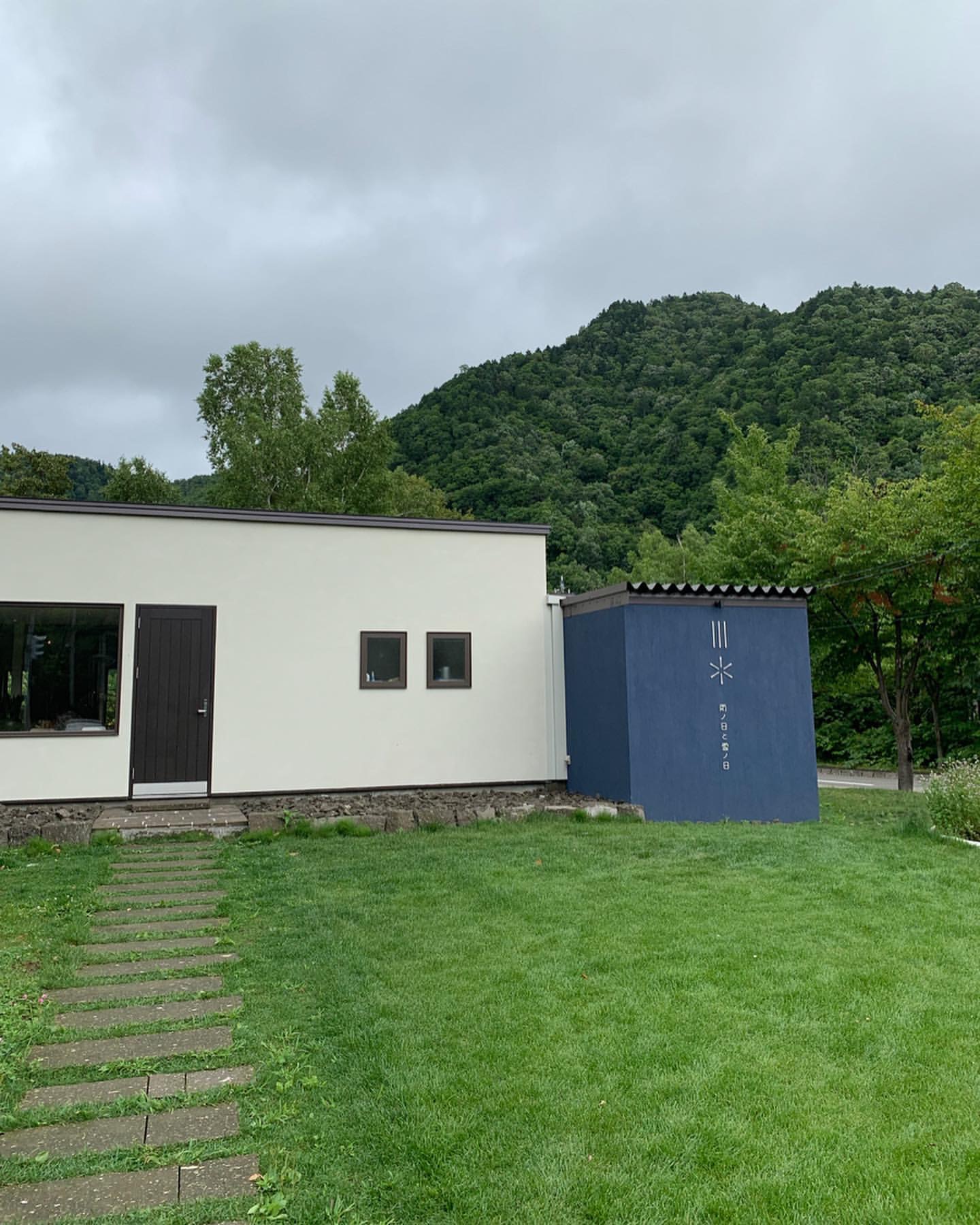 ▼Ame no hi to yuki no hi
Address: 2-4-1, Jozankeionsennishi, Minami Ward, Sapporo, Hokkaido 
Opening Hours: 10:00-17:30
Closed: Thursdays
Official Website: https://www.amenohitoyukinohi.com
KANON pancakes, Shiroishi Ward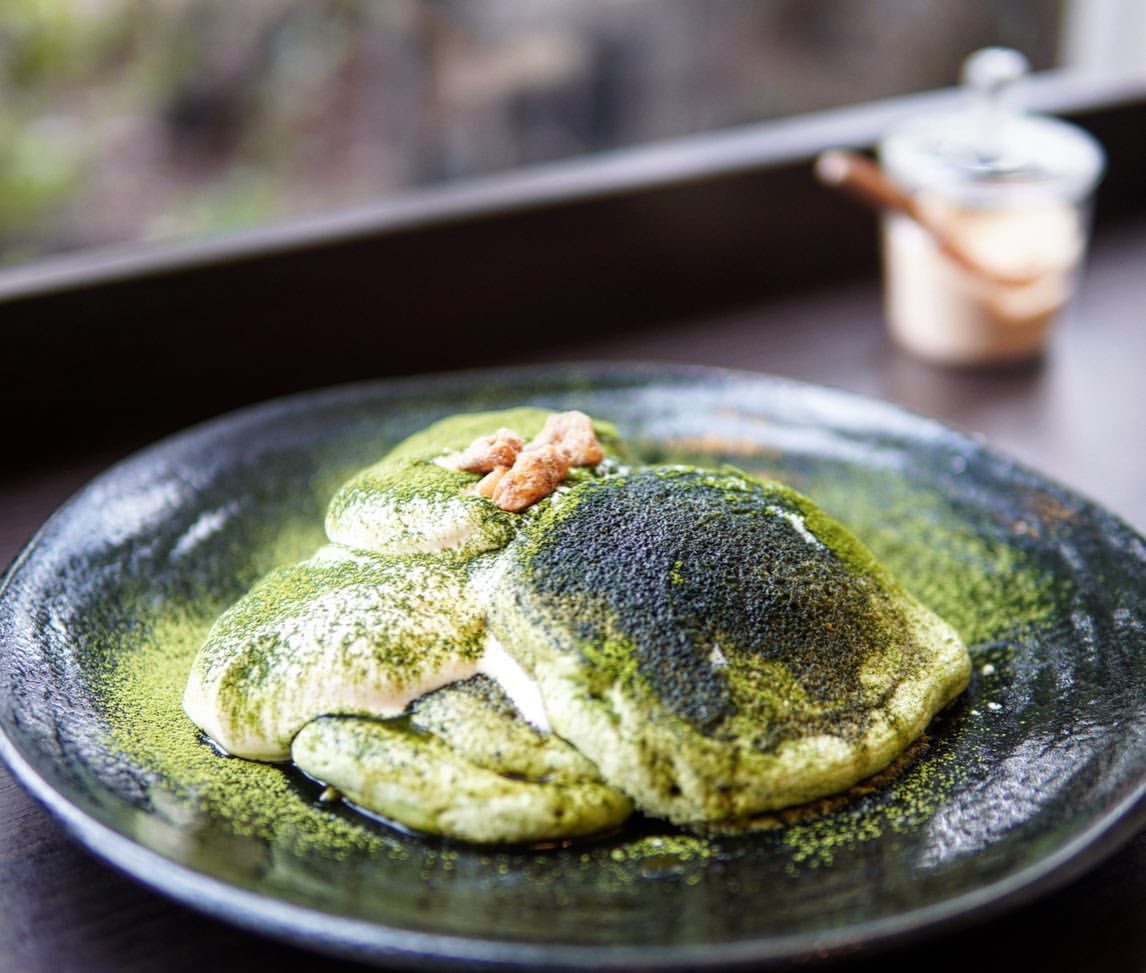 Matcha Tiramisu Pancake: ¥1500
This is a famous pancake shop in Kikusui. Tuck into a stack of fluffy pancakes inside the relaxing and soothing restaurant. The Matcha Tiramisu Pancakes are soaked with liqueur, creating a texture that is softer and moister than their standard pancakes. In addition to the matcha liqueur, the pancake is also dusted with matcha powder for a richer matcha flavour. Finally, they are drizzled with delicious brown sugar syrup and topped with walnuts.
▼KANON pancakes
Address: 5-5-18 Kikusui 3 Jo, Shiroishi Ward, Sapporo,
Opening Hours: 10:00-17:00 (Last Orders: 16:00)
No Regular Holidays
Official Website: https://kanon-pancakes.com
Any cafe, Kita Ward
Matcha Kintoki: ¥1350
This shop uses gluten-free ingredients in their food. This pancake dish is made using unpolished rice powder, three pieces of Turkish delight, red bean paste, rice flour dumplings, and cream made from Hokkaido-produced mascarpone and fresh cream. The cream is full of the bitter and delicious flavour of matcha, making the pancake sweet and very delicious. 
▼Any cafe
Address: 3-2-24 Kita 18 Jonishi, Kita Ward
Opening Hours: 11:00-18:30 (Last Orders: 18:00)
Closed: Tuesdays
Official Instagram: https://www.instagram.com/any_cafe_sapporo/
If you are looking for delicious matcha desserts in Sapporo, let this article help you decide where to go. When your food cravings kick in, make sure to visit Kei's Instagram which is full of the most delicious meals, drinks and desserts in Hokkaido. 
Original Article Contents and Photos by: Kei (@607keih )
RELATED ENTRIES
Pokémon Cafe and Pikachu Sweets by Pokémon Cafe Reveal New Desserts Including Polteageist Tea Set

Pokémon Cafe and Pikachu Sweets by Pokémon Cafe are releasing a new teatime menu at their respective branches on October 24, 2020.

Pokémon Cafe

Polteageist & Sinistea Tea Party! Fruit Tea Set ~Apple Flavoured~ | ¥1,188 (Tax Included)


Polteageist & Sinistea Tea Party! Fruit Tea Set ~Strawberry Flavoured~ | ¥1,188 (Tax Included)

Pokémon Cafe is serving up two different fruit tea sets based on the Ghost-type Pokémon Polteageist and Sinistea. Customers are free to pour in their desired amount of fruit syrup which changes the colour of the tea. The sets come with a cute cookie too.

Pikachu Sweets by Pokémon Cafe

Left: Polteageist's Tea Party! Fruit Tea ~Mixed Berry Flavour~ / Right: Polteageist's Tea Party! Fruit Tea ~Peach Orange Flavour~ | ¥700 Each (Before Tax)

Pikachu Sweets by Pokémon Cafe is also going to serve up some Polteageist themed fruit teas as well as a selection of desserts like macarons and financier almond cakes which have Pokémon tail and ear designs.

After ordering one of the Polteageist fruit teas, customers can place their cups under the Polteageist tea pot as pictured above and activate the pot to dispense their drink, so it's like Polteageist  really pouring tea for you.

Left: Swirlix Strawberry Macaron | Middle: Pikachu Vanilla Macaron | Right: Galarian Ponyta Pistachio Macaron – ¥500 Each (Before Tax)

Treat yourself to one of the super cute Swirlix, Pikachu, or Ponyta macarons each with designs that tell you instantly which Pokémon they're inspired by.


Polteageist Fruit Tea and & Pikachu Macaron Set

Customers can order a tea and macaron combination set too.

Pikachu Parfaits

Pikachu Glass Parfait Set | ¥1,500 (Before Tax)

An adorable set of Pikachu parfaits, one being caramel banana flavoured and the other chocolate.

Pikachu Tea Party Assortment – Pika Pika Pikavee Set | ¥2,800 (Before Tax)

Another set to share between friends and family, this time with two Pikachu glass desserts as well as Pikachu and Eevee cupcakes.

Pikachu Tea Party Assortment – Ghost Type Set | ¥2,800 (Before Tax)

This set comes with the Pikachu glass desserts as well as Ghost-type Gengar and Litwick mousse cakes.

The Polteageist teapot and Sinistea teacup used at the Pokémon Cafe and Pikachu Sweets by Pokémon Cafe will also be released at Pokémon Center Online in Japan on December 5, 2020.

© 2020 Pokémon.©1995-2020 Nintendo/Creatures Inc./GAME FREAK inc.
Pokémon, ポケットモンスター, and ポケモン are registered trademarks of Nintendo, Creatures Inc., and GAME FREAK inc..

Information

Pokémon Cafe (Nihombashi, Tokyo)
Address: Nihombashi Takashimaya SC East Bldg. 5F, 2-1-2 Nihombashi, Chuo Ward, Tokyo
Business Hours: 10:30-22:00
No Fixed Holidays (Except when Nihombashi Takashimaya SC is closed)
Reservations: https://www.pokemoncenter-online.com/cafe/reservation.html

Pokémon Cafe (Shinsaibashi, Osaka)
Address: Daimaru Shinsaibashi Honkan 9F, 1-7-1 Shinsaibashisuji, Chuo Ward, Osaka, Osaka Prefecture
Business Hours: 10:00-21:30
No Fixed Holidays (Except when Daimaru Shinsaibashi is closed)
Reservations: https://www.pokemoncenter-online.com/cafe/reservation.html

Pikachu Sweets by Pokémon Café 

Address: Sunshine City Alpa Floor 2F, 3-1-2 Higashiikebukuro, Toshima City, Tokyo

Opening Hours: 10:00-20:00
Official Website: https://www.pokemoncenter-online.com/cafe/pikachu_sweets/

*Opening hours subject to change, please check in advance before travelling.

*Food served and duration subject to change without notice.

*Photos are for illustrative purposes only.

*Seat reservations are taken online only – phone reservations not available.

World's First Mario Cafe and Shop Opens at Universal Studios Japan in Osaka

Universal Studios Japan (USJ) announced earlier this month that its new Nintendo-themed area SUPER NINTENDO WORLD will open in spring 2021. While the grand opening of SUPER NINTENDO is still a while away yet, USJ has everyone covered, as the new and first of its kind Mario Cafe & Store officially opened inside the park's Hollywood Area on October 16, 2020.

The cafe and shop is dream come true for fans of the Mario bros as they enter into a world inspired by the video game series with Mario and Luigi and level decorations in every corner. It can be easily spotted thanks to the red and green "M" and "L" letters on the windows symbolising Mario and Luigi as well as the Mario and Luigi hats. Gamers can enjoy this exciting space while they wait for the official opening of SUPER NINTENDO WORLD.

Themed food and merchandise line-up

Decorations are instantly recognisable with Question Blocks and Pipes on the walls, Mario Mushroom-coloured tables, and more.

The food line-up includes dishes, drinks, and desserts like pancake sandwiches made to look like Mario and Luigi's hats, fruit dream soda inspired by the brothers' moustaches, and a selection of original merchandise which reads "WHOSE CAP?" on it like T-shirts and more. You can see more of what's on the menu here.

© Nintendo.

Japan's Elephant Zoo Ichihara Elephant Kingdom to Receive Revamp For Spring 2021

Ichihara Elephant Kingdom is the home to the largest number of elephants in Japan. The zoo has announced major renovations set for completion next spring which will allow for the elephants to live an even more enjoyable life.

Ichihara Elephant Kingdom is located in central Chiba and is home to 12 elephants. It's also home to around 80 other species of animals like red pandas, beavers, capybaras, hippos, and more. The zoo also has a variety of attractions, like the Elephant Ride which sits behinds where the elephants live, and the Elephant Lift where you can ride up and down an elephant trunk. The Head of  Ichihara Elephant Kingdom, Sayuri Sakamoto, served as the writer for the 2005 Japanese drama film Shining Boy & Little Randy. One of the zoo's Asian elephants, Randy, was also a model for the film.

The renovations will introduce a new home for the elephants as the current one is seeing wear over time, as well as a new large-scale pond for the elephants to play in, a playground, and more. The zoo has always ensured a safe distance between visitors and the elephants so people can enjoy watching them will making sure the elephants stay happy. It is now creating new spaces to continue that service.

The water pond the zoo is building for the elephants is called Elephant Splash, and they are launching a crowdfunder on October 27, 2020 to ask for people's help with funding the project. It will allow a new space for the elephants to play which visitors are sure to enjoy too, like seeing the 1- and 2-year-old Ramu and Momoka splashing around.

The crowdfunding project has nine different tiers including tickets to an evening cherry blossom party at the park, a chance to ride the elephants, and more. The campaign will end on January 15, 2021, the same date as Ramu's birthday.

Information

Ichihara Elephant Kingdom

Opening Hours: 10:00-16:00 (Last Entries 15:00)

Access

Car:
About 5 minutes from Ichihara-Tsurumai interchange of Ken-O Expressway

Highway-Bus:
About 65 minutes from Tokyo station,
About 80 minutes from Yokohama station,
About 35 minutes from Haneda airport
to Ichihara-Tsurumai Bus Terminal.
About 5 minutes by our free shuttle bus from Ichihara-Tsurumai Bus Terminal.

Train:
About 10 minutes from Takataki station of Kominato railway by the zoo's free shuttle bus.

Official Website: http://www.zounokuni.com/english/

Fujikawaguchiko Autumn Leaves Festival 2020 Begins This November

The Fujikawaguchiko Tourism Association will host this year's Fujikawaguchiko Autumn Leaves Festival, which will be the 22nd run, to help support the tourism industry in the northern region of Fuji which has seen a great impact as a result of the COVID-19 pandemic.

With much less people travelling to Japan during the pandemic, and the virus having continued for a long time, the Fujikawaguchiko Tourism Association is instead focusing on travellers within the country by hosting various events that can be enjoyed at Fujikawaguchiko.

All the necessary precautions will be taken at this year's festival, including taking people's temperature upon arrival, the mandatory wearing of face masks, alcohol gel being available at the site, and more. This will protects not only the locals but sightseers too, and so cooperation is being asked of everyone visiting.

At this year's festival, visitors can look forward to the popular Momiji Tunnel of maple trees which will be lit up at sunset until 10:00pm. The beautiful autumn colours can be enjoyed with Mount Fuji in the background. There will also be food, souvenirs, and a variety of activities to be enjoyed.

The Momiji Tunnel is an absolute must-see for anyone visiting Yamanashi during autumn and is nothing less than Instagram-worthy.

Information

22nd Fujikawaguchiko Autumn Leaves Festival
Location: Around Lake Kawaguchi
Running: November 7, 2020 – November 29, 2020

Opening Hours: 9:00-19:00 (Light up is from sunset to 22:00)
Access: 25 mins from Kawaguchiko Station by bus (nearest bus stop: Itchiku Kubota Art Museum Stop)
Entry: Free

*Please observe social distancing and government guidelines in relation to COVID-19.

*Fujikawaguchiko is a World Heritage Site and recognised as a place of natural beauty. Please take your trash home with you.

Tokyo Midtown Announces Winter Event 'MIDTOWN WINTER MOMENTS'

Tokyo Midtown has announced that its winter event 'MIDTOWN WINTER MOMENTS' will run from November 19, 2020 to February 28, 2021.

"ANOTHER WORLD" is the concept for this year's rendition of the annual event, which will see new winter illuminations, Christmas decorations, the opening of an ice rink, and plenty of other fun experiences for people to enjoy throughout the entire day, right into the evening.

MIDTOWN WINTER LIGHTS

A highlight of the event will be the "MIDTOWN WINTER LIGHTS," warm illuminations to light fires in hearts during the cold winter season that will create a dazzling spectacle the likes of which cannot be missed.

Path of Light – An Illuminated World

The pedestrian walkway will welcome a strip of gorgeous golden lights affixed to towering trees to guide your way. More golden lights than ever before are being prepared this year to pull visitors into a romantic and dreamy world.

SNOW LIGHT GLOBE – A World of Snow

The SNOW LIGHT GLOBE is a giant 3-meter tall and 4.5-meter wide snow globe inside which glistens sparkling snow, crystals, and aurora. The lights are ever-changing throughout the day, presenting itself differently every time you look at it.

STEP LIGHT – A Colourful World

STEP LIGHT is a fun and interactive illumination display with lights that light up when you step on them, creating a colourful walkway.

Running: November 19, 2020 – February 28, 2021

Time: 17:00-23:00 (Until 24:00 around the plaza)

Location: Midtown Garden

MIDTOWN ICE RINK – A World of Ice

MIDTOWN ICE RINK is something people in Tokyo look forward to every winter. This year, the rink is opening in November. It's one of the biggest ice rinks in Tokyo and provides real ice for people to skate on, welcoming everyone from children and beginners to pros. The rink will be open into the evening too when it will be lit up so people can enjoy a little night skating session.

Running: November 19, 2020 – February 28, 2021
Time: 11:00-21:00 (Last Entries 20:00)

*Opens at 17:00 on November 19 and is closed on January 1

*Opening hours subject to change depending on weather
Location: Tokyo Midtown
Prices:

General (High School Students and older) – Weekdays ¥2,000 / Weekends & Public Holidays ¥2,500

Children (Junior High School Students and younger) Weekdays ¥1,500 / Weekends & Public Holidays ¥2,000

Midtown Christmas Trees

Various Christmas trees will be set up in the Tokyo Midtown garden area, indoors, and elsewhere to set in the holiday season mood.

Running: November 19, 2020 – December 25, 2020

Present Christmas Tree – A World of Fantasy

The Tokyo Midtown garden will welcome a mysterious kind of Christmas tree for the first time every this year—one which sprouts presents. 25 presents will be grown, and in December one will be given out each day.

Time: 17:00-23:00
Location: Midtown Garden

Santa Tree – A Miniature World


Around 1,800 individual Santa Claus ornaments will make up the 4-meter tall Santa Tree inside the Tokyo Midtown Galleria

Time: 11:00-Midtown
Location: Galleria 1F Tree Shower

Choose! Choose! AR Tree – An Original World

Tokyo Midtown also has something for people to enjoy at home. They can use an app that makes use of AR tech so that a Christmas tree can appear when you go to take a photo which you can decorate with an assortment of ornaments. There's over 1,000 possible combinations. More details about this will be posted on the event website in early November.

Shibuya's L'OCCITANE CAFE Reveals Spooky Parfait For Halloween 2020

L'OCCITANE CAFE Shibuya is getting ready for Halloween with the reveal of its sweet potato and apple parfait which will be served from October 21 to 31. The Tokyo-based cafe is centred on the food culture and lifestyle of Provence in southern France.

Sweet Potato and Apple Parfait | ¥1,280 (Tax Included)

The seasonal treat is a mix of purple sweet potato and regular sweet potato, baked apples, apple sherbet, and vanilla ice, all topped off with whipped cream, roasted nuts, and almond tuile biscuits in the shape of ghosts and a pumpkin.

Information

Sweet Potato and Apple Parfait
Serving: October 21, 2020 – October 31, 2020

L'OCCITANE CAFE Shibuya
Address: 2-3-1 Dogenzaka, Shibuya, Tokyo
Opening Hours:
[Sun-Thur] 11:00~22:00 (Last Orders 21:00)
[Fri-Sat] 11:00-23:00 (Last Orders 22:00)
TEL:03-5428-1563
Access: Straight ahead of Shibuya Station's 5th Exit (Inokashira Exit)
L'OCCITANE Japan Official Website: https://jp.loccitane.com/

My Melody and Kuromi Bubble Tea to be Served at Pearl Lady in Japan

Bubble tea chain Pearl Lady, which is celebrating its 17th anniversary this year, is teaming up with Sanrio for the second time to release two new drinks themed on the popular characters My Melody and Kuromi on October 16, 2020. My Melody and Kuromi are also celebrating their 45th and 15th anniversaries respectively.

Black Lemonade | Strawberry Milk Tea (w/ Novelty) – ¥500 Each (Tax Included)

The two beverages are Sweet Strawberry Milk Tea, which is inspired by the cute My Melody, and Black Lemonade, which is based on her rival Kuromi.

When ordering either of the drinks at Pearl Lady, customers will also get one of 6 possible badges as pictured above. One of the designs is a secret, so you'll need some luck if you want that one.

Gaze at the Starry Sky in a Hot Swimming Pool This Winter at HOSHINOYA Okinawa

HOSHINOYA Okinawa has announced its new "Hoshizora Hot Pool" experience where guests will be able to stay warm in the hotel's warmed-up swimming pool while gazing up at the winter night sky. It will run from December 1, 2020 to February 28, 2020.

Okinawa enjoys a mild winter each year; it's uncommon for the temperature to dip below 15℃. Winter is a time where all of us enjoy being in the warmth of indoors, but in Okinawa you can enjoy being outside even during the cold season. And that's where Hoshizora Hot Pool comes in as the end of the year approaches, a time when there are many events and celebrations to be had.

The outdoor pool at HOSHINOYA Okinawa can be heated and so is perfect during the winter season. Guests are invited to soak in the infinity pool, where you can hear the sounds of the waves, and where it looks like the sea and sky become one. Almost all 88 of the constellations can be seen in Okinawa, and since the sky is clear during the winter nights, it's the opportune time to be turning your gaze skyward.

Glowing lanterns make for a romantic atmosphere

When the sun sets, lanterns are lit by the poolside and breathe a warmth light to the cool evenings. The lights sway back and forth, reflecting off the water to create a magical atmosphere.

Hot cocktails by the pool

Guests will also be able to order from the bar once the lanterns are lit from the evening with a selection of refreshing drinks made with fresh fruits to hot cocktails to warm the body.

Float beneath the starry sky to the sounds of the waves

Guests can enjoy floating in the pool as an endless tapestry of stars unravels itself overhead. The Hoshino Resorts Banta Cafe will be open for business in the evening too. Guests can order some fruity desserts, rent lanterns, and more.

Information

Hoshizora Hot Pool
Address: 474 Gima, Yomitan, Nakagami District, Okinawa
Running: December 1, 2020 – February 28, 2021
Price: Free (Drinks from the bar however must be paid for)

Time: Open 24 hours (But only adults can use the pool after sunset)

Bar Opening Hours: Sunset until 22:00

*Available to HOSHINOYA Okinawa guests only

Irumi Banta
Opening Hours: 19:00-22:00 (Last Orders 21:00

Price: Dessert Set for Two = ¥2,728 (Before Tax)

*Available to guests and non-guests

Official Website: https://hoshinoya.com

Ibaraki Prefecture Announces Official Tours of Mount Tsukuba and Lake Kasumigaura

Ibaraki Prefecture has been promoting the areas of Mount Tsukuba and Lake Kasumigaura with a variety of events and programs since 2018. For 2020, one of the programs the prefecture has announced is 'Mount Tsukuba PLAY 2020' which invites people on a trial tour around Mount Tsukuba and Lake Kasumigaura.

About Mount Tsukuba

Mount Tsukuba is the doorstep to tourism in Ibaraki Prefecture, known for its iconic double peaks which has it listed officially as one of the "100 Most Beautiful Mountains in Japan." The mountain offers 10 different courses for climbers, all of which boast gorgeous views and scenery throughout all four seasons. It also has a famous shrine halfway up the mountain known as Tsukubasan Shrine which is considered the physical enshrinement of the mountain itself. The shrine has long been a place of worship for people.

About Lake Kasumigaura

Lake Kasumigaura is the second-largest lake in Japan after Shiga Prefecture's Lake Biwa. It is loved by locals and tourists for its beautiful natural environment and the expanse of its breathtaking view. It also has its own cycling route, Tsukuba Kasumigaura Ring Ring Road, which is an official National Cycling Route that has become a popular route with cyclists in recent years.

During the autumn season on weekends, the area offers a special long-ride cycling tour as an opportunity for people to soak up the local area, as well as kids programs, concerts for parents and their children, and other activity programs and guide tours. Bookings are now available online.

A Look at Mount Tsukuba PLAY 2020

Mount Tsukuba and Lake Kasumigaura – 2 Day 1 Night Sports Experience Tour

Mount Tsukuba PLAY 2020 is offering a special sports tour for elementary school kids where a guide will take them to climb Mount Tsukuba and canoe around Lake Kasumigaura, amongst other activities.

A Photogenic Tour in the Small Town by the Lake Shore

atacamaki, a 'slow photographer' and resident of Kasumigaura, will be taking photographers on a two day trip around the lake and surrounding area with rental bicycles to teach them how to shoot photos like a pro.

Concert in Tsukuba Forest

A concert will be held for children in the forest where they can lay down on the grass and be at one with nature as they enjoy the performance. The performance will be played by Akashi Yamada, the forest instructor and a singer-songwriter.

Cycling Along the Kokai River and Near Chikusei With Tsukuba Mounta in the Background

A local guide will give parents and children a tour of Tsukuba and all the must-see spots. The 37km cycling tour will offer plenty for people to see and encourages beginners to cycling.

A Long Cycling Tour Around Lake Kasumigaura, Kitaura, and Tsukuba

The program also offers a two-day long distance cycling tour of 100km.

Rilakkuma Book Cafe Themed Afternoon Teas in Osaka Will Serve Bear-Huggingly Kawaii Food

Major bookstores across Japan are rolling out the Rilakkuma Book Fair where fans can get their hands on short Rilakkuma fairy tails, exclusive merchandise, and more.


In line with the event, Fruits Parlor & Bakery Season & Co., a cafe in Umeda, Osaka, is serving up a special menu with the theme "Rilakkuma Book Cafe" from October 30 to November 30. This includes a afternoon teas which also celebrates the cafe's 1st anniversary, more exclusive merchandise, and novelties for customers who order from the Rilakkuma menu.

Rilakkuma Zukin Afternoon Tea | ¥4,000 (Before Tax) *Reservation-only

A special afternoon tea featuring 13 different goodies from desserts to a sandwich, quiche, and more. It comes with a fruit iced tea welcome drink too.

Rilakkuma Yuki Hime Afternoon Tea | ¥4,000 (Before Tax) *Reservation-only

A different afternoon tea that serves up 12 items. This also comes with a fruit iced tea.

Rilakkuma's Honey Apple Smoothie | ¥800 (Before Tax)

A honey apple smoothie topped with refreshing vanilla ice cream, smooth fresh cream, and a Rilakkuma jelly candy.

Rilakkuma's Royal Chocolate Milk Tea | ¥1,200 (Before Tax)

Classic royal milk tea served with chocolate Rilakkumas. Eat on their own or dip into your tea!

The cafe is now taking reservations for the afternoon teas. Bookings must be made two days in advance by telephone or the official website.

Information

Rilakkuma Book Cafe
Running: October 30, 2020 – November 30, 2020
Reservations: https://season-co.shop/rilakkuma2020/

Fruits Parlor & Bakery Season & Co.
Address: LINKS UMEDA 1F, 1-1 Ofukacho, Kita-ku, Osaka
Opening Hours: 9:30-22:00 (Last Orders 21:30)
TEL: 06-6743-4212
Official Website: https://season-co.shop

Demon Slayer Confections Slash Their Way Into Lawson Convenience Stores in Japan

Bandai Candy's character-inspired Japanese confectionery series Tabemas collaborating with the popular TV anime series Demon Slayer: Kimetsu no Yaiba to release two confections themed on the show's main characters Tanjiro Kamado and Nezuko Kamado as well as a collection of tarts. The sweet treats will hit the chilled desserts corner of Lawson convenience stores in Japan on October 20, 2020.

Tabemas x Demon Slayer


Tabemas x Demon Slayer: Kimetsu no Yaiba (Tanjiro Kamado/Nezuko Kamado) – ¥264 Each (Before Tax)

The tarts feature all the little details of the beloved characters, from the scar on Tanjiro's forehead and his earrings to the bamboo pipe in his sister Nezuko's mouth and her hair adornment. It also captures the designs of their clothes. Both are filled with Japanese red bean paste with Tanjiro being chocolate flavoured and Nezuko strawberry flavoured.

Demon Slayer Tarts


Demon Slayer Tarts | ¥231 (Before Tax)

An assortment of biscuit base tarts laced with caramel mousse. The tart designs feature a range of popular characters from the anime series including the Kamado siblings, Zenitsu, Inosuke, Shinobu, and Tomioka.

Demon Slayer: Kimetsu no Yaiba is a manga series by Koyoharu Gotouge serialised in Weekly Shonen Jump. The popular series has over 100 million copies in circulation and spawned a hit anime series last year. The upcoming anime film Demon Slayer: Kimetsu no Yaiba the Movie: Mugen Train, which is being animated by ufotable, is set for release tomorrow on October 16, 2020 will serve as a direct sequel to the 2019 anime series.

©Koyoharu Gotouge/Shueisha・Aniplex・ufotable

Get Lucky in Marriage and Matchmaking This October in Shimane's City of Matsue

Japan's city of Matsue in Shimane Prefecture is wanting to create a new kind of sightseeing and tourist experience that encourages people to stay for a time in the city, and so it has launched the "Re Happy! Campaign."

In the old Japanese calendar, October is known as Kamiarizuki, or 'the month when deities are around.' The Izumo region of the country is known as a place where deities from all across Japan gather, and so October here has been called the one true Kamiarizuki. There are many different kinds of deities, but today we'll be looking at those associated with matchmaking and marriage, and mapping out a route you can take around Matsue to up your luck when it comes to these things.

Shop Name: Ohori to Hakucho


We begin at Ohori to Hakucho, a confectionery shop that sells cute sweet treats and local delicacies, some of which are themed on increasing your luck with marriage ties.

Kounkaku inside Matsu Castle

There are many old and traditional Japanese houses around Matsue Castle which make for Instagram-worthy photos, so find the right spot as you walk around and snap some pictures.

Heart-Shaped ema board


Ema are small wooden plaques strung up at shrines on which people write their wishes. Write one yourself so that the deities can receive your desires.

Tamatsukuri Onsen

After a long stroll of sightseeing, head to the Tamatsukuri Onsen hot spring for a relaxing bathe. It's said that sitting in an onsen hot spring beautifies your skin. Sit back and enjoy the fireworks on the screen while sipping on some high-grade sake.

Matsue is a great place to visit whether on your own or as a couple, with plenty of spots to up your luck with matchmaking and marriage.