Matcha Desserts in Sapporo You Just Have To Try
We've previously covered the best spots to try delicious matcha desserts in Kyoto. Now, with the help of expert dessert Instagrammer Kei, we are going to introduce you to some of the most delicious spots to try matcha desserts in Sapporo, Hokkaido.
If you want to discover more delicious cafés, desserts and drinks in Hokkaido, make sure to check out Kei's Instagram (@607keih).
KotoniSand, Nishi Ward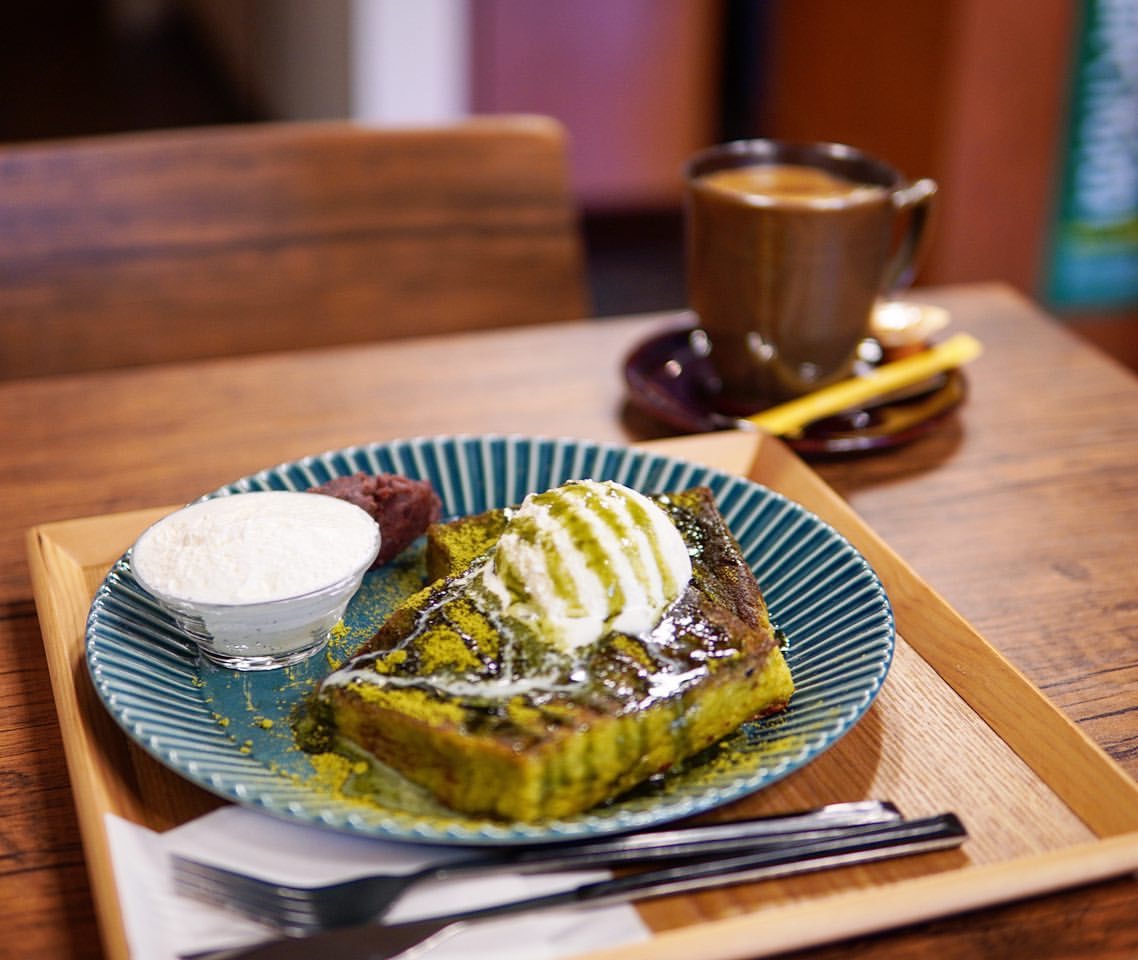 Macchan French Toast: ¥1200
 From dinners to desserts, this café serves up lots of meals based on their delicious thick-sliced bread. Bread flavours include plain, matcha and even coffee. You can order to go or enjoy the eat-in-limited menu. This fluffy french toast is soaked in matcha liqueur and is full of flavour even before trying it with the toppings. Take a bite of it with the red bean paste for a flavour adventure. A limited number of these are sold per day so if you want to try it, make sure to get there early. 
▼KotoniSand
Address: 1-1-1 Yamanote 5 Jō, Nishi-ku, Sapporo, Hokkaido
Opening Hours: 11:00-18:00
Closed: Tuesdays
Official Website: https://kotonisand.business.site
Ame no hi to yuki no hi, Minami Ward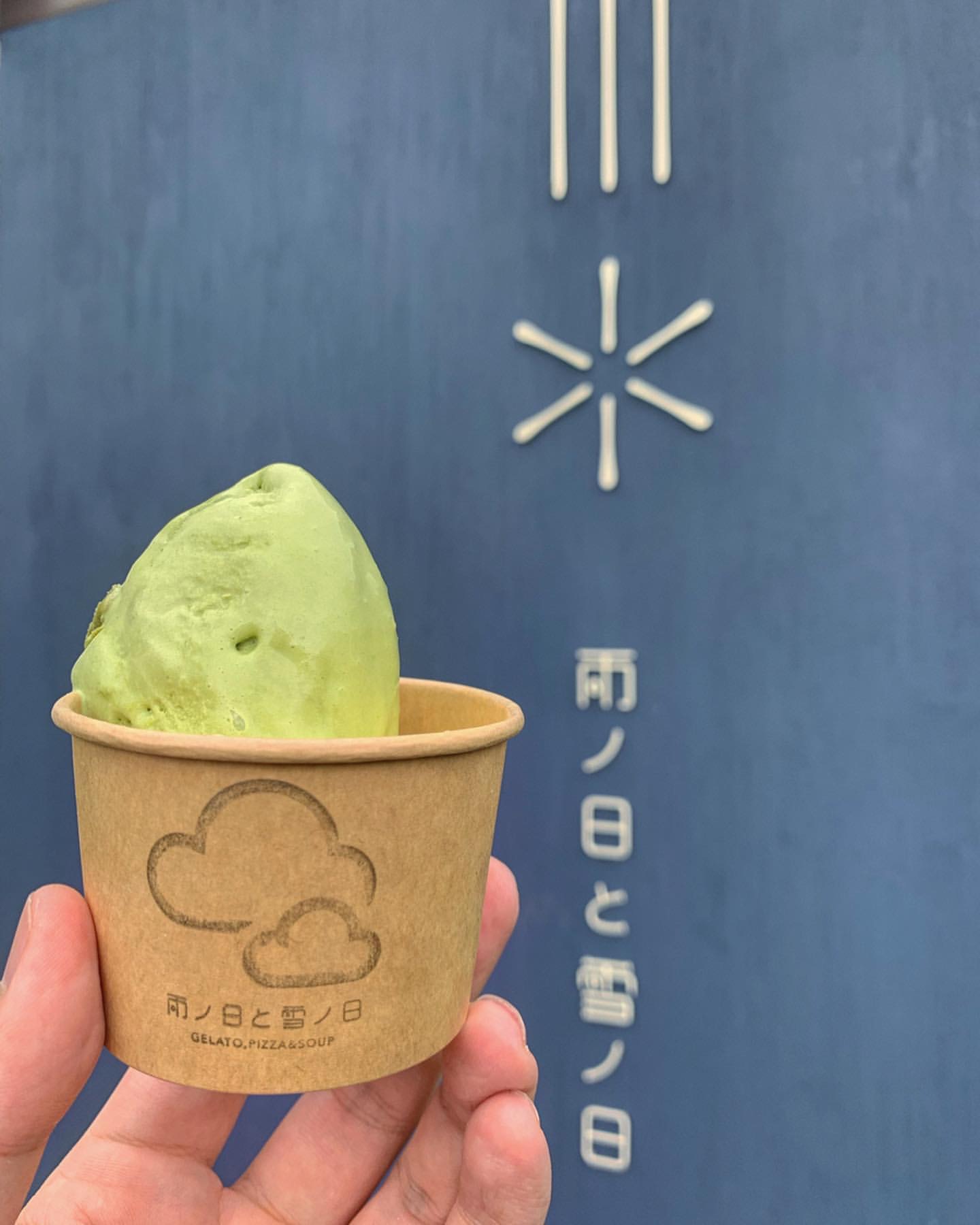 Gelato Futatsu: ¥450
Located before Jozankei's onsen hotspot is a café called Ame no hi yuki no hi. It serves delicious pizzas and a variety of gelato flavours depending on the season. Their matcha ice cream is delicious. They even allow you to order two or three flavours at once so you can enjoy a mix and match of combinations.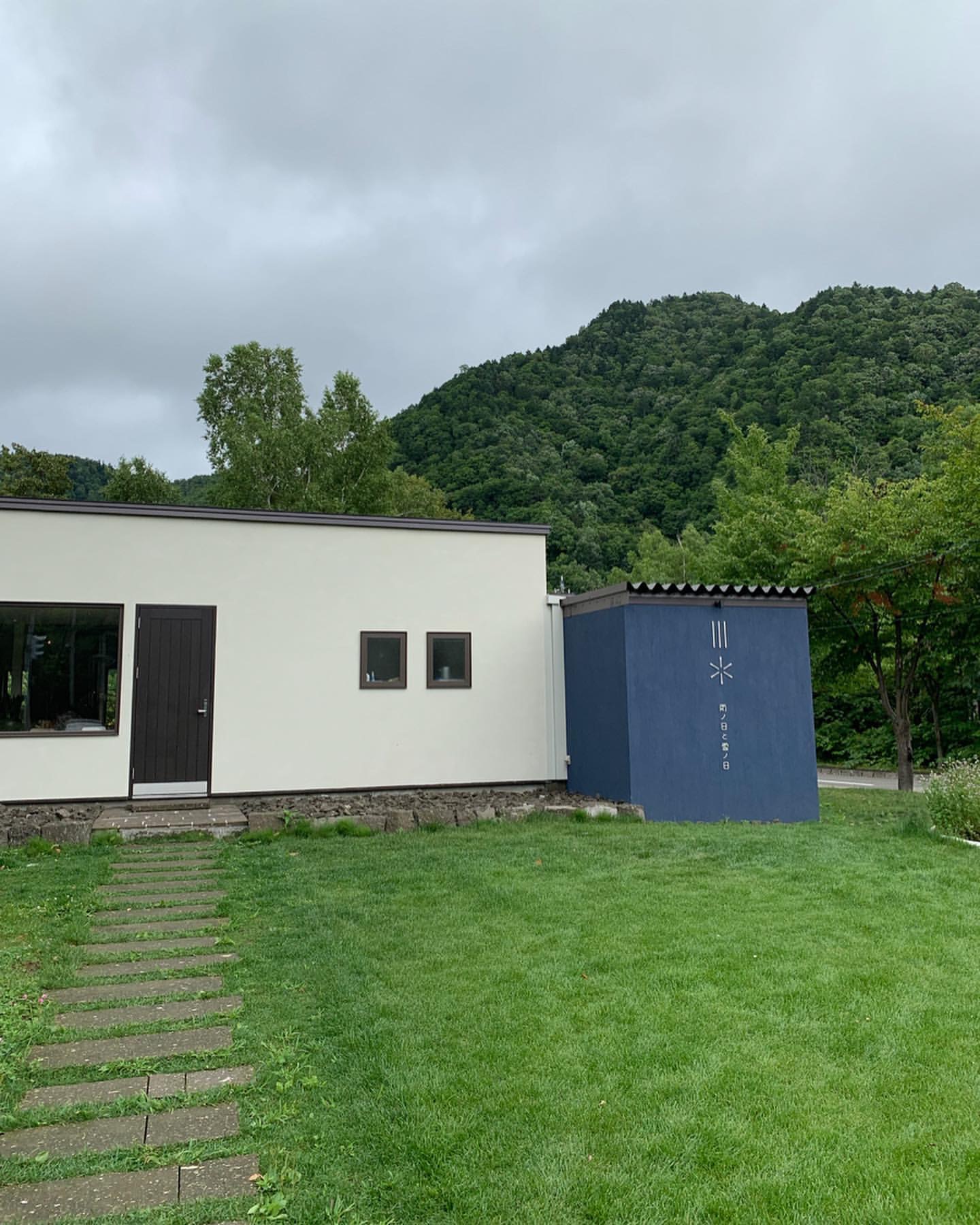 ▼Ame no hi to yuki no hi
Address: 2-4-1, Jozankeionsennishi, Minami Ward, Sapporo, Hokkaido 
Opening Hours: 10:00-17:30
Closed: Thursdays
Official Website: https://www.amenohitoyukinohi.com
KANON pancakes, Shiroishi Ward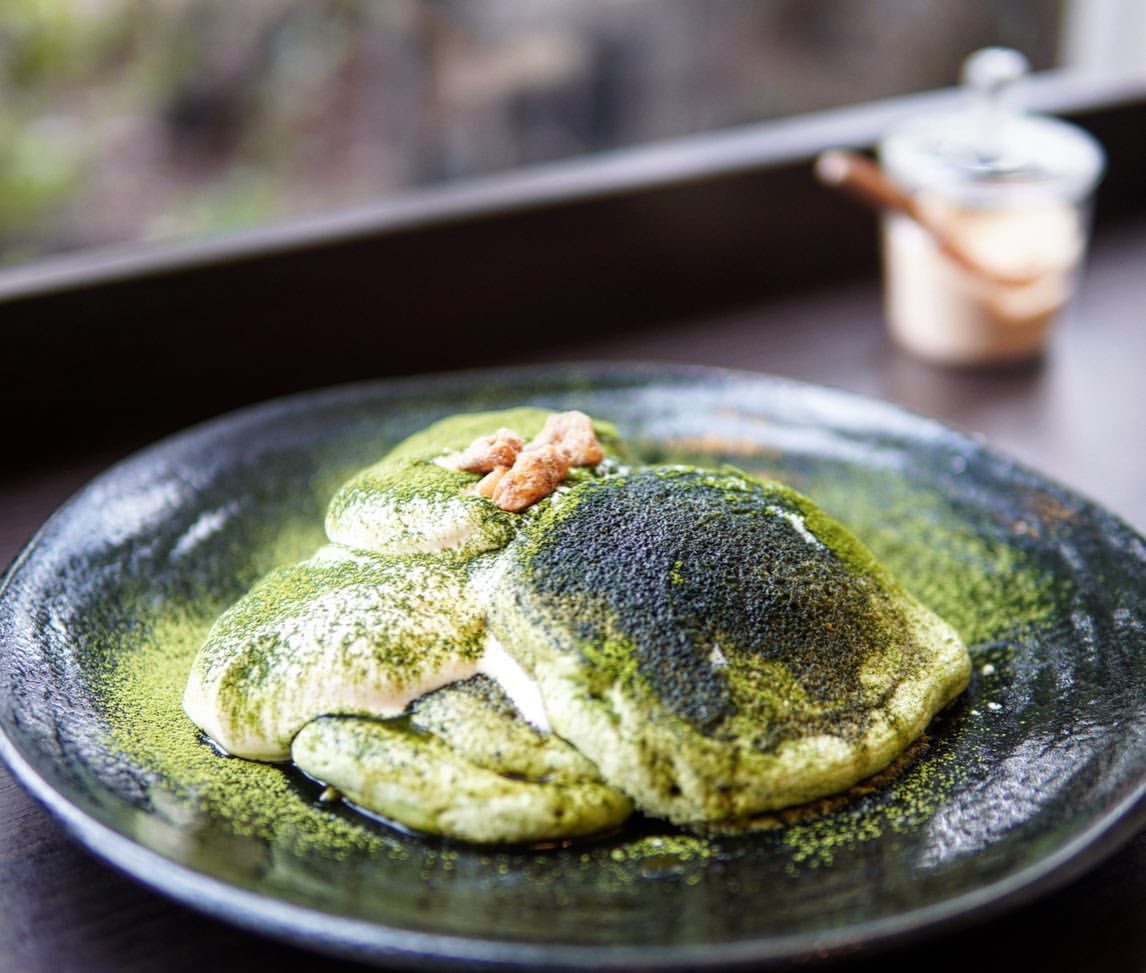 Matcha Tiramisu Pancake: ¥1500
This is a famous pancake shop in Kikusui. Tuck into a stack of fluffy pancakes inside the relaxing and soothing restaurant. The Matcha Tiramisu Pancakes are soaked with liqueur, creating a texture that is softer and moister than their standard pancakes. In addition to the matcha liqueur, the pancake is also dusted with matcha powder for a richer matcha flavour. Finally, they are drizzled with delicious brown sugar syrup and topped with walnuts.
▼KANON pancakes
Address: 5-5-18 Kikusui 3 Jo, Shiroishi Ward, Sapporo,
Opening Hours: 10:00-17:00 (Last Orders: 16:00)
No Regular Holidays
Official Website: https://kanon-pancakes.com
Any cafe, Kita Ward
Matcha Kintoki: ¥1350
This shop uses gluten-free ingredients in their food. This pancake dish is made using unpolished rice powder, three pieces of Turkish delight, red bean paste, rice flour dumplings, and cream made from Hokkaido-produced mascarpone and fresh cream. The cream is full of the bitter and delicious flavour of matcha, making the pancake sweet and very delicious. 
▼Any cafe
Address: 3-2-24 Kita 18 Jonishi, Kita Ward
Opening Hours: 11:00-18:30 (Last Orders: 18:00)
Closed: Tuesdays
Official Instagram: https://www.instagram.com/any_cafe_sapporo/
If you are looking for delicious matcha desserts in Sapporo, let this article help you decide where to go. When your food cravings kick in, make sure to visit Kei's Instagram which is full of the most delicious meals, drinks and desserts in Hokkaido. 
Original Article Contents and Photos by: Kei (@607keih )
RELATED ENTRIES
McCafe by Barista to Offer Cookies & Cream Frappe for Winter Season

McDonald's Japan locations with McCafe by Barista installations will begin selling the Cookies & Cream Frappe for a limited time starting December 8, 2021. The McCafe by Barista corner employs full-time baristas serving 'authentic cafe coffee.' 

McCafe by Barista invites guests to enjoy high-quality frappuccinos and smoothies and these locations are offering three unique Frappes this winter. Following the Strawberry Creme Brulee Frappe and normal Creme Brulee Frappe released in late November, the Cookies & Cream Frappe will release soon, filled with rich vanilla sweetness!

Cookies & Cream Frappe Medium: ¥470 / Large: ¥540 (Tax Included) 

 

The drink is a rich blend of creamy vanilla made from Madagascar Bourbon vanilla beans, blended with crunchy Oreo cookie bits and topped with whipped cream and chocolate sauce. What's not to love?

New Year's Mini-Cakes Available for Preorder from Ginza Cozy Corner

Ginza Cozy Corner, a popular cake store in Tokyo, has started accepting preorders for its beautiful selection of New Years' mini-cake sets, called Sweets Osechi. In Japan, osechi refers to traditional foods eaten on New Years Day, which come in a special box, not unlike a bento box. Of course, they aren't usually packed with sweets, but these look absolutely scrumptious. 

In 2011, Ginza Cozy Corner started the 'First Sweets' tradition to invite people to welcome the new year by enjoying some sweets after finishing the traditional osechi dishes. This is when the idea of Sweets Osechi was born, sure to put a smile on your face going into 2022!

9-piece Sweets Osechi: ¥2,400 (Tax Included) 

12-piece Sweets Osechi: ¥3,000 (Tax Included) 

This year's selection includes tarts featuring the Chinese zodiac sign of the Tiger and the first sunrise of 2022. Each set will come in a special box in a bright red design perfectly exemplifying the holiday spirit!

Information

Sweets Osechi

Preorders Now Open

*Preorders will close as soon as items sell out. 

*Preorders can only be made in-store. Online preorders will not be accepted. 

Official Site: https://www.cozycorner.co.jp/

Model Shibata Saki's Trip to Mie Prefecture to Air on BS12 for 2 Consecutive Weeks

On November 18 and November 25, national free broadcasting service BS12 will air 'NEXT TRIP: A Luxury Resort Trip to Ise and Shima.' The host for the excursion will be popular model Shibata Saki (nicknamed Shibasaki), who is a well-known figure to women of all ages.

NEXT TRIP is a new travel program that helps travelers figure out where to go next. The theme of the series is "Where should I go once the world settles down?" From visiting popular city spots to faraway resorts in Japan and abroad, the show aims to introduce people to locations they haven't discovered yet, showcasing what the world has to offer. Those watching should keep a lookout for spectacular scenery, gourmet local food, outdoor activities, and so much more. 

[Part 1] November 18, 2021, 9:00 – 'NEXT TRIP: A Journey to Ise'

In this episode, Saki Shibata travels to Ise, Mie Prefecture, first visiting Ise Shrine to pay her respects. The shrine is one of the holiest and important sites in the Shinto faith and was said to be established in the year 4 BCE. After visiting the Inner Shrine on a bright and sunny morning, Shibata travels to the ancient Okage Yokocho street to find some souvenirs and enjoy a local cafe to enjoy Ise's famous rice cakes and traditional Japanese sweets. For lunch, she visits a very retro western-style building. At the nearby Ise Ninja Kingdom, guests can wear ninja costumes, and Shibata does just that! As the day comes to an end, Shibata opts to stay at a luxurious ryokan, Ikyuu, and highlights the incredible dinner and other services the lodging offers.

Air Date: November 18, 2021 / 9:00-10:00

[Part 2] November 25, 2021, 9:00 – 'NEXT TRIP: A Luxury Resort Trip to Ise and Shima' 

The second part of the trip begins with cycling. Visiting the famous Married Couple Rocks on the coast of Futami, Shibata sets out for Shima. After enjoying the breathtaking view from the 'Mailbox in the Sky' on the Ise-Shima Skyline, she stays at a resort overlooking the Shima coast. Guests are welcome to take a leisurely stroll around the grounds and enjoy a luxury cruise or dinner. The sunset is something Saki Shibata will surely never forget.

 

Air Date: November 25, 2021 / 9:00-10:00

Where do you want to travel in Japan once the world settles down?

OMO7 Asahikawa Resort in Hokkaido Offers Polar Bear Valentine's Day Girls' Party Package

Not a fan of Valentine's Day? Want to get away from all the in-your-face romance and just have a good time with your gal pals? OMO7 Asahikawa by Hoshino Resort in Hokkaido is offering a limited-time polar bear-themed Valentine's Day Girls' Party package for all of February 2022. The single polar bear room, opened in November 2020, will be transformed into its Valentine's Day version. 

Valentine's Day has been popular in Japan for many years and is a day when women give gifts to men to express their feelings. However, in recent years, it has also become a less romantic event for some–people are buying chocolate for themselves, or giving candies to friends. The polar bear room is perfect for girlfriends who just want to relax and have a good time. Why a polar bear? The Asahikawa Zoo is nearby and is an incredibly popular attraction.

The Polar Bear Valentine Room, Only Available for One Party per Day

Decorated from top to bottom in cute bears, guests can also wear matching polar bear loungewear, perfect for those Instagram shots. This will be a girls' gathering you'll never forget!

Polar Bear-inspired Snacks for the Perfect Girls' Night

When girls get together, they just love to chat. But talking so much can make you hungry, so plenty of snacks will be waiting in the guest room! If you're not in the snacking mood, they also make wonderful souvenirs. 

Polar Bear Desserts, A Must-Have in Asahikawa

The area around OMO7 Asahikawa is lined with stylish cafes where you can take a break from your daily life. After enjoying the Valentine's Room, head out into the nearby neighborhood to Fukuyoshi Cafe for some polar bear sweets. The treats are included with the price of the room, so there's no reason to miss it!

Four New Pokemon Manhole Covers Appear in Katori City, Chiba Prefecture

On November 10, 2021, four new Pokemon-themed manhole covers were unveiled in Katori City, Chiba prefecture. These will be the first appearance of the Poke Lids project in both the city and prefecture and each will feature landscapes specific to the area. Pokemon featured in these new covers include Galarian Farfetch'd, Falinks, Florges, and Lotad. 

The Poke Lids project features completely original art, and each serves as a PokeStop in the mobile game Pokemon GO. Many are located in smaller towns and areas, and this has brought more tourism and attention to some of Japan's more charming hidden gems. Going on a pilgrimage to visit these locations has become a popular new fad, so be sure to try it out once Japan opens!

Poke Lid Locations in Katori

Galarian Farfetch'd Poke Lid: 109-14 Sawara, Katori, Chiba

Falinks Poke Lid: 1722-1 Sawara, Katori, Chiba

Florges Poke Lid: 4549-1 Sawara, Katori, Chiba

Lotad Poke Lid: 4053-3 Sawara, Katori, Chiba

©Pokémon. ©Nintendo/Creatures Inc./GAME FREAK inc.
ポケットモンスター・ポケモン・Pokémonは任天堂・クリーチャーズ・ゲームフリークの登録商標です。

Mister Donut Announces Limited-Time Pokemon Christmas Sweets

Popular Japanese donut chain Mister Donut is teaming up with Pokemon for the fourth year in a row! Lots of new themed sweets and merchandise will be available for a limited time starting November 12. 

Together Again This Year Collection

Pikachu Donut

Eevee Donut

Turning-Back Pikachu Donut

Turning-Back Eevee Donut

Pokemon Turning-Back Donut

Christmas Donuts

Pon de Ring Chocolate

Pon de Ring Pudding Flavor

Pon de Ring White

Christmas Set

Donut Set

Drink Set

Merchandise

Mister Donut x Pokemon Blanket

Mister Donut x Pokemon Plate

Mister Donut x Pokemon Mug

This year, guests can enjoy not only Eevee and Pikachu themed donuts, but other adorable Pokemon too! The Pokemon Turning-Back Donuts show these cute characters looking over their shoulder. Adults will fondly look at these designs and remember their childhoods, while children are currently in the midst of becoming Pokemon masters. These are perfect to bring people together during the holiday season.

The Christmas Set comes with three pieces of merchandise: a blanket, a plate, and a mug, all featuring this year's Mister Donut x Pokemon design. How would you like to have this as a gift this Christmas?

©2021 Pokémon. ©1995-2021 Nintendo/Creatures Inc./GAME FREAK inc.
『ポケットモンスター ブリリアントダイヤモンド』
『ポケットモンスター シャイニングパール』 are developed by ILCA,Inc.
ポケットモンスター・ポケモン・Pokémonは任天堂・クリーチャーズ・ゲームフリークの登録商標です。
Nintendo Switchは任天堂の商標です。

Information

Together Again This Year Collection

Mister Donut Pokemon Donuts

Available: November 12 – End of December (While Supplies Last)

Where to Buy: Participating Mister Donut Shops Nationwide

Christmas Donuts

Available: November 12 – End of December (While Supplies Last)

Where to Buy: Participating Mister Donut Shops Nationwide

Christmas Set

Available: November 12 – Until Sold Out

Where to Buy: Participating Mister Donut Shops Nationwide

Official Site: https://www.misterdonut.jp

Anime Idol Group HAKOMEN Becomes Tourism Ambassadors for Hakodate

Hakodate is one of the main cities in Hokkaido, Japan's northernmost island. In September 2021, the city launched a new tourism initiative called HAKOMEN, an anime idol group based on historical figures associated with Hakodate. Starting November 1, the members are now official tourism ambassadors! In July 2021, the Jomon historical sites in Hokkaido and the northern Tohoku region were registered as World Heritage Sites, so what better time to promote these incredible areas? 

Debut Song 'Kimi to HAKO☆DATE'

HAKOMEN lore tells the story of incredible historical figures summoned to the present day by the Hollow Dogu, the only National Treasure in Hokkaido and on display at the Hakodate Jomon Culture Center. Forming an idol group to promote the town, the five members see the Hollow Dogu as their producer. On October 14, HAKOMEN made their debut with the song Kimi to HAKO☆DATE, which is already racking up impressive YouTube views. 

Comments from the Members

Hijikata Toshizo / A Cutting-Edge Commander and Moodmaker
https://twitter.com/hako_hijikata



"I was surprised that I, a man who had mastered the way of the blade, would somehow become Hakodate's tourism ambassador.
I will put all of my energy into promoting this place!" 

Takeaki Enomoto / A Highly Ambitious Peacemaker
https://twitter.com/hako_enomoto



"I'm not even from this era, but you want me to do PR for Hakodate?!
Now that I'm here, I'll be sure to convey some of the charms that only someone from the past would know!"

Takuboku Ishikawa / A Calm and Peaceful Lover of Sweets
https://twitter.com/hako_isikawa

"I love Hakodate so much that I moved there during my time, so I'm thrilled to promote it as an ambassador!
I'll do my best to make all kinds of people fall in love with Hakodate!"


Matthew C. Perry / A Happy and Gourmet Scatterbrain
https://twitter.com/hako_perry



"Back when I showed up on my black ships, the people of Hakodate were so lovely♪
It's such an honor to be able to work with Hakodate~ I'll do my very best!"

Ayasaburo Takeda / An Open-Minded Big Brother Character
https://twitter.com/hako_takeda

"As an ambassador for tourism to Hakodate, I'd love to promote Goryokaku fortress which I designed as an architect in 1855.
Of course, it's not the only attraction Hakodate has to offer!"

TRUFULL TOKYO Releases First Truffle Ice Cream

Truffles aren't something most people eat every day, but TRUFULL TOKYO wants to change that. The casual truffle brand wants to combine this luxury ingredient with simple dishes to make it easier to chow down on this tasty treat more often, and now, their first product release has been announced! TRUFULL ICE CREAM, playfully created by a French chef, aims to give people a new view of what food can be.

The truffles aren't the only thing that makes this ice cream special. The milk used to create it is gathered at Zao Provence Farm in Miyagi prefecture in the morning and processed the exact same day! After the ice cream is made, it is mixed with plenty of French black truffles, making a flavor like no other. 

The upscale TRUFULL ICE CREAM, a perfect dessert for the discerning adult, is available at CARBON COFFEE in Fukuoka. 

Information

TRUFULL ICE CREAM
Release Date: November 15, 2021

Price: ¥500 for 120ml cup (Tax Included)

Where to Buy: CARBON COFFEE

Address: Royal Building 1F 1-2-34 Daimyo, Chuo-ku, Fukuoka

Official Online Store: Scheduled to Open November 15

Instagram: https://www.instagram.com/trufull_tokyo/ (@trufull_tokyo)

Official Site: https://trufulltokyo.com/

McDonald's Japan Releases New Black Thunder Winter Lightning McFlurry

McDonald's Japan has just released a tasty new treat for winter! The Black Thunder Winter Lightning McFlurry, a collaboration with the popular chocolate bar Black Thunder, is now available at participating locations nationwide. 

This popular collaboration firsts appeared in 2017 and is now available in winter for the first time. Even though the weather is chilly, it's impossible not to want to eat this unique blend of dark and white chocolate. The sugar rush is sure to get you through the day!

Black Thunder Winter Lightning McFlurry: ¥290 (Tax Included) 

Smooth soft-serve ice cream is mixed with Black Thunder incused cocoa cookies and plain cookies, then topped with two types of chocolate sauce. What's not to love about this blend of textures and flavors? Be sure to grab one before they disappear at the end of November!

Information

Black Thunder Winter Lightning McFlurry

Available: November 4 – end of November

Where to Buy: Participating McDonald's Locations Nationwide 

Sales Hours: 10:30-close (Until 1:00AM at 24-hour locations)

Official Site: https://www.mcdonalds.co.jp/

Cute Brothers Grimm's 'Rapunzel' Themed Dessert Buffet to be Held for Six Days

Wedding venue 'Art Grace Wedding Coast Tokyo Bay' will be hosting the 'Princess Rapunzel's Flower Sweets Party,' a colorful garden-themed dessert buffet based on The Brothers Grimm's 'Rapunzel' for six days this Winter. The buffet will be open on November 14, November 21, November 23, December 4, December 8, and December 25. 

 

Rapunzel's Singing Voice Rare Cheese Tart

Sweet and Sour Romance Flavored Strawberry Mont Blanc




Rapunzel's Yellow Carrot Salad

Braided Meat Pie

Dressed Up in Flowers Berry Roll Cake

 

You'll find a selection of over 20 delicious desserts that can be enjoyed by both children and adults at the buffet, including a cheese tart topped with a drawing of Rapunzel, a strawberry mont blanc that tastes like a sweet and sour love with a prince, roll cakes and chiffon cakes topped with plenty of flowers. It isn't just sweets either! You can also enjoy braided meat pies, vegetable and chicken meatballs with tomatoes, and a spicy doria among other savory meals.

The buffet will be held in the spacious wedding venue, which boasts impressive views and a gentle sea breeze. The hall will be decorated in flowers, inviting customers into a spectacular new world. Whether you're a couple, a friend group, or a family with children, be sure to check out this floral sweets party!  

 

Information

Dessert Buffet 'Princess Rapunzel's Flower Sweets Party' 

Availability: November 14, November 21, November 23, December 4, December 8, December 25 (Reservations required) 

Opening Hours: First Session 12:30 ~ 14:00 (L.O 13:30) Second Session: 15:00 ~ 16:30 (L.O 16:00)

Location: Art Grace Wedding Coast Tokyo Bay Guest House

Address: 5-8-2 Meikai, Urayasu City, Chiba 279-0014

Details & Reservations:  https://www.bestbridal.co.jp/guestparty/chiba/artgrace_shinura/2021event-79/ 

'Maruko & Cojicoji' Collaborates with Popular Fruit Sandwich Store 'FruitsBOX DAIKANYAMA'

A collaboration between 'Maruko & Cojicoji' and FruitsBOX DAIKANYAMA has been announced. The 'Maruko & Cojicoji Fruit Sandwich POP UP SHOP' will be open between October 16 and October 31 in Kinshicho TERMINA 2.

 

Matcha Bean Paste & Strawberry Sandwich

Hokkaido Suzu Akane! Strawberry Sandwich

Four Seasons! FruitsBOX Sandwich

Crispy Taste! Banana and Chocolate Chip Sandwich

Collab Goods

Tote Bag: ¥2,200 (Tax Incl.)

Parka (FREE SIZE: Length 71cm, Width 58cm, Shoulder Width 52cm): ¥6,050 (Tax Incl.)


 

FruitsBOX DAIKANYAMA is a fruit sandwich specialty store that opened in 2019. The 'Maruko & Cojicoji' lineup will include eight new sandwiches. You'll get addicted to the new Matcha Paste and Strawberry sandwich, which combines the sweet and sour taste of strawberries and a rich bean paste! 

The pop up shop will stock a parka and tote bag, which both feature original artwork, alongside a! exciting collection of 50 Chibi Maruko-chan and Cojicoji items to purchase! Why not check it out?

Information

Maruko & Cojicoji Fruit Sandwich POP UP SHOP

Duration: October 16 ~ October 31 2021

Opening Hours: 11:00 ~ 20:00 (Subject to change)

Fruit Sandwich Store Location: Kinshicho TERMINA 2 1F La Gare Entrance Outdoor Exhibition Hall (Closest train: JR Kinshicho Station North Exit)

Pop Up Store Location: Kinshicho TERMINA 2 1F La Gare Indoor Exhibition Hall

Official Site: https://fruitsbox.net/ 

'Kyoto Yura Hotel M Gallery' New Halloween Menu Features Adorable Monster Motifs

The '1F Lounge & Bar 1867' at the Kyoto Yura Hotel M Gallery will be hosting a Halloween themed afternoon tea from October 1 2021, with tea sets and cocktails available. The premium hotel is owned by Accor, a Paris, France based group that owns over 5,000 hotels and resorts in 110 countries.

The Halloween-themed afternoon tea has been made by Jennie Chiu, a pastry chef who grew up in America, the home of Halloween. The afternoon tea features cute and playful monster motifs, including a witch-hat Mont Blanc, a Cassis and Chestnut Cake topped with a small ghost, and a spider-web topped Raspberry and Chocolate Mousse. For savory treats, Chef Nishimura Niki has prepared Foie Gras soaked in Salted Koji, plus two luxurious lobster dishes.

The creative Halloween cocktails were brainstormed by Yamazaki Sousei, who ranked in the Japan Top 10 category of bartending competition 'WORLD CLASS 2021.' The Halloween and apple pie inspired lineup was inspired by Scotland and the Celtic people, looking back to when Halloween was first celebrated. 

Enjoy some adult-only time in this retro-modern "family mansion" themed space. 

Information

Halloween Afternoon Tea Set

Availability: October 1 ~ October 31 2021

Location: Lounge & Bar 1867 

Serving Hours: 12:00 and 15:00 *Please reserve your table by 17:00 on the day prior to your arrival

Halloween Cocktails

Availability: October 1 ~ October 31 2021 

Price: ¥1,900
Location: Lounge & Bar 1867

Serving Hours/Opening Hours: 11:30 ~ 21:00 (L.O. 20:30) 

Official Site:  https://kyotoyurahotel-mgallery.com/ja