CHAYA 1899 TOKYO To Open in February Serving Specially Made Tea
With a history of 120 years in managing a number of old hotels and restaurants, the Ryumeikan Group will open a new café that sells Japanese desserts, pastries, tea and coffee called CHAYA 1899 TOKYO. The new café is set to open on February 21, 2020 and will embrace the delicious flavours of matcha, hōjicha and Japanese black tea.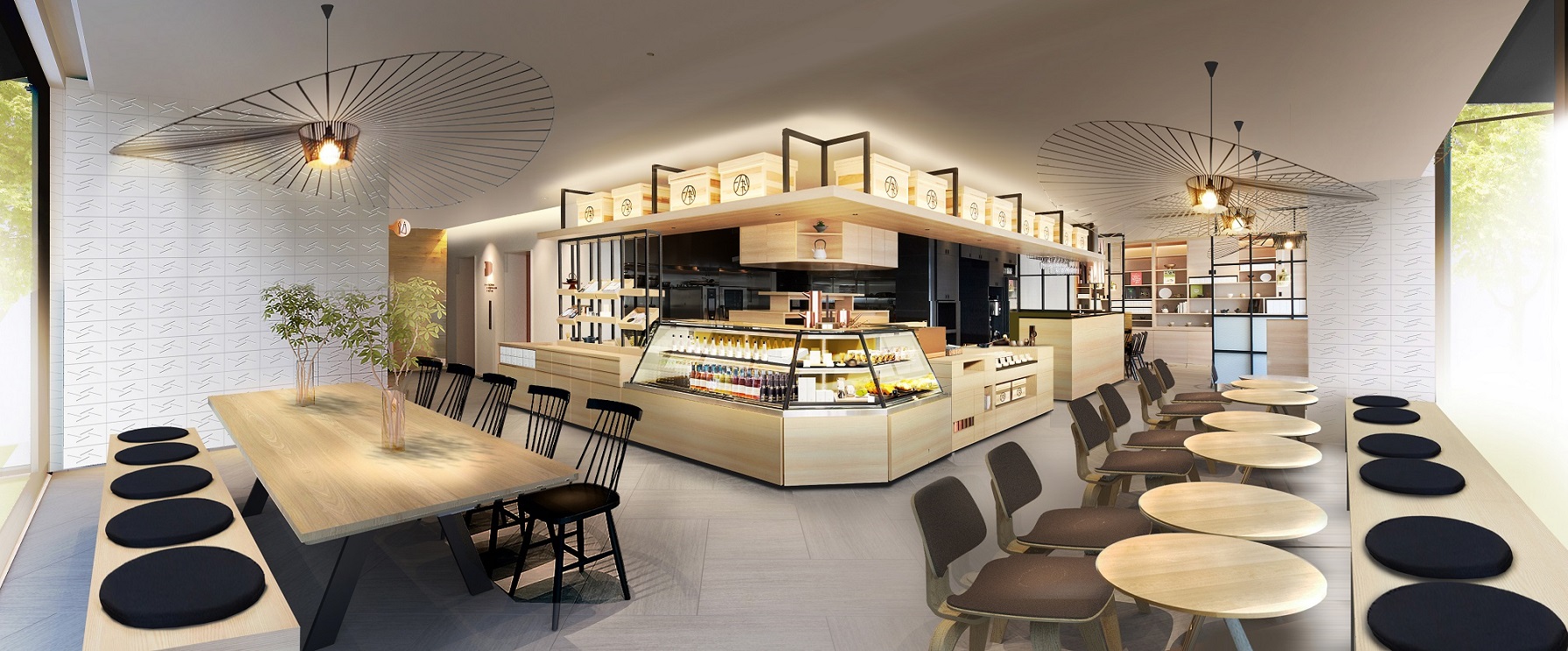 The café will open on floor 1 of the boutique hotel Hotel 1899 Tokyo. The café interior is wood-themed with touches of black for a casual fusion of tradition and modernity. With a space of 120 square metres, the relaxing environment is spacious enough to seat 38.
The original restaurant opened for business in December 2018. Now, CHAYA 1899 TOKYO specialises in Japanese beverages and intends to live its days as the tea shop that customers can visit as they please for a break from everyday life.
One of the most appealing aspects of the new restaurant has to be the menu. There are 10 different drinks available. Each drink is carefully made with high-quality tea leaves that were carefully selected from all over Japan. The tea varieties include matcha, hōjicha, Japanese black tea made from Japanese tea leaves. 
Rich Matcha Latte: ¥600 (After Tax)
Each cup of tea is carefully made, one by one, by the café's Japanese tea specialist. The rich matcha tea is made using traditional tools such as a bamboo whisk. From this, soy milk or milk is added to make the rich matcha latte. From three to six grams, you can choose the strength of your tea by the gram to create a more personalised matcha latte. 
 Other drinks on the menu include the Hōjicha Latte and the brand new inventions the 'Matcha Soda and 'Japanese Black Tea Soda', which will tempt you their exquisite aromas. 
The café even has a counter especially for the tea making and pouring procedures. The water for each drink is boiled in a traditional kettle by the tea specialist, who carefully regulates the water temperature and controls the brewing time according to the tea leaf. 
Matcha Pan:  ¥600 (After Tax)
As expected, the café also sells delicious sweet treats full of matcha goodness to go with your tea. The fresh green Matcha Pan are full of matcha goodness. They are made from 100% Japanese wheat, Hokkaido butter and milk. The mixture is left to rise at a low temperature over a long period of time. Afterwards, matcha from Shizuoka is added to the mix and then baked into muffins. This original and rare bread was developed with Baba FLAT – a café which sells very popular pastries and coffee in Takadanobaba, Tokyo. 
Craving more matcha? Enjoy both matcha and hōjicha at the same time in the form of a healthy snack: the Omatcha Brownie. The brownies are made from gluten-free rice flour and enjoy a moist texture and rich flavour.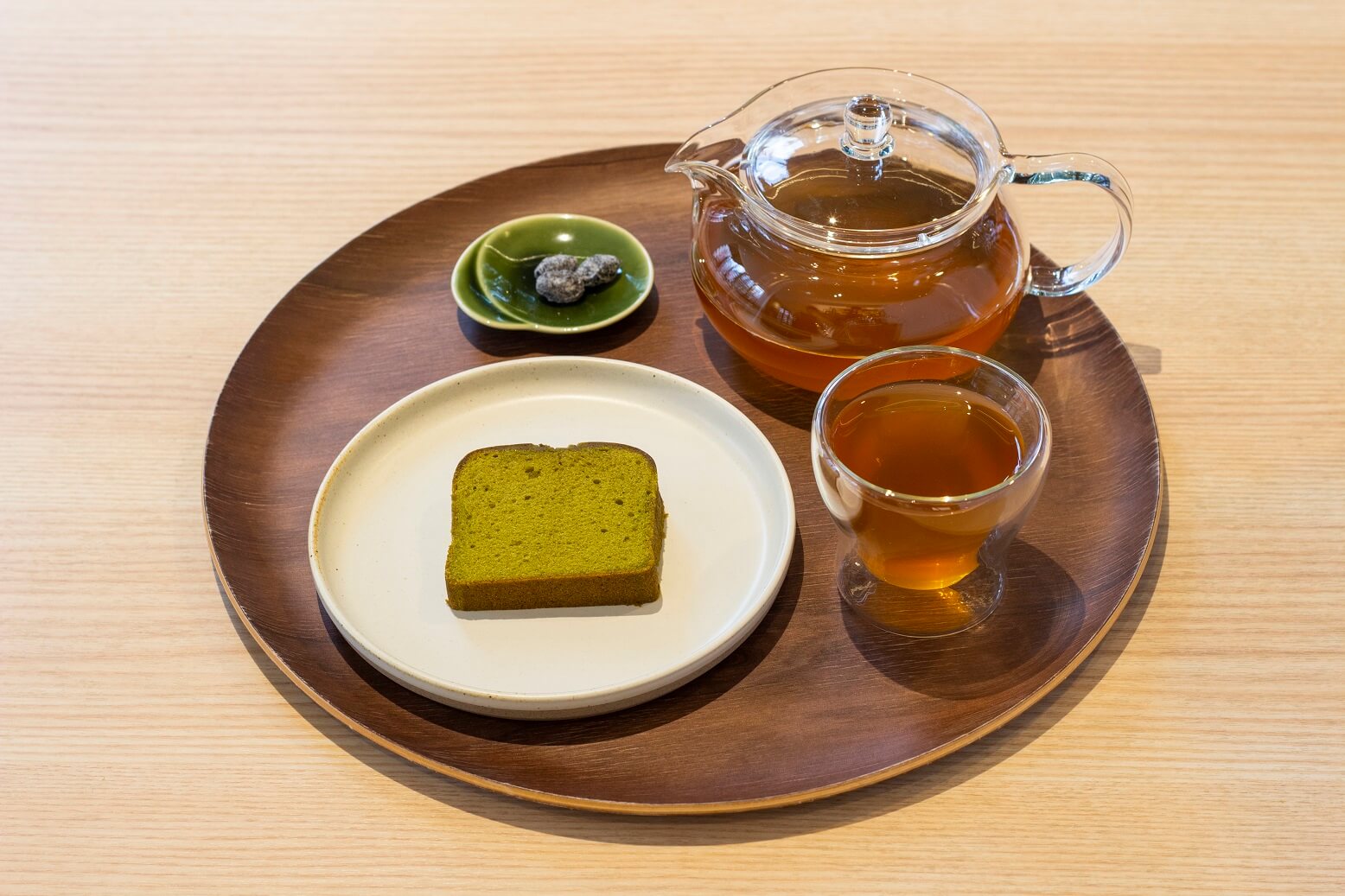 Uji matcha, a high-quality and rich matcha used in tea ceremonies, is also used to make rich matcha ice cream (Koicha Gelato) and matcha cakes called "Sakecha Cakes" which combine tea and Japanese sake or brandy with cakes. The varieties of cake include matcha and Japanese sake, hōjicha and Japanese sake and black tea and brandy.
If you're looking for a unique tea experience, look no further than CHAYA 1899 TOKYO.
Information
CHAYA 1899 TOKYO
Address: 6-4-1 Shinbashi, Minato City, Tokyo
Opening Hours: 11:30 – 21:00 (Last Orders: 20:30)
Opens: February 21, 2020
Official Website: https://1899.jp/hotels/tokyo/
RELATED ENTRIES
SNOOPY MUSEUM TOKYO's PEANUTS Cafe Serves Up New Menu Items Inspired by the Comics

The PEANUTS Cafe at SNOOPY MUSEUM TOKYO rolled out new menu items on Saturday (January 16) as part of a new exhibition called "Snoopy to Kyoudai" (Snoopy and Siblings) featuring a sandwich and desserts inspired by scenes from the beloved Peanuts comics.

The New Menu Line-Up

Snoopy Flower Basket Sandwich | ¥1,400 (Before Tax)

This flower basket is based on a scene when Snoopy meets with his siblings who pay him a visit after he recovers from being unwell and they eat sandwiches together. The tasty sandwiches are stuffed with pastrami beef and veg so you too can get your fill like Snoopy. The basket also comes with mini corn dogs and crispy fries. This is one to share (or hog all to yourself!)

Olaf's Pancakes | ¥1,200 (Before Tax)

These pancakes are inspired by Olaf, who was first introduced in the ocmics as the winner of the Ugly Dog Contest. They are loaded with ice cream, fruit, a whole Japanese custard pudding, fresh cream, and a drizzle of caramel sauce.

Belle's Raspberry Milkshake | ¥900

A doughnut-topped raspberry milkshake like the one that appears in the comics. It's a nod to Belle, Snoopy's only sister.

©2021 Peanuts Worldwide LLC (短縮形 ©2021 Peanuts)

Information

PEANUTS Cafe SNOOPY MUSEUM TOKYO
Running: January 16, 2021 – July 11, 2021
Address: Minami-Machida Grandberry Park Park-Life Site, 3-1-1 Tsuruma, Machida, Tokyo
TEL: 042-850-7390
PEANUTS Cafe Official Website: http://www.peanutscafe.jp/snoopymuseum-tokyo/

Tokyo's Kirby Café Whips Up Chocolate and Fruit Loaded Limited-Time Menu

The Kirby Café in Tokyo, which is based entirely around the popular Kirby video game series, will release a new limited-time menu on January 15 called 'Chocolate de PUPUPU' which will be served until February 28. The fruit and chocolate-packed line-up features three items. Item names are translated from Japanese by MMN.

The 'Chocolate de PUPUPU' Menu


Kirby Café's Stovetop Dessert Pizza ~Looking Out the Chocolate Train Window~ | ¥1,380 (Before Tax)


Waddle Dee Also Loves Chef's Chocolate Pan Stew! | ¥1,480 (Before Tax)


Old Odyssey | ¥780 (Before Tax)


Which of these delightfully cute treats do you want to inhale?

Information

Kirby Café
Running: January 15, 2021 – February 28, 2021
Official Website/Table Reservations: https://kirbycafe.jp

Nana's Green Tea x Häagen-Dazs Release Chocolate Matcha Glass Dessert

Nana's Green Tea is serving up a brand-new dessert in collaboration with Häagen-Dazs for Valentine's Day at 77 branches in Japan. The dessert was released on January 6 and will be available up to February 14.

Matcha Chocolate Glass with Häagen-Dazs | ¥880 (Before Tax)

The dessert is a tempting sight to behold – not only is it delicious but visually appealing to the eye too, and layered with various textures so that every bite is a surprise.

The dessert is made with Häagen-Dazs' "Sweet Chocolate" ice cream coupled with Nana's Green Tea's own original matcha ice cream, soft and crunchy meringue sticks, crumbled cookies, white chocolate whipped cream, and matcha chiffon cake. Sat at the bottom waiting to be discovered is a sweet strawberry sauce for a tangy kick.

Information

Nana's Green Tea – Matcha Chocolate Glass With Häagen-Dazs
Serving: January 6, 2021 – February 14, 2021
Price: ¥880 (Before Tax)
Available: 77 Nana's Green Tea branches in Japan (Excluding DiverCity Tokyo Plaza, Tokyo Dome, and Iias Okinawa Toyosaki)
Official Website: http://www.nanasgreentea.com/

Matcha and Strawberry Parfaits Whipped Up at Saryo FUKUCHA in Kyoto

Saryo FUKUCHA in Kyoto is now serving up a very special selection of succulent strawberry and matcha parfaits until May 30, 2021. These exquisite delights will see only 10 made of each per day.

Saryo FUKUCHA is a cafe that was opened by FUKUJUEN in Kyoto Station in April 2019. This year, they have brought back their extremely popular strawberry and matcha parfaits : the Konome, Konoha, and Konoka. They have also introduced a new addition to the line-up: the Strawberry & Matcha Milk Parfait. Also on the menu is a strawberry matcha latte.

Matcha & Strawberry Parfaits


Konome | ¥1,350


Konoha | ¥1,450


Konoka | ¥1,550


Strawberry Matcha Milk Parfait | ¥800


Strawberry Matcha Latte | ¥650

Discover the taste of Japanese tea in a new way with Saryo FUKUCHA's matcha and strawberry parfaits and latte.

Information

Saryo FUKUCHA
Address: 901 Higashi Shiokojicho, Karasumadori Shiokoji Sagaru,, Shimogyo-Ku Kyoto Station Bldg. 2F, Kyoto 600-8216 Kyoto Prefecture
Opening Hours: 8:30-21:00 (Last Orders 20:30)
*The cafe is currently running on reduced opening hours as of December 25, 2020 due to COVID-19. Hours are now 08:30-19:00 (Last Orders 18:30) on weekdays and 08:30-20:00 (Last Orders 19:30) on weekends. Times are subject to change.
TEL: 075-744-0552

Official Website: https://fukucha-fukujuen.com/

Harajuku's BOTANIST Tokyo Reveals its Spring 2021 Menu

BOTANIST's flagship shop BOTANIST Tokyo is set to begin serving up its spring season menu for the new year at its second floor BOTANIST Cafe from January 8 to March 31.

Quinoa Teapot Salad & Potage (Vegan-Friendly) | ¥1,500 (Tax Included)

A sophisticated salad of quinoa, crunchy carrot and red onion, tomato, and more, all served in a cute teapot.

Salmon Salad & Waffles | ¥1,500 (Tax Included)

Naturally sweet vegan waffles with lime-drizzled vegetables and served with slightly salted salmon and cream cheese. Pour over the maple syrup to make the cream cheese even richer and enjoy a completely different flavour.

Cherry Blossom Jelly & Fromage Mousse (Vegan-Friendly) | ¥50 (Tax Included)

Refreshing cherry blossom flavoured jelly made with rich and velvety soy cream. The cherry blossom petal topping and sparkly appearance of the jelly makes this a luxurious looking dessert.

Cherry Blossom Chiffon Cake | ¥800 (Tax Included)

A fluffy cherry blossom chiffon cake dusted with cherry blossom powder. It's a sweet and subtly salty mix topped with fresh cream.

Left: Three Berry Smoothie, Right: Strawberry & Raspberry Sweet Sake Smoothie (Vegan-Friendly) | ¥850 Each (Before Tax)

The Three Berry Smoothie incorporates the chunky texture of strawberries, sweetness of blueberries, and tangy taste of raspberries, creating a rich but not overly-sweet beverage. The Strawberry & Raspberry Sweet Sake Smoothie is one to go for if you love amazake.

Strawberry Decoration Hot Chocolate (Collaboration Drink) | ¥800 (Tax Included)

This luxurious strawberry hot chocolate is made in collaboration with Dari K, a craft chocolate maker who uses high quality cacao beans from Indonesia.

Select items on the spring menu are available for takeout as well as via Uber Eats in Japan, perfect for enjoy an indoor hanami this year.

BOTANIST Tokyo's first floor shop will also release its spring series of products, such as the limited edition Botanical Spring Hair Perfume.

Information

BOTANIST Tokyo
Address: 6-29-2 Jingumae, Shibuya, Tokyo
TEL: Floor 1F Shop: 03-5766-3777 / Floor 2F Cafe: 03-5766-3778
Opening Hours: 11:00-19:30 (Currently operating on decreased hours)
Official Website: https://shop.botanistofficial.com/ 

Japan's Kirby Cafe to Celebrate the Near Year With a Special 2021 Menu Addition

The Kirby Cafe in Tokyo has announced a seasonal dish for the new year as part of the cafe's "Sweet NEW YEAR 2021" celebration which it will begin serving from January 1, 2021.


Kirby Burger & New Year Dessert | ¥1,980 (Before Tax)

The dish comes with a miniature version of Kirby Cafe's popular burger on a teeny-tiny plate measured at just 10cm in circumference.

The mini dish looks super cute lined up next to the cafe's plush toys.


The plate that the food is served on comes as a free souvenir which you can take home with you after eating. These will be limited in stock so will be available while supplies last for the New Year.

Information

Sweet NEW YEAR 2021
Kirby Burger & New Year Dessert
Serving: January 1, 2021 – January 31, 2021
Kirby Cafe Official Website/Table Reservations: https://kirbycafe.jp

KAWAII MONSTER CAFE HARAJUKU Collaborates With Ty On Photo Room and Food

The KAWAII MONSTER CAFE in Harajuku is celebrating its 5th anniversary with a special collaboration with the multinational toy company Ty. The collaboration is running from December 18, 2020 to January 17, 2020.


©︎Ty Inc.Oak Brook,IL USA

Photo Spot: "My Ty Room"

©︎Ty Inc.Oak Brook,IL USA ©︎KAWAII MONSTER CAFE

KAWAII MONSTER CAFE's iconic Mel-Tea-Room has been transformed into the "My Ty Room" with fluffy plush toys adoring a bed and making for a truly kawaii photo spot. There are also panels detailing more about Ty for people to get to know the brand more. If you're in Japan for the kawaii experience, then look no further than this room for some Instagram-worthy shots.

人気エリアがTyギフトステージに

©︎Ty Inc.Oak Brook,IL USA ©︎KAWAII MONSTER CAFE

All of Ty's toys have their own birthdays, so to celebrate everyone's at the same time, KAWAII MONSTER CAFE's popular "Sweets-Go-Round" area, which features a giant moving cake stage in the middle, has been turned into the "Ty Gift Stage." Guests will find plush toys inside and dangling out of present boxes. There will also be an appearance of a mascot of a Ty toy that has never been showcased in Japan before.


Beanie Boos Reagan the Kitty (M) / Beanie Boos Enchanted the Owl (L) / Beanie Boos Tasha Leopard (KC)

If there's a plush toy you're interested in you can buy it at the cafe, including toys in Christmas colours for the holiday season. The toys come in three sizes, and there's other merch to pick up too like key rings, pencil cases, and more.

Ty x KAWAII MONSTER CAFE Collab Menu

Six menu items combine Ty's toys with KAWAII MONSTER CAFE's kaleidoscopic world. This includes some of Ty's most popular characters as well as the cafe's own character Mr Choppy.

Collab Food Menu Excerpt


Colourful Dotty Curry | ¥1,300

A colourful vegetable curry inspired by Dotty the Leopard filled with carrots, daikon radishes, beets, and more.

Colourful Pop Buger – Mr Choppy | ¥1,480

A burger based on KAWAII MONSTER CAFE's own Mr Choppy. It's filled with sautéed chicken and covered in a honey mustard sauce.

Gilda the Flamingo Cake | ¥950

A fresh cream-filled cake made with chocolate mousse and sat on a fluffy pancake. It also has a cute rainbow just like the one in the cafe's Ty room.

Fantasia Cupcake | ¥900

Fantasia the Unicorn has turned into a cute cupcake with an adorable marshmallow nose.

Colourful Christmas Heather Parfait | ¥2,400 (Available until December 25)

The cafe's popular "Colourful Poison Parfait" has been turned into Heather the Unicorn Cat, topped with strawberry, lemon, and ramune ice cream.

Information

Ty x KAWAII MONSTER CAFE Collaboration

Location: KAWAII MONSTER CAFE HARAJUKU
Address: YM Square Bldg. 4F, 4-31-10 Jingumae, Shibuya, Tokyo

Opening Hours: 11:30-19:00

No Fixed Holidays
Access: 5-minutes on foot Harajuku Station via JR / 1-minutes on foot from Meiji-Jigumae Station via Chiyoda Line and Fukutoshin Line

Official Website: https://kawaiimonster.jp/day/pc/

Bookings: https://www.tablecheck.com/shops/kawaiimonster/reserve

Brown Sugar Syrup Matcha Latte Arrives at Tully's Coffee in Japan On Christmas Eve

Tully's Coffee Japan is adding a new seasonal drink to its menu on December 26: the "Brown Sugar Syrup & Soy Flour Matcha Latte."

Brown Sugar Syrup & Soy Flour Matcha Latte (Hot/Iced) | Tall ¥520 (Before Tax)

Matcha beverages at Tully's Coffee are all made with Uji matcha from Kyoto. The powder is prepared in-house at Tully's Coffee, ensuring that the original taste and fragrance of the matcha is fresh. Their new seasonal beverage takes their classic Uji Matcha Latte and sweetens it with brown sugar syrup and Hokkaido soy flour.

Brown Sugar Syrup & Soy Flour Matcha Suwakuru® (Frozen) | Tall ¥540, with tapioca +¥100 (Before Tax)

Adding tapioca pearls creates a perfect combination with the syrup and soy flour, creating a taste and texture that's like the traditional Japanese confection warabimochi.

Uji Matcha Kouign-amann | ¥290 (Before Tax)

Tully's Coffee is also baking up some seasonal treats, like a Japanese-style Kouign-amann and red bean paste-filled doughnuts.

Milk Red Bean Paste Doughnuts | ¥300 (Before Tax)

The doughnuts are also made with milk from Hokkaido.

2021 Year of the Ox Mug | ¥1,500 (Before Tax)

And to celebrate the upcoming Year of the Ox, the coffee chain is also rolling out a cute ox-themed mug.

Information

Brown Sugar Syrup & Soy Flour Matcha Latte
Release Date: December 26, 2020
Official Website: https://www.tullys.co.jp

Gintama Themed Cafes to Open in Shibuya and Sapporo in Collaboration With Tower Records

Tower Records is promoting the upcoming release of the anime film Gintama The Final by turning two of its own Tower Records Cafe branches in Sapporo and Shibuya into Gintama-themed spaces serving inspired dishes and selling exclusive merchandise.

Merch Collab

Gintama x  Tower Records Trading Acrylic Key Rings (6 Designs) | ¥800 (Before Tax)


Gintama x  Tower Records Towel | ¥2,500 (Before Tax)

Get your hands on a Gintama x  Tower Records key ring or towel featuring the main cast wearing Tower Records aprons just like the real-life staff at the music store chain. These items are available to pick up at 41 Tower Records stores, three Tower Records Cafes, and their official website.

Cafe Collab

Tower Records Cafe has collaborated with numerous anime series before, but this will be its first with Gintama. Two menus will be rolled out, the first being served from January 1, 2021 to January 14, 2021 and the second from January 15, 2021 to January 24, 2021. The first menu is themed on the series's six main characters while the second menu will be based around Gintama The Final as well as the two-part anime special Gintama The Semi-Final.

Menu ① (Excerpt)


Kagura's Tenshidon With Kombu Salad | ¥1,480 (Before Tax)

Inspired by the heroine of Gintama, Kagura, and served with her favourite vinegar kombu salad.

Toshiro Hijikata's Mayo Chicken Nanban | ¥1,480 (Before Tax)

Hijikata is known for his love of mayo, so it was only right that this mayo chicken nanban be served with three types of mayonnaise.

Gintoki's Week's Worth Of Sugar Parfait | ¥1,380 (Before Tax)

A strawberry-loaded parfait with plenty of sugar content, just how Gitoki likes it.

Kotaro Katsura's Elizabeth Dessert | ¥1,380 (Before Tax)

An Elizabeth crepe with something hidden inside…

Gintoki's Perm Drink | ¥750 (Before Tax)

A cotton candy dessert drink inspired by Gintoki's luscious natural perm.

Shinsuke Takasugi's Blueberry Smoothie | ¥750 (Before Tax)

A cool blueberry smoothie whose delicious flavour comes from it being chilled in the refrigerator.

Menu ② (Excerpt)


Yorozuya's Special Curry | ¥1,480 (Before Tax)

Inspired by the friendship between the three members of Yorozuya, with the white rice representing Gintoki, the pink (sakura denbu) Kagura, and the blue (powdered cheese) Shinpachi.

Sadaharu's Pancakes | ¥1,280 (Before Tax)

Inspired by the pet of Yorozuya, served with three sides representing the three members.

Shinpachi's Ramune | ¥750 (Before Tax)

A ramune based on Shinpachi, topped with a cherry to express his cherry boy-ness!

Takeout-Only Menu

Gintama Quote Omurice | ¥1,280 (Before Tax)

Classic Japanese omurice served with one of six famous quotes in Japanese from the series. Not available at the Nagoya Sakae SKYLE or Umeda NU Chayamachi branches.

Yorozuya Gin-chan's Takeout Drink | ¥900 (Before Tax)

A takeout drink based on Yorozuya Gin-chan with two different coloured jellies at the bottom to represent Shinpachi and Kagura with the white Calpis drink being Gintoki.

Bonus Items


Coasters (6 Designs)

Those who reserve the bonus item ticket at Ticket Pia machines will receive one of six possible Tower Records x Gintama coasters.

Menu ① Postcards (6 Designs)

Menu ② Postcards (6 Designs)

For every item ordered on the menu, you'll get a free postcard. This includes takeout items.

Set of 3 Bookmarkers (6 Designs)

Those who order a food item, dessert, and a drink all together will get a set of three bookmarkers.

Lunch Mat (During Menu ② Servings Only)

Those who dine at the cafe during the second menuy serving will receive a free lunch mat featuring the key visual for Gintama The Semi-Final.

©空知英秋/劇場版銀魂製作委員会
©空知英秋/集英社・テレビ東京・電通・BNP・アニプレックス

Information

Gintama x Tower Records Merch Collab
Pre-Orders: December 10, 2020

Release Date: December 24, 2020
Merch Collab Page: https://tower.jp/gintama/

Gintama x Tower Records Cafe Collab
TOWER RECORDS CAFE Shibuya
Address: Tower Records Shibuya Floor 2F, 1-22-14 Jinnan, Shibuya, Tokyo

Opening Hours: 10:45-20:50
Menu ①: December 24, 2020 – January 7, 2021

Menu ②: January 8, 2021 – January 17, 2021

*Closes at 17:20 on December 31 and closed for the day on January 1 and 2

TOWER RECODRS CAFE Sapporo PIVOT
Address: PIVOT Floor 5F, 4 Chome Minami 2 Jonishi, Chuo Ward, Sapporo, Hokkaido
Opening Hours: 11:20-20:00

Menu ①: January 5, 2021 – January 21, 2021

Menu ②: January 22, 2021 – February 7, 2021

TOWER RECODRS CAFE Nagoya Sakae SKYLE (Takeout Menu Only)
TOWER RECORDS CAFE Umeda NU Chayamachi (Takeout Menu Only)
Menu ①: January 5, 2021 – January 14, 2021
Menu ②: January 15, 2021 – January 24, 2021

Cafe Collab Website: https://tower.jp/gintamacafe

Gintama The Final
Release Date: January 8, 2021
Official Website: https://wwws.warnerbros.co.jp/gintamamovie/

Gintama The Semi-Final (dTV Japan Only)
Episode 1: January 15, 2021

Episode 2: January 20, 2021
Official Website: https://pc.video.dmkt-sp.jp/ft/s0007147?campaign=sgm100149

Sailor Moon Eternal Cafes to Open in Tokyo, Osaka, Nagoya and Elsewhere in Japan

To promote the release of Sailor Moon Eternal, Japanese company LEGS is opening up six limited-time cafes themed on the film in five cities across Japan, beginning with Tokyo and Nagoya on December 24, 2020.

Sailor Moon Eternal is an upcoming two-part anime film set to release in 2021, with the first part dropping on January 8 and the second on February 11. The cafes, which are inspired by the films, were designed in collaboration with popular art director WATARU LINDA IGARASHI.

"Eternal Memories" is the name of the concept for the cafes which will transport customers into a magical and elegant world.

The Menu

The cafe menu features an enchanting line-up of food, desserts, and drinks based on characters and references in the films.

Food & Dessert

Usagi's Moon Floating Yogurt Bowl | Ami's Aqua Sparkling Parfait | Rei's Vivid Salmon Chirashi Sushi – ¥1,399 Each

Luna's Black Sesame Paste Doughnut – ¥899 | Moon Crisis Milk Crepe!! – ¥1,599

Drinks


Usagi's Eternal Soda | Ami's Eternal Soda | Rei's Eternal Soda | Makoto's Eternal Soda | Minako's Eternal Soda – ¥899 Each

Chibiusa's Eternal Soda Jelly | Hotaru's Eternal Soda Jelly – ¥999 Each

Original Merchandise


Merch line-up

The cafes will also sell their own original and exclusive merchandise to get fans excited for Sailor Moon Eternal.

Bonus Items

Customers who book a table in advance (¥650 per person before tax) will receive one of six possible face mask faces, and for every drink ordered, one of 11 original paper coasters.

©Naoko Takeuchi・PNP / Sailor Moon Eternal Production Committee

Information

Tokyo: TOKYO BOX cafe&space Tokyo Solamachi
Running: December 24, 2020 – February 21, 2021

Aichi: NAGOYA BOX cafe & space
Running: December 24, 2020 – March 7, 2021

Osaka: Abeno contact
Running: January 7, 2021 – February 21, 2021

Tokyo: SHINJUKU BOX cafe&space Lumine EST Shinjuku
Running: January 8, 2021 – February 28, 2021

Okinawa: Okinawa BOX cafe&space
Running: January 8, 2021 – February 28, 2021

Hokkaido: Coach & Four Shinkawa-Dori Cafe Interlude
Running: January 29, 2021 – March 14, 2021

Pretty Guardians Official Fan Club Pre-Bookings: December 4, 2020 – December 8, 202
General Pre-Bookings: December 17, 2020 at 18:00 (JST)

Cafe Official Website: https://sailormoon-cafe.jp/

Banana Fish Anime Series Gets Themed Cafe in Ikebukuro This Winter

Japanese company LEGS is opening up 'BANANA FISH Cafe and Bar – galleries -' in Ikebukuro, Tokyo for a limited time from December 17, 2020 to January 24, 2021. The cafe will serve up food, drink, desserts, and merchandise based on New York, which is the setting of the Banana Fish series, and the series characters.

Banana Fish is a manga series written and illustrated by Akimi Yoshida. It was serialised in Bessatsu Shojo Comic from 1985 to 1994. An anime series aired in 2018 on Fuji TV's Noitamina programming block and other channels which garnered the series many fans of all ages.

The cafe comes as a follow up to the 2018 and 2019 limited-time Banana Fish cafes which were also opened by LEGS. This year takes on an 'art gallery' theme, in which diners can immerse themselves in with a line-up of artwork to decorate the cafe.

The Menu (Excerpt/Pre-Tax Prices)

Food

Ohashinokuni Breakfast | ¥1,399

A stylish assortment of individual foods such as natto garnished with olives and salt, zakkoku millet, fried mackerel, and more.

N.Y. HOTDOG STAND | ¥1,499

A hot dog set menu with two different hot dogs to choose from, served with a choice of a side such as fries and a drink. Comes with one of two Banana Fish paper napkins.

Desserts

N.Y. Style Pancakes | ¥1,299

Classic New York-style buttermilk pancakes loaded with ice cream and banana, finished with a squirt of whipped cream, and drizzled in maple syrup.

N.Y. Style Doughnut Set | ¥999

Choose from three different doughnuts topped with pistachios and nuts together with a drink such as coffee for a classic American cafe-stop break. Comes with one of two Banana Fish paper napkins.

nori² Christmas Set ¥1,099 | nori² New Year Set ¥1,099

The nori² Christmas Set is a parfait made like a Christmas cake with sponge and strawberries. Available December 17, 2020-December 25, 2020 only.

The nori² New Year Set is a Japanese-style parfait filled with anko red bean paste, rice flour dumplings, and peach. Drizzling the mitarashi sauce over the parfait is a must! Available January 5, 2021-January 11, 2021 only.

Drinks


From Left: Ash / Eiji / Shorter / Shin / Lee | ¥799 Each


Fruity and colourful drinks inspired by four characters from Banana Fish.

Bonus Items


Customers who book a visit to the cafe in advance (¥650 per person before tax) will receive one of six possible face mask cases. Visitors will also get one of 15 replica tickets.

Additionally, for every drink ordered, they can get a free coaster from 7 possible designs.

Original Merchandise (Pre-Tax Prices)

Character Acrylic Badge (7 Designs) ¥650 Each / Memory Acrylic Badge (10 Designs) ¥650 Each



Clear Multi Case (3 Designs) ¥1,000 Each / Towel Handkerchief Set (Contains 2) ¥1,550 Each


The cafe will sell a range of original and exclusive merchandise both at the cafe and via their online shop too, so don't miss out.

Availability Period: December 17, 2020 at 10:00 – January 24, 2021 at 23:59
Early Bird Bonus Item: One replica ticket (15 designs) *Available until December 31, 2020

Lose yourself in the world of Banana Fish at this very special limited-time cafe.

©Akimi Yoshida・Shogakukan / Project BANANA FISH


Information

BANANA FISH Cafe and Bar – galleries –
Running: December 17, 2020 – January 24, 2021
Location: IKEBUKURO BOX cafe&space
Address: Matsumotokiyoshi Ikebukuro Part2 Floor 4F, 1-22-8 Higashi-Ikebukuro, Toshima-ku, Tokyo
Closed: December 30, 2020 – January 4, 2021
Bookings: Open from November 30, 2020 at 18:00 (JST)
Booking Price: ¥650 (Before Tax) *Comes with free novelty
Cafe Official Website: https://bananafish-cafebar.jp/

Sarutahiko Coffee Releases Pistachio and Mixed Berry Coffee Beverage For Christmas

Sarutahiko Coffee released a Christmas-exclusive seasonal flavour of its popular Jellatte dessert drink on Tuesday (December 1) which it's calling the "Maroron Merry Pudding Jellatte."

Maroron Merry Pudding Jellatte | ¥750 (Before Tax)

The beverage is the second in this year's Christmas themed drinks to be released by Sarutahiko Coffee. It uses a coffee jelly base made from Ethiopian coffee beans and contains layers of mascarpone cheese from Italy, a chocolate sauce made from Cacao Hunters chocolate, milk pudding, four kinds of mixed berry jellies, pistachio milk pudding, milk foam, and to top it all off, chocolate pieces and pistachios.

The pistachio and mascarpone bring a richness to the dessert drink which blends deliciously with the freshness of the berries and full-bodied coffee for a combination that's like a warm and cosy Christmas hug.

Information

Maroron Merry Pudding Jellatte
Serving: December 1, 2020 – December 25, 2020
Available: Sarutahiko Coffee in Japan
Official Website: https://sarutahiko.co