Starbucks Japan Reveals Spring Blend Releasing On Valentine's Day 2020
Nestlé has revealed that it is releasing a new seasonal coffee, the Starbucks® Spring Blend, on February 14 aka Valentine's Day.
Springtime and the cherry blossom season at is a popular time of the year every year at Starbucks in Japan. To beckon the cool breeze of the spring, the coffee chain is releasing three types of coffee at supermarkets and stores in Japan: the "Regular Coffee (Powder)," "Regular Coffee (Beans)," and "Starbucks Origami®︎ Personal Drip®︎ Coffee." The coffee is blend of beans from Latin America and East Africa, enjoying a balanced richness, and a flavour akin to milk chocolate and sweet orange, which can now be enjoyed at home or in the office.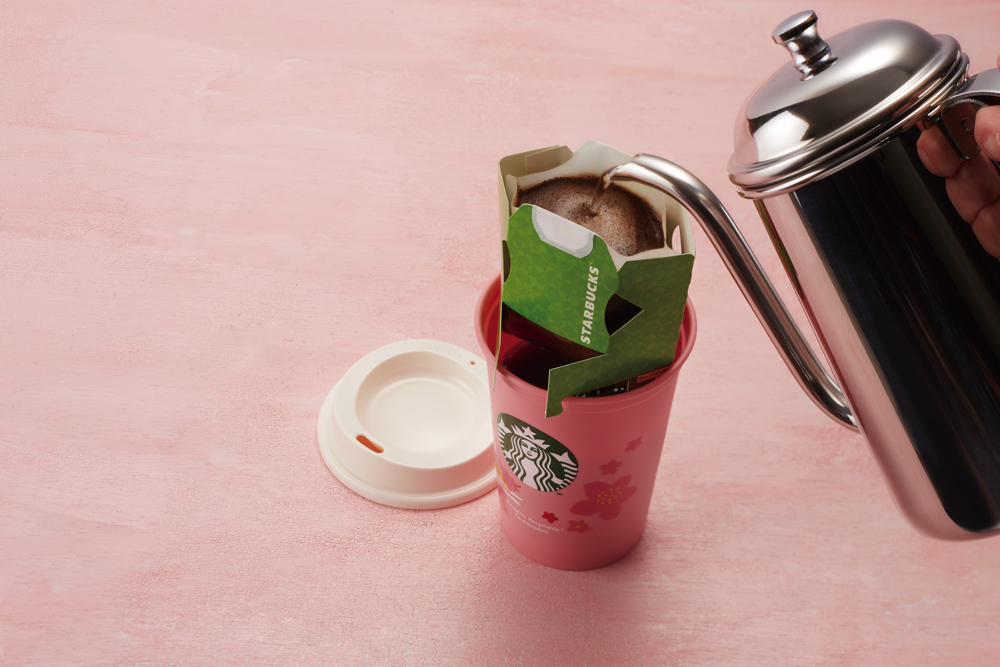 Starbucks is also releasing a set of four bags of a Spring Blend of the Starbucks Origami®︎ Personal Drip®︎ Coffee, as well as a reusable cup. Pre-orders are now also open to get the "Starbucks® Spring Cheer Gift," a set that comes with the coffee, the cup, and a cup holder, which is perfect as a gift to yourself or your coffee-loving friends, familyーor even your special someone this Valentine's Day.
Information
Starbucks®︎ Spring Blend
Release Date: February 14, 2020
Prices:
・Starbucks®︎ Spring Blend 140g (Powder) – ¥665
・Starbucks®︎ Spring Blend 210g (Beans) – ¥998
・Starbucks Origami®︎ Personal Drip®︎ Coffee Starbucks®︎ Spring Blend (4 Bags) – ¥475
・Starbucks Origami®︎ Personal Drip®︎ Coffee Starbucks®︎ Spring Blend w/ Reusable Cup – ¥598
Starbucks Japan Official Website: https://shop.nestle.jp/front/contents/sbx/season/spring/
RELATED ENTRIES
Starbucks Japan Unveils Candied Sweet Potato Frappuccino®

Starbucks Coffee Japan has revealed the second beverage in its Artful Autumn @ Starbucks® series of drinks. The "Candied Sweet Potato Frappuccino®" will be released at Starbucks branches in Japan on September 23, 2020.

Candied Sweet Potato Frappuccino® | Tall Size Only – ¥590

Each drink is made using a whole chopped and blended Japanese daigaku imo candied sweet potato to serve those autumn flavours, with its marbled golden colour also reminiscent of the autumn leaves. It's topped with whipped cream, black sesame seeds, and sweet potato syrup.

Truly the perfect dessert drink to sip on for the changing seasons.

Information

Candied Sweet Potato Frappuccino®
Serving: September 23, 2020 – October 31, 2020

Available: Starbucks in Japan (select branches not participating)

Starbucks Coffee Japan Official Website: https://www.starbucks.co.jp/

Yoshiki Collaborates With Attack on Titan in New WONDA Coffee Commercial

Yoshiki has teamed up with Asahi Soft Drinks once again in their latest commercial for WONDA coffee which sees the musician animated into the world of Attack on Titan. The commercial hit Japanese television on Thursday.

Yoshiki becomes a Survey Corps member in the new commercial

The 3D CG animated commercial sees Yoshiki as a Survey Corps member who bites his hand to turn into a Titan like Eren, but the only thing he is attacking in the video is his drum kit. He treats himself to WONDA's "Morning Shot" coffee beverage after falling over his drums.

Check out the commercial below.

WONDA x Attack on Yoshiki Coffee Cans

Limited edition cans of the Morning Shot coffee will also be sold, featuring Attack on Titan designs. Each can also has a QR code which when scanned will take you to a website to enter the serial code written on the can to win one of the Yoshiki designs as pictured below.

Information

WONDA x Attack on Titan Collaboration Campaign

Running: November 1, 2020 – November 6, 2020

Yoshiki Can Shipping Date: Early December 2020

Winnters: 1,000 to be chosen

Official Website: https://www.asahiinryo.co.jp/

Starbucks Japan's Chocolate Chestnut Frappuccino® Arrives This Autumn

The autumn leaves are set to fall on Starbucks in Japan again this year as the coffee chain announces the return of the "Artful Autumn @ Starbucks® Promotion" which is set to begin on September 2, 2020.

This year's drink concept is "Naturally Good Artfully Simple" which hopes to have customers feeling peaceful and enjoying the transition from summer into autumn.

Autumnal beverages made with whole blended chestnuts

Chocolate Chestnut Frappuccino®: ¥590 (Tall Only)
Chocolate Chestnut Latte: Short ¥450 / Tall ¥490 / Grande ¥530 / Venti® ¥570

What makes the Chocolate Chestnut Frappuccino® so special is its use of whole blended Japanese chestnuts—the quintessential autumn flavour of the country. The delicately broken pieces of chestnut add texture to the smooth milk and coffee and invite you into the cosy embrace of the season. Starbucks has chosen chocolate as the perfect partner to the chestnut. To best enjoy the balance of both flavours, the beverage is loaded with a "Chestnut Cacao Sauce" which gives the drink's appearance a beautiful marble effect. Everything's topped off with a squirt of whipped cream and a topping of chocolate flakes and candied cacao nibs.

Then there's the Chocolate Chestnut Latte, a combination of the same tasty Chestnut Cacao Sauce together with steamed milk and espresso carefully prepared by the baristas. The hot drink is completed by a topping of chocolate flakes and candied cacao nibs. The result is a wonderful mix of chestnut, chocolate, and espresso.

Another seasonal Starbucks latte


Autumn Latte: Short ¥340 / Tall ¥380 / Grande ¥420 / Venti® ¥460

The Autumn Latte is made with Starbucks Japan's "Autumn Blend" coffee beans. It has a smooth and gentle flavour.

Autumn in Japan is a time for seriously tasty drinks and desserts, so if you're in the country this autumn, be sure to stop on by Starbucks for an autumn coffee.

Information

Chocolate Chestnut Frappuccino®
Chocolate Chestnut Latte
Autumn Latte
Running: September 2, 2020 – October 31, 2020

Available: Starbucks in Japan (select branches not participating)

Starbucks Japan Official Website:  https://www.starbucks.co.jp/

Tokyo's New Starbucks Branch in Ginza is a Cafe Dream Come True For Workers and Business People

Starbucks Coffee Japan opened a new branch at CIRCLES Ginza on July 30, 2020 that will serve as a dream location for business people.

The dream coffee shop, split into two floors, offers a unique environment and service created in collaboration with Think Lab. Rather than your regular, more public Starbucks, this branch also lets customers reserve booths and meeting spaces. This includes the SMART LOUNGE™ aimed at business users, as well as solo working spaces by Think Lab.

Starbucks Coffee CIRCLES Ginza caters to both solo workers and co-workers, giving them a space to think and concentrate alone, or come together in groups to exchange ideas. Booths offer a place to host online meetings, the SMART LOUNGE lets groups arrange chairs and tables however they like, and the Think Lab—which you pay an extra fee to use—is the perfect spot for some quiet contemplation.

1st Floor: Quick TOGO experience

The first floor is for people who aren't looking to stay at the cafe long. They are looking for a quicker experience where they can order their Starbucks drink and food and head on out. The cafe offers cashless payments, which is notable as Japan is still very much a cash-based country, as well as the Starbucks mobile order and pay service where you pick what you want on your phone and then go and pick it up.

2nd Floor: A place where you can focus

Reserve a booth for video calls and more


There are four individual half-booths which can be reserved, each of which have a screen for video calls and online meetings. These can be used for 40 minutes and can be booked in advance. The booking system was co-developed by Starbucks and Vacan.

Tables for in-person group meetings

The window tables offer a place for meetings, discussions, and business negotiations for 2-12 people. It's a relaxing area where workers and clients can chat freely.

解放される"ひとり"のためのパーソナル空間

For those who want to work along, Starbucks has created a spacious area with individual booths where you don't have to meet eyes or be bothered by other people.

If you're working in Tokyo, and need a business-oriented location where you can enjoy a coffee, then look no further than Starbucks Coffee CIRCLES Ginza.

Information

Starbucks Coffee CIRCLES Ginza

Grand Opening: July 30, 2020

Address: CIRCLES Ginza, 3-7-6 Ginza, Chuo-ku, Tokyo
Opening Hours: 7:00-22:30
TEL: 03-6228-6715

Starbucks Japan Official Website: https://www.starbucks.co.jp/

Starbucks Japan to Open New Branch Produced by Hiroshi Fujiwara in Miyashita Park

Starbucks Japan is opening a new branch in MIYASHITA PARK on August 4, 2020. Set to be Starbucks Japan's fifth "park" branch—opening inside a park—the new coffee shop is being produced by Hiroshi Fujiwara's Fragment brand.

MIYASHITA PARK is a shopping complex filled with shops stocking high quality products, and stands as a new landmark of Shibuya. On the rooftop is the newly-arranged park area which has its own skate park, bouldering wall, and more. It's home to all-new facilities, and there's also the actual park where events can take place.

Starbucks Coffee Miyashita Park offers a new style of Starbucks conceived from the mind of Hiroshi Fujiwara. Glass doors are fitted on both the front and back sides of the cafe, allowing for a full-open design. The flooring is coloured green, making it feel as if it has become one with the green outdoors of the park, and the same mesh used inside Miyashita Park is used for the ceiling.

The cafe's design was conceived to be a unique standout in the park, specifically with the image in mind of countries outside Japan where you walk along a lone road and eventually come to a gas station.

Starbucks Coffee Miyashita Park will also sell a range of merchandise at the back of the shop, as well as Starbucks coffee beans. There's also a glass table in the middle of the cafe which slots in nicely with the overall aesthetic. The fun design together with the expanse of the park outside adds for an enjoyable combination that makes it a pleasant stay as you sip your beverage.

The regular line-up of merchandise sold at the Miyashita Park branch, such as the tumblers, are all produced by Hiroshi Fujiwara's Fragment brand. Items are branded with the word "MYST" which lets you know it's from this particular branch, as well as Fragment's logo.

Discover a new Starbucks experience at Miyashita Park.

Information

Starbucks Coffee Miyashita Park
Address: 6-20-10 Jingumae, Shibuya, Tokyo

Grand Opening: August 4, 2020

Opening Hours: 8:00-22:00

Pour Sake Into These Cups and Watch the Cherry Blossoms Bloom

Japanese online store Fujimaki, which sells rare luxury products, released the new "Sakura no Heihai" (Cherry Blossom Sake Cup) on July 18 which has a cherry tree design on it that blossoms when cold sake is poured over it.


The cup is manufactured by Marumo Takagi, a Japanese pottery and ceramics company based in Tajimi, Gifu, which has been running for over 130 years. Due to the effects of the COVID-19 pandemic, many people held out on the Hanami (cherry blossom flower viewing) in Japan this year. Marumo Takagi conceived the idea for their new cup as a result of this so that people can enjoy Hanami from the comfort of their own home.

Left: Blossoms in 7 minutes with liquids near 17°C / Right: Very cold liquids cause a full bloom

Each and every cup is handmade individually, including the cherry blossom designs. The flowers bloom a faint pink when the users pours in liquid which are of a temperature around 17°C. If the liquid is very cold, the cherry blossoms take on a full bloom pattern. The white porcelain serves to emphasise the pink hues of the flowers.

The secret behind how this reaction happens lies in the tools used to draw the illustration. Seiji Takagi, the 5th generation president of Marumo Takagi, conceived the idea when he simply thought how amusing it would be to have a function on one of the company's drinking vessels that changes as a result of temperature.

Takagi explained how the went through much trial and error to achieve their vision for the colour, something which they were more focused on than everything else in the manufacturing process.

Cherry Blossom Sake Cup (Japanese: 桜の平盃): ¥3,300 (Tax Included)

The western region of Gifu Prefecture is famous for its Japanese ceramics. It is the biggest pottery manufacturing location in Japan and has been firing up ceramics for over 1,300 years. The city of Tajimi in Gifu, where Marumo Takagi is based, has prospered when it comes to the creating sake cups. The cherry blossom sake cup comes as an innovative design and shows the true skill and art of Marumo Takagi's artisans.

Tokyo's National Museum of Nature and Science Launches YouTube Video Exhibition On Japanese Cherry Blossoms

National Museum of Nature and Science, Tokyo has posted a new series on its YouTube channel entitled "Japanese Cherry Blossoms Illustrated by Ohta Yoai, a Pioneer of the Botanical Art in Japan."

In response to the coronavirus outbreak, the Ueno-based museum was forced to close its doors to the public on February 29, 2020. The museum was originally scheduled to hold the "Japanese Cherry Blossoms Illustrated by Ohta Yoai, a Pioneer of the Botanical Art in Japan" exhibition at the museum itself from March 14 to April 12, but due to the closure it was not run.

However, the exhibition planners still wanted people to see the content of the exhibition, and so they have posted three videos on YouTube to take viewers on a tour of it. The three videos, themed on "Botanical Art," "Japanese Cherry Blossoms," and "Ohta Yoai" are presented by Japanese botanist Masanobu Higuchi.

In the first video, we are introduced to the exhibition's theme of Japanese cherry blossoms. We get to see examples of cherry blossom collected by Tomitaro Makino, the father of Japanese botany.


In the second video, we realm about what kind of person illustrator Ohta Yoai was, as well as botanist Jisaburo Ohwi. Both of them co-wrote the 1973 work Nihonzakura Shu ("A Collection of Japanese Cherry Blossoms").


In the third and final video, we get to see some of Ohta Yoai's best pieces, along with explanations of what kinds of cherry blossoms they are.

Matcha Flavoured Caffè Latte to be Released by Japan's Popular Chilled Coffee Cup Brand

Mt.RAINIER is launching a matcha flavoured caffè latte in Japan for a limited time starting from April 21, 2020.

Mt.RAINIER launched in February 1993 as a pioneering brand of chilled coffee in a cup. Since then, the company has introduced countless flavours which retain the authentic quality of a drink you would sip on in a cafè. With the number of people working from home rising, Mt.RAINIER is looking to be an easy grab for its customers to refresh and relax them during this time.



With the Olympics being delayed until next year, 2021 is the new year expected for Japan to be in the spotlight. With many people interested and becoming interested in Japanese culture, including the Japanese themselves, the market for providing products to enjoy Japan and its culture is expected to grow. Mt.RAINIER is hopping on board this train with its new "Nippon Color Vibes" drinks series which will include beverages that capture the vibe of Japanese culture. The first drink in the line was cherry blossom flavoured, and the upcoming entry is matcha.


The Mt.RAINIER Matcha Caffè Latte blends together matcha made from leaves carefully selected by tea experts with milk and a shot of espresso.

Information

Mt.RAINIER Matcha Caffè Latte

Price: ¥150

Release Date: April 21, 2020

Location: Everywhere in Japan

Official Website: https://www.mtrainier.jp/nipponcolorvibes/

*The Mt.RAINIER Matcha Caffè Latte will be featured on the website from April 21, 2020 at 11:00 A.M. (JST)

5 Best Cherry Blossom Spots in Hokkaido | 2020 Edition – MOSHI MOSHI NIPPON

Sapporo, Asahikawa, Abashiriーthe list goes on when it comes to incredible places to see the cherry blossoms in Hokkaido. And the best time to see them in Japan's northernmost main island is May.

Today, we are joined by Mirina, an Instagrammer who posts photos of tourist and sightseeing spots in Hokkaido that are rich in nature. She has shared her photos with us along with details of 5 must-visit famous cherry blossom sites in Hokkaido. Let's take a look.

Tokiwa Park


Tokiwa Park is located in the city of Asahikawa, and is home to around 200 individual cherry trees of various kinds including the Yoshino cherry and ezo yamazakura. Weeping cherries also dangle their graceful branches around the lake, which you can sail through on a boat for an even more memorable cherry blossom experience. Tokiwa Park is also listed as one of Japan's "100 City Parks," so it's one that needs to go on your list of sightseeing spots if you're travelling to Hokkaido.

Tokiwa Park


Address: Tokiwakoen, Asahikawa, Hokkaido

Access: 25-minutes on foot from Asahikawa Station (via JR Line). Alternatively, board the Tohoku Bus and get off at Tokiwa Park (常磐公園).

Official Website: http://www.asahikawa-park.or.jp/

Twin Harp Bridge

This spot is also located in Asahikawa. It gets its name from how the bridge looks like two harps lined up next to each other. Twin Harp Bridge is also a popular place with the locals for celebrating Hanami in the spring season as cherry blossoms bloom in the vicinity of the bridge.

Twin Harp Bridge

Address: 4 Chome Toko 18 Jo, Asahikawa, Hokkaido to 5 Chome Kyokushin 1 Jo, Asahikawa, Hokkaido

Access: 20-minutes by car from Asahikawa Airport / 15-minutes by car from Asahikawa Station

Official Website: http://www.city.asahikawa.hokkaido.jp/files/tosi_kei/index.htm

Kitoushi Forest Park – Family Village

Located southeast of Asahikawa, Kitoushi Forest Park – Family Village offers views of ezo yamazakura as well as shibazakura moss phlox. Visitors can also have barbeques at the facility for an even better outdoor experience combining great food with cherry blossom viewing.

Kitoushi Forest Park – Family Village (Kitoushi Shinrin Koen Kazokuryokomura)

Address: 5 Gokita-44 Nishi, Higashikawa, Kamikawa-gun, Hokkaido

Access: 40-minutes by car from Asahikawa Station

Official Website: http://www.kazokuryokoumura.jp/

More Information (English): http://www.asahikawa-tourism.com/asahikawa/asahikawa_sites/higashikawa/higashikawa_en.html

Maruyama Park


Maruyama Park is another famous cherry blossom site where Yoshino cherry trees and ezo yamazakura bloom. Compared to Asahikawa, the cherry blossoms here bloom a little earlier during spring. You'll catch them from late April to early May. During the cherry blossom season, there is a place where fires can be lit, so you'll catch people cooking up jingisukan, a type of Japanese mutton dish.

Maruyama Park

Address: Miyagaoka, Chuo Ward, Sapporo, Hokkaido

Access: 5-minutes on foot from Maruyama-Kōen Station

Official Website: http://www.sapporo.travel/find/nature-and-parks/maruyama_park/

Higashimokoto Shibazakura Park


Higashimokoto Shibazakura Park's rolling hills offer a breathtaking view of shibazakura moss phlox cherry blossoms. The hills themselves aren't steep, so the spectacle can be enjoyed from both the top and bottom of them. The Shibazakura Festival is also held between May and June.

Higashimokoto Shibazakura Park

Address: 393 Higashimokotosuehiro, Ozora, Abashiri-gun, Hokkaido

Access: 30-minutes by cat from Abashiri Station. Alternatively, board the transit bus from Abashiri Station, get off at Higashimokotocho (東藻琴町). The park is a 5-mintue drive from here.

Official Website: http://www.shibazakura.net/

 

Photo:Mirina has visited many sightseeing spots in Hokkaido, so if you're looking for more places to visit be sure to follow her on Instagram.

Photos: Mirina Nishio

Travel Virtually to Japan's City of Komoro in Nagano to See Cherry Blossoms, Soak in the Onsen & More

Komoro Tourism Bureau has developed the new "Komoro Tourism Channel" using Voicy, a news and media site which reports spoken information online. The channel focuses on the latest information with regards to tourism in Komoro, and focuses on the city's many different hot springs.

About Komoro

Komoro is a city in Nagano Prefecture. Komoro Castle is home to Kaikoen Park, which was chosen as the 100 best cherry blossom spots in Japan. The city also boasts a wide variety of onsen (hot springs) which offer amazing views and numerous different bathing experiences. Komoro Tourism Channel covers all of this and more.

Komoro is about 2-hours by car via the Nerima Interchange on Kan-etsu Expressway. It's also accessible from Tokyo via car. You can also reach it in around 24 minutes from Karuizawa Station via Shinano Railway.

Delivering the sounds of the relaxing onsen from Komoro

Komoro has eight water sources which provide water to its hot springs. The city sits 1,400 meters above sea level, from which each of its hot springs offer breathtaking views. The podcast on the hot springs, which is in Japanese, lets you feel like you're experiencing them from your very own home. More podcasts on Komoro are planned to be released in the future, and QR codes will be implemented are various hotels and tourist facilities in Komoro which when scanned will offer voice guides to those places.

Komoro Tourism Channel: https://voicy.jp/channel/1074

The Komoro Tourism Bureau is coming up with measures to continue promoting the city during the ongoing coronavirus pandemic. As well as Komoro Tourism Channel, it is also releasing information on its website, Twitter page, and elsewhere.

Kaikoen Park at Komoro Castle

Kaikoen Park at Komoro Castle is a tourist hot spot in Komoro. The castle itself was chosen as one of Japan's 100 most famous castle sites. It is also famous for the castle itself being situated lower than the town around the castle. Kaikoen Park was selected as one of Japan's 100 best cherry blossom spots, where around 500 trees bloom Yoshino cherries, shidare-zakura, higan-zakura, and more through April every year. The "Komoro-yae-beni-share" tree is an endemic species of cherry tree to Komoro and has a deep pink colour. The park also has towering stone walls and is home to the the front castle gate.

Komoro Castle Official Website (Japanese): https://www.komoro-tour.jp/castle/

Komoro Castle Official Website (English): https://www.komoro-tour.jp/lg_en/

See 3,000 Rhododendrons in Full Bloom at the Tsutsuji Garden by Lake Ashi in Hakone

May is the most colourful time of the year at Hotel de Yama near Lake Ashi in Hakone, when a total of 3,000 rhododendronsーcomprised of 30 different typesーbloom their beautiful flowers in the large Tsutsuji Garden, where one can enjoy a great view of Mount Fuji and Lake Ashi.

Tsutsuji Garden at Hotel de Yama

"Tsutsuji" is the Japanese word for rhododendron. The Tsutsuji Garden at Hotel de Yama was once the villa of Koyata Iwasaki, "the fourth and last president of a unified Mitsubishi." During that time, numerous varieties of rhododendrons were planted in the garden, which have since been maintained. There are plants amongst them that are over 100-years-old, ones that tower over the human stature, and more; with petals that bloom pink, red, purple, and white.

A combined view of the kaleidoscopic rhododendrons and Mount Fuji

The staff who are experts on the garden have set up two photo frame stands in two of the best spots in the garden for taking picturesque photos. Snap some Instagrammable and memories with the colourful rhododendrons and Mount Fuji together.

Rhododendron Desserts: Saison a colorier – ¥1,634 / Tea Set – ¥2,360 (Before Tax)

Salon de thé Rosage, the dessert restaurant that sits in front of the hotel, is serving up a new special dessert called "Saison a colorier" in line with the full bloom of the rhododendrons. It captures the colourful pink, red, white, and purple appearance of the flowers, and looks like a mini version of the hotel's garden on your plate. The main part of the dessert is the tea mousse, which has a bright red colour as it is coated beautifully in a strawberry puree nappage. The tea used in the mouse is an original rhododendron blend exclusive to the restaurant.


The white rhododendron dessert is a macaron that's filled with raspberry sorbet. The red which contrasts with the white is a rhododendron milk tea cream and fresh raspberries. The rest of the plate is adorned with pink jelly and edible flowers. The perfect afternoon tea to finish off your time at Tsutsuji Garden.

3 Must-Visit Cherry Blossoms Spots in Nagasaki Prefecture's Hirado City | Spring 2020

Spring has arrived in the city of Hirado, Nagasaki, which has been dyed a cherry blossom pink colour from the blossoming of the cherry trees. A simple glance at the signs of spring there is enough to have one feeling elated. It has also made the news that the budding of the cherry blossoms in Hirado has arrived earlier than usual.

We've made a list of 3 popular spots to enjoy Hanami in Hirado this spring.

Jigenzakura


Jigenzakura is a single sakura tree that stands proud and majestic. Aged 140 years old, the tree is listed as a National Treasure of Hirado. It's close to the Oshima variety of cherry tree, and was planted by Catholics who migrated to Japan at the beginning of the Meiji Period. A visit to Jigenzakura offers a splendid sight to behold as it blossoms in the ravine. The best time to see it in full bloom last year was March 31.

Address: Kigatsucho, Hirado, Nagasaki (35-minutes from Hirado Bridge)

Nagasaki Tabi Net: https://www.nagasaki-tabinet.com/guide/51690/

 

Kameoka Shrine / Kameoka Park


Kameoka Park is a famous cherry blossom site that's adjacent to Hirado Castle. It's home to around 1,000 sakura trees, which are best seen from the end of March to early April. It also has a very rare type of cherry blossom called the nidozaki-zakura which blooms twice. You can see these around mid-April at Kameoka Park.

Address: 1458 Iwanouechō, Hirado, Nagasaki (7-minutes from Hirado Bridge)

Nagasaki Tabi Net: https://www.nagasaki-tabinet.com/guide/370/

Tabira Park


Tabira Park is just over Hirado Bridge, and is a place where you can look out at both Hirado Bridge and Hirado Seto while gazing at the rows of cherry trees.

Address: 823-1 Tabirachō Kotedamen, Hirado, Nagasaki (Next to Hirado Bridge)

Official Website: http://nagasaki-park.or.jp/free/tabira

Hirado is easy to get to, and is a must-visit not just for Hanami, but for the food and its rich history too.