【Tokyo Cafe】 Where all the matcha lovers gather…まっちゃんの旅 Part II
Hello again to all the Matchans!
Today I will be showing you a restaurant that's famous for their matcha fondue.
Japan is so amazing and unique. Who would've thought of starting a matcha fondue restaurant?
The restaurant is called Saryo, and it's about a 7 minute walk from Kagurazaka station.
You can enjoy eating inside or at the open roof terrace seats.
There was already a long line on the day I went, even though it was a weekday.
While waiting, the waitress handed us a menu and a blanket to keep us warm.
I thought they would only have matcha, but there were also regular meals on the menu too.
Of course my friend and I ordered the matcha fondue~!
We were able to order the set menu with drinks, but it was so hard for us to decide which drink to order.  I'm pretty sure the menu offered more than 30 different types of drinks to choose from.
My friend went with the sweet fruit tea, and I ordered the premium matcha latte.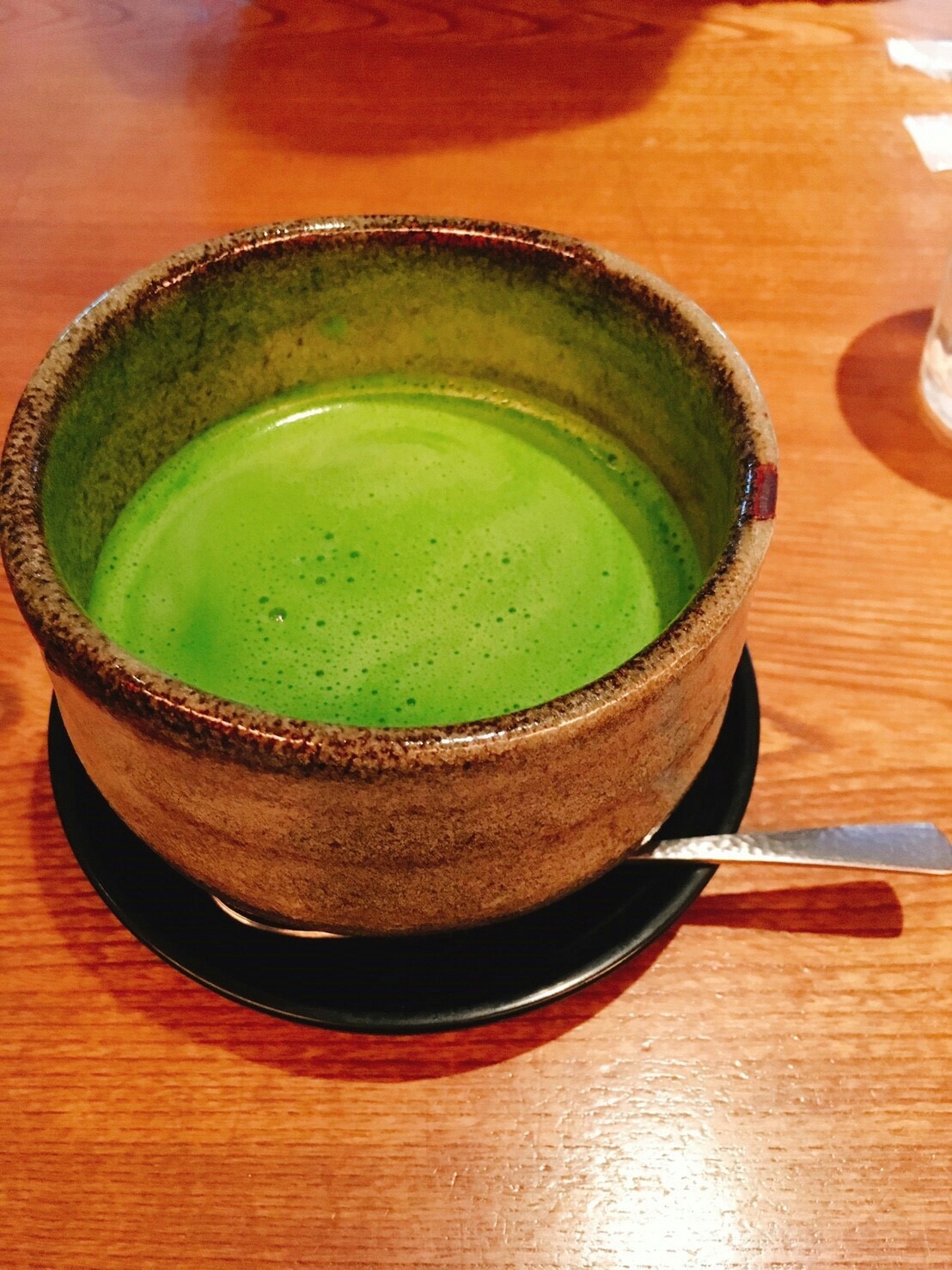 The matcha latte tasted more bitter than I imagined, but it was very delicious.
Then came the matcha fondue!! The fondue sauce is made with matcha and white chocolate and it came with strawberries, shiratama rice balls, jello, ice cream and crackers.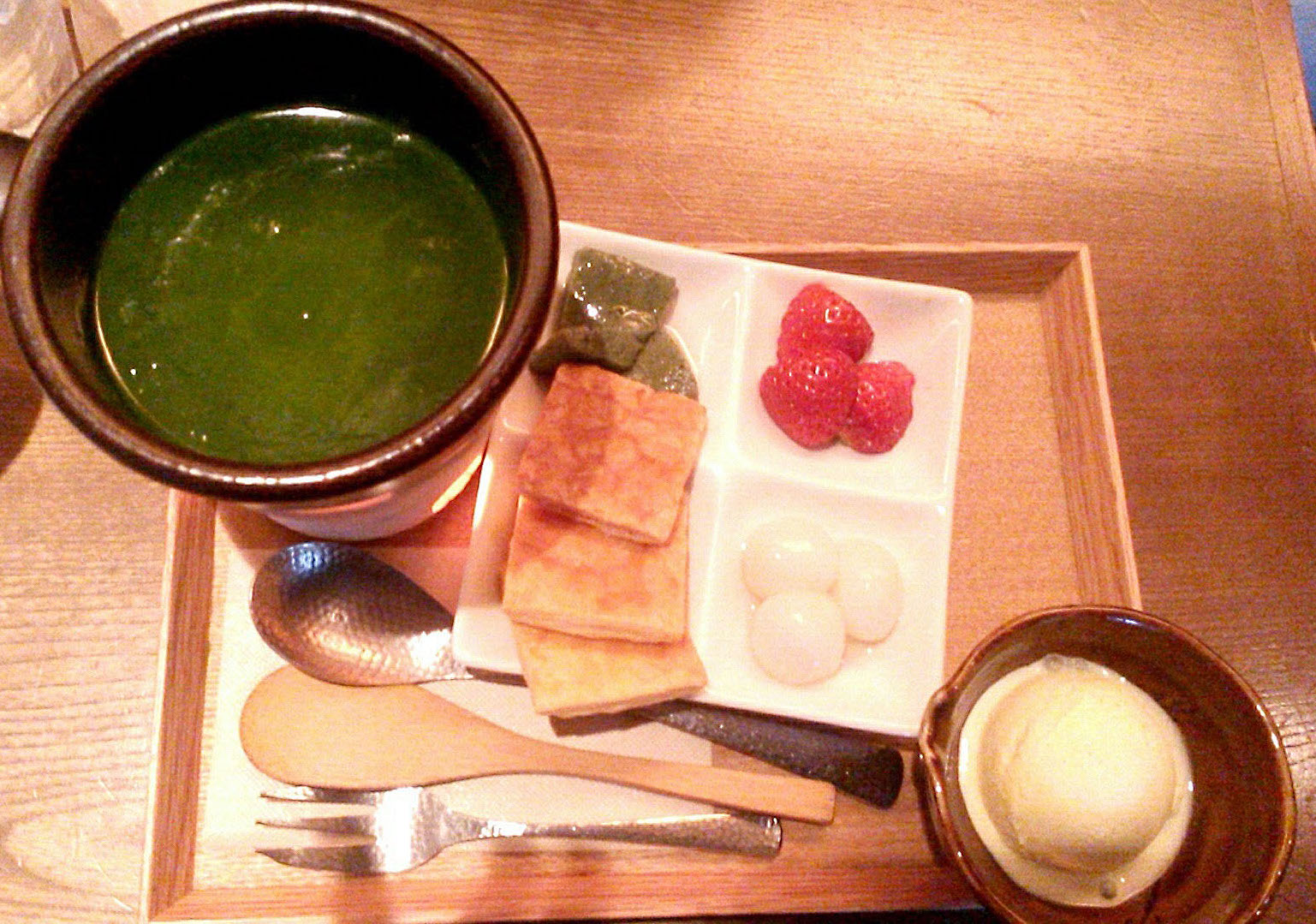 The crunchy crackers and chewy shiratama balls were the best match with the deep bittersweet matcha. I couldn't stop dipping them in the fondue.
It also came with vanilla ice cream, but it melted really fast so I would recommend you to eat that first.
I wanted to try the matcha fondue itself so I started eating it with a spoon. I couldn't stop eating it as you can see…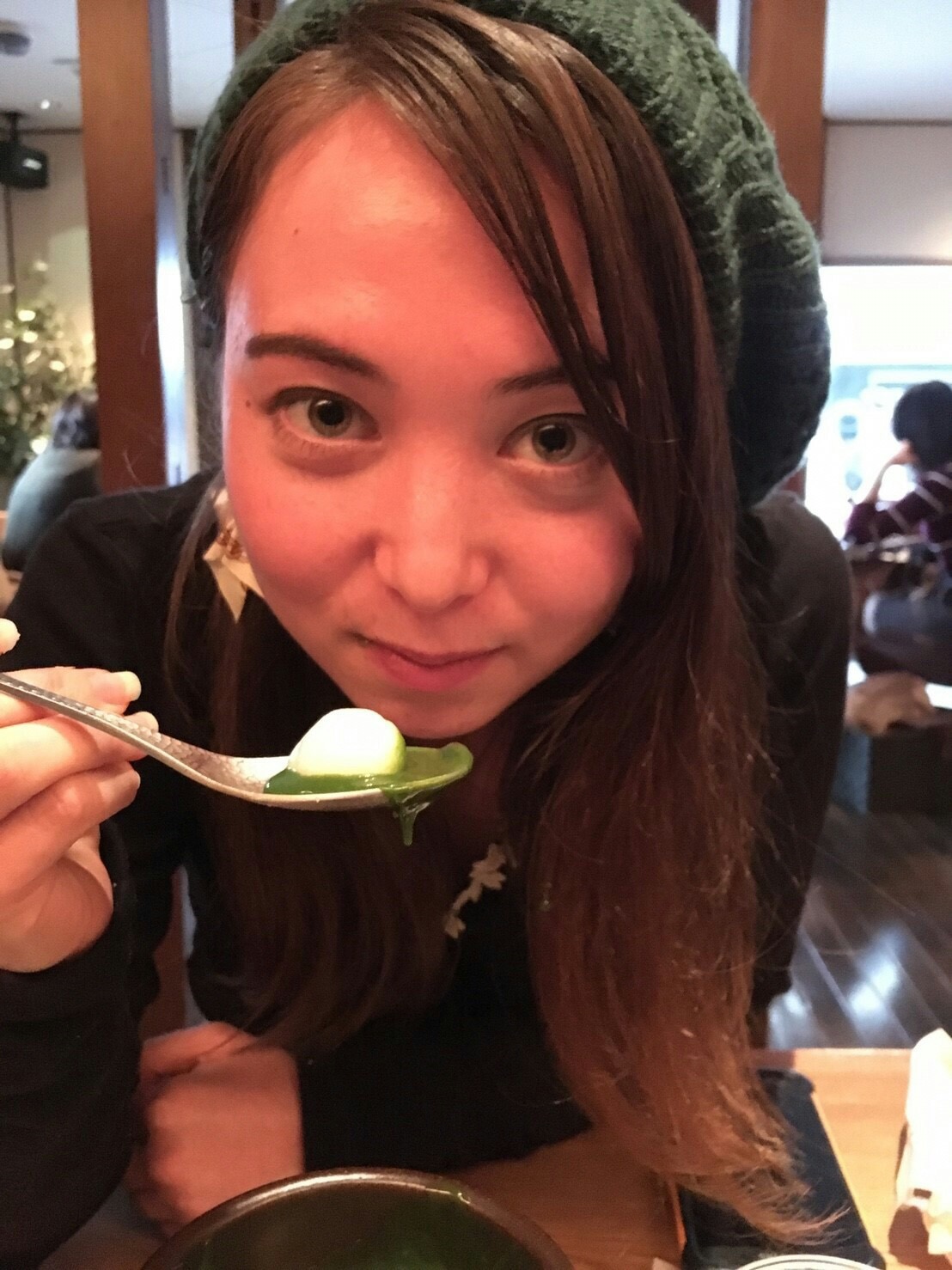 Kagurazaka was pretty far from my home, but this long train ride still paid off handsomely when I came here!
Matcha hunting to be continued….
■Writer:Jessica
■SNS:@mintbaaby /Instagram
Information:
Name: Saryo
Address: 5-9 Tokyoto Shinjukuku Kagurazaka 162-0825
Telephone: 03-3266-0880
Open: 11:30am~22:00pm
—
■Related article:Where All the Matcha Lovers Gather…まっちゃんの旅
■Related article:Come and Try Yummy Soba
RELATED ENTRIES
Starbucks Japan Reveals Matcha x Matcha White Chocolate Frappuccino®

Starbucks Coffee Japan has revealed that its second instalment of its limited-edition holiday season 2020 beverages will be the "Matcha x Matcha White Chocolate" and "Matcha x Matcha White Chocolate Frappuccino®" which customers can order from November 24. A new batch of festive Starbucks merch will also hit Japanese branches on November 30.

A harmonious fusion of matcha and sweet white chocolate

Matcha x Matcha White Chocolate Frappuccino® Tall ¥590 (Tall-size only)

Matcha x Matcha White Chocolate: Short ¥450 / Tall ¥490 / Grande ¥530 / Venti® ¥570 (Hot option only)

Matcha is one of Starbucks Japan's signature flavours and just to happens to have been in the spotlight in last year's holiday season drinks. This year sees marbling mixture of of rich matcha sauce and sweet white chocolate syrup with the Frappuccino®, finished with a squirt of whipped cream, brownie bits, and snowy powdered sugar. The hot version comes as a marriage of matcha and white mocha mixed together with steamed milk to warm the cockles of hearts during the cold months.

New holiday season merchandise

The theme of the second batch of merchandise is "Brilliant Season" which capture the bright and sparkly vibe of winter like with the snowflake-covered stainless steel bottle, a glass mug with beads in it that move around when shaken, a snow globe, and more. The perfect line-up for capturing the holiday season mood during your coffee break.

Starbucks Japan is currently serving the Berry x Berry No-Bake Cheesecake Frappuccino® and Berry x Berry White Mocha holiday season drinks for the holiday season until November 24 when they will be replaced by the Matcha x Matcha White Chocolate and Matcha x Matcha White Chocolate Frappuccino®. It is also serving the Starbucks® Christmas Blend, Gingerbread Latte, and Macadamia Toffee Latte until Christmas Day.

Information

Matcha x Matcha White Chocolate and Matcha

Matcha White Chocolate Frappuccino®

Running: November 1, 2020 – December 25, 2020

Available: Starbucks in Japan
Starbucks Japan Official Website: https://www.starbucks.co.jp/

Cuzen Matcha Releases in US and Lets You Make Fresh Matcha at Home

World Matcha Inc. launched the Cuzen Matcha machine in the USA on October 21, 2020. The product arrives to the North American market after a hugely successful Kickstarter campaign where it achieved 235% of its funding goal. It has already received praise from some of the country's top chefs and hoteliers including Tartine's Chad Robertson and SingleThread's Kyle Connaughton.

Cuzen Matcha

Cuzen Matcha allows for any person to produce fresh matcha with the company's shade-grown whole organic leaves and award-winning technology. Users simply add fresh leaves grown in Kyushu to the machine, and with the press of a button, it instantly creates freshly-ground matcha, delivering the superior health benefits of matcha to everyone. Sustainability is also at the heart of the brand which incorporates sustainable tea farming, sustaining a tea-growing tradition, and wrapping it all up in sustainable packaging

Eijiro Tsukada (World Matcha Inc., Co-Founder and CEO)

"We have been helped by a lot of people and have put our trusts in them while developing Cuzen Matcha. Now we're launching it into the world to lots of people, even if it reaches only one. We will deliver fresh matcha in a way no one else is along with all of its health and lifestyle benefits. And I hope to create a more sustainable future together with our customers around the world." (Translated from Japanese by MMN)

Taste Authentic Japanese Matcha at Asakusa's New Matcha Specialist Shop Kaminari Issa

Asakusa welcomed the newest and third branch of matcha dessert specialist shop Kaminari Issa on October 2, 2020, which opened its doors along Dempoin Street. The shop is just a 3-minute walk from Asakusa Station and 2-minutes from Kaminarimon.

Signature delights on Kaminari Issa's menu include the Okoicha Warabi Latte and Okoicha Gelato. Everything on the menu is made with rich, high quality matcha, from the matcha tea lattes to the matcha beer, parfaits, ice cream, dacquoise, and more. If you love matcha, and you're in Tokyo, this place is a must-visit.


There are plenty of items to get your hands on in this newest store, which also has its own eat-in space, tea leaf display, and more.

They even sell kits so you can make your own Okoicha Warabi Latte and Wakocha Brown Sugar Warabi Latte at home.

Information

Kaminari Issa Dempoin-dori
Address: 2-2-2 Asakusa, Taito-ku, Tokyo
Opening Hours: 10:00-18:00 (until 17:00 on Mondays)
TEL: 03-5830-6948
Access: 3-minutes on foot from Asakusa Station
Official Website: https://www.kaminari-issa.com/

Food Review: CARRE AU CHOCOLAT matcha dessert made with Yamecha tea from Fukuoka

Matcha has become a common ingredient and flavour in people's lives outside of Japan. It's now easier than ever to get your hands on something matcha flavoured, whether it be desserts or the tea itself. Even in Japan, you'll find new matcha products released daily. Today, we're reviewing a particular matcha dessert made using the highest quality Japanese ingredients.

Marche co., ltd., a subsidiary of TAGPIC Inc., co-launched a luxury sweets brand called 'BRANCHE CHOCOLAT' on September 9, 2020, together with Riku Yakushijin who, as a chef at the introduction-only French restaurant Sugalabo, works as a Culinary Producer where he has honed the concept of 'food literacy.' Together, they have released their very first dessert together: the matcha-flavoured 'CARRE AU CHOCOLAT.'

About BRANCHE CHOCOLAT

BRANCHE CHOCOLAT is a high quality sweets brand based on the idea of wanting to expand the number of authentic and genuinely good sweets. The brand's name is a combination of the French words branche, meaning to 'connect' or 'tie,' and chocolat which of course is chocolate. Everything they do is totally calculated, using good quality Japanese ingredients while keeping in mind flavour, texture, and appearance, and taking into account the joy of sharing, the surprise when eating, and the moment you put something delicious into your mouth―and all of this without being predictable. By making their products into a distinct cube shape, it makes the dessert look stylish, easy to eat, and easy to photograph from every angle.

The First Product: Matcha 'CARRE AU CHOCOLAT'


GIFT BOX ¥5,478 (Tax Included) / ECO BOX ¥4,378 (Tax Included)

The first product in BRANCHE CHOCOLAT's line is the 'CARRE AU CHOCOLAT' which is made using yamecha from Fukuoka. Yamecha is a type of tea produced in Fukuoka that comes in many different forms depending on the variety and how the tea is ground, which can make for a whole range of different results from types that are beautiful in colour to very bitter flavours, very rich flavours, or very sweet flavours. And to ensure they get the absolute full potential out of the yamecha, BRANCH CHOCOLAT conceived over 50 recipes through trial runs and taste-testing. The end result had them arrive at the recipe we have here today which preserves the original flavour of the tea while enhancing it to be even more elegant in taste.

Tasting Time


When opening the dessert box, your gaze is arrested by the sparkle of the four-sided matcha dessert. A dessert that's cube-shaped looks good enough to snap a photo from any angle. As you fork into the chocolate, it's softer than Japanese ganache, and moister than a terrine.

Time to tuck in.

Your taste buds are met by the sweetness of the rich chocolate together with the bitter, full-bodied taste of the yamecha. It feels smooth in the mouth and just melts. You can really savour the matcha which penetrates all the way to your nose. This is a completely different dessert experience which is deep and rich in flavour yet has a lightness to it.

Underneath the chocolate is a traditional French confection known as pain de genes which has been thinly sliced which makes it feel a little like eating a cake when enjoyed with the chocolate. The simple flavour of the pain de genes and the sweetness of the chocolate are a perfect match for one another.

It's precisely because the CARRE AU CHOCOLAT uses high quality Japanese matcha that you can savour the sweetness, delicious taste, and the adequate amount of bitterness. This is a treat that any and all lovers of matcha and chocolate cannot afford to pass on. It's the perfect size to be enjoyed by 2-4 people, making it great for a special celebration, a home party, or if you want to share it with someone special.

Solo Sauna Tune: Tokyo's New Privacy Guaranteed Finnish-Style Sauna

Solo Sauna Tune is a new sauna that offers "total privacy" which is set to open its first branch inside UNPLAN Kagurazaka in Tokyo this November.


Most sauna facilities in Japan cater to groups, but at Solo Sauna Tune, all guests are given their own space where they can undress, bathe, and relax in their own private room. This is especially desirable during the current pandemic where social distancing is paramount, and is a great opportunity for people not wanting to travel in groups.

The solo saunas are heated using sauna stoves imported from Finland. Adding water to the sauna stones lets guests control the amount of steam in the room so they can adjust as they like. There is also a Japanese white birch aroma provided to the löyly (Finnish for 'steam').

Guests can also cool off in cold water. The Chiller provides water at 15℃. There are also overhead showers for cooling down, and the showerheads can be adjusted to make the water come out like mist.

The relaxation area is coloured in a stylish black where guests can kick back for a while.


After using the sauna, guests can visit the powder room where there are a varieties of free amenities. There's also a café which serves craft beers, food, and other treats.

Information

Solo Sauna Tune
Address: UNPLAN Kagurazaka, 23-1 Tenjincho, Shinjuku-ku, Tokyo
Grand Opening November 2020

Opening Hours: TBA

Prices: TBA
Access: 3-minutes on foot from Kagurazaka Station / 7-minutes on foot from Edogawabashi Station / 9-minutes on foot from Ushigome-Kagurazaka Station

Official Website: https://www.solosauna-tune.com/

Experience Old Time Kyoto in Autumn 2020 With Tea and Textiles

Kyoto, the ancient capital of Japan, is also called the birth place of Japanese culture, with a history spanning 1,200 years. Today, we're going to take a look at a number of upcoming events and seasonal items on sale in Kyoto for autumn 2020.

Celebrating 300 years of Tango Chirimen

This year marks 300 years since Tango Chirimen was established, a company located in Tango in northern Kyoto that specialises in a Japanese textile of flat woven silk known as 'chirimen.' There are many local chirimen brands around Japan, but it is the chirimen from Tango that has stood above the rest these past 300 years. The brand is now looking to the start of a new era for itself during its triple century milestone.

LIFE WITH THE QUALITY

Tango Chirimen is currently displaying a collaborative art exhibit at NEWoMan Shinjuku in Tokyo. This includes the entry display made in collaboration with Japanese artist Saki Tanaka, wall art made from woven fabrics, and more.

Running: Until September 30, 2020

Location: NEWoMan Shinjuku

Lineup: Display in collaboration with Saki Tanaka, wall art, and more

United Arrows x Tango Chirimen

United Arrows is also collaborating with the brand and incorporating their logo mark "TANGO OPEN" on a new men's t-shirt.

Product Name: BY Tango Broad Wide Form Tapered Shirt
Buy Here: https://store.united-arrows.co.jp/shop/by/goods.html?gid=52838245
Sold at: BEAUTY & YOUTH UNITED ARROWS stores and their official online store

Taste tea from Uji on Japanese Tea Day

It is generally considered that the first tea of the season in Japan is best enjoyed from the end of April and during May, but in fact Japanese tea is the perfect season to enjoy Japanese tea, specially since the country celebrates Japanese Tea Day (Nihoncha no Hi) on October 1 and 31.

Ujicha, or tea from Uji in Kyoto, boasts some of the most famous kinds of teas in Japan. This includes matcha, sencha, and gyokuro, all of which were first grown in southern Kyoto. Because of this, it is said that Ujicha marks the origins of Japanese tea. So when you visit Japan during autumn, why not celebrate Japanese Tea Day with some authentic tea from Uji?

Ujicha Tea Murie Online Course

The Ujicha Tea Murie Course has been held since 2015 in Kyoto, and this year, the course is heading online for the first time as a result of the pandemic. Learn how to make and serve Uji tea from a professional tea instructor as well as its history and more.

Running: Session 1: September 15, 2020 / Session 2: October 2, 2020 / Session 3: October 17, 2020

Book: Online
Requirements: Download and install Zoom
Official Website: https://www.pref.kyoto.jp/yamashiro/ocha/

Certified Ujicha tea cafes for an authentic experience

Tsujiri Rihei Ginza | Tsujiri Rihei Senju

Nakamura Tokichi Ginza

Tsujiri Rihei Ginza, Tsujiri Rihei Senju, and Nakamura Tokichi Ginza are all cafes in Tokyo that are officially recognised for serving authentic Ujicha tea which also includes proper preparation as well as teaching the history and culture behind the tea. These three cafes are also holding an Ujicha tea stamp rally as well as a Twitter hashtag campaign.

Luxurious Matcha Loaded Parfait Served Up at MICASADECO&CAFE KYOTO

MICASADECO&CAFE KYOTO had to shorten its menu due to the effects of COVID-19. Their legendary parfait too was taken off the list, but now has finally returned, and even more delicious looking than ever.

MICASADECO&CAFE KYOTO has tried to make the parfait as breathtaking as possible, and they've certainly captured that. It's vivid like the furisode long-sleeved kimono worn by the maiko of Kyoto, beautiful and dignified.

Uji Matcha Pudding & Raspberry Parfait | ¥1,250 (Tax Included)

This towering parfait is made up of many layers, one of which is a homemade Japanese-style pudding made with high quality matcha from Uji, Kyoto. It has a subtly sweet and deep flavour, and is taken to the next level with the matcha sauce it's served with.

The homemade raspberry jam brings a delightful sweetness too as well as adds that eye-catching aspect they're going for. As you spoon your way through, your taste buds are treated to an amalgamation of indulging flavours.

The lid that's sat on top of the parfait is actually a tuile biscuit. The best way to go about beginning your feast is to break the biscuit and then pour the matcha sauce inside.

Hidden within the parfait are also pieces of homemade matcha brownies made with lots of top grade matcha.

These parfaits will be served from September 14 but are limited in stock, so if you're in Kyoto this month, make sure you don't miss out.

McDonald's Japan Reveals Japanese Tea Infused Dessert Beverage Series

McDonald's Japan has announced the release of four limited-time drinks which will be sold at McCafé by Barista branches of McDonald's from September 2. The line-up includes the 'Houjicha Frappe Shiratama Kuromitsu Kinako,' 'Houjicha Frappe,' Matcha Frappe Shiratama Kuromitsu Kinako,' and 'Matcha Frappe.'

The beverage lineup is the perfect pink for an autumn-time dessert drink, each made with authentic flavours from Japan.

Houjicha Frappe Shiratama Kuromitsu Kinako | Regular ¥490, Large ¥530 (Tax Included)

Made using 100% Japanese houjicha powder and delicious milk, this houjicha frappe is topped with soy flour, sweet brown sugar syrup from Okinawa, chewy rice flour dumplings, and a squirt of whipped cream. This is the ultimate McDonald's Japanese dessert drink, laced with fragrant houjicha tea with a creamy texture.

Houjicha Frappe | Regular ¥450, Large ¥490 (Tax Included)

Houjicha frappe is used as the base for this one, and if inished with whipped cream and a dusting of houjicha powder. The subtly sweet houjicha and creaminess of the whipped cream is a deliciously perfect match.

Matcha Frappe Shiratama Kuromitsu Kinako | Regular ¥490, Large ¥530 (Tax Included)

Just like the houjicha variant, except this time it's a latte made with matcha and matcha powder from Uji, Kyoto. A truly all-star Japanese dessert drink.

Matcha Frappe | Regular ¥450, Large ¥490 (Tax Included)

The matcha frappe too is sprinkled with matcha powder from Uji, combined with full-bodied milk, and topped with whipped cream.

UK Matcha Company Matchaeologist Collaborate With HARIO On Matcha Products

UK-based matcha brand Matchaeologist is celebrating its second anniversary of selling products in Japan by collaborating with laboratory glassware brand HARIO Science on a matcha sets that come with a beaker with both company's names on them. The sets were released on August 20, 2020 and are limited in stock.

About Matchaeologist

Matchaeologist describes themselves as artisanal matcha green tea specialists who have expanded worldwide across Europe, the US, and Japan. Matcha has become a superfood outside of Japan and one of the new standard drinks alongside coffee.

Matchaeologist has a big fan base – with close to 150,000 followers on Instagram. Its matcha is grown in the world-famous Uji in Kyoto and is served in a "minimalist way for an epicurean tasting experience not unlike that of fine wine" in order to bring a modern perspective to the ancient tradition of the Japanese tea ceremony.

Matchaeologist x HARIO


Matchaeologist x HARIO Beaker – Matsu (20g Set) | ¥4,180

HARIO is a hugely popular brand that sells a variety of products from laboratory glassware to coffee making equipment. The collaboration with Matchaeologist introduces a sophisticated and minimalist HARIO beaker as a set with two of the matcha company's matcha blends: matsu and meiko.

Matchaeologist x HARIO Beaker (Meiko 20g Set) ¥3,180

Experience matcha in a completely unique way by preparing some in one of HARIO's high quality beakers.

Premium Uji Matcha Afternoon Tea Begins at Hotel Chinzanso Tokyo This September

Hotel Chinzanso Tokyo has announced a collaboration with Tsuji Rihei—a tea shop that first opened in 1860 in Uji, Kyoto—to serve up a new "Premium Uji Matcha Afternoon Tea" in its lobby lounge Le Jardin from September 1.

This will be the hotel's fifth serving of the Premium Uji Matcha Afternoon Tea, which first began in 2016. Last year saw 5,000 customers enjoy experience.

Hotel Chinzanso Tokyo actually began serving the afternoon tea from April 13 this year, but had to stop service in May as a result of COVID-19. September 1 will see its return.

The food and drinks in the afternoon tea are all made with a Japanese green tea known as Kuradashi. The first fresh leaves picked from springtime have been put to one side for the summer serving, so customers can enjoy an enrichened tea-sperience.

Top Tier – Desserts: Sencha Jelly, Genmaicha Egg Tart, Kabusecha Souffle Cake, Kyobancha Tiramisu

Middle Tier – Scones: Plain Scone, Gyokuro Scone, Hojicha Scone

Bottom Tier – Savoury: Tea Leaf & Walleye Pollack Open Sandwich, Lily Bulb Honey Ham Tart, Smoked Salmon & Plum Mayo Sandwich, Smoked Dick & Cheddar Cheese Japanese-Style French Toast

Drinks: Uji Tea (3 Flavours), Hotel Original Blend Tea (15 Flavours)

The afternoon tea set is three tiers of desserts, scones, and savoury snacks, all served with a tea of your choice. Summer 'falls' into autumn with this lovely selection of delights.

Information

Premium Uji Matcha Afternoon Tea
Running: September 1, 2020 – September 30, 2020
Serving: 12:00-18:00
Location: Le Jardin (Lobby Lounge), Hotel Chinzanso Tokyo
Price: ¥4,500 (with welcome drink ¥5,000 – 20 people per day)
TEL/Enquiries: 03-3943-0920 (10:00-21:00)

Official Website: https://hotel-chinzanso-tokyo.jp/restaurant/plan/ujichaafternoontea2020/

4 Refreshing Matcha Shaved Ice Flavours Released at Itohkyuemon in Kyoto

Kyoto's famous tea shop Itohkyuemon began serving four new Uji matcha and shaved ice mixed desserts on its menu yesterday (June 29). Itohkyuemon was founded in 1832 in the latter period of Edo. Ujitawara, the place in Kyoto where the shop is located, is famous for the tea served by Itohkyuemon which has been harvested by the Ito family for years.

Uji Matcha Parfait Ice: ¥1,490 (Tax Included) | Serving: Until Late September 2020 | Avaialble: Itohkyuemon JR Uji Station/Itohkyuemon Gionshijo

The Uji Matcha Parfait Ice uses a blend of matcha and milk-infused ice as its base. It's then topped with sweet treats like rice flour dumplings, red bean paste, ice cream, matcha jelly, and more to turn it into a parfait.

Uji Matcha Daifuku Ice: ¥1,290 (Tax Included) | Serving: Until Late September 2020 | Avaialble: Itohkyuemon JR Uji Station/Itohkyuemon Gionshijo

This Uji Matcha Daifuku Ice is an upgrade of the one Itohkyuemon served last year. It has a creamy custard base with matcha daifuku hidden in the shaved ice.

Fluffy Uji Kindokei Vanilla Ice Cream: ¥990, Matcha Ice Cream ¥1,090 (Tax Included) | Serving: Until Late September 2020 | Avaialble: Itohkyuemon JR Uji Station/Itohkyuemon Gionshijo


Fluffy Uji Kindokei Rice Flour Dumpling: ¥850, Rice Flour Dumpling & Vanilla Ice Cream ¥970, Rice Flour Dumpling Matcha Ice Cream ¥1,090 Serving: Until Late September 2020 | Avaialble: Itohkyuemon Uji Main Branch

These two "Kindokei" (Gold Watch) servings use more ice. At the main branch of Itohkyuemon they're more crunchy, while at the JR Uji Station and Gionshijo branches they're more fluffy.

PEANUTS TRAILER SHOP: Official Men's Snoopy Shop to Open in Shinjuku

Sony Creative Products Inc., an agent of the Peanuts franchise in Japan, has announced that it will open an official men's shop called "PEANUTS TRAILER SHOP" in Yaraicho, Shinjuku on June 6, 2020.

Yaraicho is an ancient and historical area just a 3-minute walk from Kagurazaka Station via the Tokyo Metro Tōzai Line. PEANUTS TRAILER SHOP will open in a part of Yaraicho called "Oku Kagurazaka" which is home to a variety of stylish restaurants, galleries, and more. The shop is in fact inspired by American-style trailers.

The shop will sell cabinets and lockers from British furniture company Bisley; foldable chairs from US chair makers Clarin whose chairs have been used at Madison Square Garden, stadiums, schools, and elsewhere; clothes from Brittany, France-based company Le Minor; bags and wallets from Joe Porter; glasses from French tempered glass tableware and kitchenware manufacturer Duralex; and more.

So that everyone can enjoy a relaxing shopping experience, customers must book a slot in advance to shop at PEANUTS TRAILER SHOP which can be done via their official website.

©2020 Peanuts Worldwide

Information

PEANUTS TRAILER SHOP
Address: 41 Yuraicho, Shinjuku, Tokyo
TEL: 03-6280-8576
Opening Hours: 11:00-19:00
Closed: Wednesdays

Official Website: https://peanutstrailershop.jp