Winners Announced For The 7th Washoku World Challenge Competition
The final round for the 7th Washoku World Challenge Competition was held in Tokyo on February 20 and 21, which saw WANG Wei Ping of China, and chef at SUN with AQUA JAPANESE DINING SUNTORY, as the winner.
The two-day event brought together five chefs from Hong Kong, Singapore, Paris, Donostia-San Sebastian, and New York come together to compete and show their skills create dishes based on the competition's main theme of "Umami" and this year's theme of "Texture and Mouthfeel."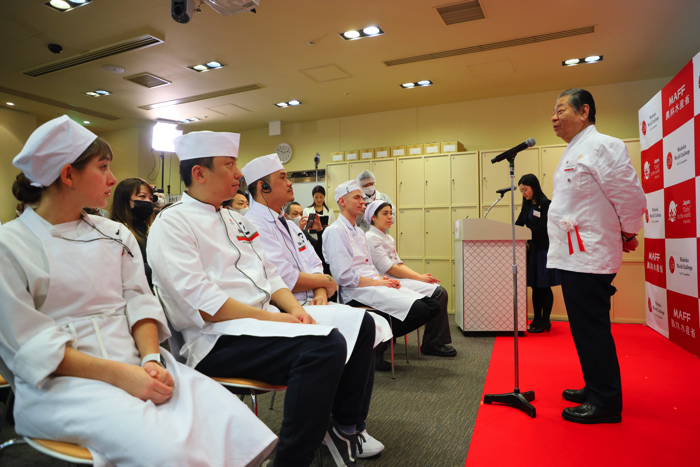 The judges said: "This 7th edition demonstrates that the finalists' technical level keeps improving every year. Creating Japanese dishes that incorporate the characteristics and unique ideas of other countries' culinary cultures, while respecting the fundamentals of Japanese cuisine built on the concept of umami, expands the potential of Japanese cuisine. The creations of each one of the finalists embodied this notion."
Middle Contender: WANG Wei Ping, 1st Place Winner
WANG Wei Ping's Dish
On the first day, the chefs used the same ingredients to create a "nimonowan." On the second day, they forged their own original dishes using five or more ingredients which they arranged on a Japanese "hangetsubon" tray.
When reacting to his victory, Wang Wei Ping said: "I thank the owner and other members of my restaurant. After returning to Shanghai, I would like to continue conveying the excellence of Japanese cuisine, which is both healthy and tasty."
Finalists
Hong Kong
First Place: WANG Wei Ping (China, SUN with AQUA JAPANESE DINING SUNTORY)
USA
Second Place: Yael PEET (USA, Fury's) *The restaurant will be open this summer.
Singapore
Third Place: Loh Man HONG (Singapore, FAT COW)
Paris
Wojciech POPOW (Poland, Beaverbrook)
Judges
– Head Judge: Mr. Yoshihiro MURATA
(Chairman of Japanese Culinary Academy, Owner and chef of Kikunoi, Japanese Cuisine Goodwill ambassador)
– Deputy Head Judge: Mr. Masahiro NAKATA
(Director of Taiwa Gakuen Education Inc. President of Kyoto Culinary Art College)
– Judge: Mr. Hideaki MATSUO
(Owner of Japanese Cuisine KASHIWAYA, Japanese Cuisine Goodwill ambassador)
– Special Judge: Yoshio KOJIMA
(Comedian)
RELATED ENTRIES
New Sake '&Soda' Made Exclusively to be Mixed with Soda Water

Shiragiku Sake Brewery will release a special sake made exclusively to mix with soda water on October 1, 2022. The beverage will be available in Okayama Prefecture.

The company's interest in creating a new sake culture led them to develop &Soda, a delicious sake made to be mixed with soda. This may be helpful for those who don't know much about sake, or who may feel intimidated by the many different types. Being able to mix it with soda will make sake drinking feel more casual. 

Sake Made Exclusively for Mixing with Soda Water, '&Soda'

"Many people may like to mix sake with soda water or drink it on the rocks. By doing this, however, a nice sake may lose its flavor, and the drinker might be wasting a nice sake for the sake of a more easy-drinking beverage. &Soda was made exclusively to be mixed. Using Asahi Rice, a specialty in Okayama Prefecture, and water from the brewery, we've created a sake that has the proper aroma and sweetness. These characteristics will come through even after being mixed! The alcohol content has been increased to 18 percent, and the package will make the product easy to find and understand," a statement from the brewery reads.

For more information on how to enjoy &Soda, please see the special website below!

Information

Sake Made Exclusively for Mixing with Soda Water, '&Soda'

Release Date: October 1, 2022

Official Site: http://www.andsoda.jp/

Japan's Largest Sake Event TOKYO SAKE FESTIVAL to be Held in Shinjuku in October

Japan's largest sake event, TOKYO SAKE FESTIVAL 2022, will run from October 4 until October 6 at the Shinjuku Sumitomo Building's Triangle Square.

The event's aim is to make sake more mainstream around the world, with the first festival taking place in 2020. Tokyo Sake Festival blends sake with entertainment, showing off the very best of Japanese culture to those who may be new to craft sake. For the third year, former NMB48 member Yui Takano will serve as ambassador. Takano is known for leaving her idol career to manage the sake specialty store Yui Sake Shop. 

Tokyo Sake Festival 2022 is bringing together forty carefully selected sake breweries from around Japan, including Inoue Seikichi, winner of the Champion Sake award at IWC 2022. Tonoike Sake Brewery, winner of Kura Master 2022's President's Award, will also be in attendance. The full lineup can be found on the official website.

Popular influencers and artists from Raphael to BOYS AND MEN and Ukon Takafuji will take the stage during the event, so be sure to swing by if you're a fan of Japanese spirits!

Information

TOKYO SAKE FESTIVAL 2022

Dates: 

October 4: Part 1 13:30-16:30 / Part 2 18:00-21:00
October 5: Part 1 13:30-16:30 / Part 2 18:00-21:00
October 6: 16:00-19:00
Venue: Shinjuku Sumitomo Building Triangle Square
(2-6-1 Nishishinjuku, Shinjuku-ku, Tokyo)

Buy Tickets/Details: https://tokyosakefestival.bitfan.id/

Teppanyaki and Yakiniku Restaurant Honten Yamashina Opens in Ginza

On July 18, the upscale teppanyaki and yakiniku restaurant Honten Yamashina opened a new location in Ginza! The hybrid restaurant has taken over the entire top floor of GINZA PLACE, which is directly connected to Ginza Station. Overlooking the Ginza 4-chome intersection, it's a gorgeous place to enjoy some authentic Japanese cuisine. 

Honten Yamashina mainly uses fully-matured Omi beef, the highest grade available among Shiga Prefecture's top-tier beef, from Okazaki Farm. The cows are allowed to fatten for a considerable amount of time and live stress-free lives for over 40 months. Less than 1% of all Wagyu cattle are shipped after 24 months of age, and this delectable meat is characterized by its sharp taste and fattiness. 

Luxurious Wagyu and Sea Urchin Sushi

Early Summer Plate to Enjoy with Seasonal Flowers

Selected Extra-thick Beef Tongue Steak Made with Refined Attention to Detail

Grilled Spiny Lobster Made on a Charcoal Grill

The Playful Yamashina Wagyu Slider

Melt-in-your-mouth Sweet Amala Tomato (Vegetable of the Day)

Hand-selected Omi Beef Steak

Truffle Omurice

Japanese-style Teppanyaki

Guests can enjoy authentic Japanese teppanyaki cuisine with a modern twist. While sitting at the contour, visitors will enjoy a live performance by Taku Osada, a teppanyaki chef with over 20 years of experience.  

The wide variety of meat can be enjoyed in a number of different ways, whether it be raw, grilled, stewed, or properly cooked. From tongue and rump to filet and sirloin, you won't leave hungry. Visitors can also enjoy seafood and seasonal Japanese vegetables along with their meat, and the flowers and leaves that adorn each plate will change depending on the time of year.

In addition to rare teppanyaki dishes like skirt steak and 3cm-thick beef tongue, Honten Yamashina also offers some playful dishes such as sliders. As the temperature differs on different parts of the steel cooking plate, each item can be cooked to a temperature that maximizes its specific flavor. Honten Yamashina also has a massive cellar housin over 1,000 bottles of wine and hard-to-find spirits. 

Japanese-style Yakiniku

For those looking for a more private experience, guests can enjoy yakiniku in a completely separate room. Each private room has a grill that will cook meat to the perfect temperature, and only at Honten Yamashina can you enjoy fully-matured Omi beef. The signature cutlet sandwich is made with chateaubriand cooked at a low temperature and deep-fried in a thin batter, then served on crispy bread with a soft, fluffy interior.

Teppanyaki and yakiniku are typically thought of as meat-based dishes, but the restaurant can accommodate vegetarian guests if contacted in advance. 

When Japan opens up to tourism, will you be visiting this incredible restaurant in the heart of Tokyo?

Long-Established Sake Brewery in Yamagata Prefecture Helps Create SAKE COLA

Aiming to create a new kind of drinking culture, Aika in Gunma Prefecture has started preorders for SAKE COLA, a new cola liquor, on the crowdfunding site Makuake. 

People love cola for its strong carbonation, sweetness, and distinctive spicy flavor. SAKE COLA has a complex, multi-layered aroma and refreshing sweetness offering a unique taste that no one has tasted before.

In creating SAKE COLA, the company attempted to keep the authentic sweetness of sake. To this end, they decided to work with Rokkasen, a long-established sake brewery in Yamagata. 

Rokkasen's authentic rice-based shochu Goujoppari is brewed in the cold like sake and distilled like a ginjo sake. It has a beautiful citrus aroma and tastes similar in sweetness despite having zero sugar.

 

Using Goujoppari as a base, malted rice is used to produce a mild, natural sweetness, and the spices added to the drink meld with the citrus scent to create a flavor defying imagination.

The flavor and aroma of SAKE COLA spread in the mouth, with the spices and herbs lingering on the tongue. The spices were mixed by Hayashi Oki, who studied in Alsace, France before working as a pastry chef at one of Tokyo's top patisseries. 

Mace, the key spice, is characterized by its sweet and somewhat pungent aroma. It's used to recreate the caramelized taste that is found in most cola.

 

Along with that, tonka beans, containing the natural sweeteners Vanillin and Coumarin, were blended into the mix to create a soft, lingering flavor. Customers are sure to enjoy it from the first sip to the last.




SAKE COLA can be enjoyed at any time. It's perfect for enjoying as an aperitif, and it can also be enjoyed with a meal, like beer or wine. 

 

Like whiskey, it can also be enjoyed while relaxing after a meal. At Christmas time, it can be added to warm red wine or served as an affogato with ice cream and a splash of liqueur. How would you like to try this unique creation?

Anime Series Chibi Maruko-chan Inspires New Sake from Hatsukame Brewery in Shizuoka

Last year, Hatsukame Sake Brewery, a staple in Shizuoka Prefecture, released a collaborative special edition sake featuring Papa Hiroshi from the anime series Chibi Maruko-chan. The collab makes sense, as the anime series takes place in Shizuoka Prefecture. Bottles sold out incredibly fast, so it's no wonder that the brewery has now opened orders for the 2022 batch! The special products will be available on June 4, just in time for Father's Day. Customers can choose from the Junmai Ginjo or Junmai Daiginjo varieties.

Junmai Ginjo Papa Hiroshi Vintage 2022

Junmai Daiginjo Papa Hiroshi Vintage 2022

The Junmai Ginjo Papa Hiroshi Vintage 2022 was made with water, rice, and yeast from Shizuoka, where the series takes place. With a refreshing aroma and a gentle sweetness derived from the Homarefuji rice, the flavor is sure to arouse your palate!


The original label featured on the bottle shows Papa Hiroshi enjoying local sake with tuna sashimi from Shizuoka with Mt. Fuji in the background. All bottles will come with a paper box featuring a similar design. The turtle on the label is the symbol of Hatsukame Brewing! It's recommended that customers drink their sake with local tuna–it's the perfect combination.

The Daiginjo variety is made from rare Aiyama rice, known as the 'Diamond of Sake Rice.' Polished and carefully prepared by hand, the aroma of the sake is reminiscent of tropical fruits. The final product has a rich sweetness.

Last year's label showed Papa Hiroshi in a Kimono watching the first sunrise over Mt. Fuji. Be sure to grab a bottle to experience the taste of Shizuoka! Only 223 bottles will be available, so be quick!

©さくらプロダクション/日本アニメーション ©Hatsukame Sake Brewery Co., Ltd. ©Nexus Co., Ltd.

Information

Junmai Daiginjo Papa Hiroshi Vintage 2022

Now available to order
Release Date: June 4, 2022 *After the release date, orders will be shipped within 3 weeks from the order date.
Where to Buy: Saketsunagi Online Shop https://saketsunagi.base.shop

 

Limited Edition Sake Released Alongside NFT Art to Share the Value of Japanese Spirits with the World

Two incredible new Junmai Daiginjo bottles, the highest-quality sake, have been released in limited quantities. Hitou ASCENDING and Touka ILLUMINATING were made by sustainable means and incorporate NFT art to share the process of sake creation with the world.

 

While sake companies keep traditional Japanese production methods alive, some are seeking to solve problems in the sake industry by turning to current technology, like the blockchain and NFTs. In this age of convenience and automation, this particular sake maker is aiming to show the true value and authenticity of Japanese craftsmanship to the rest of the world. 

Certain types of sake can only be made and enjoyed at certain times of the year, as they are not suitable for storage at room temperature and can only be consumed for a brief period to get the best taste. Many sake fans around the world might not be aware of this, so the new NFT collaboration aims to educate!

 

The bottles contain unique ukiyo-e NFT art prints of a dragon and phoenix on the bottle, respectively. Those who purchase a bottle will also find the year of production and bottle number etched onto the glass with lacquer. Be sure to keep the bottle even after the delicious sake is gone!

Story

Rice / Tobe Rice
In Tokamachi, Niigata Prefecture, farmers have been cultivating this unique brand of Koshihikari rice without the help of pesticides or fertilizers for over two decades. The rice is called the best in all of Japan, and one-third of its yield is used to make sake.

Water / Pure Groundwater

The Japan Median Tectonic Line, also known as the 'Dragon's Vein,' is a massive fault line that is home to numerous sacred sites, including  Suwa Grand Shrine, Toyokawa Inari Shrine, Tenkawa Benzaiten Shrine, Ise Grand Shrine, and the Koyasan Mountain. The groundwater found here is some of the purest found in Japan and flows from the Bungui Pass in Ina, Nagano Prefecture. The pass has been featured in many publications as one of the most famous power spots in Japan.

Brewing / Ono Brewery

While dealing with some of the harshest winter weather in Japan, the brewery has continued to create sake the old-fashioned way–with human hands. For the creation of these two bottles, the brewers took on the challenge of making a very small amount of sake, something they had never done before. Based on the concept of "making the most of the environment," the rice was prepared in a special room with no air conditioning under the watchful eye of the master brewer.

Bottle Art/ Ukiyo-e Artist, Shun
The art displayed on the bottle is printed in a unique way, allowing it to be put on display separately. The Japanese-style art is perfect for the collaboration and was inspired by one specific hope: that a new path will open to those who work hard after the many difficulties and troubles caused by the pandemic.

Bottle Making / Maruyoshi Kosaka Wood & Urushi Works


The circular label symbolizes the moon (water) and the sun (fire), each representing a world where different values are not only accepted but welcomed. Hand-painted and made with pure platinum and gold leaf by the talented craftsman at Maruyoshi Kosaka Wood & Urushi Works in Shiojiri, Nagano, these advanced painting techniques are sure to impress.

Each Bottle Features the Brewing Year, Number Printed in Lacquer

Marked with a unique serial number, all proceeds from the sales of these special sakes will be used to maintain and promote sustainable agriculture, support sake brewers, and bring traditional Japanese craftsmanship to the world.

Information

Junmai Daiginjo – 'Hitou ASCENDING,' 'Touka ILLUMINATING'

Limited Quantity
Official Site: https://hitoutouka.com/

Pringles TikTok Dance Contests Opens, Winners to Perform with Atarashii Gakko!

Pringles, a popular brand of potato chips sold in over 140 countries around the world, has opened a new TikTok dance campaign! Those participating could win a once-in-a-lifetime prize, all by dancing alongside some special Pringles filters!

Finger Heart Post / L-sign Pose / Praying Pose

Pringles Original Long Sleeve T-shirt

For the campaign, a selection of TikTok effects will make it look like dancers are popping out of a Pringles can! These effects also include hearts, stars, and music notes that pop up in time with the poses, making this challenge easy for both new and seasoned dancers.The song featured is Pringles Pringles by Frasco. 

The ambassadors for the campaign are Atarashii Gakko, a popular dance and vocal unit with over 3.5 million TikTok followers. The winner of the contest will have the opportunity to co-star in a Pringles web commercial with the group, and finalists will receive a limited edition Pringles T-shirt. Don't miss your chance to shine!

Digimon Illustration Competition Open to Japan and United States Residents

Digimon Con, an online event held by Bandai, will be held in February 2022! The event will be open to fans around the world, and the Digimon Illustration Competition is now open to fans of the series in Japan and the United States.

Digimon Con

This free online event will feature a unique lineup of content related to the long-running Digimon franchise, including an anime segment, a game information segment, a live performance, and more!


Dates:

JST: February 27, 2022 at 10:00
PST: February 26, 2022 at 17:00
EST: February 26, 2022 at 20:00
Where to Watch: The Official Bandai YouTube Channel

Digimon Illustration Competition

Starting December 17, fans from both the US and Japan can send in their best Digimon art until February 7, 2022. Detailed information, including requirements, can be found on the special Digimon Illustration Competition website!

Digimon Illustration Competition
Details/Submissions: https://compe.japandesign.ne.jp/digimon-ic-2022/
Submission Period:

JST: December 17, 2021 at 10:00 – February 7, 2022 at 12:00
PST: December 16, 2021 at 17:00 – February 6, 2022 at 19:00
EST: December 16, 2021 at 20:00 – February 6, 2022 at 22:00


■Theme: Cute or Cool Digimon
Choose one of the following eight Digimon and draw them in either a cool or cute scene!

Agumon

Patamon

Terriermon

Gammamon

Numemon

Devimon

Lillymon

Machinedramon

Application for Participation: Fill out the form found on https://compe.japandesign.ne.jp/digimon-ic-2022/
Eligible Countries: Japan, United States
Eligibility: Applicants must be recognized as an adult in their country of residence. 

Prizes: 


Grand Prize(1 Winner)
・¥300,000
・Winning Illustration Used in the Digimon Trading Card Game

Award of Excellence(7 Winners)
・¥100,000
・Winning Illustrations Used in the Digimon Trading Card Game
 

Judges' Special Prize(Number Undetermined)
・¥50,000

©本郷あきよし・東映アニメーション ©本郷あきよし・東映アニメーション・フジテレビ ©BANDAI

Japanese traditional confectionery brand OKOSHIYA TOKYO opens in Marunouchi Building

Japanese traditional confectionery Okoshiya Tokyo, a brand specializing in okoshi (rice cake), opened in the Marunouchi Building on December 15, 2021.

OKOSHIYA TOKYO is a brand specializing in okoshi, operated by a small Japanese confectionery manufacturer in downtown Tokyo which is celebrating its 60th anniversary. OKOSHIYA TOKYO opened in Tokyo's Marunouchi Building as a store where customers can directly purchase the long-established okoshi, which has been sold only through the online store.

OKOSHIYA Maple Almond(60g)

aun 18 pieces (6 types x 3 pieces)

OKOSHIYA TOKYO's crispy okoshi is a new texture that can be eaten easily. The sweetness is kept low so that you can enjoy the natural flavor of the ingredients. It has a nostalgic and comforting taste.

Marunouchi (3 types x 3pieces) *Marunouchi Building Limited Edition

There are many theories about the origin of the word "okoshi", but it comes from the word "koshi", which means "to rise", and has been eaten as a confectionery for good luck. It can be used as a "friendship blessing" for friends who meet again after a long absence, a "cheering blessing" for those who are working hard towards their dreams and goals, a "love blessing" for a beloved partner, or to " bring good fortune" to newlyweds who are starting a new chapter in their lives. Let's convey not only the delicious taste but also your feelings to your loved ones through OKOSHIYA TOKYO's okoshi.

Information

OKOSHIYA TOKYO

Where: B1 1-4-2 Marunouhi, Chiyodaku, Tokyo, Maru Biliding B1F

Access: One-minute walk from Marunouchi South Exit of JR Tokyo Station, directly connected to Tokyo Station on the Marunouchi Line.

Opening Hours: Weekdays/Saturday 11:00~21:00 /Sunday/Bank Holiday 11:00~20:00

Official site: https://okoshiya.official.ec/

Adorable Hamster-shaped Cakes from Kyoto Now on Sale

Aoki Koetsudo, a 129-year-old confectionery shop in Kyoto, and 2:00, a Kyoto-based company specializing in unique products, have come together to create some incredibly cute hamster-shaped cakes. These pastries are called monaka, and feature azuki bean jam filling sandwiched between two crisp wafers made from mochi. Each set includes 6 wafers, six helpings of bean jam, and a bag of nuts, so customers can enjoy creating the pastries themselves! 

How to Enjoy Hamster Monaka

Fill the Hamster-shaped monaka with as much azuki jam as you like. 

Cover the monaka with the wafer and add one of the nuts provided. 

Paint the eyes and ears with chocolate to give each pastry some personality!

Gyoza Festival 2021 Opens at Nagoya PARCO

Pan-fried dumplings, or gyoza, can be found all over Japan from fine restaurants to convenience stores. They're cheap, easy to consume, and incredibly tasty. Those able to make it to Nagoya PARCO by December 26 can experience this year's Gyoza Festival, bringing together some of the best examples of creative and mouthwatering gyoza in the country. 

A number of participating restaurants within Nagoya PARCO have developed unique gyoza-centric menus, including Kimchi Gyoza from Yansando, Chicken Wing Gyoza with spicy tartar sauce from Kyoto Shijo Kuon, and Spicy Gyoza from ANDY CURRY, participating in the event for the first time. Yummy Hawaiian Barbeque is also offering nine new menu items only found at Nagoya PARCO, including Gyoza Pie. 

Participating Shops

Yansando Ueno Honten

ANDY CURRY

Nagoya Chicken Noodle Shop

Longhu Patio

Kyoto Shijo Kuon

FUJIYAMA55 RAMEN STAND​

Okuyama Yasuzou Himonoterasu

Yummy Hawaiian Barbeque

Information

Gyoza Festival 2021

Running: November 26 – December 26, 2021

Location: Nagoya PARCO West Building 7F

Official Site: http://www.parco.co.jp

Niigata Prefecture Unveils Rurouni Kenshin Collaboration Sake

Rurouni Kenshin is one of the most popular anime and manga series around the world, hitting the scene in Japan back in 1994. Original manga author Nobuhiro Watsuki spent most of his childhood in Nagaoka, Niigata prefecture, an area known throughout the country for its delicious rice. Harasho, a liquor store in Nagaoka, has announced a new collection of Rurouni Kenshin-themed sake to celebrate the series. 

The Rurouni Kenshin manga series was originally serialized in Weekly Shonen Jump from 1994 until 1999. The sequel, Rurouni Kenshin: The Hokkaido Arc, is currently ongoing in Jump Square. The series has been a smash hit, selling over 72 million copies and inspiring both animated and live-action film adaptations and an anime series. 

The sake will be produced at three distilleries in Nagaoka city, and each of the three will feature unique characteristics. Each label features imagery from the manga series and would make the perfect gift for fans (as long as they are of age!) 

Information

Rurouni Kenshin x Niigata Sake Series

Fukusen Natural Sake: ¥1,350

Koshino Hakugan Ginjo Sake: ¥1,500

Ofuku Shuzo Ginjo Sake with No Added Alcohol: ¥1,800

Special 3-bottle Set: ¥4,650

Number of Bottles Released: 2,000 of each type, special 3-bottle sets available until sold out

Preorders Now Open

Release Date: December 1, 2021

Details: https://echigo.sake-harasho.com/shopbrand/ct332/

Where to Buy: 

Online Store: https://echigo.sake-harasho.com/

Liquor stores part of the Echigo Meimon Collective

Major tourist facilities in Niigata Prefecture