New KitKat Mini Yogurt Flavour Uses Famous Sake From Miyagi Prefecture
The new "KitKat Mini Yogurt Sake" will be released on March 16, 2020. It is made with a famous brand of sake known as "Chonoko Jersey Yogurt Sake," which is made by Niizawa Sake Brewery, a company in Miyagi Prefecture produced by Hidetoshi Nakata.
Japan's KitKat product line-up is popular around the world, so much so that they are often recognised as "KitKats made in Japan." Hidetoshi Nakata is known for pouring his strength into spreading the word of Japan's traditional industry around the world. He has also visited around 400 sake breweries across Japan. To date, he has collaborate with KitKat on around 20 chocolate bars, all made with local sake, and all of which have been top sellers. These products are helping to promote the prefectures of Toyama, Wakayama, and Kochi.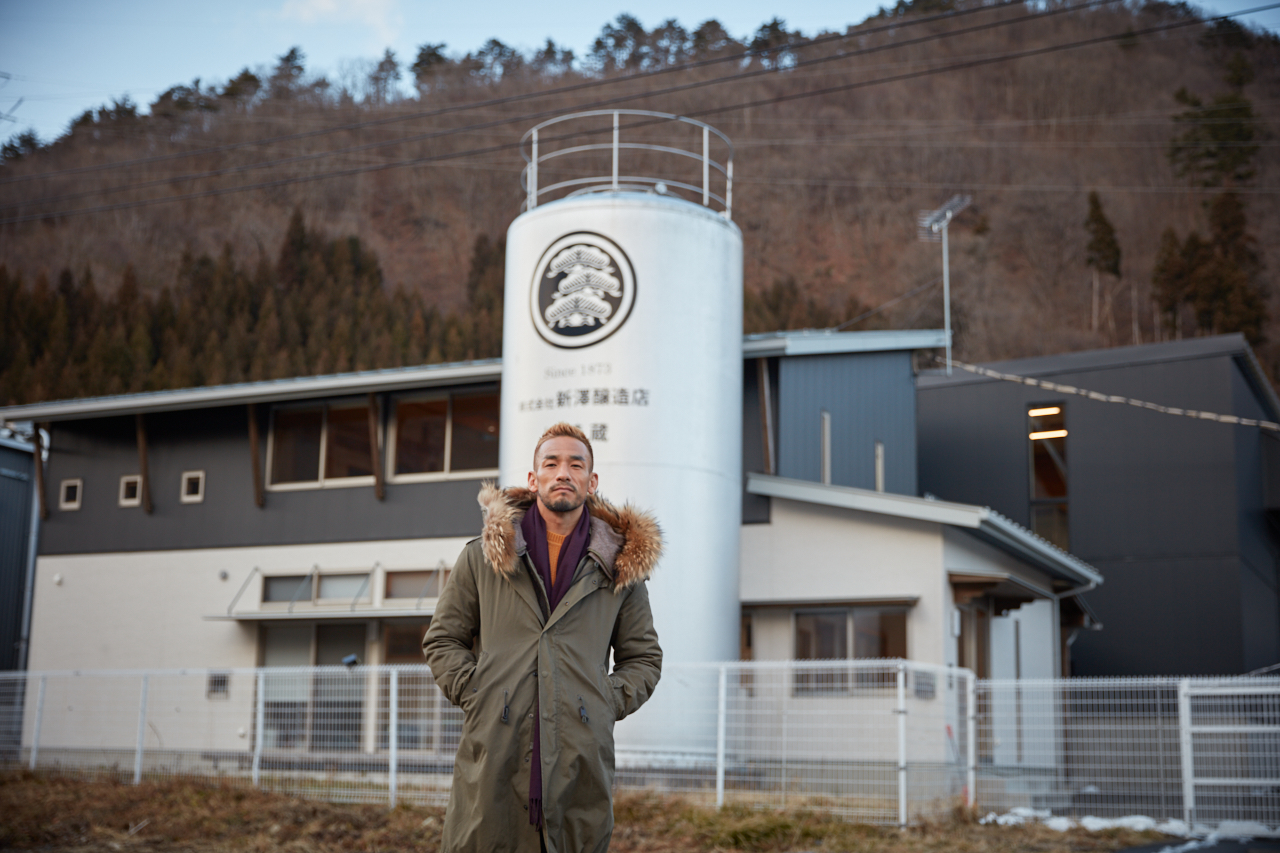 Niizawa's Sake Brewery's "Chonoko Jersey Yogurt Sake" was released to help in the recovery efforts of the Tohoku Earthquake. "Yogurt Sake" has a short shelf life, and so it is a necessary requirement that it is shipped in refrigeration under 5℃ to preserve it. Because of this, the number of places it is sold at in Japan is limited, and it is also difficult to export overseas, making it a very rare type of sake. The milk comes from Jersey cattle which is used to make the milk. It's combined with alcohol powder of the yogurt sake for the KitKat Mini. The chocolate bar has a refreshing sourness and rich flavour.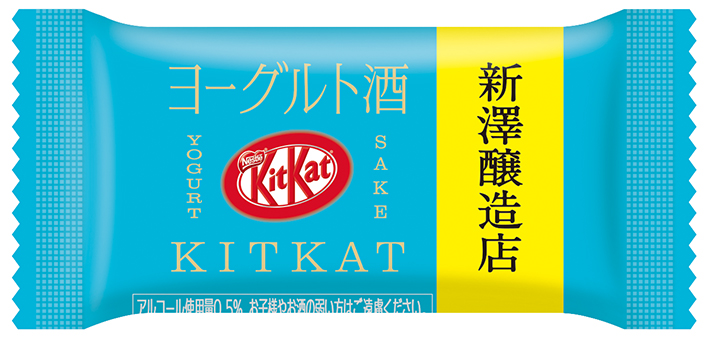 KitKat is sold in over 100 countries worldwide. This new flavour creates the opportunity for more people around the world to try yogurt sake when they are buying KitKats in Japan.
Speaking about the collaboration, Hidetoshi Nakata said: "I began with nihonshu, then went onto umeshu, then yuzushu. For the fourth one, I wanted to get people knowing about new possibilities when it comes to a Japanese sake that is not yet known around the world. So I chose Chonoko Jersey Yogurt Sake which is made by Niizawa Sake Brewery in Miyagi Prefecture. The yogurt in the sake has a bitterness and sweetness, which balances perfectly with the refreshing taste of the nihonshu. It's a delicious sake that Japan can boast about, one which can be enjoyed whenever and by anyone. The sweetness of the chocolate comes together with the bitterness of the yogurt sake. We have created something that doesn't taste just like yogurt, but yogurt sake."
He continues: "Because there is a possibility the Chonoko Jersey Yogurt Sake will ferment and the bottles break during transportation, it can only be distributed to places within Japan where it can be shipped below 5 degrees at this moment in time. It's this very reason that its delicious taste cannot be enjoyed around the world that I want people to know about Chonoko Jersey Yogurt Sake through KitKat, and also get people knowing about new possibilities of Japanese sake."
Information
KitKat Mini Yogurt Sake
Release Date: March 16, 2020
Contains: 9 bars
Price: ¥700
Available: At souvenir shops and KitKat gift shops in Japan
RELATED ENTRIES
NAKED Night Walk Art Project to Open at Famed Zuiganji Temple in Matsushima

Japanese creative company NAKED will hold a Night Walk event at Zuiganji Temple in Matsushima, located near one of the top three most scenic spots in Japan. The event will run from October 29 until November 23, 2022.

The NAKED Night Walk was created to revitalize hot spring resorts and other tourist spots during the pandemic. This special event will bring the illuminated experience to Zuiganji Temple, one of the Tohoku Region's most famous Zen temples. Guests will be invited to carry beautiful lanterns around the grounds, maintaining social distancing while enjoying the cool evening weather. These lanterns will cast one of three unique designs onto the ground below–a starry sky, a camellia flower, or a lotus. 

Guests can also enjoy NAKED's Flower Fortune Telling, pulling unique paper flowers from a massive wall, with each holding a personalized fortune. These flowers can then be tied to a nearby tree to further spread NAKED's art. You can also take home your flower as a souvenir!

The event will only run for a limited time. For more information including admission fees and hours, see the official website!

Information

NAKED Night Walk – Matsushima, Zuiganji Temple (National Treasure)

Address: Zuiganji Temple (Chonai-91 Matsushima, Miyagi District, Miyagi Prefecture)

Running: October 29 – November 23, 2022

Hours: Weekdays 17:00-20:00 / Fridays, Weekends, Holidays 17:00-21:00

Official Site: https://zuiganji.or.jp/

Kyary Pamyu Pamyu Teams Up with Zunda Saryo as Final LOCAL POWER JAPAN Project Collaboration

Kyary Pamyu Pamyu recently wrapped up her 10th-anniversary tour with an extra performance in Okinawa on July 23. After completing 30 shows over six months, the longest tour of her career, Kyary will perform a solo concert at Nippon Budokan on October 19 to truly conclude this epic tour.

 

As part of her tour, the singer has continued to energize Japan through the appeal of regional towns and cities with the LOCAL POWER JAPAN Project. At each tour location, the artist collaborates with a local company, creating special collaboration logos and products that have become the talk of social media. Kyary has announced the final collaboration for the project, bringing the total to 32. 

During the national tour, the Miyagi concert scheduled for June 25 was canceled due to difficulties at the planned venue, Tokyo Electron Hall Miyagi, after an earthquake hit off the coast of Fukushima Prefecture in March. Although the artist wasn't able to hold her planned performance in the area, she still wants to share the charm of Miyagi with the rest of Japan. The singer will team up with Zunda Saryo, a leading company in the area, for a special release.

Zunda-mochi is a traditional treat popular in Sendai. Loved for centuries, this seasonal delicacy is made by boiling and mashing young soybeans which can only be harvested for a few short days in summer before they turn yellow and ripen. These are then mixed with sugar and wrapped around a rice cake. Zunda Saryo produces many different varieties of this luxurious treat, allowing people to eat them whenever and however they like. From the Zunda Shake to the Zunda Roll Cake, these sweets contain many health benefits–they are rich in protein, vitamins, and minerals. So don't feel any guilt the next time you eat your fill!

 

For this collaboration, Zunda Saryo's reimagined logo pays homage to the artwork seen on the jacket of the 'KPP 2014 JAPAN ARENA TOUR COLORFUL PANIC TOYBOX' Blu-ray release. The company's edamame-inspired mark has been redesigned to feature Kyary's distinctive headpieces, and the artist can be seen smiling with a Zunda Shake in hand.

A colorful collaborative T-shirt is also on sale featuring the new logo and the singer's 10th-anniversary logo. The shirt is available on the LOCAL POWER JAPAN Project website for two weeks only starting July 29, and a portion of the proceeds will be donated to Miyagi Prefecture to help repair the Tokyo Electron Hall Miyagi which was damaged by the June earthquake.

Information

Zunda Saryo (Miyagi Prefecture) x LOCAL POWER JAPAN Project Collaboration T-shirt
Price: ¥3,300 (Tax Included)
Available: July 29 – August 11, 2022

Special Site: https://localpowerjapan.com

BTS Characters 'TinyTAN' to Appear at Cafes in Tokyo, Yokohama, Osaka, Nagoya, and Miyagi

The popular BTS chibi characters TinyTAN will be featured at TinyTAN Cafe locations in five cities for a limited time! Nine locations will be open across Tokyo, Yokohama, Osaka, Nagoya, and Miyagi starting April 21, 2022.

The TinyTAN characters were designed by the seven members of BTS to embody their "second selves."

Select Cakes: ¥990

Fruits Deco Style: Strawberry, Fruits Deco Style: Mango, Fruits Deco Style: White Grape: ¥1,760


The menu is packed with desserts, including seven different types of cakes each inspired by a member of TinyTAN.

American Sundae Style Chocolate Cookie, American Sundae Style Caramel Nuts, American Sundae Style Pistachio Honey: ¥1,870

Afternoon Style Tea: ¥3,190

The Afternoon Style Tea includes a base plate that can be customized with guest's favorite fruits and chocolates. Two types of TinyTAN Select Cakes will also be included to share!

Ham (2 types) & Scrambled Egg Peanut Butter Sandwich: ¥1,760

Cafe Style Drink & Cake Set *Prices vary based on drink selection.

Guests can choose from colorful bagel sandwiches, pancakes, and open sandwiches, along with a selection of sweet drinks to match each meal.

Bonuses

Acrylic Stand (7 varieties, random): ¥1,320

Sticky Note Roll: ¥880, Acrylic Nameplate (7 varieties): ¥990 each


Original cafe merchandise and special offers will make visiting the TinyTAN Cafe even more exciting!

© BIGHIT MUSIC. All Rights Reserved

Information

TinyTAN CAFE

Tokyo, Omotesando: BOX cafe&space Omotesando

April 21 – June 5, 2022

Pine Under Flat B1F (5-13-2 Jingumae, Shibuya-ku, Tokyo)

Tokyo, Shinjuku: BOX cafe&space Lumine EST Shinjuku

April 28 – July 3, 2022

Lumine EST Shinjuku B1F (3-38-1 Shinjuku, Shinjuku-ku, Tokyo)

Tokyo, Harajuku: BOX cafe&space Harajuku Alta

April 21 – June 5, 2022

Harajuku Alta 3F (1-16-4 Jingumae, Shibuya-ku, Tokyo)

Tokyo, Omotesando: BOX cafe&space Omotesando Hills

April 21 – June 26, 2022

Main Building, B3F (4-12-10 Jingumae, Shibuya-ku, Tokyo)

Kanagawa, Yokohama: Collabo_Index Lumine Yokohama

April 22 – June 19, 2022

Lumine Yokohama 6F (2-16-1 Takashima, Nishi-ku, Yokohama)

Aichi, Nagoya: BOX cafe&space Nagoya LACHIC #1

April 28 – June 5, 2022

LACHIC B1F (3-6-1 Sakae, Naka-ku, Nagoya)

Osaka, Umeda: BOX cafe&space HEP FIVE

April 28 – June 5, 2022

HEP FIVE 7F (5-15 Kakudacho, Kita-ku, Osaka)

Osaka, Shinsaibashi: Shinsaibashi contact

April 29 – July 3, 2022

1-6-24 Kitahorie, Nishi-ku, Osaka

Miyagi, Rifu: BALLER:S

April 27 – June 26, 2022

AEON MALL Shin-Rifu South Building 2F (3-1-1 Shinnakamichi, Rifu, Miyagi)

Reservations Open

Reservation Fee: ¥660 (Includes Bonus)

TinyTAN CAFE Official Site: https://tinytan-cafe.jp/

NAKED Illuminated Matsushima Palace, Near One of the 'Three Views of Japan'

Creative company NAKED is now providing incredible projection mapping across Matsushima Palace, located close to the many tiny islands of Matsushima, known as one of the 'Three Views of Japan.' 

The light show completely envelops the Retsuru Tower, the symbol of the property, along with the gardens around the palace. Guests can expect a once-in-a-lifetime experience as they wander the grounds at night. 

Matsushima has a long history, with many unique geographical highlights developing thousands of years ago. Many poets have written poems about the area since the Heian period (794-1185). The projection mapping show will highlight the past, present, and future of the area, inviting guests on a trip through time and space.

AMAZAKE STAND to Open its Second Branch in Sendai Serving Rice-Malt Sweet Sake

AMAZAKE STAND opened its first branch in Kamakura a year and a half ago as the first store in Japan serving homemade rice-malt amazake sweet sake. The cafe has announced that its second branch will open in Sendai on June 10, 2021. It hopes to promote the delicious taste of amazake to more people and pass it down to the next generation.

Homemade Amazake – Plain (Small Size) | ¥390 (Tax Included)

Strawberry Chocolate Amazake – Blueberry Cheesecake Amazake – Apple Pie Amazake | From ¥600 Each (Tax Included)

Amazake is a great alternative for those who can't handle the taste of ordinary strong sake. The cafe makes it with koji and rice from Tohoku and offers it in a range of different flavours. All beverages are made without granulated sugar and include a range of ingredients that have beautifying effects on the skin and help with recovering from fatigue such as grape powder, amino acids, and Vitamin B.

KitKat Japan Releases New Mini Maple Chocolate Bars For Earth Day

In accordance with Earth Day, which is set for April 22, Nestlé released its limited-time KitKat Mini Maple on Monday to raise awareness of environmental issues and the future of the planet.

KitKat Mini Maple (3 Included)

KitKat Mini Maple (12 Included)

9 packaging designs with different messages related to the environment

'KitKat Always For Earth Day' online talk event to take place on April 30

In September 2019, Nestlé began packaging five of its major large-sized KitKat bags in paper bags rather than plastic, and since autumn 2020, most of their large sized bags are now made from paper. This has helped reduce 450 tonnes of plastic per year.

Now, Nestlé is releasing a new collection of packages for Earth Day featuring original designs by up-an-coming young artist SUGI. Each features messages from members of MIMO, a group managed by Japanese model Mila Aina, stating messages about helping to protect the environment and the future of planet earth.

Travel Japan's Miyagi Prefecture Together With Pokémon's Lapras

Lapras is the official mascot Pokémon of Miyagi and is set to hold a new autumn and winter campaign starting on November 1 to encourage people to travel around Miyagi with the placing of new Poké Lid manhole covers, a stamp rally around the prefecture, and more.

Guidebooks and Posters

Tourist information centres, major tourist facilities, and major stations on the JR East Japan Railway and JR Hokkaido Railway will be selling guidebooks with Lapras showing travellers and sightseers what to enjoy this during this autumn and winter in Miyagi Prefecture.

New Lapras Poké Lids

New Lapras design Poké Lids will be rolled out in 20 towns around Miyagi from early December as part of Japan's ongoing Poké Lid project to place Pokémon manholes around the country. This will bring Miyagi's total count up to 35. Tottori Prefecture recently added Sandshrew and Sandslash lids, and Fukushima welcomed Chansey designs in August.

All of the Poké Lids placed in Japan feature completely original Pokémon designs making each individual one the only one in the world. The Pokémon Company is also working to make each one of them PokéStops for Pokémon GO.

Miyagi Stamp Rally

A stamp rally will be held from November 1, 2020 to March 1, 2020 which will have people travelling around Miyagi Prefecture to collect all the stamps for a chance to receive exclusive prizes.

Miyagi Prefecture x Lapras x Hotel Metropolitan Sendai East

Hotel Metropolitan Sendai East, a hotel which is connected directly to Sendai Station, is now offering a special Lapras hotel plan which offers themed amenities to hotel guests including a giant plush toy

Bookings: Available from October 26, 2020

Start Date: November 1, 2020

Lapras Snow Sledding

Ski resorts in Miyagi will also be offering a Lapras sleds. The locations include Izumigatake Ski Resort, Spring Valley Izumi Kogen, Onikobe Ski Area, Uenono Ski Area, Yakurai Family Ski Area, Miyagi Zao Shiroishi Ski Resort, and Miyagi Zao Eboshi Resort.

©2020 Pokémon. ©1995-2020 Nintendo/Creatures Inc. /GAME FREAK inc.

Pokémon, ポケットモンスター, and ポケモン are registered trademarks of Nintendo, Creatures Inc., and GAME FREAK inc.

Information

Lapras x Miyagi Autumn and Winter Campaign

Location: Miyagi Prefecture

Start Date: November 1, 2020

Official Website: https://laplace-miyagi.jp/

Haikyu!! TO THE TOP Themed Cafe to Open at Animate Cafe in Sendai

Japanese anime and manga merchandise chain store and cafe company Animate is set to open the new Animate Cafe Gratte Sendai on August 29, 2020. There are many Animate Cafe branches around Japan, all of which serve up menus themed on various anime, manga, and game franchises.

The first series to land at the new Animate Cafe Gratte Sendai will be Haikyu!! TO THE TOP.

Animate Cafe Gratte Sendai will serve the staple "Gratte," a portemanteau of "graphic latte" where character illustrations are put on top of the cream of lattes. These beverages are currently served at the Tokyo (Shibuya and Kichijoji), Osaka, and Okayama branches of Animate Cafe.

Haikyu!! is a sports, comedy and coming-of-age manga series written and illustrated by Haruichi Furudate. Serialised in Weekly Shonen Jump, the series spanned 45 volumes, with the final volume released just last month. Season four of the series, titled Haikyu!! TO THE TOP, is still ongoing, with the second half set for release this October.

The collaboration at the cafe will run from August 29 to September 15 where fans can tuck into a range of different Haikyu!! themed goodies like grattes, icing cookies, and more.

All customers will receive one of the above-pictured exclusive coasters randomly selected from 12 designs.

©Haruichi Furudate / Shueisha・"Haikyu!!" Production Committee・MBS

Information

Haikyu!! TO THE TOP Collaboration
Running: August 29, 2020 – September 15, 2020

Animate Cafe Gratte Sendai
Address: EBeanS 7F, 4-1-1 Chuo, Aoba-ku, Sendai-shi, Miyagi Prefecture
Opening Hours: 11:00-19:30 (Last Orders 19:15)

Animate Cafe Gratte Official Website: https://www.animate.co.jp/gratte/

Make Your Own Original KitKat at Tokyo's KitKat Chocolatory Miyashita Park Shibuya

Nestlé Japan is opening a new branch of KitKat Chocolatory inside Shibuya's new shopping mall Miyashita Park on August 4, 2020.


KitKat Chocolatory is a direct-to-consumer chain, serving premium, handcrafted KitKats made with top quality ingredients and production methods under full direction by Takagi Yasumasa―the owner and chef of LE PATISSIER TAKAGI. Its product line-up features a range perfect as gifts to friends, family and co-workers, or as a treat to yourself.

Japan is home to eight KitKat Chocolatory branches. The new Miyashita Park Shibuya branch will open as the fourth in Tokyo, as well as the first where you can create your own KitKat products.

My KITKAT: ¥2,000 (Before Tax)

"My KITKAT" comes as the world's first KitKat service where consumers can create their own original chocolate bars.

KitKat Waffle: ¥1,000 (Before Tax)

KitKat Chocolatory Sublime Soft Cream: ¥630 (Before Tax)

KitKat Chocolatory Miyashita Park Shibuya will also sell a variety of unique and exclusive KitKat desserts, like luxurious soft serve ice cream topped with couverture chocolate. It will also offer a cafe menu created by Nespresso, where customers can pair Chocolatory desserts with seasonal coffee menus, and more.

Shibuya-esque wall art will decorate the interior of the shop, making for plenty of photo opportunities.

Information

KitKat Chocolatory Miyashita Park Shibuya

Grand Opening: August 4, 2020

Address: Miyashita Park South 2F, 6-20-10 Jingumae, Shibuya, Tokyo

Opening Hours: 11:00-21:00 (Last Orders 20:00)

TEL: 03-6427-6811

Official Website: https://nestle.jp/brand/kit/chocolatory/

KitKat Chocolatory to Release Beautiful New Packaging Illustrated by Misaki Tanaka

Nestlé Japan is collaborating with popular Japanese illustrator Misaki Tanaka to release a new series of chocolate packaging on April 15 at KitKat Chocolatory. The concept behind the packaging is to have people choose the chocolate they want based on the words and pictures branded on the single chocolate boxes.

The KitKat Chocolatory is a direct-to-consumer chain, serving premium, handcrafted KitKats made with top quality ingredients and production methods under full direction by Takagi Yasumasa―the owner and chef of LE PATISSIER TAKAGI. Its luxurious line is endless, with products ranging from the elusive ruby chocolate, whose cocoa beans give the finish product its pink colour, to volcanic chocolate made from rare cocoa beans sourced from volcanic islands.

KitKat Mekakushi Chocolatory – ¥300~¥400 (Before Tax)

There are 15 different package designs in total which will be sold for a limited time. None of the boxes have information of the flavour or name of the chocolates; instead you pick which you want based on how the packaging looks. They make for a great gift to yourself and others.

The words chosen on the packaging reflect the feelings one goes through in love or everyday life. Misaki Tanaka has provided the perfect illustrations to better picture those times.

KitKat Mekakushi Chocolatory Full Box (15 Included) – ¥5,100 (Before Tax)

Those who want all of the flavours can purchase the assorted box of 15. The box lid features another original illustration by Miskai Tanaka. And if you roll up to KitKat Chocolatory Ginza between April 15 and May 17, they will have a special exhibition of the illustrations on show.

Information

KitKat Mekakushi Chocolatory

Available: 7 branches of KitKat Chocolatory (3 in Tokyo/2 in Osaka/1 in Kawasai/1 in Hiroshima) & Nestlé Japan Website (*Only 15 sets will be sold online)

Official Website: https://nestle.jp/brand/kit/chocolatory/mekakushi/

New Japanese KitKat Commercial Sees Shingo Katori Show Off His Art Skills

Shingo Katori is an official ambassador of KitKat Japan, and he appeared in the latest television commercial for the chocolate brand which began broadcasting on March 27. The commercial was also posted on the KitKat Japan website.

 

Japan has the biggest KitKat market in the world. In September 2019, in an effort to reduce the amount of plastic waste, Nestlé made the decision to alter the packaging of five types of its large size KitKat chocolate bars from plastic to paper. The paper can then be used to make paper cranesーa symbol of hopes and prayers in traditional Japanese cultureーor for writing messages on to give to people.

In KitKat's latest commercial, Shingo Katori comes together with young people to create an art piece from the paper packaging which reads, "Let's all work hard together!" in Japanese.

See the commercial here on the Nestlé website or here on their official YouTube channel.

McFlurry and KitKat Come Together in Long-Awaited Collaboration at McDonald's Japan

McDonald's Japan has teamed up with Nestlé Japan to release a KitKat® McFlurry®. It was released on Wednesday at all McDonald's branches in Japan.

It has been seven years since McFlurry® and KitKat® came together in their delicious chocolatey ice cream combination. It was such a hit back in 2007 that it has finally made its fabled return to the delight of sweet-tooth McDonald's customers.

The KitKat® McFlurry® is a simple combination of smooth soft serve ice cream and crushed KitKat®. It's also drizzled in a special sauce made from rich couverture chocolate.

The mix of the wafer-like chocolate KitKat® with the soft serve ice cream is a combination to die for, and the sauce only adds to the mouth-watering flavour.

The dessert will be served in limited-edition cups as pictured above. These cups are limited in stock and will discontinue once all are sold.

Information

McFlurry® KitKat®

Running: February 12, 2020 – Early March 2020 (subject to change)

Available: McDonald's in Japan (Select branches not participating)

Serving: All Day

Price: ¥290 (Tax Included)

*KITKAT and キットカット are registered trademarks of Nestlé Group.

McDonald's Japan Official Website: http://www.mcdonalds.co.jp/