DEAN FUJIOKA Lives Stream Acoustic Performance & 2020-2021 Tour Announced
DEAN FUJIOKA had a series of acoustic live shows entitled DEAN FUJIOKA FamBam Exclusive "#Acoustic" penned in for members of his official fan club, which was originally set take place in mid-March, but due to the ongoing circumstances surrounding the Coronavirus, the six shows for Tokyo, Nagoya, and Osaka have been cancelled to ensure everyone's safety and peace of mind.
DEAN FUJIOKA and his staff decided to instead hold a live acoustic performance for everyone who was looking forward to the acoustic tour, and it took place yesterday in an at an unnamed studio.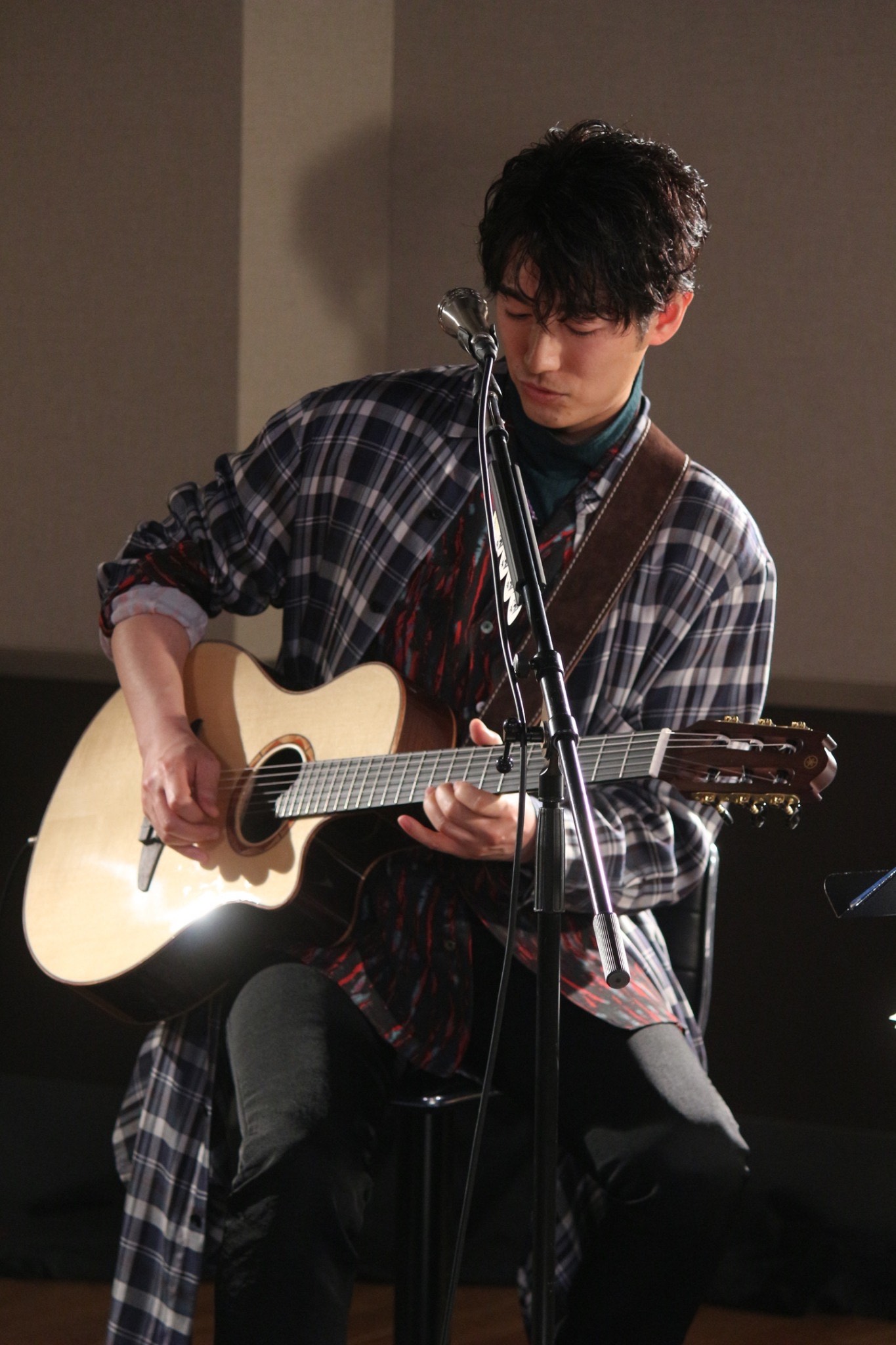 The set consisted of 7 songs specially arranged into acoustic versions, from his debut track My Dimension to his hit track Shellyーthe latter of which was used as the main theme song for the popular Japanese drama series Sherlock: Untold Stories which aired last year. FUJIOKA also spoke about his music to fans during the stream. At the end of the performance, the singer-songwriter announced that the tour merchandise for the cancelled tour will be put to purchase online, and that he will embark on a nationwide tour of Japan beginning this October.
DEAN FUJIOKA promised fans, "Let's meet in your hometowns this autumn!" The stream was over in what seemed like an instant, but people in the comments expressed how special of a performance it was. Fans are sure to be excited at the announcement of the new tour – check out the dates and venues below.
Information
DEAN FUJIOKA 2020-2021 Japan Tour Schedule
2020 Dates
10/3 @ Hondanomori Hall, Ishikawa Prefecture
10/7 @ Festival Hall, Osaka
10/8 @ Festival Hall, Osaka
10/10 @ Sendai Sunplaza, Miyagi Prefecture
10/17 @ Hiroshima Ueno Gakuen Hall, Hiroshima Prefecture
10/18 @ Okayama Civic Hall, Okayama Prefecture
10/24 @ Aichi Prefectural Art Theater, Aichi Prefecture
11/1 @ Sunport Hall Takamatsu, Kagawa Prefecture
11/3 @ Chiba Prefectural Cultural Hall, Chiba Prefecture
11/7 @ Koriyama City Cultural Center, Fukushima Prefecture
11/8 Omiya SONIC CITY, Saitama Prefecture
11/14 @ City Kaikan Sears Home Yume Hall, Kumamoto Prefecture
11/15 @ Fukuoka Civic Hall, Fukuoka Prefecture
11/22 @ Kanagawa Kenmin Hall, Kanagawa Prefecture
12/4 @ Shimizu Cultural Center Marinato, Shizuoka Prefecture
12/6 @ Kuragi Cultural Hall (Matsusaka Civic Cultural Hall), Mie Prefecture
12/18 @ Kobe International House, Hyogo Prefecture
12/26 @ Kanamoto Hall (Sapporo Shinmin Hall), Hokkaido
2021 Dates
1/14 @ Tokyo International Forum (Hall A), Tokyo
DEAN FUJIOKA Official Website: http://www.deanfujioka.net
RELATED ENTRIES
Italian Pop Trio Il Volo to Perform for Charity at Kiyomizu-dera in Kyoto, Film to be Released

Il Volo, an Italian operatic pop trio known for its incredible tenors, will be the first foreign artist to be filmed at Kiyomizu-dera in Kyoto. The concert will be held without an audience and will be filmed, with proceeds going to charity.



The musical trio is known around the world for its mesmerizing harmonies. Their music manages to sound modern while still channeling tradition, making them an excellent choice to perform at the center of Japanese cultural traditions in Kyoto. The group will also perform in Tokyo, Osaka, and Nagoya.

The music video for the group's song Grande Amore, released in 2015, has racked up over 200 million views on YouTube. Loved by fans around the world, Il Volo's music transcends language barriers, and the group is sure to impress on their Japan tour.

Information

Il Volo Japan Tour 2022 Live in Concert

Planning/Invite/Organization: Tate Corporation

In Cooperation with Sony Music Labels Inc., M.T. Studio

FEMM Releases Music Video for 'Falling For A Lullaby,' Announces European Tour Dates

Japanese electronic dance duo FEMM continues to impress. While still relatively unknown in Japan, the main track from their latest album Tokyo Ex Machina, We Got Each Other, managed to chart for 12 consecutive weeks on the major U.S. radio chart MEDIABASE/Activator Chart, rising as high as #48 as of June 22, 2022. 

The song Fxxk Boyz Get Money, ranked in the Top 10 on Billboard's World Albums chart and was also selected as the Best Indies Album at HMV in the U.K. The girls have continued to become popular in the U.S. in Europe. 

The pandemic forced the duo to cancel all festival appearances in the U.S. and Europe. Their recent album Tokyo Ex Machina took over five years to complete.

The music video for Falling For A Lullaby is finally here featuring Jenna Andrews, who previously worked with BTS on the video for Butter. Inspired by the current cyberpunk craze, this song is worth a few dozen listens at a minimum.

Falling For A Lullaby(Music Video)

In terms of visuals, FEMM has received high acclaim from Western media outlets such as Vice, Noisey, and DAZED. The new video was made along with BRDG, a close friend with many fans around the world, and YAMACHANG, one of the best laser artists in Japan. The work stands out for its incredible use of light and color.

Starting in July, the duo will embark on a European tour. The dates are listed below, so if you live in the UK, France, or Germany, don't miss this stellar show!

Rock Band ONE OK ROCK Announces North American Tour This Fall

Japanese rock band ONE OK ROCK has steadily been expanding its activities around the world, and fans in North America are in for a treat. The band will embark on its first North American tour in three years starting on September 19, 2022, with many shows featuring You Me At Six and Fame On Fire as starting acts.

ONE OK ROCK will also release its first single of 2022, Save Yourself, on June 24. Keep an eye out for when the band comes to your town!

Tour Schedule

09/19/2022 Austin, TX – Emo's

09/20/2022 Houston, TX – House of Blues

09/21/2022 Dallas, TX – House of Blues

09/23/2022 Orlando, FL – House of Blues

09/24/2022 Atlanta, GA – Tabernacle*

09/25/2022 Charlotte, NC – The Underground

09/27/2022 Philadelphia, PA – Franklin Music Hall

09/28/2022 Silver Spring, MD – The Fillmore

09/30/2022 New York, NY – Hammerstein Ballroom

10/01/2022 Boston, MA – House of Blues

10/02/2022 Montreal, QC – Club Soda

10/04/2022 Toronto, ON – Rebel

10/05/2022 Detroit, MI – Saint Andrews Hall*

10/07/2022 Cleveland, OH – House of Blues

10/08/2022 Chicago, IL – Concord Music Hall

10/09/2022 Minneapolis, MN – The Fillmore

10/11/2022 Denver, CO – Ogden Theatre

10/12/2022 Salt Lake City, UT – The Complex

10/14/2022 Portland, OR – Roseland Theater

10/15/2022 Vancouver, BC – Harbour Event Centre

10/16/2022 Seattle, WA – Showbox SoDo

10/19/2022 Oakland, CA – Fox Theater

10/20/2022 Los Angeles, CA – Hollywood Palladium

*Fame On Fire will not appear at these shows.

Studio Chizu to Hold Cinematic Orchestra to Commemorate the First Anniversary of 'Belle'

To celebrate the first anniversary of the animated Studio Chizu film Belle, a special Cinematic Orchestra will be held on August 14 at the Tokyo International Forum. The event will feature a number of other beloved Studio Chizu works.

The event will feature a symphony orchestra performing songs from many Studio Chizu films while famous scenes play on an oversized screen. The works to be featured include The Girl Who Leapt Through Time, Summer Wars, Wolf Children, The Boy and the Beast, Mirai, and Belle.


Masakatsu Takagi will be playing piano while Hanako Oku and Ann Sally will be attending as guest vocalists.

 

Original merchandise will also be on sale at the venue, with some pieces featuring an incredible illustration of Belle from the feature film.


Which Studio Chizu film is your favorite?

Featured Works

The Girl Who Leapt Through Time (2006)
Summer Wars (2009)
Wolf Children (2012)
The Boy and the Beast (2015)
Mirai (2018)
Belle (2021)

Information

Studio Chizu Cinematic Orchestra 2022 ~Belle 1-Year Anniversary~

Date: August 14, 2022 / 16:00 – 17:00
Venue: Tokyo International Forum Hall A

Official Site: https://www.promax.co.jp/studiochizu-inconcert

Tickets
Lottery Entry Period: May 18 – May 29 at 23:59
Lawson: https://l-tike.com/st1/studiochizu-2022
General Sales
Available starting June 18 at 10:00
*More details to be announced at a later date.

©「時をかける少女」製作委員会2006/©2009 SUMMERWARS FILM PARTNERS/©2012「おおかみこどもの雨と雪」製作委員会/©2015 THE BOY AND THE BEAST FILM PARTNERS/©2018 スタジオ地図/©2021 スタジオ地図/©STUDIO CHIZU/©上野隆文

Kyary Pamyu Pamyu Collaborates with Shelter Nanyo Hall in Yamagata for LOCAL POWER JAPAN Project

Last month, Kyary Pamyu Pamyu performed on the Gobi Stage at Coachella, one of the largest music festivals in the United States. The singer has now returned to Japan for the second half of her 'Kyary Pamyu Pamyu 10th ANNIVERSARY JAPAN TOUR 2022 CANDY WAVE,' seeing the singer performing 30 shows across Japan. The tour will conclude with a solo performance at Budokan in October. 

In conjunction with the nationwide tour, the LOCAL POWER JAPAN Project was launched to energize Japan through the appeal of regional towns and cities and has been attracting major attention. Kyary's newest collaboration in Yamagata has been announced ahead of her concert there on May 13!

The singer will be collaborating with Shelter Nanyo Hall in Nanyo, Yamagata, a small town of only around 30,000 people. The hall is the world's largest wooden concert hall, made entirely from laminated local cedar. It uses the most advanced fire-resistant technology for wood in Japan and was certified as the world's largest by Guinness World Records in December 2015. The multi-functional hall can seat over 1,400 people, and the property also features a Japanese-style tea room, meeting rooms, an open tree-growing space, and more.

"I want the local population to be incredibly proud of this magnificent wooden structure," said Norihito Shimanuki, the hall's director. "Through this concert hall, we'd like to promote Nanyo and Yamagata Prefecture both domestically and internationally." 

The collaboration logo for the newest partnership was inspired by the 'KPP NANDA COLLECTION LIVE in HAWAII' visual. The one-night-only concert was held in July 2014. Since the main focus of this team-up is 'wood,' the visual's palm tree has been transformed into a cedar tree!

A collaborative T-shirt is also on sale featuring the new logo and the singer's 10th-anniversary logo. The shirt is available on the LOCAL POWER JAPAN Project website for two weeks only starting May 12. Support Japanese businesses and pick one up while you can!

Information

Shelter Nanyo Hall Yamagata (Nanyo City Cultural Hall) x Local Power Japan Project

Collaboration T-shirt

Price: ¥3,300 (Tax Included)

Available: May 12 – May 25, 23:59

Where to Buy: 

LOCAL POWER JAPAN Project Online Shop

https://store-localpowerjapan.com/

Shelter Nanyo Hall (Nanyo City Cultural Hall): https://nanyoshi-bunkakaikan.jp

Tour Details: https://kpp10.jp/japantour2022/

Official Site: https://localpowerjapan.com 

*Please allow two weeks to one month after order for product to ship. All items are made-to-order.

*A portion of shirt sales will be donated to local development and social programs. 

Kirby 30th Anniversary Music Festival to be Held at Tokyo Garden Theater

The Kirby game series turns 30 on April 27, 2022, and to celebrate this impressive event, the Kirby 30th Anniversary Music Festival will be held on August 11!

 

While the event will be held in person at the Tokyo Garden Theater, fans from all over the world will also be able to watch for free on YouTube.

The concert will feature songs from the series performed by a "big-band style ensemble" made up of 35 musicians, with Kirby himself participating in real-time on an LED monitor, dancing around as fans celebrate his birthday.


Those attending the concert venue in person will be able to snag a special penlight that will sync to the music for some extra magic. 

What's your favorite Kirby soundtrack?

©HAL Laboratory, Inc. / Nintendo

Japanese Pop Icon Kyary Pamyu Pamyu Announces Her First World Tour in Four Years

Following her storming sets at this year's Coachella Festival and the 10th anniversary of her debut album, globally celebrated Japanese Pop Icon Kyary Pamyu Pamyu will return to the UK for the first time in four years to perform at London EarTH Concert Hall on Friday 25th November. Tickets go on sale Friday 29th April at 10am via www.gigsandtours.com and www.ticketmaster.co.uk. Full European tour dates here.

The new UK show not only in celebration of the 10th anniversary of her debut album but will also see her perform tracks off her fifth album Candy Racer. The show also succeeds a major Japanese tour and dates across Europe.

Kyary Pamyu Pamyu began her career working as a model for a number of Harajuku-based magazines. Appearing on countless covers, her outspoken style and unique worldview have attracted global attention, with her captivating doll-like appearance inspiring many to learn more about Tokyo street fashion. Kyary made her music debut in 2011 with the mini-album Moshi Moshi Harajuku produced by Yasutaka Nakata of CAPSULE fame.

The music video for PONPONPON has been viewed over 180 million times. Her hit song Ninja Re Bang Bang was remixed by globally-renowned DJ Steve Aoki for the Nintendo Switch title Ninjala. In addition to her numerous performances around Japan, Kyary has also embarked on four successful world tours. In 2021, the artist's 10th debut anniversary, Kyary launched the new KRK LAB label.

Kyary Pamyu Pamyu continues to fascinate her fans with her free-spirit and original expressions that one would never imagine from her cute appearance. Her presence as an icon of "HARAJUKU," a combination of artist and fashion activities, has attracted attention from all over the world.

Information

KYARY PAMYU PAMYU

When: FRIDAY 25 NOVEMBER 2022

Where: UK, LONDON EARTH CONCERT HALL

TICKETS ON SALE FRIDAY 29TH APRIL AT 10AM

WWW.GIGSANDTOURS.COM / WWW.TICKETMASTER.CO.UK

 

KYARY PAMYU PAMYU IN EUROPE

http://cw.kyary.asobisystem.com

MON 14 NOV 2022 GERMANY, COLOGNE GLORIA

WED 16 NOV 2022 GERMANY, BERLIN COLUMBIA THEATER

FRI 18 NOV 2022 FRANCE, PARIS ÉLYSÉE MONTMARTRE

SUN 20 NOV 2022 SWITZERLAND, ZURICH PLAZA

BAND-MAID Announces Dates for Largest-Ever U.S. Tour

In October 2022, maid-themed rock band BAND-MAID will embark on its largest-ever U.S. tour. The girls' group has become massively popular overseas in recent years, with the total number of views on their YouTube channel surpassing 130 million. BAND-MAID's previous four world tours have all sold out, and streaming videos of their shows have been viewed by audiences in more than 60 countries around the world. 

This is the first time BAND-MAID will tour in the U.S. solo. Tickets will go on general sale tomorrow, March 3. 

The tour will start with the band's first appearance at the AFTERSHOCK Music Festival in California, which will feature many of the world's most popular artists like KISS and Slipknot. Will you be grabbing tickets?

Information

BAND-MAID US TOUR 2022


October 9 – Sacramento, CA / Aftershock Festival

October 12 – Seattle, WA / Neptune

October 14 – San Francisco, CA / August Hall

October 15 – Los Angeles, CA / House of Blues

October 19 – Phoenix, AZ / Crescent Ballroom

October 21 – Dallas, TX / Echo Music Hall

October 22 – Houston, TX / House of Blues

October 25 – Washington, DC / The Fillmore

October 26 – Philadelphia, PA / TLA

October 28 – New York, NY / Irving Plaza

October 29 – Boston, MA / Brighton Music Hall


Details: https://bandmaid.tokyo/contents/486225

Ticket Sale Schedule (JST)
March 2 / 2:00AM: Fan Club Ticket Sales Begin
March 4 / 12:00AM: General Ticket Sales Begin

AFTERSHOCK FESTIVAL

Dates: October 6 – October 9 (U.S. Local Time)
https://aftershockfestival.com/

Hatsune Miku Symphony 2022 to Travel to Yokohama and Osaka Following Suntory Hall Performance

The Hatsune Miku Symphony 2022 event will be performed at Pacifico Yokohama and The Symphony Hall Osaka following the Suntory Hall performance later this year. The Tokyo Philharmonic Orchestra and Osaka Philharmonic Orchestra will perform alongside visual effects, and Vocaloid fans won't want to miss this incredible show!

In addition, the Blu-ray and CD of the Hatsune Miku Symphony 2021 Yokohama performance are now on sale. Each contains an advanced ticket application to the Suntory Hall performance. A digest video of KAITO's 15th Anniversary song, the theme for the event, is also available to watch on YouTube.

Hatsune Miku Symphony 2021 – Yokohama Performance Digest [Orchestra Live Blu-ray & CD]

On February 5 and February 6, a Hatsune Miku Symphony 2022 booth at SNOW MIKU 2022 will be selling the 2021 Blu-ray and CD. Those buying fast enough will get an original pin.

Information

Hatsune Miku Symphony 2022 ~Hatsune Miku,Kagamine Rin,Kagamine Len 15th Anniversary~

Yokohama Concert

September 25, 2022

Pacifico Yokohama National Convention Hall

Conductor: Hirofumi Kurita

Performed by the Tokyo Philharmonic Orchestra

 

Osaka Performance

November 23, 2022

The Symphony Hall

Conductor: Hirofumi Kurita

Performed by the Kansai Philharmonic Orchestra

Official Site: https://sp.wmg.jp/mikusymphony/

Iconic Moments from Attack on Titan Brought to Life in New Video

A new YouTube video is bringing iconic Attack on Titan moments to life. To commemorate the release of The Final Season Part 2, the video features Hiroyuki Sawano's prolific soundtrack to the anime series being performed live while accompanied by scenes from the show. The concert was held last year at Pacifico Yokohama last year.

 

Attack on Titan – ətˈæk 0N tάɪtn <WMId> [Official Live]

Attack on Titan The Final Season Part 2 is currently airing every Sunday and is available to stream on a number of global streaming services.

 

©諫山創・講談社/「進撃の巨人」The Final Season製作委員会

Information

Attack on Titan The Final Season Part 2

Airing on NHK General Sundays at 24:05

Streaming on dTV, d Anime Store, GYAO!, Netflix, TELASA, Hikari TV, U-NEXT, Amazon Prime Video

Official Site: https://shingeki.tv/final/

Additional North American Dates Added to SCANDAL's World Tour

All-girl rock band SCANDAL is celebrating 15 successful years in 2021. Their ten-track 10th original album 'MIRROR' was released on January 26, 2022, and includes popular singles like eternal and ivory. 'MIRROR' includes songs written, composed, and sung by each member, and is already beloved by longtime and new fans alike.

The music video for the love balled Ai ni Naranakattanosa has also been unveiled. Written and composed by guitarist MAMI, it's a song that realistically describes the sad feelings of a woman in unrequited love. The video was directed by motherfucko, who also directed the videos for Fuzzy and one more time. It also features young actors Miyu Nakamura and So Morozumi telling the story of a woman who realizes that her feelings for her boyfriend aren't love.

Ai ni Naranakattanosa Music Video

SCANDAL has also announced additional shows for the North American leg of their 2022 World Tour, which is scheduled to start in March. There will be nine shows in total: Toronto, New York, Atlanta, Anaheim, Dallas, Boston, Chicago, Vancouver, and Seattle. The setlist will include songs from the album as well as popular songs from the group's history. 

Information

 MIRROR

Release Date: January 26, 2022

Standard Edition (CD): ¥3,300 (Tax Included)

Special Edition A (CD+DVD): ¥4,400 (Tax Included)

Special Edition B (CD+Magazine): ¥4,400 (Tax Included)

Limited Edition (CD+DVD+GOODS) *With Luxury Box: ¥11,000 (Tax Included)

SCANDAL Official Site: https://www.scandal-4.com/

Kyary Pamyu Pamyu Announces 'LOCAL POWER JAPAN Project' to Support Rural Areas

Celebrating the 10th anniversary of her major label debut, Kyary Pamyu Pamyu is back in the news. The artist will perform at this year's Coachella, one of the largest music festivals in the United States, and recently released her first full-length album in three years 'Candy Racer' in October 2021.  On January 16, Kyary embarked on the largest tour of her career, 'Kyary Pamyu Pamyu 10th ANNIVERSARY JAPAN TOUR 2022 CANDY WAVE,' which will see the singer performing 30 shows across Japan.

In conjunction with the nationwide tour, the "LOCAL POWER JAPAN Project" was launched to energize Japan through the appeal of regional towns and cities.  The 30 stops on the new tour include many that Kyary has not visited before, and were chosen based on the singer's desire to perform for fans who may not typically be able to attend one of her shows. 

This initiative aims to bring attention and support to local industries and to inspire more tourism to rural areas.

This project is a new attempt to enliven local communities by collaborating with companies that have roots in the rural locations where these concerts will be held. These company's logos have been reimagined, paying homage to the artwork associated with Kyary's previous song releases. T-shirts designed with each of these collaborative logos will be on sale for a limited time, and a portion of the proceeds will be donated to the local community for development and social contributions.

For the encore of the first live show, Kyary wore a collaboration logo T-shirt inspired by Suzuhiro Kamaboko, a company in Kanagawa Prefecture. The artist also introduced the project and its aim to the excited audience. More collaborations will be announced through July 2021.

Check out the 'LOCAL POWER JAPAN Project' website for more details!

Comment from Kyary Pamyu Pamyu

"This tour is to commemorate my tenth anniversary, and as I travel all over Japan to express my gratitude to those who have supported me over the past decade, I also want to do something for everyone else. I'm happy to support these local companies and I'd like to work with them to revitalize the entire country. We'll be engaging in all sorts of collaborations around Japan, so look forward to it!"


 

January 16, Kanagawa Performance: Suzuhiro Kamaboko

Suzuhiro Kamaboko, a long-established fish paste store in Odawara that has been in business for 156 years, has agreed to take part in the project. Their normally navy blue brand logo has received a major makeover in colorful pink, green, and purple hues. 

The T-shirts featuring the new collaboration logo on the front and the Kyary Pamyu Pamyu 10th anniversary logo and 'LOCAL POWER JAPAN Project' logo on the back are now available for purchase!

*Otono Kuni (From 4th Album 'Japamyu,' 2018)
Streaming Links: https://lnk.to/otonokuni

January 29, Gunma Performance: Oginoya Kamameshi


Oginoya, the largest Ekiben shop in Japan, was established 136 years ago in Yokokawa, Gunma Prefecture. 

Their main dish, Touge no Kamameshi,' has been sold for over 60 years and often makes appearances at events all over Japan. The company's logo has been reborn through the lens of Kyary's popular song Tsukematsukeru. A special kamameshi dish will also be prepared for the project, and will be sold in limited quantities at the Gunma concert venue on January 29, Kyary's birthday!

*Tsukematsukeru (1st Single, 2012)
Streaming Links: https://lnk.to/tsukematsukeru

May 20, Fukushima Performance: Kourakuen

Kyary will appear in commercials for Kourakuen as part of the project. The company started as a small diner in Aizuwakamatsu and is now is a national chain of ramen restaurants serving over 54 million people a year! The new logo and collaboration details will be revealed at a later date, so keep an eye out!