DEAN FUJIOKA Lives Stream Acoustic Performance & 2020-2021 Tour Announced
DEAN FUJIOKA had a series of acoustic live shows entitled DEAN FUJIOKA FamBam Exclusive "#Acoustic" penned in for members of his official fan club, which was originally set take place in mid-March, but due to the ongoing circumstances surrounding the Coronavirus, the six shows for Tokyo, Nagoya, and Osaka have been cancelled to ensure everyone's safety and peace of mind.
DEAN FUJIOKA and his staff decided to instead hold a live acoustic performance for everyone who was looking forward to the acoustic tour, and it took place yesterday in an at an unnamed studio.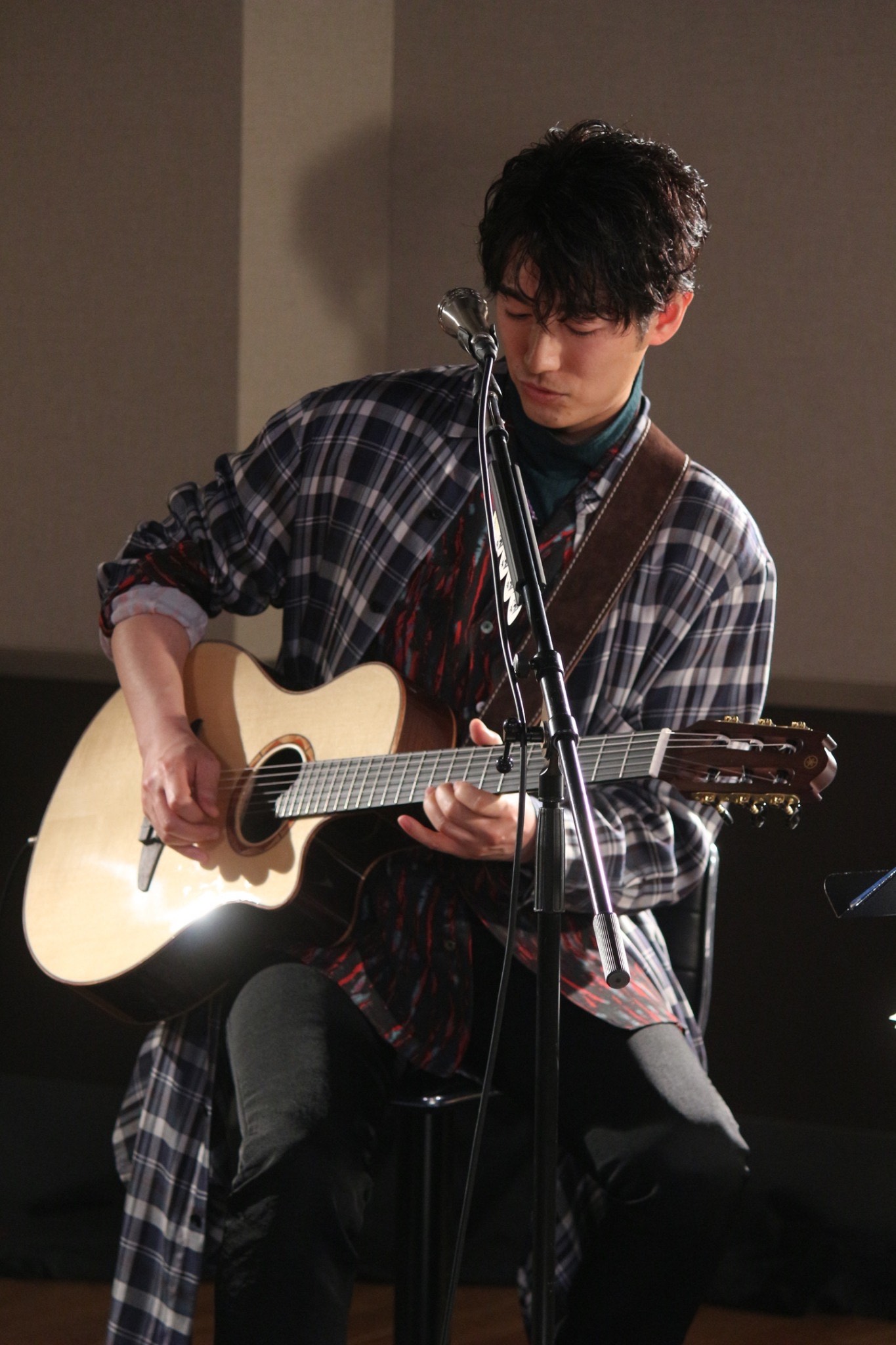 The set consisted of 7 songs specially arranged into acoustic versions, from his debut track My Dimension to his hit track Shellyーthe latter of which was used as the main theme song for the popular Japanese drama series Sherlock: Untold Stories which aired last year. FUJIOKA also spoke about his music to fans during the stream. At the end of the performance, the singer-songwriter announced that the tour merchandise for the cancelled tour will be put to purchase online, and that he will embark on a nationwide tour of Japan beginning this October.
DEAN FUJIOKA promised fans, "Let's meet in your hometowns this autumn!" The stream was over in what seemed like an instant, but people in the comments expressed how special of a performance it was. Fans are sure to be excited at the announcement of the new tour – check out the dates and venues below.
Information
DEAN FUJIOKA 2020-2021 Japan Tour Schedule
2020 Dates
10/3 @ Hondanomori Hall, Ishikawa Prefecture
10/7 @ Festival Hall, Osaka
10/8 @ Festival Hall, Osaka
10/10 @ Sendai Sunplaza, Miyagi Prefecture
10/17 @ Hiroshima Ueno Gakuen Hall, Hiroshima Prefecture
10/18 @ Okayama Civic Hall, Okayama Prefecture
10/24 @ Aichi Prefectural Art Theater, Aichi Prefecture
11/1 @ Sunport Hall Takamatsu, Kagawa Prefecture
11/3 @ Chiba Prefectural Cultural Hall, Chiba Prefecture
11/7 @ Koriyama City Cultural Center, Fukushima Prefecture
11/8 Omiya SONIC CITY, Saitama Prefecture
11/14 @ City Kaikan Sears Home Yume Hall, Kumamoto Prefecture
11/15 @ Fukuoka Civic Hall, Fukuoka Prefecture
11/22 @ Kanagawa Kenmin Hall, Kanagawa Prefecture
12/4 @ Shimizu Cultural Center Marinato, Shizuoka Prefecture
12/6 @ Kuragi Cultural Hall (Matsusaka Civic Cultural Hall), Mie Prefecture
12/18 @ Kobe International House, Hyogo Prefecture
12/26 @ Kanamoto Hall (Sapporo Shinmin Hall), Hokkaido
2021 Dates
1/14 @ Tokyo International Forum (Hall A), Tokyo
DEAN FUJIOKA Official Website: http://www.deanfujioka.net
RELATED ENTRIES
Japanese Music Artists to Perform at Crocs Japan x atmos pink's Summer Festival

Casual footwear brand Crocs Japan and sneaker select shop atmos pink are set to host a summer pop-up event titled 'Atokuro Natsumatsuri' at atmos pink's flagship store in Harajuku as well as online from July 31 to August 9.

atmos is one of the leading sneaker brands in Japan, while Crocs is a staple of summertime footwear. Together, the two brands are set to deliver an array of summer season content with classic Japanese summer stalls, creating your own custom Crocs Jibbitz™, and more. Additionally, everyone who attends the event and buys something will enter for a chance to win some limited-edition merhandise.

Starting on August 2, a line-up of Japanese artists will perform live on YouTube for the event, with names such as FAKY, Yurufuwa Gang, ELLE TERESA, CHAMELEON LIME WHOOPIEPIE, Atarashii Gakko no Leaders, and more.

Information

Atokuro Natsumatsuri
Running: July 31, 2021 – August 9, 2021

Location: atmos pink Flagship Shop Harajuku

Address: 6-5-3 Jingumae, Shibuya, Tokyo

Opening Hours: 11:00-20:00

Live Schedule​
August 2 @ 21:00 – FAKY

August 4 @ 21:00 – Yurufuwa Gang
August 6 @ 21:00 – ELLE TERESA
August 8 @ 21:00 – CHAMELEON LIME WHOOPIEPIE, Atarashii Gakkou no Leaders

atmos pink channel: https://www.youtube.com/channel/UCkSEEsKnBrGz0bP9XLDkSGw

atmos pink Official Website: https://www.atmos-pink.com/

RADWIMPS Tease New Visual and Video For Upcoming Virtual Concert

RADWIMPS are set to hold three virtual concerts titled SHIN SEKAI "nowhere" which will be streamed worldwide from July 16-18. The shows will be a unique musical experience that the band and fans will create and share in the virtual space of VARP. In promotion of the concert series, the band released a new 30-second clip and visual. They also held a pre-showing of the concert to the press.

New promo video

Press pre-showing

Members of the press were granted exclusive access to experiencing the show early at the WHITE CINE QUINTO film theatre inside Shibuya PARCO in Tokyo on July 12. The concert title appeared on the screen, and at the same time, the audience used their smartphones to enter the virtual space as an avatar where they experienced an interactive concert. A talk session was also held with RADWIMPS members Yojiro Noda, Akira Kuwahara, and Yusuke Takeda, as well as Yohei Kajiwara of PARTY, Kairi Manabe, and last but not least Kentarō Ochiai who was the MC for the show. They discussed creating SHIN SEKAI as well as the future of entertainment and music experiences.

Speaking about how the project came about, Noda said, "Last year, we said farewell so a lot of shows on the tour. It was a bottomless pit of sadness. It was at the time when we were wondering what we could do so that our music wasn't eradicated that we met PARTY. We felt we could do something new, and decided on trying out this virtual concert."

"It was my first time becoming an avatar," said Kajiwara. "It was a lot of fun. For example, I could make myself big and enjoy things you can only do in a virtual space."

Noda added to Kajiwara's comment, saying, "We could go to space or another world whenever we wanted. Whatever you can't do in a real concert, you can do at a virtual one."そ

"If you go virtual, everyone around the world can be in the same place," explained Takeda. "When I read comments on social media when we did this last time, I saw a lot of people say how they were able to enjoy themselves with people they didn't know and communicate with people overseas. I feel we were able to foster something new for fans."

Finishing up the talk, Noda's final comments were: "I look forward to seeing how we can evolve this technology. I want everyone to be the first people at the door to experience all the incredible things and possibilities we will be able to deliver and to enjoy the excitement of our concerts with lots of others. Please look forward to it on the day."

Information

RADWIMPS – SHIN SEKAI "nowhere"

Dates: July 16, 2021 / July 17, 2021 / July 18, 2021

Times (Each Day): 11:00 / 16:00 /22:00 (JST)

Official Website: https://rad.varp.jp/en.html

Concert Review: Red Bull x King Gnu Secret Gig at Tokyo Bay Sea Fort

As part of Red Bull and King Gnu's "Go Louder" project, the Japanese pop-rock band held an exclusive live concert at a secret location as part of the Red Bull Secret Gig experience on July 4. That location was Tokyo Bay's No.2 Sea Fort which invited fans attended on July 4.

Tokyo Bay No.2 Sea Fort

No.2 Sea Fort has a history as formally being a gun battery that's part of Tokyo Bay Fortress. The site has a lot of large machinery and is normally under strict management, making this the first time a live music concert has been held there. Over 130,000 fans applied to attend the show, and just 70,000 lucky ones were selected to both attend in-person and watch via an official livestream.

To find the venue, fans has to solve a puzzle. 30 illustrations of megaphones were plastered up all around Japan, each facing a different direction. Photos of them were also posted on Red Bull Japan and King Gnu's official Twitter accounts. The clue fans were given was that all the megaphones were geographically facing the direction in which the venue was located, so everyone had to put their heads together. For those unable to attend or watch the show, part of it along with a behind-the-scenes will be released on Red Bull TV on July 22.

Live Report


An unforgettable, once-in-a-lifetime experience. King Gnu and Red Bull's secret show was truly something special, treating fans to not only throwbacks, but exclusive sights that will never be beheld again. The main reason behind that was because the concert was held on an unmanned island in the middle of the ocean. Setting foot on this island is strictly forbidden under normal circumstances, but for King Gnu fans, it was all access for this one-night show. The band staff constructed a stage from scratch for King Gnu to stand as the first band to ever perform music there. Out of the 70,000 or so people who were successful to witness the show, only 60 very lucky fans were actually allowed to attend in-person (the rest watched online), and this intimate experience took place on June 5.

Red Bull Secret Gig has taken place at over 10 locations in six countries worldwide, and this was the first time for it to be held in Japan. It took about a month to roll out the megaphone images across Japan from April.



For the concert, the audience were split into two groups at No.2 Sea Fort and transported to the island aboard a small Red Bull Secret Gig ferry from Mikasa Terminal in Yokosuka. It took about 30 minutes for them to reach their destination, during which they could look out at the picturesque bright blue and sun-basked sea. Excitement was high amongst King Gnu's passengers. Constructed between the mid-Meiji Period (1867-1911) and Taisho Period (1912-1925), No.2 Sea Fort saw the Imperial Japanese Army there before WWII, and later the Imperial Japanese Navy used the island as the key spot to protect Tokyo. The shipping of materials to build King Gnu's stage began a week before the show started. Lots of mirrors which reflected the silver framework of the stage, as well as megaphones and other decorations, gave a dystopian vibe to the venue.

Both groups of fans were treated to performances at the Red Bull Street Jam until they arrived at the island, which saw Red Bull dancers and artists put on a show of breakdancing, freestyle football, and double dutch sessions. Everyone was off the boat by 15:40, and they didn't have to wait long for the main act to make an appearance. The sound of steel drums surrounded the crowd, white smoke filled the air, and flames roared high from the stage, signalling the start of what was to be a very special day for King Gnu lovers. The band members rolled up to the stage: Daiki Tsuneta began to strum his guitar while Yu Seki began drumming a tight rhythm. The groove ignited the moment Kazuki Arai entered the music with his bass as the band opened with their first song, Senryo Yakusha. The aggressive sound was offset when Daiki Tsuneta and Satoru Iguchi entered with harmonising twin vocals. The band showed off their dynamic performance skills as they offered both a solid yet explosive showcase. Keeping with the exciting energy, they cracked the gears up as they moved on to Sorrows. The stage lit up in a blaze of flames while black smoke shrouded the stage. It was a breathtaking backdrop to behold as the fire, smoke, stage, and setting itself was akin to a mirage floating in a desolate wasteland. But the smell of the smoke, the heat of the crowd, and most of all the flesh and blood of the band's performance confirmed to everyone that this experience was indeed real.

Aerial shot of the concert

From Kasa to McDonald Romance, King Gnu displayed how unique their music is as they elevated the soundscape from the stage to the sky. McDonald Romance in particular stood out, the love song's exquisite sound combining a gorgeous groove with Kazuki's transient and beautiful vocals.


After a short interval, the band moved onto Hikotei. The flames erupted for this heated performance, and black smoke poured around the stage, so much so that the band couldn't see, but this only served to enhance the performance in all its grand and massive sound. Some of the song's lyrics struck a cord as they reminded one of how our lives have been drastically affected since 2020.



Black smoke turned to red smoke for Slumberland. This performance was the embodiment of King Gnu establishing a new sense of values during this chaotic period we're going through. What the crowd witnessed was a band able to perform so well in so much smoke, a condition that wouldn't be able to be replicated in a normal venue. They didn't falter even once – their musical precision made them seem almost unhuman, or at least that they definitely aren't ordinary people.


Changing up the vibe, Daiki went ahead for a peaceful piano solo. The sound of a helicopter could be heard in the sky, adding to the otherworldly atmosphere of the show. Daiki began with The Hole, a delicate and beautiful ballad which Satoru provided some synthesiser for. The music had a tinge of pain and uncertainty to it, a compelling message reminiscent of the times we live in today. It was a standout amongst the set list.



White smoke covered the stage once more, and at the same time, Satoru reappeared having changed clothes into a tank top and red half-pants. This of course could only have meant one thing: Teenager Forever. Satoru was dancing and singing around the stage even more than usual, and Daiki joined in without thinking as he sang too. This rock tune is the most youthful-sounding song in King Gnu's discography, so it was a refreshing thrill to the set.



King Gnu wrapped up the show with Summer Rain Diver. It opened up the beautiful endless sky overhead with its mysterious and alternative sound which sounds almost like a hymn. This musical fusion of dreams and reality served as the perfect ending for the secret show.



The members looked at the crowd with smiles and satisfied looks before leaving the stage. For King Gnu, this was a show that can never be re-experienced.

Two days after the concert, the stage was dismantled and everything taken back, leaving the island floating quietly and solitarily as if nothing had happened. But fans know that of course isn't the case, as King Gnu made history there as being the first band to perform live. This Red Bull Secret Gig was a once-in-a-lifetime, unprecedented work of art, and quintessentially King Gnu.

SET LIST

Senryo Yakusha

Sorrows

Kasa

McDonald Romance

Hikotei

Slumberland

The hole

Teenager Forever

Summer Rain Diver

A behind-the-scenes is will be released on Red Bull TV Japan on July 22, 2021.

DEAN FUJIOKA Announces "Musical Transmute" Tour 2021

DEAN FUJIOKA has announced his all-new "Music Transmute" tour which will take him across Japan in 2021.

 

This is DEAN FUJIOKA's first tour since his "Born To Make History" tour in 2019, and is sure to be highly anticipated amongst domestic fans after the cancellation of his Asia tour last year. The new tour will take him to 20 venues across 18 cities starting at Kawaguchi Comprehensive Cultural Center Lilia's Main Hall on September 4, 2021.

What surprise does DEAN have in store for fans this time, and how will his music transmute?

 

Pre-sale tickets for fan club members opened on June 10. More details on the full tour schedule will be announced on his official website in the run up to the first show.

Information

DEAN FUJIOKA "Musical Transmute" Tour 2021

Red Bull x King Gnu Secret Gig Announced

As part of Red Bull and King Gnu's "Go Louder" project, the Japanese pop-rock band are set to hold an exclusive live concert at a secret location as part of the Red Bull Secret Gig experience, which has taken place at over 10 locations in six countries worldwide. The show is scheduled for early June this year, and applications for tickets opened on April 27.

Tickets to the Red Bull Secret Gig shows are free, but the venue is kept a secret until the last minute, and concertgoers must solve puzzles and riddles. There are two ways to attend the King Gnu concert: in-person and online, each of which will be determined on fans' success in the endeavour.

Information

Red Bull Secret Gig

Date: Early June 2021

A-Prize: Attend the concert in-person

Who's Applicable: Those who are randomly chosen from a pool of people that have figured out the venue

B-Prize: Watch the concert online

Who's Applicable: Those who are randomly chosen from a pool of people that have figured out the venue

Application Periods

A-Prize: April 27, 2021 – May 16, 2021 at 23:59 (JST)

B-Prize: April 27, 2021 – May 31, 2021 at 23:59 (JST)

Official Website: https://www.redbull.com/secretgig-jp

DEAN FUJIOKA Releases 'Plan B' Music Video

In promotion of his new single Take Over, which dropped on Wednesday (March 10), DEAN FUJIOKA is holding a 24-hour live stream on the same day as the record's release.

The stream will begin at 18:30 (JST) and will air music videos before DEAN FUJIOKA appears to perform live at 20:00. He will of course perform his new single, talk about his first-ever picture book Famubamu, talk to fans through video call, and more.

The singer-songwriter also released a music video for his song Plan B on YouTube which you can check out below.

Free Online Japanese Music Festival NEXT VISION JAPAN 2021 Heads Online With XR Technology

A collection of Japanese companies, such as IMAGICA GROUP, IMAGICA EEX, PICS, Robot Communications, IMAGICA Lab., Photron, IMAGICA IRIS, Cosmo Space, and more are coming together to host NEXT VISION JAPAN 2021 XR LIVE (NVJ2021 XR LIVE), an no-audience concert that will take place at the Geo-Cosmos stage at National Museum of Emerging Science and Innovation in Odaiba, on Tokyo. It will be streamed live on  YouTube for free on March 16, 2021 from 20:00 (JST).

 

NVJ2021 XR LIVE will incorporate the latest in XR technology to create an entirely new online live music and future entertainment experience.

The event has an incredible line-up of artists set to perform including singer-songwriter Sayuri, Cö shu Nie who is known for their themes for the Tokyo Ghoul anime series, ixR from AKB48, ballet dancer Mizuka Ueno, the New Japan Philharmonic orchestra, and more.

According to a survey carried out on July 30, 2020 by CyberZ, OEN, and Digital InFact, it is predicted that the amount of money that will be earned from online live concerts in Japan will grow to 100 billion yen by 2024. It is fitting then that events such as NVJ2021 XR LIVE are working to create more immersive and innovative shows.

National Museum of Emerging Science and Innovation | Comment

"Geo-Cosmos is an exhibit that was made to connect lots of people allowing them to see the everchanging Earth from space. It uses several different pieces of scientific data to project the real appearance of the earth and shows the possibilities of 3D visual representation created by scientists and creators. This concert will serve as a new challenge for Geo-Cosmos. We hope you look forward to seeing Geo-Cosmos 'transform' on the live stage in this fusion of the real and the virtual."

Information

NEXT VISION JAPAN 2021 XR LIVE

Date: March 16, 2021 @ 20:00 (JST)

Style: No-Audience Live Stream

Platform: YouTube and elsewhere

Price: Free

Official Website: https://eex.co.jp/bunka/

DEAN FUJIOKA Drops Trailer For New Single 'Take Over'

DEAN FUJIOKA has dropped a trailer for the First Press Limited Edition of his upcoming new single Take Over which is set for release on March 10, 2021.

Copies of this edition include the title track Take Over which was debuted at DEAN FUJOKA's first-ever live streamed performance "Plan B" held at the end of 2020 as well as a "Plan B Remix" version of his smash hit History Maker, the original version having been written as the opening theme for the anime series Yuri!!! On ICE. It also includes a live music video.

But it doesn't end there. First Press Limited Edition copies also include footage of the singer's acoustic concert DEAN FUJIOKA FamBam Exclusive "#Acoustic," a show that was originally scheduled to take place for fan club members in March 2020 but had to be cancelled and was held as a studio session instead. Fans can also look forward to watching a documentary and lyric video for DEAN FUJIOKA's digital single Neo Dimension that was released last year.

New SG "Take Over" First Press Trailer

DEAN FUJIOKA "Take Over" Special Site

DEAN FUJIOKA Announces New Single 'Take Over' For March Release

DEAN FUJIOKA has announced that his new single Take Over will drop on March 10, 2021. Despite the effects of the COVID-19 pandemic, DEAN FUJIOKA has not let up when it comes to his music. He released his single Neo Dimension on August 19 last year, the date of his 40th birthday, and followed up with a string of releases across Asia, with a focus on the region of China. The singer-songwriter also streamed his first live concert, "Plan B," on Boxing Day last year.

First Press Limited Edition copies of DEAN FUJIOKA's new single Take Over are coupled with a DVD featuring a live studio concert that the singer held in response to his FamBam Exclusive #Acoustic show being cancelled. It also includes the documentary Neo Dimension, a lyric music video, and more.

Information

Take Over
Release Date: March 10, 2021
First Press Limited Edition (CD+DVD): ¥2,700 (Before Tax) [AZZS-114]
Regular Edition (CD): ¥1,400 (Before Tax) [AZCS-2083]
Limited Pressing Edition Premium Set (CD+GOODS): ¥5,500 (Before Tax) [AZNT-56]
*Limited Pressing Edition Premium Set copies are exclusive to the online shop ASMART

DEAN FUJIOKA – "Take Over" Special Site: https://www.deanfujioka.net/takeover
DEAN FUJIOKA Official Website: http://www.deanfujioka.net

DEAN FUJIOKA Announces Live Stream Concert 'Plan B' On Christmas Eve

DEAN FUJIOKA is set to host his first-ever live stream concert 'Plan B" on December 26, 2020.

DEAN FUJIOKA had to cancel his second Asia tour in response to the COVID-19 pandemic, and so his live stream concert comes as the Plan B. Live stream shows have become popular recently and are looking to continue into 2021.

FUJIOKA has video director Spikey John on board for the stream. Additionally, members of FUJIOKA's official fan club FamBam that buy fan club tickets will get to participate in an exclusive part of the show after the concert ends.

DEAN FUJIOKA's stream will begin on December 26 at 18:00 (JST). This year has been a huge success for the singer, and 2021 will see him moving in a new direction, beginning with Plan B.

Hatsune Miku Symphony to be Released On Amazon Music HD Using Dolby Atmos®

To celebrate the 5th anniversary of Hatsune Miku Symphony, three concerts are being held in Japan. The first took place at Suntory Hall for the first time on September 21, the second in Yokohama on October 17, and the third is scheduled to take place tomorrow (November 27) at Festival Hall in Osaka.

Fans unable to attend the final show will be pleased to know that part of the set list from Hatsune Miku Symphony 2019 is also being released tomorrow on Amazon Music HD in Dolby Atmos® format.

Dolby Atmos is a surround sound format that breaks the wall on the limits of mono and stereo sound and allows sounds to be interpreted in 3D, creating an entirely new immersive experience. This will make listening to a show like Hatsune Miku Symphony a true delight to Vocaloid lovers.

Those attending the Osaka concert will be able to listen to Miku Symphony in one of the Amazon Echo Studio booths that will be available at the venue. These booths will also be equipped with Dolby Atmos through Amazon Music HD.

The Yokohama performance that took place on October 17, 2020 is scheduled to be released on Blu-ray on February 3, 2021. It will be available to pre-order at the Osaka show.

Embroidery Art – ¥16,500 (Tax Included) | Acrylic Key Rings (7 Designs) – ¥800 (Tax Included)

A selection of merchandise will be available to buy at the Osaka show including an all-new piece of embroidery art, acrylic key rings, and more. These items will also be available to pick up at Magical Mirai 2020 in OSAKA taking place this weekend (November 28 and 29).

© Crypton Future Media, INC. www.piapro.net

US Rapper Dumbfoundead Announces Free Online Music Event 'DOUBLE HAPPINESS Global Holiday Festival'

US rapper Dumbfoundead will spearhead the DOUBLE HAPPINESS Global Holiday Festival, a global online music festival set to stream for free via Eastern Standard Time on December 2 and 3 depending on where you live. The event will welcome performances from top Asian artists.

Over 30 artists will perform across 8 hours. Headliners include music duo NxWorries, eight-member South Korean idol group ATEEZ, K-pop artist CHUNGHA, and others. Atarashii Gakko no Leaders a.k.a. ATARASHII GAKKO! from Japan will also perform.

▼Line-Up

Ardhito Pramono、Atarashii Gakko no Leaders a.k.a. ATARASHII GAKKO!、ATEEZ、Audrey Nuna、AUGUST 08、Balming Tiger、BVNDIT、CHAI、Chi Pu、CHUNG HA、Dumbfoundead、Dvwn、Fern.、Guapdad 4000 、Jason Dhakal、Joey Alexander、Josephine Alexandra、Kiana V、Leila Alcasid、 MADDOX 、Massiah、、Milli、Numcha 、NxWorries 、Pamungkas、RIRI、Seori、Stephanie Poetri・The Resonanz Children's Choir Alumni、warrenisyellow、Wolftyla 、Year of the Ox、Ylona Garcia 、Yuna