Food Review: Cherry Blossom Afternoon Tea at Q-pot CAFE. in Omotesando
The MOSHI MOSHI NIPPON editorial team took a trip to Q-pot CAFE. to try out their new afternoon tea experience, the "SAKURA Romantic Tea Party," where we were treated to a pink kawaii tea party experience. This afternoon tea is available now until April 26, 2020.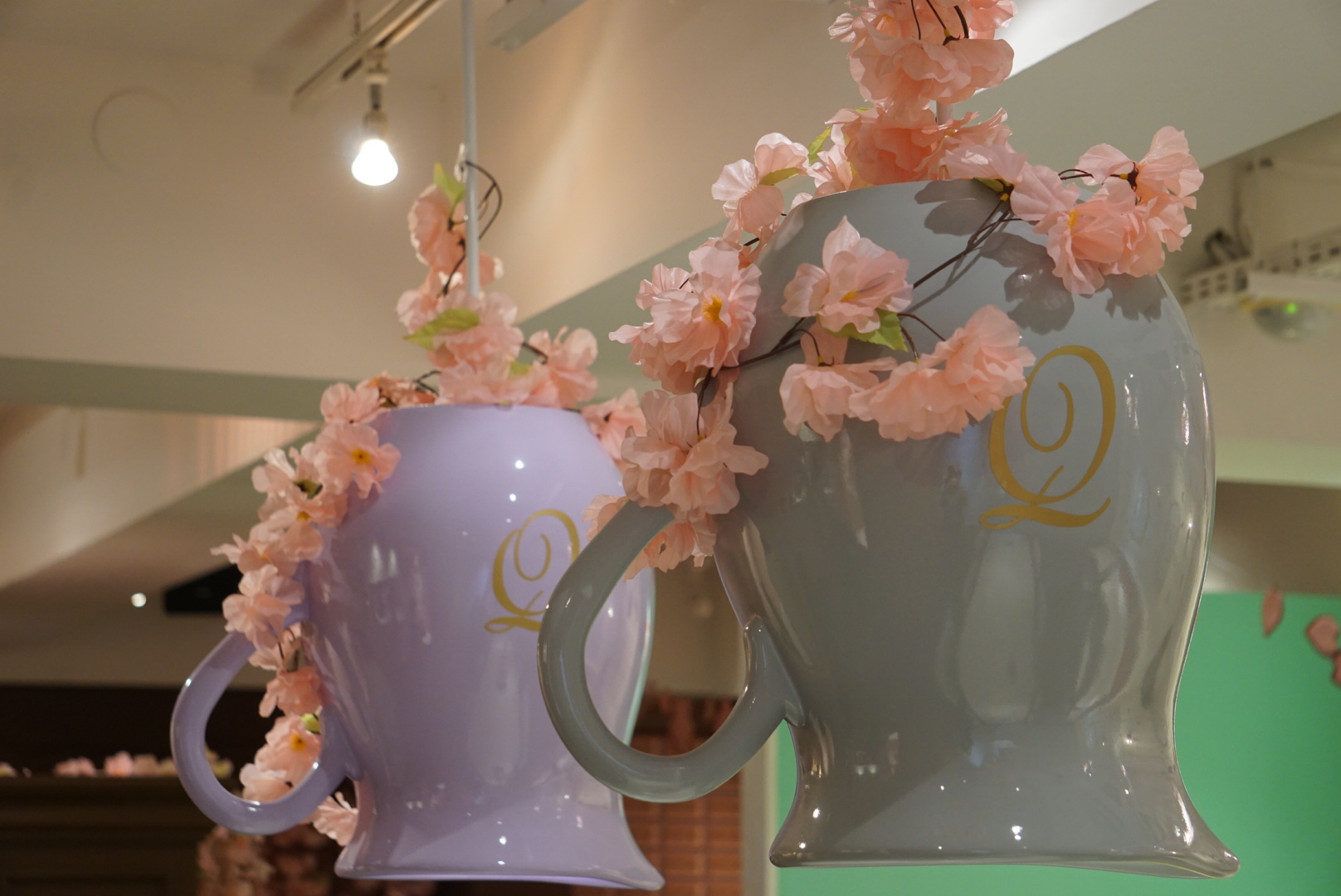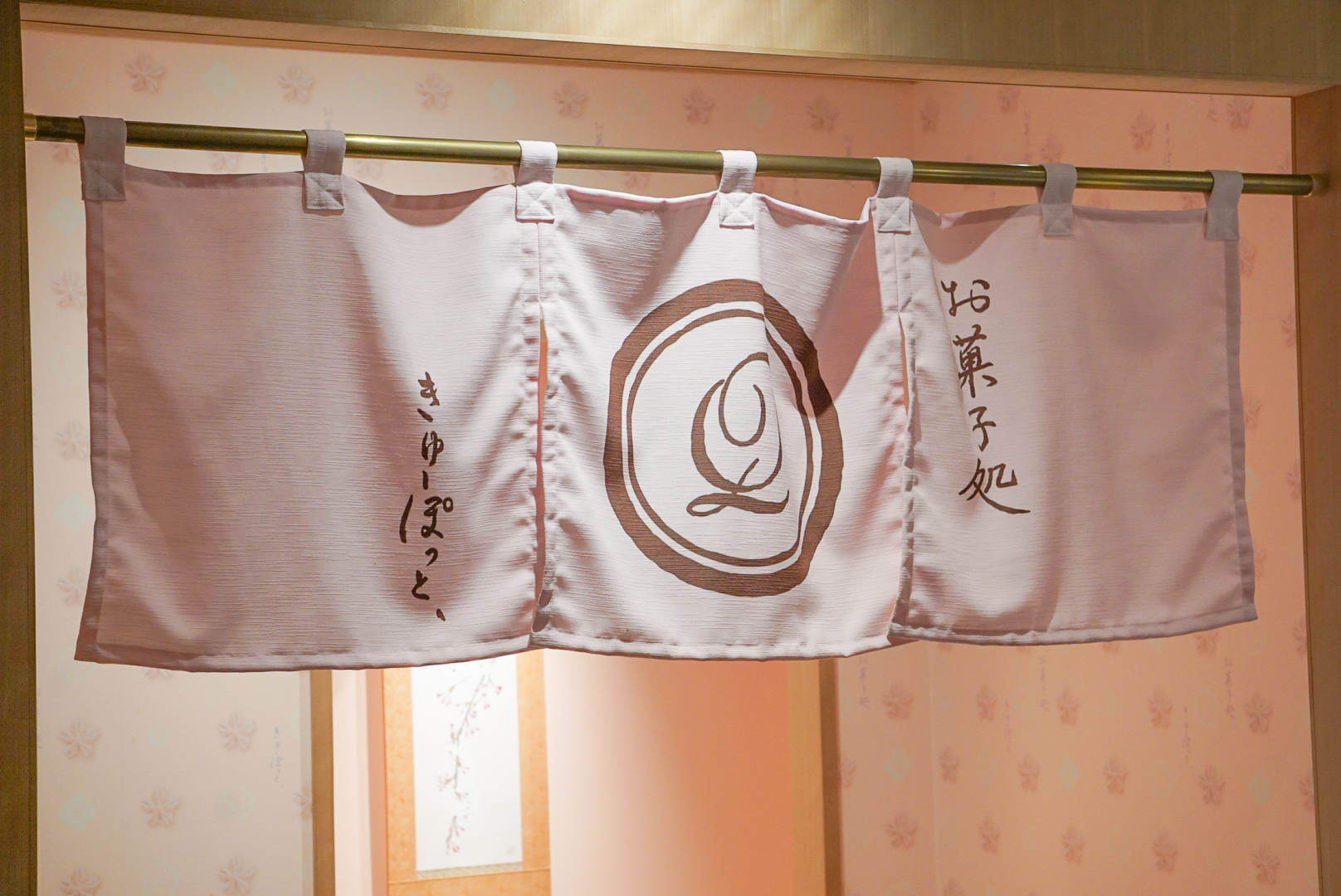 The cherry blossom designed decor and decorations welcomed us to an early spring. We ate in the cafe's "SAKURA Room" for this review, which takes the Q-pot's springtime cherry blossom experience to the next level.
Romantic SAKURA Afternoon Tea Set w/ Drink – ¥2,400 (Serves 1) (Tax Included) *Photo shows tea set for two

The top plate is beautifully adorned with cherry blossom St. Honoré cakes which are filled with a sumptuous gorgeous cherry blossom cream. There is also peach bavarois, strawberry cookies, and Q-pot CAFE.-original rich, cream ganache-filled macarons. The fallen cherry blossom petals on the plate are also in fact chocolate.
Everything on the plate screams kawaii with the considerate attention that is given to all the little details.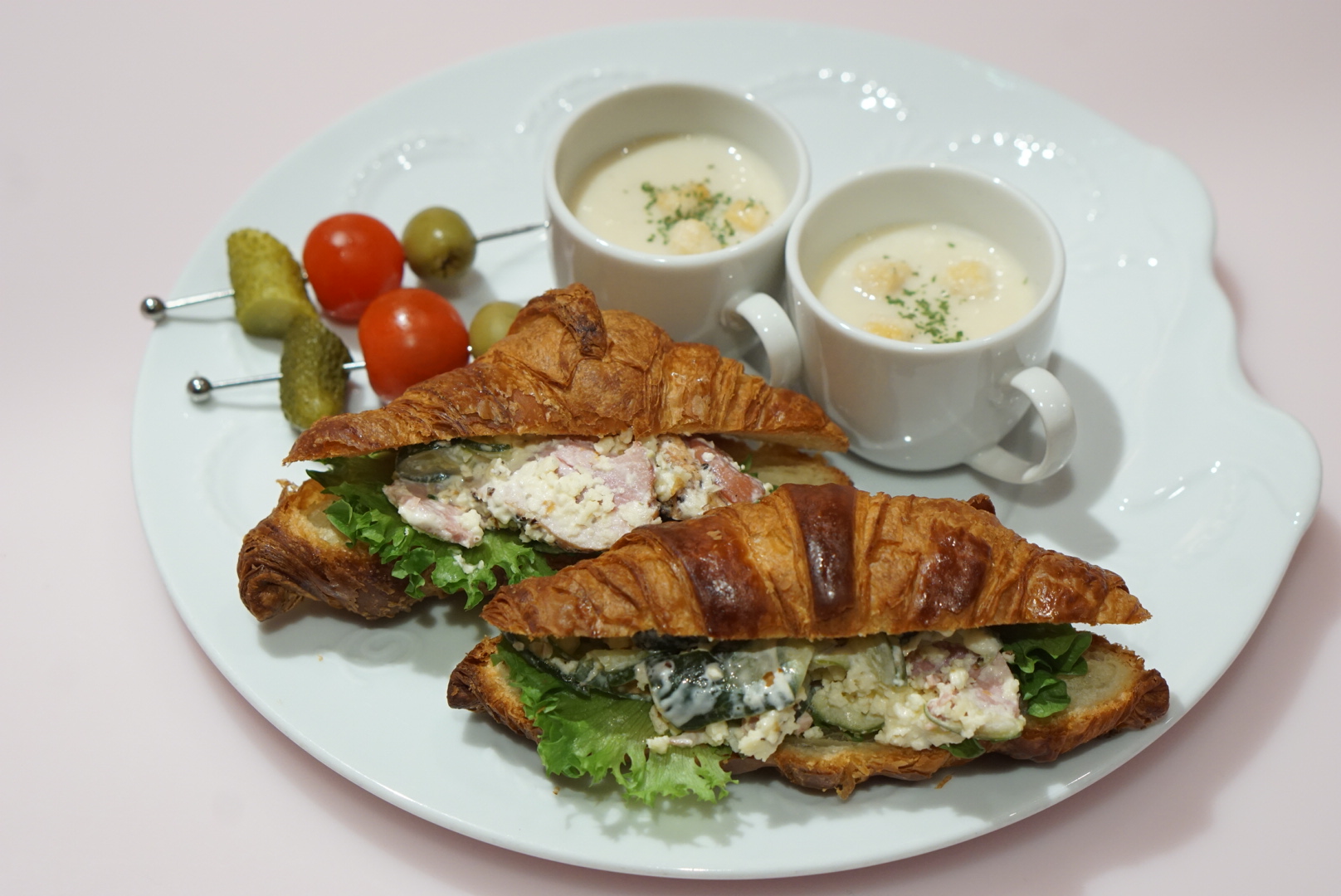 The bottom plate is the savoury stuff. We have hearty croissants filled with duck pastrami and cucumber that has been dressed with white wine vinegar. They are served with a white asparagus cream potage soup and skewered olives, mini tomatoes and pickles.
The balance of flavours between the top and bottom plates is exquisite; the savoury food refreshes your palate after the sweet treats on top.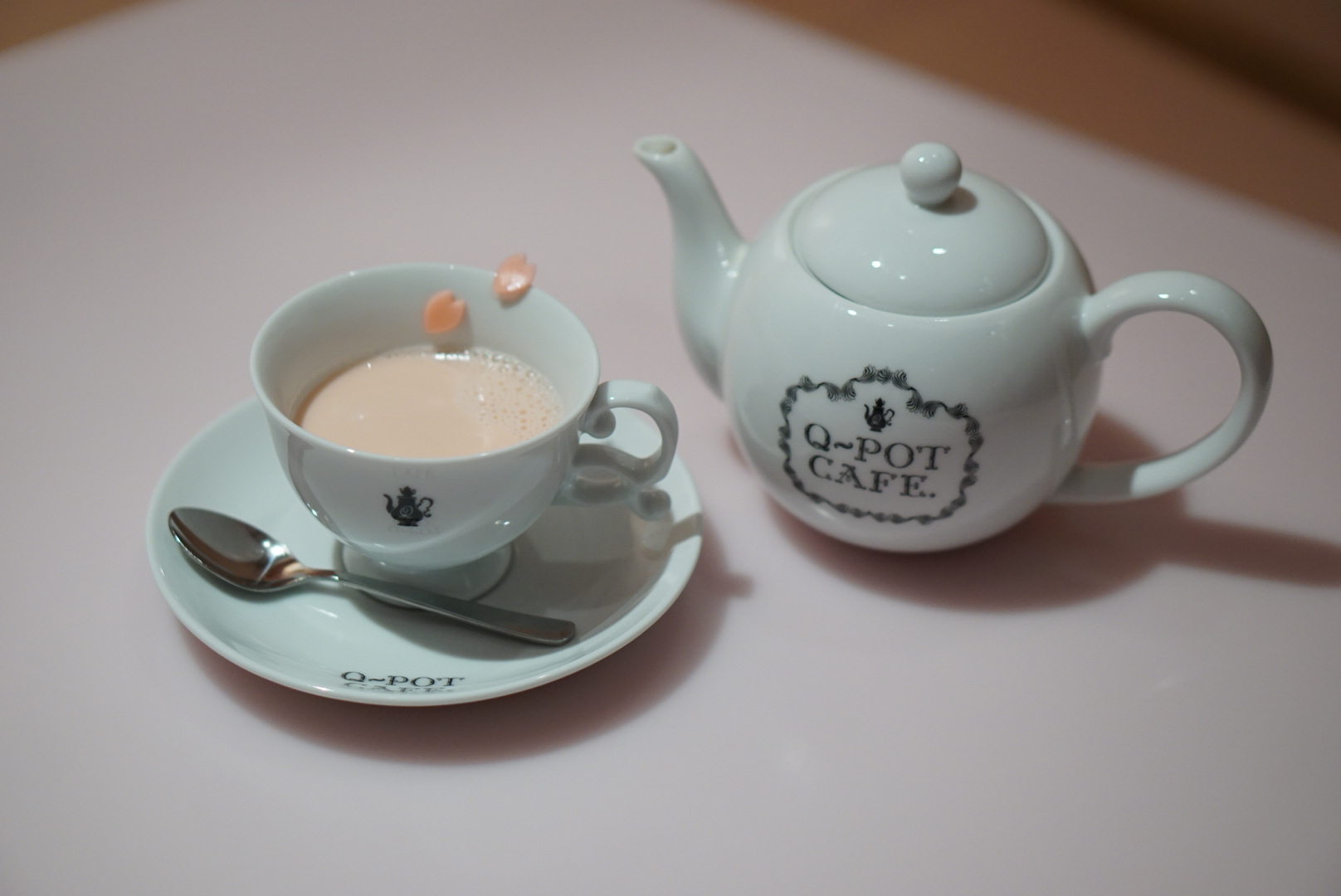 The set comes with a cup of pink cherry blossom tea. Floral and fruity fragrances fill your nose as you go to take a sip, after which your taste buds are treated to the notes of cherry blossom and raspberry. This subtly sweet and refreshing drink is the perfect accompaniment to your dessert and meal line-up. It even comes with a little chocolate petal.
Romantic SAKURA Mont Blanc Plate w/ Drink – ¥2,060 (Tax Included)
The pink mont blanc gives cherry tree vibes. It's made with cherry blossom bean paste cream, rich matcha chocolate, Japanese waguri chestnut, and chestnut cream. When  you fork the fluffy bean paste, you get plenty of chestnut cream and matcha chocolate with it. The sweetness of the cherry blossom bean paste and the subtle bitterness of the matcha go really well together. Q-pot. CAFE offers a selection of original macarons too which you can pick from including strawberry, chocolate, lemon, and melon. We wanted to go as pink as possible, so we went for the strawberry one!
Romantic SAKURA Parfait w/ Drink – ¥1,850 (Tax Included)
This strikingly gorgeous parfait is topped with cherry blossom cookies, cherry blossom meringue, and more. Its tall beautiful form is built up by a selection of ingredients, including Japanese flavours like cherry blossom cream and houjicha sauce.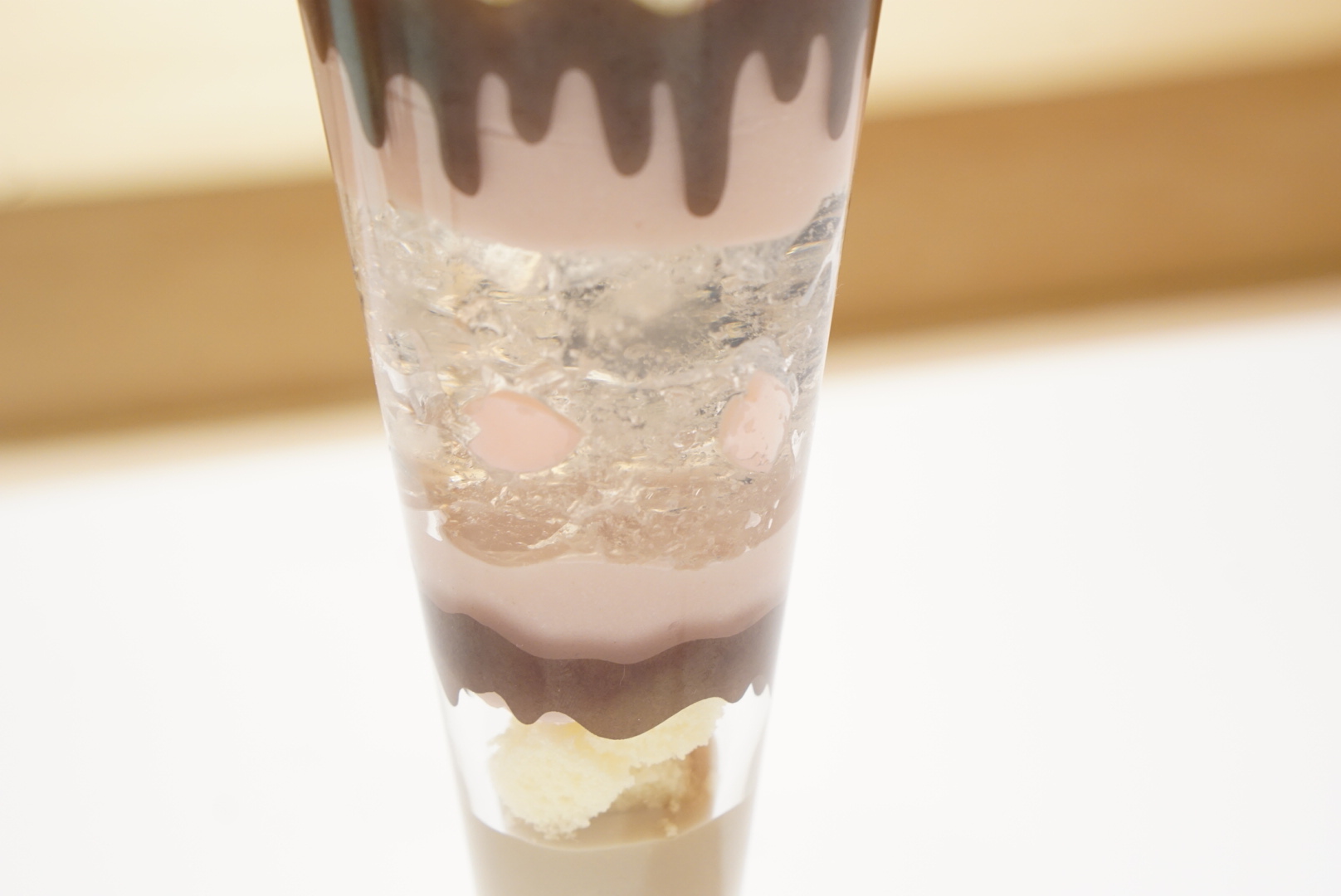 But what we want to draw attention to is the transparent jelly in the middle of the glass. If you look really closely, it looks like dancing cherry blossom leaves.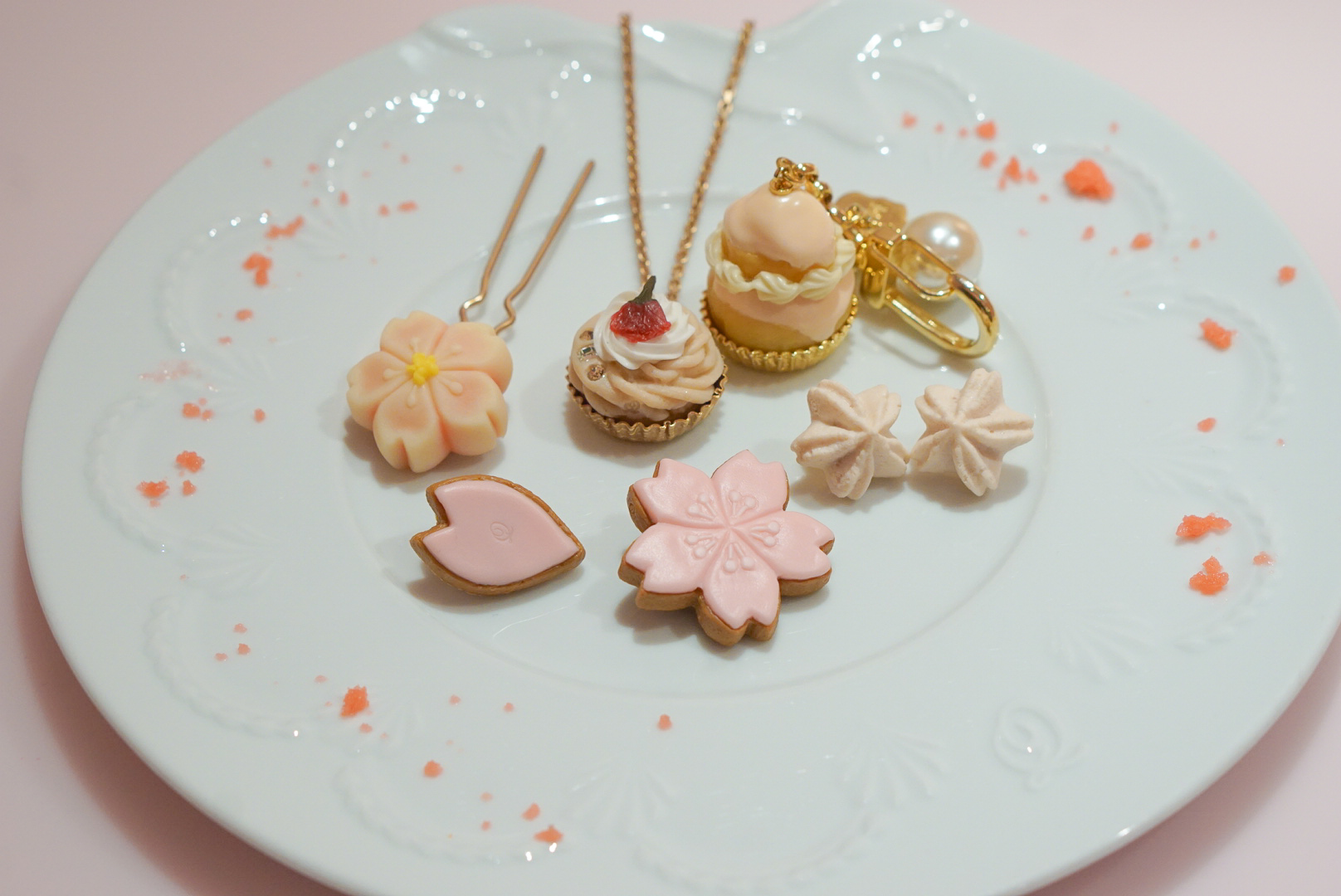 Q-pot CAFE. also has a range of other limited-time menu items, as well as food that looks just like real accessoriesーsomething the cafe is famous for. They also have accessories that look like real desserts, like a sugar cookie or crunchy meringue. Perfect for coordinating a spring look this year.
Make sure to pay a visit to Q-pot CAFE. if you're visiting Tokyo this spring!
Information
SAKURA Romantic Tea Party
Running: March 1, 2020 – April 26, 2020
Online Reservations: Now Open
*Afternoon tea set and hanami plan to be served until March 29, 2020
Q-pot. Omotesando
Address: 3-4-8 Jingumae, Shibuya, Tokyo
Opening Hours: 11:00-20:00 (Last Orders 19:30)
Closed: New Year's Holidays
Official Website: https://www.q-pot.jp/eng/
RELATED ENTRIES
Support Japan's Cherry Farmers During Lockdown by Eating Q-pot CAFE.'s Cherry Parfait

Q-pot. and Q-pot CAFE. introduced a special cherry parfait to its menu on June 27 to help support cherry farmers whose work has been affected by COVID-19.

Due to less people travelling and sightseeing around Japan as a result of the lockdown and self-isolation practices, orders for cherries are being cancelled, and many festivals across Japan too are being cancelled, all of which is having a huge affect on the country's cherry industry.

The current season is the best time to enjoy Japan's juicy cherries, and so Q-pot CAFE. has teamed up with a cherry farm in Yamagata, a prefecture famous for its cherries.

Cherry Cherry Parfait (w/Drink): ¥1,850 (Tax Included)

The "Cherry Cherry Parfait" is topped with snow-white whipped cream, crunchy meringue, and cherries for a gorgeous contrast of red and white.

The cherries used are considered a high-grade type called "satonishiki" which has been dubbed the "King of Cherries." They sit gracefully atop their kingdom of sweet ingredients including salt milk ice cream, chocolate, cherry jam, sponge cake, and panna cotta.


The cherry farmers are taking all the necessary safety precautions against COVID-19 while they continue to delivery delicious cherries to the people of Japan.

Information

Cherry Cherry Parfait
Location: Q-pot CAFE. Omotesando
Serving: From June 27, 2020 while supplies last
*Due to an event taking place between July 21, 2020 – September 4, 2020, customers must book a table in advance to dine at Q-pot CAFE. Omotesando. The regular menu will not be served.

Official Website: http://www.q-pot.jp

Cute and Dreamy Tanabata Inspired Confections Arrive at Q-pot CAFE. in Omotesando

Q-pot CAFE. is celebrating Japan's Tanabata festival with a limited-time menu which was introduced on June 27.

Romantic Star Plate w/Drink: ¥2,060 (Tax Included)

This starry delight is plated with a fromage blanc filled with ganache cream and peach jelly. There's star-shaped meringue macarons filled with cream, creamy blueberry and blackcurrant panna cotta, star-shaped chocolate to represent the Tanabata deities Orihime and Hikoboshi, and a luxurious Q-pot CAFE. macaron.

さらに、レモンの皮を練り込み、サクッと焼き上げた星型クッキーには短冊のようにグラサージュショコラで願い事を込めて・・・クッキーを残さず口にすれば、願いもきっと叶うはず!


Romantic Peach & Elderflower Soda: ¥750 (Tax Included)

Refresh yourself with a summery glass of this peach and elderflower soda which is filled with blue, purple, and pink transparent jelly which twinkle like a kaleidoscope.

Bottled Drinks (Takeout Only): ¥1,296 Each (Tax Included) *Limited quantity available / *¥100 off if you take your own bottle

Enjoy a takeout bottle of "Aurora Lychee Tea Soda" with its romantic pink, purple, and blue gradation. This herb tea changes colour like magic, and contains marrow cheese plant, lychee puree, and Blue Curacao. The twinkling pearl powder makes it glow like an aurora.

There is also bottled Strawberry Tea Soda, Ginger Ice Milk Tea, and Honey Lemon Vinegar Soda.

If you're in Tokyo this summer, head to Q-pot CAFE. to enjoy a round of pastel-coloured Tanabata confections and drinks.

Information

Q-pot CAFE. Omotesando
Address: 3-4-8 Jingumae, Shibuya, Tokyo
Running: June 27, 2020 – July 20, 2020
*From July 21, 2020 to September 4, 2020 the cafe will be reservation-only in line with an event, and the regular menu will not be available.
*For the time-being, reservations can be made by telephone call only. Web reservations are currently not available.

Official Website: http://www.q-pot.jp

3 New Limited-Edition Botanical Drinks to Arrive This Summer at BOTANIST Tokyo

BOTANIST Tokyo, the flagship shop of BOTANIST in Omotesando, has announced a new collection of limited-edition drinks will be served on the second floor BOTANIST Cafe from July 12, 2020. BOTANIST Tokyo is currently closed but it scheduled to reopen on June 1.

There are three new refreshing drinks to choose from, all of which can be ordered for takeout. From apple mint to grapefruit, each beverage us the perfect accompaniment for cooling you down in Japan this summer.

REFRESH MENU


Refresh Soda: ¥600 (Tax Included)

A combination of grapefruit jelly and fizzy soda water make this one of those drinks that you go "Ahh!" afterwards on a hot summer's day. There's also a hint of sweet green apple.

Botanical Melon Soda: ¥800 (Tax Included)

This is a smoothie which blends together two types of melon soda and adds melon jelly and a dollop of ice cream. It's like a dessert in a cup!

Banana & Avocado Refresh Smoothie: ¥720 (Tax Included)

Enjoy the sweetness of banana and sugar beet together with the smoothness texture of the avocado in this smoothie which has apple and mint mixed into it for that refreshing summertime kick.

The cafe's regular menu has also been revised to add three new desserts.

REGULAR MENU


Vegan Waffles w/Drink: ¥800 (Tax Included)

These vegan waffles are healthier for the body if you're looking for some guilt-free indulgence. It's topped with soy whipped cream, maple syrup, and fruits of your choice.

Lemon Cheesecake w/Drink: ¥1,000 (Tax Included)

A crunchy cookie base, a creamy cheese top, and a lemon to top it all off. The combination of the salty flavour with the sour hit is a match made in heaven.

Homemade Rich Pudding: ¥500 (Tax Included)

An in-house made purin, which is a type of Japanese custard pudding. It's a delightful mix of rich egg and subtly sweet soy whipped cream.

Customers who spend over ¥4,000 (tax included) on items in the Refresh Series will also be entered in for a chance to win a "Refresh Soda." The soda is available while supplies last.

Information

REFRESH MENU
Serving: June 1, 2020 – July 12, 2020

REGULAR MENU
Serving: From June 1, 2020

BOTANIST Tokyo
Address: 6-29-2 Jingumae, Shibuya, Tokyo (1st Floor – Shop / 2nd Floor – Cafe)
TEL: 1st Floor: 03-5766-3777 / 2nd Floor: 03-5766-3778
Opening Hours: 11:00-20:00
Official Website: https://shop.botanistofficial.com/

Big Hero 6's Baymax Turns Into Tasty Confections in Q-pot.'s Accessory Range

Q-pot is an accessory brand whose products are made to look just like delicious desserts. The brand also has its own Disney-inspired line called "Disney Story Dreamed by Q-pot." into which it has added the cute Baymax from Big Hero 6.

Baymax is a tall, round, and white healthcare-providing robot who is gentle by nature. Q-pot. has turned him into delicious confection accessories for their Disney range.

Daifuku

Necklace: ¥9,500 (Before Tax) / Ring: ¥6,000 (Before Tax) / Bag Charm: ¥7,500 (Before Tax)

 Daifuku is a Japanese confection which features a round mochi filled with some kind of sweet filling, usually anko red bean paste. The shape of a daifuku is perfect for capturing Baymax's form.

Underneath the squishy accessories is what feels like real anko.

Macaron

Necklace: ¥10,000 (Before Tax) / Ring: ¥8,000 (Before Tax)

For these accessories, Baymax has been turned into the traditional French macaron. It's like Baymax really has been filled with fluffy cream.

The necklace and ring are also topped with various decorations like the cute little heart.

Information

Baymax Collection

Order Window: May 27, 2020 – June 14, 2020

Deliveries: From Late July 2020

*Dates subject to change depending on manufacturing conditions

Available: Q-pot. ONLINE SHOP (From 12:00pm JST)

*Please note that physical Q-pot. stores are temporarily closed and so the release date of this product in-store is TBA

Tokyo's New Skin Care Concept Shop SKINCARE LOUNGE BY ORBIS to Open in Omotesando

SKINCARE LOUNGE BY ORBIS is the debut concept shop by Japanese beauty company ORBIS, and it's set to open in Omotesando this summer. The shop's teaser website opened on May 13 where information on its conception, special content, interviews with the company's partners, and more will roll out in the run up to the grand opening.

ORBIS established themselves in 1984, and in 1987 launched their mail-order service. Since then, their mission has been to "create a world filled with people who are true to themselves, think positively, and lead lives of beauty." They believe in the beauty each of us has inside them and want to unlock its full potential.

SKINCARE LOUNGE BY ORBIS aims to have people learning about their own skin and to unlock its full potential. "Feel," "Learn," and "Take" are the keywords of the concept shop.

The shop's creative directors are Hisato Ogata, who is a designer and innovator at takram, and Momo Kudo of Tokyo-based architecture and interior design studio MMA Inc. They are also supported by George Amano of GEORGE CREATIVE COMPANY.

SKINCARE LOUNGE BY ORBIS has two floors. On the first floor, customers are free to test various products as well as learn about the correct way to look after their skin. The second floor offers skincare treatments, workshops, and various private events. You must be a member on the shop's official app and book in advance for the second floor services.

If you're strolling around the Harajuku and Omotesando area this summer, pop into SKINCARE LOUNGE BY ORBIS and learn all there is to know about proper skin care.

Information

SKINCARE LOUNGE BY ORBIS

Address: 5-7-1 Minamiaoyama, Minato Ward, Tokyo
LOUNGE: 10:00 AM-8:00 PM
JUICE BAR: 8:00 AM-8:00 PM
*Please note that the shop is subject to temporary closure

Official Website: http://www.orbis.co.jp/skincarelounge/

Tokyo's New Cat Shaped Cheesecake Shop 'Neko Neko Cheesecake' Opening in May 2020

ALL HEARTS COMPANY, a Japanese company that develops bakeries and patisseries across Japan, is launching an all-new cheesecake shop called Neko Neko Cheesecake which will open in Jiyugaoka, Tokyo on May 20, 2020. Serving cat-shaped cheesecakes, the shop will also take online orders.

Neko Neko Cheesecake is a sister brand of Neko Neko Kuu Pan from the same company which serves cat-shaped bread. Online deliveries will make for the perfect opportunity to bring that cafe experience to your own home.

Neko Neko Cheesecake – ¥1,800 (Before Tax) / Size: 11cm, 475g

The cake is made from the luxurious French brie cheese Brie de Meaux which is mixed with a homemade apricot jam to create rich, deep flavour. This means the cheesecake not only looks cute, but is the real deal too.

Their secret to bringing about amazing flavour and not just adorable looks can be broken down into four simple steps.

①They use the king of cheeses, Brie de Meaux.
②Although baked, the cheesecake is so soft it has a similar texture to a no-bake cheesecake.
③The sweet and sour homemade apricot jam elevates the overall flavour.
④The combination of mature cheese and the apricot jam changes the flavour to create a completely new kind of cheesecake.

The cheesecakes are boxed in box that has a simple yet chic design with two cats sat side by side.

The store will open on May 20, and online orders will launch on ALL HEARTS MALL on the same day.

Information

Neko Neko Cheesecake
Address: 1-16-14 Jiyugaoka, Meguro Ward, Tokyo 〒152-0035 (Connected to baguette rabbit's Jiyugaoka branch)
Opening Hours: 9:00-20:00
No Fixed Holidays (Except New Year's)
TEL: 03-6421-1208 (Line to baguette rabbit Jiyugaoka)
*Opening hours reduced due to COVID-19. Check the shop's official Twitter page below for updates.

Neko Neko Cheesecake Twitter: https://twitter.com/neko_cheese_
ALL HEARTS MALL Online Store: https://hbantique.official.ec/

Eggs 'n Things Harajuku's Exclusive Chocolate Mint Pancakes Ship Nationwide in Japan

Eggs 'n Things Japan has announced that it is releasing its "Harajuku Chocolate Mint Pancakes" and "Mango Salsa Chicken & Eggs" to all branches throughout Japan (excluding temporarily closed branches).

Harajuku Chocolate Mint Pancakes: Eat In ¥1,480 (Before Tax), Takeout ¥880 (Before Tax) | Serving: May 15, 2020 – June 11, 2020

The Harajuku Chocolate Mint Pancakes speak for themselves. Enjoy a serving of mint flavoured pancakes drizzled in smooth mint cream which is sure to send a refreshing tinge through your nose. It's topped with an Oreo cookie, chocolate mint ice cream, and served with a side of chocolate sauce.

*The takeout option doesn't come with whipped cream or chocolate mint ice cream

Mango Salsa Chicken & Eggs: ¥1,280 (Before Tax) *Takeout option available | Serving: May 15, 2020 – June 11, 2020

A plate of juicy fried chicken and a punchy mango salsa with a flavourful coriander taste and spicy kick.

Two perfect dishes to enjoy an early summer this year, coming to Eggs 'n Things in Japan this Friday.

Mister Donut Japan Launches Another New Matcha Doughnut Series

Mister Donut Japan is set to release yet another new limited line of matcha doughnuts in collaboration with Gion Tsujiri and Toshi Yoroizuka at all branches in Japan from May 15, 2020.

Last month, Mister Donut collaborated with Gion Tsujiri and Toshi Yoroizuka to release the "Matcha Itadaki Series." This time around, they're joining their sticky baking hands to bring the "Matcha Odoroki Series." The triple team's matcha creations are the fitting way to celebrate Mister Donut's 50th anniversary as Gion Tsujiri brings the best Uji matcha from Kyoto and Uji-born pastry chef Toshihiko Yoroizuka brings his creative ideas.

There are four treats in the line-up: the "Crisp Double Uji Matcha" and "Crisp Uji Match Chocolate" feature cookie and bagel dough bases, creating a crunchy and chewy mix, while the "Pon de Pie Uji Matcha" and "Pon de Pie Chocolate" feature Mister Donut's classic chewy Pon de Rings combined with a crunchy pie texture.

Crisp Double Uji Matcha – ¥230 (Before Tax)

A chewy and crunchy base laced with Uji matcha and topped with Uji matcha whipped cream and chocolate.

Crisp Uji Match Chocolate – ¥230 (Before Tax)

A chewy and crunchy base laced with Uji matcha and topped with Uji matcha chocolate and chocolate chips.

Pon de Pie Uji Matcha – ¥200 (Before Tax)

Enjoy both a chewy base and crunchy pie mix at the same time, topped with Uji matcha whipped cream.

Pon de Pie Chocolate – ¥200 (Before Tax)

Enjoy both a chewy base and crunchy pie mix at the same time, decorated with chocolate whipped cream.

The Matcha Odoroki Series sees the chefs' ideas shine through to create desserts that not only taste amazing but look gorgeous too, as well as taking into the account texture.

Information

Matcha Odoroki Series
Serving: May 15, 2020 until Early July 2020
Available: Most Mister Donut branches in Japan
Official Website: https://www.misterdonut.jp

Giant Gateau Pudding A La Mode Released at LeTAO's Online Shop

Confectionery crafters LeTAO have re-released their hugely popular "Gateau Pudding A La Mode" on their online store for a limited time only.

Cafe pudding a la mode is a nostalgic flavour to Japanese childrenーsomething which was kept in mind in the creation of this enormous version. The pudding is made with milk from Jersey cattle and a caramel sauce that's made with maple sugar for richness.

The pudding also has a touch of acidity from the peach and orange which when mixed together with the mascarpone cheese makes for a truly exquisite dessert.

LeTAO's "Jersey Milk Pudding" is a popular dessert also served at in-store branches. This pudding was used as a base to create the a la mode pudding.

The custard pudding is like a cake filled with the fruity flavours of peach, orange and strawberry coupled with refreshing mousse and mascarpone cheese.

*Please note that LeTAO branches are temporarily closed or have had their business hours changed as a result of the COVID-19 pandemic. Replies to enquiries about the online shop may take some time. Check the official website for more details.

Information

Gateau Pudding A La Mode
Price: ¥2,700 (Tax Included) (+¥890 for shipping)
Serving: Now until June 7, 2020

Official Website: https://www.letao.jp

Kaori's Easy Recipe: Learn to Make a Gudetama Parfait

With just a small bit of ingenuity, turn everyday food into something cute using Kaori's easy recipe! With a few simple ideas, an ordinary recipe magically transforms into a cute dish.

Today, I'll be showing you how to make a Gudetama parfait made with a yogurt mousse and topped with orange and peach jelly.

Ingredients
Yogurt Mousse Ingredients:
100g sugar free yogurt
50ml fresh cream
20g sugar
3g gelatin
*With the gelatin, mix well with 1 tbsp water

Mikan & Yellow Peach Jelly Ingredients:
100ml mikan juice (or any orange juice)
150g tinned peaches (with syrup)
5g gelatin
*With the gelatin, mix well with 1 tbsp water

1


①Mix the sugar into the yogurt well. Add in 7/10 of the fresh cream and mix well again.

②Microwave the gelatin for 10-20 seconds at 500w. Add into the mixture from ① and mix well.

2

Once the mixture has set in about ⅓ of a glass, add sliced chocolate on the inside for the eyes and mouth. I cut mine into shape using a toothpick.


Make sure the chocolate is properly fixed to the glass at this point.

3


Put your yellow peach and mikan orange into a blender (but not the gelatin part). The syrup of the peaches is already sweet so there's no need to add sugar.

②Microwave the gelatin for 10-20 seconds at 500w. Add into the blended mixture and mix well.

Pour on top of the mix inside the glass. If there are any peach pieces left, cut them up and use them as toppings.


Top with fresh cream and chopped fruit, and you're done! I stuck Gudetama's face on well and good so it looks like his chocolate face is on the outside. Be sure to try doing the same.

Kaori invites you into her world of character-themed food dishes in her recipe series. Be sure to check out her Instagram where she has uploaded many pictures of her character dishes!

Kaori Kubota (@kaopan27)

I live in Hokkaido and I love to make character themed foods, desserts and pastries♡
I want to see my family smile, so I enjoy putting in a bit of effort to make character foods and changing food into something cute♡
You can see more of my character foods and character bento boxes on my Instagram page → @kaopan72

Top 10 Instagrammable Drinks and Desserts to Try Making While You #StayHome

Japan's biggest social media photo aggregator Snaplace has curated a Top 10 menu list of the most popular drinks and desserts people have been posting on Instagram Japan with the hashtag #おうちカフェ ("Cafe at Home") with which people are making their own tasty treats to bring the cafe experience indoors during the lockdown.

The line-up features coffee, ice cream, cream soda and lots of other delights which have ranked due to how little preparation is needed and how easy the recipes are to follow. Let's take a look.

1sr Place: Dalgona Coffee

Dalgona coffee has taken the internet by storm for its beautiful two-layered appearance. Popular in South Korea, the drink has also garnered much attention in Japan. And you can substitute the coffee part to create a completely different beverage like a matcha, strawberry latte, chocolate, and so on.

How to make Dalgona Coffee: https://www.moshimoshi-nippon.jp/312230

2nd Place: Candy Strawberries

Candy strawberries have taken over candy apples in terms of popularity this year. And you can have fun trying it out with other fruits too while at home during the lockdown like grapes, fruitsーwhichever fruit is your favouriteーand skewer them.

3rd Place: Toast Arrangements

Top your toast with ingredients like fresh cream, Greek yoghurt, cream cheese, sliced cheese, fruits, vegetables, and so on to change up your morning breakfast. There are so many different recipe inspirations for toast arrangements to find on social media.

Related Article: Stay Home: 6 Toast Arrangements to Bring the Cafe Experience to Your Home During the Lockdown

Related Article: Stay Home: 6 More Toast Arrangements to Bring the Cafe Experience to Your Home During the Lockdown

4th Place: Marshmallow Cookies
5th Place: Fruit Sandwiches (Check out recipes here)
6th Place: Cream Soda
7th Place: Eggs Benedict
8th Place: Snoopy Gyoza
9th Place: Candy Marshmallows
10th Place: Deko ("Giant") Ice Cream

Try making your own Instagram-worthy menu at home.

Q-pot. Adds Kids Sizes to Next Batch Of Stylish Textile Face Masks

Q-pot. dropped its new collection of textile style face masks from its "Made in Japan" apparel line Q-pot.Dress via its online shop on April 22, 2020. The company is now taking orders for its 4th batch of masks.

The masks feature the same textile design seen in Q-pot.Dress's attire collection. The "Chocolate College" design features Q-pot.'s signature motif. Due to high demand, the company is bringing the mask back in a kid's size. "Honey Lemon" will also be available again.


The "Candy" design from the brand's autumn collection which was released around Halloween has also been introduced into the fray. The fourth batch of masks are available to order until May 6, 2020 at 23:59 (JST).


The masks are a great way for parents and kids, as well as friends, to coordinate their outfits and look stylish.

Information

Q-pot. Cloth Masks – 4th Batch
Order Window: May 2, 2020 at 12:00 (JST) – May 6, 2020 at 23:59 (JST)
Buy Here: Q-pot. ONLINE SHOP / Q-pot. INTERNATIONAL ONLINE SHOP

Deliveries: Rolling out from mid-September 2020
*Maximum 5 masks per person for all designs.

*Depending on manufacturing decisions, delivery times may range beyond mid-September.

*Resales are strictly forbidden.

*Face masks are not scientifically recognised to help prevent the spread of viruses. Q-pot. requests that customers purchasing their face masks understand that they are not guaranteed protection.

*Photos are for illustrative purposes only.