Food Review: Cherry Blossom Afternoon Tea at Q-pot CAFE. in Omotesando
The MOSHI MOSHI NIPPON editorial team took a trip to Q-pot CAFE. to try out their new afternoon tea experience, the "SAKURA Romantic Tea Party," where we were treated to a pink kawaii tea party experience. This afternoon tea is available now until April 26, 2020.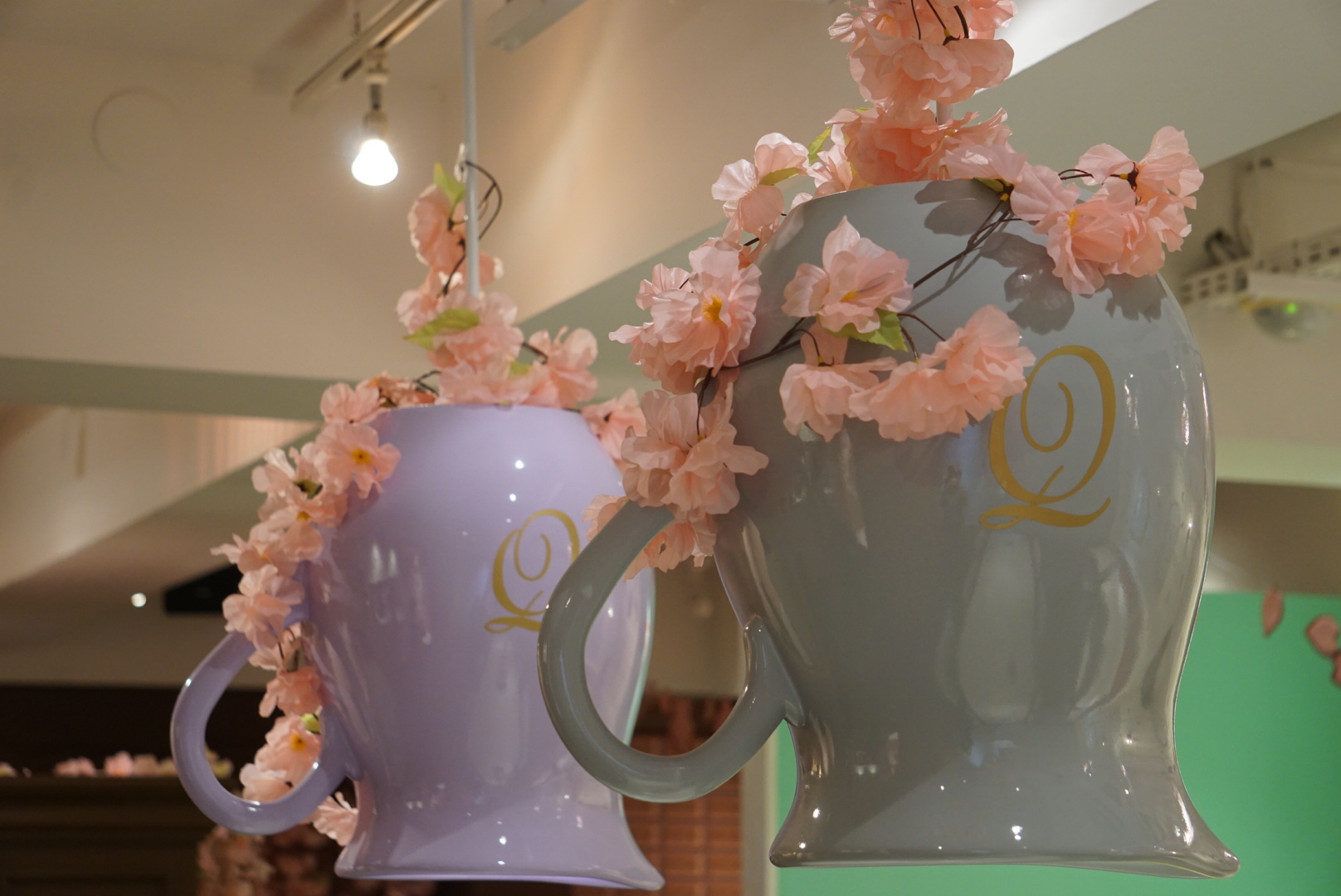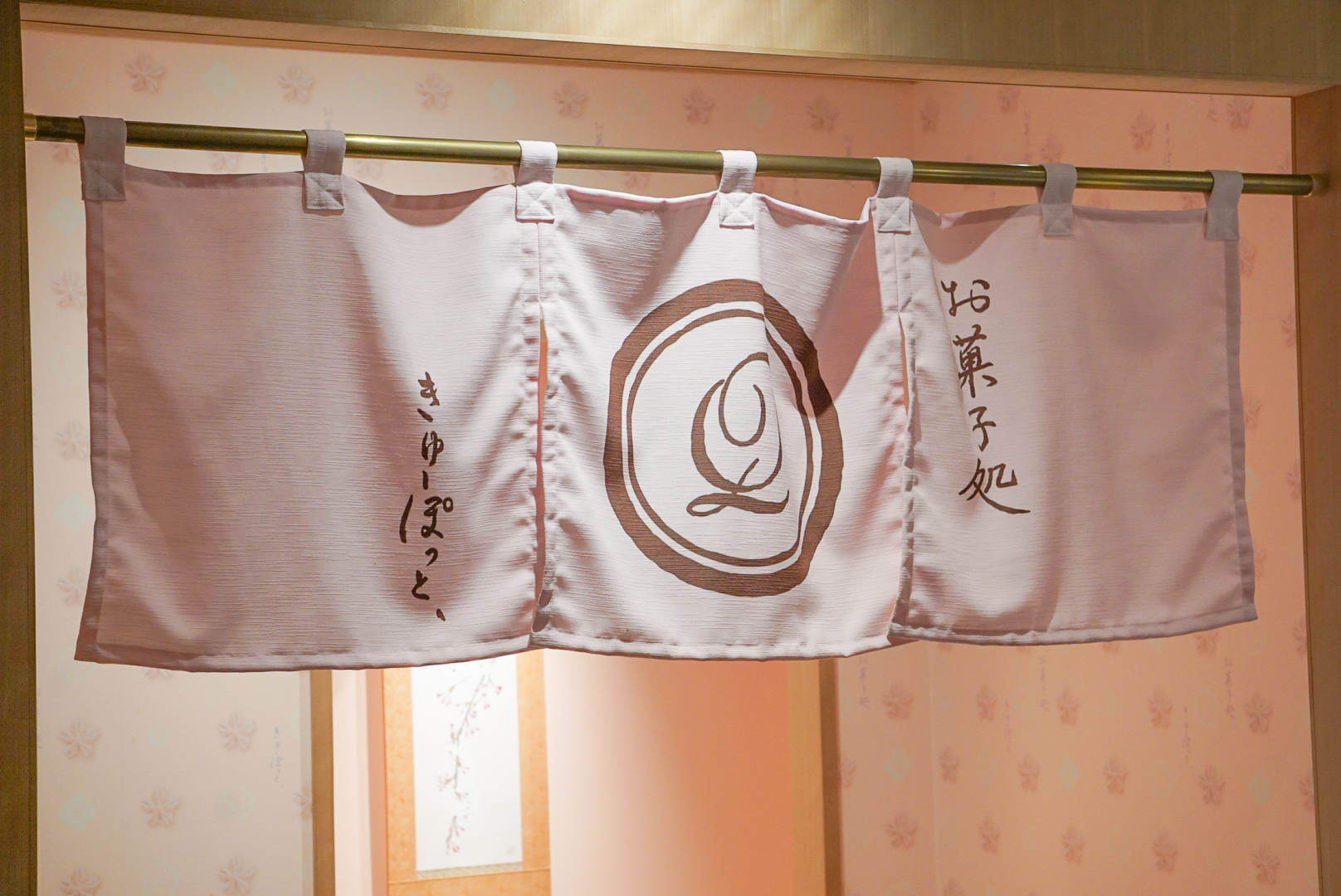 The cherry blossom designed decor and decorations welcomed us to an early spring. We ate in the cafe's "SAKURA Room" for this review, which takes the Q-pot's springtime cherry blossom experience to the next level.
Romantic SAKURA Afternoon Tea Set w/ Drink – ¥2,400 (Serves 1) (Tax Included) *Photo shows tea set for two

The top plate is beautifully adorned with cherry blossom St. Honoré cakes which are filled with a sumptuous gorgeous cherry blossom cream. There is also peach bavarois, strawberry cookies, and Q-pot CAFE.-original rich, cream ganache-filled macarons. The fallen cherry blossom petals on the plate are also in fact chocolate.
Everything on the plate screams kawaii with the considerate attention that is given to all the little details.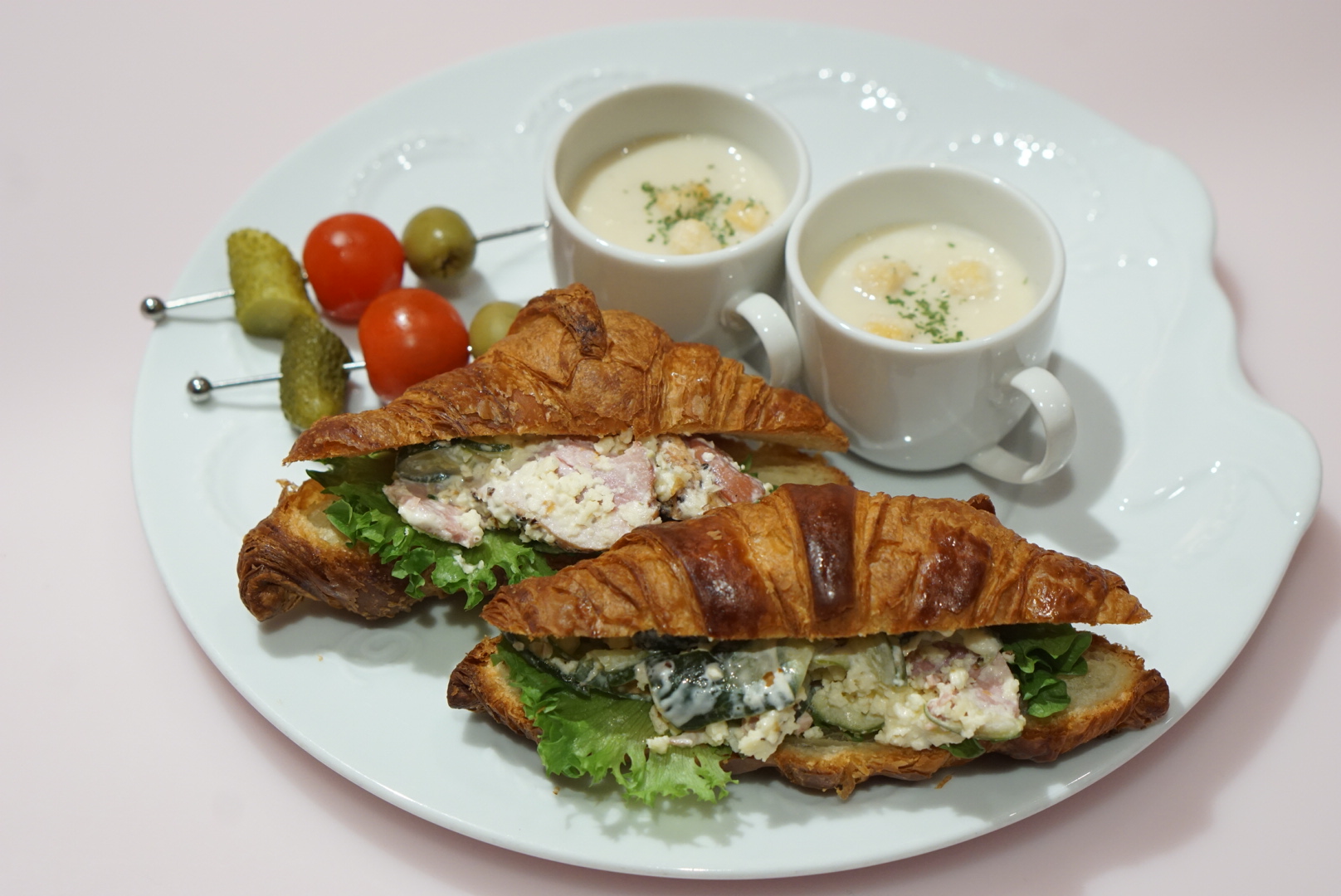 The bottom plate is the savoury stuff. We have hearty croissants filled with duck pastrami and cucumber that has been dressed with white wine vinegar. They are served with a white asparagus cream potage soup and skewered olives, mini tomatoes and pickles.
The balance of flavours between the top and bottom plates is exquisite; the savoury food refreshes your palate after the sweet treats on top.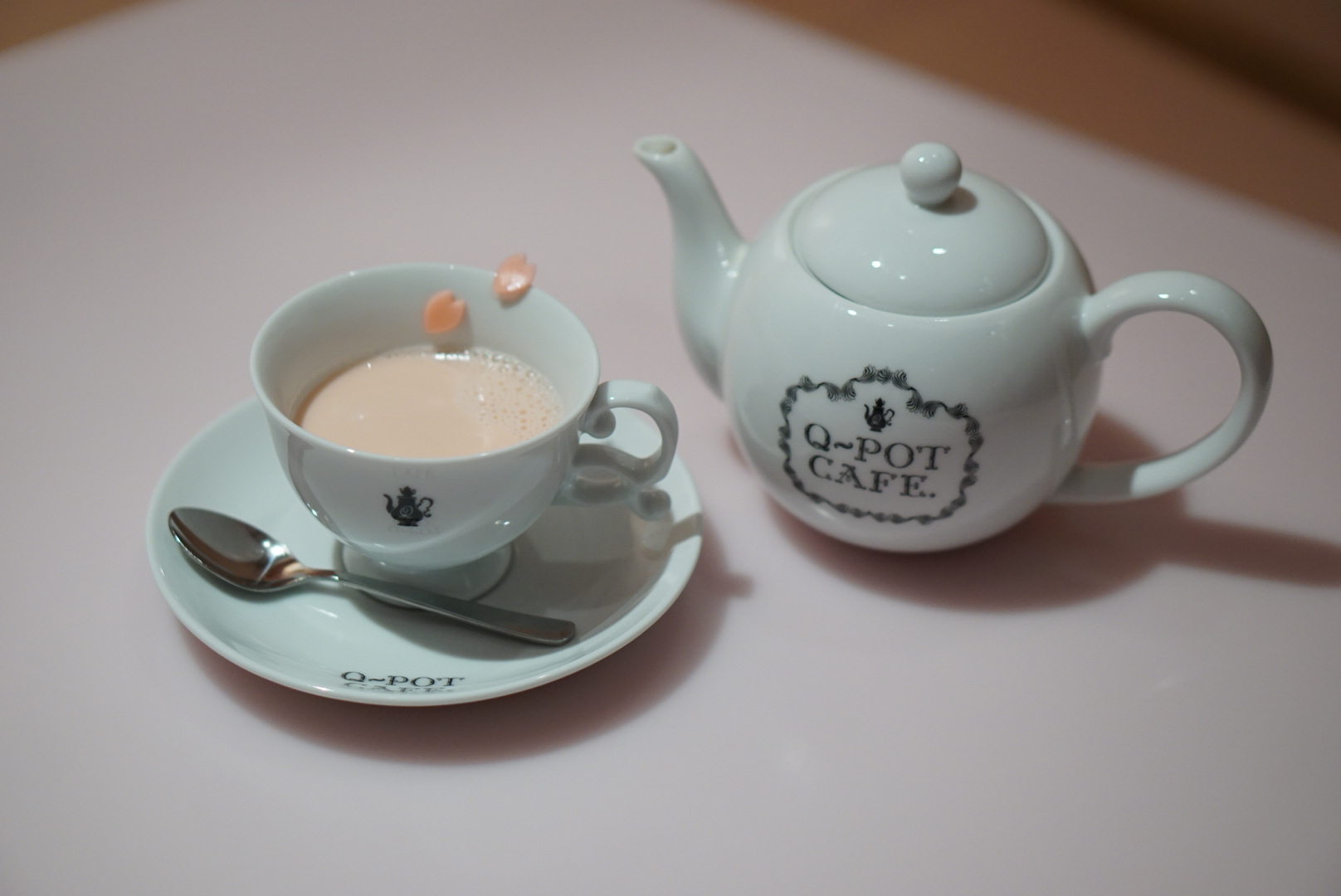 The set comes with a cup of pink cherry blossom tea. Floral and fruity fragrances fill your nose as you go to take a sip, after which your taste buds are treated to the notes of cherry blossom and raspberry. This subtly sweet and refreshing drink is the perfect accompaniment to your dessert and meal line-up. It even comes with a little chocolate petal.
Romantic SAKURA Mont Blanc Plate w/ Drink – ¥2,060 (Tax Included)
The pink mont blanc gives cherry tree vibes. It's made with cherry blossom bean paste cream, rich matcha chocolate, Japanese waguri chestnut, and chestnut cream. When  you fork the fluffy bean paste, you get plenty of chestnut cream and matcha chocolate with it. The sweetness of the cherry blossom bean paste and the subtle bitterness of the matcha go really well together. Q-pot. CAFE offers a selection of original macarons too which you can pick from including strawberry, chocolate, lemon, and melon. We wanted to go as pink as possible, so we went for the strawberry one!
Romantic SAKURA Parfait w/ Drink – ¥1,850 (Tax Included)
This strikingly gorgeous parfait is topped with cherry blossom cookies, cherry blossom meringue, and more. Its tall beautiful form is built up by a selection of ingredients, including Japanese flavours like cherry blossom cream and houjicha sauce.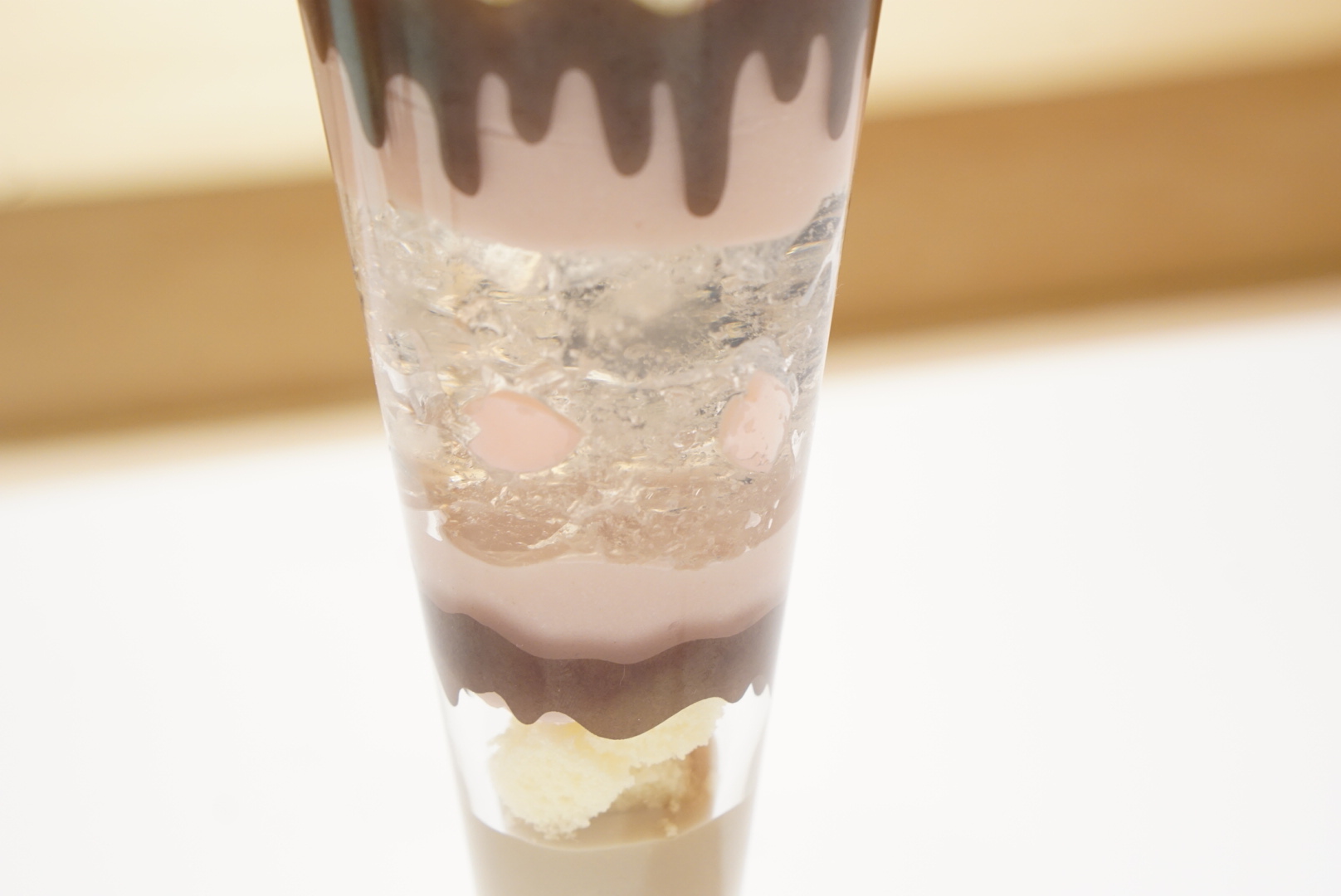 But what we want to draw attention to is the transparent jelly in the middle of the glass. If you look really closely, it looks like dancing cherry blossom leaves.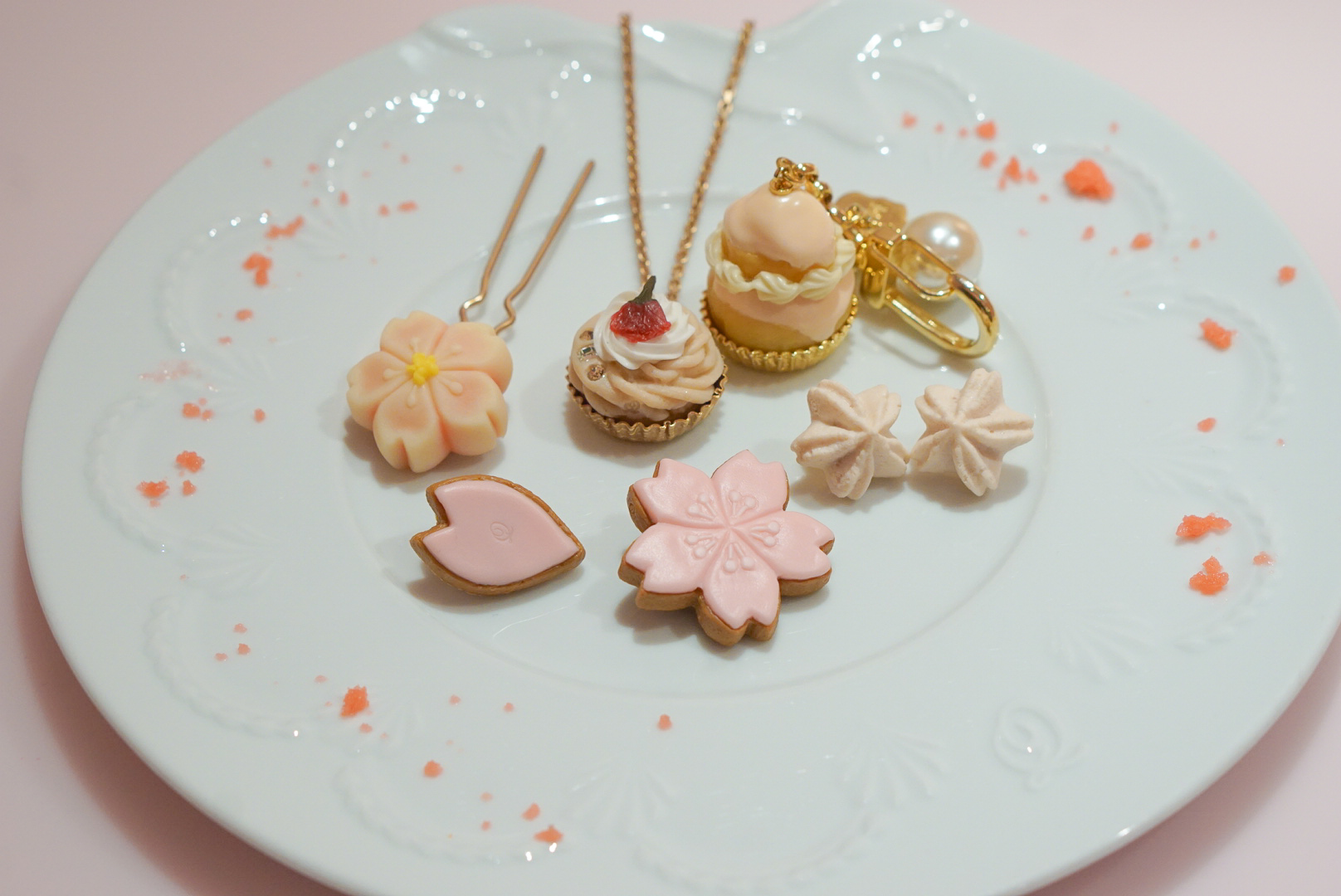 Q-pot CAFE. also has a range of other limited-time menu items, as well as food that looks just like real accessoriesーsomething the cafe is famous for. They also have accessories that look like real desserts, like a sugar cookie or crunchy meringue. Perfect for coordinating a spring look this year.
Make sure to pay a visit to Q-pot CAFE. if you're visiting Tokyo this spring!
Information
SAKURA Romantic Tea Party
Running: March 1, 2020 – April 26, 2020
Online Reservations: Now Open
*Afternoon tea set and hanami plan to be served until March 29, 2020
Q-pot. Omotesando
Address: 3-4-8 Jingumae, Shibuya, Tokyo
Opening Hours: 11:00-20:00 (Last Orders 19:30)
Closed: New Year's Holidays
Official Website: https://www.q-pot.jp/eng/
RELATED ENTRIES
Doremo LeTAO: Strawberry Pancakes Whipped Up For Spring at Popular Cafe Near New Chitose Airport

Doremo LeTAO has released a new pancake flavour called "Very Berry" for the spring season which tops the cafe's popular pancakes with strawberries and raspberries.

What is Doremo LeTAO?

Doremo LeTAO is about 7-minutes by car from New Chitose Airport in Hokkaido. This desserts cafe makes use of its almost 5,300m² space to pack in all the charm of the brand. Its concept is "Sweets Resort" with which it whips up everything from authentic homemade pastries made using Japanese white birch yeast, cakes and cheesecakes to eat in or take away, soft-serve ice cream which is served all year round and is made with milk from Jersey cattle and cheese, and more.

It also serves melt-in-the-mouth pancakes and seasonal parfaits, as well as meals too like their original Beef Stroganoff which is made with beef fillet and local Hokkaido ingredients. They even serve pasta which is made from 100% "yumechikara" Hokkaido wheat.

Very Berry Pancakes – ¥1,600 (Before Tax) / With Drink – ¥1,930 (Before Tax)

Doremo LeTAO's pancakes have been a hit with customers ever since they entered the menu line-up and never fail to boast the true cookery craftsmanship of their chefs. Each pancake takes about 20 minutes to make, and flavours range from classics to exclusive ones each month. At Doremo LeTAO, it feels like they drop a tasty new strawberry pancake on us every year, and this year it's the rich berry-topped "Very Berry" which combines strawberries with raspberries, and it's thanks to the cheese flavour in their pancakes that it all comes together so well.

Topped with sliced strawberries, sorbet, and a drizzle of sauce, these really are the pancakes of the gods, and they're available this spring only.

Information

Doremo LeTAO

Address: 6-1-1 Asahicho, Chitose, Hokkaido

Opening Hours: 10:00-18:00

No Fixed Holidays

Official Website: https://www.letao.jp/global/en/

Cute Pompompurin Puddings to be Released in Collaboration With Pastel

Desserts brand Pastel is collaborating with popular Sanrio character Pompompurin to release a selection of puddings at Pastel stores around Japan for the whole month of April.

Pastel prides itself on the smooth texture of its purinーa type of Japanese custard pudding. The company will celebrate Pompompurin's birthday, which falls on April 16, with a line of 4 adorable Pompompurin desserts.

Pompompurin's Mini Pudding – ¥380 (Before Tax)

The classic style of Japanese custard pudding, smooth and topped with whipped cream. It's finished with a cute sprinkled design of Pompompurin.

Soft and Fluffy Pompompurin – ¥450 (Before Tax)

Pompompurin is looking cute in this one as he pokes his head out of the caramel-drizzled and marshmallow-topped pudding.

Pompompurin's À La Mode – ¥600 (Before Tax)

Served in an original design cup branded with Pompompurin's adorable face, this à la mode includes a pudding topped with an orange slice and cherry.

Pompompurin's Chiffon – ¥2,200 (Before Tax)

This fluffy chiffon cake is about 15 meters across in size, and is made with pudding cream, glazed in caramel sauce, and topped with a Pompompurin who's just taking a little rest. *Available on weekends only

Shopper Bag Design (Available while supplies last)

When you order any of these desserts, you'll receive an exclusive Pastel x Pompompurin collaborative bag which makes for a great gift or souvenir to friends.

Don't miss out on these tasty Pompompurin treats.

Information

Pastel x Pompompurin Collaboration

Running: April 1, 2020 – April 30, 2020

Location: Pastel stores in Japan

Pastel Official Website: http://pastel-pudding.com

See 3,000 Rhododendrons in Full Bloom at the Tsutsuji Garden by Lake Ashi in Hakone

May is the most colourful time of the year at Hotel de Yama near Lake Ashi in Hakone, when a total of 3,000 rhododendronsーcomprised of 30 different typesーbloom their beautiful flowers in the large Tsutsuji Garden, where one can enjoy a great view of Mount Fuji and Lake Ashi.

Tsutsuji Garden at Hotel de Yama

"Tsutsuji" is the Japanese word for rhododendron. The Tsutsuji Garden at Hotel de Yama was once the villa of Koyata Iwasaki, "the fourth and last president of a unified Mitsubishi." During that time, numerous varieties of rhododendrons were planted in the garden, which have since been maintained. There are plants amongst them that are over 100-years-old, ones that tower over the human stature, and more; with petals that bloom pink, red, purple, and white.

A combined view of the kaleidoscopic rhododendrons and Mount Fuji

The staff who are experts on the garden have set up two photo frame stands in two of the best spots in the garden for taking picturesque photos. Snap some Instagrammable and memories with the colourful rhododendrons and Mount Fuji together.

Rhododendron Desserts: Saison a colorier – ¥1,634 / Tea Set – ¥2,360 (Before Tax)

Salon de thé Rosage, the dessert restaurant that sits in front of the hotel, is serving up a new special dessert called "Saison a colorier" in line with the full bloom of the rhododendrons. It captures the colourful pink, red, white, and purple appearance of the flowers, and looks like a mini version of the hotel's garden on your plate. The main part of the dessert is the tea mousse, which has a bright red colour as it is coated beautifully in a strawberry puree nappage. The tea used in the mouse is an original rhododendron blend exclusive to the restaurant.


The white rhododendron dessert is a macaron that's filled with raspberry sorbet. The red which contrasts with the white is a rhododendron milk tea cream and fresh raspberries. The rest of the plate is adorned with pink jelly and edible flowers. The perfect afternoon tea to finish off your time at Tsutsuji Garden.

3 Must-Visit Cherry Blossoms Spots in Nagasaki Prefecture's Hirado City | Spring 2020

Spring has arrived in the city of Hirado, Nagasaki, which has been dyed a cherry blossom pink colour from the blossoming of the cherry trees. A simple glance at the signs of spring there is enough to have one feeling elated. It has also made the news that the budding of the cherry blossoms in Hirado has arrived earlier than usual.

We've made a list of 3 popular spots to enjoy Hanami in Hirado this spring.

Jigenzakura


Jigenzakura is a single sakura tree that stands proud and majestic. Aged 140 years old, the tree is listed as a National Treasure of Hirado. It's close to the Oshima variety of cherry tree, and was planted by Catholics who migrated to Japan at the beginning of the Meiji Period. A visit to Jigenzakura offers a splendid sight to behold as it blossoms in the ravine. The best time to see it in full bloom last year was March 31.

Address: Kigatsucho, Hirado, Nagasaki (35-minutes from Hirado Bridge)

Nagasaki Tabi Net: https://www.nagasaki-tabinet.com/guide/51690/

 

Kameoka Shrine / Kameoka Park


Kameoka Park is a famous cherry blossom site that's adjacent to Hirado Castle. It's home to around 1,000 sakura trees, which are best seen from the end of March to early April. It also has a very rare type of cherry blossom called the nidozaki-zakura which blooms twice. You can see these around mid-April at Kameoka Park.

Address: 1458 Iwanouechō, Hirado, Nagasaki (7-minutes from Hirado Bridge)

Nagasaki Tabi Net: https://www.nagasaki-tabinet.com/guide/370/

Tabira Park


Tabira Park is just over Hirado Bridge, and is a place where you can look out at both Hirado Bridge and Hirado Seto while gazing at the rows of cherry trees.

Address: 823-1 Tabirachō Kotedamen, Hirado, Nagasaki (Next to Hirado Bridge)

Official Website: http://nagasaki-park.or.jp/free/tabira

Hirado is easy to get to, and is a must-visit not just for Hanami, but for the food and its rich history too.

Kawaii Tama & Friends Double Walled Glasses Releases in 10 Varieties

R&K Japan, the overseas division of Aiwa, released a new line of 10 double walled glasses based on the popular character franchise Tama & Friends. The first ever double walled glasses to be made of the series, the line-up includes the characters Tama, Pochi, Tora, Beh, Momo, Koma, Nora, Gon, Kuro, and Buru.

Tama – ¥3,900 (Before Tax)

Pochi – ¥3,900 (Before Tax)

What is Tama & Friends?

Tama & Friends is an original character franchise that was created by Sony Creative Products in 1983. The world of Tama & Friends was first inspired from an actual missing cat poster with the phrase "Have You Seen My Tama?" Since then, it has grown into a full franchise with many popular characters. It spawned its first anime series in 1993 which helped its popularity grow in Japan.  A new 11-episode series entitled Uchitama?! Have you seen my Tama? aired in January this year and ended just last Thursday.

Tora – ¥3,900 (Before Tax)

Beh – ¥3,900 (Before Tax)

Tama & Friends Double Walled Glasses

The glasses are designed by double walled glass pioneers GOODGLAS. Each one is handmade and can be used for hot and cold beverages.

Information

Tama & Friends Double Walled Glasses

Sold at: Ikebukuro LOFT, Yokohama LOFT, Chiba LOFT, Umeda LOFT, Kobe LOFT, Tenjin LOFT

Tama & Friends Official Online Shop: http://www.tamafriends-shop.jp/

Witness Mount Fuji and Fully Bloomed Cherry Blossoms at HOSHINOYA Fuji

HOSHINOYA Fuji is offering a very special Hanami flower-viewing experience for guests from April 7 to 21 this year where they can observe the springtime cherry blossoms against the backdrop of Mount Fuji. Offers include cherry blossom desserts, a glamping experience inside a cabin eating curry while enjoying the scenery of the outdoors, a private outdoor dining dinner, and more.

HOSHINOYA Fuji hails as Japan's first luxury camping resort. Located on the hill overlooking Lake Kawaguchi near Mount Fuji. It offers the ultimate glamping experience, with a large outdoor terrace surrounded by nature, cabins that can be enjoyed throughout the year, and more. It's difficult to go out and enjoy the cherry blossoms on the streets right now, but if you'd still like to enjoy spring safely with your special someone, then HOSHINOYA Fuji has created a special springtime experience.

Sakura Apéro: Witness the cherry blossoms during sunset with desserts in hand

"Sakura Apéro" is a chance to take a breather and enjoy all the beauties nature has to offer. It is held in the cabin area of HOSHINOYA Fuji under the towering cherry blossom trees. Sit back, relax, and enjoy an evening treat of cherry blossom flavoured bean paste rice cake, a cup of matcha milk or a matcha cocktail, and a front row seat of the cherry blossoms as the sun sets.

Hanami on the terrace

HOSHINOYA Fuji's cabina area is built in such a way so that guests can enjoy an outdoor experience. One third of the cabin has a terrace area with an enormous window that looks out into the natural landscape. A fireplace and kotatsu is available so you can still enjoy the outdoors even inside while relaxing with a comfortable stay into the late nights. Some of the cabins offer a view of the surrounding cherry blossom trees, inviting spring into your room.

Curry made on one of Mount Fuji's lava plates

At HOSHINOYA Fuji, guests can enjoy outdoor cooking in luxury be it in one of the cabins or the dining restaurant in the forest. Those who want to relax in a cabin are recommended the "Glamping Curry" at the terrace. You grill beef and vegetables yourself on a Mount Fuji lava plate and can combine five spices of your choice to create your own original flavour. In the outdoor dining area, which is exclusive to groups of guests, game meat is also served, such as boar and deer, as well as seasonal vegetables prepared in a dutch oven. For dessert, there's cherry blossom flavoured ice cream. You can also make your own strawberry sauce using fresh strawberries over a fire to pour over your ice cream before topping it with matcha crumbles.

Due to the ongoing situation surrounding the coronavirus, all guest rooms and public areas at all HOSHINOYA facilities are being thoroughly cleaned in line with the recommended guidelines to ensure the health and safety of guests and staff. Alcohol gel is available at all HOSHINOYA facilities, and staff's health and hygiene are being consistently examined.

Information

HOSHINOYA Fuji

Address: 1408 Ōishi, Fujikawaguchiko, Minamitsuru-gun, Yamanashi

Official Website: https://www.hoshinoya.com/

Japan's 7-Eleven Stores Now Stocking Matcha Desserts by Uji Tea and Sweets Artisans Itohkyuemon

Itohkyuemon, a shop founded in 1832 which specialises in Uji tea and sweets, began rolling out four Uji matcha desserts at 7-Eleven convenience stores across Japan on March 17 as part of their "Uji Matcha Sweets Fair."

The tasty line-up includes "Uji Matcha Cream Puffs," "Uji Matcha & Sakura Japanese Parfait," "Sticky Uji Matcha Pudding," and "Matcha Honey-Stuffed Uji Matcha Warabimochi." Itohkyuemon has developed over 100 Uji matcha desserts, during which it has come up with a blend of matcha it specifically uses for its desserts which is not only rich in flavour but creates a harmonious flavour together with the particular dessert. This blend is used in all four of these convenience store desserts.

The Uji Matcha Sweets Fair is led by Takahito Yoshimoto, the head chef of Itohkyuemon's Uji confectionery workshop.

Head to the closest 7-Eleven to you in Japan for a chance to taste some authentic matcha treats.

Information

Uji Matcha Sweets Fair

①Uji Matcha Cream Puffs – ¥138 (Before Tax) / Uji Matcha & Sakura Japanese Parfait – ¥308 (Before Tax)

Release Date: Rolling out at most 7-Eleven convenience stores in Japan (except Okinawa) from March 17, 2020

②Sticky Uji Matcha Pudding – ¥230 (Before Tax) / Matcha Honey-Stuffed Uji Matcha Warabimochi – ¥168 (Before Tax)

Release Date: Rolling out at most 7-Eleven convenience stores in Japan (except Okinawa) from March 24, 2020

Official Website:  https://www.sej.co.jp/products/sweets/matcha2003.html

5 Must-Visit Cherry Blossom Spots in Toyota City in Aichi Prefecture For Hanami 2020

Toyota in Aichi Prefecture is a city abundant with nature and one home to countless famous flower spots. Tourism Toyota has outlined a list of the perfect places to visit there this spring to enjoy viewing the cherry blossoms for this year's Hanami.

Asian Fawnlily | Korankei

Korankei is a valley created by the Yodo River in Toyota, Aichi, and is said to be one of the best places in Japan to enjoy the autumn colours. In spring, an area covering 5,000m² blooms with beautiful Asian fawnlilies, dyeing the grass as a light purple carpet.

Best Time To See: Mid March – Late March

Location: Korankei, Iimori Asukecho, Toyota, Aichi

Access: Board the Meitetsu Bus bound for Yamani (矢並線) at Toyotashi Station's East Exit, get off at Korankei (香嵐渓), and walk for 10-minutes

Official Website: https://www.tourismtoyota.jp/spots/detail/272/

Cherry Blossoms & Spiraea Thunbergii | Aichi Greenery Center

 

Every year at Aichi Greenery Center from late March to early April, the Spiraea Thunbergii, also known as Thunberg's meadowsweet, blossom their white flowers in full along a path stretching 200 meters, which makes it look like the area is covered in snow. When the cherry blossoms bloom, their light pink flowers offer a beautiful contrast with the snowbound meadowsweet.

Best Time To See: Late March – Early April

Address: Saruta-21-1 Nishinakayamachō, Toyota, Aichi

Access: Board the Oiden Bus bound for Fujioka/Toyota Via Nishinakayama (藤岡・豊田線(西中山経由)) and get off at the Greenery Center (緑化センター)

Official Website: https://www.tourismtoyota.jp/spots/detail/277/

Weeping Cherry Blossoms | Kaminaka

Kaminaka is home to some incredible weeping cherry sights. Around 3,000 weeping cherry trees stretch 1km from the car park, dyeing the mountainous landscape white, red, and pink.

Best Time To See: Early to Mid April

Address: Makigahora Kaminakacho, Toyota, Aichi

Access: 27km from Shidare Interchange (枝下IC) via Sarugata Green Road (猿投グリーンロード)

Official Website: https://www.tourismtoyota.jp/spots/detail/225/

Weeping Cherry Blossoms | Zuiryuji Temple & Daian-ji Temple

Zuiryuji Temple is home to a weeping cherry tree that is said to be 400 years old. It is officially listed as a Natural Treasure of Aichi Prefecture. Its flowers are best enjoyed in early April when it offers a spectacular sight next to the temple gate.

Daian-ji Temple also has an ancient weeping cherry tree that is 260 years old and listed as a National Treasure of Toyota. Another row of cherry trees are located next to it, wrapping the area in gorgeous pink hues. Both of these temple trees are also lit up in the evenings, offering a different kind of beautiful atmosphere from a daytime viewing.

Best Time To See: Early April

Address: Terayama-3 Inabuchō, Toyota, Aichi

Access: Board the Oiden Bus [Kaisoku Inabu] at Toyotashi Station's East Exit, get off at Dongurinoyu Mae (どんぐりの湯前), and walk for 10-minutes

Official Websites:

https://www.tourismtoyota.jp/spots/detail/39/ (Zuiryuji Temple)

https://www.tourismtoyota.jp/spots/detail/697/ (Daian-ji Temple)

Wisterias | Fuji no Kairo

This 370-meter long path is known as Fuji no Kairo, or "Wisteria Corridor," which is home to four different species of wisteria that bloom fully in the spring to the delight of those passing under it.

Best Time To See: Late April – Early May

Address: Mitsukuricho, Toyota, Aichi

Access: Board the Oiden Bus bound for Fujioka/Toyota Via Kanocho (藤岡・豊田線(加納経由)) and get off at Toyota City Hall (藤岡支所). Change onto the Fuji Bus bound for Kawaguchi/Ino (川口・飯野線), then get off at Fuji no Kairo (ふじの回廊口).

Official Website: https://www.tourismtoyota.jp/spots/detail/191/

Shirasagi Coffee: Ehime Prefecture's Cafe Releases Springtime Cherry Blossom Menu

Shirasagi Coffee, a cafe in Ehime Prefecture, has released a new seasonal menu full of strawberries and cherry blossoms to commemorate the spring season.

Shirasagi Coffee's logo features a heron, a reference to a legend that says the locals of Matsuyama in Ehime noticed that a white heron healed its injured leg by bathing in the hot springs of Dōgo Onsen, one of the oldest hot springs in  Japan. The cafe was renovated using furniture made from scrap wood from when Dōgo Onsen was built. It's an artistic cafe that has garnered much attention from both locals and tourists.

Thick-Cut Natural Yeast Toast

This thick-sliced bread is provided by Panya Uzu, a bread shop also in Matsuyama, Ehime. Perfect for breakfast or lunch, it's topped with a cherry blossom jam and mascarpone cheese cream.

Top: Cream Soda / Right: Cherry Blossom Tea Latte / Left: Cherry Blossom & Strawberry Mint Sour

This line-up of three drinks are made using seasonal strawberries grown in Ehime Prefecture.

Sweet Bavarois

Bavarois is a classic dessert at Shirasagi Coffee, and this one is made using matcha grown in the village of Shingu in Ehime and is coated in a cherry blossom cream.

Spring Madonna Parfait

This limited-time parfait is stacked with 12 different ingredients of varying textures and flavours, including cherry blossom, as well as Ehime strawberries, chestnuts, and matcha. It's the culmination of Ehime's springtime ingredients.

Takeout Drinks

Mini Parfait

The cafe also serves mini parfaits, drinks and other items for takeout. Pick something out and go and observe the cherry blossoms for Hanami at Dōgo Park.

Information

Shirasagi Coffee

Address: 2F, 12-1 Dōgoyunomachi, Matsuyama, Ehime Prefecture

Opening Hours: 08:00-18:00 (from 07:00 on weekends and public holidays)

No Fixed Holidays

Closest Station: Dogo Station via Iyotetsu

Official Website: https://shirasagicoffee.com/

*Open everyday until 22:30 from March 23, 2020

*Table reservations available on weekdays

*Breakfast-only until 11:00

Lisa Larson Designs Cute New Cherry Blossom Hedgehog Items

An adorable new collection of items fitting for Japanese springtime have been released featuring Lisa Larson's popular hedgehogs and cherry blossoms. Larson has an interest in Japanese culture, and has designed this line-up in time for the Hanami season.

Letter Paper Set – ¥440 (Tax Included) / Masking Tape (35mm) – ¥550 (Tax Included)

The letter paper and masking tape features cute illustrations of the hedgehogs taking a stroll amongst the cherry blossoms. A great spring gift or souvenir from Japan.

Water Absorbent Cloth – ¥660 (Tax Included) / Tea Towel – ¥660 (Tax Included)

The cloth and tea towel are perfect additions to the kitchen, whether for drying the plates, for food prep, wiping the counter, and so on. The adorable strolling hedgehogs will add a warm touch to any kitchen.

Printed Hand Towel – ¥1,540 (Tax Included)

The hedgehogs are enjoying observing the cherry blossoms on this hand towel, which is light-pink and has a gentle Japanese taste to it. The towel is made using a dyeing technique known as kata-yuzen which is used to dye fabrics for kimono in Kyoto. It's a versatile item: it can of course be used as a kitchen towel or cloth, but also for wrapping gifts like wine too.

Mamezara Dish (Hasami Ware) – ¥1,430 (Tax Included)

The hedgehogs are in the thick of the fully-bloomed cherry blossoms on this mamezara dish, which can be used for food or placing small items like keys and accessories.

Waffles – ¥1,620 (Tax Included)

These tins, which feature Mikey and the hedgehogs, are filled with a traditional waffle confection that has been sold by Tokyo Fugetsudo since 1927. They are light and crunchy round wafers stuffed with cream.

Hanami Set 2020 (Online Orders Only) – ¥11,000 (Tax Included)

Available online only, this special set is the perfect way to enjoy Hanami in Japan this season, featuring a cute bird sake jug and more.

Celebrate the arrival of the cherry blossoms in Japan with this new line-up from Lisa Larson.

Cherry Blossoms and Rape Blossoms Compete For Spring at Kusaba River in Fukuoka

The town of Chikuzen in Fukuoka Prefecture is home to a 2km strip of cherry blossom trees which bloom their pink beauty along the Kusaba River in spring. The area sees countless people flock there during the Hanami season to see the trees in full bloom.

But Kusaba River isn't only home to cherry blossoms; it also sees rape blossoms sprout their yellow flowers during springtime, which offers a beautiful contrast to the overhead pink from the cherry trees.

The place is lit up in the eveningsーa great chance to see the cherry blossoms in a different light at night.

Rich verdure lines the whole of Kusaba River, so be sure to visit if you're heading to Fukuoka this spring to see the cherry and rape blossoms.

Information

Kusaba River

Address: 875 Hisamitsu, Chikuzen, Asakura-gun, Fukuoka

Bloom Period: Late March – Early April

Access: 5-minutes on foot from Shincho Bus Stop (新町バス停) via Nishi Tetsu Bus

MUUN SEOUL: Harajuku's Korean Cafe Serving Instagrammable 'Fatcaron' Macarons

MUUN SEOUL is a cafe located along Tonchan-dori Street in Harajuku that serves Instagram-worthy South Korean food.

Photo by Nagisa Kobayashi @popo_318

Photo by Nagisa Kobayashi @popo_318

The cafe sells "fatcarons," a South Korean-style macaron which have proven very popular with young women in Japan.

Photo by Taeco @taecostagram

Fatcarons are larger than the standard macaron. They are topped with things like strawberries, given marble textures, and more to give them a cute appearance. MOON SEOUL serves many different varieties, all of which are standout compared to normal macarons.

Photo by Sara @__sar310

But the fatcaron experience at MOON SEOUL isn't complete without ordering the drink above. It's strawberry milk flavoured, but the milk is whipped until it's fluffy, giving it a taste like no other strawberry milk you've tried. It also has sliced strawberries inside and on top, so if you love strawberries, you'll love this.

Photo by Yuina @popochan726

You can order your fatcarons for takeout too in a clear takeaway box so you can go have a dessert picnic with your friends, and get a great photo of them all together too.