One Piece Goshuin Shrine Stamp Books Get Luffy and Trafalgar Law Designs
Movic has collaborated to release two special goshuincho books at Animate stores in Japan as well as the Animate and Movic online stores and select Mugiwara shops.
A Goshuincho is a book for collecting goshuin, which are stamps or seals given at shrines and temples across Japan. Every shrine and temple has its own unique goshuin which are stamped alongside calligraphy handwritten by the staff there and then who write the date and the name of the temple or shrine. We have covered goshuin here on MOSHI MOSHI NIPPON many times – click for more details.
Goshuincho – Luffy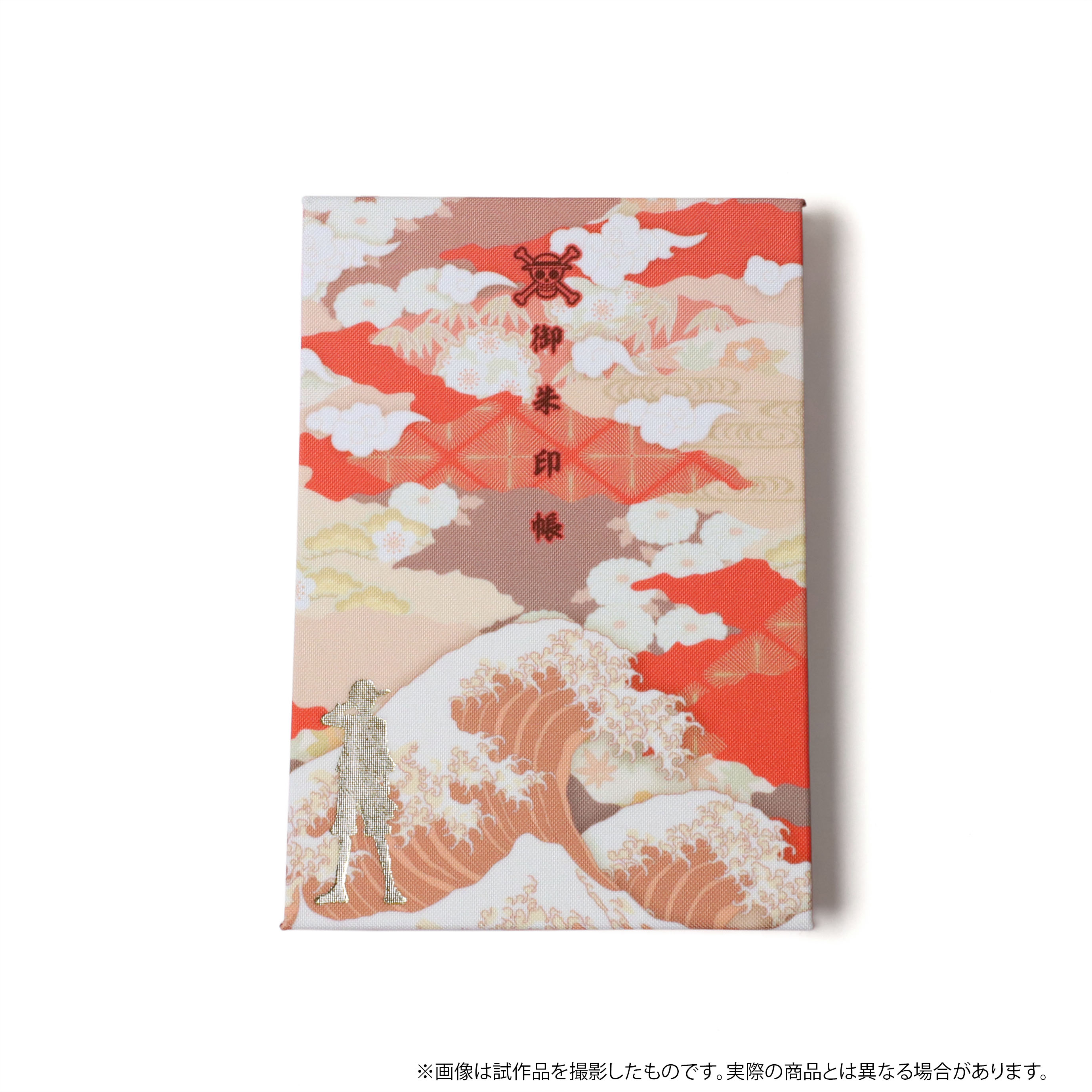 Goshuincho – Trafalgar Law
The designs feature Luffy and Trafalgar Law made from gold leaf stood against backgrounds with traditional Japanese designs. Both books also feature their respective pirate logos. They are the perfect gift for any fan of One Piece heading to Japan to see the temples and shrinesーor to just add to their collection at home!

The order window for these books will run from March 16, 2020 to April 15, 2020 at Animate, Animate online, Movic online, at select Mugiwara storesーthe latter being the official One Piece merchandise shop. You won't be able to order them after April 15, so be sure to get your order in quick.
*Photos are of the product still in development. Actual product is subject to alterations.
*Product sales subject to change, extensions, or cancellations.
©Eiichiro Oda / Shueisha・Fuji TV・Toei Animation
Information
Goshuincho (2 Designs)
Price: ¥3,300 each (Tax Included)
Size: Approx. 16cm x 11cm
Product: Front Cover – Cloth with gold leaf / Inside: 24 folds
Order Window: March 16, 2020 – April 15, 2020
Release Date: June 19, 2020
Order here: https://www.movic.jp
RELATED ENTRIES
ONE PIECE FILM RED Inspires Collaboration Event with Raku Spa

From August 18 until September 19, 20 Gokurakuyu and Raku Spa locations will hold a special collaboration to celebrate the release of ONE PIECE FILM RED. 

Goods

Menu

During the event, a new bath will be available each weekend. Guests can enjoy fragrant baths inspired by Luffy, Zoro, Nami, Usopp, Sanji, Shanks, and Uta. Check the website to see which baths will be available at which locations!

Those visiting can find some new merchandise featuring exclusive illustrations made for the campaign and a tasty menu inspired by One Piece characters, so don't miss it!

Netflix Reveals One Piece Live-Action Series Set Details and Concept Art

During the Netflix Geeked Week livestream, more details about the Hollywood live-action One Piece adaptation were revealed to a sea of anxious fans.

Along with six new cast members, fans caught a glimpse of the fantastic sets being used for the series and a greeting from the showrunners Steven Maeda and Matt Owens, along with the actor playing Luffy, Iñaki Godoy.


The new cast members include Alexander Maniatis as Klahadore, Steven Ward as Mihawk, Craig Fairbrass as Chef Zeff, Langley Kirkwood as Captain Morgan, Celeste Loots as Kaya, and Chioma Umeala as Nojiko.

 

A One Piece live-action project had been discussed before, finally coming to fruition after original creator Eiichiro Oda and other members of Shonen Jump staff were convinced that it could be done well. As announced by a number of cast members on social media, the project began filming recently in South Africa.

Behind-the-Scenes Time-lapse Footage

"We get to go to work every day and walk on these massive sets and see these characters come to life," Maeda said. 

"Oda's world is so unique. Seeing all of this stuff in person, being able to reach out and touch it, has just been such an experience," Owens continued.

Eiichiro Oda's manga series has become one of the best-selling manga series in history. Originally published in Weekly Shonen Jump in 1997, the series recently celebrated its 100th volume and will celebrate 1,000 anime episodes in the coming weeks. With over 490 million copies in circulation, Luffy's adventure is beloved by manga fans around the world.

On August 6, the newest One Piece film, ONE PIECE FILM RED, will be released in theaters in Japan.

This live-action adaptation is highly-anticipated by longtime fans around the world. Stay tuned for more news to come!


Netflixシリーズ「ONE PIECE」全世界独占配信
©尾田栄一郎/集英社

Experience Japanese Culture from Anywhere with Kanda Myojin Shrine's Virtual Space

Kanda Myojin Shrine dates back over 1,270 years, making it one of the most well-known religious sites in Tokyo. Dai Nippon Printing is now making it possible for interested visitors to experience the site from anywhere in the world, unveiling the Kanda Myojin CG Space this week. Developed with approval from the shrine, the virtual space faithfully reproduces the structure and design of the location using 3D laser measurement technology and CG techniques developed by DNP over many years. The space will be open online to all audiences.

 

A portion of the work from the Masayuki Kojo 10th Anniversary Exhibition currently behind held on-site at Kanda Myojin from June 4 until July 10 will also be available to view in the CG space. The space will also be linked to 'Virtual Akihabara,' developed by DNP in conjunction with the AKIBA Tourism Council. Using XR (Extended Reality), the company hopes to develop a wide variety of new communication styles.

The Kanda Myojin CG Space was created by using DNP's laser measurement technology to recreate three-dimensional objects. By using high-definition photography and photogrammetry technology, images of objects are taken from many angles, creating a realistic 3DCG space to explore. The structure of the shrine, which was rebuilt in 1934 after being damaged in the Great Kanto Earthquake, has been faithfully reproduced in every way.

In conjunction with events held at the Kanda Myojin Museum, the Kanda Myojin CG Space will make the history of Kanda Myojin and its collection of materials, including rare ukiyo-e prints, available online for anyone to access. Through these exhibits, people both in Japan and abroad can experience Edo culture through their web browsers!

One Piece Summer 2022 Event to Open at Universal Studios Japan

From July 1 until October 2, 2022, fans of the long-running series One Piece won't want to miss taking a trip to Universal Studios Japan! This year's event promises to be extra special as fans celebrate the 25th anniversary of the manga series and the 15th anniversary of the One Piece Premier Show, the annual event at USJ. A special menu featuring tasty treats inspired by the series will be available alongside unique merchandise only available on-site. 

This summer's limited menu and goods lineup are each inspired by a music festival. The event itself will draw inspiration from the film One Piece Film Red, scheduled to release on August 6, 2022.

The Discovery Restaurant in the Jurassic Park-themed area of Universal Studios Japan will be transformed into the One Piece Summer Banquet Restaurant during the event period, featuring a selection of tasty dishes inspired by each main character. This year, menu items inspired by Robin and Jinbe will be available for the first time.

Plenty of original merchandise will be on sale, with one specific item serving as a highlight of the new collection: the 15th-anniversary book. This tome includes details and images from each of the past One Piece Premier Shows and is a must-have for any fan. It also includes a message from the original series author Eiichiro Oda. 

One 'music festival' themed item is the Festival Towel. Playing a major role in the 2022 version of the One Piece Premier Show, the item is decorated with a limited edition 15th-anniversary design. Guests can also grab a collectible bracelet and salted candy in a unique soda can-inspired package. Of course, it wouldn't be a One Piece event without some straw hats for sale!

This year's menu includes everything from Nami's Orange Frappe to Frankie's Super American Hot Dog. Each of these tasty dishes will be perfect for posting on social media! Next to the Lost World Restaurant, guests can enjoy some additional goodies from the One Piece Food Cart including Sanji's Pork Ribs and Sanji's Peach and Lemon Frozen Smoothie, perfect for beating the heat.

Everyone, young and old, is invited to immerse themselves in the world of One Piece during this special celebration.

© 尾田栄一郎/集英社・フジテレビ・東映アニメーション

Ryusenji Temple Offering Gorgeous Paper-Cut Summer Goshuin Shrine Seals with a Wish for Peace

Ryusenji Temple in Saitama is offering some exclusive summer goshuin! Goshuin are stamps or seals given to worshippers at shrines and temples around Japan, where somebody will stamp your goshuin-cho (stamp book) with the site's unique seal along with the temple's name and the day you visited handwritten in ink.

The two new goshuin feature summer fireworks and a cooling fan design. These will be available from June 1 until August. They might sell out, though, so be quick!

Summer Exclusive Paper-Cut Overlaid Goshuin: Fireworks and a Wish for Peace


The Fireworks and a Wish for Peace goshuin use five kinds of paper to depict fireworks in the summer night sky.


Fireworks are a popular summer tradition in Japan. It's said that fireworks were born following the discovery of gunpowder and its use in guns when some decided to use the substance to make something beautiful rather than use it as a weapon. 


Because of this, many see fireworks as a symbol of peace. The current war between Russia and Ukraine has seen gunpowder used as a horrific weapon used to end the lives of many innocent people, and this special goshuin was made in the hopes that the war will come to an end as soon as possible. Gunpowder should be used in fireworks to bring people happiness instead.

Summer Exclusive Paper-Cut Overlaid Goshuin: Refreshing Good Luck Charm

The Refreshing Good Luck Charm shows a traditional Japanese summer scene with a fan and goldfish swimming in clear blue water.

Fans are used by many Japanese to keep cool during the summer months, and some are even said to have the power to ward off illness and evil spirits. Goldfish are often seen during summer festivals, where visitors try to scoop them up using an easily-breakable net in a fun game with family and friends.

 

Goldfish became popular during the Edo period and were considered to be lucky creatures capable of bringing happiness into one's home and bringing financial fortune. 

If you're heading to Saitama, why not add these intricate goshuin to your book?

Former Toride Inn Honjin Someno Family Residence in Toride City, Ibaraki Prefecture Offering Special Seal for Visitors

Toride City in Ibaraki Prefecture began heavily developing during the Edo Period as a strategic town on the Mito Kaido road. The symbol of the town is the Former Toride Inn Honjin Someno Family Residence, designated as a prefectural cultural property and historic site. This stunning building will now be open to the public starting June 3, 2022! 

In Japan, fans of temples and shrines often collect Goshuin. These are beautiful handwritten shrine seals collected in a special book, and they have recently become popular with younger generations. The first 'honjin goshuin' in Japanese history will be available at the Former Toride Inn!

A honjin was an inn for government officials, generally located in post stations during the later part of the Edo period. In Toride, the Someno Family Residence was designated as the main honjin for use by the Mito Tokugawa family in 1687. Since then, successors of the Mito Tokugawa family and many other feudal lords and samurai traveling between Edo and Mito used the location as a place to rest.

Of the three remaining honjin on the Mito Kaido road, the Former Toride Inn Honjin Someno Family Residence is the oldest and largest in scale. Today, it is also the only one with both the grounds and interior open to the public. With deep ties to the Mito Tokugawa family and Yoshinobu Tokugawa, the last shogun of the Edo Shogunate, it remains an incredible historical site.

Former Toride Inn Honjin Someno Family Residence Information (Released October 1, 2021)

 https://www.youtube.com/watch?v=iKHGJsztC0Q

Visitors can obtain two honjin goshuin: one features an illustration of the main building, while the other features the seal of the Someno Family Residence. 

Information

Former Toride Inn Honjin Someno Family Residence

Hours: Open to the public every Friday, Saturday, and Sunday (excluding New Year's holidays) from 10:00-16:00 *Last admission at 15:30

Admission: Free

Shoujuin Temple and THE THOUSAND KYOTO Collaborate on Special Afternoon Tea

THE THOUSAND KYOTO hotel will begin selling a special afternoon tea set in conjunction with the Buddhist Temple Shoujuin on May 9, 2022. These scrumptious treats can be enjoyed at the hotel's second-floor cafe and bar TEA AND BAR until July 15.

This offering was made with the thought of escaping the summer heat in mind. Customers can enjoy eight kinds of sweet and savory dishes, from quiche and salmon sandwiches to scones with honey and sweet bean paste.

Souvenirs


Kanouhimo

Sange

The entrance to the cafe will also be transformed to reflect the majesty of Shoujuin Temple.

The early summer scenery will be captured with majestic hydrangeas, which will surround guests and prove the perfect background for photos.


Guests can also go home with two traditional souvenirs. Both the kanouhimo and sange are lucky charms typically available at Shoujuin on holidays.

Shueisha's Haruman!! 2022 Festival Celebrates Manga this Spring

Shueisha is currently offering a ton of manga for free as part of Haruman!! 2022. The campaign is running until May 15 at participating locations and tons of digital manga series are available for download.

©Shueisha

During Haruman!! 2022, users can read over 305 digital titles for free. This year's theme is 'Manga Festival,' and manga fans can find both recent and classic titles. Why not catch up on some manga history while you can?

A collaboration with the popular VTuber agency Hololive is also underway. One of the group's manga-loving members will be chosen each day to serve as Editor-in-Chief of an original manga magazine.

Popular authors are also commemorating the occasion with new illustrations. Eleven artists from Shueisha's manga department have drawn popular VTubers, and these awesome images are available exclusively on the Haruman!! website.

Stream Date: April 23, 2022

Participants: Shueisha x Hololive Traveling Editorial Department

Streaming Channel: https://www.youtube.com/channel/UCJFZiqLMntJufDCHc6bQixg

©Shueisha

In collaboration with puzzle game creators RIDDLER, 'The Search for the Great Manga King's Treasure' will be held. Pulling inspiration from One Piece, which is currently celebrating 25 years of serialization, fans will have to find clues to solve a massive mystery.

Find your new favorite manga series during Haruman!! 2022.

Information

Haruman!! 2022

Running: April 11 – May 15, 2022

Official Site: https://haruman.jp

Custom Shirt Brand Original Stitch Announces One Piece Collection

Custom shirt brand Original Stitch has opened orders for a selection of new One Piece-inspired apparel! This is the first time the brand is teaming up with the beloved manga, and fans will want to get their hands on some of these unbelievable designs that pay homage to the long-running series.

LOOK BOOK

Patterns at a Glance

The new collection features completely original designs based on the motifs of popular One Piece characters, including Luffy's iconic Straw Hat. Each shirt is made-to-order, and customers can choose any fabric and size they like. The lineup also includes bandanas and masks!

 


A total of 30 different designs are available to choose from, with many inspired by the East Blue Saga, the first part of the series. Patterns can also be combined–for instance, the shirt's pockets and collar can have their own unique designs. 

Original Stitch has collaborated with some of Japan's most beloved properties in the past, with Pokemon Shirts becoming a phenomenon worldwide. A special Look Book is available for the new One Piece collection, so flip through and find a pattern that best represents you!

Information

One Piece Shirts Powered by Original Stitch

Release Date: March 16, 2022

How to Order: https://originalstitch.com/jp/onepiece
Available in: Japan, America, Canada, Taiwan, Hong Kong, Singapore, Malaysia, Philippines, India, Indonesia, U.K., Spain, Germany, Italy, France, Australia, etc. (Over 40 countries) 

POP UP STORE
Now Open
Mugiwara Store: Shibuya, Ikebukuro, Abeno, Umeda, Nagoya, Fukuoka, Kumamoto
Official Site: https://www.mugiwara-store.com/

Live-action Netflix ONE PIECE Adaptation Announces Peter Gadiot as Shanks

The highly-anticipated One Piece live-action series is coming to Netflix around the world in the near future!

The main cast was announced last year, and the actors portraying Koby, Alvida, Helmeppo, Buggy, Arlong, and Garp have also been revealed. Yesterday, it was announced that Peter Gadiot would be playing the role of Red-Haired Shanks, the man who inspired Luffy to become the King of the Pirates.

____________________________________
Luffy

"Someday, I'll find a crew as incredible as this one!! I'll find the greatest treasure in the world! I'll become the King of the Pirates!"

Shanks

"Is that so? So, you're going to surpass us, huh…in that case, I'll leave you with my hat. Be sure to give it back one day, after you've become a fine pirate."
(From ONE PIECE Volume 1)
____________________________________

A legendary and powerful pirate in the Grand Line, being the captain of the Red-Haired Pirates and one of the Four Emperors in the second half of the Grand Line. He is Luffy's childhood hero and a former member of Gol D. Roger's Crew. He has a soft and friendly nature with a deep-seated passion and inner strength, and will always protect his friends. 

Peter Gadiot has appeared in a number of popular television series, from Yellowjackets to Queen of the South.

A One Piece live-action project had been kicked around before but has finally come to fruition after Oda and other members of Shonen Jump staff were convinced that it could be done well. Do you think the adaptation will be done well?

Netflix Series 'ONE PIECE' – To be Streamed Worldwide

©尾田栄一郎/集英社

Information

Netflix Original Drama Series 'ONE PIECE'

Netflix: www.netflix.com

A Sneak Peek at Sebastian Masuda's 'Yes, Kawaii Is Art' Exhibition at Kanda Myojin Shrine

The Godfather of Kawaii Sebastian Masuda will open his 'Yes, Kawaii Is Art' exhibition at the 1,300-year-old Kanda Myojin Shrine on December 4, 2021. A number of Masuda's representative works will be on display at the historical site, known as one of the most important shrines during the Edo period. 

Colorful Rebellion -Seventh Nightmare-

Kanda Myojin Shrine

 

Colorful Rebellion -Seventh Nightmare- has been shown in New York, Milan, and Amsterdam over the past few years, and will now make an appearance as part of this exhibition. Given the magnificence of the venue, the work will be presented in a unique way–in the basement of the shrine. In addition, a part of the research on Kawaii culture conducted in collaboration with Kyoto University of Arts Ultra Factory will be on display as well. Guests will be invited to ponder the nature of Kawaii, and what makes it so beloved by audiences worldwide.


 

Colorful Rebellion -WORLD TIME CLOCK-

Time After Time Capsule Art Project

Kawaii Archival Research

Near the entrance to the shrine, the Colorful Rebellion -WORLD TIME CLOCK will be on display. Clad in the cutest colors imaginable, it has become a symbol of Harajuku around the world. The Hello Kitty-shaped time capsule, which was on display for five months in New York City in 2015, will also be shown on the temple grounds. The participatory art project has made it to 12 cities around the world so far. 

Kawaii culture will blend with traditional Japanese culture during this exhibition, so keep an eye out for more details coming soon!

What is 'Yes, Kawaii Is Art?' 

Sebastian Masuda has been at the helm of the global Kawaii movement for decades. 

 In 2020, Masuda asked a number of questions to fans of Japanese pop culture around the world–what is Kawaii? Why does Kawaii cross borders, generations, and gender? This new exhibition tries to find an answer to those questions while bringing some joy and excitement to the local community. 

Information

Sebastian Masuda Exhibition 'Yes, Kawaii Is Art' at Kanda Myojin Shrine

Dates: December 4 – December 12, 2021

Hours: 12:00-18:00 (Last Entry at 17:30)

Address: Kanda Myojin Shrine (2-16-2 Sotokanda, Chiyoda-ku, Tokyo)

Admission: Free (¥500 for Colorful Rebellion -Seventh Nightmare-)

https://sebastianmasuda.com/works/tokyo/

For more details on the event, follow Sebastian Masuda's Twitter: 

RADWIMPS Release Music Video for 'TWILIGHT' From Band's New Album

FOREVER DAZE, the new album from the hugely popular band RADWIMPS, is right around the corner, set to release on November 23. The group's track TWILIGHT was used to commemorate the 1,000th episode of the One Piece anime series and the 100th volume of the manga series, and the music video for the song has just been released. 

TWILIGHT – RADWIMPS Music Video 

RADWIMPS FOREVER DAZE Trailer

The group has explained that FOREVER DAZE is filled with musical challenges and unique collaborations. RADWIMPS will start a new six-city 12-show Japan tour in January 2022.