Japan's 7-Eleven Stores Now Stocking Matcha Desserts by Uji Tea and Sweets Artisans Itohkyuemon
Itohkyuemon, a shop founded in 1832 which specialises in Uji tea and sweets, began rolling out four Uji matcha desserts at 7-Eleven convenience stores across Japan on March 17 as part of their "Uji Matcha Sweets Fair."
The tasty line-up includes "Uji Matcha Cream Puffs," "Uji Matcha & Sakura Japanese Parfait," "Sticky Uji Matcha Pudding," and "Matcha Honey-Stuffed Uji Matcha Warabimochi." Itohkyuemon has developed over 100 Uji matcha desserts, during which it has come up with a blend of matcha it specifically uses for its desserts which is not only rich in flavour but creates a harmonious flavour together with the particular dessert. This blend is used in all four of these convenience store desserts.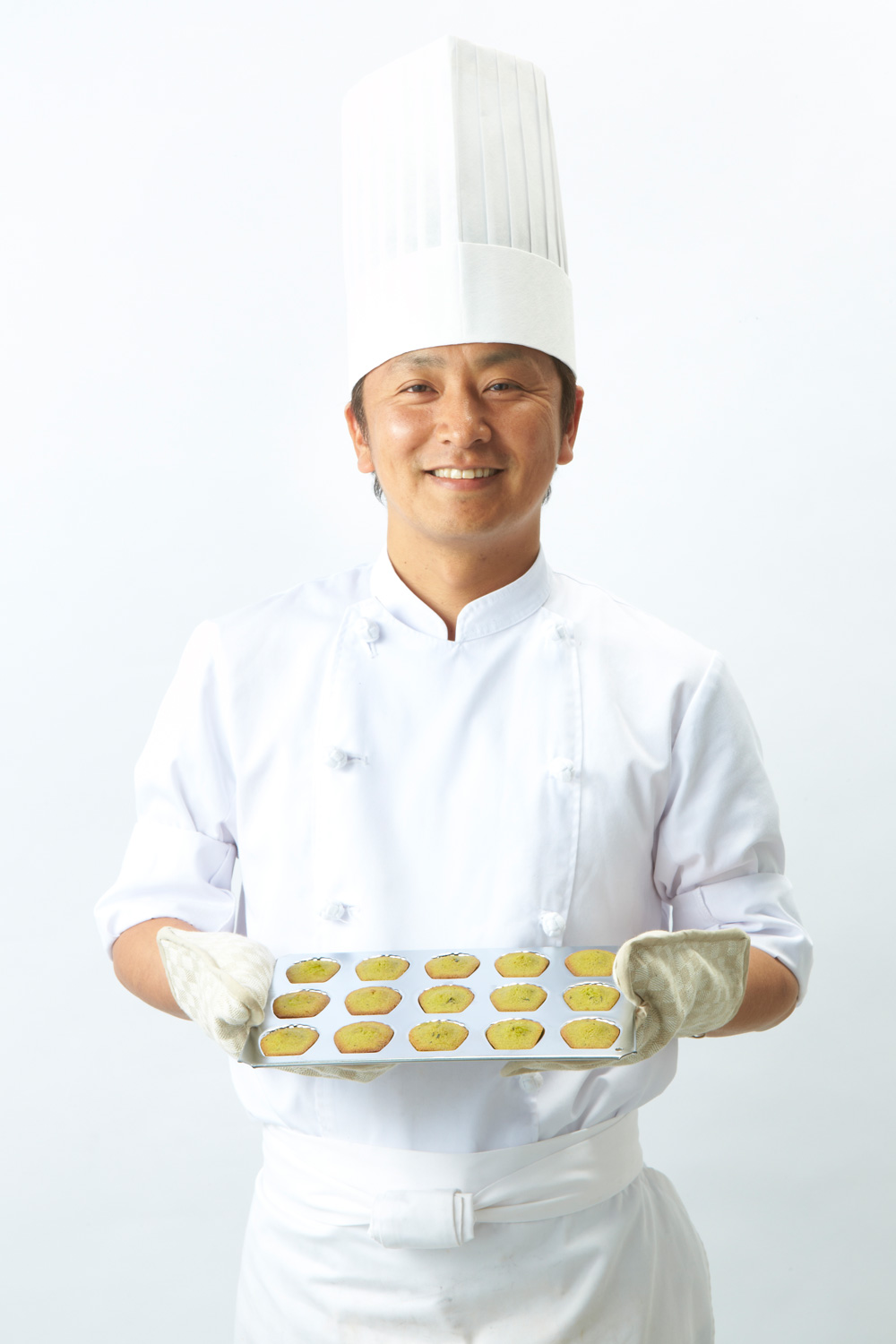 The Uji Matcha Sweets Fair is led by Takahito Yoshimoto, the head chef of Itohkyuemon's Uji confectionery workshop.
Head to the closest 7-Eleven to you in Japan for a chance to taste some authentic matcha treats.
Information
Uji Matcha Sweets Fair
①Uji Matcha Cream Puffs – ¥138 (Before Tax) / Uji Matcha & Sakura Japanese Parfait – ¥308 (Before Tax)
Release Date: Rolling out at most 7-Eleven convenience stores in Japan (except Okinawa) from March 17, 2020
②Sticky Uji Matcha Pudding – ¥230 (Before Tax) / Matcha Honey-Stuffed Uji Matcha Warabimochi – ¥168 (Before Tax)
Release Date: Rolling out at most 7-Eleven convenience stores in Japan (except Okinawa) from March 24, 2020
Official Website:  https://www.sej.co.jp/products/sweets/matcha2003.html
RELATED ENTRIES
FamilyMart Starts Pokemon Campaign, Pikachu Pineapple Frappe Now Available

FamilyMart stores nationwide have started a campaign in collaboration with the free-to-play mobile game Pokemon Cafe ReMix! From June 21 until July 18, visitors will be able to pick up some special treats and exclusive merchandise.

Pikachu Frappes

A new addition to the Frappe series, customers will be able to enjoy Pikachu's Pineapple Frappe starting June 21, featuring Pikachu in a cute cafe uniform. Made with golden pineapple pulp, the drink is perfect for summer, offering a refreshing sweet and sour taste. There are three cup designs available–one with Pikachu in red, one in blue, and another in green.

Original Merchandise Campaign

Part I: June 21, 10:00~ / Original PP Coaster (4 varieties)

Part 2: July 5, 10:00~ / Cafe Menu Design Original Memo Pad (4 varieties)

*Sample Images

A goods campaign is also underway. Customers purchasing three qualifying products will receive exclusive merchandise–while supplies last, of course! The event will run from June 21 at 10:00 through July 18.

Stamp Campaign

Left: 5 stamps, Original Lunch Bag / Right: 10 stamps, Original Plates (Set of 3)

Collecting stamps on the FamilyMart app can also net fans some special prizes! At the same time, Pokemon fans can use the app to win tickets to Pokemon GO Fest 2022 Sapporo.

© 2022 Pokémon. © 1995-2022 Nintendo/Creatures Inc./GAME FREAK inc.
Developed by Genius Sonority Inc.
ポケットモンスター・ポケモン・Pokémonは任天堂・クリーチャーズ・ゲームフリークの
登録商標です。Nintendo Switchのロゴ・Nintendo Switchは任天堂の商標です。

©2022 Niantic, Inc. ©2022 Pokémon. 
©1995-2022 Nintendo/Creatures Inc. /GAME FREAK inc. 
ポケモン・Pokémonは任天堂・クリーチャーズ・ゲームフリークの登録商標です。

Gelato Pique Cafe Unveils New American Cherry Sweets Menu

Summer is fast approaching, and gelato pique cafe knows exactly how to celebrate! From May 25 until July 13, guests can enjoy a selection of four sweets featuring tons of American Cherries.

American Cherry Crepe

Made with a mildly sweet American Cherry Gelato and topped with fresh cherries, this crepe isn't just delicious–it's perfect for posting on social media.

American Cherry Gelato & Sherbet

This blend of gelato and sherbet can only be found at gelato pique cafe. Accented with a fresh American Cherry on top, it's perfect for keeping cool during the summer heat.

American Cherry Float / American Cherry Soda

*The glasses featured in the image will not be available at the cafe. All beverages will be served in take-out cups.

With a dramatic shift in color, these fizzy and refreshing cherry beverages make a huge impact before the first taste. After making a splash last year, the soda has been re-released in a big new way to welcome the beginning of summer!

Information

gelato pique cafe  – AMERICAN CHERRY ~EAT CHERRY NOW!~

Available: May 25 – July 13, 2022

Official Site: https://pique-cafe.com/

Hydrangea Parfait Featuring Local Matcha Available at Itohkyuemon in Kyoto

Located in Uji, Kyoto, matcha shop Itohkyuemon was founded in the late Edo period. Three cozy locations have just launched a Hydrangea Parfait, perfect for spring.

Hydrangea Parfait

Hydrangea Coaster

The shop's main location is headquartered in Uji, which is also home to Mimuroto Temple, known for its hydrangeas. The flowery location attracts thousands of tourists during the rainy season. 

The Hydrangea Parfait has been offered since 2013, now celebrating its 10th year. The popular seasonal treat features matcha hydrangea mashed sweet potatoes, hydrangea-colored jelly, leaf-shaped matcha cookies, and blueberries. Those ordering a parfait will also receive a hydrangea coaster as a gift, so why not enjoy the rainy season with something sweet to lift your spirits?

Kyo Hayashiya and Hayashiya Shinbei Offering Special Parfaits Perfect for Spring

Hibiya Hayashiya Shinbei in Tokyo Midtown Hibiya is now offering a scrumptious Strawberry Matcha Parfait until April 24, 2022! If that's not up your alley, four Kyo Hayashiya locations in Shinjuku, Omiya, Yokohama, and Ikebukuro will begin offering a Matcha and Berry Mascarpone Parfait from April 1 until May 8, 2022. 

Strawberry Matcha Parfait


The Strawberry Matcha Parfait is an eye-catching mix of green and pink, reminiscent of cherry blossoms and bright green grass. Green tea blends with rose jelly and lychee sorbet, offering a refreshing taste with a hint of bitterness. The sweet accent of crunchy chocolate feuillantine gives each bite a little kick.

Matcha and Berry Mascarpone Parfait


The Matcha and Berry Mascarpone Parfait mixes the deep, bitter taste of Uji matcha, the sweet and sour taste of berries, and the gentle sweetness of mascarpone cream. The berry sauce is blended with crunchy chocolate feuillantine, a layer of whipped cream, green tea jelly, green tea ice cream, and milk panna cotta. To finish, it's garnished with refreshing raspberry sorbet, bittersweet matcha ice cream, and fresh strawberries.

Information

Strawberry Matcha Parfait

Price: ¥1,650 (Tax Included) / with Tea: ¥2,090 (Tax Included)

Available: March 18 – April 24, 2022

Available at Hibiya Hayashiya Shinbei (Tokyo Midtown Hibiya 2F)

Matcha and Berry Mascarpone Parfait

Price: ¥1,430 (Tax Included) / with Tea: ¥1,870 (Tax Included)

Available: April 1 – May 8, 2022

*Available until April 30 at the SOGO Yokohama location.

Available at the following 4 Kyo Hayashiya locations. 

・Takashimaya Times Square (Shinjuku Takashimaya Times Square Main Building 2F)

・Seibu Ikebukuro (Seibu Ikebukuro Main Building 8F)

・SOGO Omiya (SOGO Omiya Main Building 9F) 

・SOGO Yokohama (SOGO Yokohama 10F)

McDonald's 'McCafe by Barista' to Offer Uji Matcha Sweets for Spring

McDonald's Japan locations with 'McCafe by Barista' areas will begin selling special spring treats for a limited time starting April 6, 2022. Customers will be able to grab the 'Strawberry Uji Matcha Frappe' and the 'Uji Matcha Mont Blanc Tart.'

McCafe by Barista invites guests to enjoy high-quality frappes and smoothies. The Uji Matcha Frappe was added to the regular product lineup in June 2021, and features a mellow matcha flavor. The Strawberry variant is coming back for the first time in three years. The Mont Blanc Tart is a new addition, and is a perfect treat to enjoy with this popular frappe! 

Strawberry Uji Matcha Frappe: ¥490

The Strawberry Matcha Frappe mixes together the full-bodied flavor of matcha together with sweet and sour strawberries. It includes both a strawberry paste made from whole strawberries and a strawberry whipped cream at the bottom. The drink is topped with more strawberry whipped cream and a sprinkling of matcha powder. The refreshing taste of the strawberry sauce coupled with the whipped cream serves to elevate the great flavor of the Uji Matcha even more.

Uji Matcha Mont Blanc Tart: ¥390


The Uji Matcha Mont Blanc Tart is made with Uji Matcha batter, Uji Matcha whipped cream, white bean paste, and green tea cream. The refined sweetness is complemented by the mellow aroma and slight bitterness of Uji Matcha.

How would you like to enjoy these treats beneath the cherry trees?

Information

Strawberry Uji Matcha Frappe

Uji Matcha Mont Blanc Tart

Available: April 6 – Mid-May, 2022

Available at Participating McDonald's Japan Locations with 'McCafe by Barista'

Official Site: https://www.mcdonalds.co.jp/

English Dessert Strawberry Eton Mess Available at koe lobby During the Holiday Season

The koe lobby on the first floor of hotel koe Tokyo is now selling the traditional English dessert Strawberry Eton Mess for a limited time. 

Eton Mess is made with a mixture of strawberries, meringue, and whipped cream, and is popular during the holiday season!

koe lobby's Eton Mess features a baked meringue with a crispy texture, homemade sweet and sour strawberry sauce, and fluffy cream and fresh strawberries. If you're in the area, be sure to order one before they're gone!

Information

Available: Starting December 21, 2021 

Available Hours: 12:00-18:00 (Last Order at 17:30)

*While supplies last. 

Price: ¥850 (Tax Included) 

*Drink Set: ¥1,290 (Tax Included)

Address: koe lobby (3-7 Udagawacho, Shibuya, Tokyo)

Hours: 7:30-12:00 (Breakfast, Last Order at 11:30) / 12:00-15:00 (Lunch, Last Order at 14:30) / 15:00-20:00 (Tea Time, Last Order at 19:30)

*After 18:00 only drinks and bread are served. 

Official Site: https://hotelkoe.com/food/ 


Attack on Titan and NewDays Collaborate for Second Time

To celebrate the final season of Attack on Titan, NewDays, a convenience store chain in Japan, has started a special campaign until January 10, 2022. Plenty of collaborate snacks will be available for the next few weeks.

Collaboration Food

Special Attack on Titan Packaging

Special Attack on Titan Packaging, "Exterminate Every Last Grain!" 

Luxury Seafood Onigiri (Special Packaging)

Luxury Seafood Onigiri

Nine Titan Bento

Collaboration Merch

Acrylic Keychain

Acrylic Keychain

Pin

Pin

Acrylic Stand

Bonus (Round 1)

Bonus (Round 2)

Present Campaign

A Prize: Signed Poster (3 Winners)

B Prize: NewDays Original Illustration Blanket (50 Winners)

Super-sized luxury onigiri are now available as part of the collaboration, along with special bread and bento featuring images of popular Attack on Titan characters. Seven types of original merchandise will be available at participating NewDays locations, and those spending over ¥600 including one or more Suntory beverages will be entered to win a poster signed by the cast. Don't miss it!

Cute Brothers Grimm's 'Rapunzel' Themed Dessert Buffet to be Held for Six Days

Wedding venue 'Art Grace Wedding Coast Tokyo Bay' will be hosting the 'Princess Rapunzel's Flower Sweets Party,' a colorful garden-themed dessert buffet based on The Brothers Grimm's 'Rapunzel' for six days this Winter. The buffet will be open on November 14, November 21, November 23, December 4, December 8, and December 25. 

 

Rapunzel's Singing Voice Rare Cheese Tart

Sweet and Sour Romance Flavored Strawberry Mont Blanc




Rapunzel's Yellow Carrot Salad

Braided Meat Pie

Dressed Up in Flowers Berry Roll Cake

 

You'll find a selection of over 20 delicious desserts that can be enjoyed by both children and adults at the buffet, including a cheese tart topped with a drawing of Rapunzel, a strawberry mont blanc that tastes like a sweet and sour love with a prince, roll cakes and chiffon cakes topped with plenty of flowers. It isn't just sweets either! You can also enjoy braided meat pies, vegetable and chicken meatballs with tomatoes, and a spicy doria among other savory meals.

The buffet will be held in the spacious wedding venue, which boasts impressive views and a gentle sea breeze. The hall will be decorated in flowers, inviting customers into a spectacular new world. Whether you're a couple, a friend group, or a family with children, be sure to check out this floral sweets party!  

 

Information

Dessert Buffet 'Princess Rapunzel's Flower Sweets Party' 

Availability: November 14, November 21, November 23, December 4, December 8, December 25 (Reservations required) 

Opening Hours: First Session 12:30 ~ 14:00 (L.O 13:30) Second Session: 15:00 ~ 16:30 (L.O 16:00)

Location: Art Grace Wedding Coast Tokyo Bay Guest House

Address: 5-8-2 Meikai, Urayasu City, Chiba 279-0014

Details & Reservations:  https://www.bestbridal.co.jp/guestparty/chiba/artgrace_shinura/2021event-79/ 

Hello Kitty and Pierre Hermé Collaboration Series Coming to Sanrio Stores

Everyone's favorite cartoon cat Hello Kitty is about to celebrate her birthday! To celebrate, Sanrio is releasing a collection of limited-time goods in collaboration with world-famous patisserie Pierre Hermé starting October 20, 2021. These items will be on sale at Sanrio stores nationwide, in specific department stores, and on the official Sanrio online store. 

Collaboration with Hello Kitty's favorite sweet, Ispahan

Ispahan, a raspberry cake, is Hermé's signature dessert. For Hello Kitty's birthday celebration the creator drew the character in an elegant rose-inspired dress inspired by the sweet. This design was made with the hope that Hello Kitty will continue to bring different people and cultures together for years to come. 

Mascot Keychain  Hello Kitty/Mimmy: ¥2,530

Accessory Case: ¥3,080

Inspired by Pierre Hermé's Ispahan and Satine sweets, fans will love these colorful goods perfect for a birthday celebration. 

Hello Kitty Birthday Doll: ¥15,400 (Tax Included)

Each year a Hello Kitty Birthday Doll is released, and 2021 is no different! This year, the doll is wearing an elegant dress designed exclusively for the collaboration. Each one has an embroidered serial number on the left leg, and quantities will be limited. 

Gâteau Anniversaire Hello Kitty: ¥2,640 (Tax Included)

This special birthday dessert will be available at Pierre Hermé Paris Aoyama from November 1 to November 15. It includes a special Hello Kitty Ispahan along with a scoop of rose ice cream and a dusting of raspberry powder!

©'21 SANRIO 著作(株)サンリオ

Information

Hello Kitty and Pierre Hermé Collaboration Design Series

Release Date: October 20, 2021

Sanrio Official Goods Page: https://www.sanrio.co.jp/goodsinfo/kt-pierreherme-202110/ 

Hello Kitty and Pierre Hermé Birthday Doll 2021

Price: ¥15,400 (Tax Included)

Release Date: October 20, 2021

Where to Buy: Sanrio Stores, Sanrio Areas at Department Stores

Gâteau Anniversaire Hello Kitty 

Available: November 1 – 15, 2021 *Limited-time only

Where to Buy: Pierre Hermé Paris Aoyama 2F Heaven

Famous Oil Blotting Paper Brand's Yojiya Café Reforms Three Popular Parfait Flavors

The Yojiya Café, opened by the Yojiya brand famous for its Aburatorigami, or facial oil blotting paper, will be renewing its menu from September 13. The popular face parfait, which features the logo alongside a Kyoto woman with a mole, comes in three flavors available – Kinako, Matcha, and Milk Tea. Each parfait comes with a sauce, so you can adjust the taste as you eat.

 

Kinako Parfait: ¥1,200 (Tax Incl.)

Matcha Parfait: ¥1,200 (Tax Incl.)

Milk Tea Parfait: ¥1,200 (Tax Incl.)

The Yojiya Café is currently open in two locations, Gion and Sagano Arashiyama, offering a relaxing space to rest between shopping and sightseeing.

The café has renewed their iconic Kinako Parfait, which combines Japanese Kinako and Western Maple Syrup, along with the Matcha Parfait, which is packed full of matcha ice cream, jelly, and cookies. The Milk Tea Parfait is made with a rich Japanese Tea and Earl Gray ice cream.

Take a trip to Yojiya and find out which parfait is your favorite!

Information

Yojiya Café – Parfait Renewal

Release Date: 14 September 2021

Availability:

Yojiya Café Gion

Address: Izawa Building 2F, 266 Gionmachi Kitagawa, Higashiyama-ku, Kyoto

Opening Hours:

Weekdays 11:00 ~ 17:00 (LO16:30)

Weekends/Holidays: 10:00 ~ 18:00 (LO17:30)

YOJIYA CAFE Sagano Arashiyama

Opening Hours:

Weekdays 11:00 ~ 17:00 (LO16:30)

Weekends/Holidays: 10:00 ~ 18:00 (LO17:30)

Address: 2 Tateishicho, Sagatenryuji, Ukyo-Ku, Kyoto

Official Site: https://www.yojiya.co.jp/

McCafe by Barista® Offering New Kuromitsu Uji Matcha Frappe

In Japan, McDonalds McCafe by Barista will be releasing the new Kuromitsu Uji Matcha Frappe beginning September 1. The sweet autumn drink will only be available for a limited time.

McCafe by Barista has been popular with customers looking for sweet beverages, such as Frappes and smoothies. The Uji Matcha Frappe was added to the regular product lineup in June 2021, and features a mellow matcha flavor. With this release, kuromitsu, or Japanese black sugar syrup, has been added to enhance the drink's flavor.

Kuromitsu Uji Matcha Frappe: ¥490 (M), ¥560 (L)

 

The Kuromitsu Uji Matcha Frappe is made with powdered Uji Matcha tea from Kyoto, mixed with milk and topped with Kuromitsu jelly, known for its gentle sweetness and rich flavor. Brown sugar from Okinawa Prefecture along with whipped cream is added on top.

Uji Matcha Frappe: ¥440 (M), ¥490 (L)

The regularly available Uji Matcha Frappe is made with Uji Matcha powder from Kyoto, milk, and fluffy whipped cream. Dark green matcha powder and pure white whipped cream gives the beverage a gorgeous appearance, along with a truly Japanese flavor.

These are two drinks not to miss if you're in Japan!

Autumn Limited Parfait Released at The Strings Hotel Tokyo Intercontinental's Cafe & Bar Rhythmos

Between September 15 and November 30 2021, two seasonal Autumnal Strings Parfaits will be available to order at the Rhythmos Cafe & Bar, found on the 26th floor of The Strings Hotel Tokyo Intercontinental. Executive pastry chef Osada Gaku has selected seasonal fruits and flavors such as citrus, chestnut, and crystal pomelo to create an artistic autumnal parfait. For parfait lovers who want to compare the seasonal dessert with Rhythmos' standard parfait, the iconic Duo Parfait set will still be available to purchase along with a selection of drinks. This sweet treat can be enjoyed not only with afternoon tea but also as a post-dinner dessert.

 

The Marron parfait is formed of crimson and purple layers, starting with chestnut cream and panna cotta, with beautifully textured glacé chestnut chunks and fluffy candied chestnuts. The rum-infused custard cream brings out the chestnut taste, with the addition of panna cotta and acidic cassis jule bringing the taste to a whole new level.

The orange Autumn Citrus parfait is made with seasonal citrus fruits, including crystal pomelo,  mikan, and pink grapefruit. Starting with the fresh citrus, you'll find an orange and bergamot jule, paired with a caramel panna cotta and cream to balance out the subtle sweet and bitter flavors, along with chocolate cream and panna cotta, plus a cookie crunch to accent. The refreshing acidity of the citrus combined with the bittersweet caramel come together to create a wonderful harmony for your tastebuds.

Why not enjoy a blissful and mature lunchtime with this luxurious seasonal parfait?

Information

The Strings Parfait – Marron/Autumn Citrus

Availability: September 15 ~ November 30, 2021

Location: Cafe & Bar Rhythmos (26F)

Opening Hours: 11:30 ~ 20:00 (L.O.18:30) *Subject to change due to Covid-19 rules

Reservations:

Tel. 03-5783-1258 (Direct restaurant reservation line)

Official Site:https://intercontinental-strings.jp/jp