See 3,000 Rhododendrons in Full Bloom at the Tsutsuji Garden by Lake Ashi in Hakone
May is the most colourful time of the year at Hotel de Yama near Lake Ashi in Hakone, when a total of 3,000 rhododendronsーcomprised of 30 different typesーbloom their beautiful flowers in the large Tsutsuji Garden, where one can enjoy a great view of Mount Fuji and Lake Ashi.
Tsutsuji Garden at Hotel de Yama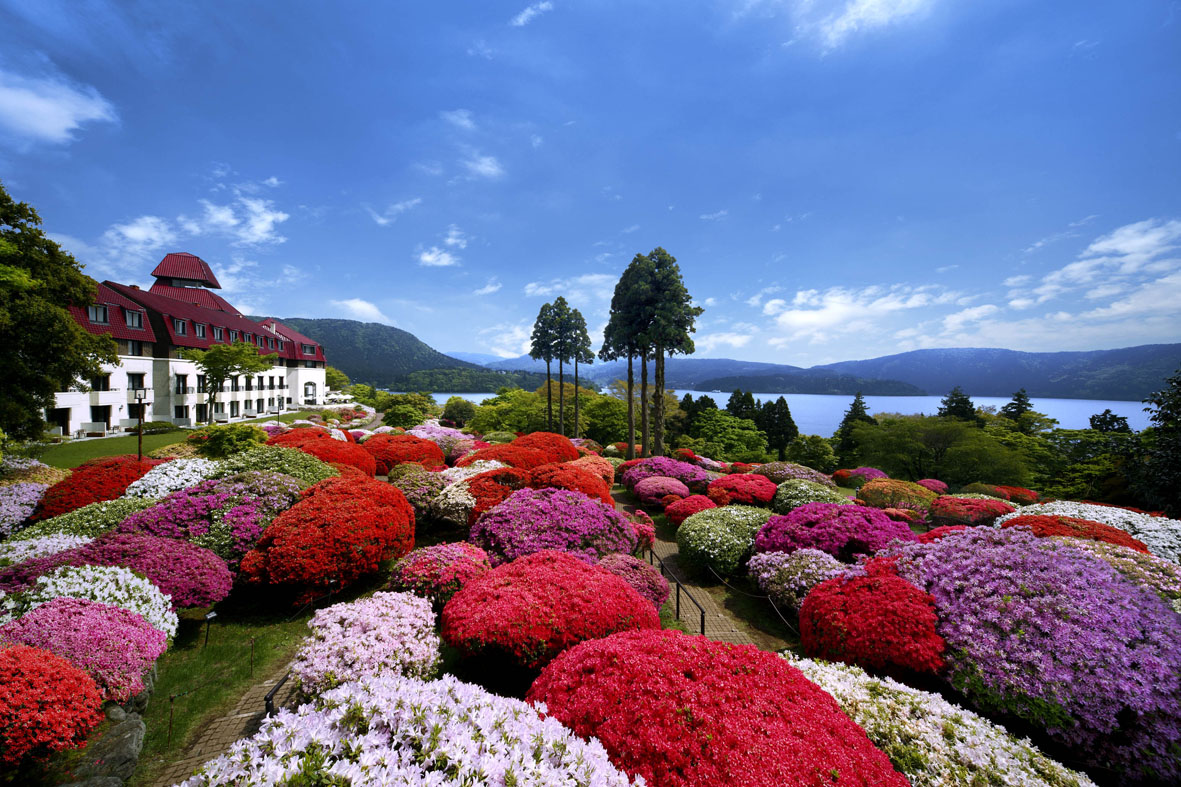 "Tsutsuji" is the Japanese word for rhododendron. The Tsutsuji Garden at Hotel de Yama was once the villa of Koyata Iwasaki, "the fourth and last president of a unified Mitsubishi." During that time, numerous varieties of rhododendrons were planted in the garden, which have since been maintained. There are plants amongst them that are over 100-years-old, ones that tower over the human stature, and more; with petals that bloom pink, red, purple, and white.
A combined view of the kaleidoscopic rhododendrons and Mount Fuji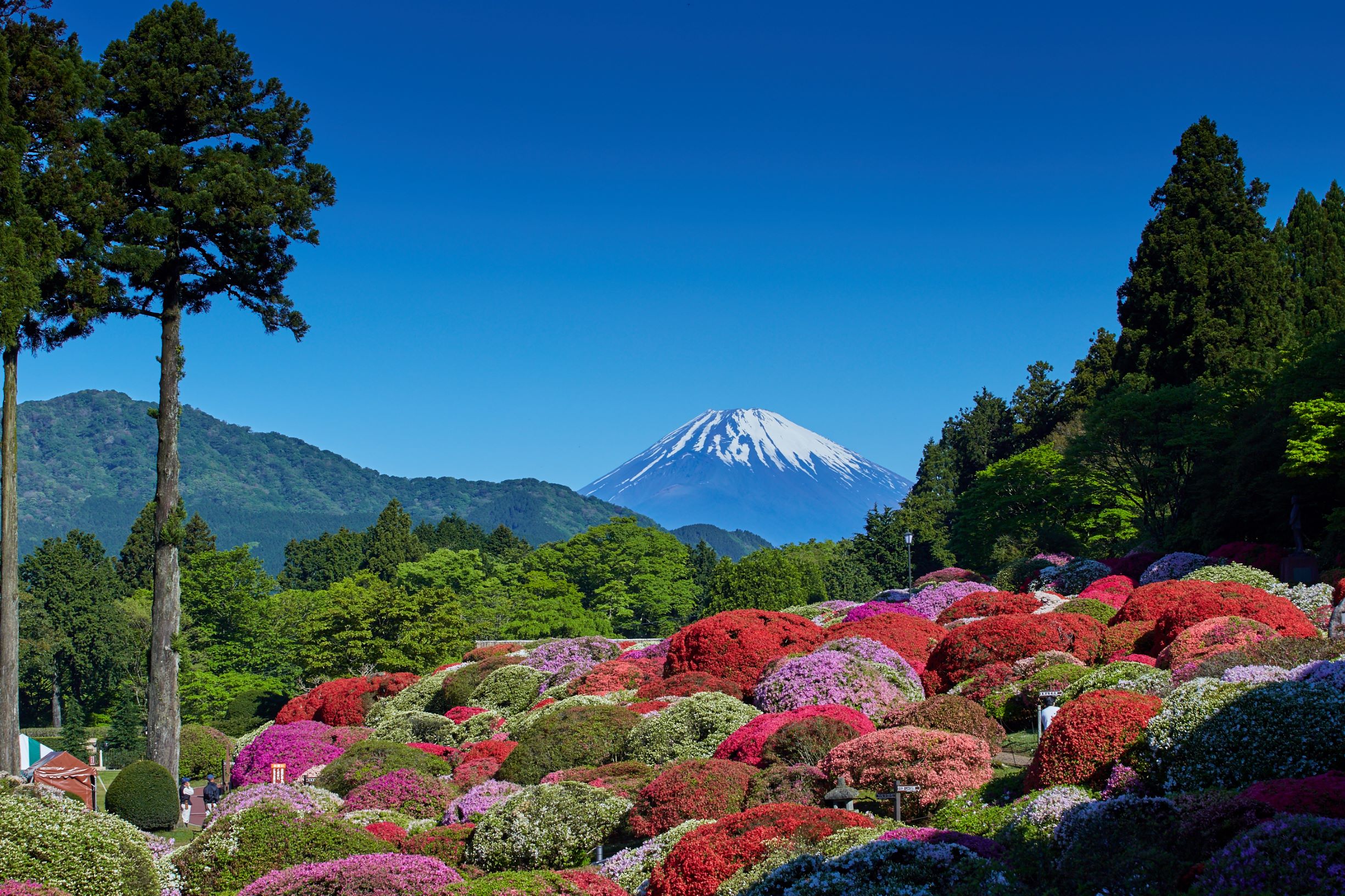 The staff who are experts on the garden have set up two photo frame stands in two of the best spots in the garden for taking picturesque photos. Snap some Instagrammable and memories with the colourful rhododendrons and Mount Fuji together.
Rhododendron Desserts: Saison a colorier – ¥1,634 / Tea Set – ¥2,360 (Before Tax)
Salon de thé Rosage, the dessert restaurant that sits in front of the hotel, is serving up a new special dessert called "Saison a colorier" in line with the full bloom of the rhododendrons. It captures the colourful pink, red, white, and purple appearance of the flowers, and looks like a mini version of the hotel's garden on your plate. The main part of the dessert is the tea mousse, which has a bright red colour as it is coated beautifully in a strawberry puree nappage. The tea used in the mouse is an original rhododendron blend exclusive to the restaurant.

The white rhododendron dessert is a macaron that's filled with raspberry sorbet. The red which contrasts with the white is a rhododendron milk tea cream and fresh raspberries. The rest of the plate is adorned with pink jelly and edible flowers. The perfect afternoon tea to finish off your time at Tsutsuji Garden.
RELATED ENTRIES
Experience Kyoto Culture in Arashiyama With HOSHINOYA Kyoto's New Hotel Plan

HOSHINOYA Kyoto has introduced a new hotel plan in an attempt to bring a little luxury into people's lives and lift their spirit during this stressful time. The plan will have people going to Arashiyama to experience a bit of Kyoto culture and hospitality to lift their mood.

You will board a small boat located at the port near the hotel entrance and be taken to your private room. During your sail, you will be able to soak in the gorgeous sights of nature all around. Check-in is being carried out in guest rooms, meaning you won't have to come into contact with other guests.

You have arrived at your room. HOSHINOYA Kyoto is located in Arashiyama which was formerly a holiday home destination for the Heian aristocrats. There are 25 rooms inside the garden, all of which look out onto the Ōi River. When you slide the window open, you can feel the gentle wind sweep through the valleys. Guest room walls are plastered with beautiful traditional kyokarakami wallpaper and fitted with HOSHINOYA Kyoto-original tatami sofas. Each and every part of the rooms are imbued with Kyoto culture. The rooms are not only comfortable and provide you with everything you need, but also offer a luxurious stay.

Inside your room, there are sutras which can be used for sutra copying, known as sakyou in Japanese, as well as equipment for making matcha to enjoy your own private tea ceremony without having to worry about the tradition's strict rooms. It's your very own private Kyoto cultural experience without having to worry about other people.

Dinner can be enjoyed in the main dining hall or in your room. The dining hall is fitted with semi-private booths where you can enjoy a seasonal Arashiyama 9 course kaiseki-ryori dinner with rice, vegetables, a special bento assortment, and more. For breakfast you can enjoy a morning hot pot which uses a special dashi stock packed full of seasonal veggies.

There are also activities to enjoy Kyoto's breathtaking green outdoors. Mosquito nets made from Japanese red cedar are provided under which you can take part in a stretch routine which uses breathing techniques and meditation.

Outdoor activities are severely restricted right now as a result of COVID-19, but HOSHINOYA Kyoto has made it so you don't have to do much moving around at all while still enjoying the fruits of nature.

Information

Kyoto Culture in Arashiyama (Japanese Hotel Plan Name: 奥嵐山で京文化に触れる久しぶりの優雅な一日)

Prices

From ¥50,100 per night (Includes dinner/2 people 1 room/service charge and tax not included)
From ¥50,100 per night (Includes dinner and breakfast in dining hall/2 people 1 room/service charge and tax not included)

Booking: https://hoshinoya.com/kyoto/

Tokyo's New Cat Shaped Cheesecake Shop 'Neko Neko Cheesecake' Opening in May 2020

ALL HEARTS COMPANY, a Japanese company that develops bakeries and patisseries across Japan, is launching an all-new cheesecake shop called Neko Neko Cheesecake which will open in Jiyugaoka, Tokyo on May 20, 2020. Serving cat-shaped cheesecakes, the shop will also take online orders.

Neko Neko Cheesecake is a sister brand of Neko Neko Kuu Pan from the same company which serves cat-shaped bread. Online deliveries will make for the perfect opportunity to bring that cafe experience to your own home.

Neko Neko Cheesecake – ¥1,800 (Before Tax) / Size: 11cm, 475g

The cake is made from the luxurious French brie cheese Brie de Meaux which is mixed with a homemade apricot jam to create rich, deep flavour. This means the cheesecake not only looks cute, but is the real deal too.

Their secret to bringing about amazing flavour and not just adorable looks can be broken down into four simple steps.

①They use the king of cheeses, Brie de Meaux.
②Although baked, the cheesecake is so soft it has a similar texture to a no-bake cheesecake.
③The sweet and sour homemade apricot jam elevates the overall flavour.
④The combination of mature cheese and the apricot jam changes the flavour to create a completely new kind of cheesecake.

The cheesecakes are boxed in box that has a simple yet chic design with two cats sat side by side.

The store will open on May 20, and online orders will launch on ALL HEARTS MALL on the same day.

Information

Neko Neko Cheesecake
Address: 1-16-14 Jiyugaoka, Meguro Ward, Tokyo 〒152-0035 (Connected to baguette rabbit's Jiyugaoka branch)
Opening Hours: 9:00-20:00
No Fixed Holidays (Except New Year's)
TEL: 03-6421-1208 (Line to baguette rabbit Jiyugaoka)
*Opening hours reduced due to COVID-19. Check the shop's official Twitter page below for updates.

Neko Neko Cheesecake Twitter: https://twitter.com/neko_cheese_
ALL HEARTS MALL Online Store: https://hbantique.official.ec/

Eggs 'n Things Harajuku's Exclusive Chocolate Mint Pancakes Ship Nationwide in Japan

Eggs 'n Things Japan has announced that it is releasing its "Harajuku Chocolate Mint Pancakes" and "Mango Salsa Chicken & Eggs" to all branches throughout Japan (excluding temporarily closed branches).

Harajuku Chocolate Mint Pancakes: Eat In ¥1,480 (Before Tax), Takeout ¥880 (Before Tax) | Serving: May 15, 2020 – June 11, 2020

The Harajuku Chocolate Mint Pancakes speak for themselves. Enjoy a serving of mint flavoured pancakes drizzled in smooth mint cream which is sure to send a refreshing tinge through your nose. It's topped with an Oreo cookie, chocolate mint ice cream, and served with a side of chocolate sauce.

*The takeout option doesn't come with whipped cream or chocolate mint ice cream

Mango Salsa Chicken & Eggs: ¥1,280 (Before Tax) *Takeout option available | Serving: May 15, 2020 – June 11, 2020

A plate of juicy fried chicken and a punchy mango salsa with a flavourful coriander taste and spicy kick.

Two perfect dishes to enjoy an early summer this year, coming to Eggs 'n Things in Japan this Friday.

Mister Donut Japan Launches Another New Matcha Doughnut Series

Mister Donut Japan is set to release yet another new limited line of matcha doughnuts in collaboration with Gion Tsujiri and Toshi Yoroizuka at all branches in Japan from May 15, 2020.

Last month, Mister Donut collaborated with Gion Tsujiri and Toshi Yoroizuka to release the "Matcha Itadaki Series." This time around, they're joining their sticky baking hands to bring the "Matcha Odoroki Series." The triple team's matcha creations are the fitting way to celebrate Mister Donut's 50th anniversary as Gion Tsujiri brings the best Uji matcha from Kyoto and Uji-born pastry chef Toshihiko Yoroizuka brings his creative ideas.

There are four treats in the line-up: the "Crisp Double Uji Matcha" and "Crisp Uji Match Chocolate" feature cookie and bagel dough bases, creating a crunchy and chewy mix, while the "Pon de Pie Uji Matcha" and "Pon de Pie Chocolate" feature Mister Donut's classic chewy Pon de Rings combined with a crunchy pie texture.

Crisp Double Uji Matcha – ¥230 (Before Tax)

A chewy and crunchy base laced with Uji matcha and topped with Uji matcha whipped cream and chocolate.

Crisp Uji Match Chocolate – ¥230 (Before Tax)

A chewy and crunchy base laced with Uji matcha and topped with Uji matcha chocolate and chocolate chips.

Pon de Pie Uji Matcha – ¥200 (Before Tax)

Enjoy both a chewy base and crunchy pie mix at the same time, topped with Uji matcha whipped cream.

Pon de Pie Chocolate – ¥200 (Before Tax)

Enjoy both a chewy base and crunchy pie mix at the same time, decorated with chocolate whipped cream.

The Matcha Odoroki Series sees the chefs' ideas shine through to create desserts that not only taste amazing but look gorgeous too, as well as taking into the account texture.

Information

Matcha Odoroki Series
Serving: May 15, 2020 until Early July 2020
Available: Most Mister Donut branches in Japan
Official Website: https://www.misterdonut.jp

Giant Gateau Pudding A La Mode Released at LeTAO's Online Shop

Confectionery crafters LeTAO have re-released their hugely popular "Gateau Pudding A La Mode" on their online store for a limited time only.

Cafe pudding a la mode is a nostalgic flavour to Japanese childrenーsomething which was kept in mind in the creation of this enormous version. The pudding is made with milk from Jersey cattle and a caramel sauce that's made with maple sugar for richness.

The pudding also has a touch of acidity from the peach and orange which when mixed together with the mascarpone cheese makes for a truly exquisite dessert.

LeTAO's "Jersey Milk Pudding" is a popular dessert also served at in-store branches. This pudding was used as a base to create the a la mode pudding.

The custard pudding is like a cake filled with the fruity flavours of peach, orange and strawberry coupled with refreshing mousse and mascarpone cheese.

*Please note that LeTAO branches are temporarily closed or have had their business hours changed as a result of the COVID-19 pandemic. Replies to enquiries about the online shop may take some time. Check the official website for more details.

Information

Gateau Pudding A La Mode
Price: ¥2,700 (Tax Included) (+¥890 for shipping)
Serving: Now until June 7, 2020

Official Website: https://www.letao.jp

Kaori's Easy Recipe: Learn to Make a Gudetama Parfait

With just a small bit of ingenuity, turn everyday food into something cute using Kaori's easy recipe! With a few simple ideas, an ordinary recipe magically transforms into a cute dish.

Today, I'll be showing you how to make a Gudetama parfait made with a yogurt mousse and topped with orange and peach jelly.

Ingredients
Yogurt Mousse Ingredients:
100g sugar free yogurt
50ml fresh cream
20g sugar
3g gelatin
*With the gelatin, mix well with 1 tbsp water

Mikan & Yellow Peach Jelly Ingredients:
100ml mikan juice (or any orange juice)
150g tinned peaches (with syrup)
5g gelatin
*With the gelatin, mix well with 1 tbsp water

1


①Mix the sugar into the yogurt well. Add in 7/10 of the fresh cream and mix well again.

②Microwave the gelatin for 10-20 seconds at 500w. Add into the mixture from ① and mix well.

2

Once the mixture has set in about ⅓ of a glass, add sliced chocolate on the inside for the eyes and mouth. I cut mine into shape using a toothpick.


Make sure the chocolate is properly fixed to the glass at this point.

3


Put your yellow peach and mikan orange into a blender (but not the gelatin part). The syrup of the peaches is already sweet so there's no need to add sugar.

②Microwave the gelatin for 10-20 seconds at 500w. Add into the blended mixture and mix well.

Pour on top of the mix inside the glass. If there are any peach pieces left, cut them up and use them as toppings.


Top with fresh cream and chopped fruit, and you're done! I stuck Gudetama's face on well and good so it looks like his chocolate face is on the outside. Be sure to try doing the same.

Kaori invites you into her world of character-themed food dishes in her recipe series. Be sure to check out her Instagram where she has uploaded many pictures of her character dishes!

Kaori Kubota (@kaopan27)

I live in Hokkaido and I love to make character themed foods, desserts and pastries♡
I want to see my family smile, so I enjoy putting in a bit of effort to make character foods and changing food into something cute♡
You can see more of my character foods and character bento boxes on my Instagram page → @kaopan72

Top 10 Instagrammable Drinks and Desserts to Try Making While You #StayHome

Japan's biggest social media photo aggregator Snaplace has curated a Top 10 menu list of the most popular drinks and desserts people have been posting on Instagram Japan with the hashtag #おうちカフェ ("Cafe at Home") with which people are making their own tasty treats to bring the cafe experience indoors during the lockdown.

The line-up features coffee, ice cream, cream soda and lots of other delights which have ranked due to how little preparation is needed and how easy the recipes are to follow. Let's take a look.

1sr Place: Dalgona Coffee

Dalgona coffee has taken the internet by storm for its beautiful two-layered appearance. Popular in South Korea, the drink has also garnered much attention in Japan. And you can substitute the coffee part to create a completely different beverage like a matcha, strawberry latte, chocolate, and so on.

How to make Dalgona Coffee: https://www.moshimoshi-nippon.jp/312230

2nd Place: Candy Strawberries

Candy strawberries have taken over candy apples in terms of popularity this year. And you can have fun trying it out with other fruits too while at home during the lockdown like grapes, fruitsーwhichever fruit is your favouriteーand skewer them.

3rd Place: Toast Arrangements

Top your toast with ingredients like fresh cream, Greek yoghurt, cream cheese, sliced cheese, fruits, vegetables, and so on to change up your morning breakfast. There are so many different recipe inspirations for toast arrangements to find on social media.

Related Article: Stay Home: 6 Toast Arrangements to Bring the Cafe Experience to Your Home During the Lockdown

Related Article: Stay Home: 6 More Toast Arrangements to Bring the Cafe Experience to Your Home During the Lockdown

4th Place: Marshmallow Cookies
5th Place: Fruit Sandwiches (Check out recipes here)
6th Place: Cream Soda
7th Place: Eggs Benedict
8th Place: Snoopy Gyoza
9th Place: Candy Marshmallows
10th Place: Deko ("Giant") Ice Cream

Try making your own Instagram-worthy menu at home.

Join Kawaii Virtual Traveller Emma on Her Global Sightseeing Tour

While the world is on lockdown, embark on a global adventure from the comfort of your own home with kawaii virtual character Emma.


The newly-launched EMMA Travel project follows the adventures of Emma as she travels from country to country, discovering and learning new things.

Satisfying your thirst for adventure couldn't have been easier. Emma will be uploading pictures of her adventures to Instagram so you can enjoy travelling without leaving your house. All her travels will be documented in English to cater to foreigners who are eagerly awaiting the chance to visit Japan.

While global lockdown measures are still in place, join Emma as she takes you on a virtual tour of must-visit sightseeing locations.

Japan Coronavirus: Room for Rescue Project Provides Free Accommodation to Foreigners Who Can't Get Home

With flights cancelled around the world, it is becoming increasingly harder for foreigners to return home from Japan, resulting in them being forced to change their plans, extend their stay, and live every day in stress and uncertainty. To lend a helping hand to foreign travellers in this stressful time, three accommodation companies Slacktide Co., Ltd, Shared Value Co.,Ltd. and Life Bonds, LLC, who manage Kaname Inn Tatemachi, Sakura Cross Hotel and BONDS HOUSE respectively, have launched a joint accommodation project called "Room for Rescue" which provides free accommodation to international visitors who cannot return home as a result of the current travel restrictions.

This collaborative project was launched to ensure that foreign travellers don't feel like their trip to Japan was a bad experience, which could be a reason to avoid visiting Japan again in the future and heavily impact the tourism industry.

Tokyo:BONDS HOUSE

Tokyo:Sakura Cross Hotel

Kanazawa: KANAME INN

Currently, three accommodations in Tokyo and one in Kanazawa have opened their doors to stranded foreigners.

Room for Rescue: Request a Room

https://kaname-inn.com/room-for-rescue/

To apply for a room, you need a valid visa and a cancelled flight ticket which meets Room for Rescue's criteria. For more information, please refer to the application page. The Room for Rescue project is also looking for more accommodations to join the fight against coronavirus and open their doors to stranded foreigners. If you own an accommodation in Japan and want to help foreign travellers, please apply using the link below.

Become Part of Room for Rescue (for accommodation owners)
https://kaname-inn.com/room-for-rescue/contact/


If you are an individual who wants to support this project, please consider donating via their crowdfunding page mentioned in the information section below.

Rilakkuma & Kiiroitori Confections by Tabemas Coming to Lawson Convenience Stores

Character-inspired Japanese confectionery series Tabemas has revealed that its next batch of sweet treats will see Rilakkuma and Kiiroitori arrive at Lawson convenience stores in Japan (excluding Lawson Store 100 branches) on April 28, 2020.

Tabemas Rilakkuma 2020 Strawberry Rilakkuma/Strawberry Kiiroitori – ¥285 Each (Tax Included)

The adorable confections feature Rilakkuma donning a sweet strawberry hat while Kiiroitori has gone the full fruity mile by dressing snug in a strawberry onesie. As you'd imagine, both of these sweet treats are strawberry flavoured.

'Tabemas' is an abbreviation of the Japanese words taberareru masukotto, meaning 'mascots that you can eat.' It is a Japanese confectionery series that combines well-known characters and Japanese sweets made from ingredients like red bean paste, sugar and rice flour. The sweets are also made with a dough called "nerikiri" which is used in making traditional Japanese wagashi sweets.

What better way to spend your time indoors right now than with a cute Rilakkuma or Kiiroitori sweet?

© 2020 San-X Co., Ltd. All Rights Reserved.

Information

Tabemas Rilakkuma 2020 Strawberry Rilakkuma

Tabemas Rilakkuma 2020 Strawberry Kiiroitori 

Price: ¥285 Each (Tax Included)

Release Date: April 28, 2020

Available: At the chilled desserts section of Lawson convenience stores in Japan

*Not available at Lawson Store 100

*Available while supplies last

*Stock date may differ from branch to branch

*Select stores not participating

nana's green tea Releases Luxurious Gyokuro Tea Drink and Parfait You Can Take Out

Modern tea hosue nana's green tea has 81 branches across Japan. Alongside café-style food, their specialty is traditional desserts and drinks made from traditional teas such as matcha and hojicha. They are now selling a new parfait and chilled drink made from fresh gyokuro green tea for a limited time.

As the days grow gradually closer to summer, the menu blooms to life with the season's fresh green colours. The desserts at nana's green tea never fail to boast their own unique and unbeatable flavours. The new parfait and drink are made with a generous serving of  gyokuro, which is a fine and luxurious type of green tea recognised by its signature bright green appearance. The rich green tea is sourced from the long-established Kyoto tea-producer YAMAMASA KOYAMAEN.

YAMAMASA KOYAMAEN: Kyoto's Long-Established Uji Matcha Tea Producers

YAMAMASA KOYAMAEN are the owners of a tea plantation in Kyoto's renowned matcha region called Uji. With their passion for selling only the best flavour of tea above all else, they have contributed to the growth of Uji-grown tea since the end of the Edo period.

Gyokuro tea is produced with the same careful attention and care as matcha but with a different procedure. nana's green tea grind the leaves to a fine powder to fully extract its refined essence. From the flavour to the aroma, gyokuro tea provides a completely different experience to matcha. If you love Japanese tea, this is the perfect opportunity for you to explore the wonderful flavours of Uji tea.

Gyokuro Warabimochi Parfait

Gyokuro jelly made from 100% gyokuro Uji tea and white bean paste dusted in gyokuro powder dress this parfait in rich flavours. The warabimochi is also dusted in gyokuro powder to balance its sweetness. The sweetness of the warabimochi and the gentle and refined flavour of gyokuro tea will spread through your mouth. Finally, the parfait is laced in black sugar syrup for a refined accent. 

Gyokuro Jelly Frozen

Gyokuro tea and milk are mixed together to create an aromatic and vivid drink mixture. Chunks of soft gyokuro jelly can be seen at the bottom of the drink. Suck them up through your straw for a refreshing and fun texture. As the process of roasting gyokuro leaves is very difficult, it is a flavour that can be difficult to come across. This is the perfect way to enjoy a refined flavour in a casual way.

You can also order the parfait and drink to take out, making it the perfect luxurious treat to enjoy at home. If you love exploring tea, this is an unmissable opportunity.

Information

nana's green tea

Shop Locator: http://www.nanasgreentea.com/shop/

*Takeout availability varies from shop to shop and may be unavailable in certain regions. Please confirm this with the shop staff.

1→10, Inc. Brings Magical Shores Interactive Land Art to Siloso Beach in Singapore

Japanese creative studio 1→10, Inc. opened up Singapore's first ever permanent interactive land art exhibition "Magical Shores" on January 23 this year together with Lighting Planners Associates (LPA), a lighting company based in both Tokyo and Singapore.

Magical Shores spans 400 meters of Sentosa's Siloso Beach, turning it into an immersive, multi-sensory experience of AI-operated lights and sounds which elevate the beauty of the surrounding natural environment.

Guide To Magical Shores | Siloso Beach, Sentosa:

AI technology responds to visitors on the beach, giving them a breathtaking and unique performance. Sensors are dotted around the area which use sensing data to react based on people's movement around the beach. The AI is constantly developing as it collects big data about the temperature and climate of Siloso Beach as well as that of people's movements.


In two of the interactive areas, people can witness the "Circle of Life" beginning with the big bang. After that there is magma, followed by heavy rainfall and eventually flowing water which gives birth to life. Cells divide as plants begin to sprout, fish swim in the sea, and birds and insects sing in the mountains. At the end, life falls, and the process begins again.


Japanese musician Masakatsu Takagi was put in charge of the music and sound design of the exhibition. Takagi is known for having written the music for Wolf Children and The Boy and the Beast. He took inspiration from his music project "Marginalia," a sound diary where he would record the sounds of birds, insects, the wind, rain, and so on from his studio window. Takagi did field recording on the beach to capture the sounds of nature to use for the art exhibition.

Kuniyuki Takahashi also offered his musicianship to the exhibition. Based in Sapporo, he is an internationally-recognised composer. He also recorded the sounds of Siloso Beach, and together with Takagi, created the perfect soundtrack for Magical Shores.

Magical Shores is currently temporarily closed as a result of the coronavirus but will resume once more as soon as the situation allows it.