ONE OK ROCK to Perform Rurouni Kenshin 'Final Chapter' Live-Action Film Theme Songs, New Visual Released
The 'Final Chapter' film adaptations of Nobuhiro Watsuki's popular manga series Rurouni Kenshin, titled Rurouni Kenshin: The Final and Rurouni Kenshin: The Beginning, will premiere in Japan on July 3, 2020 and August 7, 2020 respectively.
The original Rurouni Kenshin manga, along with its anime adaptation, is an internationally beloved series the world over that has made it to over 100 countries worldwide, including North America, UK, Europe Hong Kong, South Korea, and elsewhere. It is one of the best-selling manga series, with over 72 million copies in circulation. To date, live-action film adaptations as a whole have earned over ¥12.5 billion, and have been seen by 9.8 million people in cinemas.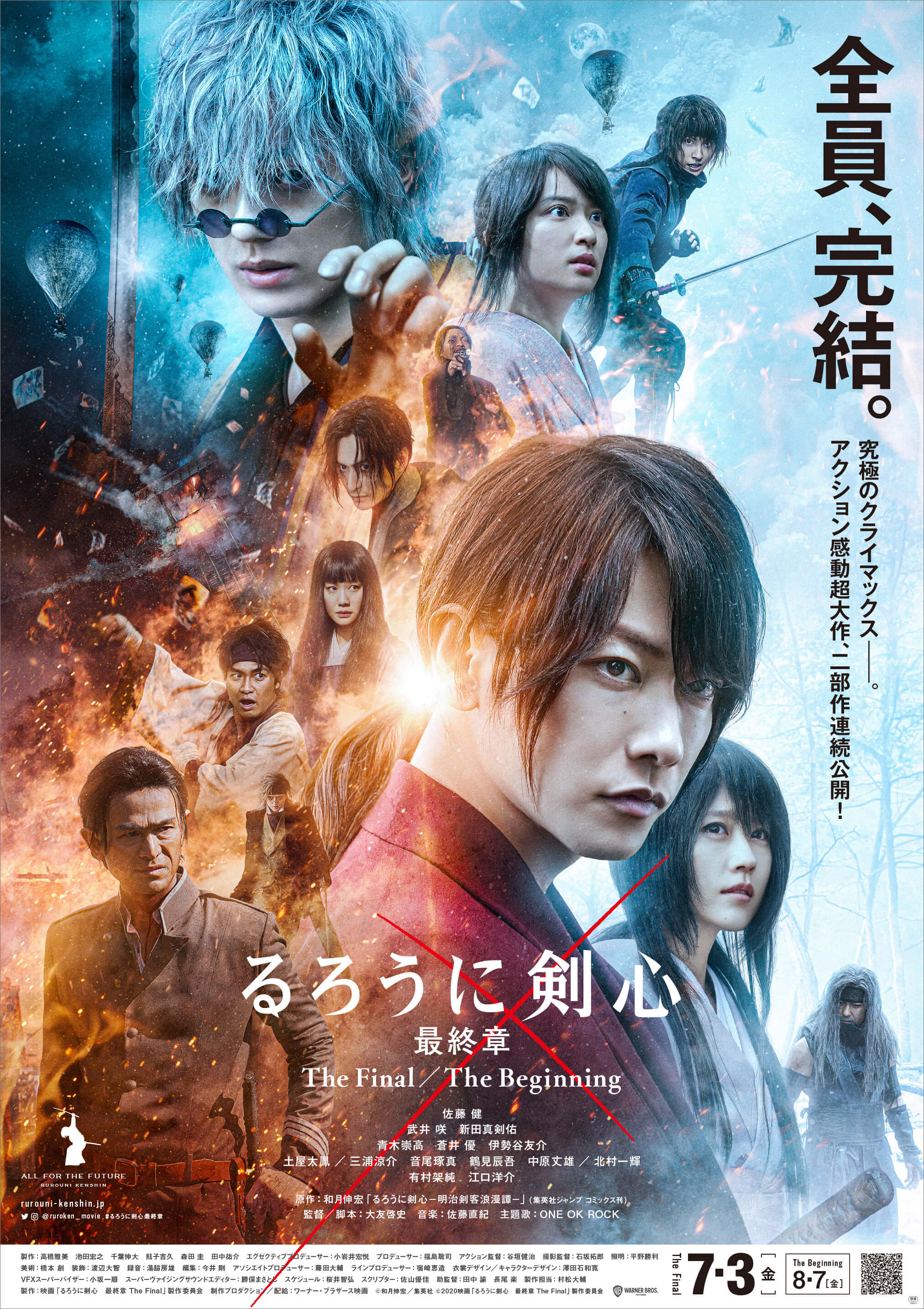 The Rurouni Kenshin live-action film series will conclude with The Final and The Beginning. Kenshin will once again gather together with his fellow members of the Kamiya Dōjō to face Kenshin's greatest enemy.
The new visual released for the films reveal that Yūsuke Iseya will reprise his role as Shinomori Aoshi, as will Tao Tsuchiya as Makimachi Misao. When asked about returning to the film series after 6 years, Yūsuke Iseya (Shinomori Aoshi) said: "I was over the moon about it as the previous two films were really popular. It was my first time appearing in a film series so being involved has given me a wholly new experience." He also commented on the film shoot itself: "The characters in the manga don't age, but I do, and my 30's mentality and 40's mentality have been completely different <laughs>." When asked about what he feels he accomplished during the shoot, Iseya said: "I'm always 120% grateful for the things I've been given the chance to do. The action team, including the directors [Keishi] Ohtomo and [Kenji] Tanigaki, really encourage the actors. They've given me a place where I can be at my most confident when I act. Thanks to them, I've had no worries, and was able to take the character's meaning and principles to heart. I feel blessed to be an actor. I feel at ease that we've been able to safely finish the shoot."
Tao Tsuchiya (Makimachi Misao) was asked about filming the action scenes: "It was difficult, and a lot of hard work, but even in the action scenes I made sure to portray her as having taken responsibilities on since the last film too. I think we've bumped up the action even more to the previous films." She also commented on this continuation of the film series: "My dream has come true getting the opportunity to be involved in something like this, where everyone in the staff and cast are putting all their strength in […] I'm over the moon that I was born in a time where this series can be made into a live-action."
ONE OK ROCK will return to perform the main theme songs for the final films. They have provided powerful tracks for each film in the live-action series so far. This has included the first film main theme The Beginning, which tells the story of the beginning of Kenshin Himura's journey, not an assassin but a lone wolf; Mighty Long Fall , a song about despair, hope, and comeback which was used in the Rurouni Kenshin: Kyoto Inferno film; and Heartache, a ballad that was used in Rurouni Kenshin: The Legend Ends.
Information
Rurouni Kenshin Saishūshō The Final
Release Date: July 3, 2020
Rurouni Kenshin Saishūshō The Beginning
Release Date: August 7, 2020
Official Website: http://rurouni-kenshin.jp
RELATED ENTRIES
BiSH Releases Highly-Anticipated Music Video for 'Sayonara Saraba'

On August 6, BiSH, known as a 'punk rock band without instruments,' released the music video for their song Sayonara Saraba! The 8th single released across 12 consecutive months will drop on August 31. 

Sayonara Saraba – BiSH (Official Music Video)

Sayonara Saraba was created in collaboration with Taka from ONE OK ROCK and MEG from MEGMETAL and features lyrics written by KENTA from WANIMA. This is the first time BiSH has collaborated with an outside producer for a series of releases, and this electrifying rock number shows a different side of the group. 

The coupling song, A long way to go, was composed by Taka and MEG from MEGMETAL and written by JxSxK. 

The music video was directed by Kento Yamada, who has produced a number of other videos for the group.

The teaser trailer, released previously, shows a stylish video with an eye-catching red and black color scheme.

Sayonara Saraba – BiSH (Teaser)

More information regarding the 9th and 10th consecutive single has been released! The 9th song will be released on September 21, while the 10th will be released on October 26. Be sure to give them both a listen!

Information

Sayonara Saraba

Release Date: August 31, 2022

 

・First Run Limited Edition (Single CD+Blu-ray+Live CD+Photobook)

Price: ¥11,000 (Tax Included)

・DVD Version (Single CD+DVD)

Price: ¥4,950 (Tax Included)

・CD Version (CD only)

Price: ¥1,100 (Tax Included)

BiSH iS OVER! Special Site: https://www.bish.tokyo/BiSH_iS_OVER/

Taka from ONE OK ROCK and KENTA from WANIMA Create New Track for BiSH

BiSH, known as a 'punk rock band without instruments,' has released a teaser video of the making of their newest song! Sayonara Saraba was performed in collaboration with Taka from ONE OK ROCK with lyrics written by KENTA from WANIMA. The video was uploaded on July 31 on BiSH's official Twitter and YouTube pages. 

This is the first time that BiSH has collaborated with an outside producer for a series of releases, and this electrifying rock number shows a different side of the group. The coupling song A long way to go was composed by Taka and MEG from MEGMETAL and written by JxSxK. 

The 8th single released across 12 consecutive months will drop on August 31. It can be preloaded now.

The full-length making-of video is now available on the BiSH official YouTube channel, so give it a watch!

Sayonara Saraba Documentary

New artwork for Sayonara Saraba has also been unveiled. The visuals have a dark and cool feel, matching the track's rock image.

BiSH has announced that it will disband in 2023. As new information is released prior to the group's dissolution, we'll be sure to cover it. 

One OK ROCK and Monster Energy Open Limited-Time Pop-up in Shibuya

Japanese rock band ONE OK ROCK has become massively popular worldwide, leading them to an exciting new partnership with Monster Energy. For one week only starting June 28, the ONE OK ROCK x Monster Energy pop-up shop is open in Shibuya. 

At the venue, guests can follow the official Monster Energy Twitter account (@MonsterEnergyJP) to get an exclusive collab sticker and a Monster Energy drink or Monster Pipeline Punch, a tropical fruit juice version. 

A campaign to win some amazing collaboration goods is also underway. By taking a picture of the pop-up space and posting it on Twitter with the hashtag #MonsterOOR, 10 lucky winners will receive a collab poster signed by the members of ONE OK ROCK.

Fans of the band or the energy drink won't want to miss visiting this shop! The band's new song Save Yourself will be playing at the venue, so be sure to head over to Shibuya for a listen. 

Information

ONE OK ROCK x Monster Energy

Running: June 28 – July 4, 2022

Venue: ZeroBase Jingumae

Address: 6-4-1 Jingumae, Shibuya-ku, Tokyo

Official Site: http://www.monsterenergy.com

Rock Band ONE OK ROCK Announces North American Tour This Fall

Japanese rock band ONE OK ROCK has steadily been expanding its activities around the world, and fans in North America are in for a treat. The band will embark on its first North American tour in three years starting on September 19, 2022, with many shows featuring You Me At Six and Fame On Fire as starting acts.

ONE OK ROCK will also release its first single of 2022, Save Yourself, on June 24. Keep an eye out for when the band comes to your town!

Tour Schedule

09/19/2022 Austin, TX – Emo's

09/20/2022 Houston, TX – House of Blues

09/21/2022 Dallas, TX – House of Blues

09/23/2022 Orlando, FL – House of Blues

09/24/2022 Atlanta, GA – Tabernacle*

09/25/2022 Charlotte, NC – The Underground

09/27/2022 Philadelphia, PA – Franklin Music Hall

09/28/2022 Silver Spring, MD – The Fillmore

09/30/2022 New York, NY – Hammerstein Ballroom

10/01/2022 Boston, MA – House of Blues

10/02/2022 Montreal, QC – Club Soda

10/04/2022 Toronto, ON – Rebel

10/05/2022 Detroit, MI – Saint Andrews Hall*

10/07/2022 Cleveland, OH – House of Blues

10/08/2022 Chicago, IL – Concord Music Hall

10/09/2022 Minneapolis, MN – The Fillmore

10/11/2022 Denver, CO – Ogden Theatre

10/12/2022 Salt Lake City, UT – The Complex

10/14/2022 Portland, OR – Roseland Theater

10/15/2022 Vancouver, BC – Harbour Event Centre

10/16/2022 Seattle, WA – Showbox SoDo

10/19/2022 Oakland, CA – Fox Theater

10/20/2022 Los Angeles, CA – Hollywood Palladium

*Fame On Fire will not appear at these shows.

ONE OK ROCK Begins Sponsorship with Monster Energy

Japanese rock band ONE OK ROCK has become massively popular worldwide, and that popularity has led them to an exciting new partnership with Monster Energy!

Monster Energy has teamed up with a number of artists and athletes in the past and is excited to add ONE OK ROCK to the Monster family. "I'm excited to participate in big events with Monster in the future," said lead vocalist Taka.

Keep an eye on ONE OK ROCK to see how this new collaboration will come to fruition!

ONE OK ROCK Releases DVD & Live Video from First Acoustic Concert in 2021

Rock band ONE OK ROCK has released a DVD and Blu-ray of their first acoustic live concert 'Day to Night Acoustic Sessions,' originally performed from July 22 to July 25, 2021. The band performed at Kawaguchiko Stellar Theater at the foot of Mt. Fuji and the show was applauded globally across social media last year. 

 
The band previously uploaded a series of teaser trailers and behind-the-scenes videos on YouTube to tease the new release. On April 20, the full live video of the band performing Mighty Long Fall appeared for a limited time on the video-sharing site.

 

Mighty Long Fall – Live Version

 

The limited-edition version includes a CD of the concert, a first for the band, which many fans have praised online. These special editions will be discontinued as soon as they sell out, so fans won't want to hesitate. The included booklet also includes interviews with the members and crew, as well as more information about the group's next album and upcoming projects. This is the first release for ONE OK ROCK in 2022, and there's no telling how they'll surprise the fans next!

Information

ONE OK ROCK 2021 Day to Night Acoustic Sessions

Release Date: April 20, 2022

First Limited Edition (Blu-ray + Concert CD): ¥8,800 (Tax Included)

First Limited Edition (DVD + Concert CD): ¥7,700 (Tax Included)

Standard Edition (Blu-ray): ¥7,150 (Tax Included)

Standard Edition (DVD): ¥6,050 (Tax Included)

Preorders: https://OOR.lnk.to/2021DtNASPu

ONE OK ROCK Releases Blu-ray and DVD of Acoustic Concert from 2021

Rock band ONE OK ROCK will release a DVD and Blu-ray of their acoustic live concert 'Day to Night Acoustic Sessions,' originally performed from July 22 to July 25, 2021. The band performed at the foot of Mt. Fuji and the show was applauded across social media last year. The DVD and Blu-ray will be available on April 20, 2022.

 

All songs performed during the concert were rearranged specifically to be played acoustically. Bringing together strings, keyboards, chorus, and percussion, the venue was enveloped in a unique acoustic sound not typical for ONE OK ROCK. This was the first time in a year and a half that the band had performed in front of a live audience due to the pandemic, and the number of fans allowed at the venue was extremely small. Since so many fans weren't able to attend, this release has been highly anticipated! The limited-edition versions include a CD of the concert, a first for the band. 

Teaser Video

Information

ONE OK ROCK 2021 Day to Night Acoustic Sessions

Release Date: April 20, 2022
First Limited Edition (Blu-ray + Concert CD): ¥8,800 (Tax Included)
First Limited Edition (DVD + Concert CD): ¥7,700 (Tax Included)
Standard Edition (Blu-ray): ¥7,150 (Tax Included)
Standard Edition (DVD): ¥6,050 (Tax Included)

Preorders: https://OOR.lnk.to/2021DtNASPu

Rurouni Kenshin Gets New TV Anime Project from LIDENFILMS

Announced at Jump Festa 2022 on December 19, a new Rurouni Kenshin anime project is coming soon! The series is being led by studio LIDENFILMS, known for working on Tokyo Revengers and Blade of the Immortal.

More details will be released soon!

Rurouni Kenshin Teaser Trailer

13th Kyoto Historica International Film Festival to Screen All 5 Rurouni Kenshin Films

The 13th Kyoto Historica International Film Festival has announced its screening lineup and will be held both in-person and online. In addition to all five live-action Rurouni Kenshin films being screened, five carefully-selected historical films from around the world have been chosen from over 200 applicants. These will be screened at the Japanese event and can only be seen during the festival. 

Italian film Inferno, produced in 1911 and shown at Il Cinema Ritrovato in Bologna in 2021, will make its Japanese premiere along with a piano accompaniment. Oshuraga: Land of Souls will also be screened in commemoration of the fifth anniversary of the Kyoto-Quebec Friendship and Collaboration Agreement. 

41 films will also be available to stream on the MIRAIL streaming service, with tickets going on sale on January 22, 2022. 

Information

13th Kyoto Historica International Film Festival

Running: January 22 – January 30, 2022

Theater Screenings

Location: The Museum of Kyoto 3F Film Theater

Pre-order Tickets Starting December 25, 2021 at Ticket Pia

*Advance Tickets are available for Historica Special only. All other tickets will be sold at the door.

Watch Online

Available on MIRAIL Video Streaming Service

How to Watch: Purchase tickets from MIRAIL on or after January 22, 2022

Official Site: https://historica-kyoto.com/ 

Niigata Prefecture Unveils Rurouni Kenshin Collaboration Sake

Rurouni Kenshin is one of the most popular anime and manga series around the world, hitting the scene in Japan back in 1994. Original manga author Nobuhiro Watsuki spent most of his childhood in Nagaoka, Niigata prefecture, an area known throughout the country for its delicious rice. Harasho, a liquor store in Nagaoka, has announced a new collection of Rurouni Kenshin-themed sake to celebrate the series. 

The Rurouni Kenshin manga series was originally serialized in Weekly Shonen Jump from 1994 until 1999. The sequel, Rurouni Kenshin: The Hokkaido Arc, is currently ongoing in Jump Square. The series has been a smash hit, selling over 72 million copies and inspiring both animated and live-action film adaptations and an anime series. 

The sake will be produced at three distilleries in Nagaoka city, and each of the three will feature unique characteristics. Each label features imagery from the manga series and would make the perfect gift for fans (as long as they are of age!) 

Information

Rurouni Kenshin x Niigata Sake Series

Fukusen Natural Sake: ¥1,350

Koshino Hakugan Ginjo Sake: ¥1,500

Ofuku Shuzo Ginjo Sake with No Added Alcohol: ¥1,800

Special 3-bottle Set: ¥4,650

Number of Bottles Released: 2,000 of each type, special 3-bottle sets available until sold out

Preorders Now Open

Release Date: December 1, 2021

Details: https://echigo.sake-harasho.com/shopbrand/ct332/

Where to Buy: 

Online Store: https://echigo.sake-harasho.com/

Liquor stores part of the Echigo Meimon Collective

Major tourist facilities in Niigata Prefecture

Rurouni Kenshin Hanko Stamp Collection Features Manga Designs

Japanese hanko stamp shop HANKOS released a new collection of hanko with designs of characters from the manga series Rurouni Kenshin on June 8, 2021. These order-made hanko stamps, which are used in place of signatures in Japan, let you pick your favourite character to be engraved along with your name or a word written in Japanese.

There are 31 designs to pick from and include familiar faces from the manga series, including the legendary assassin Himura Kenshin, kendo instructor Kamiya Kaoru, Kenshin's best friend Sagara Sanosuke, and more.





Pick from three different fonts, such as a more classic hanko font or a cutesy design.

You can have your name, pen name, handle name, or a message engraved on your hanko such as "OK" or "Thank You."

Each stamp comes with a case too in a box featuring Kenshin and his friends.

©和月伸宏/集英社

Rurouni Kenshin x Hello Kitty Collaboration Launching to Promote Manga's Upcoming Live-Action Films

In promotion of the forthcoming live-action films Rurouni Kenshin: The Final and Rurouni Kenshin: The Beginning, both of which will be released on April 23 and June 4 respectively this year, the series is rolling out a collaboration with Sanrio's globally-beloved character Hello Kitty on April 14.

Original Merchandise

Rurouni Kenshin x Hello Kitty Plush Toys (2 Designs) | ¥3,850 Each (Tax Included)

Rurouni Kenshin x Hello Kitty Plush Toys (4 Designs) | ¥2,750 Each (Tax Included)

Rurouni Kenshin x Hello Kitty A4 Folder Set | ¥495 (Tax Included)

Rurouni Kenshin x Hello Kitty Bottle | ¥1,540 (Tax Included)

Rurouni Kenshin x Hello Kitty Tote Bag | ¥2,200 (Tax Included)

Rurouni Kenshin x Hello Kitty Ballpoint Pens & Mechanical Pencils (2 Designs) | ¥770 Each (Tax Included)

Rurouni Kenshin x Hello Kitty Hand Towels | ¥1,430 (Tax Included)

Rurouni Kenshin x Hello Kitty Pins (6 Designs) | ¥330 Each (Tax Included)

Rurouni Kenshin x Hello Kitty Acrylic Stands (8 Designs) | ¥715 Each (Tax Included)

Rurouni Kenshin x Hello Kitty Sweets Paradise Collaboration Cafe

Menu Excerpt

Kenshin Hello Kitty Beef Bowl / Battousai Hello Kitty Omurice

Enishi Hello Kitty Orange Crepe / Tomoe Hello Kitty Anmisu / Kaoru Hello Kitty Strawberry Pancake

Acrylic Mascot Key Rings

10 Designs

Plush Toys

This marks the second collaboration between Rurouni Kenshin and Hello Kitty, the first taking place back in 2014 in promotion of Rurouni Kenshin: The Legend Ends. Fans can get their hands on a collection of cute merchandise with Hello Kitty dressed as various characters from the series, as well as tuck into a themed menu which will first be served at Sweets Paradise Ueno ABAB from April 22 before rolling out to six more Sweets Paradise branches in Japan.

©和月伸宏/集英社 ©2020 映画「るろうに剣心 最終章 The Final/The Beginning 」製作委員会