New Visuals Released For Upcoming Anime Film 'Nakitai Watashi wa Neko wo Kaburu'
Studio Colorido's second original anime feature film Nakitai Watashi wa Neko wo Kaburu is set to release in Japan on June 5, 2020. The studio's first feature film Penguin Highway released in August 2018 to critical acclaim (August 2018 release) and went on to win the Japan Academy Prize for Animation of the Year as well as the Axis: The Satoshi Kon Award for Excellence in Animation award at Fantasia International Film Festival for the best-animated feature.
Several shots from the upcoming anime film have been released which portray the lighthearted and liberating feeling of youth.
Miyo Sasaki (voiced by Mirai Shida) is a 2nd year middle schooler a little different from the rest, and whose classmates called her "Muge" which is short for Mugendai Nazo Ningen in Japanese which roughly translates to "Infinitely Puzzling Human." She's head-over-heels for her classmates Kento Hinode, who she boldly tries to attack every day, but he pays her no attention. But she's not discouraged and continues to approach him. She also has a big secret she can't tell anyone about.
The reason for Muge not giving up on her situation with Hinode is thanks to a mysterious mask she received from a cat shop owner which allows the wearer to turn into a cat. Muge uses this power to turn into a cat every day to visit Hinode's house.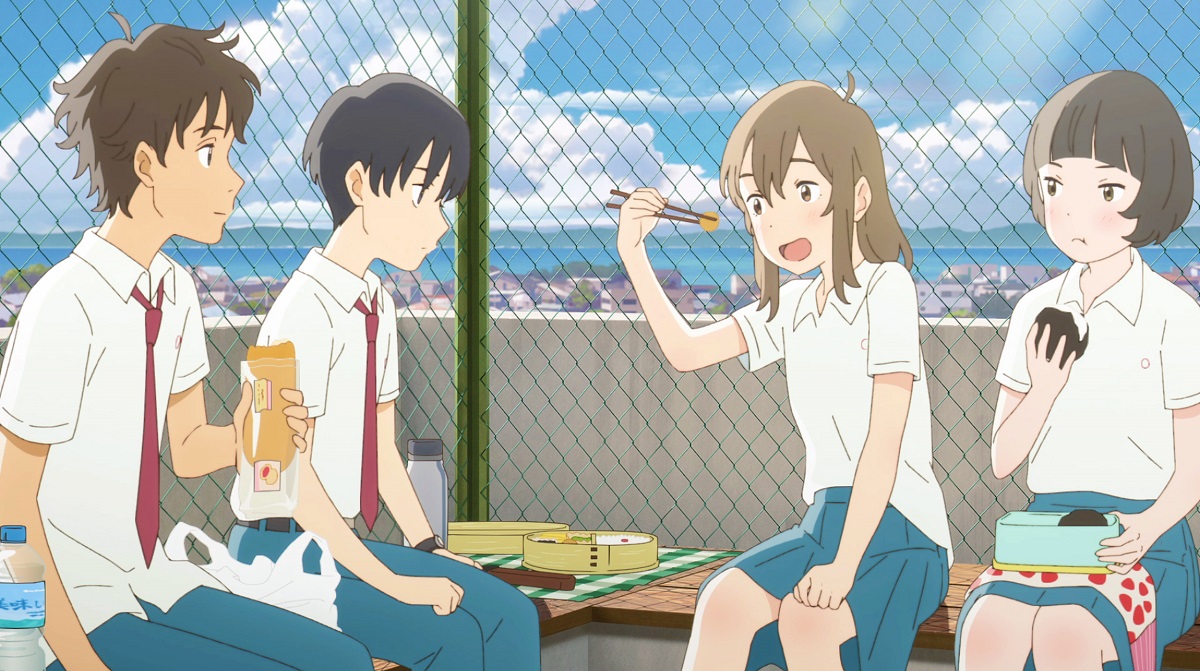 The new shots revealed from the film give some insight into Muge's lifeーwith her friends, and in cat form visiting Hinode. Hinode is of course oblivious to the true identity of the cat, even going as far to give her a name: Taro.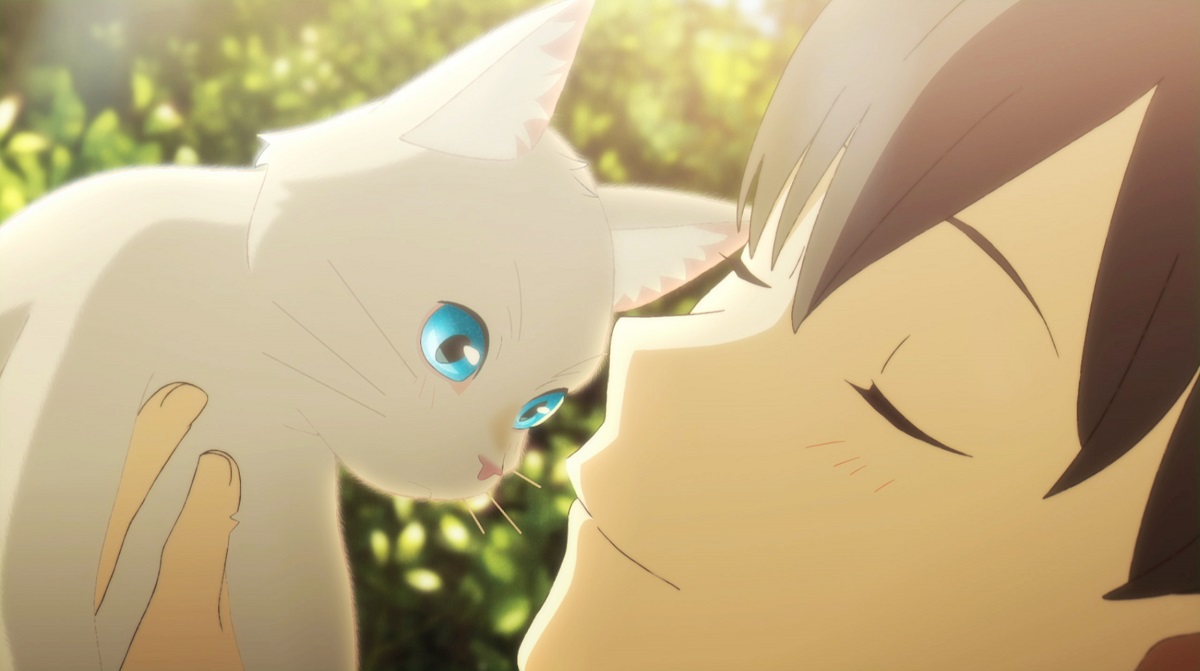 Muge has a split relationship with Hinode: as a human she is unable to get close to him, but as a cat she is free to hang out with him as much as she likes. But the line between being herself and being a cat may begin to blur as she spends more time in her furry form.
Nakitai Watashi wa Neko wo Kaburu will be released on June 5, 2020. Stay tuned for any news or updates.
©2020 "Nakitai Watashi wa Neko wo Kaburu" Production Committee
Information
Nakitai Watashi wa Neko wo Kaburu
Release Date: June 5, 2020
Official Website: nakineko-movie.com
RELATED ENTRIES
Netflix Anime Film 'A Whisker Away' New Promotional Video Features Ending Song

A Whisker Away (Nakitai Watashi wa Neko wo Kaburu) is the second original anime feature film from Studio Colorido. The studio's first feature film Penguin Highway released in August 2018 to critical acclaim (August 2018 release) and went on to win the Japan Academy Prize for Animation of the Year as well as the Axis: The Satoshi Kon Award for Excellence in Animation award at Fantasia International Film Festival for the best-animated feature.

The film is being co-directed by Junichi Sato (Sailor Moon; Princess Tutu) and Tomotaka Shibayama, the latter making his debut as the director of a feature length film. The screenplay is being written by screenwriter Mari Okada (AnoHana; Black Butler; O Maidens in Your Savage Season).

A new promotional video has been released featuring the ending song Uso Tsuki by Yorushika who are also performing the main theme Hana ni Bourei (Flower for the Dead) and insert song Yakou (Walking in the Night).

Yorushika – "Uso Tsuki" x "A Whisker Away"

The video showcases scenes with Hinode and Taro, and even a scene with Muge holding Hinode's hand. The ending song by Yorushika adds another layer to the scenes with its melancholic lyrics and melody.

Yorushika | Comment


n-buna (Guitarist/Composer)

We are a band that creates music based off the concept of a work, so we were concerned on how far we should express the outlook of this film, but we had no reason to be worried. We felt reassured when the director said to us on our first meeting with him that we could do as we liked. One concept from our next album is the feeling between transitioning from spring to early summer, which we thought didn't stray from the film, so we continued writing in the way that we were at the time. All three of the songs we came up with is themed inside a town inside a memory.

'Hana ni Bourei'… a ghost is pretty much just a memory, so this song is about looking at a memory of flowers blooming in the summer.

'Yakou'… the 'night' which we're talking about here is the night of life. Becoming an adult, forgetting things, heading towards death. These things have replaced nighttime [as we know it].

'Uso Tsuki'… it means liar. The lyrics are laced with lines from [Japanese poet] Ozaki Hōsai.

suis (Vocals)

I love animated movies, so I am overjoyed and excited that Yorushika will be heard during the credit roll of one! At the same time, I felt it my goal to make everyone at the end of the film cry, so I wanted to make sure I sang a good song.

*Comments translated from Japanese by MMN

© 2020 「泣きたい私は猫をかぶる」製作委員会

Netflix Anime Film 'A Whisker Away' Collaborates With Japanese Illustrator mojacookie

A Whisker Away (Nakitai Watashi wa Neko wo Kaburu) is the second original anime feature film from Studio Colorido. The studio's first feature film Penguin Highway released in August 2018 to critical acclaim (August 2018 release) and went on to win the Japan Academy Prize for Animation of the Year as well as the Axis: The Satoshi Kon Award for Excellence in Animation award at Fantasia International Film Festival for the best-animated feature.

The film is being co-directed by Junichi Sato (Sailor Moon; Princess Tutu) and Tomotaka Shibayama, the latter making his debut as the director of a feature length film. The screenplay is being written by screenwriter Mari Okada (AnoHana; Black Butler; O Maidens in Your Savage Season).

A new illustration has been released in collaboration with Japanese illustrator mojacookie which features the artist's popular character Shikaru Neko and Tarou from A Whisker Away.

In A Whisker Away, Muge receives a mask which when worn turns her into a cat. She uses this to get close to Hinode, the boy she likes, and also finds herself swept into the feline world. While viewers wait in excited anticipation for the release of the film, mojacookie's character Shikaru Neko ("Scolding Cat"), which was first posted on Twitter, has been appointed as a "Support Member" for A Whisker Away.

Shikaru Neko is known for his many facial expressions, which are both angry but loving. He only scolds you because he loves you and is looking out for you.

mojacookie, the illustrator, praised A Whisker Away. "I was spellbound straight away. I found myself completely immersed in the film's world," they said. "The way they did made the cats look and the gestures are realistic. In the scene when the cats appear, I just wanted to ruffle their fluff!"

More collaboration content from mojacookie is set to roll out over on the official website for A Whisker Away, so be sure to check it out in the run up to the film's release.

© 2020 「泣きたい私は猫をかぶる」製作委員会

New Cat Shots From Upcoming Anime Film 'Nakitai Watashi wa Neko wo Kaburu' Released

Nakitai Watashi wa Neko wo Kaburu is the second original anime feature film from Studio Colorido. The studio's first feature film Penguin Highway released in August 2018 to critical acclaim (August 2018 release) and went on to win the Japan Academy Prize for Animation of the Year as well as the Axis: The Satoshi Kon Award for Excellence in Animation award at Fantasia International Film Festival for the best-animated feature.

The film is being co-directed by Junichi Sato (Sailor Moon; Princess Tutu) and Tomotaka Shibayama, the latter making his debut as the director of a feature length film. The screenplay is being written by screenwriter Mari Okada (AnoHana; Black Butler; O Maidens in Your Savage Season).

A new batch of images have been officially released featuring new shots of Muge as a cat and the secret cat world she lives in.

Miyo Sasaki (voiced by Mirai Shida) is a 2nd year middle schooler a little different from the rest, and whose classmates called her "Muge" which is short for Mugendai Nazo Ningen in Japanese which roughly translates to "Infinitely Puzzling Human." She's head-over-heels for her classmates Kento Hinode (Natsuki Hanae), who she boldly tries to attack every day, but he pays her no attention. But she's not discouraged and continues to approach him. She also has a big secret she can't tell anyone about. The reason for Muge not giving up on her situation with Hinode is thanks to a mysterious mask she received from a cat shop owner which allows the wearer to turn into a cat. Muge uses this power to turn into a cat every day to visit Hinode's house.

Muge tries to approach her classmate Hinode every single day, but he's at that point in his youth where he doesn't know what road he should take in life. He's into ceramics, loves cooking, and has a cute side too as he nicknames the cat that Muge transforms into "Taro." Will his heart change for better of for worse if he finds out Muge's secret?

New details have been revealed for some of the other cats we will meet along the way. Eri Kitamura (Fairy Tail; Bakemonogatari; Toradora!) will voice Kinako, a female cat that lives in the same house as Muge and is owned by her father's fiance. Shinichiro Miki (Pokémon; Fullmetal Alchemist: Brotherhood; My Hero Academia) will voice Kakinuma, a reliable cat that Muge meets on the island of cats. Rei Sakuma (Ranma ½) will voice Tamaki who warns Muge to return to the human world immediately. Oolongta Yoshida will voice Sugita who shows Muge around cat island when she arrives. Fukushi Ochiai will voice Hajime who worries about Muge to the point of tears.

©2020 "Nakitai Watashi wa Neko wo Kaburu" Production Committee

Information

Nakitai Watashi wa Neko wo Kaburu

Release Date: June 18, 2020 worldwide on Netflix

Netflix Page: netflix.com/nakineko

New Shots From Upcoming Anime Film 'Nakitai Watashi wa Neko wo Kaburu' Released

Nakitai Watashi wa Neko wo Kaburu is the second original anime feature film from Studio Colorido. The studio's first feature film Penguin Highway released in August 2018 to critical acclaim (August 2018 release) and went on to win the Japan Academy Prize for Animation of the Year as well as the Axis: The Satoshi Kon Award for Excellence in Animation award at Fantasia International Film Festival for the best-animated feature.

The film is set to release worldwide on Netflix on June 18, 2020.

Miyo Sasaki (voiced by Mirai Shida) is a 2nd year middle schooler a little different from the rest, and whose classmates called her "Muge" which is short for Mugendai Nazo Ningen in Japanese which roughly translates to "Infinitely Puzzling Human." She's head-over-heels for her classmates Kento Hinode (Natsuki Hanae), who she boldly tries to attack every day, but he pays her no attention. But she's not discouraged and continues to approach him. She also has a big secret she can't tell anyone about. The reason for Muge not giving up on her situation with Hinode is thanks to a mysterious mask she received from a cat shop owner which allows the wearer to turn into a cat. Muge uses this power to turn into a cat every day to visit Hinode's house.

The film is being co-directed by Junichi Sato (Sailor Moon; Princess Tutu) and Tomotaka Shibayama, the latter making his debut as the director of a feature length film. The screenplay is being written by screenwriter Mari Okada (AnoHana; Black Butler; O Maidens in Your Savage Season).

A new selection of shots from the film have been released showcasing the film's characters.

Mirai Shida, who voices Muge, said of her character: "She's a really great girl to watch since she expresses her feelings honestly, something which you don't see much of these days." Muge is the kind of character you'll root for without even realising it as she shows the gap between putting on a face when around friends at school and being who you really are at home in your bedroom.

Muge tries to approach her classmate Hinode every single day, but he's at that point in his youth where he doesn't know what road he should take in life. He's into ceramics, loves cooking, and has a cute side too as he nicknames the cat that Muge transforms into "Taro." Will his heart change for better of for worse if he finds out Muge's secret?

Natsuki Hanae, who voices Hinode, spoke of a highlight of his character as: "…how his feelings change from that of a single boy into a young man."

Muge receives her mysterious mask from the owner of a cat shop who visits her from time to time and shows her the ropes of living as a cat. Kōichi Yamadera, who voices the cat, said the role was a lot of fun to play.

Minako Kotobuki will voice Yoriko Fukase, a close friend of Muge's who always shows concern for her. Kensho Ono will voice Masamichi Isami who does school activities with Hinode. Both Yoriko and Masamichi are important friends to the two main characters who always lend a hand when they find themselves in a pinch.

Hiroaki Ogi will voice Muge and Hinode's homeroom teacher, Mr. Kusunoki (name reading not confirmed).

©2020 "Nakitai Watashi wa Neko wo Kaburu" Production Committee

Information

Nakitai Watashi wa Neko wo Kaburu

Release Date: June 18, 2020 worldwide on Netflix

Netflix Page: netflix.com/nakineko

Worldwide Netflix Release Confirmed For Nakitai Watashi wa Neko wo Kaburu Anime Film

The upcoming anime film Nakitai Watashi wa Neko wo Kaburu was originally scheduled to be released on June 5, 2020, but it was revealed earlier this week that its release date had to be postponed as a result of the COVID-19 pandemic.

However, those who were looking forward to the film's release will be over the moon to hear that it is set to hit Netflix worldwide on June 18, 2020.

Nakitai Watashi wa Neko wo Kaburu is the second original anime feature film from Studio Colorido. The studio's first feature film Penguin Highway released in August 2018 to critical acclaim (August 2018 release) and went on to win the Japan Academy Prize for Animation of the Year as well as the Axis: The Satoshi Kon Award for Excellence in Animation award at Fantasia International Film Festival for the best-animated feature.

The film's staff decided that in these current turbulent times, the power entertainment is something that we all need right now, and so made the decision to release it on Netflix.

Trailer

The voice actors for the film's two main characters made the following comments with regards to the Netflix release. The comments have been translated from Japanese.

Mirai Shida | Comment

"The decision has been made to move the film's release from the cinema to Netflix. Many different films and works are having their release dates postponed right now, so it was decided that the movie be safely delivered to everyone who had been looking forward to it. I'm relived and overjoyed. Right now, we can't go outside, and there's a lot of restrictions on our lives. I believe that entertainment is one way we can have fun."

She continues: "And with everyone here to watch it, I feel that the film is truly complete. This wasn't how we originally intended to release the film, but I want lots of people to watch it, even if it's just one. Finally, this film is full to the brim showing people's warmth and caring about one another, so I hope it makes you all all feel better, even just a little."

Natsuki Hanae | Comment

"Nakitai Watashi wa Neko wo Kaburu is now releasing on Netflix instead of in the cinema. It's a shame you won't get to see it at the cinema, but with all of us at home a lot now, I think releasing it digitally for everyone is a good thing. Nakineko is a film about the importance of feelings between people, conveying feelings, and having the courage to step forward. It's a wonderful film that I want people of all generations to enjoy while they think of those who are precious to them. Look forward to watching it on Netflix!"

© 2020 "Nakitai Watashi wa Neko wo Kaburu" Production Committee

Information

Nakitai Watashi wa Neko wo Kaburu

Release Date: June 18, 2020 worldwide on Netflix

Netflix Page: netflix.com/nakineko

Nakitai Watashi wa Neko wo Kaburu Anime Film's Release Date Postponed Due to Coronavirus

The upcoming anime film Nakitai Watashi wa Neko wo Kaburu was originally scheduled to be released on June 5, 2020, but that release date has now been postponed as a result of the COVID-19 pandemic.


A new release date has yet to be officially announced, but will be revealed on the film's official website in the future.

© 2020 「泣きたい私は猫をかぶる」製作委員会

Nakitai Watashi wa Neko wo Kaburu Anime Film Music Video by Yorushika Released

Studio Colorido's second original anime feature film Nakitai Watashi wa Neko wo Kaburu is set to release in Japan on June 5, 2020. The studio's first feature film Penguin Highway released in August 2018 to critical acclaim (August 2018 release) and went on to win the Japan Academy Prize for Animation of the Year as well as the Axis: The Satoshi Kon Award for Excellence in Animation award at Fantasia International Film Festival for the best-animated feature.

A music video has been released featuring clips from Nakitai Watashi wa Neko wo Kaburu and its main theme Hana ni Bourei ("Flower for Dead"). by Yorushika. Yorushika is a rock duo composed of n-buna, who is both a composer and Vocaloid producer, and female singer suis. The band is also performing an insert song for the film entitled Yakou ("Walking in the Night").

The new music video was directed by Popurika, who has worked on a number of Yorushika's past videos.

We see the contrast between the bright, lively and smiling Muge and the listless Hinode, who is looking down under his umbrella beneath the night sky.

Muge has the mysterious ability to transform into a cat, and does so to visit Hinode whom she loves so. He names the cat Tarou.

Muge had hoped to cheer Hinode up, but not only did it not go well, she ends up saying something awful to him. She freezes, and tears begin to fall down her cheeks. She goes to some place she finds comfortable: being a cat. What does the future hold for the two of them?

In the music video, we see Muge and Hinode holding hands as well as kissing while wearing yukata. We also see a torii gate with "Cat Shrine" written in Japanese, amongst many other scenes which continue to built up excitement for the movie.

Popurika, the director of the music video, said: "My aim was to edit it in such a way that it has a different air to it than the movie itself, more Yorushika-like. I hope people think about Muge's many expressions and gestures, as well as Hinode whose expression is difficult to read and who we always see from behind, while they're watching it."

Yorushiki – "Hana ni Bourei" Music Video | "Nakitai Watashi wa Neko wo Kaburu" Main Theme


The voice actors for the two main characters also made the following comments with regards to the music video.

Mirai Shida (Voices: Miyo Sasaki/Muge) | Comment

"Yorushika's vocals are beautiful, and liberate me gently from those feelings when I'm not being honest with myself, or shut people out. Those vocals, together with the melody, which is fleeting yet has modulation, makes this a very beautiful song. It's bittersweet and reminds me of a certain summer back during school. I was conscious of getting across Muge's straightforwardness and innocence when voicing her, so I feel Yorushia's song matches her feelings and deepens the story even more."

Natsuki Hanae (Voices: Kenjin Hinode) | Comment

"The music really feels with the atmosphere of Nakineko [the film], and I thought it was beautiful how the vocals are sad but slip in seamlessly. The lyrics link together with the movie, so I found myself unintentionally tearing up. I was captivated how the music growing stronger overlaps with Muge growing up. I think 'Hana ni Bourei' is perfect for this film!"

©2020 "Nakitai Watashi wa Neko wo Kaburu" Production Committee

Information

Nakitai Watashi wa Neko wo Kaburu

Release Date: June 5, 2020

Official Website: nakineko-movie.com

Nakitai Watashi wa Neko wo Kaburu Anime Film to Feature Insert Song 'Yakou' by Yorushika

Studio Colorido's second original anime feature film Nakitai Watashi wa Neko wo Kaburu is set to release in Japan on June 5, 2020. The studio's first feature film Penguin Highway released in August 2018 to critical acclaim (August 2018 release) and went on to win the Japan Academy Prize for Animation of the Year as well as the Axis: The Satoshi Kon Award for Excellence in Animation award at Fantasia International Film Festival for the best-animated feature.

 

It has been revealed that rock duo Yorushika's newest song Yakou ("Walking in the Night"), which was released on March 4, will be featured as an insert song in the film. Yorushika is also performing the film's main theme Hana ni Bourei. The duo have garnered over 290 million music video views without ever having shown their faces. This is their first time writing music for a movie.

The film directors for Nakitai Watashi wa Neko wo Kaburu Junichi Sato and Tomokata Shibayama, spoke with the members of Yorushika, n-buna and suis, about the movie which helped them to write the insert track Yakou which has already garnered huge popularity. The song's music video was created by the film's animation staff, Studio Colorido, and is set in Tokoname, Aichi, where the movie is also set.

Yorushika – "Yakou" Official Music Video


Film director Junichi Sato said of the song: "It plays in a scene where Hinode learns the true feelings of the protagonist Mune. Normally, a relatively calm song would be used in such a scene, but with Yorushika's songs they have a tinge of melancholy to them as well as rhythm, so I thought we'd try it. When I first heard it, I felt that the music went beyond the words and painted the picture in my mind. It's a typical Yorushika song, and I'm happy with the results. The song aligns with Muge and Hinode's feelings and elevates them."

Tomokata Shibayama, also a director on the film, commented: "I remember having a conversation with my fellow director Sato, who is also the sound director, where he said to me, 'It's fine if the song doesn't integrate too much with the film.' Then 'Yakou' arrives, and when I first heard it together with the film visuals, I was really taken aback. It felt like the image we were going for just stretched out in front of me. It captures Hinode's feelings, and brings to mind scenes one by one in your head. I've listened to it every day since then."

©2020 "Nakitai Watashi wa Neko wo Kaburu" Production Committee

Information

Nakitai Watashi wa Neko wo Kaburu

Release Date: June 5, 2020

Official Website: nakineko-movie.com

Nakitai Watashi wa Neko wo Kaburu Anime Film Additional Cast Announced

Studio Colorido's second original anime feature film Nakitai Watashi wa Neko wo Kaburu is set to release in Japan on June 5, 2020. The studio's first feature film Penguin Highway released in August 2018 to critical acclaim (August 2018 release) and went on to win the Japan Academy Prize for Animation of the Year as well as the Axis: The Satoshi Kon Award for Excellence in Animation award at Fantasia International Film Festival for the best-animated feature.

Mirai Shida is voicing Miyo Sasaki, a 2nd year middle schooler who's head over heels for Kento Hinode, who's voiced by Natsuki Hanae. Several new cast members have been announced who will voice characters that play important roles in relation to the protagonists, like family and classmates. The additional voice cast includes Minako Kotobuki, Kensho Ono, Susumu Chiba, Ayako Kawasumi, Sayaka Ohara, and Daisuke Namikawa.

Yoriko Fukase (voiced by Minako Kotobuki) is a close friend of Muge. Masamichi Isami (Kensho Ono) is a friend of Hinode, and a good one at that in being there for Hinode who experiences the many worries we all face in our youth.

Yoji Sasaki (Susumu Chiba) is Muge's father, and Kaoru Mizutani (Ayako Kawasumi) is her father's lover who has no blood relation to Muge. Miki Saito (Sayaka Ohara) is Muge's real mother.

Tomoya Sakaguchi (Daisuke Namikawa) is a young guy who's employed at the pottery workshop run by Hinode's family. Like Hinode, Tomoya also likes the cat Taro who enters the workshop.

The story of Nakitai Watashi wa Neko wo Kaburu followws Miyo Sasaki, a 2nd year middle schooler a little different from the rest, and whose classmates called her "Muge" which is short for Mugendai Nazo Ningen in Japanese which roughly translates to "Infinitely Puzzling Human." She's head-over-heels for her classmates Kento Hinode, who she boldly tries to attack every day, but he pays her no attention. But she's not discouraged and continues to approach him. She also has a big secret she can't tell anyone about. The reason for Muge not giving up on her situation with Hinode is thanks to a mysterious mask she received from a cat shop owner which allows the wearer to turn into a cat. Muge uses this power to turn into a cat every day to visit Hinode's house.

©2020 "Nakitai Watashi wa Neko wo Kaburu" Production Committee

Information

Nakitai Watashi wa Neko wo Kaburu

Release Date: June 5, 2020

Official Website: nakineko-movie.com

Studio Colorido's 'Nakitai Watashi wa Neko wo Kaburu' New Visual Revealed & Additional Cast Announced

Studio Colorido's second original anime feature film Nakitai Watashi wa Neko wo Kaburu is set to release in Japan on June 5, 2020. The studio's first feature film Penguin Highway released in August 2018 to critical acclaim (August 2018 release) and went on to win the Japan Academy Prize for Animation of the Year as well as the Axis: The Satoshi Kon Award for Excellence in Animation award at Fantasia International Film Festival for the best-animated feature.

The above-pictured new visual was released, showcasing Muge looking happily at Hinode playing with a catーa bittersweet scene. A new promo trailer revealing Kōichi Yamadera and Hiroaki Ogi (of comedy duo OgiYahagi) as members of the voice cast. Japanese rock duo Yorushika will also perform the film's main theme Hana ni Bourei which features in the promo trailer. The songーwhich is centred on the story of the filmーwith its melody and vocals, is sure to pierce the hearts of all that hear it when they watch the movie.

Left: Kōichi Yamadera / Right: Hiroaki Ogi

Kōichi Yamadera, a veteran in the voice acting industry, will play the part of a cat store owner who plays a key part in the film's story, and who guides the protagonist Muge into the world of cats. Hiroaki Ogi will voice the teacher at Muge and Hinode's school.

Speaking about his role as the shop owner, Kōichi Yamadera said: "This is a wonderful film where the two main characters' wavering emotions, their everyday lives, and the profoundly mysterious world of the cats is touched on with careful consideration. I want people of generations to watch it, and of course those in their teens, who are sure to be sensitive and be full of worries."

Hiroaki Ogi, who voices the teacher, also said: "This is a film you can properly watch with your folks. It's one that both kids and adults alike can enjoy, so I want everyone to see it. I love stories that have family love in them, so I want to watch this with my folks too. Oh, and I hope people think I play a good teacher <laughs>. One that makes people say, I want a teacher like him too! <laughs>. This is a movie, so it might be long for some people, but please refrain from looking at your phones when you watch it at the cinema."

Yorushika, who perform the film's main theme Hana ni Bourei, said: "I watch a lot of movies; I have done for a long time. Whenever I have some free time, I'll watch one, whether it be Japanese or from the West. There's something priceless about how you're moved when the music and the film harmonise. I'm especially drawn to films where the characteristics of the film and the characteristics of the music come together."

They continue: "The words said to us by the director during our first meeting was, 'You're free to make the music you want.' We're a band that fundamentally releases music based around a concept. When we had that conversation, we were actually in the middle of writing a new concept album. I was overjoyed at those words. We basically treated it as a request to write a song that's not within the framework, but outside of it; one that flows freely."

Yorushika wraps up their comment saying: "The main theme song we've created is quintessentially Yorushika. We hope that it shines when it collides with the creativity of the film and beautifully preserves the harmony of this independent second film. We're looking forward to seeing it at the cinema."

© 2020 "Nakitai Watashi wa Neko wo Kaburu" Production Committee

Information

Nakitai Watashi wa Neko wo Kaburu

Release Date: June 5, 2020

Official Website: nakineko-movie.com