Studio Colorido's 'Nakitai Watashi wa Neko wo Kaburu' New Visual Revealed & Additional Cast Announced
Studio Colorido's second original anime feature film Nakitai Watashi wa Neko wo Kaburu is set to release in Japan on June 5, 2020. The studio's first feature film Penguin Highway released in August 2018 to critical acclaim (August 2018 release) and went on to win the Japan Academy Prize for Animation of the Year as well as the Axis: The Satoshi Kon Award for Excellence in Animation award at Fantasia International Film Festival for the best-animated feature.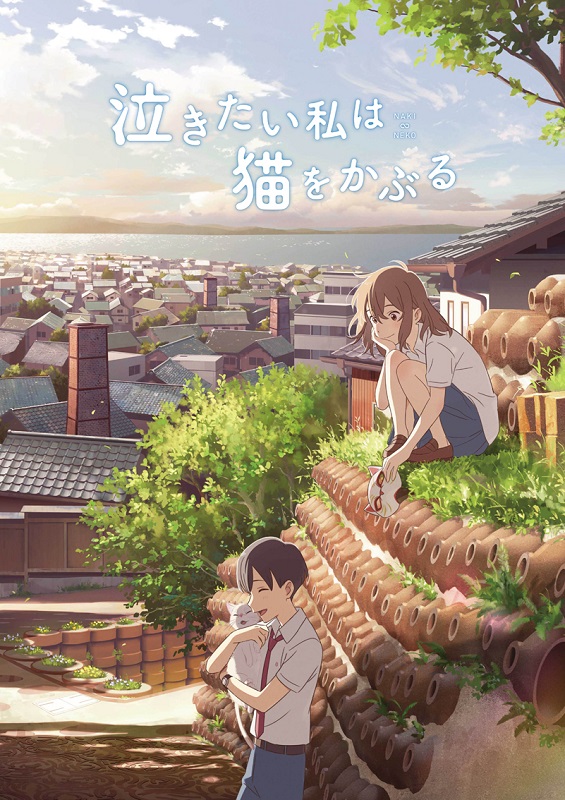 The above-pictured new visual was released, showcasing Muge looking happily at Hinode playing with a catーa bittersweet scene. A new promo trailer revealing Kōichi Yamadera and Hiroaki Ogi (of comedy duo OgiYahagi) as members of the voice cast. Japanese rock duo Yorushika will also perform the film's main theme Hana ni Bourei which features in the promo trailer. The songーwhich is centred on the story of the filmーwith its melody and vocals, is sure to pierce the hearts of all that hear it when they watch the movie.
Left: Kōichi Yamadera / Right: Hiroaki Ogi
Kōichi Yamadera, a veteran in the voice acting industry, will play the part of a cat store owner who plays a key part in the film's story, and who guides the protagonist Muge into the world of cats. Hiroaki Ogi will voice the teacher at Muge and Hinode's school.
Speaking about his role as the shop owner, Kōichi Yamadera said: "This is a wonderful film where the two main characters' wavering emotions, their everyday lives, and the profoundly mysterious world of the cats is touched on with careful consideration. I want people of generations to watch it, and of course those in their teens, who are sure to be sensitive and be full of worries."
Hiroaki Ogi, who voices the teacher, also said: "This is a film you can properly watch with your folks. It's one that both kids and adults alike can enjoy, so I want everyone to see it. I love stories that have family love in them, so I want to watch this with my folks too. Oh, and I hope people think I play a good teacher <laughs>. One that makes people say, I want a teacher like him too! <laughs>. This is a movie, so it might be long for some people, but please refrain from looking at your phones when you watch it at the cinema."
Yorushika, who perform the film's main theme Hana ni Bourei, said: "I watch a lot of movies; I have done for a long time. Whenever I have some free time, I'll watch one, whether it be Japanese or from the West. There's something priceless about how you're moved when the music and the film harmonise. I'm especially drawn to films where the characteristics of the film and the characteristics of the music come together."
They continue: "The words said to us by the director during our first meeting was, 'You're free to make the music you want.' We're a band that fundamentally releases music based around a concept. When we had that conversation, we were actually in the middle of writing a new concept album. I was overjoyed at those words. We basically treated it as a request to write a song that's not within the framework, but outside of it; one that flows freely."
Yorushika wraps up their comment saying: "The main theme song we've created is quintessentially Yorushika. We hope that it shines when it collides with the creativity of the film and beautifully preserves the harmony of this independent second film. We're looking forward to seeing it at the cinema."
© 2020 "Nakitai Watashi wa Neko wo Kaburu" Production Committee
Information
Nakitai Watashi wa Neko wo Kaburu
Release Date: June 5, 2020
Official Website: nakineko-movie.com