My Neighbor Totoro Mother's Day Gift Set is Inspired by the Corn Mei Gives to Her Mother
The My Neighbor Totoro corn gift set is a hugely popular item sold in Japan for Mother's Day. It will be released again this April at Donguri Kyowakoku stores across Japan and on the Sora no Ue online shop.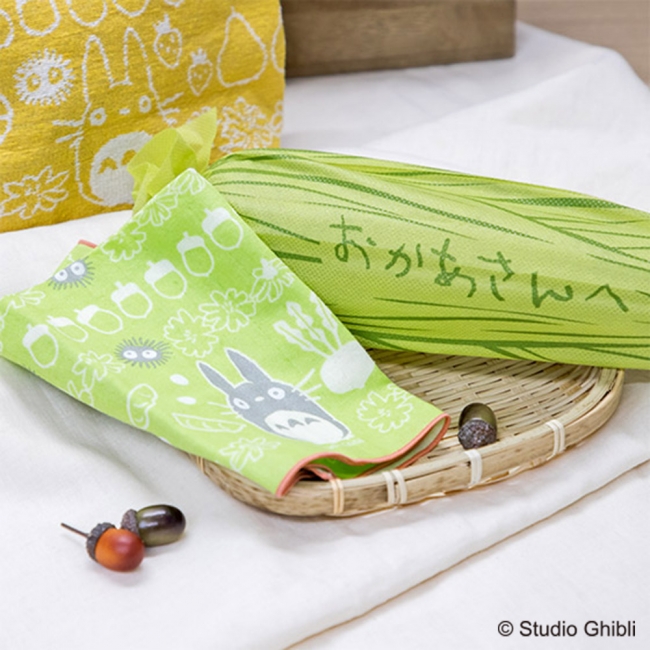 Studio Ghibli's films never fail to warm the hearts of viewers. One of these feelsy moments is seen in the movie My Neighbor Totoro when Mei picks corn for her mother and treks her way to the hospital to give it to her. This gift set is inspired by that corn inside which is wrapped a lunch bag and handkerchief with illustrations of a lively Totoro and fresh vegetables.
My Neighbor Totoro 2020 Corn Gift Set – ¥2,727 (Before Tax)

The corn set is the same size as a real corn, and is sure to bring a smile to your mother's face. If she's yet to see the film, you'll have to try convincing her to watch it. Pre-orders for the gift are now open.
Kiki's Delivery Service UV Protection 33 – ¥2,300 (Before Tax)

Whisper of the Heart UV Protection 33 – ¥2,300 (Before Tax)

Protect yourself from UV rays with these new protection creams based on the Studio Ghibli films Kiki's Delivery Service and Whisper of the Heart. The cream is made with organic plant based ingredients, and it can be used all over your body, whether for your morning and nighttime skin care routines or body when you get out the bath. The cream spreads across the skin easily and so is a recommended base for your make-up too. This is a great gift to get together with the corn set.
Treat mom to a special present this year by heading over to Donguri Kyowakoku.
RELATED ENTRIES
Studio Ghibli Merchandise Collection 'Donguri Closet' Opens For Grown-Up Fans

Donguri Kyowakoku Sora no Ue, the official online shop for Studio Ghibli merchandise in Japan, has released its new Donguri Closet line for grown-up fans of the animation studio which will run for a limited time only.

The new Donguri Closet brand focuses on the heroines of Studio Ghibli's moviesーfemale characters who are by nature gentle but all of whom are strong women. The brand's concept centres on being a place where people can be themselves through the merch. The collection is available to buy on Donguri Kyowakoku Sora no Ue.

This textile series features both big Totoro and small Totoro running around playing while surrounded by mint leaves.

Mini Pouch – ¥1,600 (Before Tax)

Clear Pouch – ¥1,800 (Before Tax)

The line-up is packed full of items you can use in your everyday life, from pouches to tote bags and more.

Left: Kiki's Departure Mini Towel – ¥600 (Before Tax) / Right: Baron & Louise Mini Towel – ¥600 (Before Tax)

The mini towels feel soft on the skin and are embroidered with delicate flowers. Their small size means you can carry them around with you everywhere in your bag.

Whisper of the Heart Embroidered Brooch Collection (Box of 10) – ¥7,000 (Before Tax)

A Whisper of the Heart version of the store's popular embroidered brooch collection enters the fray.

The Donguri Closet collection is available for a limited time only so be sure to check out the official website.

6 Mother's Day Gift Ideas From Japan | MOSHI MOSHI NIPPON

Mother's Day is set to fall on May 10 in numerous countries around the world, including Japan. A lot of people are unable to return home in the current climate, so we've compiled a list of perfect gifts to send mothers this year.

1: Japanese Candy Coloured Ink @ GINZA TSUTAYA BOOKS

This new collection of ink was made in collaboration with Kyoto-based stationery maker Tag Stationery. The array of colours are inspired by traditional Japanese wagashi confections from the Edo Period. They have a spring aesthetic to them and so are the perfect choice for writing a letter or card to your mother this Mother's Day.

GINZA TSUTAYA BOOKS "Edo Confection Ink"
Release Date: May 1, 2020
T-SITE SHOPPING: https://bit.ly/2K5BET5

2: SHIRO "Hand Freshener 80" Hand Mist

Japanese cosmetic brand SHIRO recently released its new "Hand Refreshing Series" of hand sanitisers that both clean and keep hands moisturised. Their new product Hand Refreshener 80 is a hand mist and comes in two fragrances: "Chakrasana," is an original blend of fresh orange, spicy cloves, and geraniums, and "Sabon" which has a fresh soapy smell.

Full Details: https://www.moshimoshi-nippon.jp/314729

SHIRO Hand Refreshing Series

Official Website: https://shiro-shiro.jp/

3:My Neighbor Totoro Mother's Day Gift Set by Donguri Kyowakoku

The My Neighbor Totoro corn gift set is a hugely popular item sold in Japan for Mother's Day and is now available again this year at Donguri Kyowakoku stores across Japan and on the Sora no Ue online shop. It's inspired by the corn that Mei picks for her hospitalised mother in the Studio Ghibli film My Neighbor Totoro. Wrapped inside is a lunch bag and handkerchief with illustrations of a lively Totoro and fresh vegetables.

Full Details: https://www.moshimoshi-nippon.jp/309219

Donguri Kyowakoku Branch List: http://benelic.com/donguri/list.php

Donguri Kyowakoku Sora no Ue Online Shop: http://www.donguri-sora.com

4: Ippukubox

For many of us, our time indoors has increased. The Ippukubox is a matcha making set which comes with everything you need to make authentic Japanese matcha at home. It comes with all the necessary gear for making matcha: a chawan cup, chasen tea whisk, chashaku teaspoon, and a natsume tea caddy for preserving your matcha. This is a great gift to treat your mother to so she can sit back and relax with a cup of hot matcha!

Full Details: https://www.moshimoshi-nippon.jp/316213

Ippukubox: https://o-takahashikogei.com

5: ORBIS RELEASE By Touch Series

The new RELEASE By Touch series by ORBIS is a line of hair care items, including a shampoo that cares for both the hair and scalp. A perfect gift for maximum relaxation at home during bath time.

Full Details: https://www.moshimoshi-nippon.jp/318125

RELEASE By Touch Series

Official Website: https://www.orbis.co.jp/

6: The Number One Gift: Home Cafe

Since we can't go out and enjoy ourselves at a cafe during these times, why not bring the cafe experience indoors? If you're living at home with your mother, then why not treat her to a homemade dessert or drink? Check out the recipes below if you need some inspiration.

Stay Home: 5 Simple and Kawaii Fruit Sandwiches to Try Making During the Lockdown

Stay Home: 6 Toast Arrangements to Bring the Cafe Experience to Your Home During the Lockdown

We pray for amazing Mother's Days for all mothers around the world on May 10, 2020.

Kiki's Delivery Service Wristwatch Released in Collaboration with BABY-G

GBL is a Japanese brand that sells casual American style apparel with designs and motifs taken from Studio Ghibli movies.

To celebrate the 30th anniversary of Kiki's Delivery Service and the brand has teamed up with BABY-G, which is also celebrating its 25th anniversary this year, to release a wristwatch inspired by the internationally beloved film.

The base for the wristwatch is the BGD-501 model which was a tremendously popular design in Japan in the 2000's. The limited edition anniversary item is littered with Kiki design.


The watch's dial is inspired by the movie's poster advertised when the film was released which featured Kiki working at the counter of Gütiokipänjä Bakery. When the watch's internal back-light shines you can see the bakery's logo.

The timepiece's body comes with in matte black making it easy to co-ordinate with outfits.

Donguri Kyowakoku is taking online orders from early March and will sell it in-store from early April. Further information will be made available in the near future on GBL's brand site and Instragram page.

Studio Ghibli Shop 'Closet' Releases My Neighbor Totoro Denim Merchandise

Closet is a new brand created by Donguri Kyowakoku―the official Studio Ghibli merch shop in Japan―and they've just unveiled a new series of denim goods embroidered with My Neighbor Totoro designs. The new merch will drop at the Lazona Kawasaki Plaza branch of Closet and at shops stocking the Closet brand from October 13.

Closet Limited Edition – My Neighbor Totoro Denim Series – Tote Bag: ¥2,300 (Pre-Tax)

Closet is a new spin-off brand from Donguri Kyowakoku whose products focus on the heroines of the Studio Ghibli filmography who wield a strong heart under their kindness.

My Neighbor Totoro Denim Series – Lunch Tote Bag: ¥2,100 (Pre-Tax)

The brand's first permanent shop opened in Lazona Kawasaki in March this year where they stock a whole variety of Ghibli items aimed at women including cosmetics, pouches, accessories and more.

My Neighbor Totoro Denim Series – Mini Pouch: ¥1,500 (Pre-Tax)

My Neighbor Totoro Denim Series – Pouch w/Gusset: ¥1,700 (Pre-Tax)

This is the second denim series in the line following the Kiki's Delivery Service run of embroidered denim items. There are four pieces in total: a tote bag, lunch tote bag, mini pouch and a pouch with a gusset.

If you're a Totoro fan then be sure to check out this delicately crafted series.

Information

Closet Limited Edition My Neighbor Totoro Denim Series

Release Date: October 13, 2018

Location: Closet by Donguri Kyowakoku

Address: 3F Lazona Kawasaki Plaza, 72-1 Horikawachō, Saiwai Ward, Kawasaki, Kanagawa Prefecture
Opening Hours: 10:00-21:00
Access: Directly connected to West Entrance of JR Kawasaki Station

Kaori's Easy Recipe: Totoro Black Sesame Seed Purin

With just a small bit of ingenuity, turn everyday food into something cute using Kaori's recipe series! With a few simple ideas, an ordinary recipe magically transforms into a cute dish.

In this character recipe you'll learn how to make a Totoro black sesame seed purin.

1: Ingredients

Black Sesame Purin Mix (purchased from Daiso)

Milk

Pura Chocolate (Swiss chocolate also fine)

Transparent Jar (Weck jar used)

☆For Decorating:

Almonds

Fresh Cream

Fruits of your choice

2: Cook the black sesame seed purin according to the box instructions and leave to cool.

3: Cut the chocolate into eyes, a nose and stomach and decorate the features with a chocolate pen. Make a leaf with a green pura chocolate.

☆Cool each part in the refrigerator to fully harden.

4: One the chocolate in step 3 has solidified, place it on the inner side of the jar as shown in the photo.

Add whiskers with the chocolate pen.

☆Once everything is in position, leave it to cool in the refrigerator once more.

5: After cooling again, pour in your black sesame seed purin mix from step 2.

☆If you do not leave the chocolate to completely harden it will fall off.

☆Place in the fridge once more to harden and you're done!

Finish off by decorating with fresh cream, add almonds for ears and top with a cherry.

Kaori invites you into her world of character-themed food dishes in her recipe series. Be sure to check out her Instagram where she has uploaded many pictures of her character dishes!

My Neighbor Totoro Collaborates with Traditional Japanese Shigaraki Potteryware

Shigaraki ware is a traditional type of pottery and stoneware made in the town of Shigaraki in Shiga Prefecture. Village Vanguard is now selling a range of Shigaraki ware in collaboration with the Studio Ghibli movie My Neighbor Totoro including ornaments, chopstick rest, cups and more.

Shigaraki is one of Japan's Six Ancient Kilns and has a distinct warm colour made by the kiln it's fired in.

The Totoro set features Totoro himself as well as Blue Totoro and White Totoro. Each ornament is handcrafted expertly and incorporates the distinct craft of Shigaraki. Check out Totoro's huge smile!

There's also a Totoro LED light that sways with warm light like a candle. It can be used as a mini light for your desk.

There's also 4 different chopstick rests―the three Totoros and Soot Sprites―as well as white and green cups.

Get your hands on these items from this collaboration between My Neighbor Totori and a traditional Japanese craft.

Mother's Day in Japan: Flowers, Sweets & Other Gift Ideas for 2018!

Mother's Day is a celebration of expressing gratitude to mothers who work so hard every day. The date on which Mother's Day falls differs from country to country, but in Japan it falls on the second Sunday of May; this year it's May 13th.

Have you decided on a present for Mother's Day yet?

Let's take a look at some perfect gifts you can get in Japan for this special day, from confectioneries to flowers.

Flower Miffy

Flower Miffy is a flower shop inspired by the popular picture book series Miffy. The store is introducing some original gift sets just for Mother's Day!

The cute planser can be utilized in many ways – you can even use the pot for bits 'n' bobs and the tray for accessories. The set comes with the classic choice of carnations, and there's another set of pink preserved flowers too. This is a great choice for changing up your flower gift.


RIHGA Royal Hotel – "Mother's Bouquet"

The "Mother's Bouquet" looks just like a florid bunch of flowers, but it's in fact a delicately designed delectable cake. The bottom of the bouquet, which is made of chocolate, contains hidden fresh strawberries. Together with the bite-size "Merci Maman" confectioneries, this special offer is available for Mother's Day only. It might be fun to surprise your mother with this 'bouquet' as a present.


"Petit Bisou" – Decoration Cupcakes

Petit Bisou in Ashiya sells cupcakes and baked sweets. Over on their online shop, they're selling close to 100 different varieties of sweets and desserts. Among them – cupcakes decorated with flowers, a hugely popular gift item with female customers. For Mother's Day, they are also selling cookie sets with "Thank You, Mother" written in Japanese!


"Donguri Kyowakoku" – Studio Ghibli Character Flower Gifts

Flowers delivered directly to homes is a popular gift every year on Mother's Day, and Donguri Kyowakoku, a store that sells Studio Ghibli character merchandise, are doing just both instore and via their online shop "Sora no Ue." Popular Ghibli characters such as Totoro, Cat Bus, Jiji from Kiki's Delivery Service will be made into cute planters. As well as flower gifts, the store is also selling two different tea sets this year that come with tea and a glass mug.


"PSYCHE&" × "SABON" – Mother's Day Gifts

An arrangement of carnations co-ordinated in natural and gentle colours by PSYCHE& and a rose and lavender hand cream by SABON are being released as a set for Mother's Day. This special gift invigorates through "sight, smell and touch." This sincere gift is great for busy, hardworking mothers.

Be sure to send your mother a wonderful present full of love this Mother's Day.

Totoro & Studio Ghibli Folding Fans to be Released at Donguri Kyowakoku!

At the end of April, Donguri Kyowakoku will sell three different folding fan designs at stores across Japan and on their online shop Sora no Ue. The designs include My Neighbor Totoro, Kiki's Delivery Service, and Spirited Away.

'My Neighbour Totoro' Folding Fan – ¥2,980 (pre-tax)
This folding fan has a refreshing design inspired by kiriko glass, a traditional type of craftwork from Kyoto. The calm, beautiful indigo blue colour is perfect for guys too.

Folding Fan Bag – ¥900 (pre-tax)
The new folding fan bag can be used as a set with your folding fan. By sliding this into your bag, you'll be able to keep cool every day.

Cat Bus Wind Chime – ¥3,800 (pre-tax)
Hear the cool weather with the Cat Bus wind chime too. This together with the folding fan make for perfect seasonal gifts.

Cool yourself down in the Japanese summer with the original folding fan and wind chime from Donguri Kyowakoku.

Let's make a "chara ben" (character lunch-box)! "Totoro's SPAM onigiri" (riceball)

With just a small bit of ingenuity, turn everyday food into something cute using Kaori's recipe series! With a few simple ideas, an ordinary recipe magically transforms into a cute dish.

This time, I will introduce to you how to make "Totoro's SPAM onigiri!"

1: Ingredients

SPAM

Rice

Seaweed

Sliced cheese

Chikuwa (fish sausage)

Cucumber

Meet ball (ready-made meet ball is used in this recipe)

Mayonnaise

Cutter

Seaweed punch

☆all ingredients noted above → moderate amount

2:Slice the SPAM. 6 slices will be used in this recipe.

Cut out the SPAM to make it look like it has ears and grill it.

☆Place the slices on top of a kitchen paper to extract the oil.

3:Wash the SPAM can and place some plastic wrap inside the can so it fits tight. Fill the can with rice.

Leave the rice until it gets cold.

4:Insert a cut cucumber into the chikuwa and cut off the white parts of both sides  as shown in the photo.

Cut the tip of the chikuwa as shown in the photo above.

5:Place the cut seaweed on top of circular-shaped cheese and then place it on top of the chikuwa to make a small Totoro.

Place this on top of the meat ball to make Makkuro Kurosuke.

Place seaweed and cheese as shown in the photo above to make Totoro.

6:Put mayonnaise and then the SPAM on top of the rice and wrap the whole ingredients with seaweed.

Place cut seaweed and cheese on top of the ingredients to make Totoro.

It is recommended that you cut the leftover cucumbers into the shape of leaves and place them on top of Totoro.

Finished♡

I am sure that even for those of you who are not familiar of making "chara ben," you will be able to make this recipe easily!

Kaori also invites you into her world of character-themed rice dishes in her recipe series! Please check out her Instagram where she has uploaded many pictures of her character dishes!

 

■profile

Kaori Kubota (@kaopan27)

I live in Hokkaido and I love to make character-shaped meals, desserts and breads.

I enjoy making character foods because I want to see my family smiling,

The character foods and character bento boxes are introduced in my Instaglam page→@kaopan27

"Nisshin Shokuhin Cup Noodle" with illustrations of the animation "kiki's delivery service." An exhibition of the TV commercial's original illustrations will be held in Tokyo, Fukuoka and Taiwan!

Illustrations used in the Nisshin Shokuhin Cup Noodle TV commercial illustrated by the illustrator, Eisaku Kubonouchi will be exhibited in Tokyo, Fukuoka and Taiwan.

【Nisshin Cup Noodle CM "HUNGRY DAYS Heidi version】

【Nisshin Cup Noodle CM "HUNGRY DAYS kiki's delivery service version】

At the exhibition venue in Japan, related illustrations and panels which show the "making" process based on the original illustrations will be exhibited. The exhibition will consist of two periods, the first period and second period. The content of the exhibitions will be changed.

They will sell goods using the motifs of Eisaku Kubonouchi's illustrations. Plus, they will hand out an illustrated poster or clear file (both items are not for sale) to visitors who spend more than 3,000 yen.

・Poster design

・Clear file design

Don't miss this chance to see these original illustrations.

◼︎Information

【Fukuoka】
First period: "HUNGRY DAYS kiki's delivery service version" 2017,10,14 (Sat.) to 2017,10,20 (Fri.)

Second period: "Hungry DAYS Alps no Shojo Heidi version" 2017, 10,21 (Sat.) to 2017,10,27 (Fri.)

Venue: HMV&BOOKS HAKATA

〒812-0004 9-1, Chuogai, Hakata Station, Hakataku, Fukuokashi, Fukuoka (Hakata Marui 6F)

※The exhibition will commence as soon as the store opens.

【Tokyo】
First period: "HUNGRY DAYS kiki's delivery service version" 2017,10,25 (Wed.) to 2017,10,31 (Tue.)

Second period: "HUNGRY DAYS Alps no Shojo Heidi version" 2017,11,1 (Wed.) to 2017,11,7 (Tue.)

Venue: HMV&BOOKS TOKYO

〒150-0041 21-3,1st avenue, Jinnan, Shibuyaku, Tokyo (Shibuya Mody 6F)

※The exhibition will commence as soon as the store opens.

・Entering fee: free

・Taking photos is allowed

※Distribution of the amenities will end when stock runs out (venues at Hakata and Tokyo)

【Taiwan】※The date and time might be changed

Date: 2017,11,12 (Sun.) to 2017,12,10 (Sun.) to 2017, 12,10 (Sun.)

Business hours: 13:00 to 22:00

Venue, d/art, 2F, 14, Nidan, Bushogai, Bankaku, Taipei, 10844

Entrance fee: 100 gen

Autograph session and live painting: 2017,11,18 (Sat.), 19 (Sun.)

Works that will be exhibited: "HUNGRY DAYS Majo no Takkyu Bin version" related illustrations (including the illustrations that were not used) and other old works.

※The exhibition of "HUNGRY DAYS Alps no Shojo Heidi version" will not be held.

(※The date and content of the exhibition in Taiwan might be changed. Please refer to d/art's official website RE detailed information)

Special website:https://www.meteorstreams.jp/exhibition201710

Experience Japanese High School With These 3 Youth-Packed Japanese Commercials

A common setting to see in anime is a Japanese high school. Do you ever wonder what it's like to put on a Japanese school uniform and go to school?

Well, look no further. These Japanese commercials (CM) will give you a peek into the life of a Japanese high school student, and also let you experience it a little.

A Japanese High School Musical – "Pocari Sweat"

"Pocari Sweat" always showcase high school students wearing their uniforms while dancing in their CM's. In this particular video, the students are on a school trip, and dance just about everywhere – by the ocean, on the bus, and around the camp fire. The lyrics of the song they are singing also embodies a strong sense of seizing what lies ahead in the future.

"kimi no yume to boku no yume / meguriatte kanau hazu sa / souzou ijou no mirai he" (translation: your dreams and mine / we shall encounter them, they will come true / towards an even greater future than we imagined")

What if Kiki & Tombo Became High School Students? – "Nissin Cup Noodle" CM

The theme for Nissin's "Cup Noodles" this year is "youth," and to capture that image they released a CM based on the Studio Ghibli classic "Kiki's Delivery Service." Set in a parallel world to the movie, the video focuses on the "what if" of what if Kiki and Tombo became high school students in our day and age?

This feelsy CM conveys Kiki's love for Tombo, as her eyes follow him wherever he goes hoping he will notice her.

To Love the 'Now' Even More – "Calpis" CM

Summers at high school in Japan are all about enjoying the things you will only be able to do during the 'now' to the fullest. The invigorating days of summer are fleeting and grow shorter. The song that the students sing in this video is a very famous song. Those of you who are into J-pop or anime may have heard it before.

Song Title: secret base ~Kimi ga Kureta Mono~

MOSHI MOSHI NIPPON will introduce to you even more Japanese CM's that capture the 'Japanese experience'! If you know of one yourself, then be sure to comment it on the MOSHI MOSHI NIPPON Facebook page.

—

Related Article:Introducing the latest clips and videos from internationally acclaimed Japanese artists—from Kyary Pamyu Pamyu to Perfume & more!

Related Article:It's possible to make Japanese food in 10 seconds?! Marukome X MMN shows you how with cute pop cooking videos!

Kawaii Totoro Figure Collection to go on Sale at Donguri Republic♡

Donguri Republic, the shop selling all things Studio Ghibli, are introducing some new Totoro figures to their shelves in Japanese stores and online. They will go on sale from September 15th this year and come in all different kinds of poses.


This cute collection comes with 6 figures of everyone's favourite Totoro, all in varying poses. Although, one of the poses is a secret. Each of them will make wherever you decide to put them that much livelier, whether at home or at work. You'll feel safe and better knowing that your big friend Totoro is watching over you.

The figures will be available from September 15th. And if you buy all 6, including the secret Totoro, you'll get an electric lamp figure (above), as seen in the movie, completely free to go with your Totoro.

Turn your home into a world of Ghibli with your best friend, Totoro!

Related Article:A product that will change into Totoro when folded♪ A collaborative product of "Tonari no Totoro" and Kamawanu's "Mamegui!"

Related Article:Totoro and friends come out to play as cute new Studio Ghibli toys