Stay Home With Etsuna: Tips On Having Fun With Kids While During the Lockdown Doing Crafts and Cooking
Here at MOSHI MOSHI NIPPON, we post news and information about Japan in six languages. Our aim is to deliver a variety of content related to Japan for those who love and enjoy Japanese culture.
Right now, people across the globe are in self-isolation as a result of the coronavirus pandemic. The same goes for Japan too, so we've taken this opportunity to create a new series on the website to show how we're spending time at home here in Japan.
The future is yet uncertain, and we hope for normality to return for all of us soon. We hope that this article takes your mind off the situation, even for just a little bit, to help you feel calmer, and just maybe it might give you some tips on what you can do while spending time at home.
Etsuna (悦奈)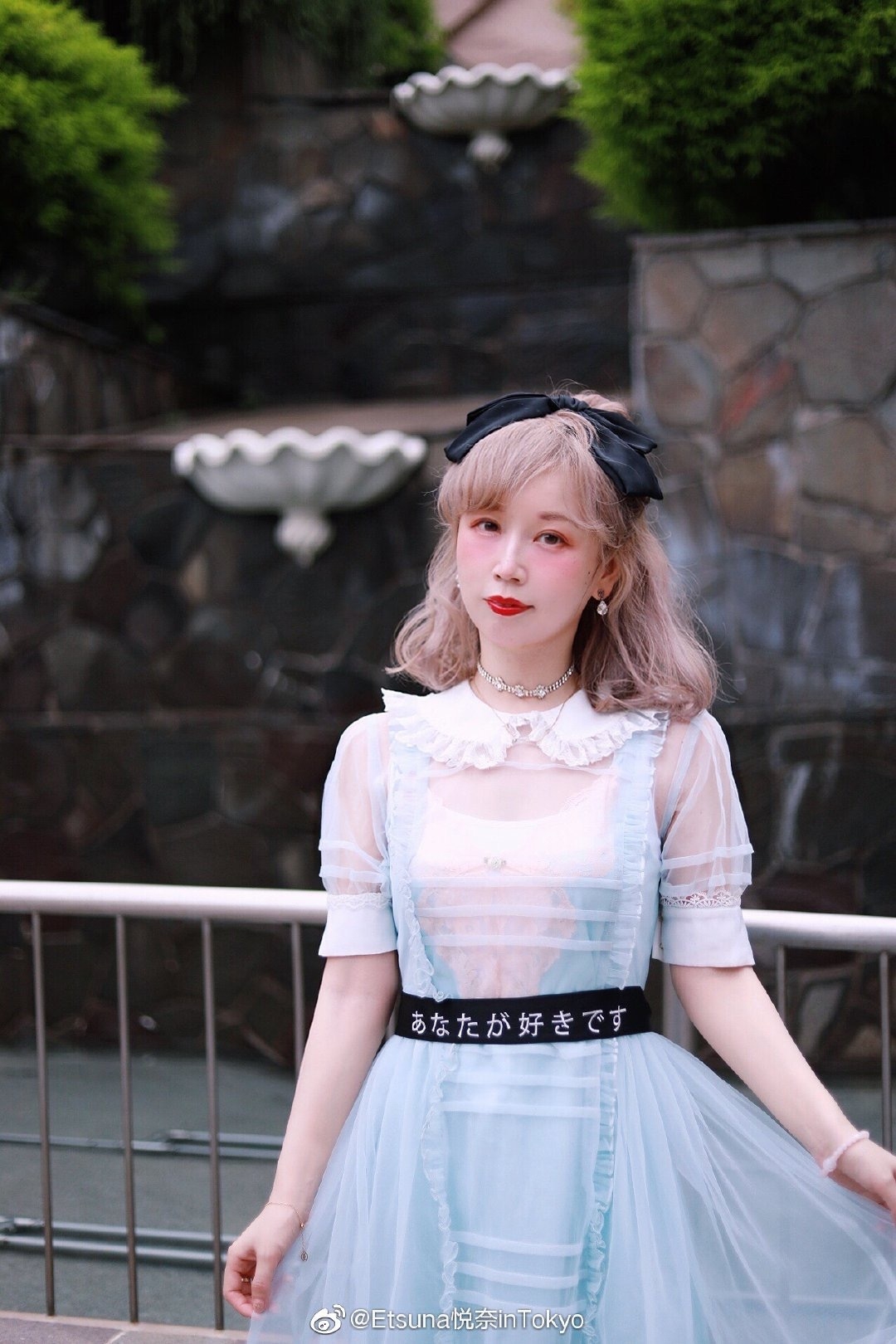 Etsuna is a model and talent from China who currently lives in Japan. She owns her own fashion brand where she designs clothes, and she posts news about Japan on her social media pages including Instagram and weibo. She's also a mother of two.
She kindly took some photos for us to share with you to show how she is spending time with her family at home right now.
Making Pikachu with pipe cleaners!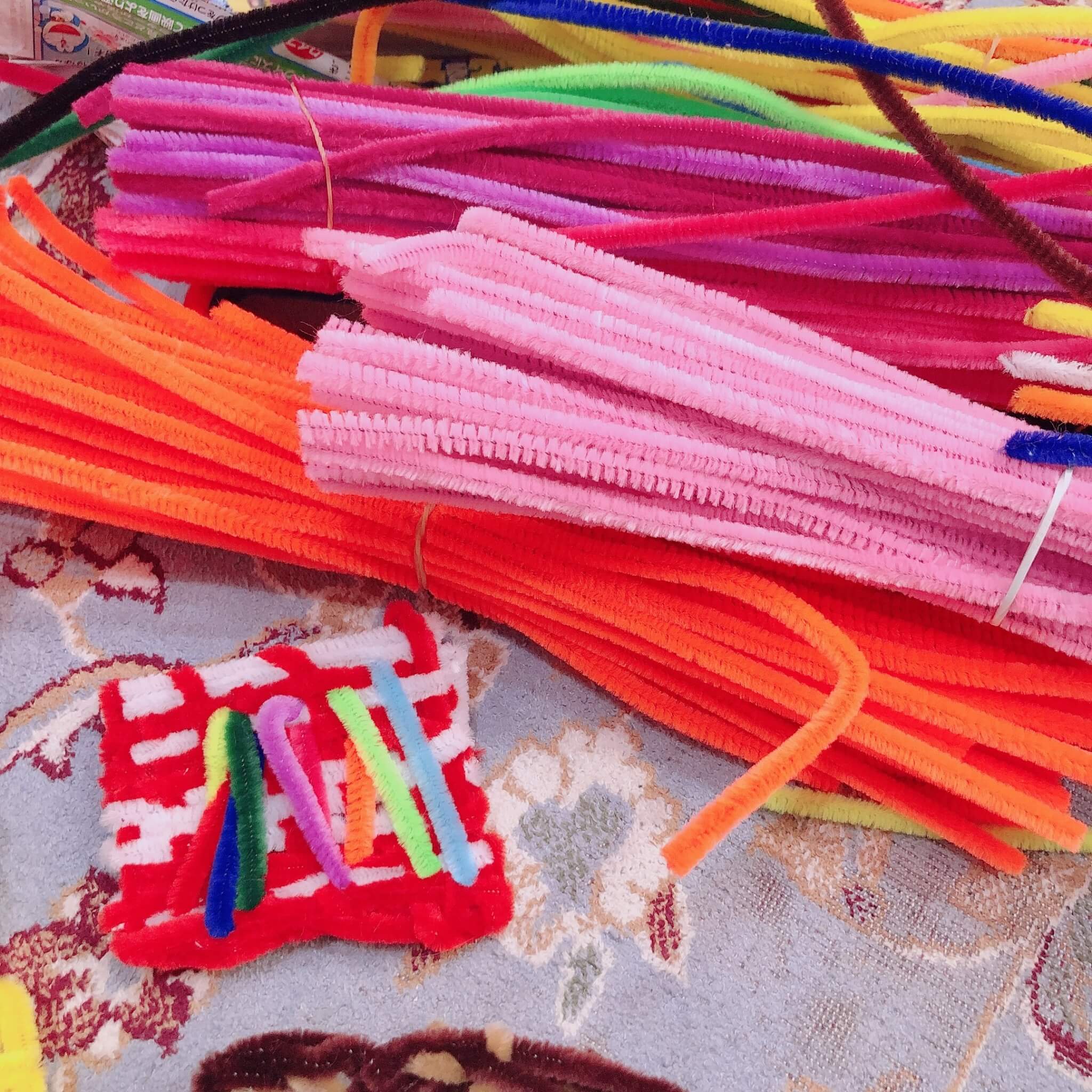 Here she's prepared some colourful pipe cleaners! She's combined them to create various different things, like Pikachu and a jellyfish. The colour of the jellyfish is just like Etsuna's usual fashion aesthetic♡
Simple banana art that kids can do too
All you need for this are bananas and a toothpick. By using a toothpick you can ensure you don't actually pierce the banana, just the surface of the skin. Stick at it and within 30 minutes to an hour you'll have created your own piece of banana art like Etsuna.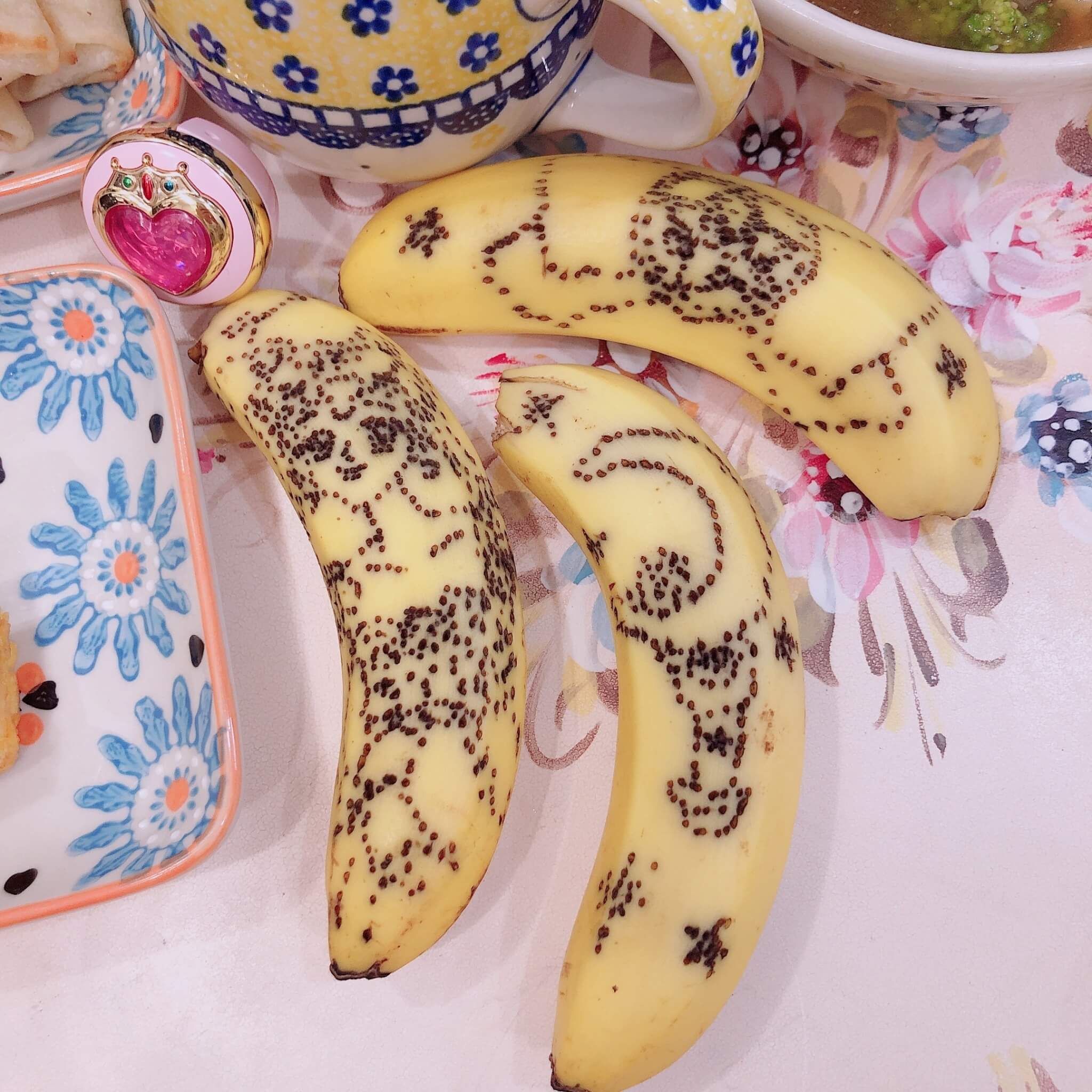 Her banana art is the real deal, as expected from an art college graduate!
Create mini figures using rocks and art tools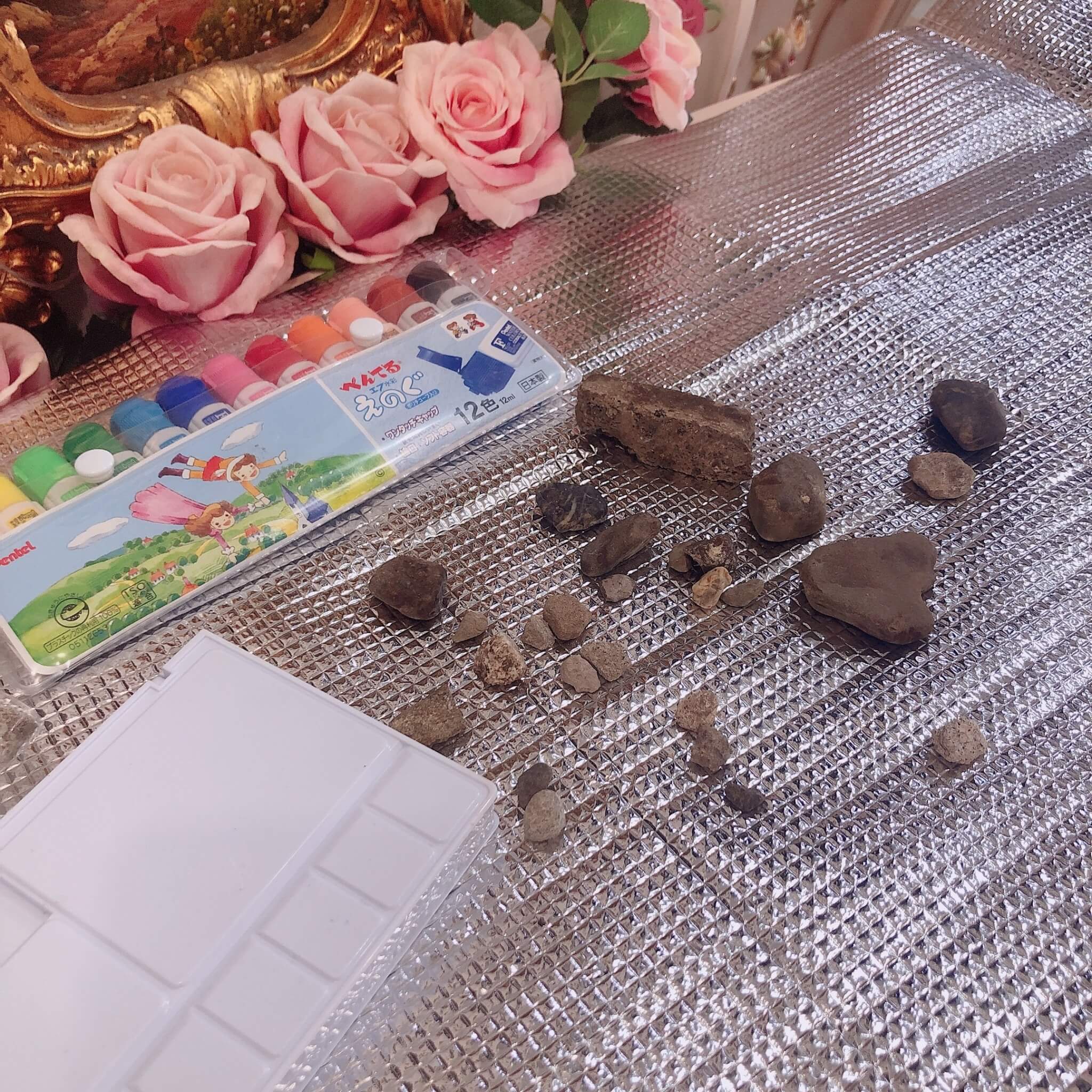 Here, Etsuna's prepared various rocks of different sizes. Add your own paint touches to a rock of your choice to create your very own mini figures. Possibilities are endlessーEstsuna's tried everything from a Japanese daruma doll to Luigi's hat.
Enjoy your own Japanese festival at home
You can make chocolate bananas like they sell at Japanese festivals using the same bananas you made the banana art with. Etsuna decorated hers with various Japanese candies like Pastel Sugar and Poifull. To make them, simply skewer the banana with a chopstick, lather the banana in chocolate, and add toppings of your choice!
Simply & kawaii 3:00 P.M. snacks
With a little planning, you can make some super cute snacks. Here, Etsuna has made a tasty parfait with yogurt which she topped with heart-shaped kiwi and banana, granola, raisins, and other surprise delights. Try making a cafe-quality dessert like this yourself at home.
Poké Ball onigiri set
Estuna's kids love Pokémon, so she made some onigiri rice balls that look like Poké Balls for them. They're filled with salmon flakes and umeboshi dried plum. They're then topped with seaweed and cheese to make the Poké Ball details. If you have some Japanese ingredients at home, like Japanese rice and seaweed, try it yourself too.
Etsuna also answered some of our questions below.
What's the secret to spending time at home?
"Kids can get pretty tired of staying at home all day, so to make it more fun and so it doesn't feel like self-isolation for us, we do pretend play like having indoor picnics and playing shopkeeper. You can create situations that make it feel different from being inside, and my kids seem to be enjoying that."
Please give a message to those reading this article
"The world is in a tough spot right now from the coronavirus. There are many people having to self-isolate in lots of different countries, from Europe and America to China. Make time to have fun at home so you can protect the lives of yourself and those you love."
RELATED ENTRIES
Interview: What Type of 'Kawaii' Did This Popular Foreign Influencer Find in Japan?

"Kawaii is marshmallow-flavored medicine for the soul."

Moshi Moshi Nippon is dedicated to sharing Japanese pop culture with audiences around the world, and today, we're featuring a foreign influencer living and working in Japan! This time, we interviewed Etsuna, a popular influencer from China, discussing how Yume Kawaii fashion brings her comfort and the many types of 'kawaii' she's found during her time in Japan. 

Q. What brought you to Japan?

"After graduating with a major in animation, I was working at a university in Shanghai as a teacher, but I decided to enroll in Tama Art University's graduate program to study for my master's degree. That's when I came to Japan, and I've been here for 15 years!"

Q. When you first came to Japan, what surprised you? Was anything different than what you had imagined? 

"Everyone wore such bold makeup, and that really surprised me! When I first came to Japan 15 years ago, I think the gyaru trend was still big, and a lot of girls had that strong Harajuku style and big personalities. Heavy eye makeup and blush was the big thing. I thought everyone was getting ready to film for a TV show." 

Q. What do you think of when you heard the word 'kawaii' in Japan?

"MOSHI MOSHI ROOMS, character cafes, and Yume Kawaii fashion…they are all so unique and so adorable! Those things are what I think of when I hear the word 'kawaii.'"

Q. Did finding Japanese kawaii culture change you in any way?

"Before I experienced kawaii culture, I was a teacher, so I wore a lot of black, white, and gray every day. But after encountering kawaii style for the first time, I started experimenting with different kawaii subcultures, like the Mori Girl trend back in the mid-2000s. Eventually, I fell in love with Yume Kawaii (Dreamy Kawaii) fashion, which is filled with pastels and a fantasy-like aesthetic. I've been dressing in that particular style for about ten years now. To me, kawaii is like marshmallow-flavored medicine for the soul. It's very healing." 

Q. When it comes to Japan, what interests you now? Where would you like to visit in the future?

"Today, it feels like Japanese fashion is becoming more and more simple, and the Harajuku kawaii trend is starting to disappear. Is that because people don't like standing out in that over-the-top way? Do they feel embarrassed if they dress differently than most people? I've met a lot of people who love Yume Kawaii fashion, but they might not have the courage to wear it themselves. That's why I'm currently researching how to bring Yume Kawaii to AR. If I can bring it to the virtual world in a way that blends with the real world, I can create a brand-new experience for everyone. Using mobile AR technology, people will be able to transform their everyday clothes into something with more Yume Kawaii style!"

Etsuna's Original Yume Kawaii AR Filter

Q. Please give a few words to those living abroad who are interested in visiting Japan!

If you really want to experience Japanese kawaii culture, stay at MOSHI MOSHI ROOMS in Harajuku! There are so many fashionable people in Tokyo too, and if you hang out near Harajuku Laforet on the weekend, you'll see people taking plenty of pictures. Come have a special trip to Japan and surround yourself with all things kawaii! Have fun!" 

Information

PROFILE

Etsuna

Born in China, Etsuna is a graduate of Tama Art University in Tokyo. In addition to sharing kawaii culture on her social media accounts, she founded her independent brand 'Etsuna otsukA' in 2011, which has been featured in a number of magazines. Her Weibo video channel TokyoGoGo, featuring uploads edited by Etsuna herself, has become incredibly popular. She is currently active as a designer and TV personality, mainly in Japan and China. 

Discover the wonder of Kanazawa with AMIAYA and ETSUNA with new "HAKKEN" videos produced by Channel 47

Fashion icons show the modern and historical charm of Kanazawa, Japan

TOKYO, JAPAN (16 November, 2021) – Channel 47, a company focused on globally promoting the appeal of local and popular Japanese culture through the power of entertainment, is excited to debut their new "HAKKEN" video series today, 16 November, highlighting the wonderful modern and historical tourism aspects of Kanazawa City in Ishikawa Prefecture. "HAKKEN" is the Japanese word for discovery, which is the core feeling this new video series is aiming to convey. Channel 47 wants toinspire viewers to discover the wonders of Japan's local culture through these shortfilms.

The debut videos feature fashion icons AMIAYA and ETSUNA (both represented by ASOBISYSTEM), each exploring a different facet of what Kanazawa has to offer curious visitors. These films were produced by Channel 47 as a part of promotional efforts for the Kanazawa Film Festival held in September of 2021. These entries in the "HAKKEN" series were informed by Channel 47's shared philosophy with the Kanazawa Film Festival, to disseminate the culture of Japan's countryside and promote its appeal worldwide.

In the first video, twin model & singer duo AMIAYA discover the "pop" elements of the city at locations such as the Omi-machi market, the 21st Century Museum of Contemporary Art, the Nagamachi Samurai District, and more. Along the way they sample delicacies from some of Kanazawa's highly rated restaurants. Through their experiences viewers will see art, food, shopping, and scenery that has high appeal among visitors.

Watch "HAKKEN – Discover Kanazawa with AMIAYA"

https://www.youtube.com/watch?v=a9-gD-ftTE0

Find AMIAYA online

Official Website: https://asobisystem.com/talent/amiaya/

AMI Instagram: https://www.instagram.com/amixxamiaya/

AYA Instagram: https://www.instagram.com/ayaxxamiaya/

Twitter: https://www.twitter.com/AMI__AYA

In the second video, fashion designer and influencer ETSUNA takes a different approach and wanders the traditional side of Kanazawa. Starting with a stroll in the Higashi Chaya District, her journey takes her to make ceramic art at Hokutoh, and to see historic locations such as the Ishikawa Bridge, the Gyokusen'inmaru Garden, Sannomaru Square, and more. To fit the traditional theme of her visit, she visits Kimono & Antiques Soki and gets dressed for the occasion. Viewers will see through ETSUNA's exploration the beauty and historical legacy of Kanazawa City.

Watch "HAKKEN – Experience Kanazawa's History with ETSUNA"

https://www.youtube.com/watch?v=Z3h-57mhouU

Find ETSUNA online

Official Website: https://asobisystem.com/talent/etsuna/

Instagram: https://www.instagram.com/etsunaotsuka/

Twitter: https://www.twitter.com/etsuna_artist/

ABOUT KANAZAWA FILM FESTIVAL

The 15th Kanazawa Film Festival was held from September 18-20, 2021 in Theater 21 at the 21st Century Museum of Contemporary art in Kanazawa. The festival has a reputation not only for the high quality of films presented each year, but also for its "New Directors with Promising Talent" program. This year 83 films were entered in the "New Directors with Promising Talent" program, and 11 of them won screening rights. The Grand Prix was awarded to MELIA's "Experiential Tour", for which she also received the special Channel 47 Award.

More information on the Kanazawa Film Festival can be found at

 https://www.eiganokai.com/event/filmfes2021/kanazawa/

ABOUT CHANNEL 47

Channel 47 is a project that using the power of entertainment to communicate the appeal of Japan and its different regions to overseas audiences. Through planning and producing events with celebrities and personalities, Channel 47 creates content that conveys the appeal and charm of Japan's many different regions to viewers all over the world. Channel 47 created the post-movies for the 15th Kanazawa Film Festival, held in September 2021. Additional efforts to promote the event overseas include producing

English subtitles for "Alien Painter" which was screened as a Kanazawa Film Festival Scholarship Film.

For more information about Channel 47 please contact: info@channel47.jp

Art Charity Auction Opens to Support the Fight Against COVID-19

Last year, the Pola Museum Annex in Tokyo hosted a charity auction to support the fight against the COVID-19 pandemic breaking out across the globe. As the world continues to feel the effects of the virus, the charity event is returning for a second year, and is set to be held from November 12 until December 5, 2021. The title for this year's art exhibition is 'Find Your Travel.' 

Lemon Tree – Yuka Kashihara. Acrylic and oil on canvas.  2020. 

POLA Dot or snowball ~Based on Tosa Mitsuyoshi's Colored Painting of Yugiri from The Tale of Genji~ – Tetsuya Noguchi. Acrylic. 2020. 

our whereabouts – Moe Nakamura. Camphor, bronze, oil. 2021. 

Philanthropy – Yuko Higuchi. Hemp paper, pen, watercolor. 2020. 

Baby Heel-less Shoes – Noritaka Tatehama. Cowhide, pigskin, dye, metal zipper, coated crystal glass. 2020. 

Last year's charity auction raised over ¥9,145,000 (about $83,000) for the Japanese Red Cross. As the COVID-19 pandemic continues around the globe, and as Japan remains locked down, this year's event hopes to raise even more useful funds to help medical professionals on the front lines. 

 

20 artists are participating in the exhibition, with each creating one work based on the theme of 'travel.' In addition to simply viewing these pieces at the exhibition, a silent auction will also be held online. With travel being severely restricted, these works of art seek to inspire and encourage visitors to imagine a better future, when the world is open once again. All proceeds will once again be donated to the Japanese Red Cross. 

 

 

Information

Find Your Travel Charity Auction

Running: November 12 – December 5, 2021

Hours: 11:00-19:00 (Last entry 18:30) / Admission Free

Address: Pola Museum Annex 3F (1-7-7 Ginza, Chuo-ku, Tokyo)

Official Site: http://www.po-holdings.co.jp/m-annex/

Japanese Unisex Loungewear Brand Arce Opens Online Store

Wanget's unisex loungewear brand Arce launched its online shop on Wednesday (February 17). The brand is hosting a campaign on its social media pages to promote the launch where customers can win some free items.

Arce was established from Makuake on November 25, 2020. The brand creates clothes made in Japan using environmentally-friendly Japanese materials. Their loungewear is versatile and can be worn not only indoors but outdoors too, and even when going to meet people. The clothes are shipped in boxes made from FSC-certified cardboard, and the vinyl bags used to protect each item are made using biodegradable saccharum officinarum.

Arce held its first exhibition in Japan on November 25 and 26 last year to resounding success, bringing in many customers.

The brand is currently holding a campaign on its Instagram page from February 17 to 28 where people can enter for a chance to win the above-pictured T-shirt and pullover. Only one of each will be given to two people respectively. To enter, you need to follow Arce on Instagram and give a like on which item you want.

Sendai Stroll: Taking a Walk Around Japan's City of Trees With Chinese Influencer Etsuna

Sendai, the capital of Miyagi Prefecture and the largest city in Japan's Tohoku region, is a two-hour bullet train ride from Tokyo. The city has earned the nickname Mori no Miyako, or 'City of Trees,' due to the abundant rows of zelkova trees lining many of its streets. It bustles with charm and is enjoyed by locals and tourists for its history, sights, and events, such as its associations with the Japanese regional ruler Date Masamune, the famous Sendai Tanabata Festival, and more. However, there are many other incredible locations that Sendai has to offer that aren't as well known as the popular sites, so today we are joined by Etsuna who is giving us the latest in what can be found in the city.

Along The Coast

The coast of Sendai was struck by a tsunami when the Great East Japan Earthquake struck back on in March 2011. Today, the area is continuing its re-development efforts. New facilities have and are being built, including plenty of new spots the area never had before. Sendai is home to a memorial hall for remembering those affected during the disaster which is a must-visit if travelling to Sendai.

Sendai Umino-Mori Aquarium

Feel the sea breeze and ocean water of Tohoku against your skin

Sendai Umino-Mori Aquarium opened in 2015 as the larrgest aquarium in the Tohoku region. The first floor is themed on the waters of Tohoku where many rare aquatic species from the Sanriku Coast are housed. The second floor is centred on sea creatures found in the oceans around the world such as tropical fish, jellyfish, marine mammals, and other familiar faces.

Visitors can even meet ascidians there which are famous in the Sanriku Coast.

The large fish tanks let in a lot of natural light, recreating the beauty of the Sanriku sea.


There's also a special spot where you can get up close to some of the fish!


The aquarium offers an optional program where visitors can feed the penguins.


"It's a pretty big aquarium," said Etsuna. "It was great to see all of the different things they have on display. I had a lot of fun feeding the penguins too!"

Sendai Umino-Mori Aquarium

Address: 4-6 Nakano, Miyagino-ku, Sendai-shi, Miyagi Prefecture
Opening Hours: 10:00-17:00 (May change depending ont he season)
No Fixed Holidays
TEL: 022-355-2222
Access: 10-minutes by shuttle bus (free ride) from JR Nakanosakae Station
Price: Adults ¥2,200 / Seniors, High School and Junior High School Children ¥1,600 / Elementary School Children ¥1,100 / Infants ¥600 (All Tax-Inclusive)

Official Website: http://www.uminomori.jp/umino/

Sendai Chuooroshiuri Market

Fresh fish at an affordable price

Sendai Chuooroshiuri Market is like the kitchen of Sendai. The food shops there were opened by locals. Visitors will find many different bites to eat when visiting. Etsuna visited Sushi Yoshi, a restaurant in the area so popular that there's always a line.


The restaurant's name, Sushi Yoshi, suggests that it's a sushi restaurant, but they actually serve common delicacies like rice bowls and set meals.


Maguro Sanshudon | ¥1,500


This rice bowl contains three kinds of maguro tuna, so much in fact that you can't even see the rice!

"You can enjoy delicious fresh fish at a reasonable price. You might have to wait in line, but it's totally worth it!"

 Sushi Yoshi
Address: 4-3-1 Oroshimachi, Wakabayashi-ku, Sendai, Miyagi
Opening Hours: 6:30-13:30
Closed: Wednesdays and Sundays
TEL: 022-232-8042
Access: 20-minutes by bus from Sendai Station

Sendai 3/11 Memorial Community Center

Learn the story of the disaster

Inside Arai Station, which is the last stop on the Tokyo Metro Tozai Line, you can find the Sendai 3/11 Memorial Community Center where visitors can learn all about how the Great East Japan Earthquake affected Sendai through the exhibition rooms and in the communal space.


The first floor features a panel with a 3D map of how the tsunami inundated the region as a result of the earthquake.


Up on the second floor is a permanent exhibition showcasing the restoration and restoration efforts of the community as well as real photos from around the time of the disaster.

There are also staff members there who survived the disaster and can describe their experiences as well as current issues facing Sendai.

"I got teary when the speaker told me about the hardships they faced at that time," explains Etsuna. "The people of Sendai are living their lives looking forward, and I have a lot of respect for them."


Sendai 3/11 Memorial Community Center
Address: Kutsugata-85 Arai, Wakabayashi-ku, Sendai, Miyagi
Opening Hours: 10:00-17:00
Closed: Mondays (or Tuesday if the Monday falls on a public holiday) / Day after public holiday / New Year Holidays
TEL: 022-390-9022
Access: Arai Station
Entry: Free

Official Website: http://sendai311-memorial.jp

 

Sendai Arahama Elementary School

The school that still stands after the earthquake disaster

On the day of the Tohoku earthquake, many local residents fled to Sendai Arahama Elementary School where 320 people were trapped including the evacuees, children, and teachers, before managing to escape safely to the roof. The school is now open as a memorial to preserve the memories of those who survived.

The tsunami that struck after the earthquake made it to the second floor of the school. These first two floors have been kept untouched and are as they were on the day.

There are photos as well as video footage exhibited on the fourth floor where the tsunami didn't reach.


From the school building's roof you can gaze at the peaceful coastline.


"Seeing the place that was hit by the tsunami up close has really changed my outlook on life. There is green in the surrounding area. I felt life budding all around."


Sendai Arahama Elementary School
Address: Shinborihata-32-1 Arahama, Wakabayashi-ku, Sendai, Miyagi
Opening Hours: 9:30-16:00
Closed: Mondays / Every 4th Thursday of the month / New Year Holidays
TEL: 022-355-861
Access: 15-minutes by bus from Arai Station
Entry: Free

Akiu Area


Akiu Onsen is a spa town known to locals as the 'living room' of Sendai. It's a 30-50 minute bus ride from Sendai Station. It has been nicknamed one of Japan's Three Baths alongside Bessho Onsen and Nozawa Onsen, both in Nagano Prefecture. It's another place that Date Masamune frequented many times.

Rairaikyo Gorge

A stroll along the gorge path

Rairaikyo Gorge gets its name from the abundance of enormous rocks that have been eroded by the Natori River and given them strange shapes. The Kanji 'rai' used in the gorge's name literally means 'many rocks.' The gorge is home to a 1-km path that people can walk along and soak up the incredible natural environment that offers sights to behold throughout the year. From late October to mid November, when the autumn leaves are in bloom, the area is also lit up in the evenings.


The heart-shaped hollow in the rocks as pictured above is considered a sacred place for couples.


Taking a stroll along the path one sees maple trees aplenty. Visiting during the height of autumn graces you with a colourful scene you wouldn't want to miss.


"I feel healed having gotten to take a leisurely stroll through nature," explained Etsuna. "The rocks of Akiu have some interesting shapes."


Rairaikyo Gorge

Address: Akiumachi Yumoto, Taihaku Ward, Sendai, Miyagi
Access: Approx. 40 minutes by bus from Sendai Station

Akiu-sha

A stylish, old fashioned cafe in the hot spring town


When taking a trip to Akiu Onsen, one hot spot that's a must-visit is Akiu-sha, a restaurant that was renovated from an old private farm house from the Edo Period. During the day it serves lunch food and drinks while in the evenings it's used for events like private parties.

There's an open garden at the site which is sometimes used for weddings. At the back are vegetable plots tended to by the restaurant.

Akiu-sha Lunch | ¥1,280 (Before Tax)


The Akiu-sha Lunch is made with fresh vegetables grown in both their own plot as well as from around Akiu.

Akiu Saiseki Chocolate | ¥850 (Before Tax)


A white chocolate dessert inspired by the unique rocks of Akiu. Customers can use the little wooden hammer to break apart the dessert to create a rubble of chocolate.

The inside of the restaurant is spacious with towering beams holding it up.


"The vegetables are so fresh, I couldn't believe how tasty they were! This flavour is unique to this place."

Akiu-sha
Address: Nozoki-9-4 Akiumachi Yumoto, Taihaku Ward, Sendai, Miyagi
Opening Hours: 11:00-17:00 (Last Food Orders 14:30 / Cafe Last Orders 16:00)
Closed: Tuesdays
TEL: 022-724-7767 (Bookings not possible)
Access: 50-minutes by bus from Sendai Station

Official Website: http://akiuwinery.co.jp

Akiu Winery

Taste and compare different original wines

Akiu Winery in Akiu Onsen was the first winery to open in Sendai. It's home to an enormous grape field, and inside is the brewery itself as well as a dining area and shop. They serve an array of original wines.

As well as originals, Akiu Winery also stocks famous wines from Sendai.


Merlot Red Wine 2018 (Sample) | Koshu Sur Lie 2019 (750ml) ¥2,300 | Steuben Rosé 2019 (750ml) ¥2,000 (All Before Tax)


Akiu Winery's line-up of wines are famous in Sendai.


At the back of the winery is the expansive grape field.


Craft Grill | ¥1,330


At the outdoor terrace you can enjoy a BBQ grill together with a glass of wine.

"The sight of the grape field made me feel like I was in France. You can enjoy a BBQ too so I definitely want people to come here!"


Akiu Winery
Address: Biwaharanishi-6, Akiumachi Yumoto, Taihaku Ward, Sendai, Miyagi
Official Website: http://akiuwinery.co.jp

Akiu Great Falls

The Three Great Waterfalls of Japan

Akiu Great Falls is considered one of Japan's three most famous waterfalls alongside Kegon Falls in Tochigi Prefecture and Nachi Falls in Wakayama Prefecture. It's about 15-minutes by car downstream from Akiu Onsen and is also accessible by bus.

They have a retro shop at the entrance of the waterfall.


Also located next to the waterfall is Akiu-Otaki Fudoson, a temple surrounded by dense green foliage and enormous gingko trees.


"Being in nature really relaxed me and took away the day's stress! It's quite a walk to the waterfall basin so you get plenty of exercise too."


Akiu Great Falls
Address: Otaki Akiumachi Baba, Taihaku Ward, Sendai, Miyagi
TEL: 022-398-2323 (Akiu Onsen Tourist Information Center)
Access: 50-minutes by bus from Sendai Station (Running on weekends and public holidays only)

Around Sendai Station

Sendai Station can be considered as the doorstep of Japan's Tohoku region. It of course runs JR East's Tohoku Shinkansen bullet trains as well as operates Sendai Subway services and buses. The area around the station is great for finding tasty local delicacies, shopping, and souvenir-buying.

WANOSHOKU NIKAI

Seri-nabe is Sendai's new specialty food

If you're asked to give an example of a famous speciality food product from Sendai, chances are people will jump straight to the city's gyutan beef tongue, but what has been the talk of the town recently is seri-nabe. Seri-nabe is a type of hotpot cooked with Japanese parsley ('seri') – one of Japan's seven spring flowers. Miyagi Prefecture boasts as a top class producer of Japanese parsley. The hotpot is served in a simple duck broth which allows the fragrance of the parsley to come through.


"I can't get enough of the crunchy texture of the [parsley] roots! It was delicious, I had a refreshing soy sauce soup finished with ramen."


WASHOKU NIKAI
Address: 2-5-15 Ichibanchō, Aoba-ku, Sendai, Miyagi
Opening Hours: 17:00-Midnight
No Fixed Holidays
TEL: 022-224-6040

Iroha Yokocho

Bar crawl deep into the back streets

The side streets of the Sunmall Ichibancho arcade have a retro Japanese vibe to them, packed full of shops that make one feel nostalgic.

The long, winding alleys feature plenty of Instagram-worthy spots.

"This is a great spot for enjoying a bar crawl, just having a light drink and then moving onto the next place. Even if you don't drink there's tasty food to enjoy too!"

Iroha Yokocho

Address: 2-3-28 Ichibancho, Aoba-ku, Sendai, Miyagi
TEL: 022-223-3151

S-PAL Sendai

A fashion mall connected to the station

S-PAL is a fashion mall directly connected to Sendai Station, home to apparel stores, restaurants, souvenir shops, sundry sellers, and more. Here are some sundry stores selling a variety of miscellaneous items perfect as souvenir purchases.

Nakagawa Masashichi

This is an old-time chain that has been around for 300 years. Specialising in lifestyle goods, this S-PAL branch is the only one in all of Tohoku.


Its interior design has a retro feel to it with shelves and tables piled with cute bits and bobs.

Kaya-ori Tea Towel | ¥440 (Tax Included)


A specialty product of Tohoku, this tea towel is made using the traditional weaving technique of kaya-ori. Exclusive to Tohoku.

IORI

IORI is another shop you'll only find in the Tohoku area. They sell imabari towels which are perfect as gifts to yourself or another.


Handkerchiefs | ¥600 Each (Tax Included)〜


These handkerchiefs are only sold in Sendai and feature a variety of embroidered motifs like the windsocks of the Sendai Tanabata Festival, kokeshi dolls, the helmet of Date Masamune, and more.

KANEIRI STANDARD STORE

A select shop stocking stationery and other trinkets that promote the culture and craftsmanship of Tohoku. This store is right next to Sendai Station and has plenty of souvenir-worthy items, so it's absolutely worth a visit.


As well as lifestyle goods, the store also sells items made in Miyagi, like kokeshi dolls.

Matsukawa Daruma | ¥1,300 (Before Tax)


These Matsukawa Daruma are super cute, especially the blue one which is inspired by the Sendai Domain, also known as the Date Domain.

Dagashiya Zousan

Dagashiya Zousan sells old-time Japanese sweets and confections, stocked with many popular treats from Tohoku adored by both kids and adults alike.


The traditional sweets are all packed together along the shelves and up the walls.

The popular souvenir shops of Sendai

You can't go home after a fun trip without picking up a souvenir, so here's s line-up of shops that have been surging in popularity recently in Sendai, all of which sell Sendai-specific items.

Drinkable zunda at Agurienomori Mitte


Drinkable Zunda | ¥370 (Before Tax)


Zunda are mashed green soybeans boiled and turned into a sweet paste. They are also a local delicacy. Zunda mochi are very famous, but zunda beverages are popular too. This shop sells a variety of zunda treats to pick from.

Bamboo grass kamaboko at Kanezaki-ya



There are many makers of sasa-kamaboko, or bamboo grass fish paste, but what makes Kanezaki-ya's so great is how it retains the original umami flavour and plump texture of the fish.

Zaou cheese at Tohoku Meguri Irotoiro

Zaou Cream Cheese, Vanilla Cream Spread | ¥557 Each (Before Tax)


A food select shop selling a range of different ingredients. Their kaou cheese with sweet vanilla is their most popular item.

"It's a fashion mall so of course they sell clothes, but they had a bunch of other stuff too, everything from traditional Japanese daruma to food. I really recommend S-PAL Sendai if you're searching for souvenirs!"

S-PAL Sendai
Address: 1-1-1 Chuo, Aoba-ku, Sendai, Miyagi
Opening Hours: 10:00-20:00 (Restaurant wing open 11:00-22:00)
No Fixed Holidays
TEL: 022-267-2111
Access: Connected directly to Sendai Station
Official Website: https://www.s-pal.jp/sendai/ 

"Sendai looking and progressing into the future as it overcomes the effects of the disaster. It's a place with amazing food, fun shops, and is teeming with nature. If you've never been to Sendai before, then be sure to visit and have fun!"

Information

TOHOKU PASIFIC COAST:http://tohoku-pacific-coast.com/

"TOHOKU Pacific Coast" refers to the eastern coastal area of Tohoku, Japan. The area was extensively damaged due to the tsunami caused by the Great East Japan Earthquake in 2011. However, it has overcome this adversity and is once again gaining attention as a sightseeing spot that once attracted tourists from all over due to its flourishing wildlife and delicious seafood.

Universal Studios Japan to Release Snoopy, Elmo and Other Cute Character Face Masks

In an effort to ensure the safety and protect the health of guests and staff, Universal Studios Japan (USJ) introduced strict measures to prevent the spread of COVID-19 on June 8, 2020, such as limiting the number of people who could enter the park each day and enforcing thorough cleaning routines. This enabled the park to reopen after its temporary closure. It has since been able to deliver its scope of fun and excitement to guests, albeit in a more structured way.

USJ wants to make wearing masks more fun too, and so it is releasing a range of character-inspired face masks, such as Snoopy, Elmo and the Cookie Monster, on August 7. Part of the money made from sales of these masks will be donated to the USJ Wonder Kids Program which helps support children in need.

Universal Studios Japan original design masks

The masks' unique designs take the mouths of each character. These can be worn together with each respective characters' headband which are also sold at USJ. Designs include Elmo, Cookie Monster, Snoopy, Tim, Jurassic Park, and Jaws.

Photos provided by Universal Studios Japan.
HARRY POTTER characters, names and related indicia are © & ™ Warner Bros. Entertainment Inc. Harry Potter Publishing Rights © JKR. (s20)
Minions and all related elements and indicia TM & © 2020 Universal Studios. All rights reserved.
TM & © 2020 Universal Studios.
© 2020 Peanuts
© '76, '20 SANRIO
© 2020 Sesame Workshop
TM & © Universal Studios & Amblin Entertainment
TM & © Universal Studios.
TM Universal Studios.

Information

Universal Studios Japan Original Design Face Masks
Release Date: August 7, 2020
Price: Single Mask – ¥900 (Tax Included) / Set of Two – ¥1,500 (Tax Included)

Universal Studios Japan Official Website: https://www.usj.co.jp/

Japan's Manga Artists Join Hands For New Manga Project Depicting Life During COVID-19

Over 50 manga artists in Japan are coming together for the launch of the new "MANGA Day to Day" project which will depict daily life during the novel coronavirus (COVID-19) pandemic.

The project is set to roll out for free in mid-June on Twitter and Comic Days. A teaser by famous manga artist Tetsuya Chiba (Ashita no Joe; Notari Matsutarō) was released on May 22, 2020.

A related project entitled "Day to Day" is also taking place over on the Japanese literature news website TREE where over 50 popular authors have penned writings and essays on the restrictions of today's everyday life. In addition to Japan, both projects have caught the attention of overseas news media and websites too. Like the related "Day to Day" project, "MANGA Day to Day" will have one new manga strip released for free each day on Twitter and Comic Days. A piece entitled Akudama by Tetsuya Chiba is already available to see over on the project's official Twitter account.

People's lives have changed drastically as a result of the pandemic. To pass down this time in history to the next 100, or even 200 years, the pieces contributed to the "MANGA Day to Day" project will be compiled into a book that's scheduled for release in early 2021. A special edition of the book will also be compiled featuring both the manga and writing pieces.

Be sure to follow the Twitter account below to keep up to date.

BAPE® Releases Face Mask Case For Storing Your Mask

A BATHING APE® released its new face mask case on Saturday (May 23) for people to hygienically put away their face masks, whether to store away or for on the go. The cases will be given to everyone that purchases something from the BAPE STORE® or BAPE.COM in Japan.

The case features BAPE's iconic APE HEAD design. It's made from PVC and so can be hand washed so people can safely and hygienically store their face masks. The case can of course be used to store hand sanitiser or hand wipes too.

Information

BAPE® MASK CASE

Release Date: Saturday, May 23rd, 2020
Available: BAPE STORE® and BAPE.COM in Japan to all customers. One case per transaction. Available while supplies last.

Product Page: https://bape.com/blogs/news/bape-mask-case

Mori Art Museum Encourages People to Stay Creative at Home With Free Online Art Content

Like many institutions around the world now, Mori Art Museum is temporarily closed as a result of COVID-19. But that hasn't stopped the museum spreading creativity as it recently launched a new page on its website titled "Mori Art Museum Digital."

The page comes as part of a new agenda by Mori Art Museum which it is calling "MAM @ HOME" which encourages people to "Stay Home, Stay Creative." The project aims for the museum to stay connected with people even while the building itself is closed by offering a host of free art-related content.

This includes the "Future and the Arts 3D Walkthrough" which had to end in response to the museum's closure, an online sneak preview of the postponed "MAM Screen 013: Mounira Al Solh," the "ARTISTS COOKBOOK" which features recipes, photos and stories from artists around the world, and more.

Program #1: Online Sneak Preview of MAM Screen 013: Mounira Al Solh

Mounira Al Solh – Rawane's Song (2006)

Mounira Al Solh – As If I Don't Fit There (2006)

Since "MAM Screen 013: Mounira Al Aolh" has been postponed as a measure against the novel coronavirus (COVID-19), Mori Art Museum is introducing two works online prior to the official screening: Rawane's Song (2006) and As If I Don't Fit There (2006).

Mounira Al Solh works internationally and is based in her home country Lebonan and in Europe. Her work offers humorous takes on everyday events and stories, as well as episodes based on the lives of women from a contemporary society where political and religious conflicts as well as issues surrounding refugees occurs.

Program #2: Future and the Arts 3D Walkthrough

Due to the museum's closure, "Future and the Arts: AI, Robotics, Cities, Life – How Humanity Will Live Tomorrow" was forced to end earlier than scheduled. Since then, the museum has been able to share walkthroughs of the exhibition via Instagram Live, as well as photos. Now people can enjoy the exhibition in a more immersive way as the museum introduces a virtual, 3D walkthrough, which they were able to capture thanks to the galleries being empty. It's a complete recreation of the exhibition for people to enjoy at home.

Special #1: ARTISTS COOKBOOK by MAM

As a special project during Mori Art Museum's closure, the museum has introduced "ARTISTS COOKCOOK by MAM," a collection of recipes, stories, and photographs that artists from around the world have shared with them. The first recipe showcased is the "Kusama Lotus" by Kataoka Mami, the Director of Mori Art Museum. She describes lotus roots as reminiscent of polka dots and white nets, and that it's a dish we could keep eating forever. She calls it a "dish for infinity."

More recipes can be found on the museum's official social media pages, so be sure to check them out.

Learning Online: Enjoy, Play, Learn Art @ HOME

Mori Art Museum hosts various programs and events where people can deepen their knowledge about contemporary art from around the world. The museum has posted an archived list of videos from some of their programs which people can tune in to from the comfort of their homes.

Information

Mori Art Museum
Address: Roppongi Hills Tower Floor 53F, 6-10-1 Roppongi, Minato Ward, TOkyo
Opening Hours: 10:00-22:00 (until 17:00 on Tuesdays)
*Last entries 30 mins before closure
*The museum is currently temporarily closed due to the COVID-19 pandemic
Official Website: https://www.mori.art.museum/en/

Buy These Face Masks and Help Save Japan's Cats in the Process

Neco Republic launched online pre-orders of its new face masks, called "SAVE THE CAT MASK," via its website on May 6, 2020. Neco Republic is a company who pours efforts into helping save cats in Japan; they manage various businesses including the cat cafe Neco Republic which takes in rescue cats, NECOREPA/ which sells a variety of products and items with all proceeds going towards their efforts to taking in stray cats, Neco Ichi Neco Za which is a rescue cat event held in Japan, and more.

The "SAVE THE CAT MASK" series was launched for cat lovers and as a way to help cats in the process. The previous batch of these masks sold out in just two days.

High quality materials and skilful sewing, all made in Japan

SAVE THE CAT MASK – ¥1,980 for one / ¥9,900 for five

The masks are made from high quality natural cotton with all manufacturing carried out in Japan. They are sewed using a Japanese sewing method known as ayaori which ensures elasticity and makes it harder for the masks to wrinkle. The masks can also be washed repeatedly. Maintaining hygiene is of utmost important when it comes to face masks, and so these face masks are made so you can hand wash them lightly with detergent as well as put them in a net before putting them in the washing machine.

The masks are all sewn in Gifu Prefecture which is where Neco Republic is based.

Cute designs inspired by cats

There are five design variations of the masks each inspired by a different cat breed including calico, Russian Blue, tuxedo, white, and black. They are also shaped subtly like a cat which most likely won't be noticed by other people meaning you can express you love of cats secretly.

Save cats during the process

The masks aren't only for us humansーthey benefit our cats too. All proceeds from the masks will go towards Neco Republic's rescue cat cafe as well as be used for the company's efforts for helping rescue cats.

Information

Neco Republic's SAVE THE CAT MASK

Left-Handed Ellen Manga Spin-Off Launched by UNICEF to Help Support Children During COVID-19

UNICEF Japan launched a spin-off story of the manga series Left-Handed Ellen on May 1 to help support children from the novel coronavirus. The web series gives tips on how to raise kids.

What is Left-Handed Ellen?

Left-Handed Ellen is a web manga series written by Kappy and illustrated by nifumi. Kappy became popular for his Facebook Police web manga. Left-Handed Ellen was the first full-length manga series to win the Special Prize at the Cakes Creator Content which was organised by Note. The series was made into a televised drama in October 2019.

The new spin-off made in collaboration with UNICEF Japan takes inspiration from UNICEF's "6 Hints On Raising Kids" which was released on April 10 this year. It was made with parents in mind who are having to stay at home more with their children now due to COVID-19 and gives tips on teaching them about the virus, spending one-on-one time with them, how to stay positive each day, and so on.

Schools in 190 countries and regions are currently closed as a result of the pandemic, with around 60% of the world's children at home from the lockdown. The sudden change to everyday life where we're having to stay at home over long periods of time is sure to cause household stress levels to rise. There is also fear of an increase in fights and abuse at home. Kappy, who himself is raising a child at home, made the following comment with regards to this new manga collaboration.

Kappy | Comment

"I have a daughter who is 1-and-a-half years old. Me and my wife are working together to bring her up. But we're also swamped with work, so when I'm not in tiptop shape there are times I feel like I can't raise her to the best of my ability. UNICEF release their own message about this, but I think the most important thing in all of this is to lay down a daily routine so you can live a more peaceful life. And it doesn't have to be something special. It might be something ordinary that you can do which will benefit someone else. Myself, for example, all I can do right now is draw manga. So if me drawing manga as I usually do helps somebody else in some way, I don't think there's a more economical way of doing so. If parents can bring back a sense of normality I believe the kids will be able to relax too. When I hear things about fighting at home and domestic violence my mind automatically wants to think that that has no relation to us. But in these times when we can't even do the things that are the most natural to us, spending time with family is important, and so I hope [this manga] helps people remember that."

©左ききのエレン

Stay Home: 6 More Toast Arrangements to Bring the Cafe Experience to Your Home During the Lockdown

Here at MOSHI MOSHI NIPPON, we post news and information about Japan in six languages. Our aim is to deliver a variety of content related to Japan for those who love and enjoy Japanese culture.

Right now, people across the globe are in self-isolation as a result of the coronavirus pandemic. The same goes for Japan too, so we've taken this opportunity to create a new series on the website to show how we're spending time at home here in Japan. The future is yet uncertain, and we hope for normality to return for all of us soon. We created a new articles series called Stay Home with which we hope to take your mind off the situation, even for just a little bit, to help you feel calmer. It might give you some tips on what you can do while spending time at home.

In this edition of Stay Home, we're taking a look at six more cute, easy-to-make toast recipes that were featured with the trending Japanese hashtag #おうちカフェ ("Cafe at Home"). Try making them yourself at home for breakfast, lunch, or as a snack.

Related Article: Stay Home: 6 Toast Arrangements to Bring the Cafe Experience to Your Home During the Lockdown

 

Candy Rose's recipe shows us how to make orange toast. Orange and chocolate is a tried and tested combination. The fresh cream adds a dessert-like quality to the toast.

Ingredients
・Bread  ・Navel Orange & Chocolate Jam  ・Orange Jam ・Fresh cream ・Orange

Method
1: Simmer the orange in white wine and granulated sugar.
2: Toast bread and smear with the jam.
3: Add a dollop of fresh cream on top.
4: Top with sliced orange and tuck in!

2: Mini Strawberry & Red Bean Paste Butter Toast | @__yk._

yk.'s toast recipe is a combination of Japanese and western flavours with red bean paste and buttered brioche which looks cute when it's cut thick and small like in the picture♡

Ingredients
・Brioche toast ・Strawberries ・Red bean paste ・Butter ・Fresh cream

Method
1: Toast the bread and add the red bean paste.
2: Top with a strawberry and fresh cream.
3: Finish with a knob of butter and enjoy!

KAORUKO's toast recipe is a great dessert idea too. It's a super simple recipe made with microwaved apple compote.

Ingredients
・Bread ・Apple ・Lemon juice ・Sugar ・Fruit granola

Method
1: Slice apple with the skin on.
2: Add 1 tbsp of lemon juice and 30g sugar to the apple and microwave for 3 minutes.
3: Slice a thin slice of bread and toast. Add the apple compote to the toast and finish with a sprinkle of fruity granola.

4: Marshmallow Toast | @woo.rrei

Rei has added marshmallows to their toast to create a fluffy, dessert-like, and cafe-worthy recipe.

Ingredients
・Bread ・Marshmallows ・Chocolate Sauce

Method
1: Slice a thin piece of bread and toast. Top with marshmallows.
2: Toast once again under a grill until the marshmallows take on colour.
3: Drizzle with chocolate syrup and you're done!

5: Open Avocado Sandwich | @keijunrin

Keiko's recipe makes a fresh open-style sandwich with lots of avocado. The egg yolk adds a melt-in-the-mouth texture. The texture of the whole thing is nice and smooth.

Ingredients
・Bread ・Avocado ・Pink pepper ・Egg yolk ・Mayonnaise

Method
1: Add the avocado to a slice of bread and grind on some rose pepper.
2: Drop on an egg yolk and lightly toast under a grill.
3: Drizzle with mayonnaise and enjoy!

izumi's recipe is a combination of bread and "naporitan" which is a Japanese pasta dish. It's a hearty serving that makes for a great lunch.

Ingredients
・Bread ・Naporitan pasta ・White Sauce ・Cheese

Method
1: Make naporitan and white sauce in advance. Cut the naporitan into small pieces.
2: Slice 1 thin and 1 thick slice of bread.
3: Cut out the inside of the thick slice. Place this hollowed-out thick piece on top of the thin slice of bread. This thin slice forms the bottom of your bread.
4: Add the naporitan inside. Drizzle in white sauce so it's like a lid over the pasta.
5: Sprinkle on cheese, toast, and you're done!

Bring the cafe experience into your own home by making your own fun toast arrangements.