Cells at Work! Code Black Anime to Premiere in January 2021, Cast and Key Visual Revealed
It was officially announced in Morning magazine that the new Cells at Work! Code Black anime series will begin airing in January 2021.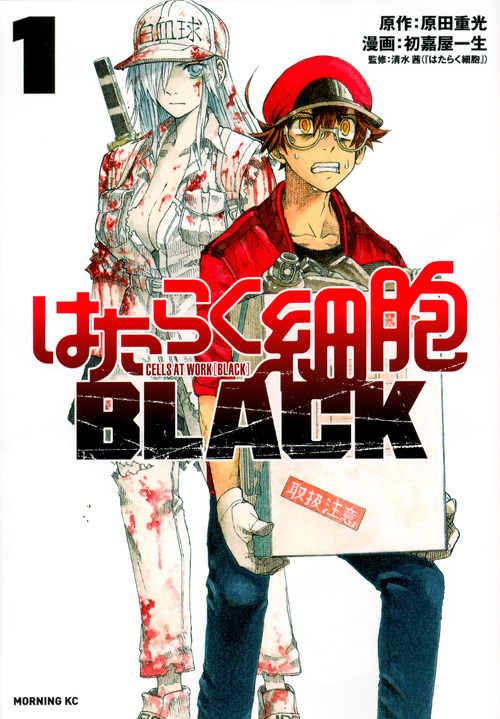 What is Cells at Work! Code Black?
The new series will adapt the Code Black spin-off story of the popular manga series Cells at Work! Kodansha Comics describes the story: "In this new spinoff of the hit manga Cells at Work!, a newbie Red Blood Cell is one of 37 trillion working to keep this body running. But something's wrong! Stress hormones keep yelling at him to go faster. The blood vessels are crusted over with cholesterol. Ulcers, fatty liver, trouble (ahem) downstairs … It's hard for a cell to keep working when every day is a CODE BLACK!"
The main Cells at Work! story takes us inside the body to show us how our 37.2 trillion cells work hard to keep us going 24 hours a day, 365 days a year.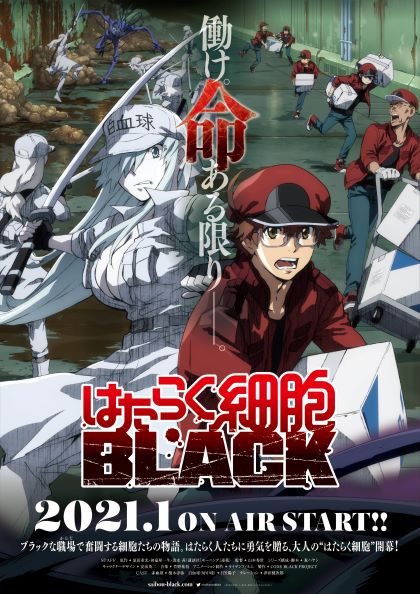 The new anime series will be directed by Hideyo Yamamoto (Strike the Blood) with animation by Liden FIlms. Confirmed main cast members include Junya Enoki as Red Blood Cell and Yōko Hikasa as White Blood Cell, with narration by Kenjiro Tsuda.
Cells at Work! Code Black Promotional Video – Series Premiering January 2021
©Shigemitsu Harada・Hatsuyoshiya Issei・Akane Shimizu / Kodansha・CODE BLACK PROJECT
RELATED ENTRIES
New Cells at Work! Film Key Visuals and Trailer Unveiled

Popular anime series Cells at Work! ( Hataraku Saibō!!) is set to premiere its anime film Hataraku Saibō!!" Saikyō no Teki, Futatabi. Karada no Naka wa "Chō" Ōsawagi! in Japan on September 5, 2020. Preorders for movie tickets are to be sold from July 23, 2020.

The key visuals and movie trailer have been unveiled.

Cells at Work! Trailer

As for voice actors and characters, Saori Hayami and Toa Yukinari are going to continue to voice Regulatory T Cell and NK Cell respectively. New characters are also making an appearance in the movie along with new voice actresses. New voice actresses include Yuri Yoshida as Lactic Acid Bacteria (Kuro), Rie Takahashi as Lactic Acid Bacteria (Aka), Natsumi Fujiwara as Lactic Acid Bacteria (Panda) and Yurika Kubo as Lactic Acid Bacteria (Buchi).

Cells at Work! by Akane Shimizu is currently published in Kodansha's manga magazine Monthly Shōnen Sirius. This fun and educational manga takes place inside the human body, telling the story of the cells busy at work and the drama they face each day to keep the body running. After the series launched in 2015, the adorable characters and exciting world became a popular hit, earning the story an anime adaptation in 2018 by david production. By humanising the cells in the body who are busy at work, the series became very relatable to its audience, making it the big sensation that it is today. Season two of the anime is expected to be released in January next year.

©Akane Shimizu, Kodansha Ltd. Aniplex Inc, David Production Inc.

Information

Cells at Work! Movie

Hataraku Saibō!!" Saikyō no Teki, Futatabi. Karada no Naka wa "Chō" Ōsawagi!

Premiere: September 5, 2020

Official Website: http://hataraku-saibou.com

Cells at Work! Anime Receives Stage Play Sequel, Cast and Teaser Revealed

Akane Shimizu's manga series Cells at Work! is getting a second stage play adaptation which will run from September 27 to October 6. It will serve as a sequel to the 2018 stage play Tainai Katsugeki Hataraku Saibō.

In addition to the teaser trailer, the key visuals of the cast and character line-up have been released.

White Blood Cell (Ryō Kitamura)

He protects the body from any viruses or invading organisms that enter.

Red Blood Cell (Umino Kawamura)

She delivers oxygen, carbon dioxide and other nutrients parts of the body.

Killer T Cell (Yuki Kimisawa)

Receives orders from Helper T Cell to eliminate unhealthy cells like Cancer Cells as well as viruses.

Normal Cell (Taishi Sugie)

Just an ordinary cell, as highlighted by his t-shirt which simply reads "Cell" in Japanese (細胞), active in the process of cell division.

Cancer Cell (Takeshi James Yamada)

Seemingly an ordinary cell at first but soon reveals himself to be a deadly cancer cell, bent on multiplying himself.

B Cell (Yojiro Itokawa)

A busy lymphocyte tasked with employing antibodies to tackle antigens.

More characters are planned to be unveiled in the neat future. Tickets will go on sale on September 7 at 10:00 (JST).

Cells at Work! Anime Collaborates With Pocari Sweat at Comiket 96

In an effort to help combat heatstroke during Comiket 96―the largest comic market in Japan for independent creators―which is set to take place at the usual Tokyo Big Sight from August 9, it has been announced that the TV anime series Cells at Work! is teaming up with the sports drink brand Pocari Sweat.

At the venue, various Pocari Sweat products will be sold including the 500ml beverage itself, Pocari Sweat Jelly, Pocari Sweat Ice Slurry (available in Hall A only), and more. If you buy two or more of any of these products you can get yourself an exclusive Pocari Sweat x Cells at Work! sticker.

There will be three booths throughout the exhibition venue which can be spotted with the life-sized panels of the Cell characters.

At the Ao Exhibition Hall A booth, a special video will be streamed that was recently revealed which is a collaboration between the drink brand and anime series to help spread awareness of the effects of heatstroke. The video serves as an alternative story to Episode 11 of the anime series entitled Heatstroke. They dubbed it Episode 11.5: Heatstroke ~If Only I Had Pocari Sweat~. You can watch it below.

If you're attending Comiket this year, make sure you heed the Cells' advice and know what you need to do to prevent heatstroke.

ⓒAkane Shimizu/Kodansha・Aniplex・davidproduction

Information

Comiket 96
Running: August 9, 2019 – August 12, 2019
Venue: Tokyo Big Sight (3-11-1 Ariake, Koto Ward, Tokyo)

Comiket Official Website: http://www.comiket.co.jp/

Pocari Sweat Booths: West & South Exhibition Building South 2 Hall / Aoumi Building A Hall / Disaster Prevention Park

Pocari Sweat Official Website: https://pocarisweat.jp/hs/

Cells at Work! Short Film Released On YouTube in Collaboration With Pocari Sweat

Every year during summer in Japan there are ubiquitous alerts cautioning people to do everything they can to combat heatstroke. According to the Ministry of Internal Affairs and Communications in Japan, in 2018 (May-September), there were more emergency call outs due to heatstroke than in previous years.

To help spread awareness about the effects of heatstroke, Otsuka Pharmaceutical teamed up with the anime series Cells at Work! to promote their sports drink Pocari Sweat, a hugely popular non-carbonated sweet beverage in Japan. Together, they produced an alternative story to Episode 11 of the anime series entitled Heatstroke. They dubbed it Episode 11.5: Heatstroke ~If Only I Had Pocari Sweat~. The short episode was released both on YouTube and the official Pocari Sweat website on July 8.

Cells at Work! follows the stories of anthropomorphised cells in the human body. Episode 11 showcases what happens when the body suffers from heatstroke and what people can do it prevent it.

The special collaboration video with Pocari Sweat features several of the original voice cast including Maria Naganawa (Platelet) as well as Mamiko Noto reprising her role as the Narrator.

ⓒAkane Shimizu/Kodansha・Aniplex・davidproduction

Information

TV Anime Cells at Work! – Episode 11.5: Heatstroke ~If Only I Had Pocari Sweat~

Released: July 8, 2019

Original Series: Cells at Work!

Pocari Sweat Official Website: https://pocarisweat.jp/hs/

Cells at Work! Anime Themed Cafe to Open in Akihabara

Entertainment facility Ani ON STATION in Akihabara is opening a cafe themed on the popular anime series Cells at Work!. It will run from June 7 to July 7 this year.

Platelet's Blood Clot Waffle: ¥980 (Tax Included)

B Cell's Juwawawawa Drink: ¥700 (Tax Included)

The Cells at Work!several times themed cafe has appeared but this will be the first time that it collaborates with Ani ON STATION.

Omataseshimashita! Nutritional Bento: ¥1,000 (Tax Included)

White Blood Cell's After-Work Cheesecake: ¥1,050 (Tax Included)

The inside of the body is constantly on the go, so this cafe is based on the place that the Cells in the anime series go for to a brief respite. The menu includes a line-up of original food and drinks inspired by the characters.

Cells at Work! Key Rings (14 Designs): ¥1,000 Each (Tax Included)

Exclusive merchandise will also be sold such as key rings featuring the names of each Cell on them, amongst other items.

There will also be an event customers can participate in centred around Helper T Cell who helps strategize against foreign invaders to the body.

Those visiting the cafe for the first time will receive a stamp card. Each time you visit the cafe you will receive one stamp which will gain you free entry the next time you go. Collect three and get a special tea and dessert set.

Help the Cells with their work by heading to Akihabara this summer.

©Akane Shimizu / Kodansha・Aniplex・davidproduction

Cells at Work! Themed Cafe Makes a Return to 46 Shokudo in Ikebukuro

Due to enthusiastic reception, the popular cafe themed on the anime series Cells at Work! has arrived once more. The cafe is opened from October 10 for a limited time at 46 Shokudo in Ikebukuro, Tokyo.

There's a whole range of merchandise with new and original Cells at Work! illustrations up for grabs at the cafe. You must book a table to dine at the cafe. Those who do will receive an original A3 clear poster upon arrival. Additionally, customers who purchase a drink will receive a coaster randomly selected from a possible 10 designs.

Killer T Cell Squid Ink Fried Rice: ¥1,480 (Pre-Tax)

White Blood Cell Cheese Risotto w/ Soup: ¥1,080 (Pre-Tax)

All the food, drinks and desserts on the menu is autumn themed and takes inspiration from the characters in the series including the Killer T Cell Squid Ink Fried Rice and White Blood Cell Cheese Risotto.

Red Blood Cell Drink: ¥800 (Pre-Tax)

Platelet Drink: ¥800 (Pre-Tax)

There's a whole range of drinks too ready to fight off your cedar pollen allergy including the White Blood Cell, Red Blood Cell and Dendritic Cell beverages amongst others.

Pin Badges (10 Designs, Chosen Randomly): ¥417 Each  (Pre-Tax)

Acrylic Coasters: ¥780 Each (Pre-Tax)

A line-up of limited edition merchandise you can't get anywhere else will also make a return including the items shown above and more.

If you're a fan of the hilarious Cells at Work! and are in Japan then make sure you're present for the return of the cafe.

Information

Cells at Work! Cafe Encore

Location: 46 Shokudo (4F Narita Bldg., 1-29-4 Higashi-Ikebukuro, Toshima Ward, Tokyo)

Running: October 10, 2018 – November 13, 2018

Opening Hours: 10:30-21:30

Reservation Fee: ¥650 (Pre-Tax)

Reservation Gift: A3 Clear Poster (1 Design)

Reservations can be made via the cafe's official website: https://hataraku-saibou-cafe.jp

©清水茜/講談社・アニプレックス・davidproduction