【NagasakiStroll】Why Not Kyushu? Come and View the Gorgeous 99 Islands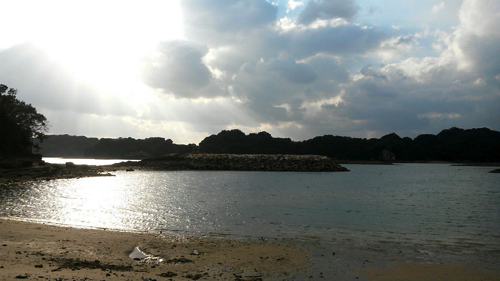 Tokyo, Kyoto, Nara, Osaka… A majority of tourists would always start and end their Japan trip within these prefectures. These prefectures are very lovely places, but why not come sightseeing in Kyushu! If you want to experience something different from other tourists, Nagasaki would be a great place to visit.
In Kyushu there are many wonderful prefectures like Kumamoto for the castle, Oita for onsens, Fukuoka for ramen, and then comes Nagasaki. Today I will show you one of my favorite places of all in Nagasaki prefecture.
Look at this amazing view, full of green and blue. Can you count how many islands there are in this photo? There are about 17 islands within this picture, but there are actually more than 200 islands!
This place is called 99 Island Pearl Sea Resort (Kujyu-kushima). 99 refers to "many", and there are actually 208 islands.
Pearl Sea Resort offers a fantastic way to enjoy the view of these beautiful islands.
They have a harbor offering sightseeing boats, the elegant boat Pearl Queen, and the colorful vessel, Mirai that will cruise around the islands.
You can enjoy the cruise both below and above decks on the boats. I enjoyed being outside, especially at the top of the deck where I could feel the breeze. We cruised around numerous islands and were able to see oyster rafts for pearl cultivation and ducks that were swimming nearby.
Adult: ¥ 1440
Child: ¥ 700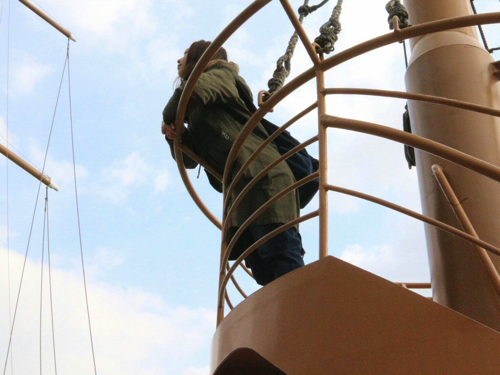 You can also enjoy various types of marine life found in the local waters at Umikirara Aquarium! Entrance is ¥ 1440 for adults (¥ 720 children).
Last but not least, my most favorite spot!
There is a natural land bridge created by blocks of stones by the beach where you can walk across on the days at special low tides. It only happens once or twice every month so if you're lucky, you might be able to walk on the bridge to the mini gate at the end of the land bridge!
■Writer:Jessica
■SNS:mintbaaby / instagram
■Information:
99 Island Pearl Sea Resort
Address: 1008 Saseboshi Kashimaechou Nagasakiken 858-0922
Telephone: 0956-28-4187
Access: 25min by bus from JR Sasebo Station.
WEB:http://www.pearlsea.jp/english/
−−−
■Related article:Scarlett's Kawaii Kyushu Part 1: Beppu
■Related article:Scarlett's Kawaii Kyushu Part 2: Kumamoto
RELATED ENTRIES
teamLab's Rinkan Spa & Tea Ceremony, Ruins and Remains Opens as Permanent Exhibit at Mifuneyama Rakuen

Japanese art collective teamLab opened its teamLab: Rinkan Spa & Tea Ceremony, Ruins and Remains series of artworks at Mifuneyama Rakuen in Kyushu as permanent exhibitions on November 10. The artworks can be enjoyed as part of a set which includes enjoying the exhibits as well as a soak in Mifuneyama Rakuen Hotel's sauna and a complimentary cup of Japanese tea.

Rakan no Yu, a sauna located at Mifuneyama Rakuen Hotel, won the Saunachelin Grand Prix two years in a row in 2019 and 2020. The sauna and open-air baths enjoy natural water from Mt. Mifune and are surrounded by the vast nature of the local area.

A sauna and new art experience fusion

Sitting on the borderline of Mifuneyama Rakuen Park is the 3,000-year-old sacred Okusu tree of Takeo Shrine, which is Japan's 7th largest. Also in the heart of the garden is another 300-year-old sacred tree. Knowing the significance of this, Japan's forebears turned a portion of this forest into a garden, utilizing the trees of the natural forest. The border between the garden and the wild forest is ambiguous, and when wandering through the garden, before they know it, people will find themselves entering the woods and animal trails.

Visitors can get their hands on a combo ticket which includes access to teamLab's exhibition as well as daytime entry to the sauna. These are limited to 40 people per day.

Below are some of the artworks that visitors can experience.

Megaliths in the Bath House Ruins
teamLab, 2019, Interactive Digital Installation

Graffiti Nature – Living in the Ruins of a Bathhouse, Red List
teamLab, 2017-, Interactive Digital Installation, Sound: Hideaki Takahashi

Butterflies Dancing in the Depths of the Underground Ruins, Transcending Space
teamLab, 2019, Digital Installation, Sound: Hideaki Takahashi

Forest and Spiral of Resonating Lamps in the Forest – One Stroke, Autumn Mountain
teamLab, 2018, Interactive Installation, Murano Glass, LED, Endless, Sound: Hideaki Takahashi

Information

teamLab Ruins and Heritage: Rinkan Sauna & Tea Ceremony
Location: Mifuneyama Rakuen
Address: 4100 Takeo, Takeo-cho, Takeo City, Saga, Japan
Opened: November 10, 2020
Buy Tickets (English): https://mifuneyamarakuen.teamlabticket.com/#/order

Japan's Pixar Bullet Train Project 'GO! WAKU WAKU ADVENTURE with Pixar' Announces New Merchandise

The "GO! WAKU WAKU ADVENTURE with Pixar" project has announced its second batch of original merchandise. Let's take a look at a sample of the line-up.

About GO! WAKU WAKU ADVENTURE with PIXAR

JR Kyushu signed a promotional license agreement with Walt Disney Japan to launch the "GO! WAKU WAKU ADVENTURE with PIXAR" project, which began on September 12, 2020, and sees select shinkansen bullet trains decorated in characters from Pixar's animated filmography.

Original Merchandise – Batch ②

Pixar Torimon | ¥1,512 (Tax Included)

The Hakata Tormin is a popular souvenir confection in Fukuoka Prefecture. This collection features exclusive Pixar packaging.

Pixar Stainless Steel Bottle | ¥3,190 (Tax Included)


Pixar Mobile Battery | ¥4,180 (Tax Included) *Available online only

Two items which are must-haves when travelling are a drink bottle and a mobile battery. The Pixar stainless steel bottle holds 130ml and is perfect for keeping hot drinks during the autumn and winter season.

minimaginationTOWN Toy Story Woody Set | ¥2,480 (Tax Included)


minimaginationTOWN Toy Story Ducky & Bunny Set | ¥3,278 (Tax Included)

Cute Pixar plush toys riding the Pixar bullet train. There's also Buzz and Little Green Men designs!

Pixar Arita Ware Plate (Up design) | ¥3,080 (Tax Included) *Available online only

Little Green Men Hand Towel | ¥2,816 (Tax Included) *Available online only

Two traditional Japanese items with an Arita ware plate inspired by Up as well as hand towels which are available in navy and brown.

Original Merchandise – Batch ②

Release Date: November 13, 2020
Available: Kokura Souvenir Shop, Hakata Souvenir Shop at Hakata Station's Hakata Entrance, Hakata Souvenir Shop Dates, Hakata Souvenir Shop at Hakata Station's Shinkansen area, Oita Souvenir Shop, Kumamoto Souvenir Shop, Nagasaki Souvenir Shop, Kagoshima Souvenir Shop, Miyazaki Souvenir Shop, and elsewhere
Online Shop: https://jrk-kyushutabi.shop/html/page2.html
*Limited in stock so available while supplies last

Instagram campaign to win more original merch

©Disney/Pixar


Prize: Embroidered Pouch With Pin

The WAKU WAKU ADVENTURE Instagram Campaign will run from November 16, 2020 to January 16, 2021 for a chance for 20 people to enter to win an embroidered pouch with a pin. All they need to do is follow the official Instagram page @wakuwakuadventure and post a photo related to the project with the Japanese hashtag #わくわくアドベンチャーキャンペーン.

©Disney/Pixar

6 Best Spots to Visit in Japan's Oita Prefecture During Autumn – MOSHI MOSHI NIPPON

Oita in Kyushu has been nicknamed "Hot Spring Prefecture Oita" due to having the largest number of hot spring water sources and outputs in Japan. Oita welcomes many visitors every year who flock to the prefecture's many famous hot spring locations like Beppu and Yufuincho Kawakami.

But the charm of Oita doesn't lie solely in its hot springs. It's also a location that offers breathtaking scenery during autumn. We've picked 6 spots around Oita Prefecture that are must-visits during autumn.

Keiseki-en

The gorge of Yabakei is designated as a Place of Scenic Beauty in Japan. Keiseki-en is a beautiful Japanese garden that was built to commemorate the completion of the Yabakei dam. It's home to over 31,000 individual trees of around 100 species as well as a lake, waterfalls, and crags. It's a place that boasts natural beauty throughout all four seasons.

Address: 2286-1 Yabakeimachi Ōaza Ōshima, Nakatsu, Oita

Kinrin Lake

Kinrin Lake is one of Yufu's most famous sightseeing spots for the mysterious torii gate that sits within the lake. Spring water and hot spring water flows through the lake, and because the temperature of the water is warm throughout the year, you can see steam rising from the surface in the early hours of winter days. Tenso Shrine also sits on the bank of the lake which is home to a sacred tree that's designated as a natural monument.

Address: 1561 Yufuinchō Kawakami, Yufu, Oita
Access: 20 minutes on foot from Yufuin Station (JR Line)

Kyusuikei

Kyusuikei's scenery spans through the prefectural road that connects the Kokonoe IC to Yamanami Highway. Its 2km expanse is made up of sheer cliffs which create the valley that is known for its autumn colours. Visitors can enjoy a panoramic view of the maple and ginkgo trees from the observation deck that runs along the cliff. There are other nearby sightseeing spots too like Kokonoe Yume Otsurihasi Bridge and Kyusuikei Onsen hot springs.

Address: Tano, Kokonoe, Kusu District, Oita
Access: 20-minutes by car from Kokonoe IC

Hakubakei

The valley of Hakubaki was designated as a Place of Scenic Beauty of the city of Usuki. In autumn, surrounding trees are dyed in reds and yellows, bringing people from all over to witness the spectacle. And because the valley it at a high altitude, the gradation of the colourful trees changes as you go further in.

Address: Badai, Usuki, Oita
Access: 5-minutes by car from Usuki IC

Fukiji Temple

Fukiji Temple was built in the Heian Period for the high priest of Usa Jingu. The temple is a national treasure, and the Amida-Nyōrai contained inside is designated by the Japanese government as an Important Cultural Property.

Address: 2395 Tashibufuki, Bungotakada, Oita
Access: 30-minutes by car from Usa Station

Mount Kuju

Mount Kuju stands as the highest mountain in Kyushu Island at nearly 1,800-meters tall, which has also led to to be nicknamed the "Rooftop of Kyushu." Its has many peaks, the highest being Mount Nakadake at 1,791-meters. One peak in particular draws mountain climbers, and that's Mount Taisen. At its apex one can enjoy the breathtaking autumn colours together with the sight of the rolling mountains.

Address: Tano, Kokonoe, Kusu District, Oita
Access: 40-minutes by car from Kokonoe IC.

Japan's Pixar Bullet Train Project 'GO! WAKU WAKU ADVENTURE with Pixar' Details Announced

JR Kyushu has signed a promotional license agreement with Walt Disney Japan to launch the "GO! WAKU WAKU ADVENTURE with PIXAR" project, which will see the shinkansen bullet trains decorated in characters from the Pixar animated filmography starting on September 12, 2020.

The project comes at a time when Pixar celebrates the 25th anniversary of the original Toy Story film, which released back in 1995 as the first entirely computer-animated feature film.

New details have been released for the upcoming project, including the unveiling of the key visual, the content of the collaboration, campaigns that will be held, and limited-edition merchandise which will be sold.

Key Visual

The key visual is a colourful Pixar creation which is shaped to look like the seven prefectures that make up Kyushu—Japan's south-westernmost island where the JR Kyushu WAKU WAKU ADVENTURE Shinkanen bullet train will run.

Character Visuals

Poster Design

All major stations along the JR Kyushu Line display the key visual along with the above-pictured poster featuring various Pixar characters. Each of Kyushu's seven major prefectural train stations listed below will also have additional posters for different Pixar films.

Hakata Station: Toy Story
Saga Station: Up
Nagasaki Station: Finding Nemo
Oita Station: The Incredibles
Kumamoto Station: Cars
Kagoshima-Chūō Station: Monsters, Inc.
Miyazaki Station: Wall-E

Tabloid Distribution

For illustrative purposes only. Distribution from September 12, 2020.

At all major stations running the JR Kyushu Line, commuters can get their hands on a free tabloid inspired by the "My Adventure Book" from the Pixar film Up. The content of the tabloid features information related to the collaboration and where you can find Pixar characters at stations throughout Kyushu, so you too can have your own adventure.

Photo Spots

Cars photo spot

The seven JR Kyushu prefectural stations will also have their own photo spots where you can snap a picture. You'll also spot Woody and Buzz dolls and Hakata Station and Sully and Mike ones at Kagoshima-Chūō Station.

Participating Stations: Hakata Station, Saga Station, Nagasaki Station, Oita Station, Kumamoto Station, Kagoshima-Chūō Station, Miyazaki Station

Special Site & Official Instagram

A special site opened which features the departure schedule for the JR Kyushu WAKU WAKU ADVENTURE Shinkansen, details on campaigns, the latest details on the collaboration, and more. Waku Waku ADVENTURE now also has its own Instagram page which includes reports on event, pictures of merchandise, and other details.

Special Movie

A special collaborative movie will be released in September centred on the themes of Pixar's movies such as bonds between people, family, friends, and adventure. It will be shown at JR Kyushu stations and the special site.

Campaign: Find the Pixar Ball

Original sticker designs

If you spot a station staff member at any of the JR Kyushu prefectural stations wearing a Pixar ball badge, call out to them and they'll give you one of seven possible Pixar stickers as pictured above. All seven can be put into your "My Adventure Book," so try collecting them all!

Participating Stations: Hakata Station, Saga Station, Nagasaki Station, Oita Station, Kumamoto Station, Kagoshima-Chūō Station, Miyazaki Station

*Depending on the time, platform staff may not be wearing the badges

*Stickers are available while supplies last

GO! WAKU WAKU ADVENTURE Digital Stamp Rally

A digital stamp rally will be held on the official JR Kyushu app. Board the JR Kyushu WAKU WAKU ADVENTURE Shinkansen, visit JR Kyushu Stations, and get some original stamps.

1st Stamp Rally: September 12, 2020 – January 31, 2021

Limited Edition Merchandise

Merchandise lineup

A special collection of merchandise has been created featuring designs of Kyushu and the Pixar characters. The items will be sold at shops around JR Kyushu stations and online in Japan.

Release Date: September 12, 20202
Merchandise List: https://www.jrkyushu.co.jp/train/wakuwaku-adventure/goods/

Those who ride the very first departing train will receive an original Pixar design train ticket. The Tsubame 363 train bound for Kagoshima-Chūō Station will depart from Hakata Station at 12:19 on September 12, 2020.

©Disney/Pixar

Pixar Themed Shinkansen Bullet Trains Speed Through Kyushu This September

JR Kyushu has signed a promotional license agreement with Walt Disney Japan to launch the "GO! WAKU WAKU ADVENTURE with PIXAR" project, which will see the shinkansen bullet trains decorated in characters from the Pixar animated filmography starting on September 12, 2020.

The project comes at a time when Pixar celebrates the 25th anniversary of the original Toy Story film, which released back in 1995 as the first entirely computer-animated feature film.

The "GO! WAKU WAKU ADVENTURE with PIXAR" project's story

The concept behind the project is for passengers using the bullet trains to go off on a new adventure with their favourite Pixar characters to find new and exciting places around Kyushu. The trains are set to run from September 12, 2020 to mid-May 2021.

Completely unique and original Pixar character designs

The colourful designs that decorate both the inside and outside of the Kyushu shinkansen bullet trains combine Pixar characters with motifs that are a nod towards places around Kyushu.

The exterior design of the trains feature many familiar faces from Pixar movies—even the iconic Luxo Lamp Jr, or 'Pixar lamp.' The inside has colourful head covers with different Pixar characters on them.

Ride the first train

Those who ride the very first departing train will receive an original Pixar design train ticket. The Tsubame 363 train bound for Kagoshima-Chūō Station will depart from Hakata Station at 12:19 on September 12, 2020. A collection of themed merchandise is also in the works.

Miyako Hotel Hakata Opens With Instagram-Worthy Pool, Michelin-Led Restaurant Menu & More

Miyako Hotel Hakata will have its grand opening on September 22, 2019. To help spread word of the luxurious secrets behind its doors, an official report was released detailing everything there is for guests to look forward to.

Its metropolitan exterior is inspired by the spectacular natural landscapes of Kyushu

Miyako Hotel Hakata can be found by taking the Tsukushi Exit of Hakata Station where it stands directly in front, towering above the surrounding buildings. The basement floor of the hotel is directly connected to the station for ease of access. This floor is also home to a convenience store, restaurants and more and can be used by non-guests too.

The building is a gorgeous eye-catching glass cube which offers an abundance of natural light during the day. At night, the hotel exterior is illuminated with 168 LED lights, giving it an metropolitan appearance. The building rooftop has a running 'waterfall' which is inspired by the majestic rural environments of Kyushu. Its iconic design makes it instantly-recognisable, with hopes in mind that this will make it a new landmark of Hakata.

The lobby houses a gorgeous cafe lounge serving food and drink

Up on the 3rd floor is the clean, bright and spacious front lobby where staff are waiting to greet guests warmly. In addition to the reception desk, there is CAFÉ EMPATHY, a cafe and lounge which can be used by both guests and non-guests. The cafe is produced by Transit General Offiice which is known for having produced the The Rail Kitchen Chikugo―a restaurant train―amongst a host of shared offices, hotels and more.

The spectacular menu line-up includes an array of delicious drinks from herbal teas to flavoured lattes, as well as an assortment of light meals made using ingredients from around Kyushu. They also serve an original afternoon tea that's served from 14:30. Everything on the menu is nothing short of Instagrammable and perfect for those who love to wine and dine on drinks and food that is both cute and fancy.

The colourful flavoured lattes come in four flavours and can also be ordered for takeout. One of them is the Beets Latte which is a pink colour which comes from the beetroot used to make it. It has a subtle sweetness and smooth flavour.

The stocked teas include those made by Paris-based tea company KUSMI TEA, such as the Anastasia which is a mix of standard black tea and citrus, as well as an array of decaffeinated fruit teas.

Spend your time in luxury in your room

Floors 5 through 12 are all lined with guest rooms. There are four types of rooms, all large, including Twin and Double. Each and every room has been given the same level of care and attention to create the most comfortable experience for guests.

The Deluxe room is the perfect package if you're looking to indulge in a little extravagance, whether as a treat to yourself or together with that special someone. The room design is stylish and simple, allowing for optimal relaxation. The bed is roomy and is ideal for watching the television or chatting.

All guest rooms are also equipped with tablets from which you can control the air con, lights and so on. The TV can even tell you whether the restaurant is full or not which is a super convenient feature.

A restaurant and bar menu created by a Michelin-starred chef & dreamy terrace pool

On floor 13―the top floor―you will find Miyako Hotel Hakata's must-see feature: the SOMEWHERE RESTAURANT & BAR. This all-dining restaurant's concept is "A Beautiful Place Somewhere." Its dinner menu was conceived by Michihoro Haruta, the chef at Crony, a Michelin 1-starred restaurant in Nishi-Azabu, Tokyo. The innovative menu is made with local ingredients from Fukuoka and across Kyushu. The wine menu was created by Kazutaka Ozawa, a sommelier at Crony. The restaurant enjoys a laid-back atmosphere that isn't overly formal or strict, with a glass exterior including the roof, allowing diners to enjoy the romantic evening atmosphere.

Breakfast is served to both guests and non-guests and is served as a western-style buffet packed full of assorted foods such as freshly-baked bread, omelette, Eggs Benedict, and more. They serve an original Japanese-style breakfast too for those who fancy Japanese food. The tall windows allow natural light to pour into the restaurant.

Right next to the restaurant is the hotel's very own spa, offering a natural hot spring pool, jet bath, footbath and more. As part of the hotel's grand opening, the spa is free for all guest until March 31, 2020. The hotel offers rental swimsuits too so you can freely and easily enjoy a nighttime dip. And when night truly sets in, you can gaze an unbroken view of Hakata from the roof, and the 'waterfall' next to the pool will also be lit up.

There's even a special poolside menu so you can order cocktails and light food from the terrace. With everything illuminate in beautiful lighting, your cocktail in hand, you can certainly snap some Instagram-worthy shots. And if you're looking for a warm bath, there is a large public bath and even a sauna indoors.

Popular Tokyo Café Bakery BREAD, ESPRESSO & to Open in Fukuoka

Bakery café BREAD, ESPRESSO & has made quite a reputation in Omotesando, Tokyo for its stylish interior and delicious coffee and bread. The bakery café is now opening a new branch in Fukuoka called BREAD, ESPRESSO & HAKATA & on September 25th, 2019.

To commemorate 10 years in business, BREAD, ESPRESSO & will be opening their first ever branch in Hakata, Kyushu. The café bakery will be nestled between Hakata Station and CANAL CITY HAKATA. Whether you are a busy commuter looking for a heartwarming cup of coffee or a traveling tourist, the location is ideal for anyone looking for a quick rest stop. 

The new café bakery is approximately 165 m² in size, making it the largest branch. The shop is decorated with a pure white base theme and has the perfect comfortable environment to enjoy a coffee. 

Mu: ¥330 (after tax)

French Toast: ¥750 (after tax)

BREAD, ESPRESSO &'s popular Mu and French Toast will be on the menu along with Hakata-limited goods. If you are searching for some delicious bread in Hakata, please make your way to BREAD, ESPRESSO &.

Information

BREAD, ESPRESSO & HAKATA & (パンとエスプレッソと博多と)

Address: 101, 2-8-12, Hakata Ekimae, Hakata Ward, Fukuoka 

Opening Hours: 8:00 ー 20:00

No regular holidays. 

TEL:092-292-1190

Website: http://www.bread-espresso.jp/

Yamada Coffee on the Amami Islands to release cafe au lait made with home blend speciality coffee and sugarcane

To celebrate 4 years since the opening of "Yamada Coffee Amami Island," the shop are releasing a their own in-house blended speciality coffee mixed with non‐centrifugal cane sugar* from sugarcane grown in the Amami Islands. This is the kind of beverage that is drank in the Southern islands. The cafe au lait sweetening base has an authentic coffee flavour and a delicious sweetness that is body-friendly.

The "kibiore" sweetening, which will be sold from September 8th, is a cafe au lait base mixed with speciality coffee home brewed by Yamada Coffee in Amami in Kagoshima and non‐centrifugal cane sugar taken from locally grown sugar cane on the Amami Islands.

The shop's speciality coffee uses 100% high quality coffee beans that meet international standards which are blended to create a balance that maintains the beans' rich flavour even when used in in a cafe au lait, and also leaves a fresh and smooth aftertaste.

The sugar is made from 100% non‐centrifugal cane sugar that comes from exceptional local sugarcane grown on the Amami Islands which has been grown in lots of sunlight in the South.

The non-centrifugal cane sugar contains lots of minerals. It is well-accepted that when compared to brown cane sugar, it is the superior choice, containing less acidity and bitterness. Cafe au lait bases are normally made with white sugar, but Yamada Coffee use non‐centrifugal sugar in order to create a cafe au lait base that is friendly to your body.

Not a single preservative, colouring or flavouring is used – their "kibiore" simply uses coffee and non‐centrifugal sugar. Yamada Coffee want to make kibiore a thing of Amami Ōshima and so are also releasing gift sets that can be used as Bon Festival or end-of-year gifts by people both inside and outside Amami Ōshima.

During your trip to Amami Ōshima, be sure to stop by Yamada Coffee for a sit down with one of their special cafe au lait!

■Information

Kibiore (sweetening)

On sale Friday September 8th

Price: ¥1,600 (tax incl.)

Shelf Life: 1 year from the day of manufacturing

Storage: Store at room temperature and keep out of direct sunlight.

How to Use: Shake well. Use 4 parts milk. Drink.

Available: In-store at Yamada Coffee and online

Link:

https://amamiycoffee.theshop.jp/items/7888915

*Non-centrifugal cane sugar: A variety of sugar produced differently than regular sugar. Because the sugar crystals and cane juice of the molasses are solidified and crystallised and not separated, the sweetness and flavour of the raw ingredient create a much stronger flavoured sugar.

~Wild Beach~ Enjoy the best resort-filled rooftop bar and BBQ

Summer is almost here and it's time to enjoy the sun, the beach, and the food!

Who would have thought you can enjoy the resort like atmosphere in Shinjuku?

Well, Tokyo Sky Resort Wild Beach (Shinjuku) is the best place to visit when you are tired of the city and feel like relaxing.

Once the elevator door opens, you will enter a completely different zone. The area is filled with white sand, beach beds, and sofa seats, creating a tropical beach resort atmosphere.

The "Beach Café Area" offers a fashionable "French style barbecue" where you can enjoy various kinds of appetizers and drinks. At night the area is lit up with candles and lights, creating a romantic feeling.

At the private wood deck space, you can reserve the whole area and enjoy the recent trend in Japan, "glamping" (glamorous camping). There will be a glamping tent with tables, sofas, and a barbecue space to have a good time with friends and family.  There will also be a personal waitress that will be serving your food and drinks.

Try out the most popular drinks, Mango Sparkling and Peach Sparkling! They are very fruity and easy-drinking for anyone. Even the ice cubes are colored, which makes it very stylish and perfect for Instagram!

Continuing with Instagram, there are several cute photo spots inside the café. There are 3 different areas with wall art of an Angel's wing and there are also swings here that will bring back your childhood memories.

Not only can you come and BBQ with your friends on the weekend, but you can also show up after work on a weekday to refresh and have a nice relaxing time.

Reservation:

Beach Café Area with Parasol and Sofa ¥1000
Beach Café Area with Pergola Bed ¥2000
Wild BBQ ¥4500 (Kids under 10 ¥1500)
Wild BBQ for Girls Night Out ¥3900
Beach BBQ (¥5500) (Kids under 10 ¥2500)
Beach BBQ for Girls Night Out ¥4900
Luxury BBQ ¥7500 (Kids under 10 ¥3500)
Luxury BBQ for Girls Night Out ¥6900
Glamping BBQ ¥15,000 (Kids under 10 ¥5500)
Glamping BBQ for Girls Night Out ¥12,500
You can make any plan into all you can drink set with +¥1500
You must make a reservation if you are planning on going on Fridays or weekends and the reservation must be made a month prior.

There are also free café spaces where you do not need to make any reservations so feel free to come in any time!

The Tokyo Sky Resort Wild Beach (Shinjuku) will be opened until September 30th, 2017!

Writer:Jessica

■Information:

Location: Lumine EST rooftop

Address: 3-38-1, Shinjuku, Shinjuku-ku, Tokyo

Open Hours: 11:00am- 23:00pm

Phone: 070-3884-7290

Related article:Summer: The season of barbeques & beer gardens! Today we're recommending you rooftop terraces in Tokyo! (Part 8)

Related article:Feel like you're at a resort with couples' seats, swing seats and glamping at "Hankyu Top Beer Garden"

Natural forest will become a space of interactive-art! "Koou Suru Mori to Shiroato – Kushimazaki Juso"

Team Labo will hold "Koou Suru Mori to Joseki – Kushimazaki Juso" at Omura Shrine which stands on Kushima Shiro Ato"

Kushimazaki Juso is a place which became a natural forest after the Kushima Castle was deserted. The place includes huge trees.

Floating, Resonating Spheres – Omura Shrine
teamLab, 2017, Interactive Installation, Endless, Sound: Hideaki Takahashi

The project is to combine the mysterious natural forest and modern technology.

Oomura Park will become an interactive digital art location which changes its form by the passing of people. The project includes "Koou Suru Mori to Joseki – Kushimazaki Juso,"which is an art event where colors and the resonating of sounds change when  a person walks by and "Fuyu suru, Koou suru Kyutai,"where a light bulb bobs up and down in the center of the shrine grounds.

This event will be held between the 3rd of June, 2017 (Sat) and the 2nd of July (Sun) and "Kashobu Maturi" will be held on the 4th of June (Sun) from 11:00 to 15:00. In the largest Kasyobu Park in Kyusyu, 171 kinds of Kashobu (300 thousands of Kashobu) will showcase the park until mid June.

呼応する森と城跡 – 玖島崎樹叢 / Resonating Forest and Castle Ruins – Kushimazaki Tree Flora
teamLab, 2017, Interactive Digitized Nature, Sound: Hideaki Takahashi

The scene where the light bulb sparkles and fades out looks like it is breathing. Let's experience the world of interactive art which combines nature and digital artforms.

■Information

Resonating Forest and Castle Ruins – Kushimazaki Tree Flora
Event period: June 3rd, 2017 (Sat) to July 2nd (Sun)
Omura Park, Omurashi, Nagasaki Prefecture (Kushimazaki Juso / Omori Shrine) (〒856-0834  45-3 1-Chome, Kushima, Omurashi, Nagasaki Prefecture)
※The event will be cancel depending on the weather conditions.
※Elementary school students must come with their parents and a group consisting of only junior high / high school students must leave the venue before 20:30.

Official site:https://www.teamlab.art/jp/e/omura/

Kashobu Maturi:http://www.city.omura.nagasaki.jp/kankousuishin/event/h28/20160605.html

−−−

Related article:A temple lodging plan which offers "Puchi Shabutu" (tracing a picture of Buddhist image) experience is now available!

Related article:Visit Temples and Shrines, and Collect Goshu-in!

A cake shop in Kansai that is popular for its cute cat logo "Chat noir"

Are you a cat or a dog person?

Today I will show you a cake shop in Kansai that is popular for its cute cat logo.

My friend took me to this store because she fell in love with the cats.

Chat noir means "black cats" in French.

As you can see, all of these have a black cat logo somewhere on the cake.

My friend and I were standing in line for about 15 minutes because we had a hard time deciding which one to buy sense they were all super cute!

We were definitely going to buy the cake that was shaped like a cat because their eyes were literally staring at us.

This is the bag they put in and the box with the cakes inside.

The cakes were all in one box, but the staff gave us an extra bag because I was with my friend. The bag was so cute and fancy, I decided to keep it. I mean, who wouldn't keep such a cute bag?!

Another hidden cute gift was this ice pack. It has their logo front and bag. You can also keep/reuse this sense it's cute and clean!

We chose these 3 cakes. The one in the very left is a Tiramisu, the middle one is a cheesecake, and the right one is a chocolate cake.

We tried all 3 of them and my favorite was the cheesecake because it was soft and the sweetness was just right for me. The tiramisu one was a little bitter for me, but it was the perfect bitterness for my friend. My friend's favorite was the chocolate cake because it had a little coffee flavor and it was the cutest out of all the cakes from the store.

What my friend really likes about this store is that it's not so sweet and they have various types of cakes.

There are about 8 Chat noir in Osaka, and 4 of them have a café space, so I recommend you to peek in when you visit Osaka!

■Information

For more information, please visit:http://chat-noir.net/shop.php

−−−

Related article:Catch a momentary glimpse of the "cat pads"♡ "Cat paw-padded socks" will be released.

Related article:New cat items from the FELISSIMO neko section: "Floppy Ears Hair Turban" & "Indoor Cat Socks"

A book lover's hostel of paradise ー BOOK AND BED TOKYO opens at Fukuoka PARCO!

With the concept of "Staying overnight at a bookshop" at the core, the "BOOK AND BED TOKYO" hostel will open a new branch inside Fukuoka PARCO on Saturday 29th April 2017. The online reservations homepage started on Thursday 20th April.

The most comforting experience of falling asleep while reading – a true feeling of happiness can be experienced at this hostel in Fukuoka. It's not about the fluffy mattress, nor a fluffy pillow or a warm and soft futon, but a bed buried deep in a bookcase.

As you enjoy your stay at this hostel and flick through the pages of your favourite book, nighttime will fall in no time – two hours will go by and your eyelids will start to feel heavier and heavier, and as you continue to read, you drop off to sleep.

The moment you fall asleep is a moment of pure happiness and is something that everybody should experience at least once in his or her lifetime. From 30th April, BOOK AND BED TOKYO will start their "Daytime plan" which allows guests to enjoy the hostel space at their own free will without staying over. This hostel is not just limited to travellers – anybody is welcome to stay over to spend carefree nights filled with wonderful bliss and books.

■ Information

BOOK AND BED TOKYO Fukuoka
Address:Fukuoka PARCO Shinkan 6th floor 2 -11-1, Tenjin, Chuo-ku, Fukuoka-shi, Fukuoka-ken, 
Access:
Subway Kukou line 「Tenjin station」West exit・7th exit (direct connection)
Nishitetsu Tenjin Ōmuta Line 「Fukuoka(Tenjin)station」- immediately outside the north exit ticket barriers
Close to the Nishi Tetsu Bus stop

Official site:http://bookandbedtokyo.com/en/fukuoka/index.html

—

Related article:【Nagasaki sweets】Kasutera Ice Cream Sandwich 

Related article:【NagasakiStroll】Why Not Kyushu? Come and View the Gorgeous 99 Islands