Coca-Cola to Release New Bottle Designs in Collaboration With BAPE®
Coca-Cola System is joining monkey paws with A BATHING APE® to release two new bottle designs in limited quantities throughout Japan on May 25.
The designs come as part of Coca-Cola's slim bottle line which was first released in Japan back in 2015. This is the first time the slim bottles have collaborated with a fashion brand. There are two designs: the classic BAPE® ape and BABY MILO.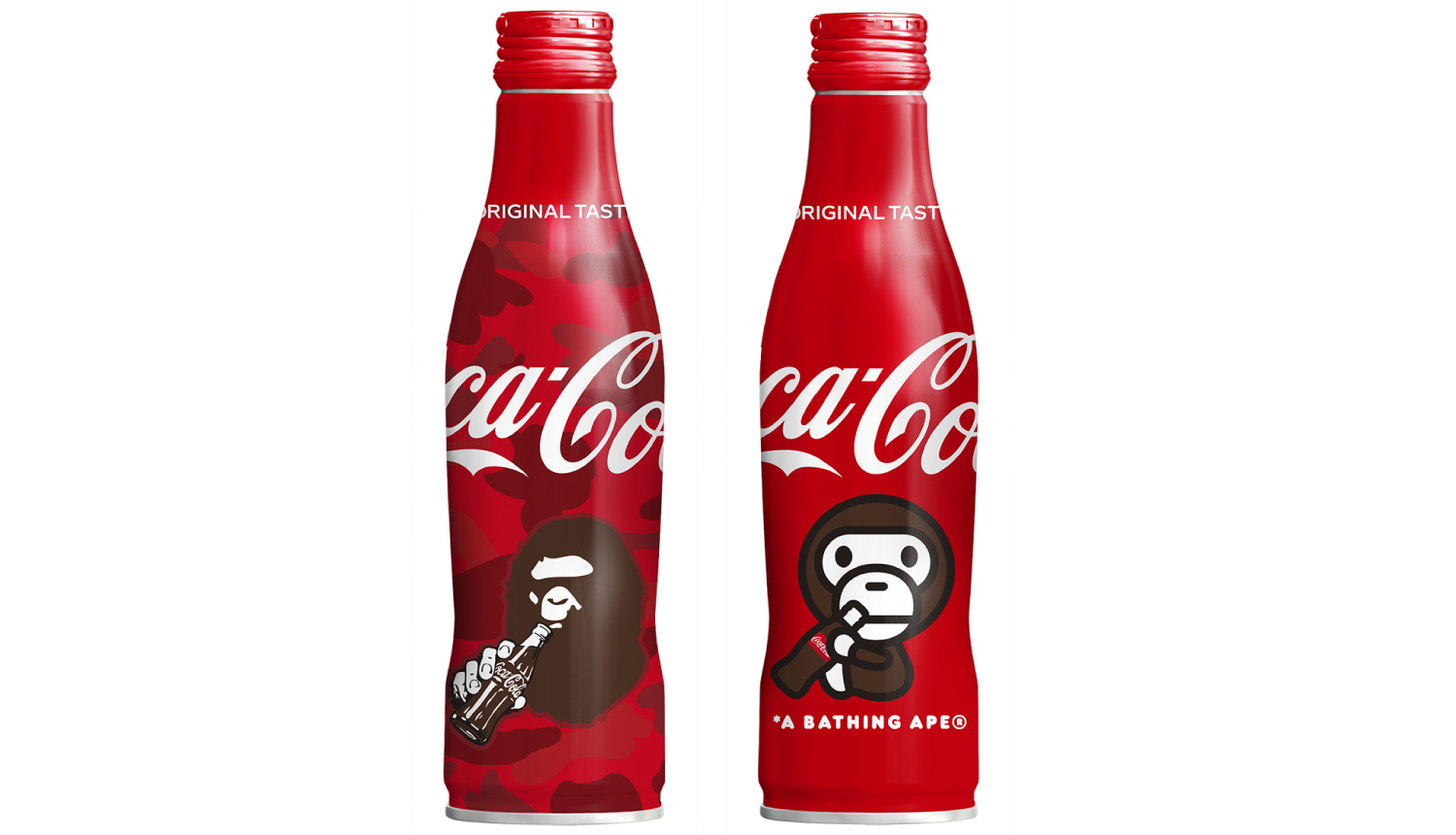 Left: Coca-Cola Slim Bottle BAPE® Design / Right: Coca-Cola Slim Bottle BABY MILO Design
A BATHING APE® has collaborated with Coca-Cola in Japan twice in the past since 2014. The slim bottles are 250ml for that quick refreshing hit, and are made from aluminium to keep your drink cold. It features the same stylish shape as Coca-Cola's glass contour bottles.
Coca-Cola's bottles have high design concepts having collaborated with the Olympics and FIFA World Cup, and in Japan they release seasonal bottles as well as bottles with tourist hot spots.
Information
Coca-Cola Slim Bottle BAPE® Design
Coca-Cola Slim Bottle BABY MILO Design
Release Date: May 25, 2020
Official Website: https://www.cocacola.jp/
RELATED ENTRIES
A Bathing Ape Reveals BAPY® 'Homely Romance' 2020 Autumn/Winter Collection

A Bathing Ape brand BAPY® released  its "Homely Romance" themed 2020 autumn/winter collection on Tuesday (September 8)which takes inspiration from clothes worn in classy Victorian era residences.

The collection weaves a contemporary silhouette onto its luxury line, which includes a poplin shirt, lace denim dress, and more.


Prints include checked, which is a winter essential, as well as Renaissance-style wallpaper, both of which enhance the theme of the line. The BAPY® brand logo is branded on with pearls and rhinestones to give an elegant touch to each item. The items also incorporate satin and chiffon to preserve comfort and add that high quality feel.

The chic knitted jumper is the perfect choice for wintertime. It has frills on the sleeves and shoulders, and the buttons are concealed by the satin to further elevate that elegance. Its coloured in caramel and mint green and branded with the "B" logo.

The collection was released at the BAPY® Harajuku store on September 8, 2020.

Japanese street fashion brand A BATHING APE® is collaborating with Clarks Originals—a luxury footwear company founded in the UK in 1825—for the first time to release a new shoe collection at BAPE® stores in Japan, their official website, and the official Clarks online store on August 8, 2020.

Clarks Originals combine traditional British shoe manufacturing craftsmanship with innovative techniques. The popular shoes can be credited with helping to establish street culture. Their iconic Wallabees and Desert Boots are considerate of the brand's roots while still adapting to contemporary society and fashion. Now, Clarks Originals is coming together with A BATHING APE® for the very first time.

The collaboration celebrates the 70th anniversary of iconic Clarks's Desert Boots which were first released in 1950. The boots feature branding from both companies with original details laced through the designs.

The Wallabees design features lightweight shark outer soles with the upper featuring BAPE's® classic camouflage print and Charles F. Stead suede leather. The Desert Boot design has different BAPE® artwork printed on both leather uppers.

Modelling the footwear in the promotional material is professional footballer Raheem Sterling who plays for Manchester City.

These collaborative shoes from two instantly-recognisable brands are must-gets for your wardrobe.

A BATHING APE® and COMME des GARCONS to Release Second Exclusive Collection

A BATHING APE® and COMME des GARCONS have joined hands once again to release a new collection which will be exclusive to BAPE STORE® COMME des GARCONS Osaka from July 23, 2020.


After the opening of the new BAPE STORE® COMME des GARCONS Osaka store and the relocation and revamp of COMME des GARCONS Osaka in April this year, followed by the successful first collaboration between the two brands last month, BAPE STORE® COMME des GARCONS Osaka is announcing an exclusive new limited collection.

Motifs of the two brands were incorporated into the first collection to create the COMME des GARCONS CAMO.

This time around, designs have been made simpler and chic, with the familiar APE HEAD and COMME des GARCONS branded on the line-up which includes a T-shirt, long-sleeve striped T-shirt, and a zip-up hoodie.


The simple designs make this collection versatile and therefore makes each item enjoyable for pretty much any occasion. Like the first collaboration, the labels have been custom made too, lending a premium feel to the collection.。

This is a collection not to be missed, forged by the minds of A BATHING APE® and COMME des GARCONS.

Dragon Ball Z Clothing and Accessory Collection to Drop in Collaboration With BAPE®

A BATHING APE® is teaming up with Dragon Ball Z to release a special collaborative collection of attire and accessories on June 27, 2020 at all BAPE STORE® branches in Japan, BAPE.COM, and ZOZOTOWN.

BAPE® last collaborated with Dragon Ball for the release of the hit anime film Dragon Ball Super: Broly. The design for the the new collaboration takes inspiration from the company's mascot character BABY MILO®.

The collection includes a T-shirt, hoodie, denim jacket, and other must-grab items.

Get Your Hands On BAPE® and COMME des GARCONS' New Collaboration Collection

Japanese fashion label COMME des GARCONS OSAKA moved to Midosuji in Shinsaibashi, Osaka in April and had a brand new interior makeover. The interior was designed by world-leading fashion designer Rei Kawakubo, who founded COMME des GARCONS in 1969.

The shop is completed with a BAPE STORE® located on the floor 1, earning its name BAPE STORE® COMME des GARCONS OSAKA. A BATHING APE® (BAPE®), which sprouted in Tokyo in 1993, continues to set the latest fashion trends which are compatible with a range of fashion styles from around the world.

The opening of the two new shops will be celebrated on June 20, 2020 with the release of the brands' first ever collaboration items.

The new collection incorporates BAPE®'s original "CAMO" design with both brand names. The new "COMME des GARCONS CAMO" items mark a significant moment in BAPE®'s history. The collection includes specially-made name tags and both brand logos to boast the collection's premium-quality design.

The compressed "shrink T-shirts", which is one of BAPE®'s most iconic items from the 90's, will also be released. These shirts are compressed to fit in the palm of your hand and became a famous collector's item among BAPE® fans. From spray cans to blaster guns, various shapes of these "shrink T-shirts" were developed. For this collaboration, the shirts are in the shape an ape's head.

BAPE STORE® COMME des GARCONS OSAKA's exclusive collection will be launched on June 20, 2020 so don't miss out!

Information

How to purchase from the collection

If you wish to purchase something from this collection, you need to fill out a lottery form. 

Form link: https://forms.gle/Nb9pDVEXCBKfbcGF7

Participation Period: June 16, 2020 (11:00am) ー June 18, 2020 (3:00pm)

*You can apply via this lottery during the dates and times stated above.

* It may not be possible to use a mobile phone email address to take part.


Terms and Conditions

・ Only those who have been selected will receive a numbered admission ticket or potential admission ticket by e-mail.
・The admission ticket does not guarantee purchase. Please note that even if you have an admission ticket, you may not be able to purchase your desired product.
・After all the customers with numbered admission tickets have entered the store, those who have the potential admission tickets will be allowed entry. Customers with potential admission tickets may not be able to purchase products.


・You will be asked to present a form of photo ID (passport, driver's license, or my number card) and your submitted lottery form. You must present your photo ID to make a purchase.
・Only one item per model can be purchased per person. Please note that no returns or exchanges can be made after purchase.
・Sales will be refused to anyone who causes trouble, fails to follow the instructions of security guards and staff, or attempts to make a purchase on behalf of someone else.



Collection Launch Date: June 20, 2020

BAPE STORE® COMME des GARCONS OSAKA

Floor 1 COMME des GARCONS OSAKA, 4-4-21, Minamisenba, Chuo Ward, Osaka

Special Edition Website: https://bape.com/apps/special/commedesgarcons/

BAPE® Releases Face Mask Case For Storing Your Mask

A BATHING APE® released its new face mask case on Saturday (May 23) for people to hygienically put away their face masks, whether to store away or for on the go. The cases will be given to everyone that purchases something from the BAPE STORE® or BAPE.COM in Japan.

The case features BAPE's iconic APE HEAD design. It's made from PVC and so can be hand washed so people can safely and hygienically store their face masks. The case can of course be used to store hand sanitiser or hand wipes too.

Information

BAPE® MASK CASE

Release Date: Saturday, May 23rd, 2020
Available: BAPE STORE® and BAPE.COM in Japan to all customers. One case per transaction. Available while supplies last.

Product Page: https://bape.com/blogs/news/bape-mask-case

A BATHING APE® is set to open preorders for brand new products on their official online shop BAPE.COM. BAPE® items exclusive to the official online shop that drop every Saturday will now be available on Fridays. Customers refraining from visiting the store in person can take advantage of BAPE®'s free shipping campaign which has been extended until May 11, 2020.

The latest news and updates on BAPE®, AAPE, BAPY®, BABY MILO® STORE, online store-limited items and much more can be found on A BATHING APE®'s official online shop.

Information

BAPE STORE® To Open in COMME des GARCONS in Osaka's Luxury Brand Hotspot

Japanese fashion label COMME des GARCONS OSAKA has moved to Midosuji in Shinsaibashi, Osaka and is set for its grand opening on April 3, 2020. 

The first floor will be occupied by BAPE STORE® (A BATHING APE®), making it the first ever COMME des GARCONS to house a BAPE STORE®. 

COMME des GARCONS was founded by world-famous fashion designer Rei Kawakubo in 1969. Besides developing a number of world famous brands such as COMME des GARCONS HOMME PLUS, she also founded the multi-brand retailer DOVER STREET MARKET GINZA, becoming a key figure in the world's leading fashion. As the second largest city in Japan after Tokyo and the largest in west Japan, Osaka has remained the economic and cultural epicentre of the Kansai region for centuries. Kawakubo's latest step in the world of fashion is the brand new opening of BAPE STORE® COMME des GARCONS OSAKA along Midosuji street, Shinsaibashi – a main street of central Osaka which is a hotspot of luxury designer shops. 

 

Last year, BAPE STORE® opened in Kyoto, marking a year since BAPE STORE® opened in the Kansai region. The interior of BAPE STORE® COMME des GARCONS OSAKA was done by Rei Kawakubo. This atmosphere and design is completely different to existing BAPE® stores and will also sell limited COMME des GARCONS and A BATHING APE® collaboration merchandise that are not available anywhere else.

If you're in Osaka and love high-end fashion, the brand new BAPE STORE® COMME des GARCONS store and its limited merchandise is worth checking out. 

BAPE STORE®

Information

BAPE STORE® COMME des GARCONS OSAKA

Address: Floor 1 COMME des GARCONS OSAKA, 4-4-21, Minamisenba, Chuo Ward, Osaka

Grand Opening: April 3, 2020

Items Release Date To Be Confirmed.

Special Edition Website: https://bape.com/pages/cdg_osaka/

Tokyo 2020: Coca-Cola Releases Olympic Design Bottles & Wristband Bottles

The Coca-Cola System began rolling out two new bottles on Monday: the Tokyo 2020 Olympic Games Bottle and Tokyo 2020 Olympics Wristband Bottle.

The bottles were released to get people excited about the upcoming games, as well as a means for everyone to feel like they are part of Tokyo 2020. Two ads are currently running on Japanese television in promotion of the bottle designs – both featuring Japanese professional skateboarder and Olympic athlete Aori Nishimura.



Olympic Games Design Bottle

The Olympic Games Bottles will feature designs for all 33 of the Olympic Games. The concept behind the designs are to both support competing athletes and allow for everyone to enjoy the Olympics even if they are not competing. In another television commercial for this bottle which began airing in Japan on Tuesday, the message is conveyed that the time to start looking forward to the Olympics is now. The commercial features appearances several Olympic competitors including skateboarder Aori Nishimura, field hockey player Hazuki Yuda, and rugby player Taichi Yoshizawa.

A campaign is also being held to win a set of three original Coca-Cola x Tokyo 2020 pins. There are 25 designs in total. You can join by scanning the QR codes on the bottles.

Wristband Bottle

Exclusive to Coca-Cola vending machines in Japan, the Wristband Bottle features a label that when removed doubles as a wristband. This is the first bottle of its kind in Japan. There are nine wristband designs in total, all centred on Tokyo 2020. They serve to enliven the excitement surrounding the Olympic Games, both for the torch relay as well as the opening and closing of the summer event. Additionally, you can get your hands on another official wristband if you take your bottle wristband to either the Coca Cola booth at the torch relay celebration or at Asics sports shops in Japan. These are available on a first-come, first-served basis, with 100 available at all torch relay celebration areas up and down Japan, as well as 30,000 at Asics stores.

Information

Tokyo 2020 Olympic Games Design Bottle / Original Wristband Bottle

Released: March 9, 2020 (Available while supplies last)

More Details: https://www.cocacola.jp/tky2020/

Coca Cola Adds Yamagata Prefecture to Stylish Regional Design Series

Coca Cola is adding a brand new design to their famous and stylish regional series. Coca Cola's Slim Bottle Region Design series features illustrations of famous landmarks around Japan on a slim and stylish bottle.  Yamagata Prefecture will be making its grand debut on the slim and stylish bottle on September 2nd and will be sold only in Yamagata Prefecture. 

The Slim Bottle Region Design series aims to add a refreshing kick to your travels. So far, a total of 31 different designs have been released. These new Coca Colas are the perfect way to splash excitement into whatever new food you discover on your travels in the region and will also provide you with the energy boost you need on a tough day of traveling. In previous years, this stylish Coca Cola bottle has even become a very popular souvenir. 

So far, designs based on regions all over the country have been featured on these bottles. Locations used so far include Hokkaido, Tohoku, Kanto, Hokushinetsu, Tokai, Kansai, Chugoku, Shikoku, Kyushu and Okinawawa. With Yamagata added to the collection, there will be a grand total of 32 different designs.   

Different illustrations to represent the famous foods and culture of Yamagata prefecture cover the entire surface of the bottle. You will notice a person waving a hat decorated with safflowers on a summer night which represents the prefecture's famous Hanagasa Festival. The illustration of the stylish streets of the Ginzan Onsen will definitely trigger nostalgic memories of the Taisho Era for many. The prefecture's specialty ー small and sweet sakuranbo cherries ー also make an appearance on the bottle. 

Information

Coca Cola Slim Bottle Region Designs

Coca Cola Slim Bottle Yamagata Design

RRP Price: ¥125 (250ml slim bottle)

Available: Souvenir shops, supermarkets, vending machines and elsewhere in Yamagata Prefecture.

On Sale: September 2, 2019

Coca Cola Official Website: cocacola.jp

BAPE® just released a new line of colourful items with the Busy Works logo on them. The collection was released in Japan on March 2 at stores stocking A BATHING APE® merchandise.

WHITE BWS One Point Tee: ¥6,800 (Before Tax)

Black Busy Works Bucket Hat: ¥7500 (Before Tax)

Red Busy Works Frisbee: ¥1,800 (Before Tax)

Black Busy Works Rubber Coaster: ¥1,000 (Before Tax)

All of these items and more are now available from BAPE®.

MMN Interviews Former 2NE1 Member Dara at BAPY® HARAJUKU STORE's Opening Event

BAPY BY A BATHING APE®︎ is a women's clothing line by A BATHING APE®︎, the internationally popular Japanese fashion brand that has collaborated with some of the most famous brands and music artists around the world.

The company launched their secondary brand BAPY®︎ in 2001. In October this year, the brand's name re-launched under the new name "BAPY BY A BATHING APE®︎."

As part of the rebranding process, the company opened up their new BAPY® flagship store in Harajuku which is decked out in the brand's iconic coral pink colour. The store's opening reception party was held on November 14 which saw appearances from Japanese actress Mariya Nishiuchi amongst a whole list of models and influencers. Among them as a special guest was Dara, former member of South Korean girl group 2NE1.

Dara is a busy fashionista who has enjoyed invitations to countless shows hosted by top brands across the globe. She was donning clothes from BAPY BY A BATHING APE®︎ at the reception party but still stood out from the crowd as she showed her support for the brand's relaunch.

MOSHI MOSHI NIPPON had the chance to interview Dara and ask her about women's fashion, her favourite spots in Japan and more.

―Welcome to Japan! How long has it been since you were last in Tokyo, and where are you thinking of visiting next?

I was last in Tokyo in March of this year, so it's really been a while. It's a place I visit a lot for fun so I wanted to come back again soon. It's been four years since I last came to Japan for something work-related. There's lots of shops I want to go to. Japan has my favourite curry and ramen restaurants. I want to shop at places like Don Quijote too.

―Are there any places in Japan you would recommend to the people of South Korea or your fans around the world? If so, what's your reasoning?

Japan has way too many really delicious restaurants, I'm always stuck deciding what to eat. My acquaintances work in the fashion industry so they've shown me some little-known shops. Especially in places like Harajuku and Omotesando. There's shops we often go to there to buy clothes. They have everything – brands, streets, vintage stores, you name it, so I recommend it to people.

―Street fashion is seeing another boom amongst girls in Japan. You regularly don street fashion. Please tell us some tips on how to look stylish with BAPY.

When I visit Japan I get the impression that Japanese women really enjoy fashion and have fun with it in many ways. I'm mainly into and wear street fashion. BAPY too has all sorts of different items, like casual trainers, hoodies, coats, jackets. I personally like to wear colourful trainers and a hoodie and then add to that a coat that matches the season. And if you're going for heels or boots you can bring out both a street vibe and sexy feminine look. That's why it's my favourite style. "Mix-and-match" is the thing to take away from it.

―Your outfit today is cute too! Please tell us your tips on coordinating an outfit.

With this look I've gone for a more girly, chic style than street. I put on a beret to bring out the cuteness. I also really love the grey checkered skirt, jacket and long boots too. I think the style comes together well.

 

―Please leave a message for your fans around the world.

This BAPY event was my first work in Japan in four years. The people I met at the event (models, the people involved etc.) kindly showed their love and support for myself and 2NE1 as they always do. It really surprised me but it made me really happy. I think the fans feel the same too. I will continue to work harder. I want to look cool doing all kinds of different things. I'm forever grateful to everyone and want them all to feel happiness! See you again ^^

Enjoy BAPY BY A BATHING APE®︎'s new line-up as well as the street fashion tips kindly provided by Dara herself!

Information

BAPY BY A BATHING APE®︎

Address: 4-21-5 Jingumae, Shibuya, Tokyo

Tel: 03-5474-8869

Opening Hours: 11:00-20:00 (No Fixed Holidays)

Official Website: https://bape.com/bapy/

Dara Official Instagram: https://www.instagram.com/daraxxi/