Denim Washi Face Masks Keep You Cool in Summer With Cool Touch Fabric
Japanese jeans select shop Right-on is now taking pre-orders for their new "Denim Masks" which are made using "wash denim."

Denim Mask – ¥1,290 (Before Tax)
"Washi Denim" is a material used in Right-on's private brand "BACK NUMBER" which has sold over 450,00 products. The inside of the mask is antibacterial and odor-resistant, protecting the masks from yellowing as a result of staphylococcus. The fabric is also cool touch and so can be used for the hot weather too. And of course the mask can be washed.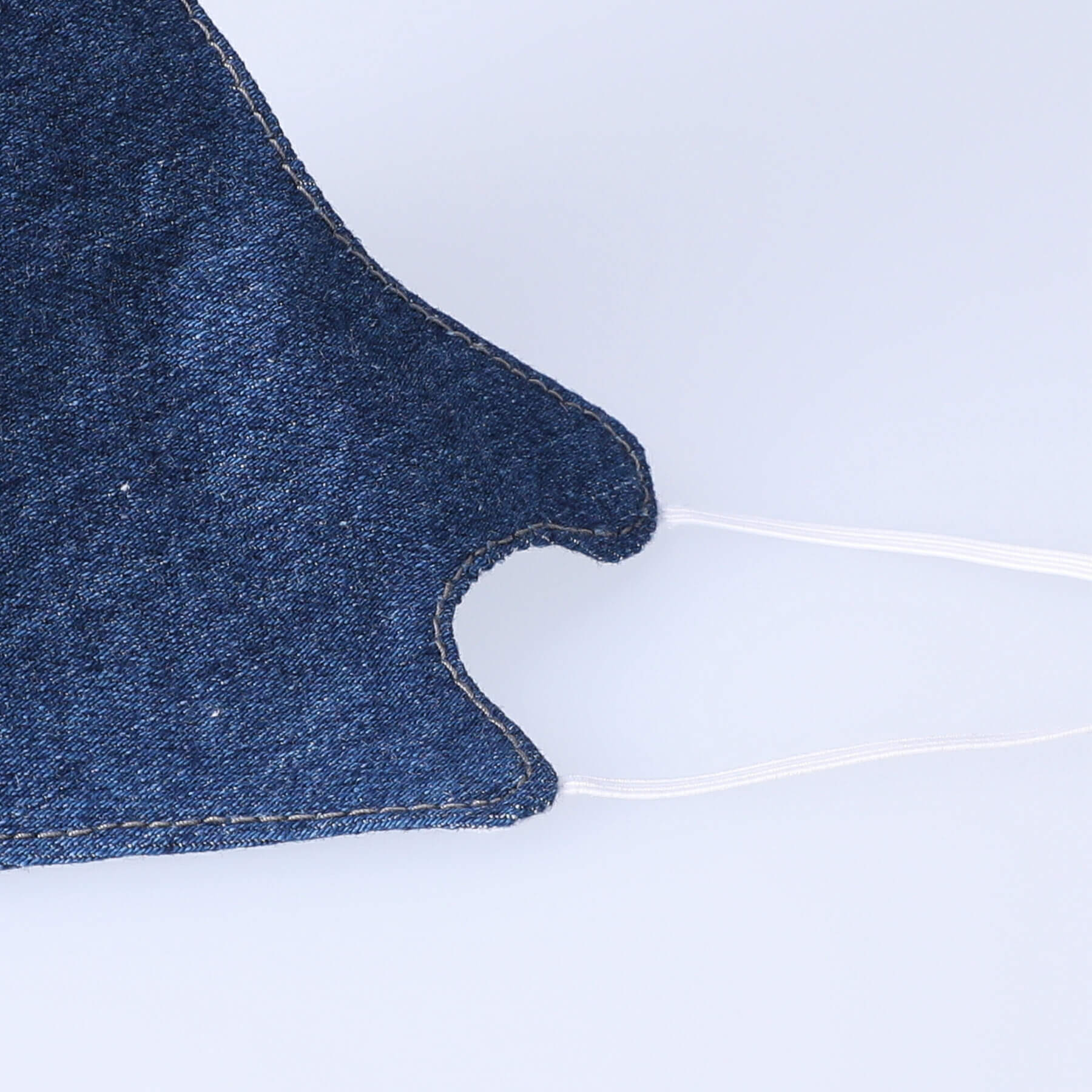 The straps on the side have an adjuster so you can fit it to you face.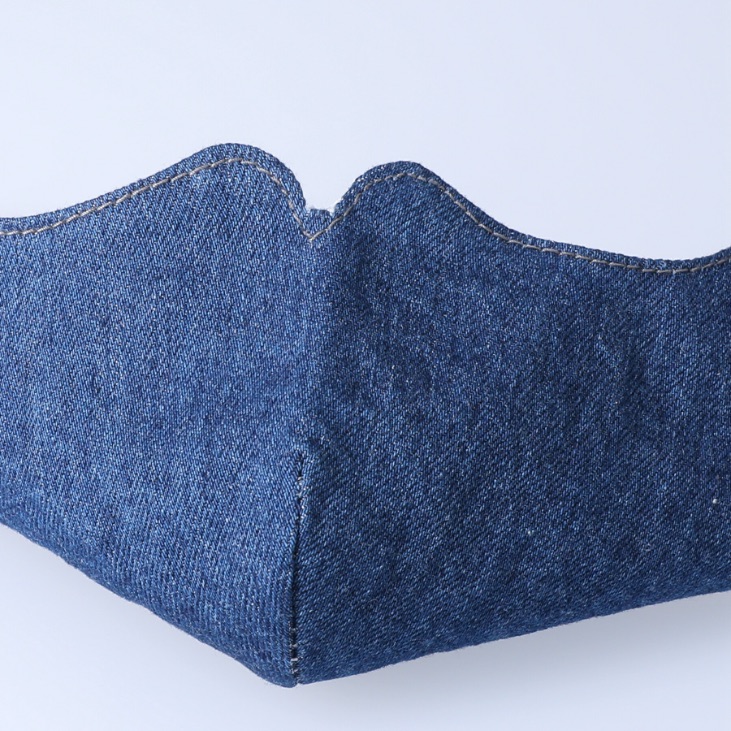 The top of the nose part is cut to make the mask fit better so it can be worn comfortable for long periods of time.
RELATED ENTRIES
Maison Kitsuné Reveals Collaboration Mask with PITTA MASK

Maison Kitsuné, a popular Parisian lifestyle brand that produces unique music and fashion items, has collaborated with Japanese mask brand PITTA MASK, a brand which has become famous for its extraordinary outlook. The trendy mask was unveiled at NYFW: The Shows on September 10 2021. 

The collaboration combines the creative direction of both Maison Kitsuné and PITTA MASK, working together to transform the typical mask, which has become a daily necessity, into something fun and stylish, all while maintaining the spirit of each individual brand.

PITTA MASK and Maison Kitsuné, a lifestyle brand known for combining fashion and music,  have collaborated to create a stylish and colorful mask that goes beyond just protecting the face, both practical and fashionable.

The two collaboration masks, which were unveiled during New York Fashion Week, will be presented as a free gift to customers who spend over ¥8,000 (Excl. Tax) in Maison Kitsuné stores in New York, Tokyo, Kyoto, and Osaka from the end of September. The set is made up of two masks, in navy and white.

 

Quantities are limited, so be sure to check out the latest information on social media!

Information

Maison Kitsuné x PITTA MASK Collaboration Face Mask

Gift Campaign Period: Late September 2021 Onwards (scheduled)

Maison Kitsuné Official Instagram: www.instagram.com/maisonkitsune/ 

Tennis Star Naomi Osaka Releases Upcycled Denim Collection with Levi's®

Naomi Osaka is one of the fiercest young athletes in sports today. Now a four-time Grand Slam singles champion, she's caught the attention of aspiring athletes all over the world with her authenticity and skill. Now, she's teaming up with Levi's® to release a new collection, available at select stores in Japan beginning August 24. The pieces will also be sold at the official online store. 

Crystal Fringe Short : ¥33,000 (Tax Included)


Lace-Up Short : ¥19,800 (Tax Included)


Trucker Jacket Bustier: ¥24,200 (Tax Included)


Denim Kimono : ¥40,500 (Tax Included)


 

The collection utilizes vintage or upcycled denim to capture Osaka's preferred silhouette, with each piece utilizing her unique designs based in femininity and sportiness. 

The Denim Kimono is a respectful homage to traditional Japanese culture. "I loved wearing kimono as a child," Osaka commented. "I thought if I included one made of denim in the collection, it would be super unexpected and surprising." 

This collection also includes two denim shorts: the Lace-Up Short is sportier, and is a clever reimagining of the classic Levi's® denim shorts. They feature cutouts above the knees, a feminine lace-up back, and were made from upcycled men's Levi's® jeans. For those wanting something more girly, the Crystal Fringe Short features a collection of shimmering fringe gracefully dropping down the sides of the cut-off pants. 

Rounding out the collection is the Trucker Jacket Bustier, a denim bustier with a lace-up back. This is a remake of the Levi's® trucker jacket, cut in the traditional corset style with classic lines, flap pockets, and recognizable buttons. "When I was sketching, the idea of the bustier came to me and I absolutely loved it. Now that it's been made and is actually real, it's so much cuter than I imagined. I love it even more!" Osaka commented. 

This blend of sporty and feminine makes the collection a perfect shoutout to Naomi Osaka's rich heritage. Most importantly, the collection is made from vintage and upcycled denim, breathing new life into already existing Levi's® items and reducing impact on the environment. "Sustainability initiatives are important to me. What I love most about the collection is how responsibly the pieces were made," the tennis star said. 

Which of these four pieces would you like to rock this summer? 

Information

Levi's® x Naomi Osaka Collection

Release Date: August 24, 2021

Where to Buy: 

Levi's® Harajuku Store

Levi's® Osaka Store

Official Levi's® Online Store: https://www.levi.jp/

Sailor Moon Eternal Inspired Face Mask Protects and Looks Kawaii

Bandai Namco Group released a new Sailor Moon Eternal themed face mask as part of their 'CHARA-MASK' line for adults on Premium Bandai on June 14.





CHARA-MASK Sailor Moon Eternal | ¥2,200 (Tax Included)

The face mask, based on the Sailor Moon Eternal anime film, was designed in collaboration with Sailor Moon's author Naoko Takeuchi. It's lined with sparkly rhinestones to give it a cute finish.

Bandai's CHARA-MASK series features reusable masks fitted with anti-odour and anti-bacterial filters which can be swapped out. They are also made from comfortable light mesh fabric, can be washed, and worn for long periods of time. They are sized at 100mm in width and 130mm in height.

©︎ 武内直子・PNP/劇場版「美少女戦士セーラームーンEternal」製作委員会

Information

CHARA-MASK – Sailor Moon Eternal

Released: June 14, 2021 (Available while supplies last)

Delivery: October 2021

Tokyo Revengers Anime Series to Release Exclusive Merchandise Collection

Japanese anime and manga online store CharaAni is releasing an exclusive new Tokyo Revengers anime merchandise collection this June.

Customers who purchase any of these items on the website can pick between one of five postcards that they'll receive for free. Check out the designs below.

Free postcard with every purchase

The Line-Up

Embroidered Patches | ¥770 Each or Entire Box ¥6,610 | Releasing: July 2021

A collection of embroidered patches featuring the characters from Tokyo Revengers. Each is around 10cm in size and can be used in a variety of ways.

 

Mikey and Draken T-Shirts | ¥16,500 Each | Releasing: June 2021

Two work-style tees with the initials TG embroidered on the front and featuring different designs on the back of Mikey and Draken.

A4 Folders | ¥440 Each | Releasing: June 2021

Washable Face Masks | ¥2,200 Each | Releasing: June 2021

A collection of stylish reusable face masks made from a light material that makes them perfect for the hot summer weather.

©和久井健・講談社/アニメ「東京リベンジャーズ」製作委員会

Touken Ranbu -ONLINE- Releases Cloth Face Masks With Filters

Bandai has released a new set of face masks inspired by the free-to-play collectible card browser and smartphone video game Touken Ranbu -ONLINE- which are now available to purchase on their official shopping site Premium Bandai.

Set A: Yagen Toushirou & Hakusan Yoshimitsu / Set B: Kashuu Kiyomitsu & Yamatonokami Yasusada / Set C: Taikogane Sadamune & Shokudaikiri Mitsutada – ¥1,650 (Tax Included)

The lightweight face masks are made by CHARA-MASK, a long-standing Japanese mask specialist store. They use replaceable filters and are made from a special mesh material that makes them more comfortable to wear over long periods of time without getting stuffy. They are also equipped with adjustable strings to fit many face types, and of course are washable so can be reused.

(C)2015 EXNOA LLC/Nitroplus

Stylish Taiwanese Face Mask Brand JIUJIU Releases in Japan

The popular Taiwanese face mask brand JIUJIU was released in Japan for the first time on Friday (February 26) via the company's new Japanese website.

We now live in a time where face masks are a part of everyday life when commuting, going to the shop, walking in public places, working at the office, and so on. Japan is no stranger to face masks as they were always a part of the culture for hygienic reasons in the workplace when an employee is ill, as a fashion statement, for those suffering from hay fever, and so on, but even there has seen a major increased demand for face masks since the pandemic began.

JIUJIU's face masks are used in medical professions in Taiwan. They are noted for not only they quality but fashion sentiment too, with over 60 style variations available. These masks are now available to buy in Japan in packs of 5.

Information

JIUJIU Face Masks

Released: February 26, 2021 (Japan)

Price: Pack of 5 – ¥548 (Tax Included)

Online Store: https://jiujiu-jp.com/

Sanrio Design Face Masks by Maison de FLEUR Keep You Stylish and Safe

Maison de FLEUR has revealed a new collection of face masks created in collaboration with Sanrio which will be released in Japan on February 23.

Sanrio Character Collab Masks | ¥2,200 Each (Tax Included)

My Melody

     Cinnamoroll

Little Twin Stars

Pompompurin

Kuromi

The masks are designed from the popular Sanrio characters My Melody, Cinnamoroll, Little Twin Stars, Pompompurin, and Kuromi. The parts that hook over your ears are fitted with a big, cute satin ribbon, and the front of the masks feature a gold leaf print matte design.

The masks can be used both as a fashion item and for protection against COVID-19.

Information

Maison de FLEUR x Sanrio Character Collab Masks

Release Date: February 22, 2021 at 20:00 @ STRIP CLUB / February 23, 2021 @ Maison de FLEUR stores

STRIPE CLUB Official Website: https://stcl.page.link/Z3cE

ZOZOTOWN: https://zozo.jp/

greet up Releases Antibacterial and Anti-Odour Face Mask Spray

Japanese brand greet up has launched its new antibacterial and anti-odour "Jia Shi AL" (次亜シーAL®) spray for face masks. The bottles are a convenient 50ml size so can be carried anywhere and everywhere.

Jia Shi AL is an antibacterial spray co-developed by Environmental Science Laboratory and Himawari Clinic, a leading medical clinic located in Ono, Hyogo.

In the regular electrolysis process, chlorine (CL2) is used which is poisonous, but no chlorine is used in the making of Jia Shi AL. It contains antibacterial alcohol and hypochlorous acid solution which is kind to the skin, including those with more fragile skin. It also eliminates pollen making it a perfect accomplice alongside those who suffer from hay fever. It can also be used on disposable face masks that can't be washed to disinfect them.

The Line-Up

Jia Shi AL Original Bottle 50ml | ¥550 (Tax Included)

 

Face Mask Sets

evolvetogether Set: 7 Face Masks (4 Colours) + Jia Shi AL 50ml Bottle Set | ¥1,980

Mask Colours: Amazonia, NYC, Milan, Tokyo

  

The spray is gentle on skin and safe to use on children and pets.

Jia Shi AL can be used for many things including:

 

Hands/Masks/Electronics

Pollen/House Dust Elimination

Kitchen/Wet Areas/Tableware

Furniture/Living Space

Inside Humidifiers To Cleanse Air

Information

Jia Shi AL Original Bottle 50ml

Japanese Product Name: 次亜シーAL® オリジナルボトル 50ml

greet up Official Website: https://greet-up.com/

Face Mask Shop to Open in Osaka On February 8

Japanese children's clothing brand BABYDOLL has announced that it will open up a shop selling only face masks in Namba, Osaka on February 8, 2021. The store is called #Jibun Iro Mask ("Mask in My Colour") and will sell the newest face masks in the popular MASK DEPOT series which have sold over 150,000 units in Japan.

Pick your colour and size

There's a line-up of around 200 original masks available in different colours and sizes. Customers take a "colour assessment" where they answer four questions and pick from 20 different colours to find their perfect match, resulting in a mask made for them. There's also an option to gift wrap the masks to be given as presents to people. And for the store's grand opening, those who purchase 3 or more masks will receive another mask free of charge. This offer is available from February 8 to 14.

New Limited-Edition Sakura Cherry Blossom Beauty Face Masks Released by LuLuLun

Japanese face mask and beauty brand LuLuLun released its new limited-edition cherry blossom scented face masks on Monday (February 1) to welcome in the Spring 2021 season early.

Spring 2021 Premium LuLuLun (Cherry Blossom Scent) | ¥1,600

Combined with springtime's beauty ingredient

Spring is the season when flare ups can happen and we need to be careful of UV light, humidity, and pollen. LuLuLun's products pride themselves on their moisturising properties, and their new cherry blossom face masks are no exception. They are combined with cherry blossom petal extract, lending a fragrant scent while leaving the skin smooth and beautiful.

Rape blossom oil for even smoother skin


The rape blossom is another of Japan's popular flowers as they blossom and transform fields into rolling carpets of bright yellow. The face masks contain oil extracted from rape blossom seeds for an extra blanketing of smooth skin.

Coltsfoot extract equals healthy texture


Also in the ingredient list is extract from the coltsfoot flower, a strong plant that is able to withstand winters to make it into the spring where it can finally reveal its delicate form. It serves to create a healthy complexion on the skin.

Cute Hello Kitty and Little Twin Stars Face Masks Release in Sanrio Collaboration

Japanese sneakers select shop atmos pink teamed up with Sanrio to release a cute collection of face masks on Thursday (January 28).

KIKI&LALA★atmos MASK Colours: White/Blue – ¥1,400 (Before Tax)

HELLO KITTY♡atmos MASK Colours: White/Pink – ¥1,400 (Before Tax)

The masks can be washed and are durable, fast-drying, block pollen, and cut UV. Face masks are part of everyday life now, so why not add a little fun to routine?

Sanrio's My Melody, Pompompurin, and Little Twin Stars Keep Your Face Masks Safe

Sanrio released pre-sales of its new Sanrio Characters Mask Bags for face masks via the online shop Asunarosha on Wednesday (December 9).


Following the success of the Hello Kitty and Cinnamoroll face mask bags released in September, all of which sold out, Sanrio is adding new designs into the mix. The bags are washable and allow you to carry your mask around conveniently and hygienically.

My Melody, Pompompurin, Little Twin Stars (Kiki & Lala) | ¥700 Each (Before Tax)

The new designs include the popular characters My Melody, Pompompurin, and Little Twin Stars (Kiki & Lala).


Hello Kitty, Cinnamoroll | ¥700 Each (Before Tax)

Hello Kitty and Cinnamoroll are also making a return so fans can pick from 5 different designs.

Sanrio Puroland is also releasing a cute collection of face mask and mask cases on December 18.

©1976, 1996, 2001, 2020 SANRIO CO., LTD.