Big Hero 6's Baymax Turns Into Tasty Confections in Q-pot.'s Accessory Range
Q-pot is an accessory brand whose products are made to look just like delicious desserts. The brand also has its own Disney-inspired line called "Disney Story Dreamed by Q-pot." into which it has added the cute Baymax from Big Hero 6.
Baymax is a tall, round, and white healthcare-providing robot who is gentle by nature. Q-pot. has turned him into delicious confection accessories for their Disney range.
Daifuku
Necklace: ¥9,500 (Before Tax) / Ring: ¥6,000 (Before Tax) / Bag Charm: ¥7,500 (Before Tax)
 Daifuku is a Japanese confection which features a round mochi filled with some kind of sweet filling, usually anko red bean paste. The shape of a daifuku is perfect for capturing Baymax's form.
Underneath the squishy accessories is what feels like real anko.
Macaron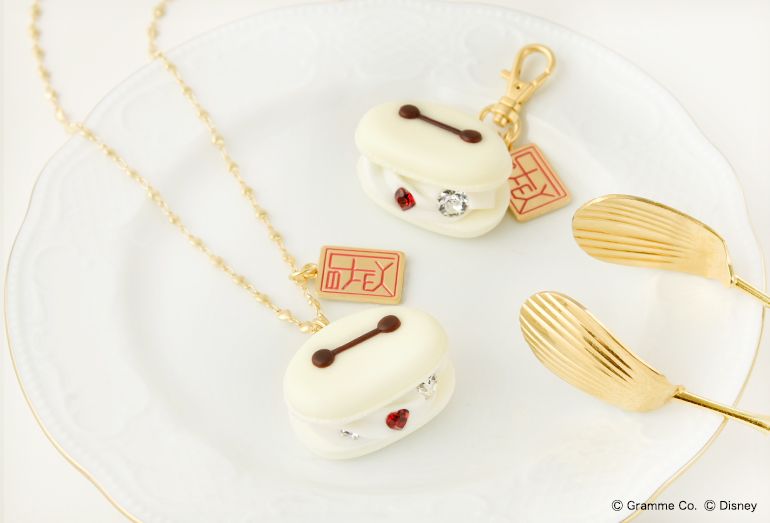 Necklace: ¥10,000 (Before Tax) / Ring: ¥8,000 (Before Tax)
For these accessories, Baymax has been turned into the traditional French macaron. It's like Baymax really has been filled with fluffy cream.
The necklace and ring are also topped with various decorations like the cute little heart.
Information
Baymax Collection
Order Window: May 27, 2020 – June 14, 2020
Deliveries: From Late July 2020
*Dates subject to change depending on manufacturing conditions
Available: Q-pot. ONLINE SHOP (From 12:00pm JST)
*Please note that physical Q-pot. stores are temporarily closed and so the release date of this product in-store is TBA
RELATED ENTRIES
Evangelion x Q-pot Reveal New Accessory Collection Featuring Designs From the Anime Series

Q-pot., a Japanese accessory brand which makes jewellery that looks like real sweets and desserts, has announced a second accessory collaboration with the Evangelion series titled "2nd Melty Impact" which will hit Q-pot. stores, select Evangelion stores, and the IKSPIARI pop-up shop on January 20, 2021.

Evangelion x Q-pot. Accessory Collection

A.T. Field Gummy Candy Necklace | ¥10,500 (Before Tax)

The delicious-looking Gummy Candy Necklace inspired by the Absolute Terror Field, the protective barrier that Angels and Evangelions can create to protect themselves. The reverse side of the necklace pedestal also features an engraving of the Tree of Life.

Red Sea & Blue Sea Metal Rings | ¥9,000 Each

Two rings representing the blue sea and red sea, the former being before the Second Impact when the world was teeming with life and the latter after the Second Impact when life is destroyed.

L.C.L. Metal Rings | ¥9,000 Each

These rings are based on LCL, the amber-coloured liquid which enables the piloting of an Evangelion Unit. In the series we see the Entry Plug of an Eva Unit flooded with this translucent liquid.

Cassius's Fork Necklace | ¥16,000

Inspired by the Spear of Cassius that the mysterious boy Kaworu retrieves when he's piloting Mark.06. The spear is fitted as a necklace through a heart which is embedded between an Angel-like halo.

The 4th Angel's Macaron Necklace ¥9,000 / Bag Charm ¥8,000

A necklace and bag charm made to look like sweet macarons. The design is based on the 4th Angel with white faces and a black body. Inside is a bright-red Swarovski crystal to represent the Angel's Core.

Asuka's Puppet Sugar Cookie Necklace ¥9,500 / Bag Charm ¥8,000

A necklace and bag charm inspired b the cute hand puppet of Asuka Langley, the pilot of Unit-02. Made to look like a sugar cookie, the accessories capture the bright-red outfit and blue eyes of the adorable puppet. It looks like it's just come freshly baked out of the oven.

Each of these accessories arrives packaged in an original tin featuring the Evangelion x Q-pot. logos. The A.T. Field Gummy Candy, 4th Angel Macaron, and Asuka's Hand Puppet also feature unique serial numbers.

Other Merchandise

The collaborative collection also feature a selection of original merchandise too.

Asuka's Puppet Pop Socket | ¥2,200

Melty Impact Mug | ¥2,800

Evangelion x Q-pot. 1st Collaboration Restock

The popular macaron and Melty Melt series from Q-pots.'s first collaboration with Evangelion is also being restocked at select Q-pot. stores.

1st Collaboration Restock – Macaron Series

1st Collaboration Restock – Melty Melt Series

Evangelion x Q-pot. Novelty

Fans who spend over ¥30,000 on any of these items at Q-pot. stores or the IKSPIRIA pop-up shop will receive a set of 6 postcards featuring designs of each Eva pilot.

Harry Potter Accessories Released in Collaboration With Q-pot.

Japanese accessory brand Q-pot. has signed a partnership with Warner Bros. Consumer Products to release a special collection of accessories in collaboration with the Harry Potter film franchise which will celebrate the 20th anniversary of the first movie in the series, Harry Potter and the Philosopher's Stone, next year.


Q-pot. are delivering a sweet collaboration this winter with an accessory line-up that embraces yummy sweets and chocolate and Harry Potter.

Q-pot. is known for its fantastical accessory collaborations, having teamed up with the likes of Sailor Moon, Aladdin, Zootopia, and other franchises in the past, making it the perfect candidate to adorn consumers with the magical world of Harry Potter. Each and every one of the items in this collection are hand-made by artisans in Japan who have worked tirelessly to craft accessories with the finest of details.

Sorting Hat Necklace – ¥13,000 (Before Tax)

A necklace inspired by the famous Sorting Hat of Hogwarts which is responsible for sorting new students into one of four Houses: Gryffindor, Hufflepuff, Ravenclaw, and Slytherin. Having that hat on your head has got to be the most anxiety-inducing situation ever. This chocolatey necklace has a unique function that shows you which House you will be put into.

Sorcerer's Stone Gummi Candy Necklace – ¥10,500 / Bag Charm – ¥9,000 (Before Tax)

The iconic Philosopher's Stone, also known as the Sorcerer's Stone, is what Professor Quirrell is helping Voldemort to obtain in order to restore his body. Both the necklace and bag charm are made to look like beautiful and vibrant sweet and sour gummies.

Chocolate Frog Cake Necklace – ¥11,000 / Bag Charm ¥9,500 (Before Tax)

The Chocolate Frog is first seen aboard the Hogwarts Express when Harry and Ron meet for the first time and Harry orders the entire trolley of sweets.

Melting Chocolate Frog Ring (Size 11) – ¥11,000 / Piercing (One Ear) – ¥7,000 / Earring (One Ear) – ¥7,000 (Before Tax)

Also inspired by the same Chocolate Frog which both Harry and Ron don't actually get to try eating as it hops out of the train window. The ring, piercing, and earring is an homage to that scene.

Golden Snitch Macaron Necklace – ¥10,000 / Bag Charm – ¥8,500 (Before Tax)

The elusive Golden Snitch is what every Seeker on their Quidditch team wishes to catch at Hogwarts. The Golden Snitch necklace and bag charm are shaped like macarons with whipped cream between them and topped with golden feathers.

Gryffindor, Hufflepuff, Slytherin, and Ravenclaw Macaron Necklaces – ¥9,000 / Bag Charms – ¥8,000 (Before Tax)


A selection of macaron necklaces and bag charms for each respective House at Hogwarts. The accessories are coloured like the uniforms of students at Hogwarts and made to look like tea flavoured, cream-filled macarons.

Dark Mark Necklace – ¥10,000 / Bracelet – ¥12,000 / Piercing (One Ear) – ¥6,000 (Before Tax)


The Dark mark is of course the symbol of Voldemort and his Death Eaters, featuring a giant skull with a serpent protruding from its mouth. The necklace, bracelet, and piercing are must-grabs for fans of the Dark Lord and the terrifying Eaters.

Don't miss out on this magic-imbued collection by Q-pot. Orders for the collection will open on October 30, 2020

Information

Harry Potter x Q-pot Collaboration
Orders: Open October 30, 2020
Available: Q-pot. stores in Japan and Q-pot.'s online shop
Order Window: October 30, 2020 – November 15, 2020
Official Website: http://www.q-pot.jp/
*Available while supplies last

Review: Tokyo Disneyland's New Big Hero 6 Attraction and Minnie's Style Studio

Tokyo Disneyland® is set to open its all-new Beauty and the Beast area of the park tomorrow on September 28, 2020. It's opening in line with the new Big Hero 6 attraction, Minnie Mouse area where guests can meet Minnie, and the park's new popcorn shop.

MOSHI MOSHI NIPPON was granted early access to the news areas, so here's our review!

Check out our review of the new Beauty and the Beast area too here: https://www.moshimoshi-nippon.jp/362152

The Happy Ride with Baymax: The world's first Big Hero 6 attraction

The Happy Ride with Baymax ride has guests joining one of the personal healthcare companion robots on an exciting cart ride.

The park is limiting the number of people allowed on the attraction at once due to the pandemic. To board the attraction, guests need to download the app after entering the park.

Big Pop: Tokyo Disneyland's first popcorn shop

Tokyo Disneyland's first permanent popcorn shop opens in Tomorrowland.

This space-themed shop serves up a whole range of flavours like cookie cream, caramel and cheese, and strawberry milk. There's also four different popcorn baskets to choose form, including Big Hero 6 and Beauty and the Beast designs.

Minnie's Style Studio: Meet Minnie Mouse

This studio imagines Minnie Mouse as an international fashion designer who designs outfits, shoots photos, and more. Guests can meet Minnie Mouse at her studio if they book in advance.

©Disney

Aladdin Inspired Jewellery Collection by Q-pot. Looks Like Real Chocolate

Q-pot. have added Jafar from the Disney film Aladdin to the "Disney Villains" collection of their "Disney Story Dreamed by Q-pot." line of jewellery and accessory products. The items are available for a limited time from September 12 to 30 at Q-pot. stores in Japan and the brand's online shop.

Aladdin is an internationally-celebrated love story about the titular street urchin and Princess Jasmine. It has many memorable characters, including Genie who Aladdin summons from a magic lamp, as well as the iconic Jafar, the film's main antagonist who adds spice to the story. It is this Disney villain that Q-pot. has taken inspiration from for their popular accessory range which is made to look like sweets.

Jafar/Snake Chocolate

Necklace ¥10,500 (Before Tax) | Bag Charm ¥9,500 (Before Tax)

Chocolate is an addictive indulgence for many people, and so it makes the perfect inspiration for the Jafar jewellery, as the villain is known for the skilful manipulation of his Snake Staff. The red jewel in the middle is like a sweetly boiled cherry. It comes as either a necklace of charm for your bag.

Jafar Snake Ring (Japanese Ring Size 12) ¥13,000 (Before Tax)

Information

Disney Villains -Jafar ‐

Available: September 12, 2020 – September 30, 2020

Delivery/Collection: From Early December 2020

Sold At: Q-pot. ONLINE SHOP / Q-pot. Omotesando / Q-pot. Tokyo Skytree Town Solamachi / Q-pot. Takashimaya Shinjuku / Q-pot. LUCUA osaka

Product Page: http://www.Q-pot.jp/news/2020/09/1306.html

Gothic Halloween Afternoon Tea Spookily Served Up at Q-pot CAFE. in Tokyo

Halloween is creeping its way early to Q-pot CAFE. in Omotesando, Tokyo, as the cafe announces its "Mad Sweets" themed Halloween menu for 2020. The Gothic-inspired menu will be served from September 9 to October 31 and will be centred on "Sister Obake-chan," a cute and original ghost nun character conceived by the cafe.

Mad Sweets Sister Obake-chan Plate with Drink | ¥2,060 (Tax Included)

Sister Obake-chan is made from sweet and fluffy vanilla mousse and is filled with a sweet and sour berry sauce. Next to her is a cookie gravestone, pumpkin macaron, and a bone meringue.

Mad Sweets Bone & Ribbon Drinks | ¥750 (Tax Included)

There are both hot and iced variants of the Bone & Ribbon drinks. The hot version is a hot chocolate made with black cocoa-laced cream and topped with a crossbone meringue. The iced drink has a cuter appearance mixing pink and white colours together. It's a strawberry shake topped with a cute ribbon meringue.

Happy Halloween Afternoon Tea Set | ¥2,400 Per Person (Tax Included) | *The photo is a serving for 2 people

Q-pot CAFE. is will also serve an afternoon tea set this Halloween with plenty of tasty themed sweet and savoury bites.

The top level of the afternoon tea is plated with strawberry jelly topped with an assortment of berries and a bone-shaped meringue, tombstone-topped blackcurrant mousse, and bat velvet cupcakes. Q-pot CAFE.'s popular jack-o'-lantern macarons also make a return this Halloween.

The bottom level is served with hearty croissant sandwiches filled with duck pastrami and mushroom omelette, pumpkin potage, and skewered olives, tomatoes, and pickles.

Q-pot CAFE. is a must-visit for a Halloween experience in Tokyo this year.

Information

Q-pot CAFE. 2020 Halloween Limited Menu
Location: Q-pot CAFE. Omotesando

Running: September 9, 2020 – October 31, 2020

Opening Hours: 11:00-19:00 (Last Orders 18:30)
1F Cafe: 11:00-19:50
2F/3F Shop: 12:00-20:00

Official Website: https://www.q-pot.jp

Disney's Zootopia Accessory Collection to be Released by Q-pot.

Q-pot. is releasing a new Zootopia themed collection on August 1, 2020 as part of its Disney-inspired accessory line "Disney Story Dreamed by Q-pot."

Zootopia is an animated film released by Disney in 2016 which takes place in the titular city where anthropomorphic animals coexist. Q-pot. has created a unique collection in the brand's style which combines the worlds of Nick Wilde and Judy Hopps, the two main characters of the film who form an unlikely duo.

Judy Carrot Cake & Carrot Recorder

Homemade Carrot Cake – Necklace: ¥11,000, Bag Charm ¥9,000 | Carrot Recorder – Piercing, Earring (1 Piece) ¥5,000 (Before Tax)

The necklace and bag charm feature a cute cut of Judy's face in the style of a frosting-loaded cake, and are attached with the carrot recorder pen from the movie which brings her and Nick together. The carrot recorder pen also comes as an earring and piercing.

Nick Carrot Cake & Pawpsicle


Homemade Carrot Cake – Necklace: ¥11,000, Bag Charm ¥9,000 | Ice Candy – Piercing, Earring (1 Piece) ¥5,000 (Before Tax)

Nick's accessories are attached with detailed recreations of the pawpsicles made by him in the movie.

Police Badge Cookie


Police Badge Cookie – Badge, Brooch – ¥6,500 (Before Tax)

Once you're fixed on your Judy and Nick carrot cake accessories, don't forget your police badge either!

The items in this collection are a must-have for any fan of Zootopia.

Information

Zootopia Collection
Release Date: August 1, 2020 at 12:00pm (JST)
Buy: Q-pot. ONLINE SHOP 
*On August 1 and 2, two items max per person

Q-pot. Stores
Order Window: August 1, 2020 – August 16, 2020
Participating Stores: Omotesando / Tokyo Skytree Town Solamachi / Takashimaya / LUCUA Osaka / Q-pot. ONLINE SHOP

Delivery Window: Early November 2020

Official Website: https://www.q-pot.jp/news/2020/07/1285.html

Support Japan's Cherry Farmers During Lockdown by Eating Q-pot CAFE.'s Cherry Parfait

Q-pot. and Q-pot CAFE. introduced a special cherry parfait to its menu on June 27 to help support cherry farmers whose work has been affected by COVID-19.

Due to less people travelling and sightseeing around Japan as a result of the lockdown and self-isolation practices, orders for cherries are being cancelled, and many festivals across Japan too are being cancelled, all of which is having a huge affect on the country's cherry industry.

The current season is the best time to enjoy Japan's juicy cherries, and so Q-pot CAFE. has teamed up with a cherry farm in Yamagata, a prefecture famous for its cherries.

Cherry Cherry Parfait (w/Drink): ¥1,850 (Tax Included)

The "Cherry Cherry Parfait" is topped with snow-white whipped cream, crunchy meringue, and cherries for a gorgeous contrast of red and white.

The cherries used are considered a high-grade type called "satonishiki" which has been dubbed the "King of Cherries." They sit gracefully atop their kingdom of sweet ingredients including salt milk ice cream, chocolate, cherry jam, sponge cake, and panna cotta.


The cherry farmers are taking all the necessary safety precautions against COVID-19 while they continue to delivery delicious cherries to the people of Japan.

Information

Cherry Cherry Parfait
Location: Q-pot CAFE. Omotesando
Serving: From June 27, 2020 while supplies last
*Due to an event taking place between July 21, 2020 – September 4, 2020, customers must book a table in advance to dine at Q-pot CAFE. Omotesando. The regular menu will not be served.

Official Website: http://www.q-pot.jp

Cute and Dreamy Tanabata Inspired Confections Arrive at Q-pot CAFE. in Omotesando

Q-pot CAFE. is celebrating Japan's Tanabata festival with a limited-time menu which was introduced on June 27.

Romantic Star Plate w/Drink: ¥2,060 (Tax Included)

This starry delight is plated with a fromage blanc filled with ganache cream and peach jelly. There's star-shaped meringue macarons filled with cream, creamy blueberry and blackcurrant panna cotta, star-shaped chocolate to represent the Tanabata deities Orihime and Hikoboshi, and a luxurious Q-pot CAFE. macaron.

さらに、レモンの皮を練り込み、サクッと焼き上げた星型クッキーには短冊のようにグラサージュショコラで願い事を込めて・・・クッキーを残さず口にすれば、願いもきっと叶うはず!


Romantic Peach & Elderflower Soda: ¥750 (Tax Included)

Refresh yourself with a summery glass of this peach and elderflower soda which is filled with blue, purple, and pink transparent jelly which twinkle like a kaleidoscope.

Bottled Drinks (Takeout Only): ¥1,296 Each (Tax Included) *Limited quantity available / *¥100 off if you take your own bottle

Enjoy a takeout bottle of "Aurora Lychee Tea Soda" with its romantic pink, purple, and blue gradation. This herb tea changes colour like magic, and contains marrow cheese plant, lychee puree, and Blue Curacao. The twinkling pearl powder makes it glow like an aurora.

There is also bottled Strawberry Tea Soda, Ginger Ice Milk Tea, and Honey Lemon Vinegar Soda.

If you're in Tokyo this summer, head to Q-pot CAFE. to enjoy a round of pastel-coloured Tanabata confections and drinks.

Information

Q-pot CAFE. Omotesando
Address: 3-4-8 Jingumae, Shibuya, Tokyo
Running: June 27, 2020 – July 20, 2020
*From July 21, 2020 to September 4, 2020 the cafe will be reservation-only in line with an event, and the regular menu will not be available.
*For the time-being, reservations can be made by telephone call only. Web reservations are currently not available.

Official Website: http://www.q-pot.jp

Q-pot. Adds Kids Sizes to Next Batch Of Stylish Textile Face Masks

Q-pot. dropped its new collection of textile style face masks from its "Made in Japan" apparel line Q-pot.Dress via its online shop on April 22, 2020. The company is now taking orders for its 4th batch of masks.

The masks feature the same textile design seen in Q-pot.Dress's attire collection. The "Chocolate College" design features Q-pot.'s signature motif. Due to high demand, the company is bringing the mask back in a kid's size. "Honey Lemon" will also be available again.


The "Candy" design from the brand's autumn collection which was released around Halloween has also been introduced into the fray. The fourth batch of masks are available to order until May 6, 2020 at 23:59 (JST).


The masks are a great way for parents and kids, as well as friends, to coordinate their outfits and look stylish.

Information

Q-pot. Cloth Masks – 4th Batch
Order Window: May 2, 2020 at 12:00 (JST) – May 6, 2020 at 23:59 (JST)
Buy Here: Q-pot. ONLINE SHOP / Q-pot. INTERNATIONAL ONLINE SHOP

Deliveries: Rolling out from mid-September 2020
*Maximum 5 masks per person for all designs.

*Depending on manufacturing decisions, delivery times may range beyond mid-September.

*Resales are strictly forbidden.

*Face masks are not scientifically recognised to help prevent the spread of viruses. Q-pot. requests that customers purchasing their face masks understand that they are not guaranteed protection.

*Photos are for illustrative purposes only.

Stylish Textile Face Masks Made in Japan to be Released by Q-pot.

Q-pot. released a new collection of textile style face masks from its "Made in Japan" apparel line Q-pot.Dress via its online shop on April 22, 2020.

The masks arrive in response to the serious shortage of masks in Japan for those who need them the most. The masks can also be washed repeatedly, and feature the same textile design seen in Q-pot.Dress's attire collections. The inside is made from cotton double gauze which feels comfortable on the skin.

Cloth Face Mask – ¥2,200 (Before Tax)

There are four designs in total: "Strawberry Field" with its nostalgic aesthetic, "Chocolate College" which features sweet and tempting chocolate across the whole front, "Honey Lemon" which gives sunshine vibes of early bring, and the green and girly "Patisserie Q-pot. Morning."

These masks can of course be used as a preventative measure against coronavirus, as well as for hay fever and for fashion too.

Information

Q-pot.Dress Cloth Masks

Order Window: Available from April 22, 2020 until stock sells out

Purchase:

Q-pot ONLINE SHOP (Available from 12:00pm, JST)

Q-pot. INTERNATIONAL ONLINE SHOP

お届け日:2020年5月中旬頃予定

*各デザイン、お一人様1点までとさせていただきます。

*生産の都合上、お届け時期は変更になる場合がございます。

*マスクは科学的に感染の予防効果は認められてはおりません。「感染(侵入)を完全に予防するものではない」という点を十分にご理解いただいた上で購入をご検討下さいますよう、宜しくお願いいたします。

Neon Genesis Evangelion Inspired Accessories to be Released by Q-pot.

Q-pot. is turning the world of Neon Genesis Evangelion into a delectable collection of dessert-themed accessories, which will go on sale at select Q-pot. shops, the Q-pot. pop-up shop in Seibu Ikebukuro, all EVANGELION STORE branches, and RADIO EVA STORE on April 2, 2020.

Let's take a look at what Q-pot. has whipped up in the accessory kitchen this time.

Macaron

Macaron (Unit-01/Unit-00/Unit-02/Unit-08/Mark.06) – Necklaces ¥9,000 Each (Before Tax), Bag Charms ¥8,000 Each  (Before Tax)

Modelled after Evangelion Units 01, 00, 02, 08, and Mark.06, and branded with the NERV logo, these macarons are coloured the same as the Plugsuits of their pilots, and are also topped with Entry Plugs.

Melty Melt

Melty Melt (Unit-01/Unit-00/Unit-02/Unit-08/Mark.06) – Necklaces ¥18,000 Each (Before Tax), Rings ¥15,000 Each  (Before Tax)

All of the necklaces and rings in the Melty Melt collection are handmade individually, and coloured beautifully like their respective Evangelions. The line-up is a loving homage to the series made into tasty and tempting-looking melted accessories.

Misato Biscuit Cross

Misato Biscuit Cross Necklace – ¥13,000 (Before Tax)

Misato Katsuragi is the operations director at NERV. This necklace is based on the cross pendant that she always carries with herーturned into a Q-pot-style biscuit. It reads 3310 (pronounced "Misato" in Japanese) on the back.

Longinus Folk

Longinus Folk Necklace – ¥16,000 (Before Tax)

Based on the Spear of Longinus, which is indispensable to the story of Evangelion, the tip reads "EVA" on one side and "Evangelion + Q-pot." on the other.

Lilith Sugar Cookie

Lilith Sugar Cookie Necklace – ¥10,000 (Before Tax) / Bag Charm – ¥9,000 (Before Tax)

Lilith was kept crucified to a giant cross in the deepest level of the NERV headquarters, Terminal Dogma. Lilith has been transformed into a cute sugar cookie necklace and bag charm, with chocolate and icing that looks so real you just want to take a bite.

Rei Capsule

Rei Capsule Necklace – ¥10,000 (Before Tax)

This necklace is inspired by Rei Ayanami, the First Child, and that includes it light purple and mint colours. The tablet reads "LINK" and "9mg."

EVANGELION x Q-pot. Special Package

01: Accessory Tin

The items in the Melty Melt series, the Misato Biscuit Cross Necklace, the Longius necklace, and the Lilith Sugar Cookie items all come in this original Evangelion x Q-pot. tin.

02: Accessory Bag

The Macaron items and Rei Capusle necklace are packaged in a special seal bag.

EVANGELION x Q-pot. (Limited Stock)

Those who spend over ¥30,000 (before tax) on these items are Q-pot. shops, the Q-pot. pop-up shop in Seibu Ikebukuro, and EVANGELION STORE branches will receive one of six possible postcards. These are limited in stock and so are a super rare collectable.

Information

EVANGELION x Q-pot. Accessory Collaboration

Release Date: April 2, 2020

*Direct sales will change to made-to-order once all in-store stock has been sold. Orders available until April 15, 2020.

*When stock sells out on the Q-pot. ONLINE SHOP, stock will change to made-to-order the following day.

*Items will be shipped from mid-June 2020. This is subject to change depending on the condition of production.

*On the first day of sales, all items will be limited to one per person.

Buy at:

①Q-pot. stores (From 10:00 A.M.)

 Omotesando/Tokyo Sky Tree Town Solamachi/LUCUA 1100/Q-pot. ONLINE SHOP/Q-pot. INTERNATIONAL ONLINE SHOP/Seibu Ikebukuro Pop-Up Shop

②EVANGELION STORE ONLINE (From 10:00 A.M.) *Made-to-order only

③EVANGELION STORE

*Sales will open at each respective branch's opening hours

④RADIO EVA STORE (Shibuya PARCO) Seibu Ikebukuro

*Stocking only April 2, 2020 – April 15, 2020

*RADIO EVA STORE sales will be announced on Twitter at a later date

*Not available at RADIO EVA ONLINE or RADIO EVA STORE e-commerce website

*This information is correct as of March 17, 2020. Subject to change without notice.

Q-pot. Official Website: http://www.q-pot.jp/news/2020/03/1199.html

Food Review: Cherry Blossom Afternoon Tea at Q-pot CAFE. in Omotesando

The MOSHI MOSHI NIPPON editorial team took a trip to Q-pot CAFE. to try out their new afternoon tea experience, the "SAKURA Romantic Tea Party," where we were treated to a pink kawaii tea party experience. This afternoon tea is available now until April 26, 2020.

The cherry blossom designed decor and decorations welcomed us to an early spring. We ate in the cafe's "SAKURA Room" for this review, which takes the Q-pot's springtime cherry blossom experience to the next level.

Romantic SAKURA Afternoon Tea Set w/ Drink – ¥2,400 (Serves 1) (Tax Included) *Photo shows tea set for two


The top plate is beautifully adorned with cherry blossom St. Honoré cakes which are filled with a sumptuous gorgeous cherry blossom cream. There is also peach bavarois, strawberry cookies, and Q-pot CAFE.-original rich, cream ganache-filled macarons. The fallen cherry blossom petals on the plate are also in fact chocolate.

Everything on the plate screams kawaii with the considerate attention that is given to all the little details.

The bottom plate is the savoury stuff. We have hearty croissants filled with duck pastrami and cucumber that has been dressed with white wine vinegar. They are served with a white asparagus cream potage soup and skewered olives, mini tomatoes and pickles.

The balance of flavours between the top and bottom plates is exquisite; the savoury food refreshes your palate after the sweet treats on top.

The set comes with a cup of pink cherry blossom tea. Floral and fruity fragrances fill your nose as you go to take a sip, after which your taste buds are treated to the notes of cherry blossom and raspberry. This subtly sweet and refreshing drink is the perfect accompaniment to your dessert and meal line-up. It even comes with a little chocolate petal.

Romantic SAKURA Mont Blanc Plate w/ Drink – ¥2,060 (Tax Included)

The pink mont blanc gives cherry tree vibes. It's made with cherry blossom bean paste cream, rich matcha chocolate, Japanese waguri chestnut, and chestnut cream. When  you fork the fluffy bean paste, you get plenty of chestnut cream and matcha chocolate with it. The sweetness of the cherry blossom bean paste and the subtle bitterness of the matcha go really well together. Q-pot. CAFE offers a selection of original macarons too which you can pick from including strawberry, chocolate, lemon, and melon. We wanted to go as pink as possible, so we went for the strawberry one!

Romantic SAKURA Parfait w/ Drink – ¥1,850 (Tax Included)

This strikingly gorgeous parfait is topped with cherry blossom cookies, cherry blossom meringue, and more. Its tall beautiful form is built up by a selection of ingredients, including Japanese flavours like cherry blossom cream and houjicha sauce. 

But what we want to draw attention to is the transparent jelly in the middle of the glass. If you look really closely, it looks like dancing cherry blossom leaves.

Q-pot CAFE. also has a range of other limited-time menu items, as well as food that looks just like real accessoriesーsomething the cafe is famous for. They also have accessories that look like real desserts, like a sugar cookie or crunchy meringue. Perfect for coordinating a spring look this year.

Make sure to pay a visit to Q-pot CAFE. if you're visiting Tokyo this spring!

Information

SAKURA Romantic Tea Party

Running: March 1, 2020 – April 26, 2020

Online Reservations: Now Open

*Afternoon tea set and hanami plan to be served until March 29, 2020

 

Q-pot. Omotesando

Address: 3-4-8 Jingumae, Shibuya, Tokyo

Opening Hours: 11:00-20:00 (Last Orders 19:30)

Closed: New Year's Holidays

Official Website: https://www.q-pot.jp/eng/