Brown Sugar Syrup Dorayaki to be Sold at FamilyMart Convenience Stores in Japan
With shops and businesses temporarily closed as a result of lockdown measures in Japan, Japanese convenience store chain FamilyMart is currently collaborating with famous shops around Japan. They recently teamed up with famous matcha company Kanbayashi Shunsho Honten to stock some authentic matcha treats on its shelves.
For its 5th collaboration, FamilyMart is collaborating with Eitaro Sohonpo, a Japanese confectionery store that has been around since 1818, to bring the company's brown sugar syrup dorayaki to their own shelves from May 29, 2020. Since being released in December 2018, the dessert has been sold over 1 million times.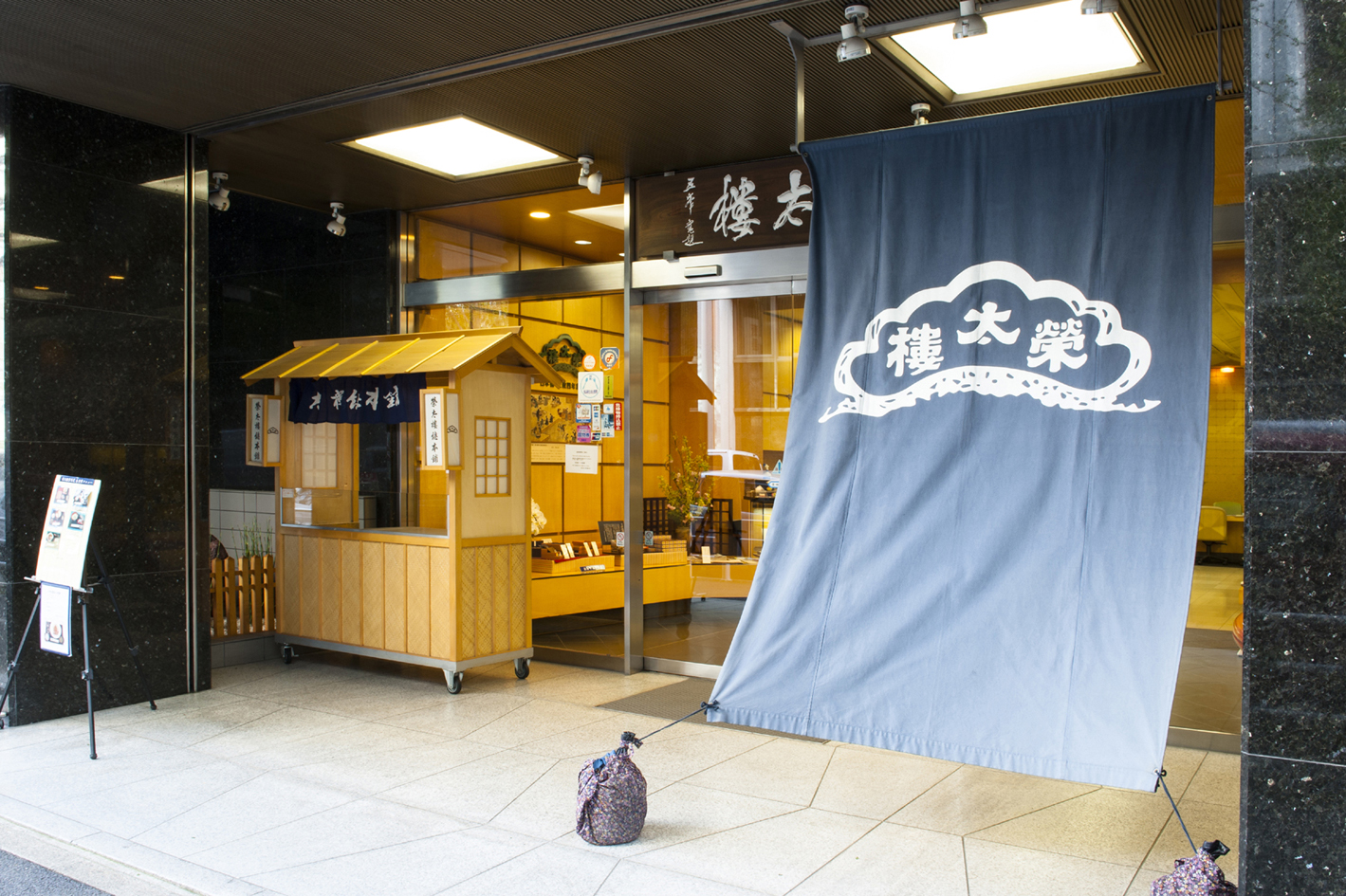 The dorayaki is made with Eitaro Sohonpo's brown sugar syrup and coarse sweet red bean paste. Each and every ingredient is chosen with care to create this luxurious dessert. The adzuki beans are soaked in a brown sugar syrup made from sugar from Okinawa Prefecture. It's also made with whole soybean soy sauce and a whipped cream that's made from a blend of fresh Hokkaido cream and 26% milk.
The dorayaki pastry is soaked in brown sugar syrup which when eaten with the whipped cream and coarse sweet bean paste makes it truly a dessert for the gods.
Information
Eitaro Sohonpo – Brown Sugar Syrup Dorayaki (Japanese Name: 黒みつしみうま生どら焼)
Price: ¥298 (Tax Included)
Release Date: May 29, 2020
Available: Japan (Except Okinawa)
FamilyMart Official Website: https://www.family.co.jp/
RELATED ENTRIES
Taste Authentic Japanese Matcha at Asakusa's New Matcha Specialist Shop Kaminari Issa

Asakusa welcomed the newest and third branch of matcha dessert specialist shop Kaminari Issa on October 2, 2020, which opened its doors along Dempoin Street. The shop is just a 3-minute walk from Asakusa Station and 2-minutes from Kaminarimon.

Signature delights on Kaminari Issa's menu include the Okoicha Warabi Latte and Okoicha Gelato. Everything on the menu is made with rich, high quality matcha, from the matcha tea lattes to the matcha beer, parfaits, ice cream, dacquoise, and more. If you love matcha, and you're in Tokyo, this place is a must-visit.


There are plenty of items to get your hands on in this newest store, which also has its own eat-in space, tea leaf display, and more.

They even sell kits so you can make your own Okoicha Warabi Latte and Wakocha Brown Sugar Warabi Latte at home.

Information

Kaminari Issa Dempoin-dori
Address: 2-2-2 Asakusa, Taito-ku, Tokyo
Opening Hours: 10:00-18:00 (until 17:00 on Mondays)
TEL: 03-5830-6948
Access: 3-minutes on foot from Asakusa Station
Official Website: https://www.kaminari-issa.com/

Disney's Fantasia Gets Sweets Collection by Tokyo Banana

GRAPESTONE is releasing a new sweets collection at Disney SWEETS COLLECTION by Tokyo Banana, which is located in Tokyo Station, in collaboration with the Disney classic Fantasia. The confections will be released in limited quantities from October 30, 2020.

© Disney Disney SWEETS COLLECTION by Tokyo Banana JR Tokyo Station

Disney SWEETS COLLECTION by Tokyo Banana opened on the JR Line side of Tokyo Station in November of last year. The shop is a joint-collaboration with Tokyo Banana—the official souvenir sweet of Tokyo—and Disney. The shop sold over 100,000 products in the first week of its opening, and caught the attention of Disney fans on social media who described the shop and the packaging of their sweets as cute.

Disney Fantasia Chocolate Sandwich (Contains 28) | ¥3,024 (Tax Included)

The cute packaging features Mickey Mouse as The Sorcerer's Apprentice in the 1940 animated film Fantasia. The light and crunchy cat tongue cookies at filled with chocolate banana milk shake flavoured cream

The confections serve as the perfect gift or souvenir from Japan to yourself or any fan of Disney.

© Disney

Information

Disney Fantasia Chocolate Sandwich
Running: October 30, 2020 – Mid December 2020

Available: Disney SWEETS COLLECTION by Tokyo Banana JR Tokyo Station

Purchasing: 70 available per day, max 2 per person
Official Website: https://www.tokyobanana.jp/disney/index.html

Cute Pika-Pika Pikachu Designs Featured On Lemon Flavoured Puré Gummies

Japanese confectionery company KANRO has once again joined pika-paws with Pikachu for the third time to feature the beloved Pokémon on the lemon flavour their Puré gummies. They will be released in Japan from October 27, 2020 in limited quantities.

Pikachu Puré Gummies – Third Collaboration

Following the success of the first two collaborations in June and July this year, with buyers expressing how cute they are in Japanese social media, KANRO is at it again, this time with their lemon flavour. There will be eight different Pikachu packet designs for this third collaboration, each with an attractive neon sign logo. The combination of gelatine and pectin is what gives Puré gummies their chewy texture.

Puré Gummy Lemon Pokémon (56g) | ¥130 (Tax Included)

In a packet of these gummies you'll find two shapes: the classic Puré heart shape and Pikachu shape, so you'll always be in for a surprise each time you reach into the bag.

Puré Gummy Pikachu Video

KANRO has released yet another promotional video for this third collaboration. The video for the first collaboration garnered 1 million views in just three days. Check out the adorable video below.

Pika Puré Merchandise Campaign

KANRO is also holding a campaign on their official Twitter page from October 28-30 where you can win a free Pika Puré eco bag.

Additionally, 210 random people who buy Puré gummy products in Japan from October 27 to December 20 will be chosen to win additional merchandise. 10 people will get a big cushion and 200 a big blanket. To enter, purchase select Puré products in Japan and send your receipt to the company via the LINE messaging app.

©2020 Pokémon ©1995-2020 Nintendo/Creatures Inc./GAME FREAK inc.
Pokémon, ポケットモンスター, and ポケモン are registered trademarks of Nintendo, Creatures Inc., and GAME FREAK inc..

Pokémon Cafe and Pikachu Sweets by Pokémon Cafe Reveal New Desserts Including Polteageist Tea Set

Pokémon Cafe and Pikachu Sweets by Pokémon Cafe are releasing a new teatime menu at their respective branches on October 24, 2020.

Pokémon Cafe

Polteageist & Sinistea Tea Party! Fruit Tea Set ~Apple Flavoured~ | ¥1,188 (Tax Included)


Polteageist & Sinistea Tea Party! Fruit Tea Set ~Strawberry Flavoured~ | ¥1,188 (Tax Included)

Pokémon Cafe is serving up two different fruit tea sets based on the Ghost-type Pokémon Polteageist and Sinistea. Customers are free to pour in their desired amount of fruit syrup which changes the colour of the tea. The sets come with a cute cookie too.

Pikachu Sweets by Pokémon Cafe

Left: Polteageist's Tea Party! Fruit Tea ~Mixed Berry Flavour~ / Right: Polteageist's Tea Party! Fruit Tea ~Peach Orange Flavour~ | ¥700 Each (Before Tax)

Pikachu Sweets by Pokémon Cafe is also going to serve up some Polteageist themed fruit teas as well as a selection of desserts like macarons and financier almond cakes which have Pokémon tail and ear designs.

After ordering one of the Polteageist fruit teas, customers can place their cups under the Polteageist tea pot as pictured above and activate the pot to dispense their drink, so it's like Polteageist  really pouring tea for you.

Left: Swirlix Strawberry Macaron | Middle: Pikachu Vanilla Macaron | Right: Galarian Ponyta Pistachio Macaron – ¥500 Each (Before Tax)

Treat yourself to one of the super cute Swirlix, Pikachu, or Ponyta macarons each with designs that tell you instantly which Pokémon they're inspired by.


Polteageist Fruit Tea and & Pikachu Macaron Set

Customers can order a tea and macaron combination set too.

Pikachu Parfaits

Pikachu Glass Parfait Set | ¥1,500 (Before Tax)

An adorable set of Pikachu parfaits, one being caramel banana flavoured and the other chocolate.

Pikachu Tea Party Assortment – Pika Pika Pikavee Set | ¥2,800 (Before Tax)

Another set to share between friends and family, this time with two Pikachu glass desserts as well as Pikachu and Eevee cupcakes.

Pikachu Tea Party Assortment – Ghost Type Set | ¥2,800 (Before Tax)

This set comes with the Pikachu glass desserts as well as Ghost-type Gengar and Litwick mousse cakes.

The Polteageist teapot and Sinistea teacup used at the Pokémon Cafe and Pikachu Sweets by Pokémon Cafe will also be released at Pokémon Center Online in Japan on December 5, 2020.

© 2020 Pokémon.©1995-2020 Nintendo/Creatures Inc./GAME FREAK inc.
Pokémon, ポケットモンスター, and ポケモン are registered trademarks of Nintendo, Creatures Inc., and GAME FREAK inc..

Information

Pokémon Cafe (Nihombashi, Tokyo)
Address: Nihombashi Takashimaya SC East Bldg. 5F, 2-1-2 Nihombashi, Chuo Ward, Tokyo
Business Hours: 10:30-22:00
No Fixed Holidays (Except when Nihombashi Takashimaya SC is closed)
Reservations: https://www.pokemoncenter-online.com/cafe/reservation.html

Pokémon Cafe (Shinsaibashi, Osaka)
Address: Daimaru Shinsaibashi Honkan 9F, 1-7-1 Shinsaibashisuji, Chuo Ward, Osaka, Osaka Prefecture
Business Hours: 10:00-21:30
No Fixed Holidays (Except when Daimaru Shinsaibashi is closed)
Reservations: https://www.pokemoncenter-online.com/cafe/reservation.html

Pikachu Sweets by Pokémon Café 

Address: Sunshine City Alpa Floor 2F, 3-1-2 Higashiikebukuro, Toshima City, Tokyo

Opening Hours: 10:00-20:00
Official Website: https://www.pokemoncenter-online.com/cafe/pikachu_sweets/

*Opening hours subject to change, please check in advance before travelling.

*Food served and duration subject to change without notice.

*Photos are for illustrative purposes only.

*Seat reservations are taken online only – phone reservations not available.

Shibuya's L'OCCITANE CAFE Reveals Spooky Parfait For Halloween 2020

L'OCCITANE CAFE Shibuya is getting ready for Halloween with the reveal of its sweet potato and apple parfait which will be served from October 21 to 31. The Tokyo-based cafe is centred on the food culture and lifestyle of Provence in southern France.

Sweet Potato and Apple Parfait | ¥1,280 (Tax Included)

The seasonal treat is a mix of purple sweet potato and regular sweet potato, baked apples, apple sherbet, and vanilla ice, all topped off with whipped cream, roasted nuts, and almond tuile biscuits in the shape of ghosts and a pumpkin.

Information

Sweet Potato and Apple Parfait
Serving: October 21, 2020 – October 31, 2020

L'OCCITANE CAFE Shibuya
Address: 2-3-1 Dogenzaka, Shibuya, Tokyo
Opening Hours:
[Sun-Thur] 11:00~22:00 (Last Orders 21:00)
[Fri-Sat] 11:00-23:00 (Last Orders 22:00)
TEL:03-5428-1563
Access: Straight ahead of Shibuya Station's 5th Exit (Inokashira Exit)
L'OCCITANE Japan Official Website: https://jp.loccitane.com/

My Melody and Kuromi Bubble Tea to be Served at Pearl Lady in Japan

Bubble tea chain Pearl Lady, which is celebrating its 17th anniversary this year, is teaming up with Sanrio for the second time to release two new drinks themed on the popular characters My Melody and Kuromi on October 16, 2020. My Melody and Kuromi are also celebrating their 45th and 15th anniversaries respectively.

Black Lemonade | Strawberry Milk Tea (w/ Novelty) – ¥500 Each (Tax Included)

The two beverages are Sweet Strawberry Milk Tea, which is inspired by the cute My Melody, and Black Lemonade, which is based on her rival Kuromi.

When ordering either of the drinks at Pearl Lady, customers will also get one of 6 possible badges as pictured above. One of the designs is a secret, so you'll need some luck if you want that one.

Rilakkuma Book Cafe Themed Afternoon Teas in Osaka Will Serve Bear-Huggingly Kawaii Food

Major bookstores across Japan are rolling out the Rilakkuma Book Fair where fans can get their hands on short Rilakkuma fairy tails, exclusive merchandise, and more.


In line with the event, Fruits Parlor & Bakery Season & Co., a cafe in Umeda, Osaka, is serving up a special menu with the theme "Rilakkuma Book Cafe" from October 30 to November 30. This includes a afternoon teas which also celebrates the cafe's 1st anniversary, more exclusive merchandise, and novelties for customers who order from the Rilakkuma menu.

Rilakkuma Zukin Afternoon Tea | ¥4,000 (Before Tax) *Reservation-only

A special afternoon tea featuring 13 different goodies from desserts to a sandwich, quiche, and more. It comes with a fruit iced tea welcome drink too.

Rilakkuma Yuki Hime Afternoon Tea | ¥4,000 (Before Tax) *Reservation-only

A different afternoon tea that serves up 12 items. This also comes with a fruit iced tea.

Rilakkuma's Honey Apple Smoothie | ¥800 (Before Tax)

A honey apple smoothie topped with refreshing vanilla ice cream, smooth fresh cream, and a Rilakkuma jelly candy.

Rilakkuma's Royal Chocolate Milk Tea | ¥1,200 (Before Tax)

Classic royal milk tea served with chocolate Rilakkumas. Eat on their own or dip into your tea!

The cafe is now taking reservations for the afternoon teas. Bookings must be made two days in advance by telephone or the official website.

Information

Rilakkuma Book Cafe
Running: October 30, 2020 – November 30, 2020
Reservations: https://season-co.shop/rilakkuma2020/

Fruits Parlor & Bakery Season & Co.
Address: LINKS UMEDA 1F, 1-1 Ofukacho, Kita-ku, Osaka
Opening Hours: 9:30-22:00 (Last Orders 21:30)
TEL: 06-6743-4212
Official Website: https://season-co.shop

Demon Slayer Confections Slash Their Way Into Lawson Convenience Stores in Japan

Bandai Candy's character-inspired Japanese confectionery series Tabemas collaborating with the popular TV anime series Demon Slayer: Kimetsu no Yaiba to release two confections themed on the show's main characters Tanjiro Kamado and Nezuko Kamado as well as a collection of tarts. The sweet treats will hit the chilled desserts corner of Lawson convenience stores in Japan on October 20, 2020.

Tabemas x Demon Slayer


Tabemas x Demon Slayer: Kimetsu no Yaiba (Tanjiro Kamado/Nezuko Kamado) – ¥264 Each (Before Tax)

The tarts feature all the little details of the beloved characters, from the scar on Tanjiro's forehead and his earrings to the bamboo pipe in his sister Nezuko's mouth and her hair adornment. It also captures the designs of their clothes. Both are filled with Japanese red bean paste with Tanjiro being chocolate flavoured and Nezuko strawberry flavoured.

Demon Slayer Tarts


Demon Slayer Tarts | ¥231 (Before Tax)

An assortment of biscuit base tarts laced with caramel mousse. The tart designs feature a range of popular characters from the anime series including the Kamado siblings, Zenitsu, Inosuke, Shinobu, and Tomioka.

Demon Slayer: Kimetsu no Yaiba is a manga series by Koyoharu Gotouge serialised in Weekly Shonen Jump. The popular series has over 100 million copies in circulation and spawned a hit anime series last year. The upcoming anime film Demon Slayer: Kimetsu no Yaiba the Movie: Mugen Train, which is being animated by ufotable, is set for release tomorrow on October 16, 2020 will serve as a direct sequel to the 2019 anime series.

©Koyoharu Gotouge/Shueisha・Aniplex・ufotable

Tokyo's Cheese Dish Factory Releases New Tart Parfait Mont Blancs

Cheese Dish Factory, a restaurant in Shibuya MODI in Tokyo, released a new seasonal dessert for the autumn season on Monday called the 'Tart Parfait Mont Blanc.' The tasty bite's foundation is an almond tart which is filled and layered with ingredients like a parfait before being topped off with mont blanc cream.


The dessert comes in for delightful variations such as the 'Chestnut & Tiramisu' which tops tiramisu with the flavours of autumn like chestnut ice cream and chestnut cream, and the 'Berry & Berry' which is piled full of strawberry cream and topped off with a strawberry. Sweet-tooths will discover a labyrinth of flavours as they gradually make their way through whichever they decide to order.

Chestnut & Tiramisu (Mascarpone Cheese) | ¥880 (Before Tax)

The tiramisu is made with mascarpone and has on top of it Japanese chestnut and chestnut ice cream. The chestnut cream is arranged like a mont blanc. The inner tiramisu adds a unique touch to make this a mont blanc for the ages.

Berry & Berry (Cream Cheese) | ¥820 (Before Tax)

This tiramisu is made from cream cheese which is topped with strawberry sauce and vanilla ice cream. A parfait mont blanc for the strawberry lover who won't be able to resist the strawberry cream and the crowning fresh strawberry.

Fromage & No-Bake Cheesecake (Parmigiano-Reggiano Cheese) | ¥780 (Before Tax)

A no-bake cheese cake combined with cream cheese ice cream and cream cheese. Inside you'll find fresh white peach. There's also a crispy texture brought by the Parmigiano-Reggiano. A must-try for cheese fanatics.

Matcha & Brown Sugar Syrup Soy Flour (Ricotta Cheese) | ¥780 (Before Tax)

A mountain made from matcha warabimochi, adzuki red bean paste, brown sugar syrup soy flour, and vanilla ice cream. This one's full of Japanese flavours, but also ricotta cheese, making it a Japan x Western fusion.

Information

Cheese Dish Factory Shibuya MODI
Address: Shibuya MODI Floor 9F, 1-21-3 Jinnan, Shibuya-ku, Tokyo

Access: 3-minutes from Shibuya Station
TEL: 03-6416-5179
Business Hours: Lunch 11:00-15:00 / Cafe 15:00-17:00 / DINNER 17:00-23:30
Official Website: http://www.sld-inc.com/cheesedishfactory.html

McDonald's Japan Brings Back the Crème Brûlée Latte & Frappe For 2020

McDonald's Japan has announced that it's once again bringing back its crème brûlée coffee drinks to McCafé by Barista branches of McDonalds on October 14, 2020. The line-up includes the Crème Brûlée Frappe, Crème Brûlée Latte and Iced Crème Brûlée Latte.

The fast food chain's crème brûlée beverages have been sold every autumn and winter since 2015 and are enjoyed for their perfect combination of sweetness and richness.

Crème Brûlée Frappe: Regular ¥460 / Large ¥500

The delightful Crème Brûlée Frappe contains a mix of caramel sauce, subtly sweet crème brûlée whipped cream, and crème brûlée syrup, all combined inside an espresso latte. Topping the drink is more crème brûlée whipped cream, caramel sauce and crushed cookies. The cookies have been baked lightly which together with the whipped cream change the flavours of the cream's sweetness and espresso's richness on each sip.

Crème Brûlée Latte: Small ¥350 / Regular ¥390

The Crème Brûlée Latte combines crème brûlée syrup with bitter espresso and fluffy foamed milk. It's topped with crunchy cookies and whipped cream.ほ

Iced Crème Brûlée Latte: Regular ¥390 / Large ¥430

Like the hot drink, the Iced Crème Brûlée Latte contains the crème brûlée syrup and espresso but is served with cold milk. It's topped with crushed cookies, crème brûlée flavoured whipped cream and caramel sauce.

Ojamajo Doremi Candy Released in Collaboration With Barcelona Candy Shop Papabubble

Barcelona-based art candyshop Papabubble is celebrating the upcoming release of Looking For Magical Doremi, an anime film being produced in celebrating of Ojamajo Doremi's 20th anniversary.

Ojamajo Doremi is an original magical girl created by Toei Animation that ran from February 1999 to January 2003. The series's 20th year milestone is being commemorated in many ways, such as the new themed cafes set to open in Tokyo, Osaka, and Aichi later this month. Papabubble is also getting in on the action with their collaborative candy which will be sold in Japan.

The designer for the candy is someone who grew up with Ojamajo Doremi when they were little and still adores it to this day.


BAG | ¥649

Apprentice Tap

The apprentice witch tap with its eight buttons made into a sweet and shiny candy.

Majo Rika

Majo Rika's face with a crystal ball colour. The candy craftwork is so good you forget it's all handmade!

Witch's Hat

A must-have for any witch. If you look super close you'll spot a yellow music symbol. If you're wondering what flavour it is, if you've watched the series and know Hana-chan's favourite food, then that's your answer!

OJAMAJO 20

The OJAMAJO 20 design celebrates 20 years of Ojamajo Doremi and is strawberry flavoured. There's colours representing each character including Doremi, Hazuki, Aiko, Onpu, and Momoko.

If you love magical girls, especially Doremi, and you love candy, then you won't want to miss out on this special collaboration with Papabubble.

©Toei・Toei Animation

Information

Ojamajo Mix
Released: October 6, 2020 (Early November at Papabubble branches in Fukuoka and Sapporo Stellar Place)
Available: Papaubble branches in Nakano, Daimaru Tokyo, LUCUA Osaka, Aoyama, Sotetsu JOINUS, as well as the online shop
Papabubble Japan Official Website: https://www.papabubble.jp/

Looking For Magical Doremi
Release Date: November 13, 2020
Official Website: Lookingfor-Magical-Doremi.com

Dr. Stone Collaborates With Snickers® Chocolate Bar On TV Commercial

Popular global chocolate brand Snickers® joined hands with the the TV anime series Dr. Stone on Monday for a special collaboration.

Dr. Stone is a hugely popular manga series written by Riichiro Inagaki and illustrated by Boichi and serialised in Weekly Shonen Jump. The manga has over 7 million copies in circulation. The first season of the anime series aired in 2019, with a second slate to begin broadcasting in January 2021.

For the collaboration, the voice actor for Senku in the anime series voiced character lines for a Snickers® commercial.

In the commercial, we see Kusanagi of the Japanese comedy duo Miyashita Kusanagi turned to stone in the Stone World. If you've watched or read Dr. Stone, you'll know that Senku always knows what to do, and is ten billion percent sure that his plans will work, so of course in this there was only a single answer: to feed Kusanagi a Snickers® bar! Check out the results in the commercial below.

Snickers Japan is also holding a Twitter campaign for the collaboration. 40,000 lucky people in Japan who answer the page's quiz questions correctly will get to win a Snickers coupon. Additionally, 100 people will be randomly selected to win a special prize.

Are you looking forward to season two of Dr. Stone next year? Follow us know on Twitter or Facebook and let us know!

©米スタジオ・Boichi / Shueisha・Dr.STONE Production Committee