The CD cover for DAOKO's upcoming 4th album anima, which was announced last week and for which pre-orders opened today, has been revealed. The illustration was drawn by Shihatsu-chan.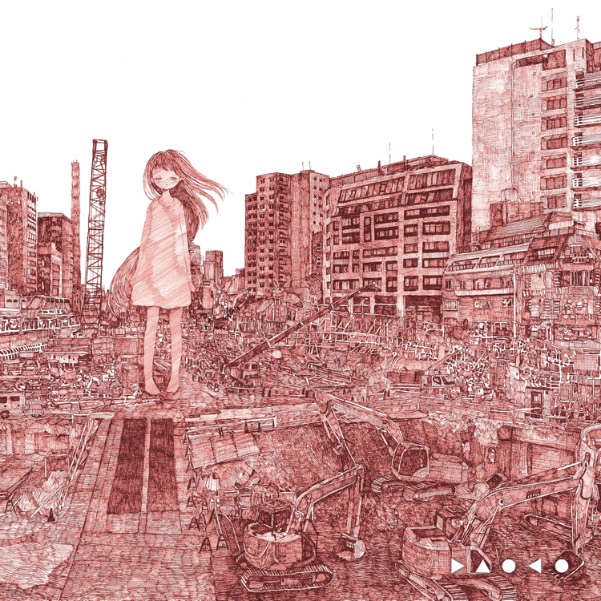 DAOKO is set to release anima initially on June 24, 2020 across music subscription and download services before it hits shelves as a CD on July 29, 2020. The record comes as her first album since Shiteki Ryoko dropped back in December 2018.
anima will also be released with Limited Edition and Regular Edition copies.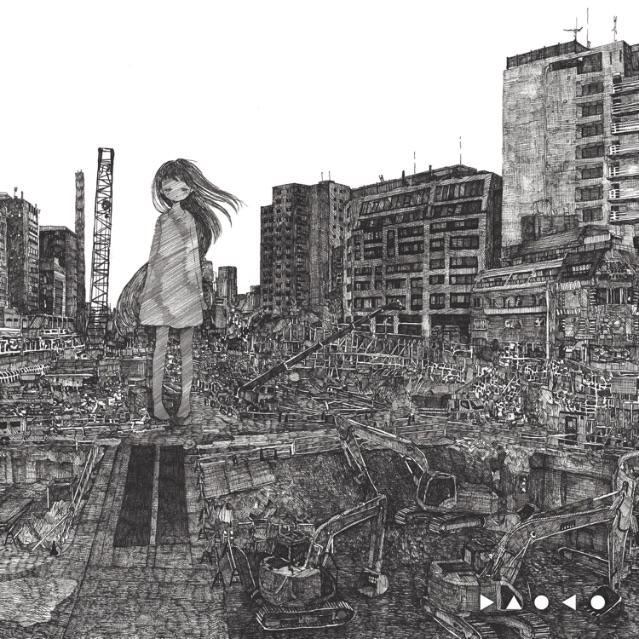 The album is being co-produced by DAOKO herself and Akito Katayose (GREAT3) who was also the sound producer for DAOKO's self-titled album—her first to be released from a major label.
The 12-track album invites a diverse range of track makers and musicians on board who DAOKO respects. Songs will see a return to DAOKO's iconic rap style, as well as enter new territory for the singer.
DAOKO | Comment
"I first encountered Shihatsu-chan's work on Twitter. It was love at first sight. Her art makes me feel somehow nostalgic and lonely… but it also feels close and warm. The penny dropped when I actually got to meet Shihatsu-chan. She's a very warm and kind person in real life. I grew to love her work even more. The scenery we saw when we took a stroll together through Shibuya became the basis for the album artwork. It's wonderful, I felt a wave of emotions seeing it. It fits the outlook of the song perfectly and itself is an important part of this record. I'm honoured to have come together with her, so I'd like to thank her. I want to see your work enlarged, so now I want an art book of your work!")
Shihatsu-chan | Comment
"When I went to see DAOKO live, her music touched my heart. She's powerful, transient. As I watched her, she shone brighter than any one, and in my heart I knew I had to draw something for her. And she let me. Every piece I do is my best – I put my all into all of them. I hope you enjoy the artwork alongside DAOKO's wonderful music."
Information
anima
Digital Release Date: June 24, 2020
CD Release Date: July 29, 2020
First Press Limited Edition (CD+DVD): ¥3,800 (Before Tax) [TFCC-86715]
Regular Edition (CD-Only): ¥2,800 (Before Tax) [TFCC-86716]
DAOKO Official Website: https://daoko.jp/
RELATED ENTRIES
DAOKO released her new music video for anima, the title track taken from her 4th studio album which dropped on July 29, 2020.

The song was written in collaboration with Japanese musician Shohei Amimori. The music video was directed by OSRIN of PERIMETRON and features dancing from Aoi Yamada.

DAOKO – "anima" Music Video


Speaking about the new music video, DAOKO released the following statement.

DAOKO | Comment

"I invited dancer Aoi Yamada on board, and worked together with the director OSRIN to express a sense of anima and animism. Me and Shohei Amimori played around lots with sounds and words together. The song is like a ticket into a new world 🙂 Please, enjoy yourself!"

Information

anima

Digital Release Date: June 24, 2020

CD Release Date: July 29, 2020

First Press Limited Edition (CD+DVD): ¥3,800 (Before Tax) [TFCC-86715]

Regular Edition (CD-Only): ¥2,800 (Before Tax) [TFCC-86716]

DAOKO Official Website: https://daoko.jp/

Japanese singer DAOKO is set to release her fourth album anima initially on June 24, 2020 across music subscription and download services before it hits shelves as a CD on July 29, 2020. The record comes as her first album since Shiteki Ryoko dropped back in December 2018.

The album is being co-produced by DAOKO herself and Akito Katayose (GREAT3) who was also the sound producer for DAOKO's self-titled album—her first to be released from a major label.

The 12-track album invites a diverse range of track makers and musicians on board who DAOKO respects. Songs will see a return to DAOKO's iconic rap style, as well as enter new territory for the singer.

First Press Limited Edition copies of anima are coupled with a DVD featuring DAOKO's concert at Ebisu LIQUIDROOM held in February this year as part of her "2020 Otogi no Mitoshi Tour."

A new artist photo of DAOKO has also been released in promotion of her new album. The photo was taken by Shinkai Baba who also worked together with DAOKO on an exhibition held at Ebisu KATA.

DAOKO | Comment

"When I heard the final mastered version of my album 'anima,' I teared up. The album is intertwined with philosophical ideas, something which I often think about. It has an amazing sound. I felt beauty from my heart. The album is one which helps brings the light closer—a light which until now could only be seen from a distance—and one which illuminates the path ahead. I'm thankful from the bottom of my heart to all the musicians [involved] whom I admire and respect, and who helped me find a new DAOKO. This album saved me, and I hope it becomes a ray of light to those who hear it."

Akito Katayose | Comment

"Her words stir my heart, and her voice brings about a fiery pleasure to my ears. DAOKO has been special since I met her when she was 17-years-old. Her talent is endless, and it shows on this album. She feels liberated on it. It was an incredible experience to work with her […] as well as all of the wonderful musicians who followed along, including my former friend John McEntire. I hope this beautiful and curious album echoes as a source of strength to all the unstable hearts and the world."

Information

anima

Digital Release Date: June 24, 2020

CD Release Date: July 29, 2020

First Press Limited Edition (CD+DVD): ¥3,800 (Before Tax) [TFCC-86715]

Regular Edition (CD-Only): ¥2,800 (Before Tax) [TFCC-86716]

DAOKO Official Website: https://daoko.jp/

DAOKO Releases New Song 'Ocharaketayo' Featuring Indonesian Hitmaker pxzvc

DAOKO released her last single Otogi no Machi in February this year and promoted it with a mini solo tour in Nagoya, Osaka, and Tokyo.

Her new single and the second of 2020, Ocharaketayo, was released yesterday on March 25, and features Indonesian hitmaker pxzvc. It is a coming together of cultures to bring listeners next generation music.

The song is a response to the speed of Tokyo's urban development, and expresses her feeling of impatience, which cannot be put into words, at her own pace.

This is a must-listen for fans of DAOKO, an artist who just keeps on expanding her scope of expression.

Tokyo-bred singer and rapper DAOKO just dropped the music video for her new song Otogi no Machi which was released as a digital single just yesterday (January 15). Check it out below.

DAOKO – "Otogi no Machi" MUSIC VIDEO

In the video, DAOKO plays the role of an 'OL'—a Japanese abbreviation for an office ladyーworking somewhere in the city. Tired from work, she drags her tired body through the night-wrapped downtown streets. Awaiting her at the club she arrives at is blaring music and bright lights. When she steps back outside, the worldーwhich before was black and white for herーnow has colour to it, expressing the fact that music can bring colour to our ordinary lives. The scenes and outfit were all conceived by DAOKO herself, making this DAOKO's first entirely self-produced video.

The music video also features many pieces of work from illustrator Hermippe, who worked on the CD cover for the digital single as well as the key visual for DAOKO's "2020 Otogi no Mitoshi tour."

The song's lyrics are fantasy-like as they mix together fiction and non-fiction, woven together effortlessly by DAOKO's lyrical rap flow, and calling back to the music of her early days while evolving her sound at the same time. Together with Nariaki Obukuro, DAOKO has created a new and fitting style of club music for the Reiwa era.

Information

Otogi no Machi

Released: January 15, 2020 (Digital Release)

Download/Stream Links:  https://TF.lnk.to/DAOKO_otoginomachi

2020 Otogi no Mitoshi tour

2020/2/3 @ Nagoya CLUB QUATTRO, Aichi

2020/2/4 @ Umeda CLUB QUATTRO, Osaka

2020/2/10 @ Ebisu LIQUIDROOM, Tokyo

Official Website: https://daoko.jp/

Watch the Teaser for DAOKO's New Dragalia Lost Album

Dragalia Lost™ is an action role-playing smartphone game developed by Cygames and published by Nintendo. It has been one year since the game launched last year on September 27, and to commemorate, young famous singer DAOKO is collaborating with the title to release an anniversary album on October 9 called DAOKO x Dragalia Lost.

Check out the epic album teaser below released just moments ago.

The teaser gives us a cheeky taste of many songs that are included on DAOKO's new album and follows DAOKO's journey with Dragalia Lost. The range of game scenes in the teaser is enough to make any Dragalia Lost fan lose themselves in excitement. 

Don't forget to check out the album when it is released!

Information

DAOKO × Dragalia Lost 

Release Date: October 9, 2019  

First-Press Limited Edition

Includes 2 CDs in a luxury 3-sided sleeve case, Digipak and 60-page booklet

TFCC-86694 ¥4,000 (price before tax)

Regular Edition (CD Only)

TFCC-86695 ¥2,800 (price before tax)

 

DAOKO Official Website: http://daoko.jp/ 

DAOKO's Song Used for Hit Film Kaguya-sama: Love Is War. Check Out the Official Music Video.

Young singer and rapper DAOKO created the insert song "Hajimemashite no Kimochi o" for the hit film Kaguya-sama: Love Is War, which features Sho Hirano (from idol group King & Prince) and actress Kanna Hashimoto. Now, the music video for Hajimemashite no Kimochi o has been released.

 The music video paints a picture of romance that viewers can easily relate to in real life. Teens from across Japan have fallen in love with the video upon learning that the video even features their favourite illustrator fusedy. DAOKO's lyrics spell out the story of the pure love of a young girl who easily blends into her surroundings. The music video has become a big hit.

Hajimemashite no Kimochi o Official Music Video

Kaguya-sama: Love Is War is a current high-tension hit film which has grasped a wide audience. Through her song, DAOKO has widely influenced the feelings involved in the world of the film. Please check it out. 

Information

Hajimemashite no Kimochi wo (はじめましての気持ちを)

(Insert song for the hit film Kaguya-sama: Love Is War)

Streaming and Downloading Links: https://TF.lnk.to/UJqbQ4pe

Official site: http://daoko.jp/

Kaguya-sama: Love Is War Film

Release Date: September 6

Kaguya-sama: Love Is War Official Website: https://kaguyasama-movie.com

© 2019 映画「かぐや様は告らせたい」製作委員会  ©赤坂アカ/集英社

Dragalia Lost Anniversary Song by DAOKO Used in 1st Anniversary Commercial For Mobile Game

The song a n n i v e r s a r y, written by DAOKO and TAKU INOUE for the one-year anniversary of Dragalia Lost, was used in a new commercial for the celebrations.

DAOKO herself also appeared in the commercial alongside the characters in the game. Check it out below.

An anniversary event titled "DRAGALIA LOST Celebration Party" will also be held at Shinkiba STUDIO COAST on January 8 next year where DAOKO will perform live alongside TAKU INOUE as the DJ.

To attend this event, you must sign up via the application card included with copies of DAOKO's upcoming album DAOKO x Dragalia Lost releasing on October 9.Winners will be chosen randomly to attend.

©Nintendo/Cygames

Information

DRAGALIA LOST Celebration Party!

Date: January 8, 2020

Time: Open 18:00 / Start 19:00 / Finish 21:00

Venue: Shinkiba STUDIO COAST

No. of People: 800 (400 pairs)

Entry: Free

Line-Up: DAOKO, TAKU INOUE, and more TBA

*To attend, you must sign up via the application card included with copies of DAOKO's upcoming album DAOKO x Dragalia Lost releasing on October 9. You must have a Dragalia Lost Player ID to attend.

DAOKO x Dragalia Lost

Release Date: October 9, 2019

First Press Limited Edition (2 CDs+Slip Case+Digipak+60-Page Booket): ¥4,000 (Before Tax) [TFCC-86694]

Regular Edition (CD-Only): ¥2,800 (Before Tax) [TFCC-86695]

First Press Bonuses

・An application card to receive exclusive in-game anniversary items and a DAOKO-original Ryuki Amulet

・Application card to sign up for a chance to attend the anniversary event

Store Bonuses

・DAOKO x Dragalia Lost Exclusive Bonus Items

When purchasing the album at select stores and online websites you will receive bonus items exclusive to each respective seller. Participating Stores: Amazon, Animated, TOWER RECORDS, TSUTAYA, Rakuten Books, HMV, TOY'S STORE. Please note that these items are limited in availability.

DAOKO Official Website: http://daoko.jp/

Dragalia Lost

Official Website (English US): https://dragalialost.com/en/

Official Website (English Europe/Australia): https://dragalialost.com/en-gb/

DAOKO x Dragalia Lost Album Cover Art Unveiled, Store Exclusive Bonuses Announced

Dragalia Lost is an action RPG developed by Cygames and published by Nintendo for Android and iOS. To celebrate one year since the game's release on September 27, 2018, it was revealed last month that DAOKO is teaming up with the game to release an anniversary album entitled DAOKO x Dragalia Lost on October 9.

In the lead up to its release, the CD covers for the albums have just been unveiled.

First Press Limited Edition

The CD covers feature illustrations of the Dragalia Lost characters as well as DAOKO who has been drawn as if she was a character in the game.

Regular Edition

Tracks on the album include a n n i v e r s a r y, an song written for the 1 year anniversary written by DAOKO and TAKU INOUE, the game's theme song Owaranai Sekai de produced by Takeshi Kobayashi, the Yasutaka Nakata-produced insert song Bokura no Network, a new song made in collaboration with Scha Dara Parr entitled Haisensupaisen, and more. The album also features many other artists and creators who were involved with the music production, such as Keiichi Ejima (Sakanaction), Yoh Kamiyama, Hideya Kojima (ORESAMA), Kikuo, Yunomi, and more.

Ryuki's Amulet

First Press copies of both the Regular Edition and Limited Edition come with an application card for a chance to win in-game items, which have yet to be announced, and also come with the above-pictured Ryuki Amulet based on DAOKO's song Owaranai Sekai de, and an item set that can be used in game.

When bought at select stores, the CD's are also coupled with other exclusives. Check below for more details.

©Nintendo/Cygames

Information

DAOKO x Dragalia Lost

Release Date: October 9, 2019

First Press Limited Edition (2 CDs+Slip Case+Digipak+60-Page Booket): ¥4,000 (Before Tax) [TFCC-86694]

Regular Edition (CD-Only): ¥2,800 (Before Tax) [TFCC-86695]

First Press Bonuses

・An application card to receive exclusive in-game anniversary items and a DAOKO-original Ryuki Amulet

・Application card to sign up for a chance to attend the anniversary event

Store Bonuses

・DAOKO x Dragalia Lost Exclusive Bonus Items

When purchasing the album at select stores and online websites you will receive bonus items exclusive to each respective seller. Participating Stores: Amazon, Animated, TOWER RECORDS, TSUTAYA, Rakuten Books, HMV, TOY'S STORE. Please note that these items are limited in availability.

DAOKO Official Website: http://daoko.jp/

Dragalia Lost

Official Website (English US): https://dragalialost.com/en/

Official Website (English Europe/Australia): https://dragalialost.com/en-gb/

DAOKO Announces Collaborative Album to Celebrate Dragalia Lost's 1 Year Anniversary

Dragalia Lost is an action RPG developed by Cygames and published by Nintendo for Android and iOS. To celebrate one year since the game's release on September 27, 2018, it has been announced that DAOKO is teaming up with the game to released an anniversary album entitled DAOKO x Dragalia Lost on October 9.

DAOKO is already known for her musical work with Dragalia lost, having written its main theme Owaranai Sekai de as well as featuring in the insert songs Bokura no Network in collaboration with Yasutaka Nakata―amongst others―all of which have received much love from players of the game and DAOKO fans alike. She is known for having been featured in many hit songs by big name artists and creators including Keiichi Ejima (Sakanaction), Yoh Kamiyama, Hideya Kojima (ORESAMA), Kikuo, Yunomi, and more.

The new anniversary album will be released with limited edition and regular edition copies with 18 tracks. First press copies of the limited edition will also feature a second disc with 5 bonus songs with songs sung by characters from the game including Lucretia and Siren. They will also including a 60-page booklet featuring illustrations and arrive packaged in a slip case.

An anniversary event will also be held for Dragalia Lost which will feature a special live performance by DAOKO as well as various other things related to the game. Full details will be announced at a later date, but fans can sign up for a chance to attend the event by getting their hands on first press copies of either the limited or regular editions of the album which are coupled with an application ticket. When signing up, if you enter your game user ID you will receive an exclusive anniversary item to use in the game.

©Nintendo/Cygames

Information

DAOKO x Dragalia Lost

Release Date: October 9, 2019

First Press Limited Edition (2 CDs+Slip Case+Digipak+60-Page Booket): ¥4,000 (Before Tax) [TFCC-86694]

Regular Edition (CD-Only): ¥2,800 (Before Tax) [TFCC-86695]

First Press Bonuses

・Exclusive in-game anniversary item

・Application card to sign up for a chance to attend the anniversary event

Store Bonuses

・DAOKO x Dragalia Lost Exclusive Bonus Items

When purchasing the album at select stores and online websites you will receive bonus items exclusive to each respective seller. Participating Stores: Amazon, Animated, TOWER RECORDS, TSUTAYA, Rakuten Books, HMV, TOY'S STORE. Please note that these items are limited in availability.

DAOKO Official Website: http://daoko.jp/

Dragalia Lost

Official Website (English US): https://dragalialost.com/en/

Official Website (English Europe/Australia): https://dragalialost.com/en-gb/

DAOKO Performs Insert Song For Kaguya-sama: Love Is War Live-Action Film

DAOKO's new song Hajimemashite no Kimochi o will be used as an insert song for the upcoming live-action adaptation of Aka Akasama's hit manga series Kaguya-sama: Love Is War.

The song captures the feelings and delicate heart of the titular character Kaguya Shinomiya, who is played by Kanna Hashimoto (Assassination Classroom, Gintama). DAOKO weaves together the polished and groovy nature of this dance track with her lyrical lyrics. The song also features music creator and singer-songwriter Yoh Kamiyama who is chiefly active on social media.

You can hear a brief snippet of the track in the following promo video for the film.

Miyuki Shirogane is played by Sho Hirano, a member of the idol group King & Prince. Like the manga and anime series, the story follows Shirogane and Kaguya who are the student council president and vice-president respectively and are both prestigious individuals both inside and outside of school. The two of them love each other but are too stubborn to confess that love as they believe whoever does first loses. The film will follow their antics to try and get the other to confess.

Speaking about her tie-in with the film, DAOKO commented the following: 'I wrote the lyrics for Hajimemashite no Kimochi o in the image of Kaguya's feelings. I focused especially on the emotions she feels when in an intense heart-throbbing situation, like the episode with the firework festival scene. That scene leaves a huge impression in both the manga and film.'

She continues: 'I also pictured Kaguya's feelings while I was singing and followed the lyrics as I sang them. I hope the song adds something to the Kaguya-sama: Love Is War franchise.'

Kanna Hashimoto, who plays the lead heroine Kaguya, also spoke about the insert song, commenting: 'Hajimemashite no Kimochi o is truly perfect for that one important episode which features the firework festival scene. I was happy to hear the words in the lyrics "a distance of several centimetres," they're spot-on when describing the distance between Kaguya and Shirogane. Together with DAOKO's music it made the scene really beautiful and moving, so I can't wait to see it on the big screen.'

The film's producer Takashi Hirano also commented: '"The sound of my heartbeat is so loud I can't even heard the fireworks anymore." This is a line from Kaguya in volume five of the manga. The  moment I saw that scene I had a strong desire to make a live-action film. Like the series's subtitle says, the manga is a comedy about two geniuses in a war of love and intellect. That [particular] scene sends their fireworks of love skyrocketing in an instant."

Hirano continues: "I knew I absolutely wanted this song to play in the scene when we were in the screenwriting stages. I knew only DAOKO could express Kaguya's feelings―strong-willed but delicate like a young girl―and also get through to the minds of young people. DAOKO agreed right away, and when the song played in the film, there were members of staff who were crying. I wonder if there's ever been such a wonderful firework scene like this before. Thank you, DAOKO, for your magical music and voice!"

Kaguya-sama: Love Is War will hit Japanese cinemas on September 6, 2019.

Ⓒ2019 "Kaguya-sama: Love Is War" Film Production Committee

ⒸAka Akasaka / Shueisha

Information

Kaguya-sama: Love Is War Film

Release Date: September 6, 2019

Adapted from the manga of the same name by Aka Akasaka (Shueisha/Weekly Young Jump)

Cast: Sho Hirano (King & Prince), Kanna Hashimoto, Hayato Sano, Natsumi Ikema, Nana Asakawa, Mayu Hotta, YUTARO, Takashima Masahiro, Jiro Sato

Official Website: https://kaguyasama-movie.com/

DAOKO has announced two new concerts for this summer: DAOKO 2019 "Kizuki" LIVE – Enlightening my world will take place at Shibuya WWW X on July 18 and DAOKO presents "Charm Point" all-night Ver. at clubasia on August 10.

The July show is a bigger and better edition of DAOKO's premium mini concert that was held back in February as part of her "Enlightening my world."

The show in August is the second in her "Charm Point" event series, the first having been held in April last year at LIQUIDROOM in Ebisu. Several guests will be invited along for this all-night event.

Pre-sale tickets for both these shows went on sale on May 17.

Information

DAOKO 2019 "Kizuki" LIVE – Enlightening my world

Date: July 18, 2019
Venue: Shibuya WWW X
Line-Up: DAOKO
Time: Doors 18:45 / Start 19:30

Price: ¥4,000 (+separate drink charge)

Tickets: Pre-sale running from May 17, 2019 at 20:00 to May 26, 2019 at 23:59 via https://eplus.jp/daoko/

DAOKO presents "Charm Point" all-night Ver.

Date: August 10, 2019)
Venue: Shibuya clubasia
Line-Up: DAOKO + guests (TBA)
Time: Doors 23:00 / Start 23:00
Price: ¥3,000 (+separate drink charge)

Tickets: Pre-sale running from May 17, 2019 at 20:00 to May 26, 2019 at 23:59 via https://eplus.jp/daoko/

*This is a late night event and so entry is strictly prohibited for anyone under the age of 20. Photo ID is required upon entry.

DAOKO Official Website: http://daoko.jp/

Senkyakubanrai by DAOKO X MIYAVI Unveiled as Theme Song For Sensational Movie 'Diner'

Diner is an upcoming film adaptation of author and horror writer Yumeaki Hirayama's 2009 novel Diner directed by Mika Ninagawa and starring Tatsuya Fujiwara ー a dream tag team! The novel was said to be so good that it cannot be made into a movie…however, it was!  The movie features the fabulous actors and actresses Kanata Hongo, Masataka Kubota, Shinji Takeda, Takumi Saitoh, Eriko Sato and Nobuaki Kaneko as well as Shun Oguri, Anna Tsuchiya, Miki Maya and Eiji Okuda. For this movie, they are all playing the role of contract killers. This non-stop action film is all about pushing your instincts to the max. The movie will be released on Friday 5th July 2019.

 The main theme song for the film Senkyakubanrai by DAOKO X MIYAVI can be previewed in the trailer which has finally gone public! 

Last year, guitarist MIYAVI finished up his 7th world tour "DAY 2" World Tour 2018. The tour started in Tokyo and took place in a number of Japan's cities, finally hitting up Seoul, Singapore, Taiwan, Shanghai, Beijing, Hong Kong, and even Europe, Russia, the US, as well as Central and South America! The release of his album SAMURAI SESSIONS vol.3 last year in December also became very popular. Recently, he was recruited by fashion designer Yohji Yamamoto and Y-3 to take part in the worldwide advertising campaign Moncler BEYOND as a model. These are just a few examples of the many varieties of collaborations that have made MIYAVI so famous. Now, he has even created a song with DAOKO!

Rap singer DAOKO and guitarist MIYAVI's new song Senkyakubanrai will be available for digital download and on streaming services from 3rd July!

The passionate samurai spirit of guitarist MIYAVI combined with the enthusiastic rapper DAOKO is no doubt a collaboration that will reverberate throughout the entire country, sending ripples of passion through Japan. You just can't take your eyes off DAOKO and MIYAVI for a minute!

A statement by director Mika Ninagawa

An absolute dream come true. I am so thrilled. I've always been a fan of DAOKO and MIYAVI separately. One day, I was on the way to the set for the filming of the movie Diner, and I heard their song play. I thought to myself; wouldn't it be wonderful if we could work together someday? I then thought, wouldn't it just be amazing if I could put those two in charge of the opening theme song for the movie! After that thought was in my head, I didn't even think of considering anyone else. I asked them immediately and it's actually happening. I just can't express how happy I am.

Statement by DAOKO

I wanted to portray the 1v1 battle between the main characters Bombero and Kaneko in song form somehow. I was thinking of how to do this with MIYAVI when the idea crossed my mind! I challenged myself to keep to my rapping flow but to sing in a style to reflect the stubborn, strong-willed female role of Kaneko. I got really close to her personality through the lyrics and challenged myself with full power!

Statement by MIYAVI

Creating a song that perfectly describes Mika Ninagawa's perspective was key. I thought about making something to reflect the static relationship between Bombero and Kaneko, and so I took the concept of pushing away and coming close together and worked around that. The time difference between Tokyo and Los Angeles made things a bit difficult  but DAOKO putting her heart into the lyrics really helped. I can't wait for the world to be shaken when our song along with the film are finally released! 

©2019 "Diner" Production Committee ©2019  Mika Ninagawa / "Diner" Production Committee

Information

Senkyakubanrai

Release on digital streaming services/digital download: Weds 3rd July 2019

Diner (ダイナー)

Release: Friday 5th July 2019

A Warner Bros. film

Official website: diner-movie.jp