DAOKO Announces New Album Featuring Dragalia Lost Main Theme Song 'Owaranai Sekai de'
DAOKO has announced her third album to be released on November 14, 2018. The record will feature the track Owaranai Sekai de which serves as the main theme song for the Nintendo mobile RPG game Dragalia Lost™  by Cygames launching on September 27.
Different bonus DAOKO and Dragalia Lost collaborative merchandise will be coupled with the album depending where you buy it from. There will be an Amazon version, Tower Records version, TSUTAYA version and a version for general record shops. Full details regarding the album including the title and contents will be announced at a later date.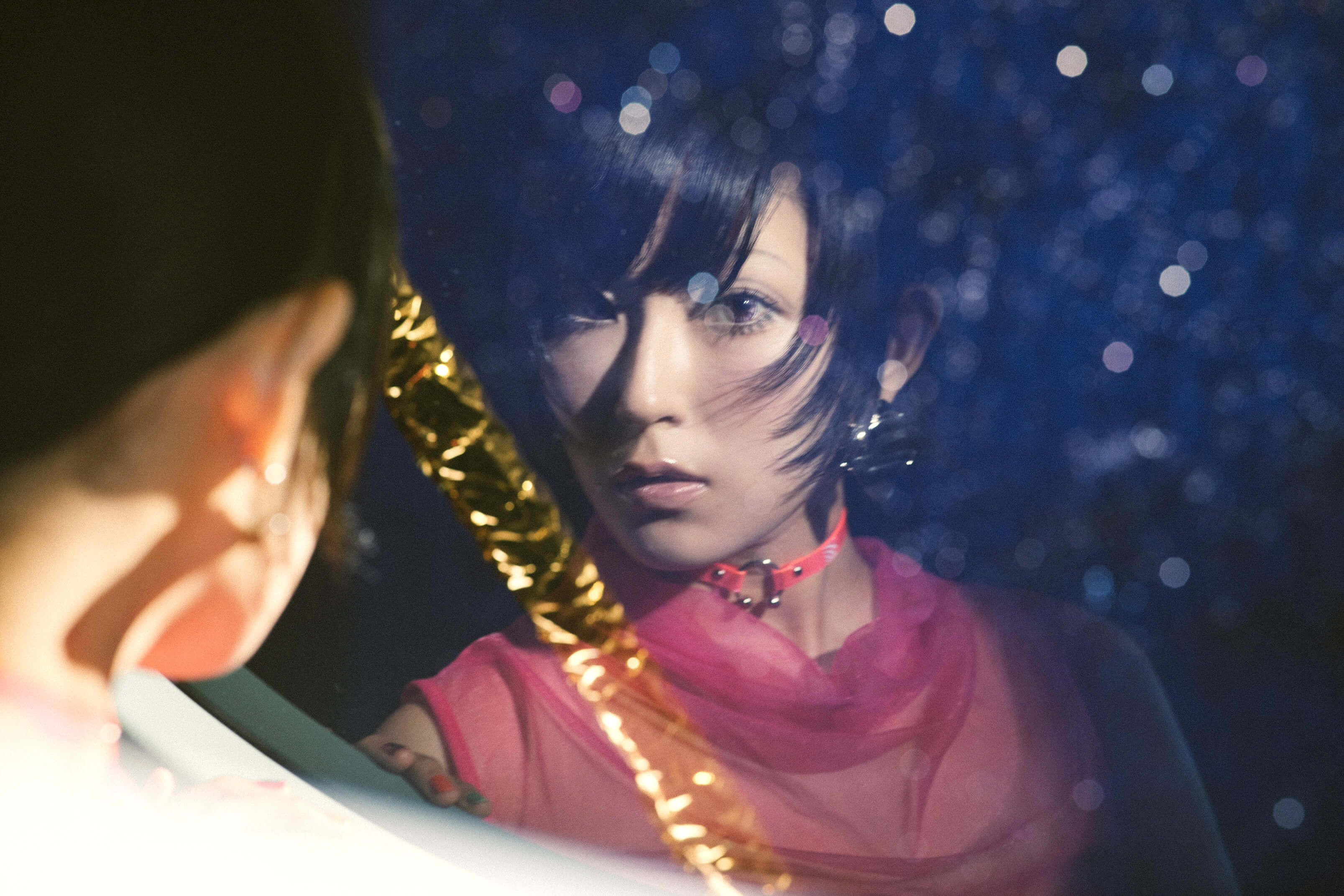 DAOKO released her last album THANK YOU BLUE on December 20 last year. It features song productions by Kenshi Yonezu, Yasuyuki Okamura and others. Hype still hasn't died down for the hit track Uchiage Hanabi.
The singer also performed alongside BECK at SUMMER SONIC 2018 earlier this month which became much talked about.
Japanese graphic designer Kenjiro Sano of MR_DESIGN is responsible for the art direction of DAOKO's new artist photo. He has offered his hand for the singer in other releases too including Uchiage Hanabi, Step Up LOVE, THANK YOU BLUE and others. Mikiya Takimoto is responsible for taking the photo. He is a cinematographer who has worked on films such as Like Father, Like Son (2013), Our Little Sister (2015) and The Third Murder (2017).
■Information
DAOKO 3rd Album – Title TBA
Release Date: November 14, 2018
First Press Limited Edition (CD+DVD): ¥3,300 (Pre-Tax) / ¥3,564 (Tax Included)
Regular Edition (CD-Only): ¥2,800 (Pre-Tax) / ¥3,024 (Tax Included)
*Tracklist TBA.
Pre-Order Bonuses
Bonus: DAOKO x Dragalia Lost Original Merchandise
Four versions available: Amazon ver., Tower Records ver., TSUTAYA ver., and other record store ver.
Main Theme Song Tie-Up Information
Nintendo/Cygames action RPG game Dragalia Lost™
On Sale: September 27, 2018
Song Title: "Owaranai Sekdai de" – DAOKO (TOY'S FACTORY):『終わらない世界で』DAOKO(TOY'S FACTORY)
Official Website: https://dragalialost.com/jp/
© Nintendo/Cygames
DAOKO Official Website: http://daoko.jp
RELATED ENTRIES
Mario Question Blocks Appear in New York to Win a Trip to SUPER NINTENDO WORLD

SUPER NINTENDO WORLD is set to open at Universal Studios Japan (USJ) in 2020ーthe year of the Tokyo Olympicsーas the world's first theme park area centred on the world, games and video game characters from Nintendo. A whopping 60 billion yen has been injected to make the park a reality.

In promotion of the park, the "SUPER NINTENDO WORLD CHALLENGE" was held in New York, US on February 19.

Fans dashed to Grand Central Terminalーa tourist hot spotーwhere the event was held to play a game involving the iconic Question Blocks from the Mario video game franchise. The set-up, which brought to mind a Bonus Stage from the game, had people hitting the question blocks just like Marioーsomething which we all must have imagined doing before.

1,000 people participated in the event which they signed up to prior. It was a day of fun for not only players but onlookers too. Grand prize winners won trips to SUPER NINTENDO WORLD, which is set to open before the Tokyo Olympic Games start, while all other participants got their hands on some exclusive SUPER NINTENDO WORLD merch early.

One participant said: "I love everything about Mario, so I knew I'd definitely be taking part today! I've loved Mario since I was a kid, I even had a plush toy of him. Mario really is exciting. I've always wanted to be Mario, so I'm really happy with how today turned out. I want to go to SUPER NINTENDO WORLD with my best friend and try out all the attractions. I'm sure it's gonna be a lot of fun!" (Male, 20 / Staten Island, New York) *Translated from Japanese

One of the grand prize winners said: "I've been a huge fan of Nintendo's games since I was 3-years-old. I was lucky to get to take part in the SUPER NINTENDO WORLD CHALLENGE today, but to go and win the grand prize is an amazing feeling! I'll be going to Japan with my girlfriend who I love so much! I'm always paying attention to news about SUPER NINTENDO WORLD. The Mario Kart attraction will definitely be a ride, I'm looking forward to it so much I just can't wait! I always thought it would be great if they made a Mario theme park, so the fact they're doing it in both Japan and even the US is amazing!" (Male, 20 / The Bronx, US) *Translated from Japanese

The Question Blocks also made an appearance in Times Square. The event was covered on the morning news in the US with fans visible at the event, Rockefeller Plaza, and elsewhere.

If you're a Mario and Nintendo fan planning a trip to Japan then be sure you get to experience SUPER NINTENDO WORLD when it opens this year.

Kirby Café HAKATA to Open Permanently in Fukuoka's Canal City Hakata

The second permanent Kirby Café, themed entirely on Nintendo's popular video game series Kirby's Dream Land, is set to open in Canal City Hakata in Fukuoka on March 12, 2020.

Kirby Café HAKATA has its own story that the cafe is based around. One day, Kirby motioned Whispy Woods to help him collect the tools needed to open another Kirby café. Together with Whispy Woodsーwho appears in the cafeーKirby will serve hospitality to his customers.



The food menu includes the same stone oven baked pizzas serve at Kirby Café TOKYO.

Kirby Café Stone Oven Baked Dessert Pizza ~Whispy's Caramelised Apples~: ¥1,380 (Before Tax)

Kirby Café Stone Oven Baked Dessert Pizza ~Waddle Dee's Freshly-Picked Chocolate Bananas~: ¥1,280 (Before Tax)

As well as standard savoury pizzas, the café includes a selection of dessert pizzas made with fresh fruit. The flavours of the dessert pizzas here are exclusive to the Hakata branch of Kirby Café.



Kirby's Home: ¥1,980 (Before Tax)

Kirby's High-Spirit Helping Parfait: ¥1,580 (Before Tax)


There are lots of cute food dishes and desserts to enjoy at Kirby Café. Kirby's Dream Land home has also been turned into a dessert, and there's also a cute parfait which Kirby himself helped make.



Kirby Café Hakata Exclusive T-Shirt – Kirby & Home: ¥3,400 (Before Tax)


Fans can also pick up a selection of new and exclusive Kirby merchandise, and an original Kirby Café soundtrack created by HAL Laboratory will play in the café.

Priorities are given to those who book a table in advance, which can be done on the café's official website starting on February 25, 2020.

Get sucked into the world of Kirby and inhale your food like he does at the all-new Kirby Café HAKATA.


Information

Kirby Café HAKATA

Grand Opening: March 12, 2020

Address: Canal City Hakata North Bldg. B1F, 1-2-1 Sumiyoshi, Hakata, Fukuoka, Fukuoka Prefecture

Opening Hours: 11:00-23:00 (Last Orders 22:00)

Official Website: https://kirbycafe.jp/hakata/
*Kirby Café is a character café managed by BENELIC CO.,LTD. under the license of WARPSTAR Inc., a copyright management company entrusted by Nintendo / HAL Laboratory, Inc.

Tokyo-bred singer and rapper DAOKO just dropped the music video for her new song Otogi no Machi which was released as a digital single just yesterday (January 15). Check it out below.

DAOKO – "Otogi no Machi" MUSIC VIDEO

In the video, DAOKO plays the role of an 'OL'—a Japanese abbreviation for an office ladyーworking somewhere in the city. Tired from work, she drags her tired body through the night-wrapped downtown streets. Awaiting her at the club she arrives at is blaring music and bright lights. When she steps back outside, the worldーwhich before was black and white for herーnow has colour to it, expressing the fact that music can bring colour to our ordinary lives. The scenes and outfit were all conceived by DAOKO herself, making this DAOKO's first entirely self-produced video.

The music video also features many pieces of work from illustrator Hermippe, who worked on the CD cover for the digital single as well as the key visual for DAOKO's "2020 Otogi no Mitoshi tour."

The song's lyrics are fantasy-like as they mix together fiction and non-fiction, woven together effortlessly by DAOKO's lyrical rap flow, and calling back to the music of her early days while evolving her sound at the same time. Together with Nariaki Obukuro, DAOKO has created a new and fitting style of club music for the Reiwa era.

Information

Otogi no Machi

Released: January 15, 2020 (Digital Release)

Download/Stream Links:  https://TF.lnk.to/DAOKO_otoginomachi

2020 Otogi no Mitoshi tour

2020/2/3 @ Nagoya CLUB QUATTRO, Aichi

2020/2/4 @ Umeda CLUB QUATTRO, Osaka

2020/2/10 @ Ebisu LIQUIDROOM, Tokyo

Official Website: https://daoko.jp/

Latest News On SUPER NINTENDO WORLD at Universal Studios Japan – MOSHI MOSHI NIPPON

SUPER NINTENDO WORLD is set to open at Universal Studios Japan (USJ) in 2020ーthe year of the Tokyo Olympicsーas the world's first theme park area centred on the world, games and video game characters from Nintendo.

What is "SUPER NINTENDO WORLD"?

SUPER NINTENDO WORLD will be the first-ever multilevel Nintendo-themed area at USJ, and the first of its kind in the world. Fans of the internationally beloved games can expected to see a whole host of rides and attractions dedicated to their favourite characters, from Mario Kart to Yoshi and beyond, as well as themed restaurants, merchandise shops, and more.

Power Up Band

Guests at SUPER NINTENDO WORLD will be able to feel like they are in a Mario video game with the Power Up Band, a purchasable wristband which works in connection with the USJ app for smartphones., which enables them to collect digital coins and compete with their friends for the highest score on the scoreboards.

Hit question blocks to collect coins

Just like Mario does in his quest to save Princess Peach from Bowser, guests can collect coins by hitting Question Blocks with their Power Up Bands. They will feel like they are competing in a video game, in real time, with the other guests in the park. The Power Up Band has numerous features, including the ability to obtain collectable items like Mario character stamps by completing various conditions listed on the app.

 

Battle bosses with friends

Additionally, guests can collect 'Keys' in a new attraction called 'Key Challenges' with which they can unlock various gameplay opportunities including 'Boss Battles.' They will be able to battle bosses together with their friends.

Charli XCX & Galantis drop music video to promote the park's grand opening

To promote the opening of SUPER NINTENDO WORLD, USJ dropped a music video entitled WE ARE BORN TO PLAY on their official YouTube channel on Tuesday in collaboration with Swedish electronic DJ duo Galantis and English singer-songwriter Charli XCX. The music video merges the real world with the world of Mario, with Charli hanging out with Toad on top of Peach's castle and people stomping on digital Goombas. The song features original music mixed together iconic leitmotifs from the Mario games.


We look forward when SUPER NINTENDO WORLD finally opens and will most definitely cover it once it does.

PLAYFUL KIRBY: Laforet Harajuku's Newest Pop-Up Shop Offers Exclusives For Fans of Nintendo's Popular Character

Fans of Kirby who are in Japan for the holiday season will be delighted to hear that the Kirby-themed pop-up shop "PLAYFUL KIRBY" finally opened at Laforet Harajuku today and will run until Boxing Day.

When playing Super Smash Bros. there's no other character I'll pick but Kirby. If you love Kirby as much as I do, then you'll be waiting no time at all to head to PLAYFUL KIRBY like I did after hearing that they're selling a whole range of original and exclusive merchandise the likes of which Nintendo players have never seen before.

The store itself is located on the second floor of Laforet Harajuku in Harajuku, Tokyo. You'll spot it instantly with the Kirby-pink text wrapped around the walls of the entrance.

Kirby's pink colour fills the entire shop floor. Upon entering you'll spot all the different items on offer, including fashion items, as well as various photo spots featuring Kirby's cute face.

There's even a tiny Kirby door so that he can get into the shop! Be sure to find it if you visit.

The original version of this pop-up shop first appeared two years ago, and enjoyed visits not only from game fans, both kids and adults who had never heard of Kirby before, or who had heard of him but never played the games. The fashion line-up was a result of fan demand to enjoy Kirby in a variety of different ways. A visit to PLAYFUL KIRBY is like being inhaled into his Dream Land.

PLAYFUL KIRBY is centred on two collaborations. This includes a teaming-up with popular illustrator Shogo Sekine. When this pop-up shop was conceived, Shogo Sekine was at the top of the list for collaborations with the staff in charge. The staff agreed that mixing the worlds of Kirby and Sekine together would give rise to some seriously wonderful results. After much internal discussion and talks with Sekine, a whole line of merchandise was created.

The items feature Sekine's stylised typography, symbols, shapes and so on. Their subtle design means they can be used as both everyday items and nerdy fan items. They're stylish while retaining the cute aspects of Kirby.

The following items are the number one most recommended pieces of merchandise to pick up as chosen by the PLAYFUL KIRBY staff.

Tote Bags Ver. 2 PINK STRIPE – ¥2,800

These tote bags feature gradations of Kirby pinks. This design is also featured on a t-shirt you can pick up too. They're both made with high quality fabrics.

Sacoche Pouches (2 Designs) – ¥2,300 Each

The "Copy" written on the sacoche pouches refers to Kirby's ability to copy his opponents' abilities and appearance. This design is also included on a variety of other merchandise pieces like a smartphone case and more.

Blanket – ¥3,800

At first glance, this blanket just looks like a stylish blanket with a floral print, but if you look closely you'll spot Kirby blended in with the design. A perfect choice for the coming winter season.

Plush Toy – ¥2,300

Kirby had intended to put on his stylish t-shirt ready to go out, but he ended up looking just adorable.

The store's second collaboration is with Converse Stars, also showcasing an assortment of cute and fun items.

Cap – ¥5,800 / Long T-Shirt (Medium/Large) – ¥7,800 Each

Show off your love of Kirby with some simple but stylish unisex Kirby attire.

Hand Towel – ¥1,200

Another must-get item is this hand towel which keeps the roundness of Kirby's head. Use at home or take it out with you!

Stickers (3 Designs) – ¥500 Each

Get your hands on these Laforet Harajuku-exclusive stickers with designs so cute you'll want to collect them all!

I spoke with the person in charge of the pop-up shop about the future of Kirby outside of the video game, and they told me that they plan to have more pop-up shops like this and open the opportunity for people to enjoy Kirby in a range of different ways while playing his games. For someone like me, who likes Kirby more than anything, I can't wait to enjoy even more Kirby in the future.

PLAYFUL KIRBY is open until December 26, 2019, so if you're in Tokyo until then, make sure to pop on over to Laforet Harajuku.

▶︎Win Limited Edition Stickers

MOSHI MOSHI NIPPON is holding a competition on our official Instagram, Twitter and Weibo pages for a chance to win limited edition stickers from PLAYFUL KIRBY.

How to Apply: Follow us on social media and share/retweet our post about the competition for a chance to win 1 special sticker from PLAYFUL KIRBY. (Designs are chosen randomly.)

These are limited edition stickers exclusive to PLAYFUL KIRBY, so don't miss your chance to get one!

© Nintendo / HAL Laboratory, Inc.

Information

PLAYFUL KIRBY

Running: December 16, 2019 – December 26, 2019

Location: Laforet Harajuku's 2nd Floor CONTAINER (1-11-6 Jingumae, Shibuya, Tokyo)

Opening Hours: 11:00-21:00 (Until 19:00 on December 26, 2019)

PLAYFUL KIRBY Official Website: http://playfulkirby.jp

Laforet Harajuku Official Website: https://www.laforet.ne.jp/

Kirby Pop-Up Shop 'PLAYFUL KIRBY' to Open in Laforet Harajuku in Tokyo

LEGS is opening a Kirby-themed pop-up shop named 'PLAYFUL KIRBY' for a limited time in Laforet Harajuku, a landmark of Tokyo's fashion hub Harajuku.

The shop has invited popular Japanese illustrator Shogo Sekine on board, who is known for its distinct typography work which mixes fashion with messages written in English, to create an original line of Kirby apparel and miscellaneous fashion items.

PLAYFUL KIRBY is also teaming up with Converse. Kirby has inhaled a few too many Converse Stars and has turned into a truly fashionable pink blob. The line-up is unisex so can be enjoyed by anyone and everyone. It will include items also available to purchase at Converse Stars branches as well as Laforet Harajuku exclusives.

Witness Nintendo's Dream Land hero in an all-new light as he becomes a fashion icon at Laforet Harajuku this month from December 16 to 26.

©Nintendo / HAL Laboratory, Inc.

*Photos are for illustrative purposes only

Information

PLAYFUL KIRBY

Running: December 16, 2019 – December 26, 2019

Location: Laforet Harajuku's 2nd Floor CONTAINER (1-11-6 Jingumae, Shibuya, Tokyo)

Opening Hours: 11:00-21:00 (Until 19:00 on December 26, 2019)

PLAYFUL KIRBY Official Website: http://playfulkirby.jp

Laforet Harajuku Official Website: https://www.laforet.ne.jp/

Shibuya PARCOーWhere You Can Enjoy Everything: Anime, Games, Food, Fashion & More

Shibuya PARCO finally opened its doors on November 22. The shopping complex is already receiving overwhelming love and attention as Shibuya's newest tourist spot as it strives to offer itself as "a unique, next-generation facility" for the world.

Boasting a gargantuan 193 shops, spanning fashion, food, art and more, Shibuya PARCO is a place where you can enjoy just about anything. MOSHI MOSHI NIPPON has compiled a list of our own recommended places from there for you, the readers, if you ever visit Shibuya.

Mirai Sake/KUBOTA SAKE BAR (Floor B1F)

Sake is a big part of Japanese culture, and is enjoyed by people worldwide. Mirai Sake/KUBOTA SAKE BAR are serving the ultimate sake experience, where you can select the drinks that best suit  your palate. The bar will serve original drinks, rare sake from ¥500 a cup, as well as food pairings from ¥400.

There will also be 12 original cocktails judged by YUMMY SAKE. If you've found you're not too good with sake, then you're sure to find one you like when pulling up a stool here.

Mirai Sake Official Website: https://miraisake.com/

ONITSUKA (Floor 3F)

Japanese fashion brand Onitsuka Tiger has announced a new luxury line entitled THE ONITSUKA. They have created a hybrid design combining formal shoes with sneakers that goes with a variety of styles, from suits to casual.

The shoes are made from high quality leather from the brand Kobegyu Leather. The heal of the souls are equipped with αGEL Foam to offer comfort and shock resistance for dynamic movement. This line will also be available to purchase at a concept store opening in New York in March 2020.

Onitsuka Tiger Official Website:  www.onitsukatiger.com

AKIRA ART OF WALL (Floors 4F & B1F)

The new PARCO MUSEUM TOKYO and GALLERY X housed inside Shibuya PARCO both aim to promote art and culture to the people of Tokyo. Decorating them as the opening exhibition is the "AKIRA ART OF WALL Katsuhiro Otomo × Kosuke Kawamura AKIRA ART EXHIBITION." This art wall is in fact a relocation of the AKIRA art wall that had existed at the infrastructure building site in Shibuya for almost two years. Parts of it had been damaged over time, and so has resurfaced at the new museum.

You can also get your hands on a range of merchandise, from classic manga prints to posters, clothing made in collaboration with apparel brands, and more. This is a limited-time exhibition, so if you're in Tokyo this December, don't miss out.

©MASH・ROOM/KODANSHA ©Kosuke Kawamura ©︎AKIRA ART OF WALL EXHIBITION

AKIRA ART OF WALL Otomo Katsuhiro × Kosuke Kawamura AKIRA ART EXHIBITION

Locations/Times

PARCO MUSEUM TOKYO (Shibuya PARCO 4F): November 22, 2019 – December 16, 2019 @ 10:00-21:00

GALLERY X (Shibuya PARCO B1F) November 22, 2019 – December 18, 2019 @ 10:00-21:00

*Exhibitions at both sites will end at 18:00 on their final dates. Last entries to PARCO MUSEUM TOKYO are 30-minutes before closing times.

Entry Price: General ¥1,000 / High School Students and Below ¥800 / Preschoolers – Free

Nintendo TOKYO/6F

At Nintendo TOKYO, the first long-awaited official Nintendo shop, fans can look forward to purchasing games, consoles, character merchandise, and more. There is also an area where you can play games, and events are scheduled to be held at the store.

The store stocks lots of exclusive goods you won't find anywhere else. If you love games, and you love Nintendo, then this place is a must-visit if in Tokyo.

Nintendo TOKYO Official Website: https://www.nintendo.co.jp/officialstore/index.html

Pokémon Center Shibuya (Floor 6F)

Pokémon fans won't be able to resist stepping into the Pokémon Center, where they can pick up countless Pokémon merch. Upon entry they'll walk past a 2-meter tall Mewtwo.

From plush toys to bags, kitchenware, stationary, Shibuya-exclusives and moreーstock up on all the Pokémon gear you could ever want. There's even some items made in collaboration with Nintendo TOKYO which is just next door!

Pokémon Center Official Website: https://www.pokemon.co.jp/gp/pokecen/

いかがでしたか?いろいろなジャンルのお店が大集結している渋谷PARCOにぜひ足を運んでみてくださいね。

Information

Shibuya PARCO

Address: 15-1 Udagawacho, Shibuya, Tokyo

Opening Hours: Shops & Services 10:00-21:00 / Restaurants 11:00-23:30 (*Times differ between shops)

No Fixed Holidays

Official Website: https://shibuya.parco.jp/teaser/

Watch the Teaser for DAOKO's New Dragalia Lost Album

Dragalia Lost™ is an action role-playing smartphone game developed by Cygames and published by Nintendo. It has been one year since the game launched last year on September 27, and to commemorate, young famous singer DAOKO is collaborating with the title to release an anniversary album on October 9 called DAOKO x Dragalia Lost.

Check out the epic album teaser below released just moments ago.

The teaser gives us a cheeky taste of many songs that are included on DAOKO's new album and follows DAOKO's journey with Dragalia Lost. The range of game scenes in the teaser is enough to make any Dragalia Lost fan lose themselves in excitement. 

Don't forget to check out the album when it is released!

Information

DAOKO × Dragalia Lost 

Release Date: October 9, 2019  

First-Press Limited Edition

Includes 2 CDs in a luxury 3-sided sleeve case, Digipak and 60-page booklet

TFCC-86694 ¥4,000 (price before tax)

Regular Edition (CD Only)

TFCC-86695 ¥2,800 (price before tax)

 

DAOKO Official Website: http://daoko.jp/ 

DAOKO's Song Used for Hit Film Kaguya-sama: Love Is War. Check Out the Official Music Video.

Young singer and rapper DAOKO created the insert song "Hajimemashite no Kimochi o" for the hit film Kaguya-sama: Love Is War, which features Sho Hirano (from idol group King & Prince) and actress Kanna Hashimoto. Now, the music video for Hajimemashite no Kimochi o has been released.

 The music video paints a picture of romance that viewers can easily relate to in real life. Teens from across Japan have fallen in love with the video upon learning that the video even features their favourite illustrator fusedy. DAOKO's lyrics spell out the story of the pure love of a young girl who easily blends into her surroundings. The music video has become a big hit.

Hajimemashite no Kimochi o Official Music Video

Kaguya-sama: Love Is War is a current high-tension hit film which has grasped a wide audience. Through her song, DAOKO has widely influenced the feelings involved in the world of the film. Please check it out. 

Information

Hajimemashite no Kimochi wo (はじめましての気持ちを)

(Insert song for the hit film Kaguya-sama: Love Is War)

Streaming and Downloading Links: https://TF.lnk.to/UJqbQ4pe

Official site: http://daoko.jp/

Kaguya-sama: Love Is War Film

Release Date: September 6

Kaguya-sama: Love Is War Official Website: https://kaguyasama-movie.com

© 2019 映画「かぐや様は告らせたい」製作委員会  ©赤坂アカ/集英社

Dragalia Lost Anniversary Song by DAOKO Used in 1st Anniversary Commercial For Mobile Game

The song a n n i v e r s a r y, written by DAOKO and TAKU INOUE for the one-year anniversary of Dragalia Lost, was used in a new commercial for the celebrations.

DAOKO herself also appeared in the commercial alongside the characters in the game. Check it out below.

An anniversary event titled "DRAGALIA LOST Celebration Party" will also be held at Shinkiba STUDIO COAST on January 8 next year where DAOKO will perform live alongside TAKU INOUE as the DJ.

To attend this event, you must sign up via the application card included with copies of DAOKO's upcoming album DAOKO x Dragalia Lost releasing on October 9.Winners will be chosen randomly to attend.

©Nintendo/Cygames

Information

DRAGALIA LOST Celebration Party!

Date: January 8, 2020

Time: Open 18:00 / Start 19:00 / Finish 21:00

Venue: Shinkiba STUDIO COAST

No. of People: 800 (400 pairs)

Entry: Free

Line-Up: DAOKO, TAKU INOUE, and more TBA

*To attend, you must sign up via the application card included with copies of DAOKO's upcoming album DAOKO x Dragalia Lost releasing on October 9. You must have a Dragalia Lost Player ID to attend.

DAOKO x Dragalia Lost

Release Date: October 9, 2019

First Press Limited Edition (2 CDs+Slip Case+Digipak+60-Page Booket): ¥4,000 (Before Tax) [TFCC-86694]

Regular Edition (CD-Only): ¥2,800 (Before Tax) [TFCC-86695]

First Press Bonuses

・An application card to receive exclusive in-game anniversary items and a DAOKO-original Ryuki Amulet

・Application card to sign up for a chance to attend the anniversary event

Store Bonuses

・DAOKO x Dragalia Lost Exclusive Bonus Items

When purchasing the album at select stores and online websites you will receive bonus items exclusive to each respective seller. Participating Stores: Amazon, Animated, TOWER RECORDS, TSUTAYA, Rakuten Books, HMV, TOY'S STORE. Please note that these items are limited in availability.

DAOKO Official Website: http://daoko.jp/

Dragalia Lost

Official Website (English US): https://dragalialost.com/en/

Official Website (English Europe/Australia): https://dragalialost.com/en-gb/

Mario & Sonic at the Olympic Games Tokyo 2020 Unveils 5 Sports in the Game

As excitement is on the rise worldwide in anticipation for the Tokyo 2020 Games, the world just cannot wait for the release of the iconic Nintendo Switch™ game Mario & Sonic at the Olympic Games Tokyo 2020, which is due to be released very soon. Sega has just unveiled a small snippet of information on five events that are going to be included in the game which we are sharing with you today.

Tokyo 2020 100m

Aim for nothing but first place in the Tokyo 2020 100m. Increase your speed with the rapid push of a button. By building up your speed before the race starts and releasing it at the correct moment, you will get off to a dashing start. The "special dash" is a way to rapidly cut down on your time. 

Tokyo 2020 Rugby Sevens

This game will plunge you straight into the action. Work with your team of seven and use a range of tactics such as passes, strong tackles and kicks to get the upper hand. Carry the ball to the goalline to watch those points roll in. When your special gauge reaches its max power, you will be able to use a "super dash" ability to get the ball to the goalline if on the offense. If on defence, your special ability is the "special tackle", which will provide you with the power to whip the ball away from your opponent. These special abilities have the power to drastically turn the tables and are not to be taken lightly. This game features guest character Diddy Kong!

Tokyo 2020 Canoeing

Get your heart pumping with the thrill of competition while staying synchronised with your partner in a canoeing race. If your timing is perfect, you will pick up speed straight away. Team up with your friend and dive right into the fun. If you are falling behind, don't let your heart sink in despair. Paddle as much as you can and you will be able to catch up with the others in no time!

Toyko 2020 Equestrian Jumping

Let no hurdle taint your gracefulness as you soar through the sky and clear each one. You can take part in Equestrian Jumping individually or as part of a team. Be careful of sharp turns and hurdles! When you increase your speed, your stamina will drop, however, you will recover lost stamina with every hurdle you successfully clear. If you manage to clear lots of hurdles in succession, you will gain enormous amounts of speed and will be on your way to a record-breaking winner. You can also use a special dash once in this game. If you manage to use it while successfully striking a difficult pose, you will continue to zoom off to the finish line at high speed. This game features Larry Koopa as a special guest!

Tokyo 2020 Table Tennis

Face off in a singles match or team up with your friend for a doubles match. Your avatar will move automatically, allowing you to fully dedicate your brain power to using a range of techniques. Build up your power to change the speed and spin of the ball.Zazz has infiltrated this game to take part as a guest character!

Join in the Tokyo 2020 celebration fun with these new epic games!

TM IOC/TOKYO2020/USOC 36USC220506. © 2019 IOC. All

Rights Reserved. © NINTENDO. ©SEGA.

Information

Mario & Sonic at the Olympic Games Tokyo 2020™

Platform: Nintendo Switch™

Initial Release Date: November 1, 2019

Price: ¥5,990 (before tax)

Genres: Sports, action

Players: 1 – 4

* Play with up to 8 people when you play online.

*Nintendo Switch™ supports 2 – 4 local players.

Official Website: https://www.olympicvideogames.com/marioandsonic/jp/

DAOKO x Dragalia Lost Album Cover Art Unveiled, Store Exclusive Bonuses Announced

Dragalia Lost is an action RPG developed by Cygames and published by Nintendo for Android and iOS. To celebrate one year since the game's release on September 27, 2018, it was revealed last month that DAOKO is teaming up with the game to release an anniversary album entitled DAOKO x Dragalia Lost on October 9.

In the lead up to its release, the CD covers for the albums have just been unveiled.

First Press Limited Edition

The CD covers feature illustrations of the Dragalia Lost characters as well as DAOKO who has been drawn as if she was a character in the game.

Regular Edition

Tracks on the album include a n n i v e r s a r y, an song written for the 1 year anniversary written by DAOKO and TAKU INOUE, the game's theme song Owaranai Sekai de produced by Takeshi Kobayashi, the Yasutaka Nakata-produced insert song Bokura no Network, a new song made in collaboration with Scha Dara Parr entitled Haisensupaisen, and more. The album also features many other artists and creators who were involved with the music production, such as Keiichi Ejima (Sakanaction), Yoh Kamiyama, Hideya Kojima (ORESAMA), Kikuo, Yunomi, and more.

Ryuki's Amulet

First Press copies of both the Regular Edition and Limited Edition come with an application card for a chance to win in-game items, which have yet to be announced, and also come with the above-pictured Ryuki Amulet based on DAOKO's song Owaranai Sekai de, and an item set that can be used in game.

When bought at select stores, the CD's are also coupled with other exclusives. Check below for more details.

©Nintendo/Cygames

Information

DAOKO x Dragalia Lost

Release Date: October 9, 2019

First Press Limited Edition (2 CDs+Slip Case+Digipak+60-Page Booket): ¥4,000 (Before Tax) [TFCC-86694]

Regular Edition (CD-Only): ¥2,800 (Before Tax) [TFCC-86695]

First Press Bonuses

・An application card to receive exclusive in-game anniversary items and a DAOKO-original Ryuki Amulet

・Application card to sign up for a chance to attend the anniversary event

Store Bonuses

・DAOKO x Dragalia Lost Exclusive Bonus Items

When purchasing the album at select stores and online websites you will receive bonus items exclusive to each respective seller. Participating Stores: Amazon, Animated, TOWER RECORDS, TSUTAYA, Rakuten Books, HMV, TOY'S STORE. Please note that these items are limited in availability.

DAOKO Official Website: http://daoko.jp/

Dragalia Lost

Official Website (English US): https://dragalialost.com/en/

Official Website (English Europe/Australia): https://dragalialost.com/en-gb/