Celebrate Meat Day with a Slice of Beefcake at Gyu-Kaku!
Japanese "yakiniku" barbecue restaurant Gyu-Kaku is the perfect place to celebrate "meat day" which takes place on March 29 in honour of the fact that the Japanese for meat is "niku", also a way to pronounce 2-9. Knowing how much their customers love their meat, the store has come up an amusing way to celebrate by building a romantic cake out of slices of raw meat carnivorous diners can enjoy throwing on the barbecue.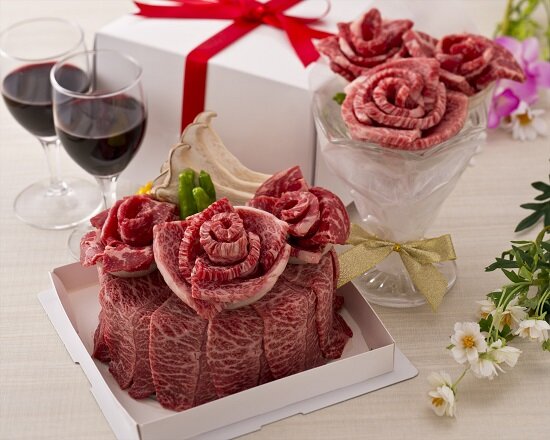 The celebration meat cakes have been available as a part of the regular menu at every Gyu-Kaku branch since March 8 retailing for 4980 yen and include some of the best cuts of meat the restaurant has to offer including "Galbi" Korean-style ribs, Wagyu misuji, and special top grade Wagyu Galbi.
RELATED ENTRIES
Rakuten Travel announced the ranking of accommodations which offer popular game dishes.

The travel reservation site, "Rakuten Travel" announced  its"2017 / Ranking of accommodations which offer game dishes." They calculated the number of the users and days the users stayed targeting the plans including the word "game (gibier)"and announced that "Shinjo Kanko Hotel" won first place.

 "Gibier" is a French word meaning the flesh of wild animals and it has developed as a food culture of aristocracies in Europe since old days.

No.1 / Aichi Prefecture / Shinjo Kanko Hotel

No.2 / Shizuoka Prefecture / Gensen Kakenagashi no Yu Oyado Sakaya

No.3 / Nara Prefecture / Totsugawa Onsen Seikyo no Yado Sansui

No.4 / Wakayama Prefecture / Ryujin Onsen Bijin Tei

No.5 / Ishikawa Prefecture / Shiramine Onsen Hotel Happo

 

 "Shinjo Kanko Hotel" which won first place offers a curry using venison every morning. Okumikawa is an area near the hotel rich in nature and the meat of the animals living in this area is tasty since it does not contain much fat. Venison contains less fat than other kinds of meat and contains lots of protein and iron. Also, venison is not smelly, so it is suitable for beginners of game dishes.

"Gensen Kakenagashi no Yu Oyado Sakaya" which won second place has been offering "Daimyoyaki," a famous dish which grills brawn, pork and beef with vegetable produced locally (Amagi). Their brawn nabe (Japanese hot pot) made with miso sauce which takes about a week to make is known as the local dish of Amagi and you can enjoy it during the autumn and winter seasons. The users of the accommodation are saying "Daimyoyaki is a simple dish where you grill meat and vegetables together but it is very tasty."

 "Totsugawa Onsen Seikyo no Yado Sansui" in Nara Prefecture which won the third place is an accommodation which offers local foods located in Totsugawa Village rich in nature. The brawn nabe using the natural brawn of Totsugawa and the tea ceremony dishes where you can enjoy venison, brawn and Chinese soft-shelled turtles at once are offered. They use clean spring, locally grown vegetables and meat. The users of the accommodation are saying, "I heard some game dishes are smelly but the dishes offered by this accommodation were very good."

Why don't you enjoy full-fledged game dishes at Japanese accommodations?

■Information

2017 Ranking of Accommodations Which Offer Popular Game Dishes.

Ranking date: 2017,10,11 (Wed.)

The method of collecting information: Calculated the number of the users and days the users stayed targeting plans including the word "game (gibier)"

Target dates: 2016,10,1 (Sat.) to 2017,9,30 (Sat.)

Rakuten Travel Facebook: https://www.facebook.com/RakutenTravel/

Rakuten Travel Instagram    @rakutentravel

Rakuten Travel Application: https://travel.rakuten.co.jp/service/smartphone/

Ciao tutti!

While we love our friends, going out can be a financial burden. Especially when you're on a school break and you hate to be home all day.

99 Fresh NY Pizza is a perfect place to enjoy lunch with your friends in Hashimoto.

A cheesy crusty delicious slice of Fresh New York Pizza only costs 99 yen!

Lunch for less than 100 yen. Very wallet friendly.

There are antique posters, pictures, and car license plates on the walls to add a pop atmosphere inside the store to create an authentic New York feeling.

There are both tables and counters to sit and relax with your pizza.

Now you know where to come when you're broke and still want a full stomach!

Information:

Name: 99 Fresh NY Pizza

Address: 1-24 Midoriku Hashimoto 6 cchoume, Kanagawaken Sagamiharashi 252-0143 (2nd floor of Aji-no-Shokusaikan Hashimoto building)

Telephone: 042-703-0217

Open: 10am~20pm

■Writer:Jessica Poluhowich

Instagram:mintbaby

−−−

■Related article:Where All the Matcha Lovers Gather…まっちゃんの旅

■Related article:Come and Try Yummy Soba

【TokyoDinner】Enjoy with your friends on New Year holidays at "Niku-Sakaba"

New Year gives a lot of chance for get-togethers with your family and friends. If you want to have a gathering with your close friends, everyone would chose to go some casual bars.

"Shibuya Niku Yokocho" is a place where several restaurants have gathered which specialize in meat foods on one floor in this building.  It is the biggest "meat's theme park" in Japan which is easy to hop to each restaurant.  I've heard it is also popular among foreign customers since they can get a variety of meat menus in Japanese nostalgic atmosphere.

Each restaurant has their own specialized meat menus such as steak, kara-age, broiled pieces of beef/pork innards, churrasco (Brazilian barbeque) and so on.  If you want to enjoy more unique meat foods, you should visit the upstairs of this building called "Niku Yokocho Hanare." First of all, you should order "T bone steak (3180yen for 300gram)" at a restaurant called "Maekawa" where you are also able to enjoy Yogan-yaki, aging meats and skewers.

After you eat the aging beef that you can enjoy both as a fillet and sirloin steak, the next one should be "Yappa" which is popular meat sushi restaurant, and order the menu called "Uniku (680yen for 2 pieces)."

The combination of rich sea urchin's flavor and melty seared beef is amazing. Juicy meat ball tempura (980yen) is also great with drink.

The bar called "Izakaya Niku Hiroba" has Japanese style food menus that the chef who used to work for Japanese restaurant came up with. The Japanese style sparerib is very fulfilling for your mind and appetite.

If you want to drink something when you are eating unique meat cuisines, I would recommend "Jin-Toni!" which was made by arranging Beefeater Jin and tonic to go with meat. The refreshing lemon flavor and spiciness of black pepper is addicting, and will make you tipsy before you know it.  This exciting meat food experience in these reasonable priced restaurants definitely will make you come back again.

※Under-aged drinking is prohibited by law.

■Shibuya Niku Yokocho

Address:Chitose Kaikan 13-8,Udagawacho, Shibuya-ku, Tokyo

Keiko Kodera(Writer)

—

■Related article:MOSHI MOSHI GOURMET Varieties of stand-up eating style restaurant in Japan

■Related article:MOSHI MOSHI GOURMET Now DELICIOUS MEGA! NIKU-DON is booming!