Kyoto Sightseeing | Yokokuji Temple's Annual Hydrangea Week Event Announced
This year's Hydrangea Week at Yokokuji Temple is set to take place from June 13 to July 5 where 5,000 breathtaking hydrangea will take over the temple grounds.
Yanagidani Kannon, also known as Yokokuji Temple, is located in Kyoto Prefecture's city of Nagaokakyo and has been used as a place of prayer for many people with eye disease since the Heian Period. It is believed that praying at the temple will cure eye disease.
Special Opening of the Joshoin: Spectacularly Lush Flowers
Normally, the Joshoin only opens on the 17th of every month, but for this autumn week event, it will be open every day. It's an area normally limited to officials and those in the imperial family. The beauty of its autumn colours have come to be enjoyed by VIPs, dating back to the pre-war period when it was designated as a place of scenic beauty. The Nanboku-cho Period painting Amida Sanzon Raigo Zu of Amida standing on a lotus pedestal will be displayed during the opening.
Entry Price: ¥1,000
Entry Times: 9:30-14:30
Limited Edition Goshuin: "Oku-no-in," "Wagan-aigo," "Airyoku"
We've covered goshuin many times on MOSHI MOSHI NIPPON. They are stamps or seals you can receive at most temples and shrines in Japan. Collected in a goshuincho, or stamp book, you pay a fee and the staff there will write gorgeous Japanese calligraphy in your book of the temple or shrine name and the date you visited along with a stamp. Every temple and shrine has their own unique stamps.
For Hydrangea Week, you can get the following words written in your book: Oku-no-in (Inner Shrine) Wagan-aigo, (Gentle Face, Loving Words), and Airyoku (Power of Love).
Goshuin: "Omoi"
This special goshuin prays for the fulfilment of people's Omoi, which can mean thoughts, desires, wishes, affections, and so on. It also features a picture of the temple water basin.
Price: ¥600
Seasonal Pressed Flower Goshuin Kit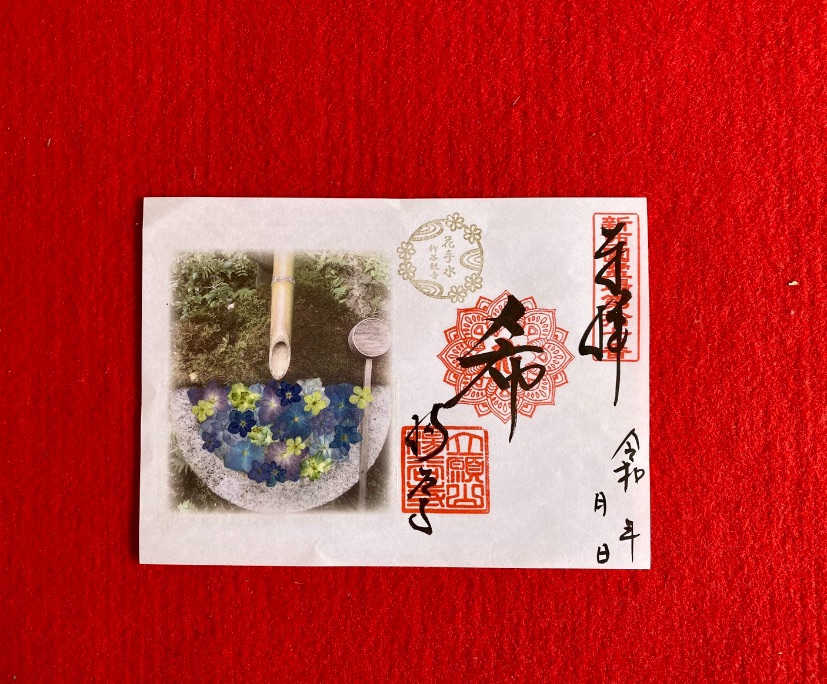 This special goshuin kit has you pressing your own flowers to create your own personal and unique design. The theme of this kit changes each season. For June, the theme is hydrangeas.
Price: ¥1,000
Hydrangea Goshuincho
The temple is also selling seven different goshuincho stamp books. Orders are being carried out on the official website.
Price: ¥3,500 (+¥500 handling fees)
Yanagidani Kannon Treasure Exhibition
The "Yanagidani Kannon Treasure Exhibition" is a monthly showcasing of the temple's treasured articles which are normally unavailable to the public. For June, they will be showing the art piece Daffodils by Japanese painter Keika Kanashima who was active during the Taisho and Showa periods. Her work is also on display at the Imperial Household Agency. The painting incorporates the Shijō school of Japanese painting as well as the intai style.
Items Bestowed to the Imperial Household & Buddhist Art
The temple will display items bestowed to the Imperial Household from its collection, including Emperor Nakamikado's mirror which has a deep green hue, a flower vase owned by Japan's last empress regnant Empress Go-Sakuramachi, and more.
Information
Hydrangea Week
Location: Yanagidani Kannon, Yokokuji Temple (Dōnotani-2 Jōdodani, Nagaokakyo, Kyoto)
Running: June 13, 2020 – July 5, 2020
Time: 9:00-16:00 (Last Entries 15:00)
Price: ¥300 (Combination ticket for entry, access to the Joshoin and Jihouku costs ¥1,000)
Official Website: http://yanagidani.jp/
RELATED ENTRIES
Kyoto's Rokuo-in Temple to be Illuminated in the Autumn Evenings

Keifuku Electric Railroad is lending its strength to Rokuo-in Temple in Kyoto this autumn to light up the ancient site in the evenings from November 14 to December 6.

Shari-den (Photo taken in 2019)


Temple path (Photo taken in 2019)

This year marks the 5th run of the autumn evening light-ups. The temple, just a four minute walk from Rokuoin Station, is known for its beautiful maple trees which blossom breathtaking autumnal colours during the fall season.

Temple reception hall with fusuma images


Fusuma image example

The temple is selling new goshuin temple stamp books this year for the light-up event. Visitors will also be able to see 56 fusuma images drawn by contemporary Japanese artist Takaya Fuji.

Rokuo-in Temple will close early next year for approximately 2 years and 9 months for repairs. The temple is also currently limiting the number of people allowed at once, making this year the best time to see the autumn leaves.

Information

Rokuo-in Temple Evening Light-Up
Running: November 14, 2020 – December 6, 2020
Time: 17:30-19:30 (last Entries 19:00)

Price: ¥2,000 (Comes with matcha and Japanese confections)

Capacity: [Weekdays] 100 People / [Weekends] 150 People

Access: 4 minutes on foot from Rokuoin Station
Apply Here: 嵐電webサイト専用フォーム

Experience Old Time Kyoto in Autumn 2020 With Tea and Textiles

Kyoto, the ancient capital of Japan, is also called the birth place of Japanese culture, with a history spanning 1,200 years. Today, we're going to take a look at a number of upcoming events and seasonal items on sale in Kyoto for autumn 2020.

Celebrating 300 years of Tango Chirimen

This year marks 300 years since Tango Chirimen was established, a company located in Tango in northern Kyoto that specialises in a Japanese textile of flat woven silk known as 'chirimen.' There are many local chirimen brands around Japan, but it is the chirimen from Tango that has stood above the rest these past 300 years. The brand is now looking to the start of a new era for itself during its triple century milestone.

LIFE WITH THE QUALITY

Tango Chirimen is currently displaying a collaborative art exhibit at NEWoMan Shinjuku in Tokyo. This includes the entry display made in collaboration with Japanese artist Saki Tanaka, wall art made from woven fabrics, and more.

Running: Until September 30, 2020

Location: NEWoMan Shinjuku

Lineup: Display in collaboration with Saki Tanaka, wall art, and more

United Arrows x Tango Chirimen

United Arrows is also collaborating with the brand and incorporating their logo mark "TANGO OPEN" on a new men's t-shirt.

Product Name: BY Tango Broad Wide Form Tapered Shirt
Buy Here: https://store.united-arrows.co.jp/shop/by/goods.html?gid=52838245
Sold at: BEAUTY & YOUTH UNITED ARROWS stores and their official online store

Taste tea from Uji on Japanese Tea Day

It is generally considered that the first tea of the season in Japan is best enjoyed from the end of April and during May, but in fact Japanese tea is the perfect season to enjoy Japanese tea, specially since the country celebrates Japanese Tea Day (Nihoncha no Hi) on October 1 and 31.

Ujicha, or tea from Uji in Kyoto, boasts some of the most famous kinds of teas in Japan. This includes matcha, sencha, and gyokuro, all of which were first grown in southern Kyoto. Because of this, it is said that Ujicha marks the origins of Japanese tea. So when you visit Japan during autumn, why not celebrate Japanese Tea Day with some authentic tea from Uji?

Ujicha Tea Murie Online Course

The Ujicha Tea Murie Course has been held since 2015 in Kyoto, and this year, the course is heading online for the first time as a result of the pandemic. Learn how to make and serve Uji tea from a professional tea instructor as well as its history and more.

Running: Session 1: September 15, 2020 / Session 2: October 2, 2020 / Session 3: October 17, 2020

Book: Online
Requirements: Download and install Zoom
Official Website: https://www.pref.kyoto.jp/yamashiro/ocha/

Certified Ujicha tea cafes for an authentic experience

Tsujiri Rihei Ginza | Tsujiri Rihei Senju

Nakamura Tokichi Ginza

Tsujiri Rihei Ginza, Tsujiri Rihei Senju, and Nakamura Tokichi Ginza are all cafes in Tokyo that are officially recognised for serving authentic Ujicha tea which also includes proper preparation as well as teaching the history and culture behind the tea. These three cafes are also holding an Ujicha tea stamp rally as well as a Twitter hashtag campaign.

Kyoto's Female-Only Hotel CAFETEL Kyoto Sanjo for Ladies Reveals Halloween Room

CAFETEL Kyoto Sanjo for Ladies, a hotel in Kyoto exclusive to female guests, is offering a new Halloween room plan between October 1 and November 1. There is just one room and it can only be booked for one day between that period. This plan was offered last year and was a resounding success amongst guests.

Last year's Halloween room took on a more cute and bright theme, but they're going for something darker this time. The theme this year is "The Secret Witches-Only Get-Together," with all ideas and designs conceived and handmade by the hotel staff themselves.

Guests will find decorations all around the room, such as bats on doors and walls who will listen in on the witches' gossip to creepy crawly spiders in the bed. Candles are provided in the room to set the Halloween mood, and there's even witch and devil costumes and props for guests to dress up in.

Free goodies for the witch get-together

Guests can enjoy a gorgeous view of the Kamogawa River from their room. They are also presented with a free Halloween drink exclusive to those who stay in this room.

Information

CAFETEL Kyoto Sanjo for Ladies

Running: October 1, 2020 – November 1, 2020

Rooms: 1 (up to 3 people)

Price: From ¥10,650

Official Website: https://cafetel.jp/

nol kyoto sanjo: Kyoto's New Hotel Renovated From an Old Townhouse

Tokyu Land Corporation are set to open the new hotel "nol kyoto sanjo" in central Kyoto on November 1, 2020. The hotel is just a 5-minute walk from Karasuma Oike Station.

A place where you can be yourself

Hotels in Japan are more and more catering to a wide variety of guests' needs as well as not only providing convenience and being affordable, but creating a space that really places importance on peoples' stay experience. And nol kyoto sanjo follows suit, allowing people to both let their hair down where they can be themselves as well as enjoy the local area. This comes in response to peoples' desire to have a stay experience that feels like it's their own home.

Clad in Kyoto, living in Sanjo

The concept for the hotel's design was conceived by Kyoto Vintage. Sanjo-dori is connected to Kyoto's main street, making it a convenient location for reaching the city centre. It's also home a variety of architectural examples from old, ancient buildings to more modern ones built during the Meiji Period. Surrounding the hotel is a whole selection of cafes famous for their breakfast menus, restaurants that use local ingredients, long-standing stationery shops, and more. The hotel sits in the perfect spot for coming in contact with the local people and city.

The hotel lounge built from an old townhouse

The hotel site is renovated from a townhouse that was built during the Edo Period. It was formerly used as a place for selling Kinshi Masamune sake. To ensure that old, quaint charm was preserved in the refurbishment, the hotel hired a Japanese designer and planner who is known for renovating these kinds of townhouses in Japan.

The entrance to the hotel greets guests with the lounge which gives people a chance to kick back and relax in this authentic building. Guests are even given some Kinshi Masamune sake as a welcome drink.

High grade guest rooms for medium to long stays

There are three kinds of guest rooms including 2-people rooms, 4-people rooms, and rooms with an additional Japanese-style room attached to it, for a total of 48, all of which face the hotel gardens. The rooms were designed by Yukio Hashimoto who has made sure to preserve both the townhouse and feel of the materials which have only ripened with age while adding a high grade feel to them. The scent of hinoki leaf invites you to relax in your room. All rooms are equipped with microwaves, washing machines, and mini kitchens too, making it perfect for guests looking to stay a while. Pick up some local ingredients from town and get cooking.

Old-time Kyoto served in a new style

Old townhouses used since ancient times are on the decrease in Kyoto. By renovating and reusing, new life can be breathed into them while promoting that ancient culture. If you're planning a trip to Kyoto, be sure to check out nol kyoto sanjo, opening November 1, 2020.

Information

nol kyoto sanjo

Grand Opening: November 1, 2020

Address: 700 Osakazaimokucho, Nakagyo-ku, Kyoto, Japan (in Japanese: 京都市中京区堺町通姉⼩路下る⼤阪材⽊町700 番)
Rooms: 48

Access: 5-minutes on foot from Karasuma Oike Station

Official Website: https://www.nolhotels.com/kyoto-sanjo/

Luxurious Matcha Loaded Parfait Served Up at MICASADECO&CAFE KYOTO

MICASADECO&CAFE KYOTO had to shorten its menu due to the effects of COVID-19. Their legendary parfait too was taken off the list, but now has finally returned, and even more delicious looking than ever.

MICASADECO&CAFE KYOTO has tried to make the parfait as breathtaking as possible, and they've certainly captured that. It's vivid like the furisode long-sleeved kimono worn by the maiko of Kyoto, beautiful and dignified.

Uji Matcha Pudding & Raspberry Parfait | ¥1,250 (Tax Included)

This towering parfait is made up of many layers, one of which is a homemade Japanese-style pudding made with high quality matcha from Uji, Kyoto. It has a subtly sweet and deep flavour, and is taken to the next level with the matcha sauce it's served with.

The homemade raspberry jam brings a delightful sweetness too as well as adds that eye-catching aspect they're going for. As you spoon your way through, your taste buds are treated to an amalgamation of indulging flavours.

The lid that's sat on top of the parfait is actually a tuile biscuit. The best way to go about beginning your feast is to break the biscuit and then pour the matcha sauce inside.

Hidden within the parfait are also pieces of homemade matcha brownies made with lots of top grade matcha.

These parfaits will be served from September 14 but are limited in stock, so if you're in Kyoto this month, make sure you don't miss out.

Kyoto Neko Neko x eXcafe Kyoto Arashiyama Collaborate On Breakfast Dishes

eXcafe Kyoto Arashiyama is collaborating with Kyoto Neko Neko to release a new breakfast menu order on September 15, 2020.

eXcafe Kyoto Arashiyama sits in an alley off the main street of Arashiyama, one of Kyoto's most famous sightseeing spots. The cafe is home to a spacious 400㎡ modern Japanese garden.

Hoku Hoku Dango Set

The cafe is open from 10am-6pm and is so popular that it's common to always see a line of people waiting to go in. Some of their most popular dishes include the "Hoku Hoku Dango Set" which has you frying your own dango using a traditional Japanese shichirin BBQ, and the "Kuromaru Roll" roll cake.

Ikusu Cafe Breakfast | ¥1,280 (Before Tax)

The cafe's collaboration with Kyoto Neko Neko comes with cute thick-cut cat-shaped bread that you fry on a charcoal shichirin.


Toast toppings include red bean paste, butter, whipped cream, and fruits which you are free to use to create your own topping combination. The breakfast also comes with two mitarashi dango for dessert.

Information

eXcafe Kyoto Arashiyama
Address: 35-3 Sagatenryūji Tsukurimichichō, Ukyo Ward, Kyoto
TEL: 075-882-6366
Business Hours: 10:00-18:00 (Breakfast served from 8:00)

Official Website: https://nekoshoku.jp/

World Heritage Site Nijo Castle to Welcome Gorgeous Goldfish Art Exhibition

Kyoto City and Art Aquarium are set to host Art Aquarium Castle -Kyoto・Kingyo Dance- this year at the World Heritage Site of Nijo Castle from October 14 to December 7.

Art Aquarium is an art, design, and entertainment fusion created by aquarium artist Hidetomo Kimura, who opened the first ART AQUARIUM MUSEUM in Nihonbashi, Tokyo back in August.

Art Aquarium Castle -Kyoto・Kingyo Dance- will be the first outdoor exhibition by Art Aquarium, vividly portraying the Japanese world of goldfish and carps through traditional Kyoto-inspired works.

Exhibition Concept

Nijo Castle has a rich history. Constructed by Tokugawa Ieyasu in the early days of the Edo Bakufu, it is a striking symbol of the Edo Period. It will play as the stage for the exhibition, which will be themed on goldfish—which first arrived in Japan in the Muromachi Period and became a boom during the Edo Period—and carp, which were propagated to Japan in the Edo Period.

Displayed artwork will be inspired by the castle's Ninomaru Palace and sliding door artwork, the season flowers that bloom in the Ninomaru Palace Gardens and castle grounds, and more. It will be a marriage of both historical art and contemporary art that captures the beauty of Japan.

Lotusrium: Its first exhibit in western Japan

The design motif based on the lotus, a flower whose name is a seasonal haiku word for summer. Lotus plants require thick, muddy water in order to make the large, beautiful flowers bloom, despite the hardship and difficulty they must overcome to do so. This art piece imbibes a worldview of grace and splendour that interweaves the lotus, a symbol of beautiful and painfully ephemeral things, with the kingyo, an elegant fish that swims beautifully.

Sakurarium: A flower symbolising Nijo Castle

Combined with the cherry blossom shape of compound works. Swimming freely under the shining of the cherry blossoms, those are goldfish bearing "Sakura" such as Sakura Nishiki, Sakura To Nishiki and Sakura Ryukin,

Taisei Hokan Kingyo Large Byobu: A large-scale piece capturing Nijo Castle's history

The huge fish tank with a length of 5.4 meters and an expansion of 18 screens projected beautiful paintings like splash-ink art through light and shadow. Countless goldfish swim among them, interpreting the changing process of Japanese art history in the scattered lights.

Even more new artworks are scheduled to be displayed. If you're in Kyoto this autumn, don't miss Art Aquarium's first-ever outdoor exhibition.

Information

Art Aquarium Castle -Kyoto・Kingyo Dance- 

Running: October 14 – December 7, 2020

*No Closing Days

Opening Hours: 17:00 – 22:00 (Last Entries: 21:30)

Location: Front yard of Ninomaru-goten Palace Daidokoro Kitchen, Courtyard of Ninomaru-goten Palace, Nijo Castle

* The exhibition will also take place in the Daidokoro Kitchen for a short period of time.

Address: 541 Nijo-jo-cho, Horikawa-nishi-iru, Nijo-dori, Nakagyo-ku, Kyoto City

Official site: https://artaquarium.jp/branch/kyoto

4 Must-Try Kawaii Parfaits in Kyoto – MOSHI MOSHI NIPPON

Though autumn is not far off, the summertime heat of Japan has yet to let up, and so what better way to keep cool than treating oneself to a parfait? Here are 5 must-try parfaits that are popular in Kyoto, with photos and descriptions provided by Instagrammar Tiara who posts and reviews desserts around Japan's Kansai region.

CAFE YAMANEKO / Ryōan-ji, Kyoto

Orange Parfait

CAFE YAMANEKO is located along Kinukake-no-michi, a road that connects the Kinkaku-ji, Ryōan-ji, and Ninna-ji temples. Their Orange Parfait is made with a delicious jam that uses all of the orange right down to the peel, and is topped with a Japanese-style pudding, vanilla ice cream, and orange and caramel sauces.

▼CAFE YAMANEKO
Address: 39-6 Tōjiin Kitamachi, Kita-ku, Kyoto
Opening Hours: 11:00-17:30
Official Instagaram: https://www.instagram.com/kyoto_cafe_yamaneko/

CAFE attmos. / Shichijo

Ichijiku Parfait

CAFE attmos. serves super sweet desserts made with choice seasonal fruits. I ordered the 'Ichijiku Parfait' which is made with lots of figs harvested in Kyoto. It was really delicious.

▼CAFE attmos.
Address: ELLA490 1F, Shimoumacho, Higashiyama-ku, Kyoto
Opening Hours: 9:00-17:00
Instagram: https://www.instagram.com/cafe_attmos/

Chocolat BEL AMER Kyoto Villa / Sanjo Sakaimachi

Peach & Chocolate Parfait

This kawaii parfait has a whole mix of ingredients from peach to white chocolate ice cream, sweet white bean paste mousse, crunchy meringue, and more♡ The meringue really adds something different to the parfait.

▼BEL AMER Kyoto Villa
Address: 66 Sanjodori Sakaimachi Higashi Iru Kitagawa Masuyacho, Nakagyo-Ku, Kyoto
Opening Hours: 10:00-20:00

Official site:https://www.belamer-kyoto.jp/

La Klassique / Demachiyanagi

Cherry Glass Dessert

La KLASSIQUE is a cafe close to Shimogamo Shrine. Their "Cherry Glass Dessert" parfait is loaded with ingredients, including cherry sorbet, whipped cream, milk ice cream, fruity red wine sauce, cinnamon crumble, rosehip, blood orange, cherries, meringue, red bean paste, and more. The red wine sauce makes this one for the grown ups to enjoy.

▼La Klassique
Address: 13-9 Shimogamo Morimotocho, Sakyo-ku, Kyoto
Opening Hours: 10:00-18:00
Official Instagram: https://www.instagram.com/laklassique/

These parfaits are available until the end of August and are limited to 15 servings per day. Visit the cafe's official Instagram to find out about reservations.

For more recommendations on desserts to try around the Kansai region of Japan, follow Tiara over on Instagram.

Original Japanese Text & Photos: @happy_pinkrose_tiara

*The information about the items on this list are correct at the time of publishing. For the latest information, please visit each cafe's official websites and social media pages.

THE HIRAMATSU KYOTO Announces Special Exhibition On the Gion Festival's Floats

THE HIRAMATSU KYOTO, a hotel managed by Hiramatsu, has announced a limited-time exhibit of a miokuri—a decoration that is placed on the back of festival floats at the Gion Matsuri, a traditional festival that has continued every year since 869. The exhibit will be exclusive to guests staying or dining at the hotel.

Muromachi-dori, the main street where Gion Matsuri's pre-festival is held

Muromachi-dori is a street facing THE HIRAMATSU KYOTO that connects northern and southern Kyoto. The street has its origins in Heian-kyō, one of the former names for Kyoto. Along one block of the street is where the Muromachi-dono, or Muromachi Palace, was constructed—the palace of the Ashikaga clan where Ashikaga Yoshimitsu resided—and this is where Muromachi-dori gets its name.

The Gion Festival is held every July. The day before the festival begins is known as Yoiyama, and it's on this day that a monk of the Shōgo-in Monzeki Temple will burn cedar sticks along Muromachi around an Ennogyojayama float.

THE HIRAMATSU KYOTO is now exhibiting a miokuri—a decoration that is placed on the back of festival floats at the Gion Matsuri—in coordination with the Ennogyojacho Yamaboko Association. Due to the COVID-19 outbreak, the float was unable to be paraded around at this year's Gion Matsuri, but the hotel's will enable guests to still enjoy seeing the float off to an extent with the exhibit. It's a chance for people to still feel the history and culture of the festival, as well as pray for the pandemic to blow over—as the extermination of infectious diseases is something rooted in the Gion Festival.

The Ennogyojayama festival float

The Ennogyojayama float is one of the many floats paraded towards the end of the Gion Festival, dedicated to the ascetic and mystic En no Gyōja, also known as En no Ozunu. On this float you will spot people dressed up as various historical names including En no Gyōja, Katsuragishin, and Hitokotonushi-no-kami, who play out the story of the miracles enacted by En no Gyōja's.

Miokuri: A decoration used since the 16th century

The name of the decorative miokuri in Japanese means "seeing off." It gets its name as this is the last thing you see of the float as it parades away. The two miokuri used on the Ennogyojayama float represent yin and yang. Both were produced in the 16th century and are registered as cultural properties.

Shinryu Flag

This one is made up of two flags with designs of Shinryu, the Japanese form of the dragon Shenlong from Chinese mythology.


Left: 紅地唐美人 | Right: 金地唐美人図

Back Left: 紅地唐美人図 | Back Right: 金地唐美人図 | Front: 洛中洛外図屏風

Various folding screen art pieces are also being exhibited alongside the miokuri.

artKYOTO 2020: The Art Fair at Kyoto's World Heritage Site Nijō Castle

artKYOTO 2020 will take place at the World Heritage Site and former imperial villa Nijō Castle from November 6-8.

This marks the second-ever run of the event, following the success of the first last year. Once again, the grand and breathtaking Nijō Castle serves as the venue for the event where around 30 of Japan's best galleries, both old and contemporary, come together to exhibit various artworks to the people of Kyoto.

With the COVID-19 pandemic having affected Japan's economy as well as impacting society overall due to the many restrictions on movement, artKYOTO 2020 aims to bring back art and culture, as well as help circulate the economy, and contribute towards artists while promoting the value that art has on society.

Art Fair

Photo from artKYOTO 2019


Photo from artKYOTO 2019 | Photo by office TKD

The first artKYOTO event saw 31 galleries come together to promote Japan's art industry through Kyoto's history and culture. This year will see a diverse exhibit from old works to contemporary pieces.

artKYOTO 2020 will adopt all of the necessary precautions against COVID-19 while still delivering a a fully-fledged experience for people to enjoy art.

Information

artKYOTO 2020
Running: November 6, 2020 – November 8, 2020
Opening Hours: 11:00-20:00 (Until 17:00 on November 8)
Location: Nijo Castle, 541 Nijojocho, Nakagyo Ward, Kyoto

Official Website: https://artkyoto.jp/

Fall Into Autumn With an Enchanting Boat Ride Through Arashiyama in Kyoto

HOSHINOYA Kyoto has announced a special new serving for one group a day that lets them bask in the autumn colours of Arashiyama. The service, entitled "Asa no Momiji Bune" (Morning Autumn Colours Boat), will run from November 20 to December 6 this year.

A cosy autumn morning boat ride all to yourself

Sail down the tranquil Oi River, which runs right beside HOSHINOYA Kyoto, and bask in the surrounding sights of Arashiyama and Ogurayama as they burn aflame with autumnal colours. Wrapped in reds and yellows in every direction, this morning experience is a rare opportunity witness Japan's fall season like never before as you gaze at the crisp leaves of the trees and their reflection from the water's surface.

Sweet wagashi treats just for you

While on the boat, guests are treated to a cup of matcha and some seasonal Japanese wagashi confections, like hard candies shaped like HOSHINOYA Kyoto's logo and other colourful sweets made to look like maple leaves, ginkgo leaves, and more. These confections are made exclusively for the boat ride by Kameya Yoshinaga, a Japanese sweets shop that has been around since 1803, while the matcha is provided by Rishouen Chasho, a tea shop in Uji, Kyoto who have picked out specially selected leaves just for HOSHINOYA Kyoto.

The roofed Kingfisher boat

The boat guests will ride is owned by HOSHINOYA Kyoto and is called "Hisui" (Kingfisher). A switch can change the rooftop colour from white to transparent so you can look up and see the gorgeous blue sky.

If you're in Japan this autumn, and still need to find a hotel, why not treat yourself to a luxurious morning boat ride at HOSHINOYA Kyoto?

Information

Asa no Momiji Bune / 朝のもみじ舟 (Morning Autumn Colours Boat)
Running: November 20, 2020 – December 5, 2020

Time: 8:30-9:10

Boarding/Return: HOSHINOYA Kyoto

Price: ¥31,000 per group (tax, service charge, and hotel fee not included in price)

Includes: Boat ride, Japanese confections, matcha

Participation: Exclusive to HOSHINOYA Kyoto guests

Capacity: 1 group of 1-4 people per day

Reservations Required: Book at https://hoshinoya.com/kyoto/

Note: The boat ride will be cancelled during stormy weather

Premium Hotel MGallery to Open New Kyoto Yura Hotel Nijo Castle This November

MGallery, a collection of over 5,000 luxury boutique hotels in 110 countries worldwide, landed in Japan for the first time last year with the opening of the 5-star KYOTO YURA HOTEL MGallery in Kyoto. Now, the brand has announced the opening of the new "Kyoto Yura Hotel Nijo Castle MGallery" (Kyoto Yura Hotel Nijo-jo Bettei) which will open on November 28, 2020.

Situated just a short 1-minute stroll from Njio Castle Station, this small, 25 room hotel, aims to offer luxury at the highest level.

Kyoto Yura Hotel Nijo Castle MGallery was designed by Yukio Hashimoto, who has worked on countless hotels and facilities around the world. The hotel lobby and all guest rooms face a gorgeous Japanese-style garden where guests can enjoy its beautiful sights through all four seasons.

The hotel takes inspiration from Nijo Castle, a structure which has seen both the end of the shogun as well as the start of modern Japan. As you enter the hotel, from the front door through and through the main entrance, guests will find themselves in their own private domain before they reach the breathtaking Japanese garden in front of them. All 25 of the guest rooms are crafted with high quality, sophisticated interiors.

On the first floor of the hotel, guests will find a restaurant and bar. The restaurant cooks up creative French dishes made delicately with seasonal ingredients while the bar serves up MGallery's iconic "mixology" cocktails.

Kyoto Yura Hotel Nijo Castle MGallery also offers a range of activities which can't be experienced anywhere else, including private trips to local shrines and temples that the hotel has connections with.

Information

Kyoto Yura Hotel Nijo Castle MGallery (Japanese: 京都悠洛ホテル⼆条城別邸)

Grand Opening: November 28, 2020

Address: 180 Ichinochō, Nakagyō-ku, Kyoto