Steve Aoki Remixes Kyary Pamyu Pamyu's Hit Song 'Ninja Re Bang Bang'
Famous DJ Steve Aoki has remixed Kary Pamyu Pamyu's hit song Ninja Re Bang Bang. The remix will be released worldwide simultaneously on June 25, 2020 (JST).
The new remix was created in collaboration with the heavily anticipated Nintendo Switch™ game Ninjala – the multiplayer action game where bubble gum is your primary weapon. The news of the remix was unveiled when Kyary Pamyu Pamyu took part in a guest stream to promote the game.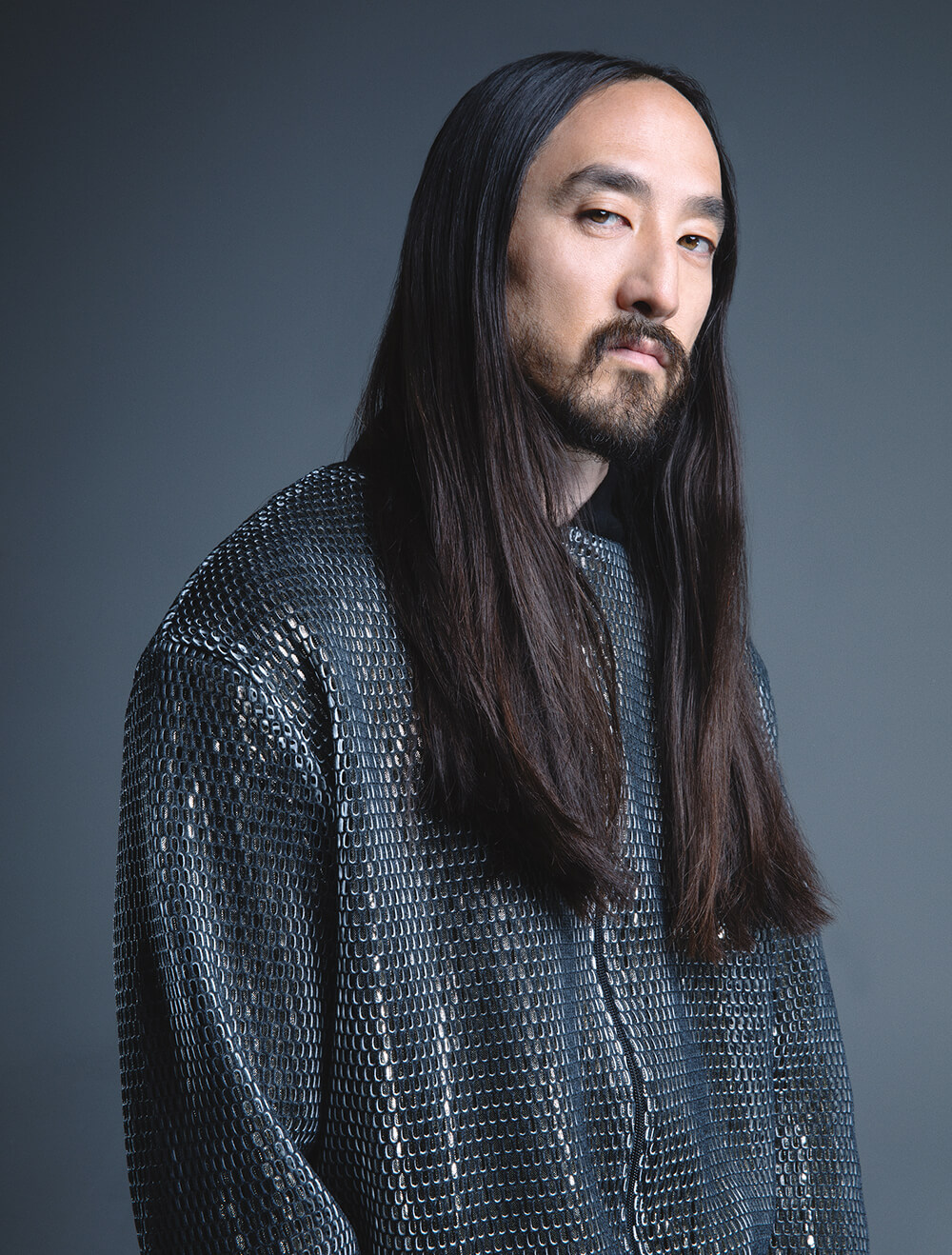 As the entire world is eagerly awaiting for the game to drop, the news of a collaboration with world-famous names Kyary Pamyu Pamyu and Steve Aoki has taken things to a whole new level. DJ Steve Aoki is a self-proclaimed fan of Kyary's producer Yasutaka Nakata and a keen gamer with his own e-sports team and deep knowledge and love for the gaming world. This is clearly the ultimate tag team.
Ninja Re Bang Bang Steve Aoki Remix will be released by Steve Aoki's label Dim Mak in America and Smash the House, famously known for being a host of the huge European festival Tomorrowland.
The album artwork has also been unveiled, revealing an illustration of Kyary Pamyu Pamyu and Steve Aoki sharing what seems to be the most unbreakable handshake ever imaginable. Their cartoon arms twist together, showing their confidence in each other. The artwork was created by Steve Nakamura, who has designed artwork for many of Kyary's albums.
From June 24, 2020, the new remix will feature as the ending theme song for the Ninjala cartoon anime which you can catch on Ninjala's official YouTube channel. The remix will also feature as the commercial song for Ninjala TV commercials which will be broadcast across Japan from June 25.
For Steve Aoki, Kyary and Ninjala, the collaborations are only just getting started. Stay tuned as the trio release even more exciting contents together.
A Statement from Kyary Pamyu Pamyu
"I'm so pleased to announce that world-famous DJ Steve Aoki has remixed my song Ninja Re Bang Bang, which was released seven years ago! Although many live concerts held overseas and even in Japan have been cancelled due to the coronavirus pandemic, I'm so happy that I can still deliver music and happiness to fans through Ninjala. The remix will feature on Ninjala's commercials and cartoon anime so please look forward to it!"
©GungHo Online Entertainment, Inc. 
Information
Ninja Re Bang Bang Steve Aoki Remix
Release Date: June 25, 2020 (June 24 in Europe and America)
Release:
ASOBIMUSIC
Dim Mak (America)
Smash the House (Europe)
Kyaryu Pamyu Pamyu Official Website: http://kyary.asobisystem.com
Steve Aoki Official Website: http://www.steveaoki.com
Ninjala
Platform: Nintendo Switch™️
Release Date:
Download: June 25, 2020 (Subject to change)
Package Version: July 22, 2020 (Subject to change)
Languages: Japanese, English, French, Italian, German, Spanish, Chinese (Traditional/ Simplified), Korean (Subject to change)
Official Website: https://ninjalathegame.com/jp/
RELATED ENTRIES
MONSTER HUNTER RISE Nintendo Switch Accessory Series Includes Items Inspired by In-Game Monsters

A new collection of official MONSTER HUNTER RISE accessories for the Nintendo Switch is set to be released in Japan on March 26, 2021. It is unconfirmed whether the items will be released outside Japan.

MONSTER HUNTER RISE Magnamalo Grip Controllers for Nintendo Switch | ¥5,478 (Tax Included)

MONSTER HUNTER RISE Palico & Felyne Hand Pouch for Nintendo Switch | ¥2,178 (Tax Included)

MONSTER HUNTER RISE 64GB micoSD Card + Palico Card Case for Nintendo Switch | ¥6,578 (Tax Included)

MONSTER HUNTER RISE 64GB micoSD Card + Felyne Card Case for Nintendo Switch | ¥14,278 (Tax Included)

©CAPCOM CO., LTD. ALL RIGHTS RESERVED.

Kyary Pamyu Pamyu's New Song 'GUM GUM GIRL' Features in Nintendo Switch's Ninjala Commercial

This year marks the 10th anniversary since Japanese pop star Kyary Pamyu Pamyu made her debut, and to kick off 2021, she has announced the release of a new single titled GUM GUM GIRL which will hit music streaming and download platforms on January 29, 2021.

The GUM GUM GIRL single artwork painted by Kyary

The cover art for GUM GUM GIRL was painted by Kyary herself on a canvas using acrylic paints. Kyary painted with passion for her 10th anniversary year.

The singer also unveiled a new look which features metallic silver paper to represent the inside of gum packaging. Her magical makeup sees her face lined with rhinestones, serving stylish, futuristic vibes.

Kyary has been involved in the promotion of the Nintendo Switch title Ninjala, and in the game's latest commercial, she makes an appearance alongside Japanese comedy trio Yonsen Toshin to play the game. You can also hear a snippet of GUM GUM GIRL in the commercial. Check it out below.

Ninjala Commercial feat. Kyary Pamyu Pamyu

Ninjala is a popular title across the globe having been downloaded over 5 million times. In June 2020, a remix of Kyary Pamyu Pamyu's hit song Ninja Re Bang Bang was released by Steve Aoki in collaboration with the game. The song was also made available in-game in October.

Kyary is once again teaming up with Ninjala to feature her new single GUM GUM GIRL in-game, and a special GUM GUM GIRL T-shirt is being released for player avatars. These will be available from January 29 to February 18. Ninja Re Bang Bang Steve Aoki Remix, the clothing item, and dance emote released for that song will also be re-released during this time.

Kyary will premiere a brand new music video for GUM GUM GIRL on her YouTube channel at the stroke of midnight (JST) when January 28 turns to January 29. In the meantime, fans can check out Kyary discussing ideas for the music video with Yasutaka Nakata and her team. The can be watched in Japanese below.

The Making of "GUM GUM GIRL"

Kyary Pamyu Pamyu shows her gratitude for her 10th anniversary year with the release of GUM GUM GIRL which is sure to brighten up anyone's day who has been feeling down during the COVID-19 pandemic. Stay tuned for the official release.

Captain Tsubasa: Rise Of New Champions Releases Free Demo On PlayStation®4 and Nintendo Switch™

The official Twitter account for the association football game Captain Tsubasa: Rise Of New Champions announced the release of a free demo which hit PlayStation®4, PlayStation®5 and Nintendo Switch™ on Thursday (January 14). The demo offers a chance for players to experience the Tutorial and Versus modes.

Tutorial Mode

Versus Mode

The game is based on the popular sports anime and manga series Captain Tsubasa and features anime-style graphics. It features familiar faces and high-speed action from the series. It also comes as the series' first ever action soccer game.

Tutorial Mode teaches players the basics of the game while Versus Mode allows them to play a match with one of the four teams including a 4-player online mode. This is a great opportunity for football lovers who have yet to play the game to try it out.

©高橋陽一/集英社·2018キャプテン翼製作委員会
©BANDAI NAMCO Entertainment Inc.

Ninjala Season 4 Brings New Weapons, Stage, and More

Season 4 for the Nintendo Switch™ title Ninjala finally dropped on January 7, 2021.

In the colourful world of Ninjala, players blow bubble gum to craft different weapons and fight using the fighting style of ninjutsu. Players can also transform into nearby objects, and they must use parkour to traverse different landscapes while aiming to take down their opponents. Released on June 25 this year, the game has been downloaded over 5 million times.

Season 4 brings a new wintery theme with plenty of avatar items for players to enjoy. It also introduces two new weapons—the Scrap Saber and Chewing V—as well as a new stage called Fort Riverdale that features a gorgeous clock tower that glows beautifully against the night sky.

Adjustments have also been made to make battles smoother like shortened loading times, various UI improvements have been implemented, and new features have been added such as Ninjala Collection Cards.


A new episode of the Ninjala 2D Cartoon Anime entitled You're the Star! was released on PlayNinjala's official YouTube channel last Thursday (January 7) which can be enjoyed in English above.

© GungHo Online Entertainment, Inc.

Kyary Pamyu Pamyu Unveils Shiseido Beauty Square Spring 2021 Look

Following her Winter 2020 look for Shiseido Beauty Square, Japanese pop icon Kyary Pamyu Pamyu is serving something different with the unveiling of her look for Spring 2021.

The theme of this look is "2021: A Beauty Odyssey" with her hair, makeup, and outfit fusing together space and Harajuku-style beauty. It serves a romantic future full of hopes and dreams for the present.


The look was once again made in collaboration with top Shiseido hair and makeup artist Tadashi Harada.

If you're in need of makeup ideas for the New Year, and are in Tokyo this winter, be sure to pay a visit to Shieido Beauty Square where you're sure to discover a new you.

Information

Shiseido Beauty Square

Address: WITH HARAJUKU Floor 1F, 1-14-30 Jingumae, Shibuya, Tokyo

Opening Hours: 11:00-20:00

No Fixed Holidays
TEL: 03-5413-7717

Official Website: https://beautysquare.tokyo/

*Website available in English, Japanese, and Chinese

Luxury Animal Crossing: New Horizons Clothing Collection by gelato pique Gets More Stock

Japanese luxury loungewear and sleepwear brand gelato pique will open online orders for an additional stock of its Animal Crossing: New Horizons collection on December 22, 2020 at 12:00pm (JST).

Original pre-orders for the collection will begin over on Gelato Pique's official website on November 18. They will subsequently be released at the official Nintento TOKYO store as well as select Gelato Pique stores in Japan on January 13, 2021. Before that, they are also lining the shelves of a Gelato Pique pop-up store called "Gelato Pique Christmas Town" in Omotesando Hills which is running until December 25.

ABOUT COLLECTION

The collection is a collaboration with the Nintendo Switch™ title Animal Crossing: New Horizons. It captures the warm, cosy, laid-back life of the game in the form of comfortable loungewear so you can feel as soft and relaxed as the characters in the game.

Line-Up (Excerpt)

Jacquard Pullover ¥5,800

A Timmy & Tommy knitted jacquard pullover with a simple yet design.

[Colours: Brown/Cream/Grey] Hoodies ¥6,800 | Short Pants ¥4,200 | Set ¥11,000

Become your favourite character with a cosy ear-topped hoodie and pants.

Left: Fruit Pullover ¥5,400 | Fruit Long Pants ¥5,200

Left: Character Pullover ¥5,400 | Character Long Pants ¥5,200

Cut and sewn pyjamas with mini character designs and fruit patterns.

Left: Blanket ¥5,800 | Right: Jacquard Blanket B ¥5,800

Stay warm with these Timmy & Tommy blankets.

Additional Stock Orders

Additional stock orders will take place on gelato pique's online store and USAGI ONLINE. It will run through a lottery system with random people being chosen. You will also need a Japanese address to receive the items.

Running: December 22, 2020 at 12:00 (JST) – January 17, 2021 at 23:59 (JST)

Product Delivery: January 23, 2021

Stay cosy and warm this winter with the critters of Animal Crossing.

© 2020 Nintendo

Information

Gelato Pique x Animal Crossing Collection
Releasing: December 18, 2020 at 12:00pm (JST)
Gelato Pique Official Online Store: https://gelatopique.com/20201116_01
USAGI ONLINE Official Website: https://usagi-online.com/s/201116PIQ/

Gelato Pique Christmas Town
Running: December 18, 2020 – December 25, 2020
Location: Space O, Omotesando Hills Floor B3F
Products: Animal Crossing meets GELATO PIQUE

In-Store Purchasing
Release Date: January 13, 2021
Locations: Select Gelato Pique stores / Nintendo TOKYO
*Only a selection of the products will be sold, the full collection is available online

Super Nintendo World Theme Park Area to Open at Universal Studios Japan in February 2021

Universal Studios Japan (USJ) has announced that its highly-anticipated new Super Nintendo World area will open on February 4, 2021, which also happens to fall on the day of USJ's 20th anniversary.

Super Nintendo World comes as the world's first theme park area to be based around Nintendo's characters and games, combining innovative ideas with cutting-edge technology.


While the grand opening is still a couple of months away, USJ is teasing fans by unveiling a portion of the park's Mario Kart-themed ride which takes place inside of a reconstructed Bowser's Castle.

Bowser's Castle

Bowser's Castle stands as one of the main symbols of Super Nintendo World. It's a faithful recreation with towering stone walls, thick and heavy steel doors, pointed iron fencing, and more, not to mention the enormous stone Bowser statue that adorns the middle of the winding staircase ready to greet guests. There are plenty of thrills and chills to look forward to inside the castle of the King Koopa himself.

Mario Kart: Koopa's Challenge will open as the world's first theme park ride centred on the popular video game series Mario Kart.


Thomas Garrity (Universal Creative, Executive Producer) | Comment

"Deep inside Bowser's Castle lies Mario Kart: Bowser's Castle, a collaborative effort between Nintendo and Universal Studio's Creative Team to recreate the world of the hugely popular Mario Kart series which has sold over 150 million copies. Guests will put on their headsets and experience limitless excitement and thrills as they speed around courses." (Translated from Japanese by MMN)

Mario Kart: Koopa's Challenge

Mario Kart: Koopa's Challenge is an XR ride that lets people feel like they are inside the world of Mario Kart while in the real world. The ride will feature all the details fans of the video game series are familiar with as they drift and spin around exciting courses alongside the game's characters while collecting items from boxes to use on their opponents.


The attraction makes use of AR and projection mapping technology to make the game as immersive as possible. Fans are sure to love driving through their favourite courses and scenes recreated using leading-edge technology. The attraction is six years in the making and the results of efforts between Nintendo's Creative Team, USJ, and the legendary Shigeru Miyamoto himself.

Endless fun for fans of Mario

SUPER NINTENDO WORLD will be the first-ever multilevel Nintendo-themed area at USJ, and the first of its kind in the world. Fans of the internationally beloved games can expected to see a whole host of rides and attractions dedicated to their favourite characters, from Mario Kart to Yoshi and beyond, as well as a themed cafe, merchandise shops—the list goes on. There is endless amount of fun for fans to feel a part of the Nintendo world as they take up the role of Mario and hit blocks to receive coins, collect items, and much more.

Guests will be able to purchase the Power Up Band, a wristband that works together with a smartphone app that allows you to collect virtual coins by punching Questions Blocks like Mario which are scattered around the park. Scores can be seen on the leaderboard so you can see how you stack up against other players.

Nintendo's New Super Mario Merchandise and Lights Are a Must-Grab For Gamers

Nintendo has announced that this winter they will release five new Super Mario related products. They are also releasing four new Super Mario lights in collaboration with UK-based gifts company Paladone Products at the end of November.

Super Mario Home & Party Merch

2-Way Large Wrapping Bag (Mario) | ¥1,600 (Before Tax)


2-Way Small Wrapping Bag (Super Mushroom) | ¥1,300 (Before Tax)

Bag up your presents, whether your own or somebody else's, in one of the two wrapping bags featuring Super Mario and Super Mushroom designs. They can even be used for shopping or storing things. Both are also fitted with cute Question Block pockets inside.

Zipper Bag (Mario/Super Mushroom) | ¥800


Zipper Bag (Yoshi/Egg) | ¥800

Another great idea for storage are these zipper bags which are great for putting away small items like stationery and cosmetics. There are two sets: the Mario/Super Mushroom set or the Yoshi/Egg set, both of which come with five zipper bags of each design.

Message Cards & Envelopes | ¥800

Write a fun card to someone this holiday season. The envelopes are Question Blocks, so when you take the card out it looks like it does in the Super Mario games where the items come out of the blocks.

Super Mario Lights (4 Designs) | ¥1,500

These palm-sized lights are made by UK-based gifts company Paladone Products and so are also available outside Japan. Perfect for decorating any gamer's room or desk.

© Nintendo
TM&© 2020 MANUFACTURED BY PALADONE PRODUCTS LTD, APEX HOUSE, DOLPHIN WAY SHOREHAM BY SEA,WEST SUSSEX BN43 6NZ UK

Kyary Pamyu Pamyu Adorns Shiseido Beauty Square in Harajuku With New Winter Look

Following her Halloween-inspired look for Shiseido Beauty Square, Japanese pop icon Kyary Pamyu Pamyu returns to the beauty facility with a new white and snowy winter look which was unveiled on Monday (November 2).

Shiseido Beauty Square

Kyary Pamyu Pamyu became the ambassador for Shiseido Beauty Square when it opened back in June. The concept of the beauty facility is centred on having people discovering their beauty, having fun, sharing experiences, and learning the latest in the scene

Winter Key Visual

Kyary's winter look for 2020 features a breathtaking headdress inspired by snowy skies, silver flowers, and powdery snow. The look was made in collaboration with top Shiseido hair  and makeup artist Tadashi Harada.

If you're stuck on what makeup to wear for winter, and are in Tokyo this holiday season, be sure to pay a visit to Shieido Beauty Square where you're sure to discover a new you.

Information

Shiseido Beauty Square

Address: WITH HARAJUKU Floor 1F, 1-14-30 Jingumae, Shibuya, Tokyo

Opening Hours: 11:00-20:00

No Fixed Holidays
TEL: 03-5413-7717

Official Website: https://beautysquare.tokyo/

*Website available in English, Japanese, and Chinese

Concert Review: Kyary Pamyu Pamyu Performs Halloween Concert Online For Fans Worldwide

Kyary Pamyu Pamyu's first-ever online concert "THE FAMILY 10.31" was held on October 31, aka Halloween Day, where she performed on the streaming site SHOWROOM. Kyary wanted to make this one-night-only concept concert like a movie, and so incorporated elements from horror films as Kyary herself is a horror fanatic.

The show began with a creepy looking man appearing on the screen who called himself the Butler. The scene was set deep inside a forest which houses a certain residence. This residence belongs to The Family who decided to live in the forest to hide form humans.

Fans watching the stream became part of the concert. In the story, viewers find themselves lost in the forest at the residence, and must pretend to be monsters so as to not be found out by The Family who detest humans. They are invited to a banquet hosted by The Family's Master and Mistress and also meet a roster of other characters including the Twins and of course the eldest daughter who is accompanied by a black cat. The daughter was played by none other than Kyary Pamyu Pamyu who wore dark and smoky makeup and donned a black dress with a white cross and frills down it. The stage itself was themed on the residence's reception hall where Kyary performed hits such as Fashion Monster and Kira Kira Killer.

On another stage, fans who had purchased special tickets could be seen at home enjoying the concert using the streaming platform's SHOWROOM Arena (β) function.

Kyary Pamyu Pamyu also performed Ninja Re Bang Bang Steve Aoki Remix live for the first time with fans cheering in the back. The song was remixed by DJ Steve Aoki for the Nintendo Switch™️ global title Ninjala. The song is an arrangement of Kyary's hit song and made to be more dance and club. Fans at home waved their penlights and towels to the track.

Kyary changed into a different red and black outfit which looked like a rafflesia and performed more hit numbers like Invader Invader, Mondai Girl, and Harajuku Iyahoi.

Kyary was also able to do multiple things she wouldn't normally be able to at an ordinary concert, like taking screenshots, or being reflected in the mirror as she sat in front of the dresser in the middle of the stage while performing Chami Chami Chaming. The entire set was a spook-filled Halloween extravaganza from the mind of Kyary.

The final song of the main set was of course Kyary's Halloween anthem Crazy Party Night ~Pumpkin no Gyakushu~. Kyary wrapped up her show by changing into a T-shirt to perform Kamaitachi for the first time as the encore, surprising fans as she so likes to do.

The entire set was an incredible 18 songs which were packed full of creepy-cute fun for fans to enjoy.

Photo © AKI ISHII

Kyary Pamyu Pamyu's 'Ninja Re Bang Bang Steve Aoki Remix' Now Available On Nintendo Switch's Ninjala

The developers of the hit Nintendo Switch™ title Ninjala have collaborated with Kyary Pamyu Pamyu once again by putting Steve Aoki's remix of her song Ninja Re Bang Bang into the game on October 29, 2020.

In the colourful world of Ninjala, players blow bubble gum to craft different weapons and fight using the fighting style of ninjutsu. Players can also transform into nearby objects, and they must use parkour to traverse different landscapes while aiming to take down their opponents. Released on June 25 this year, the game has been downloaded over 5 million times.

Steve Aoki released his remix of Kyary Pamyu Pamyu's hit track Ninja Re Bang Bang back in June. The track was subsequently used to promote Ninjala in commercials as well as an animated music video. The song proved so popular it made it onto numerous huge music playlists. The song is now available in-game for a limited time via the in-game Select Shop where it can be purchased to be played as part of the game's BGM.

But that's not all, as players can also purchase Kyary Pamyu Pamyu's outfit from the original Ninja Re Bang Bang music video including her costume and accessories. There's also an Emote that recreates the choreography from the song's chorus in the music video as well as a Ninja Re Bang Bang costume Ippon decoration.

Kyary will perform live on the SHOWROOM video streaming service on Halloween day with a special concert entitled "THE FAMILY 10.31." This themed show tells the story of a family living in a house in the woods. This one-night-only concept show will be streamed worldwide, and will see Kyary's first-ever live performance of Ninja Re Bang Bang Steve Aoi Remix.

Kyary Pamyu Pamyu | Comment

"I'd like to congratulate Ninjala on reaching 5 million downloads! People all around the world are enjoying the game right now, so I would love for them to get to hear 'Ninja Re Bang Bang Steve Aoki Remix' while playing the game! The 'Ninja Re Bang Bang' clothes and dance in the game are super cute, so you're sure to enjoy them! I'll also be performing the song live for the first time at my first online show, 'THE FAMILY 10.31,' on October 31! It's gonna have a different vibe from anything I've done, so look forward to it."

Information

Ninjala x Kyary Pamyu Pamyu "Ninja Re Bang Bang Steve Aoki Remix" Collab

Running: October 29, 2020 – November 26, 2020 at 10:59 (JST)

Official Website: https://ninjalathegame.com/jp/collab/kyary/​

Kyary Pamyu Pamyu Online Halloween Live 2020 – "THE FAMILY 10.31"
Date: October 31, 2020

Time: Open 16:30 (JST) / Start 17:30 (JST)

Ticket Window: October 1, 2020 at 13:00 (JST) to October 28, 2020 at 23:59 (JST)
Buy Tickets: https://kyary.net/store?groups=THE%20FAMILY%2010.31

Ticket Types
①Regular Ticket. Includes access to the live show only. Cost: ¥3,000 (Before Tax).
②Special Ticket. Includes access to the live show, SHOWROOM Arena (β), two limited-edition items, and access to the post-show talk. Cost: ¥12,000 (Before Tax).
Ticket Enquiries: https://kyary.net/inquiry

Kyary Pamyu Pamyu Official Website: http://kyary.asobisystem.com

Kirby Glittery Highlight Powder by CreerBeaute Released in Japan

Premium Bandai, the official online shop for Bandai products, opened pre-orders for its new called 'Kirby & Warp Star Shiny Powder' highlight powder from its own cosmetic brand CreerBeaute on October 22.'

Kirby & Warp Star Shiny Powder | ¥5,060 (Tax Included)

This compact highlight powder design takes inspiration from the popular Kirby video game series with the titular character riding on a shiny Warp Star.

The Warp Star is coloured golden to give it a high quality feel and has small stars decorated around it, as does the mirror inside to add a bit of fun when putting on makeup. Kirby himself is also grabbing on adorably to the Warp Star.

The powder comes in two colours which are formed to create an image of Kirby to greet you upon opening the lid: Kirby pink and milky blue. Use to highlight your cheekbones and tip of your nose.

The colours can be used separately or combined, and both powders contain malic acid and hyaluronic acid for beautifying and moisturising.

The powder is now available for pre-order on Premium Bandai, so don't miss out.

ⓒNintendo / HAL Laboratory, Inc. KB20-P2515