【Tokyo Dinner】The yakiniku restaurants that you want to use for special occasions.
The Yakiniku (Korean barbeque) restaurants in Tokyo have been changing these days.  The casual restaurants have been getting popular, but on the other hand, the restaurant that "they cook the meat for you" is becoming popular recently as well. When thinking about a Yakiniku restaurant, it was standard to grill the food in front of you by yourself. However, because of the popularities of big chunks of meat, the numbers of restaurants that serve thick-cut meat has increased. They want their guests to eat meat cooked the best way. That's why the yakiniku restaurant which serves cooked meat has been increasing.
The popular restaurants among yakiniku lovers especially are "Onuki" in Shinjuku and "Oniku-ya Keisuke Sannan-bo" in Hiroo. Since Shinjuku is close to Okubo which is said to be one of the leading Korean towns in Tokyo, Shinjuku has been considered to be "Yakiniku barren area." However, since the opening of the restaurant called "Onuki," it has become popular among yakiniku fans. They only have three course menus.
The regular meat and innards they serve are remarkably huge, but the most popular thing in this restaurant is the thick beef tongue. This beef tongue grilled by the staff has a great crispy texture even though it is very thick and juicy.
Onuki's Beef tongue. It appears as the first meal on the course menu. If you are patient and wait for it to cool down, you can taste the prime beef tongue that has rich meat juice. The course starts from 12000yen.
On the other hand, "Onikuya Keisuke Sannan-bo" which opened in last year in the Hiroo Shopping Street only serves Takamori Japanese beef which is a rare brand of meat from Yamaguchi prefecture. They have some entrees, but you should order the course menu so that you can enjoy the exclusive big chunk of steak.
It is great to enjoy looking at the red meat grilled slowly on the special ordered roaster. I bet you won't be able to suppress a grunt of deliciousness when you chew this big chunk of medium-rare cooked red meat. If you want to enjoy something luxurious, I recommend you to try these new style yakiniku restaurants.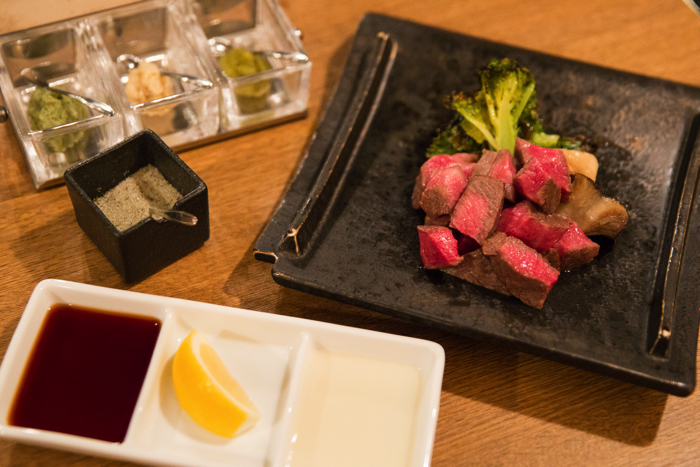 "Onikuya Keisuke Sannan-bo" Takamori Japanese brand, big chunk of prime beef steak.
They serve the best red meat that is fresh daily. It is fun to have a conversation with staff and wait until the meat gets ready. The course starts from 7500yen.
Address: 2-18-1 Shinjuku, Shinjuku-ku, Tokyo
Address: HONGOKU Bldg. B1F, 5-2-25 Hiroo, Shibuya-ku, Tokyo
Keiko Kodera:Writer
Kayo Sekiguchi:Photographer
−−−
Related article:【TokyoDinner】The food that has been loved with alcohol in old town Tokyo
Related article:Enjoy the authentic taste along on the Chuou railroad line
RELATED ENTRIES
BAND-MAID Announce First 'Online Serving' Live Stream Concert

BAND-MAID have announced details for their first ever no-audience, online Serving (concert) which will be live streamed on July 23, 2020.

According to the band's official website, the show will start at 4:00pm (JST). Tickets are scheduled to go on sale on July 9 from 12:00pm (JST).

In the run up to the concert, BAND-MAID have posted a live performance of their song Wonderland taken from February 14, 2020.

BAND-MAID / Wonderland (Feb. 14th ,2020)

It has also been announced that official pre-sales for the band's forthcoming performance at Nippon Budokan next year in February will go on sale on July 11, 2020.

Netflix Original Anime Series Japan Sinks 2020 New Clip Features Rap by Ken the 390

Japan Sinks 2020 is the first ever anime adaptation of Sakyo Komatsu's best-selling 1973 disaster novel Japan Sinks sometime this year. Set for release worldwide on Netflix on July 9, 2020, the series is being directed by Masaaki Yuasa, who is known for his unique free-flowing animation style, having directed such internationally-lauded anime series like Devilman Crybaby, Ping-Pong: The Animation, and The Tatami Galaxy.

New stills as well as a new clip have been released featuring the character Kaito, who is voiced by Kensho Ono, spitting bars in an uplifting rap that was written by Ken the 390.

The anime's story takes place in Japan in the year 2020. In the original Japan Sinks, the story follows that the Japanese archipelago will sink into the sea after a series of earthquakes and volcanic eruptions. This plot line follows in Japan Sinks 2020 too in which we see an ordinary family put to the test as a series of massive earthquakes throws the Japanese archipelago into turmoil. It follows the Mutō family: the protagonist middle schooler Ayumu, her brother Gō, mother Mari, and father Kōichirō, as their peaceful life turns tragic in an instant.

In this first ever clip released from the series, we see Ayumu and other characters in a state of despair and hopelessness. To lighten up the mood, Kaito delivers a rap with hopeful lyrics.

With Ayumu and everyone's everyday lives snatched away from them, they ponder when this devistating situation will end. It's then that Kaito suddenly whips out his phone, puts on a track, and begins freestyling to the eat. He spits frank and openhearted lyrics about the situation they have been put in and how they are still alive. We have yet to see how all of the characters will respond to Kaito's rap as the clip cuts off. Check it out below.

"Japan Sinks 2020" Rap Clip


Ken the 390 spoke of his time in the recording studio, praising the speed of the cast's response to his advise on corrections they should make for each of their rap parts. He gave particular praise to Kaito's rap scene performed by Kensho Ono who he described as having good intuition. He described the entire recording experience as being smooth and that it was over before he knew it. Ken the 390 also made a comment for fans who are looking forward to watching Japan Sinks 2020: "It's a completely different takes on Japan Sinks. It raises questions on the present situation and is full of messages. It's a film that should be seen right now in 2020."

Japan Sinks 2020 is a story of hope and paving the way to building tomorrow. The series will be released on Netflix worldwide on July 9, 2020.

©"JAPAN SINKS : 2020"Project Partners

Lipton to Serve Iced Parfaits at New Fruit Tea Stands in Tokyo and Osaka This Summer

Japanese black tea brand Lipton is opening two pop-up tea stands this summer called "Lipton TEA STAND Fruits in Tea." They will open in Daikanyama and Osaka from July 10 and Kichijoji from July 22.

Lipton opened its two permanent tea stands "Lipton TEA STAND" in Nagoya and Hakata in winter 2018 in an effort to make black tea more accessible to people. The drinks menus at these stands are diverse, ranging from simple black tea to their "Fruits in Tea" range which are teas filled with fresh fruits, royal milk tea, desserts, and more.

Iced Parfaits


Passion Fruits: ¥1,200 (Tax Included) (+¥150 for honey milk) / Strawberry: ¥1,200 (Tax Included) (+¥150 for condensed milk)

Lipton's "Fruits in Tea" opened as a new way for people to enjoy black tea in summertime. With the outbreak of the COVID-19 pandemic, Lipton has decided to whip up some refreshing "Happy!" new iced parfaits for beating the hot weather. Their popular custom menu lets you a variety of vitamin-packed fruits, herbs, and more to your iced tea.

Frozen tea is the base of the iced parfait and retains the original flavour of the black tea. Added to that is ice and fruits inside a tumbler, all of which is layered to look like a parfait with a shaved iced quality to it. The "Passion Fruits" flavour is topped with passion fruit syrup and frozen lemon, orange, and kiwi, while the sweet and sour "Strawberry" is a mix of strawberry syrup and frozen strawberries, blueberries, and raspberries. Both options are sure to keep you cool during the hot Japanese summer.

Original Iced Tea "Fruits in Tea": Tumbler ¥1,000 (Tax Included) / Cup ¥600 (Tax Included)

Lipton's popular custom menu lets you choose from four tea bases, like Earl Grey and green tea. You can then pick your base fruits, like pineapple or strawberry, topping fruits such  as kiwi and mango, and then a special flavour like mint. Finally, choose your syrup, such as lemon, and you'v got your own custom beverage for the summertime.

Information

Lipton TEA STAND Fruits in Tea

DAIKANYAMA
Location: Sign Daikanyama (Daikanyama Station, 19-4 Daikanyamacho, Shibuya, Tokyo)
Running: July 10, 2020 – August 30, 2020

Opening Hours: 11:00-20:00

KICHIJOJI
Location: Sign Kichijoji (Atre Kichijoji Honkan 1F, 1-1-24 Kichijoji Minamicho, Musashino-shi, Tokyo)

Running: July 22, 2020 – September 22, 2020

Opening Hours: 11:00-20:00

OSAKA
Location: Diamor Osaka (Diamond Floor B1F, Osaka-eki-mae, 1-10 Umeda, Kita-ku, Osaka)

Running: July 10, 2020 – September 22, 2020 (Closed August 19, 2020)

Opening Hours: 10:00-21:00

Fruits in Tea Official Website: http://brand.lipton.jp/leaf/fruits_in_tea/

Universal Studio Japan's New 'Stand By Me Doraemon 2' XR Ride Opens in August

To promote the 50th anniversary anime film Doraemon: Nobita's New Dinosaur, which is set for release in Japan on August 14, 2020, Doraemon himself is making appearances right now at Jurassic Park in Universal Studios Japan until July 22, 2020. Additionally, in promotion of the upcoming 3D CG anime film Stand By Me Doraemon 2, USJ is opening its second-ever Doraemon themed XR ride on August 4 which will run until January 6, 2021.

It will be a fast-paced Stand By Me Doraemon 2 themed XR ride and sensory explosion that makes use of VR technology to send riders on a VR coaster time travel experience through the past, present, and future.

Stand By Me Doraemon was released in 2014 as the first 3D CG animated Doraemon film and was a huge hit for the quality of its animation and moving story. The staff have returned to work on its sequel, Stand By Me Doraemon 2, including writers and directors Takashi Yamazaki and Ryuichi Yagi. The XR ride will feature an original story that is connected to the sequel film which itself will be based on the Doraemon short film Doraemon: A Grandmother's Recollections.

©Fujiko Pro/2020 STAND BY ME Doraemon 2 Film Partners

Information

Stand By Me Doraemon 2 XR Ride
Running: August 4, 2020 – January 6, 2020

Universal Studios Japan Official Website: https://www.usj.co.jp/e/

NIPPONIA HOTEL Ozu Castle Stay: Ehime Prefecture's New Tenshu Hotel

Value Management, a company in Japan which carries out work in bringing new life to historical Japanese buildings, hotels, restaurants, and more, is opening a new hotel in Ehime Prefecutre called NIPPONIA HOTEL Ozu Castle Stay on July 23, 2020. The hotel will be the first in Japan where guests can stay inside wooden tenshu, which are traditionally the highest towers in a Japanese castle.

The city of Ozu is home to many examples of historical architecture, from its central castle town to Ozu Castle itself and more. It has become a location for tourism which focuses on historical houses and buildings. That's where NIPPONIA HOTEL Ozu Castle Stay comes in. The surrounding townhouses have been renovated so that both the town and castle make up the entirety of the hotel complex.

Ozu Castle is a symbol of Ozu and was built by Tōdō Takatora and Wakisaka Yasuharu. It is officially recognised as an Important Cultural Property of Japan. Its tenshu were demolished during the Meiji Period, but thanks to the existence of pictures and models, they were rebuilt for the first time ever after the war in 2004. NIPPONIA HOTEL Ozu Castle Stay is the first facility in Japan to offer a castle stay experience like this, so it's a must-include on anyone's bucket list when visiting Japan.

Information

NIPPONIA HOTEL Ozu Castle Stay

Address: 382 Ozu, Ozu-shi, Ehime Prefecture

Price: From ¥1 million per night. One group per night. 30 groups per year (subject to change).

Official Website: https://www.vmg.co.jp/

Harajuku's Fresh Cream Shop MILK Releases Milky Soft Serve Parfaits For Summer

MILK, a fresh cream shop in Harajuku, is set to hold a new summertime fair this year called "Milky Soft Fair" which will begin on July 8, 2020.

From Left: Kiwi ¥650 / Peach ¥650 / Strawberry ¥650 / Mango ¥650 / Condensed Milk Coffee Jelly ¥630

MILK's "Milky Soft Serve Parfait" usually only comes in one simple flavour, but for the Milky Soft Fair, they are serving up juicy mango, strawberry, and kiwi flavours, fruity peach, and bitter coffee jelly. The summery parfaits are made with fresh cream, fresh fruit, and rich soft service ice cream. The perfect dessert for keeping cool in the hot Japanese summer!

Information

MILK Harajuku
Address: THE SHARE 1F, 3-25-18 Jingumae, Shibuya, Tokyo
TEL: 03-5772-8858
Opening Hours: 11:00-19:00

Official Website: http://milk-craftcream.com/

New Cells at Work! Film Key Visuals and Trailer Unveiled

Popular anime series Cells at Work! ( Hataraku Saibō!!) is set to premiere its anime film Hataraku Saibō!!" Saikyō no Teki, Futatabi. Karada no Naka wa "Chō" Ōsawagi! in Japan on September 5, 2020. Preorders for movie tickets are to be sold from July 23, 2020.

The key visuals and movie trailer have been unveiled.

Cells at Work! Trailer

As for voice actors and characters, Saori Hayami and Toa Yukinari are going to continue to voice Regulatory T Cell and NK Cell respectively. New characters are also making an appearance in the movie along with new voice actresses. New voice actresses include Yuri Yoshida as Lactic Acid Bacteria (Kuro), Rie Takahashi as Lactic Acid Bacteria (Aka), Natsumi Fujiwara as Lactic Acid Bacteria (Panda) and Yurika Kubo as Lactic Acid Bacteria (Buchi).

Cells at Work! by Akane Shimizu is currently published in Kodansha's manga magazine Monthly Shōnen Sirius. This fun and educational manga takes place inside the human body, telling the story of the cells busy at work and the drama they face each day to keep the body running. After the series launched in 2015, the adorable characters and exciting world became a popular hit, earning the story an anime adaptation in 2018 by david production. By humanising the cells in the body who are busy at work, the series became very relatable to its audience, making it the big sensation that it is today. Season two of the anime is expected to be released in January next year.

©Akane Shimizu, Kodansha Ltd. Aniplex Inc, David Production Inc.

Information

Cells at Work! Movie

Hataraku Saibō!!" Saikyō no Teki, Futatabi. Karada no Naka wa "Chō" Ōsawagi!

Premiere: September 5, 2020

Official Website: http://hataraku-saibou.com

Kase-san and Morning Glories OVA First Part Released Officially on YouTube

Kase-san and Morning Glories is a yuri romance OVA that was released back in 2018. As part of this year's Tanabata festival celebrations in Japan, Pony Canyon has released the first 8-minutes of the OVA on its official YouTube channel. The anime centres on two high school girls, the shy Yui Yamada (voiced by Minami Takahashi) and popular girl Tomoka Kase (Ayane Sakura).

The video is not subtitled, but if you've yet to see the OVA, this is a great opportunity to check it out for the first time.
If you're interested in the continuation of the story, then visit the official website here. The OVA made its US premiere at Anime Expo back in 2018. It is currently not available on Crunchyroll.

You can also check out an animation clip that was produced before the OVA that features the song Kimi no Egao (album ver.) by Hanako Oku.

©2018 Hiromi Takashima・Shinshokan / "Asagao to Kase-san." Production Committee

Information

Kase-san and Morning Glories
Blu-ray Flower Edition: ¥7,800 (Before Tax) [PCXG-50610] *Japan only

Official Website: http://asagao-anime.com

Demon Slayer: Mugen Train Tanabata Celebrations Begin in Japan

Demon Slayer: Kimetsu no Yaiba the Movie: Mugen Train is an upcoming anime film set for release on October 16, 2020. The film is a direct sequel to the 2019 anime series adapted from Koyoharu Gotouge's manga series Demon Slayer: Kimetsu no Yaiba.

In the run up to its release, the film is being promoted in collaboration with Japan's annual Tanabata festival which takes place every year on July 7. A special website opened today which features wishes written in Japanese and illustrations drawn by 31 voice actors and actresses from the anime series—as well as the main characters, including Tanjiro. It is customary on Tanabata to write a wish on tanzaku, which are small pieces of paper, and tie them to bamboo. Additionally, three special announcements have been made to celebrate Tanjiro's birthday on July 14.

The Demon Slayer: Kimetsu no Yaiba manga has sold over 80 million copies. Along with its highly successful anime adaptation from last year, the series has won the anime community the world over, earning a high reputation for its thrilling fight scenes and memorable characters. The film was announced at the end of the anime's final episode, teasing the "Mugen Train" arc of the story. Today, the day of Tanabata, marks just three months until the release of Demon Slayer: Kimetsu no Yaiba the Movie: Mugen Train.


As well as the voice cast, five of the anime's main characters have posted their own wishes over on the special Tanabata website. Tanjiro, a kind and gentle soul who is devoted to family, wrote: "I pray that everyone can live happily!" Such a wish is just like Tanjiro, who shows kindness to everyone even if they're a demon. His sister, Nezuko, who is a demon herself and who can't write, instead just tied her tanzaku paper up. You can tell she puts all of her trust in Tanjiro with whom she has a strong bond. Zenitsu simply wrote, "I wish that I can get married!!!!" Inosuke drew a picture of his favourite food, tempura, and Rengoku wrote the mantra "Daily Diligence!!"

You can check out the rest of the cast's wishes over on the official Demon Slayer Tanabata website, all of which are written in Japanese.

Finally, to celebrate Tanjiro's birthday which falls on July 14, three special things have been planned in Japan. Firstly, a special "Tanjiro Birthday Party" show will air on ABEMA on July 14 at 21:00 (JST) where the main voice cast Natsuki Hanae (voice of Tanjiro), Akari Kito (Nezuko), Hiro Shimono (Zenitsu), and Yoshitsugu Matsuoka (Inosuke) will appear. Secondly, there will be a marathon of the Demon Slayer: Kimetsu no Yaiba anime series on ABEMA on July 11 and 12. Lastly, ufotable Cafe will be collaborating with the series for Tanjiro's birthday, serving food inspired by the anime and more.

©Koyoharu Gotouge/Shueisha・Aniplex・ufotable

Information

Demon Slayer: Kimetsu no Yaiba the Movie: Mugen Train

Release Date: October 16, 2020

Distributors: Toho / Aniplex

Official Website: https://kimetsu.com

Yasutaka Nakata's Main Unit CAPSULE Set To Digitally Release All Albums

Music unit CAPSULE, which was formed by world-famous producer Yasutaka Nakata, is releasing all their albums on Apple Music and other worldwide music streaming services from July 10, 2020.

After debuting in 2001, Yasutaka Nakata has gone on to release 17 albums with CAPSULE and three albums in partnership with model Kate Sakai as the music unit COLTEMONIKHA. Nakata also produced albums for the soundtrack to the sensational drama Liar Game in which Shota Matsuda played the main role. All the above albums will also be released on subscription services.

This is just what fans across the world have been waiting for. As CAPSULE will be celebrating their 20th anniversary next year, make sure to check out their playlists.

Information

Release: July 10, 2020 from 12:00 AM

Available On: Apple Music, AWA, Spotify, Amazon Music, LINE Music (and more)

CAPSULE Official Website: http://www.capsule-official.com/

Kyoto's Famous Kifune Shrine Celebrates Tanabata With Bamboo Lamp Light-Up

Kifune Shrine, which is dedicated to the god of water Takaokami no Kami, is currently holding evening illuminations with Tanabata bamboo lamps until August 15, 2020.

About Kifune Shrine

Kifune Shrine is one of Kyoto's foremost historical shrines. Records show that the shrine was already built in 677 during the reign of Emperor Tenmu. It is located near the source of Kamo River and is dedicated to the god of water who is said protect Kyoto's water sources. The area is also known for kawadoko which is where Kibune's restaurants build platforms over the river where visitors can enjoy their meal as the water flows beneath them.

Kifune Shrine and Tanabata

Tanabata is said to originate from the Suijinsai Festival (Water God Festival), with the stars themselves as the god of water. At Kifune Shrine, which is dedicate to Takaokami no Kami—the god of water—people not only pay their respects to the blessing of water, but hold Tanabata events as well as the Kifune Water Festival.

For this year's Tanabata event, bamboo lamps will be lit up with wishes written on them by people.

Tanabata Shinto Rituals and the Kifune Water Festival

Tanabata Shinto rituals and the Kifune Water Festival will be held on July 7 where people will express their gratitude to the god who watches over Kifune's waters as well as pray for water's blessing throughout the year.

Information

Kifune Shrine Tanabata Bamboo Lamp Light-Up
Running: July 1, 2020 – August 15, 2020
Time: From sunset to 20:00
Location: Kifune Shrine, 180 Kuramakibunecho, Sakyo-ku, Kyoto
TEL: 075-741-2016

Official Website: http://kifunejinja.jp

New Animal Crossing: New Horizons Outfits Released in Collaboration With Pip Elekiban

Pip Japan has created collection of items for the Nintendo Switch title Animal Crossing: New Horizons using the game's Custom Designs featured which it revealed on July 2 via the official Pip Elekiban Twitter account. Pip Elekiban is a magnetic patch used on the skin for treating muscle stiffness.

Animal Crossing: New Horizons has enjoyed successful sales during the stay-at-home measures put in place as a result of the COVID-19 pandemic. Pip Japan has released a trailer for its in-game clothing collection which consists of 3 one-piece outfits, a shirt, and more. Check it out below.

In May 2020, a survey was held in Japan for 300 men and women aged between 20-50 years old. They were asked whether they felt some form of stress during the current situation, with 60% confirming that they did. This includes mental stress as a result of not being able to visit places they wanted to visit or meet who they wanted to meet, work-related stress, physical stress brought about by a lack of exercise, and so on. Part of Animal Crossing: New Horizons' success can be attributed to these causes, with people purchasing the game during the lockdown to help alleviate stresses and as a form of escapism.

Pip Japan wanted to help bring some smiles to people's faces during the pandemic, and so have designed their own clothing collection for the game.

Pip Elekiban One Piece A (MO-YX9Y-498B-5XGT)


Pip Elekiban One Piece B (MO-11XP-HKB5-PQBQ)


Pip Elekiban One Piece C (MO-5FVD-28WC-PQ8V)

The one-piece dresses all feature super cute and stylish designs.

Pip Magneloop Shirt A (MO-YFHC-Y855-TN7V)


Pip Magneloop Shirt B (MO-LMWM-DJ2B-XWJ6)


Pip Magneloop Shirt C (MO-C12M-1561-N59T)

The shirts have simple designs but are cute in their own way too.

Pip Elekiban Tile (MO-80L5-K03Q-JKNQ)

They even made their own tile too.