【TokyoDinner】The food that has been loved with alcohol in old town Tokyo
Motu, internal organs of swine, has been loved by people in the drunk streets in old town Tokyo. It is one of the best foods to go with sake. Lever, gatsu (a pig's stomach), shiro (a colon), kashira (a pig's temple), hatsu (heart)…all of these are great with sake when it is cooked with salt as if you can drink up a whole cup of sake. If it is cooked with the sauce made from a secret recipe are great with highball. Today, I would like to introduce some bars that serve this wonderful Motu which is cooked with original arrangement.
First one is "Nishiguchi Yakiton" in Asakusabashi. You should eat the "Shirojishi" which is kashira and red chill pepper in sticks and "Akajishi" which is hatsu and red chill pepper in sticks with salt. These are really tasty, but the best food in this restaurant is "sara-nankotsu." It is like a open sandwich when you put the nankotsu(cartilage) that is marinated in sweet and spicy sauce on the smoke toasted baguette. This food is great with highball.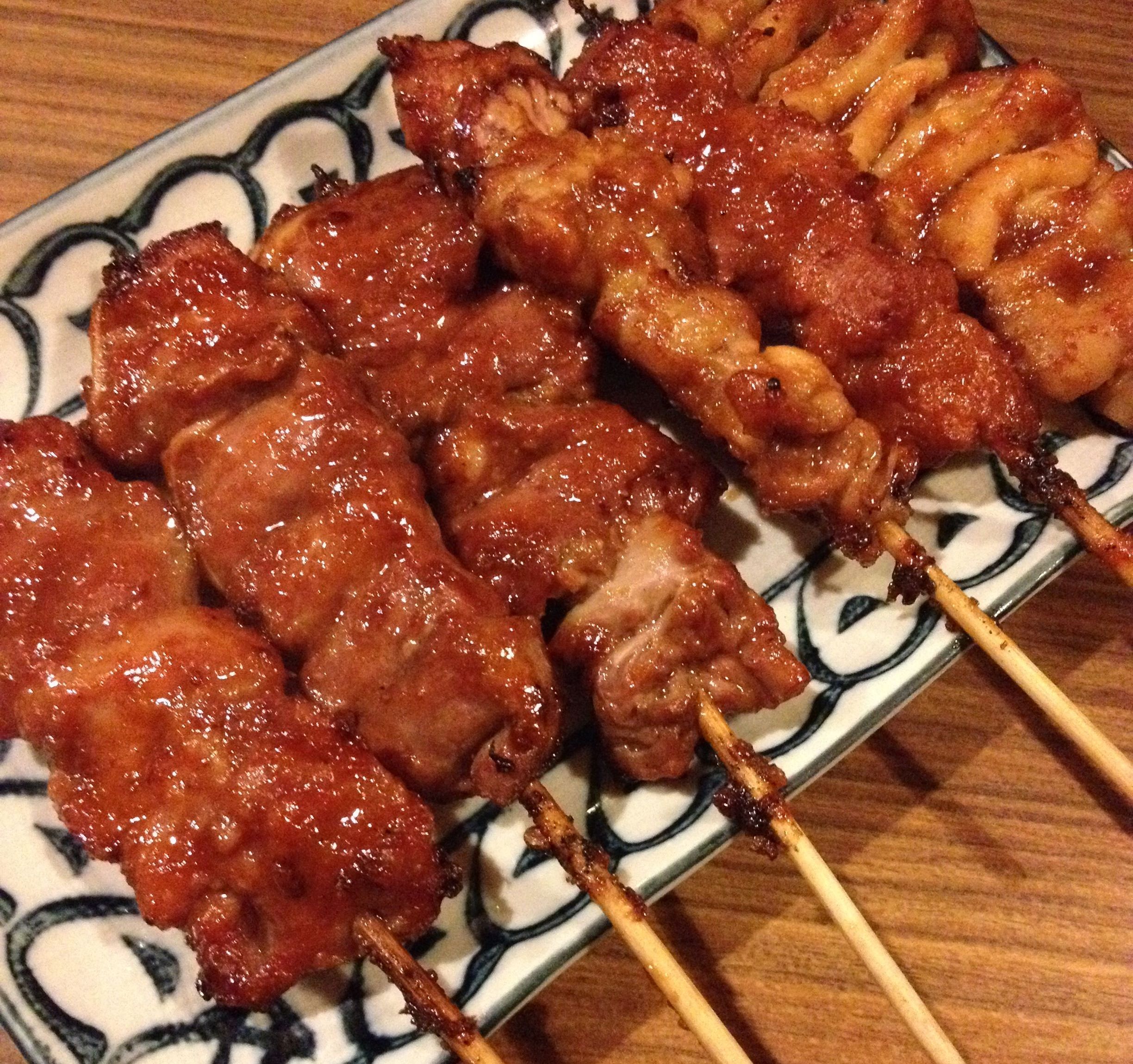 The second one is "Kiyoshi" in Warabi. The typical way of cook motu is with salt or sauce. However, how they cook motu which is the main food in this restaurant is with miso. The bite size motu smoked in miso sauce blended with garlic and etc. The sweetness of miso goes with motu's fattiness. The bite size motu is the key for this menu. You can't stop eating it like snacks.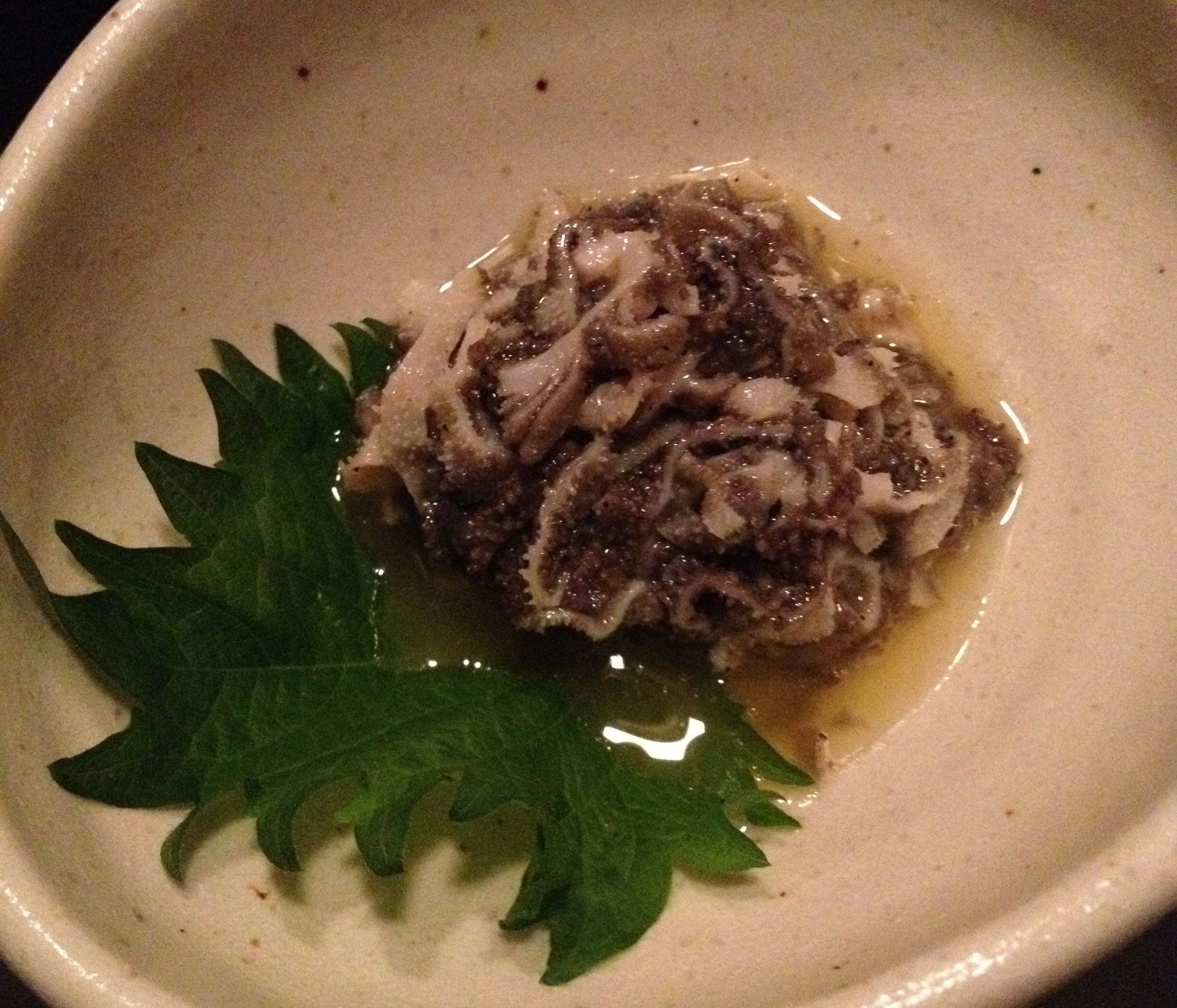 The last one is "Kudouken" in Shinbashi. They utilize some seasonings which turns motu's unique smell into good flavor. This food can make you not stop drinking highball. Senmai(omasum) that they cook with garlic and olive oil is an addictive food that you only can get in "kudouken." I totally recommend this food.
■Information
Nishiguchi Yakiton
Address: 4-10-2 Asakusabashi, Taito-ku, Tokyo
http://www.nishiguchiyakiton.net/
Kiyoshi
Address: 2-11 Shibashinmachi, Kawaguchi-shi, Saitama
https://tabelog.com/saitama/A1102/A110202/11015264/
Kudouken
Address: Shinbashi Ekimae Bldg.nigokan B1F, 2-21-1 Shinbashi, Minato-ku, Tokyo
https://retty.me/area/PRE13/ARE16/SUB1601/100001211146/
Kiwako Kurashima("The Classic Bar" Editor in Chief)
−−−
■Related article:Why don't you go to safe bar that is owned by a beautiful lady chef?
■Related article:There's a food genre that "the restaurants which is hard to make reservations" in Tokyo
RELATED ENTRIES
Tokyo Dinner: HEIJITSU HIRU DAKE's Curry in Kōenji is Served With Japanese Stock

Rinko Murata loves all types of curry. In this edition of Tokyo Dinner, she invites the person she wants to meet up with the most to eat the curry she's been wanting to eat the most.

This month's notable restaurant she stopped by was HEIJITSU HIRU DAKE in Kōenji, Tokyo. Their curry portions are generous and are good for the stomach and satiety center. They serve a curry flavoured with Japanese dashi, or 'stock.'

How do you spend your early afternoons when you have time off? Lounging around at home with quality time to yourself sounds like a good plan. Definitely appealing.

But this is a rare opportunity. How about going on a little adventure to try something you can get a kick out of because it's midday and a weekday?

I know the perfect curry house for your hungry selves. HEIJITSU HIRU DAKE.

As the Japanese name suggests, it's a curry that can only be eaten at lunchtime, a mysterious dish that doesn't appear on regular days off.

I land in Kōenji, a place I love the most. Even though iKōenji is Kōenji, the closest station to the restaurant is Higashi-Kōenji Station.

My vision is filled with all kinds of sights.

It's like being lost in a treasure chest.

This place is actually normally a café and goes by the name Schwarze Katze. It's open mainly on Friday night, weekends and holidays. "HEIJITSU HIRU DAKE" runs in a rented room in the café and and is open when the café is. It's kind of luxurious to have the chance to eat my favourite food (curry!) in a place like this.

My heart desires the Wadashi Soboro Curry (¥980) that I mentioned earlier. It also comes with self-service coffee for after your meal. For toppings you can choose whatever you like. Since I was there and didn't want to get lost on what to pick, I went for all the toppings (¥300).

The water I ordered comes in a plastic bottle. The tables have antique displays. Everything on them was wonderful.

The air was clad in that rich, familiar scent of curry, a special one that I would never get to eat had I not come here.

The instant I hold the curry in my mouth the delicious flavour of the dashi sparks in my mouth like fireworks. The broth has a slight thickness to it and a strong, deep flavour that fades into a soft aftertaste on the tip of your tongue. It's not at all spicy, and the goodness of the dashi is luxurious like being escorted by a gentleman. And I can't forget the smell.

My taste buds throb at this new sensation.

Like its name suggests, this is a dish where the Japanese dashi stands out above the ingredient crowd. The restaurant owner has gathered much experience in the kitchen from traditional Japanese cuisine to sushi, ramen, yakiniku, izakaya style and so on. He encountered this place by chance, and with one look he said to himself, "I want to try doing curry." The Wadashi Soboro Curry came about through his gained culinary experience combined with the aesthetics of the café.

To bring out the full flavour of the dashi so it isn't drowned out by the curry spices, the owner uses two types of skipjack tuna, kombu, dark sleeper, and dried sea slug, as well as a type of soy sauce called Kaeshi. 15 more ingredients are blended together to create the spices, creating deep and delicate flavours.

Now it's time for a session with the mountain of ingredients I greedily asked for. It's enshrined with classics like meat soboro, beefsteak, agedama, bonito flakes, and dried plum in addition to pickled daikon radish, crushed natto, Japanese ginger, and okra. The spinach and onsen tamago egg sit at the foot of the mountain and create a new culinary sight.

The base of the dashi is mobilized with a force of Japanese ingredients with a smell and flavour and that comes together harmoniously in your mouth. I'm spellbound by the flavours that stand out coupled with the pleasant textures of the agedama, daikon and ginger.

Hey, I must have hit every ingredient in there. All correct.

I added a sprinkle of pepper that was on the table and create yet another refreshing aromatic veil.

The compatibility of the pepper with the dish works so well precisely because it uses a Japanese dashi. Wadashi, or Japanese broth, is a staple of Japanese cuisine. The curry and Japanese soul carved into this dish resonates with me. It's my first time eating it, yet I'm still filled with a sort of nostalgia―a warm embrace.

I also understand why when the shop opens, the customers in the café stand up and change with the next line of customers. The owner has a wonderful sensitivity, and has worked out a way to put his own matchless warmth into each and every bowl. I caught sight of his gentle smile as he was cooking in the kitchen. It left an impression on me.

What a delicious curry to enjoy in such a wonderful place. All five of my senses have reached peak happiness. I grab my post-meal coffee and head onto the streets of Kōenji.

What a wonderful weekday afternoon.

Text:Rinko Murata
Photo:Kayo Sekiguchi
Edit:Miiki Sugita

Translator: Joshua Kitosi-Isanga

Information

HEIJITSU HIRU DAKE
Address: 1-21-21 Umezato, Suginami, Tokyo
Opening Hours: 11:30-15:00 (Weekdays Only)

Official Twitter: @Heijitsuhirudake

【Tokyo Cafe】Yonchome, Kouenji – reasonable prices, comfortable atmosphere and great lunch.

The orange Chuo line of the station can be seen from the large window on the wall. Sometimes it's the yellow Sobu line. Without having even left the ticket barriers, you can catch a glimpse of it from the platform. When night descends over the district, the window frames light up with illumination. Welcome to Yonchome cafe in Kouenji. I can't believe it's been 7 years that I've wandered up and down these streets! Today we are going to introduce the one place I can't stop loving. It is located in the charming Kouenji and is the home of this wonderful window view.

Leave the south exit, walk along the rotary and you will eventually arrive at Yonchome cafe, which is on the 2nd floor of the building. What a fitting name for a cafe located in Yonchome, Kouenji!

Open the thick wooden door and you will discover a cafe with an interior bigger than you imagined. With 100 seats, the atmosphere of the cafe is moderate and spacious, with a good distance between the tables and an overall calm feel. Sit here and you will easily lose track of time. Amongst the mood lights and glistening stain glass windows, of course the seat of your choice would be next to the window, where the evening light entwines with the ambient glow that radiates from the Chuo line.

However, when the weather is fine or when a mild midday breeze rolls in, it's hard to resist a seat on the terrace! A book in one hand and coffee in the other, or raising a toast with beers, watching the busy people walking the steers below. What's your style?

The heartily portioned lunch sets are reasonably priced and delicious, making this restaurant really stand out. The regular menu includes generous portions that are ideal for sharing. Happy hour runs on the weekdays from 17:00 〜 21:00, during which time draft beers and the house wine sells for just ¥230! The main charm of Yonchome is its value for time and money.

The deluxe taco-rice with soft boiled egg (デラックスタコライス 半熟卵添え) costs ¥1,000. As the name implies, it is an extravagant and luxurious dish. No matter how hungry you are or how many people are in your group, this meal is the perfect size to share or devour solely to yourself. The dish is packed with a variety of ingredients such as vegetables, meat and cheese. The spicy sauce packs the perfect punch to balance out the mild egg. Order a beer for the perfect finish to your feast.

Speaking of beer, the anchovy potatoes (¥500) make for the perfect accompaniment. Although the potatoes are quite large, the crispy skin, tempting aroma, and creamy and salty anchovy butter enhance its wow-factor. This is the ultimate combination of flavours! Although this is quite a quirky dish to single out, I must say out of all the potato dishes I have ever had in my life, this was the best!

Whether you drink alcohol or steer clear of it, there is something for everyone at Yonchome Café. The coffee, alcohol and soft drinks range is particularly large. They also sell special summer homemade lemonade for ¥630, which is the perfect way to refresh yourself and quench your dry days against the heat of summer.

Light pours passionately into the café, yet the atmosphere is calm. No matter when the food arrives, it is always delicious. No matter what time you arrive, you will be greeted by comfort. Whether it be afternoon or evening, whether you come alone or in a crowd, you will always feel welcome.

Like the view outside your window, our feelings change every day. However, you can always count on this café to always be here, unchanged. You can return to your favourite spot, your favourite seat and enjoy your favourite meal.

As the day winds down and the night time illumination lights up, the Chuo line is still running. Seated next to the window that exposes the Chuo line in operation, I thought to myself that maybe, this is my favourite spot.

Photo:Kayo Sekiguchi
Editor:Namiko Azuma
Original text by:Miiki Sugita

Translated by: Samantha Fernandes

Source:She magazine

■ Information:

Yonchome Café

Address:2nd floor, 4-28-10, Kouenji, Suginami
Telephone number:050-5592-9317
Opening hours:11:30-15:00(lunch menu: 11:30-15:00、Happy Hour: weekdays 17:00-21:00)
Fixed closing days:None

Related article:【Tokyo Cafe】Enjoy a calm and relaxed time at "Café SOROR" in Ōtsuka

Related article:【Tokyo Cafe】Visit the café which has a menu that gives you great impact Vol,6 "Kissa Housekibako"

【Tokyo Dinner】Nostalgic food! The next trend is Monjayaki!? Shibuya"Osozai to Senbei-Monja Sato"

The good old days food such as spaghetti Neapolitan, shaved ice cream, hot cake, and yakisoba has been becoming popular again. These are nostalgic foods for looking back at good old memories for people who are born in Showa era(1926~1989), and it also is kind of new food for people who are born in Heisei era(1989~).

I would like to focus on "Monja-yaki" as the next Showa gourmet trend. People who are living in other than Kanto area may not be familiar with this food. There are two different ways to cook Monja-yaki in Tokyo; Asakusa way and Tsukishima way.

The big difference is to make the base or not. The base is like building a breakwater not to spread dough on the pan. Tsukishima way is to make a base with ingredients such as cabbage at first and then pour the dough on to it. On the other hand, Asakusa way is to make the thin crust with dough at first and then eat it with chopped ingredients on the pan.

Sato Koji who manages unique restaurants such as "Cristiano's" in Yoyogi-uehara and "Pappon Kitchen" in Shibuya opened the new restaurant called "Osozai to Senbei-Monja Sato" this year.

As a lot of experienced chefs who learns a lot about multi cultural food, he prepared from standard Monja-Yaki to unique ones such as Russian style ones(1620yen include tax) which has beets and sour cream and Thailand's style(1620yen include tax) which has fish sauce.

Asakusa style thin crust type Monja is the one which Mr.Sato has been eating since he was little. I highly recommend you to enjoy the nostalgic food in this at home restaurant.

■Information

Address:1-9-22 Moritomo Building 1F, Tomigaya Shibuya-ku, Tokyo

Tel:03-6804-9703

Hours:[Monja]11:00AM to 3:00PM(Lunch time)/6:00PM to 10:00PM(Dinner time)

Holiday:Monday

【Tokyo Dinner】The great combination of meat and Japanese sake! Gotanda "Nikuryouri Soregashi"

The popularity of Japanese sake has been rising not only in other countries but also in Japan.  Also, the restaurants that carry sake not only at casual bars but also at French, Italian and Chinese restaurants is increasing.

It is becoming more standard to enjoy unique Japanese sake with various kinds food but not only Japanese. The popular bar named "Sakaba Soregashi" that you can feel free to enjoy Junmaishu (sake made without added alcohol or sugar) has opened another branch named "Nikuryouri Soregashi" in Gotanda, this March.

There are other branches that serve chicken, but this new branch mainly serves beef dishes. They put more importance on having a variety of kinds of Japanese sake.

The owner, Jun Oyama, said, "Japanese sake is the national beverage that we can be proud of to the world. I want more young people to enjoy their deep tastiness freely."

If you eat plain red meat, the sake that has rich and strong flavor is going to go with it. If you eat sweeten meat like sukiyaki, the tanrei (crispy and dry) sake is going to go with it.

I would recommend you enjoy finding the best sake to go with their meat. It is also popular to drink their original sake called "Hideo(756yen include tax)" with carbonated water. I bet you are going to get hooked on sake once you find the best one to go with their meat dish even if you are not good at Japanese sake!

■Information

Address:1-4-8 Shuwa Gotanda Ekimae Residence202, Nishi Gotanda Shinagawa-ku, Tokyo

Tel:03-6420-3092

Hours:[Mon to Thu and Sat]5:00PM to 1:00AM(L.O. 12:00PM)

[Fri]5:00PM to 2:00AM(L.O. 1:00AM)

[Sun]5:00PM to 12:00PM(L.O. 11:00PM)

Holiday:Irregular holidays

【Tokyo Dinner】Gyoza and champagne is the new standard. "GYOZA BAR Comme a Paris" in Aoyama

Gyoza is a representative popular food that is loved by many people. Recently, even "gyojo (Gyoza girl)" who call them self gyoza lover has appeared. The bar style gyoza store that you can eat gyoza with champagne or wine is especially popular among ladies.

"GYOZA BAR Comme a Paris" in Aoyama is a new style Gyoza store that you can enjoy gyoza with natural wine or champagne.

It is also known as the restaurant that Masakazu Narukami from restaurant called "Narukami" which received one star in Michelin guide book is being in charge of creating menu, so their side dishes and sauce have his own uniqueness. Chef Narukami said, "I had heard that the gyoza and champagne store is getting really popular in Paris, so I actually visited there. When I saw French people eating gyoza like as a patty, I thought that Japanese is going to like it for sure as well."

Cilantro, gyoza(680yen include tax) and Onion gratin gyoza(920 yen include tax) are popular other than standard menu such as vegetable gyoza(520yen include tax) or pork gyoza(550yen include tax). Especially, onion gratin gyoza has a great combination of chewy texture of wrap taste like boiled gyoza and rich onion gratin's flavor. These are good to eat as an appetizer or to eat to finish up the meal. I bet you are going to like this surprisingly good combination of gyoza and wine once you eat it!

■Information

Address:2-2-4 Aoyama Alcoop205, Shibuya, Shibuya-ku, Tokyo

Tel:03-6427-6116

Hours:5:00PM to 11:45PM(L.O.11:30PM)

Holiday:Sunday

【Tokyo Dinner】You can do barbecue without taking any ingredient or tools even on your way back from work or date!

It is getting warm these days, and the best season for doing barbecue is coming soon! Although the number of spots that you don't have to bring any barbecue stuff in Tokyo are increasing, one of the most popular places that only opens in the summer time is "ROOFTOP LOUNGE" located in ARK Hill South tower, Roppoingi.

The best thing about doing barbecue is that you can feel free to eat and drink at outside. It is also fun to have a  barbecue at a mountain or beach, but you can stop by there on the way back from your work if you are in a big city like Tokyo.

You don't have to prepare any tools or ingredients, so I heard that the number of foreign tourists who enjoy this is increasing as well. "Casual BBQ Course (4300yen include tax)" comes with U.S. Beef, hanging tender, Yamayuri pork brand's chuck eye roll, Cajun chicken and some vegetables. "Premium BBQ Course (6000yen include tax)" comes with a huge T-bone steak, some seafood and other stuff. But I also recommend you purchase any kind of meat at the store on the first floor basement and take them to here. It must be great to have a barbecue in the big city. I totally recommend to enjoy the barbecue without bringing any food in this summer!

■InformationARK HILLS SOUTH TOWER ROOFTOP LOUNGE

Address:1-4-5 ARK Hills South Tower Rooftop Garden Sky Park, Roppongi, Minato-ku, Tokyo

Tel:03-5549-1550

Hours:[Weekdays]5:00PM to 11:00PM [Weekends and holidays]May – June 12:00AM to 11:00PM

July – September 4:00PM to 11:00PM

Holiday:Irregular holidays

※Until September 30(Sat)(It may be canceled depending on the weather.)

【Tokyo Dinner】You won't believe that the chef of "Negura" in Koenji has never been to India!

Spring, summer, autumn and winter, for breakfast, lunch and dinner – I want to eat curry all the time! This is the sequel to curry lover Rink Murata's mission to visit all the best curry restaurants in the city. All restaurants in the sequel have been approved not just by Rinko-chan, but also by many other customers! All Rinko-chan has with her is her purse, a camera and an undying love for curry!

If you go to Koenji once, you will immediately want to go again. When you go out to drink in Koenji, it has recently become a common trend to hit up "Negura" while you're out there. "Have you been there before? Let's go!" say the many fans of these crazy curries, however, this isn't really a place big on alcohol. We were contacted by Rinko, who said she found a new, exciting place to continue her curry quest. This place features Indian curry with a wild concept!

Just a two-minute walk from Koenji station by foot and you will reach the Etoile shopping centre. With a name like that anybody would be curious. This is where Negura is located. The chef of Negura has never been to India, but the concept of the restaurant is their wild ideas used to make curry. Just the sound of it is a fun concept but it is not so much the concept that gave the restaurant its name, but the destination. The official restaurant name "Negura" (meaning roost) originates from the pet name that the two managers referred to this location as during their old school days, as this was their meeting point. Whilst eagerly opening the door to the restaurant, Rinko's heart was throbbing!

The interior is decorated with lots of small objects and books crammed together. One wall also features a colourful and dynamic painting. The art direction was managed by Shoshi Nigamushi, an artist who has contributed to the designs of rock festivals and many other events.

Ower Osawa-san explained that they have never been to India, which came to a big shock because one taste of the food and you would have thought differently. (It's a real shame we don't have Osaawa's photo – a very kind and gentle person!)

"The restaurant atmosphere is very Indian, and despite not mentioning anything of the sort, it is easy to believe that Osawa-san has done training in India" said the cute Kondo-san while laughing.

Rinko eagerly anticipated her curry!

The menu uses ingredients of the season and likewise bases the meal around a wild concept for the daily special. Today's menu featured onion and tomato, rape blossoms and manila clams. (¥1,000) The topping was kumquat and pepper chutney (¥200) Rinko also ordered Shibireru chai! (¥500)

The whole plate was fully satisfying! Two varieties of curry, and a colourful range of vegetables such as tomato, garden peas and carrots – what a luxurious mix! Where to start?

A meal with impact accompanied with a spicy chai – surely you cannot taste anything as extravagant as this anywhere else.

 "This is delicious!" said Rinko chan, as she continued through her meal. Describing the flavour as "gentle", her spoon quickly cleaned the plate. The spices and the ingredients worked perfectly together. On the whole, the meal was not too spicy, allowing the true flavours of the ingredients to be fully enjoyed. The aftertaste of the spices, however, packed a decent punch. Not only was the taste exceptional, but the balance was a whole new experience! The true wild concept could be tasted in the meal. Combining the taste of India with mankind's strongest point of imagination, the wild concept for this restaurant was born.

The atmosphere of the restaurant was youthful – from its name to its interior. You could feel the wonderful, warm personality from the two staff members. There is more than just that, however.

By means of imagination and freedom, a challenging concept was born. And this flavour is what brings many people happiness.

A restaurant where memories are made, two people embarked on a challenge, creating a wild kingdom of Curry. Koenji is already known as "the India of Japan", and this Curry kingdom emphasises this even more.

Come try a curry at Negura, which offers a unique atmosphere, moreish meals and the unique feeling that you are in India!

model:Rinko Murata @rinco1023

■InformationNegura(Mousou Indo Curry)
Address: 3-48-3, Koenji , Suginami
Opening hours:13:00〜21:00
Closed: Mondays & Tuesdays
※  Please check out the official Facebook page for further information on opening and closing times, as there are sometimes irregularities.

【Tokyo Dinner】The unique "new-drinking place" is becoming popular! Ueno Okachimachi's bar " Yang-Shan Aji –bo " serving delicious Lamb meat

Although there are varieties of pubs and bars in the world, the Japanese gastropub has a very different atmosphere. Some bars in Asakusa or Ueno open from the morning, and recently you can spot foreign tourists in there sometimes. One of the good things about these types of bars is you can stop by there freely without making reservations like other restaurants. Although it is great to drink in the traditional Japanese pub and enjoy the nostalgic atmosphere, the unique new types of bars has been becoming popular these days. Young people are fond of their casual yet unique atmosphere.

The bar called "Yang-Shan Aji-bo" which opened last year in Ueno-Okachimachi which is known as the bar sanctuary is one of the bars that you can casually enjoy drinking at lunch time.

As the same bar keeper who is from North East China of the one in Kanda called "Aji-bo" which serves natural wines, they proudly serve lamb meat or appetizers that go with wine or noodles.

lamb skewers(1080yen include tax)

You should order the lamb skewers(1080yen include tax) that is cooked with many parts of lamb to begin with. They have five different kinds of skewers including lamb shoulder and lamb neck, and that goes great with wine(540yen include tax). It is also fun to do bar hopping in two or three different bars around this area, but this place has good food, drinks and comfortable space so that you can't help staying here for long hours.

■Information

Yang-Shan Aji –bo

Address:3-12-6 Ueno, Taito-ku, Tokyo

Tel:03-6803-0168

Holiday:Open 7 days a week

Hours:Mon – Fri 7:30AM to 9:30PM , 11:30AM to 11:00PM(L.O)

Sat, Sun,Holidays: 13:00PM to 11:00PM(L.O)

https://tabelog.com/tokyo/A1311/A131101/13200566/

−−−

Related article:【Tokyo Lunch】 Gorge on the best hamburgers at Michelin-starred restaurant known for its exquisite tasting meat

Related article:【Tokyo Dinner】The yakiniku restaurants that you want to use for special occasions.

【TokyoDinner】Orthodox one, sophisticated one and more. The latest key word for Chinese food is the meat!

One of the latest most popular genre of restaurant in Tokyo is definitely Chinese. So many young chefs have opened new restaurants one after another in 2016. There are some new types of Chinese food that pursues uniqueness such as arranging it with Japanese taste, or focusing on making minority ethnic group's food. We have been getting more chances to encounter deep Chinese food beside orthodox food such as gyoza, mapo doufu, or Dandan noodles. The restaurant called "Ushigoro" which is a popular barbecue restaurant in Shibuya, Ebisu and some other cities produced new Chinese restaurant called "CINA" where you can enjoy Tokyo style Chinese food.

There are a variety of boasting meat menus since this restaurant is produced by barbecue restaurant. The Sicuan's "Rock" steak which uses exclusive red meat is good for eating with many people. (5800yen for 3 to 4 people.) It has red hot chili peppers and cilantro fried with Sweet Soy Sauce on the top of chunks of well done meat seasoned with original blended spices containing star anis and Japanese pepper. It is not as spicy as it looks, and it is has a totally different aftertaste with regular steak by utilizing so many spices. It will give you a great impact on visually, so people are going to like it if you post it on your social media! You can casually enjoy the new style of Chinese food.

The date spot in Yokohama has been China town since the old time. The number of restaurants for tourist have been increasing. On the other hand, the restaurant called "Kinryo" has public attentions because you can enjoy the authentic Chinese taste there. At the specialty store which serves Cantonese fried and boiled cook food, I ordered the roasted pork fillet cooked in the coke oven which is their specialty of food and grilled pork.. Even if you order a small size, you will have plenty of food to make you full. The simple taste of food and the restaurant's atmosphere is exactly like HonKong, so you can feel like you are traveling. I would like to recommend for people who want to enjoy the deep food culture.

Which you would rather choose, orthodox or sophisticated? I am looking forward to sometime we can have more restaurants where I can enjoy Chinese meat depending on my mood.

■CINA New Modern Chinese

Address: TimeZone Terrace Bldg.2F, 1-17-17 Ebisuminami, Shibuya-ku, Tokyo

■Kinryou

Address: 132 Yamashitacho, Naka-ku, Yokohama-shi, Kanagawa

Keiko Kodera(Writer)

−−−

■Related article:【TokyoDinner】Japanese people love Yakitori for some reason

■Related article:【TokyoDinner】The food that has been loved with alcohol in old town Tokyo

【TokyoDinner】Japanese people love Yakitori for some reason

Yakitori, the bite size chicken on a stick, is really popular in Japan recently. There are some restaurants that you are not be able to make reservation for the next few months. And there are even restaurants that they are sometimes too busy to answer the phone calls even if you try to reach them more than one hundreds times a day.

The main secret of their popularity are prices and conveniences. Recently, many Japanese people tend to not go to the restaurants which require good manners. For example, at one of the popular sushi restaurants, you don't have to order from the menus and they automatically serve their recommended course food. So you don't have to worry about table manners, and feel free to get drunk. Whether it is good or not, those type of sushi restaurants are relatively expensive. It is not surprising you spend three or four million yen at one time. Compared with sushi restaurants, Yakitori restaurants are more reasonably priced and you can feel more freedom. Yakitori restaurant is like "pseudo-sushi restaurant" for some people. Actually, the Yakitori restaurant called "Shinka" located on a backstreet of Roppongi appeared to be a high priced sushi restaurant from the outside.

"Nana-chome" in Hiroo has become popular recently. The owner who trained in the famous restaurant opened this restaurant with his mother.

How he cooks chicken that is so conscientious. They get rid of the bone out of the wings, so you don't have trouble eating it. The lemon sour (shochu and soda added lemon juice) they make is made with actual frozen lemon, so I recommend you to try it.

If you go to the famous restaurant in Nakameguro called "Toriyoshi", I recommend you to be in line before the opening. The owner used to work at a Yakitori restaurant in Paris for more than ten years.

"Torikou" which has recently opened new branches has sommeliers. Their sales point is that they can pick up the best wine to go with Yakitori.

The last one I would like to recommend is take-out Yakitori. The name is "Kokugikan yakitori." It was originally a popular souvenir after watching sumo wrestling, but currently you can buy them in Shinjuku station and Tokyo station. It is still tasty even when it gets cold, so you can enjoy eating it in anywhere. This yakitori are made in the basement of "Ryokoku kokugi-kan" which is associated with sumo wrestling.

Address: 1-4-4 Nishiazabu, Minato-ku, Tokyo

Address: Forest Bldg B1F, 7-13-13 Minamiaoyama, Minato-ku, Tokyo

Address: 2-8-6 Kamimeguro, Meguro-ku, Tokyo

Address: Nogizaka Place 1F, 9-6-30 Akasaka, Minato-ku, Tokyo

Address:1-3-28 Yokozuna Sumida-ku, Tokyo

Atsuo Ohki("The Best Tokyo Restaurant" Editor in Chief)

—

■Related article:【TokyoDinner】The food that has been loved with alcohol in old town Tokyo

■Related article:There's a food genre that "the restaurants which is hard to make reservations" in Tokyo

【Tokyo Dinner】We love Avocado♡ Let's go to the Avocafe in Jinbocho

One of my friends is very obsessed with avocadoes so we decided to look for restaurants with avocado dishes.

We decided to go to this café called Avocafe because the name was very catchy, but I couldn't imagine what type of dishes they served there.

It's located in Jinbocho. It's about a 5 minute walk from jimbocho station, but since it was located in a narrow alley, it took us about 10 minutes to find the café.

The entrance was very cute. They were very crafty with multiple posters of avocados.

The menu was very small and it had 6 different dishes. I had a hard time deciding between avocado thai curry or the daily special menu. I didn't want to smell spicy afterwards, so I decided to choose daily special menu.

All the dishes came with a soup and a drink.

The daily special was Avocado with Negitoro and Okura-Tororo. It was very Japanese. As you can see, there was shoyu and wasabi on the side. With those sides, it was similar to sushi.

They had so many sliced avocadoes on the rice. I think they used one whole avocado per dish.

It was an adventure for me because I've never had avocado with rice before. I've never even tried those avocado shrimp sushi they have at sushi-go-rounds.

The rice and avocado combination wasn't bad at all! The wasabi and shoyu made me feel like I was eating sushi, but bigger in size. Now I have to try avocado shrimp sushi…

I would come back here again because I'm actually curious about the avocado curry. What would that look/taste like?

Those who miss eating avocadoes, especially if you're from the western part of the U.S, come enjoy various types of avocado dishes at Avocafe!

■Writer:Jessica

■SNS:mintbaaby

■Information

Avocafe

Address: Tokyoto Chiyodaku Jimbochou 1choume2-9, 101-0051

Phone: 03-5281-6177

Open: Monday~Friday 11:30am~15:00pm, 18:00pm~22:30pm

Weekends: 12:00pm~22:00pm

https://tabelog.com/tokyo/A1310/A131003/13042695/

−−−

■Related article:Enjoy the authentic taste along on the Chuou railroad line

■Related article:【TokyoCafe】At the heart of trendy Omotesando sits the old, unchanged Café Casa. Take a bite into the past and try the must-eat hotcakes!

 

【TokyoDinner】The popular Japanese restaurant which even have repeat customers from outside the country

Tokyo has the largest number of restaurants which were granted the highest rank of three stars in the Michelin Guide in the world. So, there are so many kinds of restaurants. This time, I would like to introduce the Japanese restaurant which is popular among the foreign tourists. The restaurant named "Den." It ranked in the best restaurants ranking in Asia. They moved their restaurant from Jinbo-cho to Jingu-mae in this December.

 

The young owner, Mr. Hasegawa, loves to see people get excited. They are full of surprises in their course menus.

The first thing they serve is the food in this picture. It looks like a Japanese traditional snack called Monaka, but there is actually foie gras inside. The owner who is often being invited to the event in the other country got this idea, and the other ingredients inside the sand beside foie gras changes often, so you will be surprised every time you eat this.

 

However, the most famous thing in this restaurant is "Den-tucky Chicken." The owner came up with this idea when he was chatting with employees while he was eating a staff meal on Christmas day. This food is brimming with a playful spirit. Since Kentucky Fried Chicken is world-famous, people from all over the world enjoy this food. By the way, the guy on the box is Mr. Hasegawa, but it sometimes changes to a customer's face for special occasions. It is also tasty that the wings which has seasonal filling. 

You can enjoy high-quality sashimi and rice bowl, so you can enjoy the moment from bottom of your heart. One of the reasons that foreign customers visited this restaurant is their friend told them this restaurant is the best.

It is also good to enjoy the traditional Japanese style, but I would love you to enjoy the forefront cultures.   

■Den

Address: Kenchikuka-kaikan JIA-kan B1F, Jingumae, Shibuya, Tokyo

Atsuo Ohki("The Best Tokyo Restaurant" Editor in Chief)

−−−

■Related article:Obanzai (a traditional Japanese cuisine native to Kyoto), tasty sake, and delicious set meals

■Related article:Enjoy healthy shabu shabu casually