Kenshi Yonezu x UNIQLO's UT Collaboration to Hit UNIQLO Stores Worldwide
UNIQLO is collaborating with Kenshi Yonezu for the first time for their graphic T-shirt brand "UT." The collection will first drop in Japan on August 14, 2020 before rolling out to UNIQLO stores in New York, Shanghai, and Guangzhou.
This also marks Yonezu's first foray into an apparel collaboration, who has brought his unmatched creativity born from his talent as one of the top Japanese singer-songwriters in the industry as well as being an illustrator. It's a must-grab for fans of Yonezu and style.
Kenshi Yonezu's Unique Illustrations & Fantastical Pictures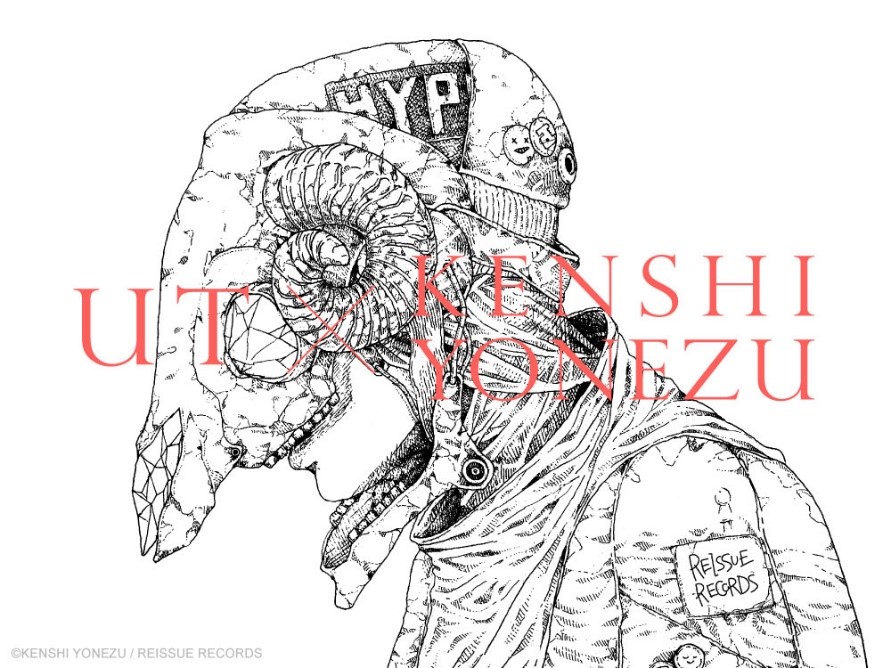 The clothing line-up sees a range of original character designs including Kenshi Yonezu's trademark cat. Designs include the characters printed large on the T-shirts, designs featuring whimsical photos, and more, all of which were supervised by Yonezu himself. The collection is made up of a range of base colours including black, white, green, pink, and more.
Special Store Decorations
UNIQLO 5th Ave in New York has been decorated in an illustration created by Kenshi Yonezu. This design is set to roll out at 8 UNIQLO branches around the world, including UNIQLO PARK Yokohama. The artist also took to the stage in a video premiere concert for Fortnite on August 7, 2020.
US:
New York 5th Ave | August 7, 2020 – August 18, 2020
China:
Shanghai (Video Monitor), Guangzhou | August 11, 2020 – August 24, 2020
Japan:
UNIQLO PARK Yokohama Bayside | August 10, 2020 – August 24, 2020
Canal City Hakata | August 12, 2020 – August 31, 2020
Sendai Izumi | August 13, 2020 – August 16, 2020
Harajuku | August 14, 2020 – August 28, 2020
Shinsaibashi | August 14, 2020 – August 27, 2020
Kenshi Yonezu | Comment
"UNIQLO is a store that has always been there since I was a kid […] and I want to give my respect to them for taking responsibility for always being there."
Information
UNIQLO UT x Kenshi Yonezu Collaboration
Initial Release Date: August 14, 2020 (In-Store/Online)
Price: ¥1,500 Each (Before Tax) *Japan
Sizes: XXS-4XL (XXL-4XL available online only) *Japan
Product Page: https://www.uniqlo.com/jp/ja/spl/ut-graphic-tees/kenshi-yonezu/men
*UNIQLO Harajuku and UNIQLO TOKYO are also selling Regular Edition copies of Kenshi Yonezu's latest album STRAY SHEEP
RELATED ENTRIES
UNIQLO TOKYO Begins Knitwear Focused Exhibition

UNIQLO TOKYO, the global flagship store of UNIQLO, is now holding an exhibition themed on its knitwear at its first floor LifeWear Square area until October 11, 2020. It's a consolidation of everything that goes into wearing the symbolic style of their LifeWear lineup, covering the art, science, and craftsmanship behind the items.

About UNIQLO TOKYO

UNIQLO TOKYO opened back in June this year in Ginza, Tokyo, as the country's biggest store and global flagship store. UNIQLO TOKYO is the embodiment of UNIQLO's "LifeWear," clothing that the company has created to "improve everyone's life."

SCIENCE: 3D knit installations by Rhizomatiks Architecture

Rhizomatiks Architecture have created a range of installations including mannequins centred on knitwear. Customers will be able to see knitwear being made by the machines right before their eyes.

CRAFTSMANSHIP: Tools used in the manufacturing process

See the strict standards and measures taken to carefully craft each and every UNIQLO cashmere sweater, from the processes carried out to the materials and tools used in the manufacturing process, samples, and more.

ART: Styling

See the headpieces created by Shiseido's top hair and makeup artist Tadashi Harada for displaying the knitwear. Each and every one was made with care and attention for the 20 mannequins.

UNIQLO Collaborates With Ryan McGinley On UT Autumn & Winter 2020 Collection

The Autumn/Winter 2020 Collection for UNIQLO's graphic T-shirt brand UT features a pop culture line-up of photos, art, movie stills, character pictures, and more. This year, the brand is collaborating with American photographer Ryan McGinley for the very first time. Designs will also include the superheroes drawn by artist Jean-Michel Basquiat, Keith Haring's iconic Mickey Mouse, and artistic renditions of Marvel characters.

Ryan McGinley, the American artist in the limelight

Men's T-Shirts (6 Designs): ¥1,500 (Before Tax) | Release Date: August 31, 2020

New York-based photographer Ryan McGinley has been called "America's most important photographer" in recent years. This collection of six T-shirts features prints of his photo work, including pieces showcasing young people on an ordinary day. The addition of overlayed text adds a street vibe to the designs.

An exciting collection of heroes and villains

Men's T-Shirts (6 Designs): ¥1,500 (Before Tax) | Men's Hoodies (5 Designs): ¥2,990 (Before Tax) | Release Date: September 7, 2020

This exciting collection from UT lines up the Instantly-recognisable heroes and villains of Marvel, like Venom—who is getting the sequel movie Venom: Let There Be Carnage next year—and Morbius, who is also getting a film adaptation in 2021.

Popular Warner and DC characters drawn in Jean-Michel Basquiat's unique style

Men's T-Shirts (6 Designs): ¥1,500 (Before Tax) | Men's Hoodies (5 Designs): ¥2,990 (Before Tax) | Release Date: September 18, 2020

Jean-Michel Basquiat was an American artist whose style, which was influenced by art history, music, and pop culture, was huge in the art scene back in the 80's. Basquiat was influenced by DC Comics superheroes and Loony Tunes when he was a kid which can be seen in his early work, and that has been captured in this UT collection.

Mickey Mouse's influence on Keith Haring

Men's T-Shirts (6 Designs): ¥1,500 | Men's Hoodies (5 Designs): ¥1,990 | Women's T-Shirts (6 Designs): ¥1,500 | Kid's T-Shirts (4 Designs): ¥990 (All Before Tax)

Keith Haring's early influences included Walt Disney cartoons, and learned how to draw using a book his grandmother owned a Disney 'how-to-draw' book. Haring saw Mickey as a symbol of America, and this collection captures his dream of wanting to work at Disney.

Eco bags

エコフレンドリー プリントバッグ4柄 590円(税別)発売日:10月以降順次発売

In line with the UT collection, UNIQLO will also sell a variety of eco bags including a "Mickey Mouse x Keith Haring" design and one of Jean-Michel Basquiat's wall art. The collection will include not just UT items, but a variety of merchandise capturing the latest in pop culture.

It has been 11 years since Jil Sander's first collaboration with UNIQLO, which ran from 2009 to 2011. The minimalist German fashion designer is now set to bring back her signature modern style to UNIQLO with the +J collection this autumn. The new line-up is fit for all occasions and is available in men's and women's sizes.

Jil Sander | Latest Interview

UNIQLO Japan interview Jil on the new collection which you can read here in Japanese.

+J in Autumn 2020 will bring a sense of sophistication, luxury, and comfort.

Global clothing retailer UNIQLO has announced that its Uniqlo U 2020 Autumn/Winter Collection will launch on September 18. The line-up is a delicate fusion of sophistication and comfort, incorporating a balance of natural colours and deep vivid colours to create designs that are both simple yet high quality.

New for women: details and comfort

Inspired by minimalism, the line-up is a collection of clean and functional pieces to be worn throughout autumn and winter. The items are made with details and comfort, with beige and skin tones eliciting a sense of warmth and comfort. The greys and blues provide a beautiful contrast, while satins and viscose bring a refinement to the silhouettes.

A padded coat combines elegant volume with warmth. One piece dresses are inspired by vintage styling with sophisticated details, and knits hug comfortably around you in a perfect fit. The wool-blend jersey jacket has a touch of masculine to it while evoking delicate colours and form.

New for men: sophisticated warmth

The inspiration for the men's collection comes from the sportswear seen in European street culture, bringing flashy colours and lots of volume weaved into classic designs. Neutral colours like beige and brown are balanced with black, white, and dark blue, while orange and Bordeaux red evoke a rich accent. Textures like corduroy and wool-blend fleece provide warmth and comfort.

The padded corduroy blouson with a round silhouette offers sophisticated warmth. The box silhouette half-coat features an oversized collar as well as a placket to fend off the wind. The fleece shirt jacket can be worn in autumn as an outer while in the cold winters it can be worn under a coat as an inner.

Information

Uniqlo U 2020 Autumn/Winter Collection
Release Date: September 18, 2020

Available: 67 UNIQLO stores and UNIQLO Online

Line-Up: Women's (38 Items) | Men's (39 Items) | Merchandise (4 Items)

Official Website: https://www.uniqlo.com/UniqloU

UNIQLO's UT Demon Slayer T-Shirt Collection to Release in Collaboration With GU

UNIQLO's graphic T-shirt brand is partnering up with GU to drop a new T-shirt collection in collaboration with the hugely popular manga series Demon Slayer: Kimetsu no Yaiba which has over 80 million copies in circulation. The first batch of the collection by UT will drop in Japan on August 7, followed by the second from both UT and GU at the end of the same month.

The collection features illustrations of the popular characters from the series whom are set to appear in the upcoming anime film Demon Slayer: Kimetsu no Yaiba the Movie: Mugen Train set for release on October 16, 2020.

UT – 1st Collection

The first batch of the unisex collection is packed full of scenes specially selected from the Demon Slayer manga series.

This includes iconic scenes from popular characters, including the protagonist Tanjiro Kamado in battle. It's a must have line-up for fans.


Each t-shirt captures essence of the characters from this sad series in which humans and demons fight each other.

Left: GU | Right: UT – 2nd Collection

The second collection also features kids T-shirts as well as merchandise. The full line-up is set to be revealed on August 17. GU's line-up includes not only popular characters and scenes from the series, but words from it too, as well as colouring inspired by the clothing and hairstyles worn by the characters.

©Koyoharu Gotouge / Shueisha

Fortnite Chapter 2 x UNIQLO T-Shirt Collaboration Launches This July

UNIQLO is launching six new t-shirts as part of its graphic T-shirt brand UT in collaboration with Fortnite. Set to go on sale in Japan on July 13, fans of the popular game can look forward to seeing familiar faces like DJ Yonder and Peely, as well as Llama who featured in UT's previous Fortnite themed collection last year.

What is Fortnite?

Fortnite is an online video game developed by Epic Games which was released in 2017. When it dropped, it quickly become a sensation with gamers across the globe for its battle royale mode and diverse range of character skins and items, and more. As of May this year, over 350 million players have registered to play the game. Chapter 2 was released in October last year which introduced new locations, gameplay features like swimming and fishing, and so on.

The collection features T-shirts with bright colours and fun designs which can be incorporated into all kinds of outfits.

DJ Yonder

The DJ Yonder design sees him holding a stereo player. The comic strip artwork is a nice touch too.

Drift

A simple design with a white base and Drift's mask. The golden part is in fact gold leaf print.

Skull Trooper

An 80's pop colour design with Skull Trooper dancing. Super fashionable and super cool.

Peely
This fun T-shirt has Peely's name written in banana peel.

Llama
An iconic character from Fortnite, this T-shirt has Llama's name written in Japanese Katakana.

Robot
The front of the T-shirt has a simple Fortnite logo on the front, while on the back is Robot printed in bright colours.

This collection is a must-have for any fan of Fortnite and gaming.

© 2020 Epic Games

UNIQLO is set to open its new global flagship store named UNIQLO TOKYO at MARRONNIER GATE GINZA 2 on June 19, 2020.

 

The new branch comes as the third to open this year, following UNIQLO PARK Yokohama Bayside in April and UNIQLO Harajuku last week on June 5.

 

© Herzog & de Meuron

UNIQLO TOKYO will be the embodiment of UNIQLO's "LifeWear," clothing that the company has created to "improve everyone's life." The company prides itself on weaving high-quality and high-function clothing for all people at an affordable price. Their products a multifarious, and the brand continues to evolve. To bring LifeWear to life at UNIQLO TOKYO, the brand has brought creative art director Kashiwa Sato on board, as well as award-winning Swiss architecture firm Herzog and de Meuron.

The central part of the 1st floor is called LifeWear Square, an area that fully captures UNIQLO's "LifeWear" concept for customers. The first floor will be a collection of everything from trending products to collaborative products and more. There will even be an area where you can buy flowers near the entrance which is located along MARRONNIER.

The 2nd floor is a full line-up of women's clothes. From trending attire to basic UNIQLO threads, women will be able to pick from a diverse line-up of items, including clothes that will go on pre-sale at UNIQLO TOKYO, and even homewear and office wear.

Up on the 3rd floor is the men's section which is stocked with everything from casual clothes to high quality outfits. They can even make made-to-order suits and jackets where you can choose the lengths of sleeves, the body, and so on.

The 4th floor is the children's and baby section, and it even has a library for kids to play in, so kids can have fun while you shop. The 4th floor is also home to a UT archive space which showcases all the different t-shirts that have been released as part of the UT graphic T-shirt series.

The rooftop and outside of the building will don digital signs made by interactive designer and engineer Yugo Nakamura.

UNIQLO TOKYO is set to offer a completely new UNIQLO experience to people from both inside and outside Japan when it opens on June 19, 2020.

Billie Eilish x Takashi Murakami Collaborate Once Again For UNIQLO UT Fashion Collection

Billie Eilish and Takashi Murakami have joined hands once again to drop a new clothing collection in UNIQLO's graphic T-shirt brand UT.

Billie made her debut when she was 13, and just five years later, her music is spearheading the charts and industry. Back in January this year, at 18-years-old, Billie won five Grammy Awards and hailed as the youngest person to win all four of the main Grammy categoriesーBest New Artist, Record of the Year, Song of the Year and Album of the Year. She is also only the second person to win all four in the same year.

The collection will be available online from May 25, 2020 and in stores from May 29, 2020 as they reopen.

MEN


WOMEN


KIDS

UNIQLO USA released a trailer for the collection on their official YouTube channel which you can watch below. The colourful video combines Billie's iconic Blohsh character with Murakami's flowers.

UNIQLO Presents: Billie Eilish by Takashi Murakami For UNIQLO UT

Billie and Murakami's friendship started when they sent each other messages on Instagram. Billie performed at Summer Sonic in Japan in 2018. During her time in the country, she met with Murakami and together they completed an animated music video for her hit track you should see me in a crown which was released last April.

©️Takashi Murakami/Kaikai Kiki Co., Ltd. All Rights Reserved. Photo by RK (IG: @rkrkrk)

The music video has over 69 million views (as of May 18, 2020) and fuses together the visionary minds of Billie and Murakami.

Billie Eilish – you should see me in a crown (Official Video By Takashi Murakami)


To commemorate the new Billie Eilish x Takashi Murakami UT collection, a 3-meter tall statue of Billie created by Murakami is being erected at the Harajuku branch of UNIQLO in Tokyo this June.

*Please note that the opening day of the UNIQLO Harajuku is subject to change.

©2020 LASH Music, LLC
©2020 Takashi Murakami/Kaikai Kiki Co., Ltd. All Rights Reserved.

Information

Billie Eilish x Takashi Murakami UT Collection
Available Online 5/25 Mid Morning ET
In Stores 5/29 As They Reopen

Billie Eilish x Takashi Murakami UT Collection Website: www.uniqlo.com/billie-x-murakami/

Evangelion: 3.0+1.0 T-Shirts Releasing by UNIQLO's UT Brand

UNIQLO's graphic T-shirt brand UT it collaborating with the forthcoming anime film Evangelion: 3.0+1.0 to release a collection of T-shirts at UNIQLO stores across Japan and their online store on April 17, 2020.

The film, which is set for release on June 27, 2020, will wrap up the Rebuild of Evangelion film series as the fourth and final entry. The T-shirts in the collection feature completely original and exclusive designs.

Designs take inspiration from memorable scenes

The collection is comprised of 8 original T-shirt designs which were drawn exclusively for UT, ranging from Evanglion Unit-01, Unit-00, and Unit-01 to popular character Kaworu, and the first-ever Unit-00 Berserk mode T-shirt design. Fans of the Evangelion world are sure to appreciate all the little details.

UT x Evangelion UNIQLO 2020 Spring/Summer


Delivered in an exclusive box with the Evangelion font

Those who purchase from the collection via UNIQLO's online store between April 10-23 will have their orders shipped in a special box bearing various words in the "Eva Font," such as the UNIQLO brand concept, the brand name's original "Unique Clothing Warehouse," and so on.

Due to the ongoing situation surrounding the novel coronavirus, select branches of UNIQLO in Japan are closed or have had their opening hours altered. Details can be found on their website.

Information

Evangelion UT

Release Date: April 17, 2020

Price: ¥1,700 (Before Tax)

Designs: 8

Available: UNIQLO stores in Japan / UNIQLO Japan online store

Product Page: https://www.uniqlo.com/jp/ja/contents/feature/ut-eva2020/

*Exclusive boxes come in one design and are available while supplies last

*Product manufacturing and distribution, as well as release date and so on are subject to extensions or change depending on the latest developments surrounding the coronavirus

Hana Tajima x UNIQLO Celebrate Women's Changing Bodies in Spring/Summer 2020 Collection

UNIQLO and fashion designer Hana Tajima are joining hands once more for their "HANA TAJIMA FOR UNIQLO" collaboration which is set to go on sale from April 17, 2020. This new spring/summer collection is themed on "Changing Bodies," referring to how a woman's body continues to change subtly overtime, which is upheld with the clothing line-up's flexibility. This unique collaboration serves beauty for all woman regardless of age, ethnicity, culture, or faith.

Capturing all body images and making them shine

The attire in this line-up fit snug on their wearer, equipped with an adjuster that enables them to freely modify the item to make it fit to them, while highlighting their beautiful silhouette. The items aren't bound by sizeーthey make you feel liberated and cater for change.



Soft, botanical print designs


The floral prints designed by Hana draw out the inner beauty of the wearer. The colour palette takes inspiration from nature, giving the sheer fabric blouses and crepe one pieces a calm and tranquil image.

Hana Tajima Comment

"The body isn't a static thing; it grows while we move and is always changing. And we feel those subtle changes day by day, don't we? I wanted to design clothes that looks at these changes head on and responds accordingly. I want [women] to feel the joy and excitement of putting on clothes with how they dress each day. I want each and every piece of clothing to fit the person and be something they'll love forever. I hope that the clothes we wear each day make us feel comfortable, familiar, and beautiful in our bodies." *Translated from Japanese

Information

HANA TAJIMA FOR UNIQLO

Release Date: April 17, 2020

Available: UNIQLO Sapporo ESTA, UNIQLO Ginza, BICQLO UNIQLO Shinjuku, UNIQLO Shinsaibashi, UNIQLO Online Store

Product Page: https://www.uniqlo.com/hanatajima/jp/

Kenshi Yonezu Releases 'Paprika' Song Digitally as 2020 'HYPE' Tour Kicks Off

Kenshi Yonezu's song Paprika has become a hit amongst the children of Japan since its release, even taking home the top award at the 61st Kagayaku! Japan Record Awards. Its music video has garnered over 70 million views on YouTube, and tomorrow (February 3) the song will be released digitally.

This version of the song is a "self-cover" in which Yonezu sings. The original version was written and produced by Yonezu but he did not actually sing in it. In July 2018, he announced a new project to cheer on the people of the world in 2020 and beyond. It began with the formation of Foorin, a group of child singers who sang the original Paprikamusic video which Yonezu wrote the lyrics for as well as composed and produced the music. A was released in July 2018 which has amassed over 164 million views (as of January 1, 2020), which features Foorin performing choreography created by Tomohiko Tsujimoto and Koharu Sugawara.

At the end of 2019, Foorin had already performed on numerous music television programmes, and a new group was formed called Foorin team Eーa group of international children who performed Paprika in English. Thus began the worldwide phenomenon of Paprika.

Within just 4 days and 9 hours of its release, Kenshi Yonezu's self-cover version released on YouTube had already surpassed 10 million views. Now, the self-cover is set to be released digitally on February 3, 2020. The artwork for the digital release was created by Ryu Kato.

Paprika will be used for NHK's TV and radio program Minna no Uta ("Everybody's Song") throughout February and March.

Kenshi Yonezu's 2020 "HYPE" tour in Japan and Asia has finally kicked off. Find the full schedule below.

Information

"Paprika" Digital Single

Released: February 3, 2020

Digital Download: https://smej.lnk.to/9MqZk

NHK – "Minna no Uta"

Paprika will be used on air February-March 2020

Minna no Uta Official Website: http://www.nhk.or.jp/minna/

Kenshi Yonezu 2020 HYPE Tour Schedule

2020/2/1 @ Wakayama Big Whale, Wakayama Prefecture

2020/2/2 @ Wakayama Big Whale, Wakayama Prefecture

2020/2/8 @ Sun Dome Fukui, Fukui Prefecture

2020/2/9 @ Sun Dome Fukui, Fukui Prefecture

2020/2/15 @ Yokohama Arena, Kanagawa Prefecture

2020/2/16 @ Yokohama Arena, Kanagawa Prefecture

2020/2/22 @ Hiroshima Green Arena, Hiroshima Prefecture

2020/2/23 @ Hiroshima Green Arena, Hiroshima Prefecture

2020/2/27 @ Sekisui Heim Super Arena, Miyagi Prefecture

2020/2/28 @ Sekisui Heim Super Arena, Miyagi Prefecture

2020/3/7 @ Mie Prefectural Sun Arena, Mie Prefecture

2020/3/8 @ Mie Prefectural Sun Arena, Mie Prefecture

2020/3/11 @ Osaka-jo Hall, Osaka Prefecture

2020/3/12 @ Osaka-jo Hall, Osaka Prefecture

2020/3/17 @ Saitama Super Arena, Saitama Prefecture

2020/3/18 @ Saitama Super Arena, Saitama Prefecture

2020/3/25 @ Marine Messe Fukuoka, Fukuoka Prefecture

2020/3/26 @ Marine Messe Fukuoka, Fukuoka Prefecture

2020/4/4 @ Hokkaido Prefectural Sports Center, Hokkaido

2020/4/5 @ Hokkaido Prefectural Sports Center, Hokkaido

Taipei Concert
Concert Name: Kenshi Yonezu 2020 TOUR / HYPE IN TAIPEI
Date: April 18, 2020
Time: 16:00 OPEN / 17:00 START
Venue: Taipei Arena

Ticket Prices: NT$4,500 / 3,900 / 3,600 / 2,400 / 1,800 / 800
Promoters: 超級圓頂娯樂 / 大鴻藝術BIG ART
Enquiries: https://www.facebook.com/bigart.tw/

 

Shanghai Concert
Concert Name: Kenshi Yonezu 2020 TOUR / HYPE IN SHANGHAI
Date: April 29, 2020
Time: 18:30 OPEN / 20:00 START
Venue: Mercedes-Benz Arena Shanghai

Ticket Prices: 1680元 / 1280元 / 780元
Promoters: STAR GROUP上海星族文化艺术发展有限公司
Enquiries: http://www.newstargroup.com.cn/

Kenshi Yonezu Official Website: http://reissuerecords.net/

Kenshi Yonezu's 'Lemon' Music Video Breaks 500 Million Views On YouTube

Kenshi Yonezu's 2018 single Lemon has broken many milestones to date, and today marks yet another etching in history.

The music video for Lemon officially broke 500 million views on December 17, 2019 at 10:08am (JST), which marks one year and 295 days since it was released on YouTube. Yonezu now holds the record for most viewed Japanese artist on the video platform.

Photo by Tomokazu Yamada

Yonezu's other music videos have also garnered huge views: Uchiage Hanabi is on 327 million, Aine Kuraine is on 236 million, and LOSER is on 228 million (as of December 17, 2019). All nine of his music videos total over 1 billion views (the aforementioned four, orion, Peace Sign and Haiiro to Ao (+Masaki Suda), Flamingo, and Paprika), and he has 4.59 million subscribers, making him the most subscribed-to Japanese music artist. His channel also has over 2.4 billion views, and the numbers continue to soar.

Lemon enjoys yet another year of success following its overwhelming popularity upon its release in 2018. To thank fans for its success, a billboard has been put up at the Hachiko Exit of Shibuya Station in Tokyo, which reads "Kenshi Yonezu" on the left and "Music Carries On" on the right. It will be up until December 29, 2019.