Japan's Oldest 12th Century Manga 'Choju Giga' Collaborates With Miffy
Japanese online shop Perfect World Tokyo is now selling a selection of merchandise made in collaboration with Miffy and Chōjū-jinbutsu-giga (Scrolls of Frolicking Animals), a famous set of 12th century picture scrolls which are considered to be the world's first manga.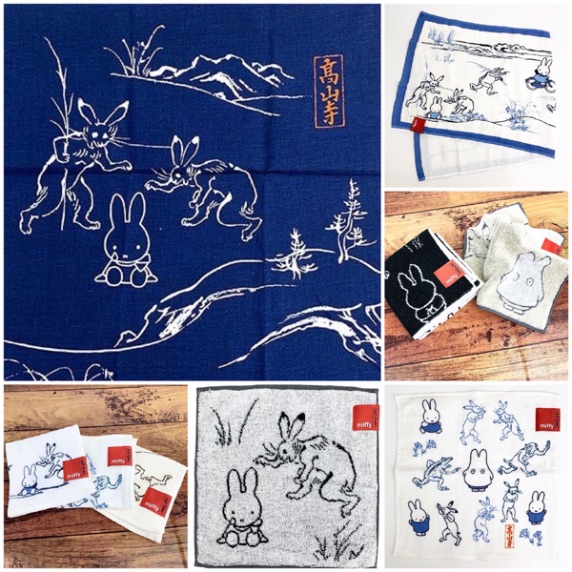 Miffy x Chōjū-jinbutsu-giga
The merchandise collection was teased on Twitter before its official release which excited Miffy fans. Chōjū-jinbutsu-giga was created sometime between the Heian Period and early Kamakura Period in Japan.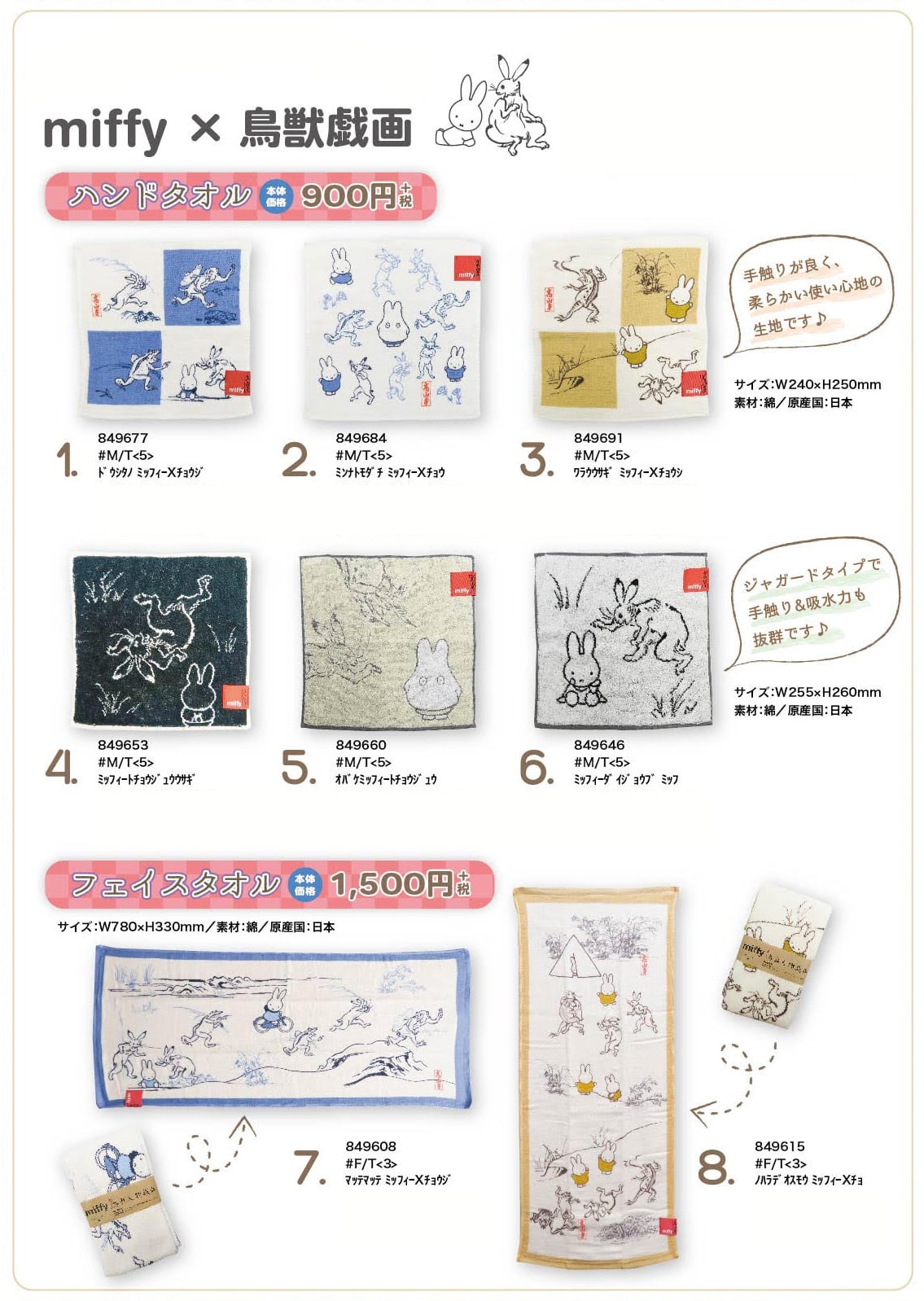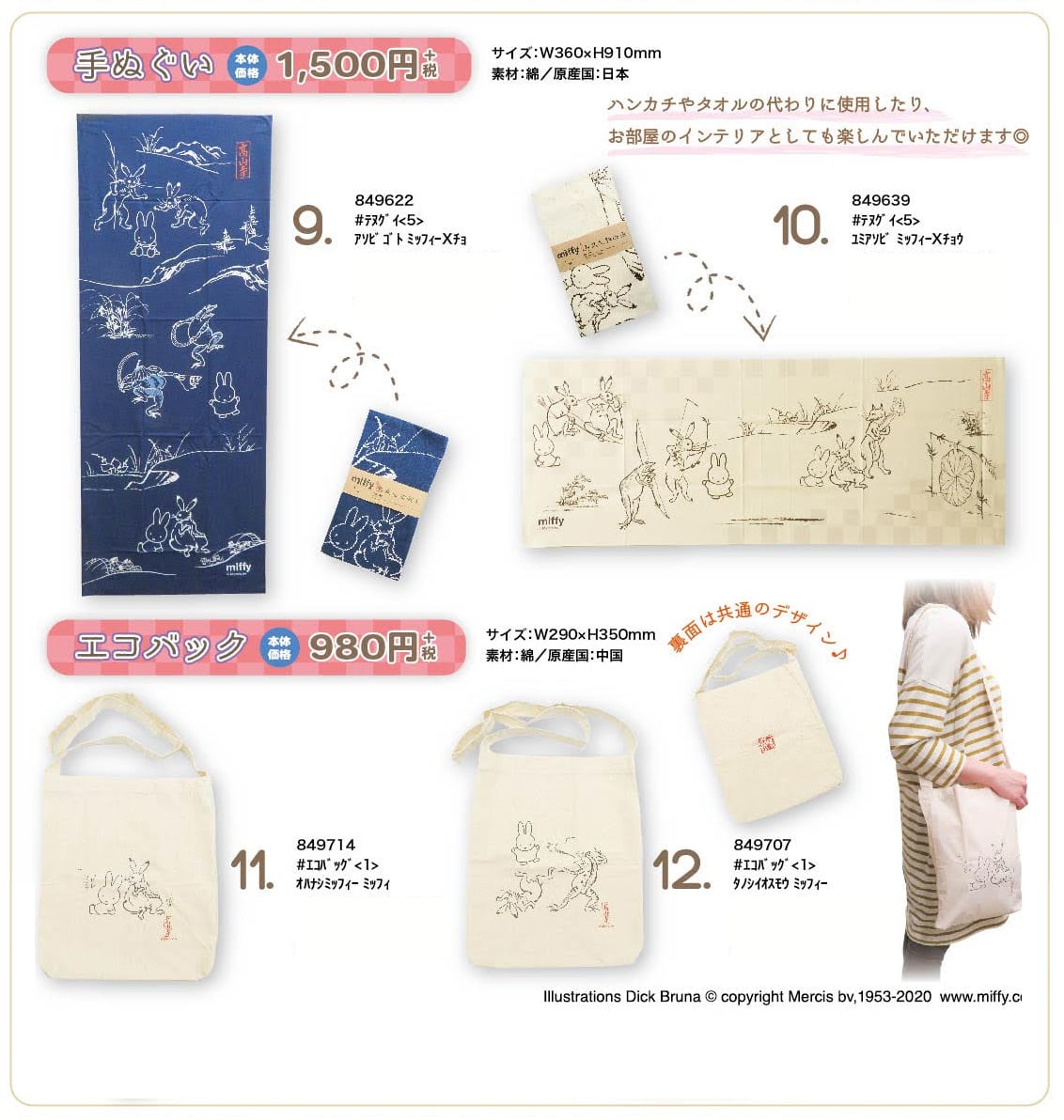 This is an unprecedented and unique collaboration and for sure a must-grab. They're even selling eco-bags.
Information
Miffy x Chōjū-jinbutsu-giga Series
Buy Here (Japan Only):
RELATED ENTRIES
Flower Miffy Juice Garden in Asakusa Offering Limited-Time Drink Perfect for Early Summer

Flower Miffy Juice Garden, a drink stand inspired by Flower Miffy, a florist version of the Dutch character Miffy, has begun selling the perfect drink for the early summer weather. The Marguerite Cream Soda is on sale now at the Asakusa location.

Marguerite Cream Soda

Flower Miffy Glass Vase Flower Frame

The Marguerite Cream Soda features refreshing lemon soda topped with sliced lemon, thick vanilla ice cream, a Miffy cookie and a marguerite flower. Visitors can also find a special Miffy glass vase at the Asakusa store for a limited time, perfect for displaying flowers at home.


Come enjoy shopping for Miffy goods while sipping a refreshing beverage this summer!

Illustrations Dick Bruna Ⓒ copyright Mercis bv,1953-2022 www.miffy.com

Information

Flower Miffy Juice Garden
Address: Flower Miffy Juice Garden Asakusa
Limited Time Beverage: Marguerite Cream Soda
Available starting April 28, 2022
Official Site: https://www.benelic-flower.com

Cherry Blossom Themed Drink Appears at Flower Miffy

Flower Miffy Juice Garden, a drink stand featuring Dick Bruna's popular character Miffy, is now offering a limited-time cherry blossom beverage at its Asakusa location!

Strawberry

Green Apple

Cherry Blossom Season with Miffy

The Slightly Sakura Drink is inspired by springtime and features a sweet whipped topping with cherry blossom-colored copeau de chocolat. The base of the drink is sakura-colored milk available in green apple and strawberry flavors. Each beverage comes with a Miffy cookie for added cuteness!

 

A Cherry Blossom flower arrangement is also available for purchase at the Flower Miffy online store. 

Illustrations Dick Bruna Ⓒ copyright Mercis bv,1953-2022 www.miffy.com

Miffy-themed Snack Shop Opens in Gion, Kyoto

Telacoya, a company promoting traditional Japanese culture through the sale of souvenirs, is opening a new Miffy-themed snack shop on March 30, 2022. The adorable concept store is coming to Gion, Kyoto's famed downtown district.




Miffy Buckwheat Cookies

Miffy's Snack Medley

Miffy's Sugar-coated Biscuits

Miffy's Marshmallow Sweets

Miffy Cube Bread

Snuffy's Milk Breadstick

Miffy's Anko Roll

 

The shop caters to those needing a pick-me-up during the day, from children tired of studying to company employees trying to get through the day. Snacktime doesn't only have to be for children.

 

Along with the many sweet offerings available at the new shop, fans of Miffy will find exclusive Miffy merchandise, including limited-edition kitchen goods!

Information

Miffy's Snack Shop by Miffy Kitchen

Grand Opening: March 30, 2022

Address: 572-2 Gionmachi Minamigawa, Shijo-dori, Higashiyama, Kyoto

Official Site: http://miffykitchenbakery.jp/

Limited Edition Flower Miffy Goods Featuring a Cherry Blossom Theme Now on Sale

Flower Miffy, a flower shop inspired by the popular Dutch picture book Miffy, has begun selling a new series of cherry blossom-inspired items! A limited number of postcard sets are also being offered as purchase bonuses. 

Flower Miffy Glass – Sakura Gradient Pink / Pearl: ¥1,595 (Tax Included)

Flower Miffy Sakura Plate: ¥2,090 (Tax Included)

Flower Miffy Mini Towel – Sakura Pink / Ivory: ¥770 each (Tax Included)

The series features original artwork, and fans of Miffy can get their hands on unique glassware, cherry blossom plates, and mini-towels. 

Those spending ¥3,300 (including tax) or more will receive a set of two limited edition postcards. The offer will end as soon as they're gone!

*Offer does not apply to flower arrangements.

Illustrations Dick Bruna Ⓒ copyright Mercis bv,1953-2022 www.miffy.com

Information

Cherry Blossom Series

Release Date: February 10, 2022

Where to Buy: Flower Miffy Shops Nationwide, Flower Miffy Online Shop

Official Site: https://benelic.com/flowermiffy/

Special Exhibition Commemorating Miffy's 65th Anniversary Now on Display at Matsuzakaya Nagoya

Matsuzakaya Nagoya is holding an exhibition to celebrate the 65th anniversary of the birth of Miffy, created by Dutch illustrator Dick Bruna, until January 16, 2022. The theme of the exhibition is "with". It introduces the story of Miffy and her friends, with more than 300 precious original drawings, sketches, and creative notes.

Miffy the Ghost, 2001. (Manuscript)

Miffy the Ghost, 2001. (Manuscript)

Queen Miffy, 2007. (Manuscript)

Miffy and Poppy Pig, 2011. (Manuscript)

Miffy in the snow, 1963. (Manuscript)

Original Goods

UFD Miffy Set of 4  ¥4,400(Tax Included)

Rollbahn M  ¥638(Tax Included)

Pounch M ¥1,760(Tax Included)

Half Zip ¥1,650(Tax Included)

Floating Pen ¥1,320(Tax Included)



This exhibition marks the first visit to Japan of the original drawings including "Usako-chan: Obake ni naru" (2001) and "Usako-chan wa Jyoou-sama" (2007), as well as reference materials. Also, the original drawings of "Usako-chan on Snow Day" (1963), one of Miffy's first four works that has only visited Japan once before, and which features a winter outfit, is exhibited together for the first time. In addition, the exhibition reveals the memories and creative fascination of Bruna, who developed close friendships with Japanese picture book authors and children's literature writers and had a significant influence on the picture book culture in Japan.


The original drawings for "Usako-chan: Obake ni naru" (2001), "Usako-chan wa Jyo-oh-sama" (2007), and "Usako-chan to Fugako-chan" (2011), which was the last work to feature Miffy, are all in Japan for the first time. These drawings tell the story of Miffy playing ghosts, flying airplanes, and spending time with her family and friends.

It is also an opportunity for visitors to trace the creative process of Bruna with notes that show how he repeatedly tweaked his words and cuts that were not selected for the books.

Virtual Model imma Becomes New Pinkoi Campaign Character, Web Commercial Released

Taiwan-based e-commerce platform Pinkoi, one of Asia's largest, is celebrating its 10th anniversary with a special project! Virtual model imma is the face of the campaign as a character named 'Pin Tripper,' and a new web commercial featuring the personality along with a song written by popular artist Daoko is now available! In addition, the newest issue of the web magazine 'Pinkoi Zine' is also available on the official Pinkoi website, featuring a tour of unique items from cities around Asia in the style of a travel report. 

For the campaign, the Pantone Color Institute defined Pinkoi's two corporate brand colors, 'Pinkoi Navy' and 'Pinkoi Salmon Pink.' Japanese illustrator Noritake then designed the Pinkoi x Noritake Limited Collaboration line of goods using these unique shades. These will only be available for a short time, so be sure to snag some while you can!

Comments


imma


"Pinkoi is fun to use, because it allows you to find trendy items from cities all over Asia. I found lots of items I don't come across very often, and items that made me feel as though I were travelling around the continent. (laugh) I hope that you'll enjoy the new web commercial and the special 'Pin Trip Report' in the newest Pinkoi Zine issue! And, of course, enjoy shopping at Pinkoi too.



Daoko


For this campaign, I was able to create a new song with trackmaker Yohji Igarahi. The theme was 'sense of speed.' I think I was able to express my identity as a rapper, while also maintaining the important image of neon lights shining at night. My impression of Pinkoi is that it has a huge variety of products not available on typical Japanese sites, and as someone who loves online shopping, I was super excited to work with them!

Basketball Culture Space TOKYO 23 Reopens on Cat Street in Harajuku

TOKYO 23, a shop promoting basketball culture, is set to reopen as a large-scale shop in Harajuku on September 18, 2021. 

TOKYO 23 x JUN INOUE TEE (Black/White): ¥5,500 each (Tax Included)

Guests will enter the space to find a basketball court at the center, both keeping with the theme of the shop and maintaining a minimalist vibe. The location is bold, using a balance of different upcycled materials and gray-tone colors reminiscent of the Tokyo streets. 

JUN INOUE was in charge of designing the lanterns throughout the store, giving a more traditional Japanese feel to the modern storefront. The store is dotted with artworks by Inoue as well as Reina Koyano, both located in Los Angeles. 

The coffee shop "LATTEST" will also be a permanent fixture in the store, and is the perfect place for visitors to relax and take in the art and feeling of the TOKYO 23 store. To commemorate the opening of this massive space, special collaborative JUN INOUE x TOKYO 23 T-shirts will be on sale for a limited time. 

Information

TOKYO 23

Opening: September 18, 2021

Address: Harmony Harajuku 1F (4-28-21 Jingumae, Harajuku, Tokyo)

Hours: 11:00-22:00

Phone: 03-6804-2635

Official Site: https://www.atmos-tokyo.com/brands/tokyo23

Kaori's Easy Recipe: Learn to Make Miffy Parfait Using Tofu!

With just a small bit of ingenuity, turn everyday food into something cute using Kaori's Easy Recipe! With a few simple ideas, an ordinary recipe magically transforms into a cute dish.

In this recipe, I'll show you how to make an adorable Miffy Parfait using tofu shiratama!

Tofu shiratama can be frozen without hardening, so it's great to use for cooking as well as making sweets.

Ingredients

250g refined rice flour

300g silken tofu

✩ This is about 1 bag of refined rice flour and 1 piece of silken tofu.

Canned fruit or fruit of your choice

①

Put the refined rice flour and silken tofu into a bowl and mix well.

⚠️ Do not drain the tofu!

Don't add water, just these two ingredients.

✩I knead all ingredients and then freeze it.

Feel free to freeze it as dough, or boil it first.

You can put them in Tupperware and store them in water in the refrigerator for a day or two. Don't worry, they won't harden!

②

Add the coloring.

Take a little bit of food coloring and add as you like.

Here, I'm adding the yellow that will be the center of the flower.

③

After mixing the dough, place it on parchment paper and put it in the freezer for about 30 minutes.

You can shape it before placing it in the freezer, but chilling it will make it easier to work with.

④

Cut out Miffy and her flowers.

Place the yellow-colored piece into the middle of the flower.

Roll the rest of the shiratama into balls.

⑤

Boil the shaped shiratama while on the baking sheet.

Boil the round shiratama as well. When they float to the top, place them in cool water.

⑥

Place the shaped shiratama on parchment paper or plastic wrap and let dry briefly before adding decoration.

⑦

Mix black cocoa with a little water, and using the mixture, draw Miffy's face.

⑧

Place the flowers and shiratama balls inside the glass, follow up with your favorite fruits!

(If using canned fruit, feel free to add the syrup as well!)

I hope you enjoy decorating this colorful dish!

Kaori Kubota(@kaopan27)

I live in Hokkaido and I love to make character themed foods, desserts and pastries♡

I want to see my family smile, so I enjoy putting in a bit of effort to make character foods and changing food into something cute♡

You can see more of my character foods and character bento boxes on my Instagram page → @kaopan72

Workshop in Kichijoji Opens to Celebrate Miffy's 65th Birthday

In conjunction with the 65th Anniversary Miffy Exhibition currently being held at the PLAY! MUSEUM in Tachikawa, a special silkscreen workshop is coming only to PLAY! KICHIJOJI! The event, called A Little Kindness in Kichijoji, is currently open for reservations, and will be open each Thursday, Friday, Saturday, and Sunday until September 5, 2021. 

Dick Bruna, the creator of Miffy, often created posters using silk-screening. At the workshop, guests can choose from three different patterns and print their choice on either their own cloth and paper products, or on PLAY! goods. Each Sunday, illustrations from the book Miffy in the Snow can be printed on craft paper multiple times, eventually creating a colored Miffy! During the workshop, guests are asked to try making their own original goods using this time-honored silk-screen technique. No cheating!

At the venue, visitors can take their time reading stories from reporter Shunji Morimoto, who interviewed Bruma countless times. Each tale from his book A Little Kindness: 66 Stories will be available to browse and buy, along with a slide show of Miffy photographs taken by photographer Kotori Kawashima. Various original goods will also be on sale, so keep an eye out!

Won't you come celebrate our favorite bunny's birthday?

Illustrations Dick Bruna © copyright Mercis bv,1953-2021  www.miffy.com

Miffy x studio CLIP Merchandise Collection Revealed

Lifestyle brand 'studio CLIP' is collaborating with children's author Dick Bruna's popular character Miff with a cute merchandise collection that's set to drop at all studio CLIP branches in Japan and the online webstore .st on August 1.

The Line-Up

Limited-edition shopping bags

Fruit Soda & Soft Serve Ice Cream Parfait

studio CLIP collaborates with Miffy every year, and this year is no different, with a special line-up of character goods themed on friends and family. Boris makes an appearance this time too. Items include hand gel holders, vinyl umbrellas, tote bags, and more. There's also exclusive shopping bags for Miffy fans who buy any of the collab merch, as well as themed drinks and desserts at studio CLIP CAFE.

Information

studio CLIP x Miffy

Release Date: August 1, 2021

Locations: studio CLIP / studio CLIP Webstore

Webstore: http://www.dot-st.com/studioclip/ 

Cafe

Running: August 1, 2021 until sold out

Location: 3 studio CLIP CAFE branches (Grand Tree Musashikosugi/Yume Town Hiroshima/Yume Town Hikarinomori)

The new Miffy themed double-wall glass, which was released in November last year and sold out only in one day is back with new designs including standard design from previous collection. 

Double-wall Miffy Glass

miffy style Surprised 

miffy style Sleeping


miffy style Tears 

miffy style Standard


Don't miss out the must-have Miffy themed adorable double wall glass!

©Mercis bv

All About Matsuyama | Episode 2: Bargain Shopping Experience With machipay

The all new Matsuyama Tourist Information Centre is set to open in the heart of Matsuyama—the capital city of Ehime Prefecture in Japan— in Okaido on May 27. In celebration of its opening, this new featured series by MOSHI MOSHI NIPPON will explore the wonders of Matsuyama, a city abundant with places to shop, leisurely hot spots, must-visit restaurants, and opportunities to dive deep into its history and culture. You're sure to discover something new and exciting about Matsuyama in this series.

Machia in Matsuyama Gintengai offers support for the machipay Service

In Episode 2 of All About Matsuyama, we're looking at 'machipay,' a special service exclusive to Matsuyama that opens opportunities for a great value shopping experience.

Matsuyama's shopping districts serve as the foundation of the lives of those residing in Matsuyama. Even visiting as a tourist for shopping and sightseeing you can enjoy an inherently 'Matsuyama' experience. Something that will make that experience even better is using the city's machipay service which combines points, electronic money, and coupons all in one place. The service was created for both locals living in the city as well as tourists to create a more convenient shopping experience.

The machipay card and app feature three functions: Points, Electronic Money, and Shopping Coupons. It is compatible at countless popular stores around Matsuyama including Okaido, Gintengai, Matsuchika Town, Matsuyama Ropeway Shopping Street, and elsewhere. Every ¥100 of electronic money spent using the service nets you one point, and one point is equivalent to ¥1. Putting money on the card and paying with it means you'll start collecting lots of points which can be used at these various stores. Coupons offered around the shopping districts and its stores can also be saved onto your machipay app, making it a very handy shopping companion.

But shopping isn't the only way to earn machipay points. Attending events in the city, getting involved in voluntary work, and other activities that involve living in or like the people of Matsuyama will also garner you points.

The "machica Card" which is used for the service is sold at the machia shop (pictured above) in Matsuyama Gintengai everyday from 10:00-19:00. There's also an app. As of April 30, 2021, there are 1,200 stores in Matsuyama that are participating in the service.

If you're planning a trip to Matsuyama, make sure to use machipay.

Information

machipay

Contact machipay: 0570-055-081

machica shop Address: 3-7-10 Minatomachi, Matsuyama, Ehime 790-0012, Japan

machia Official Website: https://machica.jp