Japan's Oldest 12th Century Manga 'Choju Giga' Collaborates With Miffy
Japanese online shop Perfect World Tokyo is now selling a selection of merchandise made in collaboration with Miffy and Chōjū-jinbutsu-giga (Scrolls of Frolicking Animals), a famous set of 12th century picture scrolls which are considered to be the world's first manga.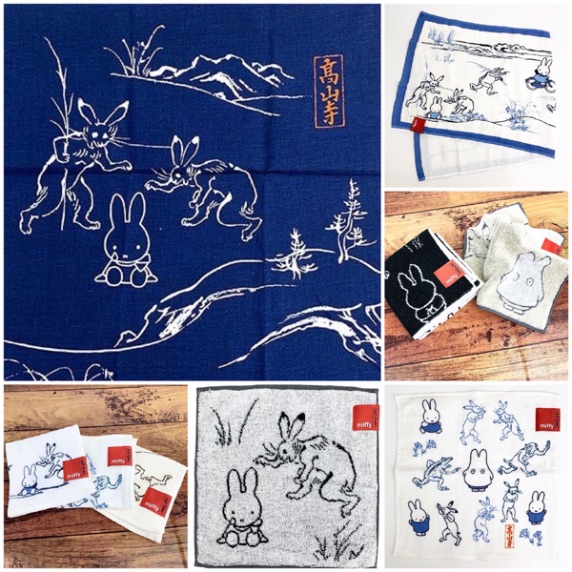 Miffy x Chōjū-jinbutsu-giga
The merchandise collection was teased on Twitter before its official release which excited Miffy fans. Chōjū-jinbutsu-giga was created sometime between the Heian Period and early Kamakura Period in Japan.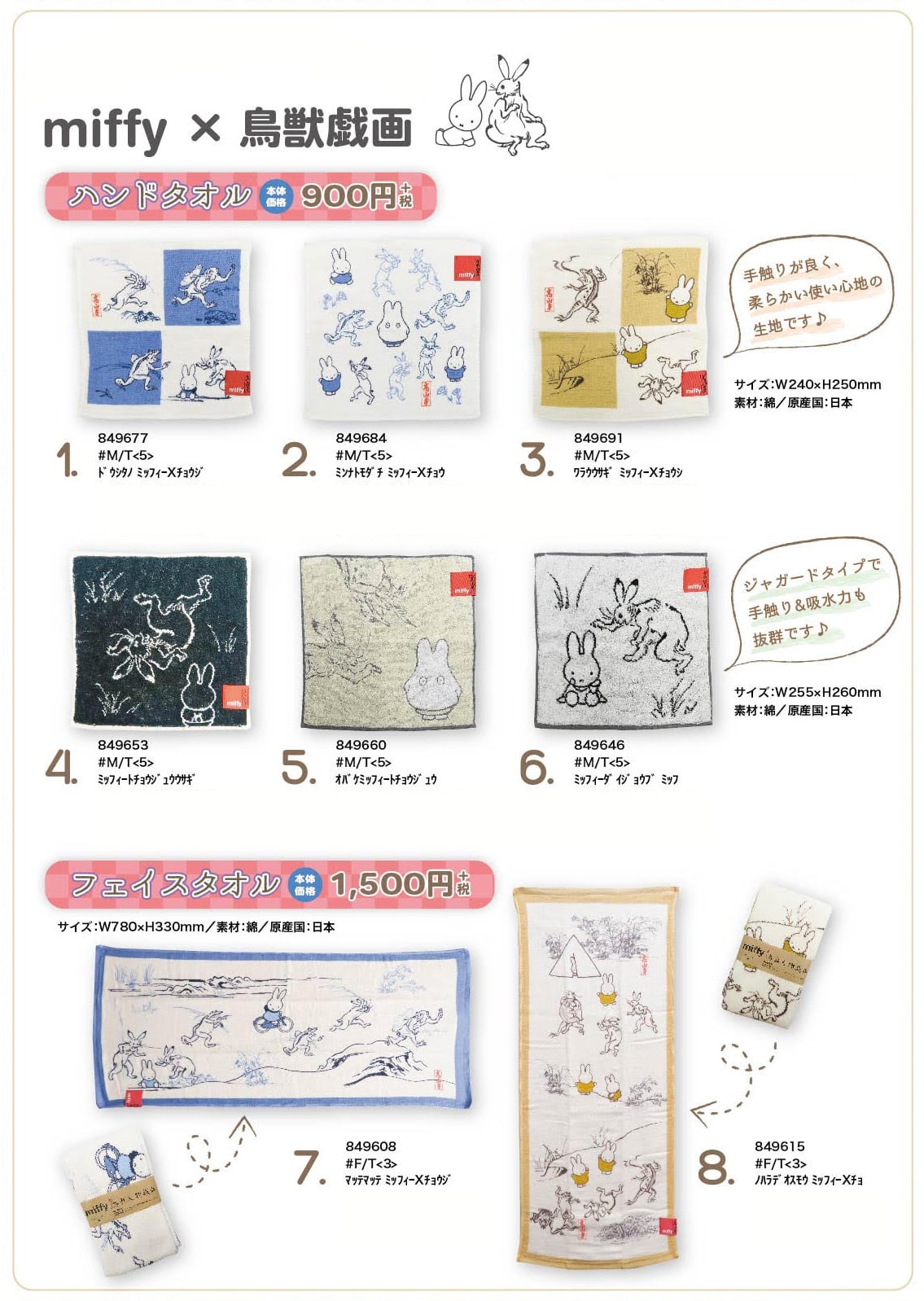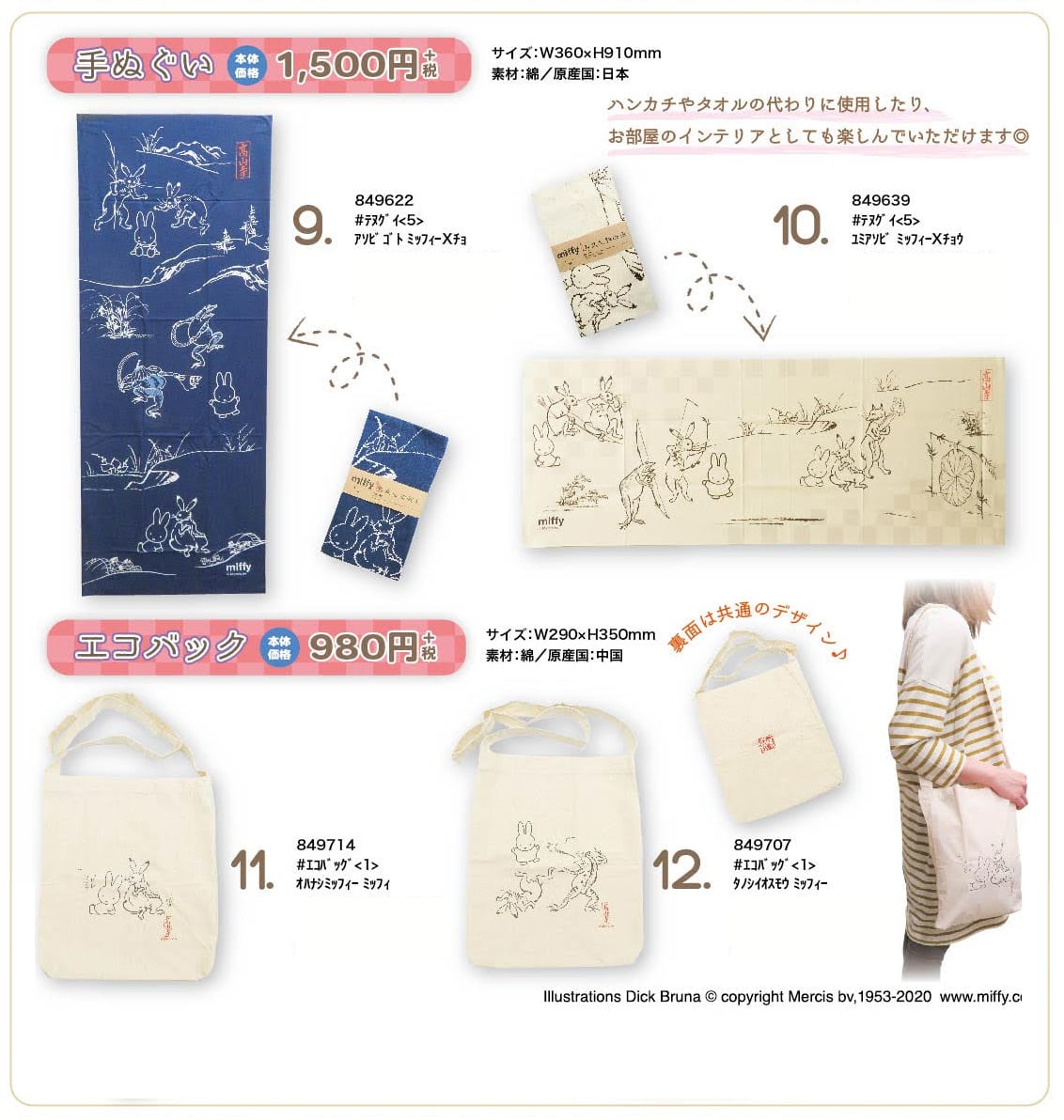 This is an unprecedented and unique collaboration and for sure a must-grab. They're even selling eco-bags.
Information
Miffy x Chōjū-jinbutsu-giga Series
Buy Here (Japan Only):
RELATED ENTRIES
Basketball Culture Space TOKYO 23 Reopens on Cat Street in Harajuku

TOKYO 23, a shop promoting basketball culture, is set to reopen as a large-scale shop in Harajuku on September 18, 2021. 

TOKYO 23 x JUN INOUE TEE (Black/White): ¥5,500 each (Tax Included)

Guests will enter the space to find a basketball court at the center, both keeping with the theme of the shop and maintaining a minimalist vibe. The location is bold, using a balance of different upcycled materials and gray-tone colors reminiscent of the Tokyo streets. 

JUN INOUE was in charge of designing the lanterns throughout the store, giving a more traditional Japanese feel to the modern storefront. The store is dotted with artworks by Inoue as well as Reina Koyano, both located in Los Angeles. 

The coffee shop "LATTEST" will also be a permanent fixture in the store, and is the perfect place for visitors to relax and take in the art and feeling of the TOKYO 23 store. To commemorate the opening of this massive space, special collaborative JUN INOUE x TOKYO 23 T-shirts will be on sale for a limited time. 

Information

TOKYO 23

Opening: September 18, 2021

Address: Harmony Harajuku 1F (4-28-21 Jingumae, Harajuku, Tokyo)

Hours: 11:00-22:00

Phone: 03-6804-2635

Official Site: https://www.atmos-tokyo.com/brands/tokyo23

Kaori's Easy Recipe: Learn to Make Miffy Parfait Using Tofu!

With just a small bit of ingenuity, turn everyday food into something cute using Kaori's Easy Recipe! With a few simple ideas, an ordinary recipe magically transforms into a cute dish.

In this recipe, I'll show you how to make an adorable Miffy Parfait using tofu shiratama!

Tofu shiratama can be frozen without hardening, so it's great to use for cooking as well as making sweets.

Ingredients

250g refined rice flour

300g silken tofu

✩ This is about 1 bag of refined rice flour and 1 piece of silken tofu.

Canned fruit or fruit of your choice

①

Put the refined rice flour and silken tofu into a bowl and mix well.

⚠️ Do not drain the tofu!

Don't add water, just these two ingredients.

✩I knead all ingredients and then freeze it.

Feel free to freeze it as dough, or boil it first.

You can put them in Tupperware and store them in water in the refrigerator for a day or two. Don't worry, they won't harden!

②

Add the coloring.

Take a little bit of food coloring and add as you like.

Here, I'm adding the yellow that will be the center of the flower.

③

After mixing the dough, place it on parchment paper and put it in the freezer for about 30 minutes.

You can shape it before placing it in the freezer, but chilling it will make it easier to work with.

④

Cut out Miffy and her flowers.

Place the yellow-colored piece into the middle of the flower.

Roll the rest of the shiratama into balls.

⑤

Boil the shaped shiratama while on the baking sheet.

Boil the round shiratama as well. When they float to the top, place them in cool water.

⑥

Place the shaped shiratama on parchment paper or plastic wrap and let dry briefly before adding decoration.

⑦

Mix black cocoa with a little water, and using the mixture, draw Miffy's face.

⑧

Place the flowers and shiratama balls inside the glass, follow up with your favorite fruits!

(If using canned fruit, feel free to add the syrup as well!)

I hope you enjoy decorating this colorful dish!

Kaori Kubota(@kaopan27)

I live in Hokkaido and I love to make character themed foods, desserts and pastries♡

I want to see my family smile, so I enjoy putting in a bit of effort to make character foods and changing food into something cute♡

You can see more of my character foods and character bento boxes on my Instagram page → @kaopan72

Workshop in Kichijoji Opens to Celebrate Miffy's 65th Birthday

In conjunction with the 65th Anniversary Miffy Exhibition currently being held at the PLAY! MUSEUM in Tachikawa, a special silkscreen workshop is coming only to PLAY! KICHIJOJI! The event, called A Little Kindness in Kichijoji, is currently open for reservations, and will be open each Thursday, Friday, Saturday, and Sunday until September 5, 2021. 

Dick Bruna, the creator of Miffy, often created posters using silk-screening. At the workshop, guests can choose from three different patterns and print their choice on either their own cloth and paper products, or on PLAY! goods. Each Sunday, illustrations from the book Miffy in the Snow can be printed on craft paper multiple times, eventually creating a colored Miffy! During the workshop, guests are asked to try making their own original goods using this time-honored silk-screen technique. No cheating!

At the venue, visitors can take their time reading stories from reporter Shunji Morimoto, who interviewed Bruma countless times. Each tale from his book A Little Kindness: 66 Stories will be available to browse and buy, along with a slide show of Miffy photographs taken by photographer Kotori Kawashima. Various original goods will also be on sale, so keep an eye out!

Won't you come celebrate our favorite bunny's birthday?

Illustrations Dick Bruna © copyright Mercis bv,1953-2021  www.miffy.com

Miffy x studio CLIP Merchandise Collection Revealed

Lifestyle brand 'studio CLIP' is collaborating with children's author Dick Bruna's popular character Miff with a cute merchandise collection that's set to drop at all studio CLIP branches in Japan and the online webstore .st on August 1.

The Line-Up

Limited-edition shopping bags

Fruit Soda & Soft Serve Ice Cream Parfait

studio CLIP collaborates with Miffy every year, and this year is no different, with a special line-up of character goods themed on friends and family. Boris makes an appearance this time too. Items include hand gel holders, vinyl umbrellas, tote bags, and more. There's also exclusive shopping bags for Miffy fans who buy any of the collab merch, as well as themed drinks and desserts at studio CLIP CAFE.

Information

studio CLIP x Miffy

Release Date: August 1, 2021

Locations: studio CLIP / studio CLIP Webstore

Webstore: http://www.dot-st.com/studioclip/ 

Cafe

Running: August 1, 2021 until sold out

Location: 3 studio CLIP CAFE branches (Grand Tree Musashikosugi/Yume Town Hiroshima/Yume Town Hikarinomori)

The new Miffy themed double-wall glass, which was released in November last year and sold out only in one day is back with new designs including standard design from previous collection. 

Double-wall Miffy Glass

miffy style Surprised 

miffy style Sleeping


miffy style Tears 

miffy style Standard


Don't miss out the must-have Miffy themed adorable double wall glass!

©Mercis bv

All About Matsuyama | Episode 2: Bargain Shopping Experience With machipay

The all new Matsuyama Tourist Information Centre is set to open in the heart of Matsuyama—the capital city of Ehime Prefecture in Japan— in Okaido on May 27. In celebration of its opening, this new featured series by MOSHI MOSHI NIPPON will explore the wonders of Matsuyama, a city abundant with places to shop, leisurely hot spots, must-visit restaurants, and opportunities to dive deep into its history and culture. You're sure to discover something new and exciting about Matsuyama in this series.

Machia in Matsuyama Gintengai offers support for the machipay Service

In Episode 2 of All About Matsuyama, we're looking at 'machipay,' a special service exclusive to Matsuyama that opens opportunities for a great value shopping experience.

Matsuyama's shopping districts serve as the foundation of the lives of those residing in Matsuyama. Even visiting as a tourist for shopping and sightseeing you can enjoy an inherently 'Matsuyama' experience. Something that will make that experience even better is using the city's machipay service which combines points, electronic money, and coupons all in one place. The service was created for both locals living in the city as well as tourists to create a more convenient shopping experience.

The machipay card and app feature three functions: Points, Electronic Money, and Shopping Coupons. It is compatible at countless popular stores around Matsuyama including Okaido, Gintengai, Matsuchika Town, Matsuyama Ropeway Shopping Street, and elsewhere. Every ¥100 of electronic money spent using the service nets you one point, and one point is equivalent to ¥1. Putting money on the card and paying with it means you'll start collecting lots of points which can be used at these various stores. Coupons offered around the shopping districts and its stores can also be saved onto your machipay app, making it a very handy shopping companion.

But shopping isn't the only way to earn machipay points. Attending events in the city, getting involved in voluntary work, and other activities that involve living in or like the people of Matsuyama will also garner you points.

The "machica Card" which is used for the service is sold at the machia shop (pictured above) in Matsuyama Gintengai everyday from 10:00-19:00. There's also an app. As of April 30, 2021, there are 1,200 stores in Matsuyama that are participating in the service.

If you're planning a trip to Matsuyama, make sure to use machipay.

Information

machipay

Contact machipay: 0570-055-081

machica shop Address: 3-7-10 Minatomachi, Matsuyama, Ehime 790-0012, Japan

machia Official Website: https://machica.jp

Miffy Eco Bag Series Features Simple and Stylish Dull Colour Line-Up

The online Japanese shop CONCIERGE NET is now taking orders for its new "Dick Bruna" collectors series of Miffy eco bags. Released on Friday, these simple yet stylish bags come in dull colours. They are lightweight, can be used as a secondary bag at work or outdoors, and are eco-friendly. There's a matching pouch for each one too to complete the collection. 

The Line-Up

Collectors Sack

Brown

Pink

Mint

Blue

The bag can be wrapped up

Collectors Pouches

The pouches are a compact and convenient A4 size and match with their corresponding tote bags. The bags also come with a cute ribbon which can be used to tie them up smaller for storing at home or in your main bag. Each is also fitted with a loophole which you can attach keyrings and charms to. The straps are nice and long so fit over the shoulder comfortably.

Get your own cute Miffy tote bag with this new series.

Miffy x Tabio Sock Collection to Release in Super Cute Designs

Japanese sock company Tabio is set to release a cute sock collection in collaboration with Miffy on May 17.

The Line-Up

Miffy Short Socks | 3 Colours | ¥1,430 (Tax Included)

Miffy Embroidered Socks | (2 Colours) | Women's ¥1,430, Children's ¥1,210 (Tax Included)

Miffy Short Socks | 3 Colours | ¥1,430 (Tax Included)

Miffy Embroidered Socks | (2 Colours) | Women's ¥1,430, Children's ¥1,210 (Tax Included)

Limited-Edition Novelty




The sock collection arrives with four different sock models featuring adorable Miffy designs. Those who spend over ¥3,300 on the collection will also receive a free Miffy memo pad.

Miffy Plushies by BON TON TOYS Release in Japan-Exclusive and New Colours

BON TON TOYS released three new coloured Miffy plush toys as part of its Miffy Corduroy Collection, one of which is exclusive to Japan, on April 28. All 15 of the new toys are available at all interior and lifestyle shops and online at marcs STORE in Japan.

Light Stone (Japan Exclusive)

Light Stone

Buttercream

Pumpkin

BON TON TOYS is a Dutch toymaker established in 1933. The brand is focused on helping to create a more sustainable world and protecting the environment for the future of children.

The Miffy Corduroy Collection is one of BON TON TOYS' most popular in the Netherlands too. The new colours include Light Stone, which is available only in Japan, and Buttercream and Pumpkin, both of which remind one of gentle springs. The line-up also includes key chains which are just 10cm in size and serve as trusty companions on your bag or elsewhere.

Over 1,000 Pieces of Miffy Merchandise Arrives at SOGO Omiya

SOGO Omiya Store in Saitama is currently holding the Miffy zakka Festa, an event centred on the cute character Miffy which is running until May 5. Over 1,000 items are available to buy including exclusive merchandise, bonuses on certain purchases, a special photo spot where visitors can snap a picture against a wall covered in Miffy art, and more.

A4 Folder | ¥495 (Tax Included)

Slim Pouch | ¥990 (Tax Included)

 

Acrylic Clock | ¥6,050 (Tax Included)

Soft Mascots | ¥330 Each (Tax Included)

Orange Earl Grey Tea | ¥1,100 (Tax Included)

 

Bonus Item

For every ¥3,300 spent on anything in the merch line-up, customers will receive the above-pictured four pieces of A4 wrapping paper.

Miffy Wall Photo Spot

Take a commemorative picture with Miffy at the designated wall photo spot.

If you love all things kawaii, the Miffy zakka Festa is a must-visit this spring for stocking up on your collection.

Information

Miffy zakka Festa

Running: April 23, 2021 – May 5, 2021

Where: SOGO Omiya Store

Address: 1-6-2 Sakuragicho, Omiya Ward, Saitama-shi, Saitama

Entry: Numbered entry tickets will be given on the first floor of SOGO Omiya on the station side between 9:30-9:55

SOGO Omiya Store Official Website: https://www.sogo-seibu.jp/omiya/

Chibi Maruko-chan Meets Miffy in Cute Merchandise Collaboration

The beloved Chibi Maruko-chan from the manga of the same name is joining hands (or paws) with the Dutch children's book character Miffy at the upcoming Maruko Meets Miffy fair that will be held at 16 branches of Miffy Style and 19 branches of KIDDYLAND in Japan for the whole month of May.

The creator and author of Miffy, Dick Bruna, was actually a friend of Momoko Sakura, the creator and author of Maruko-chan. They first met in 1999 when Sakura visited Dick Bruna's atrium in Utrecht for an interview on her book Fujisan. 20 years later, their works come together at this special event that pays homage to their meeting and works.

Over 100 pieces of merchandise will be sold at the event, from stationery to gadgets, plush toys, and more. The exclusive cute artwork designed for the event is also sure to make fans feel warm and fluffy inside.

A small look at just some of the items on sale

<Clockwise> Socks ¥418 / Small Clear Case ¥748 / Memo Pad ¥495 / Mirror ¥1,485 / Blue Key Ring ¥528 / Yellow Key Ring ¥528/ Flat Pouch ¥1,320

<Clockwise> Square Glass Phone Case ¥3,168 / Plushie ¥3,850 / Wireless Charger ¥3,278 / Mechanical Pencil & Two-Colour Ballpoint Pen ¥550 / AirPods Pro ¥2,178 / Mascot Key Ring ¥1,980 / 4000mAh Lithium Ion Polymer ¥4,378

<Clockwise> Mug ¥1,650 / 5.5 Inch Plate ¥1,100 / 8.5 Inch Plate ¥1,760 / Bowl ¥1,210

Get a free bonus item

Fans who spend over ¥2,000 (tax included) on any of the Maruko Meets Miffy merchandise will receive this free mini notebook too!

BAYCREW'S STORE Spring/Summer 2021 Collection Unveiled

BAYCREW'S STORE has unveiled its Spring/Summer 2021 Collection which is now available for pre-order.

Line-Up Excerpt

IENA

IENA brings French-like stripes for the forthcoming warm seasons in the form of a cut and sewn. This is layered with short pants and wedge sandals to complete this marine look.

SLOBE IENA

SLOBE IENA is serving beauty and sophistication with a laced patchwork skirt, resulting in some inevitable double-takes as a gaze at the silhouette and textures of the skirt leaves you loving the cuteness of the look from every angle. The tucked-in shirt bring that in-right-now element while the slipper shoes help to elevate the length of the legs.

Spick and Span

This look by Spick and Span centres on this year's must-have long green coat. The interior blue tones balance the whole outfit out. The coat sleeves are rolled up, allowing the stripes of the shirt to come through stylishly. This colour scheme is definitely a springtime delight.