Gothic Halloween Afternoon Tea Spookily Served Up at Q-pot CAFE. in Tokyo
Halloween is creeping its way early to Q-pot CAFE. in Omotesando, Tokyo, as the cafe announces its "Mad Sweets" themed Halloween menu for 2020. The Gothic-inspired menu will be served from September 9 to October 31 and will be centred on "Sister Obake-chan," a cute and original ghost nun character conceived by the cafe.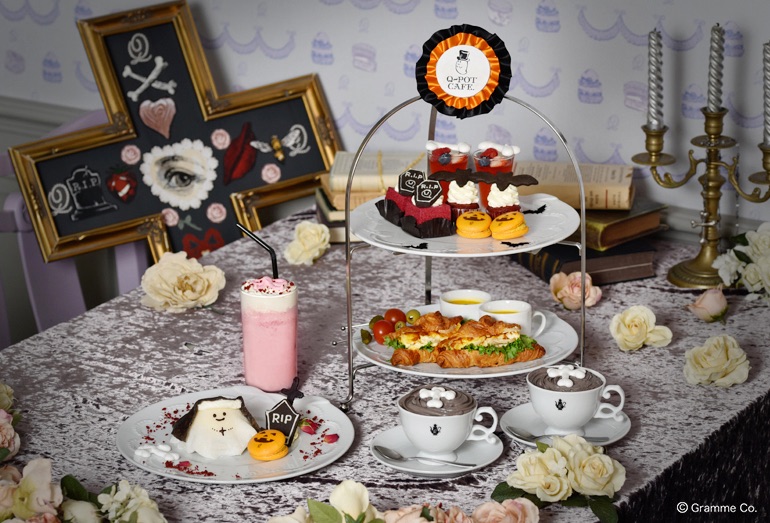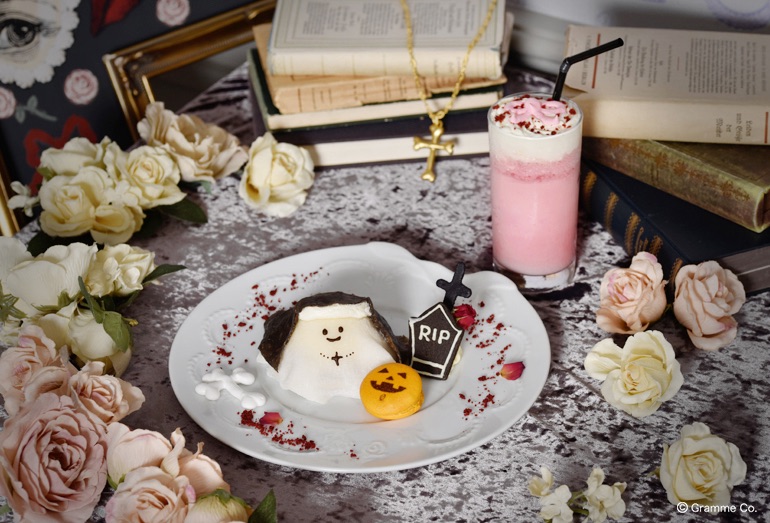 Mad Sweets Sister Obake-chan Plate with Drink | ¥2,060 (Tax Included)
Sister Obake-chan is made from sweet and fluffy vanilla mousse and is filled with a sweet and sour berry sauce. Next to her is a cookie gravestone, pumpkin macaron, and a bone meringue.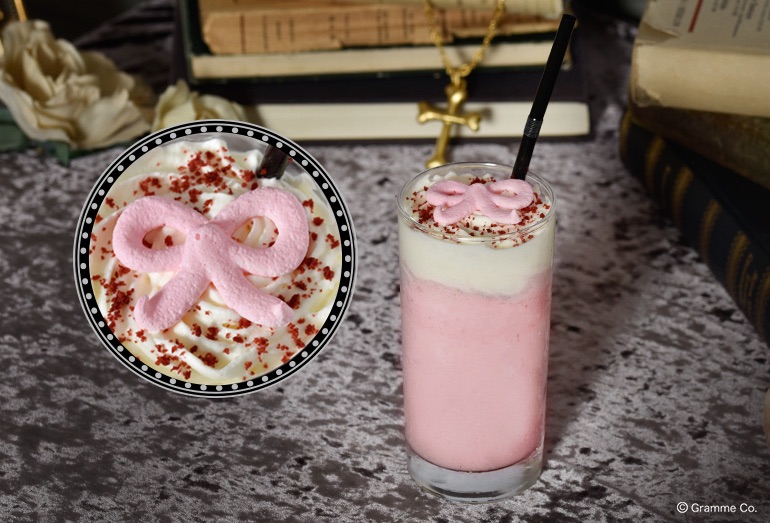 Mad Sweets Bone & Ribbon Drinks | ¥750 (Tax Included)
There are both hot and iced variants of the Bone & Ribbon drinks. The hot version is a hot chocolate made with black cocoa-laced cream and topped with a crossbone meringue. The iced drink has a cuter appearance mixing pink and white colours together. It's a strawberry shake topped with a cute ribbon meringue.
Happy Halloween Afternoon Tea Set | ¥2,400 Per Person (Tax Included) | *The photo is a serving for 2 people
Q-pot CAFE. is will also serve an afternoon tea set this Halloween with plenty of tasty themed sweet and savoury bites.
The top level of the afternoon tea is plated with strawberry jelly topped with an assortment of berries and a bone-shaped meringue, tombstone-topped blackcurrant mousse, and bat velvet cupcakes. Q-pot CAFE.'s popular jack-o'-lantern macarons also make a return this Halloween.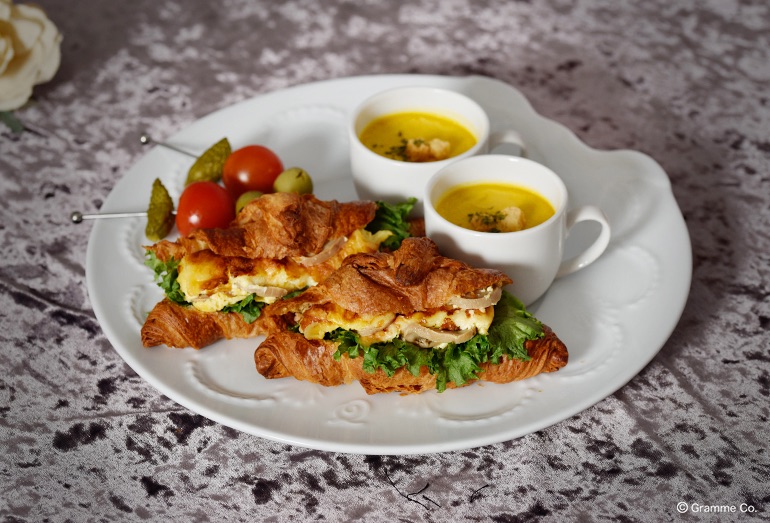 The bottom level is served with hearty croissant sandwiches filled with duck pastrami and mushroom omelette, pumpkin potage, and skewered olives, tomatoes, and pickles.
Q-pot CAFE. is a must-visit for a Halloween experience in Tokyo this year.
Information
Q-pot CAFE. 2020 Halloween Limited Menu
Location: Q-pot CAFE. Omotesando
Running: September 9, 2020 – October 31, 2020
Opening Hours: 11:00-19:00 (Last Orders 18:30)
1F Cafe: 11:00-19:50
2F/3F Shop: 12:00-20:00
Official Website: https://www.q-pot.jp
RELATED ENTRIES
Yokohama Bay Sheraton Hotel & Towers Offers Halloween Menu to Enjoy in Lounge and at Home

Yokohama Bay Sheraton Hotel & Towers have announced a Halloween themed menu using seasonal Autumn ingredients. The 'Sweets Parade~ Halloween~' buffet will be held on the second floor of the Seawind lounge on Thursdays and Fridays between October 7 and October 29. In addition, a Halloween version of the popular take-out 'Home de Afternoon Tea' will be available in their basement floor pastry shop Dorer for a limited time between October 1 and October 31.

Lounge 'Sea Window' Sweets Parade ~Halloween~

'Purple Potato Mont Blanc' with Okinawan purple potatoes.

'Shiro-An Yokan' with skulls (front) Mousse Chocolate Marron (back right)

Caramel Coffee (left) / Matcha Anmitsu (right)

'Orange and Strawberry Jelly' with vivid graduation coloring (center)

Pumpkin Tart (front) / Eyeball 'Vanilla Cassis'

Pastry Shop Dorer 'Home de Afternoon Tea ~Halloween~'


Smoked Salmon Salad

Chestnut Rice with Pumpkin


Pumpkin Soup

Assorted Fruits

Five variations of Ronnefeldt Tea / Alain Milliat Strawberry Jam

Lounge 'Sea Window' is back with another charming 'Sweets Parade ~Halloween~'  sweets menu. The menu boasts a lineup of photogenic Halloween sweets, including a glossy 'Purple Potato Mont Blanc' made using Okinawan purple potatoes, a peering eyeball 'Vanilla Cassis,' a pumpkin and almond cream 'Pumpkin Tart,' and a jack-o-lantern themed gradient 'Orange and Strawberry Jelly.' 

There is also a selection of luxurious light meals, each featuring seasonal ingredients, that will offer you a taste of the hotel, including  the pumpkin-filled 'Chestnut Rice' and 'Pumpkin Soup', and the 'Chestnut Danish.'

For the first time, pastry shop Dorer will be offering a 'Home de Afternoon Tea ~Halloween~' experience, allowing customers to enjoy Halloween sweets from the comfort of their own home. The cute box is filled with a variety of fun sweets and savory snacks such as a 'Purple Potato Mont Blanc,' 'Monster Macarons,' a skull-covered 'Fig Tart' and 'Shining Grape Petit Cream Puffs.' The afternoon tea set makes the perfect gift to any loved ones!

You can visit the lounge and experience a luxurious time at the adult-aimed sweets buffet, gazing through the atrium during the long Autumn evenings, or you can enjoy the colorful afternoon tea set from the comfort of your own living room! 

 

Why not experience a special Halloween in your preferred setting?

THE STRINGS Omotesando Introduces New 'Violet Halloween Afternoon Tea'

THE STRINGS Omotesando will be offering a new and limited 'Violet Halloween Afternoon Tea' at the 'Cafe & Dining ZelkovA' 1F between October 5 and October 31 2021.

 

The Halloween themed afternoon tea offers a selection of cute sweets, including black monster themed Maritozzo and purple taro Mont Blanc cream puffs topped with witch hats.

The cool Autumnal menu is made up of sweet and savory violet snacks, with purple potatoes, cassis, blueberries and more. You'll find yourself able to taste the season, with the rich fig cheesecake and sweet chestnut scones.

Enjoy bottomless drinks with a selection of 16 herbal and flavored teas, coffees and lattes. You can even enjoy a cup of tea from TWG, a luxury brand from Singapore.

This adult-aimed afternoon tea is full of luxurious ingredients, such as parfait-like organic vegetables and salmon micuy, roasted Angus beef, and violet desserts. Spend your afternoon relaxing on the French and Italian crafted sofas while you take a break from the hustle and bustle of the city.

 

  

Why not spend an elegant Autumn afternoon enjoying a luxurious afternoon tea, watching out over the iconic zelkova-lined streets of Omotesando?

The Jellyfish Kaleidoscope Tunnel Transforms for Halloween at 'HALLOWEEN in Sumida Aquarium' Event

Between October 1 and 31 2021, Sumida Aquarium will be hosting the 'HALLOWEEN in Sumida Aquarium' event, where you can enjoy an exciting Halloween alongside the Jellyfish. 

 

A workshop will be held at the event, teaching guests all about the floaty, mysterious and ghost-like jellyfish.

The aquarium's famous 50m 'Kaleidoscope Tunnel,' which is formed of 5,000 mirrors, will be transformed into a Halloween wonderland for the 'Jellyfish and Halloween' event. Eight aquariums are embedded into the walls, with colorful background panels which feature Halloween motifs such as witches and pumpkins. The jellyfish look just like festive ghosts!

Moon Jellyfish Aquarium in the Kaleidoscope Tunnel 

Each aquarium introduces seven mysterious facts about jellyfish – For example, did you know that jellyfish have no heart, and have tons of eyes?

The mysterious tunnel wall is covered in images of cute jellyfish that transform into ghosts and jack-o-lanterns, while Halloween themed music plays in the background.

A jellyfish comparison workshop


A jellyfish comparison workshop will also be held at the aquarium's Aqua Academy. Young children can participate in the workshop which explains the visual differences between different types of jellyfish, while crafting a cute jellyfish mobile under staff supervision.

Spend this Halloween at the incredible Sumida Aquarium!

KRISPY KREME Reveals Limited Halloween Donuts

KRISPY KREME DONUTS Japan has unveiled its screamingly delicious new Halloween themed donut selection, the "KRISPY KREME SKREMES!," which will be available nationwide between October 1 and October 31 2021.

Halloween Jack Caramel & Custard

Blood Strawberry Skull

Halloween Dozen (12 pieces)

Halloween Half-Dozen (6 pieces)

Halloween Box (3 pieces)

 

Mini Box (20 pieces)

 

Mini Half-Box (10 pieces)

Mini Mini-Box (3 pieces) 

This year's KKDJ Halloween selection will include a new skull donut alongside the ever-popular Jack. In addition, in the lead up to Halloween, Jack and the Skull's expressions will become increasingly scarier between the 25 and 31st! Don't miss out on these ever-changing designs.

 

First in the lineup is the 'Halloween Jack Caramel & Custard,' a pumpkin and caramel flavored Jack-o-Lantern which returns every Halloween. The 'Blood Strawberry Skull,' released this year, featured a monster with a milky white chocolate face, with sweet white and bitter dark chocolate eyes. In addition, you can order 'Halloween Sprinkles' for a colorful Halloween aesthetic, and 'Spider Chocolate Custard" which will turn your custard into a spider web shape!

 

The 'Halloween Dozen' and 'Halloween Half-Dozen,' which feature four types of Halloween donut, and the famous 'Original Glazed®' will be served in limited edition Halloween themed boxes for the season. The 'Mini-box' donuts have even transformed into tiny monsters! Be sure to check out these colorful and exciting new sweets.

Information

KRISPY KREME SKREMES!

Availability: October 1 ~ October 31 2021

Participating Stores: KRISPY KREME DONUTS Stores Nationwide 

Official Site: https://krispykreme.jp/ 

New Tokyo Tourism Center 'Have a Nice TOKYO!' Opens to Promote Local Attractions

Have a Nice TOKYO! (HanT), a new tourist communication center promoting both local and nationwide events and attractions, celebrated its grand opening on September 14, 2021. 

This new facility aims to provide assistance and guidance to both domestic and international visitors, helping with matters relating to sightseeing, culture, food, and technology. It's three main functions are tourism assistance, providing useful and necessary information, and selling goods from around the country. As the COVID-19 pandemic has brought a major blow against the country's tourism industry, this new venture was opened in a conveniently-located space, well-suited for the important task of helping the local and nationwide economies when the country opens to travel once again. The nearby Marunouchi Happ. Stand & Gallery, a cafe, will act as a partner facility and will offer a special menu linked to the project. 

Tourism Advice & Guidance

Information Counter

The information counter provides helpful information for tourists regarding events, stores, and facilities in the area. In the future, a variety of tours will be available to choose from, highlighting the attractions of the region, as well as providing ticket sales, luggage storage, and sightseeing vehicles such as buses and rentable bikes. 

Travel Information & Assistance

POP UP ZONE

In the POP UP ZONE, visitors can experience all sorts of unique things from around Japan using the five senses! See, hear, and taste different areas of the country using crafts, food, and technology, and get personalized recommendations regarding where to explore next!

Sale of Goods

SHOP ZONE


See, smell, or taste something you liked in the POP UP ZONE? The SHOP ZONE will offer tons of different specialty products from all around Japan!

Be sure to stop by the next time you're in Tokyo!

Information

Have a Nice TOKYO!

Address: Mitsubishi Building 1F (2-5-2 Marunouchi, Chiyoda-ku, Tokyo)

Hours: 9:00-21:00 Weekdays, weekends, and holidays. (Hours subject to change.)

Access: 3-minute walk from Tokyo Station, 3-minute walk from Tokyo Station on Tokyo Metro Marunouchi Line, 1-minute walk from Nijubashimae Station on Tokyo Metro Chiyoda Line

Official Site: https://haveanice.jp/

Hard Rock Cafe at Ueno Station to Sell Goods Commemorating Birth of Twin Pandas at Ueno Zoo

American music-themed restaurant Hard Rock Cafe has locations across Japan, and the Ueno location is now selling some very cute black-and-white goods. At the nearby Ueno Zoo, the oldest in Japan, two giant pandas were recently born, and that's cause for celebration! Limited quantities of these goods will be on sale at the physical location and online starting September 18, 2021!

Twin Pandas Pin #1

Twin Pandas Pin #2 (Only available at Online Shop.) 

These two original pins depicting the two newly-born pandas with the Hard Rock's signature guitar are available in gold (online only) and silver. 

Panda T-shirt

Grab one of these before they sell out–they're going quick! This cute original design will look perfect as you walk through the zoo gates, ready to show your love for pandas and rock music. 

Guests presenting an Ueno Zoo ticket stub or annual pass at the Ueno Hard Rock Cafe location will receive 10% off. (Full details available on the Hard Rock Cafe website.)

Congrats to the happy family!

Information

Hard Rock Cafe Ueno Station Tokyo – Twin Giant Panda Commemorative Goods

On Sale: 

Ueno Station Tokyo Location: September 18, 2021 

Address: atré Ueno 1F (7-1-1 Ueno, Taito-ku, Tokyo)

Official Online Shop: Preorders begin September 17, 2021 10:00AM

Official Online Shop: https://hrcjapan.official.ec/

Art Gallery Cafe WHAT CAFE to Open New Collaborative Exhibition with the DELTA Project

A new collaborative exhibition is coming to WHAT CAFE in Tokyo! The WHAT CAFE x DELTA EXHIBITION -EXPANSION- will run from September 25 until October 24, and will give guests some incredible pieces to ponder while sipping some warm coffee. 

WHAT CAFE is an art and culture facility opened with the goal of supporting artists with promising futures in the industry. Guests can wander the gallery while enjoying a meal or beverage, with some art being available for purchase.

Flash FINCH – Ji-hae Park

Combination-cut in 2 – Saki Matsumura

Galloping on a Free-floating Planet – Yui Suzuki

real screen – Takuro Sugiyama

This exhibition was inspired by WHAT CAFE's interest in the activities of DELTA, an art project that helps plan and organize art fairs and exhibitions around Japan. It's mission is to create a new place connecting galleries, artists, and collectors, while also breaking the norm and making a space that is more accessible. The WHAT CAFE x DELTA EXHIBITION -EXPANSION- will feature 60 works by 17 cutting-edge artists carefully selected from seven different galleries based in Tokyo, Osaka, and Kyoto. The showing will ask visitors to expand their minds and become more flexible when pondering the meaning behind each of the pieces on display.

Does this art-gallery-meets-cafe sound like your kind of place? 

Museum-Hotel Gajoen Tokyo Releases Seven Artistic Christmas Cakes

Museum-Hotel Gajoen Tokyo will be opening pre-orders for their Patisserie 'Shiori Kyou 1928' 2021 Christmas cake selection between October 1 and December 17.

The theme for this year's Christmas cakes is "Art Temptation," with seven unique, artistic cakes to choose from. The hotel is full of Japanese beauty and artistry, while the cake line-up features gorgeous cultural motifs and traditional crafts. 

Tamatebako *Limited to 10 cakes




First Layer

Second Layer

A shortcake with strawberries from Kayama Farm.

Pralines & Pistachio

Cassis & Fig

Coffee & Tonka

Fromage & Cru

Stollen

This year's lineup, of course, features the standard seasonal products; First is the Tamate Box, a two-tiered box made of chocolate, filled with cakes, gateaux, pound cake, and more. The Kayama Farm Strawberry Shortcake is their most popular product and is covered in high quality brand strawberries. The Stollen, with its spicy accents, is perfect for adults.

Alongside them is a selection of four new products; The Praline & Pistachio cake, which is covered in poinsettia and pine-shaped chocolate, and the Cassis & Fig is formed of four delicate, paper-cutting inspired layers. The Coffee & Tonka has a mature, bitter flavor and is topped with a Christmas tree, while the Fromage & Cru is made of a refreshing combination of cheese and apples.

Enjoy a precious moment that can be enjoyed by both adults and children with these beautiful and artistic cakes!

Information

PATISSERIE 'Shiori Kyou 1928″ Christmas Cakes

Reservation Period: October 1 ~ December 17 2021

Delivery Period: December 22 ~ December 25 2021

Reservation Phone Number: 03-5434-5230 (11:00-20:00)

Online Reservations・Official Site: https://www.hotelgajoen-tokyo.com/lien/xmas 

 

Kuroko's Basketball Pop-Up Shop in Akihabara to Features New Illustrations

BANDAI NAMCO Amusement is hosting a character pop-up store for anime 'Kuroko's Basketball,' featuring new illustrations of the characters dressed in trad style. The shop will be open from September 16 2021 at the Atre Akihabara Store, stocking original goods using the new artwork.

Kuroko's Basketball Acrylic Stand trad style ver. (7 types): ¥1,980 each (Tax Incl.)

Kuroko's Basketball Can Badge trad style ver. (7 types): ¥540 each (Tax Incl.)

Kuroko's Basketball A4 Acrylic File trad style ver.: ¥550 (Tax Incl.)

Kuroko's Basketball Cloth Poster trad style ver.: ¥1,800 (Tax Incl.)

Kuroko's Basketball Spoon trad style ver. (7 types): ¥1,200 each (Tax Incl.)

Kuroko's Basketball Fork trad style ver. (7 types): ¥1,200 each (Tax Incl.)

Kuroko's Basketball Acrylic Board trad style ver. (7 types): ¥530 per lottery ticket, A Prize

Kuroko's Basketball Jacket Style Acrylic Keychain trad style ver. (7 types): ¥530 per lottery ticket, B Prize

Kuroko's Basketball Can Badge trad style ver. (7 types): ¥530 per lottery ticket, C Prize

Kuroko's Basketball Die-cut Illustration Sheet trad style ver. (7 types): ¥530 per lottery ticket, D Prize (random)

Be sure to check out this limited shop to immerse yourself in the world of Kuroko's Basketball!

©Fujimaki Tadatoshi / Shueisha, Kuroko's Basketball Production Committee 

Hotel New Otani Announces Second PAUL & JOE Collaboration

Hotel New Otani Tokyo has collaborated with PAUL & JOE for the second time to offer a new accomodation plan, which will be available for one-night stays between December 1 2021 and January 4 2022.  The rooms will not be available between December 31 and January 2.

This collaboration room will allow you to surround yourself in the world of PAUL & JOE, a Parisian brand PAUL & JOE that is extremely popular with young women in their 20s and 30s. The initial collaboration was so popular that within just 10 days, all of the available dates within three months were sold out. This Christmas edition will only be available for one month, so be sure to book while you can.

The pink and ivory room features the brand's icon; Designer Sophie's beloved cats, Nunet and Gypsy. The decorations also feature Crisantemo flower motifs.

Not only is the wallpaper covered in PAUL & JOE motifs, but even the smaller pieces such as cushions, curling irons, and brushes are themed too. In addition, to celebrate the festive season, the room will include a special Christmas tree, allowing you to enjoy a special Christmas with somebody special, sharing a view of Tokyo Tower.

The second round of cosmetics is focused on the 2021 CHRISTMAS COLLECTION. The 'Lipstick Treatment' features adorable cats wearing Santa hats, while the 'Lipstick Limited' comes in a luxurious Christmas red – and also features cats in hats! Plus, the new 'Wrapping Hand Cream' will wrap your hands in a fresh moisturising texture. In addition, the best-selling 'Moisturizing Foundation Primer,' which was renewed on September 1, and the P&J skincare selection (oil, lotion, cleansing), each must-haves for the upcoming dry season, have been miniaturized into take-home samples in a limited edition pouch, especially for hotel customers.

Alongside the limited cosmetic samples, there will be matching pajamas and slippers available for purchase and take home, with a that will take you even deeper into the PAUL & JOE world. While these cat-and-floral print PJs are perfect for a girls-only gathering, a men's line has also been released due to popular demand, ideal for spending a romantic Christmas in matching pajamas.

 

 

Why not spend a wonderful Christmas in this PAUL & JOE room?

Information

PAUL & JOE Room ~Christmas~

Reservation Dates:

Friday & Saturday Rooms: September 14 2021~

Weekday & Sunday Rooms: Late October 2021

Room Duration: December 1 2021 ~ January 4 2022

※Unavailable between Dec. 31 and Jan. 21

Location: Hotel New Otani Tokyo

Reservations: https://www.newotani.co.jp/tokyo/stay/plan/paul-joeroom/  *Reservations can only be made online

Back to the Future Exhibition Displays Props from 1985 Film in Japan for the First Time

The Hot Toys flagship store, TOY SAPIENS Tokyo, will begin hosting a free Back to the Future event titled RETRO SAPIENS starting September 18, and running until October 31, 2021. 

Along with the opening of this exciting event, the TOY SAPIENS Tokyo store is also unveiling its new location. The much larger shop is now an easy walk from Shibuya Station and Harajuku Station!

After the event at the Tokyo location concludes, the event will travel to three more TOY SAPIENS stores nationwide, to allow more fans to see these legendary props in person. RETRO SAPIENS will open in Osaka in November 2021, and in Nagoya in February 2022. 

One-of-a-kind props, clothing items, and set pieces from the Back to the Future film will be on display for the first time ever in Japan during this event. If you're a fan, be sure to come and enjoy–admission is free! A number of Back to the Future related merchandise will also be on sale, including figures, apparel, and items only available at the RETRO SAPIENS event. These limited-edition products will also be available online at the TOY SAPIENS Official Online Store starting September 21. 

A special Cosbaby Keychain will also be handed out to guests who clear certain conditions while enjoying the event. Those who purchase Back to the Future merchandise will receive a RETRO SAPIENS-themed shopping bag on a first-come, first-served basis. 

Information

RETRO SAPIENS Tokyo

Running: September 18 – October 31, 2021 *September 18-20 reserved for advanced ticket holders.

Hours: 11:00-19:00 (Last entry at 18:30.) 

Address: TOY SAPIENS Tokyo (Ichigo Jingumae Building 1F, 6-25-16 Jingumae, Shibuya, Tokyo)

Admission: Free

Official Site: http://hottoys-store.jp/retrosapiens/

Hotel W Osaka x PIERRE HERMÉ PARIS Unveil Limited Halloween Dessert Menu

Opening in March 2021, Japan's first luxury lifestyle Hotel W Osaka works with PIERRE HERMÉ PARIS to produce the 'MIXup' Art & Pastry Bar, which has unveiled a new Halloween themed dessert course and  à la carte cake, available from September 15.

Pumpkin & Choux Cream / Ghost Montblanc / Frankenstein Cheesecake

Rock'n'Roll

Osaka is said to be the birthplace of Japanese cuisine, and in a similar vein,  this unique  'MIXup' dessert course serves 'CHEEKY' sweets which are finished one-by-one in front of the customer. The counter-style serving has proven popular since it began in May of this year, known for the playful presentation and customer participation.

This Autumn, the menu has been transformed into the 'TRICKY CHEEKY HALLOWEEN' course, with eight playful new desserts available to try. The desserts feature well-known Halloween monsters, and incorporate the taste of Autumn with pumpkin, chestnut, and pear, among other seasonal flavors.

The take-out Halloween sweets lineup includes a matcha and red bean Frankenstein Cheesecake, a spooky Ghost Montblanc, jack-o-lantern shaped Pumpkin Choux Creams, and more. A limited Halloween variation of the bar's iconic rose and raspberry Rock'n'Roll cake is also available! The recipe and baking techniques are based on the methods of PIERRE HERMÉ PARIS, with arrangements by The W Osaka.

Try out some scarily tasty sweets this Halloween with The W Osaka and PIERRE HERMÉ PARIS!