Egyptian God Anime Series To-totsuni Egypt Kami to be Narrated by Tomoya Nakamura
Some new information has finally arrived for Frontier Works's upcoming web anime series To-totsuni Egypt Kami.
Synopsis: To-totsuni Egypt Kami
Who would have thought that the Egyptian gods could be kawaii? Well, that's exactly what they've become in To-totsuni Egypt Kami, a series set in Ancient Egypt where the Egyptian deities, like Anubis, Thoth, Bastet, and Ra live laid-back and relaxed lives. The series is adapted from a popular line of character mascots of the same name.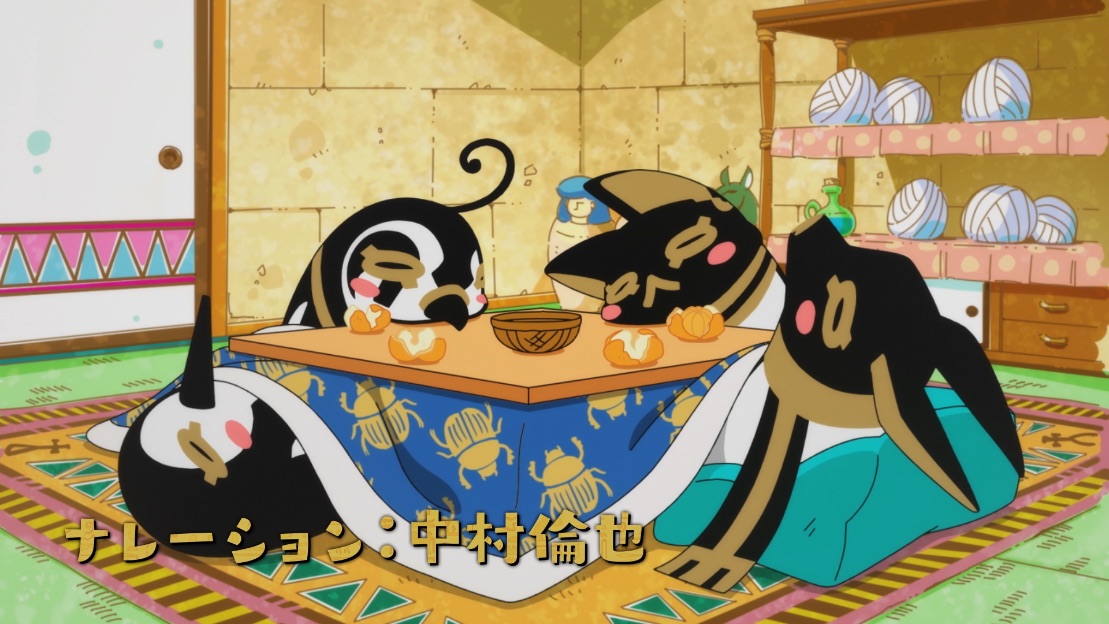 Japanese actor Tomoya Nakamura has been confirmed as the narrator for the web anime series, whose warm and gentle voice will convey the chilled lives of the Egyptian pantheon of gods.
Tomoya Nakamura – Comment
"I think we'll see a domino effect with the number of people who will find themselves healed by these adorable and mysteries Egyptian gods. I hope you're sat back, relaxed, and looking forward to it."
To-totsuni Egypt Kami main voice cast
The full voice cast for To-totsuni Egypt Kami has finally been revealed, along with comments from the members. Here are some words from the main cast.
Hikaru Midorikawa – Comment
Medjed | Hikaru Midorikawa
"Everything about [Medjed] is riddled in mystery. His movements are bizarre , and nobody can predict what he's going to do next. And for his finishing move, he can… shoot a laser beam from his eyes? I think for an anime series, the movements of the gods make them that much more charming."
Nobunaga Shimazaki – Comment
Horus | Nobunaga Shimazaki
"Horus is a very powerful god with the head of a falcon. He's also a hard worker who works a busy part-time job day and night. He doesn't get along with Set who he fights with a lot. The world of 'To-totsuni Egypt Kami' is really pop and cute, but somewhat mysterious. It would delight be if you enjoyed it in a laid-back manner."
Hiroyuki Yoshino – Comment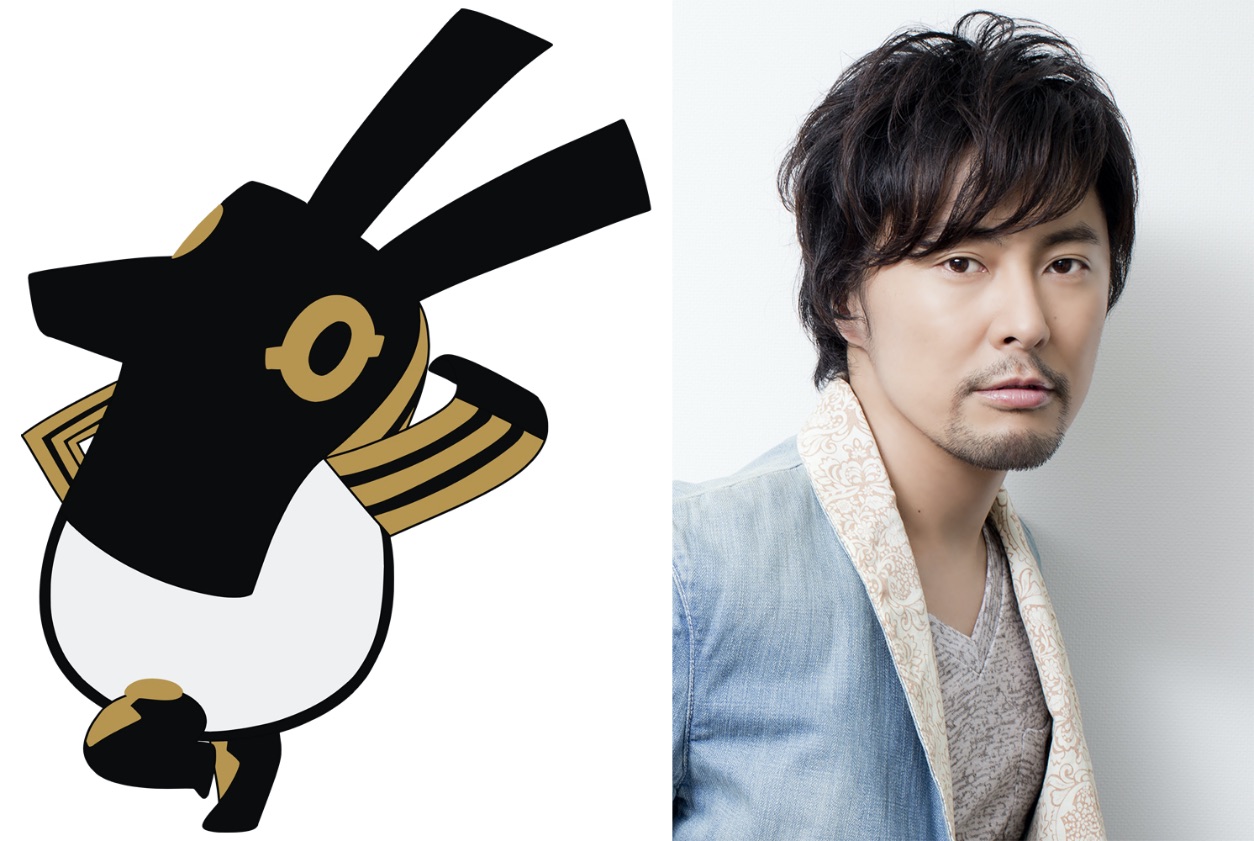 Set | Hiroyuki Yoshino
"The god of destruction. He doesn't get along with Horus and always tricks and harasses him. But his appearance makes you feel calm… I guess you'll have to look forward to the anime series to see!"
Kenjiro Tsuda – Comment
Ra | Kenjiro Tsuda
"Ra, the god of the sun. He's the father of everyone. He likes to sail a lot and bring back souvenirs for everyone, but there's something more to him… Sit back and look forward to it!"
*Comments translated from Japanese by MMN
Initial Broadcast: December 2020
The series will began airing online this December, including on YouTube. It is being directed by Katsuya Kikuchi (The Royal Tutor), with series composition by Yūichirō Higashide (Fate/Apocrypha; Fate/Grand Order – Absolute Demonic Front: Babylonia), and character designs and animation direction by Suzuna Okuyama (The Royal Tutor). Check out the promotional video below.
Themed cafe in collaboration with Animate Cafe Gratte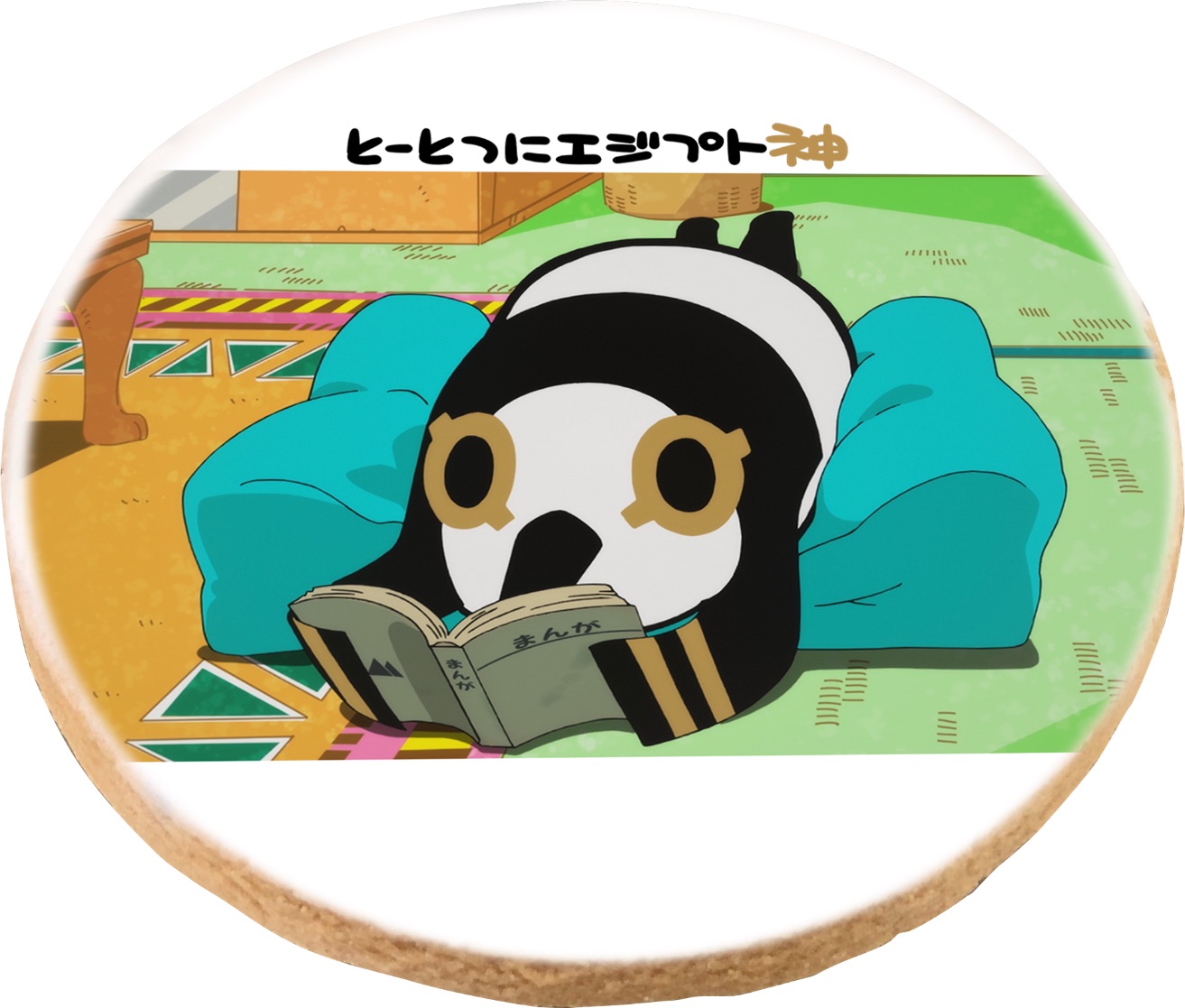 Gratte cookie design
Several branches of Animate Cafe Gratte in Japan are collaborating with To-totsuni Egypt Kami to serve themed food and drinks.
To-totsuni Egypt Kami x Gratte
Running: September 19, 2020 – November 8, 2020
Participating Branches: Animate Cafe Shibuya / Kichijoji PARCO / Sendai / Osaka Nipponbashi / Okuyama
©yuka/To-totsuni Egypt Kami Project
Information
To-totsuni Egypt Kami
Initial Broadcast: December 2020
Watch On: YouTube, GYAO!, Bandai Channel, FOD, ABEMA, d Anime Store, U-NEXT
Official Website: https://to-to2ni-anime.jp
RELATED ENTRIES
SEGA to Open Love Live! Themed Cafe in Akihabara and Around Japan

GENDA SEGA Entertainment is set to open a themed cafe in collaboration with Love Live! Nijigasaki High School Idol Club on April 29, 2021.

A completely original menu themed on the characters

Fans can tuck into a very special menu inspired by the members of the Nijigasaki High School Idol Club with drinks, desserts, and food. The cafe will run over the course of three periods each of which will also include their own unique menu items.

Drinks | ¥660 Each (Tax Included)

Period ①: Hamburger Plate / Yaki Udon | ¥1,320 Each (Tax Included)

Nikujaga Plate / Clam Chowder | ¥1,320 Each (Tax Included)

Period ②: 1st Year Banana Parfait / 2nd Year Strawberry Parfait / 3rd Year Grape Parfait | ¥1,100 Each (Tax Included)

Period ③ menu exclusives to be revealed

Get some freebies simply by ordering

Period ①: Drinks Coaster / Food Coaster / Parfait Costers

Period ②: Drinks Coaster / Food Coaster / Parfait Costers

Period ③ exclusive freebies to be revealed

Character birthday cards

Kanon Shibuya – May 1, 2021 / Sarah Kazuno – May 4, 2021

Ai Miyashita – May 30, 2021 / Nozomi Tojo – June 9, 2021

Mari Ohara – June 13, 2021

Merchandise to add to your collection

Releasing: April 29, 2021

Acrylic Stands | ¥1,320 Each (Tax Included)

Art Panels | ¥660 Each (Tax Included)

Releasing: May 15, 2021

Chibi Key Rings | ¥770 Each (Tax Included)

Bonus merch for every ¥2,000 spent

Bromides | Available April 29, 2021 – May 14, 2021

Bromides | Available May 15, 2021 – May 28, 2021

©2013 プロジェクトラブライブ! ©2017 プロジェクトラブライブ!サンシャイン!!
©2020 プロジェクトラブライブ!虹ヶ咲学園スクールアイドル同好会 
©2021 プロジェクトラブライブ!スーパースター!!
©GENDA SEGA Entertainment Inc.

Information

SEGA x Love Live! Nijigasaki High School Idol Club Collaboration Cafe
Running: April 29, 2021 – June 13, 2021

Where: SEGA Collaboration Cafe Akihabara 3 (SEGA Akihabara 3 Floor 7F) / SEGA Collaboration Cafe Stand / SEGA Akihabara 4 / Nanbasennichimae / Sendai / Okayama / Fukuoka Tenjin / Sasashima
 

Schedule

Period ①: April 29, 2021 – May 14, 2021

Period ②: May 15, 2021 – May 28, 2021

Period ③: May 29, 2021 – June 13, 2021

Cafe Details: https://sega-collabocafe.com/top/nijigasaki03.html

Love Live! Official Website: https://www.lovelive-anime.jp/nijigasaki/

City Hunter Manga Pop-Up Store to Open at Umeda LOFT in Osaka

Anime, manga, and tokusatsu event organiser CRAZY BUMP has announced the opening of a pop-up store centred on Tsukasa Hojo's manga series City Hunter which will run from May 12 to 25.

The pop-up shop first ran in Nagano in Tokyo last month and is now heading to Osaka. It's themed on Ryo Saeba versus Umibozu.

©北条司/コアミックス 1985,版権許諾証AG-301

Information

City Hunter Pop-Up Store: Ryo Saeba vs. Umibozu in Umeda LOFT

Japanese Shop Name: POP UP STORE~冴羽獠VS海坊主墓場の決闘編~in梅田ロフト

Running: May 12, 2021 – May 25, 2021

Where: Umeda LOFT (Floor 1F Market)

Address: 16-7 Chayamachi, Kita-ku, Osaka-shi, Osaka

Opening Hours: 11:00-21:00 (Until 18:00 on May 25)

Entry: Free

Special Page: https://hakabanogarou.jp/archives/17920

Enjoy a Healthy Junk Food Menu at Shibuya LOFT's New Cafe 2foods

Shibuya LOFT opened its new '2foods' cafe on April 15 which serves junk food healthily.

2foods uses absolutely no eggs or milk in their menu – everything is plant based and healthy, making it a haven for vegan foodies, especially in Japan where there aren't as many vegan places as other countries. What's better is that everything's reasonably priced too. There are around 60 menu items to choose from, like curry and soba as well as desserts, organic coffees and lattes, cold pressed juice, and more.

Artist's rendition of the cafe

Curry | ¥1,023 (Tax Included)

A hearty and spicy curry served with brown rice which is better for digestion.

Tantanmen Ramen | ¥968 (Tax Included) | Shibuya LOFT exclusive

A ramen soup with 100% gluten free rice flour noodles, soy milk, sesame seeds, peanuts, soy meat, and other healthy and natural ingredients.

Egg Doughnut Sandwich | ¥528 (Tax Included)

A vegan egg sandwich that doesn't use eggs but tastes just like them.

Gateau Chocolate | ¥528 (Tax Included)

A rich chocolate gateau made with brown rice powder and soy cream.

Information

2foods Shibuya LOFT

Opened: April 15, 2021

Address: Shibuya LOFT (Floor 2F), 21-1 Udagawacho, Shibuya, Tokyo
Opening Hours: 11:00-20:00 
TEL: 03-6416-4025 

Official Website: https://www.loft.co.jp/

Music-Eating Space Hamsters BLUE HAMHAM Get Pop-Up Store in Tokyo and Osaka

CHOCOLATE Inc. is set to open the BLUE HAMHAM POP UP STORE at Shibuya PARCO in Tokyo on May 14 and Shinsaibashi PARCO in Osaka on June 4. The pop-up shops are centred on Arimura Taishi's characters BLUE HAMHAM.

BLUE HAMHAM are four music-eating space hamster brothers from a planet called 'Proxima b.' Their animations on Twitter, TikTok, and other social media platforms have garnered over 300 million views worldwide. In 2020, they began collaborating with overseas artists. Their musical animations have garnered popularity across the globe.

At the pop-up shop, fans can get their hands on over 30 new BLUE HAMHAM items. This also marks the brothers' first pop-up shop in Osaka. From exclusives to free novelties, there's plenty to enjoy.

At the store, fans will also be greeted by four 1-meter tall BLUE HAMHAM statues, the only ones in the world. There will be a display showing their animations, a chance to learn about the characters, and more.

©CHOCOLATE Inc.

Information

BLUE HAMHAM POP UP STORE

Tokyo Store: Shibuya PARCO B1F GALLERY X

Address: 15-1 Udagawacho, Shibuya, Tokyo

Running: May 14, 2021 – May 30, 2021

Osaka Shinsaibashi PARCO 10F EVENT SPACE

Address: 1-8-3 Shinsaibashisuji, Chuo-ku, Osaka-shi, Osaka

Running: June 4, 2021 – June 21, 2021

Special Page: https://art.parco.jp/shinsaibashi/detail/?id=656

Mr. Osomatsu Themed Hotel Rooms Open Across Japan

KADOKAWA has announced that it's taking the Mr. Osomatsu themed hotel room from EJ Anime Hotel at Tokorozawa Sakura Town in Saitama, which ran from December 3, 2020 to March 31, 2021, to six hotels in Sapporo, Nagoya, Osaka, and Hakata starting on April 28.

Mr. Osomatsu anime freebies for guests

Design of the free mask case

Free coaster

The 'EJ' of EJ Anime Hotel stands for 'Entertainment Japan.' The hotel aims to have guests living inside the stories they love from a wide range of Japanese media from anime to manga, movies, tokusatsu SFX movies, idol culture, and more. As well as room decorations and the exclusive merch that will be on sale, the hotel is also offering a new kind of accommodation experience by incorporating videos, sounds, lighting, and more. Its restaurant will also offer a selection of food and drink in collaboration with various series including all-out full course dinners.

Due to its popularity with guests, the Mr. Osomatsu themed anime room is heading to six locations across Japan which are listed below.

©赤塚不二夫/おそ松さん製作委員会

Gintama @ Dash Store to Open in Ikebukuro and Osaka This April

The Gintama @ Dash Store pop-up shop is returning to Ikebukuro P'PARCO and Animate Osaka Nipponbashi where fans can get their hands on lots of merchandise of Hideaki Sorachi's manga series Gintama.

Gintama's characters wear blue for the store

Dash Store will sell a range of exclusive items as well as offer pre-sales on upcoming merchandise. The illustration pictured above of the characters in blue hoodies was also drawn exclusively for the store and will feature on a range of items.

For every ¥2,000 (tax included) spent by fans at the store they will receive one of nine possible bromide pictures. And for an extra ¥500, those who buy one or more items can get a special tote bag too.

A look at some of the merch line-up

Acrylic Stands | ¥1,650 Each (Tax Included)

Folders | ¥440 Each (Tax Included)

Acrylic Key Rings | ¥715 Each (Tax Included)

Hoodies | ¥5,500 Each (Tax Included)

©空知英秋/集英社・テレビ東京・電通・BNP・アニプレックス

Sustainable Fashion Week Event to Take Place at Earth Day Tokyo 2021

Earth Day Tokyo 2021 is set to run from April 17 to April 25 both online and offline. Messages of eco-friendliness, organic products, sustainability, ethics, and inclusiveness will be at the core of various events held as part of the festival and it will bring together environmental NPOs, charities, and locals.

As part of this year's Earth Day Tokyo, sustainability and fashion are set to interweave with the SUSTAINABLE FASHION WEEK 2020+1 event which is running on April 24 and 25.

With less than nine years to go until the world must achieve the 17 Sustainable Development Goals (SDGs), Earth Day Tokyo believes individuals need to be doing more to change their lifestyles and the way they do certain things. Fashion is an area that enrichens people's lives—but it's also one that can call for environmental action by changing our consumption habits.


SUSTAINABLE FASHION WEEK 2020+1 will bring together various teams and organisations to hold booths and talk sessions online and offline where people can learn about these issues. It's a collaboration between Fashion Revolution Japan, the Japanese branch of the global Fashion Revolution campaign to reform the fashion industry by enabling a greater transparency in the fashion supply chain amongst other problems. Fashion Revolution Week takes place every year on April 24, the same date as the 2013 Dhaka garment factory collapse where 1,134 people died and more than 2,500 people were injured.

The main visual for SUSTAINABLE FASHION WEEK 2020+1 features Japanese singer and artist KOM_I who is best known as a member of the Japanese music group WEDNESDAY CAMPANELA. It was created by HYPE FREE WATER, an artist collective headed by KOM_I and art director Minori Murata. KOM_I will participate in a planned talk program at MIYASHITA PARK on April 24 and 25.


A Message From KOM_I

"HYPE FREE WATER will be taking part in Sustainable Fashion Week at Earth Day this year. Our organisation focuses on the future of water. We want to be able to wear something beautiful without having to make sacrifices like selling out the future or destroying the environment. I'm looking forward to new people getting involved with us as this discussion takes off."

Information

Earth Day Tokyo 2021

Running: April 17, 2021 – April 18, 2021

Earth Day Tokyo Official Website: https://www.earthday-tokyo.org

SUSTAINABLE FASHION WEEK 2020+1

Running: April 17, 2021 to April 25, 2021

Time: 11:30-18:00
Where: Shibuya Miyashita Park / RAYARD MIYASHITA PARK

Address: 1-26-5 Shibuya, Shibuya-ku, Tokyo

Fashion Revolution Japan: https://www.fashionrevolution.org/asia/japan/

Little Glee Monster and Other Japanese Artists Announced For Tokyu Musix Challenge

Tokyu Musix Challenge is set to take place at Bunkamura Orchard Hall this year on March 7 at 18:00.

2020 saw the cancellation of music events across the world, with Japan being no exception. Shibuya, Tokyo's hub of countless live music venues and halls, was particularly affected by the effects of the pandemic. But the energy and power that music artists hold is one they can offer to brighten up peoples' time during today's times. That's where Tokyu Musix Challenge comes in, a new kind of music festival that will bring together a multitude of genres, and where better for it to be held than the cultural melting pot that is Shibuya.

This year will be the first run of the festival, where a collaboration between classical music and contemporary pop music will clash at Bunkamura Orchard Hall. The Tokyo Philharmonic Orchestra, which is recognised as Japan's oldest symphony orchestra, will play alongside acts such as Little Glee Monster, Ai Higuchi, Win Morisaki, Meimi Tamura, Kayoko Yoshizawa, ROTH BART BARON, and more. And the line-up is set to grow as more performers will be announced in the lead up to the event.

Comments from the Artists

Little Glee Monster

"We are really looking forward to feeling the fresh breeze of our music colliding with the grand scale of an orchestra. We'll be sure to play our part so that we don't lose to the overwhelming performance of everyone in the Tokyo Philharmonic Orchestra, but also so that our music complements theirs. We hope that everyone can have a good time and feel good from the strength that music has."

Ai Higuchi

"In 2020, we may have all lived kind of complicit with so many options in front of us leading down different paths. A certain friend might have gone to a drinking party, another might not have seen their lover for a long time. What choices do we make? We become darker depending on our choices. In Shibuya, a city that continues to change, I will sing my unchanged songs."

Win Morisaki

"Over this past year, the respect I have for the position I'm in where I can express myself has really sunk in. I'm so happy I've been able to get involved with this challenge. And getting to sing with an orchestra, it's magnificent. I'm so excited about what's to come."

Meimi Tamura

"I can't contain my excitement at a genre collaboration between classic, which is the foundation of music, and pop which is strongly tied to Shibuya. I think I'm going to start feeling tense at getting to perform alongside everyone in the Tokyo Philharmonic Orchestra and singers of all different kinds of music. We don't have a lot of freedom today during the pandemic, but I will work my hardest so that I can deliver love through music from the city of Shibuya."

Kayoko Yoshizawa

"My chest roars and having the opportunity to perform along side Japan's oldest and longest-running Tokyo Philharmonic Orchestra at the legendary Orchard Hall. It's my first time experiencing singing with an orchestra, so I'm looking forward to seeing how the songs will be structured, and how my voice will sound, when we do it."

Harajuku's Pompompurin Maid Café to Open on April 14

Akihabara's premiere maid café chain "@home café" announced last month the opening of a permanent maid café themed on Sanrio's popular character Pompompurin. The café is set to open along Harajuku's famous Takeshita Street on April 14, 2021.

 © 2021 SANRIO CO., LTD.  APPROVAL NO. S620028

@home café has collaborated with many of Sanrio's popular characters in the past at its Akihabara-based café branches such as Hello Kitty, My Melody, Cinnamoroll, and of course Pompompurin, but this time the collaboration is flying out of Akiba and straight into the heart of Japanese pop culture: Harajuku.

This new Pompompurin Café is themed on Pompompurin throwing a party for everyone—that's you and your friends. It's a place for Purin to deliver happiness to all who visit in the form of cute and tasty food.

Of course, the @home café maids will also be present, and all wearing original maid uniforms coloured like Pompompurin.

A little look at some things on the menu

The Food

Soufflé Omurice | ¥1,450

Butter Chicken Curry | ¥1,300

The Desserts

Pompompurin Pudding | ¥700

Chocolate Banana Mountain Waffle | ¥1,200

The Drinks

Custard Pudding Latte | ¥850

Muffin's Caffe Mocha | ¥850

Take a commemorative photo

For just ¥550, you can take a chekki photo at the café. It comes with café-original stickers and paper. For an extra ¥300, you can take a photo with one of the maids.

Pompompurin Birthday Party

 

April 16 is Pompompurin's birthday, so on that day the café will have a special dessert prepared (which you can see below) along with novelties for customers, new decorations, and more.

Pompompurin's Birthday Dessert

Special Birthday Parfait | ¥1,700 | Serving: April 14, 2021 – April 30, 2021

Birthday Novelty

To commemorate Pompompurin's birthday and the opening of the café, all visitors will receive the pin below for free.

Pompompurin will visit the café

On the evening on April 16, Pompompurin will visit the cafe for his birthday to celebrate with everyone. Details and bookings can be found here in Japanese.

Information

Pompompurin Cafe x @home cafe

Grand Opening: April 14, 2021

Where: CUTE CUBE HARAJUKU Floor 3F, 1-7-1 Jingumae, Shibuya, Tokyo

Opening Hours: [Weekdays] 11:00-22:00 / [Weekends] 10:00-22:00

No Fixed Holidays

Pompompurin Cafe Official Website: https://pompompurincafe.com/

@home Official Website: http://www.cafe-athome.com/

Renai Mangaka Drama Series Gets Themed Cafe in Tokyo

Fuji TV's ongoing drama series Renai Mangaka opened a theme cafe in Ebisu on April 8 with dishes inspired by the series.

The Menu

Renai Pancakes | ¥1,892 (Tax Included)

Renai Fondant Chocolate | ¥1,122 (Tax Included)

Renai Lemon Sour | ¥660 (Tax Included)

Renai Strawberry Milk | ¥990 (Tax Included)

Renai Bread Gratin | ¥2,805 (Tax Included)

Renai Bread Dessert | ¥990 (Tax Included)

Renai Dessert Plate | ¥1,232 (Tax Included) | Available Early May 2021

Renai Omurice | ¥1,452 (Tax Included) | Available Early May 2021

The story of Renai Mangaka follows Karibe Seiichiro, a manga artist who's not the best at socializing. He rarely goes outdoors and has a strange way of thinking. One day, he meets his late-brother's former girlfriend Kuon Aiko, and asks her to be his pseudo-romance partner.

Information

Cafe Accueil Ebisu x Renai Mangaka Collaboration Cafe

Opened: April 8, 2021

Where: Cafe Accueil Ebisu

Address: 2-10-10 Ebisunishi, Shibuya-ku, Tokyo

Opening Hours: 11:00-21:00 (Last Orders 20:00)

Official Website: http://www.fujitv.co.jp/

The Moomin Cafe at Tokyo Dome City Begins Serving Breakfast Menu

The Moomin Cafe at Tokyo Dome City LaQua introduced a breakfast menu on April 1.

Hot Ham & Cheese Sandwich: One – ¥510 (Tax Included) / Two – ¥800 (Tax Included)

Hattifatteners Hot Dog: ¥600 (Tax Included)

Northern Europe Breakfast Plate | ¥1,500 (Tax Included)

Open Fruit Sandwich | ¥700 (Tax Included)

Five fun and delicious items arrive at the Moomin Cafe for the spring season, each with a reference or design inspired by the beloved Moomins.

Information

Moomin Cafe

Breakfast Menu: Released April 1, 2021

Where: Tokyo Dome City LaQua

Official Website: https://moomincafe.jp/

Gaspard and Lisa Themed Menu to be Served in Tokyo

The popular French characters Gaspard and Lisa are getting their own themed menu at Le Cafe la Boutique du Joel Robuchon in Tokyo. The menu will be served from April 24 to May 9 and takes inspiration from Anne Gutman and Georg Hallensleben's children's book series.

Gaspard and Lisa One Plate & Cocktail Set | ¥3,300 (Tax Included)

Non-Alcoholic Strawberry & Lychee Cocktail | ¥990 (Tax Included)

Strawberry Galette (With Coffee or Tea) | ¥2,420 (Tax Included)

Coasters

Pouch

The first 500 customers who order something from the menu will receive a free coaster, and those who spend over ¥5,000 will get a special pouch.

Enter the charming world of Gaspard and Lisa with this cute themed menu.

(C) 2021 Anne Gutman & Georg Hallensleben / Hachette Livre

Information

Le Cafe la Boutique du Joel Robuchon x Gaspard and Lisa

Running: April 24, 2021 – May 9, 2021

Where: Le Cafe la Boutique du Joel Robuchon (Nihonbashi Takashimaya S.C. Floor 2F)

Opening Hours: 10:30-19:30 (Last Orders 18:30)

Reservations: 03-5255-6933

Official Website: https://www.robuchon.jp/