Universal Studios Japan Announces Halloween 2020 Event
Halloween at Universal Studios Japan (USJ) is set to begin on September 18, 2020 when guests will see each area around the park transformed into Halloween mode with decorations, a spooky soundtrack, and more. Popular characters at USJ will also be dressed up in their Halloween outfits ready to greet guests.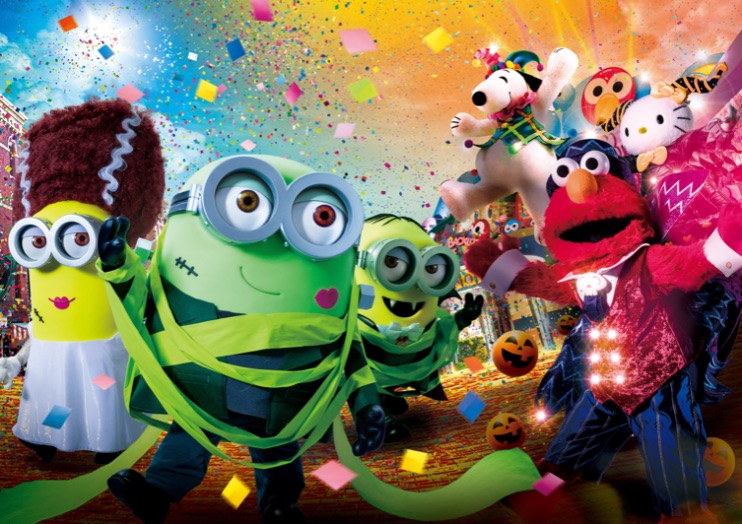 The "Minion Monster Greeting" will be a must-see as the cheeky Minions make an appearance for some mischief. The popular annual "Universal Monsters Live: Rock and Roll Show" will also return and see familiar faces like Dracula, Beetlejuice, and other creepers perform song and dance. This year will also see a special show called "Monster de Dance" where monsters and performers will take to the street in masses and perform the 'rat-tat-tat' dance with guests. This dance originates from Sandaime J Soul Brothers from Exile Tribe's song and music video Rat-tat-tat, and this year will be performed in a special "social distancing" version.
EXILE NAOTO | Comment
"We are returning again to Universal Studios Japan this Halloween to perform Sandaime J Soul Brother's 'Rat-tat-tat' once more! This year, we've evolved the dance into the 'Social Distancing Rat-tat-tat' so that people can still enjoy the dance while keeping a distance from other people. It would make me happy to see people get involved!"
Kenjiro Yamashita | Comment
"I'm aware that due to the coronavirus pandemic, the number of places that people can have a good time have become few in number across the world. I'm thankful to the many people who joined in with our 'Rat-tat-tat' dance last Halloween. This year, we've powered up the dance and kept social distancing in mind so that everyone can feel safe, so please be sure to give it a go!"
At USJ, which is known as the 'holy ground for costumes and dress-up,' they are continuing to provide exciting entertainment for people during the new normal to ensure that anyone can participate and feel safe.
Halloween food and merchandise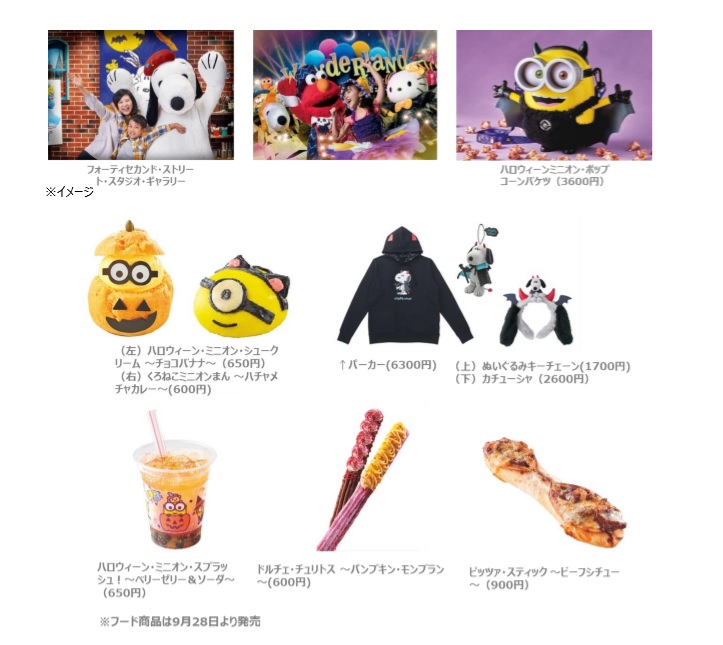 The Minions, Sesame Street characters, and others will be dressed up in their Halloween best. There will also be a special Halloween art display of the Minions and Snoopy at the 42nd Street Greeting Gallery.
RELATED ENTRIES
The Best Halloween Sweets to Pick Up Before They're Gone

Fall is already here, and it's time for some seasonal treats! Here on Moshi Moshi Nippon, we've brought you plenty of timely info on some of the best cute and spooky sweets Japan has to offer. Admittedly, some of them look too beautiful to eat, but at least they'll liven up your living space! 

This Halloween comes during another tough year, so why not treat yourself? Here are some of the best sweets to bring home during this spooktacular season. 

Hotel W Osaka x PIERRE HERMÉ PARIS

Japan's luxury lifestyle hotel W OSAKA is offering themed sweets at the 'MIXup' Art & Pastry Bar. The recipes and baking techniques are based on the methods of PIERRE HERMÉ PARIS, and the desert course features eight different treats filled with seasonal ingredients like pumpkin and pear. 

Release Date: September 15, 2021

Reservations Required

Details: https://www.moshimoshi-nippon.jp/498595

Hyatt Centric Kanazawa

A series of monochromatic Halloween-inspired treats will be on sale at Hyatt Centric Kanazawa starting October 1, including cakes, muffins, and more. Be sure to check out the absolutely massive Halloween parfait, which will both fill you up and freak you out. 

Release Date: October 1, 2021

Details: https://www.moshimoshi-nippon.jp/498001

Q-pot CAFE.

Located in Tokyo's Omotesando area, Q-pot CAFE is offering cake and macaron sets, each of which are made to order. The Eye-Patch Ghost cake is adorable, but we don't know if we could stomach that Brain Cake…

Release Date: September 1, 2021

Details: https://www.moshimoshi-nippon.jp/492398

Hotel Conrad Osaka x Sebastian Masuda 

Sebastian Masuda, known as the Godfather of Kawaii, is teaming up with Hotel Conrad in Osaka for some bright and colorful Halloween treats. If you're looking for something less dreary, this buffet is definitely the event for you. 

Running: September 2, 2021 – October 31, 2021

Details: https://www.moshimoshi-nippon.jp/492605

Mister Donut Ouchi de MISDO HALLOWEEN

Five new Halloween donuts are now available at participating Mister Donut shops nationwide! Each sweet and spooky creature is available with ten different eye expressions, so you'll just have to try to get them all. 

Available: September 3, 2021 until sold out. 

Details: https://www.moshimoshi-nippon.jp/491918

TEXT: Natalie(MOSHI MOSHI NIPPON)

Yokohama Bay Sheraton Hotel & Towers Offers Halloween Menu to Enjoy in Lounge and at Home

Yokohama Bay Sheraton Hotel & Towers have announced a Halloween themed menu using seasonal Autumn ingredients. The 'Sweets Parade~ Halloween~' buffet will be held on the second floor of the Seawind lounge on Thursdays and Fridays between October 7 and October 29. In addition, a Halloween version of the popular take-out 'Home de Afternoon Tea' will be available in their basement floor pastry shop Dorer for a limited time between October 1 and October 31.

Lounge 'Sea Window' Sweets Parade ~Halloween~

'Purple Potato Mont Blanc' with Okinawan purple potatoes.

'Shiro-An Yokan' with skulls (front) Mousse Chocolate Marron (back right)

Caramel Coffee (left) / Matcha Anmitsu (right)

'Orange and Strawberry Jelly' with vivid graduation coloring (center)

Pumpkin Tart (front) / Eyeball 'Vanilla Cassis'

Pastry Shop Dorer 'Home de Afternoon Tea ~Halloween~'


Smoked Salmon Salad

Chestnut Rice with Pumpkin


Pumpkin Soup

Assorted Fruits

Five variations of Ronnefeldt Tea / Alain Milliat Strawberry Jam

Lounge 'Sea Window' is back with another charming 'Sweets Parade ~Halloween~'  sweets menu. The menu boasts a lineup of photogenic Halloween sweets, including a glossy 'Purple Potato Mont Blanc' made using Okinawan purple potatoes, a peering eyeball 'Vanilla Cassis,' a pumpkin and almond cream 'Pumpkin Tart,' and a jack-o-lantern themed gradient 'Orange and Strawberry Jelly.' 

There is also a selection of luxurious light meals, each featuring seasonal ingredients, that will offer you a taste of the hotel, including  the pumpkin-filled 'Chestnut Rice' and 'Pumpkin Soup', and the 'Chestnut Danish.'

For the first time, pastry shop Dorer will be offering a 'Home de Afternoon Tea ~Halloween~' experience, allowing customers to enjoy Halloween sweets from the comfort of their own home. The cute box is filled with a variety of fun sweets and savory snacks such as a 'Purple Potato Mont Blanc,' 'Monster Macarons,' a skull-covered 'Fig Tart' and 'Shining Grape Petit Cream Puffs.' The afternoon tea set makes the perfect gift to any loved ones!

You can visit the lounge and experience a luxurious time at the adult-aimed sweets buffet, gazing through the atrium during the long Autumn evenings, or you can enjoy the colorful afternoon tea set from the comfort of your own living room! 

 

Why not experience a special Halloween in your preferred setting?

THE STRINGS Omotesando Introduces New 'Violet Halloween Afternoon Tea'

THE STRINGS Omotesando will be offering a new and limited 'Violet Halloween Afternoon Tea' at the 'Cafe & Dining ZelkovA' 1F between October 5 and October 31 2021.

 

The Halloween themed afternoon tea offers a selection of cute sweets, including black monster themed Maritozzo and purple taro Mont Blanc cream puffs topped with witch hats.

The cool Autumnal menu is made up of sweet and savory violet snacks, with purple potatoes, cassis, blueberries and more. You'll find yourself able to taste the season, with the rich fig cheesecake and sweet chestnut scones.

Enjoy bottomless drinks with a selection of 16 herbal and flavored teas, coffees and lattes. You can even enjoy a cup of tea from TWG, a luxury brand from Singapore.

This adult-aimed afternoon tea is full of luxurious ingredients, such as parfait-like organic vegetables and salmon micuy, roasted Angus beef, and violet desserts. Spend your afternoon relaxing on the French and Italian crafted sofas while you take a break from the hustle and bustle of the city.

 

  

Why not spend an elegant Autumn afternoon enjoying a luxurious afternoon tea, watching out over the iconic zelkova-lined streets of Omotesando?

The Jellyfish Kaleidoscope Tunnel Transforms for Halloween at 'HALLOWEEN in Sumida Aquarium' Event

Between October 1 and 31 2021, Sumida Aquarium will be hosting the 'HALLOWEEN in Sumida Aquarium' event, where you can enjoy an exciting Halloween alongside the Jellyfish. 

 

A workshop will be held at the event, teaching guests all about the floaty, mysterious and ghost-like jellyfish.

The aquarium's famous 50m 'Kaleidoscope Tunnel,' which is formed of 5,000 mirrors, will be transformed into a Halloween wonderland for the 'Jellyfish and Halloween' event. Eight aquariums are embedded into the walls, with colorful background panels which feature Halloween motifs such as witches and pumpkins. The jellyfish look just like festive ghosts!

Moon Jellyfish Aquarium in the Kaleidoscope Tunnel 

Each aquarium introduces seven mysterious facts about jellyfish – For example, did you know that jellyfish have no heart, and have tons of eyes?

The mysterious tunnel wall is covered in images of cute jellyfish that transform into ghosts and jack-o-lanterns, while Halloween themed music plays in the background.

A jellyfish comparison workshop


A jellyfish comparison workshop will also be held at the aquarium's Aqua Academy. Young children can participate in the workshop which explains the visual differences between different types of jellyfish, while crafting a cute jellyfish mobile under staff supervision.

Spend this Halloween at the incredible Sumida Aquarium!

KRISPY KREME Reveals Limited Halloween Donuts

KRISPY KREME DONUTS Japan has unveiled its screamingly delicious new Halloween themed donut selection, the "KRISPY KREME SKREMES!," which will be available nationwide between October 1 and October 31 2021.

Halloween Jack Caramel & Custard

Blood Strawberry Skull

Halloween Dozen (12 pieces)

Halloween Half-Dozen (6 pieces)

Halloween Box (3 pieces)

 

Mini Box (20 pieces)

 

Mini Half-Box (10 pieces)

Mini Mini-Box (3 pieces) 

This year's KKDJ Halloween selection will include a new skull donut alongside the ever-popular Jack. In addition, in the lead up to Halloween, Jack and the Skull's expressions will become increasingly scarier between the 25 and 31st! Don't miss out on these ever-changing designs.

 

First in the lineup is the 'Halloween Jack Caramel & Custard,' a pumpkin and caramel flavored Jack-o-Lantern which returns every Halloween. The 'Blood Strawberry Skull,' released this year, featured a monster with a milky white chocolate face, with sweet white and bitter dark chocolate eyes. In addition, you can order 'Halloween Sprinkles' for a colorful Halloween aesthetic, and 'Spider Chocolate Custard" which will turn your custard into a spider web shape!

 

The 'Halloween Dozen' and 'Halloween Half-Dozen,' which feature four types of Halloween donut, and the famous 'Original Glazed®' will be served in limited edition Halloween themed boxes for the season. The 'Mini-box' donuts have even transformed into tiny monsters! Be sure to check out these colorful and exciting new sweets.

Information

KRISPY KREME SKREMES!

Availability: October 1 ~ October 31 2021

Participating Stores: KRISPY KREME DONUTS Stores Nationwide 

Official Site: https://krispykreme.jp/ 

Chiba City Museum of Art Brings Ukiyo-e Exhibition to Osaka's Takashimaya Department Store

New Prints: The Evolutionary Beauty of UKIYO-E, featuring pieces from the Chiba City Museum of Art, will be held at Takashimaya Osaka from September 15-27, 2021. 

Ukiyo-e, or woodblock prints, were exceptionally popular as a Japanese art style from the 17th to the 19th centuries. Now, a new exhibition coming to Osaka is highlighting the 'Shin-hanga' movement, which took place during the early 20th century and focused largely on the creation of pieces to sell to foreign markets. The man behind this movement was Shozaburo Watanabe, who commissioned artists to design prints blending traditional Japanese techniques with unique elements of Western paintings at the time, such as shadowing and different perspectives. 

The exhibition will contain 120 works selected from the Chiba City Museum of Art's Shin-hanga collection, ranging from early masterpieces such as Goyo Hashiguchi's 'Woman at her Bath,' Ito Shinsui's 'Before the Mirror,' as well as rich depictions of Japanese landscapes by Hasui Kawase and international landscapes by Hiroshi Yoshida. 

Selection of Featured Works

Twelve Months of Tokyo: Evening Glow at Yanaka – Hasui Kawase. 1921. 

 

The Twelve Months in Tokyo series consists of twelve paintings based on sketches made by Kawase between December 1920 and October 1921. While twelve pieces were planned, only four circular pieces and one square piece were completed. Evening Glow at Yanaka depicts a five-story pagoda glowing faintly in the light of the setting sun. Kawase has stated that as he finished sketching the piece, he heard the sound of a bell, and for some reason, he had the uncanny feeling that he needed to straighten his collar. 

Sailing Boats in the Morning: Inland Sea – Hiroshi Yoshida. 1926.

 

Yoshida began work on the Sailing Ship trilogy in 1921 under Shozaburo Watanabe, but all of his woodblocks and most of his works were lost in the Great Kanto Earthquake. Five years later, Yoshida decided to tackle the project again, this time deciding on six pieces. In contrast to the originals under Watanabe, these pieces tackled more nuanced periods of time and give a stronger sense of tranquility. Pay attention to the slight variations in color and light. 

Before the Mirror. Ito Shinsui. 1916. 

This is the first Shin-hanga work by Ito Shinsui. The piece only uses three colors: red, black, and white, and utilizes serrated carving to give the impression of shadows. Using layers of rare high-quality red paint, this work has been deemed a masterpiece by fans of the movement, conveying Shinsui's subtlety when depicting the feminine figure. 

Fashions of the Modern World: Tipsy – Kiyoshi Kobayakawa. 1930.

This portrait of a modern lady is one of six in the Fashions of the Modern World series by Kobayakawa, and is regarded by many as the best in the bunch. Produced between 1930 and 1931, the artist portrayed the unique personalities of women, rather than sticking to tradition. The woman in this portrait isn't demure or quiet, but instead shows off her short hair, a cigarette, rings, and a cocktail in her hand, showing a different side to the Japanese women of the period. 

Combing the Hair. Goyo Hashiguchi. 1920. 

With her overflowing black hair and elegant appearance, the subject of Combing the Hair makes it clear why this is Hashiguchi's most representative work. The woman's name is Tomi Kodaira, and she modeled for many of the artist's works, being discovered by him as she was modeling at a nearby art school. The pose is said to be inspired by Rossetti's Lady Lilith, but her expression is unique to Hashiguchi and the typical style of ukiyo-e. 

Noseden Artline Festival 2021 Bringing Light, Sound, and Food to the Kawanishi Area

A celebration of light, sound, and food, the biennial Noseden Artline 2021 Festival will take place from October 30 until November 23, 2021. Set in one city and three towns along the Nose Electric Railway, the regional art event began in 2013 to celebrate the 100th anniversary of the rail line, and brings local artists and residents together. 

The festival will be in Kawanishi and Inagawa in Hyogo Prefecture, as well as in Toyono and Nose in Osaka Prefecture, with Mt. Myoken marking the center point. Each part of the event will connect the history, industry, and tradition of the area with new and engaging creations. 

The theme of the 2021 Noseden Artline Festival is 'Enlarged Mentality.' By taking things that are subjective, like an artist's thoughts and senses, and applying them to the objective world that can be shared, it creates a one-of-a-kind way to connect fully with others. The event will feature local cuisine and music, as well as art focused on light, inspired by the North Star. After a year of solitude due to the pandemic, the festival hopes to remind people to cultivate, nourish, and preserve local relationships. 

Art can make life more enjoyable, so why not come and see what the area has to offer?

 (C)Kousei Ikeda(SPEKTRA)

Information

Noseden Artline Festival

Running: October 30 – November 23, 2021

Location: Nose Electric Railway Line ~ Near Summit of Mt. Myoken

Official Site: http://noseden-artline.com/2021/

9th Installment of Anime-Inspired Cooking Project AniCook Features Bungo Stray Dogs

AniCook, a project using anime to make cooking more fun, is already holding it's 9th collaboration with a popular series. This time, characters from the popular anime series Bungo Stray Dogs are coming to cook up some fall treats at Shinsaibashi PARCO in Osaka from October 1 until October 26! 

Menu

Sticker gifted to guests who purchase a meal or dessert (8 varieties) / Postcard gifted to guests ordering a drink (8 varieties) 

Original Merchandise

Acrylic Stands (8 varieties) / 8-pack set

Pins (8 varieties) / 8-pack set

Acrylic Keychain (8 varieties) / 8-pack set

Acrylic Muddler (8 varieties) / 8-pack set

100 Limited-Edition pouches (2 varieties) available by lottery: Those spending over ¥5,000 at the cafe will be entered.

CookpadTV is behind the cafe, and continues to lead the way in quality collaboration cafes across Japan. This time, popular characters from Bungo Stray Dogs are serving up their favorite autumn-themed foods, inspiring visitors to enjoy cooking just a little more. Themed meals and sweets will be available, while the beverages are each themed on the character's abilities. Be sure to grab some of the limited-edition merchandise only available during the event! These can now be pre-ordered on the cookpadLive cafe Online Store. 

Which character would you like to see in the kitchen? 

Hands-On POKEMON COLORS Exhibition Opening in Osaka for Limited Time

The globally-beloved Pokemon franchise is celebrating 25 years throughout 2021. Throughout the year, the POKEMON COLORS exhibition has opened in cities throughout Japan, bringing a barrage of bright colors, fantastic art, and Pokemon-themed activities to fans nationwide. As guests move throughout the event space, various projections and images around them change, with popular Pokemon characters popping up and flooding the world around them in color. Now, the POKEMON COLORS exhibition is set to open in Osaka beginning September 30. 

Exhibition Preview


Concept Video


COLORS ROAD

COLORS LAKE

COLORS FOREST

COLORS CITY

COLORS CIRCLE

Inspired by the more than 800 Pokemon species in the franchise, the POKEMON COLORS project uses sensors placed throughout the event space to track visitors movements, altering the images, music, and lighting accordingly. Meant to be a combination of pop culture and minimalist digital art, it's an experience like no other. 

160 unique goods will be available at the exhibition, from apparel and art pieces to cell phone cases and office supplies. Be sure to check it out if you're in Osaka this fall!

©2021 Pokémon. ©1995-2021 Nintendo/Creatures Inc./GAME FREAK inc.

Information

POKEMON COLORS

Running: September 30 – October 20, 2021

Address: Daimaru Museum Umeda 15F 

Hours: 10:00AM – 8:00PM (Last entry at 7:00PM) 

Official Site:  https://pokemon-colors.com/

Rihga Royal Hotel x YOURS BOOK STORE New Accommodation Plan to Discover Your New Favorite Book

Osaka's Rihga Royal Hotel is collaborating with book direction brand YOURS BOOK STORE to produce a one-room one-day accommodation plan titled "Once in a Lifetime ~ Professionals Choose Your Book~." The limited-time plan will be available between September 15 and November 30, 2021.

The lounge on the executive floor, known as The Presidential Towers, was reformed in March 2020 to include a library of 1,000 books, with themes including Osaka, refreshing, relaxing, and children's books. It was then that the room plan collaboration with YOURS BOOK STORE, who was involved in the initial book selection, was proposed.

In the "Once in a Lifetime ~ Professionals Choose Your Book~" accommodation plan, a professional will discuss with the guest to learn more about their taste, with the book director offering 3 personalized book choices per person. The guest can also take full advantage of the hotel library.

Following your trip, a book chosen especially for guests will be sent to your home, with a message card describing how your books were selected. This unique accommodation plan allows you to bask in the afterglow of your trip while waiting to see what kind of book you receive.

Why not check out this unique plan where you can receive your own personalized book recommendation?

Hotel W Osaka x PIERRE HERMÉ PARIS Unveil Limited Halloween Dessert Menu

Opening in March 2021, Japan's first luxury lifestyle Hotel W Osaka works with PIERRE HERMÉ PARIS to produce the 'MIXup' Art & Pastry Bar, which has unveiled a new Halloween themed dessert course and  à la carte cake, available from September 15.

Pumpkin & Choux Cream / Ghost Montblanc / Frankenstein Cheesecake

Rock'n'Roll

Osaka is said to be the birthplace of Japanese cuisine, and in a similar vein,  this unique  'MIXup' dessert course serves 'CHEEKY' sweets which are finished one-by-one in front of the customer. The counter-style serving has proven popular since it began in May of this year, known for the playful presentation and customer participation.

This Autumn, the menu has been transformed into the 'TRICKY CHEEKY HALLOWEEN' course, with eight playful new desserts available to try. The desserts feature well-known Halloween monsters, and incorporate the taste of Autumn with pumpkin, chestnut, and pear, among other seasonal flavors.

The take-out Halloween sweets lineup includes a matcha and red bean Frankenstein Cheesecake, a spooky Ghost Montblanc, jack-o-lantern shaped Pumpkin Choux Creams, and more. A limited Halloween variation of the bar's iconic rose and raspberry Rock'n'Roll cake is also available! The recipe and baking techniques are based on the methods of PIERRE HERMÉ PARIS, with arrangements by The W Osaka.

Try out some scarily tasty sweets this Halloween with The W Osaka and PIERRE HERMÉ PARIS!

Hyatt Centric Kanazawa Reveals Halloween Inspired Menu for October

All-day restaurant FIVE – Grill & Lounge, located within the Hyatt Centric Kanazawa hotel, will begin serving up a selection of Halloween-inspired treats beginning October 1, including cake sets, parfaits, muffins, and various lunch and dinner items.

Guests will also be able to enjoy some mischievous cocktails and mocktails inspired by witches and ghosts!

Halloween Cake Set 

Black Sesame Pudding

Mummy Macaron

Ghostly Mousse

Pumpkin Ice Cream Sandwich

Coffin Tart

Monster Cream Puff

Halloween Parfait Set

Halloween Dinner/Lunch Course

Halloween Muffin Box

Halloween Cocktails 

Spooky Night

Hallo-Wine Sangria

I sWitch (Mocktail)

The Halloween Cake Set is filled with ghoulish treats, each one displaying incredible attention to detail. In the Halloween Parfait Set, guests can enjoy a tower of different sweets, including black currant and chocolate. Themed with creepy eyeball decorations throughout, it offers a variety of overlapping textures and tastes guests will want to savor until the last bite.

 

When thinking of Halloween, the colors orange and purple instantly come to mind. For the Halloween Dinner/Lunch Course, the menu's creators went with a more dark theme, envisioning a ghost appearing at any moment. The entire restaurant will be decorated in black and gray, creating a truly haunting dining experience.

Don't miss out on the Halloween Muffin Box, a set of mini-muffins made with fresh autumn ingredients, and offering a much cuter feel. Quantities are limited!

The gin-based Spooky Night cocktail is refreshing, with a bold blue color and red-rim on the glass, sure to turn your mouth bright crimson. Hallo-Wine Sangria, house-made with autumn fruits, has a unique design, with a skeleton rising from the glass! For those wanting a mocktail, the I sWitch asks guests to pour the accompanying red syrup over the cotton candy, changing both the appearance and flavor of the drink as if by witchcraft!

Which of these treats would you be after?