Maison de FLEUR Collaborates With Sanrio On Droopy Ear Character Merchandise
Maison de FLEUR, a brand developed by Stripe International Inc., is currently celebrating its 7th anniversary with the event "7éme Anniversaire." The event will see collaborations with popular companies, the first of which will be Sanrio which will begin on September 11. The brand collaborates with Sanrio every year and their items always sell out immediately.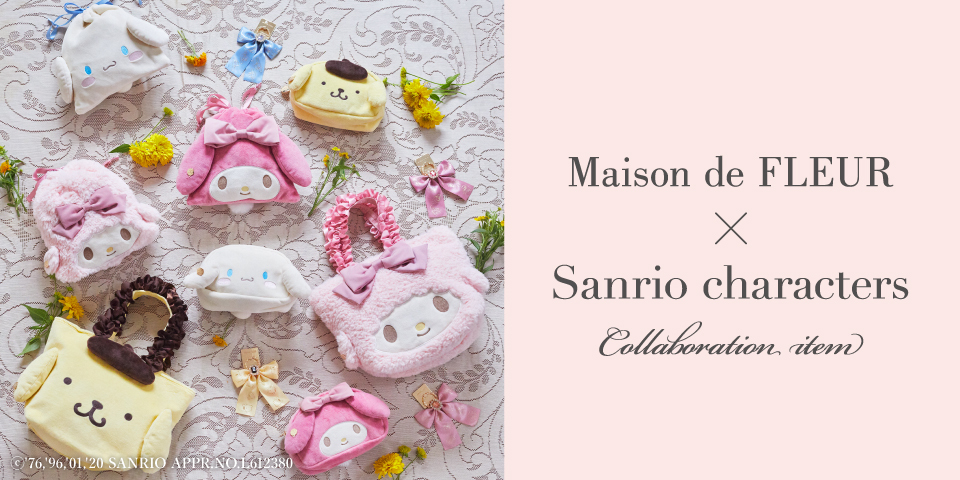 This year's Sanrio collaboration will see the characters Cinnamoroll, My Melody, and My Sweet Piano, as well as Pompompurin for the first time. Pochacco items will also be sold but will be exclusive to STRIPE CLUB's online website.
Cinnamoroll & My Melody: Frilly Handle Tote Bag (5 Designs) ¥4,290 | Pouch (5 Designs) ¥3,290 | Purse (5 Designs) ¥3,290 | Smartphone Ring (4 Designs) ¥2,590
The item lineup includes tote bags, pouches, purses, and smartphone rings, all of each feature the characters with adorable droopy ears as well as cute tails on the back.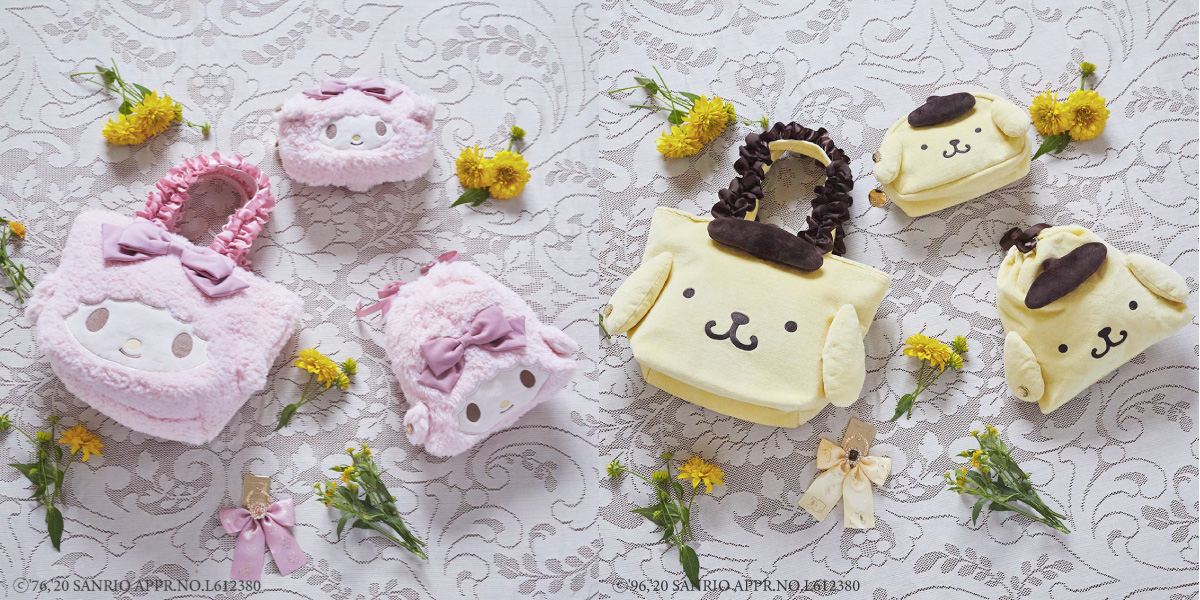 My Sweet Piano & Pompompurin
Pochacco *Available exclusively online at STRIPE CLUB
The smartphone rings are coloured just like each character, and the ribbons have the characters in gold leaf print deliver an anniversary vibe.
The full lineup of merchandise will be released at Maison de FLEUR stores and online at STRIPE CLUB in Japan on September 11. Maison de FLEUR stores are also taking telephone orders from Sunday and five Lumine branches will have pre-sales on September 10.
ⓒ'76,'89,'96,'01,'20 SANRIO APPR.NO.L612380
Information
Maison de FLEUR x Sanrio Characters
Release Date: September 11, 2020 at Maison de FLEUR and STRIPE CLUB
Pre-Sales: September 10, 2020 at five Lumine stores
In-Store Reservations: September 6, 2020 at 12:00 (JST)
RELATED ENTRIES
Saki Ashizawa to Perform at SANRIO Virtual Fes in Sanrio Puroland Event

Saki Ashizawa, a member of the virtual music production company RIOT MUSIC, will perform at Sanrio's first-ever event in the metaverse 'SANRIO Virtual Fes in Sanrio Puroland.' The music and entertainment festival will take place on December 11 and 12, with Ashizawa taking the stage on December 12. 

Chosen as the second artist to perform on the 12th, Ashizawa will appear during the B3: FUTURE STAGE, which will blend both kawaii and futuristic space elements. Fans can also look forward to the Saki Ashizawa x Badtz-Maru collaboration figures for sale at the event's digital store. 

Saki Ashizawa

With a sharp and aggressive voice filled with passion, Ashizawa's performances are one-of-a-kind. Singing since before she can remember, she's said that singing is now the only way she knows how to live. Initially singing for fun, after meeting her current producer, she realized that even if she wasn't perfect she could still connect with people through her music. In 2020, she decided to go pro and joined RIOT MUSIC. She continues to perform to connect with the audience's heart.


Twitter: https://twitter.com/saki_ashizawa
YouTube: https://www.youtube.com/channel/UCPZgBtMYoFKypEG2SCvBN9A

©'21 SANRIO 著作(株)サンリオ

Information

Sanrio Virtual Fes in Sanrio Puroland

Dates: December 11 & 12

Stream Opens at 15:00, Show airs from 17:00-22:00 (Until 24:00 on B5)

Location: Virtual Sanrio Puroland

Official SNS: Twitter @SANRIO_VFes

XMarket: https://xr-marketplace.com/ 

Tickets/Official Site: https://v-Fes.sanrio.co.jp 

Cardcaptor Sakura and Sanrio Collaborate on New Collection

A new collection of goods featuring Sakura Kinomoto and popular Sanrio characters is here! The collection features everyone's favorite magical girl combined with beloved characters such as Hello Kitty, My Melody Pompompurin, Cinnamoroll, and Kuromi. 

The Cardcaptor Sakura manga series was serialized from 1996 until 2000 in the monthly girls' manga magazine Nakayoshi. In 2016, a new version of the series was released titled Cardcaptor Sakura: Clear Card and the magical girl series is celebrating its 25th anniversary in 2021. An anime series aired from 1998 to 2000, with a Clear Card adaptation airing in 2018. 

Costume Design

This is the second collaboration between Sanrio and Cardcaptor Sakura, with the first coming in 2018 with Little Twin Stars. In these collaboration designs, each Sanrio character wears costumes made by Sakura's best friend Tomoyo, and Sakura wears a special costume with Hello Kitty and My Melody ears. One of these designs is only available at official Sanrio stores. 

Sanrio Store Designs

The Sanrio Characters x Cardcaptor Sakura series will be available starting November 26 at Sanrio stores and November 25 at the Sanrio online shop. 

Drawstring Bag Set: ¥1,980

Secret Acrylic Keychains (6 varieties): ¥715 each

Acrylic keychains and charms will come in blind packaging. Five of the designs have been revealed, but there is a sixth secret one to find!

Fluffy Designs

Square Tags (5 varieties): ¥660 each / A5 Clear Folder (6 varieties): ¥385 each

Special Rubber Mascot Keychains

These keychains will be available in capsule machines nationwide, and in March 2022, Cardcaptor Sakura x Sanrio plushies will also be available!

©️C,ST/K,EP,N ©️'21 SANRIO 著作(株)サンリオ

Sanrio Starts First Multiprotagonist Manga Series 'Maimaimaigoen,' Focusing on Growing Pains

Sanrio has started an ambitious new manga project. 'Maimaimaigoen' is currently being serialized on the Young Ace UP website, and a special music video by Vocaloid producer Kairiki Bear has been released to celebrate the series start. A free game is also under development and is scheduled to be released during 2021. 

Nursery School Students: (From the Top Row, Left) Maria, Hikaru, Shinta, Kanata, Daigorou, Lion, Lime, Zoya (From the Bottom Row, Left) Madoka, Yuzuriha, Hayate, Mamoru, Rinrin, Wataru, Daiya, Aki

Teachers: (From the Left) Yuu Okada, Rumi

The Mysterious Lifeform, 'Froggy Egg' 

(c)Yakan Nabeya

(c)Yakan Nabeya

'Maimaimaigoen' is an ensemble drama series focusing on emotional growing pains. In an age where many people feel uncomfortable in their own skin, this story is sure to hit close to home, affirming that it's perfectly okay to be just the way you are. The story invites readers into the world of many diverse characters, each with incredible individuality. 'Maimaimaigoen' aims to team up with unique creators in the future, and with that in mind, Sanrio has released some guidelines for fan content. This is the first time Sanrio has ever directly offered support to fan creators. 

To commemorate the manga's release, a collaborative music video with popular Vocaloid creator Kairiki Bear is now available to watch on YouTube. The artist has over 560,000 subscribers. 

The latest information about the project will be released on pixivFANBOX, along with new creator content and behind-the-scenes stories. Don't miss it!

Synopsis


One day, a group of nursery school students and their teacher, Yuu, go on a field trip to Sanrio Puroland. Suddenly, they are swept away into a deserted amusement park called 'Yuuropia.' 

Froggy Egg, a mysterious creature from this strange world, explains that by completing the attractions in the park, the children can return to their world…

SHIBUYA109 Taken Over by Sanrio's Popular Character Kuromi

Kuromi is taking over the fashion headquarters of Japan! The #WorldKuromificationProject x SHIBUYA109 Autumn Campaign featuring My Melody's punk rival is currently underway until November 21, 2021!

Original Apparel

Novelties

Kuromi Pop-up Shop: Let the #WorldKuromification Process Begin!

Sticker

Mask Case

Decorations

Sculpture

Kuromi came up with the #WorldKuromificationProject to inspire people to become their best possible selves. It's also a way to create more 'Kuromies': what Kuromi calls her fans. SHIBUYA109, a hotspot for trending fashion and new styles, is the perfect spot for the character to help people find themselves through fashion and pop culture. 

 

During the event period, the famous building will be decorated from top to bottom in Kuromi swag, and original collaboration goods with popular brands will be available for pre-sale. A pop-up store will be selling unique Kuromi items, so don't miss out on these before they disappear! A campaign will also be held to give away tickets to Sanrio Puroland, and visitors will discover plenty of photo spots and other surprises as they explore SHIBUYA109. 

Sanrio Puroland to Hold First Virtual Music Festival

Get ready for your trip to Virtual Sanrio Puroland! For the first time ever, Sanrio is teaming up with U.S. company VRChat for an entirely virtual music festival, SANRIO Virtual Fes in Sanrio Puroland on December 11 and December 12, 2021. Guests will be able to enjoy the event using a VR Headset, a PC, or a smartphone. 

The concert space will feature both live and virtual artists (VTubers), as well as popular Sanrio characters in a massive five-story underground space beneath Virtual Sanrio Puroland. Participants will also be able to transform their avatar into the Sanrio character of their choice during the event! High-fiving other concert-goers will result in an explosion of Hello Kitty bows, and there will be plenty of surprises during the music performances, so don't miss it!

The lineup for the event includes Kizuna AI, Hatsune Miku+PinocchioP, AKB48(Team8), CHiCO with HoneyWorks, Haneru Inaba, Kaede Higuchi, KMNZ, VALSHE, Hakushi Hasegawa, YuNi, Pasocom Music Club, Mom, Megu Shinonome, AMOKA, Yukichi Kasaku/men, LAUSBUB, and Kinu. Plenty of Sanrio characters will also make appearances, including Hello Kitty, Cinnomoroll, Kuromi, Cogimyun, and Hapidanbui. 

Who are you looking forward to seeing perform in this adorable virtual space?

©'21 SANRIO ©'21 SANRIO SP-M © '21 SANRIO S/F・G 著作(株)サンリオ
©AKB48 ©Kizuna AI ©BANDAI NAMCO Arts Inc.  ©ANYCOLOR, Inc. Art by KEI ©Crypton Future Media, INC.

Information

SANRIO Virtual Fes in Sanrio Puroland

Dates: December 11 & 12, 2021

Stream Open at 15:00, Show airs from 17:00-22:00

Location: Virtual Sanrio Puroland

Official Site: https://v-Fes.sanrio.co.jp

Roppongi Hills Observation Deck to Hold Christmas in the Sky 2021 Event

Celebrate the Christmas season in the sky! From November 1 until December 26, 2021, the Roppongi Hills Observation Deck will transform into a red and green holiday wonderland for the Christmas in the Sky 2021 event.

This year's theme for the Sky Deck, located on the roof of Mori Tower, is 'Sky Chill.' Guests are invited to just chill out while 270 meters above sea level enjoying a 360 view of the Tokyo cityscape. On Christmas Day, the annual Christmas Star Garzing Event will be held, featuring commentary from various astronomy experts. 

Tokyo City View, located inside on the 52nd floor, is currently holding the 60th anniversary Sanrio Exhibition: The Beginning of Kawaii. The main art piece for the exhibition, the Unforgettable Tower, will be lit up with Christmas decorations, so be sure to snap a picture!

The restaurant in Tokyo City View, THE SUN & THE MOON, will be serving a limited-time Christmas menu as well. 

A photo spot on the Sky Deck will feature a Sanrio Christmas design starting November 20!

Information

Christmas in the Sky 2021

Running: November 1 – December 26, 2021

Hours: Tokyo City View 10:00-22:00 (Last entry at 21:30) / Sky Deck 11:00-22:00 (Last Entry at 21:30) *Sky Deck event to start November 20, closed during inclement weather. 

Special Christmas Star Gazing Event: https://tcv.roppongihills.com/jp/tenmon/

Official Site: http://tcv.roppongihills.com/

Baskin-Robbins to Collaborate with Pompompurin for a Limited Time

Sanrio character Pompompurin is taking over Baskin-Robbins locations throughout Japan for the entire month of November! 

Custard Pudding Flavor

Double Scoop

Double Scoop

Pompompurin's Friendly Sundae

Pompompurin's Smiley Sundae

Pompompurin's Variety Box Set

Pompompurin's Variety Box Set

Blanket

Sanrio Characters Ice Cream Cake

Hello Kitty

Pompompurin

Cinnamoroll

Pochacco

Backing Paper

Sanrio Characters Christmas Cake

Original Sanrio Freezer Bag

Pompompurin products will be available during the month of November, while Cinnamoroll will be the focus during December. 

The Custard Pudding features a blend of mild and rich custard ice cream and bittersweet caramel ice cream. Those ordering double scoops should check out the cup's design, available in two patterns: one features Pompompurin in a Baskin-Robbins uniform, while the other displays Sanrio characters relaxing and chowing down on ice cream together. Those wanting to enjoy their sweets at home can grab the variety box, packed with Sanrio goodness. A limited quantity of fluffy blankets will be available at participating locations.

Information

Pompompurin's Ice Cream Shop

Baskin-Robbins Ice Cream

Running: November 1 – November 30, 2021

Official Site: https://www.31ice.co.jp/

Cinnamoroll Releases Second Single, Commemorative Event and Tower Records Collaboration Goods

Cinnamoroll, one of Sanrio's most popular characters, is collaborating with Tower Records to commemorate his second idol single 'Star Dome.' An event will be held, while collaboration goods will be available in 35 Tower Records stores nationwide and online.

Cinnamoroll is a male puppy who first appeared in 2001 and debuted in 2002. He is extremely popular, taking first place in the Sanrio Character Ranking four times. He made his idol debut with his first single in 2020 and is pushing forward with second single "Star Dome," which will be released as a CD on November 4.

34 Stockists / Products Available Online

Products Available in the Shibuya Store / Akihabara Store / Abeno Hoop Store / Online

Sweater

T-Shirt

Products Available in the Shibuya Store / Abeno Hoop Store / Online *Scheduled to be 

released on December 2.

Bracelet (Silver)

Bracelet (Pink Gold)

'Star Dome' Regular Edition Jacket

'Star Dome' First Press Limited Edition Jacket 

The collaboration goods scheduled to be released on November 3 will feature Cinnamoroll in his 'Star Dome' costume and the Tower Records logo in all-new illustrations. In addition, a release event will be held at the Shibuya store on November 3 and at the Abeno Hoop store on November 27. Customers who spend over ¥3,000 (Tax Incl.) on collaboration goods will be invited to participate in a mini live and photo session.

Be sure to check out Cinnamoroll's second single along with the limited edition merchandise!

Information

Cinnamoroll x TOWER RECORDS 2021

Online Products

Sales Start: November 3 (Bracelets will be sold on December 2)

Goods Reservation Start: October 14 In Store, New Year for Online Orders (*Mini live and photo sessions cannot be booked in advance. Tickets will be sold on a first-come first-serve basis in store on the day of the event. 

Details: https://tower.jp/cinnamoroll

Cinnamoroll Mini Live Shibuya: https://towershibuya.jp/2021/11/01/158634
Abeno Hoop: https://tower.jp/store/news/2021/11/118001

Cinnamoroll 'Star Dome'

Release Date: November 4

Regular Edition: ¥1,300 (Tax Incl.)

First Press Limited Edition: ¥1,800 (Tax Incl.)

Hello Kitty and Pierre Hermé Collaboration Series Coming to Sanrio Stores

Everyone's favorite cartoon cat Hello Kitty is about to celebrate her birthday! To celebrate, Sanrio is releasing a collection of limited-time goods in collaboration with world-famous patisserie Pierre Hermé starting October 20, 2021. These items will be on sale at Sanrio stores nationwide, in specific department stores, and on the official Sanrio online store. 

Collaboration with Hello Kitty's favorite sweet, Ispahan

Ispahan, a raspberry cake, is Hermé's signature dessert. For Hello Kitty's birthday celebration the creator drew the character in an elegant rose-inspired dress inspired by the sweet. This design was made with the hope that Hello Kitty will continue to bring different people and cultures together for years to come. 

Mascot Keychain  Hello Kitty/Mimmy: ¥2,530

Accessory Case: ¥3,080

Inspired by Pierre Hermé's Ispahan and Satine sweets, fans will love these colorful goods perfect for a birthday celebration. 

Hello Kitty Birthday Doll: ¥15,400 (Tax Included)

Each year a Hello Kitty Birthday Doll is released, and 2021 is no different! This year, the doll is wearing an elegant dress designed exclusively for the collaboration. Each one has an embroidered serial number on the left leg, and quantities will be limited. 

Gâteau Anniversaire Hello Kitty: ¥2,640 (Tax Included)

This special birthday dessert will be available at Pierre Hermé Paris Aoyama from November 1 to November 15. It includes a special Hello Kitty Ispahan along with a scoop of rose ice cream and a dusting of raspberry powder!

©'21 SANRIO 著作(株)サンリオ

Information

Hello Kitty and Pierre Hermé Collaboration Design Series

Release Date: October 20, 2021

Sanrio Official Goods Page: https://www.sanrio.co.jp/goodsinfo/kt-pierreherme-202110/ 

Hello Kitty and Pierre Hermé Birthday Doll 2021

Price: ¥15,400 (Tax Included)

Release Date: October 20, 2021

Where to Buy: Sanrio Stores, Sanrio Areas at Department Stores

Gâteau Anniversaire Hello Kitty 

Available: November 1 – 15, 2021 *Limited-time only

Where to Buy: Pierre Hermé Paris Aoyama 2F Heaven

Kuromi Shop Opens for Limited Time Only at Hello Kitty Japan DiverCity Tokyo Plaza

The Hello Kitty Japan DiverCity Tokyo Plaza shop is about to be taken over by Kuromi! Located on the second floor of the complex, the store will be transformed into a new concept shop starting October 8, 2021, until January 10, 2022. 

Limited-Time Sweets

Limited-Time Event Merchandise

Photo Signature

Photo Spot

 

Kuromi is the rival of My Melody and is popular among Gen-Z for her punk style and mischievous attitude. The character will cast her spell on the store as a prank, and will completely strip the location of all of its pink and red coloring, replacing it with a monotone look. 

Along with the new decorations, certain goods and sweets will only be available during the event period. A photo spot will be open for a limited time, along with a Sanrio Purikura machine imported from Korea for the first time! DiverCity will decorate the entrance and interior of the building to celebrate the event as well, so don't miss out!

ⓒ 2021 SANRIO CO.,LTD  著作:㈱サンリオ

 

Information

Hello Kitty Japan DiverCity Tokyo Plaza

Concept Shop Open: October 8, 2021 – January 10, 2022

DiverCity Tokyo Plaza 'Kuromi's Mischief Mission' 

Running: October 8 – November 11, 2021

Address: Diver City Tokyo Plaza 2F(1-1-10 Aomi, Koto-ku, Tokyo)

Access: 3 minutes walk from Tokyo Teleport Station on the Rinkai Line / 5-minute walk from Daiba Station on the Yurikamome Line

Pompompurin Celebrates 25th Anniversary with Two-Day Picnic Event

To celebrate the 25th anniversary of Sanrio's popular Golden Retriever character Pompompurin, Sanrio Puroland will hold a two-day picnic event in Tama Central Park on November 6 and November 13, 2021!

Picnic Menu


Limited-Edition Goods

The picnic will allow fans to spend some quality time with their favorite character while enjoying the lush greenery of Tama Central Park, located right next to Sanrio Puroland. Guests can chow down on the special Yellow Bun Teri-Mayo Burger, bone-in sausage, fried chicken, and a healthy salad while snapping pictures of the scenery. A limited-edition T-shirt will be available, along with a picnic mat and some cute Pompompurin figures, so don't miss out!

Information

Pompompurin's Happy Picnic at Tama Central Park

Dates: November 6 and November 13, 2021, from 12:00-13:15 

(The event will be postponed to the following day in the case of rain.) 

Location: Tama Central Park

Tower Records x Kuromi Release Second Round of Collab Merchandise

My Melody's rival Kuromi is back for another collaboration with Tower Records! 26 participating locations will begin selling the second round of original merchandise on October 14, with preorders now open! The items will also be available to purchase from the Tower Records online store. 

Kuromi made her debut in 2005 and is a popular Sanrio character for those who want something less cute and more punk. This collaboration is fitting, as Kuromi's birthday is on Halloween!

Products Available In-Store and Online

Acrylic Keychain

Pins

Mascot Keychain

Towel

Clear Folder, Set of 2

Pouch

Cushion

Bucket Hat

Acrylic Stand

Acrylic Stand

Acrylic Stand

Acrylic Stand

Acrylic Stand

Acrylic Stand

Products Available at Shibuya and Shinjuku Stores and Online

T-Shirt

Long Sleeve T-Shirt

The first collaboration between Kuromi and Tower Records came in 2020 and saw products flying off the shelves. Be sure to preorder the items you like before they're gone!

Information

Tower Records x Kuromi Round 2

Available to Preorder Now

Release Date: October 14, 2021

*Mascot Keychains will go on sale on October 28. 

Participating Locations/Details: https://tower.jp/kuromi2021