Kyary Pamyu Pamyu Launches New Fragrance Brand 'Nostalgia Syndrome'
A new fragrance brand produced by Kyary Pamyu Pamyu was released on September 12, 2020, and is available to purchase via the brand's official website.
The brand was backed by a crowdfunding campaign in February 2020 for Kyary who wanted to turn her favourite scent, fragrant olive, into a fragrance. The music artist highlighted how it's a difficult scent to get your hands on. "There are so many people that like the smell of fragrant olive, so why is it so rare?" Kyary worked with fragrance experts to create a scent that smells like fully bloomed fragrant olive.
Nostalgic Syndrome Osmanthus – Eau de Toilette | ¥8,250 (Tax Included)
Nostalgic Syndrome Osmanthus – Body Cream | ¥5,500 (Tax Included)
The first goal of the crowdfunding campaign was to fund the perfume and the second body cream which Kyary overwhelming support for, leading to it becoming a reality.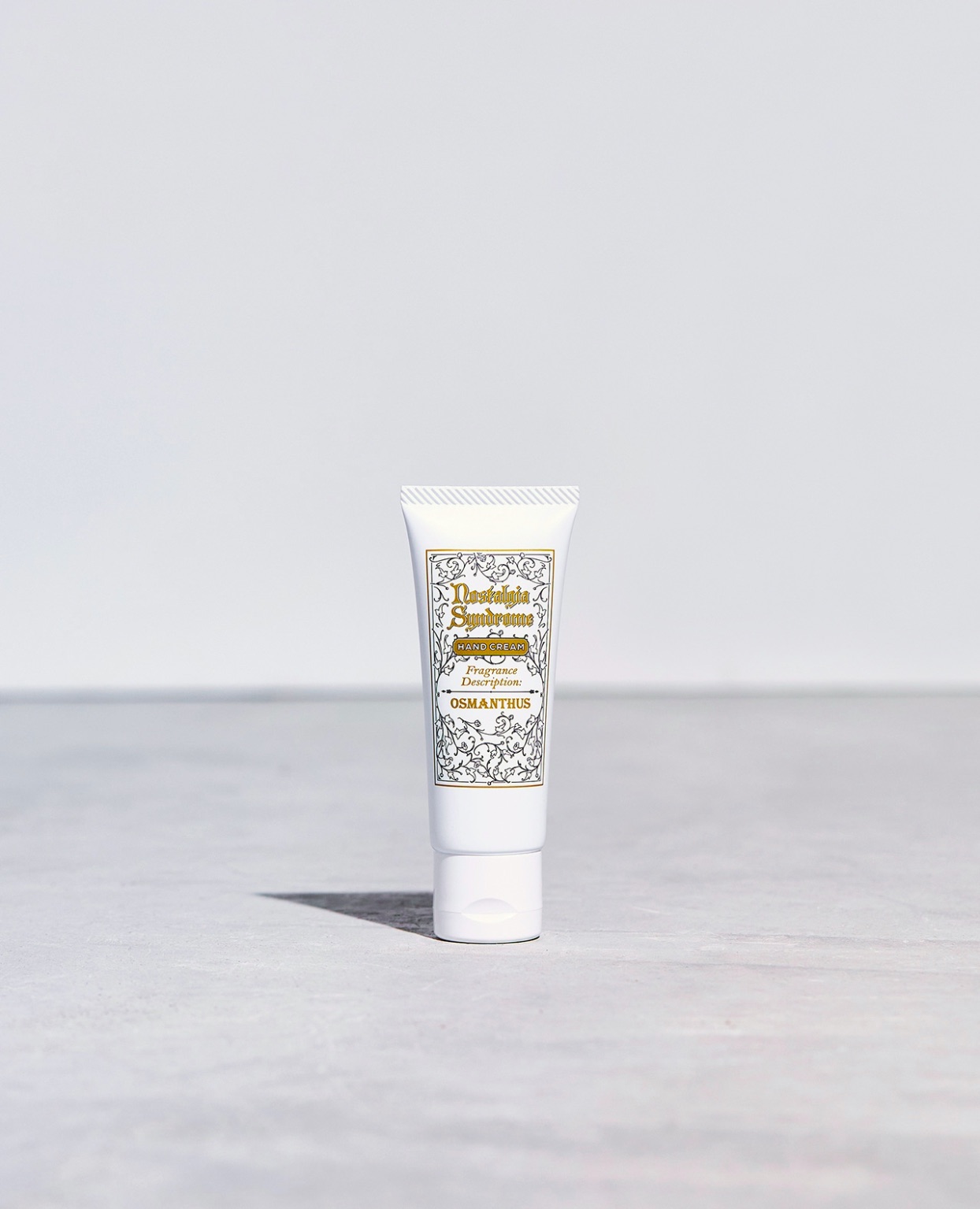 Nostalgic Syndrome Osmanthus – Hand Cream | ¥1,870 (Tax Included)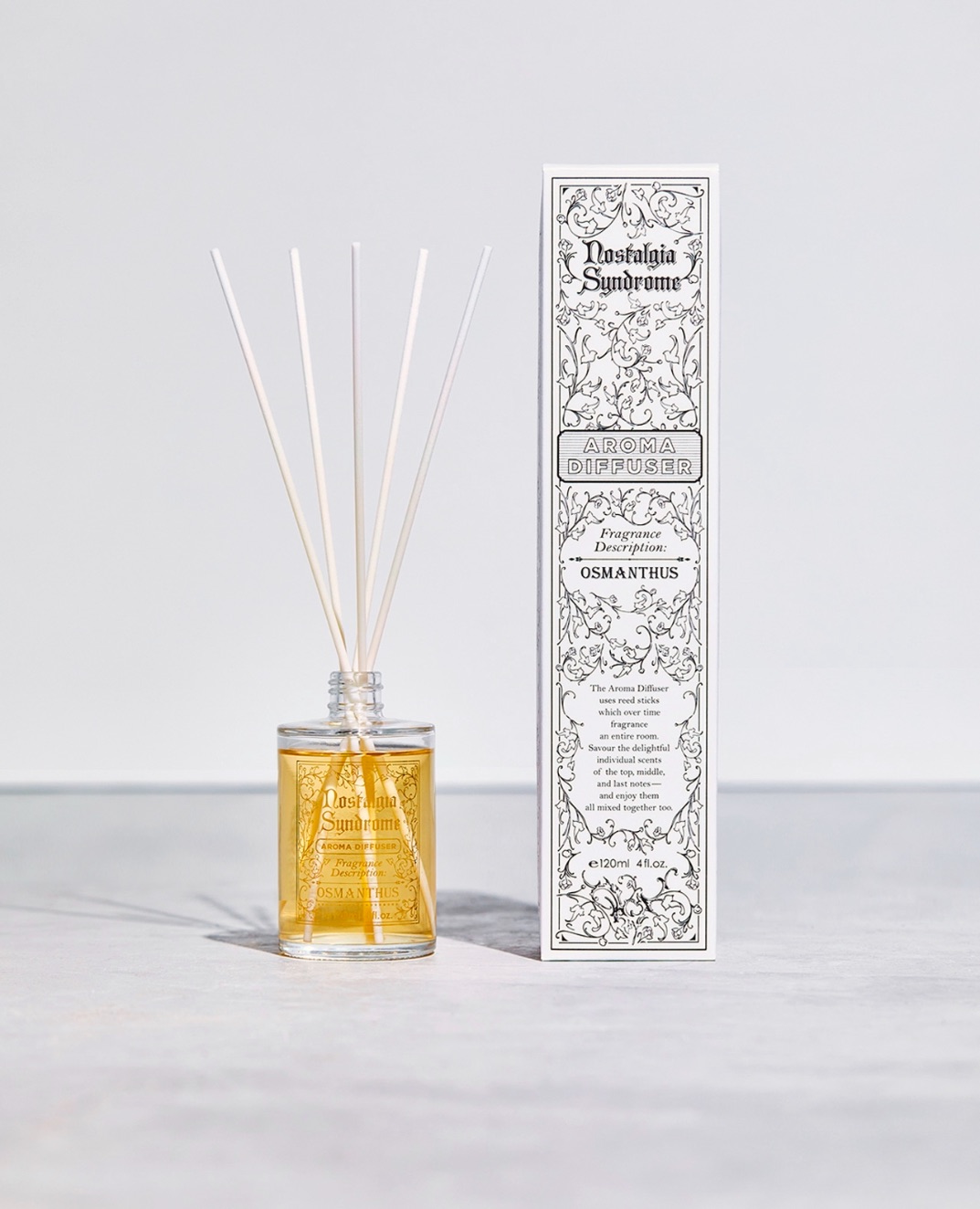 Nostalgic Syndrome Osmanthus – Aroma Diffuser | ¥7,150 (Tax Included)
The success of the crowdfunding campaign led to the establishment of Nostalgic Syndrome and subsequently its first series, Osmanthus, which includes not only the perfume and body cream but hand cream, hair oil, aroma diffuser, and home & fabric spray too.
To celebrate the launch of Nostalgia Syndrome, the first 300 people who spend over ¥10,000 on products will receive an original eco bag. More details can be found on the brand's official website.
Kyary Pamyu Pamyu | Comment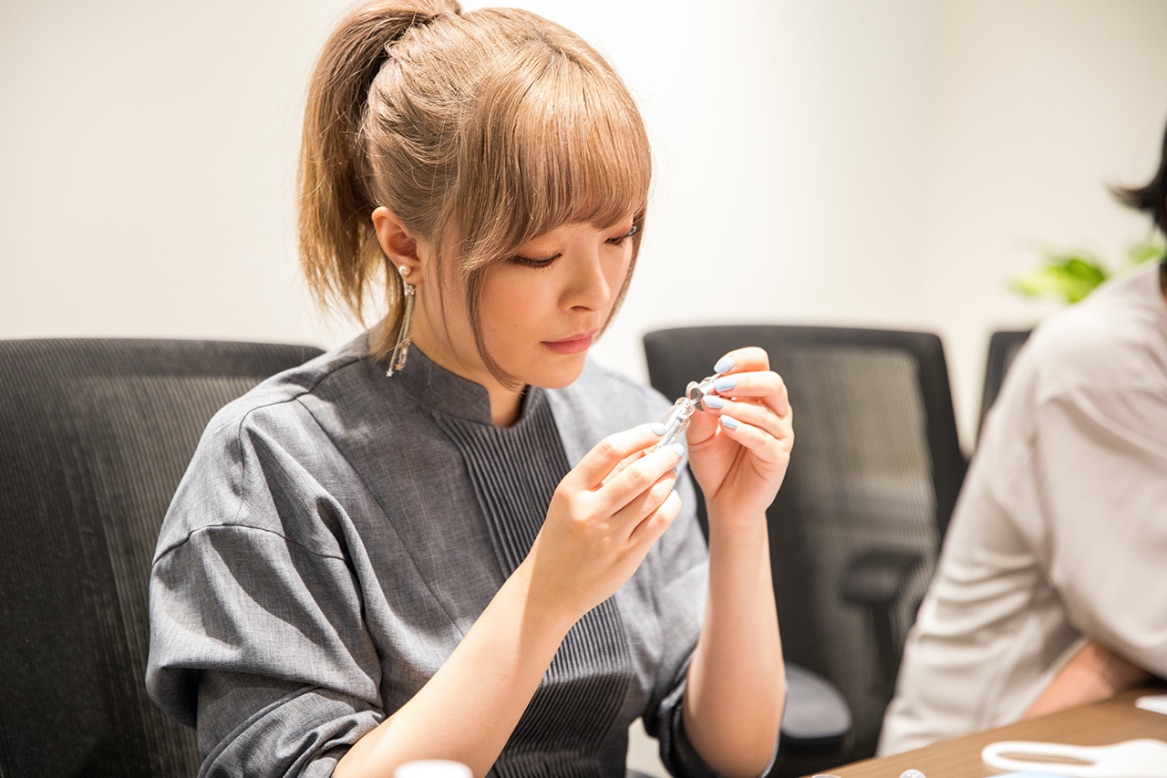 "I've always loved fragrances. Before every live performance I do I like to calm myself with my favourites. Fragrances help me to relax no matter the time, I really feel like they're something that have saved me. So, for all the people working hard day to day, and for those with stresses piled up right now, I want them to take a deep breath with this scent of fully bloomed fragrant olive. It would make me happy if this fragrance can create a relaxing space for you."
"It's all thanks to everyone's support that I was able to launch the Nostalgia Syndrome brand. I'm filled with gratitude. Thank you so much, and I hope you continue to support [the brand]."
RELATED ENTRIES
Kyary Pamyu Pamyu's Halloween Look Decorates Shiseido Beauty Square in Harajuku

Following her firework-inspired summer promotion look for Shiseido Beauty Square, Japanese pop icon Kyary Pamyu Pamyu has returned to the beauty facility with an all-new Halloween look, first revealed on Friday.


Kyary is serving a dark romantic world in Harajuku this Halloween, with Gothic hair and makeup that delivers us spook fantasy mixed with a bewitching, fairy tail-like sweetness. The look was brought to life thanks to Shiseido's top hair and makeup artist Tadashi Harada.

Kyary Pamyu Pamyu became the ambassador for Shiseido Beauty Square when it opened back in June. The concept of the beauty facility is centred on having people discovering their beauty, having fun, sharing experiences, and learning the latest in the scene

Information

Shiseido Beauty Square
Opened: June 18, 2020

Address: WITH HARAJUKU Floor 1F, 1-14-30 Jingumae, Shibuya, Tokyo

Opening Hours: 11:00-20:00

No Fixed Holidays
TEL: 03-5413-7717

Official Website: https://beautysquare.tokyo/

*Website available in English, Japanese, and Chinese

LUSH Harajuku Revamps With New 'Slow Bath' Concept

The Harajuku branch of UK cosmetics retailer reopened after a revamp on Friday with its all-new 'Slow Bath' concept. The branch first opened to the people of Tokyo in November 2018.


Since opening, LUSH Harajuku has delivered a LUSH-esque bath product lineup experience, since Japan is known for being a nation of bath lovers. That is now being taken to the next level with the Slow Bath revamp which will stock a wide variety of items for self care and indulgence.

Throw away the needless and make way for mind and body reconnection

LUSH Harajuku is a place that helps you discover new ways to design your daily routine, with face masks to refresh your skin, products to care for your hair, scents for your well-deserved bath time, and more.

Well-being is also a big part of the brand, teaching you to be kind to yourself while you're working everyday, and to look after your mind and body. LUSH Harajuku stocks not only bath bombs and bubble bars, but a selection of items to use while you're in the bath too for some much-needed self care.

Naked items are environmentally friendly

About 60% of LUSH's products are sold 'naked' without packaging in order to reduce on waste in the environment. This also lets the essential oils and natural smells of the products seep throughout and outside the doors of their stores, beckoning people with the pleasant fragrances.

LUSH's "Lush Labs" app also has a function called "Lush Lens." This lets customers scan any naked item which brings up information about that particular item such as what ingredients are used, as well as videos on how to use products and bath bombs fizzing.

If you're ever in Harajuku, be sure to stop by LUSH.

Information

LUSH Harajuku

Address: 1-13-11 Jingumae, Shibuya, Tokyo

Opening Hours: [Weekdays] 12:00-20:00 / [Weekends] 11:00-20:00

Official Website: https://jn.lush.com/  

Kiko Mizuhara and Takumi Kitamura Model For Rouge Dior Lipstick

American-Japanese model, actress, and designer Kiko Mizuhara and Japanese actor and model Takumi Kitamura have featured in a new promotion for the internationally-iconic Rouge Dior lipstick in three different looks inspired by the streets of Paris such as Champs-Élysées and Saint-Germain-des-Prés.

Saint-Germain-des-Prés Look

Inspired by the art-led administrative quarter of Saint-Germain-des-Prés, this look fuses trends and tradition.

Kiko is donning the Rouge Dior 665 Rêvée which has a classic pink-beige accent. And to emphasise the natural gloss and beauty of her lips, she's wearing the Dior Addict Lip Glow Oil 001 Pink.


Takumi has also contoured with the Dior Addict Lip Glow Oil 001 Pink tinted lip balm which brings out his natural complexion and imbues his lips with a natural beauty.

Champs-Élysées Look

Champs-Élysées is where the best fashionistas gather, and this look serves that cool Parisienne vibe. Kiko is using the Dior Addict Lip Glow Oil 001 Pink as a base which she has layered with the iconic Rouge Dior 999.

Avenue Montaigne Look

Feminine looks overflowing with natural beauty inspired by Avenue Montaigne where Monsieur Dior opened his first boutique.

Kiko is wearing the Dior Addict Lip Maximizer 001 Pink and has added the lovely Rouge Dior 458 Paris. She's ready to hit the town.

Takumi is also donning the Dior Addict Lip Maximizer 001 Pink, Dior's number one lip care primer, to care for his lips, elicit their natural beauty, and heighten their gloss and volume.

SUQQU's New Liquid Lipstick Collection to Enhance Lips This Autumn

"Comfortable, yet also dramatic" is the vibe SUQQU is bringing to their new Liquid Lipstick Collection which will be released on September 4, 2020.


The lipsticks will be available in two different finishes: COMFORT LIP FLUID FOG and COMFORT LIP FLUID GLOW, both of which provide fresh colours for the lips while enhancing their look.

Amazingly light and locks in colours

The lipsticks have an impossibly light spread thanks to the oils that SUQQU use in their formula, which has a mousse-like texture that helps at to the lightness and allows the shade to spread effortlessly and evenly across the lips. You also don't have to worry about any stickiness when wearing your chosen shade.

Long-lasting, guaranteed adhesion

The formula of the new SUQQU Liquid Lipsticks actually contains the same film material used in mascara. This means that the colour is guaranteed to stay on your lips over a long period of time.

COMFORT LIP FLUID FOG – 7 New Shades

Made with a higher ratio of film than the GLOW line for additional creasing prevention.

Colour Variations

The Shades (From the Left)

01. AZUKIAME: Dull red that nods towards autumn and winter and works with all skin tones.

02. MAIBENI: A light and refreshing fruity red with a perfect balance of blue and red.

03. WATAICHIGO: Chic rose whose dullness has a grown-up vibe to it.

04. HANASHIMO: Sophisticated pink beige that can be worn both formally and casually.

05. OUJYUKUKA: An adult orange amber that contrasts against the skin like a ripe fruit.

06 KINUZOME: Snow beige with a hint of white.

07 HOUJIIRO: Warm brown that has warmth and depth that blends well with the skin.

COMFORT LIP FLUID GLOW – 7 New Shades

Contains more oil than the FOG finish, for a more moisturized, glowing look.

Colour Variations

The Shades (From the Left)

01. AKATSUMUGI: A bewitching primary red with just a single coat.

02. MUSUBISHU: Soft and warm fig red reminiscent of figs.

03. HANAIKADA: Sweet and gentle pure coral that leaves a pure impression.

04. IROGURE: Chic ochre brown that makes anyone look smart and sophisticated.

05. YUUHI: Refreshing and glossy dewy orange.

06. FUJISHIZUKU: Purple aquatic berry that enhances your adult luster.

07. HANAGUMORI: Greyish purple with a dull mode.

Information

COMFORT LIP FLUID GLOW FOG

Release Date: September 4, 2020

Colours: 7 new colours

Price: ¥5,000 (Before Tax)

COMFORT LIP FLUID GLOW

Release Date: September 4, 2020

Colours: 7 new colours

Price: ¥5,000 (Before Tax)

Product Page: https://www.suqqu.com/en/product/comfort-lip-fluid/

Naomi Watanabe Appointed Shu Uemura Ambassador For Launch of 'Rouge Amplified Unlimited' Lipstick

Japanese makeup artist brand Shu Uemura has invited Naomi Watanabe on board as the global ambassador for the launch of the new colour and packaging for their "Rouge Unlimited Amplified" lipstick which will hit shelves on September 16, 2020.

Rouge Unlimited Amplified looks to amplify the user's lip experience with its bold colours. The collection will see a range of updated colours and packaging, including the brown "BR 784 Naomi's redwood."

In the promotion for the lipstick, Naomi Watanabe has donned the "Rouge Unlimited Amplified Matte AM BR 784."

Naomi Watanabe | Comment

"This is a really beautiful colour and gives you a personalised look that you don't see with other lipsticks. You can use it pretty much anywhere, whether at the office or at a party. As long as you wield this lipstick, you can go anywhere, and do anything."

Naomi Watanabe is a fashion icon in Japan, promoting positivity and letting people know they can wear whatever makeup and clothing they like. Her message ties in with Shu Uemura's core concept of individual beauty.

Rouge Unlimited Amplified Matte AM BR 784

The "BR 784 Naomi's redwood" was specially developed to bring out the tones in the skin of those in Asia. It's a tailor-made brown inspired by reddish-brown, a popular colour trend. Adding a reddish tinge makes it contrast well against the skin and makes it possible to wear it on any occasion. The brown hue adds a sense of sophistication and balances out the red, so you can wear it both casually and formally. Four different textures of the "BR 784" are available to purchase.

SHIRO Makeup Collection 2020 Autumn/Winter Launches September 10

Japanese cosmetic brand has revealed that the SHIRO MAKEUP COLLECTION AW 2020 will launch in Japan on September 10, featuring delicate colour tones and using ingredients that SHIRO is known for like ginger and pot marigold which are kind to the skin.

Pot Marigold Liquid Eyeshadow

Pot Marigold Liquid Eyeshadow – 4 Colours

The liquid eyeshadow keeps the skin around your eyes moisturised while adding a delicate sheen to them, creating a beautiful contrast and natural beauty. In times when everyone needs to be wearing face masks, a coat of this eyeliner is sure to leave an impression.

Gagome Kelp Mascara

Gagome Kelp Mascara – 3 New Colours (Includes 1 Limited Edition)

Gagome kelp is known for its moisturising power. Add yuzu to that for a fresh citrus scent, and you've got a mascara that cares for your eyelashes while making you look beautiful. These three new colours also contain pearl powder.

Ginger Lipstick Glow

Ginger Lipstick Glow – 3 New Colours

Incorporating ginger ensures your lips stay moist, and the three new colours introduced add a glossy shine to plump them out.

Ginger Lipstick Colour Primer

Ginger Lipstick Colour Primer

The new Ginger Lipstick Colour Primer cares for your lips and is acts as a foundation for your lipstick.

GU Announces Launch Of New Cosmetic Brand #4me by GU

Japanese clothing retailer GU has announced that its new cosmetic brand #4me by GU which launch on September 4, 2020 at all major GU stores and their online website in Japan.

#4me by GU is an entirely new cosmetic brand that hearkens to the voices of the ordinary person and combines latent needs with the latest styles. By listening to consumers' worries and wishes, the brand is able to develop cosmetics that people want and can really use. Their products pride themselves on being made in Japan, ensuring high quality while staying at a reasonable price and making the user feel good each day.

#4me by GU's product lineup focuses on eye and lip products, and this will include lipsticks, cream eyeshadows, lip gloss, and multi-palettes. The items will be simple for anyone to apply and incorporate into their looks. GU has also developed their own colours and textures so that their lineup fit naturally with the colours and fashion of the season. From eyeshadow that isn't overly-sparkly to specially selected natural colours from palettes, #4me by GU promises easy of use for every person.

The Lipsticks

8 Colours: #11 PINK, #13 L.RED, #14 ORANGE RED, #15 RED SHEER, #17 RED MATTE,#24 APRICOT, #26 ORANGE SHEER, #77 PURPLE | ¥590 Each (Before Tax)

The lipstick collection features natural colouring. Each lipstick benefits from just needing one coat over the lips while also moisturising them. Thanks to the oil blend*, the lipstick feels great on the lips and has the right amount of shine. It also has a lip cream feel to it so can be used on your lips when wearing a face mask.

Cream Eyeshadow

4 Colours: #01 WHITE, #11 PINK, #36 BROWN, #81 GOLD | ¥590 Each (Before Tax)

#4me by GU's cream eyeshadow has 53% water content and comes in a tube. The oil blend lets the eyeshadow spread out smoothly and requires just a single coat around your eyes. The eye shadows also contain a moderate amount of glitter, bringing a fresh look to your eyes. It makes your eyes stand out without taking over the rest of your makeup.

Lip Gloss

3 Colours: #11 PINK, #13 L.RED, #16 RED | ¥790 Each (Before Tax)

The colouring developed for the lip gloss was made to not be too strong so that even if you overcoat with another colour your lips will look natural. The oil blend* used enhances the product staying on your lips and makes them look plump and moist.

Multi-Palettes

 3 Colours: #11 PINK, #26 ORANGE, #72 PURPLE | ¥1,490 (Tax Included)

Soft powder is used for the multi-palettes which ensures a consistent and balanced spread. Colour trends are used and can be used both on your cheeks and around your eyes.

#4me by GU is made in Japan using high quality Japanese ingredients. Where possible, the ingredients used are ones that do not cause irritation to the skin, and all items are made with natural moisturising ingredients including the following essences: tea leaf, East Asian Cherry, camellia, saxifraga stolonifera, and ashitaba.

Kyary Pamyu Pamyu Spends Summer Eating Noodles With Fans in First Online Fan Meeting

Kyary Pamyu Pamyu hosted "KPP ONLINE MEETING VOL.1" on August 16, 2020, her first online event exclusive to members of her fan club "KPP CLUB."

Kyary Pamyu Pamyu's new Japan solo tour, scheduled summer festival and event performances, and bus tour—the latte of which had been held up until last year for fan club members only—were unfortunately cancelled as a result of the COVID-19 pandemic. But Kyary still wanted to find a way to have fun with fans, which led to the creation of "KPP ONLINE MEETING." The first meeting saw around 500 fans which Kyary could see all of on the 10 screens she had prepared in front of her for the live stream.

Fans donned their Kyary merch on stream and prepared some original Kyary-themed backgrounds for the online meeting. The fans who got to attend, chosen by Kyary herself, enjoyed a close-up chat with Japan's queen of pop.

In the run up to the event, Kyary posted a question on Twitter asking people what they wanted to do during the online meeting. The option of dancing together was adopted, and so after teaching fans the choreography to her song KAMAITACHI which dropped in April this year, fans danced together with her, making it feel like a live show.

Kyary also had her own idea she wanted to try out with fans, which was eating somen noodles together with everyone. Everyone prepped their own somen and made a toast with their bowls. Other fun things Kyary got up to with fans included a drawing challenge, scavenger hunt, a lottery where fans could win something of Kyary's, and more.

At the end of the event, Kyary took a photo together with all 500 fans on the 10 screens. Kyary could feel the energy and warmth from fans through the screen, and ended the event with a huge smile on her face. She plans to continue holding these online meetings for fan club members going forward.

During the stream, Kyary also announced a DVD and Blu-ray release of her tour from last year, Oto no Kuni Live Tour 2019. Kyary originally had a Japan nationwide hall tour scheduled for this autumn. When she watched the footage of "Oto no Kuni Live Tour 2019," she said, "When I thought about how I can't do a show like this at present time, I cried."

The DVD and Blu-ray includes two performances: Maboroshi no Utopia ~Izumo-taisha no Yoru~ which was held at Izumo Grand Shrine in Shimane—and which Kyary spoke about in our interview with her last year—and her kabuki themed show Kyary Kabuki Kabuki held in Kyoto at Minami-za, the oldest theatre in Japan. The DVD and Blu-ray are available for everyone to buy, including non fan club members.

Next year will mark 10 years since Kyary Pamyu Pamyu's music debut. Stay tuned for the latest updates and information.

Information

Oto no Kuni Live Tour 2019 (Izumo Grand Shrine/Minami-za) DVD/Blu-ray

Order Window: August 16, 2020 at 20:30 (JST) to August 30, 2020 at 23:59 (JST)

Shipping Window: Early-Mid October 2020

DVD (2 Discs) w/Staff Pass Key Ring: ¥5,500 (Before Tax) [KMGI-0004]
Blu-ray w/Staff Pass Key Ring: ¥6,500 (Before Tax) [BD KMGI-0005]
DVD (2 Discs): ¥4,000 (Before Tax) [KMGI-0002]
Blu-ray: ¥5,000 (Before Tax) [KMGI-0003]

*All Limited Pressing Edition copies

Buy Here: https://kyary.net/store
*Available to all, including non-members of KPP CLUB

Kyary Pamyu Pamyu Official Website: http://kyary.asobisystem.com/

SHISEIDO Opens First Global Flagship Store in Tokyo's Ginza District

SHISEIDO opened its first-ever global flagship store in Ginza, Tokyo on July 31, 2020.

Since its founding in Ginza, the SHISEIDO brand has been fusing art and science, representing Japanese Beauty. Today, it offers a wide range of products in 88 countries and regions around the globe. SHISEIDO skincare and makeup aims to reveal and express people's beauty on the outside, empowering them with confidence and vitality. For SHISEIDO, it is that outer beauty that brings to light your inner beauty, a notion that's centred around the brand's concept of feeling "ALIVE with Beauty," something they say is achieved when beauty blooms from both the outside and inside.


SHISEIDO GLOBAL FLAGSHIP STORE follows this mantra of "ALIVE with Beauty" which it will promote to those visiting Ginza, be they Japanese or foreign. The store's design concept is "Japanese Digital Garden" which encapsulates the image of a Japanese-style garden—something which symbolises the Japanese sense of beauty as well as nature. It will be inspired by Japanese paper, trees, and Nishijin silk fabrics, and will incorporate flowing music and lighting.

Digiskin Tester (Makeup)

SHISEIDO GLOBAL FLAGSHIP STORE is a beauty experience that combines human touch with the latest technology. The shop caters to a multitude of beauty needs and lifestyles. Simply by taking a photo of yourself, the Digiskin Tester will find the perfect shade of SHISEIDO foundation for your skin from 30 colours. This instant tester can be combined with one-on-one counselling with the staff so you can find the right products for you.

SHISEIDO Ultimune™

SHISEIDO Ultimune Power Infusing Concentrate N – Ginza Flagship Store Limited Edition (75ml) | ¥16,000 (Before Tax) *Available in-store only

The building consists of three floors serving all things SHISEIDO, from their full line-up of makeup and skincare products to items exclusive to the flagship store.

They are taking all the necessary precautions against the spread of COVID-19 so that customers can continue to enjoy the beauty experience. This includes practicing social distancing, providing alcohol gel, disinfecting tester products, having staff and customers wear masks, and so on.

Ultimune Essence Auto-Tester

Customers can use special dispensers set up in-store which lets them try out products without having to come into physical contact with other people.

SHISEIDO has also launched a "virtual store" on its official website so that customers can still enjoy SHISEIDO GLOBAL FLAGSHIP STORE from the comfort of their own home. Customers use VR to walk around the shop and watch help and advice videos on makeup.

Discover your inner and outer beauty at SHISEIDO GLOBAL FLAGSHIP STORE in Ginza.

Information

SHISEIDO GLOBAL FLAGSHIP STORE
Address: Hankyu Hanshin Ginza Bldg., 3-3-13 Ginza, Chuo Ward, Tokyo
Grand Opening: July 31, 2020

Official Website: www.shiseido.co.jp/ginza

Steve Aoki Performs Remix Of Kyary Pamyu Pamyu's 'Ninja Re Bang Bang' at Tomorrowland

American DJ and record producer Steve Aoki performed at "Tomorrowland Around The World 2020 The Digital Festival" on July 25, 2020, which was the first digital run of Belgian electronic dance music festival Tomorrowland. The twice Grammy-nominated artist performed his hit remix of Kyary Pamyu Pamyu's track Ninja Re Bang Bang which was released in June. Steve uploaded part of his performance on his official YouTube channel.

For the world's dance music fans, Tomorrowland hails as one of the music festivals that everyone wants to experience at least once in their lives. This year, the six-day festival was originally scheduled to take place from July 17 but was cancelled in April as a result of the COVID-19 pandemic. But that didn't stop the festival from delivering the best in electronic music to the world as the event was taken online for the first time on July 25 and 26 for the first-ever edition of "Tomorrowland Around The World 2020 The Digital Festival."

Over 60 artists performed including David Guetta, Katy Perry, and of course Steve Aoki. Over 1 million music fans around the world purchased tickets to the online festival who enjoyed the best in electronic music which used the latest in cutting-edge technology to create a virtual 3D environment. Steve Aoki performed on the main stage on Day 1. Steve is a resident DJ of Tomorrowland having appeared every year since 2011. For 2020, he served his strongest set list to date.

His set included the track Ninja Re Bang Bang Steve Aoki Remix. The song is a remix of Kyary Pamyu Pamyu's famous track Ninja Re Bang Bang and was written for the global Nintendo Switch title Ninjala.

Ninja Re Bang Bang Steve Aoki Remix was released by Steve Aoki's label Dim Mak in America and Smash the House in Europe. The track has enjoyed much attention across major music streaming services, making it onto numerous popular playlists including the 'Tomorrowland Official Playlist.' The digital Tomorrowland festival, which saw concertgoers and music fanatics around the world come together, was the first place Steve has performed the song.

Music lovers around the world reacted positively to the performance. Kyary Pamyu Pamyu herself has toured the world four times, and her music has once again reached people across the globe.

A DJ mix of Steve Aoki's set at Tomorrowland Around The World 2020 The Digital Festival is now streaming on Apple Music. Video footage of his full set from the event will also be posted on the festival's "Tomorrowland 2020 Relive Platform" on August 13, 2020 at midnight (JST). Tickets are now on sale to watch the archived footage.

Information

Ninja Re Bang Bang Steve Aoki Remix

Japanese Title: にんじゃりばんばん Steve Aoki Remix
Release Date: June 25, 2020 (June 24 in America and Europe)

Distributed By: Japan: ASOBIMUSIC / USA: Dim Mak / Europe: Smash the House

Streaming and Download Links: kppm.lnk.to/ninja

Steve Aoki Official Website: http://www.steveaoki.com
Kyary Pamyu Pamyu Official Website: http://kyary.asobisystem.com

SCALP-D Collaborates With Pokémon to Release Pikachu Design Eyelash Serum

ANGFA will is collaborating with Pokémon to release Pikachu packaging in Japan for its SCALP-D Eyelash Serum on July 22, 2020.


This is the first time the brand has teamed up wit Pokémon, and sees both the packaging and bottles of the eye serums with cute Pikachu designs.

SCALP-D Beaute Pure Free Eyelash Serum Pokémon Design: ¥1,762 (Tax Included)

SCALP-D Beaute Pure Free Eyelash Serum Premium Pokémon Design: ¥3,524 (Tax Included)

The SCALP-D Eyelash Serum is a daily use product to make women's eyes beautiful, healthy, and supple so that they don't fall out as easy. The Pikachu collaboration concept is to make the user's eyes "as cute as Pikachu." There are two products to choose from: the regular eyelash serum and a premium version.

A social media campaign is also being held in Japan for 30 random people to win a bottle of the serum. All you need to do is follow SCALP-D on Twitter or Instagram and retweet/repost the following posts.

Campaign: July 13, 2020 @ 12:00 – July 20, 2020 @ 23:59 (JST)

SCALP-D Instagram: scalpd_eye

SCALP-D Twitter: @scalpd_eye

ANGFA is also selling sets of the serum with a limited-edition Pikachu towel. These are available while supplies last.

SCALP-D Beaute Pure Free Eyelash Serum Towel Set: ¥5,286 (Tax Included)


SCALP-D Beaute Pure Free Eyelash Serum Premium Towel Set: ¥7,048 (Tax Included)

Make your eyelashes Pika-Pika pretty with a cute bottle of Pikachu SCALP-D!

Gaspard and Lisa Cosmetic Range Releases in Collaboration With Cosme Kitchen

To celebrate the 10th anniversary of MASH Beauty Lab, a range of original and exclusive merchandise made in collaboration with popular French fictional characters Gaspard and Lisa and Cosme Kitchen will be released in limited quantities. Pre-sales opened at Cosme Kitchen's web store on July 15 while in-store purchases will be available at 70 branches in Japan from July 17.

Cosme Kitchen is a shop whose first branch opened in Daikanyama, Tokyo. They stock specially selected natural and organic cosmetic products from around the world. Gaspard and Lisa are fictional characters that appear in a children's book series of the same name by wife and husband Anne Gutman and Georg Hallensleben. The collaboration hopes to bring smiles to people's faces around Japan with organic, sustainable, and cute products.

Gaspard and Lisa Sauvent la Planete: ¥1,200 (Before Tax)

A new children's book has been created exclusively for this collaboration. It will be sold at Cosme Kitchen only.

Product Line-Up (Excerpt)

Cosme Kitchen Small Eco-Bag: ¥1,800 (Before Tax)

This sustainable eco-bag is made from 100% plastic waste from the ocean. Available while supplies last.

MAMA BUTTER Chamomile & Orange (40ml): ¥1,200 (Before Tax)

A hand cream which is gentle blend of organic chamomile and orange. The bottle features a cute illustration of Gaspard and Lisa.

nahrin Herb Oil 33+7 Roll-On (10ml): ¥2,300 (Before Tax)

This herb oil is based on a Swiss herb recipe made using a blend of 40 different herbs. A perfect choice for those necessary moments of self care.

made of Organics Manuka Honey & Chamomile Spray Strawberry (25ml): ¥1,500 (Before Tax)

An alcohol-free spray which can be used for anyone over the age of 2-years-old. It's an organic blend of manuka honey and leatherwood honey.

WELEDA Bath Milk Mini Set (20ml x 5): ¥2,500 (Before Tax)

An assortment of five different bath milk fragrances. Choose a scent based on how you feel that day.

This is just a peek at the products that are on offer for the collaboration. To see more, visit the Cosme Kitchen Webstore at the link below.