Kyary Pamyu Pamyu Launches New Fragrance Brand 'Nostalgia Syndrome'
A new fragrance brand produced by Kyary Pamyu Pamyu was released on September 12, 2020, and is available to purchase via the brand's official website.
The brand was backed by a crowdfunding campaign in February 2020 for Kyary who wanted to turn her favourite scent, fragrant olive, into a fragrance. The music artist highlighted how it's a difficult scent to get your hands on. "There are so many people that like the smell of fragrant olive, so why is it so rare?" Kyary worked with fragrance experts to create a scent that smells like fully bloomed fragrant olive.
Nostalgic Syndrome Osmanthus – Eau de Toilette | ¥8,250 (Tax Included)
Nostalgic Syndrome Osmanthus – Body Cream | ¥5,500 (Tax Included)
The first goal of the crowdfunding campaign was to fund the perfume and the second body cream which Kyary overwhelming support for, leading to it becoming a reality.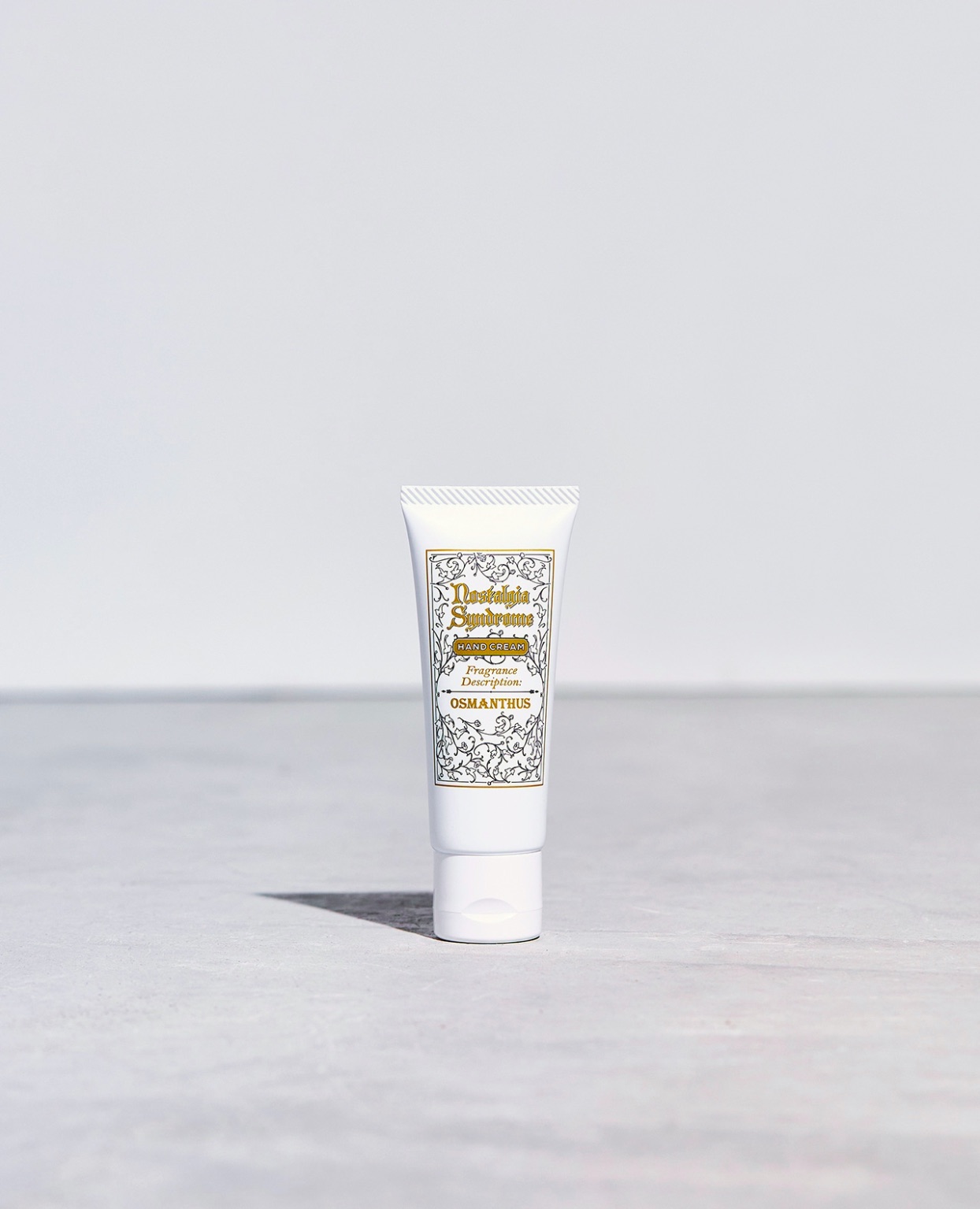 Nostalgic Syndrome Osmanthus – Hand Cream | ¥1,870 (Tax Included)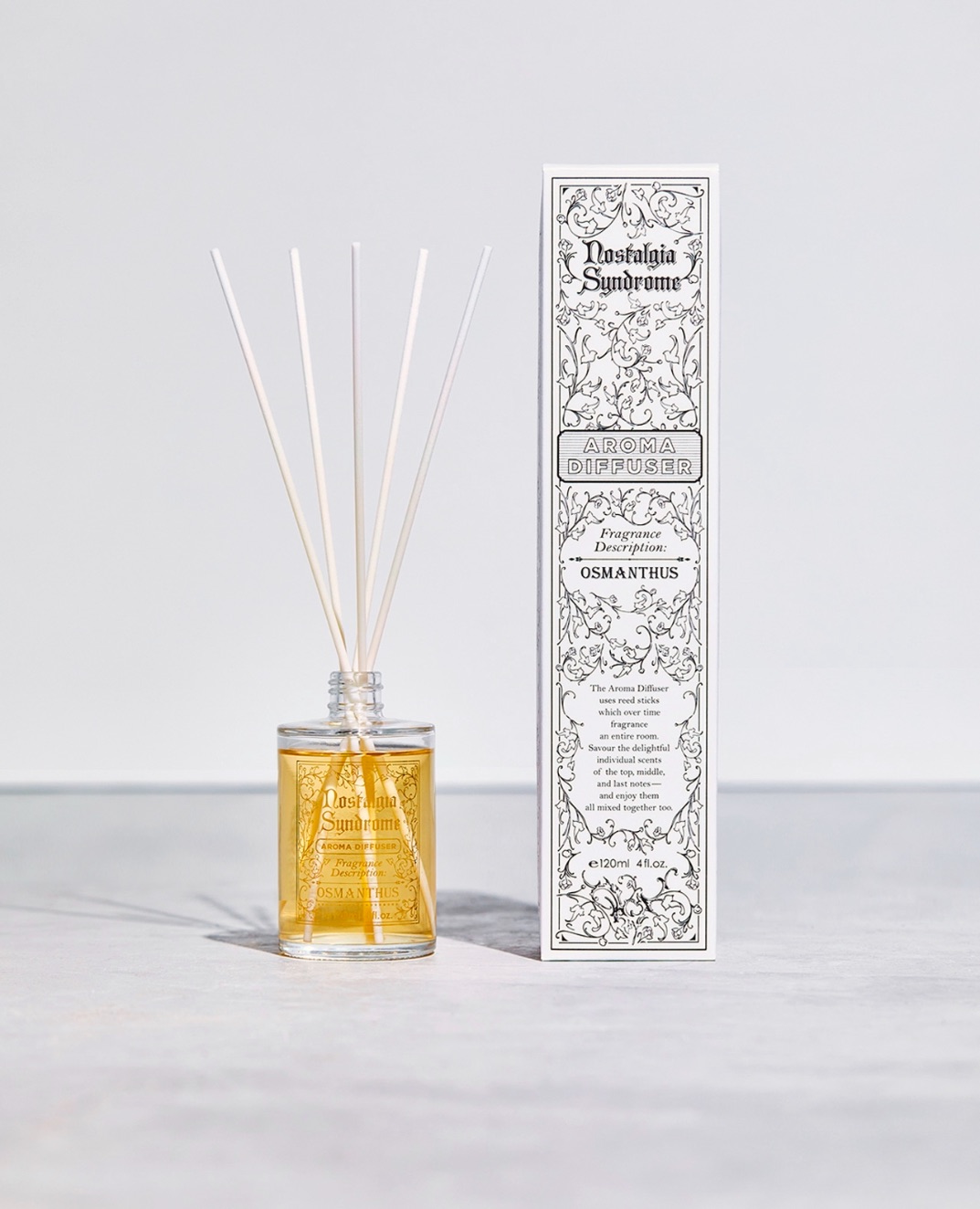 Nostalgic Syndrome Osmanthus – Aroma Diffuser | ¥7,150 (Tax Included)
The success of the crowdfunding campaign led to the establishment of Nostalgic Syndrome and subsequently its first series, Osmanthus, which includes not only the perfume and body cream but hand cream, hair oil, aroma diffuser, and home & fabric spray too.
To celebrate the launch of Nostalgia Syndrome, the first 300 people who spend over ¥10,000 on products will receive an original eco bag. More details can be found on the brand's official website.
Kyary Pamyu Pamyu | Comment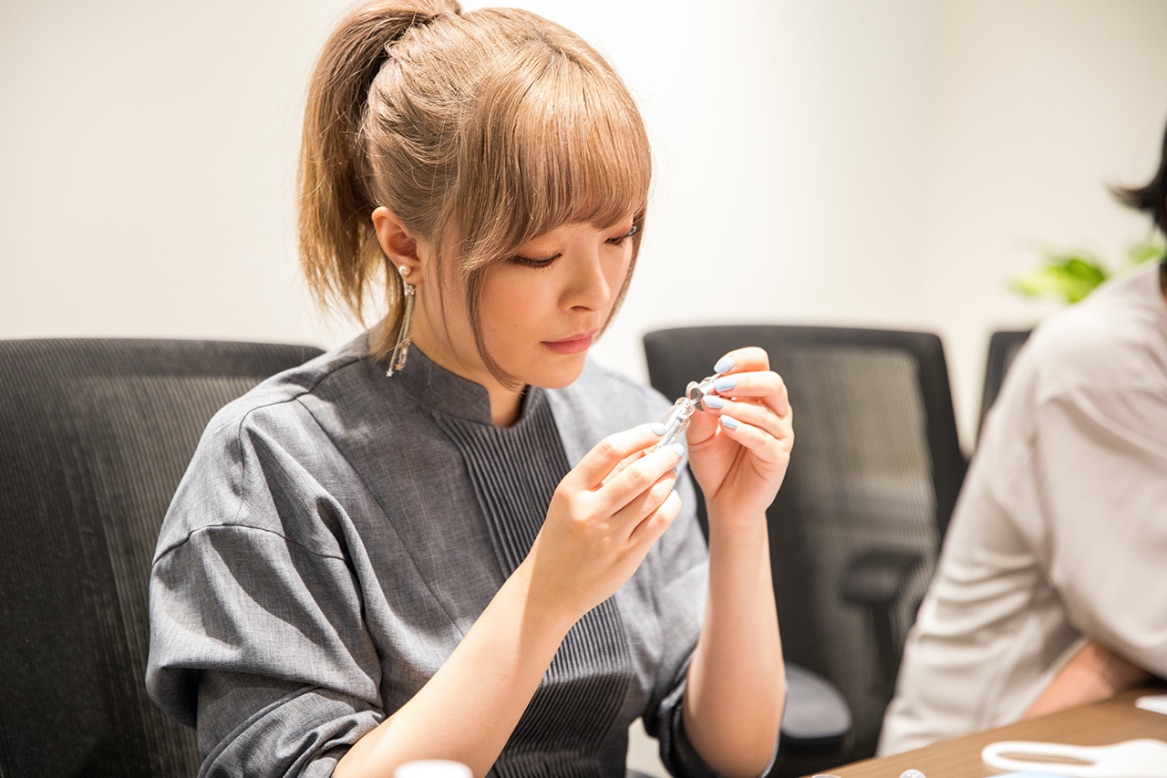 "I've always loved fragrances. Before every live performance I do I like to calm myself with my favourites. Fragrances help me to relax no matter the time, I really feel like they're something that have saved me. So, for all the people working hard day to day, and for those with stresses piled up right now, I want them to take a deep breath with this scent of fully bloomed fragrant olive. It would make me happy if this fragrance can create a relaxing space for you."
"It's all thanks to everyone's support that I was able to launch the Nostalgia Syndrome brand. I'm filled with gratitude. Thank you so much, and I hope you continue to support [the brand]."
RELATED ENTRIES
Girl Group NiziU Named Brand Ambassadors for Visée, Introduce Limited-Edition Eyeshadows

Cosmetics brand KOSE has announced that popular girl group NiziU will act as brand ambassadors for a new collection of Visée eyeshadow, Glossy Rich Eyes N.

Visée Glossy Rich Eyes N  – Available in 8 shades + 2 limited edition shades

Photo Shoot

「Visée AVANT」Limited Edition Seasonal Visual with MAYUKA&NINA

The theme for this year's campaign was 'Find the Color Just for You.' By trying all possible shades, even those which seem out of the consumers comfort zone, they will absolutely find the perfect color. For this photo shoot, NiziU applied makeup inspired by their respective member colors, showing off their individuality.

A special web movie and visual for Glossy Eyes Rich N featuring the NiziU girls is available on the special product website and through the official social media channels. The eyeshadows will be available at drugstores and other retailers, as well as online, beginning September 16. Members Mayuka and Nina will also appear in limited season ads for Visée AVANT.

An original movie featuring all members is also available to view on the official TikTok brand account and the Glossy Rich Eyes N special product website.

Interview with NiziU

Q1. Visée has partnered with a number of women before, each symbolizing the current era. What are your thoughts on being chosen as brand ambassadors for Visée now?

Mako: I'm turning 20 this year, and I've really wanted to show a different side of myself now that I won't be a teenager anymore. I was so happy when I was chosen for this project, since it gave me the perfect chance to do just that!

Maya: We're so incredibly honored to be chosen as ambassadors for Visée! I use their products regularly, but there are so many different colors of product available. I think this will inspire people to make use of colors they may not use often, and to try new things!

Q2. How did you feel after shooting wrapped?

 

Ayaka: It felt like something totally different than what NiziU has tackled in the past. I typically wear more cutesy makeup, but this time I tried to show something more mature. It was refreshing. It was a blast getting close-up shots taken of my eye makeup!



Q3. The theme for this year's campaign is 'Find the Color Just for You.' It calls on people to find a color that best matches their personality. After the first ad shoot, what were your impressions of your fellow members' new makeup looks?


Riku: Maya was the one getting her pictures taken first, and she looked so gorgeous that Ayaka and I couldn't stop staring at her! Honestly, we were staring at her so much that when she finally looked over at us, she did that typical Maya smile, and it was like we fell in love with her. (laugh)



Q4. This year's visuals are impressive, with the NiziU members showing off very different expressions than usual. Is there anything you refer to or try to do personally, to find new facial expressions?


Mayuka: It can be really difficult, but I find it useful to look at photos of some of the more senior members and practice copying their expressions.


Q5. Again, this year's theme is 'Find the Color Just for You.' Each of the nine members of NiziU have their own distinct personalities, so with that in mind, what do you think makes you stand out as an individual?

 

Rima: For me, it's my different worldview. It allows me to converse in a very unique way, and to really adjust how I carry myself depending on the location. My member color is red, which also has many meanings: it can be powerful, or mature, or energetic, or mischievous. I'm like a chameleon. I hold many different personalities that I can switch to at the drop of a hat.


Q6. As a member of NiziU, you've had many different and unique experiences. Have you found any unexpected sides of yourself during your time as a member?

 

Rio: I used to think I was one of the cool girls, but during this photo shoot, I was given a makeup look and outfit that was more cutesy. That's a side of myself I haven't explored, and this is something that happens frequently during the many events and challenges we take on as a unit.



Q7. During the makeup shooting sessions, we were able to see very different sides of the NiziU members. Is there anything new you've learned about the other members recently?

 

Miihi: Compared to how we all were when we all joined, everyone is really starting to show their true selves! We've so close, there's nothing that we don't know about each other at this point!



Q8. The Glossy Rich Eyes N products that you used this time come in a wide variety of colors, making it possible for anyone to meet their perfect shade. Speaking of 'meetings,' what do the members of NiziU want to meet more than anything right now?

 

Nina: I want to meet with WithU (the name for NiziU fans). We haven't been able to meet them face to face yet, and I hope we're able to soon.

Kyary Pamyu Pamyu Releases Music Video for 10th Anniversary Track GENTENKAIHI

Last week, Kyary Pamyu Pamyu released her new single, GENTENKAIHI, on streaming services. The track marks 10 years since the singer's major debut, and now, a fittingly trippy music video has been released to keep the excitement going!

(c)Issei Nomura I.N.Art Pro.NIPPON COLUMBIA CO., LTD.





Starting on August 17, Kyary's official YouTube channel began streaming 24 hours a day for an entire week, showing the singer running nonstop. The stream served as a countdown for the release of the GENTENKAIHI music video, and matched with the concept of the video: to "keep running."

For the past decade, Kyary Pamyu Pamyu's work has continued to evolve, but the performer has also kept to her Harajuku roots. Using the video to express her desire to shake off this consistent image, Kyary is seen running away from an oversized ribbon, similar to one she usually wears on her head. Created for the music video, the ribbon is truly massive, measuring 2 meters long and 2.5 meters wide.

Kyary had her own thoughts on the music video. "The ribbon represents my origins in the industry, and I'm running from it while also wearing a similar ribbon on my head. It was an incredibly hot day when we filmed, so the scene where I ran through the forest was really tough. We got some great shots though, so please, check it out!"

The video itself was directed by N2B+peladone, a creative team known for their work with Creepy Nuts and Nogizaka46.

If you haven't seen it, go check out Kyary Pamyu Pamyu's new video, and help celebrate her 10th anniversary!

#MissDior Art Event Held to Comemorate New Fragrance In Omotesando, Tokyo

Miss Dior, the fragrance and maison first started in 1947, is being reborn thanks to Dior perfume creator Francois Demachy.

A new MISS DIOR art event will be held to commemorate the new fragrance, inheriting the art and passion for women that inspired Monsieur Dior himself. Reservations are now open for the AS SEEN BY exhibition, held alongside the MISS DOOR MILLEFIORI GARDEN pop up store between September 1 and 12, 2021, at THE MASS/BA-TSU ART GALLERY/STANDBY in Omotesando, Tokyo.

Kojin Haruka: Reflectwo for Miss Dior 2021

Pop Up Store MISS DIOR MILLEFIORI GARDEN

The AS SEEN BY exhibition, held in Tokyo and several cities around the world, will feature MISS DIOR inspired artwork and creations from 10 female artists, including visual artist Kojin Haruka, sculptor Donna Ingrid, and designer Sabine Marcelis.

Experience the renewed MISS DIOR at the MISS DIOR MILLEFIORI GARDEN pop up store, where you can try the new Au De Perfume and it's personalization service, alongside limited cosmetics that were inspired by the new fragrance.

Those who attend the MISS DIOR event will also be able to enjoy the guest-only cafe, which features Laudrée collaboration macaroons, with the original flavors each lined up in a package reminiscent of the colorful flowers at the MISS DIOR art event. Plus, a limited takeaway drink will be available at the exhibition cafe, allowing you to bask in the afterglow of the event even after exiting the venue. In addition, customers who connect their reservation to the official MISS DIOR Beauty LINE account will receive a free original tote bag.

A special film that delves into the history and charm of MSS DIOR will be screened at the exhibition, narrated by DIOR beauty ambassador Yoshizawa Ryo, who will guide you through the glamorous world of MISS DIOR.

You mustn't miss the livestream with DIOR ambassador Araki Yuko, who will be attending the event via livestream to introduce the wonders of the new MISS DIOR. The stream will start on August 31 at 20:30.

Why not check out this flower-filled event where you can immerse yourself in the world of MISS DIOR for yourself?

Information

MISS DIOR Art Event

Availability: September 1 ~ September 12, 2021

Opening Hours: 10:00 ~ 20:00

Admission: Free, reservations required

Reservations: https://qr.paps.jp/ksjcw

Location: THE MASS / BA-TSU ART GALLERY / STANDBY

Address: 5-11-5 Jingumae, Shibuya, Tokyo

Araki Yuko Livestream: August 31 2021, 20:30 ~ 21:00

Event/Streaming Details: http://on-pp.dior.com/missdior-artevent

Official Site: https://www.dior.com/

※Admissions are limited to one per person.

※Last admissions are 30 minutes before closing.

※Opening hours and admissions are subject to Covid rules. Check the official website (http://on-pp.dior.com/missdior-artevent) for the latest information.

※Accepted payment methods at the venue include credit card, electronic money, and QR payments. Cash payments are not accepted.

SHIRO Releases Relaxing New Hinoki and Hiba Fragrances

Japanese cosmetic brand SHIRO has announced two new soothing fragrances, the Hinoki Bath Salts and the Hiba Spray 80. These will be available at the SHIRO online store and at SHIRO retailers nationwide on September 9. 

The brand's first Hinoki and Hiba-based items


Hinoki, or Japanese Cypress bark, and Hiba, the leaves from these Cypress trees, have subtle scents which will make customers feel as though they're surrounded by nature. Having these items around will help clear anxious minds and soothe worried hearts. The bark used for the fragrances was sourced from the Kii mountain range, while the leaves came from Aomori prefecture. 

Hinoki Bath Salts (400g): ¥4,840 (Tax Included) 

These are the first bath salts to be released since rebranding. The soothing Japanese cypress essential oils were sourced from the Kii mountain range snaking through Mie and Wakayama prefectures, while the sun-dried salt from South Australia will help moisturize and hydrate the skin. Use this product during an evening bath to relax after a hard day's work, or mornings when you wake up a little earlier than usual to prepare your mind for what the day may bring. 

Hiba Spray 80 (80ml): ¥1,980 (Tax Included) 

This hand spray contains 80% alcohol, as well as fragrant Aomori Japanese cypress essential oil and distilled cypress water. 

If you're looking to practice more self-care, these items are sure to help. 

Information

Hinoki Bath Salts

Hiba Spray 80

Pre Orders Begin: August 26, 2021 on the SHIRO Online Store (10:00) and at SHIRO retailers nationwide

Release Date: September 9, 2021 on the SHIRO Online Store (10:00) and at SHIRO retailers nationwide

Official Site: https://shiro-shiro.jp/

Kyary Pamyu Pamyu Marks 10th Anniversary with New Song 'GENTENKAIHI'

2021 marks a decade since singer and model Kyary Pamyu Pamyu made her debut with PONPONPON, which quickly became a viral YouTube hit worldwide. To celebrate, her newest single GENTENKAIHI, written and composed by Capsule's Yasutaka Nakata, is now available to stream. 

The song's title and lyrics express both Kyary's willingness to return to her roots, and her determination to continue moving forward, leaving the past behind and carving out a new path. 

(c)Issei Nomura I.N.Art Pro.NIPPON COLUMBIA CO. LTD.,

A teaser of the song's upcoming music video has also been released on the Official YouTube channel and on social media. The full-length version will premiere on August 25. 

 

To celebrate this milestone, an official Instagram created by Kyary's staff (@kyarystaff) is now open, where fans can see behind-the-scenes shots of the singer, as well as read staff commentary. 

 

Starting August 31, a limited-time campaign will begin on LINE MUSIC. Those who listen to GENTENKAIHI more than 10 times using LINE MUSIC will be entered, and winners will receive an original sticker!

 

Kyary Pamyu Pamyu's 10th Anniversary Tour will begin on January 16, 2022 at the Atsugi City Cultural Hall. The tour will visit 28 locations across Japan, and is the first time Kyary has toured since the JAPAMYU HALL TOUR 2018. It will also be the biggest tour in the singer's career. Tickets are currently available for pre-order for fan club members. 

 

What do you think of the new track? 

 

Kyary Pamyu Pamyu Appointed As Ramen Kourakuen's New CKO

As a company aiming to bring a new kind of happiness to many people, Ramen Kourakuen have announced their new slogan: All New Happy! 

In order to spread the message even further, Kyary Pamyu Pamyu has been appointed as Kourakuen's new CKO – Chief Korekara (Future) Officer. 

Their new goal is to work towards each step of the New Happy 5 Plan in order to spread cheer across Japan.

Plus, a new Kourakuen commercial featuring Kyary Pamyu Pamyu will be released nationwide.

The special commercial will be promoting the new student discount set, where students will be able to enjoy ramen meals for ¥550 on weekdays, plus the mobile order service which allows customers to order their ramen in advance, meaning it'll be ready when you arrive.

The students and workers shown in the commercial are so satisfied that their face morphs into Kyary Pamyu Pamyu's as she dons the Kourakuen logo on her cheek. Make sure to check out Kyary's China themed hair and costume!

 

KYARY PAMYU PAMYU meets IMABARI: A Visit to the Historical Sea Route

Imabari is a city in Ehime Prefecture that faces the Seto Inland Sea. Since olden times, it has flourished as an important location for marine traffic. It's home to a bounty of recognised national treasures and historical heritage sights, and is also famous for its production of citrus fruits such as mikan. Japanese pop star, model, and icon Kyary Pamyu Pamyu took a trip to this ancient city to discover its wonder and beauty.

A Visit to the Historical Sea Route

Oyamazumi Shrine

A 'power spot' revered by prominent people

Oyamazumi Shrine has been revered by prominent figures throughout history as a place dedicated to the god of the mountain, god of the ocean, and the god of war. It's home to numerous Important Cultural Properties which are available for viewing by the public such as the armour worn by the military commander Minamoto no Yoshitsune when the Minamoto clan won the Genpei War (1180-1185), armour worn by women, and more. The shrine is also a notable power spot for the ancient tree that has stood there for 2,600 years and is now recognised as a natural monument of Japan. Power spots are places in Japan where the spiritually-inclined draw energy from.

Information

Oyamazumi Shrine

Address: 3327 Omishimacho Miyaura, Imabari, Ehime 794-1393, Japan

TEL: 0897-82-0032

Opening Hours: Sunrise to 17:00

National Treasure Building: 8:30-17:00 (Last Entries 16:30)

Official Website: https://oomishimagu.jp/

Kurushima Kaikyo Service Area

Lip-smacking food aplenty

If you're one for great views, then the Kurushima Kaikyo service area is a must-visit, offering a panoramic look at the Kurushima Strait of the Seto Inland Sea. The service area is very well know particularly for the Jaguchi Mikan Juice, something of a city legend in Ehime where you can enjoy fresh mikan juice straight from a tap. You can also tuck a rice bowl dish made with tachiuo hairtail caught in the Seto Inland Sea that's made to look like Kurushima Kaikyō Bridge, or try Imabari's soul food dish: the Imabari Yakibuta Tamago Meshi, a pork, egg, and rice bowl. Don't pass up the chance to snap a photo at the designated photo spot with the Seto Inland Sea in the back either like Kyary above.

Information

Kurushima Kaikyo Service Area

Address: 3-9-68 Ohamacho, Imabari, Ehime, 794-0002, Japan

Food Court: [Weekdays] 8:00-21:00 / [Weekends & Holidays] 7:00-22:00

Shops: [Weekdays] 8:00-21:00 / [Weekends & Holidays] 7:00-22:00

Outside Shopping Area & Cafes: [Weekdays] 9:00-17:00 / [Weekends & Holidays] 9:00-18:00

Official Website: https://www.jb-highway.co.jp/sapa/kurushima.php

Murakami Suigun Museum

Dedicated to the Imabari heroes who protected the ocean




Murakami Suigun Museum is dedicated to kaizoku—pirates, or lords of the sea—something which conjures to mind villainy or bad guys, but the Murakami pirates were also considered heroes who helped maintain order and protect the sea during the Sengoku warring period of Japan. The museum features many displays of Murakami family treasures including the battle surcoat which the pirate leader wore over his armour, proudly bearing the Murakami family crest. Visitors can wear replicas of this coat, which Kyary tired herself: "Now I'm sorta like a military commander too," she said.

Information 

Murakami Suigun Museum

Address: 1285 Miyakubocho Miyakubo, Imabari, Ehime 794-2203, Japan
TEL: 0897-74-1065

Opening Hours: 9:00-17:00

Closed: Mondays (or Tuesday if the Monday falls on a public holiday) / New Year Holidays (Dec 29-Jan 3)

Official Website: https://www.city.imabari.ehime.jp/museum/suigun/

Roadside Station Yoshiumi Iki-iki-kan

A bundle of fun and entertainment in one place

Roll on up to Roadside Station Yoshiumi Iki-iki-kan to enjoy a shichirin BBQ feast with fresh seafood caught in the Seto Inland Sea while gazing out across Kurushima Kaikyo. This building complex serves as a resting spot and is also the perfect place to purchase local souvenirs including Ehime specialty products. It's also famous for its offering the chance to board a boat to ride around Kurushima Kaikyo, renting out bicycles, and more. You'll also be able to meet Koro-chan, a popular fish who has lived there for 30 years.

Information

Roadside Station Yoshiumi Iki-iki-kan

Address: 4520-2 Yoshiumichomyo, Imabari, Ehime 794-2114, Japan

TEL: 0897-84-3710

Opening Hours: 9:00-17:00

Restaurant: 10:00-16:00 (Last Orders 15:00)

Closed: New Year's Day (and certain days in winter)

Official Website: http://www.imabari-shimanami.jp/ikiiki/

Dolphin Farm Shimanami

Meet the cute and friendly dolphins

Dolphin Farm Shimanami, which is connected to Hakata Beach, is the best and biggest place in Japan to interact with dolphins. Visitors can get close to them and the dolphins will show off their tricks and skills. There's even a car camping area you can stay at.

Information

Dolphin Farm Shimanami

Address: 1673 Hakatacho Kanoura, Imabari, Ehime 794-2302, Japan

TEL: 0897-72-8787

Opening Hours: 9:00-17:00

Closed: On days with bad weath

Official Website: https://www.df-shimanami.com/

Hakata Beach

A white sandy beach rolling out 200-meters 

Hakata Beach is located at the base of Oshima Bridge in Hakata. The beach is famous for its salt which is best tried on their popular sweet-tasting sea salt ice cream.

Information

Hakata Beach

Address: 1668-1 Hakatacho Kanoura, Imabari, Ehime 794-2302, Japan

Sea Bathing: Early July – Late August

Official Website: https://www.city.imabari.ehime.jp/kanko/spot/?a=198

Imabari Towels

High quality towels woven with tradition and technique

Imabari is the biggest producer of towels in Japan. Even their white towels alone have countless types you can choose from, allowing you to pick which level of softness and comfort you want. The iconic brand logo is also impactful, capturing the quality, production, and enthusiasm that the makes have for the product. Kyary herself uses them all the time!

Information 

Imabari Towel

Official Website: https://www.imabaritowel.jp/

Sunrise Itoyama

Need a bike?

Sunrise Itoyama, located in the Imabari Central Cycling Terminal, is a rental bicycle service that has bikes and helmets for everyone's needs. Rent out a bike and ride the Shimanami Sea Route which connects Ehime and Hiroshima with a series of bridges that hop across the islands of the Seto Inland Sea.

Information 

Sunrise Itoyama

Address: 2-8-1 Sunabacho, Imabari, Ehime 794-0001, Japan

TEL: 0898-41-3196

Rent-a-Cycle Details: https://www.sunrise-itoyama.jp/archives/rentacycle/

Official Website: https://www.sunrise-itoyama.jp/

Marutomi

The famous restaurant known to every local

If you want the real experience of Imabari's yakitori soul food, you should visit Marutomi, a yakitori eatery. Imabari yakitori is different from the usual Japanese yakitori as it doesn't come skewered. Instead, the chicken is cut into small pieces and fried that way. One of the most popular ways to have it is with the skin on so the outside is crunchy and the inside succulent. It goes perfect with a cup of sake too.

Information 

Marutomi

2-3-6 Katayama, Imabari, Ehime 794-0063, Japan

TEL: 0898-23-2740

Opening Hours: 17:30-22:00

Closed: Wednesdays

Official Website: https://maru-marutomi.jp/

Imabari Castle

A castle by the sea

Imabari Castle, built by the daimyo Tōdō Takatora, is known famously as one of Japan's three "Castles on the Sea" and was also listed in Japan's Top 100 Castles. When it was first constructed, boats could enter the moat from the ocean. It's a site that breathes the prosperity that Imabari has enjoyed as a significant location for maritime traffic, the same Imabari that the Murakami pirates sought to protect. Head on up to the top of the castle to stand on the observation deck and gaze at an unbroken view of the city.

Information

Imabari Castle

Address: 3-1-3 Toricho, Imabari, Ehime, 794-0036, Japan

TEL: 0898-31-9233

Opening Hours: 9:00-17:00

Closed: December 29 – December 31

Official Website: https://www.city.imabari.ehime.jp/museum/imabarijo/

Kirosan Observatory Park

A breathtaking spectacle to remember

Kirosan Observatory Park is officially recognised by Setonaikai National Park. Standing atop the observation deck fills the eyes with wonder as they gaze upon a panoramic stretch of Imabari, the Seto Inland Sea, and Kurushima Kaikyo all at once. Kyary wrapped up her time in Imabari here as the sunset coloured the sky and sea in warm evening hues.

Information 

Kirosan Observatory Park

Address: 487-4 Yoshiumicho Minamiura, Imabari, Ehime 794-2115, Japan

No Fixed Holidays

Open 24-hours a day

Official Website: https://www.city.imabari.ehime.jp/kanko/spot/?a=182

Imabari Tourism Information: https://www.city.imabari.ehime.jp/kanko/

We hope you enjoyed joining Kyary on her adventures across Imabari, and perhaps she even got you a little curious in wanting to visit the city yourself. It's a treasure trove filled with vistas by the sea, in nature, and in the city itself with its Important Cultural Properties. Food is also a big part of travel for many people, so you can rest assured that your belly will be satisfied in Imabari as you try their speciality mikan, fresh seafood fished in the Seto Inland Sea, and more.

NiziU Feature in Skin Type Friendly Face Mask Collection Promo

Japanese girl group NiziU are set to feature in a new television commercial for LOHAS Pharmaceutical's "ALFACE+" cosmetic face masks which will roll out in Japan on July 1.

ALFACE+ is a skincare brand that sells products that are not only moisturising but accessible to a variety of skin types too. Their face mask collection includes 10 different designs, all of which are presented by each of the nine NiziU members.

NiziU have stepped away from their usual energetic look for this shoot, instead serving more grown-up vibes.

Explore Harajuku Virtually as Virtual Shibuya Announces New Harajuku Area

Virtual Shibuya has announced that its new Harajuku area will open on May 25, 2021. The virtual experience is hosted on Cluster, a virtual social media platform.

Shibuya 5G Entertainment Project launched the "Virtual Shibuya" back in May of last year in collaboration with KDDI, Shibuya Future Design, and the Shibuya Tourism Association. Officially recognised by Shibuya City, Virtual Shibuya comes in response to the effects of the COVID-19 pandemic which has brought tight restrictions to the economy and people's way of life. It enables people to continue enjoying entertainment from the comfort of their homes by participating in a whole host of virtual events and activities. The project aims to deliver content from Shibuya with live performances from artists, art exhibitions, talks, and more. The use of 5G and the latest cutting edge technology connects the real Shibuya to a virtual space, combining the realms of the digital and real world.

Virtual Harajuku is the second area to open in the service and brings together the iconic locations surrounding Jingumae Crossing such as Laforet Harajuku and Tokyu Plaza. As part of the new area's launch, Japanese pop icon Kyary Pamyu Pamyu has been announced as a Special Supporter of the service. The singer and model made her debut on the streets of Harajuku with her unique fashion. Ten years since her debut, she will continue promoting Harajuku from the service.

Information

Virtual Harajuku au 5G POP DAY OUT 2021
Running: May 25, 2021 – May 31, 2021

Location: Virtual Harajuku (The URL will be revealed in the coming weeks)
Virtual Harajuku Details: https://vcity.au5g.jp/harajuku

Cluster Official Website: https://corp.cluster.mu/

MAC Reveals Disney's Cruella de Vil Makeup Collection

MAC Cosmetics is set to launch its new "Cruella" makeup collection inspired by the Disney villain and fashion icon Cruella de Vil from the Disney classic 101 Dalmatians on May 13, 2021. The collection arrives ahead of the upcoming live-action movie Cruella which is set for release on May 28, 2021.

Disney Cruella Collection by MAC

The collection features nine products that bring to life the Disney villain's look, whose origin story about aspiring to become a fashion designer will be portrayed by Emma Stone in the upcoming movie which is set in '70s London during the height of the punk rock era. The line-up combines punk reds with metallic colours, and everything comes packaged in tubes and palettes bearing Cruella's instantly-recognisable black and white colour combo.

Terry Barber, the Director of Makeup Artistry at MAC, said: "With there being such a huge trend for recycling the more niche counterculture moments of previous decades, this collection feels like MAC returning to a celebration of the kind of DIY styling and brave transformation that originally made it such a maverick brand."

A Look at the Collection

MATTE LIPSTICK | $21

A rich matte lipstick formula with high-colour payoff and a creamy matte finish in three Cruella-inspired shades.

RETRO MATTE LIQUID LIPCOLOUR | $25

A liquid lipstick that provides a rebellious rush of Disney's Cruella-inspired colour in a velvety, mattest-matte finish.

PRO LONGWEAR DUAL ENDED EYE LINER | $26

A long-lasting, dual-ended eyeliner featuring creamy, dense colour that glides smoothly across lids.

POWDER BLUSH DUO: CRUEL-LA INTENTIONS | $31

A Cruella-inspired blush duo that provides fantastic colour with ease and consistency.

76 SUPERMODEL LASH | $18

A limited-edition pair of backstage-favourite lashes featuring wispy, full volume for a runway-ready look.

EYESHADOW X 8: CRUELLA TO BE KIND | $45

A magnetic two-piece eye palette packed with a wondrous wave of eight statement shades inspired by the most iconic looks of Disney's Cruella.

The full collection will drop worldwide this Thursday at MAC.

©2021 Disney

SHIRO Reveals New Cosmetic Items For Summer 2021

Japanese cosmetic brand SHIRO is set to release its Ice Mint Body Mist, Ice Mint Body Lotion, and all-new Ice Mint Clay Hand Soap as part of its limited-edition Ice Mint fragrance series online on May 27 before the products head to stores on June 10.

Ice Mint Body Mist | ¥1,980 (Tax Included)


Ice Mint Body Lotion | ¥2,530 (Tax Included)


Ice Mint Clay Hand Soap | ¥2,200 (Tax Included)

The refreshing products arrive in time for the summer season for cooling down on those hot and humid days. Each is imbued with ethanol and refreshing mint for that relieving feeling of refreshment.


Information

SHIRO Ice Mint Series

Online Release Date: May 27, 2021 @ 10:00am (JST)

In-Store Release Date: June 10, 2021

Official Website: https://shiro-shiro.jp/

Hello Kitty x INTERGRATE Design Cosmetics Releasing This Spring

Shiseido's self-makeup brand INTERGRATE is set to release select beauty products with limited-edition Hello Kitty packaging on May 21. The theme of the collection is Meet "LOVELY." In the run up to its release, Hello Kitty cans can enjoy three filters of the popular Sanrio character over on INTERGRATE's official Instagram page.

INTERGRATE Limited-Edition Pro Finish Foundation Special Set K (2 Types) | ¥1,430 Each (Tax Included)

Colour palette

INTERGRATE Limited-Edition Pro Liquid Special Set K | ¥1,760 Each (Tax Included)

Colour palette

INTERGRATE Limited-Edition Water Jelly Crush Special Set K (2 Types) | ¥2,200 Each (Tax Included)

Colour palette

INTERGRATE Limited-Edition Triple Recipe Eyes Special Set K (2 Types) | ¥2,200 Each (Tax Included)

Colour palette

The limited-edition designs feature Hello Kitty and her cute friends who are ready to help you apply your makeup. The collection focuses on three each of INTERGRATE's iconic foundations and eye shadows. This includes the Pro Finish series which has foundation in a compact case, durable liquid foundation, and water jelly crush. Pick from three foundations too which come in a triple set. For this limited-edition collaboration, you can enjoy the pink PK704 and brown BR703, both of which are popular colours.