nol kyoto sanjo: Kyoto's New Hotel Renovated From an Old Townhouse
Tokyu Land Corporation are set to open the new hotel "nol kyoto sanjo" in central Kyoto on November 1, 2020. The hotel is just a 5-minute walk from Karasuma Oike Station.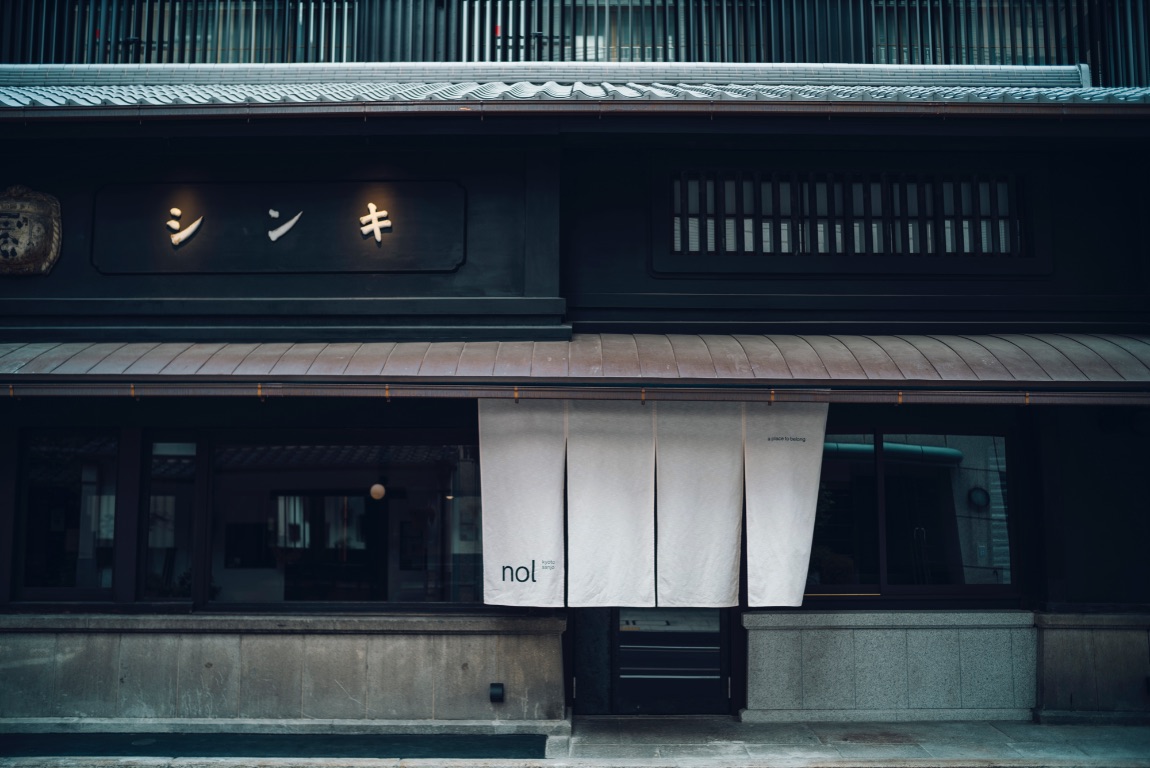 A place where you can be yourself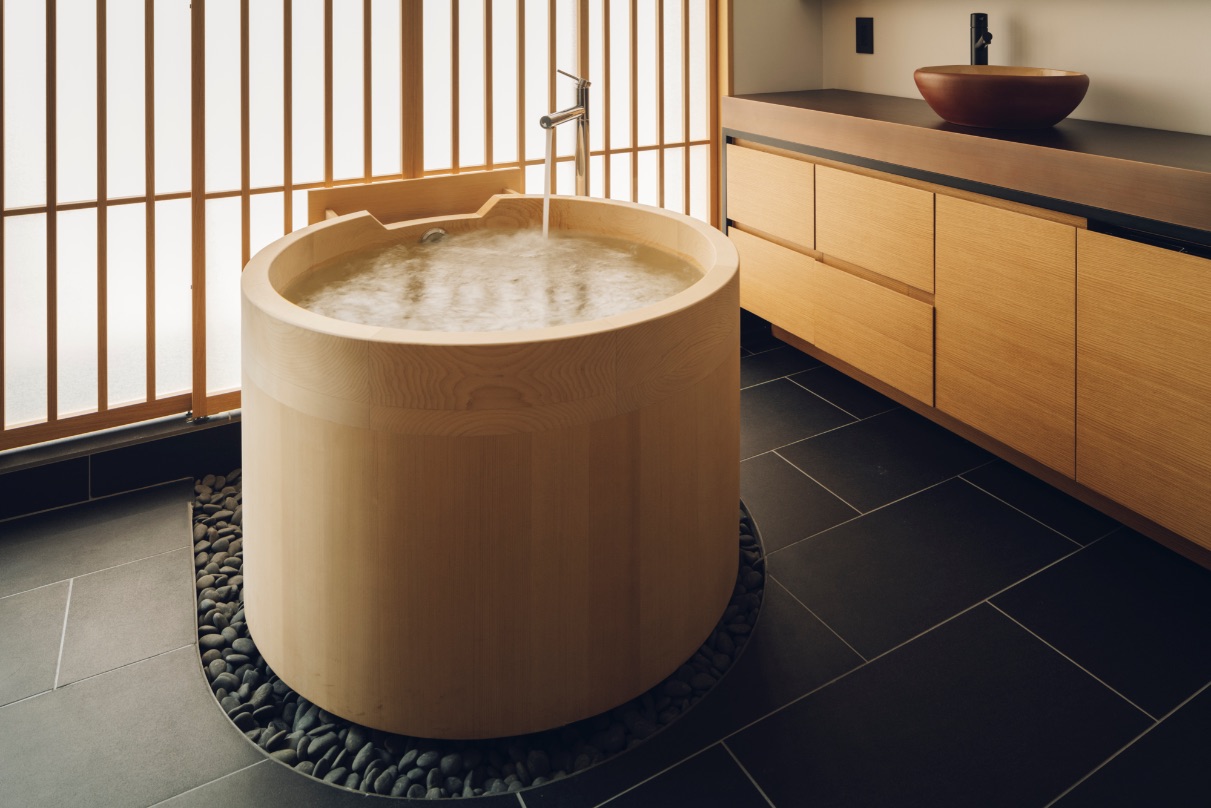 Hotels in Japan are more and more catering to a wide variety of guests' needs as well as not only providing convenience and being affordable, but creating a space that really places importance on peoples' stay experience. And nol kyoto sanjo follows suit, allowing people to both let their hair down where they can be themselves as well as enjoy the local area. This comes in response to peoples' desire to have a stay experience that feels like it's their own home.
Clad in Kyoto, living in Sanjo
The concept for the hotel's design was conceived by Kyoto Vintage. Sanjo-dori is connected to Kyoto's main street, making it a convenient location for reaching the city centre. It's also home a variety of architectural examples from old, ancient buildings to more modern ones built during the Meiji Period. Surrounding the hotel is a whole selection of cafes famous for their breakfast menus, restaurants that use local ingredients, long-standing stationery shops, and more. The hotel sits in the perfect spot for coming in contact with the local people and city.
The hotel lounge built from an old townhouse
The hotel site is renovated from a townhouse that was built during the Edo Period. It was formerly used as a place for selling Kinshi Masamune sake. To ensure that old, quaint charm was preserved in the refurbishment, the hotel hired a Japanese designer and planner who is known for renovating these kinds of townhouses in Japan.
The entrance to the hotel greets guests with the lounge which gives people a chance to kick back and relax in this authentic building. Guests are even given some Kinshi Masamune sake as a welcome drink.
High grade guest rooms for medium to long stays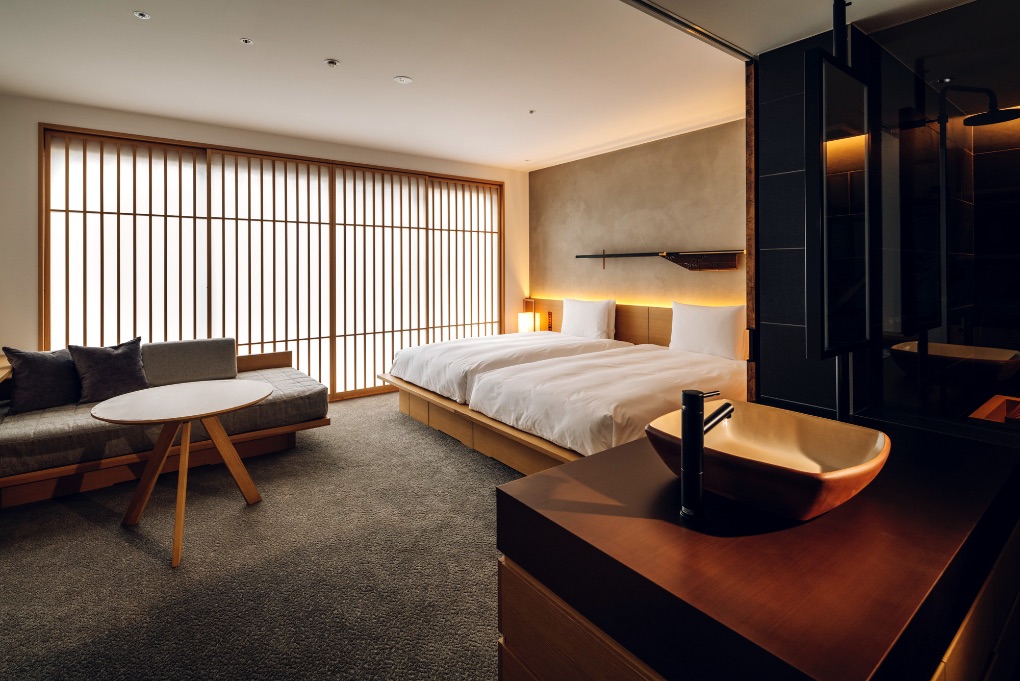 There are three kinds of guest rooms including 2-people rooms, 4-people rooms, and rooms with an additional Japanese-style room attached to it, for a total of 48, all of which face the hotel gardens. The rooms were designed by Yukio Hashimoto who has made sure to preserve both the townhouse and feel of the materials which have only ripened with age while adding a high grade feel to them. The scent of hinoki leaf invites you to relax in your room. All rooms are equipped with microwaves, washing machines, and mini kitchens too, making it perfect for guests looking to stay a while. Pick up some local ingredients from town and get cooking.
Old-time Kyoto served in a new style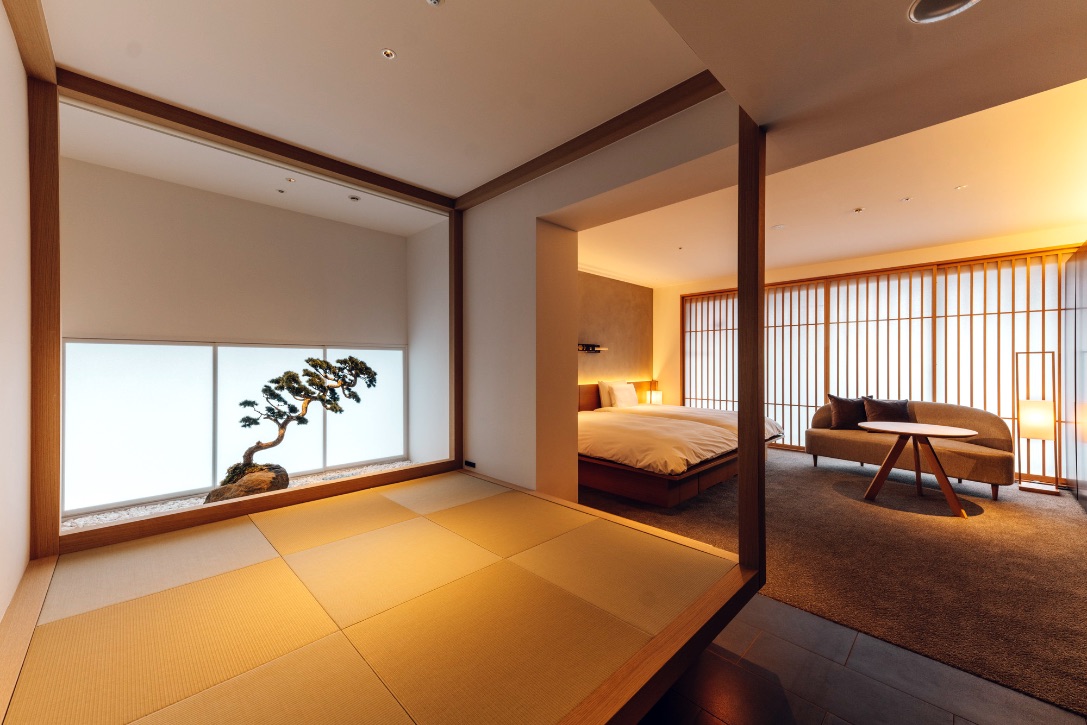 Old townhouses used since ancient times are on the decrease in Kyoto. By renovating and reusing, new life can be breathed into them while promoting that ancient culture. If you're planning a trip to Kyoto, be sure to check out nol kyoto sanjo, opening November 1, 2020.
Information
nol kyoto sanjo
Grand Opening: November 1, 2020
Address: 700 Osakazaimokucho, Nakagyo-ku, Kyoto, Japan (in Japanese: 京都市中京区堺町通姉⼩路下る⼤阪材⽊町700 番)
Rooms: 48
Access: 5-minutes on foot from Karasuma Oike Station
Official Website: https://www.nolhotels.com/kyoto-sanjo/
RELATED ENTRIES
Ruriko Temple's Five Story Pagoda to be Lit Up With Magical Illuminations

The Five Story Pagoda of Ruriko Temple is a National Treasure of Yamaguchi Prefecture. The site is commemorating the 600th anniversary since the birth of Sesshū Tōyō, the Japanese master of ink and wash painting, with a special event on September 26 and 27 and October 10 and 11.

The Five Story Pagoda was built in 1442 using skilful architectural techniques from the mid-Muromachi period. It is considered one of Japan's three most beautiful pagodas.

1,000 candles are set to be lit along the pathway to the pagoda, lighting up the way with enchanting light. The spectacle is set to be posted on the official Yamaguchi Prefecture PR YouTube page so that more people can enjoy the show.

2020 marks the 600th anniversary of Sesshū Tōyō who is considered the most prominent master of ink and wash painting in Japan. In his mid 30's, he visited Yamaguchi so that he could cross over to China on the Ōuchi clan's mission to Ming China. He returned to 1483 where he based himself and worked until he passed away in 1506 at age 87.

Information

 Sesshū Tōyō 600th Anniversary Commemoration
Running: September 26, 2020 / September 27, 2020 / October 10, 2020 / October 11, 2020

Candle Lighting: 18:30-21:00
TEL: 083-920-9220
Enquiries on the day: 083-934-6630

*The YouTube video is scheduled to be posted on September 30, 2020. Subject to change depending on the weather.

*To prevent the spread of COVID-19, the site is limiting the number of people allowed at the site at once.

Yamaguchi Prefecture PR Official YouTube Page: https://www.youtube.com/user/PrefYamaguchiKouhou

RAYARD Hisaya-odori Park: The New Landmark of Nagoya Combines Shopping Experience With the Outdoors

Hisaya-odori Park is a park and shopping complex which opened on Friday (September 18, 2020) in Nagoya, Aichi. It will serve culture, experience, and products next to the newly renovated Nagoya TV Tower.

Hisaya-odori Park


Hammock Day


Park Wagons

The park is split into five areas like Hammock Day where you can kick back in one of the hammocks while listening to music, pick up some produce at the Farmer's Market, do some morning yoga, and more. The park will also have a line of trucks and wagons selling food, drink, items, and more.

RAYARD Hisaya-odori Park

RAYARD has also opened its second shopping complex at Hisaya-odori Park following the opening of RAYARD MIYASHITA PARK in Shibuya. The complex houses 35 restaurants and shops, 22 of which have never opened a branch in Nagoya before, which will deliver fashion, sports, food, communication, and so on.

A variety of popular cafes in RAYARD are opening in Nagoya for the first time, like the Snoopy-themed PEANUTS Cafe, the the bakery and cafe ESPRESSO D WORKS which is known for its "100 one hundred" bread which is world's first made with 100% water content, and Karuizawa's very popular cafe and restaurant Eloise's Cafe.

There'll be plenty of sweet treats to tuck into too, like crepes from ROCCA&FRIENDS CREPERIE to TEA which is so popular in Osaka that people can be waiting up to 2 hours in line, matcha desserts from Kyoto-based sweet shop Shimizu-Ippoen, and bonbons from South Korea's number one cafe Cafe de paris.

If you're wanting a real meal, enjoy some casual Italian dining at Arcoba which is managed by the former head chef of Kyoto's famous restaurant IL GHIOTTONE. Or perhaps yakiniku from Yakiniku Tokugawaen which uses Japanese black wagyu from Kyushu as the main meat on its menu. Kouji MARUTANI will also be there serving up local ingredients from Mikawa, food made with koji, a variety of craft sakes, and more.

RAYARD Hisaya-odori Park will offer a wide range of interactive experiences too such as at the creative community cafe FabCafe Nagoya which makes use of 3D printing and digital fabrication, Snow Peak which provides a live view of nature, T4 NAGOYA where you can play ping pon indoors and outdoors, narifuri which sells bicycle apparel, and so on.

There is much and more to see at RAYARD Hisaya-odori Park, so if you're in Japan this year, head to Nagoya to enjoy the autumn atmosphere.

Hotel New Otani Tokyo, Osaka & Makuhari Now Serving Rich Chestnut Pancakes For Autumn

The Tokyo, Osaka, and Makuhari branches of Hotel New Otani are now serving seasonal autumn versions of their specially made pancakes at their coffee shop and all-dining restaurant SATSUKI until November 30, 2020

Fantastically fluffy pancakes

Hotel New Otani has been serving its special pancakes for the past 10 years which have become a favourite amongst guests.

The hotel's pastry chefs have whisked up a variety of flavours in line with the changing seasons this past decade using strictly-selected ingredients including strawberry, melon, mango, chestnut, and more.

A marriage of rich chestnut and fluffy pancake

Hotel New Otani Specially Made Chestnut Pancakes 2020 | ¥2,800 (Before Tax/Service Charge)


Chestnuts are the flavourful theme for autumn 2020's pancakes, made with strictly-selected chestnut astringent skin, sweet bean jelly, and topped with a chestnut macaron.
The pancakes are served with melt-in-the-mouth Italian ricotta. There are two different doughs, one made from coffee flour which has high nutritional value, and the hotel's original "White Cereal" which is a combination of millets and amaranth.
The pancakes are cooked on a low heat for about 5 minutes on each side so they rise to a fluffy 5cm thickness and become startlingly smooth.

Strawberries for winter

For this year's winter, the hotel will be serving strawberry pancakes.

Enjoy a selection of seasonal pancakes when staying at Hotel New Otani.

Information

Hotel New Otani Tokyo
Location: SATSUKI, Hotel New Otani Tokyo Main Lobby
Address: 4-1 Kioicho, Chiyoda-ku, Tokyo
Bookings/Enquiries: 03-5275-3177 (10:00-21:00)
Official Website: https://www.newotani.co.jp/tokyo/restaurant/satsuki/

Hotel New Otani Makuhari
Location: SATSUKI, Hotel New Otani Makuhari
Address: 2-120-3 Hibino, Mihama-ku, Chiba, Chiba Prefecture
Bookings/Enquiries: 043-299-1848 (07:00-21:00)
Official Website: https://www.newotani.co.jp/makuhari/restaurant/satsuki/

Hotel New Otani Osaka
Location: SATSUKI, Hotel New Otani Osaka
Address: 1-4-1 Shiromi, Chuo-ku, Osaka, Osaka Prefecture
Bookings/Enquiries: 06-6949-3234 (07:00-20:00)
Official Website: https://www.newotani.co.jp/osaka/restaurant/satsuki/

Experience a Stylish Picnic at Kobe Nunobiki Herb Gardens

Kobe Nunobiki Herb Gardens is now taking bookings for its upcoming "Garden Picnic 2020 -Autumn Season-" event which is set to run from September 26 to November 23.

The Gaden Picnic event began in spring last year, and this time around, they're hosting a special autumn themed picnic. Visitors can expect to tuck into a seasonal food lineup while enjoying the cooling autumn weather.

Garden Picnic 2020 offers a range of picnic rental necessities from food to drinks, desserts, picnic sheets, chopping boards, cutlery sets, dried flowers, garlands, alphabet letters, blackboards, bubbles, and more, so visitors can enjoy a proper and memorable picnic experience—one that will definitely be Instagram worthy—amongst the autumnal verdure of the Kobe Nunobiki Herb Gardens.

The garden paths, flower beds, and the Rokko mountains offer a beautiful outdoor experience throughout all four seasons. Autumn in particular, as the colours of the mountains transition into vibrant red and yellow hues and sway underneath the clear sky. From cosmos to gorgeous globe amaranth, colourful sage, and other autumnal flowers, it's the perfect setting for an autumn aesthetic picnic.

Information

Garden Picnic 2020
Running: September 26, 2020 – November 23, 2020

Price: Picnic set for two – ¥7,000 (Tax Included)

Includes: Food, Japanese sweets, mini wine bottle (comes with 2 glasses), mineral water, picnic blanket, chopping board, cutlery set, dried flowers (can be taken home), garlands, alphabet letters, blackboard, and bubbles

Booking: Must be booked by telephone called two days prior by 15:00

*Cancellations must be made by 12:00 the previous day, otherwise you will be charged

*10 bookings available per day, first-come, first-served

*Bookings available 10:30-14:00 (JST)

Official Website: https://www.kobeherb.com/event_experience/garden_picnic/

Experience Old Time Kyoto in Autumn 2020 With Tea and Textiles

Kyoto, the ancient capital of Japan, is also called the birth place of Japanese culture, with a history spanning 1,200 years. Today, we're going to take a look at a number of upcoming events and seasonal items on sale in Kyoto for autumn 2020.

Celebrating 300 years of Tango Chirimen

This year marks 300 years since Tango Chirimen was established, a company located in Tango in northern Kyoto that specialises in a Japanese textile of flat woven silk known as 'chirimen.' There are many local chirimen brands around Japan, but it is the chirimen from Tango that has stood above the rest these past 300 years. The brand is now looking to the start of a new era for itself during its triple century milestone.

LIFE WITH THE QUALITY

Tango Chirimen is currently displaying a collaborative art exhibit at NEWoMan Shinjuku in Tokyo. This includes the entry display made in collaboration with Japanese artist Saki Tanaka, wall art made from woven fabrics, and more.

Running: Until September 30, 2020

Location: NEWoMan Shinjuku

Lineup: Display in collaboration with Saki Tanaka, wall art, and more

United Arrows x Tango Chirimen

United Arrows is also collaborating with the brand and incorporating their logo mark "TANGO OPEN" on a new men's t-shirt.

Product Name: BY Tango Broad Wide Form Tapered Shirt
Buy Here: https://store.united-arrows.co.jp/shop/by/goods.html?gid=52838245
Sold at: BEAUTY & YOUTH UNITED ARROWS stores and their official online store

Taste tea from Uji on Japanese Tea Day

It is generally considered that the first tea of the season in Japan is best enjoyed from the end of April and during May, but in fact Japanese tea is the perfect season to enjoy Japanese tea, specially since the country celebrates Japanese Tea Day (Nihoncha no Hi) on October 1 and 31.

Ujicha, or tea from Uji in Kyoto, boasts some of the most famous kinds of teas in Japan. This includes matcha, sencha, and gyokuro, all of which were first grown in southern Kyoto. Because of this, it is said that Ujicha marks the origins of Japanese tea. So when you visit Japan during autumn, why not celebrate Japanese Tea Day with some authentic tea from Uji?

Ujicha Tea Murie Online Course

The Ujicha Tea Murie Course has been held since 2015 in Kyoto, and this year, the course is heading online for the first time as a result of the pandemic. Learn how to make and serve Uji tea from a professional tea instructor as well as its history and more.

Running: Session 1: September 15, 2020 / Session 2: October 2, 2020 / Session 3: October 17, 2020

Book: Online
Requirements: Download and install Zoom
Official Website: https://www.pref.kyoto.jp/yamashiro/ocha/

Certified Ujicha tea cafes for an authentic experience

Tsujiri Rihei Ginza | Tsujiri Rihei Senju

Nakamura Tokichi Ginza

Tsujiri Rihei Ginza, Tsujiri Rihei Senju, and Nakamura Tokichi Ginza are all cafes in Tokyo that are officially recognised for serving authentic Ujicha tea which also includes proper preparation as well as teaching the history and culture behind the tea. These three cafes are also holding an Ujicha tea stamp rally as well as a Twitter hashtag campaign.

Kyoto's Female-Only Hotel CAFETEL Kyoto Sanjo for Ladies Reveals Halloween Room

CAFETEL Kyoto Sanjo for Ladies, a hotel in Kyoto exclusive to female guests, is offering a new Halloween room plan between October 1 and November 1. There is just one room and it can only be booked for one day between that period. This plan was offered last year and was a resounding success amongst guests.

Last year's Halloween room took on a more cute and bright theme, but they're going for something darker this time. The theme this year is "The Secret Witches-Only Get-Together," with all ideas and designs conceived and handmade by the hotel staff themselves.

Guests will find decorations all around the room, such as bats on doors and walls who will listen in on the witches' gossip to creepy crawly spiders in the bed. Candles are provided in the room to set the Halloween mood, and there's even witch and devil costumes and props for guests to dress up in.

Free goodies for the witch get-together

Guests can enjoy a gorgeous view of the Kamogawa River from their room. They are also presented with a free Halloween drink exclusive to those who stay in this room.

Information

CAFETEL Kyoto Sanjo for Ladies

Running: October 1, 2020 – November 1, 2020

Rooms: 1 (up to 3 people)

Price: From ¥10,650

Official Website: https://cafetel.jp/

Luxurious Shine Muscat Grape Parfait Served Up at Hotel Gajoen Tokyo For Autumn

Hotel Gajoen Tokyo, a museum and hotel combination, is home to New American Grill "KANADE TERRACE," the hotel's restaurant popular for its food grilled in the open kitchen, its afternoon teas made with seasonal ingredients, and cocktail lineup.

This autumn, Hotel Gajoen Tokyo is serving up its new "Shine Muscat Parfait," an richly-sweet and elegance-scented dessert made using Shine Muscat grapes.

Shine Muscat Parfait ¥2,800 | With Champagne ¥3,600 (Before Tax & Service Charge)

The parfait is layered with Kyoho grape and shampagne jelly, crémet d'Anjou which is made from fresh cheese, and maqui berry granola. It's topped with blackcurrant sherbet and tuile.

Information

Shine Muscat Parfait
Serving: October 1, 2020 – November 20, 2020

Location: New American Grill "KANADE TERRACE" (Hotel Gajoen Tokyo)

Serving Hours: 14:30-17:30 everyday

Official Website: https://www.hotelgajoen-tokyo.com/archives/54655

teamLab's Borderless Autumn Themed Digital Art Exhibition Arrives in Tokyo

teamLab Borderless is a world of artwork without boundaries, a museum without a map created by art collective teamLab. Over at their museum in Tokyo, MORI Building DIGITAL ART MUSEUM: EPSON teamLab Borderless, they are exhibiting a range of autumn themed digital art in time for the changing seasons. Let's take a closer look at what's on show.


September Flowers

October Flowers

Proliferating Immense Life – A Whole Year per Year | teamLab, 2020, Interactive Digital Installation, Sound: Hideaki Takahashi

Proliferating Immense Life – A Whole Year per Year looks at the life cycle of flowers. Throughout the year, with the passing of time, flowers bloom and change. They bud, grow, and blossom before their petals begin to wither and eventually fade away. The cycle of growth and decay repeats itself in perpetuity as the flowers propagate. When too many flowers grow, they scatter and fade all at once. When people touch them, the flower petals scatter and fall away

A variety of autumn flowers will be recreated in digital art, such as Blackberry Lily (September) and Red Spider Lily (October). Visitors who touch these digital flowers will see them wither and decay, and subsequently bloom new flowers in their place.

Rice Fields

Autumn Colours
Memory of Topography | teamLab, 2018, Interactive Digital Installation, Sound: Hideaki Takahashi

This artwork installation depicts a rural mountain landscape of varying elevations. The scenery instills in the viewer a feeling of eternal permanence, however with the flow of real time the scenery is continuously changing. In the spring, the rice fields are still small and lush. In summer, they begin to mature, and in fall, they turn a golden color.

The colours of autumn will be depicted in its glorious combination of golds and reds for the exhibit.


Forest of Resonating Lamps – One Stroke, Autumn Mountain | teamLab, 2016, Interactive Installation, Murano Glass, LED, Endless, Sound: Hideaki Takahashi

When a person stands still close to a lamp at Forest of Resonating Lamps – One Stroke, Autumn Mountain, it shines brightly and emits a colour that resonates out. The light becomes the starting point, and it spreads to the two nearest lamps. The light from the two nearest lamps transmits the same colour to other lamps, spreading out continuously. The light transmitted always resonates out as a bright light once, passing to close lamps, until all lamps have shone brightly once, and then returns to the first lamp.

For October, this exhibit will turn into Forest of Resonating Lamps – One Stroke, Autumn Mountain.


Flowers Bloom in an Infinite Universe inside a Teacup | teamLab, 2016, Interactive Digital Installation, Endless, Sound: Hideaki Takahashi

Make tea, and flowers bloom inside the teacup. If you pick up the teacup, the flowers scatter and spread outside of the cup. Flowers bloom infinitely as long as there is tea. The tea in the teacup becomes an infinite world in which the flowers continue to bloom. Drink in the infinitely expanding world.

The exhibition hall's tea house "EN TEA HOUSE" will see a variety of autumnal flowers used including safflower, dianthus, and Chinese aster for September and cosmos, osmanthus, and chrysanthemum for October.

Information

MORI Building DIGITAL ART MUSEUM: EPSON teamLab Borderless

Address: Odaiba Palette Town, 1-3-8 Aomi, Koto-ku, Tokyo

Official Website: http://borderless.teamlab.art/jp

Hikari no Sumika Winter Illuminations 2020-2021 to Take Place at Gotemba Kogen Toki no Sumika

Toki no Sumika is set to host its 19th annual winter illumination event "Hikari no Sumika" from September 19, 2020 to March 21, 2021.

Forest of Trees Illuminations


The Forest of Trees was created together with locals and wraps visitors in a magical fantasy land of lights underneath the shimmer of stardust. This trail of trees leads visitors to the next area, the Royal Palace on the Hill.

Royal Palace on the Hill


The "Versailles Lights" water laser show entertains onlookers with a rhythmic show. A new spot has also been developed this year called "It's a colorful world" where cuter balls of light change colour to the sounds that play. There's also one of the world's biggest "Bells of Love" clad in colours galore to radiate the dark night, "Slow House Twinkle," and "Super Searchlight."

Tunnel of Lights


Spanning 370m along, the "Tunnel of Lights" changes colours as time passes, enveloping people in a sparkling galaxy of illuminations. There'll be plenty of photo opportunities.

Twin Trees & First Dream Bridgeツインツリーと初夢の橋

The colour of the 120-year-old fir tree at the site this year will be white. The 20 meter-tall tree will be decorated simply and gently, with more LED lights than ever before, to enhance its beauty. The "First Dream Bridge" will give rise to the "Stardust Road" of countless illuminations that run along it.

Underwater Paradise Aquarium

Around 4,500 goldfish of 200 species, including rare kinds, from all around Japan are collected here. It continues to grow as Japan's only goldfish aquarium both in name and reality. Enjoy seeing them swim while gorgeous lights light up the room.

Information

Hikari no Sumika 2020-2021

Running: September 18, 2020 – March 21, 2021

Address: Gotemba Kogen Toki no Sumika, 719 KōyamaGotemba, Shizuoka

Illumination Times: 17:30-22:00

Car Park Spaces: 2,000
Enquiries: 0550-87-3700 (9:00-20:00)

Official Website: http://www.tokinosumika.com/illuminations2017/renewal/

FUFU NIKKO: The New Hot Spring Hotel in Nikko, Tochigi Prefecture

Kato Pleasure Group is set to open its 4th branch of FUFU NIKKO hotels in Nikko, Tochigi on October 2, 2020 following their Atami, Lake Kawaguchi, and Nara branches.

A resort steeped in Japanese history and culture

The site in which the hotel is located has a sacred air to it. It dates back to the Meiji Period and has continued into modern times. Upon entering the hotel, your ears are treated to the sound of classical music. Overhead you will spot high ceilings made from wood which give it a warm and welcoming atmosphere.The shadows of the outside walls, the warmth of the inviting lights, and the metallic decorations which catch the light present a calm and quiet mood.

Classy and sophisticated cuisine

Both the food and plates it is served on capture the essence and beauty of the Japanese way. Meals are prepared using seasonal ingredients from Tochigi as well as high quality foods like foie gras, truffles, and caviar. Each dish expresses elegance and refinement and combines both Japanese and Western flavours.

Hot spring water sourced from Tamozawa

All rooms at the hotel are fitted with hot springs or large baths which natural light from the outdoors shining through. In the open-air baths, guests get to experience the surrounding sights of nature coupled with the sound of the flowing stream and chirping birds.

Information

FUFU NIKKO JAPAN

Grand Opening: October 2, 2020

Address: 1573-8 Honcho, Nikko, Tochigi Prefecture

Official Website: https://www.kpg.gr.jp/

Luxurious Matcha Loaded Parfait Served Up at MICASADECO&CAFE KYOTO

MICASADECO&CAFE KYOTO had to shorten its menu due to the effects of COVID-19. Their legendary parfait too was taken off the list, but now has finally returned, and even more delicious looking than ever.

MICASADECO&CAFE KYOTO has tried to make the parfait as breathtaking as possible, and they've certainly captured that. It's vivid like the furisode long-sleeved kimono worn by the maiko of Kyoto, beautiful and dignified.

Uji Matcha Pudding & Raspberry Parfait | ¥1,250 (Tax Included)

This towering parfait is made up of many layers, one of which is a homemade Japanese-style pudding made with high quality matcha from Uji, Kyoto. It has a subtly sweet and deep flavour, and is taken to the next level with the matcha sauce it's served with.

The homemade raspberry jam brings a delightful sweetness too as well as adds that eye-catching aspect they're going for. As you spoon your way through, your taste buds are treated to an amalgamation of indulging flavours.

The lid that's sat on top of the parfait is actually a tuile biscuit. The best way to go about beginning your feast is to break the biscuit and then pour the matcha sauce inside.

Hidden within the parfait are also pieces of homemade matcha brownies made with lots of top grade matcha.

These parfaits will be served from September 14 but are limited in stock, so if you're in Kyoto this month, make sure you don't miss out.

Shibuya's New Tourist Information Centre 'SHIBU HACHI BOX' Opens October 1

Shibuya is set to welcome tourists to its all-new tourist information centre SHIBU HACHI BOX which will open on October 1, 2020.

Conveniently located outside of Shibuya Station next to Shibuya's iconic Scramble Crossing and Hachiko statue, SHIBU HACHI BOX, managed by PLAY! DIVERSITY SHIBUYA, will act as the hub for tourist and sightseeing information on events, food, shopping, hotels, and more.

The centre will also house a PR space for its supporting partner NTT Docomo which will offer entertainment and video content related to the latest in technology and more.

SHIBU HACHI BOX will be ready waiting to welcome the people of the world to Shibuya as they step outside of the famous Hachiko Exit of Shibuya Station.

Information

SHIBU HACHI BOX

Grand Opening: October 1, 2020

Address: 2-1 Dogenzaka, Shibuya, Tokyo

Opening Hours: 10:00-20:00

PLAY! DIVERSITY SHIBUYA: http://play-shibuya.com/