Stylish Pokémon Bags and Accessory Line-Up Revealed by French Luxury Leather Goods Company Longchamp
Longchamp, a French luxury leather goods company which first opened in Paris back in 1948, is collaborating with Pikachu from the Pokémon series on a playful new collection which will be released worldwide on October 14, 2020. Pre-sales of the collection will launch in Japan on October 9, 2020 when it will be released at Longchamp in Omotesando and Ginza, as well as online.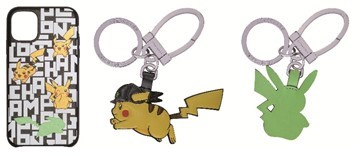 LE PLIAGE® Collection
See Longchamp's iconic LE PLIAGE® collection turn kawaii with Pikachu designs. The line-up maintains the elegance of the brand while adding a chic touch of Japanese pop culture. The items also feature the Longchamp brand name written in an eye-popping monogram font.
LE PLIAGE® Cuir Pokémon (Limited-Edition Model)
This nylon bag features Pikachu wearing a jockey hat like Longchamp's iconic logo.
LE PLIAGE® Cuir Pokémon
Only 500 of these LE PLIAGE® Cuir Pokémon bags will be sold worldwide, each with its own unique serial number. The bags also have a Pikachu hidden on the back, and the strap too features a special logo.
"Our Le Pliage bag has become a platform where all the different aspects of Longchamp can be expressed and can also take us to unknown places," explains Sophie Delafontaine, Artistic Director at Maison Longchamp. "We hadn't explored entertainment and gaming before. It's a very inspiring world, particularly with Pokémon and its iconic mascot, Pikachu. Our two worlds, real and virtual, blend perfectly in this collaboration."
Pokémon GO players will also be able to get their hands on a Longchamp bag on the game's store to fashion up their avatars.
©2020 Pokémon. ©1995-2020 Nintendo/Creatures Inc./GAME FREAKinc.TM, ®, and character names are trademarks of Nintendo.
Information
Longchamp x Pokémon
Japan Pre-Sales: October 9, 2020 (Longchamp Omotesando/Longchamp Ginza/Online Store)
Worldwide Release: October 14, 2020
Official Website (Japan): https://www.longchamp.com/jp/ja/
RELATED ENTRIES
Pokémon x Tokyo Banana Expands Across Japan

The Pokémon Tokyo Banana confection series launched its first two products that it ever released at Yume Town, Yume City, LEC, and Yume Mart branches in the South-west most part of Honshu, Shikoku, and Kyushu on May 14.

Pikachu Tokyo Banana (Banana Flavour) | Includes 2 | ¥292 (Tax Included)

Eevee Tokyo Banana (Caramel) | Includes 2 | ¥292 (Tax Included)

Heart-shaped tail ends

Six different packaging designs each for Pikachu and Eevee

Tokyo Banana are popular cream-filled cakes and are the official souvenir sweet of Tokyo. The Pokémon series turns these fluffy treats into cute confections for you to enjoy with your favourite Pokémon during snack time.

Pikachu was the first to enter the Pokémon Tokyo Banana series who was turned into a banana custard cream-filled sponge cake. The second was Eevee with the fluffy sponge a delicious caramel macchiato flavour and filled with sweet banana custard cream

The confections are both branded with adorable heart-shaped tails, and each comes with one of six possible packaging designs.

©2021 Pokémon. ©1995-2021 Nintendo/Creatures Inc./GAME FREAK inc.
ポケットモンスター・ポケモン・Pokémonは任天堂・クリーチャーズ・ゲームフリークの登録商標です。

Snoopy Design Eco Bags Release in Collaboration With 11 Brands

Fashion, beauty, and creative company MASH Holdings has announced a collaboration with the Peanuts comic strip titled "TAKE CARE WITH PEANUTS" which sees the arrival of an eco bag collection in collaboration with 11 different fashion brands. The bags were released at USAGI ONLINE, as well as other online stores and shops in Japan on April 28.

The Line-Up

SNIDEL | ¥1,980 (Tax Included)

gelato pique | ¥2,420 (Tax Included)

FRAY I.D | ¥2,200 (Tax Included)

Lily Brown | ¥2,970 (Tax Included)

Mila Owen | ¥3,300 (Tax Included)

CELFORD | ¥2,530 (Tax Included)

Emmi | ¥4,950 (Tax Included)

SNIDEL HOME | ¥3,850 (Tax Included)

Styling | ¥1,980 (Tax Included)

FURFUR | ¥4,950 (Tax Included)

UNDERSON UNDERSON | ¥3,960 (Tax Included)

The eco bags see Snoopy and the Peanuts Gang making an effort to promote sustainable alternatives to plastic bags. Fans of the comic can help the gang take care of the planet with this stylish reusable line-up.

Information

TAKE CARE WITH PEANUTS

Released: April 28, 2021

Available Online:
・USAGI ONLINE: https://usagi-online.com/
・Official online stores of each participating brand


Available In-Store:
・In-store at each participating brand (release dates different for each)

MASH Holdings Official Website: https://www.mash-holdings.com/

Madoka Magica & Magica Record Anime Merchandise Releases at EMooooN

Fans of Puella Magi Madoka Magica and Magica Record won't want to miss out on these new themed backpacks and wristwatches released by KADOKAWA at the apparel brand EMooooN. Available to order until May 23, the merch designs take inspiration from the 2011 film Puella Magi Madoka Magica: The Movie and the anime adaptation of the mobile RPG Magia Record: Puella Magi Madoka Magica Side Story.

The anime studio SHAFT, who animated both of these series, created special illustrations of Madoka, Homura, Iroha, and Yachiyo for this merch drop.

Madoka Kaname Backpack | ¥14,700 (Tax Included)

Inspired by the one and only Madoka, this backpack's outer design features her full name embroidered in the bottom right, while inside fans will discover an original design with magical circles and limitless space. There is plenty of room to store your bits and bobs with both open pockets and a zip pocket. The bag itself has a simple body design which makes it perfect for being nerdy while in a business setting as well as looking stylish when out and about.

Homura Akemi Backpack | ¥14,700 (Tax Included)

Embroidered with Homura's name, this black backpack's inner design features flowers and the starry night sky.

Madoka Kaname Wristwatch | ¥18,480 (Tax Included)

The face of this wristwatch features magical circles and its colours based on Madoka's clothes. Its stylish design also makes it wearable in any situation.

Homura Akemi Wristwatch | ¥18,480 (Tax Included)

Homura's clock face has cogs on it as well as darker colours to match her character design.

Iroha Tamaki Backpack | ¥14,700 (Tax Included)

The interior design of Iroha's bag was created by Doroinu of Gekidan Inu Curry.

Yachiyo Nanami Backpack | ¥14,700 (Tax Included)

Dorainu also designed the inside of Yachiyo's bag.

Iroha Tamaki Wristwatch | ¥18,480 (Tax Included)

Yachiyo Nanami Wristwatch | ¥18,480 (Tax Included)

Special sets featuring illustrations by SHAFT

Backpack & Acrylic Key Ring Sets

Backpack EMooooN Sets: Madoka, Homura, Iroha, Yachiyo | ¥15,200 Each

Wristwatch & Acrylic Stand Figure Sets

Backpack EMooooN Sets: Madoka, Homura, Iroha, Yachiyo | ¥19,500 Each

©Magica Quartet/Aniplex・Madoka Movie Project Rebellion

©Magica Quartet/Aniplex・Magia Record Anime Partners

Stylish Bags and Sneakers Arrive at Camper's Pop-Up Shop in Isetan Shinjuku

Shoe, boots, and sneaker brand Camper opened a pop-up shop at Isetan Shinjuku on Wednesday which is set to run until April 27. The shop is a collaboration with Japanese textile designer Masaru Suzuki who has provided his iconic designs to a collection of bags and sneakers that you can get your hands on. The shop also has a display designed by Suzuki.

Pop-Up Store Line-Up

HOP STEP LIFE | ¥19,800 (Tax Included)

ANIMAL BISCUIT | ¥22,000 (Tax Included)

CHARM POINT | ¥5,500 (Tax Included)

TWINS by MASARU SUZUKI (Women's) | ¥25,300 (Tax Included)

TWINS by MASARU SUZUKI (Men's) | ¥25,300 (Tax Included)

TWINS by MASARU SUZUKI (Kid's) | From ¥12,100 (Tax Included)

Men's Building – "CAMALEON 1975" Pop-Up Store

Men's Building Pop-Up Store Original Novelty

This marks Camper's third long-awaited collaboration with Masaru Suzuki and the first in four years, and this time the series adds shoes to the mix in addition to the popular bags. Suzuki visited Camper's main office in Majorca, Spain, for detailed discussions on the designs.

Suzuki is set to attend the pop-up event on April 17. Customers who spend over ¥5,500 (tax included) on this day will receive a fabric swatch signed by Suzuki. Additionally, the men's building of Isetan Shinjuku is also opening its CAMALEON 1975 pop-up shop once again selling shoes made from recycled materials from Camper. Those who spend over ¥14,300 (tax included) at this shop will receive a free eco-friendly bag made from 100% recycled nylon.

Information

ISETAN x CAMPER Pop-Up Store

Running: April 14, 2021 – April 27, 2021

Where: Isetan Shinjuku

ISETAN x CAMPTER/Masaru Suzuku: Main Building Floors 1F & 2F

CAMALEON 1975: Men's Building Floor B1F
Opening Hours: 10:00-20:00

Official Website: https://www.camper.com/

JIMOTOTE Tote Bag Releases Releases Tokyo Tama Collection

JIMOTO is a company in Japan whose products and concept is designed around returning to your home or a place you love. Their tote bag brand, JIMOTOTE, is now introducing Tama design bags centred on the Tama area of Tokyo on their official website and at shops around Tama on April 16. They will also be sold at a pop-up shop in as well as at Nonowa Kunitachi from April 16 to 18.

JIMOTO stands for jibun ni modoru tokoro, which is Japanese for that concept of returning to your local region – to your roots. The JIMOTOTE brand started in 2015 with bags design around Hokkaido before introducing Kyushu and Shonan. Tama comes as the fourth entry to the series and includes Kunitahci, Tachikawa, Kichijoji, Chofu, and Hachioji.

Ditto Pokémon Pink Gold Necklace Released by Japanese Luxury Jewellers U-TREASURE

Japan's luxury character jewellery brand U-TREASURE, which creates accessories for character-loving adults, welcomes its new Ditto Pokémon necklace coated in pink gold.

Ditto Necklace Silver (Pink Gold Coating) | ¥17,600 (Tax Included)

Ditto is known for its shapeshifting ability to transform into anything. This Normal-type Pokémon, first introduced in Generation I, has turned into a luxury pink gold necklace so you can take it with you on your Pokémon Trainer adventures wherever you go.

Harry Potter Design Japanese Randoseru Backpack Released by Q-pot.

Japanese accessory brand Q-pot. has created the world's first 'randoseru' Japanese schoolbag which it released at its stores and online shop on April 1.

Harry Potter x Q-pot. Chocolate Randoseru | ¥110,000 (Tax Included)

Exterior design

Logo closeup

Inside the bag

House logo closeup

Inside pocket

Back and straps

Wand holder

Cover and bag

This backpack is the perfect gift for kids around the world whose sole wish is to one day get into Hogwarts. It's also a great cosplay accessory or to use as your daily backpack. It has that Made-in-Japan quality, with each and every bag being handmade by Japan's expert craftsmen.

Poké Lid Project Lays Down New Manhole Covers in Kyoto

Five new Pokémon manhole covers were laid in Kyoto on Tuesday as part of the Poké Lid  project to place Pokémon-design manhole covers across the country.

Kyoto Original Poké Lids

The five Poké Lids are located in Arashiyama, Okazaki Park, Maruyama Park, Umekoji Park, and Nishikyogoku Athletic Park.

All of the Poké Lids placed across Japan feature completely original Pokémon designs making each individual one the only one in the world. The Pokémon Company is also working to make each one of them PokéStops for Pokémon GO.

 ©2021 Pokémon. ©1995-2021 Nintendo/Creatures Inc./GAME FREAK inc.

Mew Pokémon Diamond Necklace With Pink Gold Coating Releases in Japan

Japanese character jewellers U-TREASURE is now taking limited-time orders for a new pink gold-coated necklace based on the beloved Pokémon Mew. It's available to buy until April 13 at the U-TREASURE Concept Store in Ikebukuro and on their official website.

Pokémon Silver Pink Gold Coated Mew & Poké Ball Necklace | ¥17,600 (Tax Included)

The gorgeous necklace features Mew sat on top of a Poké Ball with its cute tail wrapped around the necklace chain. The Poké Ball has a sparkling diamond at its centre. A stylish piece that any Pokémon lover will want to wear!

Japanese miscellaneous brand L'AMI+ recently released a new collection of its hugely popular 'Scarf Eco Bags' online. The series has sold over 30,000 units and is enjoyed for its handy use being able to be tied up like a scarf. It not only looks stylish, but makes it convenient when out shopping.

Scarf Eco Bag Stripe Series: Ecru/Grey/Red – ¥1,700 Each (Before Tax)

How to Fold

1. Stuff the handles into the bag itself and snap the buttons closed.

2. Fold into a triangle and roll.

3. Tie around your handbag or rucksack and snap the final button closed to secure.

The new unisex designs feature striped patterns in ecru, grey, and red. They are made from a material that ensures they do not wrinkle so they stay looking fashionable. They are the perfect addition to have if you're someone who goes out and forgets to take a shopping bag – they can conveniently live on your handbag.

Studio Ghibli Fashion Brand Reveals New My Neighbor Totoro Bag Collection

Japanese company Familiar will release a new collection of bags based on the classic Studio Ghibli animated feature film My Neighbor Totoro on March 16 via their online shop. The bags will be released by Studio Ghibli no Ano Fuku ("Those Studio Ghibli Clothes"), a fashion brand created by Ano Fuku and Studio Ghibli.

The two bags feature the iconic movie scene of Mei, Satsuki, Totoro, and the little Totoros sat upon a tree branch.

Denim Bag – ¥19,800 / Sub Bag ¥16,500 (Tax Included)

This is the third and final bag collection to be released in this bag series. The first collection was inspired by the bus stop scene from My Neighbor Totoro as well as Ponyo running along the water in Ponyo. The second collection was the classic scene of Kiki flying over the town with Jiji on her broomstick from Kiki's Delivery Service. Restocks of these two collections are now available too.

1st Collection

Ponyo Denim Bag ¥19,800 / Ponyo Sub Bag ¥16,500 / Totoro Bus Stop Denim Bag ¥19,800 / Totoro Bus Stop Sub Bag ¥16,500 (Tax Included)

 

2nd Collection

Kiki's Delivery Service Denim Bag ¥19,800 / Kiki's Delivery Service Sub Bag ¥16,500 (Tax Included)

Pokémon GO and the Pokémon Trading Card Game Collaboration Announced For Summer 2021

The Pokémon Company has announced a collaboration between Pokémon GO and the Pokémon Trading Card Game (Pokémon TCG) for Summer 2021.

Cross Collaboration to Commemorate Pokémon's 25h Anniversary

This year marks the 25th anniversary since the release of Pokémon Red and Blue, as well as the 5th anniversary of Pokémon GO. In celebration, The Pokémon Company has various things planned for players of both games. It has not yet revealed much, but the following has been confirmed.



Professor Willow Card Obtainable Worldwide in Pokémon TCG

For the first part of the collaboration, Professor Willow will feature as a card in Pokémon TCG worldwide this summer. The artwork and content of the card will be revealed in late May.

Further announcements regarding the cross collaboration are to be announced at a later date, so stay tuned.

Information

Pokémon GO
©2021 Niantic, Inc. ©2021 Pokémon. ©1995-2021 Nintendo/Creatures Inc. /GAME FREAK inc.

Pokémon Trading Card Game
©2021 Pokémon. ©1995-2021 Nintendo/Creatures Inc. /GAME FREAK inc.

Official Website: https://corporate.pokemon.co.jp/en/