Pokémon Illuminations to Shine at Lake Sagami in Kanagawa
Lake Sagami Pleasure Forest, an outdoor multi-resort in Sagamihara, Kanagawa, has announced that the Kanto region's biggest illumination event SAGAMIKO ILLUMILLION is set to return for 2020-2021. The event will see 6 million illuminations light up the area from November 14, 2020 to April 4, 2021.
About SAGAMIKO ILLUMILLION
SAGAMIKO ILLUMILLION is an annual winter event held at Lake Sagami Pleasure Forest. About an hour from the main city, the event takes place up a high slope with the 6 million lights becoming one with the surrounding natural environment. The event uses the latest in lighting technology and has gotten bigger and better every year. In 2018, it was chosen as one of Kanto's three main illumination events.
This year marks the 12th run of SAGAMIKO ILLUMILLION, and this time around it's collaborating with the Pokémon franchise with lots of colourful illuminations set to light up the area and plenty of Pokémon photo spots to take your picture with including Pikachu sleeping in the forest, Charmander taking a nap by an open-air, and more.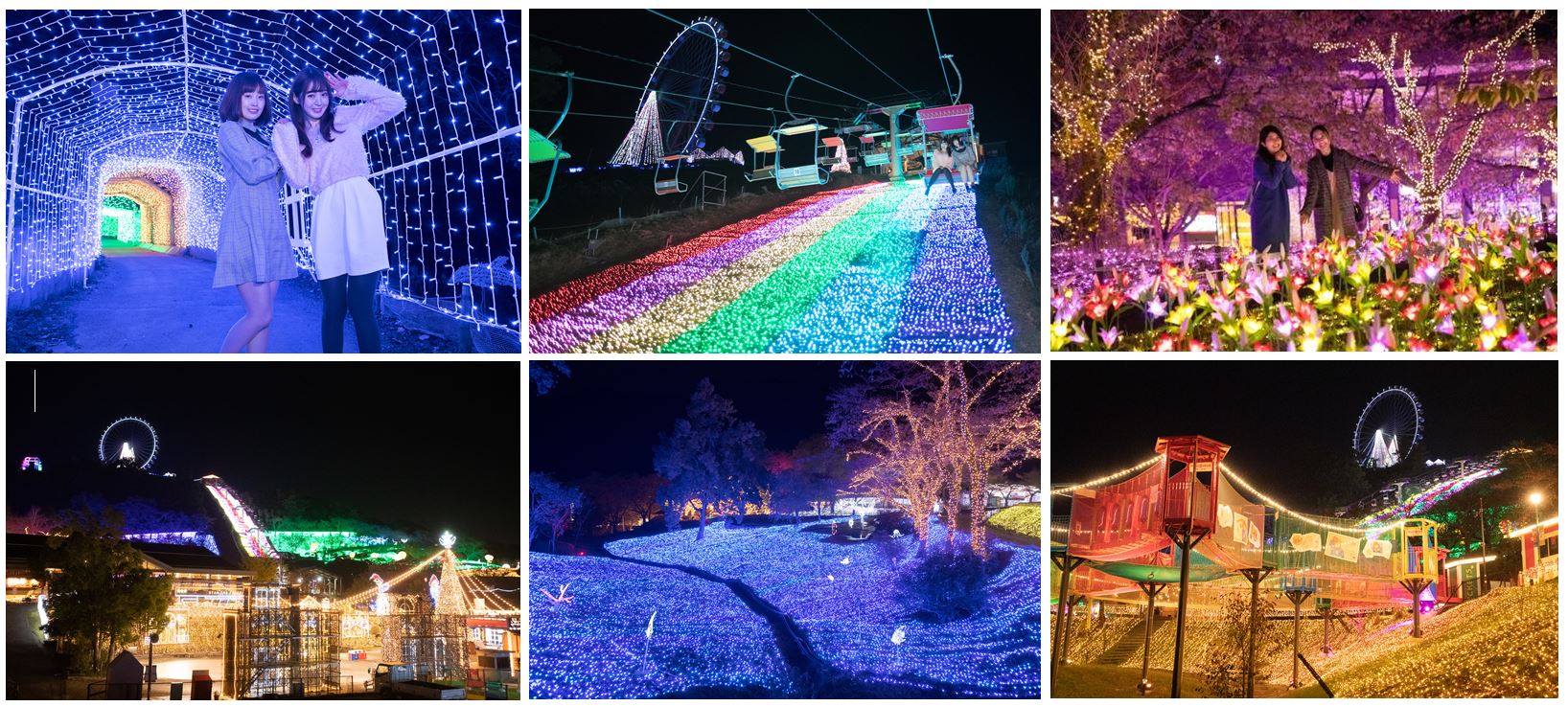 As well as the Pokémon illuminations, the 40,000㎡ illumination area will be split into 10 different kinds of illuminations, with each individual area having their own colourful lights. There will also be a 250 meter lift people can ride, amongst lots of other exciting things.
SAGAMIKO ILLUMILLION is being held with all the necessary precautions in place against COVID-19.
Information
SAGAMIKO ILLUMILLION
Address: 1634 Wakayanagi, Midori-ku, Sagamihara, Kanagawa
Running: November 14, 2020 – April 4, 2021
Illumination Times: 16:00-21:00 (Last Entries 20:30)
*Illumination times to begin from 17:00 starting in February
Official Website: https://www.sagamiko-resort.jp/illumillion/
RELATED ENTRIES
Keyakizaka Lights, a Tokyo Winter Tradition, to be Held Again in 2022

From November 11 until December 25, 2022, Roppongi Hills Christmas will cover Tokyo in glittering lights once again. The Keyakizaka Lights, one of Tokyo's most popular winter attractions, will also take place in 2022, with the 400-meter-long Keyakizaka street covered in over 800,000 blue and white LED lights.

For the first time in three years, the Mohri Garden will be covered in lights as well. The annual Christmas market will invite guests to experience an authentic German Christmas, and Christmas cakes and gourmet food unique to Roppongi Hills will be for sale. 

The Roppongi Hills Christmas event utilizes LED lights and has done so since the first event was held in 2003. Clean power will be used again this year, and the lights will be switched on from 5 PM until 11 PM each night. 

Information

Roppongi Hills Keyakizaka Lights

Running: November 10 – December 25, 2022 *Daily from 5:00 – 11:00 PM

*Lights may begin at a different time on November 10 only.

Location: Roppongi Keyakizaka Street

Official Site: https://www.roppongihills.com

NAKED Night Walk Art Project to Open at Famed Zuiganji Temple in Matsushima

Japanese creative company NAKED will hold a Night Walk event at Zuiganji Temple in Matsushima, located near one of the top three most scenic spots in Japan. The event will run from October 29 until November 23, 2022.

The NAKED Night Walk was created to revitalize hot spring resorts and other tourist spots during the pandemic. This special event will bring the illuminated experience to Zuiganji Temple, one of the Tohoku Region's most famous Zen temples. Guests will be invited to carry beautiful lanterns around the grounds, maintaining social distancing while enjoying the cool evening weather. These lanterns will cast one of three unique designs onto the ground below–a starry sky, a camellia flower, or a lotus. 

Guests can also enjoy NAKED's Flower Fortune Telling, pulling unique paper flowers from a massive wall, with each holding a personalized fortune. These flowers can then be tied to a nearby tree to further spread NAKED's art. You can also take home your flower as a souvenir!

The event will only run for a limited time. For more information including admission fees and hours, see the official website!

Information

NAKED Night Walk – Matsushima, Zuiganji Temple (National Treasure)

Address: Zuiganji Temple (Chonai-91 Matsushima, Miyagi District, Miyagi Prefecture)

Running: October 29 – November 23, 2022

Hours: Weekdays 17:00-20:00 / Fridays, Weekends, Holidays 17:00-21:00

Official Site: https://zuiganji.or.jp/

Official Pokemon Baby Brand Monpoke Reveals Autumn/Winter Collection

Monpoke, the official Pokemon baby brand, has released the lookbook for its 2022 Autumn/Winter collection! New items include pajamas, jackets, and other apparel and sundries for infants and toddlers. Monpoke, which launched in 2019, has added two new familiar Pokemon to the lineup this time around–Gengar and Mimikyu. 

Nighttime-only Diapers featuring Sleepymon Design

Pikachu and the Nighttime Adventure, the Second Book in Rikako Matsuo's Monpoke Picture Book Series

The adorable diapers will help keep babies dry all night, and these helpful products will be released nationwide in early November 2022. The new picture book will be released on September 21, so be ready to add it to your nighttime reading routine.

©Pokémon. ©Nintendo/Creatures Inc./GAME FREAK inc.

Kansai's Largest Illumination Event to Start Third Phase on October 8

The third phase of the popular illumination event at the English Garden Rosa & Berry Tawada will be held from October 8, 2022 until February 12, 2023! One of the largest light-up events in the Kansai region, this year's theme is 'Evolutionary Lights!' 

Let Time Pass in The Golden Forest

Visitors will be welcomed into a glorious forest of golden lights as they arrive in the main area. 

The clock tower rises in the center, and the spectacular production begins at the start of nightfall when the tower itself begins to glow and 100 trees are enveloped in golden light.




The White and Silver Garden of the Fairies

The area has undergone a major transformation, from the warm European-inspired colors of last year's event to a mysterious silvery-white color scheme. Visitors can also enjoy the popular light-up experience Miraculous Blue Roses and the Seven-Colored Prayer Tree.

※Details: Lights and effects are triggered in response to the sound of bells rung by visitors and special pedals stepped on as they explore the event.

Shaun the Sheep Area

A special Christmas display inspired by the new Shaun the Sheep movie, releasing in December 2022, will be on display.

*Images of the special display will be available in mid-September.

​SHAUN THE SHEEP AND SHAUN'S IMAGE ARE ™ AARDMAN ANIMATIONS LTD. 2022

Galactic Express Milky Way

The Milky Way is said to be a magnificent shade of blue. The Milky Way Galaxy Railroad, which requires a separate fee, runs through the area, inviting guests to explore a sea of stars. Why not take a trip through this glittering world of lights while taking some incredible photos?

Why not visit this incredible sea of lights this winter?

Information

Rosa & Berry Illumination 2022-2023 – Evolutionary Lights

Running: October 8, 2022 – February 12, 2023 *Closed on Tuesdays
Hours: 17:30-21:00 *Subject to change depending on the season
Venue: English Garden Rosa & Berry Tawada (Maibara, Shiga)

Official Site: https://www.rb-illumi.com/

Sumikko Gurashi Characters Appear at Lake Sagami Pleasure Forest

From November 12, 2022, until April 2, 2023, visitors to Lake Sagami Pleasure Forest in Kanagawa Prefecture will be able to enjoy an incredible light-up event featuring Sumikko Gurashi characters! The outdoor resort is only an hour from Tokyo and won't disappoint.


A World First! Illuminated Sumikko Gurashi Area

Visitors can enjoy riding the 250-meter-long Rainbow Lift for an aerial walk above the millions of lights. The adorable Sumikko Gurashi characters will be waiting for guests in a special themed area.

Goods Featuring Original Illustrations Available–with a Collab Menu!

The event will also offer goods decorated with newly-drawn art inspired by the Lake Sagami lights, with Sumikko and her friends enjoying the show. Along with merchandise, guests will also be invited to sample collaboration food and drinks at the park's restaurant Wild Dining. Each dish will also come with a bonus!

Come enjoy these incredible lights along with everyone's favorite Sumikko characters! With 6 million lights on display, this is one of the largest in the Kanto area. More details will be coming soon, so keep an eye out!

Information

Sumikko Gurashi x Lake Sagami Illumination

Running: November 12, 2022 – April 2, 2023

Special Site:

Pokemon Shirts Offering New Embroidery Options Featuring Popular Silhouettes

Starting September 2, customers will be able to snag some new customizable shirts from Original Stitch featuring embroidered silhouettes of popular Pokemon!

Fans will be able to add these silhouettes to the left chest, right hem, or left cuff of their shirt. 25 different Pokemon are available to choose from, all from the original game titles, Red and Green. 

Light Blue Dungaree / Navy Oxford / Gray Navy Dungaree / Black Checkered Gingham / Gray Kanoko

Poke Ball / Great Ball / Ultra Ball / Premier Ball / Dive Ball / Moon Ball

Customers can choose from six fabrics, including dungaree in light blue and gray-navy, black checkered gingham, white herringbone, and more.

For shirt buttons, customers can also choose from a collection of Poke Balls from the series. These customizable shirts are available to order globally. 

Pokemon GO Holds Special Drone Show in Akagawa, Yamagata Prefecture

To celebrate six years of Pokemon Go, an incredible drone show was held during the Akagawa Fireworks 2022 presentation in Yamagata Prefecture on August 20, 2022. 

The presentation sought to get audiences excited for summer fun, with the phrase "let's go on an adventure this summer" appearing in the air above the huge audience of 40,000. The Pokemon GO logo and popular Pokemon were recreated by around 700 drones.

Music from the mobile game played during the impressive show, as Pikachu and a 100-meter-tall Charizard moved across the sky. Alolan Exeggutor, Gengar, Wailord, and Rayquaza also appeared, creating a night to remember for Pokemon fans in the town of Tsuruoka. 

Pokemon GO Special Drone Show at Otaru Ushio Matsuri

The show itself was a surprise for the audience, with applause and excitement instantly palpable as it began. After the drone presentation concluded, the Akagawa Fireworks display began.

The Pokemon GO Special Drone Show was first held at the 56th Otaru Ushio Matsuri in Otaru, Hokkaido on July 24. Watch it in full above!

©2022 Niantic, Inc.
©2022 Pokémon. ©1995-2022 Nintendo/Creatures Inc. /GAME FREAK inc. ポケモン・Pokémon は任天堂・クリーチャーズ・ゲームフリークの登録商標です。 

Information

Pokemon GO Special Summer Drone Show at Akagawa Fireworks 2022  

Date: August 20, 2022 / 19:05-19:15

Venue: Akagawa Fireworks Presents 2022 / Fireworks Launching Area

Official Site: https://www.pokemongo.jp/

Pokemon Baby Brand Monpoke Releases First Baby Rings

U-Treasure, known for its gorgeous jewelry for adults inspired by pop culture icons, has released something for babies as well! Under the official Pokemon baby brand Monpoke, the company has unveiled some adorable baby rings to commemorate your child's birthday. The pieces are on sale now.

Customers can design their own special piece of jewelry for their child by selecting a Pokemon and a birthstone. The back of each ring can be engraved with up to six characters, where you could include a child's name, birthday, weight, or height. They are made in sizes to fit children's tiny fingers, and parents can also wear them as necklaces until the children grow up. Many people give them as gifts to commemorate their child's first steps into adulthood. Monpoke is the first official Pokemon brand to appear at U-Treasure Concept Store Ikebukuro and the online shop.

Which of these beautiful designs would you choose? 

Available Pokemon: Pikachu, Gengar, Eevee, Smeargle, Ludicolo, Piplup, Mime Jr., Dedenne, Mimikyu

 

Available Stones: Garnet, Amethyst, Aquamarine, Diamond, Emerald, Moonstone, Ruby, Peridot, Sapphire, Pink Tourmaline, Blue Topaz, Tanzanite

Information

Monpoke Baby Ring

Release Date: August 18, 2022

Where to Buy: U-Treasure Concept Store Ikebukuro, U-Treasure Online Shop

Online Shop/Details: https://u-treasure.jp/special/86

Light and Shadow 2022 Event at Hotel Gajoen Tokyo Attracts Over 10,000 Visitors

Hotel Gajoen Tokyo, which blends a hotel and a traditional Japanese museum, is celebrating summer in the spookiest way possible. From July 2 until September 25, guests can enjoy the 'Wa no Akari x Hyakudan Kaidan 2022 ~Light and Shadow: 100 Stories~' event, inspired by the tradition of telling ghost stories in summer to send a chill down your spine. Since opening, over 10,000 visitors have come to experience this once-in-a-lifetime event. 

Each of the seven exhibition areas is connected to the stairway, and each has its own theme pulled from the overarching theme of light and darkness. From Light of Passion to Midnight Light, guests will be surrounded on all sides. As you ascend the stairs, a festive atmosphere transforms into a more frightening one. Although the ghosts are out to play, guests are welcome to enjoy the many art pieces and crafts on display. 

Sokyu Room / Lights of Passion

This Kabuki stage is filled with the passion of women who are addicted to love, a common theme in many traditional plays. The eye-catching Japanese umbrellas and lanterns will no doubt leave an impression, and the wistful music is titled Red Thread. The tale depicted here tells the story of a woman who becomes a haunting specter clad in flames of passion, sobbing and laughing in time with the song. 

Still Water Room / Inverted Light

The three trees crowned with horse heads were created by the artist Eros Nakazato. Guests will feel as though they've been transported to the middle of a meadow as they explore this fantastical room covered in traditional paintings. In the work The Reverse of the Reverse, there are no wild horses on the earth, and those who have been tamed by humans sway in a beautiful and sad way. To make this scarier, the story has been reimagined as guests look through a crystal ball–now, humans are ruled by horses

Starlight Room / Midnight Light

Passing through a corridor of suspiciously flickering yokai lanterns, you will find that the clock has struck midnight. In the darkness, as most humans are asleep, specters are having a lively party. Playful cats dance and play and a number of artistic works by contemporary artists are on display. The music played fuses Japanese and ethnic instruments, some of which are interspersed with the voices of creatures of the night.

Experience this immersive art experience that will delight all five senses through light and shadows while you can!

Information

Wa no Akari x Hyakudan Kaidan 2022 ~Light and Shadow: 100 Stories~

Running: July 2 – September 25, 2022

Hours: 11:30-18:00 (Last entry at 17:30) *Closing at 17:00 on August 20 (Last entry at 16:30)

Venue: Hotel Gajoen Tokyo Hyakudan Staircase (Tangible Cultural Property Designated by the Tokyo Metropolitan Government)

Tickets/Details: https://www.hotelgajoen-tokyo.com/100event/wanoakari2022

Official Site: https://www.hotelgajoen-tokyo.com/

Pokemon Shirts Releases Second Round of Designs Inspired by Diamond and Pearl

Pokemon and Original Inc. are back with some new Pokemon Shirts. The second round of patterns inspired by Diamond and Pearl were released on July 22, 2022!

Dialga Pattern

Lucario Pattern

 

25 new designs have been added, bringing the total to 429 patterns. Fans can customize a number of products with the design of their choice, from T-shirts to masks and bandanas. 

Honchkrow Pattern

The new patterns feature Pokemon like Dialga, Lucario, and Honchcrow, among many others. For more information, check out the Pokemon Shirts official site!

*Customers can combine patterns when customizing a shirt. 

A third round of designs will be announced in the future, so keep an eye on the official website and Twitter page for more details.

Information

Pokemon Shirts

Available Countries: Japan, America, Taiwan, Hong Kong, Singapore, Malaysia, Philippines, India, Indonesia, England, Spain, Germany, Italy, France, Canada, Australia, New Zealand

Official Site: https://originalstitch.com/jp/pokemon

Hotel Gajoen Tokyo Opens Artistic Summer Ghost Story Event

Hotel Gajoen Tokyo, which blends a hotel and a traditional Japanese museum, is celebrating summer in the spookiest way possible. From July 2 until September 25, guests can enjoy the 'Wa no Akari x Hyakudan Kaidan 2022 ~Light and Shadow: 100 Stories~' event, inspired by the tradition of telling ghost stories in summer to send a chill down your spine. The art illumination exhibition promises to be a once-in-a-lifetime experience.

Jounen no Akari (Lights of Passion)

Bamboo Lights

Without light, there are no shadows. In this exhibition, light and shadow complement one another, portraying the popular 100 ghost stories in a new way. Last year's event received critical acclaim as guests found themselves moving breathlessly from room to room, exploring the many incredible pieces put on display. Along the dusk-lit promenade, goldfish lanterns lead guests to the start of their mysterious adventure. The atmosphere changes from room to room, with bamboo lights and shadows surrounding you from all sides. 

An Immersive Light Art Space

Odawara Wind Chimes at Dusk

Luxurious Cherry Blossom Hairpins

Glass Lamp, Iroshita Studio

Flower Arrangement, Rikou Otsuka

As you ascend the stairs, a festive atmosphere transforms into a more frightening one. Although the ghosts are out to play, guests are welcome to enjoy the many art pieces and crafts on display, from flower arrangements by master ikebana artist Rikou Otsuka and sculptures by some of Japan's most influential traditional creators. 

Enjoy Traditional Summer Ghost Stories with Light Art

Ghost Lanterns

Born from the Earth, Yasumaro Ozawa

Byakko, Yuji Nishijima

Inverted Light, Eros Nakazato

Mysterious music will drift through the air, making guests feel as though they've been transported into another world. The eerie space is lit by Ghost Lanterns made by a 200-year-old company in Fukuoka, and the venue is decorated with art blending ukiyo-e with contemporary styles. 

Culture and Crafts from Around Japan

Paper Lanterns from Ise

Bamboo Lights, Akarinowa

3D Knit Lights

Paper Fireworks

Summer fireworks have been recreated in colorful paper form by an artist in Nagaoka, Niigata Prefecture, and materials found in a neglected bamboo grove in Shizuoka Prefecture were used to create the many iconic lights seen throughout the unique exhibition. Local craftsmen are at the heart of the event, with pieces brought in from areas all around Japan.

Wa no Akari Room

A concept room featuring gently flickering lights and lanterns is available to book for a limited time. Why not come spend your summer in this otherworldly atmosphere?

Information

Wa no Akari x Hyakudan Kaidan 2022 ~Light and Shadow: 100 Stories~

Running: July 2 – September 25, 2022

Hours: 11:30-18:00 (Last entry at 17:30) *Closing at 17:00 on August 20 (Last entry at 16:30)

Venue: Hotel Gajoen Tokyo Hyakudan Staircase (Tangible Cultural Property Designated by the Tokyo Metropolitan Government)

Tickets/Details: https://www.hotelgajoen-tokyo.com/100event/wanoakari2022

Wa no Akari Room

Available: July 2 – August 31, 2022 (1 room available per day)
Details/Reservations: https://www.hotelgajoen-tokyo.com/stay/plan

Nissy (Takahiro Nishijima) Announces New Song, Tokyo Tower Collaboration

Nissy (Takahiro Nishijima) has announced that his new song, I Need You, will be released digitally on July 7, 2022. The jacket cover has also been revealed.

This love song depicts how it feels to warmly live each day with the person you care about. It's a relaxed mid-tempo number, a far cry from the cool sound heard on Nissy's third album HOCUS POCUS 3.

In addition, Nissy will also be collaborating with Tokyo Tower's popular summer event, the Milky Way Illumination. Approximately 21,000 LED bulbs found on the first floor of the main deck, a stunning 150 meters above Tokyo, will change color periodically to match the beat of the new song I Need You.

Along with the new track, Nissy will also be embarking on a five-dome tour, so keep an eye on his activities going forward!

ⓒTOKYO TOWER

Information

I Need You – Nissy
Streaming Release Date: July 7, 2022

Tokyo Tower Milky Way Illumination x Nissy Special Collaboration
Running: July 4 – August 16, 2022
*The Milky Way Illumination will take place from June 17 until September 4.
Address: Tokyo Tower Main Deck 1F North Floor (Towards the Imperial Palace/Marunouchi)
Light-up Hours: 9:30-22:00 (Until 22:30 on Saturdays) 

Details: https://www.tokyotower.co.jp/event/illumination/2022-amanogawa-illumination/

Official Site: https://nissy.jp