New Era Reveals New Caps in Collaboration With Detective Conan
International headwear brand New Era has announced that it is releasing a new collection of caps in collaboration with the popular anime series Detective Conan, also known as Case Closed, which will hit stores in Japan in mid-October.
New Era | Detective Conan – Original Caps
The collection features five designs each of which bring to mind five different characters through motifs along with the characters' names embroidered on the sides. Designs include Conan Edogawa, Phantom Thief Kid, Shuichi Akai, Furuya Rei, and Ai.
The caps use New Era's '9THIRTY™' as the base which are known for their lightweight feel. Each is fitted with an adjusted to fit to anyone's head.
New Era | Conan Edogawa
This cap features Conan's iconic necktie with his name embroidered on the side of the cap.
New Era | Phantom Thief Kid
Features motifs of the Phantom Thief Kid like cards and his monocle. This one has a limited-edition feel to it like the Conan version.
New Era | Furuya Rei
Embroidery that captures the warm and welcoming vibe of Café Poirot. Perfect for pretty much any situation.
New Era | Shuichi Akai
A red and black combination with a coffee fan, beanie, and Silver Bullet hole.
New Era | Ai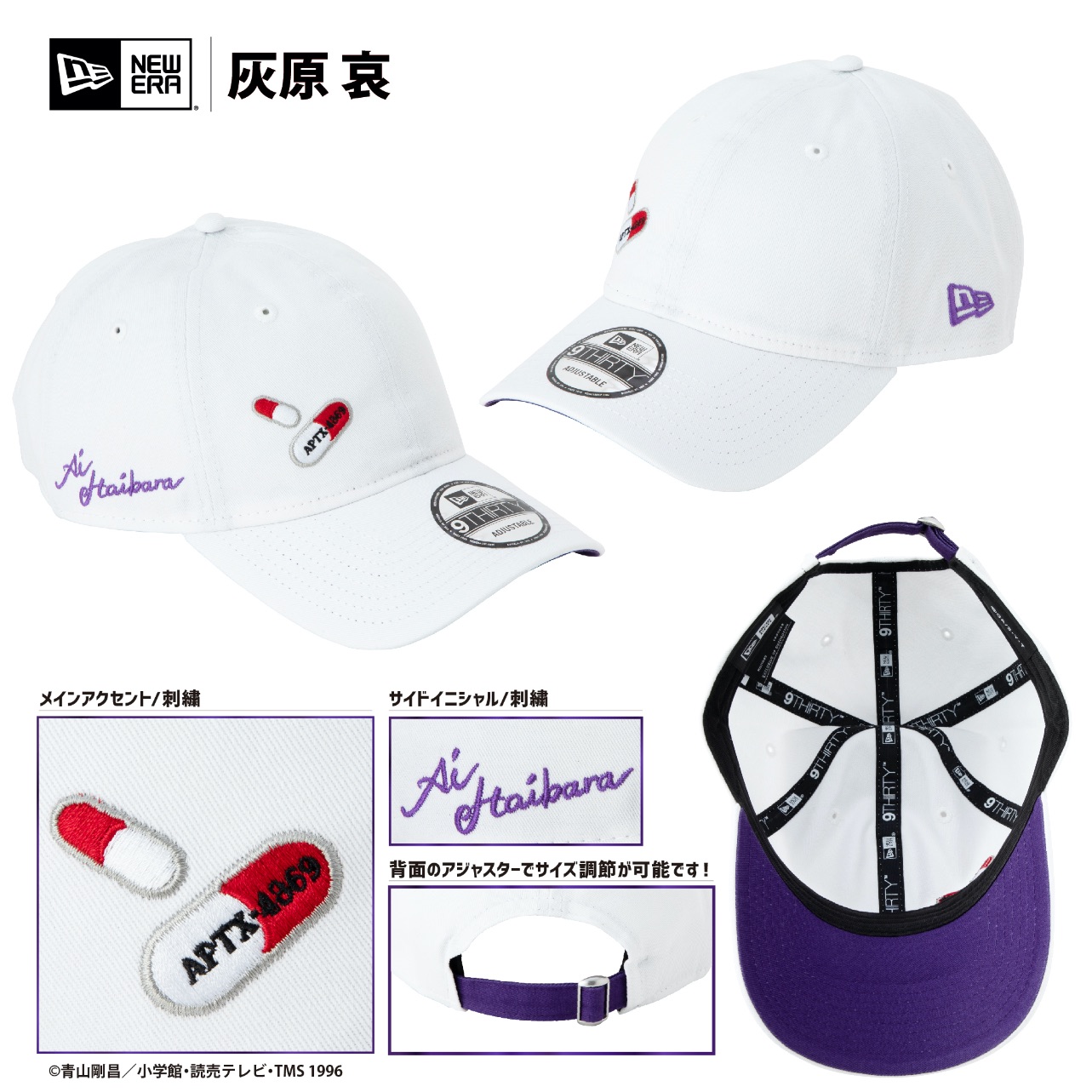 A one-tone cap that gives a cute impression. Great for all occasions, whether shopping or travelling.
Which character cap is your favourite?
Information
New Era | Detective Conan – Original Caps
Releasing: Mid-October 2020
Official Website: www.libertasdream.com
RELATED ENTRIES
Detective Conan: Zero's Tea Time Inspires Limited Time Collaboration Cafe with Pronto

Cafe and bar chain Pronto is now selling food and beverage items inspired by Detective Conan: Zero's Tea Time! These items are available at Pronto locations nationwide until May 29, 2022.

Furuya Rei's Pumpkin Tea Latte is a pumpkin-flavored milk tea topped with whipped cream and pumpkin sauce for a refreshing experience inspired by the popular character. The Triple Face Citrus Tea is a drink also inspired by Furuya, who has three faces: a waiter at a cafe, a police officer, and a member of the Black Organization. In the original Detective Conan: Zero's Tea Time manga series, the dog Haro loves vanilla so much that he opens the fridge and eats vanilla ice cream when Furuya isn't home. The drink pulls from this adorable episode!

Guests can also enjoy Zero's Tea Time Napolitan and other filling pasta dishes inspired by Cafe Poirot. For each drink ordered from the collaboration menu, guests will receive a special coaster, and for each menu item ordered, they will receive an original acrylic keychain.

During the collaboration period, the Pronto location at Shibuya Furukas will have special decorations on display to celebrate the event. Be sure to come check it out if you're a fan of the series!


Information

PRONTO x Detective Conan: Zero's Tea Time
Running: April 22 – May 29, 2022
Location: Pronto locations nationwide
Details: https://www.pronto.co.jp/topics/2022/04/zero-no-teatime.html

PRONTO Shibuya Fukuras
Address: Shibuya Fukuras 1F (1-2-3 Dogenzaka, Shibuya-ku, Tokyo)
Hours: 10:30-17:00 

Cosmetics Brand Lovisia Unveils 15 Detective Conan Themed Hand Creams

Cosmetics brand Lovisia has unveiled 15 hand creams inspired by the Detective Conan anime series. Those purchasing three or more bottles at the Lovisia online store will receive a special Detective Conan drawstring bag while supplies last!

Fans can grab a hand cream decorated with their favorite character. Not only are these extremely cute, but they include four moisturizing ingredients perfect for keeping skin soft. The characters Detective Takagi and Detective Sato from the recent film Detective Conan: The Bride of Halloween are included in the lineup, with other familiar faces like Jinpei Matsuda and Hiromitsu Morofushi also appearing.

The new hand creams have a refreshing and clean scent, containing moisturizing Vaseline, shea butter, ceramide, and argan oil to prevent dry skin during any season.

The package designs feature a new retro theme, with the concept of "New Styley Collection." Each image blends nostalgia with a fun pop of color. Which character would you like to see each time you want to moisturize? 

Information

Lovisia Detective Conan Hand Cream
Where to Buy: Lovisia Online Shop, Sundry Shops
Release Date: April 15, 2022

'Detective Conan The Movie Exhibition: A Silver Screen Retrospective' Key Visual Revealed

'Detective Conan The Movie Exhibition: A Silver Screen Retrospective,' a large-scale event looking back at the many films in the Detective Conan universe, will be held at Muromachi Mitsui Hall & Conference Center from April 30 until June 12, 2022.

This exhibition is a hands-on experience that allows visitors to enjoy the world of Detective Conan films in many unique ways. Images from all films will decorate the space, and fans will be welcome to snap some great Instagram shots at photos spots around the exhibition.

Exhibition Highlights

This exhibition is full of exhibits and hands-on experiences that allow visitors to trace Conan's memories and relive the many Detective Conan films to date! Check out some of the highlights below!

Venue Map


The venue consists of four acts, each tracing the history of the Detective Conan film franchise. 

Welcome to the World of Conan's Memories


The exhibition features an original introductory film. Acts 1 and 2 will invite guests to recall famous scenes and lines from a number of Detective Conan films. 

Large-scale Exhibits of Characters in Action


The main area, Act 2, will offer a unique experience to visitors, recreating famous scenes through many new and exciting means. In the Detective Conan: The Time Bombed Skyscraper area, a photo spot will feature a recreation of the famous scene between Ran and Conan. In the Detective Conan: Zero the Enforcer area, visitors can experience Furuya Rei's exciting racing scene up close and personal. In the Fist of Blue Sapphire area, you can even battle with Kaito Kuroba!

Experience the Ending Film with All 5 Senses


Act 4 will use 360-degree powerful projection mapping technology to fully immerse visitors in the world of Detective Conan!

Original exhibition goods will be on sale and visitors will be able to follow along with a newly-recorded audio guide. This special exhibition is sure to be a hit with fans, so why not come and experience the world of Conan?

©1997-2022 青山剛昌/名探偵コナン製作委員会

Information

Detective Conan The Movie Exhibition: A Silver Screen Retrospective

Event Address: Muromachi Mitsui Hall & Conference Center, Coredo Muromachi Terrace 3F (3-2-1 Nihonbashimuromachi, Chuo-ku, Tokyo)

Running: April 30 – June 12, 2022

Sponsored by the Detective Conan The Movie Exhibition Production Committee

Official Site: https://conan-ginmaku.jp

Detective Conan: The Bride of Halloween Fair to Open at 29 Tokyu Hands Stores Nationwide

29 Tokyu Hands stores around Japan will hold a commemorative event to celebrate the release of the new film Detective Conan: The Bride of Halloween from April 8 until May 31, 2022.

Tokyu Hands Pre-Sale Items


Acrylic Diorama Stand A


Acrylic Diorama Stand B

Clear Folder

TD Pin

TD Acrylic Keychain

Memo Pad

Mug

Tote Bag

Long Towel

Purchase Bonus: Sticker


Theater Benefits

Visitors can grab some limited-edition merchandise only available at select Tokyu Hands stores.

In addition to new merch, be sure to look forward to special benefits you grab at the theater and other purchase bonuses!

(C)2022 青山剛昌/名探偵コナン製作委員会

Detective Conan Event to Open at Ikebukuro Sunshine City

From April 8 until June 12, Sunshine City in Ikebukuro will hold a special Detective Conan event! Festivities will appear at the SKY CIRCUS Sunshine 60 observation deck, Sunshine Aquarium and specialty store area Alpa.

The event is being held in conjunction with the theatrical release of Detective Conan: The Bride of Halloween on April 15. At the SKY CIRCUS Sunshine 60 Observation Deck, guests can participate in a riddle-solving rally with a unique storyline written exclusively for the event. A photo spot and Detective Conan shop will also open up during the event!


Sunshine Aquarium will also begin selling exclusive original goods for a limited time only. 

 

A restaurant fair and other events will be held at Alpa, and guests will receive an original postcard with their order from the Alpa Sky Restaurant's menu. Don't miss out on the special movie-related exhibition at the Sunshine City Fountain Plaza!

©青山剛昌/小学館・読売テレビ・TMS 1996

Information

Detective Conan: A Celestial City Where Heroes Gather (Sunshine City)

Location: Sunshine City
Running: April 8 – June 12, 2022
*Sunshine Aquarium: April 8 – May 15, 2022
*Sunshine City Fountain Plaza: May 2 – May 5, 2022
Admission: Free *Admission required for SKY CIRCUS Sunshine 60 Observation Deck and Sunshine Aquarium. There is a fee for the rally being held at SKY CIRCUS as well.
Official Site: https://sunshinecity.jp/

Universal Cool Japan 2022 Unveils Anime and Game-Inspired Food Menus and Merchandise

Universal Studios has revealed new menu and merchandise details for its Cool Japan 2022 event to be held from March 4 to August 28, 2022. Five globally-beloved anime and game series will be featured at the park this year including Sailor Moon and Attack on Titan.

Attack on Titan

Food

Levi Popcorn Bucket

Syringe Pen

Cushion

 

At the Studio Stars Restaurant, guests can find menu items inspired by the characters Eren and Levi, a dessert with a gentle sweetness inspired by Mikasa's red scarf, and much more. The park's famous popcorn bucket will feature Levi for a limited time, with the treat inside flavored by the character's favorite tea. The new lineup of merchandise includes a ballpoint pen resembling a syringe, an extremely important item in the series. A stuffed animal showing Levi taking down a titan is also a must-buy for fans.

Detective Conan

Food

Ribbon Hair Clip / Miniature Car

Printed Cookie Set

 

Fans of the ace detective can enjoy a sandwich shaped like Conan's bowtie, perfect for posting on social media. A number of new items will be for sale at Universal during the event, with the printed cookie tins serving as a perfect souvenir. 

HUNTER×HUNTER

Food

Mizumishiki Glass / Muffler Towel

Headphone Pouch / Card Case

Immerse yourself in all things Hunter x Hunter as you explore the Cool Japan 2022 event. A stylish headphone pouch and a hilarious towel are just a few items you'll be able to buy exclusively at the park. 

Sailor Moon

Food

Universal Heart Compact

Ribbon Hair Clip

 

The Sailor Moon area features menu items inspired by Tuxedo Mask and Sailor Moon, a cake in the shape of Sailor Chibi Moon's heart compact, colorful desserts symbolizing the five inner Sailor Soldiers and drinks for one of each of the four outer Senshi. The full lineup of goods includes bag charms, face towels, and ribbon hair clips too cute for girls to resist!

Monster Hunter

Roasted Meat

Poogie Churritos

Recovery Potion Bottle

Figure

Get ready to embark on your own adventure with a potion bottle and huge slab of meat, perfect for keeping your energy up! Fans of Monster Hunter will find plenty to love here, with a collaborative figure perfect for completing any fan's shelf.

Which area would you be most excited to visit?

©諫山創・講談社/「進撃の巨人」The Final Season製作委員会 
原作/青山剛昌「名探偵コナン」(小学館「週刊少年サンデー」連載中)
© 2022 青山剛昌/名探偵コナン製作委員会
©P98-22 ©V・N・M
©Naoko Takeuchi
©武内直子・PNP・東映アニメーション
©CAPCOM CO., LTD. ALL RIGHTS RESERVED.
書・紫舟
WIZARDING WORLD and all related trademarks, characters, names, and indicia are © & ™ WBEI. Publishing Rights © JKR. (s22)
Minions and all related elements and indicia TM & © 2022 Universal Studios. All rights reserved.TM & © Universal Studios & Amblin Entertainment
Universal Studios Japan TM & © Universal Studios. All rights reserved.
© Nintendo

Information

Universal Cool Japan 2022

Running: March 4 – August 28, 2022

Official Site: http://www.usj.co.jp/

'Detective Conan The Movie Exhibition: A Silver Screen Retrospective' to Open in Tokyo

'Detective Conan The Movie Exhibition: A Silver Screen Retrospective,' a large-scale event looking back at the many films in the Detective Conan universe, will be held at Muromachi Mitsui Hall & Conference Center from April 30 until June 12, 2022. A teaser site and visual have been released ahead of the exhibition's start.


From the manga to the anime series and film adaptations, Detective Conan has become hugely popular worldwide. The first film in the franchise, Detective Conan: The Time Bombed Skyscraper, was released in 1997, with the latest film set to premiere in April 2022. There are 25 films in total. 


This exhibition is a hands-on experience that allows visitors to enjoy the world of Detective Conan films in many unique ways. Images from all films will decorate the space, and fans will be welcome to snap some great Instagram shots at photos spots around the exhibition. 


More information including detailed contents, original merchandise, and a nationwide tour will be announced soon.

© 1997-2022 青山剛昌/名探偵コナン製作委員会

Information

Detective Conan The Movie Exhibition: A Silver Screen Retrospective

Event Address: Muromachi Mitsui Hall & Conference Center, Coredo Muromachi Terrace 3F (3-2-1 Nihonbashimuromachi, Chuo-ku, Tokyo)

Running: April 30 – June 12, 2022

Sponsored by the Detective Conan The Movie Exhibition Production Committee

Official Site: https://conan-ginmaku.jp

Detective Conan: The Bride of Halloween Limited Edition Merchandise Revealed

Starting February 11, the Roppongi Museum will begin a new event to celebrate the upcoming release of Detective Conan: The Bride of Halloween, coming to theaters in April 2022. The 'Halloween Gift' event combines a museum experience with aspects of the real world, and guests will be able to visit and enjoy until June 5, 2022. 

Called a 'Live Museum,' the new brand of entertainment combines theater, puzzle-solving, and a museum exhibition. Each visitor will become a character working with Conan and his friends to solve riddles based on The Bride of Halloween film.

Merchandise at a Glance

RM Acrylic Figure (10 varieties)

RM Pin

RM Pâtissier Conan / RM Pâtissier Furuya

RM Poster Card Set

RM Bruno Hot Sandwich Maker / RM Bruno Kettle

RM Mini Towel Conan/ Furuya / Haibara / Matsuda

RM Embroidered Pouch Conan / Furuya / Haibara

RM Drifter Backpack / Tote Bag / Shoulder Bag

RM Secret Book

Special merchandise only available during this event has been unveiled, and fans can snag items featuring Conan and Furuya, a major player in the new film. Other popular characters also make appearances, so Detective Conan fans should try to grab their favorites before they're gone!

Information

Detective Conan: The Bride of Halloween Live Museum ~Halloween Gift~

Running: February 11 – June 5, 2022 *Open every day during the event period

Location: Roppongi Museum

Hours: 10:00-18:00 (Open until 20:00 on weekends, holidays, and during Golden Week)

Official Twitter: www.twitter.com/conan_museum

Official Instagram: www.instagram.com/conan_museum

Tickets/Official Site: www.conan-livemuseum.com

Detective Conan World to Open at Universal Cool Japan in 2022

Universal Studios Japan has a number of anime and manga-themed attractions as a part of its Cool Japan initiative. In 2022, a limited-time Detective Conan World will appear at the park from March 4 until August 28. 

The 100th volume of the Detective Conan manga series was released in October 2021, and over 250 million copies of the comic have been sold worldwide. Detective Conan: The Bride of Halloween was announced on December 1, and will open in theaters on April 15, 2022.

How would you like to visit the park next year?

©2022 青山剛昌/名探偵コナン製作委員会
©SCRAP All rights reserved.
TM & © Universal Studios. All rights reserved.

WIZARDING WORLD and all related trademarks, characters, names, and indicia are © & ™ Warner Bros. Entertainment Inc. Publishing Rights © JKR. (s21)
Minions and all related elements and indicia TM & © 2021 Universal Studios. All rights reserved.
TM & © Universal Studios & Amblin Entertainment
Universal Studios Japan TM & © Universal Studios. All rights reserved.
© Nintendo

Information

Detective Conan World at Universal Cool Japan

Running: March 4 – August 28, 2022

*The Detective Conan Mystery Restaurant will be open from March 4 – June 5, 2022.

Official Site: http://www.usj.co.jp/

Mobile Game Identity V Starts First Collaboration with Detective Conan

Netease's asymmetrical competitive mobile game Identity V has just started its first collaboration with ultra-popular anime and manga series Detective Conan! In the past, the game has already held crossover events with a number of popular franchises, such as Danganronpa, Persona, Edward Scissorhands, The Promised Neverland, and Death Note. Given that the game is all about solving a murder mystery, it makes sense that Conan would be the next best choice!

Detective Conan is one of the most popular manga series of all time in Japan, with over 250 million copies in circulation as of 2021. The story follows Shinichi Kudo, a high school detective who sometimes works with the police to help solve cases. Attacked by members of the Black Organization crime syndicate, Shinichi is forced to ingest a potion that transforms him into a child! Adopting a pseudonym and keeping his true identity a secret, he continues to solve crimes and help bring peace to the people of Japan. 

Identity V features gameplay for five players. One player, the hunter,  is tasked with eliminating the other four players, the survivors, before they complete their objectives. During this collaboration, each player character will be clad in Detective Conan costumes as they solve the mystery before it's too late!

Four rare skins will be available: a lawyer costume (Kogoro Mori), an air force costume (Ran Mori), a perfumer costume (Shiho Miyano), and an office outfit (Heiji Hattori). A collaborative gift pack is also available in the game's store and will feature two more exclusive costumes–Shinichi Kudo and Conan Edogawa. The pack will also include doodles, mobile icons, and more digital goodies. 

The game is free to play on iOS, Android, and PC, so be sure to grab it now!

Halloween Festival Coming to Virtual Shibuya

Tokyo's Shibuya Ward and au 5G are coming together to promote this year's Halloween events online through Virtual Shibuya, a digital space accessible from smartphones, PCs, and VR devices. A number of events will be held from October 16 until October 30, incorporating popular artists, companies, and popular anime series. The concept for the event is 'FUN FOR GOOD,' aiming to inspire people to contribute to their community while also enjoying the holidays. 

Sadly, this year's Halloween celebration in Shibuya will be canceled again due to the COVID-19 pandemic. To ease any congestion on the streets, the ward is promoting the Virtual Shibuya au 5G Halloween Festival 2021, which will be available to anyone, anywhere. That's right: you won't need to be in Tokyo to participate!

Event Lineup

Special Anime Talks


A simultaneous global virtual fan meetup for Sword Art Online Progressive: Aria of a Starless Night will be held on October 16! Yoshitsugu Matsuoka, who plays Kirito, and Haruka Tomatsu, who plays Asuna, will appear in Virtual Shibuya in avatar form to discuss some highlights of the upcoming film. 

Also, to commemorate the release of the 100th volume of Detective Conan, the Conan Edogawa x Furuya Rei Special Talk in Virtual Shibuya event will take place on October 30th, featuring voice actors Minami Takayama and Tohru Furuya. 

Virtual Concerts

Three artists are scheduled to perform live in Virtual Shibuya during the Halloween event!

・October 24 – povo Presents Creepy Nuts
・October 26 – au 5G Presents MY FIRST STORY
・October 31 – au 5G Presents Atarashii Gakko!

Attraction Lineup

A number of attractions will be available during the two-week event period. Check the website for complete details! 

https://vcity.au5g.jp/shibuya/halloween2021

Official Shop

Starting October 16, an official store selling original event merchandise will be accessible in Virtual Shibuya and on the special event website. These goods will feature characters from select anime series and artists who have supported the project, with all proceeds being reinvested into Shibuya ward. The above items aren't the only things that will on sale, so be sure to check the website for more details!

Limited-Time Only! Make a Collaboration Anime Avatar During Halloween!

In collaboration with avatar platform AVATARIUM, visitors will be able to generate custom avatars wearing costumes from Sword Art Online Progressive: Aria of a Starless Night and Detective Conan! Choose from characters Asuna (SAO), Kirito (SAO), Conan Edogawa (Detective Conan), Ran Mori (Detective Conan), Furuya Rei (Detective Conan), and The Criminal (Detective Conan). 

Even if you're not in Japan, be sure to check out the event while you can!

Information

Virtual Shibuya au 5G Halloween Festival 2021

Running: October 16 – October 31, 2021

Location: Virtual Shibuya (authorized by Shibuya Ward) 

How to Participate: Virtual Shibuya can be accessed using VR Devices, smartphones, and PC/Mac. Users will need to create a free cluster account and install the cluster app on the device you will be using. 

Create a cluster Account: https://cluster.mu/

Download the cluster app: https://cluster.mu/downloads

Official Site: https://vcity.au5g.jp/shibuya/halloween2021

Detective Conan x Real Escape Game Collab to Open in 7 More Cities Nationwide

SCRAP, known for its immersive escape rooms based on tons of popular anime, manga, and game properties, is inviting guests to test their detective skills! After massive popularity, the 'Escape from the Blood Task Force,' inspired by the newest Detective Conan film, is coming to seven more cities across Japan. Events currently running in Osaka, Tokyo, and Nagoya will also be extending their duration, allowing more fans to get a chance to test their skills of deduction!

Akai's Investigation Kit, gifted to those who purchase advance tickets

Escape games have been becoming more and more popular around the world over the last ten years. This particular Detective Conan collaboration has been held since 2013 and has attracted more than 1.3 million people to their local room to test their skills. 'Escape from the Blood Task Force,' the newest game in the series, tells the story of Shuichi Akai, the main character in the recent Detective Conan: The Scarlet Bullet film. 

Participants in the event will take on the role of FBI agents to help solve the case. Working with a team, players will head to their assigned areas to work alongside Conan and his team, or alone if they so wish. So far, this new event has seen over 20,000 visitors, with many complimenting the high levels of immersion. People have also commented that the escape room is like being a part of an entirely new movie!

How do you think you'd do at the Detective Conan Real Escape Room? 

Information

Real Escape Game – Escape from the Blood Task Force

Osaka 1: Real Escape Game Osaka Shinsaibashi

Open now until October 17, 2021

Tokyo: Tokyo Mystery Circus

Open now until December 12, 2021

Aichi: Real Escape Game Nagoya

Open now until December 19, 2021

Osaka 2: Yomiuri TV New Company Building 10hall

November 3 – December 31, 2021

Kyoto: Kyoto Shinbun Cultural Hall

December 4 – December 5, 2021

Hokkaido: Real Escape Game Sapporo

December 10, 2021 – January 10, 2022

Nagasaki: Nagasaki Seiyo-kan 2F Event Hall

December 10 – December 12, 2021

Kanagawa: Real Escape Game Yokohama

December 17, 2021 – January 16, 2022

Miyagi: Real Escape Game Sendai

December 24, 2021 – January 10, 2022

Okayama: Real Escape Game Okayama

December 24, 2021 – January 10, 2022

Hiroshima: JMS Aster Plaza Public Gallery

December 25 – December 26, 2021

Details: https://realdgame.jp/conan2020/