Concert Review: Kyary Pamyu Pamyu Performs Halloween Concert Online For Fans Worldwide
Kyary Pamyu Pamyu's first-ever online concert "THE FAMILY 10.31" was held on October 31, aka Halloween Day, where she performed on the streaming site SHOWROOM. Kyary wanted to make this one-night-only concept concert like a movie, and so incorporated elements from horror films as Kyary herself is a horror fanatic.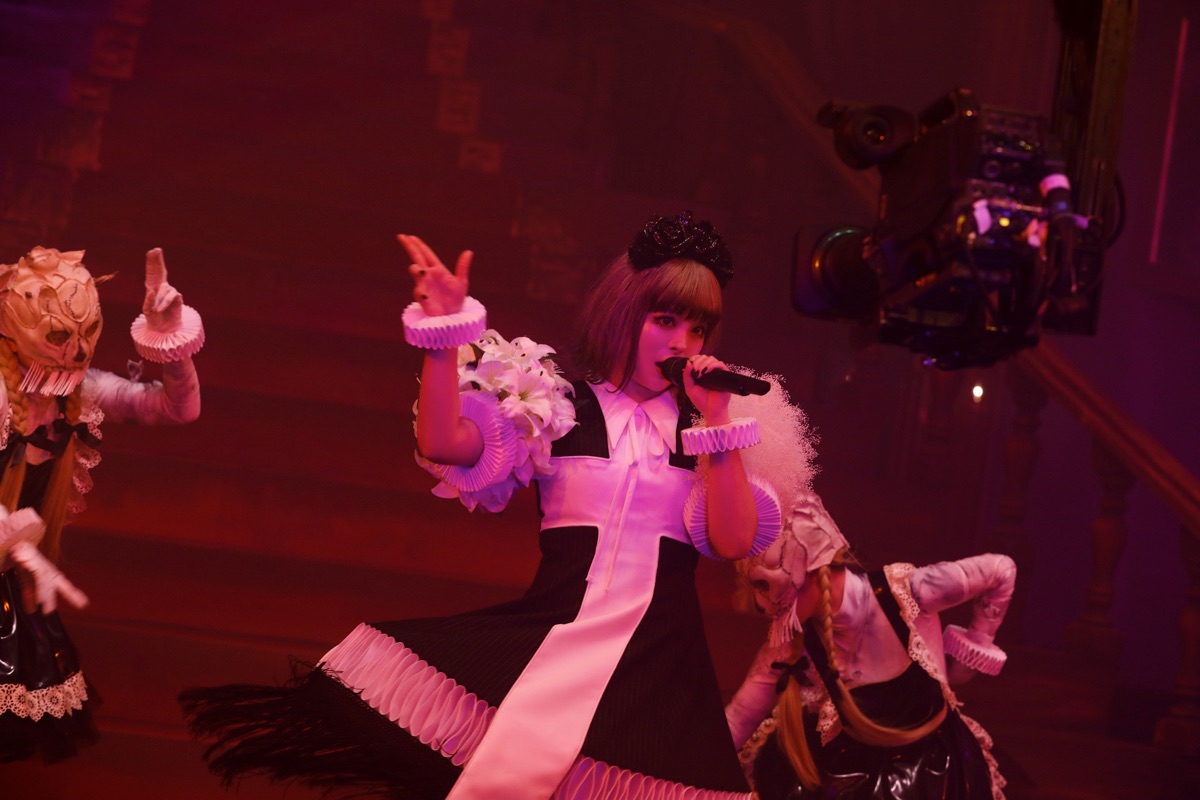 The show began with a creepy looking man appearing on the screen who called himself the Butler. The scene was set deep inside a forest which houses a certain residence. This residence belongs to The Family who decided to live in the forest to hide form humans.
Fans watching the stream became part of the concert. In the story, viewers find themselves lost in the forest at the residence, and must pretend to be monsters so as to not be found out by The Family who detest humans. They are invited to a banquet hosted by The Family's Master and Mistress and also meet a roster of other characters including the Twins and of course the eldest daughter who is accompanied by a black cat. The daughter was played by none other than Kyary Pamyu Pamyu who wore dark and smoky makeup and donned a black dress with a white cross and frills down it. The stage itself was themed on the residence's reception hall where Kyary performed hits such as Fashion Monster and Kira Kira Killer.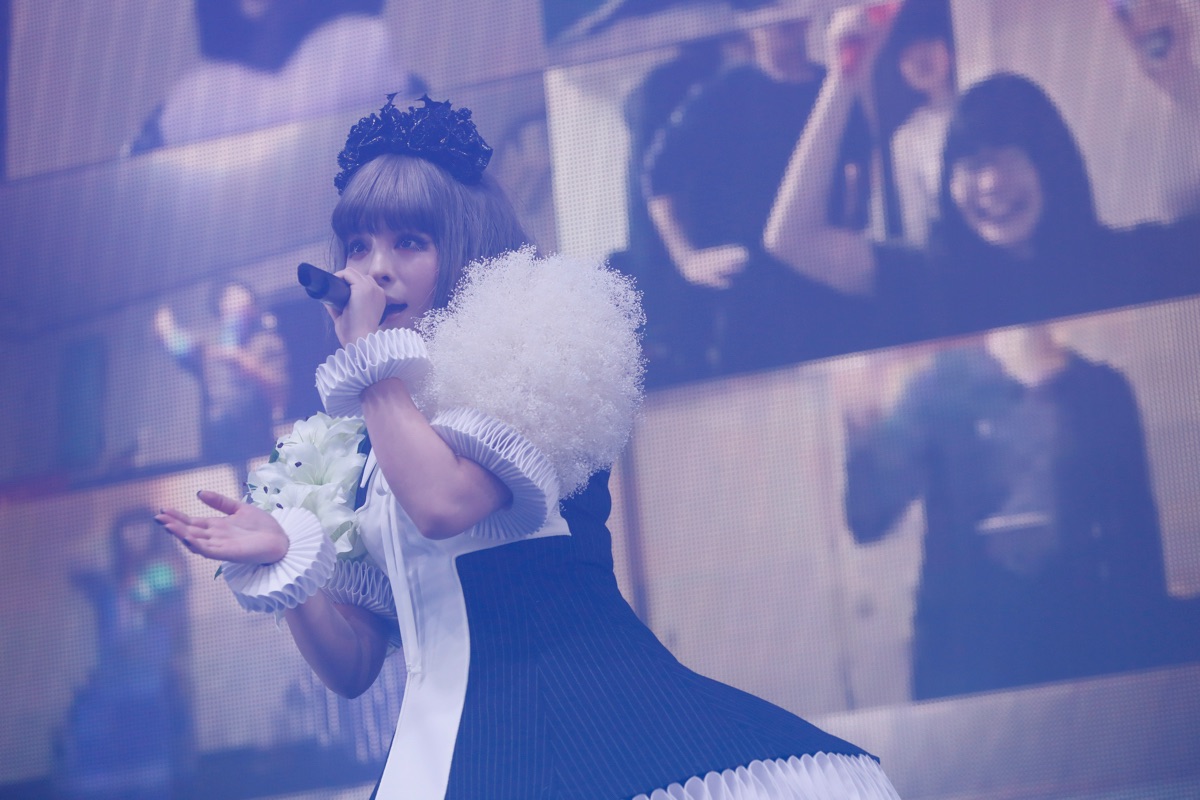 On another stage, fans who had purchased special tickets could be seen at home enjoying the concert using the streaming platform's SHOWROOM Arena (β) function.
Kyary Pamyu Pamyu also performed Ninja Re Bang Bang Steve Aoki Remix live for the first time with fans cheering in the back. The song was remixed by DJ Steve Aoki for the Nintendo Switch™️ global title Ninjala. The song is an arrangement of Kyary's hit song and made to be more dance and club. Fans at home waved their penlights and towels to the track.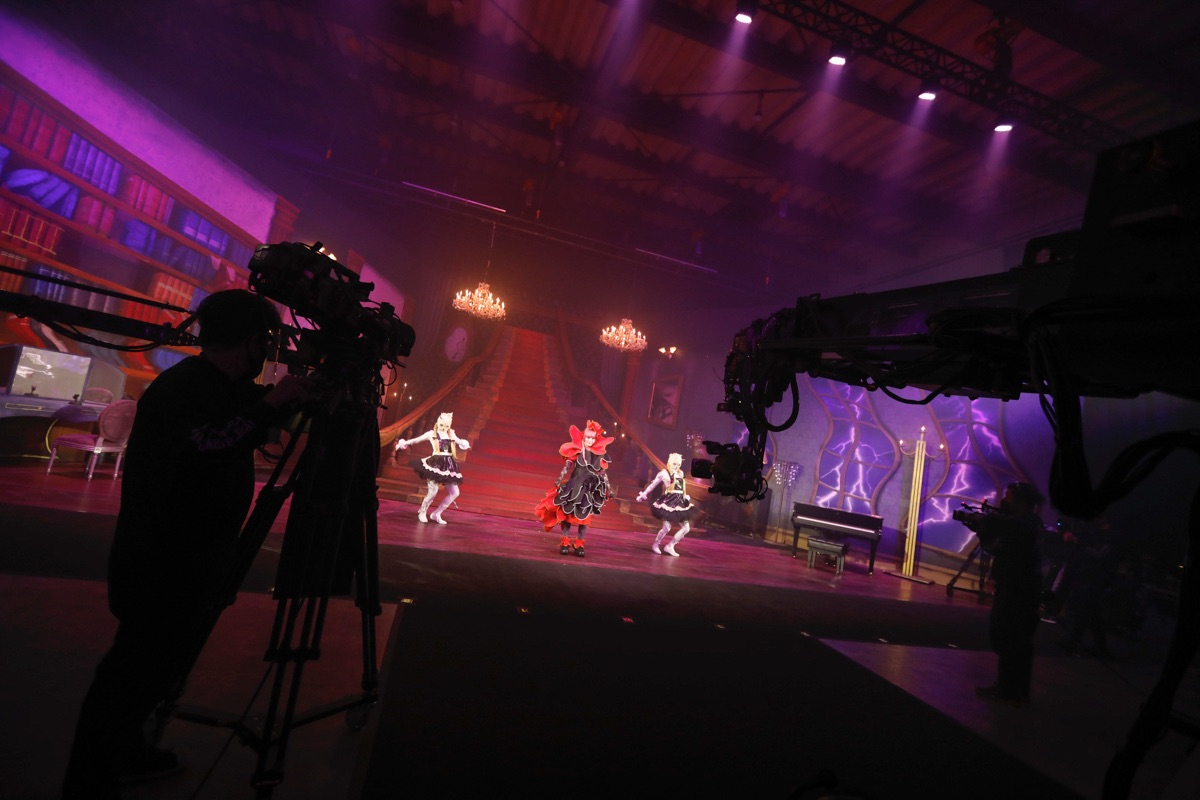 Kyary changed into a different red and black outfit which looked like a rafflesia and performed more hit numbers like Invader Invader, Mondai Girl, and Harajuku Iyahoi.
Kyary was also able to do multiple things she wouldn't normally be able to at an ordinary concert, like taking screenshots, or being reflected in the mirror as she sat in front of the dresser in the middle of the stage while performing Chami Chami Chaming. The entire set was a spook-filled Halloween extravaganza from the mind of Kyary.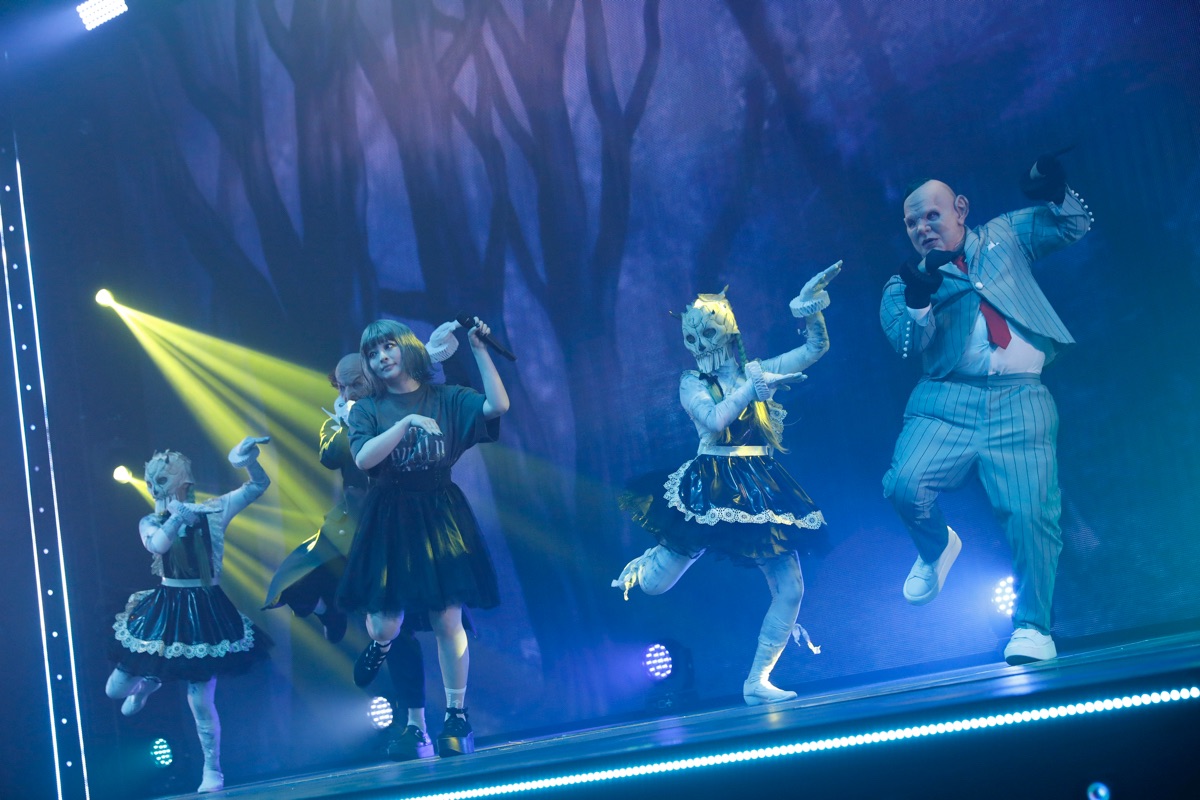 The final song of the main set was of course Kyary's Halloween anthem Crazy Party Night ~Pumpkin no Gyakushu~. Kyary wrapped up her show by changing into a T-shirt to perform Kamaitachi for the first time as the encore, surprising fans as she so likes to do.
The entire set was an incredible 18 songs which were packed full of creepy-cute fun for fans to enjoy.
Photo © AKI ISHII
RELATED ENTRIES
Kyary Pamyu Pamyu Appears in Ads for Crocs 'Just the Way I Am' Campaign

Casual footwear brand Crocs Japan has started a new campaign inspiring people to be themselves and to be comfortable in their own shoes. 

Crocs 'Just the Way I Am'

Crocs Interview with Kyary Pamyu Pamyu

Yuni Akino

Riho Shamura

Fuyuki Shimazu

To promote the new campaign, the company has released a new campaign video, as well as four interviews with people who live larger-than-life lives. The princes of Kawaii Kyary Pamyu Pamyu, celebrating her 10th anniversary, expresses the new Crocs image in the best way, comfortable in her skin and true to herself in every way. 

Along with Kyary Pamyu Pamyu, the video interview features actress Yuni Akino, businesswoman, actress, and model Riho Shamura, and cardboard artist Fuyuki Shimazu. 

Kyary Pamyu Pamyu Produced Science-based Hair Care Brand "Curuput" Makes its Debut!

Artist Kyary Pamyu Pamyu has started a science-based hair care brand named 'Curuput.' The brand's first product, the 'Deep Damage Care Set (Shampoo, treatment, and hair mask)' will be available for a limited time at beauty counters nationwide and online from November 1 2021. 

  

One of Kyary's defining features is her vivid hair color. Behind the scenes however, she has been suffering with damaged hair to maintain her bleached hair. Her goal is to create a future where everybody, including Kyary herself, can dye their hair freely, without the worry of damage. With this in mind, she began production of her own science-based hair care brand that focuses on damaged hair and smells great too.

 

From the moment you wash off the 'Curuput' shampoo and treatment, your hair will feel silky and moisturized. By using the triple care routine, the products will not only care for your existing hair damage, but continue to repair your hair by preventing future harm.

 

 

Kyary's tie-up song 'Perfect Onei-san' plays in the background of the official brand interview, and features on her upcoming 5th album "Candy Racer.' The album is scheduled to be released on October 27. 

 

 

Why not try Kyary Pamyu Pamyu's new haircare brand 'Curuput' for yourself?

 

Message from Kyary Pamyu Pamyu

"After many meetings, I think the shampoo is complete! I'm so, so excited for it to finally be released.

I have been having fun bleaching and coloring my hair since I was 18, but my hair would become damaged no matter what I did. I haven't been able to enjoy my 'ideal hair' often, because I'd worry about the condition, and I've even been holding back from dying it due to damage concerns. But then I realized, "this isn't me." It's the same with shampoos – I'd find a great shampoo but I'd dislike the smell, or vice versa.

This new shampoo was created over many meetings and every detail has been considered. In order to create the best hair product, we wanted to create something that made your hair go "Kyurun" (bounce). We also paid special attention to the scent! Each time I would test the prototype version, my hair would become even closer to my ideal hair, so I'm really happy that I had the opportunity to develop 'Curuput.' 

We put a lot of thought into this brand, so I would be really happy if everybody could give it a try!"

 

Kyary Pamyu Pamyu x ROLAND Special Interview Published in 'GLITTER Vol.2'

A special interview between Kyary Pamyu Pamyu and ROLAND will be published in the second volume of lifestyle magazine GLITTER, released on October 27 2021. In the interview, the borderless duo, who each work in different fields, join together to discuss how individuality is respected in the modern way of life. 

Despite working in different areas, the borderless Kyary Pamyu Pamyu and ROLAND are always pushing their limits. The same-age pair met for the first time to ask each other questions in a Q&A format, discussing their likes, dislikes, and first impressions of one another, under the theme of "What is a borderless life?" 

Footage of the interview will also be uploaded onto the GLITTER YouTube channel, so look forward to it!

Celebrities Comment on Kyary Pamyu Pamyu's 10th Anniversary Song GENTENKAIHI

Pop princess of Kawaii Kyary Pamyu Pamyu is set to release her fifth original album 'Candy Racer' on October 27. This marks her first full album in three years, and to commemorate the special occasion, plenty of Japanese celebrities have offered comments on Kyary's 10th-anniversary track GENTENKAIHI. 

GENTENKAIHI was released as a digital single on August 17, the anniversary of Kyary Pamyu Pamyu's debut. The song expresses the singer's desire to evolve into something new while also paying homage to her past. 

In a new project, Kyary is asking a number of celebrities to share the song that marked a turning point or starting point in their life. The 'Tell Me Your Origin Song' project has led to plenty of interesting answers, and a playlist has been compiled containing the answers received so far. 

Volume 1 of the series features announcer Misato Ugaki, comedy trio Yonsen Toushin, and Beastars manga creator Paru Itagaki. Volume 2 features TV personality kemia, YouTuber duo SKY PEACE, and actor Ryo Kato. Volume 3 features comedian Ryuji Akiyama, BiSH's Aina the End, and TikTok star and handball player Remi Anri Dori. 

Kyary Pamyu Pamyu will hold a special online live performance on Candy Racer's release day, October 27! A limited number of additional tickets have been released due to popular demand, and those purchasing one will also receive an original T-shirt!




 

Kyary Pamyu Pamyu's 10th Anniversary Project 'Tell Me Your Origin Song!' 

Vol. 1  Misato Ugaki, Yonsen Toushin, Paru Itagaki
https://realsound.jp/2021/09/post-857335.html

Vol. 2  kemio, SKY PEACE, Ryo Kato

https://realsound.jp/2021/09/post-865930.html

Vol. 3  Ryuji Akiyama, Aina The End, Remi Anri Doi

Kyary Pamyu Pamyu's Song Dodonpa Gets Early Streaming Release, Lyric Video

Kyary Pamyu Pamyu's new album Candy Racer isn't coming until October 27, but the singer has released a new song early. Dodonpa is now available on streaming services, and a lyric video has been posted to YouTube. 

Dodonpa Lyric Video


Dodonpa is a more experimental track by the pop singer, written and composed by Yasutaka Nakata and featuring more scat and beatboxing elements. To match the catchy and upbeat percussion and fun lyrics, the new video is as vivid and colorful as it can be. We'd expect nothing less from Kyary!

An official announcement has also been made on the label's website encouraging creators to make and upload their own videos using Dodonpa as the background music if they follow specific rules. The best videos will be selected by Kyary and her staff, and will be featured in a playlist on the official Kyary Pamyu Pamyu YouTube channel! This contest will also be appearing on other SNS sites like TikTok, so keep an eye out and get creative!

If you don't speak Japanese, don't worry! The lyrics themselves are nothing but fun sounds, and the video has subtitles in English, Spanish, Korean, and Chinese. Fans are also encouraged to use the song in vlogs and other creations. 

What do you think of Kyary's exciting new track? 

Kyary Pamyu Pamyu to Hold Special Online Live Concert to Celebrate Album Release on October 27 Worldwide!

Kyary Pamyu Pamyu who is releasing her much anticipated 5th full album "Candy Racer" on October 27 (Wed) announces to hold a global livestream event on the date of the album release.

Live Original T-shirts

Kyary Pamyu Pamyu 5th Album 'CANDY RACER'

With a one-night-only production, KYARY PAMYU PAMYU Anniversary of 5th Album 'CANDY RACER' Release SPECIAL ON LINE LIVE is set to premiere on October 27(Wed) at 20:00 JST, the day of the album release. 

Ticket purchasers can enjoy the archived broadcast as many times as they want until November 17 (Wed).


ZAIKO's e-tickets sales will be available from Oct 6 (Wed) 18:00 JST and a limited number of tickets with original T-shirts specially made for this event will also be available for purchase. 

Don't miss this opportunity to get the T-shirts, which will inevitably become a premium.


The chat function will also be released on ZAIKO. 

Let's celebrate the release date of her first album in three years and watch the special on-line event together! 

Don't forget to prepare for the album with prior-release songs

New Track from Kyary Pamyu Pamyu Inspires LINE MUSIC Campaign

29.September.2021 | MUSIC

Kyary Pamyu Pamyu will release her first full-length album in three years Candy Racer on October 27, 2021. Ahead of the release, one new track, Jumping Up, will be shared early! This light and fun EDM track will, as promised, make you want to jump up and down along with the bass, and will be streaming starting September 29, 2021. 

In conjunction with this pre-release, a LINE MUSIC playback campaign will begin on September 29, with the top 10 listeners receiving a prize exclusive to the event. Be sure to listen to the song as many times as possible for your chance to snag this premium prize, the design of which will be revealed soon!

Kyary Pamyu Pamyu to Release Candy Racer, the Singer's First Full-Length Album in Three Years

20.September.2021 | MUSIC

Celebrating 10 years since her major debut, Kyary Pamyu Pamyu will release her fifth full-length album Candy Racer on October 27, 2021. This will mark the singer's first full-length album release in three years, her last being Japamyu in 2018.

Limited Edition

Regular Edition





The fifth album, titled Candy Racer, will be produced by CAPSULE's Yasutaka Nakata. It will feature 11 tracks, including the recently released single GENTENKAIHI, of which the wacky music video has amassed over 1 million views on YouTube. Previously released tracks Kimi ga LINE Kuretara and Gum Gum Girl will also be included, along with world fabrication, a cover of a pre-electronic CAPSULE track originally released in 2005.

Creation of the album brought together a number of creative minds who have worked with Kyary Pamyu Paymu over the years, including Steve Nakamura serving as art director, Ken Hanzawa acting as photographer, Kumiko Iijima returning as the singer's stylist, and Shinji Konishi as Kyary's hair and makeup artist. All of these individuals were with Kyary at the time of her debut, and have returned to encourage her to not only stay connected to her roots, but to move forward without hesitation.

The limited edition version will come with a special 64-page flipbook.

A number of bonuses have also been announced, from stickers, clear pouches, and mobile stand keychains. These will be available while supplies last, so fans looking to get their hands on some of this swag are encouraged to preorder the album.

Are you looking forward to hearing Kyary Pamyu Pamyu's new tracks?

Kyary Pamyu Pamyu Releases Music Video for 10th Anniversary Track GENTENKAIHI

Last week, Kyary Pamyu Pamyu released her new single, GENTENKAIHI, on streaming services. The track marks 10 years since the singer's major debut, and now, a fittingly trippy music video has been released to keep the excitement going!

(c)Issei Nomura I.N.Art Pro.NIPPON COLUMBIA CO., LTD.





Starting on August 17, Kyary's official YouTube channel began streaming 24 hours a day for an entire week, showing the singer running nonstop. The stream served as a countdown for the release of the GENTENKAIHI music video, and matched with the concept of the video: to "keep running."

For the past decade, Kyary Pamyu Pamyu's work has continued to evolve, but the performer has also kept to her Harajuku roots. Using the video to express her desire to shake off this consistent image, Kyary is seen running away from an oversized ribbon, similar to one she usually wears on her head. Created for the music video, the ribbon is truly massive, measuring 2 meters long and 2.5 meters wide.

Kyary had her own thoughts on the music video. "The ribbon represents my origins in the industry, and I'm running from it while also wearing a similar ribbon on my head. It was an incredibly hot day when we filmed, so the scene where I ran through the forest was really tough. We got some great shots though, so please, check it out!"

The video itself was directed by N2B+peladone, a creative team known for their work with Creepy Nuts and Nogizaka46.

If you haven't seen it, go check out Kyary Pamyu Pamyu's new video, and help celebrate her 10th anniversary!

Kyary Pamyu Pamyu Marks 10th Anniversary with New Song 'GENTENKAIHI'

2021 marks a decade since singer and model Kyary Pamyu Pamyu made her debut with PONPONPON, which quickly became a viral YouTube hit worldwide. To celebrate, her newest single GENTENKAIHI, written and composed by Capsule's Yasutaka Nakata, is now available to stream. 

The song's title and lyrics express both Kyary's willingness to return to her roots, and her determination to continue moving forward, leaving the past behind and carving out a new path. 

(c)Issei Nomura I.N.Art Pro.NIPPON COLUMBIA CO. LTD.,

A teaser of the song's upcoming music video has also been released on the Official YouTube channel and on social media. The full-length version will premiere on August 25. 

 

To celebrate this milestone, an official Instagram created by Kyary's staff (@kyarystaff) is now open, where fans can see behind-the-scenes shots of the singer, as well as read staff commentary. 

 

Starting August 31, a limited-time campaign will begin on LINE MUSIC. Those who listen to GENTENKAIHI more than 10 times using LINE MUSIC will be entered, and winners will receive an original sticker!

 

Kyary Pamyu Pamyu's 10th Anniversary Tour will begin on January 16, 2022 at the Atsugi City Cultural Hall. The tour will visit 28 locations across Japan, and is the first time Kyary has toured since the JAPAMYU HALL TOUR 2018. It will also be the biggest tour in the singer's career. Tickets are currently available for pre-order for fan club members. 

 

What do you think of the new track? 

 

Kyary Pamyu Pamyu Appointed As Ramen Kourakuen's New CKO

As a company aiming to bring a new kind of happiness to many people, Ramen Kourakuen have announced their new slogan: All New Happy! 

In order to spread the message even further, Kyary Pamyu Pamyu has been appointed as Kourakuen's new CKO – Chief Korekara (Future) Officer. 

Their new goal is to work towards each step of the New Happy 5 Plan in order to spread cheer across Japan.

Plus, a new Kourakuen commercial featuring Kyary Pamyu Pamyu will be released nationwide.

The special commercial will be promoting the new student discount set, where students will be able to enjoy ramen meals for ¥550 on weekdays, plus the mobile order service which allows customers to order their ramen in advance, meaning it'll be ready when you arrive.

The students and workers shown in the commercial are so satisfied that their face morphs into Kyary Pamyu Pamyu's as she dons the Kourakuen logo on her cheek. Make sure to check out Kyary's China themed hair and costume!

 

KYARY PAMYU PAMYU meets IMABARI: A Visit to the Historical Sea Route

Imabari is a city in Ehime Prefecture that faces the Seto Inland Sea. Since olden times, it has flourished as an important location for marine traffic. It's home to a bounty of recognised national treasures and historical heritage sights, and is also famous for its production of citrus fruits such as mikan. Japanese pop star, model, and icon Kyary Pamyu Pamyu took a trip to this ancient city to discover its wonder and beauty.

A Visit to the Historical Sea Route

Oyamazumi Shrine

A 'power spot' revered by prominent people

Oyamazumi Shrine has been revered by prominent figures throughout history as a place dedicated to the god of the mountain, god of the ocean, and the god of war. It's home to numerous Important Cultural Properties which are available for viewing by the public such as the armour worn by the military commander Minamoto no Yoshitsune when the Minamoto clan won the Genpei War (1180-1185), armour worn by women, and more. The shrine is also a notable power spot for the ancient tree that has stood there for 2,600 years and is now recognised as a natural monument of Japan. Power spots are places in Japan where the spiritually-inclined draw energy from.

Information

Oyamazumi Shrine

Address: 3327 Omishimacho Miyaura, Imabari, Ehime 794-1393, Japan

TEL: 0897-82-0032

Opening Hours: Sunrise to 17:00

National Treasure Building: 8:30-17:00 (Last Entries 16:30)

Official Website: https://oomishimagu.jp/

Kurushima Kaikyo Service Area

Lip-smacking food aplenty

If you're one for great views, then the Kurushima Kaikyo service area is a must-visit, offering a panoramic look at the Kurushima Strait of the Seto Inland Sea. The service area is very well know particularly for the Jaguchi Mikan Juice, something of a city legend in Ehime where you can enjoy fresh mikan juice straight from a tap. You can also tuck a rice bowl dish made with tachiuo hairtail caught in the Seto Inland Sea that's made to look like Kurushima Kaikyō Bridge, or try Imabari's soul food dish: the Imabari Yakibuta Tamago Meshi, a pork, egg, and rice bowl. Don't pass up the chance to snap a photo at the designated photo spot with the Seto Inland Sea in the back either like Kyary above.

Information

Kurushima Kaikyo Service Area

Address: 3-9-68 Ohamacho, Imabari, Ehime, 794-0002, Japan

Food Court: [Weekdays] 8:00-21:00 / [Weekends & Holidays] 7:00-22:00

Shops: [Weekdays] 8:00-21:00 / [Weekends & Holidays] 7:00-22:00

Outside Shopping Area & Cafes: [Weekdays] 9:00-17:00 / [Weekends & Holidays] 9:00-18:00

Official Website: https://www.jb-highway.co.jp/sapa/kurushima.php

Murakami Suigun Museum

Dedicated to the Imabari heroes who protected the ocean




Murakami Suigun Museum is dedicated to kaizoku—pirates, or lords of the sea—something which conjures to mind villainy or bad guys, but the Murakami pirates were also considered heroes who helped maintain order and protect the sea during the Sengoku warring period of Japan. The museum features many displays of Murakami family treasures including the battle surcoat which the pirate leader wore over his armour, proudly bearing the Murakami family crest. Visitors can wear replicas of this coat, which Kyary tired herself: "Now I'm sorta like a military commander too," she said.

Information 

Murakami Suigun Museum

Address: 1285 Miyakubocho Miyakubo, Imabari, Ehime 794-2203, Japan
TEL: 0897-74-1065

Opening Hours: 9:00-17:00

Closed: Mondays (or Tuesday if the Monday falls on a public holiday) / New Year Holidays (Dec 29-Jan 3)

Official Website: https://www.city.imabari.ehime.jp/museum/suigun/

Roadside Station Yoshiumi Iki-iki-kan

A bundle of fun and entertainment in one place

Roll on up to Roadside Station Yoshiumi Iki-iki-kan to enjoy a shichirin BBQ feast with fresh seafood caught in the Seto Inland Sea while gazing out across Kurushima Kaikyo. This building complex serves as a resting spot and is also the perfect place to purchase local souvenirs including Ehime specialty products. It's also famous for its offering the chance to board a boat to ride around Kurushima Kaikyo, renting out bicycles, and more. You'll also be able to meet Koro-chan, a popular fish who has lived there for 30 years.

Information

Roadside Station Yoshiumi Iki-iki-kan

Address: 4520-2 Yoshiumichomyo, Imabari, Ehime 794-2114, Japan

TEL: 0897-84-3710

Opening Hours: 9:00-17:00

Restaurant: 10:00-16:00 (Last Orders 15:00)

Closed: New Year's Day (and certain days in winter)

Official Website: http://www.imabari-shimanami.jp/ikiiki/

Dolphin Farm Shimanami

Meet the cute and friendly dolphins

Dolphin Farm Shimanami, which is connected to Hakata Beach, is the best and biggest place in Japan to interact with dolphins. Visitors can get close to them and the dolphins will show off their tricks and skills. There's even a car camping area you can stay at.

Information

Dolphin Farm Shimanami

Address: 1673 Hakatacho Kanoura, Imabari, Ehime 794-2302, Japan

TEL: 0897-72-8787

Opening Hours: 9:00-17:00

Closed: On days with bad weath

Official Website: https://www.df-shimanami.com/

Hakata Beach

A white sandy beach rolling out 200-meters 

Hakata Beach is located at the base of Oshima Bridge in Hakata. The beach is famous for its salt which is best tried on their popular sweet-tasting sea salt ice cream.

Information

Hakata Beach

Address: 1668-1 Hakatacho Kanoura, Imabari, Ehime 794-2302, Japan

Sea Bathing: Early July – Late August

Official Website: https://www.city.imabari.ehime.jp/kanko/spot/?a=198

Imabari Towels

High quality towels woven with tradition and technique

Imabari is the biggest producer of towels in Japan. Even their white towels alone have countless types you can choose from, allowing you to pick which level of softness and comfort you want. The iconic brand logo is also impactful, capturing the quality, production, and enthusiasm that the makes have for the product. Kyary herself uses them all the time!

Information 

Imabari Towel

Official Website: https://www.imabaritowel.jp/

Sunrise Itoyama

Need a bike?

Sunrise Itoyama, located in the Imabari Central Cycling Terminal, is a rental bicycle service that has bikes and helmets for everyone's needs. Rent out a bike and ride the Shimanami Sea Route which connects Ehime and Hiroshima with a series of bridges that hop across the islands of the Seto Inland Sea.

Information 

Sunrise Itoyama

Address: 2-8-1 Sunabacho, Imabari, Ehime 794-0001, Japan

TEL: 0898-41-3196

Rent-a-Cycle Details: https://www.sunrise-itoyama.jp/archives/rentacycle/

Official Website: https://www.sunrise-itoyama.jp/

Marutomi

The famous restaurant known to every local

If you want the real experience of Imabari's yakitori soul food, you should visit Marutomi, a yakitori eatery. Imabari yakitori is different from the usual Japanese yakitori as it doesn't come skewered. Instead, the chicken is cut into small pieces and fried that way. One of the most popular ways to have it is with the skin on so the outside is crunchy and the inside succulent. It goes perfect with a cup of sake too.

Information 

Marutomi

2-3-6 Katayama, Imabari, Ehime 794-0063, Japan

TEL: 0898-23-2740

Opening Hours: 17:30-22:00

Closed: Wednesdays

Official Website: https://maru-marutomi.jp/

Imabari Castle

A castle by the sea

Imabari Castle, built by the daimyo Tōdō Takatora, is known famously as one of Japan's three "Castles on the Sea" and was also listed in Japan's Top 100 Castles. When it was first constructed, boats could enter the moat from the ocean. It's a site that breathes the prosperity that Imabari has enjoyed as a significant location for maritime traffic, the same Imabari that the Murakami pirates sought to protect. Head on up to the top of the castle to stand on the observation deck and gaze at an unbroken view of the city.

Information

Imabari Castle

Address: 3-1-3 Toricho, Imabari, Ehime, 794-0036, Japan

TEL: 0898-31-9233

Opening Hours: 9:00-17:00

Closed: December 29 – December 31

Official Website: https://www.city.imabari.ehime.jp/museum/imabarijo/

Kirosan Observatory Park

A breathtaking spectacle to remember

Kirosan Observatory Park is officially recognised by Setonaikai National Park. Standing atop the observation deck fills the eyes with wonder as they gaze upon a panoramic stretch of Imabari, the Seto Inland Sea, and Kurushima Kaikyo all at once. Kyary wrapped up her time in Imabari here as the sunset coloured the sky and sea in warm evening hues.

Information 

Kirosan Observatory Park

Address: 487-4 Yoshiumicho Minamiura, Imabari, Ehime 794-2115, Japan

No Fixed Holidays

Open 24-hours a day

Official Website: https://www.city.imabari.ehime.jp/kanko/spot/?a=182

Imabari Tourism Information: https://www.city.imabari.ehime.jp/kanko/

We hope you enjoyed joining Kyary on her adventures across Imabari, and perhaps she even got you a little curious in wanting to visit the city yourself. It's a treasure trove filled with vistas by the sea, in nature, and in the city itself with its Important Cultural Properties. Food is also a big part of travel for many people, so you can rest assured that your belly will be satisfied in Imabari as you try their speciality mikan, fresh seafood fished in the Seto Inland Sea, and more.