Sai Sai Jaran Jaran #10: SILENT SIREN's Hinanchu Visits Tokyo's New Hotel sequence MIYASHITA PARK
Sai Sai Jaran Jaran is a featured series here on MOSHI MOSHI NIPPON from the members of the all-female band SILEN SIREN (aka Sai Sai) who visit various hot spots in Japan and experience different things, the Sai Sai way.
In Episode #10, SILENT SIREN drummer Hinanchu wanted to go and stay at a hotel in Tokyo, so she decided to take a trip to sequence MIYASHITA PARK, a new hotel inside Shibuya's new landmark shopping complex MIYASHITA PARK which itself opened in August 2020.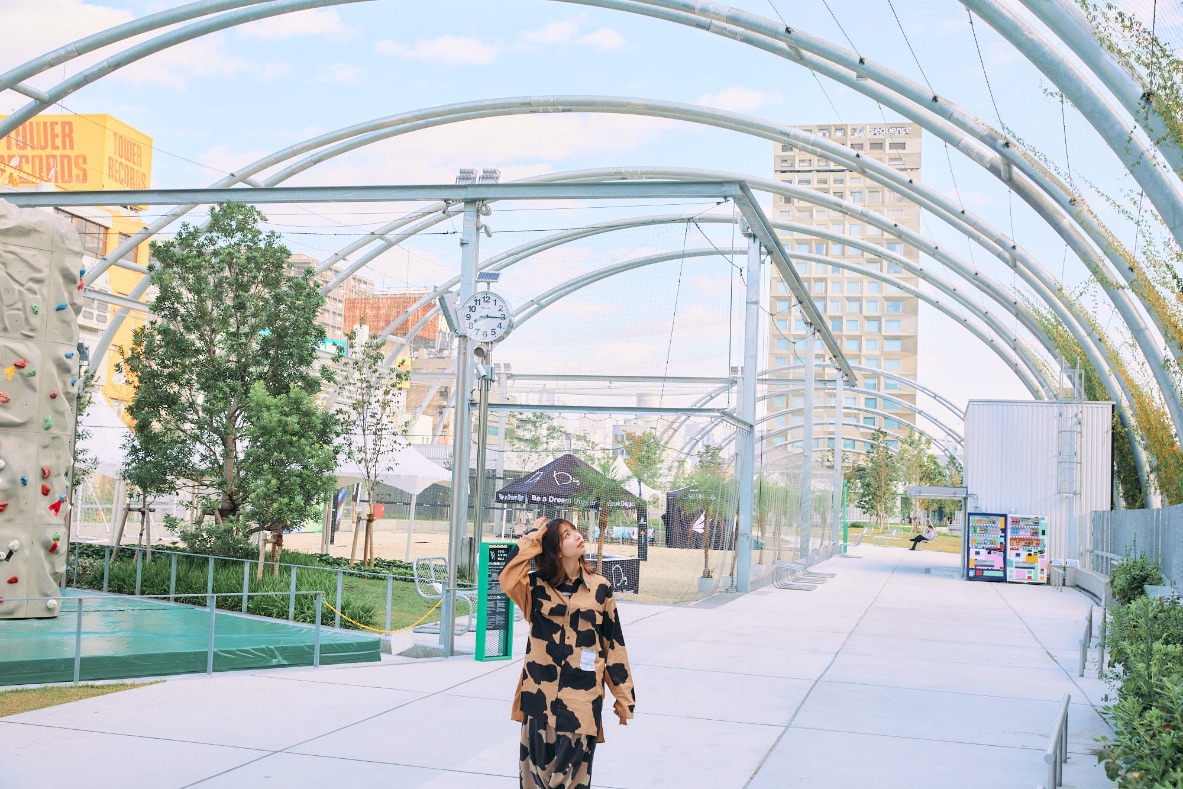 The newly-reborn MIYASHITA PARK is a four-storey shopping complex with stores located on the first three floors and the top floor being home to the park. The park houses a range of exercise and sports sites like a skate park and bouldering wall as well as the green area and even a Starbucks. This park is so spacious that it's easy to forget it's right next to busy Shibuya Station. It has been open for three months now and is already adored by the community.

sequence MIYASHITA PARK is an 18-storey hotel that stands on the north side of MIYASHITA PARK. It can even be accessed from the complex's fourth floor park which leads visitors to the lobby lounge. The park side of the hotel is also home to a cafe called VALLEY PARK STAND.

VALLEY PARK STAND can be used by non-guests at the hotel too and is open from morning to night time. The windows tower from the floor to the ceiling, allowing plenty of natural light into the cafe. There's plenty of seating areas with table seats, sofas, and benches.

MIYA PITA CHICKEN SHAWARMA ¥900 | FRENCH FRIES & COCKTAIL COMBO ¥800 (Tax Included)
VALLEY PARK STAND is a cafe themed on a fictitious valley park, acting as one big park situated in the middle of bustling Shibuya. Adventuring through the valley park is best done with one of the cafe's signature "MIYA PITA" pita sandwiches in hand.

The cafe offers a selection of coffees, pastries, and pitas for lunch and breakfast. In the evenings, customers can switch to the bar to enjoy something alcoholic. Their original craft cocktails are very popular and are made by a bartender who honed their craft while working in New York.
Hinanchu ordered the "Park & Pomegranate Bellini." Normally hotel cocktails are small, but the ones served at VALLEY PARK STAND are much more generous.

The cafe even sell their own merchandise, from mugs to tumblers and even picnic blankets so you can have a picnic in MIYASHITA PARK if the weather calls for it!
For more information about VALLEY PARK STAND, check out our full breakdown here.
VALLEY PARK STAND
Address: sequence MIYASHITA PARK 4F, 6-20-10 Jingumae, Shibuya, Tokyo
Opening Hours: 7:30-23:00 (Last Orders 22:30)
TEL: 03-6712-5442
Instagram: https://www.instagram.com/valleyparkstand/
The hotel check-in lounge can be found on fourth floor, the same as VALLEY PARK STAND. Check-in uses a new unmanned self-service system so all you need to do is follow the instructions.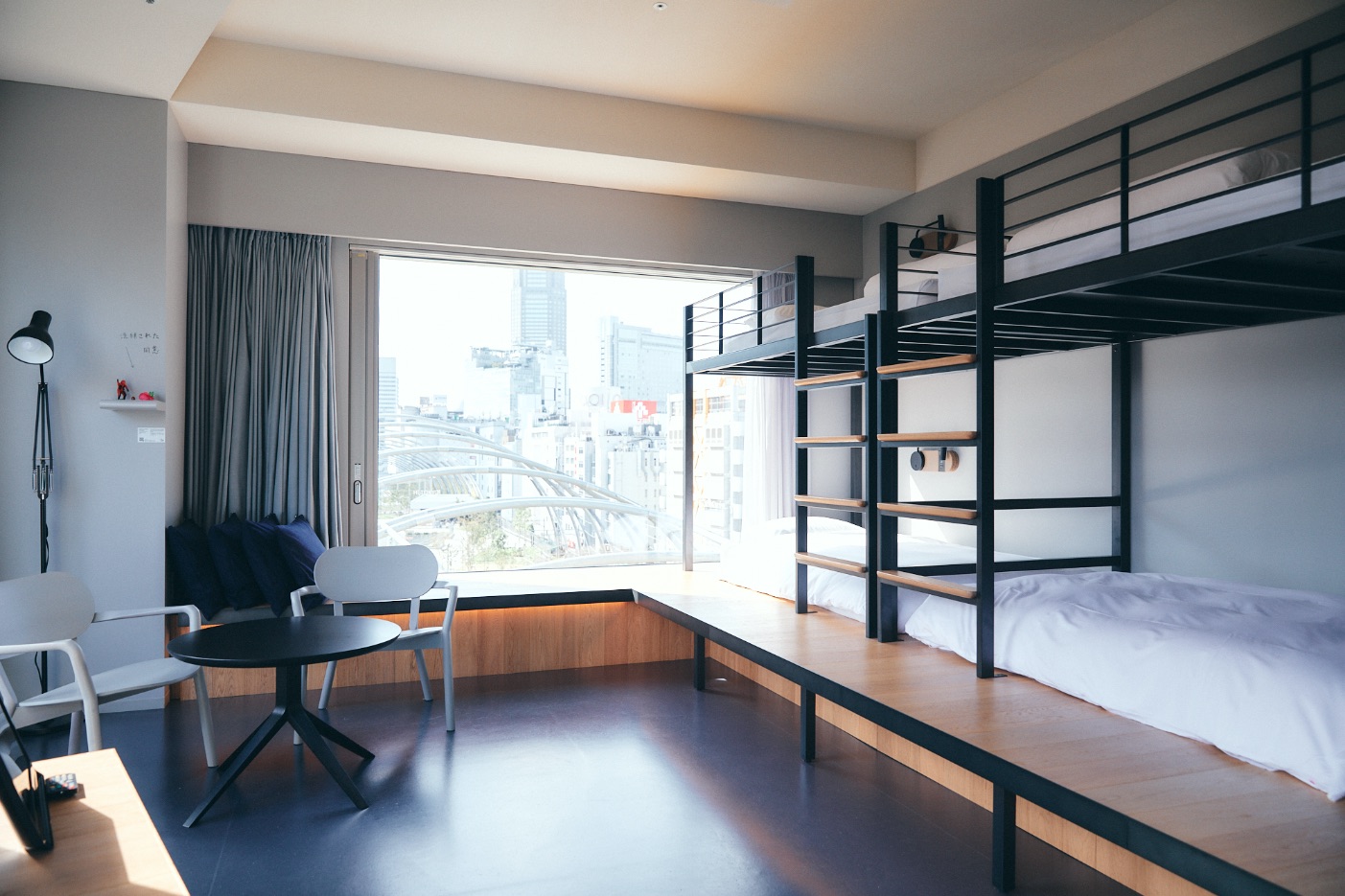 Guest rooms are simple but the furniture and fixtures are of high quality. Hinanchu stayed in the 4-person "BUNK BED 4" room. Prices vary depending on the season, but it can cost less than ¥5,000 for one person to stay in a 4-person room which is a bargain!

The wide windows in guest rooms look out across MIYASHITA PARK. Depending on the hotel room you're in, you'll also be able to see landmarks like Tokyo Tower and Tokyo Skytree. The windows also read "Hi, TOKYO!" on them which makes for the perfect photo opportunity.

All rooms are also fitted with reading material by young authors. If you scan the QR code next to their piece, you can learn more about them and even make a donation.

Check-in is at 17:00 and check-out is 14:00 so guests can enjoy their stay leading into the early afternoon of the next day. The MIYASHITA PARK shops open at 11:00, so after checking-out, guests can go straight to shopping or lunch.
So, how did you find MIYASHITA PARK, Hinanchu?
"I've always lived in Tokyo, so I never imagined I'd stay in Shibuya, but you can really feel like a queen staying here! Despite it being smack bang in the middle of Tokyo, it's right next to the park which feels good. I definitely recommend it to those who live in rural areas that want to come and play in Tokyo since places like Shibuya and Harajuku are close by. The hotel is littered with art and stylish design, so it's not simply a stay but a creative experience too which I think will be popular with foreigners. I want to come here again on my own for a relaxing time!"

On the fifth floor of the hotel is the restaurant and bar Dōngxī Restaurant & Sakaba which offers both breakfast, and dinner. The new entertainment restaurant and bar SOAK is also opening on November 13.
If you're thinking of staying in Tokyo or Shibuya, be sure to look up sequence MIYASHITA PARK.
Photo: Kayo Sekiguchi
Text: Sayoko Ishii
Translation: Joshua Kitosi-Isanga
SILENT SIREN

SILENT SIREN is a four-member all-female band consisting of vocalist & guitarist Sumire "Suu" Yoshida, drummer Hinako "Hinanchu" Umemura, bassist Aina "Ainyan" Yamauchi, keyboardist Yukako "Yukarun" Kurosaka. In 2015, they performed their first solo concert at Nippon Budokan, making them the fastest Japanese all-female band in history to perform there since making their major debut. In April this year, they launched their own YouTube channel called "Sai Sai Channel." They released their 7th album mix10th on September 2, 2020. The band celebrated their 10th anniversary with a special live performance at Yamanakako Communication Plaza Kirara on September 20, 2020. For the latest information on SILENT SIREN, visit their official website here: http://silent-siren.com/
RECOMMENDED ENTRIES
Sai Sai Jaran Jaran #8: SILENT SIREN's Ainyan Becomes a Wine Connoisseur at Fukagawa Winery Tokyo in Monzennakacho

Sai Sai Jaran Jaran is a featured series here on MOSHI MOSHI NIPPON from the members of the all-female band SILEN SIREN (aka Sai Sai) who visit various hot spots in Japan and experience different things, the Sai Sai way.

Band bassist Ainyan enjoys a beer or cocktail, but she wants to step into the world of wine, so we will join her on her journey today as she goes to learn all about wine from the very basics.

It's a clear sky today. Great weather for going for a drink during the day, am I right?

We visited Fukagawa Winery Tokyo in Monzennakacho, an area located in Shitamachi, Tokyo. We were looking forward to going there because it offers the full wine experience, allowing visitors to see wine brewing up close to learn all about it.

This experience is offered twice a day on weekends and national holidays at 14:00 and 16:00.

Fukagawa Winery Tokyo opened in Tokyo in 2016 as a winery where the ordinary person could go and see wine being made to fully understand its process. It has expanded its circulation in recent years and is now able to take in grapes from across Japan, including Tokyo, to craft many different wines.

On the day we visited we saw the staff bottling up the wine. On average, the winery ships out around 30,000 bottles a year.

The corks have illustrations of "Wine Man" on them, a character created by Fukagawa Winery Tokyo. Ainyan was fairly fond of him!

Time to see how the winery works!

When you step inside, the scent of grapes is the first thing to hit your senses.

The one in charge of Fukagawa Winery Tokyo is Kousuke Ueno, who was kind of enough to show us around. He taught us the process of wine making, as well as what types of grapes and tools they use.

"This machine separates the grapes and stalks using the propellers. This method has been used for 150 years," explained Ueno.

There are periods when visitors can observe this machine being used to separate the grapes. It takes place between mid-August to November, so follow Fukagawa Winery Tokyo's social media for announcements and details.

"Wow! It smells so good!" said Ainyan. We got to see a bucket where Cabernet Sauvignon was being made. They put in whole grapes with the skin on and add natural yeast for the fermentation process. The sweet smell of the grapes fills the air and makes you want to have a glass.

Now for what Ainyan has been waiting for: taste-testing time! She learned everything about the wine making process, so it was time to taste and compare some different wines.

The winery allows taste-testing until 17:00. You can try 3 types for ¥700. And of course, if there's one you tried that you really liked, you can buy it there and then. So sip, scrutinise, and select!

"Please try this one first. It is wine, but it's like a lemon sour," explained Ueno, recommending that Ainyan first try the Yamanashi  Delaware Sparkling.

Soak up all the notes of the drink by having a good smell first before taking a small sip. "Smells really good. This sourness really is like a lemon sour! I wonder why?" said Ainyan.

This wine uses premature grapes which gives the wine a sour taste. The sourness of this wine can play the part of lemons, so it's best paired with fried foods or meals with chicken in them.

The second drink was the Yamagata Delaware Muroka. It's an unfiltered wine made from completely ripened Yamagata Delaware grapes.

Unfiltered means that the filtration process to take out visible solids and such is not used. This gives it a slightly cloudy appearance and an exquisite taste that's somewhere between wine and juice.

Left: Unfiltered Yamagata Delaware / Right: Filtered Yamagata Delaware

For the third glass, Ainyan ordered the filtered Yamagata Delaware to test the difference between it and the unfiltered version.

"The filtered one has a good balance of flavours and is refreshing. The unfiltered one has a smooth juiciness to it. They're both delicious, but I like the unfiltered one more!" said Ainyan.

Her fourth glass was an unfiltered red wine: the East Bay Assemblage Red B.

The grapes used are a combination from Hokkaido, Nagano, and Aomori. It really is an assemblage!

"The red wine has such a different taste and colour depending on the type too! This dark red wine is close to what I usually drink!" said Ainyan with a happy smile.

At the end of the session, Ainyan had tried 10 wines and bought two bottles! She was delighted with her experience, saying: "I was surprised how different each and every one of the wines I tried at Fukagawa Winery Tokyo were. I think I'm getting hooked on the appeal of unfiltered, natural wines."

With Christmas and New Year around the corner, now is the season to indulge in wine. If you're in Tokyo this December, pay a visit to Fukagawa Winery Tokyo for a full wine experience.

Writer:Yuki Yokoo

Photographer:Kayo Sekiguchi

SILENT SIREN

SILENT SIREN is a four-member all-female band consisting of vocalist & guitarist Sumire "Suu" Yoshida, drummer Hinako "Hinanchu" Umemura, bassist Aina "Ainyan" Yamauchi, keyboardist Yukako "Yukarun" Kurosaka.

The band made their major debut in November 2012 with their single Sweet Pop! The band is known to fans by their nickname "Sai Sai." They are especially popular with middle school girls in Harajuku and have over 540,000 follows on their official LINE account.

In 2015, they performed their first solo concert at Nippon Budokan, making them the fastest Japanese all-female band in history to perform there after their major debut. In 2016, they performed a headline show at Yokohama Arena, and embarked on a world tour consisting of 6 shows in 5 countries.

At the end of 2016, they changed label to Universal Music and revamped their band logo and how they write their band name. In 2017, they wrapped up their 5th anniversary tour with their first two-day concert series at Nippon Budokan.

In 2018, they embarked on their biggest Japan tour to date "Tenkaippin presents SILENT SIREN LIVE TOUR 2018 ~"Girls will be Bears" TOUR~ consisting of 33 shows. They also performed at big music festivals and at countless events, as well as performed their annual New Year's solo concert at Yokohama Cultural Gymnasium.

In 2019, they began celebrations of 7 years since their debut and 10 years as a band. They released their final album of the Heisei era and 6th album in total 31313 on March 13 ,2019 and promoted it on their tour SILEN SIREN LIVE TOUR 2019 "31313" ~Sai Sai 10th Anniversary~ supported by Tenkaippin. They also performed at numerous summer festivals and events.

On December 30, 2019, they will performed their annual New Year's concert "SILENT SIREN Nenmatsu Special Live 2019 HERO" at Yokohama Cultural Gymnasium.

In 2020, they will celebrate 10 years since forming the band with a show at Yamanakako Communication Plaza Kirara on September 20, 2020.

SILENT SIREN Official Website: https://silent-siren.com/

Information

Fukagawa Winery Tokyo

TEL: 03-5809-8058

Address: Takahata Bldg. 1F, 1-4-10 Furuishiba, Koto Ward, Tokyo

Opening Hours: Weekdays 15:00-22:00 / Weekends & Public Holidays 12:00-22:00

Closed: Tuesdays

Winery Observations: Weekends & Public Holidays at 14:00 and 16:00 for 20 minutes each. Must book in advance.

Official Website: https://www.fukagawine.tokyo/

Sai Sai Jaran Jaran #7: SILENT SIREN's Yukarun Has Her First Afternoon Tea at Ginza's 'THE GRAND LOUNGE'

Sai Sai Jaran Jaran is a featured series here on MOSHI MOSHI NIPPON from the members of the all-female band SILEN SIREN (aka Sai Sai) who visit various hot spots in Japan and experience different things, the Sai Sai way.

Band keyboardist Yukarun has always wanted to try having afternoon tea. To make her dream come true, she took a visit to THE GRAND LOUNGE in Ginza.

THE GRAND LOUNGE is a multipurpose lounge for adults located on the 13th floor of THE GRAND GINZA in GINZA SIX.

Normally in restaurants afternoon tea is often reserved just for the afternoon but at THE GRAND LOUNGE you can enjoy it any time.

*The afternoon tea set shown above is for 2 people.

The afternoon tea set here costs ¥4,200 (before tax and service charge). It comes with 7 hors d'oeuvres, 7 sweets, strawberry mille-feuille, and a teapot with free black tea refills. Strawberries are the running theme until June, so the desserts and hors d'oeuvres are made using plenty of Japanese "tochiotome" strawberries. It's a big tea set so can be enjoyed by couples or big eaters.

Yukarun is very pleased with the afternoon tea set so much so that she must take a photo beforehand! There are so many strawberries sweets. "I feel happy just looking at this assortment♡" she says.

The drinks in the set are made by San Francisco-based high tea brand Mighty Leaf. There are 11 types to choose from―9 hot and 2 iced―all of which Mighty Leaf have ensured are organic with only the best herbs chosen.

You choose your favourite by smelling the fragrant aromas of each bottle. The one most popular with Yukarun was the "White Orchard." White tea and green tea are used as the base in this drink which are blended with melon and peach fragrance. The fact you get free refills makes it a favourable service.

Time to tuck in!

The tasty line-up will have you wondering where to even begin eating from.

It's not just the sweets that are piled with strawberries but the light appetisers too. These appetisers include foie gras, salmon and more―all extravagant delectables.

"Delicious!" says a satisfied Yukarun as she takes her first bite from the bottom row appetisers.

The variety of sweets is diverse, from jelly to tarts, mousse and beyond. "The sweets come in cute mini sizes! And they're all super delicious!" comments Yukarun.

"The tea I chose is really tasty too! I don't think I've ever had tea this good before!"

Then it was time for the crowning jewel of the afternoon tea set: the strawberry mille-feuille. It is a recreation of the legendary mille-feuille sold at Maxim's de Paris, a much-loved French restaurant in Ginza that closed in 2015. This sandwich-like dessert takes crunchy pie and stuffs fat strawberries and custard cream between them. It's a popular dessert ordered by itself too. The version of it that comes with the afternoon tea is half-sized.

"So good! This is true happiness♡" says Yukarun who is clearly enjoying herself. The mille-feuille can also be ordered for takeout.

How was your first ever afternoon tea experience, Yukarun?

"It felt elegant and sophisticated being in a place like this. There are lots of bite-sized appetisers and sweets so it's fun to try them one by one. It's fun thinking about where to eat from too, and I was really glad you get to choose your own tea. I definitely want to come here again in my own time! I want to dress up and come with my girlfriends."

The items that come with the afternoon teas at THE GRAND LOUNGE change with each season, and right now it's all about strawberries. Head to THE GRAND LOUNGE yourself and treat yourself and others to a luxurious afternoon tea―at any time of the day.

Model: Yukako Kurosaka(SILENT SIREN)

Photographer: Haruka Yamamoto

Writer: Sayoko Ishii

Translator: Joshua Kitosi-Isanga

■PROFILE

SILENT SIREN is a four-member all-female band consisting of vocalist & guitarist Sumire "Suu" Yoshida, drummer Hinako "Hinanchu" Umemura, bassist Aina "Ainyan" Yamauchi, keyboardist Yukako "Yukarun" Kurosaka. The band were founded in 2010 by Umemura and Yoshida who are former models. In 2015, they performed their first solo concert at Nippon Budokan, making them the fastest Japanese all-female band in history to perform there after their major debut. Their new album 31313 is now on sale. The band are currently on their "31313" tour in support of the album. An additional date was added to the tour which will take place on June 10 at Zepp DiverCity in Tokyo.

Check their official website for the latest details: http://silent-siren.com/

Information

THE GRAND LOUNGE (THE GRAND GINZA)

Address: GINZA SIX Floor 13F, 6-10-1 Ginza, Chuo Ward, Tokyo

Business Hours: 11:00-23:00 (Last Orders 22:00)

No Fixed Holidays (Except when GINZA SIX is closed)

TEL: 03-6280-6129 (Lounge/Restaurant)
Website: https://www.grandginza.com/lounge/
RELATED ENTRIES
Home Cooking Themed Yowamushi Pedal LIMIT BREAK Collaboration Cafe to Open in Shibuya

Fans of Yowamushi Pedal won't want to miss this special collaboration! Chugai Grace Cafe, located on the seventh floor of Shibuya MODI, will be running the Yowamushi Pedal LIMIT BREAK cafe from September 22 until October 17, 2022.

Collaboration Menu

Sakamichi Onoda and Sangaku Manami's Udon & Onigiri Plate 


Yasutomo Arikita and Kuroda Yukinari's Hamburger & Salad Plate

Hayato Shinkai's Chocolate & Banana Mini Parfait

Sohoku High School Mango Whipped Cream & Calpis Drink

Hakone Academy Mint Whipped Cream & Calpis Drink

Goods

Pin (Random Holographic included, 9 varieties)

Acrylic Figure Stand (9 varieties)

Pin, Mini Character Ver. (Random Holographic included, 16 varieties)

Acrylic Stand (16 varieties)

Table Plate (9 varieties)

Shoulder Bag

Menu Order Bonus / Online Preorder Bonus

Coaster (1st Half): September 22 – October 4, 2022

Coaster (2nd Half): October 5 – October 17, 2022

The collaboration cafe focuses on dishes you may find at home, such as udon, onigiri, and even a chocolate banana mini parfait as a dessert. New original goods with exclusive illustrations will also be available for purchase!

©渡辺航(週刊少年チャンピオン)/弱虫ペダル05製作委員会

Anime 'The Vampire Dies in No Time' Inspires Concept Room in Shin-Yokohama

Shin Yokohama Prince Hotel will be offering a special room and collaboration menu inspired by the popular anime series The Vampire Dies in No Time from September 22 until November 30, 2022. Reservations will open on the hotel's official website starting September 12 at 1:00 PM. 

The Vampire Dies in No Time follows the hilarious adventures of the vampire Draluc and the vampire hunter Ronaldo. Set in the city of Shin-Yokohama, it makes sense that this collaboration would be taking place!

Original Goods

Collaboration Menu

Guests and fans of the series will be able to enjoy a fully-decorated room and collaboration menu inspired by characters from the popular anime series.

The concept room, located on an upper floor overlooking the Shin-Yokohama cityscape, is decorated with illustrations of Draluc, Ronaldo, and other characters. The guest-only goods feature newly-drawn illustrations. 

Sweets plates and drinks will be served at the restaurant on the top floor of the hotel. Guests can enjoy desserts shaped like Ronaldo's red hat and Draluc's ashes, so don't miss it!

©盆ノ木至(秋田書店)/製作委員会すぐ死ぬ

Information

Shin-Yokohama Prince Hotel x The Vampire Dies in No Time
Available: September 22 – November 30, 2022

Collaboration Menu

Available: September 22 – November 30, 2022
Venue: Top of Yokohama Bar & Lounge (42F)
Hours: Weekdays 4:00-7:00 PM / Weekends & Holidays 2:00-5:00 PM
Reservations Open: September 12, 1:00 PM
https://www.princehotels.co.jp/shinyokohama/plan/contents/94

HOTEL SHE, KYOTO Invites Guests to Stay in a Gallery for a Limited Time

Art subscription service Casie is collaborating with HOTEL SHE, KYOTO! A special art exhibition titled GALLERY HOTEL SHE, will be held from September 17 until October 16, inviting guests to enjoy the once-in-a-lifetime experience of staying in a gallery overnight!

During the event period, guests of HOTEL SHE, KYOTO will be able to select their favorite piece of artwork from an on-site gallery. The piece will then be hung in their guestroom, and visitors can spend the night appreciating it at their own pace. This is a great way to learn more about art appreciation, and guests can enjoy discussing the art world with their friends and family. 

 

"Although we may view art in museums and other venues, it is rare to have the opportunity to select and display a work of art of our own choice," the project description reads. "Through this unique experience, we aim to provide guests the chance to actively engage with art and inspire them to make art a part of their daily life going forward."

Q-pot CAFE to Offer Cute Halloween Sweets to Celebrate 10th Anniversary

Q-pot CAFE in Omotesando will be offering up some Halloween treats to celebrate the location's 10th anniversary! Guests will be able to sample these special sweets from September 3 until October 31, 2022.

Happy Halloween! Afternoon Tea Set

The festive Happy Halloween afternoon tea features pink Jack-o'-lantern macarons and other Halloween-inspired sweets.

Fluffy Floating Ghost Plate (Drink Included)

The adorable ghost is made from fluffy milk mousse covered with gyuhi, a typical ingredient in Japanese sweets made from rice flour. Inside is blackcurrant and redcurrant jelly with an incredibly sweet and sour flavor.

Black Devil Tea Mocha

Featuring large devil wings, this tasty and eye-catching beverage is a mix of black tea, chocolate, and milk. When the cocoa cream melts, the taste changes to something creamy and cozy, perfect for the autumn months.

Shimmering Blueberry & Grapefruit Soda

This refreshing sweet and sour drink combines blueberries and pink grapefruit along with soda and pearl powder.

Come enjoy Halloween while celebrating the cafe's 10th anniversary!

Information

Q-pot CAFE 10th Halloween Menu

Location: Q-pot CAFE Omotesando

Running: September 3 – October 31, 2022

Hours: 11:00-19:00 (Last Order at 18:30)

Details/Reservations: http://www.Q-pot.jp/news/2022/08/1746.html

Halloween Afternoon Tea with Black Cat Motif Coming to Tokyo's Grand Prince Hotel New Takanawa

During the month of October, Grand Prince Hotel New Takanawa in Tokyo will be offering a special Autumn Afternoon Tea. Inspired by Halloween–and particularly black cats–Lounge Momiji on the first floor will invite guests to devour some tasty treats. 

This year's Halloween theme is 'black cats,' which are said to be the messengers of witches. Guests will be able to enjoy Halloween-specific sweets and afternoon tea to fully enjoy the flavors of autumn.

 

In addition to sweet and sour macaroons filled with blackcurrant with a black cat motif, visitors can enjoy a bat-themed purple sweet potato Mont Blanc and cream puffs made with pumpkin. The black cat cookies are also perfect for posting to Instagram, so come enjoy lots of sweet and savory goods made with autumn fruits and vegetables such as grapes, persimmons, and figs.



Come enjoy afternoon tea and get into the Halloween spirit this October!

Ibiza-Inspired Kiranah Resort Toyosu Opens with Stunning View of the Rainbow Bridge

Kiranah Resort Toyosu, an outdoor dining and leisure facility, will open in Koto-ku, Tokyo on August 26, 2022.

 

Kiranah Resort Toyosu is a complex perfect for families, couples, and children alike, and was inspired by Ibiza in Spain. The attractive location offers a view of Tokyo Bay and a panoramic view of the Rainbow Bridge. The site is the size of a soccer field and includes barbecue facilities with approximately 1,000 seats in three unique areas, as well as a restaurant and bar offering both a la carte and full-course meals. Visitors will also find a DJ booth, dog area, bonfire lounge, event stage, lawn, and much more.

The barbecue area spans three areas, each with a distinct atmosphere. The number of guests, the menu, and the price can be changed according to the guest's needs.

The cabin area offers an outdoor kitchen with a grill and sofas beneath an air-conditioned pergola perfect for every kind of weather.

At the pool area, guests will find impressive DJ booths and will feel as though they have been transported to a luxury beach resort. At night, the area is lit up to give a more adult atmosphere.

The Pallet area includes activities for children and adults alike, and sports a massive lawn, bonfire area, and food trucks. A huge dog park will also welcome furry friends!

The main dining room is scheduled to open in September and will feature a bar area on the first floor and a restaurant on the second floor. The restaurant will have dishes and drinks to suit every situation, including lunch, a la carte, catering menus, and full-course gastronomic meals in an extraordinary space. Seats on the second floor overlook the Rainbow Bridge, Tokyo Tower, and Sky Tree, so be sure to visit on your next trip to Tokyo!

Information

Kiranah Resort Toyosu

Address: 6-5 Toyosu, Koto-ku, Tokyo

Hours: 11:00-15:00, 17:00-21:00 (Subject to change.)

Holidays: None (subject to change)

Access: 10-minute walk from Shijo-mae Station on the Yurikamome Line / 5 minutes by taxi from Toyosu Station on the Yurikamome Line
Reservations: https://kiranahresort-toyosu.com/ 

Blue Lock Anime Pop-Up Store and Cafe to Open at Tokyo Solamachi Tree Village

A pop-up store and cafe inspired by the anime series Blue Lock will open in September! The series is due to begin airing in October 2022.

The limited-time cafe and shop will open at Tokyo Solamachi Tree Village. Guests will be able to enjoy original dishes inspired by characters from the series, and goods featuring new illustrations will be on sale!

If you're a fan of the series, you won't want to miss taking a trip to Skytree in September!

Information

Blue Lock Tree Village Cafe

Running: September 1 – September 30, 2022

Location: Tokyo Solamachi West Yard, 4F, #4

Official TV Channel Shop ~Tree Village~

Shop Hours: 9:00-21:00

Tree Village Official Site: https://tree-village.jp/

TOKYO LIGHTS 2022 International Projection Mapping Competition to be Held at Meiji Jingu

From September 17 until September 19, the TOKYO LIGHTS 2022 International Projection Mapping Competition will be held at Meiji Jingu! This will be the second such event and will bring together some of the most impressive and technologically advanced light displays from around the world to wow audiences.

The main event will be the 1-minute Projection Mapping Competition, in which competitors from around the world will project their art onto the historic Meiji Memorial Picture Gallery. In the Festival of Light area, a barrage of unique light shows will take visitors on a journey through a wonderful world of light and sound.

Image from Last Year's Event

The 19 Finalists

Light Shows at TOKYO LIGHTS 2021

The competition portion will feature a collection of short, one-minute projection mapping presentations. The theme chosen for 2022 is LIFE: Existence, living, and humanity.

 

19 finalists were chosen from 241 entries and 55 countries. Those unable to attend will be able to watch the event streamed on YouTube. The finalists for 2022 include Iran, Croatia, Spain, Poland, Hungary, Germany, Ukraine, two entries from Bulgaria and Thailand, five entries from China, and three entries from Japan. Don't miss the awards ceremony on the final day!

Information

TOKYO LIGHTS 2022 International Projection Mapping Competition

Venue: Meiji Jingu Gaien Seitoku Memorial Picture Gallery and Meijijingu Gaien Rubber Baseball Field (1-1 Kasumigaoka-cho, Shinjuku-ku, Tokyo)


Dates: 

September 17 – September 19 / 18:00-21:00

September 17-18 / International Competition (2 Performances)
Round 1: 18:30-19:20 / Round 2: 20:00-20:50

September 19 / International Competition (1 Performance) & Award Ceremony / 19:00-20:50


Official Site: https://tokyolights.jp

Kuroko's Basketball Cafe to Open at Chugai Grace Cafe in Shibuya

From August 26 until September 18, Chugai Grace Cafe at Shibuya MODI will hold a special collaboration cafe with the popular series Kuroko's Basketball!

Menu at a Glance

Ryota Kise's French Onion-style Carbonara

Daiki Aomine's Teriyaki Burger over Rice

Shintaro Midorima's Lucky Monaka

Tetsuya Kuroko's Vanilla Shake

Atsushi Murasakibara's Violet Blueberry Water

 

Goods

Pin (Cafe ver.)

Type A (7 varieties)

Type B (7 varieties)

Mini Acrylic Stand (Cafe ver.)

Type A (7 varieties)

Type B (7 varieties)

Nametags (Cafe ver.)

Type A (7 varieties)

Type B (7 varieties)

Mini Bromide (Cafe ver.)

Type A (7 varieties)

Type B (7 varieties)

Holographic Sticker (Cafe ver., 14 varieties)

Clear Case (Cafe ver.)

Menu Order Bonus: 1 Coaster (28 varieties, random)

Web Order Bonus: 1 Coaster 

Fans of the series will be able to sample a number of unique dishes inspired by characters from Kuroko's Basketball. Original goods featuring newly-drawn cafe-inspired illustrations will also be available, and guests will be able to enter a drawing to win a one-of-a-kind tapestry.

© 藤巻忠俊/集英社・黒子のバスケ製作委員会
©「黒子のバスケ」アニメ10周年プロジェクト

Information

Kuroko's Basketball x Chugai Grace Cafe

Running: August 26 – September 18, 2022
Venue: Chugai Grace Cafe, Shibuya MODI 7F
Reservations Now Available
Details: https://chugai-grace-cafe.jp/collaboration/kurobas/

*Priority for admission will be given to customers with reservations. Same-day seatings will be available depending on availability. See the official website for more details.

*All measures to protect guests against COVID-19 are outlined on the official website.

*Contents are subject to change without notice. We apologize for any inconvenience. 

Web Sales:
Chugaionline: https://chugai-grace-cafe.jp/collaboration/kurobas/
Order Period: September 27 – October 4 at 23:59
Shipping Date: November 2022

Official Site: http://www.kurobas.com/

Manga Series 'Eren the Southpaw' Hijacks Reebok Harajuku and Shibuya Stores

Reebok has appointed a number of popular artists in Japan and abroad to take part in their new campaign titled 'Life is Not a Spectator Sport -Move, Move!-' This collaboration started in March 2022.

 

As a part of this collaboration, Reebok is teaming up with the manga series Eren the Southpaw. Kappa's popular ensemble drama highlights a number of creators, and has a very poignant tagline: "To all those who couldn't become geniuses." Reebok's brand message matches this and is meant to be a manifesto for life, telling people to never give up, act on their own convictions, and find their own path. 

Reebok Classic Store – Harajuku Interior

Stickers / Pins

Original Scene from Eren the Southpaw 

To commemorate the release of Reebok's flagship model INSTAPUMP FURY 95 in Sax Blue, a huge piece of window art was redrawn by Kappi. The artist also provided an original manga featuring an entirely new story. Fans can find this at the Reebok Classic Store Harajuku and on the official Reebok Twitter page. The Reebok stores in Harajuku and Shibuya have also been completely taken over by Eren the Southpaw, completely decorated from top to bottom in images from the series. 

Hololive VTubers Announce Hololive Summer Event and Comiket Appearance

The Hololive Summer event, first held in the summer of 2019, will return this year! 


A ton of new content and special panels will be shown at the 2022 event, so check the official Hololive Production Twitter account often for more information!

Hololive will also have a booth at this year's Comiket on August 13 and 14! A number of exclusive commemorative Hololive Summer 2022 goods will be on sale.

The back cover of the Comiket 100 catalog, on sale July 16, shows the official Hololive Summer 2022 key visual. Be sure to keep an eye out for more details!

Information

Comiket (Comic Market) 100

Booth Name: Hololive Production

Booth Location: Company Booths, South Hall 2, #511

Running: August 13 – 14

Hours: 10:30-16:00

Address: Tokyo Big Sight (3-11-1 Ariake, Koto-ku, Tokyo)

Tickets: https://www.comiket.co.jp/

Official Site: https://www.hololive.tv/

Toy Story Aliens Cafe to Open in Tokyo, Osaka, and Nagoya

The Toy Story Aliens Cafe will be opening for a limited time in Tokyo starting July 23, in Osaka on July 27, and in Nagoya on August 4. Fans of the film series will remember the adorable Alien characters, originally shown as prizes in a crane game. This pop-up cafe will feature themed dishes and merchandise, and Pixar fans should be sure to attend!

Menu

Food

Space Curry

Green Pasta

Alien Burger A (Teriyaki Soy Meat) / Burger B (Tomato Soy Meat) / Burger C (Chicken & Potato)

Moon Landing?! Potato & Bread

Kids Plate

Fruit Bread

Drinks

Alien Smoothie

Space Soda

Melon Milk

Space Crane Game Cider / Grape Juice

Hot Tea / Hot Milk

Goods

The food menu includes a tasty black curry, a green pasta featuring broccoli, edamame, spinach, and snap peas, and three types of alien burgers featuring either teriyaki soy meat, tomato soy meat, or chicken and potato. Even the drinks stick to the Alien theme, and the menu includes an Alien Smoothie with a tasty banana yogurt flavor. 

Guests will also be able to purchase event-exclusive merchandise from keychains and stickers to tote bags and letter sets. 

©Disney/Pixar

Information

Toy Story Aliens Cafe at OH MY CAFE

Venues/Dates: 

Tokyo: OH MY CAFE TOKYO

Running: July 23 – September 25, 2022

Tokyu Plaza Omotesando Harajuku Mall 3F (4-30-3 Jingumae, Shibuya-ku, Tokyo)


Osaka: OH MY CAFE OSAKA

Running: July 27 – October 3, 2022

1-6-1 Shinsaibashisuji, Chuo-ku, Osaka (2F)

Nagoya: kawara CAFE&KITCHEN

Nagoya PARCO

Running: August 4 – October 10, 2022

Nagoya PARCO South Building 5F (3-29-1 Sakae, Naka-ku, Nagoya)

Details: https://planet.ohmycafe.jp/

Online Store

July 23, 12:00~