Sai Sai Jaran Jaran #10: SILENT SIREN's Hinanchu Visits Tokyo's New Hotel sequence MIYASHITA PARK
Sai Sai Jaran Jaran is a featured series here on MOSHI MOSHI NIPPON from the members of the all-female band SILEN SIREN (aka Sai Sai) who visit various hot spots in Japan and experience different things, the Sai Sai way.
In Episode #10, SILENT SIREN drummer Hinanchu wanted to go and stay at a hotel in Tokyo, so she decided to take a trip to sequence MIYASHITA PARK, a new hotel inside Shibuya's new landmark shopping complex MIYASHITA PARK which itself opened in August 2020.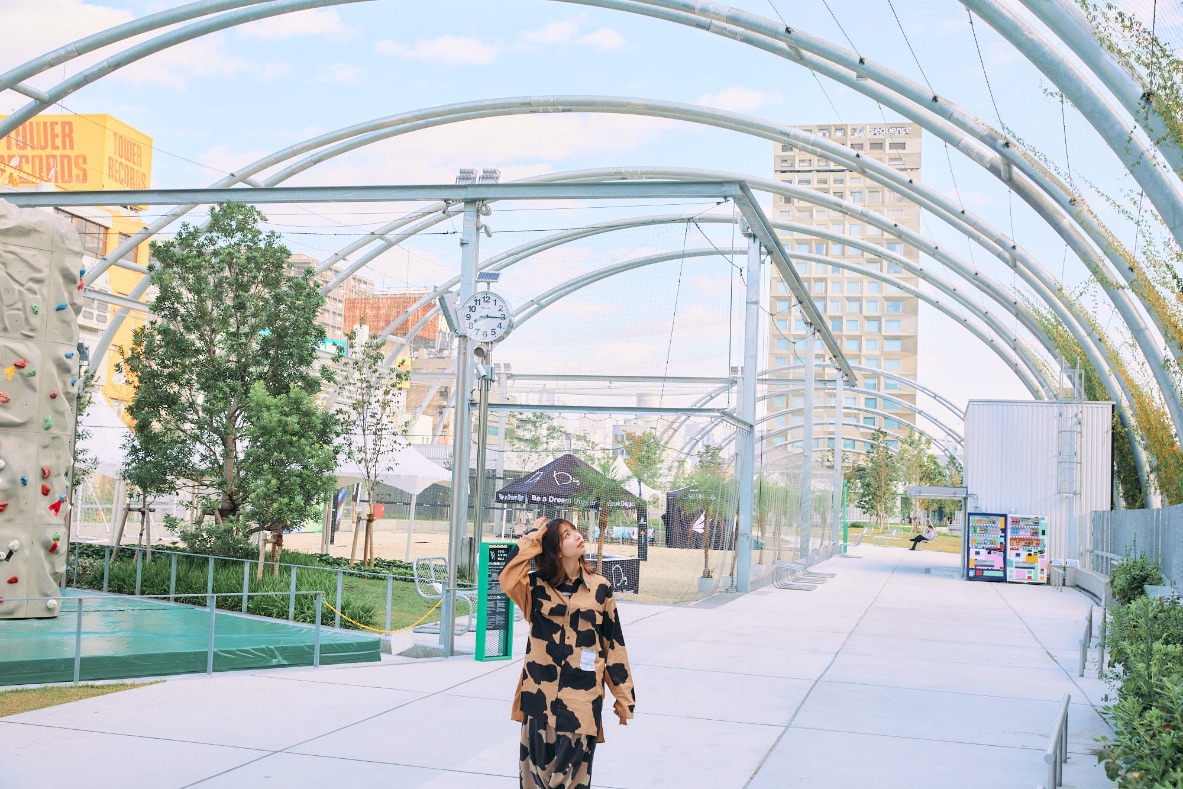 The newly-reborn MIYASHITA PARK is a four-storey shopping complex with stores located on the first three floors and the top floor being home to the park. The park houses a range of exercise and sports sites like a skate park and bouldering wall as well as the green area and even a Starbucks. This park is so spacious that it's easy to forget it's right next to busy Shibuya Station. It has been open for three months now and is already adored by the community.

sequence MIYASHITA PARK is an 18-storey hotel that stands on the north side of MIYASHITA PARK. It can even be accessed from the complex's fourth floor park which leads visitors to the lobby lounge. The park side of the hotel is also home to a cafe called VALLEY PARK STAND.

VALLEY PARK STAND can be used by non-guests at the hotel too and is open from morning to night time. The windows tower from the floor to the ceiling, allowing plenty of natural light into the cafe. There's plenty of seating areas with table seats, sofas, and benches.

MIYA PITA CHICKEN SHAWARMA ¥900 | FRENCH FRIES & COCKTAIL COMBO ¥800 (Tax Included)
VALLEY PARK STAND is a cafe themed on a fictitious valley park, acting as one big park situated in the middle of bustling Shibuya. Adventuring through the valley park is best done with one of the cafe's signature "MIYA PITA" pita sandwiches in hand.

The cafe offers a selection of coffees, pastries, and pitas for lunch and breakfast. In the evenings, customers can switch to the bar to enjoy something alcoholic. Their original craft cocktails are very popular and are made by a bartender who honed their craft while working in New York.
Hinanchu ordered the "Park & Pomegranate Bellini." Normally hotel cocktails are small, but the ones served at VALLEY PARK STAND are much more generous.

The cafe even sell their own merchandise, from mugs to tumblers and even picnic blankets so you can have a picnic in MIYASHITA PARK if the weather calls for it!
For more information about VALLEY PARK STAND, check out our full breakdown here.
VALLEY PARK STAND
Address: sequence MIYASHITA PARK 4F, 6-20-10 Jingumae, Shibuya, Tokyo
Opening Hours: 7:30-23:00 (Last Orders 22:30)
TEL: 03-6712-5442
Instagram: https://www.instagram.com/valleyparkstand/
The hotel check-in lounge can be found on fourth floor, the same as VALLEY PARK STAND. Check-in uses a new unmanned self-service system so all you need to do is follow the instructions.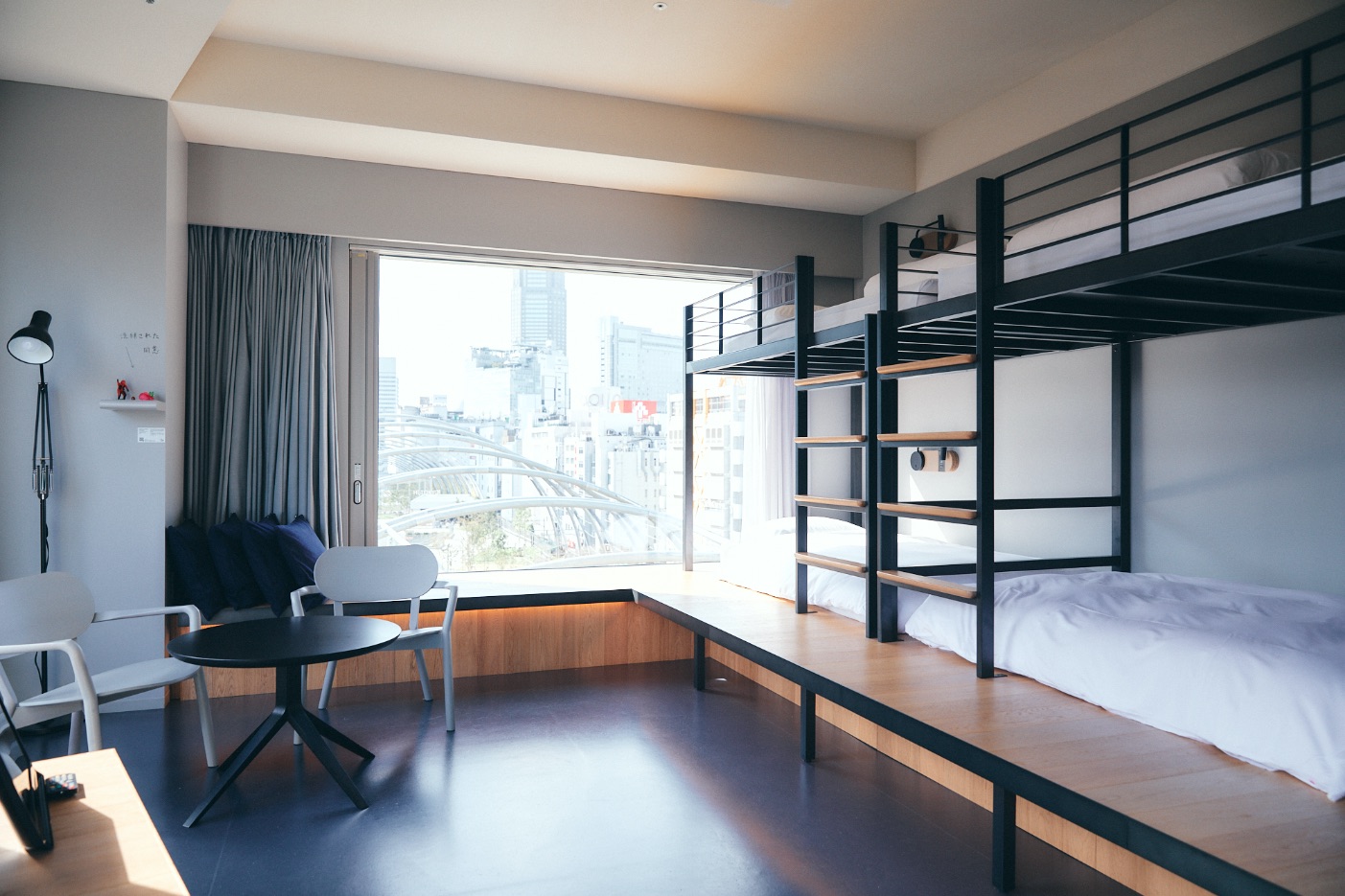 Guest rooms are simple but the furniture and fixtures are of high quality. Hinanchu stayed in the 4-person "BUNK BED 4" room. Prices vary depending on the season, but it can cost less than ¥5,000 for one person to stay in a 4-person room which is a bargain!

The wide windows in guest rooms look out across MIYASHITA PARK. Depending on the hotel room you're in, you'll also be able to see landmarks like Tokyo Tower and Tokyo Skytree. The windows also read "Hi, TOKYO!" on them which makes for the perfect photo opportunity.

All rooms are also fitted with reading material by young authors. If you scan the QR code next to their piece, you can learn more about them and even make a donation.

Check-in is at 17:00 and check-out is 14:00 so guests can enjoy their stay leading into the early afternoon of the next day. The MIYASHITA PARK shops open at 11:00, so after checking-out, guests can go straight to shopping or lunch.
So, how did you find MIYASHITA PARK, Hinanchu?
"I've always lived in Tokyo, so I never imagined I'd stay in Shibuya, but you can really feel like a queen staying here! Despite it being smack bang in the middle of Tokyo, it's right next to the park which feels good. I definitely recommend it to those who live in rural areas that want to come and play in Tokyo since places like Shibuya and Harajuku are close by. The hotel is littered with art and stylish design, so it's not simply a stay but a creative experience too which I think will be popular with foreigners. I want to come here again on my own for a relaxing time!"

On the fifth floor of the hotel is the restaurant and bar Dōngxī Restaurant & Sakaba which offers both breakfast, and dinner. The new entertainment restaurant and bar SOAK is also opening on November 13.
If you're thinking of staying in Tokyo or Shibuya, be sure to look up sequence MIYASHITA PARK.
Photo: Kayo Sekiguchi
Text: Sayoko Ishii
Translation: Joshua Kitosi-Isanga
SILENT SIREN

SILENT SIREN is a four-member all-female band consisting of vocalist & guitarist Sumire "Suu" Yoshida, drummer Hinako "Hinanchu" Umemura, bassist Aina "Ainyan" Yamauchi, keyboardist Yukako "Yukarun" Kurosaka. In 2015, they performed their first solo concert at Nippon Budokan, making them the fastest Japanese all-female band in history to perform there since making their major debut. In April this year, they launched their own YouTube channel called "Sai Sai Channel." They released their 7th album mix10th on September 2, 2020. The band celebrated their 10th anniversary with a special live performance at Yamanakako Communication Plaza Kirara on September 20, 2020. For the latest information on SILENT SIREN, visit their official website here: http://silent-siren.com/
RECOMMENDED ENTRIES
Sai Sai Jaran Jaran #8: SILENT SIREN's Ainyan Becomes a Wine Connoisseur at Fukagawa Winery Tokyo in Monzennakacho

Sai Sai Jaran Jaran is a featured series here on MOSHI MOSHI NIPPON from the members of the all-female band SILEN SIREN (aka Sai Sai) who visit various hot spots in Japan and experience different things, the Sai Sai way.

Band bassist Ainyan enjoys a beer or cocktail, but she wants to step into the world of wine, so we will join her on her journey today as she goes to learn all about wine from the very basics.

It's a clear sky today. Great weather for going for a drink during the day, am I right?

We visited Fukagawa Winery Tokyo in Monzennakacho, an area located in Shitamachi, Tokyo. We were looking forward to going there because it offers the full wine experience, allowing visitors to see wine brewing up close to learn all about it.

This experience is offered twice a day on weekends and national holidays at 14:00 and 16:00.

Fukagawa Winery Tokyo opened in Tokyo in 2016 as a winery where the ordinary person could go and see wine being made to fully understand its process. It has expanded its circulation in recent years and is now able to take in grapes from across Japan, including Tokyo, to craft many different wines.

On the day we visited we saw the staff bottling up the wine. On average, the winery ships out around 30,000 bottles a year.

The corks have illustrations of "Wine Man" on them, a character created by Fukagawa Winery Tokyo. Ainyan was fairly fond of him!

Time to see how the winery works!

When you step inside, the scent of grapes is the first thing to hit your senses.

The one in charge of Fukagawa Winery Tokyo is Kousuke Ueno, who was kind of enough to show us around. He taught us the process of wine making, as well as what types of grapes and tools they use.

"This machine separates the grapes and stalks using the propellers. This method has been used for 150 years," explained Ueno.

There are periods when visitors can observe this machine being used to separate the grapes. It takes place between mid-August to November, so follow Fukagawa Winery Tokyo's social media for announcements and details.

"Wow! It smells so good!" said Ainyan. We got to see a bucket where Cabernet Sauvignon was being made. They put in whole grapes with the skin on and add natural yeast for the fermentation process. The sweet smell of the grapes fills the air and makes you want to have a glass.

Now for what Ainyan has been waiting for: taste-testing time! She learned everything about the wine making process, so it was time to taste and compare some different wines.

The winery allows taste-testing until 17:00. You can try 3 types for ¥700. And of course, if there's one you tried that you really liked, you can buy it there and then. So sip, scrutinise, and select!

"Please try this one first. It is wine, but it's like a lemon sour," explained Ueno, recommending that Ainyan first try the Yamanashi  Delaware Sparkling.

Soak up all the notes of the drink by having a good smell first before taking a small sip. "Smells really good. This sourness really is like a lemon sour! I wonder why?" said Ainyan.

This wine uses premature grapes which gives the wine a sour taste. The sourness of this wine can play the part of lemons, so it's best paired with fried foods or meals with chicken in them.

The second drink was the Yamagata Delaware Muroka. It's an unfiltered wine made from completely ripened Yamagata Delaware grapes.

Unfiltered means that the filtration process to take out visible solids and such is not used. This gives it a slightly cloudy appearance and an exquisite taste that's somewhere between wine and juice.

Left: Unfiltered Yamagata Delaware / Right: Filtered Yamagata Delaware

For the third glass, Ainyan ordered the filtered Yamagata Delaware to test the difference between it and the unfiltered version.

"The filtered one has a good balance of flavours and is refreshing. The unfiltered one has a smooth juiciness to it. They're both delicious, but I like the unfiltered one more!" said Ainyan.

Her fourth glass was an unfiltered red wine: the East Bay Assemblage Red B.

The grapes used are a combination from Hokkaido, Nagano, and Aomori. It really is an assemblage!

"The red wine has such a different taste and colour depending on the type too! This dark red wine is close to what I usually drink!" said Ainyan with a happy smile.

At the end of the session, Ainyan had tried 10 wines and bought two bottles! She was delighted with her experience, saying: "I was surprised how different each and every one of the wines I tried at Fukagawa Winery Tokyo were. I think I'm getting hooked on the appeal of unfiltered, natural wines."

With Christmas and New Year around the corner, now is the season to indulge in wine. If you're in Tokyo this December, pay a visit to Fukagawa Winery Tokyo for a full wine experience.

Writer:Yuki Yokoo

Photographer:Kayo Sekiguchi

SILENT SIREN

SILENT SIREN is a four-member all-female band consisting of vocalist & guitarist Sumire "Suu" Yoshida, drummer Hinako "Hinanchu" Umemura, bassist Aina "Ainyan" Yamauchi, keyboardist Yukako "Yukarun" Kurosaka.

The band made their major debut in November 2012 with their single Sweet Pop! The band is known to fans by their nickname "Sai Sai." They are especially popular with middle school girls in Harajuku and have over 540,000 follows on their official LINE account.

In 2015, they performed their first solo concert at Nippon Budokan, making them the fastest Japanese all-female band in history to perform there after their major debut. In 2016, they performed a headline show at Yokohama Arena, and embarked on a world tour consisting of 6 shows in 5 countries.

At the end of 2016, they changed label to Universal Music and revamped their band logo and how they write their band name. In 2017, they wrapped up their 5th anniversary tour with their first two-day concert series at Nippon Budokan.

In 2018, they embarked on their biggest Japan tour to date "Tenkaippin presents SILENT SIREN LIVE TOUR 2018 ~"Girls will be Bears" TOUR~ consisting of 33 shows. They also performed at big music festivals and at countless events, as well as performed their annual New Year's solo concert at Yokohama Cultural Gymnasium.

In 2019, they began celebrations of 7 years since their debut and 10 years as a band. They released their final album of the Heisei era and 6th album in total 31313 on March 13 ,2019 and promoted it on their tour SILEN SIREN LIVE TOUR 2019 "31313" ~Sai Sai 10th Anniversary~ supported by Tenkaippin. They also performed at numerous summer festivals and events.

On December 30, 2019, they will performed their annual New Year's concert "SILENT SIREN Nenmatsu Special Live 2019 HERO" at Yokohama Cultural Gymnasium.

In 2020, they will celebrate 10 years since forming the band with a show at Yamanakako Communication Plaza Kirara on September 20, 2020.

SILENT SIREN Official Website: https://silent-siren.com/

Information

Fukagawa Winery Tokyo

TEL: 03-5809-8058

Address: Takahata Bldg. 1F, 1-4-10 Furuishiba, Koto Ward, Tokyo

Opening Hours: Weekdays 15:00-22:00 / Weekends & Public Holidays 12:00-22:00

Closed: Tuesdays

Winery Observations: Weekends & Public Holidays at 14:00 and 16:00 for 20 minutes each. Must book in advance.

Official Website: https://www.fukagawine.tokyo/

Sai Sai Jaran Jaran #7: SILENT SIREN's Yukarun Has Her First Afternoon Tea at Ginza's 'THE GRAND LOUNGE'

Sai Sai Jaran Jaran is a featured series here on MOSHI MOSHI NIPPON from the members of the all-female band SILEN SIREN (aka Sai Sai) who visit various hot spots in Japan and experience different things, the Sai Sai way.

Band keyboardist Yukarun has always wanted to try having afternoon tea. To make her dream come true, she took a visit to THE GRAND LOUNGE in Ginza.

THE GRAND LOUNGE is a multipurpose lounge for adults located on the 13th floor of THE GRAND GINZA in GINZA SIX.

Normally in restaurants afternoon tea is often reserved just for the afternoon but at THE GRAND LOUNGE you can enjoy it any time.

*The afternoon tea set shown above is for 2 people.

The afternoon tea set here costs ¥4,200 (before tax and service charge). It comes with 7 hors d'oeuvres, 7 sweets, strawberry mille-feuille, and a teapot with free black tea refills. Strawberries are the running theme until June, so the desserts and hors d'oeuvres are made using plenty of Japanese "tochiotome" strawberries. It's a big tea set so can be enjoyed by couples or big eaters.

Yukarun is very pleased with the afternoon tea set so much so that she must take a photo beforehand! There are so many strawberries sweets. "I feel happy just looking at this assortment♡" she says.

The drinks in the set are made by San Francisco-based high tea brand Mighty Leaf. There are 11 types to choose from―9 hot and 2 iced―all of which Mighty Leaf have ensured are organic with only the best herbs chosen.

You choose your favourite by smelling the fragrant aromas of each bottle. The one most popular with Yukarun was the "White Orchard." White tea and green tea are used as the base in this drink which are blended with melon and peach fragrance. The fact you get free refills makes it a favourable service.

Time to tuck in!

The tasty line-up will have you wondering where to even begin eating from.

It's not just the sweets that are piled with strawberries but the light appetisers too. These appetisers include foie gras, salmon and more―all extravagant delectables.

"Delicious!" says a satisfied Yukarun as she takes her first bite from the bottom row appetisers.

The variety of sweets is diverse, from jelly to tarts, mousse and beyond. "The sweets come in cute mini sizes! And they're all super delicious!" comments Yukarun.

"The tea I chose is really tasty too! I don't think I've ever had tea this good before!"

Then it was time for the crowning jewel of the afternoon tea set: the strawberry mille-feuille. It is a recreation of the legendary mille-feuille sold at Maxim's de Paris, a much-loved French restaurant in Ginza that closed in 2015. This sandwich-like dessert takes crunchy pie and stuffs fat strawberries and custard cream between them. It's a popular dessert ordered by itself too. The version of it that comes with the afternoon tea is half-sized.

"So good! This is true happiness♡" says Yukarun who is clearly enjoying herself. The mille-feuille can also be ordered for takeout.

How was your first ever afternoon tea experience, Yukarun?

"It felt elegant and sophisticated being in a place like this. There are lots of bite-sized appetisers and sweets so it's fun to try them one by one. It's fun thinking about where to eat from too, and I was really glad you get to choose your own tea. I definitely want to come here again in my own time! I want to dress up and come with my girlfriends."

The items that come with the afternoon teas at THE GRAND LOUNGE change with each season, and right now it's all about strawberries. Head to THE GRAND LOUNGE yourself and treat yourself and others to a luxurious afternoon tea―at any time of the day.

Model: Yukako Kurosaka(SILENT SIREN)

Photographer: Haruka Yamamoto

Writer: Sayoko Ishii

Translator: Joshua Kitosi-Isanga

■PROFILE

SILENT SIREN is a four-member all-female band consisting of vocalist & guitarist Sumire "Suu" Yoshida, drummer Hinako "Hinanchu" Umemura, bassist Aina "Ainyan" Yamauchi, keyboardist Yukako "Yukarun" Kurosaka. The band were founded in 2010 by Umemura and Yoshida who are former models. In 2015, they performed their first solo concert at Nippon Budokan, making them the fastest Japanese all-female band in history to perform there after their major debut. Their new album 31313 is now on sale. The band are currently on their "31313" tour in support of the album. An additional date was added to the tour which will take place on June 10 at Zepp DiverCity in Tokyo.

Check their official website for the latest details: http://silent-siren.com/

Information

THE GRAND LOUNGE (THE GRAND GINZA)

Address: GINZA SIX Floor 13F, 6-10-1 Ginza, Chuo Ward, Tokyo

Business Hours: 11:00-23:00 (Last Orders 22:00)

No Fixed Holidays (Except when GINZA SIX is closed)

TEL: 03-6280-6129 (Lounge/Restaurant)
Website: https://www.grandginza.com/lounge/
RELATED ENTRIES
Back to the Future Exhibition Displays Props from 1985 Film in Japan for the First Time

The Hot Toys flagship store, TOY SAPIENS Tokyo, will begin hosting a free Back to the Future event titled RETRO SAPIENS starting September 18, and running until October 31, 2021. 

Along with the opening of this exciting event, the TOY SAPIENS Tokyo store is also unveiling its new location. The much larger shop is now an easy walk from Shibuya Station and Harajuku Station!

After the event at the Tokyo location concludes, the event will travel to three more TOY SAPIENS stores nationwide, to allow more fans to see these legendary props in person. RETRO SAPIENS will open in Osaka in November 2021, and in Nagoya in February 2022. 

One-of-a-kind props, clothing items, and set pieces from the Back to the Future film will be on display for the first time ever in Japan during this event. If you're a fan, be sure to come and enjoy–admission is free! A number of Back to the Future related merchandise will also be on sale, including figures, apparel, and items only available at the RETRO SAPIENS event. These limited-edition products will also be available online at the TOY SAPIENS Official Online Store starting September 21. 

A special Cosbaby Keychain will also be handed out to guests who clear certain conditions while enjoying the event. Those who purchase Back to the Future merchandise will receive a RETRO SAPIENS-themed shopping bag on a first-come, first-served basis. 

Information

RETRO SAPIENS Tokyo

Running: September 18 – October 31, 2021 *September 18-20 reserved for advanced ticket holders.

Hours: 11:00-19:00 (Last entry at 18:30.) 

Address: TOY SAPIENS Tokyo (Ichigo Jingumae Building 1F, 6-25-16 Jingumae, Shibuya, Tokyo)

Admission: Free

Official Site: http://hottoys-store.jp/retrosapiens/

Rihga Royal Hotel x YOURS BOOK STORE New Accommodation Plan to Discover Your New Favorite Book

Osaka's Rihga Royal Hotel is collaborating with book direction brand YOURS BOOK STORE to produce a one-room one-day accommodation plan titled "Once in a Lifetime ~ Professionals Choose Your Book~." The limited-time plan will be available between September 15 and November 30, 2021.

The lounge on the executive floor, known as The Presidential Towers, was reformed in March 2020 to include a library of 1,000 books, with themes including Osaka, refreshing, relaxing, and children's books. It was then that the room plan collaboration with YOURS BOOK STORE, who was involved in the initial book selection, was proposed.

In the "Once in a Lifetime ~ Professionals Choose Your Book~" accommodation plan, a professional will discuss with the guest to learn more about their taste, with the book director offering 3 personalized book choices per person. The guest can also take full advantage of the hotel library.

Following your trip, a book chosen especially for guests will be sent to your home, with a message card describing how your books were selected. This unique accommodation plan allows you to bask in the afterglow of your trip while waiting to see what kind of book you receive.

Why not check out this unique plan where you can receive your own personalized book recommendation?

Nihonbashi Art Aquarium Museum Closes for Renewal and Relocation

The Nihonbashi ART AQUARIUM will be closed on September 26 2021 to make way for new exhibits and works. The museum is scheduled to be relocated in the first half of 2022.

The ART AQUARIUM Museum opened in Nihonbashi, Tokyo on August 28 202 with the concept of "a museum where life dwells." This will be the largest renewal in the history of the museum Museum, opened by writer and general producer Hidetomo Kimura, with the addition of more exhibits and new and improved interactive areas.

The Nihonbashi Art AQUARIUM Museum opened alongside the 2020 Tokyo Olympics and Paralympic, with the expectations that visitors would come from both within Japan and overseas, thanks to the exhibitions which easily explain and represent Japan's proud traditional culture and performing arts, but due to Covid restrictions, foreign tourists are still unable to enter the country. Despite this, the Museum saw many customers and with the closing of the Olympic and Paralympic Games, the museum will be closed in preparation to relocate to the new ART AQUARIUM. If you want to see the Nihonbashi location for yourself then this is your last chance!

In addition, the "ART AQUARIUM" digital tour is being held from September 12, allowing you to appreciate the Museum in a digital format until the reopening.

Make sure to check out the Nihonbashi ART AQUARIUM while you have the chance!

Information

ART AQUARIUM Museum

Address::1-3-9 Nihonbashihonchō, Chuo-ku, Tokyo

Opening Hours: 10:00~19:00 (L.A 18:30)

Official Site: https://artaquarium.jp

Blue Bottle Coffee Opens New Cafe Inside SHIROIYA HOTEL in Gunma

Initially announced in July of this year, Blue Bottle Coffee Japan will open their newest shop on the premises of the SHIROIYA HOTEL in Maebashi, Gunma Prefecture on September 17, 2021. The new shop is part of a recent initiative to revitalize the city, and make Maebashi an inspiring art and culture destination.

Shiroiya Cafe Limited Menu

Blue Bottle Coffee x Nakamata Fuwafuwa Wanuki Coffee Cream & Anko

Shiroiya Cafe Limited Item


Blue Bottle Coffee x Nakamata Maebashi City Tote Bag (Limited quantities available)

SHIROIYA the PÂTISSERIE×BLUE BOTTLE COFFEE 


Grapefruit and Coffee Tart

Maebashi was once a large manufacturer of silk, and was crucial to Japan's modernization. In 2016, a number of creative minds from both Japan and abroad gathered in the city with the goal of revitalizing the town center. With that in mind, they first renovated the 300-year-old Shiroiya Ryokan, opening the SHIROIYA HOTEL in December 2020. Blue Bottle Coffee was a perfect fit for the project, with a continued goal of fostering community and using their proceeds to help develop towns and cities.

Blue Bottle Coffee Shiroiya Cafe as designed by Keiji Ashizawa Design, also responsible for designing cafes in Minatomirai and Shibuya. Keeping with a comfortable theme, the cafe is designed to let in ample amounts of light. Historic bricks from Maebashi were a key material used in the flooring. Both the SHIROIYA HOTEL and the new Blue Bottle Cafe feature art pieces by Yoshio Shirakawa, an artist from the area.

The Blue Bottle Coffee x Nakamata Fluffy Wanuki Coffee Cream & Anko is only available at the Shiroiya Cafe, and is a collaboration with Wamukashi Nakamata, a confectionary shop in town. A special Maebashi-themed tote bag will also be on sale in limited quantities.

To commemorate the opening of the Shiroiya Cafe, the PÂTISSERIE, located inside the hotel, will serve a limited-time Grapefruit and Coffee Tart.

Would you like to visit Maebashi on your next trip to Japan?

Information

Blue Bottle Coffee Shiroiya Cafe

Opening Date: September 17, 2021

Address: SHIROIYA HOTEL, 2-2-15 Honmachi, Maebashi, Gunma

Hours: 8:00-19:00 (Opens at 10:00 on opening day.)

Official Site: https://store.bluebottlecoffee.jp/

Hyatt Centric Kanazawa Reveals Halloween Inspired Menu for October

All-day restaurant FIVE – Grill & Lounge, located within the Hyatt Centric Kanazawa hotel, will begin serving up a selection of Halloween-inspired treats beginning October 1, including cake sets, parfaits, muffins, and various lunch and dinner items.

Guests will also be able to enjoy some mischievous cocktails and mocktails inspired by witches and ghosts!

Halloween Cake Set 

Black Sesame Pudding

Mummy Macaron

Ghostly Mousse

Pumpkin Ice Cream Sandwich

Coffin Tart

Monster Cream Puff

Halloween Parfait Set

Halloween Dinner/Lunch Course

Halloween Muffin Box

Halloween Cocktails 

Spooky Night

Hallo-Wine Sangria

I sWitch (Mocktail)

The Halloween Cake Set is filled with ghoulish treats, each one displaying incredible attention to detail. In the Halloween Parfait Set, guests can enjoy a tower of different sweets, including black currant and chocolate. Themed with creepy eyeball decorations throughout, it offers a variety of overlapping textures and tastes guests will want to savor until the last bite.

 

When thinking of Halloween, the colors orange and purple instantly come to mind. For the Halloween Dinner/Lunch Course, the menu's creators went with a more dark theme, envisioning a ghost appearing at any moment. The entire restaurant will be decorated in black and gray, creating a truly haunting dining experience.

Don't miss out on the Halloween Muffin Box, a set of mini-muffins made with fresh autumn ingredients, and offering a much cuter feel. Quantities are limited!

The gin-based Spooky Night cocktail is refreshing, with a bold blue color and red-rim on the glass, sure to turn your mouth bright crimson. Hallo-Wine Sangria, house-made with autumn fruits, has a unique design, with a skeleton rising from the glass! For those wanting a mocktail, the I sWitch asks guests to pour the accompanying red syrup over the cotton candy, changing both the appearance and flavor of the drink as if by witchcraft!

Which of these treats would you be after?

Kumagaya City, Saitama Bath Cafe Hareniwa no Yu Opens After Rebranding

Cafe BIVOUAC, located in Kumagaya, Saitama Prefecture, will reopen Bath Cafe Hareniwa no Yu on September 18, 21, after a full rebranding.

The space aims to be 'a garden that clears a guest's body and mind.' Visitors can enjoy a full bath and sauna, freshly-picked vegetables at the Haruniwa Dining Room, and a lush green lounge in which to relax and unwind.

The Haruniwa Dining Room, run by The Farm, a resort in Chiba Prefecture, offers healthy dishes filled with fresh local vegetables from Kumagaya with carefully-selected main ingredients.

In addition, a collaboration with fashion brand 'niko and…' will also begin upon reopening, offering the perfect comfy clothes to wear while enjoying the property.  The lineup  includes an original bath bag and sauna hat, each sold exclusively at Hareniwa no Yu.

Information

Bath Cafe Hareniwa no Yu (Cafe BIVOUAC)

Open: September 18, 2021

Address: 939 Kubojima, Kumagaya-shi, Saitama

Phone: 048-533-2614

Official Site: https://ofurocafe-bivouac.com/

French Artist Jean Jullien Provides Main Visual for Shibuya PARCO Art Week 2021

Last year's Shibuya PARCO Art Week was met with incredible fanfare, and the 2021 event is now set to begin on September 17! This year, acclaimed French artist Jean Jullien is in charge of the main visual for the showing.

The exhibition will be held at NANZUKA 2G, located on the 2nd floor of Shibuya PARCO, as well as within the PARCO MUSEUM TOKYO on the 4th floor.

Shibuya PARCO Art Week 2021 Features

Martin Margiela: In His Own Words

© 2019 Reiner Holzemer Film – RTBF – Aminata Productions

#HotelKawashima

Kensaku Kakimoto Exhibition 'Devoting Time' Collaboration with Luke Bubb, Piotr Stopniak

mono100 x Natsuki Kurachi POP UP

Nori Okawa Solo Exhibition 'Good Boy, More Drunk'

Hikaru Ichijo Exhibition 'CHIDORI ASHI,' with a motif of 'people who are carried away by alcohol'

Mariko Enomoto Solo Exhibition 'Moments,' depicting the fluctuations of daily life

Emi Ozaku Solo Exhibition 'Good something for you'

Exhibition of Tetsuji Aoyama's works, '21XX A Future Odyssey ~Someday in a Hundred Years~

Exclusive collaboration products by VOILLD x FACE on sale

Shun Komiyama Photo Exhibition 'The Wind Responds,' by MIDORI.so Gallery

A group exhibition '' DONOKO? '' Portrait series Curated by TOKYO URBAN ART

"Welcome back to your "Home Position" – Selecting art for the interior based on 'likes'





At 'WHITE CINE QUINTO' on the 8th floor of Shibuya PARCO, visitors can see a powerful documentary film about Martin Margiela, Martin Margiela: In His Own Words. Also on the 8th floor, a hands-on exhibition titled #HotelKawashima will feature Akira Kawashima of the comedy duo Kirin becoming the manager of a hotel. The comedian's voice will also be used for the in-house announcements throughout Shibuya PARCO.

An ART PASSPORT, distributed by the gallery and other stores throughout the complex, contains plenty of information about the events throughout the museum, as well as exclusive special offers. Be sure not to miss the interview with Jean Jullien!

Jean Jullien Exhibition「PAPER PEOPLE」/「POCKET PARENTS」

©Jean Jullien Courtesy of NANZUKA

©Jean Jullien Photo by Shigeru Tanaka Courtesy of NANZUKA

©Jean Jullien Photo by Shigeru Tanaka Courtesy of NANZUKA

Jean Jullien's solo exhibition "PAPER PEOPLE," curated by NANZUKA, will be held at the PARCO MUSEUM TOKYO on the 4th floor, and will depict the creative process of the artist through the medium of paper. Jullien, who has a deep knowledge and love of Japanese manga culture, is sure to bring some charm and comedy to the showing, as is typical of his style. The artist, from Brittany in France, has always been inspired by Japan, and also by the natural beauty of his homeland. Each of the nearly 50 works in the exhibition were created during the Coronavirus pandemic, and 25 special screen prints will be on sale via lottery, both at the event and online.

In the "POCKET PARENTS" exhibition at NANZUKA 2G on the 2nd floor of the complex, Jullien's upbringing and experiences as a parent are expressed in a hilarious story about aging and responsibility. Compared to "PAPER PEOPLE," this offers a different perspective from the artist, which visitors can learn more about in his interview.

Popular Chichiyasu Chi-bou Fair 2021 Returns to LOFT Locations After Two Years

Household goods shop LOFT is teaming up with beverage company Chichiyasu for the Chichiyasu Chi-bou Fair 2021 at four locations nationwide. The event will run from September 16 until September 29 at Shibuya LOFT, and from October 20 until November 3 at Nagoya LOFT, Umeda LOFT, and Tenjin LOFT. Chi-bou is the name of the adorable character on the Chichiyasu logo.

Chi-bou Drawstring Bag (Set of 2): ¥1,650 (Tax Included)

Chi-bou Gauze Handkerchief: ¥770 each (Tax Included)

Chi-bou T-shirt: ¥2,200 each (Tax Included) *Only available at Shibuya LOFT and Umeda LOFT.

Chi-bou Pouch: ¥1,650 (Tax Included)

Chi-bou Rubber Keychain (Set of 2): ¥1,650 (Tax Included)

Chi-bou A5-size Notebook: ¥385 each (Tax Included)

Chi-bou Mug: ¥1,650 each (Tax Included)

Chi-bou Eco Bag (with Pouch): ¥2,200 (Tax Included)

Chi-bou Masking Tape (Chichiyasu Milk/Boxed Milk): ¥495 each (Tax Included)

 

The Chichiyasu Chi-bou Fair was a popular event held at Shibuya LOFT in 2018 and at Yokohama and Umeda LOFT locations in 2019.

How would you like to buy some of this adorable merchandise?

Information

Chichiyasu Chi-bou Fair 2021

Locations:

Shibuya LOFT 1F, Masaka Stage
Nagoya LOFT 5F, Variety Goods Section

Umeda LOFT 1F, Loft Market

Tenjin LOFT 5F, Variety Goods Section

Running:

Shibuya LOFT: September 16 – September 29, 2021

Nagoya LOFT, Umeda LOFT, Tenjin LOFT: October 20 – November 3, 2021

Hours: Same as LOFT business hours *Shibuya LOFT and Umeda LOFT to close at 18:00 on the final day.

Official Site: https://www.loft.co.jp/

Healing 'Panda' Sweets Available at Gelato Pique Café for a Limited Time

A selection of healing monotone panda sweets will be available at the Gelato Pique Café between September 6 and September 25. The collection is titled "everyday PANDA! ~Sweets Time with Pandas~."

Menu


Panda Crepe

Panda Gelato

Panda Float

Goods

Gelato Pique Café Original Panda Glass/Mug
Available from September 6


Gelato Pique Panda Motif Eco Bag / Panda Motif Hand Towel
Online reservations open September 2, available instore from September 8


In 2021, the Gelato Pique Café announced two rounds of animal themed sweets, proving hugely popular on social media. For Easter they released "Bunny Sweets" with rabbit ears motifs, while a series of "Polar Bear Sweets" was released during the Summer. Now, a selection of "Panda Sweets" is the latest to join the animal collection. 

 

The chocolate and banana Panda Crepe is filled with a healing ganache and banana,  while the Panda Gelato has cocoa biscuits studded around the pandas neck, along with rounded eyes and ears. The "healing monotone" Panda Float combines the Gelato Pique Café's original Guatemalan coffee blend with Royal Blue Bourbon.

 

Along with this "everyday PANDA!" Fair, we have a large lineup of panda goods that will make you happy just by having them.  Goods that are perfect for presents, souvenirs, and rewards for yourself can be purchased at each gelato pique cafe store and EC site, so please look forward to that too!

There is a huge lineup of panda goods that will brighten your day releasing alongside the "everyday PANDA" fair, which make perfect gifts for friends – or yourself! You can view the goods lineup in store and on the Gelato Pique website.

The Guests are Actors Too in the HOTEL SHE, OSAKA's 'Theatre While You Stay' Performance

The HOTEL SHE, OSAKA has announced a new form of evening entertainment that allows the guests to take part in their 'Theatre While You Stay' performances of The Indigo Restaurant, held between November 11 and 30 2021. Tickets sales start on September 3.

 

The food and drink menu can be enjoyed from the comfort of your room.

All guest rooms come furnished with a record player.


The boutique hotel brand HOTEL, SHE are leading hotels into the new era with their contemporary services, collaborating with poet Saihate Tahi to create the "Poet Hotel" and live-streaming a performance by artist SIRUP.

The 'Theatre While You Stay' is a form of evening entertainment where guests can enjoy and take part in a stage show that is set in the hotel, both planned and produced by HOTEL, SHE.

They were inspired by the "immersive theatre" technique which has become popular in New York's Broadway, allowing you to freely move around the hotel in your role as you enjoy the show, breaking the boundaries between audience and performer – You aren't just watching the show, but becoming a part of it.

The term "immersive theatre" was coined in London during the early 2000s and refers to a form of theatre that is based on the audience experience. It breaks down the traditional roles of the audience and performers, creating a new relationship between the guests and the show.

 

 

Set throughout the entire hotel building, the lobby, guest rooms, corridors, and courtyard are full of mysterious sounds and lights. The "story experience" starts as you check in, with no set start or end time.  All phones, mobile devices and watches that tell the time are confiscated upon checking in, causing the guests to lose their sense of time and wander the hotel throughout the long evenings. 

 

After watching, the whole story is gradually revealed by talking about the scenes that each experienced while drinking cocktails in the bar lounge and guest rooms.  We want you to enjoy the limited food menu and sweets based on Asian dishes such as Taiwan.

After the show, you can enjoy cocktails in the bar lounge and discuss the scenes you watched as the story is gradually revealed. The delicious limited-time menu is full of sweet Asian dishes and desserts from Taiwan and beyond.

Information

Theatre While You Stay – The Indigo Restaurant

Duration: November 11 ~ November 30 2021 

※Cancelled on November 18 and 25. 

Check In: 19:30 ~ 20:00 (VIP TWIN ROOM Check In is 19:15 ~ 20:00)

Check Out: 12:00 the following morning 

Location: HOTEL SHE, OSAKA

Address: 1-2-5 Ichioka, Minato-ku, Osaka City, Osaka

Ticket Sales:

Primary Ticket Sales (Lottery): September 3 at 20:00 ~ September 12 at 23:59

Secondary Ticket Sales (Lottery): September 14 at 18:00 ~ September 20 at 23:59

General Ticket Sales (First-Come, First-Serve): Undecided

Tickets/Official Site: http://aiirohanten.com/

RIHGA Royal Hotel Osaka to Offer Extremely Limited Halloween Accommodations

The RIHGA Royal Hotel Osaka has announced a spectacularly limited Halloween accommodation plan, titled 'A Terrifying Banquet in the Mysterious Lord's Castle.' Only one lucky person per day can book the decorated room, which features in-room meals and more treats to discover. Reservations are open through October 28, and the room will be available from September 10 until October 31.

'A Terrifying Banquet' Dining Table

Living Room

Skeletons in hotel uniform, ready to greet guests in the front room

This spooky setup will be held in the Fontainebleau suite, themed as a French palace. Guests will enjoy a western dinner course in the comfort (or discomfort) of the room. Decorated with black cats, ever-watchful owls and skeletons, guests can also look forward to taking plenty of photos at a designated photo spot on the sofa.

As the COVID-19 pandemic continues to keep people in their homes, the hotel created this room as a way to experience a new kind of cozy Halloween getaway. Visitors will enjoy plenty of other perks, including free parking, soft drink coupons, and breakfast the following morning.

Would you be able to sleep in this room filled with skeletons and specters?

Information

Special Halloween Room: 'A Terrifying Banquet in the Mysterious Lord's Castle'

Reservations Open: September 1 – October 28, 2021

Room Available: September 10 – October 31, 2021

*Reservations accepted until 8:00AM, 3 days in advance.

Official Site: https://www.rihga.co.jp/osaka/stay/plan/halloween2021

Wakayama Culture Festival 2021 Coming to Shibuya

ASOBISYSTEM, in cooperation with the Agency for Cultural Affairs, will hold the Kinokuni Wakayama Culture Festival 2021 in Shibuya on October 3, 2021. The event will be free to attend, and will take place at Shibuya CAST, a modern commercial facility located between Shibuya and Harajuku.

The Kinokuni Wakayama Culture Festival 2021, taking place in Wakayama Prefecture from October 30 to November 21, is the one of the largest cultural festival in Japan. This event will bring many popular presentations and goods from Wakayama to Shibuya, allowing Tokyo residents to experience some of the beauty and traditions of this area of the Kansai region. A number of celebrity guests will be in attendance, and local Wakayama goods will be on sale. Measures will be taken during the event to prevent the spread of COVID-19.

Promoting the Wakayama Culture Festival Throughout Shibuya!

In a special collaboration with SHIBUYA TELEVISION, the largest media outlet in the Shibuya area, a promotional video produced in Wakayama Prefecture will be aired on eight large screens in the Shibuya area from September 27 to October 3. Select restaurants in Shibuya will also serve dishes featuring ingredients from Wakayama for a limited time.

Get the Wakayama Panda Mask Cover for Attending!

An original Wakayama Panda Mask Cover, produced by ASOBISYSTEM, will be given to visitors on the day of the event. *Quantity limited.

If you're in the Tokyo area, be sure to come out to this special event where you can experience the charm of Wakayama!

Information

Kinokuni Wakayama Culture Festival 2021 in Shibuya

When: October 3, 11:00-17:00

Where: Shibuya CAST. (1-23-21, Shibuya, Shibuya-ku, Tokyo)

Entry: Free

Content: Wakayama Product Market / Stage Show, etc.

Guests: To Be Announced

Organized by: Agency for Cultural Affairs
Planning: ASOBISYSTEM / Channel 47

Twitter: https://twitter.com/wkym2021_sby

* In order to prevent the spread of COVID-19, the event may be subject to admission restrictions, changes in content, or performance cancellations.