Pokémon Illuminations to Light Up Lake Sagami Pleasure Forest This Year
Lake Sagami Pleasure Forest's annual SAGAMIKO ILLUMILLION winter event is set to run from November 14, 2020 to April 4, 2021, and this year, it has been announced that a new Pokémon area will be set up at the event with Pokémon illuminations.
About SAGAMIKO ILLUMILLION
SAGAMIKO ILLUMILLION is an annual winter event held at Lake Sagami Pleasure Forest. About an hour from the main city, the event takes place up a high slope with the 6 million lights becoming one with the surrounding natural environment. The event uses the latest in lighting technology and has gotten bigger and better every year. In 2018, it was chosen as one of Kanto's three biggest illumination events.
Pokémon Illuminations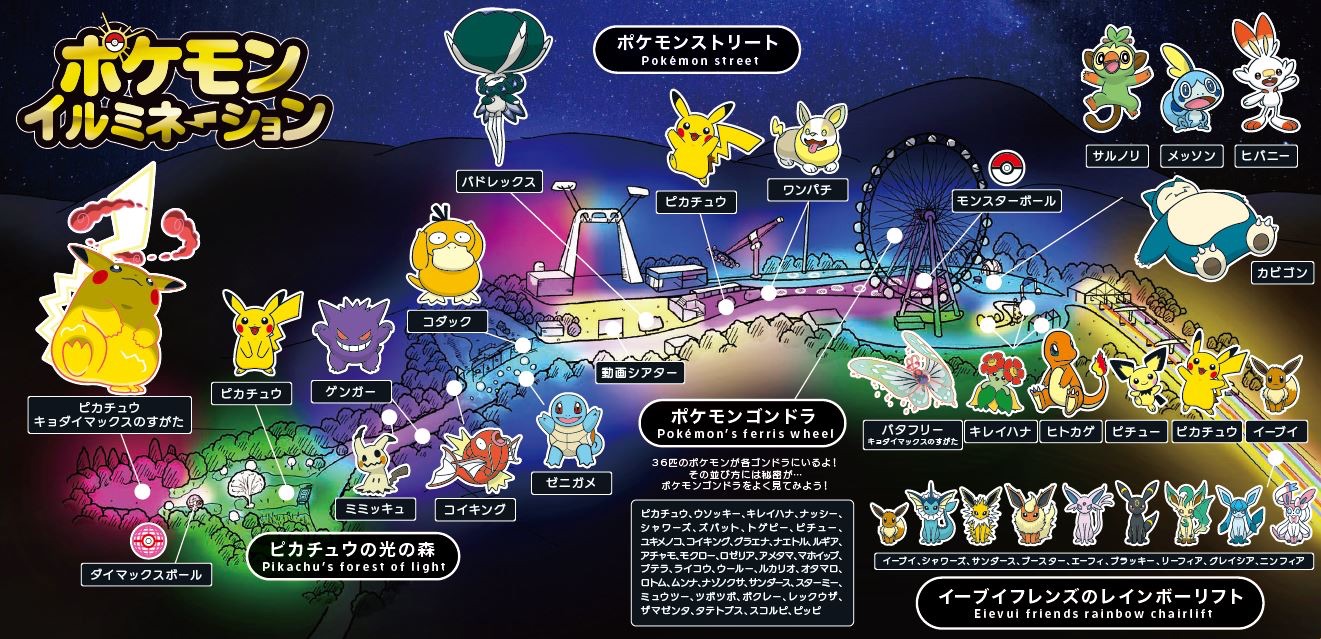 This year marks the 12th run of SAGAMIKO ILLUMILLION, and this time around it's collaborating with the Pokémon franchise with lots of colourful illuminations set to light up forest and trees. Wild Pokémon illuminations roam everywhere and there are plenty of Pokémon photo spots to take your picture with including Pikachu sleeping in the forest, Charmander taking a nap by an open-air, and more.
Eevee Friends Rainbow Lift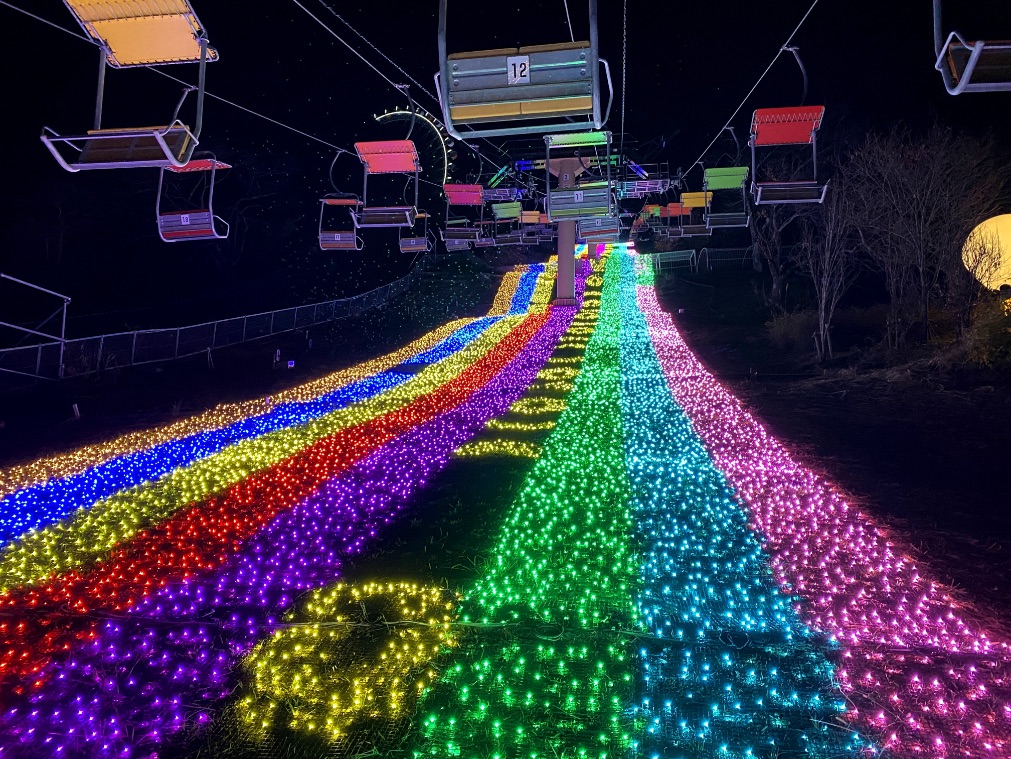 The Rainbow Lift this year features nine colours inspired by Eevee and all of its evolutions. Ride up high with a carpet of colourful lights underneath.
Pokémon Gondola
The Pokémon decoration-wrapped gondola will ride visitors up 420m high. There are 36 different Pokémon gondola designs to see.
Pokémon Street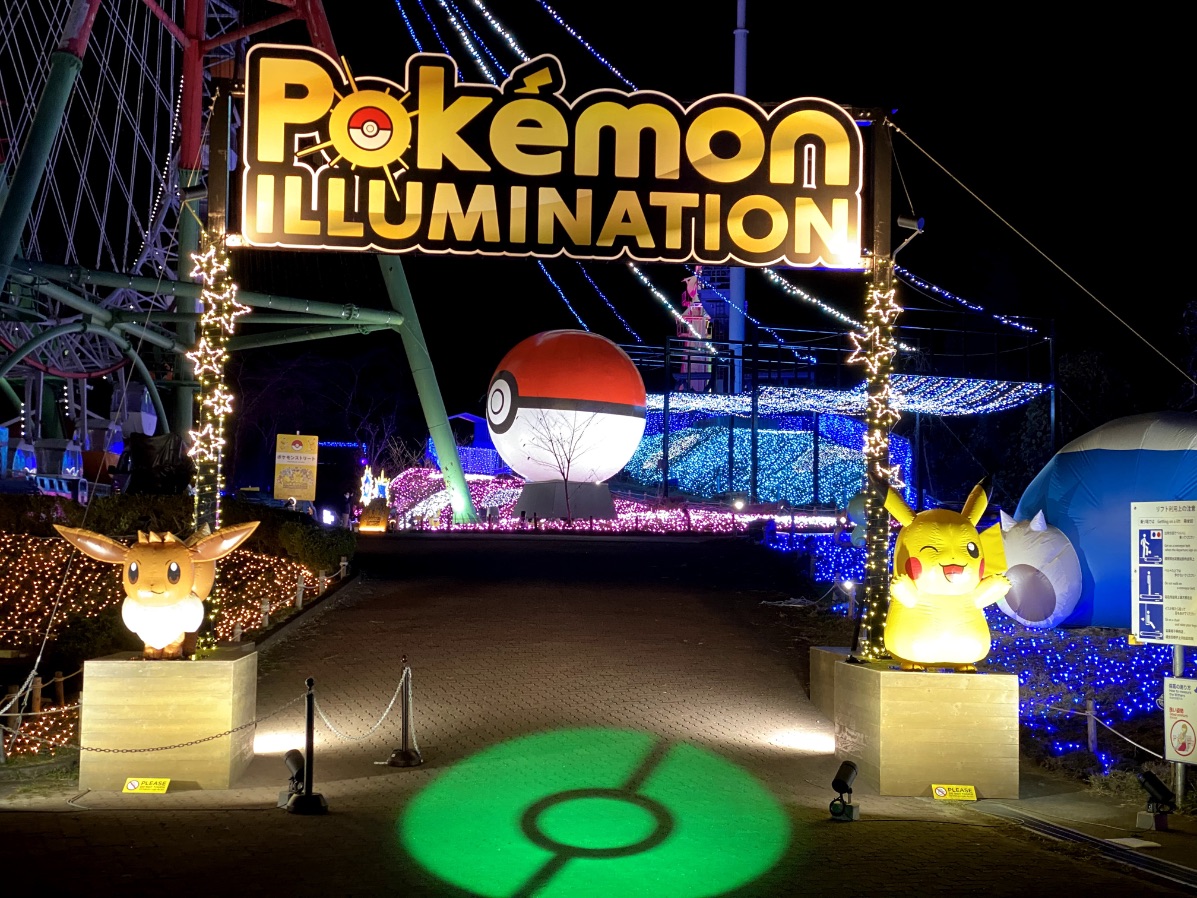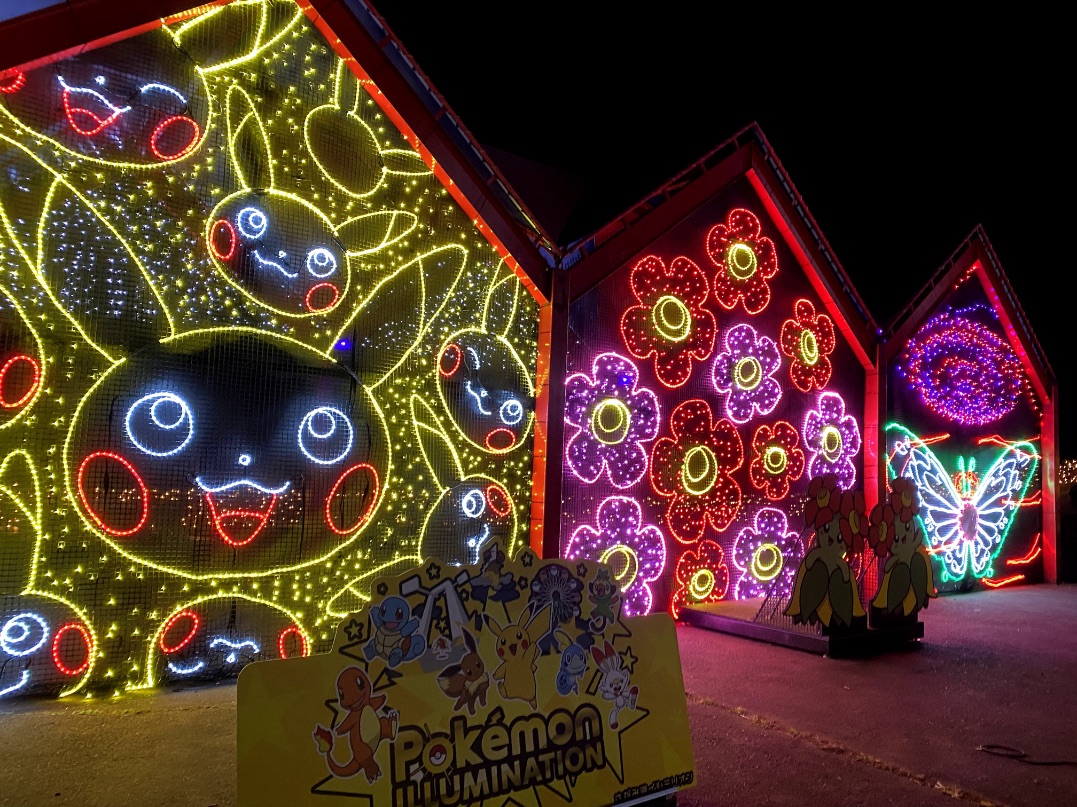 There are plenty of photo opportunities to be had at the event, from a Pikachu 100,000 volt exhibit to Pikachu napping by a fire and more. Take a picture with your favourite Pokémon.
Pikachu's Forest of Light
Visitors will definitely want to check out the forest too which is filled with Pikachu. Deep in the forest stands a giant, towering Pikachu too. Various Pikachu-related events will also take place including a Pikachu light show, a photo meeting, and more.
・Illumination Show: Tickets
・Photo Meet-Up: To attend, visitors can buy a ticket at the Pleasure Station or visit the site's official Twitter
Coaster (For illustrative purposes only)
Visitors who order from the ILLUMILLION menu at the park's Wild Dining restaurant will receive a Pokémon lunch mat, and if they order a drink one of eight possible coasters. They can also receive a Pokémon eco-bag if they spend over ¥3,000 at Pleasure Station.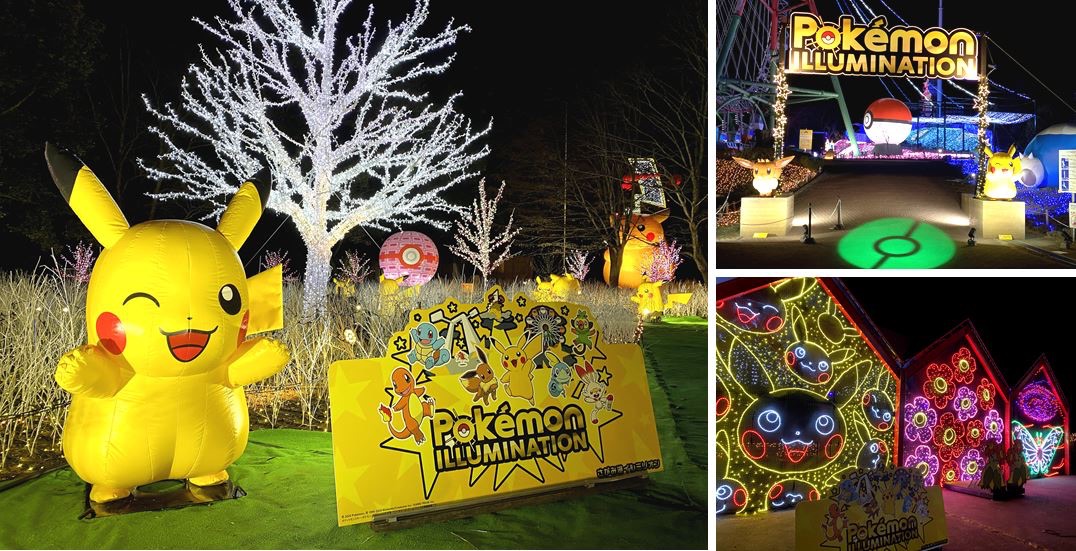 ©2020 Pokémon. ©1995-2020 Nintendo/Creatures Inc. /GAME FREAK inc.
Pokémon, ポケットモンスター, and ポケモン are registered trademarks of Nintendo, Creatures Inc., and GAME FREAK inc.
Information
SAGAMIKO ILLUMILLION
Address: 1634 Wakayanagi, Midori-ku, Sagamihara, Kanagawa
Running: November 14, 2020 – April 4, 2021
Illumination Times: 16:00-21:00 (Last Entries 20:30)
*Illumination times to begin from 17:00 starting in February
Official Website: https://www.sagamiko-resort.jp/illumillion/
RELATED ENTRIES
Light and Shadow 2022 Event at Hotel Gajoen Tokyo Attracts Over 10,000 Visitors

Hotel Gajoen Tokyo, which blends a hotel and a traditional Japanese museum, is celebrating summer in the spookiest way possible. From July 2 until September 25, guests can enjoy the 'Wa no Akari x Hyakudan Kaidan 2022 ~Light and Shadow: 100 Stories~' event, inspired by the tradition of telling ghost stories in summer to send a chill down your spine. Since opening, over 10,000 visitors have come to experience this once-in-a-lifetime event. 

Each of the seven exhibition areas is connected to the stairway, and each has its own theme pulled from the overarching theme of light and darkness. From Light of Passion to Midnight Light, guests will be surrounded on all sides. As you ascend the stairs, a festive atmosphere transforms into a more frightening one. Although the ghosts are out to play, guests are welcome to enjoy the many art pieces and crafts on display. 

Sokyu Room / Lights of Passion

This Kabuki stage is filled with the passion of women who are addicted to love, a common theme in many traditional plays. The eye-catching Japanese umbrellas and lanterns will no doubt leave an impression, and the wistful music is titled Red Thread. The tale depicted here tells the story of a woman who becomes a haunting specter clad in flames of passion, sobbing and laughing in time with the song. 

Still Water Room / Inverted Light

The three trees crowned with horse heads were created by the artist Eros Nakazato. Guests will feel as though they've been transported to the middle of a meadow as they explore this fantastical room covered in traditional paintings. In the work The Reverse of the Reverse, there are no wild horses on the earth, and those who have been tamed by humans sway in a beautiful and sad way. To make this scarier, the story has been reimagined as guests look through a crystal ball–now, humans are ruled by horses

Starlight Room / Midnight Light

Passing through a corridor of suspiciously flickering yokai lanterns, you will find that the clock has struck midnight. In the darkness, as most humans are asleep, specters are having a lively party. Playful cats dance and play and a number of artistic works by contemporary artists are on display. The music played fuses Japanese and ethnic instruments, some of which are interspersed with the voices of creatures of the night.

Experience this immersive art experience that will delight all five senses through light and shadows while you can!

Information

Wa no Akari x Hyakudan Kaidan 2022 ~Light and Shadow: 100 Stories~

Running: July 2 – September 25, 2022

Hours: 11:30-18:00 (Last entry at 17:30) *Closing at 17:00 on August 20 (Last entry at 16:30)

Venue: Hotel Gajoen Tokyo Hyakudan Staircase (Tangible Cultural Property Designated by the Tokyo Metropolitan Government)

Tickets/Details: https://www.hotelgajoen-tokyo.com/100event/wanoakari2022

Official Site: https://www.hotelgajoen-tokyo.com/

Pokemon Shirts Releases Second Round of Designs Inspired by Diamond and Pearl

Pokemon and Original Inc. are back with some new Pokemon Shirts. The second round of patterns inspired by Diamond and Pearl were released on July 22, 2022!

Dialga Pattern

Lucario Pattern

 

25 new designs have been added, bringing the total to 429 patterns. Fans can customize a number of products with the design of their choice, from T-shirts to masks and bandanas. 

Honchkrow Pattern

The new patterns feature Pokemon like Dialga, Lucario, and Honchcrow, among many others. For more information, check out the Pokemon Shirts official site!

*Customers can combine patterns when customizing a shirt. 

A third round of designs will be announced in the future, so keep an eye on the official website and Twitter page for more details.

Information

Pokemon Shirts

Available Countries: Japan, America, Taiwan, Hong Kong, Singapore, Malaysia, Philippines, India, Indonesia, England, Spain, Germany, Italy, France, Canada, Australia, New Zealand

Official Site: https://originalstitch.com/jp/pokemon

Hotel Gajoen Tokyo Opens Artistic Summer Ghost Story Event

Hotel Gajoen Tokyo, which blends a hotel and a traditional Japanese museum, is celebrating summer in the spookiest way possible. From July 2 until September 25, guests can enjoy the 'Wa no Akari x Hyakudan Kaidan 2022 ~Light and Shadow: 100 Stories~' event, inspired by the tradition of telling ghost stories in summer to send a chill down your spine. The art illumination exhibition promises to be a once-in-a-lifetime experience.

Jounen no Akari (Lights of Passion)

Bamboo Lights

Without light, there are no shadows. In this exhibition, light and shadow complement one another, portraying the popular 100 ghost stories in a new way. Last year's event received critical acclaim as guests found themselves moving breathlessly from room to room, exploring the many incredible pieces put on display. Along the dusk-lit promenade, goldfish lanterns lead guests to the start of their mysterious adventure. The atmosphere changes from room to room, with bamboo lights and shadows surrounding you from all sides. 

An Immersive Light Art Space

Odawara Wind Chimes at Dusk

Luxurious Cherry Blossom Hairpins

Glass Lamp, Iroshita Studio

Flower Arrangement, Rikou Otsuka

As you ascend the stairs, a festive atmosphere transforms into a more frightening one. Although the ghosts are out to play, guests are welcome to enjoy the many art pieces and crafts on display, from flower arrangements by master ikebana artist Rikou Otsuka and sculptures by some of Japan's most influential traditional creators. 

Enjoy Traditional Summer Ghost Stories with Light Art

Ghost Lanterns

Born from the Earth, Yasumaro Ozawa

Byakko, Yuji Nishijima

Inverted Light, Eros Nakazato

Mysterious music will drift through the air, making guests feel as though they've been transported into another world. The eerie space is lit by Ghost Lanterns made by a 200-year-old company in Fukuoka, and the venue is decorated with art blending ukiyo-e with contemporary styles. 

Culture and Crafts from Around Japan

Paper Lanterns from Ise

Bamboo Lights, Akarinowa

3D Knit Lights

Paper Fireworks

Summer fireworks have been recreated in colorful paper form by an artist in Nagaoka, Niigata Prefecture, and materials found in a neglected bamboo grove in Shizuoka Prefecture were used to create the many iconic lights seen throughout the unique exhibition. Local craftsmen are at the heart of the event, with pieces brought in from areas all around Japan.

Wa no Akari Room

A concept room featuring gently flickering lights and lanterns is available to book for a limited time. Why not come spend your summer in this otherworldly atmosphere?

Information

Wa no Akari x Hyakudan Kaidan 2022 ~Light and Shadow: 100 Stories~

Running: July 2 – September 25, 2022

Hours: 11:30-18:00 (Last entry at 17:30) *Closing at 17:00 on August 20 (Last entry at 16:30)

Venue: Hotel Gajoen Tokyo Hyakudan Staircase (Tangible Cultural Property Designated by the Tokyo Metropolitan Government)

Tickets/Details: https://www.hotelgajoen-tokyo.com/100event/wanoakari2022

Wa no Akari Room

Available: July 2 – August 31, 2022 (1 room available per day)
Details/Reservations: https://www.hotelgajoen-tokyo.com/stay/plan

Nissy (Takahiro Nishijima) Announces New Song, Tokyo Tower Collaboration

Nissy (Takahiro Nishijima) has announced that his new song, I Need You, will be released digitally on July 7, 2022. The jacket cover has also been revealed.

This love song depicts how it feels to warmly live each day with the person you care about. It's a relaxed mid-tempo number, a far cry from the cool sound heard on Nissy's third album HOCUS POCUS 3.

In addition, Nissy will also be collaborating with Tokyo Tower's popular summer event, the Milky Way Illumination. Approximately 21,000 LED bulbs found on the first floor of the main deck, a stunning 150 meters above Tokyo, will change color periodically to match the beat of the new song I Need You.

Along with the new track, Nissy will also be embarking on a five-dome tour, so keep an eye on his activities going forward!

ⓒTOKYO TOWER

Information

I Need You – Nissy
Streaming Release Date: July 7, 2022

Tokyo Tower Milky Way Illumination x Nissy Special Collaboration
Running: July 4 – August 16, 2022
*The Milky Way Illumination will take place from June 17 until September 4.
Address: Tokyo Tower Main Deck 1F North Floor (Towards the Imperial Palace/Marunouchi)
Light-up Hours: 9:30-22:00 (Until 22:30 on Saturdays) 

Details: https://www.tokyotower.co.jp/event/illumination/2022-amanogawa-illumination/

Official Site: https://nissy.jp

FamilyMart Starts Pokemon Campaign, Pikachu Pineapple Frappe Now Available

FamilyMart stores nationwide have started a campaign in collaboration with the free-to-play mobile game Pokemon Cafe ReMix! From June 21 until July 18, visitors will be able to pick up some special treats and exclusive merchandise.

Pikachu Frappes

A new addition to the Frappe series, customers will be able to enjoy Pikachu's Pineapple Frappe starting June 21, featuring Pikachu in a cute cafe uniform. Made with golden pineapple pulp, the drink is perfect for summer, offering a refreshing sweet and sour taste. There are three cup designs available–one with Pikachu in red, one in blue, and another in green.

Original Merchandise Campaign

Part I: June 21, 10:00~ / Original PP Coaster (4 varieties)

Part 2: July 5, 10:00~ / Cafe Menu Design Original Memo Pad (4 varieties)

*Sample Images

A goods campaign is also underway. Customers purchasing three qualifying products will receive exclusive merchandise–while supplies last, of course! The event will run from June 21 at 10:00 through July 18.

Stamp Campaign

Left: 5 stamps, Original Lunch Bag / Right: 10 stamps, Original Plates (Set of 3)

Collecting stamps on the FamilyMart app can also net fans some special prizes! At the same time, Pokemon fans can use the app to win tickets to Pokemon GO Fest 2022 Sapporo.

© 2022 Pokémon. © 1995-2022 Nintendo/Creatures Inc./GAME FREAK inc.
Developed by Genius Sonority Inc.
ポケットモンスター・ポケモン・Pokémonは任天堂・クリーチャーズ・ゲームフリークの
登録商標です。Nintendo Switchのロゴ・Nintendo Switchは任天堂の商標です。

©2022 Niantic, Inc. ©2022 Pokémon. 
©1995-2022 Nintendo/Creatures Inc. /GAME FREAK inc. 
ポケモン・Pokémonは任天堂・クリーチャーズ・ゲームフリークの登録商標です。

Private Jet Package Now Available in Toyama Offering Spectacular View of Tateyama Mountains

Mizu to Takumi, a company associated with the Toyama West Tourism Promotion Association, has teamed up with SKYTREK to offer guests a once-in-a-lifetime chance to visit the area via private jet. Reservations for the incredible experience began on June 17, 2022.

Offering an entirely new tourism experience in Toyama Prefecture, visitors can see the area's natural wonders from miles above the Earth. The program also aims to share local culture and more about traditional craftsmanship and cuisine.

Toyama Prefecture boasts dramatic topography, from the massive peaks of the Northern Alps and the Tateyama Mountains to the deep waters of Toyama Bay. To better allow visitors to see the sights, these private jet tours will be chartered on special courses different from standard airlines.

After the flights, guests will be welcomed to explore Takaoka's deep history and culture. Kane no Sanzun, a restored and preserved inn, will welcome visitors, offering a relaxing and rejuvenating time.

Visitors can also book optional excursions to further explore the area, such as a Zen meditation experience at a famous temple in Takaoka, a traditional crafting workshop, and a tour and tasting of the only whiskey distillery in the Hokuriku region.

Come enjoy a trip to Toyama with a whole new perspective!

Diglett's Mysterious Forest Website Opens to Commemorate T-Shirt Launch

Original Inc. teamed up with the Pokemon Company in February 2019 to create Pokemon Shirts, an online store where fans from around the world can customize and purchase a selection of shirts featuring their favorite Pokemon characters. On June 10, 2022, a new Diglett T-Shirt collection was released, and to commemorate the release, a unique new website has opened to show off a collection of Diglett in their natural habitat.

Pokemon T-shirts allow customers to create their own shirts by selecting the fabric, patches, and size. In this new collection, customers can choose between two fabrics: Washi or recycled suvin cotton.

On the special website, guests can input their name and plant a virtual seed using a serial number included with each shirt. As the days pass by, each plant will grow, and the forest will become more dense and diverse!

Come hang out with Diglett while designing your very own sustainable T-shirt!


Pokeball Transformed into Engagement Ring with Stunning 143 Facets

U-Treasure, a company offering proper jewelry inspired by pop culture, has announced a Pokemon diamond in the shape of a Pokeball! The gorgeous item will be released on June 9 and will be eligible for international shipping at the U-Treasure online store. The product itself will be on display at the U-Treasure Concept Store in Ikebukuro.

Pokeball Diamond

The Pokeball-inspired diamond has a staggering 143 facets, more than double the 58 found in a standard round brilliant cut. The more facets a diamond has, the more light it reflects.

Those wanting to set this diamond in an engagement ring will need to purchase the ring separately. The Pokeball Diamond is compatible with any rings found in the U-Treasure collection.

Airbnb Reveals Top 10 Most Popular Summer Destinations in Japan

Airbnb boasts one of the largest travel communities in the world, filled with users offering up lodging and those eager to visit somewhere new. The Japanese subsidiary of the company has revealed the top spots added to Japanese users 'Favorites (Wish Lists)' from May 1 to May 17, 2022. Where will travelers in the country be headed this summer?

Golden Week is long gone and users are starting to think about where to visit during the hottest part of the year. This national 'Wish List' might make it easier to pick a spot, with many locations highlighting lesser-known areas!

Gujo Hachiman Villa, Limited to 1 Couple Per Day (Gifu)

This completely private rental villa was made for sauna enthusiasts. One lucky pair per day can book this suite along the Yoshida River flowing through Gujo Hachiman, known as the "City of Water and Dance." Currently booked through the end of August, reservations for September and beyond will be available in early June. Book a stay to enjoy the gorgeous autumn foliage!

A House Surrounded by Lush Greenery in the Countryside (Tottori)

Hosted by a family of musicians and architects, this guesthouse invites guests to enjoy gorgeous Nordic-inspired interiors and the serene quiet of the countryside. For those looking to escape the hustle and bustle of the city, this is the perfect spot.

Hoshina Satomachi, Limited to 1 Couple Per Day (Nagano)

There's nothing like spending the summer in a traditional Japanese home. Enjoy a barbeque on the terrace and relax on the massive lawn. This is the perfect spot for families with children or pets!

Coastal Cabin (Chiba)

You can't have summer without a pool. This luxurious coastal retreat boasts a 15-meter pool, outdoor Jacuzzi, bonfire space, and a barbeque. Relax by the pool while listening to your favorite songs or soak in the outdoor bath as you watch the waves crash along the shore.

An Elegant and Peaceful Log Cabin (Nagano)

Located at 1,300 meters above sea level on the Iizuna plateau, this log cabin is situated in the midst of a dense forest. A perfect space for couples, families, or small groups of friends, guests are welcome to enjoy hiking through this gorgeous landscape in the center of Japan!

Golden Pineapple Garigari-kun with Pokemon Packaging Now Available

Have you heard of Garigari-kun? Japan's most popular popsicle, this treat is perfect for the hot summer months. A Golden Pineapple version is now available!

With a flavor targeted at adults, the Golden Pineapple Garigari-kun includes crunchy pineapple shaved ice with a crunchy texture inside juicy pineapple ice cream. Made with 33% pineapple juice, the flavor is authentic, and the ice granules used are finer than the standard Garigari-kun ice. 




The packaging for each set of six popsicles will feature Satoshi, Pikachu, Leon, and Charizard as a tie-in project with the ongoing Pokemon anime series. A campaign is currently underway with 1,000 possible winners snagging a special acrylic stand (8 varieties). These goods will feature the trainers participating in the Pokemon World Championships.

Choose your favorite trainer and enter to win a magnificent prize!


©Nintendo・Creatures・GAME FREAK・TV Tokyo・ShoPro・JR Kikaku ©Pokémon

Information

Golden Pineapple Garigari-kun (Box of 6)

Release Date: May 30, 2022

Customizable Pokemon T-Shirts Now Available, Concept Video Starring Diglett Released

Original Inc. teamed up with the Pokemon Company in February 2019 to create Pokemon Shirts, an online store where fans from around the world can customize and purchase a selection of shirts featuring their favorite Pokemon characters. On June 10, 2022, a new Diglett T-Shirt will be released! What's so special about these shirts? They're made from Earth-friendly materials!

Pokemon T-shirts allow customers to create their own shirts by selecting the fabric, patches, and size. In this collection, fans can select 15 different embroidered Pokemon badges from Pokemon Red and Green, including Pikachu, Gengar, and Snorlax. These patches can be placed on the left side of the chest, right sleeve, right front hem, or the left back hem. The patches are small and easy to pair with any type of daily activity. Each shirt is available in five sizes (XS, S, M, L, or XL). 

Customers can choose from two fabrics: Washi or recycled suvin cotton. The Washi is a knitted fabric made of Japanese paper fiber, with natural fibers used for the name, sewing thread, and washing instructions label, making it completely environmentally friendly. It also has antibacterial, deodorizing, and UV-blocking properties, and is recommended for wearing in hot and humid weather. The recycled suvin cotton is made from recycled cotton that was originally discarded during the spinning process. Blended with organic cotton, it has a silky sheen and feel and is extremely comfortable.

Prior to the release of the new shirts, 'Diglett's Simple T-shirt, a concept movie set in a mysterious forest, was posted to YouTube. As stated in the Pokedex, "If a Diglett digs through a field, it leaves the soil perfectly tilled and ideal for planting crops. These T-shirts made of Japanese paper or recycled cotton will be returned to the soil before long, making it even more rich and fertile.

'Diglett's Simple T-shirt' Concept Movie


In addition, a YouTube Live premiered on May 27 at 7:00 PM highlighting the life of a Diglett. During the stream, the Diglett responded to user comments, so be sure to go take a peek and drop a line!

YouTube Live – 'Do Your Best, Diglett!'


How would you like one of these environmentally friendly shirts?

NAKED's Popular Night Walk Returns to Illuminate Jozankei Onsen in Hokkaido

The JOZANKEI NATURE LUMINARIE -WATER LIGHT VALLEY- event is coming back in 2022! The event, which shows off the natural beauty of Jozankei's rivers, valleys, and forests, from June to October. Guests can enjoy an illuminated walk along the Toyohira River in the Jozankei area of Hokkaido and wander across the picturesque Futami Suspension Bridge. 

 

This year, the park area at the entrance to the event has been redesigned with new lights. A 2.5-meter-high blue dome will welcome guests with an image of water, and the trees and wisteria trellises will be decorated with twinkling golden lights.

Welcome Light Lake *Image from 2021

River Road

Forest Water Ripple

Nature Projection

Futami Valley

Visitors will encounter a variety of unique light art as they stroll through the rich nature of Jozankei guided by the elusive kappa, known to be the guardian Gods of the region. As visitors approach, the river begins to glow while flowers bloom in this interactive art experience. By using projection mapping across the Futami Suspension Bridge and an all-encompassing light show within the canyon, the event hopes to remind visitors that nature is important and worth preserving. 

How would you like to spend your summer deep in the illuminated nature of Hokkaido?

Information

JOZANKEI NATURE LUMINARIE – WATER LIGHT VALLEY

Address: Jozankei Futami Park – Futami Suspension Bridge
(Jozankei Onsen Nishi 4-chome, Minami-ku, Sapporo, Hokkaido)

Running: June 1 – October 23, 2022
Hours:
June – August: 19:00-21:00
September – October: 18:00-21:00

*Tickets available for guests of Jozankei Onsen only
Official Site: https://jozankei.jp/jozankei-nature-luminarie