DEAN FUJIOKA Announces Live Stream Concert 'Plan B' On Christmas Eve
DEAN FUJIOKA is set to host his first-ever live stream concert 'Plan B" on December 26, 2020.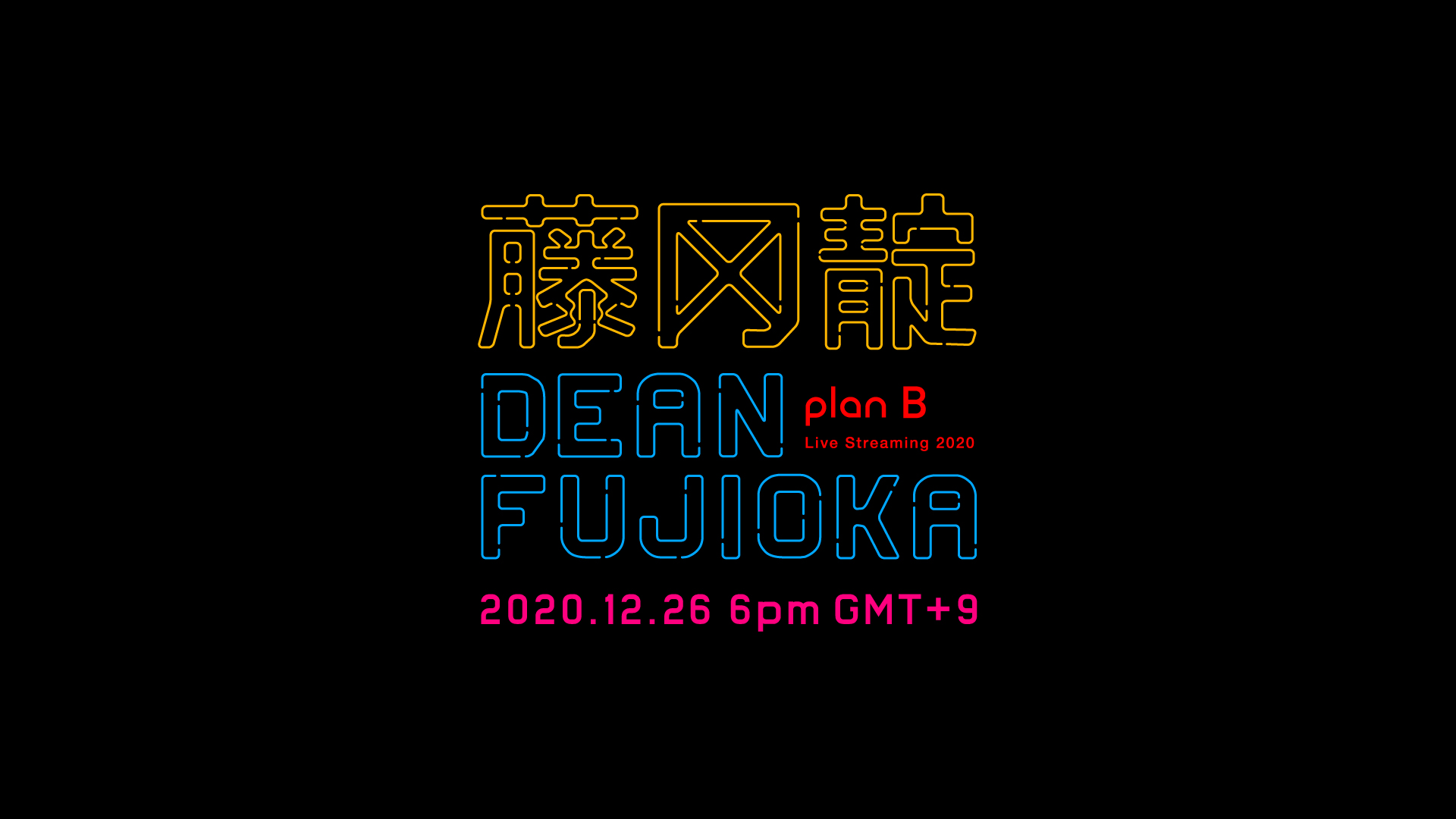 DEAN FUJIOKA had to cancel his second Asia tour in response to the COVID-19 pandemic, and so his live stream concert comes as the Plan B. Live stream shows have become popular recently and are looking to continue into 2021.
FUJIOKA has video director Spikey John on board for the stream. Additionally, members of FUJIOKA's official fan club FamBam that buy fan club tickets will get to participate in an exclusive part of the show after the concert ends.
DEAN FUJIOKA's stream will begin on December 26 at 18:00 (JST). This year has been a huge success for the singer, and 2021 will see him moving in a new direction, beginning with Plan B.
RELATED ENTRIES
Dean Fujioka's Musical Transmute Tour 2021 Begins, First Day Report

10.September.2021 | MUSIC

On September 4, popular actor and musician Dean Fujioka began his Musical Transmute Tour at the Kawaguchi Comprehensive Cultural Center Lilia in Saitama Prefecture.

Photo by Kayo Sekiguchi

Photo by Kayo Sekiguchi

Photo by Yukitaka Amemiya

Photo by Yukitaka Amemiya

The new tour is not only Fujioka's first live tour since the Born to Make History Tour in 2019, but also his biggest national tour to date, with over 20 shows planned in 18 cities. Fans have been anxiously awaiting the pop artists return to the stage, as last year's Asia tour never came to fruition.

In this first performance, plenty of popular tracks made appearances, such as Shelly, and Searching for the Ghost. Fujioka's latest song Runaway was performed to massive fanfare, while four unreleased tracks rounded out the 1 hour and 45 minute performance. These new tracks were Sayonara, Sukima, Missing Piece, and Spin the Planet.

It was clear, however, that Neo Dimension was the song which truly set the theme of the tour. The track is an updated version of My Dimension, originally released as a track Fujioka used to introduce himself and express his intentions. Now, he sees it as more of a compass, and intends to use it as a way to lead him and his audience into the future. Dean Fujioka is an artist who prides himself on his evolution, and his willingness to attempt new things on stage. Neo Dimension is meant to express that side of himself in musical form.

The concert showcased parts of the singer which reminded us of his early career, while other moments made it clear how much he has evolved and changed over time. His time on stage wasn't random–each moment was a visualization of how his career has changed.

Prior to the start of the tour, Fujioka announced that his third album Transmute will be released in December 2021. This will be his first album in three years, his last being History in the Making. The album will contain the four new tracks played during the show.

The title, Transmute, holds an important message. "It's important to mutate in order to survive in today's chaotic world, and to thrive in an unpredictable future," Fujioka says. This tour will play an important role in helping fans unravel and understand the meaning of those words.

Text by Jun Fukunaga

DEAN FUJIOKA Releases 'Runaway' Music Video Behind-the-Scenes

DEAN FUJIOKA released the music video for his new song Runaway last week. The song is used as an insert song in the Fuji TV drama Oshi no Ouji-sama and as the main theme in the FOD spin-off drama Boku no Oshi wa Ouji-sama.

DEAN FUJIOKA – "Runaway" (Music Video)

On Thursday, a behind-the-scenes for the music video was also posted on his channel.

The video features comments and interviews with Fujioka as well as former Sakurazaka46 member Shiori Satō who also appears in the music video.

Fujioka is set to embark on his "Musical Transmute 2021" tour which will take him to 18 cities for 20 shows. The last run of early bird tickets are now available for purchase.

DEAN FUJIOKA Announces "Musical Transmute" Tour 2021

DEAN FUJIOKA has announced his all-new "Music Transmute" tour which will take him across Japan in 2021.

 

This is DEAN FUJIOKA's first tour since his "Born To Make History" tour in 2019, and is sure to be highly anticipated amongst domestic fans after the cancellation of his Asia tour last year. The new tour will take him to 20 venues across 18 cities starting at Kawaguchi Comprehensive Cultural Center Lilia's Main Hall on September 4, 2021.

What surprise does DEAN have in store for fans this time, and how will his music transmute?

 

Pre-sale tickets for fan club members opened on June 10. More details on the full tour schedule will be announced on his official website in the run up to the first show.

Information

DEAN FUJIOKA "Musical Transmute" Tour 2021

DEAN FUJIOKA Releases 'Plan B' Music Video

In promotion of his new single Take Over, which dropped on Wednesday (March 10), DEAN FUJIOKA is holding a 24-hour live stream on the same day as the record's release.

The stream will begin at 18:30 (JST) and will air music videos before DEAN FUJIOKA appears to perform live at 20:00. He will of course perform his new single, talk about his first-ever picture book Famubamu, talk to fans through video call, and more.

The singer-songwriter also released a music video for his song Plan B on YouTube which you can check out below.

DEAN FUJIOKA Drops Trailer For New Single 'Take Over'

DEAN FUJIOKA has dropped a trailer for the First Press Limited Edition of his upcoming new single Take Over which is set for release on March 10, 2021.

Copies of this edition include the title track Take Over which was debuted at DEAN FUJOKA's first-ever live streamed performance "Plan B" held at the end of 2020 as well as a "Plan B Remix" version of his smash hit History Maker, the original version having been written as the opening theme for the anime series Yuri!!! On ICE. It also includes a live music video.

But it doesn't end there. First Press Limited Edition copies also include footage of the singer's acoustic concert DEAN FUJIOKA FamBam Exclusive "#Acoustic," a show that was originally scheduled to take place for fan club members in March 2020 but had to be cancelled and was held as a studio session instead. Fans can also look forward to watching a documentary and lyric video for DEAN FUJIOKA's digital single Neo Dimension that was released last year.

New SG "Take Over" First Press Trailer

DEAN FUJIOKA "Take Over" Special Site

DEAN FUJIOKA Announces New Single 'Take Over' For March Release

DEAN FUJIOKA has announced that his new single Take Over will drop on March 10, 2021. Despite the effects of the COVID-19 pandemic, DEAN FUJIOKA has not let up when it comes to his music. He released his single Neo Dimension on August 19 last year, the date of his 40th birthday, and followed up with a string of releases across Asia, with a focus on the region of China. The singer-songwriter also streamed his first live concert, "Plan B," on Boxing Day last year.

First Press Limited Edition copies of DEAN FUJIOKA's new single Take Over are coupled with a DVD featuring a live studio concert that the singer held in response to his FamBam Exclusive #Acoustic show being cancelled. It also includes the documentary Neo Dimension, a lyric music video, and more.

Information

Take Over
Release Date: March 10, 2021
First Press Limited Edition (CD+DVD): ¥2,700 (Before Tax) [AZZS-114]
Regular Edition (CD): ¥1,400 (Before Tax) [AZCS-2083]
Limited Pressing Edition Premium Set (CD+GOODS): ¥5,500 (Before Tax) [AZNT-56]
*Limited Pressing Edition Premium Set copies are exclusive to the online shop ASMART

DEAN FUJIOKA – "Take Over" Special Site: https://www.deanfujioka.net/takeover
DEAN FUJIOKA Official Website: http://www.deanfujioka.net

DEAN FUJIOKA Releases New Song 'Go The Distance' and Animated Music Video

DEAN FUJIOKA released his new single Go The Distance digitally on October 25, 2020 along with a promotional video on his official YouTube channel.

The song was written by DEAN FUJIOKA for the Chinese real time mobile battle RPG Hidden World Records (隐世录). Two versions of the song are available, one in Japanese and one in Chinese, both sung by the Japanese singer-songwriter.

The digital cover art was created by Japanese digital artist wataboku whose work has been showcased across Japan as well as in Shanghai, Jakarta, and elsewhere. The artwork captures the story of the song which sings of the distance between the deities Orihime and Hikoboshi in the Japanese festival known as Tanabata, also called the Star Festival.

Check out both versions of the song below.

DEAN FUJIOKA & 隐世录 – "Go The Distance – CH Ver." (Official Promotion Video)


DEAN FUJIOKA & 隐世录 – "Go The Distance – JP Ver." (Official Promotion Video)


DEAN FUJIOKA to Premiere 'Permanent Vacation' Live Performance On YouTube

DEAN FUJIOKA will drop his new song Neo Dimension tomorrow on August 19, 2020. A short clip of the song is currently available to listen to on the singer-songwriter's YouTube channel until tomorrow.

DEAN FUJIOKA is currently premiering live performances over the next four weeks on his YouTube channel. His next premiere will be of his performance of Permanent Vacation which will be posted today (August 18) at 20:00 (JST).

DEAN FUJIOKA "Permanent Vacation" from Live 2017

DEAN FUJIOKA will celebrate the release of his new single Neo Dimension tomorrow with a special YouTube stream. Details below.

Information

DEAN FUJIOKA "Neo Dimension" YouTube Special 0819
Date: August 19, 2020 at 20:00 (JST)
*Approx 1 hour stream

Watch Here: https://youtu.be/prAPDQPujys

DEAN FUJIOKA Releases Audio & Cover Art for New Song 'Neo Dimension'

A short clip of the audio from DEAN FUJIOKA's upcoming new song Neo Dimension, which will be a digital exclusive, is now available to listen to on the singer-songwriter's YouTube channel until August 18 before the song is officially released on August 19.

The song was originally written in 2008 as a self-introduction and expression of DEAN FUJIOKA's intention as an artist. It was first released as My Dimension back in November 2013 and was used as the main theme for the Japanese film I am ICHIHASHI. Neo Dimension is a new recording of the song, 12 years later, which breathes new life into the original.

The digital single's cover art features a photo taken by DEAN FUJIOKA himself at an airport. All of the flights are cancelled, except one which is listed as 'New Gate'—a metaphor denoting DEAN's embarking into the future, starting with the newly-recorded Neo Dimension.

DEAN FUJIOKA – Neo Dimension Short Ver. (Official Audio)



DEAN FUJIOKA is currently premiering live performances over the next four weeks on his YouTube channel. His next video will drop on August 13 at 20:00 (JST) and will be his performance of History Maker taken from his set at InterCycle 2016 held back in 2016 at Osaka-jo Hall.

DEAN FUJIOKA Announces Four Weeks Of YouTube Premiere Concert Footage

DEAN FUJIOKA has announced that over the next 4 weeks he will premiere his live performance of My Dimension held at Osaka-jo Hall back in 2016 over on his official YouTube channel starting on August 6, 2020 at 20:00 (JST).

DEAN FUJIOKA wrote My Dimension back in 2008, a song that would go on to be released for the first time in 2013 when it was used as the main theme for the Japanese film I Am Ichihashi: Journal of a Murderer which DEAN FUJIOKA also directed and starred in.

The live performance footage to be premiered is taken from the artist's concert DEAN FUJIOKA Special Live "InterCycle 2016".

DEAN FUJIOKA "My Dimension" Live from InterCycle 2016


DEAN FUJIOKA will premiere more live performances over the next four weeks on his YouTube channel.

The singer-songwriter is re-releasing My Dimension under the song title Neo Dimension on August 19 which breathes new life into the 12 year-old song with new lyrics.

DEAN FUJIOKA Announces New Single 'Neo Dimension' and Releases New Artist Photo

DEAN FUJIOKA has announced that his next single Neo Dimension, which will be released digitally only, will drop on August 19, 2020—the day of his 40th birthday. The singer-songwriter released a new photo in promotion of the new single.

The song was originally written in 2008 as a self-introduction and expression of DEAN FUJIOKA's intention as an artist. It was first released as My Dimension back in November 2013 and was used as the main theme for the Japanese film I am ICHIHASHI. Neo Dimension is a new recording of the song, 12 years later, which breathes new life into the original.

DEAN knows no borders, travelling and being active around the world. He takes inspiration from the daily experiences he encounters and shapes it into music. For Neo Dimension, he has written in some new lyrics. The song shows his ability to continue evolving as an artist, one that is always looking to do something new, and so it can be called a completely new song to that of the original My Dimension.

DEAN FUJIOKA is also holding two live streams on August 19 over on his official YouTube channel to celebrate the release: DEAN FUJIOKA「Neo Dimension」 YouTube Special 0819 and DEAN FUJIOKA「Neo Dimension」〜After Party〜, the latter of which is exclusive to members of the artist's fan club FamBam. Fans will get to hear DEAN talk about the new track amongst other stuff on his birthday.

The singer's nationwide tour, which was set to begin this October and run into 2021, has been cancelled due to the COVID-19 pandemic. But it's not all sad news for fans, as DEAN FUJIOKA is planning to perform live in some other form in the near future. More information about this will be released at a later date.

An official DEAN FUJIOKA Twitter staff account is also now open in addition to the singer's personal account, so fans can follow that for future updates.

Information

Neo Dimension
Release Date: August 19, 2020 (Digital Release)

DEAN FUJIOKA「Neo Dimension」 YouTube Special 0819
Stream Date: August 19, 2020 at 20:00 (JST) *Stream will last approx 1 hour

Watch Here: https://youtu.be/prAPDQPujys

Official Website: http://www.deanfujioka.net

DEAN FUJIOKA Lives Stream Acoustic Performance & 2020-2021 Tour Announced

DEAN FUJIOKA had a series of acoustic live shows entitled DEAN FUJIOKA FamBam Exclusive "#Acoustic" penned in for members of his official fan club, which was originally set take place in mid-March, but due to the ongoing circumstances surrounding the Coronavirus, the six shows for Tokyo, Nagoya, and Osaka have been cancelled to ensure everyone's safety and peace of mind.

DEAN FUJIOKA and his staff decided to instead hold a live acoustic performance for everyone who was looking forward to the acoustic tour, and it took place yesterday in an at an unnamed studio.

The set consisted of 7 songs specially arranged into acoustic versions, from his debut track My Dimension to his hit track Shellyーthe latter of which was used as the main theme song for the popular Japanese drama series Sherlock: Untold Stories which aired last year. FUJIOKA also spoke about his music to fans during the stream. At the end of the performance, the singer-songwriter announced that the tour merchandise for the cancelled tour will be put to purchase online, and that he will embark on a nationwide tour of Japan beginning this October.

DEAN FUJIOKA promised fans, "Let's meet in your hometowns this autumn!" The stream was over in what seemed like an instant, but people in the comments expressed how special of a performance it was. Fans are sure to be excited at the announcement of the new tour – check out the dates and venues below.

Information

DEAN FUJIOKA 2020-2021 Japan Tour Schedule

2020 Dates

10/3 @ Hondanomori Hall, Ishikawa Prefecture

10/7 @ Festival Hall, Osaka

10/8 @ Festival Hall, Osaka

10/10 @ Sendai Sunplaza, Miyagi Prefecture

10/17 @ Hiroshima Ueno Gakuen Hall, Hiroshima Prefecture

10/18 @ Okayama Civic Hall, Okayama Prefecture

10/24 @ Aichi Prefectural Art Theater, Aichi Prefecture

11/1 @ Sunport Hall Takamatsu, Kagawa Prefecture

11/3 @ Chiba Prefectural Cultural Hall, Chiba Prefecture

11/7 @ Koriyama City Cultural Center, Fukushima Prefecture

11/8 Omiya SONIC CITY, Saitama Prefecture

11/14 @ City Kaikan Sears Home Yume Hall, Kumamoto Prefecture

11/15 @ Fukuoka Civic Hall, Fukuoka Prefecture

11/22 @ Kanagawa Kenmin Hall, Kanagawa Prefecture

12/4 @ Shimizu Cultural Center Marinato, Shizuoka Prefecture

12/6 @ Kuragi Cultural Hall (Matsusaka Civic Cultural Hall), Mie Prefecture

12/18 @ Kobe International House, Hyogo Prefecture

12/26 @ Kanamoto Hall (Sapporo Shinmin Hall), Hokkaido

2021 Dates

1/14 @ Tokyo International Forum (Hall A), Tokyo

DEAN FUJIOKA Official Website: http://www.deanfujioka.net