Attack on Titan The Final Season Escape Game Announced at TOKYO MYSTERY CIRCUS
SCRAP has announced the release of a new escape game at TOKYO MYSTERY CIRCUS, Japan's biggest puzzle-themed theme park, in promotion of the final season of Attack on Titan which is now airing. Set to begin on February 25, 2021, the escape game is titled "Escape Game x Attack on Titan The Final Season: Escape From the 5 Titans."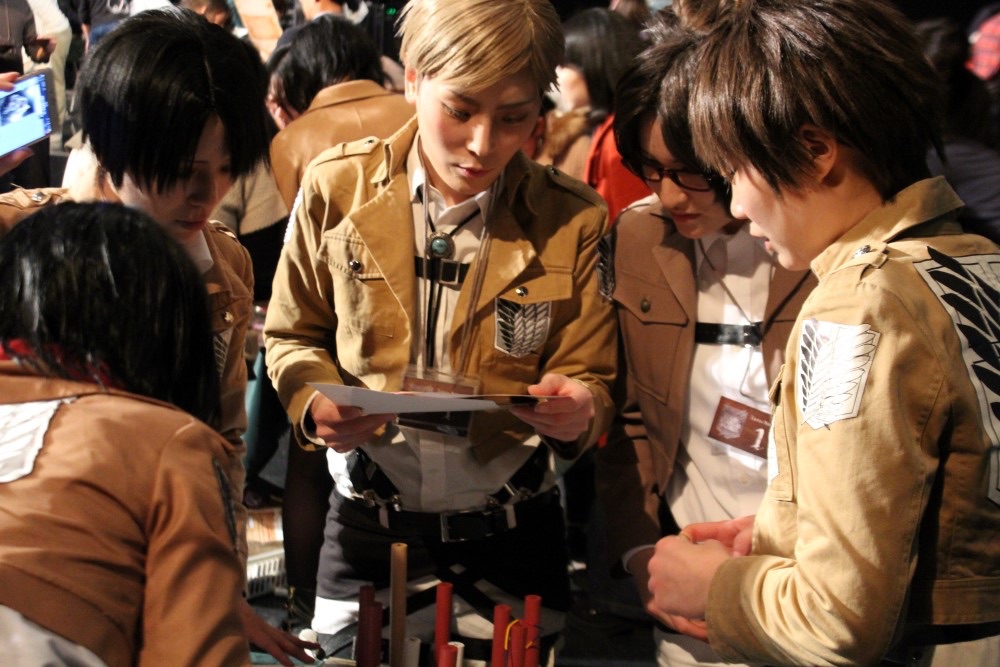 This marks the fifth Attack on Titan themed escape game to be held. Players will become a member of the Survey Corps and worked with Levi, Mikasa, and other characters to face off against five Titans. The immersive story will have players feeling like they are really in the world of the anime series.
The key to this escape game is the map provided to players which they must used together with other items to assemble a diorama map of Marley. They will then use their completed diorama to their advantage in order to escape.
The escape game is a celebration and mark of Attack on Titan's final season and a must-experience for fans in Japan.
©SCRAP
©諫山創・講談社/「進撃の巨人」The Final Season製作委員会」
Information
Escape Game x Attack on Titan The Final Season: Escape From the 5 Titans
Location: TOKYO MYSTERY CIRCUS
Running: Febrauary 25, 2021 – April 25, 2021
Nazo Complex Nagoya
March 25, 2021 – April 25, 2021
June 30, 2021 – July 25, 2021
Osaka Himitsukichi Of Scrap
May 13, 2021 – June 27, 2021
Ajito Of Scrap Sapporo
July 2, 2021 – August 1, 2021
Ajito Of Scrap Sendai
April 29, 2021 – June 13, 2021
Ajito Of Scrap Okayama
April 29, 2021 – May 30, 2021
Nishitetsu Hall Fukuoka
April 29, 2021 – May 5, 2021
Event Website: https://realdgame.jp/shingeki_2021/
RELATED ENTRIES
Attack on Titan The Final Season Releases Key Visual for Series Finale

Fans are getting their first look at the finale for Attack on Titan The Final Season with a new key visual. The finale will premiere in 2023.

 

The new visual was shown during the second part of the Attack on Titan The Final Season SPECIAL EVENT held on November 13, 2022.

The image shows Eren's friends Mikasa, Armin, Connie, Jean, Levi, and Reiner, with the main character's transformed Titan form in the background. 

 

Attack on Titan The Final Season Finale Teaser

The exciting conclusion to this long-running series is just around the corner. Stay tuned for more updates!

 

 ©諫山創・講談社/「進撃の巨人」The Final Season製作委員会

Information

Attack on Titan The Final Season Finale

Airing on NHK in 2023

*Broadcast date, time, and contents are subject to change.

 Official Site: https://shingeki.tv/final/

Attack on Titan Playing Cards Win Big at the Ani-Monozukuri Awards 2022

At the 5th annual Kyoto Ani-Monozukuri Awards 2022, a collection of Attack on Titan playing cards made in traditional Japanese style took the Gold Prize in the Craft Design category. In Japanese, monozukuri means 'to make something by hand.'

The Kyoto Ani-Monozukuri Awards aims to revitalize business between the anime industry and local companies and organizations. It honors outstanding collaborative products, inviting those with a creative streak to try their luck at designing something uniquely anime-inspired. This year's awards show saw 157 total entries, with one winning the grand prize, seven winning both gold and silver, and six winning bronze.

Charaditional Toys was launched this year, and the company aims to create items for adults who love anime characters. The Gold Award was granted to the company after judges were inspired by the traditional Japanese craftsmanship and high quality shown in the final product. Made by Oishi Tengudo, a company founded in Kyoto in 1800, the cards were made using classic methods. These 48 original playing cards are like nothing fans of Attack on Titan have seen before. 

A second project is scheduled for release in winter 2022, so stay tuned!

©諫山創・講談社/「進撃の巨人」The Final Season製作委員会

Attack on Titan in HITA Smartphone App Reveals Captain Levi 3D-AR Experience

Attack on Titan was created by Hajime Isayama, a manga artist born and raised in Hita, Oita Prefecture. Fans of the manga and anime series can experience the world of the famous series in his hometown, and by downloading a specific smartphone app and traveling to a specific location, they can now experience a new 3D-AR experience featuring Captain Levi. The installation will be installed at the camp resort Paradiso Oita in Oita Prefecture.

The AR application uses colored model data of the Captain Levi statue erected in the plaza in front of Hita Station on March 6, 2021. The realistic image of Captain Levi can be viewed from 360 degrees, and visitors can even take commemorative photos with the popular character!

The installation will be located at the Paradiso Oita Front Ridge, which costs nothing to enter. The grand opening will take place on July 22, 2022. With its convenient location just off the Amagase-Takatsuka interchange on the Oita Expressway, many believe that the installation will help to revive tourism in the area. 

Information

Attack on Titan – Captain Levi 3D-AR

Release Date: July 14, 2022

Address: Paradiso Oita Front Ridge (9619-1 Tobata, Kusu, Kusu-ku, Oita)

Access: 3 minutes from Amagase-Takatsuka IC on the Oita Expressway

Attack on Titan in HITA Official Site: https://shingeki-hita.com

Attack on Titan-Themed Tea Time Event to be Held at Animate

From September 17 until October 2, Animate will hold the 'Soldier's Tea Time' collaboration event with popular characters from the Attack on Titan series.

Goods

Animate Exclusive Box Purchase Bonus

Pin (8 varieties)

Mini Signboard (8 varieties)

Acrylic Stand (8 varieties)

Event Purchase Bonus – Bromide (8 varieties)



During the event, fans can purchase tons of exclusive items featuring newly-drawn illustrations of Levi, Eren, Erwin, and Jean. Purchase bonuses will also be given to those snagging merchandise.

Come have a cup with these handsome soldiers!

©諫山創・講談社/「進撃の巨人」The Final Season製作委員会 ®KODANSHA

Attack on Titan Composer Kohta Yamamoto Releases Remix Album

Kohta Yamamoto, the next-generation composer in charge of creating music for anime series like Attack on Titan The Final Season and Kingdom, has released a remix album! The album contains rearranged versions of his own anime tracks released by Pony Canyon and is now available to stream.

The jacket illustration was created by Yasuto Sasada, a contemporary artist from the same generation was Yamamoto, who was born in 1987 and is active around the world. 

"The background is blue, which is reminiscent of the Japanese sea and sky," Sasada said. "His hair is red, reminiscent of the rising sun. The clothing and headphones are decorated with ukiyo-e and traditional patterns. Yamamoto's mastery of the sounds of so many instruments needed to be represented, so I embedded piano and guitar parts into his body." 

PONY CANYON's anime YouTube channel has released an official video using Splinter Wolf KOHTA YAMAMOTO Self-Remix, a reimagining of the popular song Splinter Wolf from Attack on Titan The Final Season.

Be sure to check out this incredible video if you're a fan of the anime series!

Attack on Titan Song 'ətˈæk 0N tάɪtn<TFSv>' Gets Anime Music Video

An animated music video for the track ətˈæk 0N tάɪtn<TFSv> from Attack on Titan The Final Season has been uploaded to YouTube. The song will be featured on the upcoming second soundtrack, scheduled to be released on June 22 and composed by Hiroyuki Sawano. The track itself was played during a crucial moment in Episode 87. 

The music video features footage from The Final Season Part 2, which aired from January to April.

ətˈæk 0N tάɪtn<TFSv> – Attack on Titan The Final Season OST (Official Music Video)

The soundtrack will include 15 tracks including Ashes on the Fire -PTV- and Footsteps of Doom. Fans of the series won't want to miss picking it up, and it will also be available to stream on all major streaming services this week.

The final episodes of Attack on Titan The Final Season will air on NHK General in 2023.

©諫山創・講談社/「進撃の巨人」The Final Season製作委員会

Attack on Titan Inspires Collaboration Folding Bike from DAHON

The world's largest folding bike brand DANON has revealed a new collaboration with the popular series Attack on Titan! This bike features unique branding and coloring perfect for fans of the long-running manga and anime series. 

Dahon is the world's largest manufacturer of folding bicycles with a two-thirds market share in 2006. The company was founded in 1982 by David T. Hon, a former laser physicist, and is headquartered in Los Angeles, California, with assembly factories in China, Macau, and Bulgaria. Full-scale production started in 1984.

Attack on Titan Bike: ¥89,100 (Tax Included)

The bike will go on sale at the PCPSHOP on June 20 at 17:00. Only 139 units are available, and fans of the Scout Regiment will be happy to see its color and badge displayed proudly on the bike's body. A special bag is also included. 

Grab one as soon as possible if you're interested!

Ⓒ諫⼭創・講談社/「進撃の巨⼈」The Final Season製作委員会

Information

Attack on Titan Bike

Limited Time Attack on Titan Pop-Up Store and Collaboration Cafe to Open at Tokyo Solamachi

From June 25 until July 29, 2022, fans of Attack on Titan will want to visit Tokyo Solamachi at Tokyo Skytree! A special pop-up shop and collaboration cafe will welcome guests with exclusive merchandise and themed foods and drinks.

The original goods feature newly-drawn designs inspired by the Survey Corps' rest outside the walls. These items can only be found here!

Please see the official website for store information, including more details about original goods and cafe menu purchase bonuses.

Information

Attack on Titan x Tree Village Cafe & Goods 2022

Venue: Tokyo Solamachi West Yard 4F #4

Running: June 25 – July 29, 2022

Hours: 9:00-21:00

Tree Village Official Site: https://tree-village.jp/

Attack on Titan Song 'Ashes on the Fire -PTV' Gets Animated Music Video

An animated music video for Ashes on the Fire -PTV- from Attack on Titan The Final Season has been released! Featuring music by Kohta Yamamoto, the upcoming second soundtrack, set to be released on June 22, is already becoming a hot topic online. It will also include the full version of Footsteps of Doom, which played during a vital scene in episode 80. The song has over 4 million plays on YouTube, an incredible feat for a song from an anime soundtrack. The final episodes of Attack on Titan The Final Season will air on NHK General in 2023. 

Ashes on The Fire -PTV- / Attack on Titan The Final Season OST

Footsteps of Doom / Attack on Titan The Final Season OST 

Attack on Titan The Final Season OST 02 Announcement Trailer

The soundtrack will include 15 tracks including the popular song the ətˈæk 0N tάɪtn<TFSv>. Be sure to give it a listen whenever you're feeling nostalgic for this incredible series!

Second Attack on Titan The Final Season Soundtrack to be Released, Featuring 'Footsteps of Doom'

A second soundtrack for Attack on Titan The Final Season will be released on streaming services on June 22, 2022.

Attack on Titan The Final Season Part 2 aired from January to April of 2022. The new soundtrack will include the full version of Footsteps of Doom, written by Kohta Yamamoto and played during episode 80. The song has over 4 million plays on YouTube, an incredible feat for a song from an anime soundtrack. 

The album will also include a new version of Ashes on the Fire and the track ətˈæk 0N tάɪtn<TFSv>.

Attack on Titan The Final Season Original Soundtrack – Footsteps of Doom Sample Video

The album jacket features a new illustration of Eren Jaeger drawn by animator Takashi Kojima, who was in charge of the opening animation for Attack on Titan The Final Season Part 2.

The final episodes of Attack on Titan The Final Season will air on NHK General in 2023. 

©諫山創・講談社/「進撃の巨人」The Final Season製作委員会

Music Video for Attack on Titan Ending Theme 'Akuma no Ko' by Ai Higuchi Premieres

On March 2, singer-songwriter Ai Higuchi held a live storytelling and chat session to commemorate the release of her new album 'Saiaku Saiai.' The event was streamed on YouTube and Facebook Live and included a mini-concert for free for fans around the world.

Akuma no Ko – Ai Higuchi (Attack on Titan The Final Season Part 2 ED Theme)
https://youtu.be/N4F3bjlL_H4


Higuchi's song Akuma no Ko, the ending theme for Attack on Titan The Final Season Part 2, has already gained massive popularity worldwide and has been streamed over 35 million times in just over one month. reached the top spot on the Apple Music J-Pop Ranking in 109 countries including Germany, France, Italy, and Korea. It was in the top 10 in 126 other countries. It ranked #1 on the Spotify Viral Top 50 in Indonesia, Taiwan, Hong Kong, Malaysia, Singapore, and Vietnam.  The anime version of the music video has already received over 10 million views and the song reached #3 on Japanese charts.

Thanks to TikTok, the song continues to generate a lot of buzz. Even after Attack on Titan ends, this incredible track will remain a classic.


Attack on Titan The Final Season Part 2 Non-Credit Ending Video


©諫山創・講談社/「進撃の巨人」The Final Season製作委員会

Information

Saiaku Saiai
Now on Sale
Limited Edition [CD+DVD] / ¥4,950 (Tax Included)
Standard Edition [CD Only] / ¥3,300 (Tax Included)

Order here: lnk.to/higuchiai_CD

Ai Higuchi Solo Concert 2022 'Saiaku Saiai'
March 11 – Tokyo EX Theater Roppongi
March 27 – Osaka Umeda TRAD

Official Site: https://www.higuchiai.com/

Ai Higuchi Releases Music Video for Attack on Titan Ending Theme 'Akuma no Ko'

Singer-songwriter Ai Higuchi has released the music video for the song Akuma no Ko, which serves as the ending theme for Attack on Titan The Final Season Part 2.

The track has already gained massive popularity worldwide and has been streamed over 35 million times in just over one month. Akuma no Ko reached the top spot on the Apple Music J-Pop Ranking in 109 countries including Germany, France, Italy, and Korea. It was in the top 10 in 126 other countries. It ranked #1 on the Spotify Viral Top 50 in Indonesia, Taiwan, Hong Kong, Malaysia, Singapore, and Vietnam.  The anime version of the music video has already received over 10 million views.


The video was filmed on a windy island and has an exotic atmosphere that doesn't quite feel Japanese.

Akuma no Ko – Ai Higuchi (Attack on Titan The Final Season Part 2 ED Theme)


©諫山創・講談社/「進撃の巨人」The Final Season製作委員会

Information

'Saiaku Saiai'
Now on Sale
Limited Edition [CD+DVD] / ¥4,950 (Tax Included)
Standard Edition [CD Only] / ¥3,300 (Tax Included)

Official Site: https://www.higuchiai.com/